I undertook the Sandakphu trek in April to experience the beautiful Rhododendrons in full bloom. It was cool and cloudy when I arrived in Darjeeling and I immediately fell in love.
Flanked by gorgeous tea gardens and slopes studded with pines and ferns, the town has an old world charm to it. If you keep an eye out for flowers, you can delight in orchids and magnolia that add a pop of colour to the scenery. The rhododendrons also introduce themselves briefly, giving a little preview of what was to follow in Sandakphu.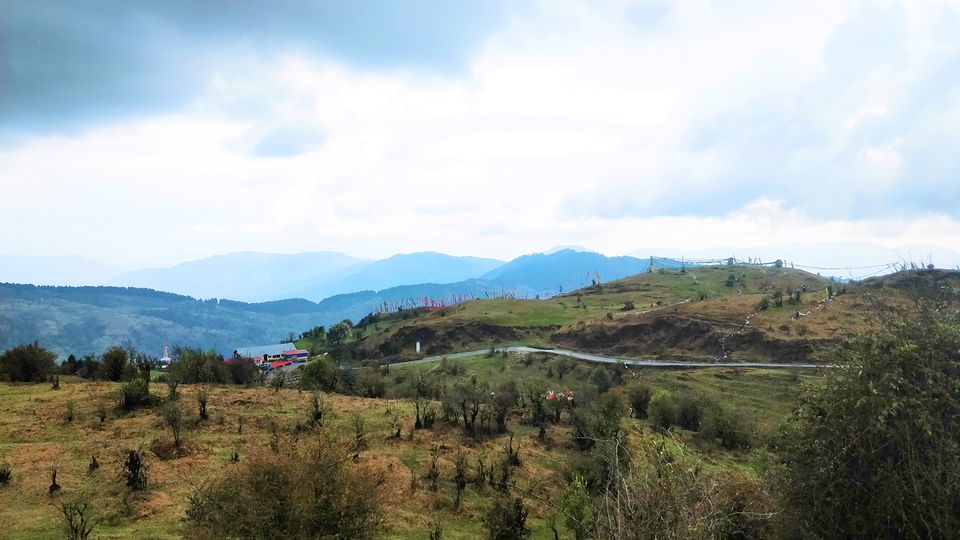 Before I headed for my challenging trek, I figured I ought to treat myself to the luxuries that Darjeeling had to offer. I stepped out to its bustling market for a food tour. As I walked, wafts of street food had my taste buds tickling. I entered a restaurant and ordered myself a traditional Nepali thaali. The thaali consisted of lentils, vegetables, boiled rice and a dense mutton gravy, served with a side of chutney and dalle (a spicy pickle that is typical to Darjeeling). This was a wholesome meal, with unique flavours I had never tasted before.
I then took a quick glance in the market to buy a few souvenirs. I couldn't leave the town without buying tea, so I bought myself a couple of boxes of authentic Darjeeling tea. For shopping enthusiasts, Darjeeling also offers beautiful warm woollens, decorations like masks, bells and gorgeous crockery dressed in Tibetan designs.
After indulging in a good break, I left for Manebhajyang. I noticed that the pretty clouds were dark that day. I started walking towards the office of the Singalila National Park. By the time I managed to get the permit, it was raining cats and dogs. The forest officials asked me to not head out for the trek. I cancelled my trek and returned to Darjeeling. It rained all day.
The next day didn't look any different but I longed to see the world outside and decided to head out anyway.
I started the trek while it was still raining, worried about my camera and other gear I was carrying with me. The sights were spellbinding and it was a pity I couldn't capture them. Nevertheless, I kept my head up.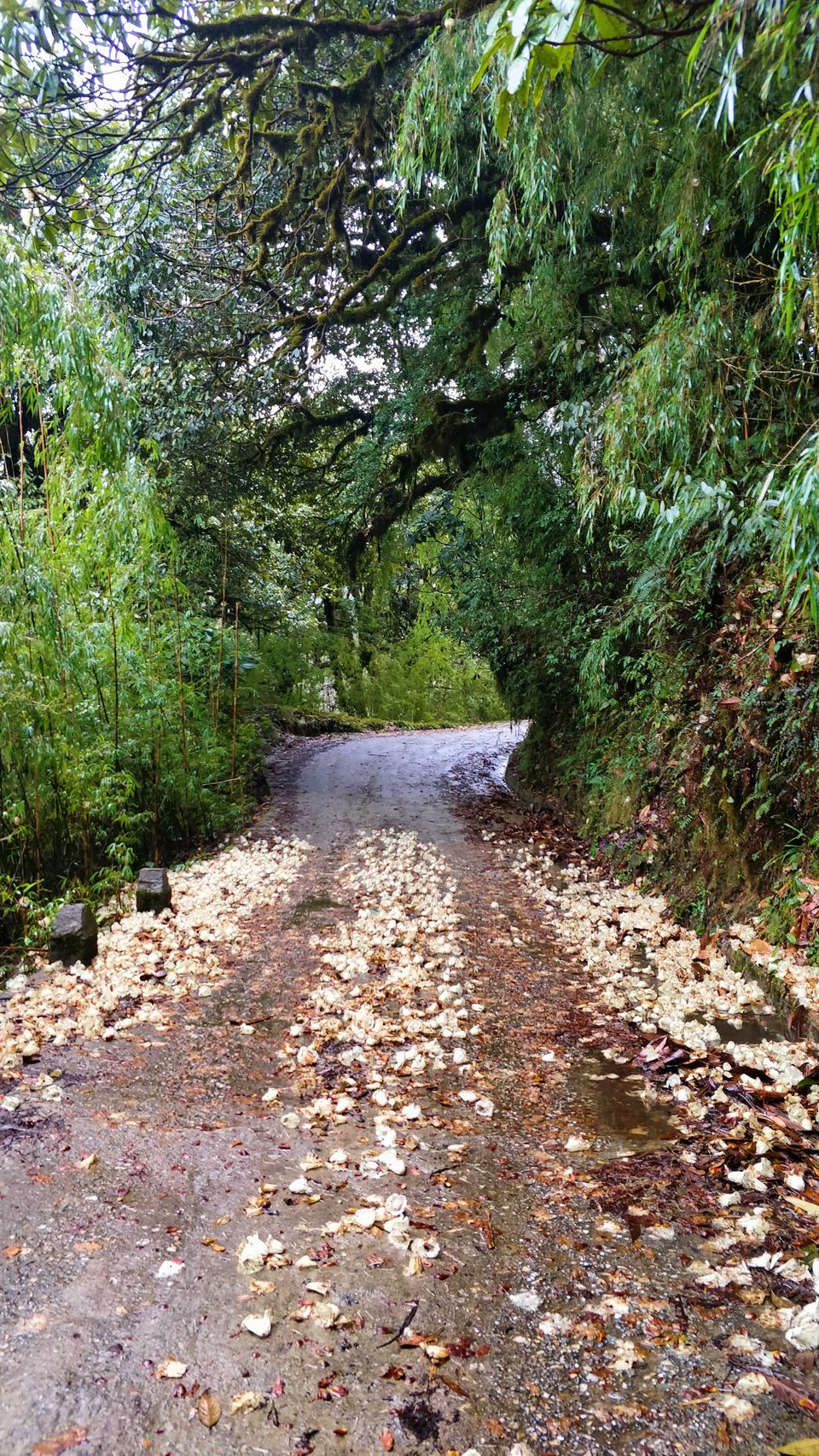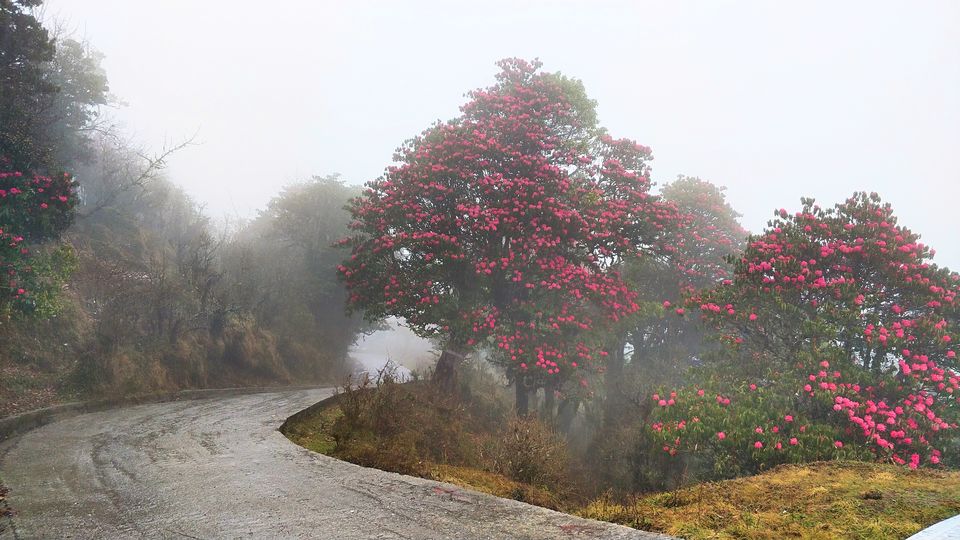 The rain stopped the next morning. I was surprised to see how this nightmare had suddenly turned into a daydream. There was a carpet of flowers on the road, the flowers on trees looked like they had just bloomed that day and clouds added a new dimension to the mountains.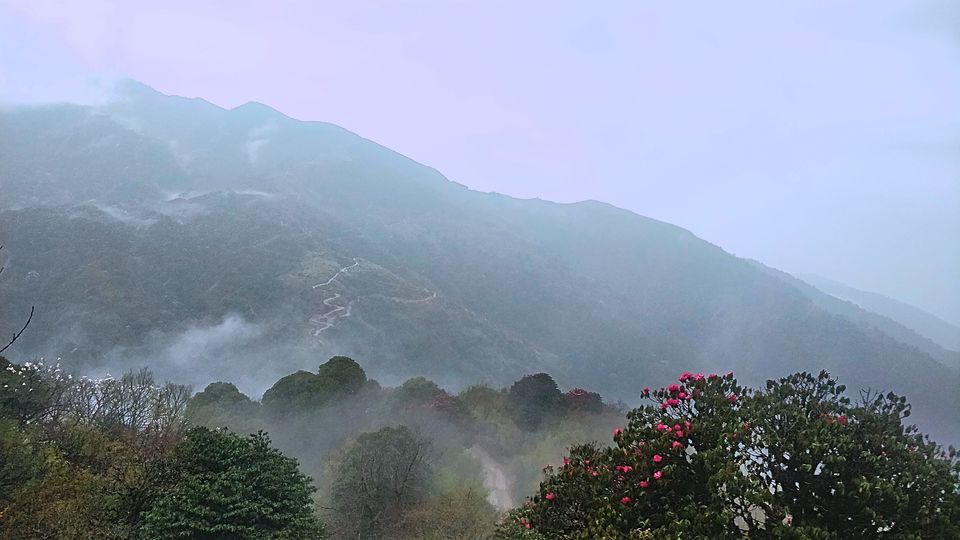 For breakfast I wanted to try something local. The food available here is very basic but the views make up for it. I ordered myself some momos and chai without much thought but these stuffed dumplings were fat, juicy and delicious.
I set out on the most beautiful road I have ever seen in my life. No words can sum up the beauty I saw, so I quickly clicked some pictures.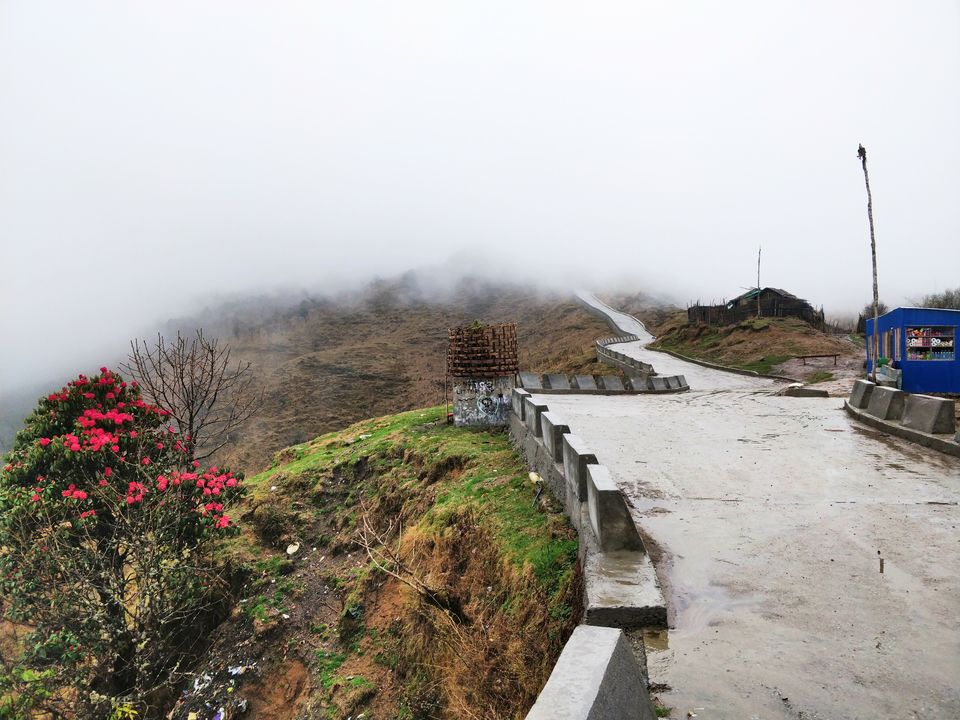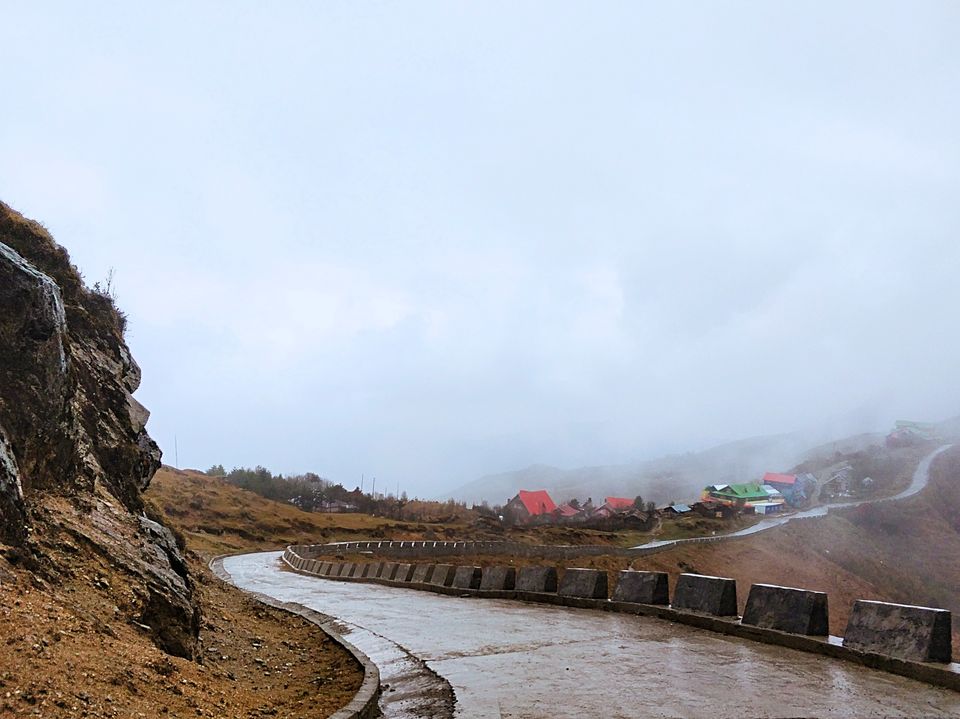 In just a couple of hours, it began raining once again and as I took shelter in an army check-post, a jeep stopped in front of me. An amiable man stepped out and offered me a ride.
On our journey, he told me about the 40 jeeps in Maneybhajyang and how they take people up and down the trail. This was a different experience altogether for I have trekked quite a bit but have never reached the summit in a vehicle.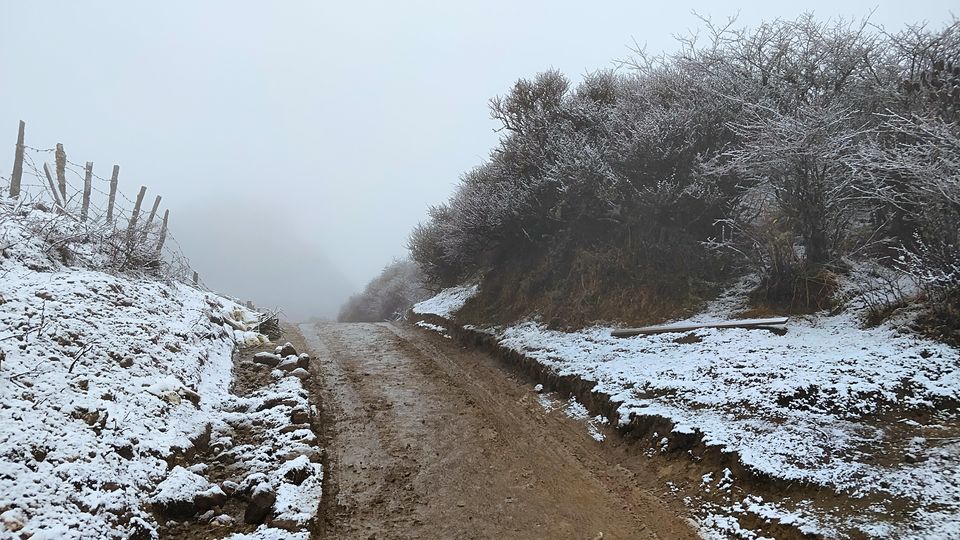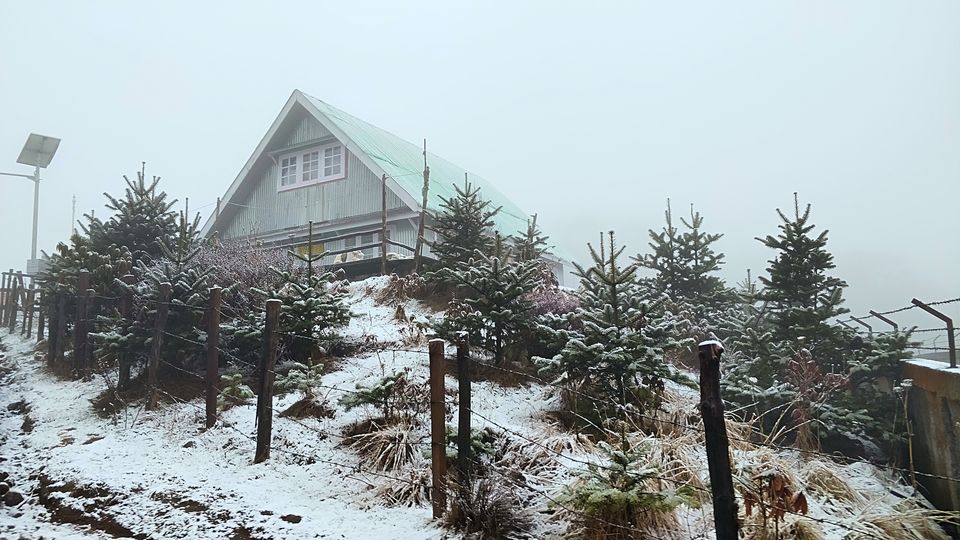 I got myself a cozy lodge to stay for the night. A bright, crackling fire welcomed me into my snug room. Covered in blankets, I plonked myself in front of the fire and read a book by its light. This was a perfect culmination to a tiring, rainy day. As if this weren't ideal enough, I was greeted with a hot bowl of dal chawal for dinner. I usually like to taste unique dishes while on a trip, but I devoured this simple dish with relish. The bowl of dal chawal reminded me of home and offered me comfort. I treated myself to a delicious cup of cocoa while peering out the window watching snowflakes slowly turn everything white.
Mt. Everest and Kanchenjunga were out of sight, but amid the snow, the peaks suddenly re-appeared for a few minutes right before it got dark. The view was breathtaking, to say the least.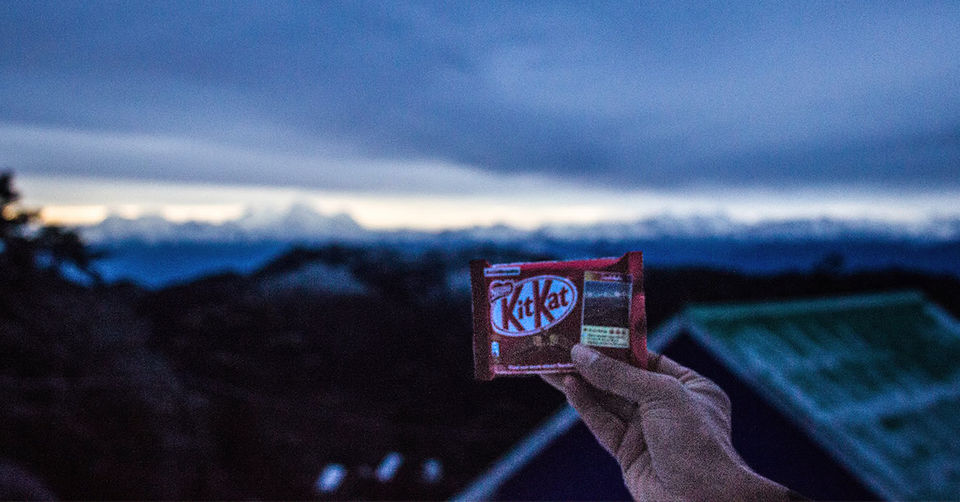 Toasty with warmth and happiness, I slept like a baby all night. The next morning, the weather cleared for a while and I was finally able to take some pictures.
I returned from Sandakphu on a jeep because it had started pouring again. On the return journey, I replayed memories of my trek. My getaway into nature couldn't have been more ideal – I had seen world's highest peak, enjoyed snowfall in spring and walked on paths surrounded in rhododendrons. The experience was memorable and one that I will always fondly look back on.
Have you been to Sandakphu? Have you had a similar experience? Or did you see something completely different? Write about it here and earn yourself s0me Tripoto Credits.
Tick all hidden gems off your bucket list. Check out Kitkat Travel Breaks on Tripoto here.

The readers are hereby informed that the views, thoughts, images and opinions expressed in the article belong solely to the author, and Nestlé India Limited assumes no responsibility or liability for any errors or omissions.