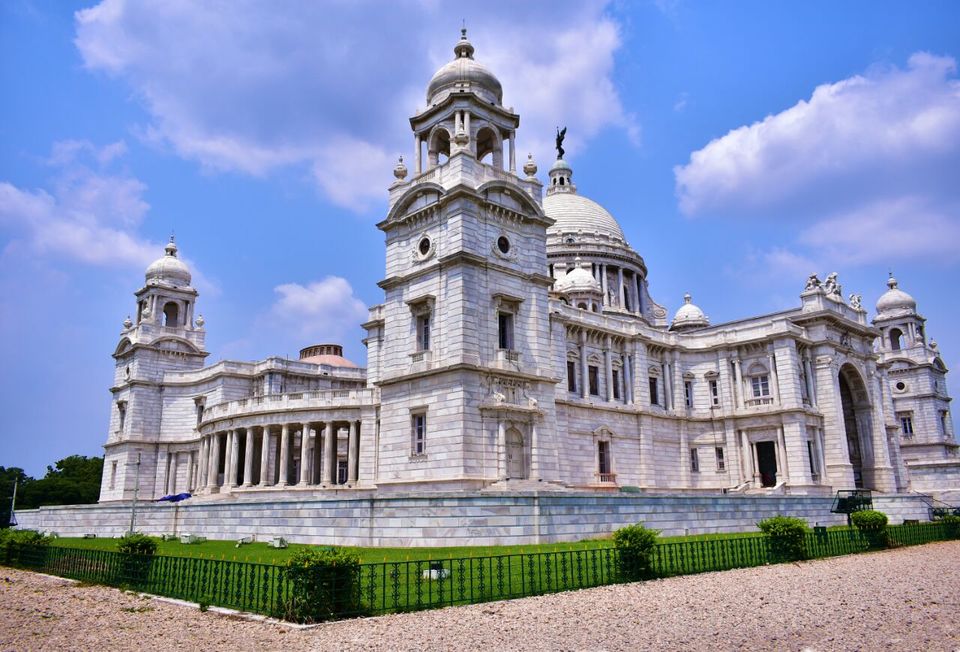 It was over cast .I was draped in sweat and could no longer wait for cool breeze to sway my senses.So I offered a twenty rupee bill to a road side vendor and asked him to give me a glass of cold nimboo pani(lemonade).I knew Sayan was also thirsty ,but he was busy in chatting with his friend over his costly cell phone ,so I didn't bother asking him for cold- benefits.
From Princep ghat we walked a few miles and reached by the Victoria Memorial around 9:25.
Alas! we were before time,with not much to do except gaping for the ticket counter to be open. In the morning we decided to use our slick hands to practice some photography tricks.We captured almost every blade of grass by the Princep ghat and satisfied our proud self.
"Brother, we have some time left before we reach Park street. So we can try Victoria Memorial. We can have a good time",Sayan,A tired visual artist demanded. I had never been to Victoria before that day, so I just followed his footsteps.
Finishing my glass of nimboo pani was easier. It was lightning fast. No point in arguing that I was real thirsty.
Meanwhile, I checked the entry gate ,ten times now .Every time I went closer to the ticket counter ,my patience became little wilder. I tended to loose my good thoughts inside my temple. The humidity was unbearable. So I turned back and ordered another glass of lemonade, this time, Sayan got lucky.
Victoria memorial is always a chart topper in the list of itinerary, at least, in Kolkata. So I thought I would note everything that I encounter.
At last, the ticket counter opened. I hoped inside like an unleashed child.
The heavy breeze suddenly blew from the western gate and welcomed us inside the memorial. The gargantuan museum is all white marbel-wonder. It had its fare share in the tail end of times. They said it was once supposed to be entirely covered by black curtain, during the second world war. Such was its importance .Even today, time stands still in the frame of this monument.
We walked through the security checkin and straight entered the art gallery. To my utter surprise, the section revealed some of the finest paintings of our country. I have never witnessed colors on canvas in such a prismatic order. It was all so pristine and perfect that I can't express in words.
I have set sail through the large hall, sometime, forgetting my friend at hands distance.
I was quite impressed by the oil and mixed medium Paintings of foreign realistic painters ,specially by the works of Thomas Daielle.
His paintings such as -Murshidabad, Bengal(1844)/Waterfall(1792)/The Banyan tree(1833)/Old Govt. House(1783) are some of the riveting works that every art lovers should witness before parting this world.
Then there was Sailor and his Son ,sitting at a corner, quietly humming the tune of Sir .G.Carter's Brush strokes,from the western wall of the hall. These are works of geniuses during the time of British Raj. I don't know if everything was wrong in their times, but these masterpieces are certainly some of the goods that they left for us to cherish.
Sayan is an ardent devotee of gadgets. So he introduced me with the weapons and machineries of age by gone. This section is at the right hand side from the entrance at the back of the museum.
Mouser 1 , Enfield ,used in world war, Foot Zenith sector( Ramsden) for astronomical survey of ,latitudes.(1801) are the proud representatives of classic engineering of past. The Pistol used by Warren Hastings in his duel with Philip Francois(1780),is a great example of historical legacy that this hall preserves.
I was quite influenced by the dilapidated but well preserved left out of the first telegraph instrument in India. I never saw anything like that ever before, so an experience to share with my next generation for sure.
The spiraling maze at the central hall, connecting the hanging balcony over the Scripts and print display section, revealing the wonderful architecture that is the brainchild of William Emerson. The design of the entire structure is a fusion of different styles.
It is conceptualized in the Indo-Saracenic revivalist style which uses a mixture of British and Mughal elements with Deccani, Islamic, Venetian and Egyptian architectural influences.
When you are in the middle of the sea of crowd , you tend to lose your natural intention,rather you move with the flow. I was shifted to the Swadeshi art section ,which I could have missed ,if I were not pushed by some one to its glass door . The Swadeshi section is a separate section. This room is air conditioned. The works that transfixed my mind ,are wood cut illustration,Miniature of Calcutta Chronicle,painting of Abanindra nath tagore,such as Bharat mata,Krishna –the boatman and The Cow by Nandalal bose along with some paintings Jamini Roy and Study of bamboo leaves,study of chaitnya mahaprabhu in trance Gaganendra nath Tagore.
Apart from the paintings and sketches ,the hand crafts and replicas are some exemplary works, kept in exhibition.Though, more than 5000 art works are hired from Bengal school of art, but around ten percent are on display today. Still the enigma is befitting.
Every corner of the Victoria memorial depicts a piece of history. This large marble structure ,which was built between 1906-1921 in memory of Queen Victoria, is an example of Kolkata's rich heritage.
I was lost in the middle of canvas and large craftsmanship.Sayan who was once part of this journey,was no where to be found.Suddenly I followed my instinct I checked my wrist watch .It stated we were in the 11th Hour of the morning. I went in search of my lost friend.In the middle of lost art works sometime it I shard to find a lost creature in flesh. Mobile network showed no mercy, so I was hunting for space to get some accessibility.
By the way, when I reached the exit way, it was drizzling outside. A gust of cold breeze revived my internal love for nature. I saved my spirit and came out of the hall. Finally,I saw Sayan ,sitting under a dead tree in the park. There was heavy lightning. Thunderstorm accompanied the light shower. I outreached my friend with heavy clouds hanging over my head.
We left the grand Victoria Memorial around 11:25. We slipped ourselves towards the western gate, leaving behind the marble structure bathing in the morning shower.
Reaching there: It is located at 1, Queens Way, Kolkata, West Bengal 700071
You can locate it from the following link:https://www.google.co.in/maps/place/Victoria+Memorial.
Victoria Memorial is very centrally located so it is quite convenient to reach by taxi or even ola or uber.From Howrah /airport hire a cab or take a bus.