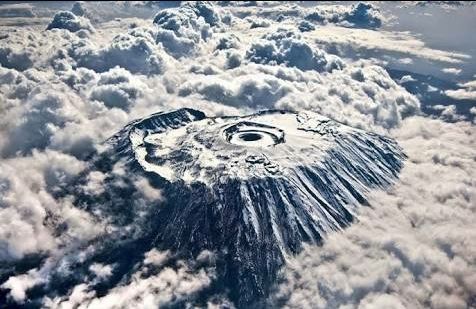 This is second part of blog series for our Expedition Summit 2 Sea. As the name of expedition goes we just didn't want to climb highest peak of Africa on 15th of August but we also wanted to reach to depths of its ocean. That is why the name Summit to Sea. For the expedition we were supported by Youth Hostel Association city chapter! Earlier we had decided to plan out entire expedition then we decided to get little adventurous and do everything impromptu. We later realised how doing this in Africa can turn out nasty at times but it sure made our trip hell lot adventurous.
We had travelled from Dar Es Salaam to Arusha and then came to Moshi. Having reached Moshi the earlier day we rested for night at Moshi. Our chief tour guide name was Abel . Abel seemed like warm gentleman in first meet. We were briefed about our trip ahead and what we should expect during the trek. Next day we were picked up by our tour guides at Tanzania joy Tour.
We were surprised that for trek of 2 people we had crew team of 9 members. I have done treks in higher Himalayas in Asia some of which were more technical than Kilimanjaro but never had a such a large support crew. Kilimanjaro mountain goes on to provide employment to a lot of people in the region. As a porter picking up luggage, one can earn far higher dollars in form of tip than average worker in Tanzania. Our crew had one trek guide and a support guide, one chef and 6 porters. Machame gate is 30 mins drive from Moshi. At Machame camp one has to complete all the formalities. Then porters carried our tents ,cooking material for next 6 days ahead of us. Abel me and Akash slowly started the climb .
Our iternary for next 6 days would look like this - Machame Route
Day 4 : Start from Machame gate and rest at Machame Camp
Day 5: Stop at Shira Camp
Day 6: Reach Barranco Camp
Day 7 : Reach Barafu Camp
Day 8: Climb Peak reach back Barafu and head to Mweka Gate
Day 9: Back to Hotel
We had 11km of climb ahead of us to reach Machame camp. We had decided on this route as this was considered most beautiful route out of 6 routes to reach summit. Machame route can be done in either 6 days or 7 days. We decided to do this route in 6 days as we had to head to Zanzibar for diving back.
From Machame Gate to Machame camp its mostly walk through equatorial rainforest. It was slightly rainy with muddy patches entire time during the day. We started
our trek at 11 am and reached Machame camp at around 4 pm. Here is how day 1 trek looked like.
https://youtu.be/gYlRtWlidVs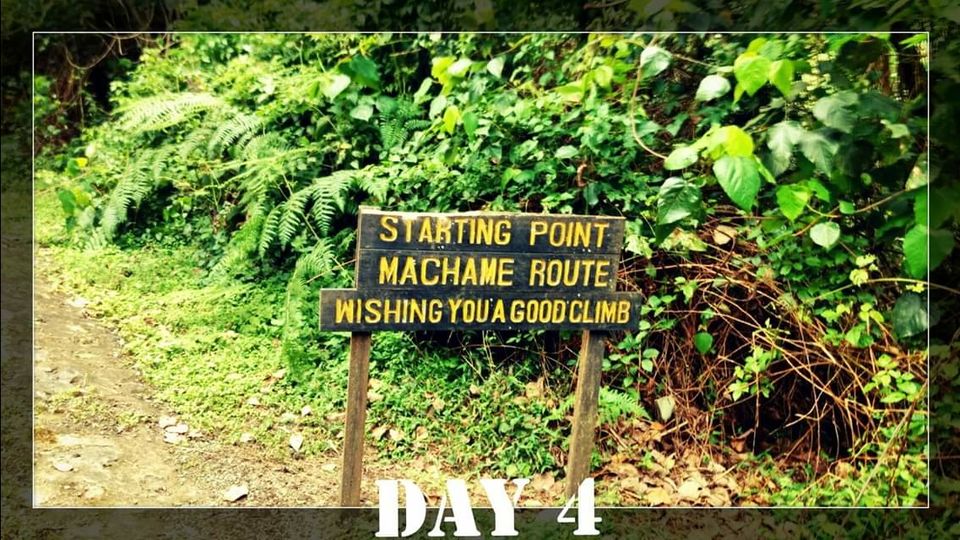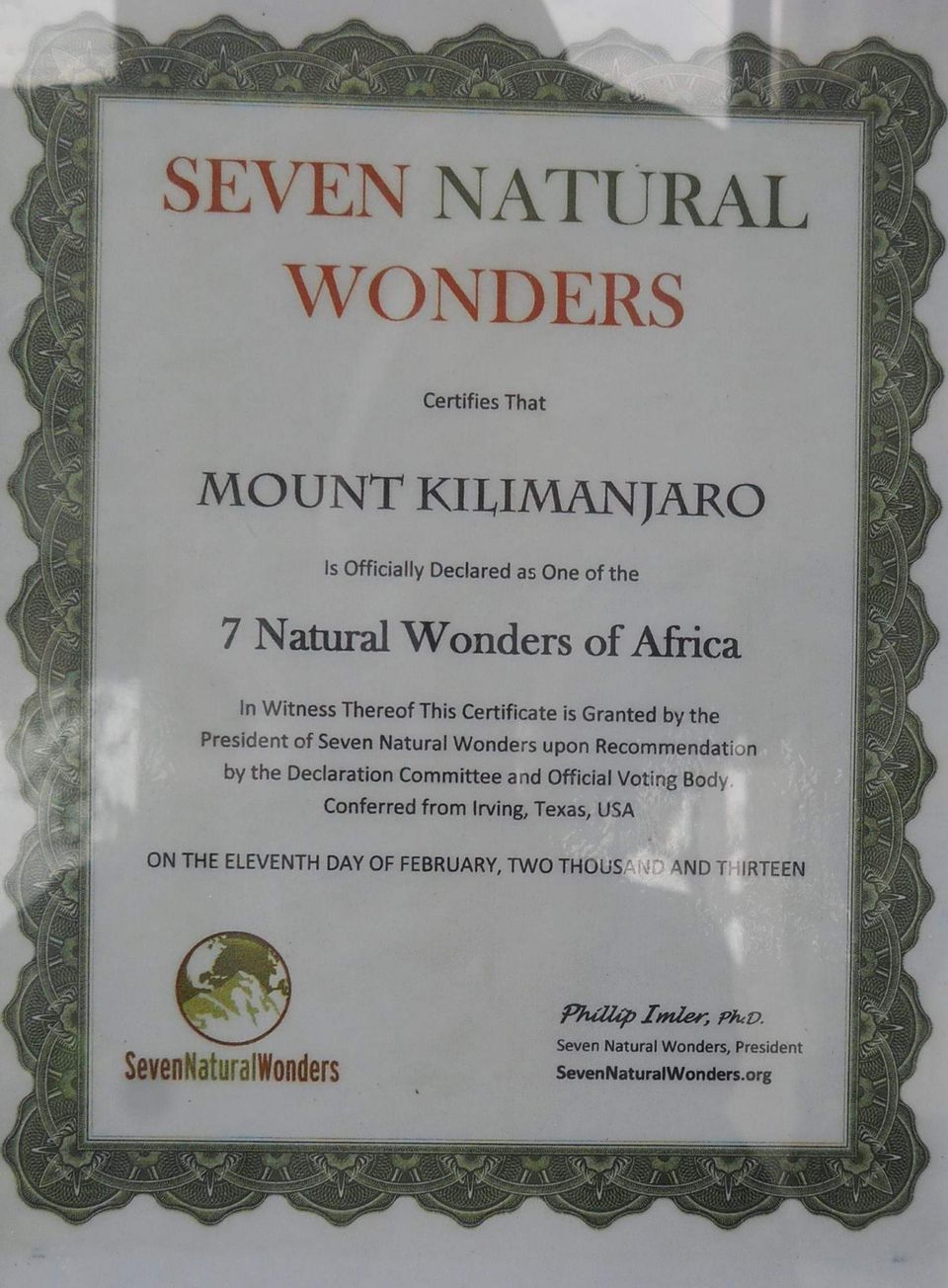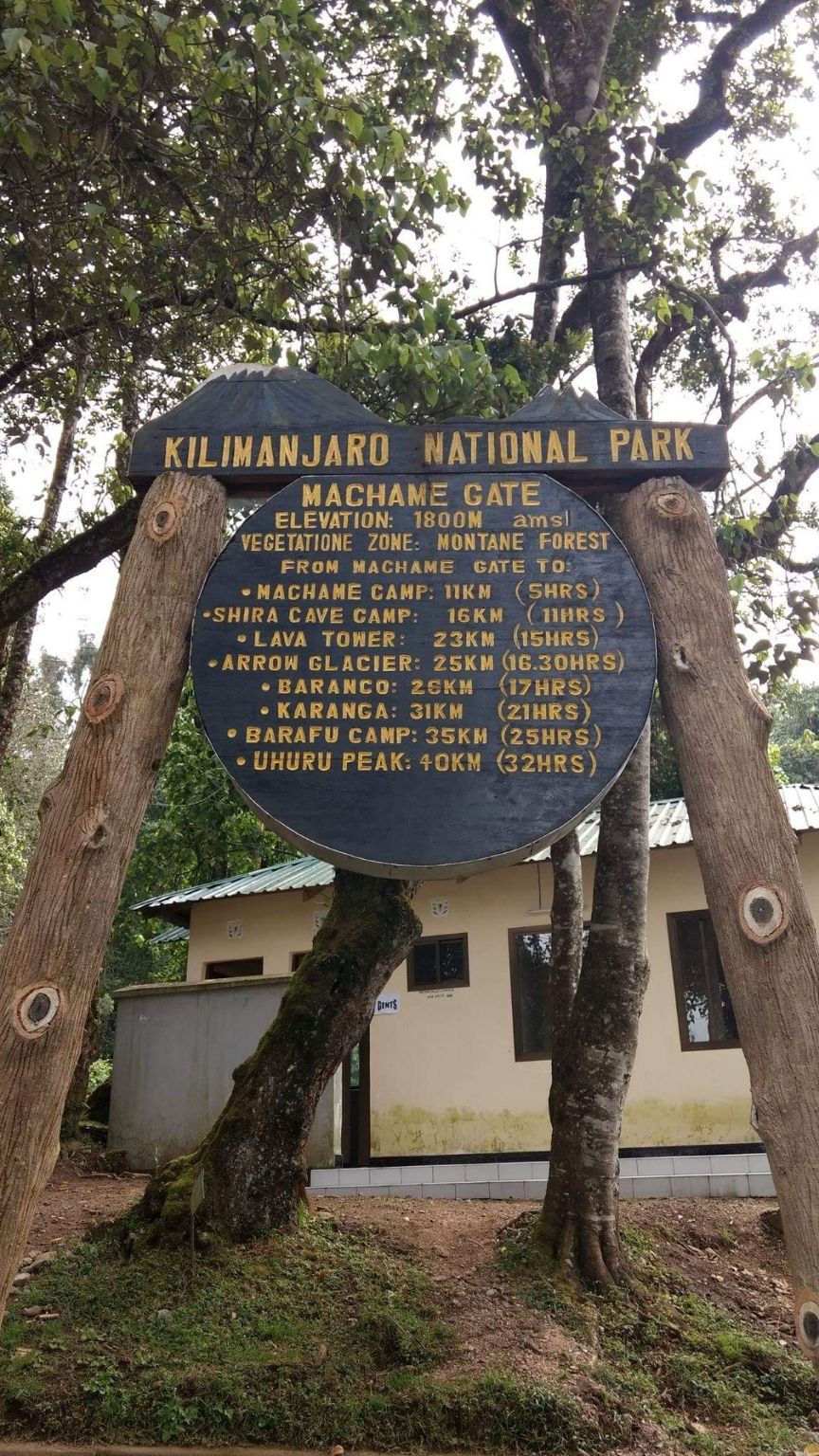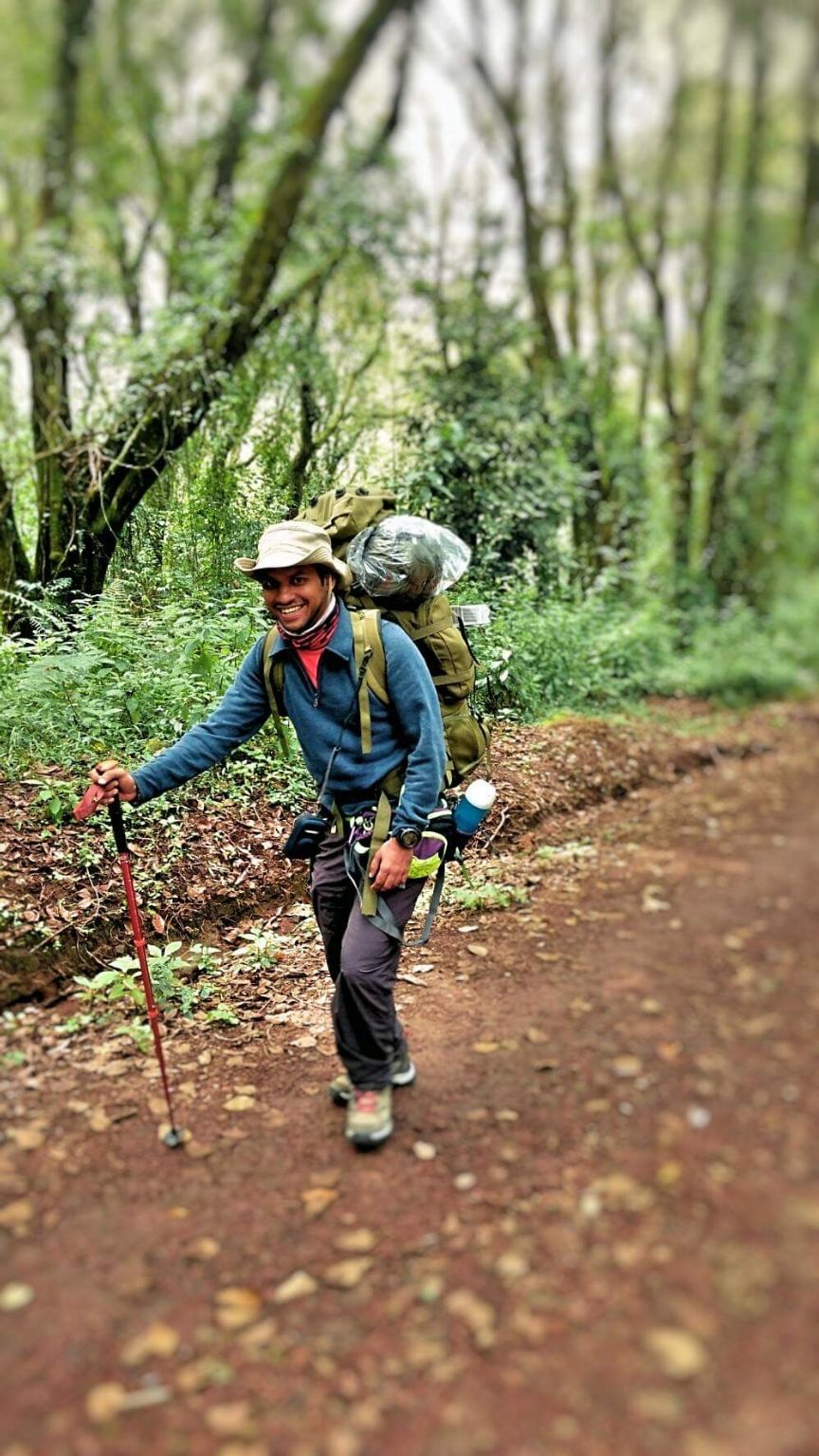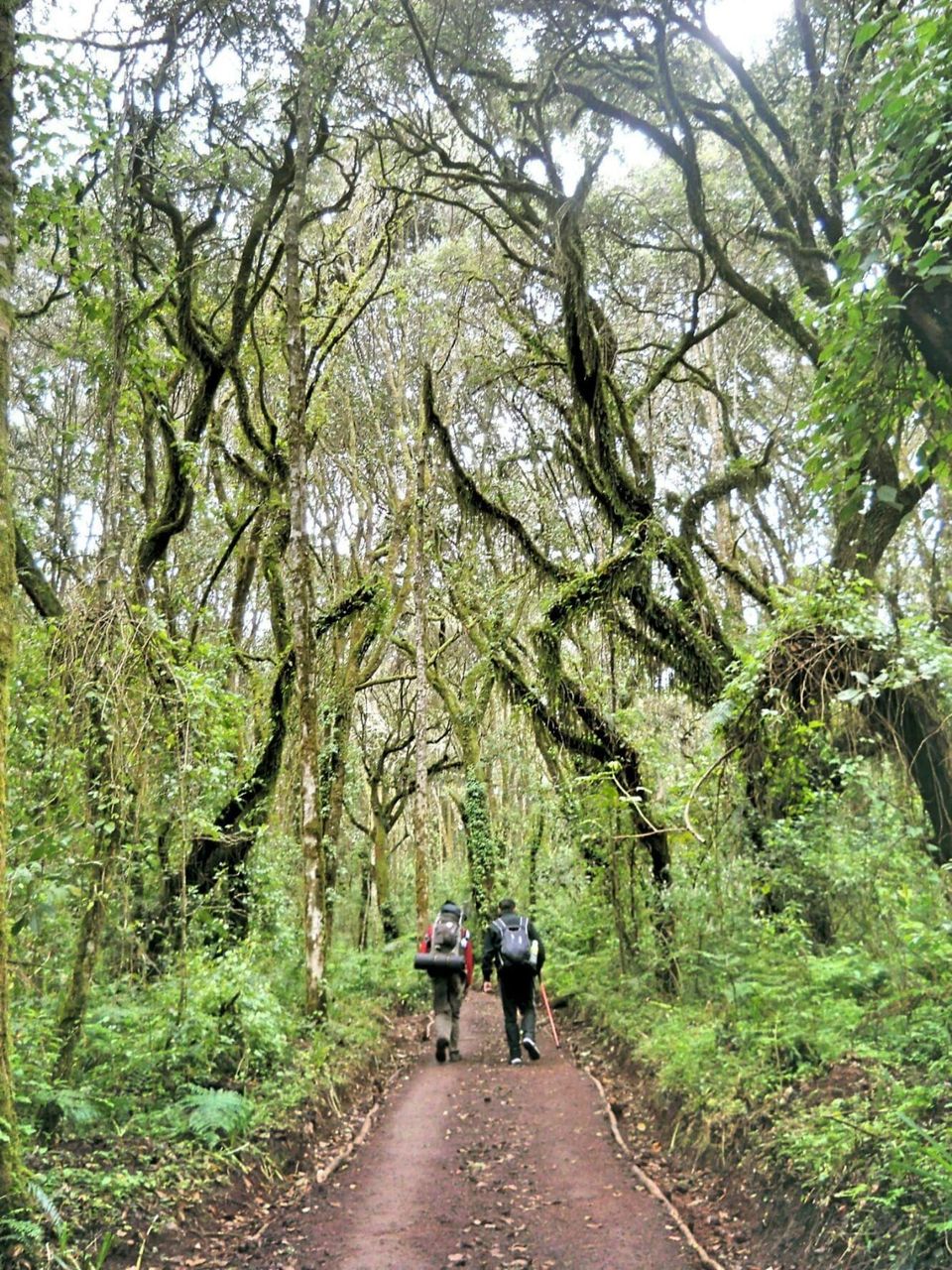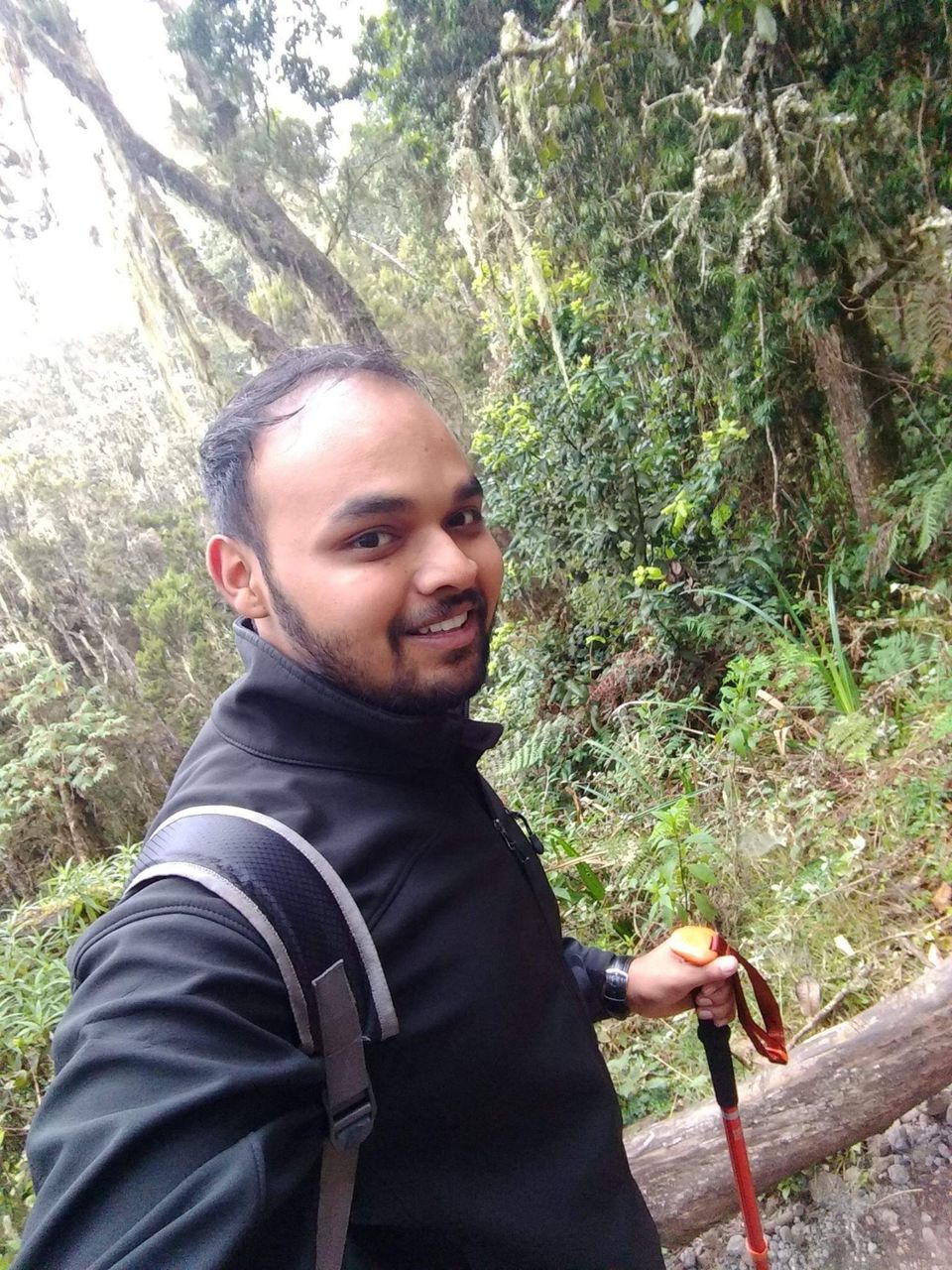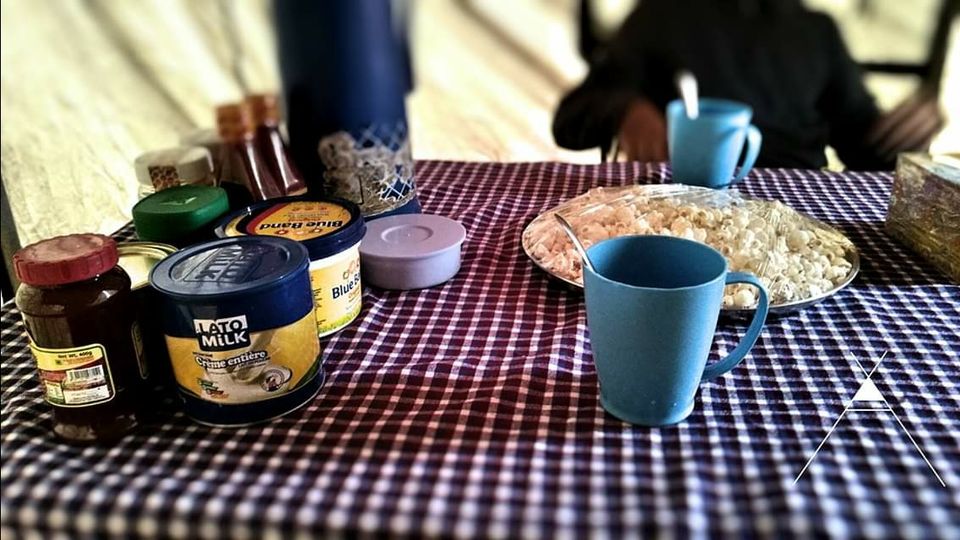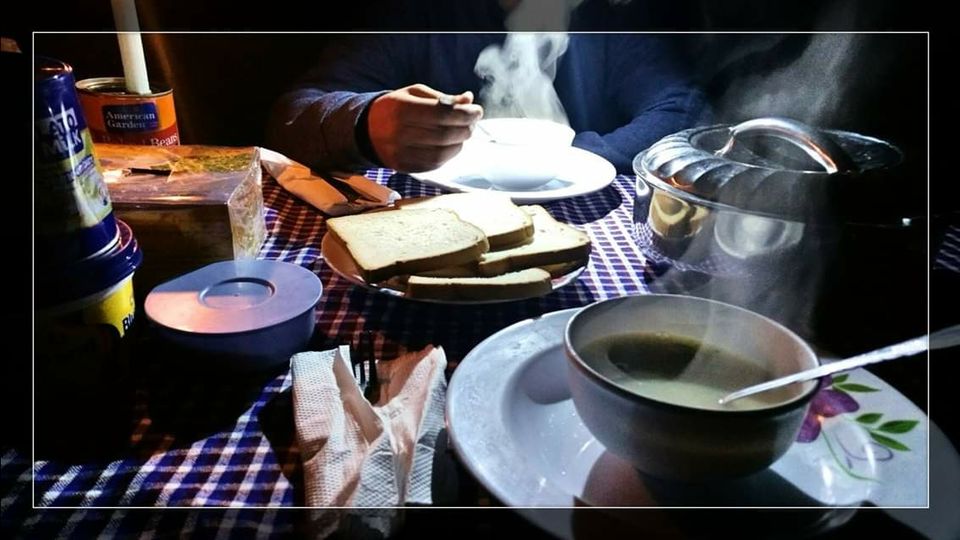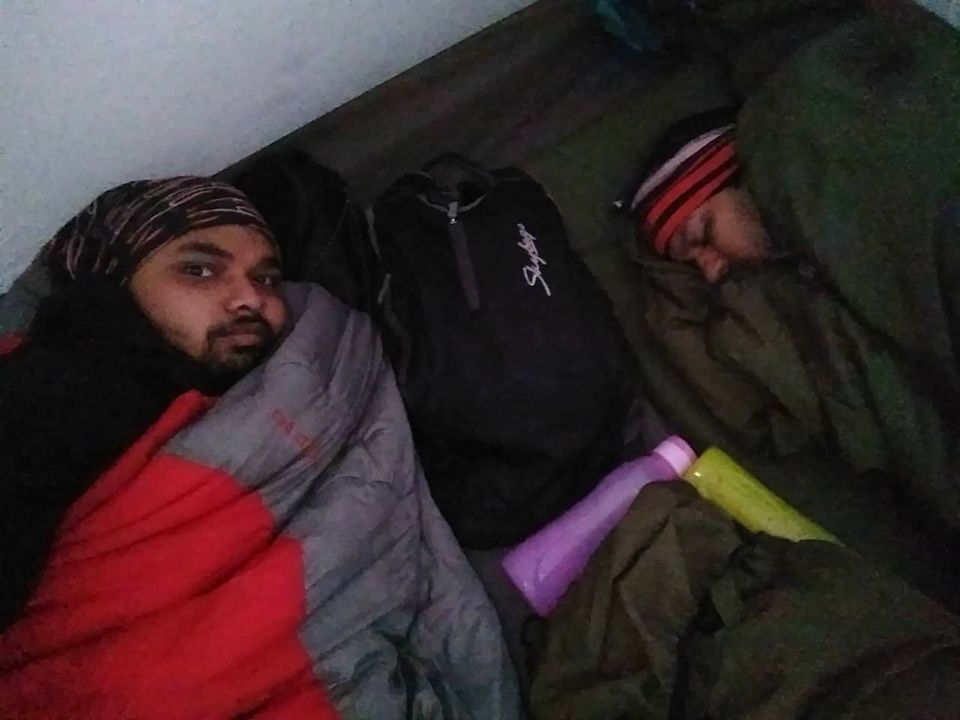 Day 5 of expedition was tough climb day , though short compared to day 4 but gradient being more challenging. Day 4 we climbed almost 11 km but on day 5 in similar time we traversed just 5 km. Mount Kilimanjaro is dormant Volcano, while being on machame route one will walk through equatorial rain forest on day 4 but from day 5 onwards vegetation reduces and as its mostly rocky till
summit vegetation is very less. Day 5 we walked through Moorlands of Kilimanajaro
Weather on mountain is very unpredictable . Rains are frequent and as you go higher and higher and weather changes any moment. One moment there is clear sky and next moment it starts drizzling. Machame route is probably most crowded route on mountain .Even though you meet a lot of people during the day almost everyone is on their own unlike in Everest base camp trek which I had done a year back.
Finally after 5 hours of walk at around 1 pm we arrive at Shira Camp at 3750 m . We are just 2000 m short of summit and 3 days away. Shira Camp was place where you get to see Kilimanjaro Summit clearly for first time. Also it is one of the most beautiful places on mountain. Shira camp was the last campsite where we had clear weather. After this at every other camp weather was terrible with visibility restricted to few meters
We went for acclamatization walk around volcanic rocks. Temperatures were sub 10 degrees and AMS had started hitting us at 3800m. Both of us had headaches by the evening so it was important that we climbed to higher altitude and sleep at lower altitude.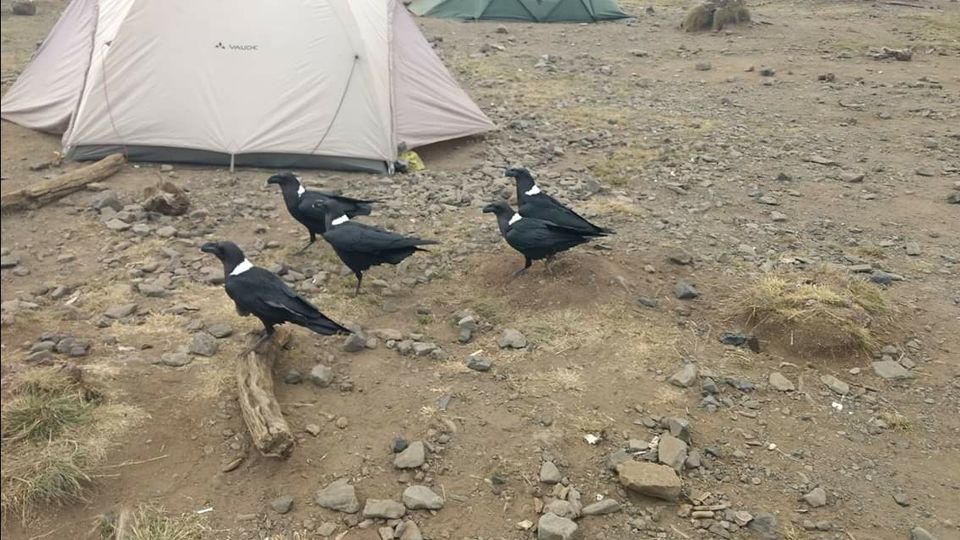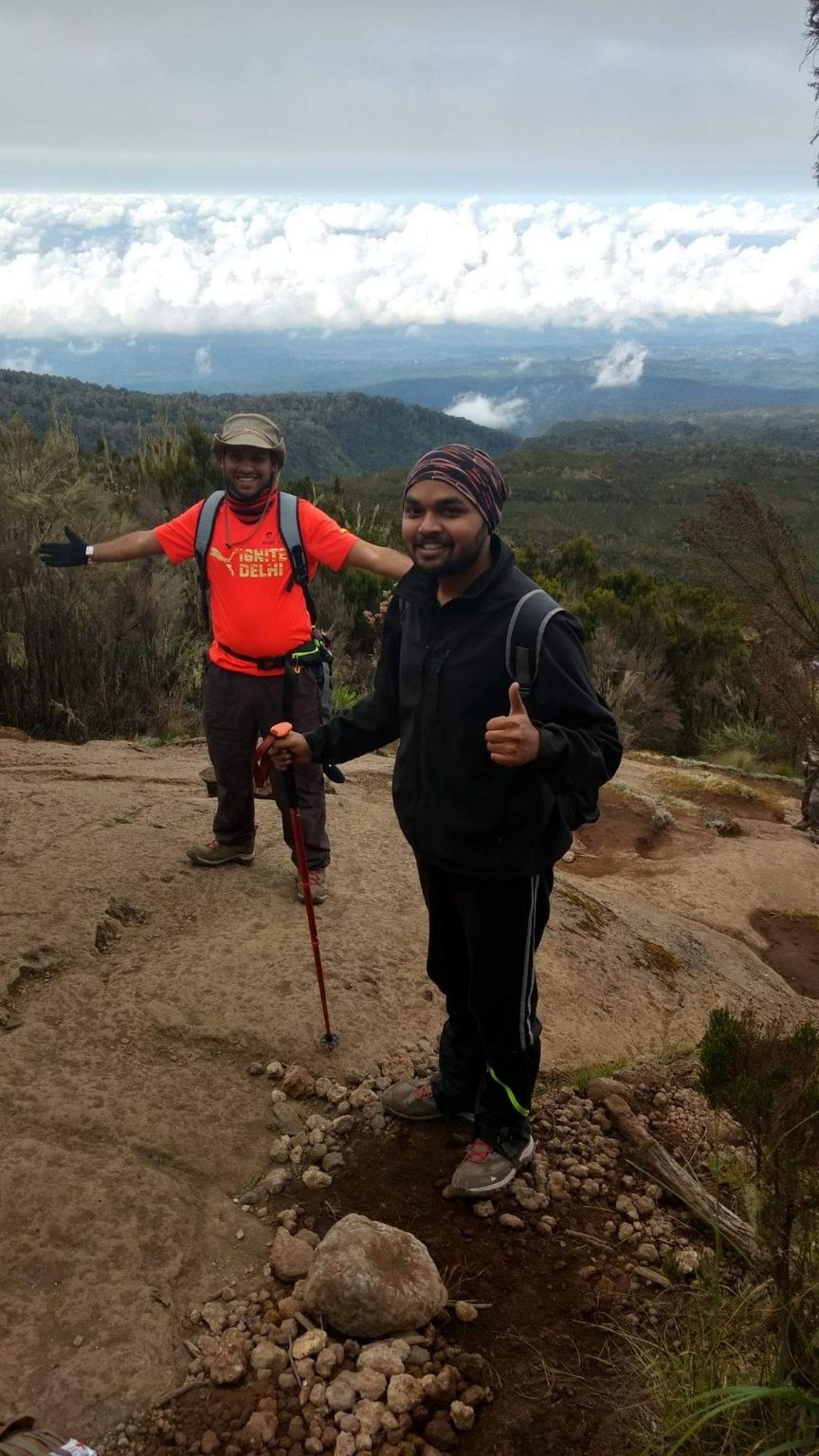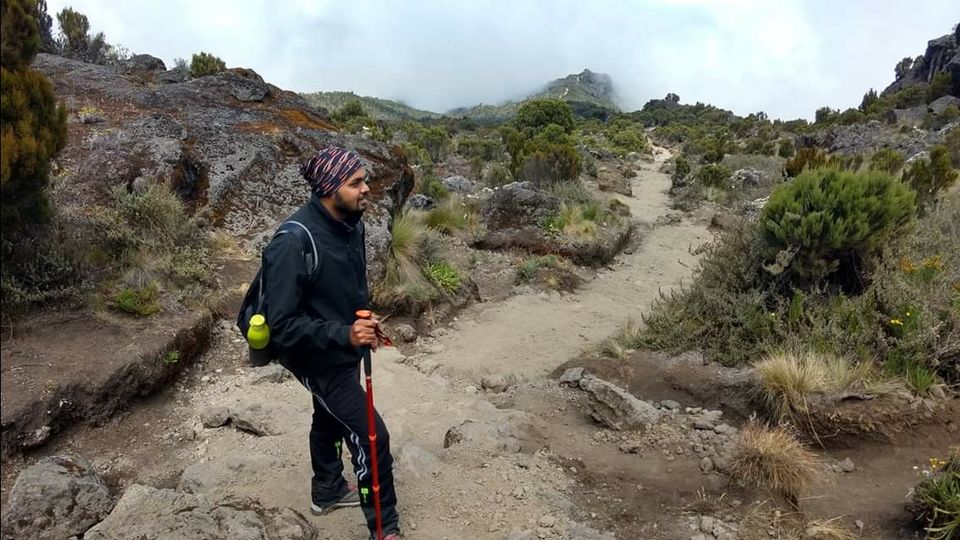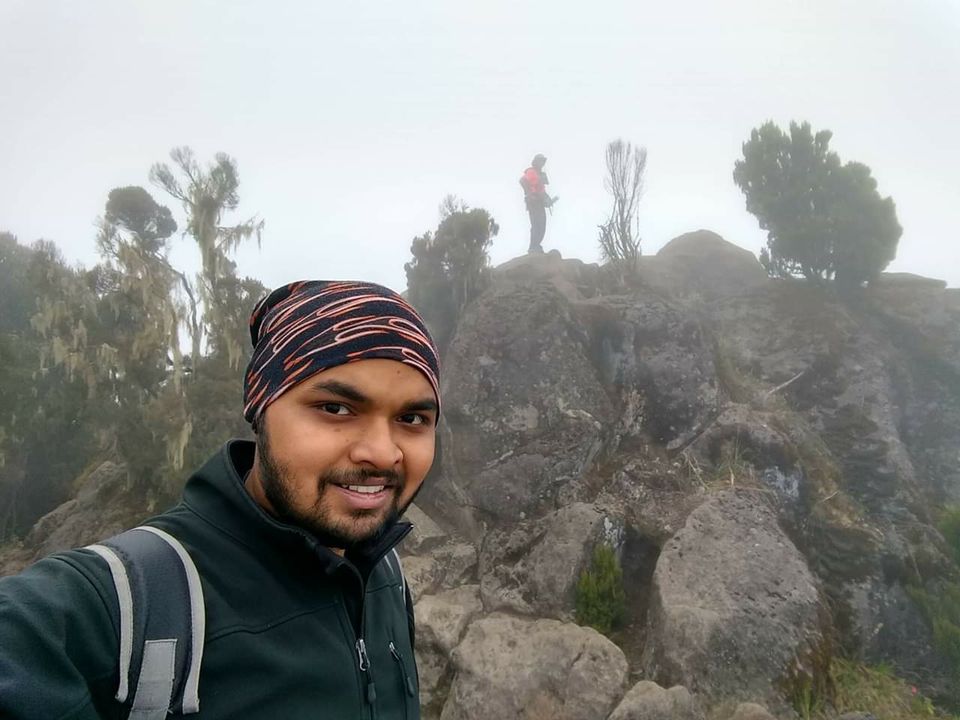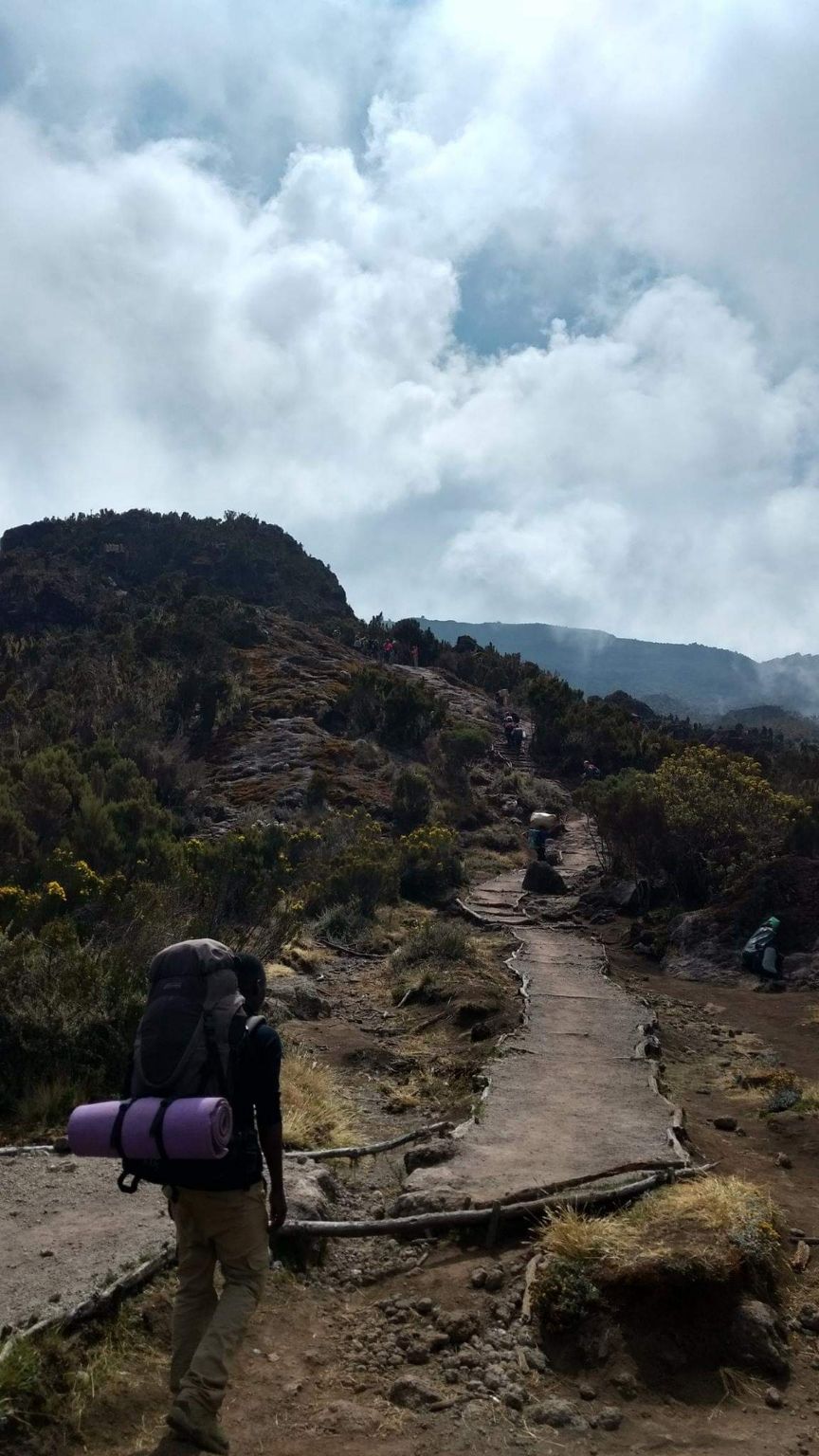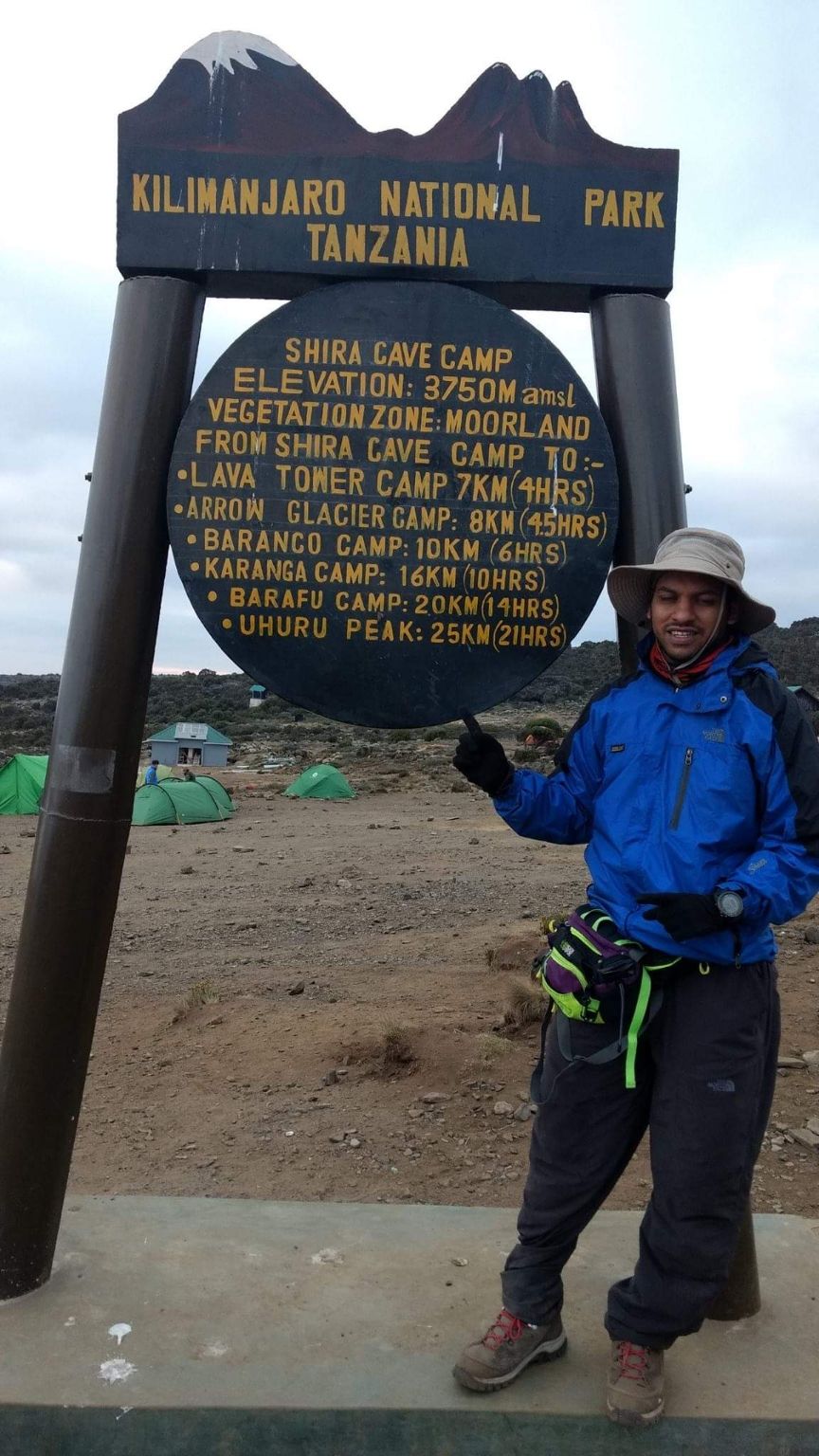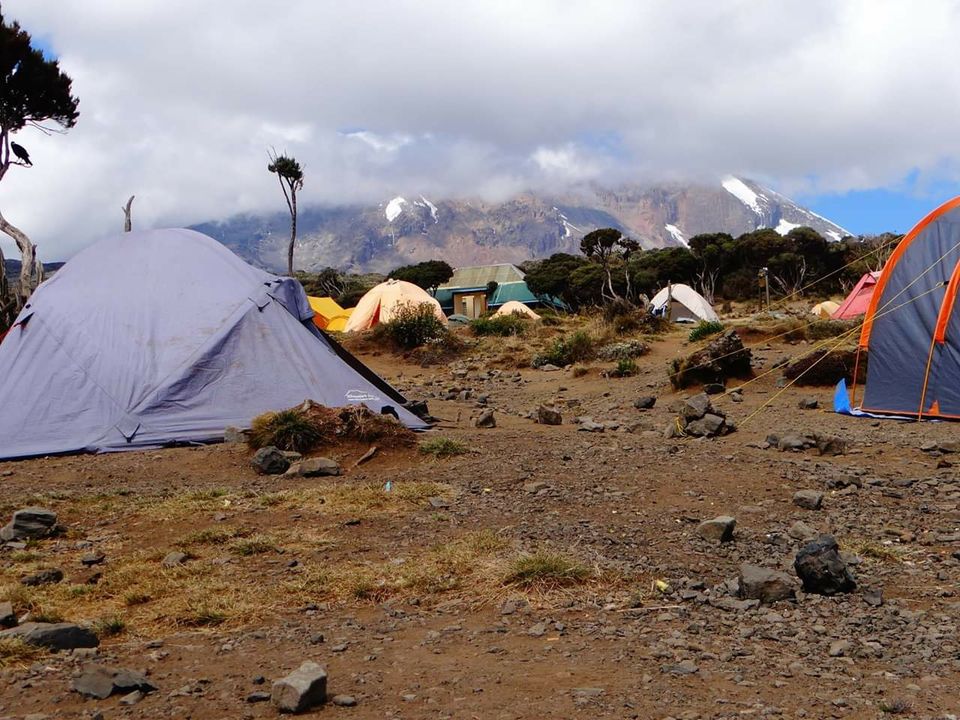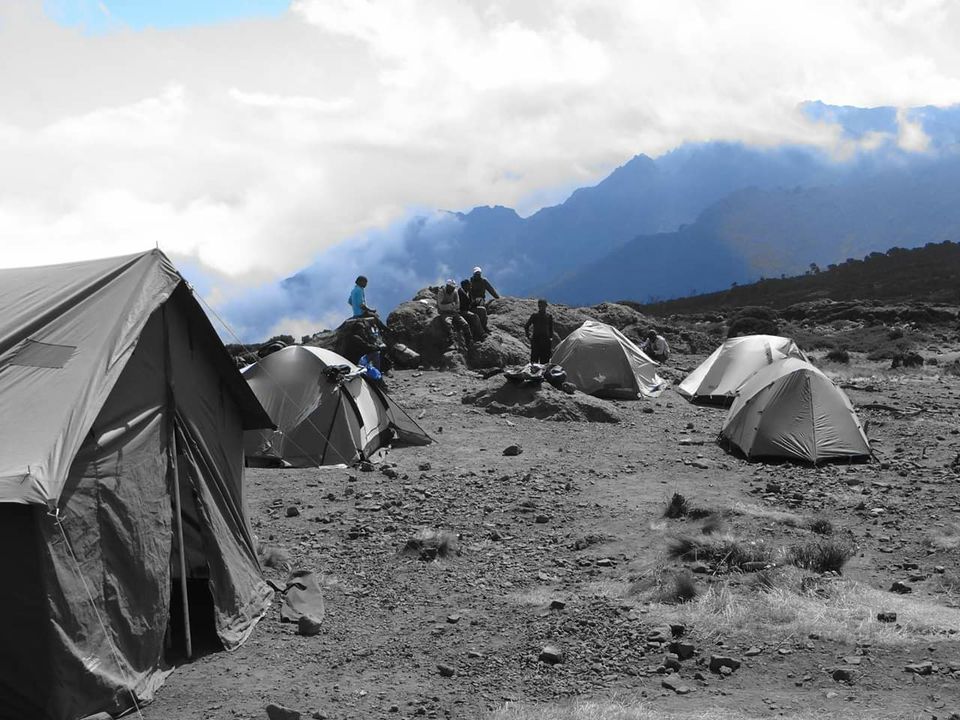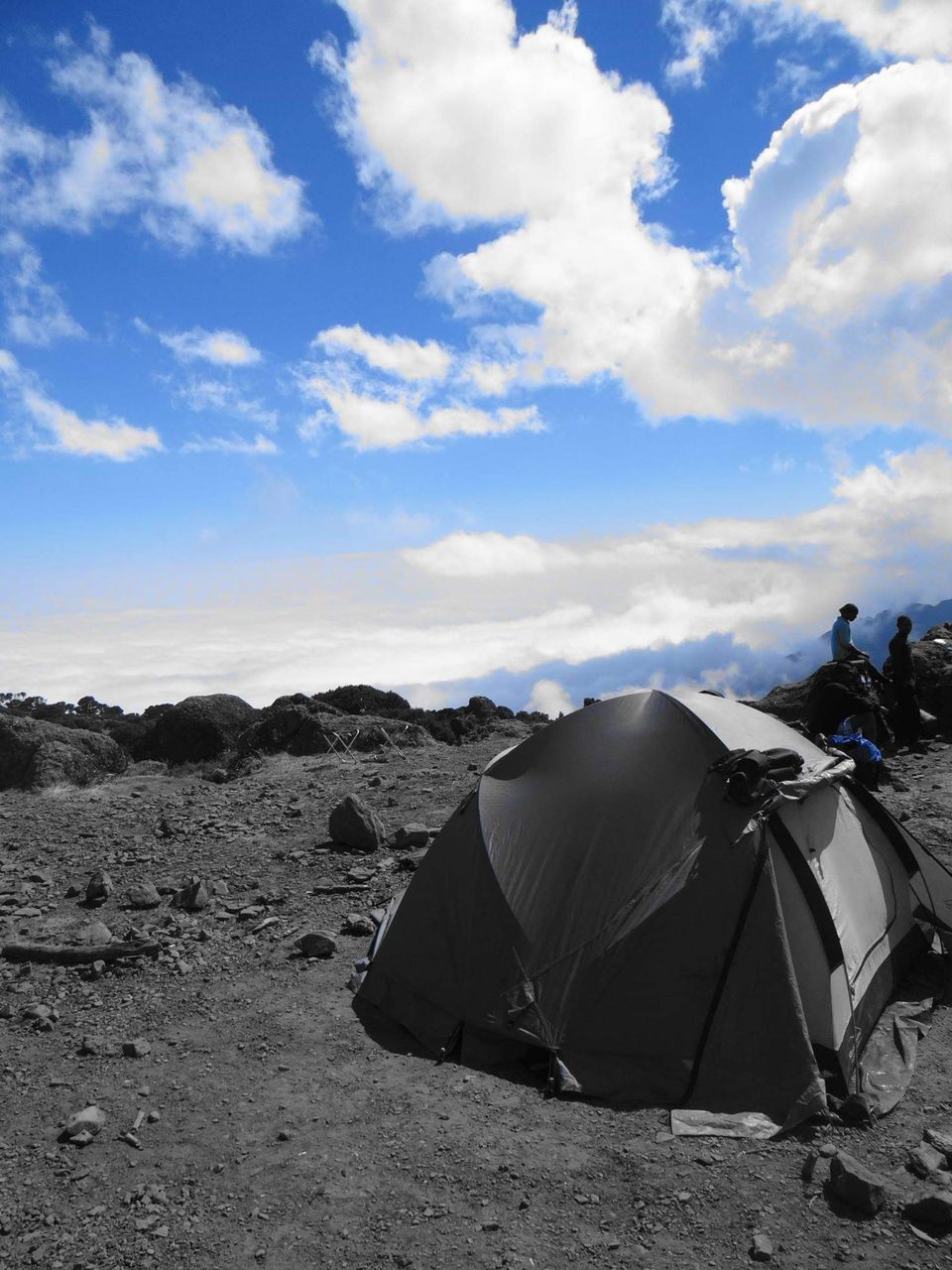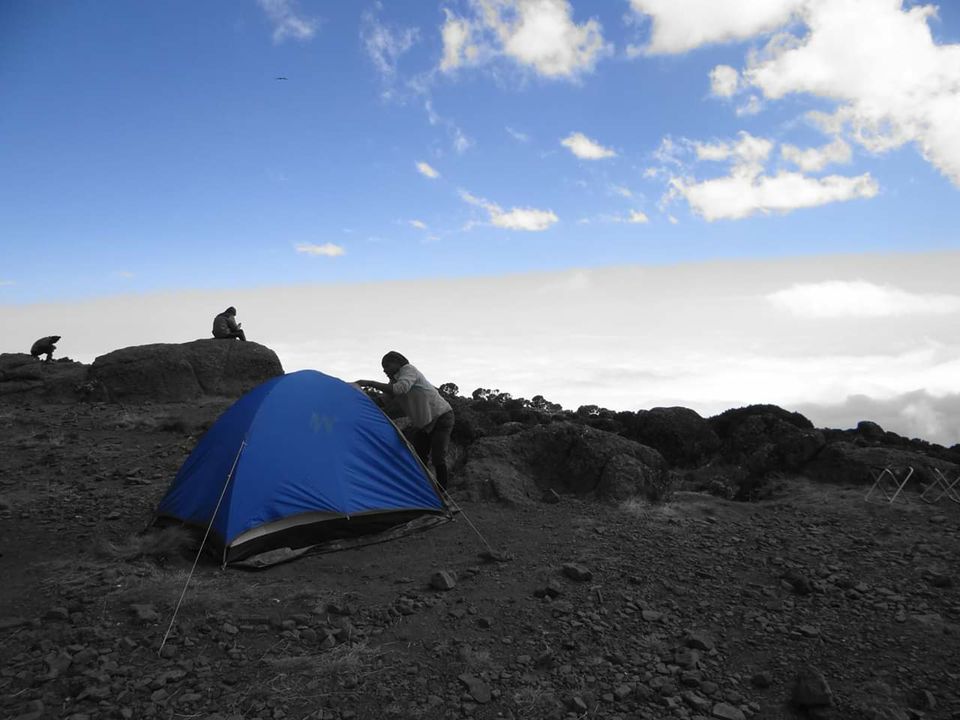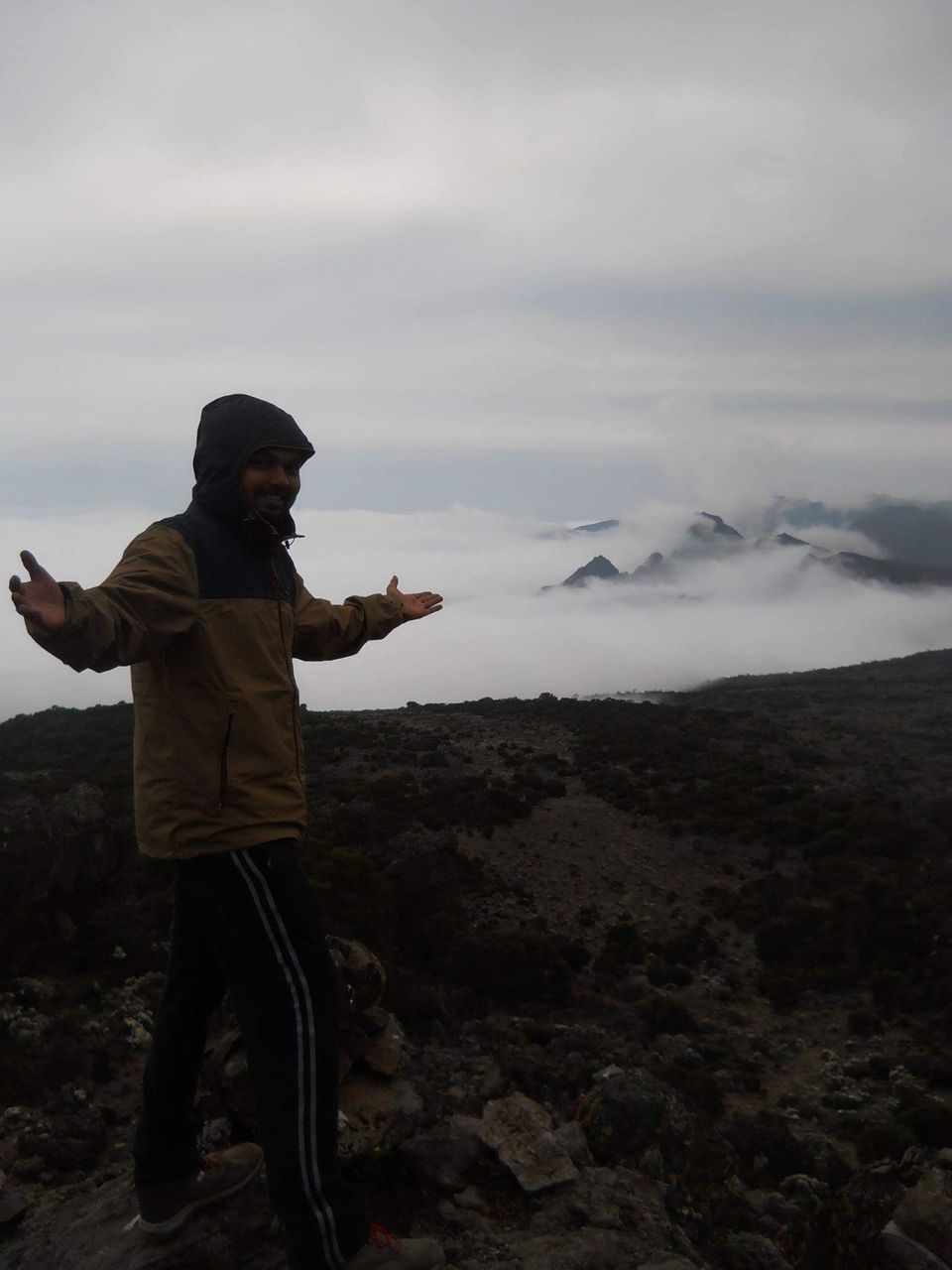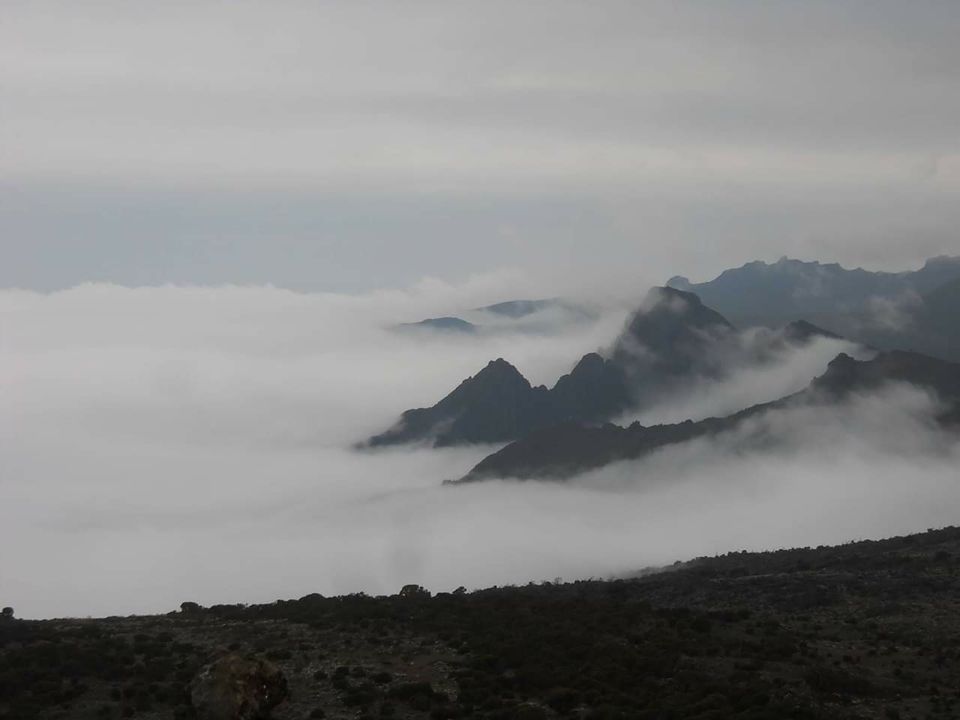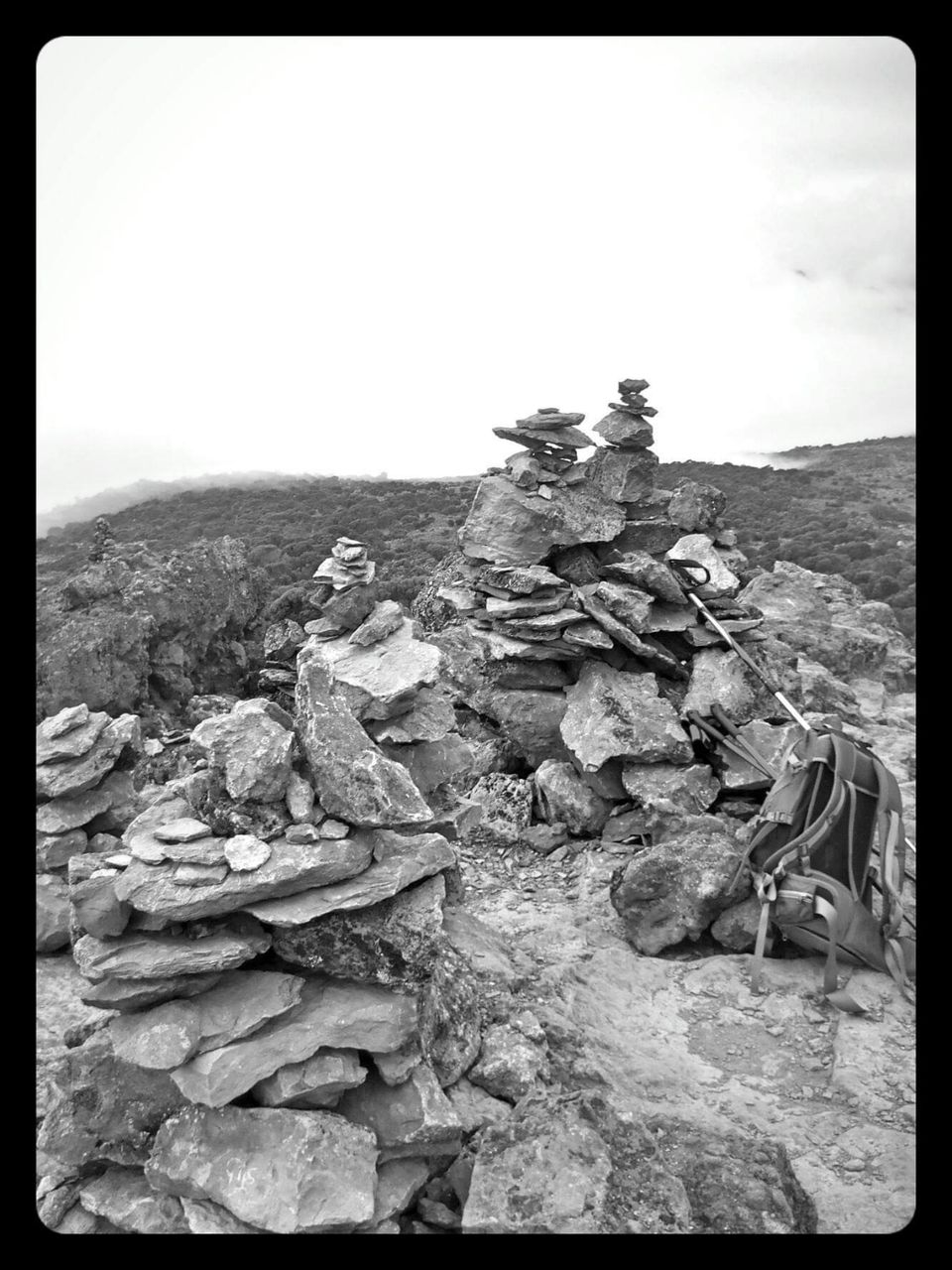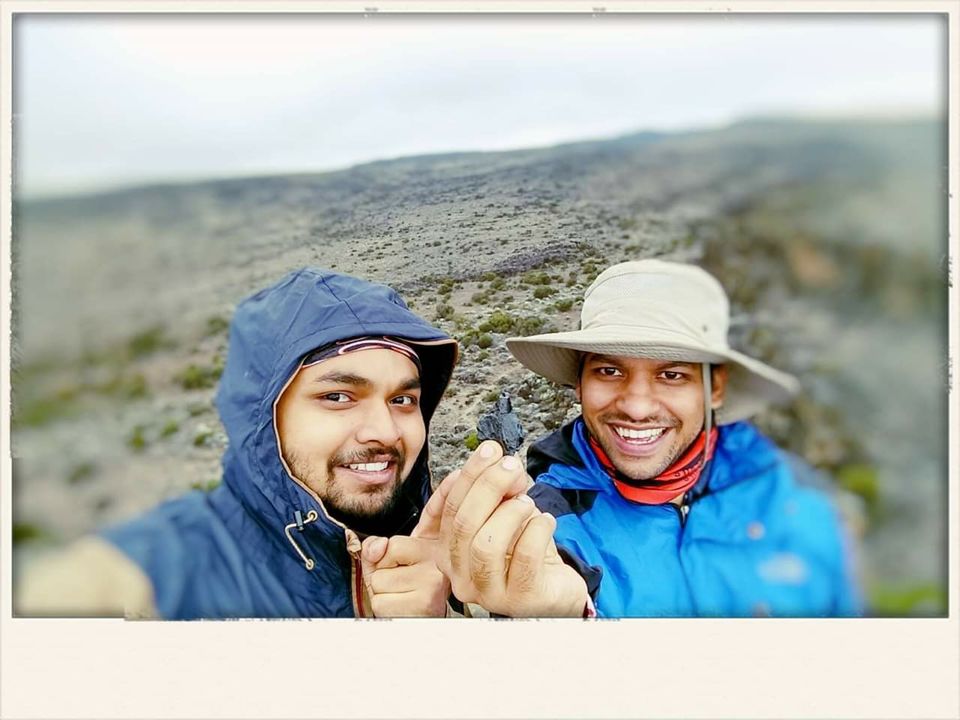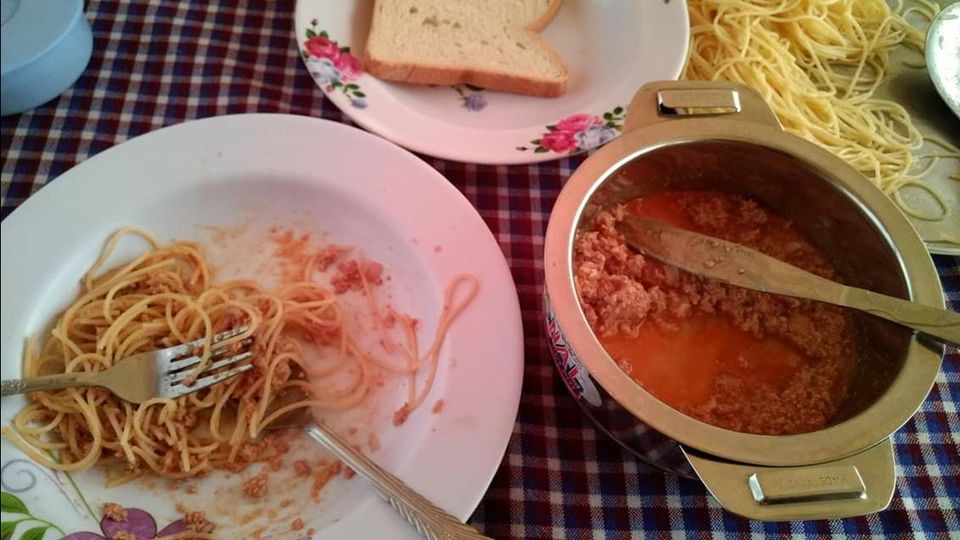 With Summit in sight we were all the more enthused to be on top of mountain. Weather looked very pleasant plus our headaches were gone
We were on our way to Lava tower a extinct volcano on mountain. Lava tower was 4600 m only 1200 meter below summit from lava tower we were to climb down to Baranco camp which is again 3600 m
All of sudden weather changed and we started walking amidst dark clouds. It was drizzling all the way for next 24 hours.
Visibility was very poor and as we descended towards Baranco Camp vegetation began to change. It seems like we were walking in Avatar land
Day 3 Ended .Happy me after walking two hour in what felt like nothingness
Because of rains temperatures had dropped . At night it was below zero Degrees. Food and weather had got us on nerves. Plus AMS had aggrevated. Entire night it was very noisy made by wind and rains.
More about the last part of trek in subsequent post