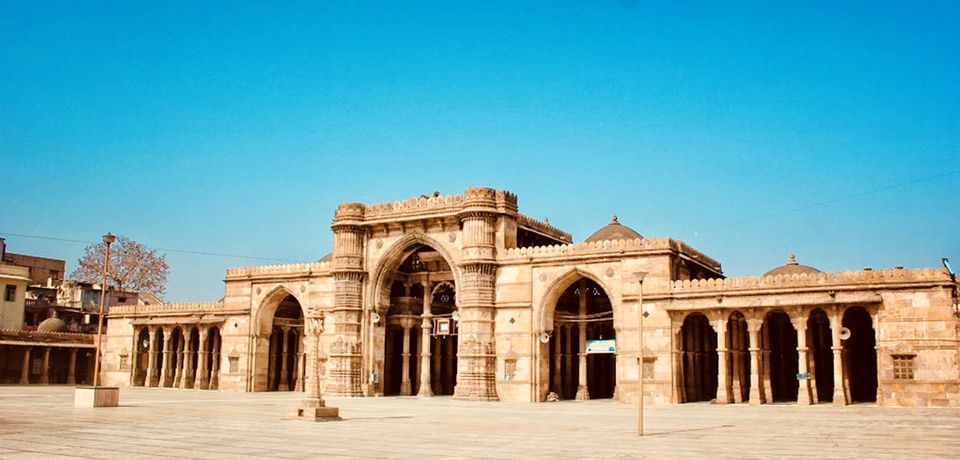 Ahmedabad, the city known for Gandhi, Sabarmati and Food has got one even better offering, which is lesser known, or I would say lesser explored. There are some very beautifully built and intrinsically crafted heritage, hidden and well preserved in the narrow streets of the old city, which recently got under notice of UNESCO, who then conferred the title of "World Heritage City" to Ahmedabad in 2017, which now happens to be the First and the only Heritage City in India.
While I was always in Ahmedabad, I never took the effort to step out and get into the hustle-bustle of the old part of the city to go and witness the beautiful history that this city has lived. But then I heard about the Heritage Walk, which has been planned out by Ahmedabad Municipal Corporation (AMC), to promote itself as India's first Heritage City. I knew that if I don't take any action at this point, then this sudden interest would just fade away at the same rate. Hence immediately, I looked down for the Heritage Walks being organized in the city and I got loaded with tons of suggestion. Hence I shortlisted few and when I filled in my details to register for the next session of the walk, but to my surprise none facilitated online registrations and payments. But, by this time, I was so overly filled with enthusiasm that I took it upon my ego, this Sunday has to begin with a Heritage Walk, or it just doesn't exist for me. I took the responsibility in my hand and decided to walk the heritage path on my own, of course, with some little help from Google Baba.
Multiple alarms got set to 5:25am, 5:30am, 5:35am, similarly till 5:45am, being so confident about myself and the way I have ditched some of the most well planned outings in the past. With few snoozing sessions and few excuses to myself, I managed to get out of bed by 6:15am and by 7:00am, I was all ready for my exploration journey. I reached the Swaminarayan Temple, the starting point of the walk by 7:30am and I subconsciously realized that half the battle is won, though little I knew that it hasn't even begun, the best was yet to come.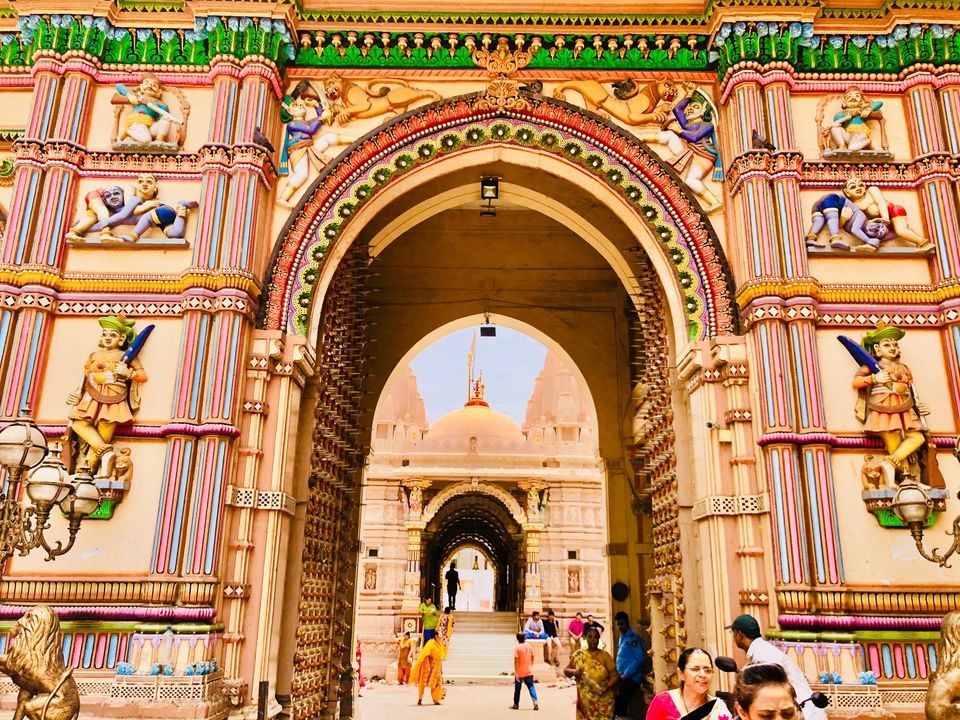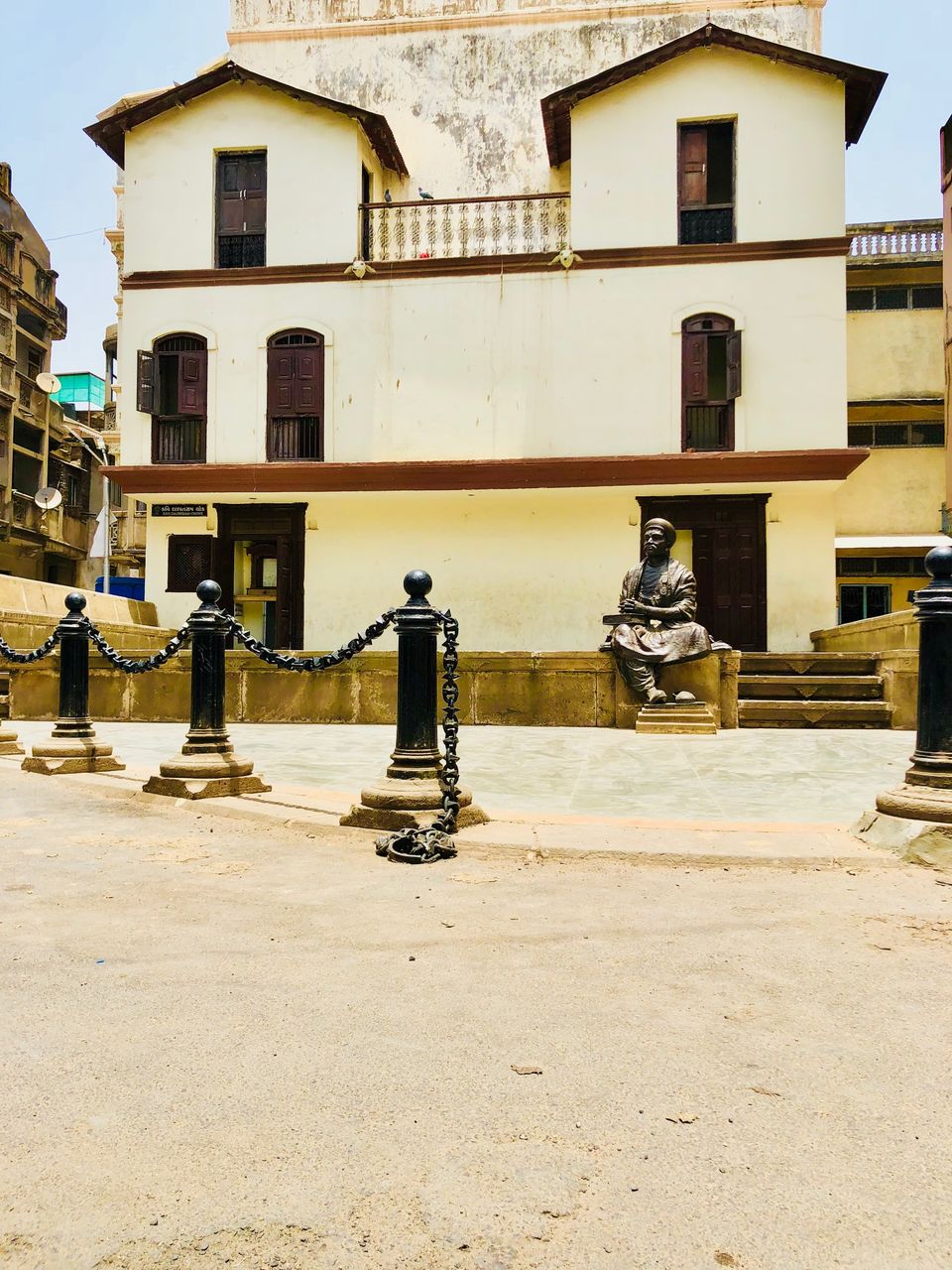 Like a disciplined confused millennial, I quietly pulled out my iphone from my pocket and without concerning anyone I searched for the next point, Kavi Dalpatram Chowk and Google Maps replied to me "sorry, the location couldn't be found". May be Google too wanted me to live up the time when these Heritages were built, without it or any technology being involved too much and now I knew that this walk would be no cake walk, with 19 more such heritage points to come by after this. However still I had some of the enthusiasm left in me, which had been brewing in me since past few days, which took me to a nearby hawker and made me ask the address of Kavi Dalpatram Chowk and the guy told me exactly the way the Google Lady makes me navigate (or even better..) This actually made me feel even happier about the day that was passing by. I reached the location, took few pics (since I always knew that I am gonna write this) and moved to the next point, which was Calico Dome. I will have to accept that I did not see anything fancy till now and Calico was a disappointment too, since the dome has been moved for restoration purpose and all what is left is an open ground and without spending much time and zero pic, I moved to my next point, Kala Ramji ka Mandir. However, before I could reach the temple, I started noticing the art and carvings that were there on the doors and houses on the way, which were supposed to be 300-400 years old. To my surprise they still stood strong and succeeded in getting passerby's attention. I immediately started my Instagram session there and now I started noticing my surrounding with even more details. I reached the Kala Ramji Ka Mandir, which is built in a house-like setting, which would made you feel that if you wouldn't have come on this walk, you wouldn't have ever known, that it is a beautiful temple and not a private house. They offered refreshing grated coconut wrapped in Pan leaves, which was a perfect thing to eat at this point of time. I moved to Shantinath Ji's Mandir, which was a swaminarayan white stone derasar (temple) with beautiful minute carvings all over the place. It also had beautiful courtyard surrounded by some tens of houses which made me think how social those people's life would be, whoever stayed in those houses. No worrying of theft or babysitting (:p) since there would always be someone taking care of the entire colony, wow. I moved to my next destination, which was Kuva walo khancho. While I moved towards it and asked few people, however this khancho, a narrow hidden path, was so hidden that when I asked about it to the people staying in the same colony, they had no clue about its existence, haha. After asking few dozens of people, I came across an old uncle who knew about it and he was ready to take me to it, walking along. While walking, he told me that Amdavadis were always the smartest businessmen. Since they were always occupied in their business, hence they took least interest in war or fights. Hence they built no big walls or forts around the city, however for any expected situation that may arise, they built these khanchas, which looked like a private home from outside, however once you enter inside you would realize it is actually a secret passage to take you from one street to another. I moved across the khancho and came to complete new pol (colony).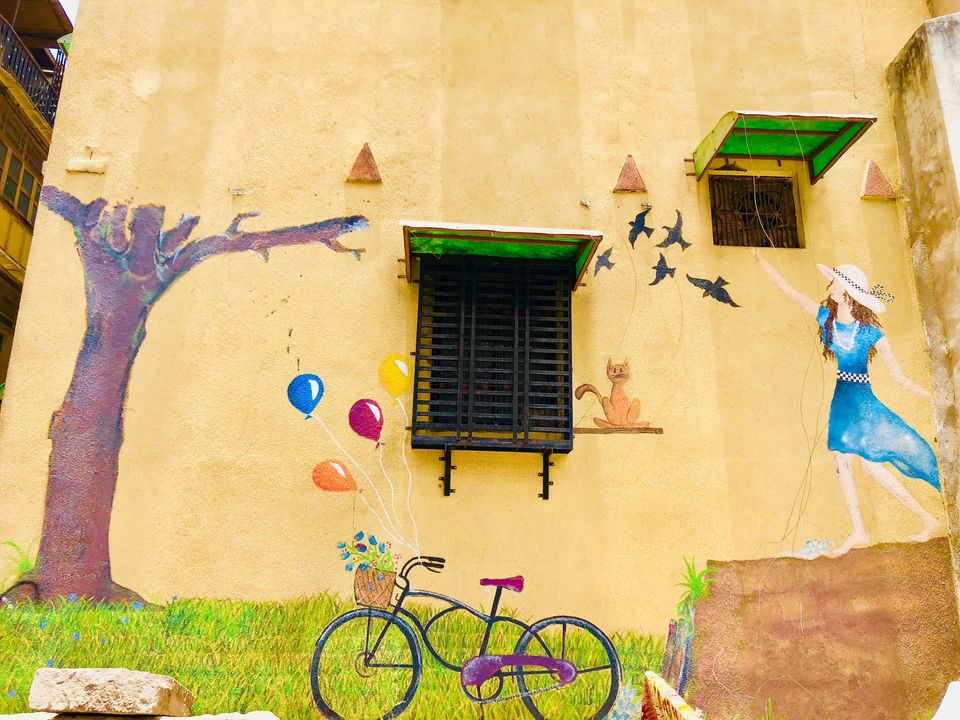 At this point I realized that it was getting more and more interesting, as I was moving closer to the final destination. I reached to the next point on my walk, which was Jagvallabh Temple. It was an insanely beautiful, white stone Derasar, with a huge idol of Mahavir Swami, with would give you an unusual soothing peace amidst this busy part of the city. Then passing through Zaveri Vad, I reached Sambhavnathji ni Khadki, which is again a very beautiful colony where in you see four houses in all four direction of yours and each built with a unique style of architecture. One inspired by European way of carving and arches, another was Persian with carvings of grapes and elephants. Another was built according to Gujarat's traditional way of building houses and the last one was inspired by the architectural style gifted by the Marathas. After which, I came across Chaumukhji ni Pol and then I reached to yet another beautiful temple, Ashtapadji's Mandir, which was again breathtaking for the complex water preservation system that was built during that time to preserve fresh water.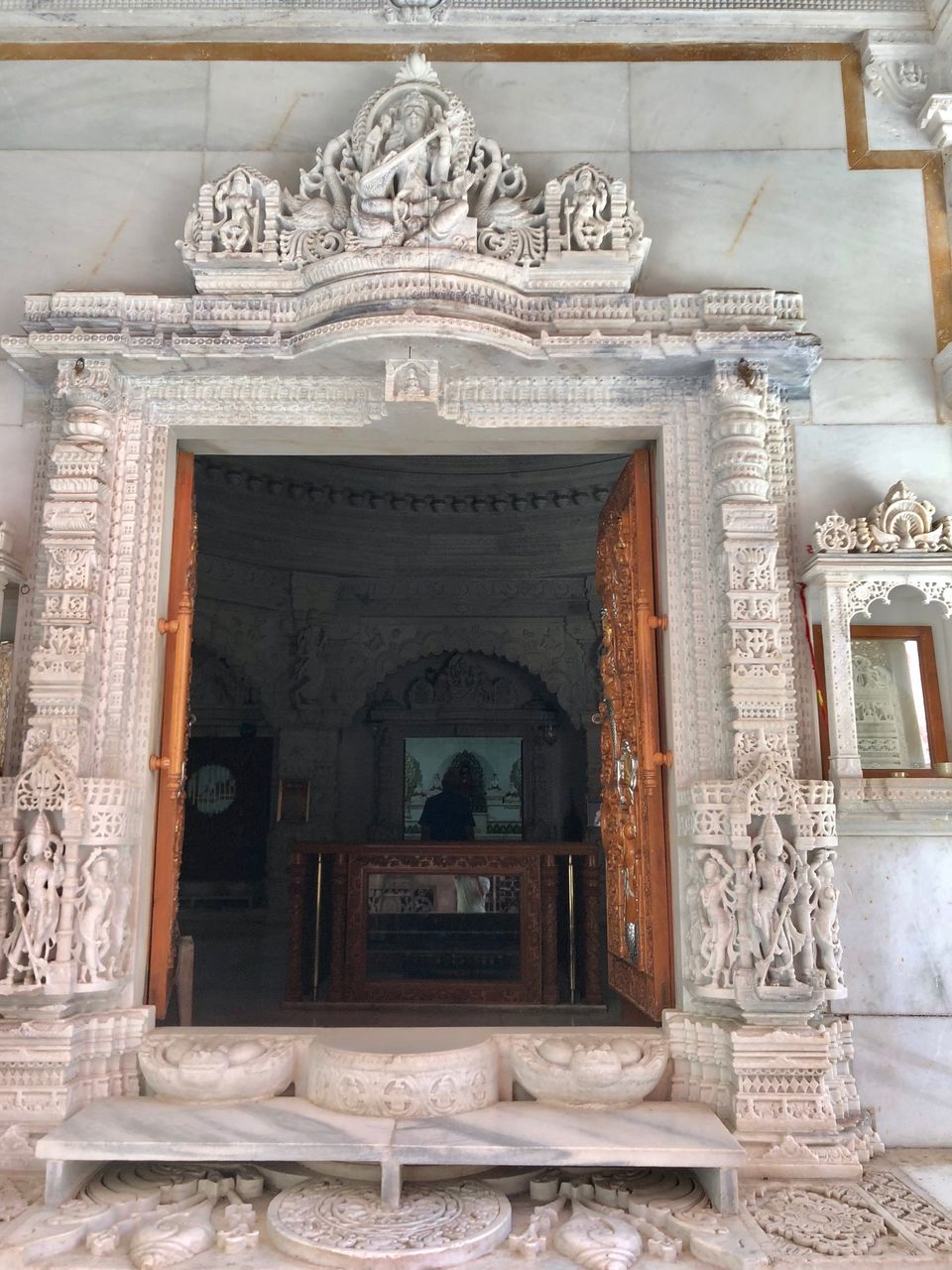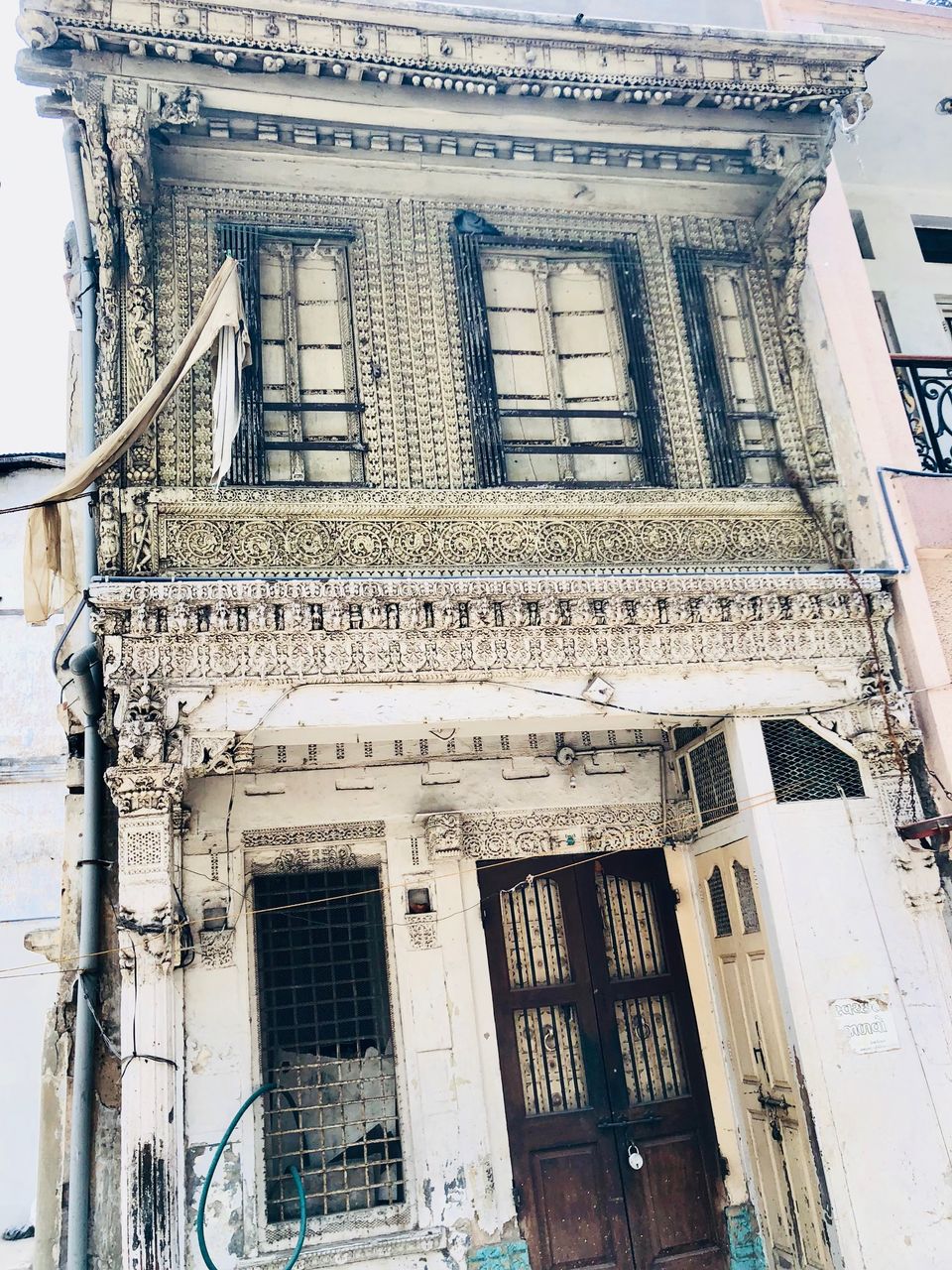 Then, I came to this beautiful Haveli (Palace) by Harkunvar Shethani. One interesting fact about this Haveli is that it looks like a four storeyed building, if you look it from front and from the back you can just count three storeys. Also the beautiful carvings of structures that got face of dragon and remaining body of elephant makes you think whether it was built to promote the slogan of hindi-chini bhai bhai (Indian and Chinese stay as brothers). Then was the turn of Fernandez Bridge, which was the first overbridge of Ahmedabad. At some point, there used to be a stream of Sabarmati flowing through it, which has now become the biggest book market of Ahmedabad. I doubt any student would have completed his or her Educational Career in Ahmedabad without visiting this market. Walking through it, I reached to the Foodies Paradise of Ahmedabad, the Manekchowk, the courtyard of Jewelers, the night food market of Ahmedabad, which starts only after 8pm and goes till midnight or even later. It all started with a very smart thought to avoid any kind of robbery, so that morning you could sell and stock Jewelries and at night the food market keeps the surrounding busy. There itself was Rani no Haziro, which is tomb of the queen of Ahmed Shah. Also, tomb of King Ahmed Shah lies just opposite to Rani no Haziro, which is a beautiful mosque. This is the same Ahmed Shah, from where the city of Ahmedabad gets its name. Moving from it, we came to the final point, which was Jama Masjid. This is there on the famous street of Lal-Darwaza, which I would have cross innumerous times since my childhood, but I never crossed the gates of this mosque, since little I knew that there lies the epitome of architectural beauty beyond this gates. It actually seems like this gigantic monument has intentionally been given a dull entrance, so as to keep it safe from the type of visitors, who would visit it, just because they were passing by and they noticed a huge building. A huge pond built to clean you before you enter, gives this fiery yellow stoned mosque a cool turquoise touch. And with these I realized that this was the end to the much-planned walk of Ahmedabad. After completing the walk, we would get this natural feeling of pride about this city, which holds people from so many different ethnicity together on one land. Once you walk the walk, you would all agree with me, Ahmedabad is truly a World Heritage City.