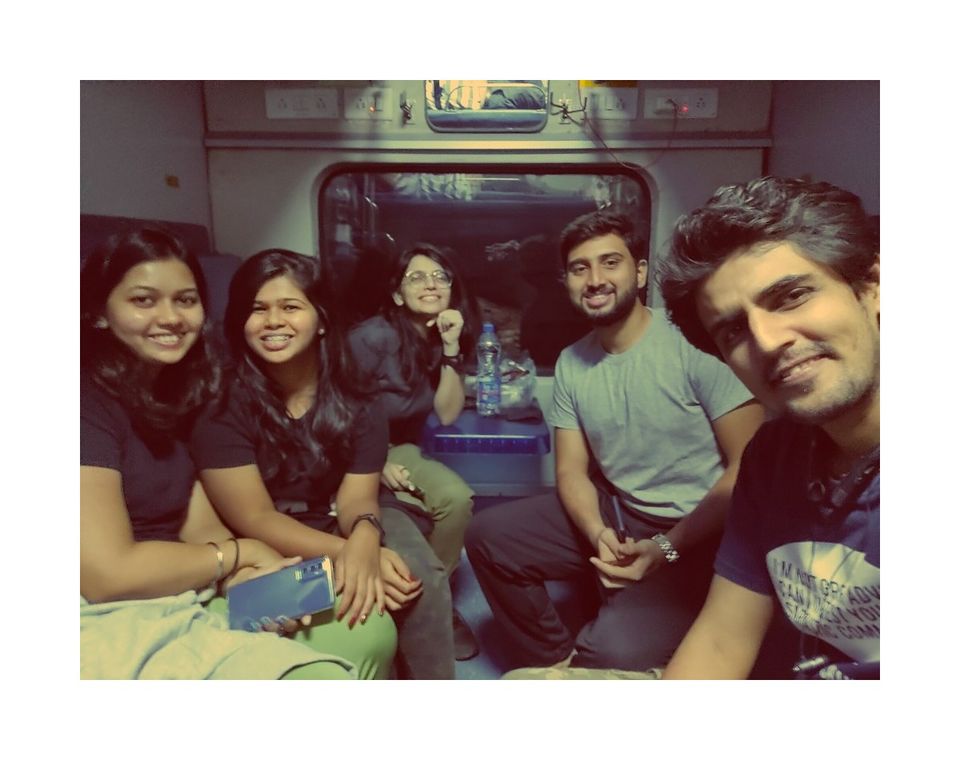 aditibhadwalkar01
Updated: 15 hours ago
5 Friends, rather few mediocre strangers, first road trip, travel across borders, cultural architectures, an epic sunset....in short, A trip to remember!
If Rann of Kutch was a person in my life, I would have termed it 'stubborn' and 'adamant', this place had been living in my 'To-do' list for ages and was not ready to be struck off. Last month of 2021 thankfully had a different plan.
Rann of Kutch actually was a random plan, initially, it started with a trip hovering around the White Desert, eventually, it ended up being a 4-day trip; starting from Ahmedabad and ending in Kutch. And since it was much awaited, we made sure we could add any and every possible experience to it. Sharing a few glimpses and a possible itinerary that can be followed:
16th Dec 2021: Day 1 - Mumbai to Ahmedabad
Thanks to the Coronavirus pandemic, travel looked as distant as a Disney princess dream, let alone train travel; which invited more crowd. The end of 2021 however was a mellower side, finally and the traveling had resumed, we decided to go for train travel. One of the most rustic and real traveler experiences. We took the Mumbai - Bhuj Express. The group of "almost unknown" people boarded the train from Borivali at 12.15 am.
All five of us were not introduced to each other. I had my two school friends, one childhood friend, and one colleague of the school friend. So naturally, step 1 was getting to each other, which surprisingly was very easy and quick. We took no time to blend into a group to even pull each other's legs. 3 hours into the journey we were already a 'talkative/mischievous group' on the train. In better words, we talked so much and giggled so loud that we did not let our fellow passengers have a peaceful Goodnight's sleep.
Dumb charades, imitating Bollywood movie dialogs - Chennai Express, anyone? Sauchalay waala scene? No?
6.30 in the morning and we woke up to beautiful 'Manchester of India', the city famous for its cotton textile industries - Ahmedabad. The train was actually destined to Bhuj - which was our ultimate destination, however, we decided to skip the usual path.
17th Dec 2021: Day 2 - Exploring the heritage city of Ahmedabad
The next day was all dedicated to exploring the Heritage city - Ahmedabad. We even stayed at the 'Heritage House', which is a 100-year-old property, hosted by an adorably humble person - Jagdish Bhai. This has been their family house for over 4 generations. Jagdish Bhai pulled his contacts and got us booked with a vehicle service
'Sabarmati no Saarthi' who would show us around Ahmedabad. And that's how we explored the 'Heritage City', we visited the Sabarmati Ashram, Adalaj Stepwell, Kankaria Lake, Manek Chowk & Akshardham Temple. We did not really cover the places which read in our 'self-made itinerary', because, of time constraints. Like every unpredictable group of travelers, we missed calculating the time required to get the desired group photo at each location!
However, if and when you plan to visit Ahmedabad, you can definitely look out for this:
Start early and book the 'Sabarmati no Saarthi' cab service, this is an initiative started by Gandhivadi people - meaning 'followers of Mahatma Gandhi' who aim at treating every traveler as their guest and introducing them to a rustic side of Ahmedabad. They are extremely sweet and friendly, though they can chalk out the perfect travel plan for you, the places to visit are totally customized up to your likes.
The best part about this service is that - You can charge them as your will. YES, this is true. As this service aims as a true service of humanity, they do not force their 'guests' into any pricing. At the end of your travel, they will hand you a box and you are free to add in whatever amount that you wish. And trust me, by saying this, they won't even peek in to check what are you planning to add.
Early morning
Like us, if you have only one day to explore the city, you HAVE to make an early start. If you are staying anywhere in the core Ahmedabad city then preferably leave your hotel/stay place at 7 AM and not later than that. Earlier than this is all the better, as you can catch more places for sightseeing.
Start your day by having breakfast at 'Oshwal', Gujrat is incomplete without trying the epic Faafda Jalebi combo and Oshwal is a treat for this food. We even tried their Lilva Kachori, which is another must-try!
Afternoon
If you are planning to visit the Adalaj Stepwell, leave soon after breakfast, as Adalaj is almost a 45- min drive, but is a place worth the effort.
Now, there are 2 Stepwells in Ahmedabad, one is 'Adalaj' and the other is 'Rani ki Vav', this is the one that appears on our 100 rupees currency note. We preferred Adalaj as it is comparatively less crowded and the history I read about it quite fascinated me.
You would end up spending hours and hours here until you would convince your mind that you have achieved the perfect picture that you desired!
History Check: Adalaj Stepwell was built in the 14th Century by the then ruling King, Rana Veer Sing, and his beautiful wife Rani Rudabai. Since Ahmedabad was prone to water issues, the Stepwell was built with an intention of catering to the need for drinking water.
However, the kingdom was soon attacked by Muhammad Begda, a ruler of the neighboring kingdom. Rana Veer Singh was killed in this battle, after which Rani Rudabai decided to perform the Sati.
Muhammad Begda took one glance at Rudabai and was instantly mesmerized by her beauty, nevertheless, he expressed his desire to marry her. Rani Rudabai agreed on a single condition that Muhammad Begda has to complete the construction of Adalaj Stepwell - an unfulfilled wish of her late husband.
Muhammad Begda instantly agreed, the stepwell was completed to its intricacies, and now when the queen had achieved her objective, she decided to jump into the same Stepwell and end her life, to embrace her dead husband for eternity!
Adalaj Stepwell is marked for the sacrifice of Rani Rudabai, who focused on the well-being of her people even during her final moments.
Evening
After completing Adalaj, leave for Akshardham Temple, this would be on your way to return. It is humongous and extremely well maintained, beautiful architecture. We spent about an hour here, though it was not a part of our written itinerary, this place had a unique calming aura that demands some peacetime of yours.
Here, definitely try the Swaminarayan Khichdi from their menu, it is simple and the tastiest one! Must try for sure.
One addition for travelers now would be to visit the Narendra Modi Stadium, the largest stadium in the world. This again falls on the way to the city, so you can visit here right after Akshardham Temple while returning. We missed this as the venue was closed due to Covid protocols, but I am sure, this would be a sight to behold.
After stopping by the gates of the stadium to try and get a glimpse of at least a photo, we moved to our next location, Sabarmati Ashram and I would suggest you stop by this place for sure. It is a well-maintained sight, showcasing details of Mahatma Gandhi's life with his house and a museum built right beside it.
If you are a little hungry by now, you can stop by an amazing snacking place - Das Khaman, the house of Khaman. They have a variety of Khaman and Dhoklas which is beyond imagination. Try their 'Sada Khaman' for an original taste and a hatke version, go for 'Dahi Tam Tam Khaman'.
Pro-tip: Though Ahmedabad has tons of food places to offer, my suggestion would be to stop by small food joints and eat light.
Reason 1 is, that way you would have a taste of many flavors and try a variety of dishes gradually.
Reason 2 is, you would stop by a place for a lesser time and won't consume your travel time. Additionally, if you pack and are willing to carry your food in the cab while exploring, nothing better than that.
If time permits, please do not miss visiting the beautiful heritage structures within the city - Jama Masjid, Sidi Sayyed Mosque, Jhulta Minar, etc. We wanted to stop by and really explore these places but by the time we reached the city, it was dark and these places unwillingly had to be chalked out from our Itinerary.
If you face the same issue, which you would if you follow this itinerary. In that case, I would suggest trying to accommodate these places the next day early morning. We had to leave real early for our next destination, so, unfortunately, we couldn't.
Night
The last destination of our Ahmedabad travel places was the Kankaria Lake, this place is best visited during the late evening. It is a traveler's delight and the best place to stop by if you are traveling with a group. It basically has everything to offer for your entertainment, also if you wish to ditch people and call for some 'Me time', sit by the banks of this river, plug in your earphones, play that old Bollywood playlist from Spotify and I promise you to be transported in another dimension of calmness. Since we visited here during the December winter peak, Kankaria lake was very cold and chilly, to add to the thrill further we decided the enjoy an Ice cream as we sat by the banks.
Late Night
Ahmedabad's visit wouldn't be completed without you exploring the heart of its food place - Manek Chowk.
Manek Chowk is a small place instilled among the by lanes of Ahmedabad. This place is a shopping hub during the morning and by late-night, it gets converted to food heaven. Visit this place for dinner or some additional snacking around 8 pm or later than that. Try the Ghughra sandwich, which was my personal favorite. It is simply a combination of your basic toast sandwich with potato, capsicum, cheese, and chutney, but surprisingly the combination tastes very different here. Must try!
If you are too full and do not wish to indulge in eating any further, simply visit this place for a sip of Chai. Cause, tea-lovers give me cheer - It's a forever emotion!
This was the end to an entire day spent in Ahmedabad, we left for Rann of Kutch early morning the next day, but more about it in Part 2!