The Ajanta Caves Paintings Story & Travelling Tips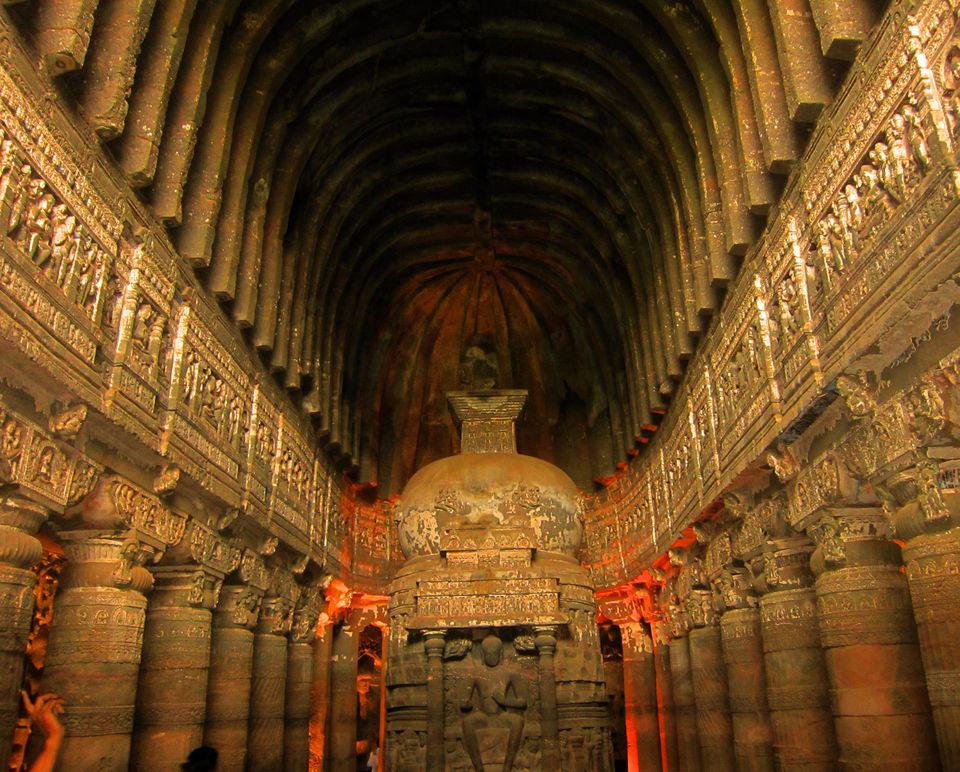 I started my journey from Aurangabad to Ajanta on 15th August morning at 11 AM .My friends accompany my journey. Ajanta is around 103 km from Aurangabad. It was great decision taken by me to visit Ajanta caves because the weather during my journey was just awesome. It is most astonishing caves in Aurangabad district of Maharashtra state near in Ajanta village only (8 km) it is UNESCO site.
We went firstly to see the view point of Ajanta caves. When you will see those caves you will feel like what amazing architecture made by human. We can see the panoramic view from view point if travel from Aurangabad. Before visit to the cave you must see the view point first of Ajanta caves it is located before Ajanta village.
We catch a sight view point of caves in hill. Capture some panoramic view moment. It is great art made by human. The caves are carved in mountain by 180 degree and it is in valley .there are too many mountain rocks and the caves are located at the centre of that valley. It is horse shaped caves bend of rock scarp.
We went ahead from view point to go to Ajanta caves crossing the village and Ghat. We entered the parking area and there is enough parking spaces. There is replica of caves museum but that time it was closed. So we went to first bus stop to enter the main cave, you can go there by walking, if you want some thrills and adventure. We took the government public transportation bus to reach near caves.
We went to the ticket counter to take the tickets. We all were too excited to see this amazing place. We climbed some steps and we saw the beauty of the place. It was such a cool experience for us we saw the valley of that place first Waghora river. It came from valley that time the water level was very low but the weather was just awesome
Cave No 1: We saw the first cell. We entered the cell by reading all the rules and regulations it is 'Verdha' hall (Viharas). we saw the Buddha Statues .it was seated in 'Dharmachakrapravartana Mudra'. Inside the cell walls we saw paintings and also in the roof if you will see the paintings. Its shows some stories of that period devotional Buddha, Bodhisattva stories how lord Buddha came and inspire all people about living style and about Buddhism. The most famous paintings as we used to see in our school books and many books, it is in cave number 1 Bodhisattvas Padmapani and Vajrapani it is on cell number 1.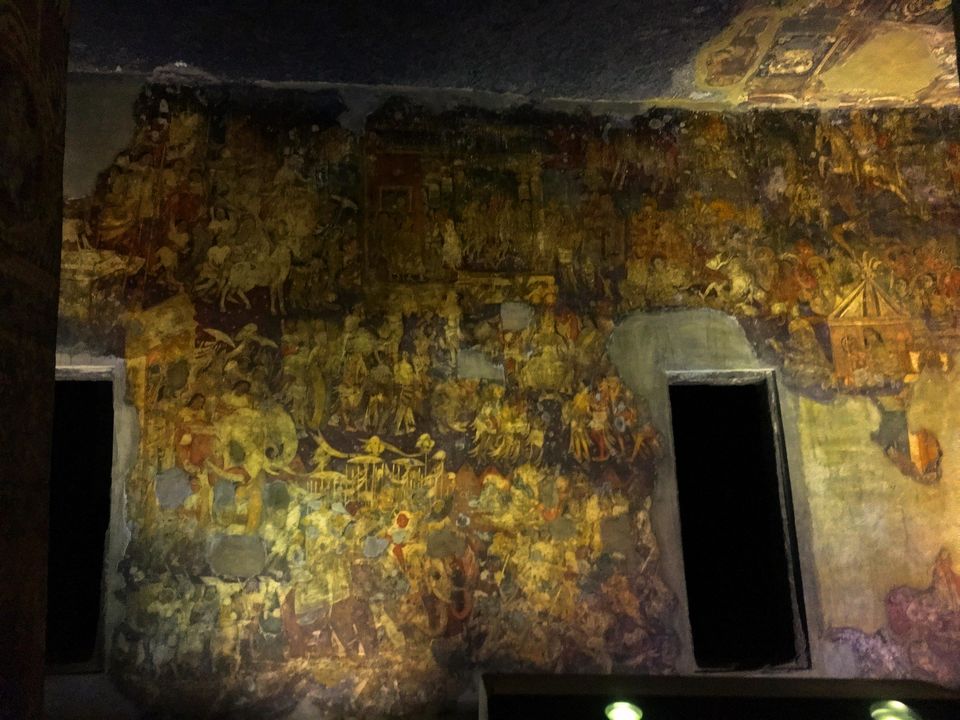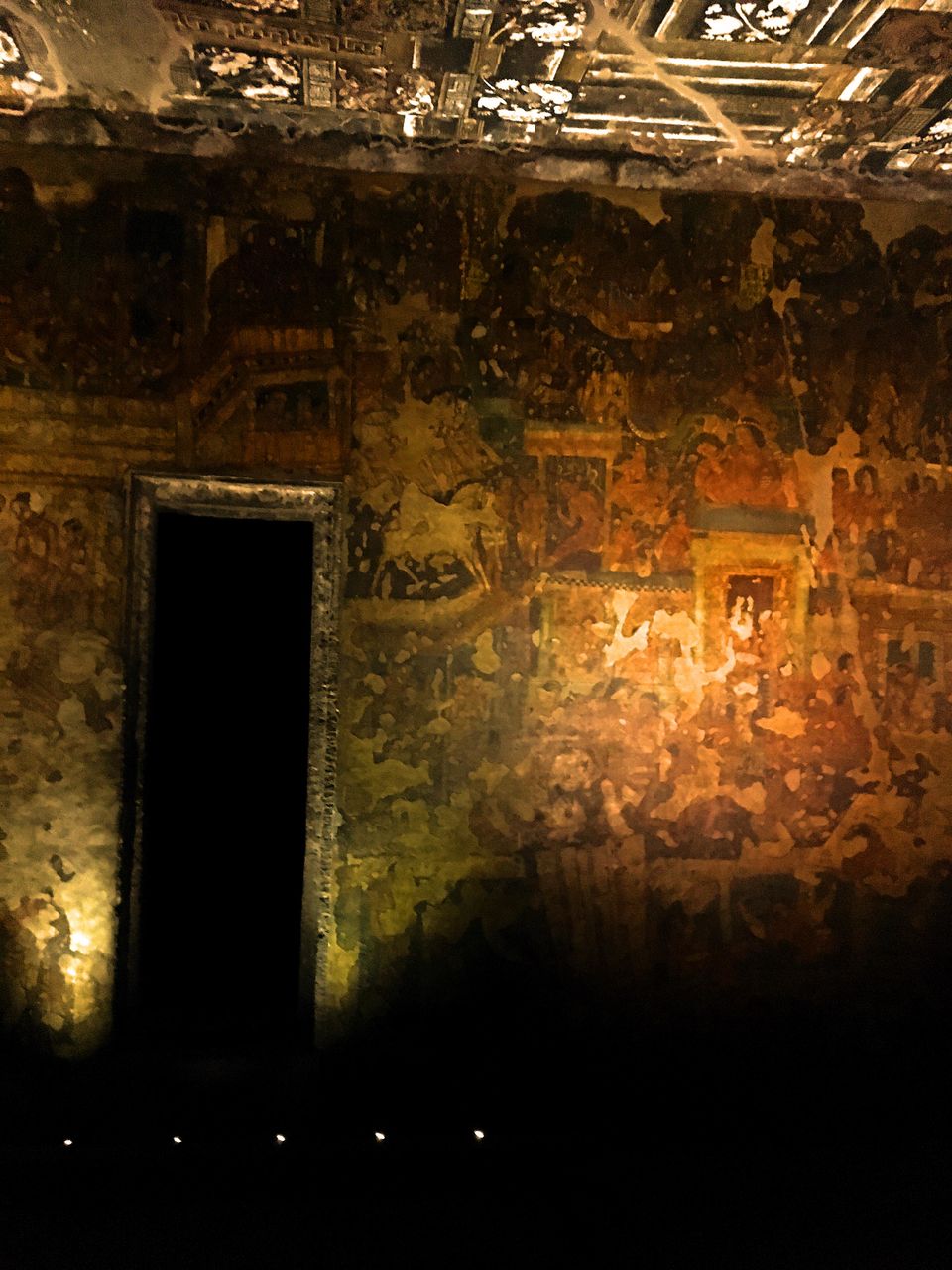 After build story of Ajanta: It has its own story it is rediscovered 1819 by the one foreigner tourist he's name (John Smith) during their haunting he found the treasure of arts its name is Ajanta.
History of Ajanta: It having the most beautiful Indian mural paintings these caves was excavated in horse shoe shaped.
In all 29 caves were hewn out of the living rock in different periods according to a necessity out of these five cave 9,10,19,26 and 29 are 'Chaityagrihas' and the rest of the 'Viharas' .
These divided into two parts out of the 29 caves 6 caves belong to the earliest phase of Buddhism Hinayana.
Caves no 9 and 10 'Chaityagriahs' and 8, 12, 13 and 29 'viharas' belong to these phases these caves are to the pre-Christian era.
During the period of Vakataka could be noticed in caves no 1,2,16 and 17 the style of paintings is the depiction of various Jakataka stories the different incidents associated with the life of Buddha and some events and social life.
Ajanta paintings are the example of tempers technique by using layers of clay, sand, fibrous material of organic origin were applied very carefully.
The colours used for the paintings are kaolin; lead white, red ocher, yellow ocher, shell white.
The caves are record by the UNESCO as World Heritage Monuments in the year 1983.
Ajanta Caves no 26: This Cave is Chaityagriha it is the beautiful 'stupa' I ever seen we enter the Stupa and see the front of eyes figure of Buddha seated in the 'pralamba-pada' Mudra it is most popular cave it is similar to 19 no cell.
The side wall carved some designs and images of Lord Buddha, There have one sleeping Buddha statue it is left side of entrance gate of cell it was the last point of our trip experience and we good bye to Ajanta by seeing this beautiful cave.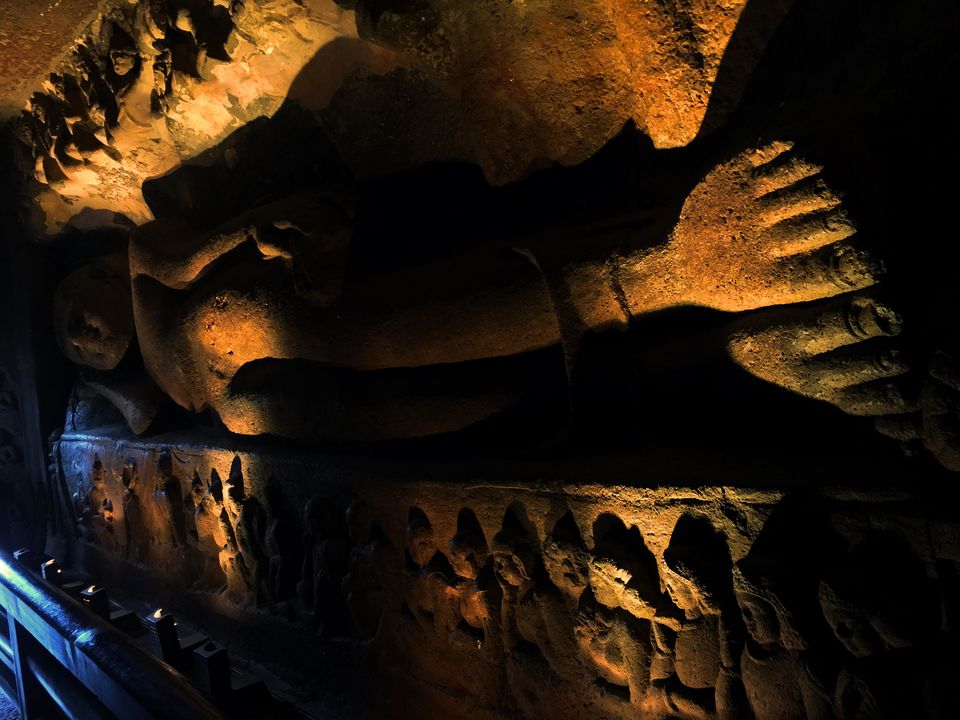 Travelling tip of Ajanta caves: If you plan to visit Ajanta caves you must take care of these things.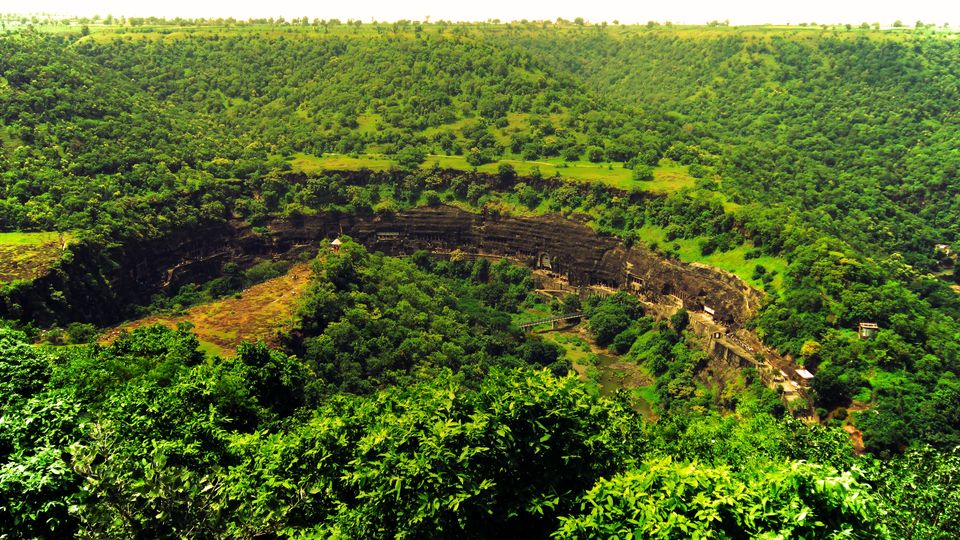 1. Start to travel in early morning if you travel via (Aurangabad) because the caves close at (5.30 pm).There are 29 caves so as per my experience if you reach at 10 to 11 am than you have enough time period to spend and to see each and every aspect of surrounding places. In addition you will get more time to know deep history behind caves and information about caves.
2. Ajanta caves close on Monday. Opening and closing time (8:00 AM to 5:30 PM)
3. Transportation from Aurangabad: MSRTC Volvo bus available from central bus stand of Aurangabad ticket (Rs 695 per person) and much private transportation available to reach.
4. Parking space for parking is under MTDC. Four wheeler charges (Rs 30) additional ticket amenity charges (Rs 10) per head.
5. Ticket price for domestic visitors is (Rs 40) and foreigner visitors (Rs 600) per person free entry for children 15 year and below.
6. Air Conditioned Bus charges from parking to cave (Rs 30) for one side only, and Non AC buses charges (Rs 20) Timing (8:00 AM to 6:00 PM)
7. No private vehicle allowed inside the premises from parking to caves expects Archaeological Department vehicles have permit to park.
8. Carry some food and water bottle along with you. Outside food is allowed here.
9. Must hire the guide to know in detail ancient history about caves.
10. Don't wear shoelace shoes because there is a Lord Buddha statue inside the caves so in every cave you have to remove the shoes before entering into. (As per my experience wear the half shoe sandal easy to remove and wear.)
11. Available handicapped porter service each person (Rs 400) and Chair Doli charges (Rs 1500)
12. If you have limited time than at least visit caves no 1, 2, 3, 9, 16, 17, 19 and 26.
Never miss to drink: you should not miss the special local drink of Ajanta. It is memorabilia for us. Its name is (Ghamandi Lassi ). Local treat you must try it. While passing Ajanta village we just loved that Lassi. It is very Khatti,Mitthi (sweet & tangy)and tasty. I explore this feast during my friend's engagement in Ajanta village.
Do not do these things:
● Do not capture the photos with flash light of camera inside the caves. Capture without flash light. See the paintings with help of portable light it is available on booking counter or take portable battery with you.
● Do not eat food inside the cave.
● Do not touch the paintings sculptures.
● Video shooting strictly prohibited inside the cave.