An upcoming long weekend of New Year, juggling with many plans, waiting for tatkal to create some magic and a friend messages "Got leave for three days, let's go somewhere, please plan something".
Eventually, zeroed on Ajanta – Ellora, easily accessible by Bus and Train. My friend (Amol) had not visited Ajanta – Ellora caves in Aurangabad. And, I had been there like 3 times earlier. Still, was gung-ho about going there again. It is one of the best place to visit in short notice.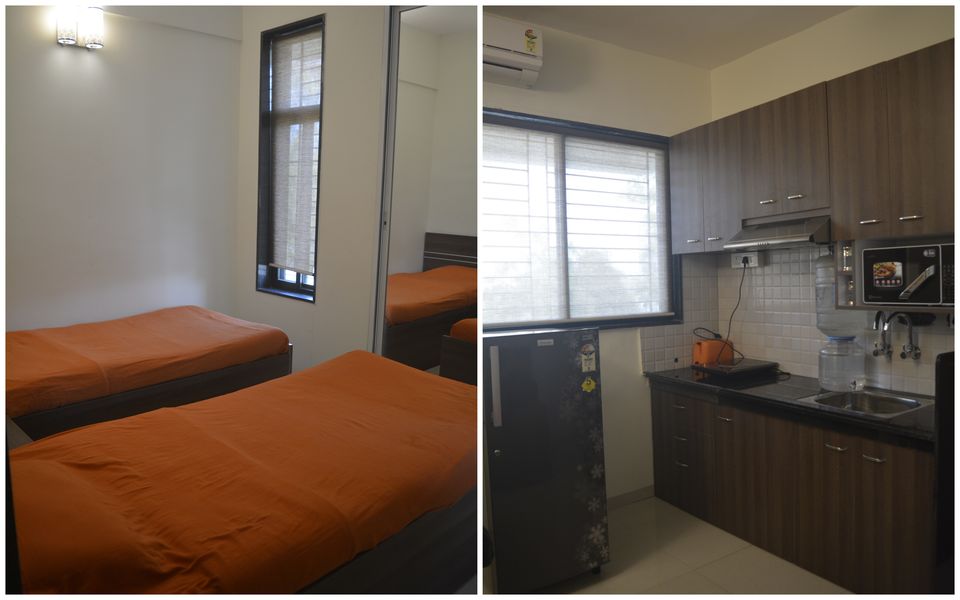 One day prior, with tatkal tickets booked (Rs. 150/- per head) in second seating, we booked the accommodation at Opal Apartments (Best accommodation till date, closer to lots of restaurants). We were all set for next day.
30th Morning we boarded the train at 6.15 am (Tapovan Express). Reached Aurangabad in the afternoon at 1.30 pm. Got an auto right outside station (Rs. 80). We did realize later that the Auto drivers just fleece tourist by quoting 80-100-150 for minimum distances.
We checked in at Opal Apartments at New Osmanpura, and were awed at the interiors of the mini apartment and amenities provided. There was a mini kitchen, one bedroom with two beds, and a gallery. After relaxing for sometime, my friend checked out the restaurants nearby, there were lot of options. We chose to have a Thali at Swad Restaurant (walking distance, Rs. 250/- per head).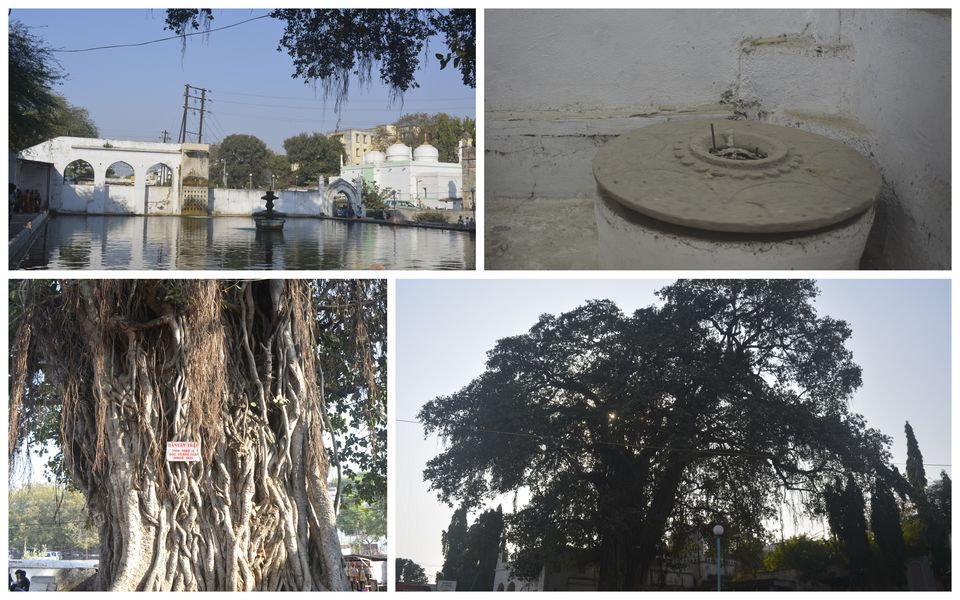 After the scrumptious meal, around 3.30 pm, we took an auto to Paanchakki – Water Mill (Rs. 60 – had to bargain here from Rs. 80). Paanchakki is attached to the dargah of Baba Shah Musafir, a Sufi saint is located in a garden near the Mahumed Darwaza and consist of a Mosque, Madrassa, Kacheri, Minister's house, Sarai and houses for Zananas. There was a 600 years old Banyan tree next to the cistern. The arrangement is such that the water is made to fall into the Panchakki cistern from quite a height in order to generate the necessary power to drive the mill. We went around exploring the area, and left Paanchakki by 4.30 pm. Hired an auto again for Rs. 40 to Bibi-Ka-Maqbara. We got the tickets (Rs. 15/- per head), went in, being Saturday, it was crowded. (Bibi-Ka-Maqbara is a beautiful mausoleum of Rabia-ul-Daurani alias Dilras Banu Begum, the wife of the Mughal Emperor Aurangazeb. This mausoleum is believed to be constructed by Prince Azam Shah in memory of his mother between 1651 and 1661 A.D. This mausoleum draws its inspiration from the world famous Taj Mahal of Agra and hence it is rightly known as the Dakkhani Taj (Taj of the Deccan).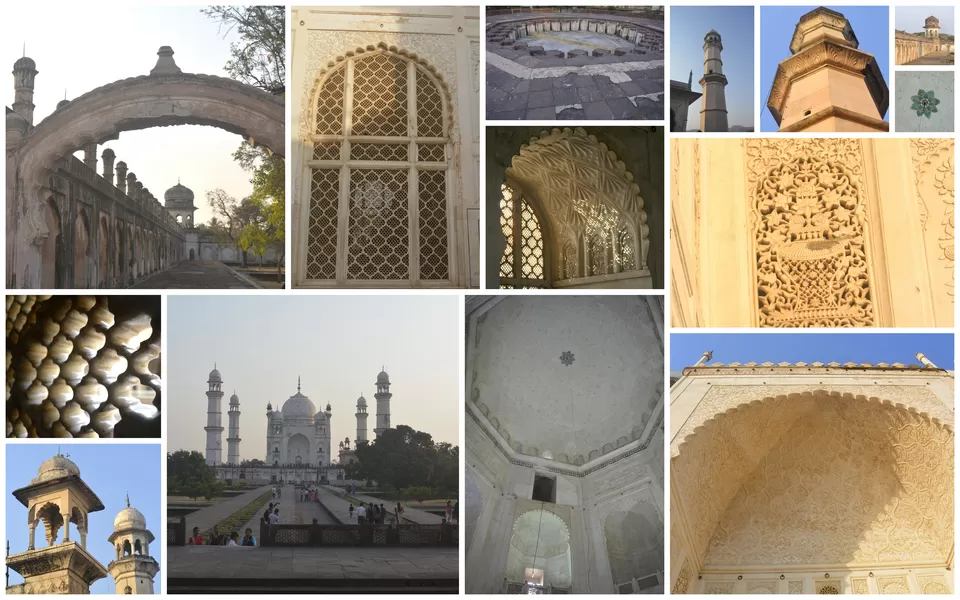 The mortal remain of Rabia-ul-Daurani is placed below the ground level surrounded by an octagonal marble screen with exquisite designs, which can be approached by a descending flight of steps. The roof of this chamber that corresponds to the ground level of the mausoleum is pierced by an octagonal opening and given a low barricaded marble screen. Thus the tomb can also be viewed from the ground level also through this octagonal opening. The mausoleum is crowned by a dome pierced with trellis works and accompanying panels decorated with flower designs. –Sourced from Net.)
We left Bibi-ka-maqbara by 6.00 pm. This time, tired of auto drivers fleecing us, Amol booked an Ola auto (Rs. 72/-), reached hotel and relaxed till dinner. We had our dinner at Hot Plate. Came back and slept, because we had to get up early morning for Ajanta caves exploration and later planned to visit Daulatabad Fort.
We left at 6.00 am, got an auto (Ola – Rs. 31/-) to Aurangabad Central Bus Stand. There were regular buses to Ajanta Caves. We got in one (Rs. 141/- per head). The bus stops at the gates. Next, we had to catch the shuttle bus, because the caves were further 4 kms away. After reaching the entrance, we bought tickets (Rs. 30/- per head, no camera fees) We had breakfast at the MTDC restaurant, by 10.00 am, we were climbing the steps to reach the security gate at top.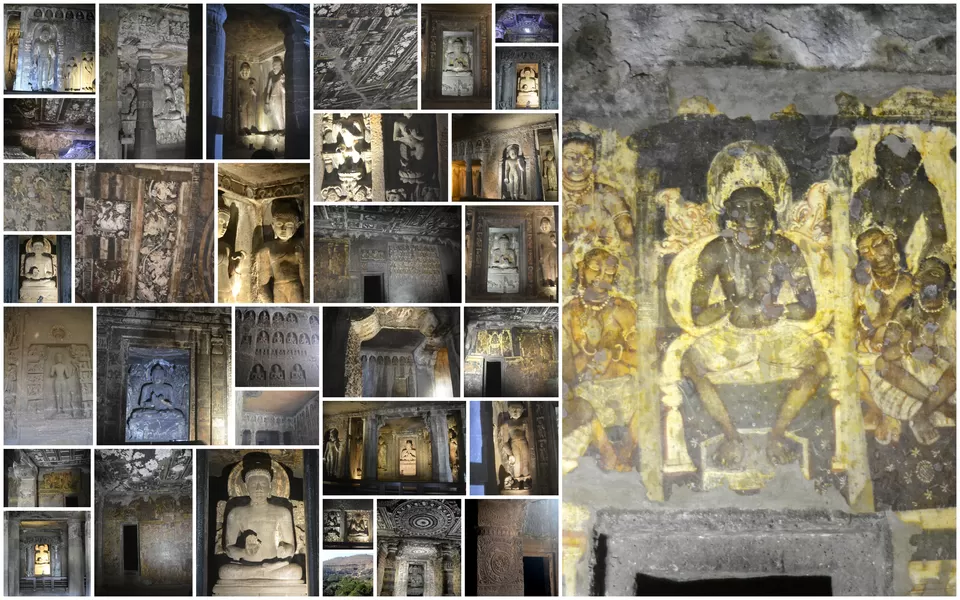 Being Sunday and last day of the year, the area was crowded with both local and Foreigners. (Ajanta Caves: The caves attained the name from a nearby village named Ajanta located about 12 km. The caves were excavated in different periods (circa. 2nd century B.C. to 6th century A.D.) according to the necessity. Each cave was connected to the stream by a flight of steps, which are now almost obliterated, albeit traces of some could be noticed at some places.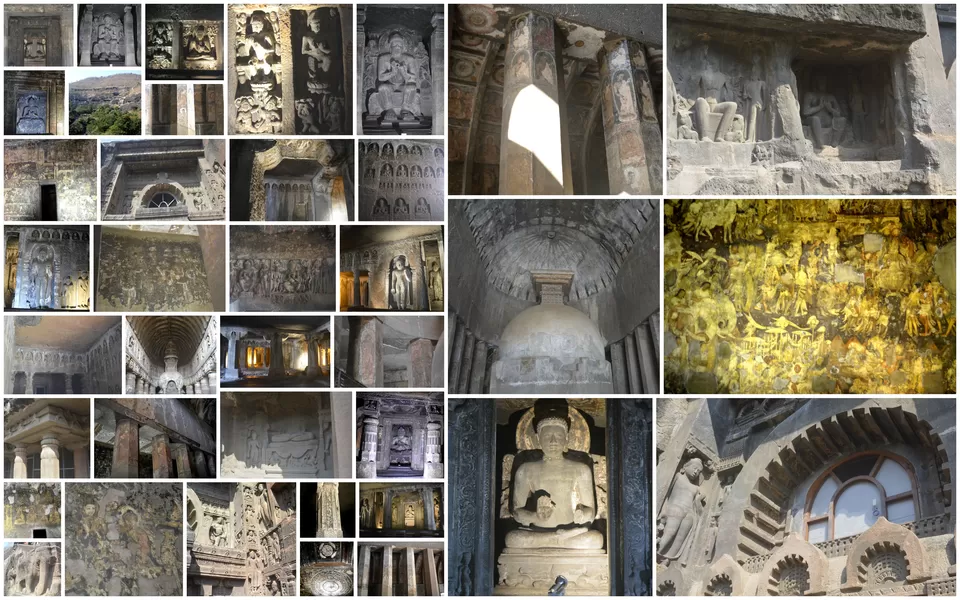 In all, total 30 excavations were hewn out of rock which also include an unfinished one. Out of these, five (cave no. 9, 10, 19, 26, and 29) are chaityagrihas and the rest are viharas. In date and style also, these caves can be divided into two broad groups. The earliest excavations belong to the Hinayana phase of Buddhism, In total, 5 caves at Ajanta belong to this phase, viz., 9 & 10 which are chaityagrihas and 8, 12, 13, & 15A which are viharas. These caves are datable to the pre-Christian era, the earliest among them being Cave 10 dating from the second century B.C.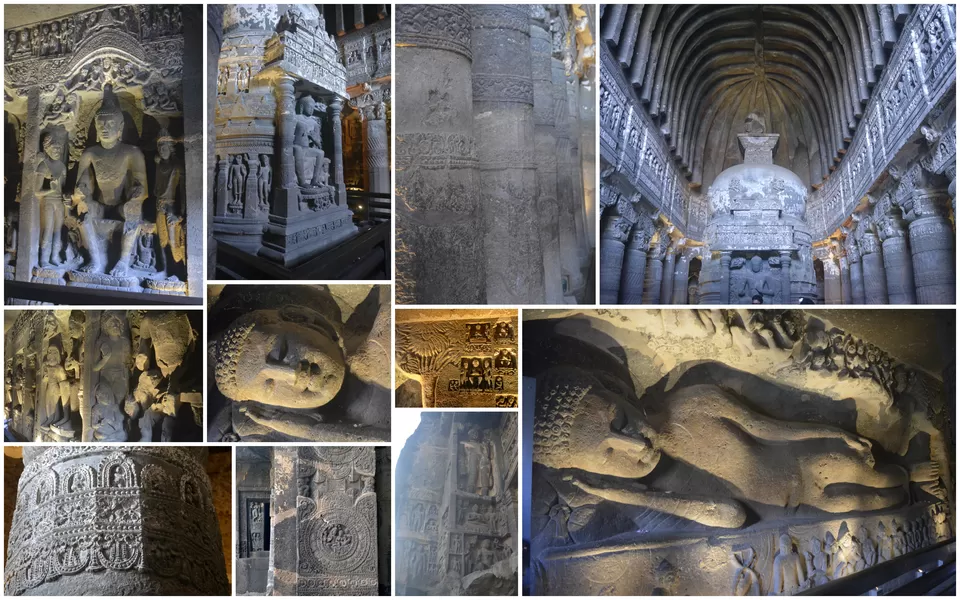 The addition of new excavations could be noticed again during the period of Vakatakas, the contemporaries of the Imperial Guptas. The caves were caused to be excavated by royal patronage and the feudatories under the Vakatakas as illustrated by the inscriptions found in the caves.
The world famous paintings at Ajanta also fall into two broad phases. The earliest is noticed in the form of fragmentary specimens in cave nos. 9 & 10, which are datable to second century B.C. The headgear and other ornaments of the images in these paintings resemble the bas-relief sculpture of Sanchi and Bharhut. The second phase of paintings started around 5th – 6th centuries A.D. and continued for the next two centuries. The specimen of these exemplary paintings of Vakataka period could be noticed in cave nos. 1, 2, 16 and 17. The variation in style and execution in these paintings also are noticed, mainly due to different authors of them. – sourced from net).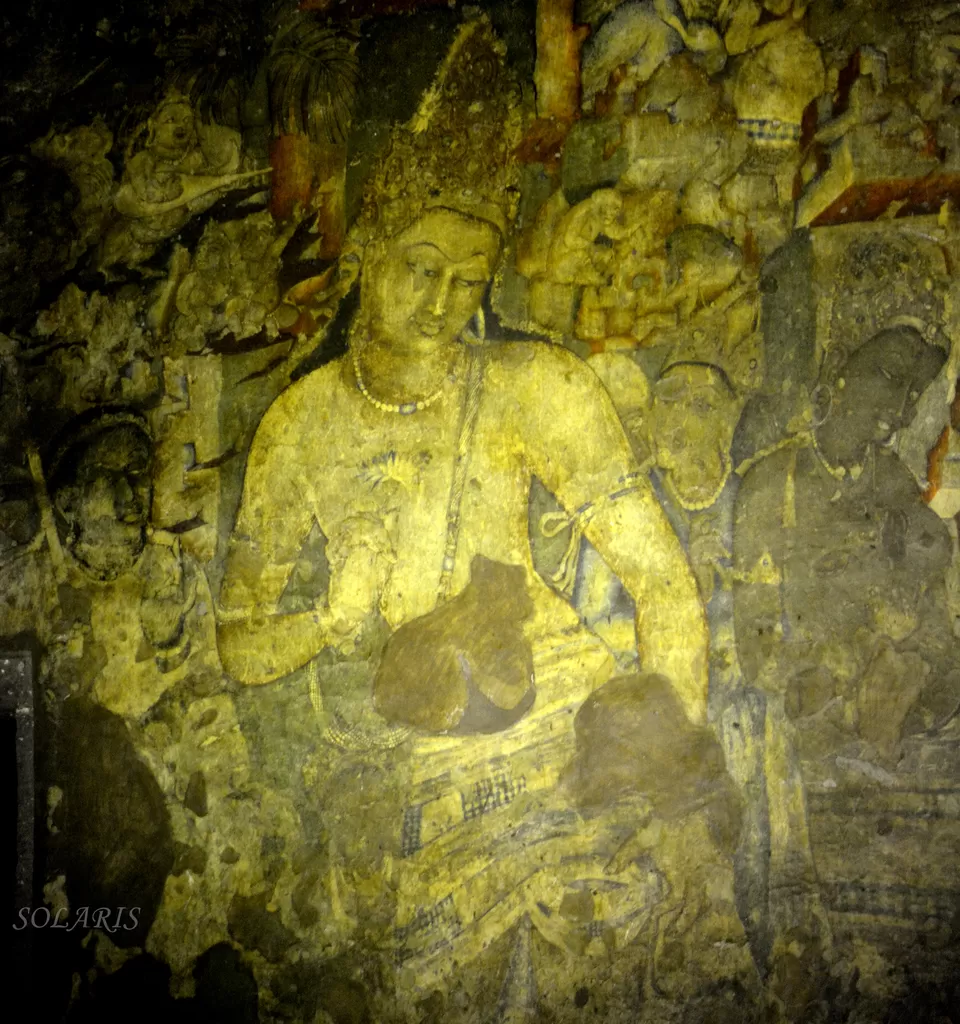 We skipped the first cave, because of crowd. Only realizing later, the iconic painting I was searching for, was actually in the 1st cave itself. One by one, we kept hopping, while capturing the photos, selfies, by 12.30 pm we were in the last cave, realized the first one was still pending. We came back to see the long queue. Still managed to get in 15 minutes. We left Ajanta caves by 1.30 pm. We came to gate, waited for sometime, bus arrived, got into it. Reached Aurangabad by 4.30 pm. We dropped the idea of visiting Daulatabad Fort (It closes by 6.00 pm). Instead, came back to hotel, rested for a while. Amol had planned to go out for new year after dinner. We left for dinner by 8.00 pm at Yalla Yalla Restaurant. Food was good. There was a loud party music coming from distance, Amol thought of checking it out. We walked around, till the venue, it was a New Year Bash arranged on the Public ground, which was by invite only. Thereafter, we further walked till Tara Pan center, located at 2 kms, to try some flavours, I tried Chocolate Pan while Amol tried Badshahi Pan. We walked back to the hotel, planned to see some movie. I saw classic dark comedy "Jaane Bhi Do Yaaron" on his laptop, insisted on same. By midnight, movie ended, wishing began on whatsapp. We dozed off for an early start next day.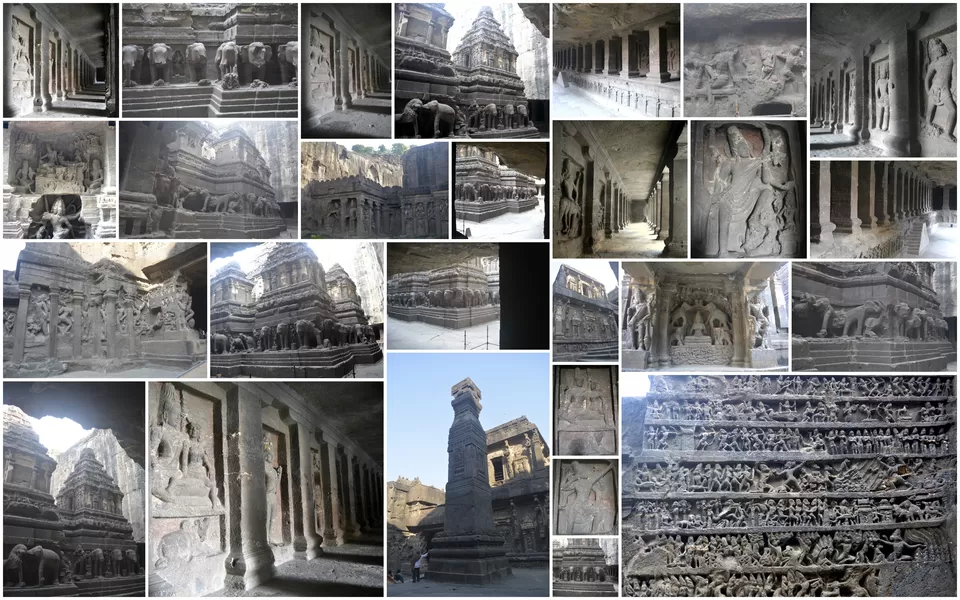 We had to start early for Ellora caves, because we couldn't book tatkal ticket back to Mumbai. So, we had the option of taking the afternoon bus till Nashik, there on bus till Kasara and train from Kasara to Dadar. Seemed hectic, but it was the only choice, as the buses from Aurangabad to Mumbai would have left us in Mumbai, late midnight.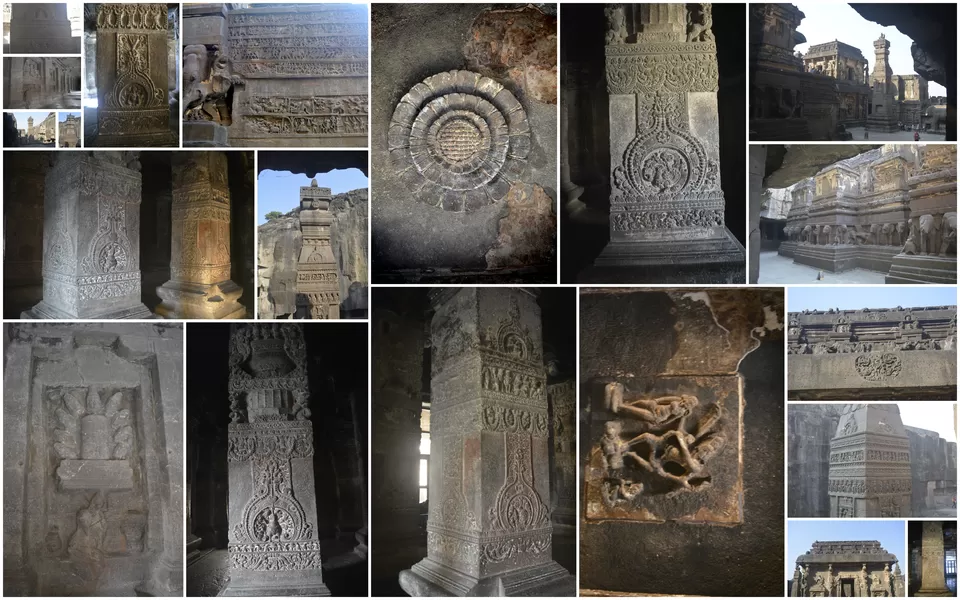 We took the bus to Ellora Caves at 8.00 am, Daulatabad was on the way, at half an hour distance. We had to skip that, as we had time till 12 noon to explore the Ellora caves. In next half an hour, bus dropped us at the gate. We had our breakfast and went in to buy the tickets. There was mild rush, we went first to the famed Kailasa Temple, which was rock cut. (Ellora Caves: The name Ellora itself inspires everyone as it represents one of the largest rock-hewn monastic-temple complexes in the entire world. Ellora is also world famous for the largest single monolithic excavation in the world, the great Kailasa (Cave 16).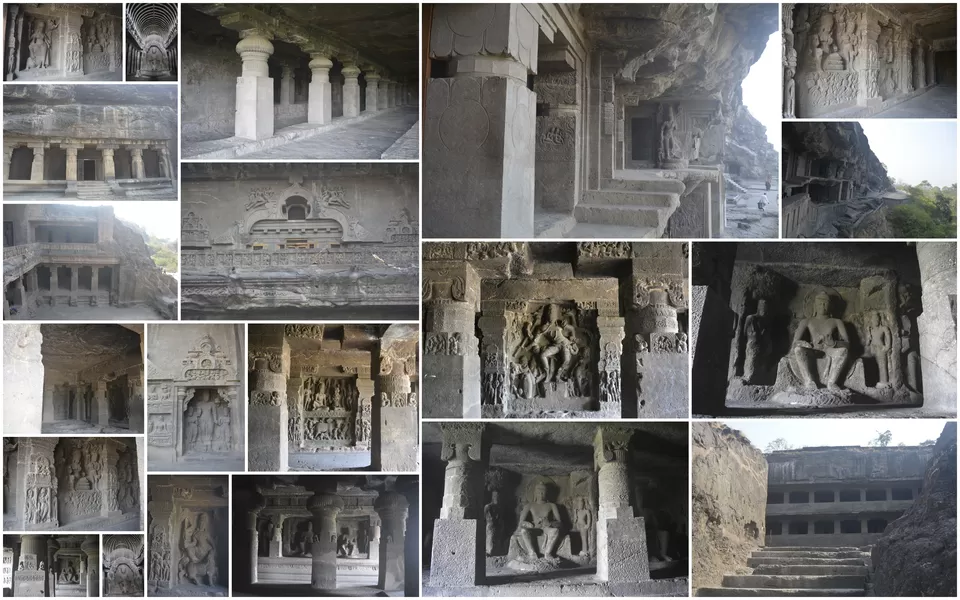 The caves are datable from circa 6th – 7th century A.D. to 11th – 12th century A.D. In total, there are nearly 100 caves in the hill range out of which 34 caves are famous and visited by many tourists, out of which Caves 1 to 12 are Buddhist; Caves 13 to 29 are Brahmanical and Caves 30 to 34 are Jaina. Two more groups of caves are noticed on the Elaganga and on an upper terrace, namely, the Ganesh Leni and Jogeshwari Leni. The caves are excavated in the scarp of a large plateau, running in a north-south direction for nearly 2 km, the scarp being in the form of a semi-circle, the Buddhist group at the right arc on the south, while the Jaina group at the left arc on the north and the Brahmanical group at the centre.- Sourced from the net).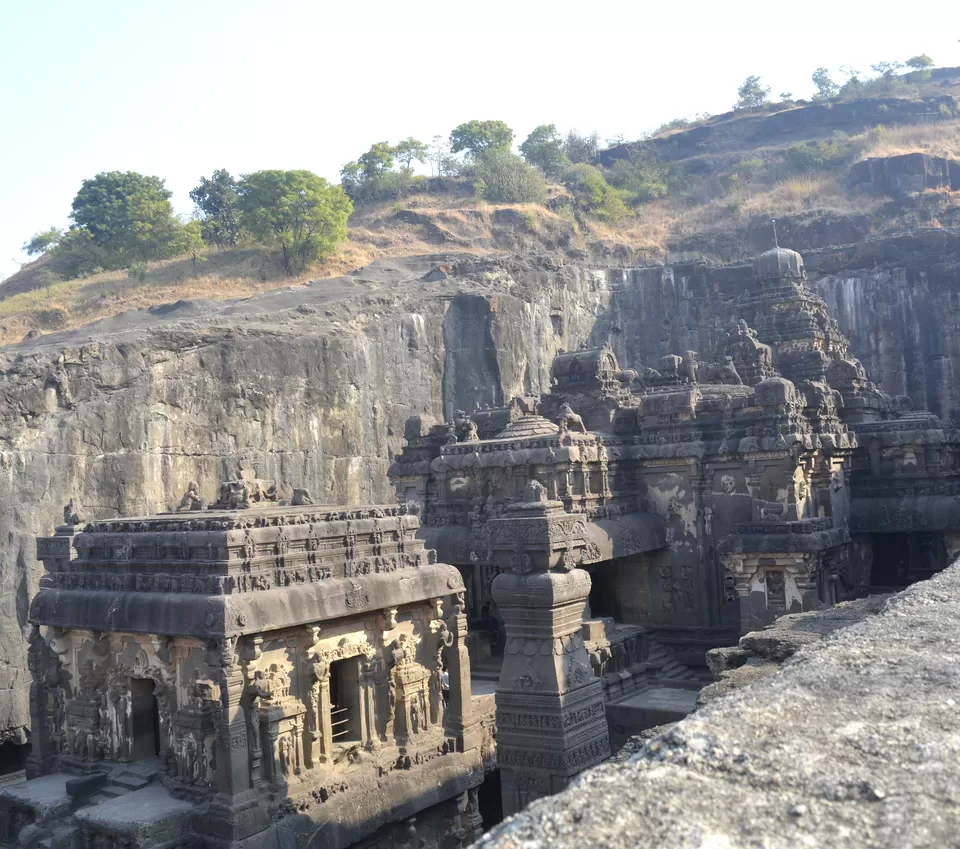 Took an hour to go around, climbed the steps that lead us to the top of the hill, from where we could view the entire temple complex, I had missed this shot in my previous trips to Ellora, so spent some time to sink in the moment and view from top. Later, we began covering the rest of the caves. We wound up the trip by 11.30 am. We skipped the Jain caves, which was on farther side more than 2 kms. We had half day at disposal, hence covered main ones, a full day would be needed to cover all the caves at leisure. We got a bus from the gate back to Aurangabad. We checked out, skipped lunch and took the Shivshahi Bus to Nashik. We reached Nashik by 5.45 pm. Took an auto to Bus stand, got into ST, and reached on time for Kasara Train at 8.00 pm. It reached an hour late. By 11.00 pm, we were at Dadar.