A group of yoga instructors, Ayurvedic masters and some of the country's best nutritionists at your service as you rejuvenate your body, mind and soul in the lap of nature. Does that sound like heaven on earth to you? Then you've just landed in the right place!
India makes for one of the most popular wellness destinations in the world. There are several Ayurveda retreats spread across the country that can be your gateway to heaven. All you have to do is check in, surrender yourself to wellness and walk out a rejuvenated person. Here are India's five best Ayurveda retreats that are guaranteed to give your mind and body a much needed break.
Kairali - The Ayurvedic Healing Village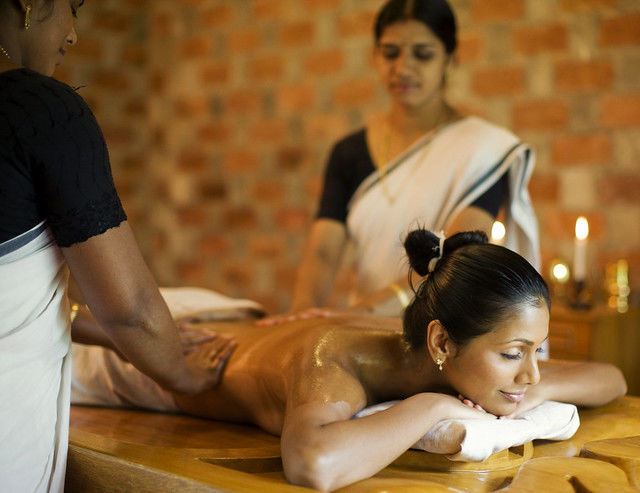 Located in the heart of God's Own Country, Kairali blends wellness with world class luxury, resulting in a one of its kind experience. Every stay at Kairali is carefully curated and guests are allotted villas according to their zodiac signs. The property is completely sustainable with all the produce grown locally. To maintain sanctity in the property, Kairali also prohibits use of preservatives and refrigeration. Couple that with Kairali's traditional Ayurvedic treatments and professional yoga sessions and you've got yourself the perfect wellness getaway!
Where: III/73, Palayamkadu, P.O. Olassery, Kodumbu, Palakkad, Kerala
Treatments offered: A multiple award winning property, Kairali offers a range of Ayurvedic treatments that includes Abhyangam, Shirodhara and Panchakarma amongst others. The resort also has a well-trained staff for yoga and meditation sessions.
Recognitions received: National Geographic has included Kairali in their prestigious lists of '50 Wellness Destinations In The World' and 'Top 10 Wellness Destinations In Asia'. In addition, Kairali has also received a certificate of accreditation from the National Accreditation Board of Hospitals and Healthcare Providers.
Price per night: Kairali has three kinds of accommodation, namely, Deluxe, Royal and Maharaja. A stay for two at the Ayurveda retreat starts at approximately Rs 16,000 per night for the Deluxe villa. The Royal Villa stay costs Rs 24,000 per night while the Maharaja Suite option costs Rs 38,000 for a double stay. Click here for more details about the accommodation options and package inclusions.
The Shreyas Retreat in Bengaluru is one of the most sought after wellness retreats in India as it relies on the principles of Ayurveda and yoga to provide holistic rejuvenation. At Shreyas, you get to experience life at an ashram (daily yoga, meditation sessions, chanting classes, gourmet vegetarian cuisine, a no-alcohol policy and community service) but in a luxurious environment.
Where: Santoshima Farm, Gollahalli Gate, Nelamangala, Bengaluru
Treatments offered: The Shreyas Retreat has several curated packages that focus on complete rejuvenation of the mind and body. The duration of each package varies according to the treatments; the longest treatment can last up to 28 days. Panchakarma is a five-fold Ayurvedic rejuvenation therapy. Silent Retreat is a 7-day programme where you take a vow of silence and a step back to introspect and calm the mind. The weight management package helps you embrace the Ayurvedic way to physical and mental fitness.
Price per night: The Shreyas Retreat offers three types of accommodation options and the rates include stay, meals, beverages, group yoga sessions and use of all facilities. You can book yourself a luxurious stay for two at the property starting at Rs 30,000 per night.
Ananda is an award-winning spa destination that has the right blend of luxury and nature surrounding it. One of the best spa resorts in India, it is located on the 100-acre Maharaja Palace Estate in Tehri surrounded by sal forests and overlooking the Ganges river valley. The wellness goals through various spa therapies include detox, fitness, de-stressing and weight management.
Where: The Palace Estate, Narendra Nagar Tehri - Garhwal, Narendra Nagar, Uttarakhand
Treatments offered: Ananda is renowned for its wellness packages which start from five nights and can be extended to 21 nights. Detox is a full-throttle detox programme; Yogic Detox uses the different hatha yogic cleansing techniques (Shatkriya) to detox in a natural and effective. Ayurvedic Rejuvenation is designed to restore vitality of the body and to enhance the body's immunity through traditional panchakarma treatments; Weight Management is a coalition of detox therapies, personalised fitness program, yoga, meditation and diet for managing weight related issues.
Cost per night: The accommodation charges at Ananda vary according to the room type and does not include the treatment cost. A deluxe palace room for two nights on twin sharing basis costs about Rs 1,20,000 per night. On the other hand, a similar deal with the deluxe valley view room will cost you about Rs 1,33,000 while the premium floors will cost you Rs 1,54,000.
Planted on a private beach next to a lagoon, SwaSwara (swa in Sanskrit means "the self", and swara refers to sound) is the most picturesque wellness retreat in India. The eco-resort offers an array of therapeutic and Ayurvedic treatments and facilities. From a private yoga teacher and naturopathy spa, to art therapy and meditation centres, all the services at SwaSwara are included in the package you select. The purpose of SwaSwara is to introduce its visitors to a lifestyle closer to nature in all its essence.
Where: Om Beach, Donibhail, Gokarna
Treatments offered: The wellness treatments and packages at SwaSwara are inspired from the ancient practises of naturopathy and aspire to hit the reset button on your mind and body. Swa Wellbeing is a holistic program that includes therapeutic massages, group and private yoga sessions, meditation, art therapy, nature trails, interactive cooking and healthy gourmet cuisine; SwaSwara Prana Ayurveda is designed to restore body vitality with programs that include purifying therapies, daily guided group yoga and meditation sessions and a dosha-specific diet.
Price per night: The minimum stay required at SwaSwara is three nights. A three-day all inclusive package will cost you approximately Rs 75,000.
Combining the best of modern luxuries with ancient Ayurvedic techniques, Carnoustie Ayurveda & Wellness Resort is ideal for those who seek a revitalising yet indulgent vacation. The nutritionists at Carnoustie are renowned for handcrafted Ayurvedic diets and services.
Where: Opposite Chennaveli Church, Mararikulam, Chennaveli, Chethy, State Highway 66, Perunneermangalam, Mararikkulam North, Kerala.
Treatments offered: Panchkarma Detox uses the five-step treatment Ayurvedic to completely cleanse the mind and body of stress and toxins; Rejuvenation is focused on keeping the body young and agile.Anti-ageing involves result-oriented treatments by integrating therapeutic marma, prana mantra marma, naturopathy, acupressure, Ayurveda and yoga.
Price per night: Accommodation charges start around Rs 25,000 per night. The price is inclusive of a hearty breakfast while the treatment charges are not a part of the package.
Which is the most rejuvenating getaway you have ever been on? Click here to share your travel stories with the Tripoto Community.
Get travel inspiration from us daily! Save our number and send a Whatsapp message on 9599147110 to begin!