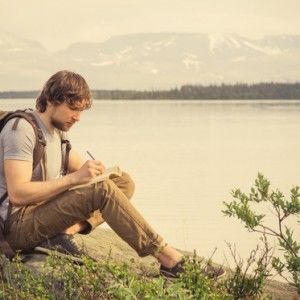 The one thing that you take with you and bring back more than you took with you are stories, when you travel for the love of travel. Here are some beautifully written stories which will make you proud to be a wanderer because 'Not all those who wander are lost'- J.R.R. Tolkein!
Here are some great travel books by great writers: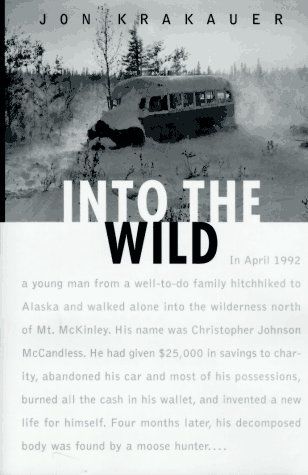 Into the Wild
Starting the list with the most famous book (turned into film) is a non-fiction book by Jon Krakauer on Christopher McCandless. The book is an expansion of an article written by him titled 'Death of an innocent'. The book has turned into a movie, inspired many documentaries on Christopher's life along with a show on national geographic called 'Out of the wild.' Cristopher McCandless left his family, his city, his money and all major material possessions behind to enter a new realm of life through experience travelling on foot to reach Alaska where he survived for 116 days. It tells of a beautiful story of a boy tired of the materialistic society craving for the primitive life.
'I don't want to know what time it is. I don't want to know what day it is or where I am. None of that matters.' ― Jon Krakauer, Into the Wild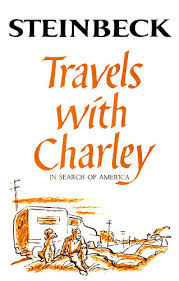 Travels with Charley: In search of America
A travelogue written by American author John Steinback, depicts a 1950 road trip around the United states(approximately 10,000 miles) made by John Steinback with his poodle(Charley) as his only company! This nobel-prize winner was curious to know his own country at a personal level and set forth to see how people around the country are really like.
'We find after years of struggle that we do not take a trip; a trip takes us.' ― John Steinbeck, Travels with Charley: In Search of America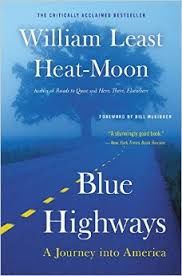 Blue Highways
This one is an autobiographical book by William Least Heat-Moon (William Trogdon) is an account of his soul searching road trip around America after separation from his wife and teaching job. The title refers to the decision he took of traveling through only Blue highways (a name he gave to the out of the way/forgotten highways which were less traveled by). His ride was a green van with a bunk, a camping stove, a portable toilet and two books-Walt Whitman's Leaves of Grass and Black Elk speaks-John Neihardt. The whole journey was 13000 miles and around rural America avoiding cities and fast food.
'Instead of insight, maybe all a man gets is strength to wander for a while. Maybe the only gift is a chance to inquire, to know nothing for certain. An inheritance of wonder and nothing more.' ― William Least Heat-Moon, Blue Highways.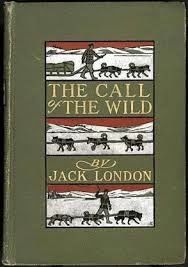 The Call of the Wild
The best gift a book can give is change of perspective and this one surely gifts it. The book's protagonist is a dog named Buck and it's an account of his story from living as a rich puppy stolen from home to being sold into the wild to become a wild sleigh dog. It tells of how Buck comes to love the primitive more than his lavish life to an extent that he never missed home. The story is set in the Yukon during the 1890s Klondike Gold Rush—a period in which strong sled dogs were in high demand and is researched about and written by Jack London while living in Yukon.
'Sometimes they went hungry, sometimes they feasted riotously, all according to the abundance of game and the fortune of hunting.' ― Jack London, The Call of the Wild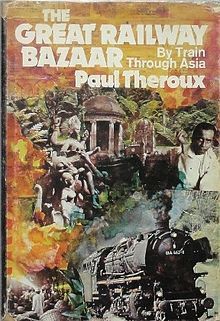 The Great Railway Bazaar: By Train through Asia
A travelogue written by Author Paul Theroux is an account of his four month journey by train from London through Europe to the Middle East, the Indian subcontinent and south East Asia returning through the Trans-Siberian Railway. A sequel to the book called 'Ghost train to the Eastern star' is an account of a second journey taken the same way observing how everything changed after about 20 years.
'...a society without jaywalkers might indicate a society without artists.'― Paul Theroux, The Great Railway Bazaar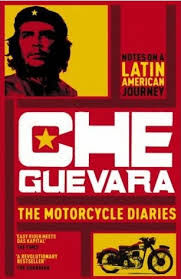 The Motorcycle Diaries
Another revolutionary famous book (Turned into film), this book is a written account of the travels made by Ernesto 'Che' Guevara with his friend (Alberto Granado) before he became a Marxist revolutionary. The two start their journey on their bike which they name 'The mighty one' and travel through South America which further inspired Guevara to help the local people who were subjected to injustice.
'What we had in common-our restlessness, our impassioned spirits and a love for the open road-Ernesto Guevara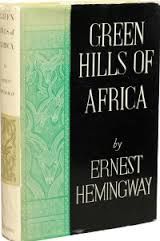 Green Hills of Africa

A non-fiction autobiography written by Hemingway, it is an account of his one month long safari through in eastern Africa taken with his wife. It states the hunting adventures of Hemingway on the trip.
'where a man feels at home, outside of where he's born, is where he's meant to go.' ― Ernest Hemingway, Green Hills of Africa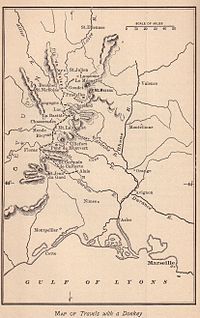 Travels with a Donkey in the Cevennes
An autobiography of a 120 mile (12 day) solo hiking journey through Cevennes mountain range in south central France with his stubborn companion, Modestine (the donkey). Robert Louis Stevenson was one of the earliest writers to account of outdoor camping and hiking as a recreational activity.
'I travel not to go anywhere, but to go. I travel for travel's sake. The great affair is to move.' ― Robert Louis Stevenson, Travels with a Donkey in the Cevennes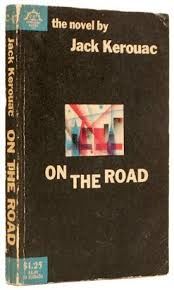 On the Road
Another famous one(turned into film) written by Jack Kerouac, the book is a defining work of post war beat culture with jazz, poetry and drug use as its background. The book is an account of Jack and other writers like Allen Ginsberg, William Burroughs and Neal Cassady.
'Nothing behind me, everything ahead of me, as is ever so on the road.'
― Jack Kerouac, On the Road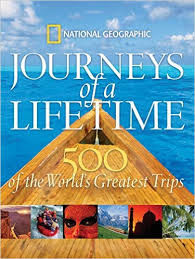 500 Journeys of a Lifetime
To wrap it up, this book will add great things to your bucket list. It's an account of 500 travel stories picked by National Geographic. A travel story for every type of person, it's a book worth taking inspiration from. With great pictures and lists, the book will keep your travel thoughts busy for a while.
Reading is yet another escape in other worlds just like traveling!
'I read; I travel; I become.'-Derek Walcott