"I haven't been everywhere but it's on my list." - Susan Sontag.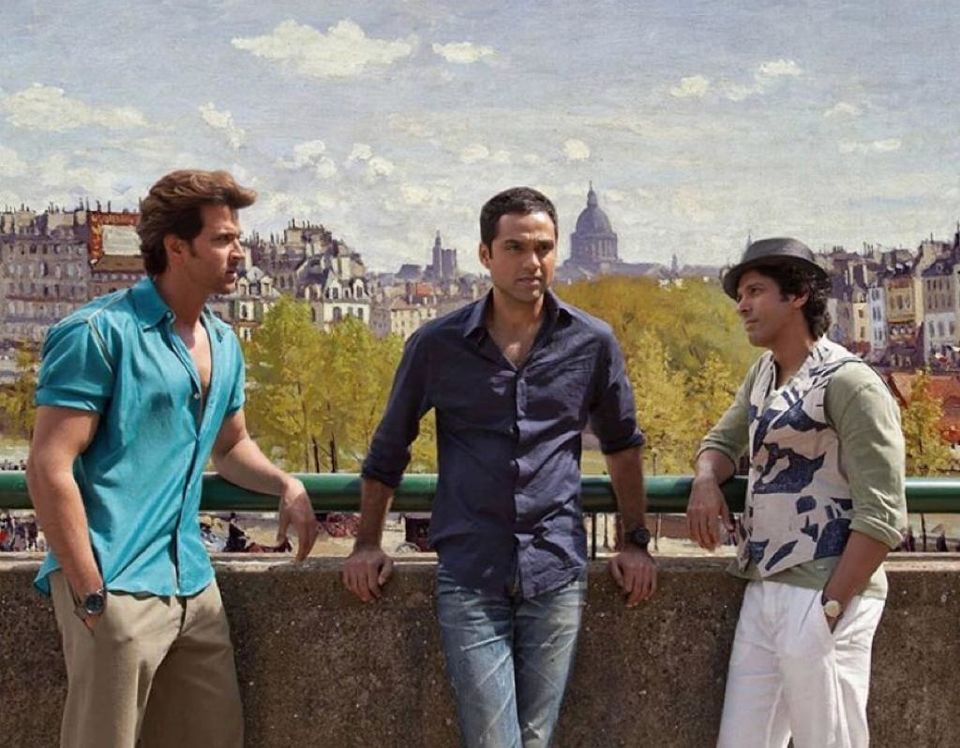 We all have a bucket list, and dream about visiting those places someday or the other. And then, there are some movies which takes us to far off destinations, and gives us a short tour in those lanes and parks and hill-sides, showing the wilderness of the jungles, or may be the rainbow behind a waterfalls, and leaves us with an unending thirst of wanderlust.
Here are a few movies that took me across oceans and continents, with great cinematography and storylines, eventually making me add a few to my checklist.
1. In Bruges (Destination: Belgium)
In Bruges is a 2008 British-American crime-black comedy film written and directed by Martin McDonagh. This is great because most people never have a reason to travel to Bruges, even though it's an impressive and historic city. This film shows viewers enough to make them feel like locals. Two hit men, played by Colin Farrell and Brendan Gleeson, hide out from their gangster boss (Ralph Fiennes) in the city's storybook background. It's a sexy, violent, intriguing romp through the city and is amazingly well done to boot.
2. Before Sunrise (Destination: Austria)
When traveling to a new city, chances are you spend a large part of the first few days just walking around and finding your bearings. Few films encapsulate that aimless walkabout feeling like Before Sunrise.
Backpacking American Jesse (Ethan Hawke) gets to live every male traveler's dream. He meets Celine, a gorgeous French woman (Julie Delpy), and the two have a 12-hour love affair while exploring Vienna for the day. Before Sunrise is a 1995 American Romantic drama.
3. Into the Wild (Destination: Alaska)
Into the Wild is a 2007 American biographical drama survival film written and directed by Sean Penn. The film is presented in a nonlinear narrative, cutting back and forth between McCandless's time spent in Alaskan wilderness and his two-year travels leading up to his journey to Alaska.
He hunts wild animals with a .22 caliber rifle, reads books, and keeps a diary of his thoughts as he prepares himself for a new life in the wild. He meets all kinds of people along the way, each with their own stories. His life is filled with random adventures and experiences while he makes his way up to "The Last Frontier".
4. Secret Life Of Walter Mitty (Destination: Across Europe and Asia)
The story of Walter (played by Ben Stiller), an introverted, awkward, and anonymous photo editor at LIFE Magazine who's real life is pretty boring. However Walter has a very active imagination. When his job is threatened, he embarks on the adventure of a lifetime, traveling the world from Iceland to Afghanistan in search of his hero while taking risks and conquering new challenges along the way.
A mix of incredible visual landscapes, a beautiful soundtrack, and some humor is just icing on the cake. The perfect movie to inspire those yearning for something more out of life.
5. Zindagi Na Milegi Dobara (Destination: Spain)
The story follows three friends who set off to Spain where they plan to visit Costa Brava, Seville, and Pamplona. on a bachelor trip. They set off on an adventure that will make them face their fears, alter their perceptions, unravel their fabric, force them to break out of the box and teach them to seize the day. From La Tomatino festival to bull runs, you can enjoy it all.
6. The Motorcycle Diaries (Destination: Latin America)
This awe-inspiring film is based on the memoirs of Che Guevara, from a time before he became an iconic Latin American revolutionary. Guevara (Gael Bernal) and his friend Alberto "Mial" Granado (Rodrigo De la Serna, Guevara's real-life second cousin) climb atop a motorcycle and ride across South America for eight months and over 14,000 kilometers. The trip inspired the rest of Guevara's incredible life. The movie will inspire you to learn more about the incredibly beautiful continent.
7. Lost in Translation (Destination: Japan)
For solo travelers wondering if they'll meet other travelers once abroad, this is the ultimate comfort film to put your mind at ease. Although it doesn't always happen like this, it's a great look into the world of solo travel in all of its hilarity. Charlotte (Scarlett Johansson) travels to Tokyo with her husband, who's there for business, and ends up feeling neglected. Bored, she meets Bob (Bill Murray), a famous Hollywood actor there to do a whisky ad. Lonely and feeling out of place, the two bond over the electric feel of Tokyo, and they take viewers with them.
8. Seven Years in Tibet (Destination: Tibet, the Himalayan beauty)
Brad Pitt stars as the arrogant Heinrich, a famed Austrian mountain climber who leaves behind his wife and infant son to head a Himalayan expedition in 1939, only to fall into the hands of Allied forces as a prisoner of war. He and a fellow escapee, Peter Aufschnaiter (David Thewlis), make their way to the Forbidden City in Tibet, where Peter finds a wife and Heinrich befriends the Western culture-obsessed teenage Dalai Lama (Jamyang Jamtsho Wangchuk), the spiritual leader of his Buddhist nation.
9. Queen (Destination: Paris, France, Amsterdam and Holland)
This movie perfectly captures what most middle-class people in India dream of…travelling to their dream destinations. Most are unable to do it, and money is not the only reason for them. Its just that many (especially women) find it difficult to travel alone (social pressures). The story revolves around Rani (Kangana Ranaut) after being cheated by her would-be-husband, decides to go on the honeymoon - the one she's always been planning - by herself. The girl who's never left her house alone now goes to Paris and Amsterdam on her own. What follows is a fun, quirky journey of Rani who discovers herself, while exploring the unknown.
10. Midnight in Paris (Destination: Paris)
Set in Paris, the film follows Gil Pender (Owen Wilson), a screenwriter, who is forced to confront the shortcomings of his relationship with his materialistic fiancée and their divergent goals, which become increasingly exaggerated as he travels back in time each night, at midnight. The movie functions like a dream tour of Paris, showing around the city's nooks and corners.
So, these are my favorites, and if you have missed any of these, don't forget to watch it this weekend.
And do leave a comment about your favorite travel movie :)
Courtesy - Photo: Google Images. Videos: YouTube.