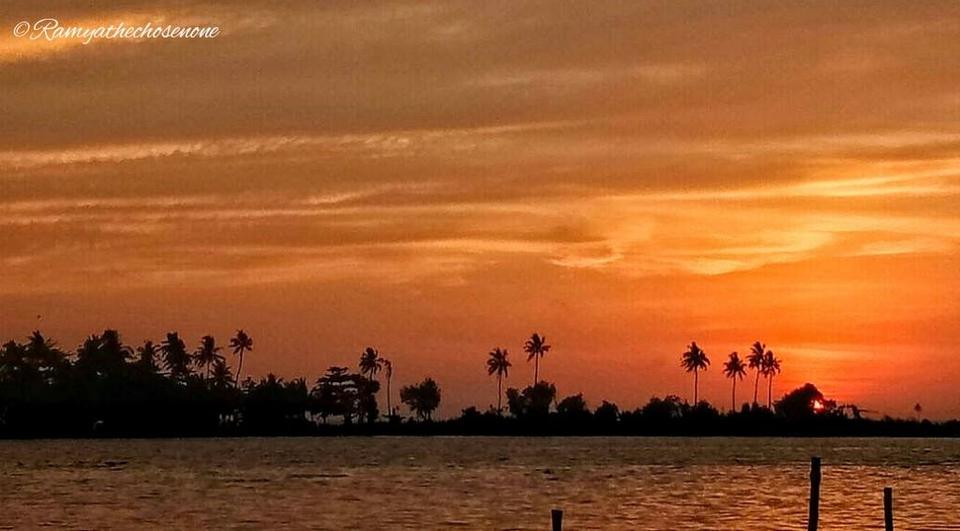 "By the deep sea and music in its roar, there is a society where none intrudes"
They say Kerala is God's own country, well You won't believe it until you see it.
Sometimes when we sail through life and be at a place where there is pure nature, I truly believe and I have travelled enough to feel it for myself also, My thoughts flow freely and I am at bliss with my own self, I can feel my mind taking and relating one thought with other and I take a look at these thoughts and connect them with other to understand why something is bothering me, or what is the underlying reason for me to feel this way or the decisions being affected by this one thought. I realise why and understand and move past it so I can truly decide whether I should let this particular reason to affect my decisions or move past it and find the bigger picture and then everything seems clearer. So I let it flow. I really needed the cool breeze, the view, and water, water makes me and pulls me towards it and drops my feelings out there in my head. Life becomes clearer immediately. I really feel life is amazing this way. This is what I feel whenever I travel, Whether I am in air or amidst mountains or beaches or stream, my heart is set free.
The raw beauty of nature with a blend of water and greens is truly mesmerising. We set sail at 12 PM and stayed in Boathouse till 11 AM the next day. The boat took off and sailed around Kumarakom. The memories of this stretch are still fresh. The sun shined higher and the birds flock around in the sea and then there is peace and silence like no other. One can just get lost in their own illusions and think deeply as to what our hearts wants to say to us.
Watching other boats pick sail and the scenery ascending with the huge coconut trees in its backdrop was awe-inspiring to watch. When the sun started setting the dramatic red and black backdrop to the distant greens is picturesque to bare eyes.
When the night set, the full moon shined bright, spreading the light through the coconut trees that stood in front. No words to describe the amazing thoughts and beautiful world in my mind and dreams that progressed watching the monochrome of the dark and the light from the moon.
Night swept and my dreams were put on hold when peaceful breathing took over and I slept.
Sun rose and we had breakfast and we left from boathouse to the row in the small canals in Allepey. we rode in a wooden boat, amidst the lotus flowers that bloomed in water and a small stream surrounded by huge trees, with small bridges and houses across. The serene sun shined hiding among the trees that provided the shade.
After this, we went to Athirapalli falls. After watching the falls in Raavan movie, I always wanted to visit this place. It did not disappoint. The huge stretch of the waterfall, the mere width, and strength through which water falls through the rocks is huge, causing the mist to spread high. The view is mesmerising. we can take a dip at this falls at the top. so we were in the water for few hours. Then with heavy hearts, we left to drive back home.
Below are few amazing pictures of Gods own country, Kerala clicked in my One Plus 3 phone. Do take a look :).