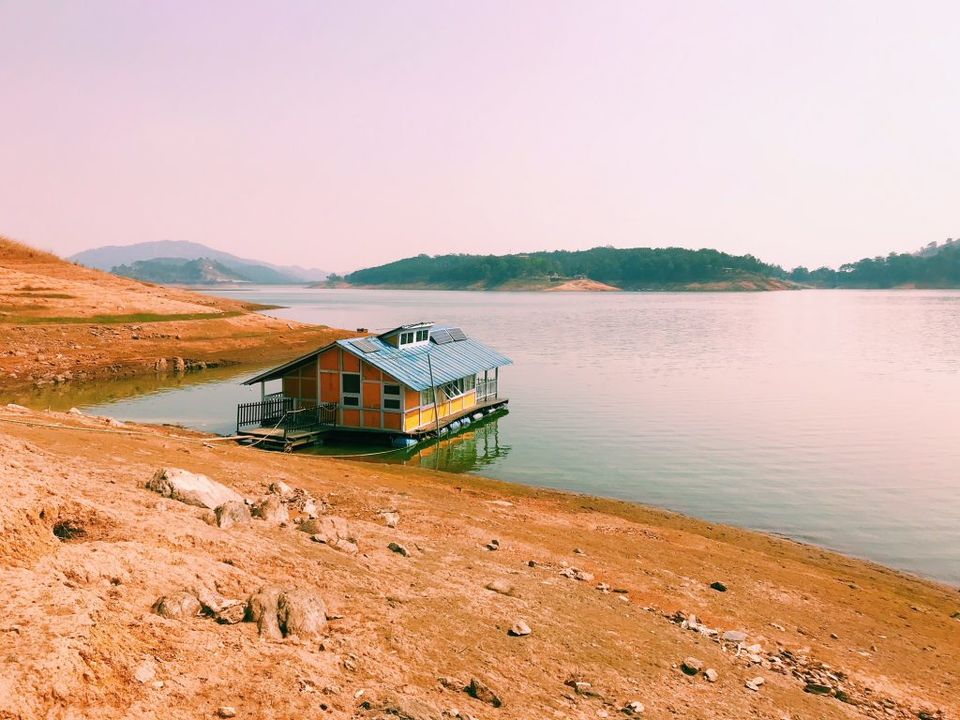 What would you do if an entire island is at your disposal? When you hear about a private island lust follows swiftly. Staying in privacy and a less crowded place is a dream come true. Often we escape from our cities not only to beat the mundane lifestyles but also to relax and rejuvenate in the lap of Mother Nature.
This escape is totally possible from Guwahati and Shillong as there is a beautiful boat house somewhere in the middle of the Umiam Lake, Meghalaya. An hour and a half from both the cities this boathouse is the best you can find this summer to indulge in a peaceful and quiet summer getaway.
I took this mini getaway trip back in March, 2019 (a surprise birthday gift to Priyangshu). As it is summer and you will have plenty of vacay days, why not come to this boathouse with your significant other or your friends for a relaxed weekend getaway from the city.
Thinking of going all out this Summer? Read my blog post on Mechuka and make this summer more memorable.
About the Boathouse:
This boathouse is built on the lake of Umiam, a beautiful, wooden studio type room with an attached bathroom, a closet and a life size mirror. The room gives a homely vibe with a leather sofa, floor to ceiling windows that brightens up the little boathouse.
There is a deck overlooking the Umiam Lake and it is great to have your evening coffee sitting on outdoor jute chairs watching the sun disappear in the mountains.
Seriously we listened to our favorite songs ( Porter Robinson, Odesza, Illenium), the songs came alive in the night time as we watched a near by forest fire burning in the mountains together. It gets chilly outside when night falls, so we wrapped ourselves in a blanket I carried.
Note: Forest fires are common in the mountains in order to ready the soil for cultivation again by burning the weeds, dead residue of the previous year crops to make the soil fertile again. They are controlled forest fire, so there is nothing to worry about.
Concern about Safety and Privacy ?
Most hotels and guest house advertise total privacy but you will rarely get the privacy you want. But the boathouse is the only guest house in the entire island so you will truly get value for your money. The owner of the Boat house lives in an elevated area at a distance from the Boat house. Apart from the lake water crashing softly against the boat house and the occasional croaking of frogs in the night, the complete silence is beautiful.
The owner makes sure you are safe and sound, they have special boat services to bring you to the boathouse and take you back safely to the main land. After a nice dinner the owner will come by and wish you a pleasant night.
What about Food?
You will get the basics: tea, coffee, Maggie and eggs at the property. There is one request to all the tourists is to take their own food supply as the owner doesn't provide lunch and dinner.
You can buy your own groceries and meat and ask the owner to cook it for you. As it is detached from the main land, it gets incredibly hard for them to buy food supply for all the guests.
What we ate?
We had quite a delicious spicy Maggie and coffee when we reached the boathouse. We enjoyed a beautiful sunset from the window that is adjacent to the bed and listened to the water crashing on the boat.
For dinner we had a yummy vegetarian dinner and ended our night with a horror movie. I literally forced Priyangshu to watch, ' A Quiet Place' starring Emily Blunt with me even though I have already watched it before. He did thank me later!
Exploring the Island
Early morning the sun was already out when we woke up. I really enjoyed pulling the curtains to let the sun in like they do in the movies. We ordered our breakfast and had it on the deck. After quick change of clothes we headed out to explore the Island.
It was really sunny at just 9 am, we walked away from the boathouse and gradually up the mountain. It was winter time and the long grasses were all beautiful and golden. The pine trees were dense on the island. We saw a man catching fish on his little boat from the island.
Next we headed to the other end of the island. There is an staircase beautifully cut out on the mountain and it leads to a small park with swings and a little hut with benches.
From here you can see some resorts that are famous in Barapani like the Ri Kynjai.
There is not much to do in the island apart from walking the island if you don't have time or don't want to indulge in any activities. It is just perfect for complete isolation and peace. A laid back trip to soothe your nerves.
If you have time then you can go on a boat ride nearby and catch some fish.
A picnic on the far side of the island can be done too. It can be romantic for a couple and full of fun for a group of friends. If you stay for more than a day you can also have a bonfire upon request.
Unfortunately we stayed for only a day. We just explored the island and after having lunch we came back.
Who can enjoy a weekend getaway in this Boathouse?
This boathouse is perfect for couples. It is also fun with a few friends and of course a mini family.
There is no hassle for the couples. They can enjoy without any discomfort.
Cost:
The cost for a couple or two people is 3000 rupees per night. (They recently changed their prices.) As the number of guest increases, an extra 500 rupees is added to the bill.
This is exclusive of food and cooking services. You can only book this boathouse by direct calling the owner. No online booking of any sort is available.
When to visit this beautiful Boathouse?
You can visit this boathouse throughout the year. Best time to visit is during Summer as the temperature is very pleasant around 15-19 degrees Celsius.
How to get there?
From Guwahati:
Take a private cab/Uber from anywhere in Guwahati and reach the Umiam Water Sports Complex. From there you can take a boat to reach the boathouse. (Just tell them you want to go the boathouse.)
Price of the boat service: 1000 rupees for a round trip.
Prices for various cab services:
Private Cab prices varies from 2,500 to 3000 rupees in a single one way ride. Price in Uber can vary. I booked an Uber from Lokhra, Guwahati to Umiam Water Sports Complex. It costs me 1800 rupees. Ola Outstation ride is only available on one round trip from Ghy-Umiam-Ghy which is not feasible at all. Shared Sumos and public buses are available from Guwahati. You can catch a sumo from Khanapara or Paltan Bazar. However you have to take another taxi ride to reach the Umiam Water Sports Complex.From Shillong/Meghalaya:
It is very easy from Shillong. Take a taxi from Police bazaar in Shillong and ask the driver to take you to the Umiam Water Sports Complex. I don't have the precise idea of cost of cab services from Police Bazaar.
How to Return?
Take the boat ride to the main land. There will be many private cabs in the Umiam Water Sports Complex parking lot. Or you can book a private cab beforehand and ask the driver to pick you up from the parking lot.
Taxis are available too. They will take you to the highway and from there you can get on a Sumo or Public bus back to your place.
My outlook on the Boathouse?
I totally loved the isolated and peaceful surroundings. Just what me and Priyangshu crave for. This mini getaway did feel like staying in Mechuka, offbeat, isolated but obviously without the snow capped mountains and the bone chilling cold.
I am definitely coming back in future, maybe with my girlfriends and have a cute picnic together. I can't wait to go back.
Reading all about the boathouse, are you hit by wanderlust too? What are you waiting for? Get lost in this beautiful island of Lumpodeng in Umiam Lake.
Tell me in the comment section where do you like to go in Summer?
See you soon!
Love,
Nancy.
Note: This blog is originally published on my website:
www.escapadesofsyrah.com
Follow me on Instagram: https://www.instagram.com/escapades_of_syrah/