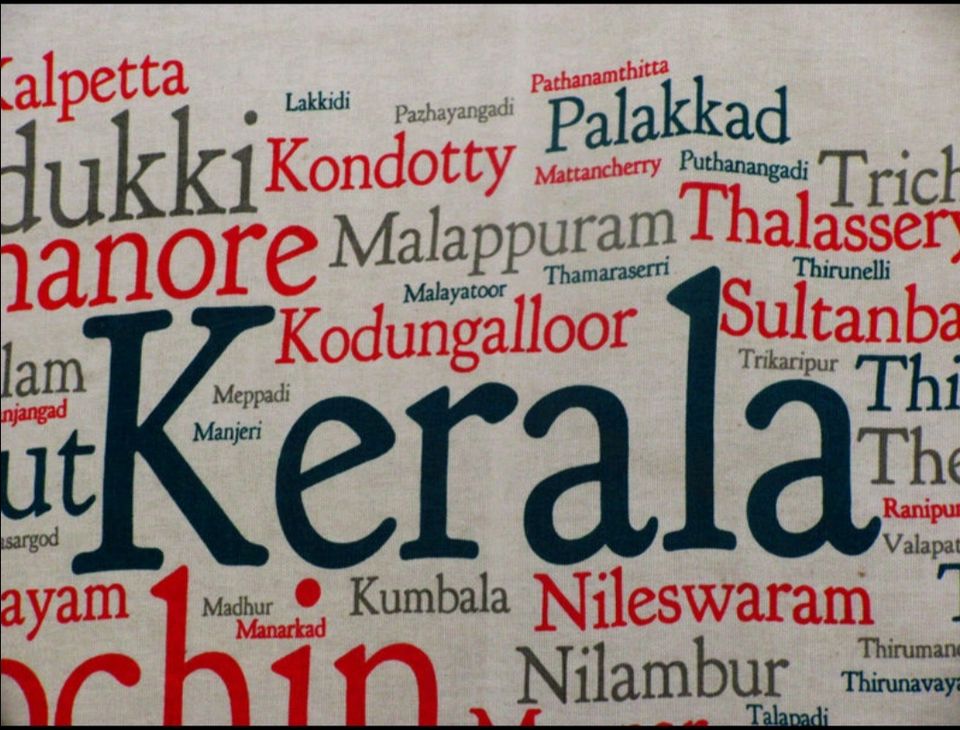 Being agriculture student this time ,I planned to visit the GOD OWNS COUNTRY Means KERALA. To explore or to feel the nature .
On 14 th July 2018 I started my journey from Bangalore . My tickets booked by Babu . I reached THRISSUR 15 JULY 2018.
TRANSPORTATION
There road and bus airlines service available
By road from Bangalore, Mangalore, and Coimbatore.
There are 200 main railway stations there we go with Trivandrum , Cochin, Kozhikode, Thrissur.
By air we have nearest airporta Kochi, Kozhikode ( Calicut) and Trivandrum...
Some movements about my journey ..
My self suddenly planned trip to Kerala , one of my Malayali friend told that there heavy rains in his place, I just don't mind it and after entering of Kerala State there was full rain all along way,the train route is full of greenary and beautiful scenery.
I love the view and the clouds just touch the mountains and trees "' I felt that they like n love each other" ' that not happen in my life ( just kidding)
And after reaching the Palakkad junction .
One river is fallowing mean until I reach my destination I thought it was just liking me, the river is BHARATHPPUZA . This river in Kerala that passes through Palakkad Thrissur and Malappuram .
I reached my destination by 5:45 evening at Thrissur junction railway station from there i went Thrissur private bus stand with 40 rupees charge in auto ..
Heavy rain out side from there in a private bus I'm heading to the KODUGALOOR.my hotel booked there,the easy way of traveling in Kerala is private buses they took very less
amount,
for my first travel I thought it around 25 rupees for 40 km from Thrissur to kodungaloor.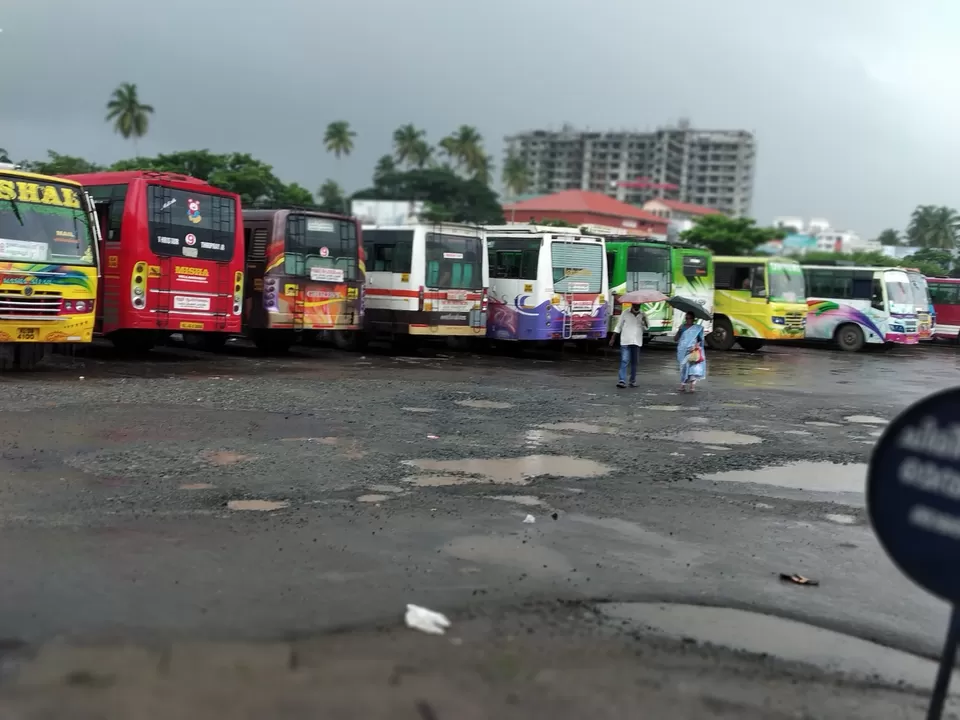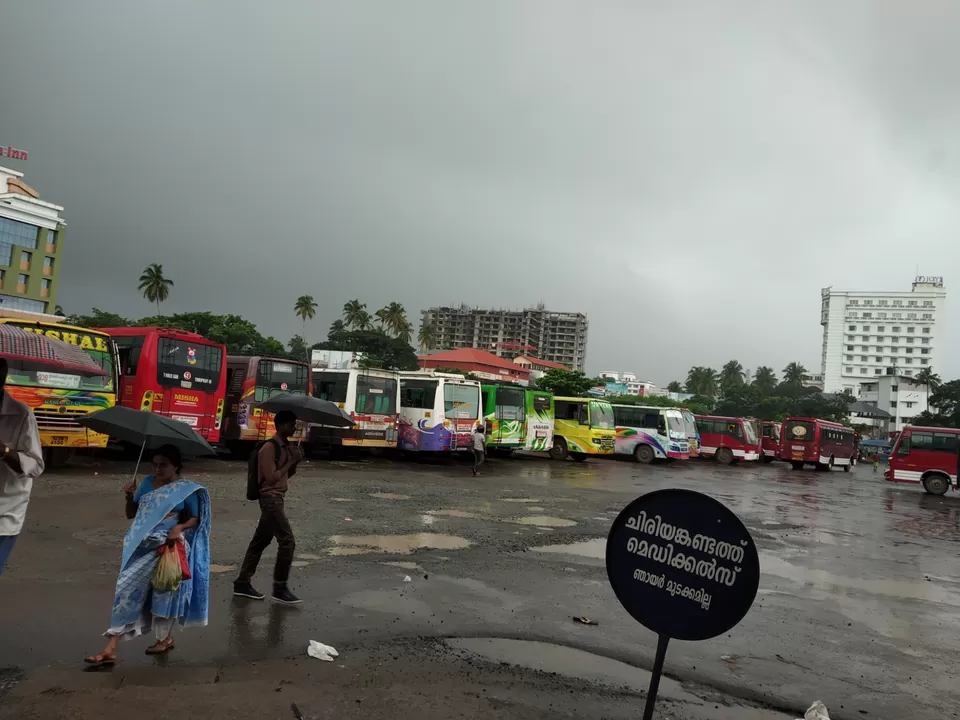 My stay boooked in kodungallur from 15july to 18 the July I choose this place for easy to roam whole Thrissur it was middle of the district .I stayed at Style homes and holiday inn ... Nice rooms friendly persons
16 th July my day 1 started I thought to visit athirapalli waterfalls but it was heavy raining out side 9 am rain stopped and I'm too hungry I went one cafe they don't have any menu card some one came he ask in Malayalam wt do u want ,I know little bit Malayalam I told to him go n get me tea and puttu it was Kerala food made with coconut some what good but I don't lyk it BE ROMAN IN ROME LYK BE MALAYALI IN KERALA ..HAHA ....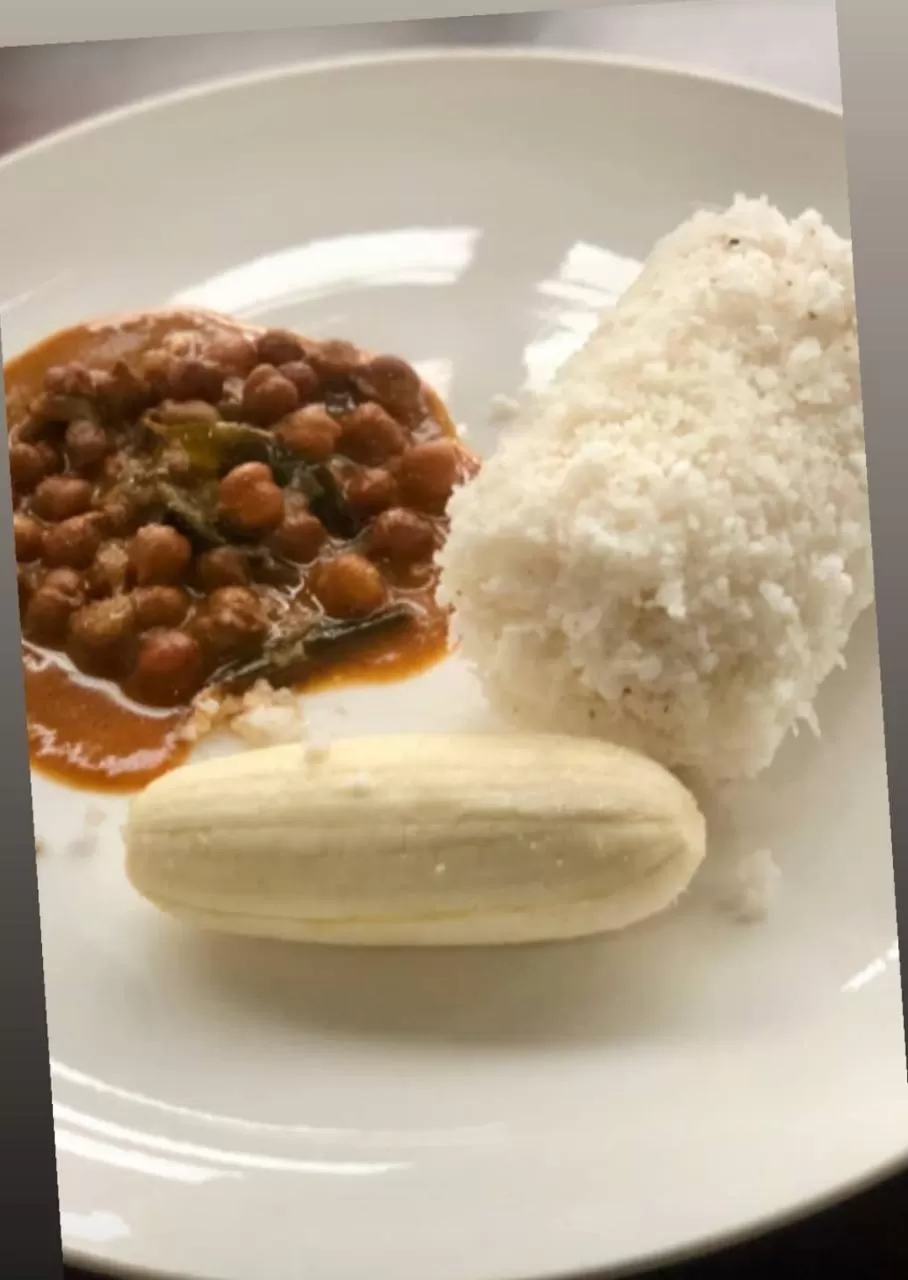 One of my friend recommended and told to go with cherman juma mosque. First mosque in India located near by kodungallur around 2kms from clock tower, mosque located in methala it is area near by kodungallur, reached there by 11:45 am .
I went there is mosque office is there I ask can I visit lyk that they ask my name ,I told Raheem they told and visit and pray ,NIC people .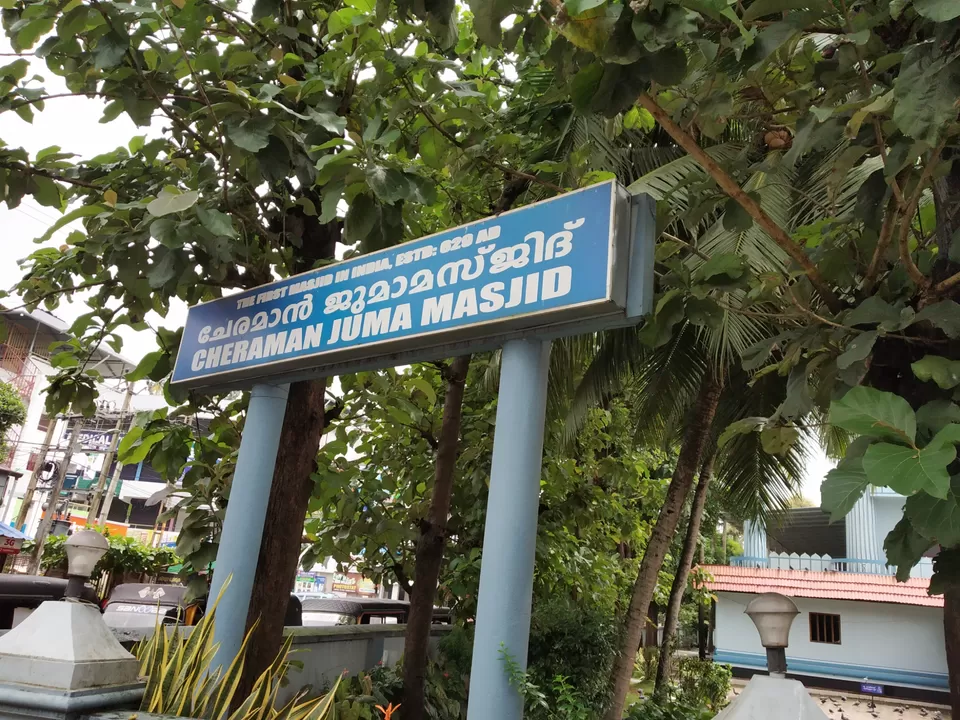 So many Arab traders come to Kerala in olden days.
And the Malik Bin Deenar and Malik Bin Habib they are propogators came to malabari region and finally settled In methala and built a masjid there in 629 AD .
I'm visiting around mosque in between one guy aged around 32 he ask me that ur Malabar Muslim like that I told him I'm from Andhra just come for visit Kerala .
He roamed me all the places in mosque that are Malik Bin deenar and Malik Bin Habib tombs and masjid museum after that 12:45 pm we went for namaz . suddenly minute by minute the masjid filled with lots people and prayed ,in first portion of mosque there was big lamp .he told me that was first lighting source of masjid so they put it lyk a memory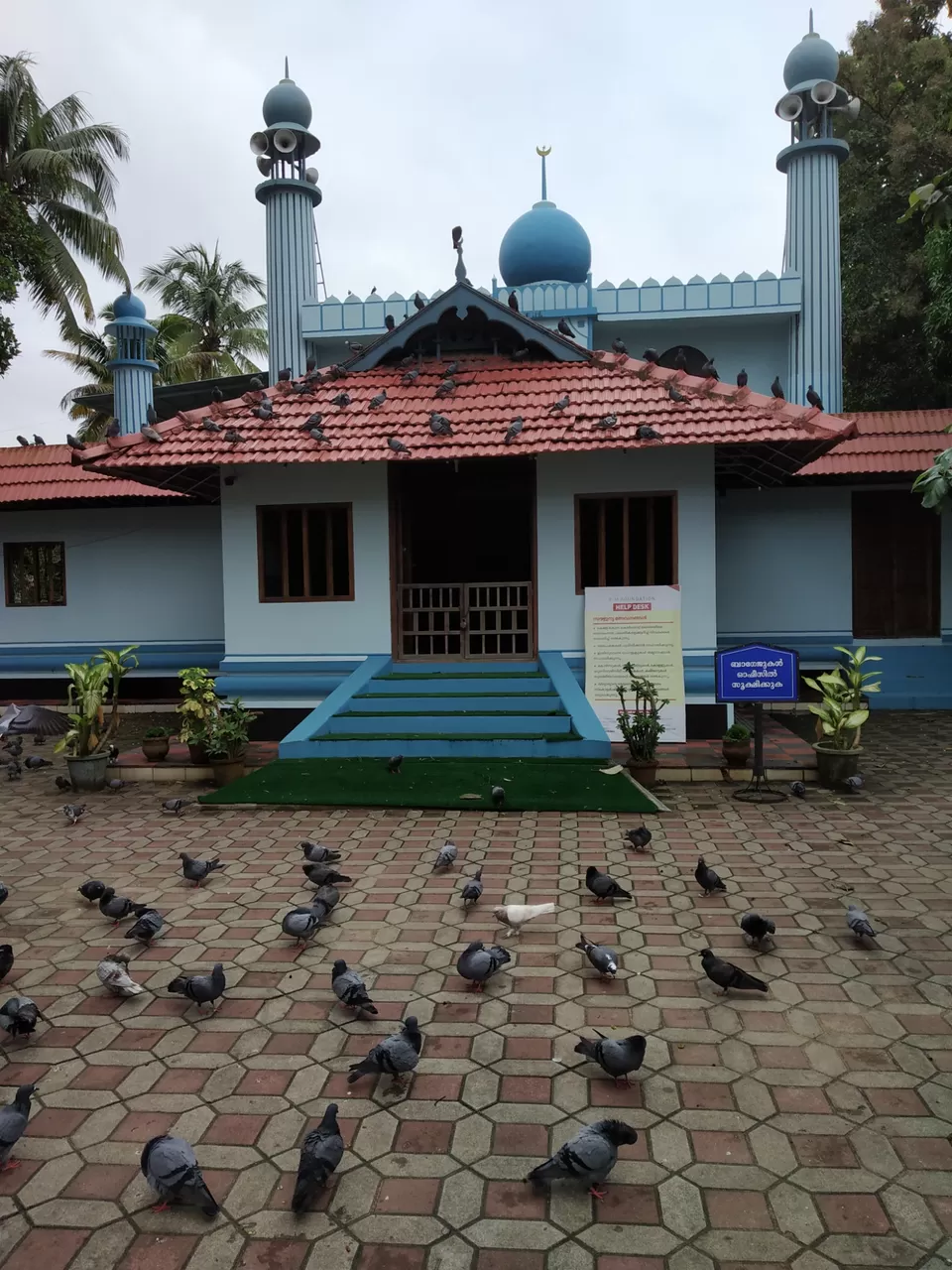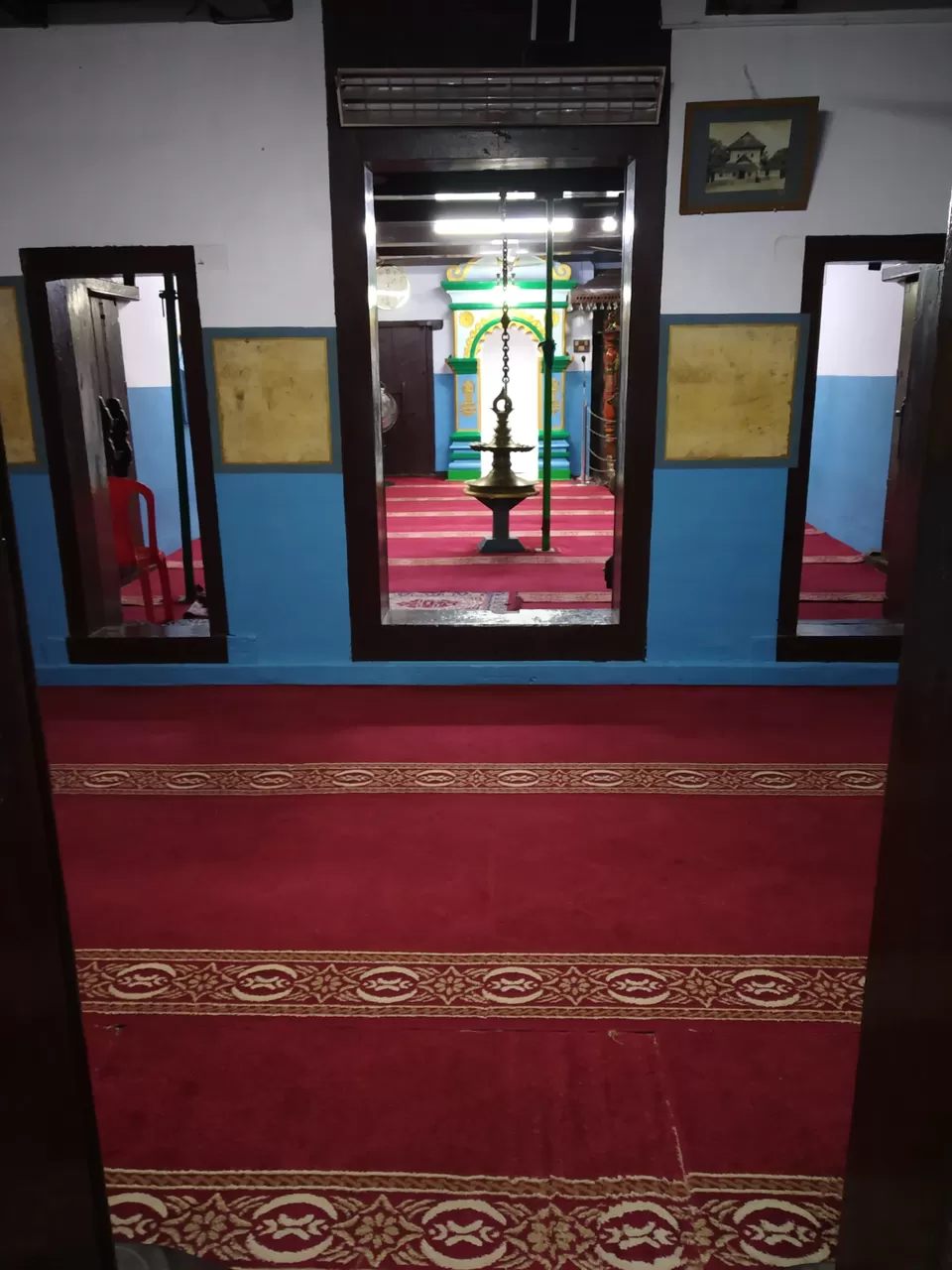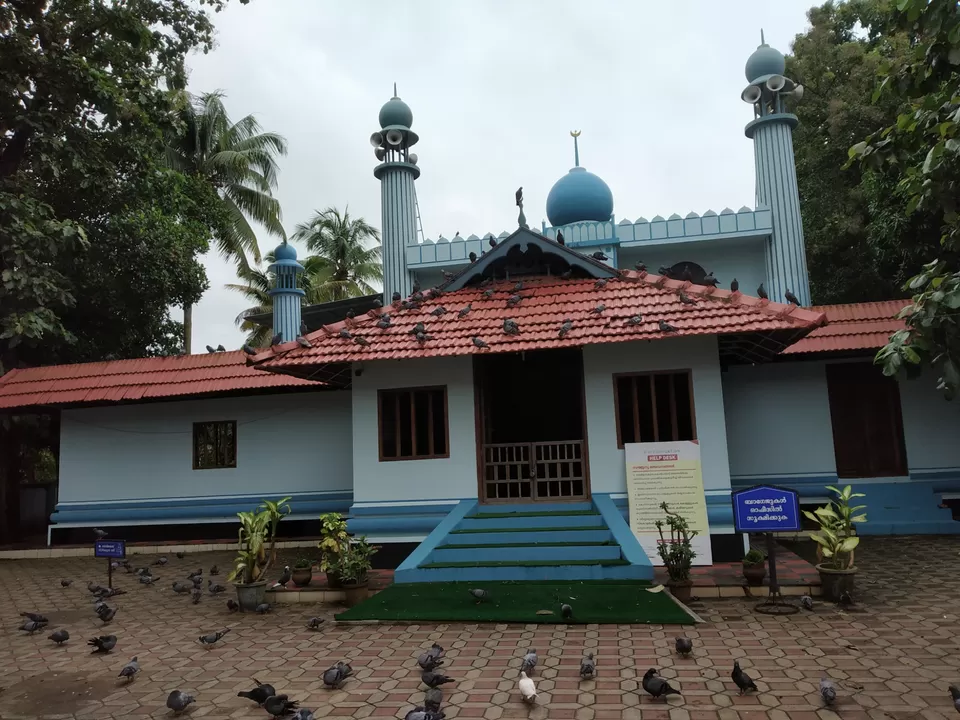 Former president DR.APJ ABDUL KALAM VISITED ON 29 JULY 2005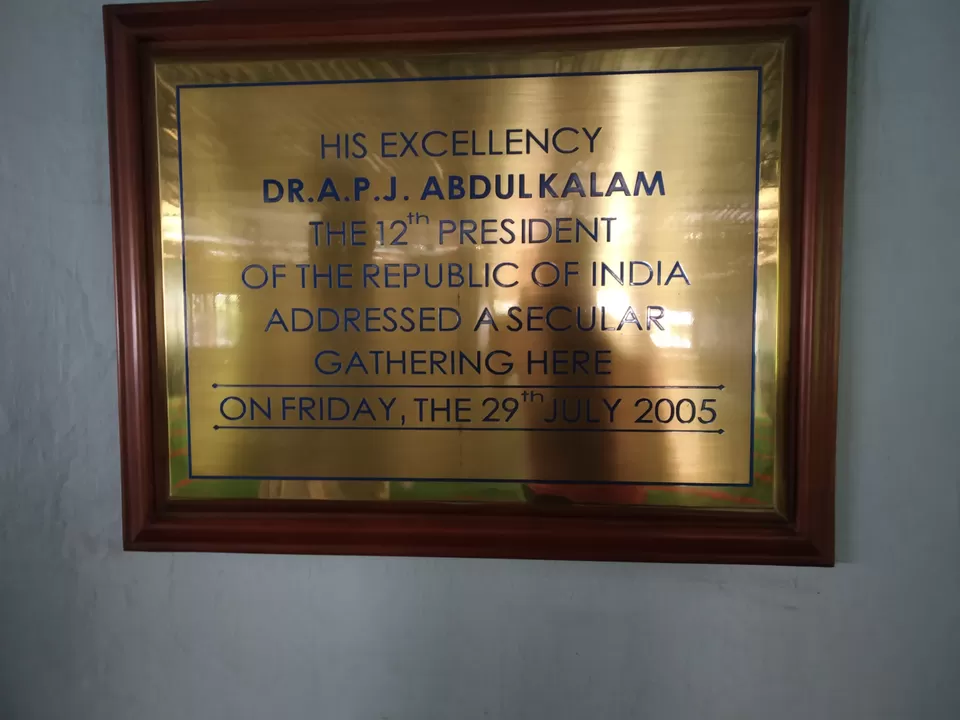 after completing I'm ask him where are u from he told me he is from Malappuram but he was living near by kodungallur working in a mosque trust ,
The time was 2:00 pm im too hungry I asked him can I get better food there like he told try Malabar fish biryani it will be nice .
So we two went there order two fish biryani it was really superb from that I like to eat Malabar biryani's
First the barer gave curd with mixed fruits it was nice cost is 700 INR .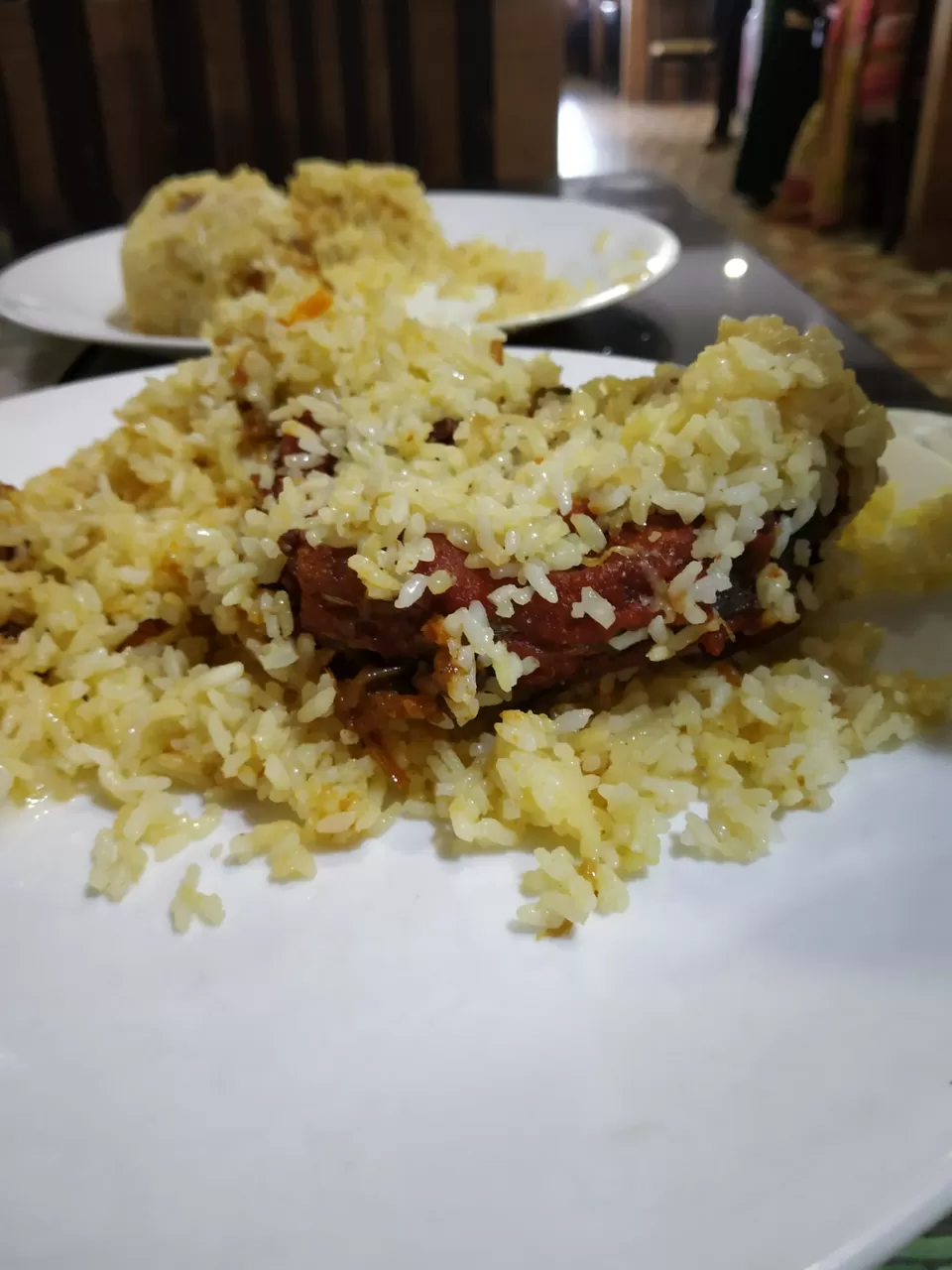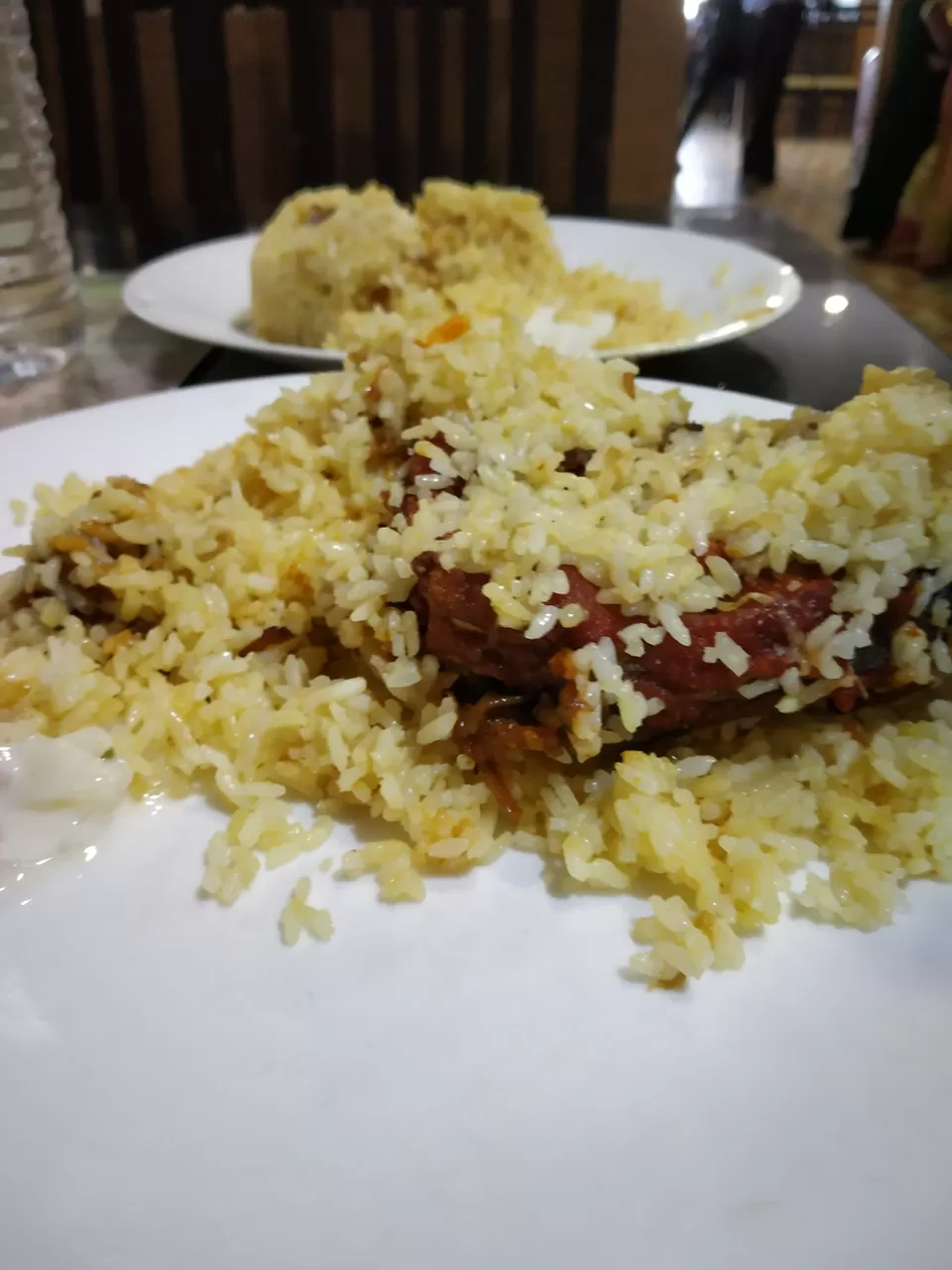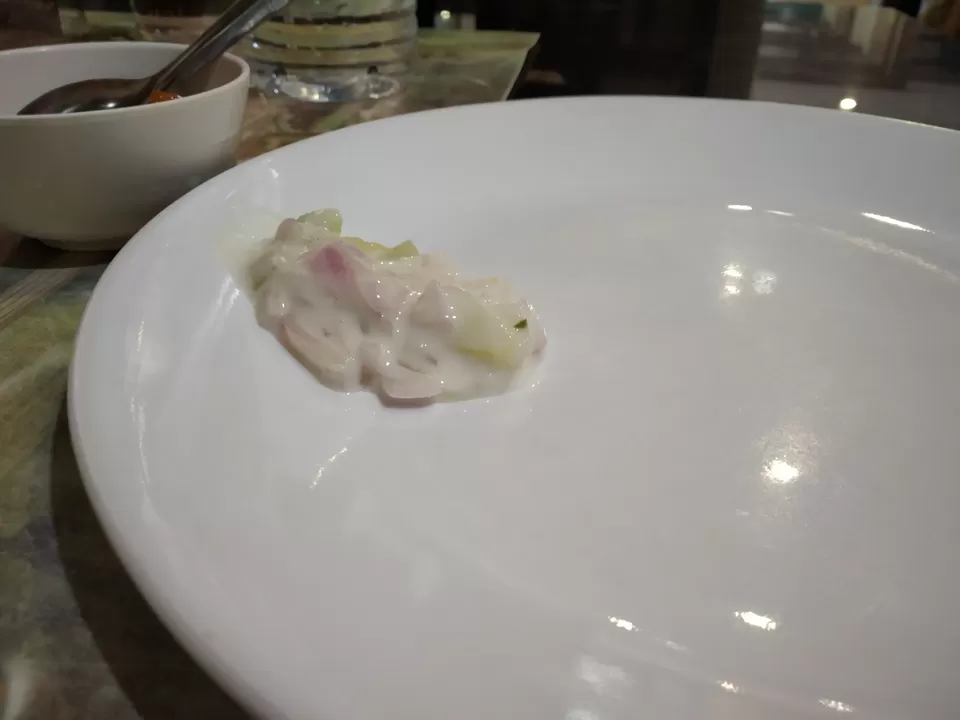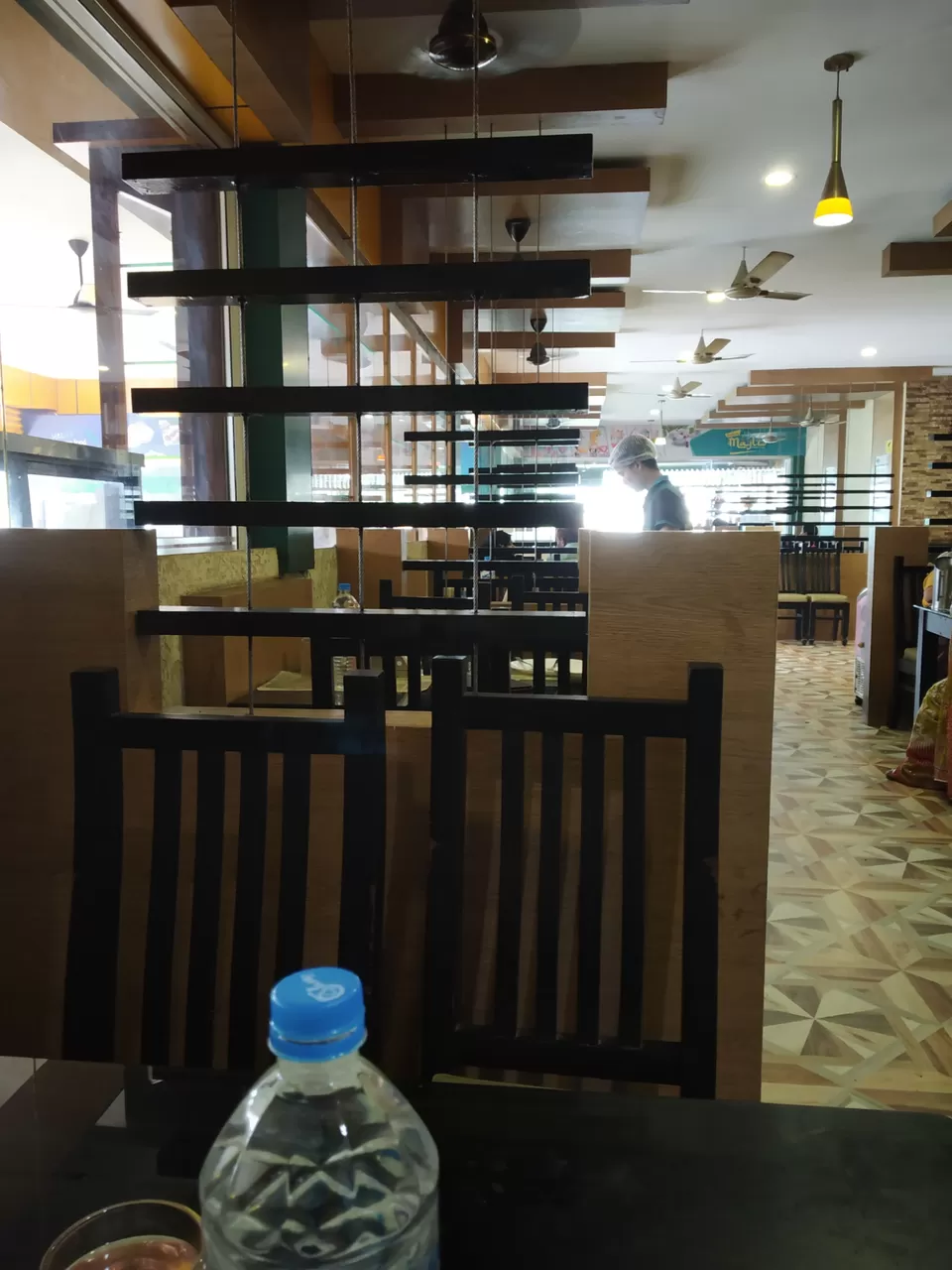 after having lunch he returned I'm back to room ,
Try to go somewhere then I went clocktower circle of kodungallur near by there one temple is there that is Bhagavathi temple there was led display is there it written that ammesaranam, I just entered into temple and visit the architecture simplicity was very good in Kerala temples .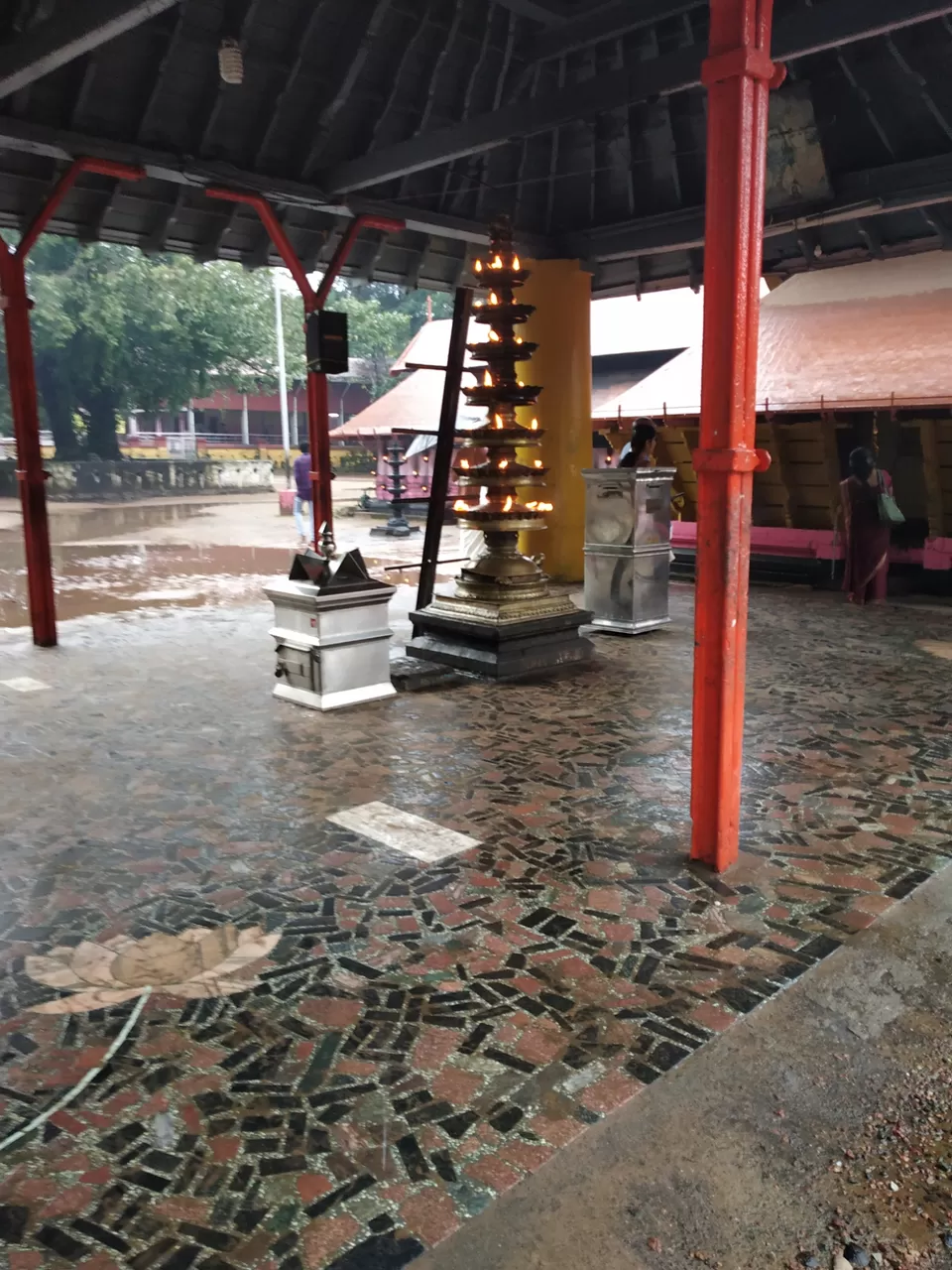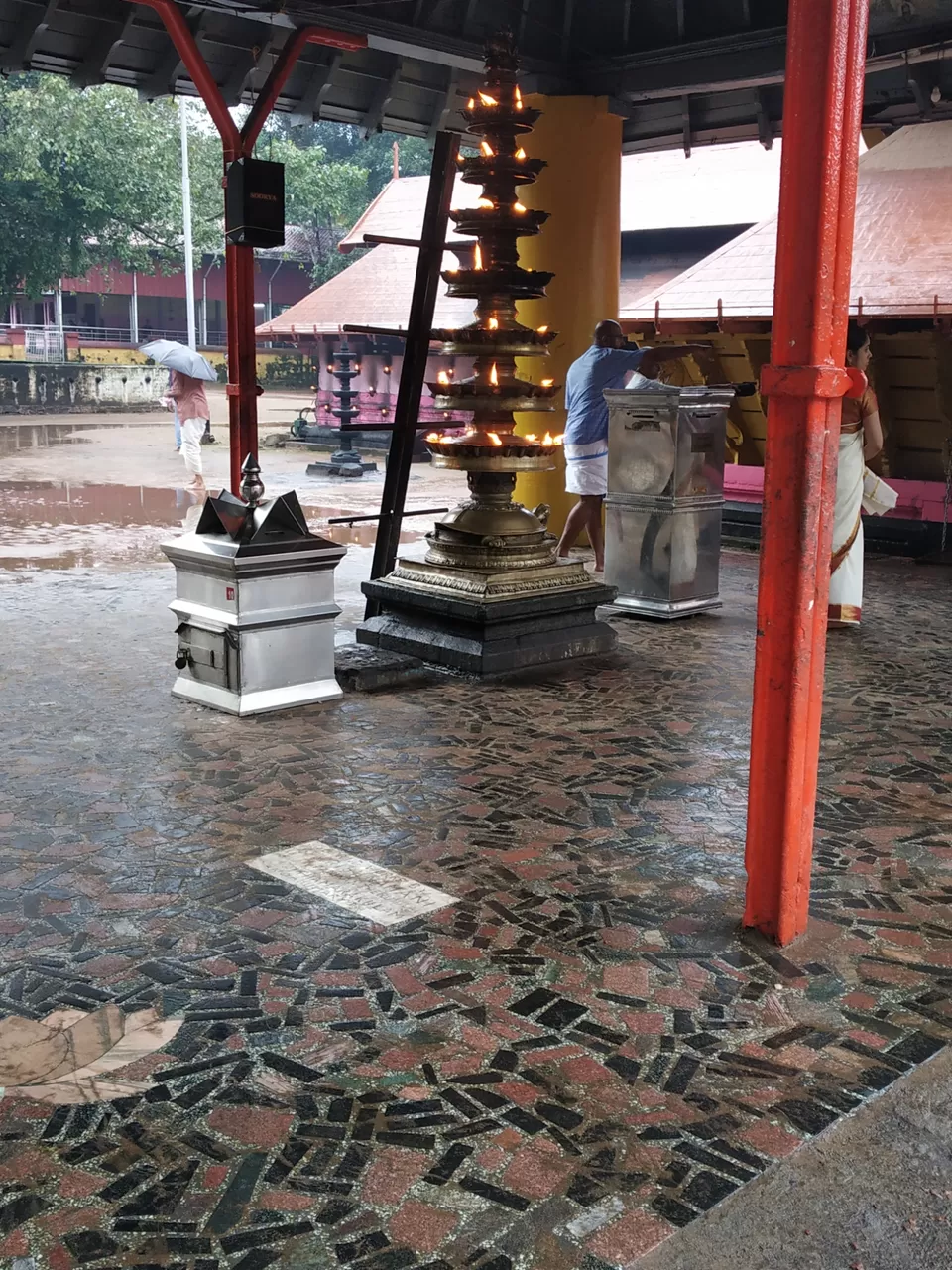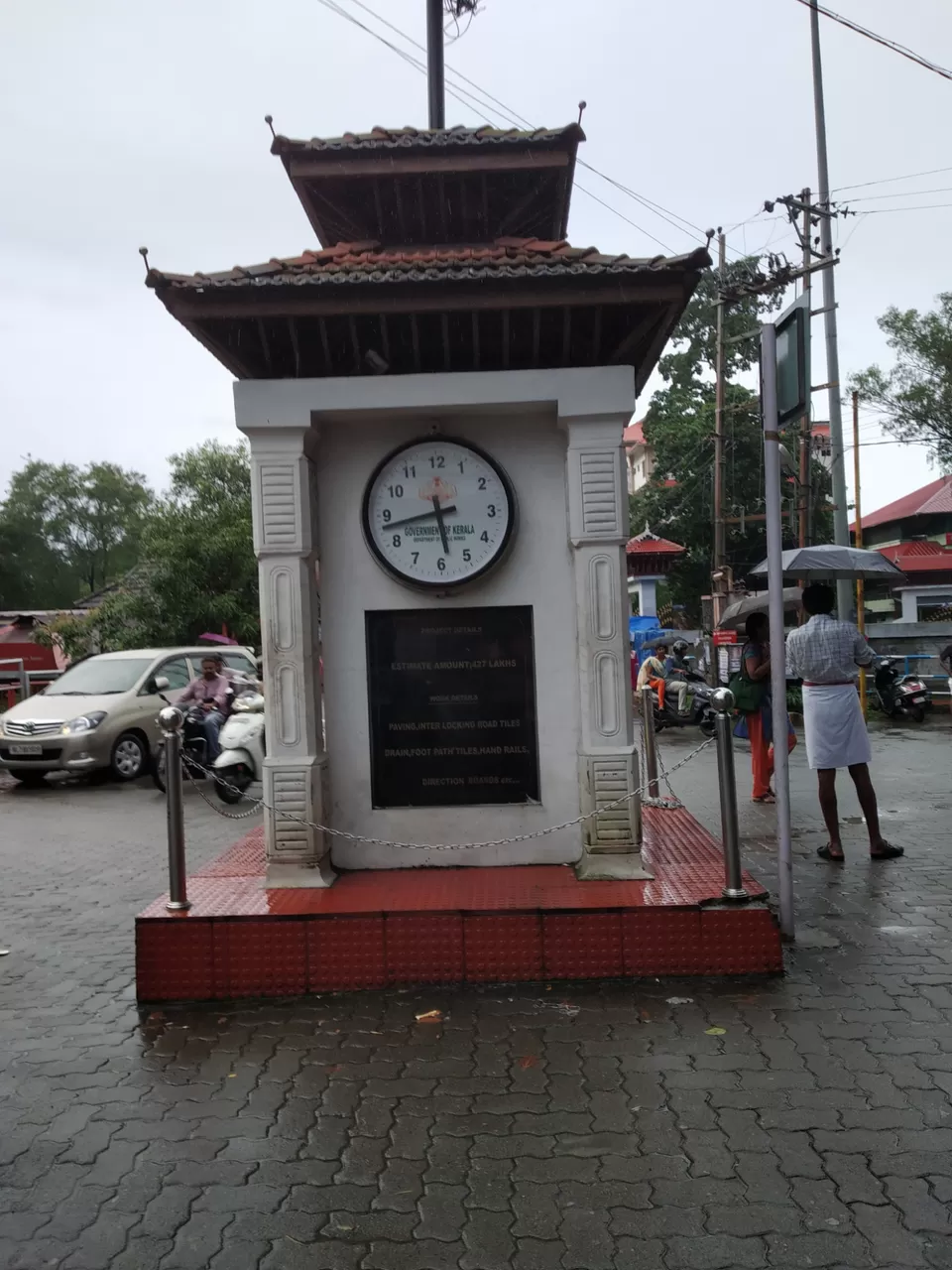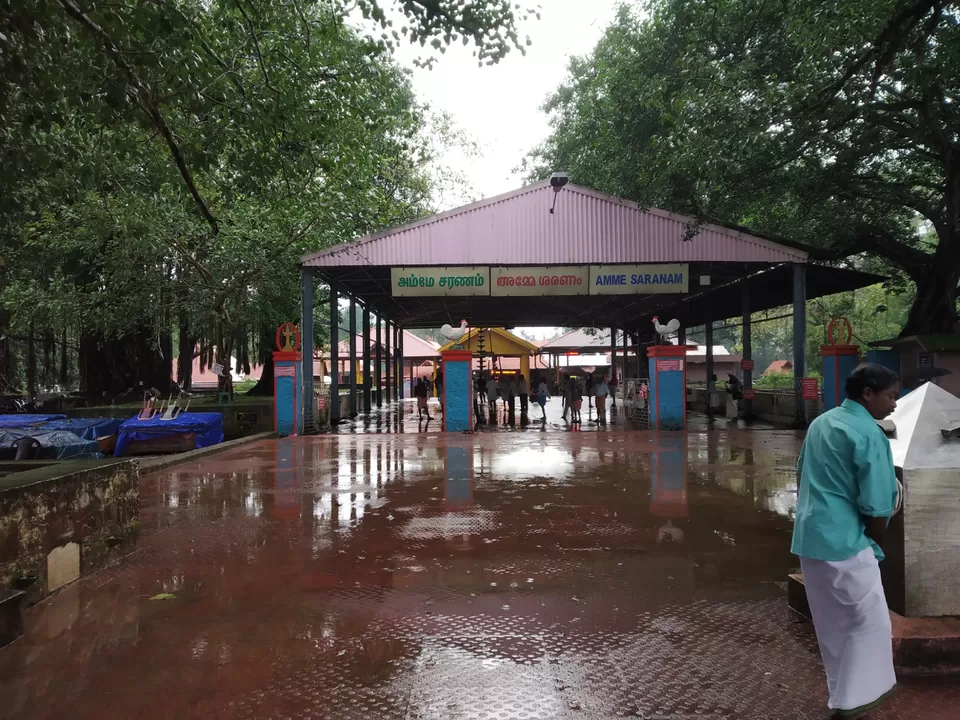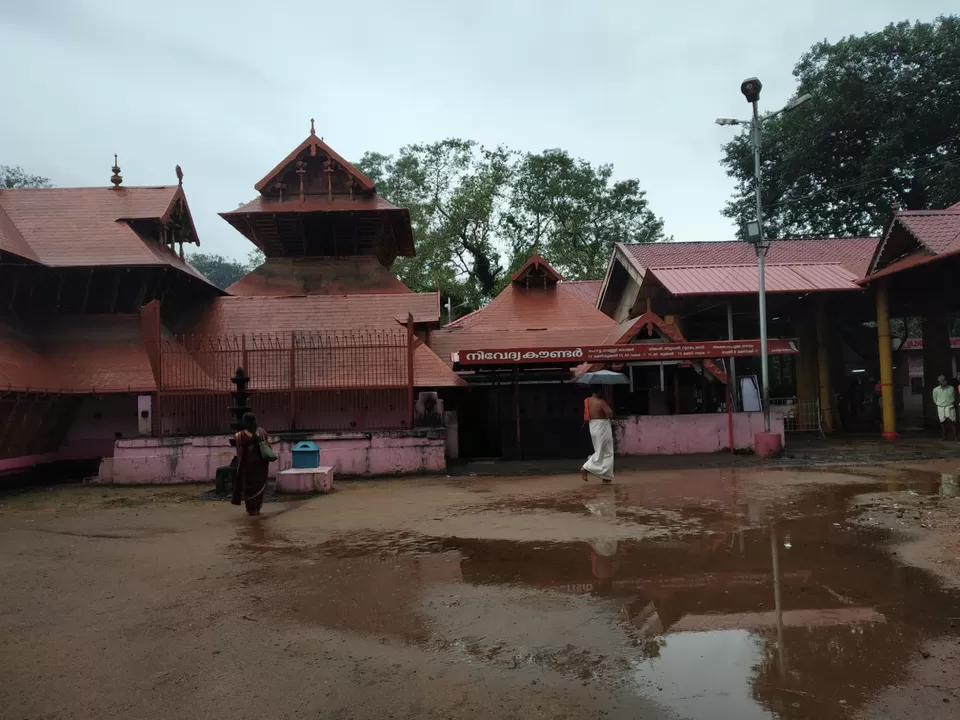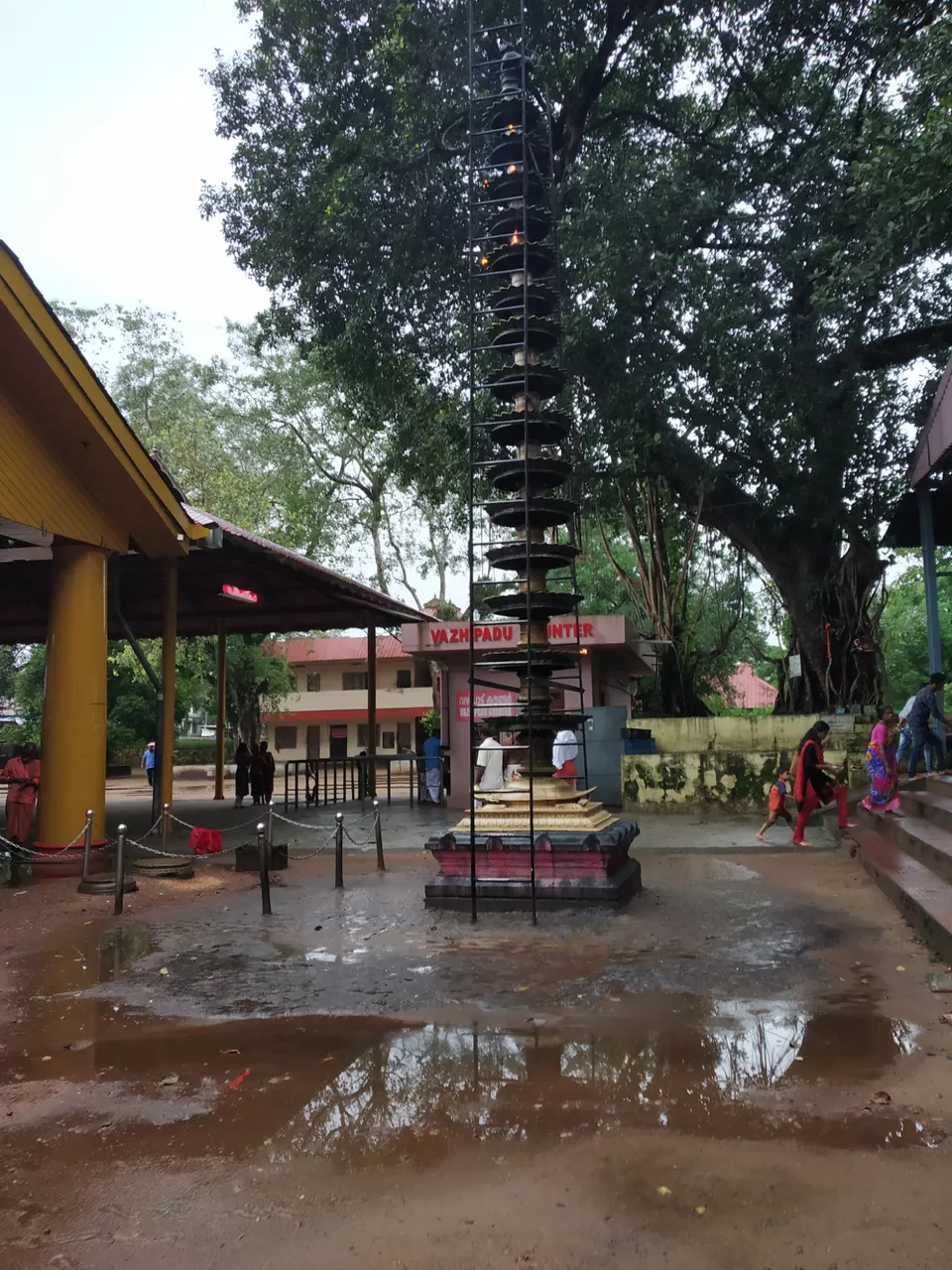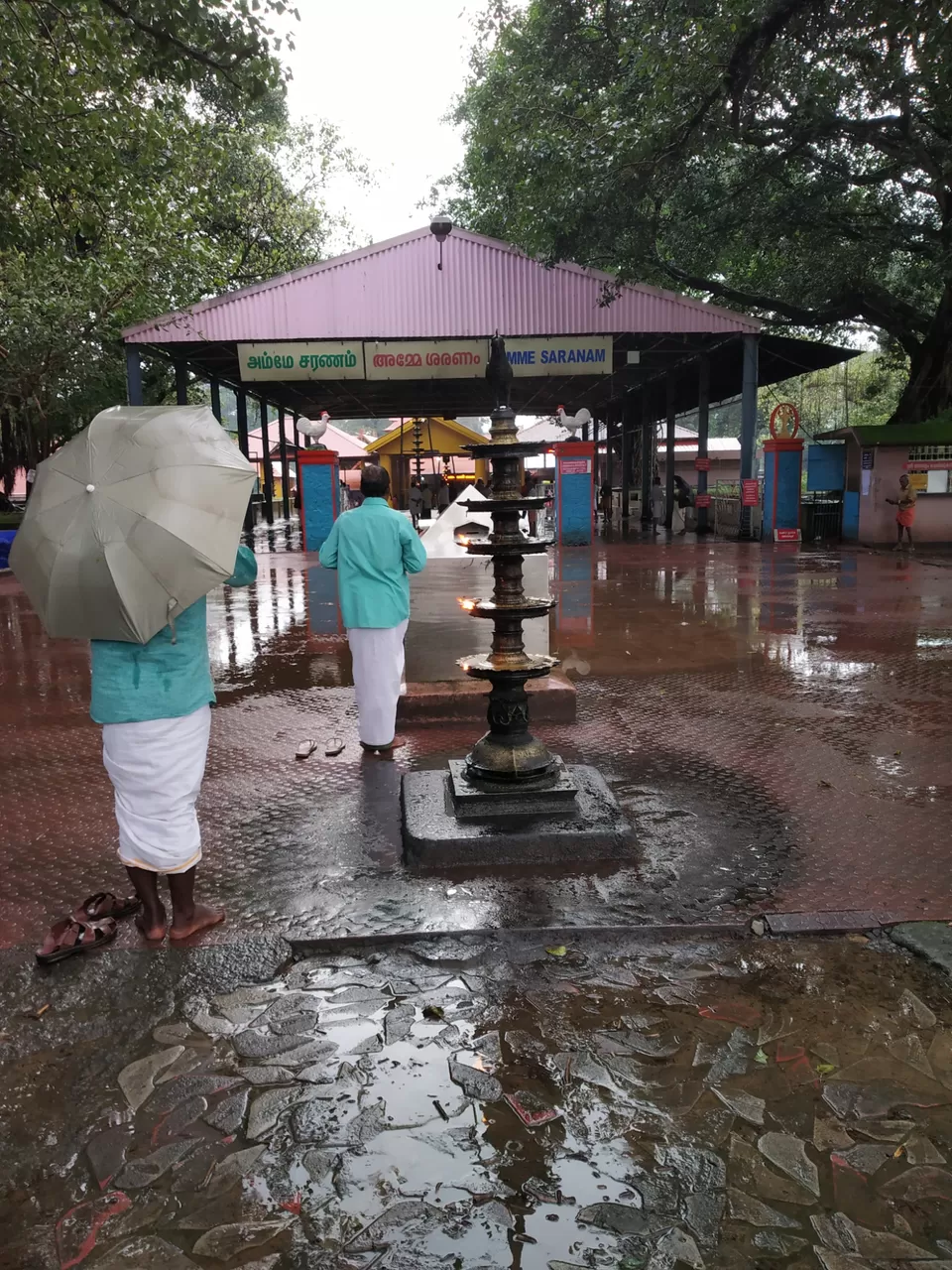 after that I went one shopping mall and buy some T shirts , the time around 7:40 pm for dinner I went KFC after having my dinner back to my room the day successfully completed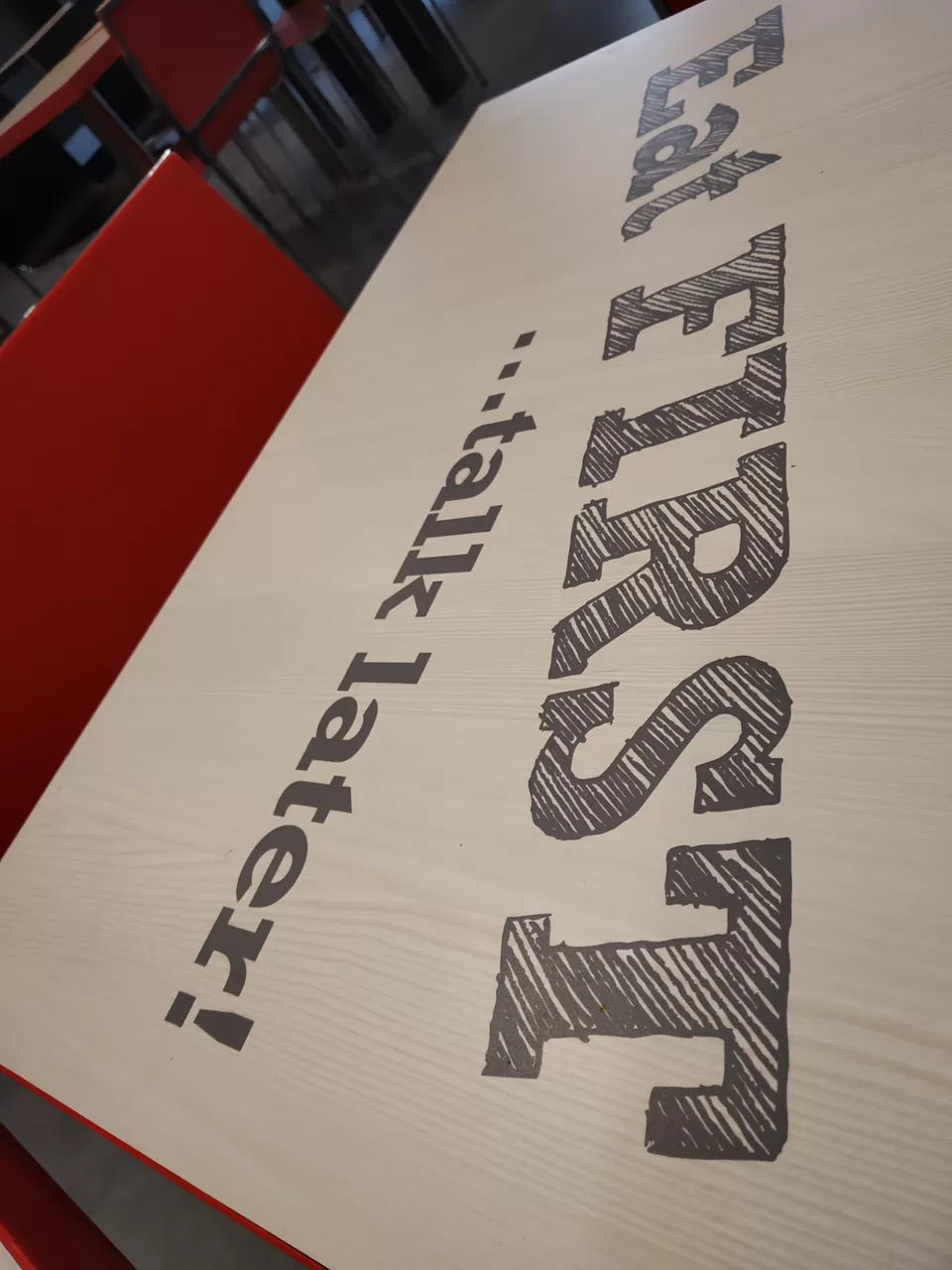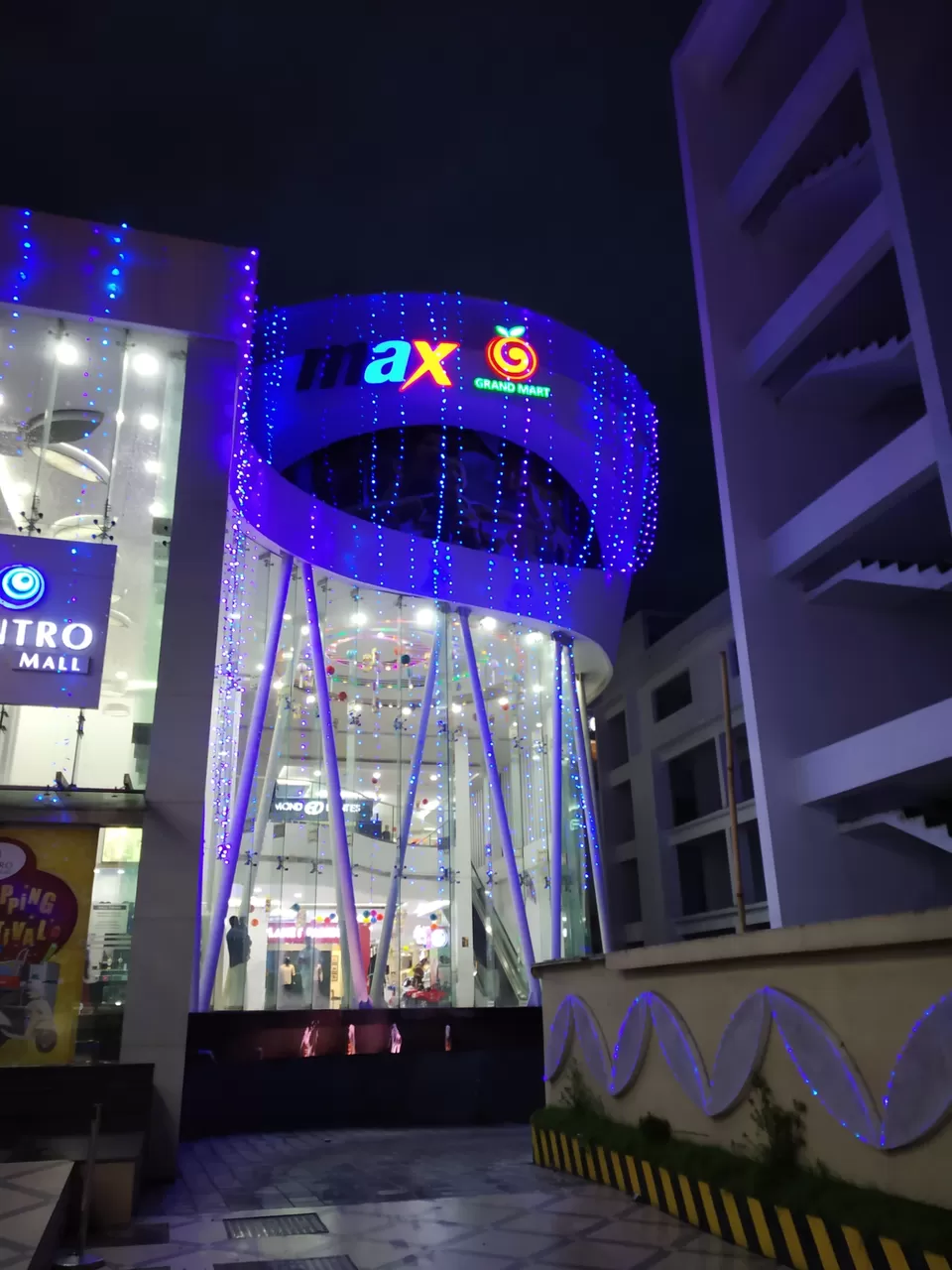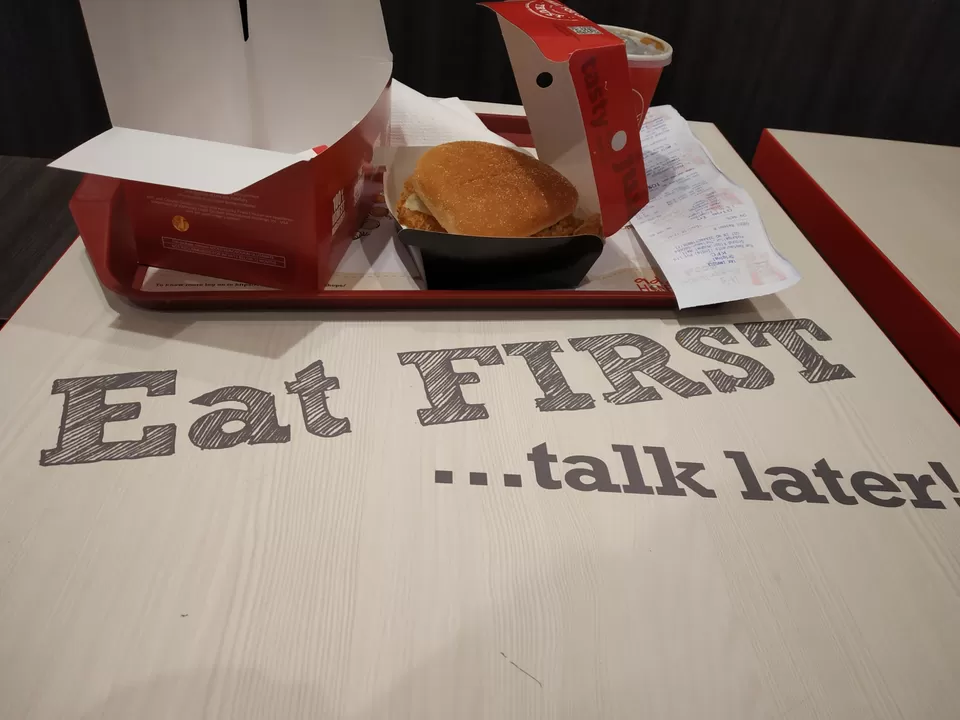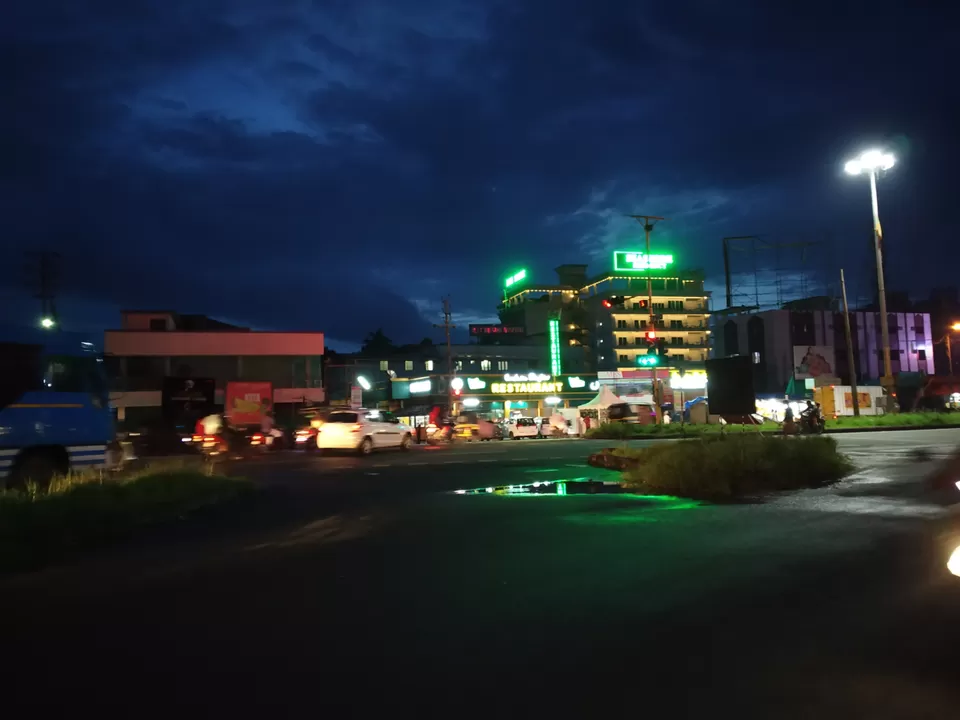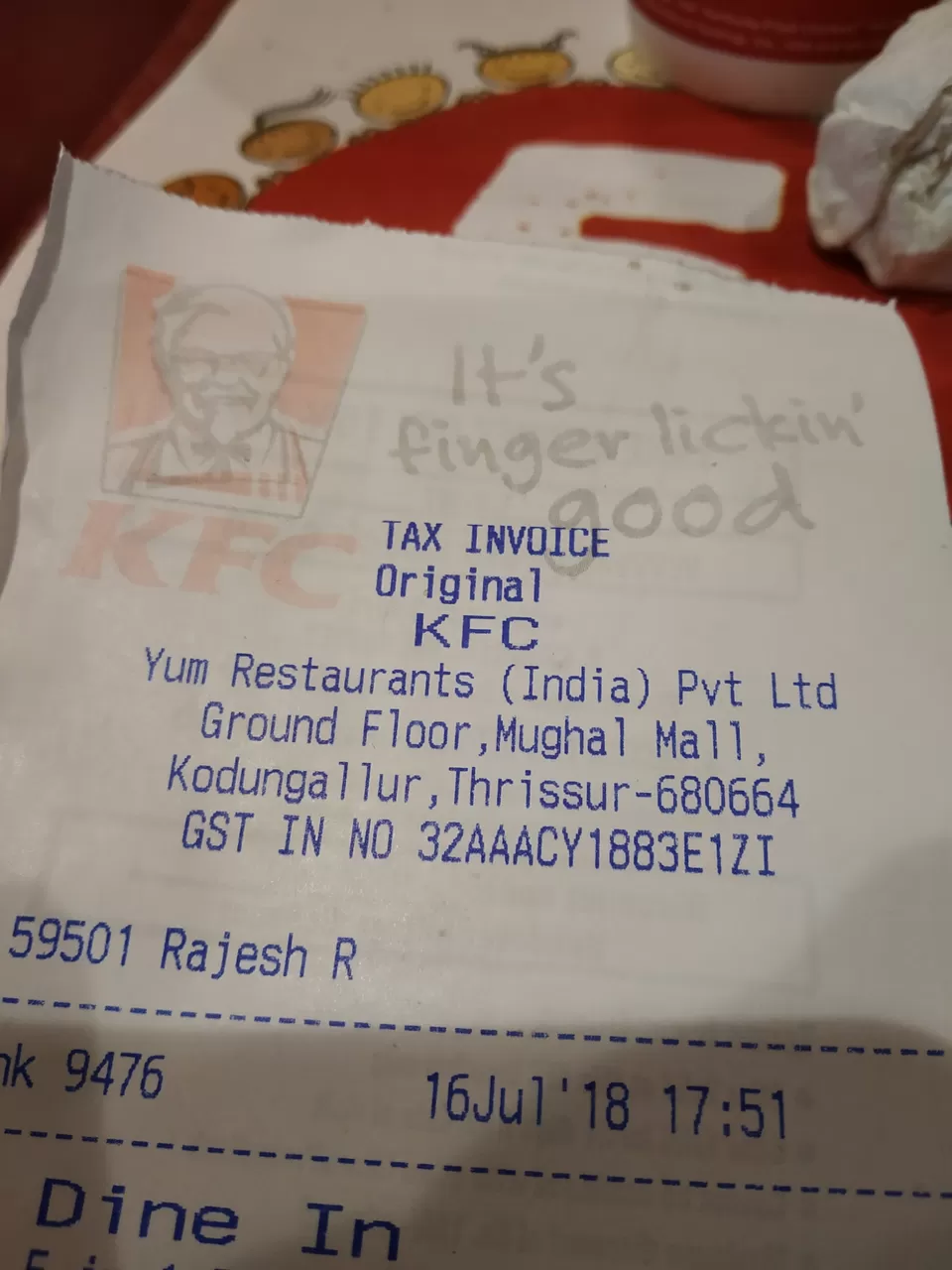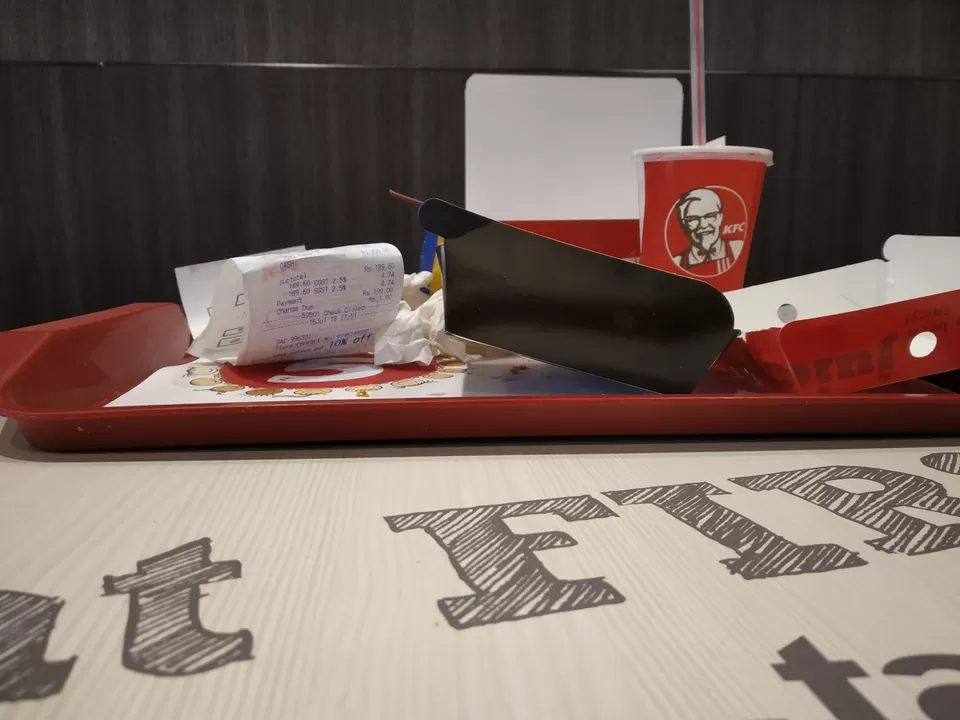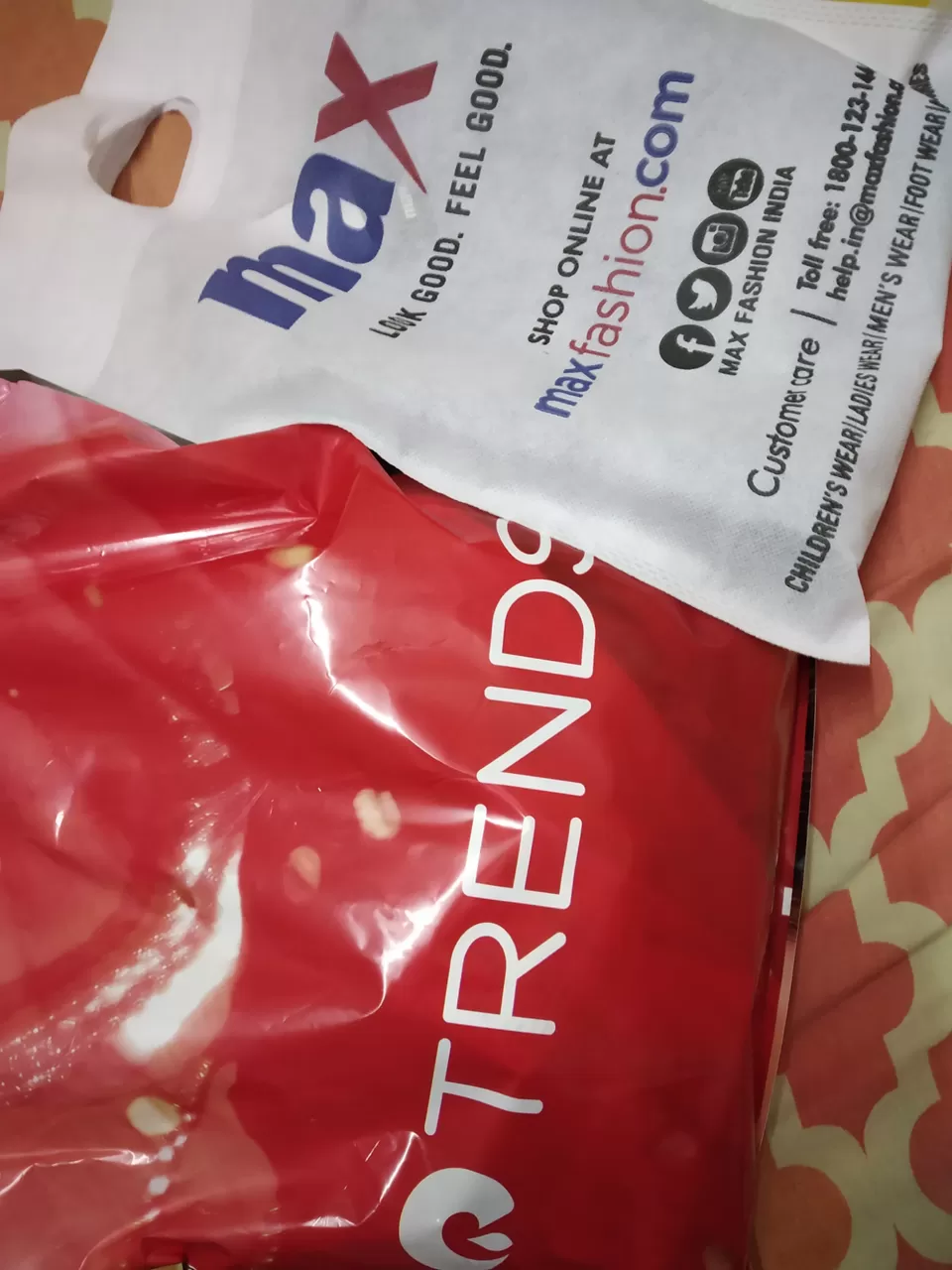 Day to plan to start NIAGARA FALLS OF INDIA (Athirapalli waterfalls.) From kodungallur by bus I went Chalakudy with fare of 30 rupees and 28 kms
The private bus have several stops he stopped Every small stop in between I saw two Cities one is Anapuzha and Mala after going to Chalakudy I went for government bus station there all names are writing in Malayalam . suddenly I asked my friend and send me how to write Athirapalli waterfalls in Malayalam she sent me and checked and find bus finally ,my travel starts towards the Athirapalli waterfalls . In mind so many thoughts comings like I saw this water falls in so many movies and all but finally going to visit my soul is dancing inside .roads are curved somewhat scary but nice ,along the road i found so many jack fruit trees and rubber trees , there in some of waters sources I found so many fishing nets .
After entering route of Athirapalli the road like elevated some of trees around hill fallen on current wires,
I thought no power on that time all passengers just take breath after knowing that because our bus jst touches the wire oh god ..
The road full of water sound like "Ganga is coming out from the lord Shiva head "
Finally he stopped and told take tickets and we will go there I told to bus driver I will come by walk u go .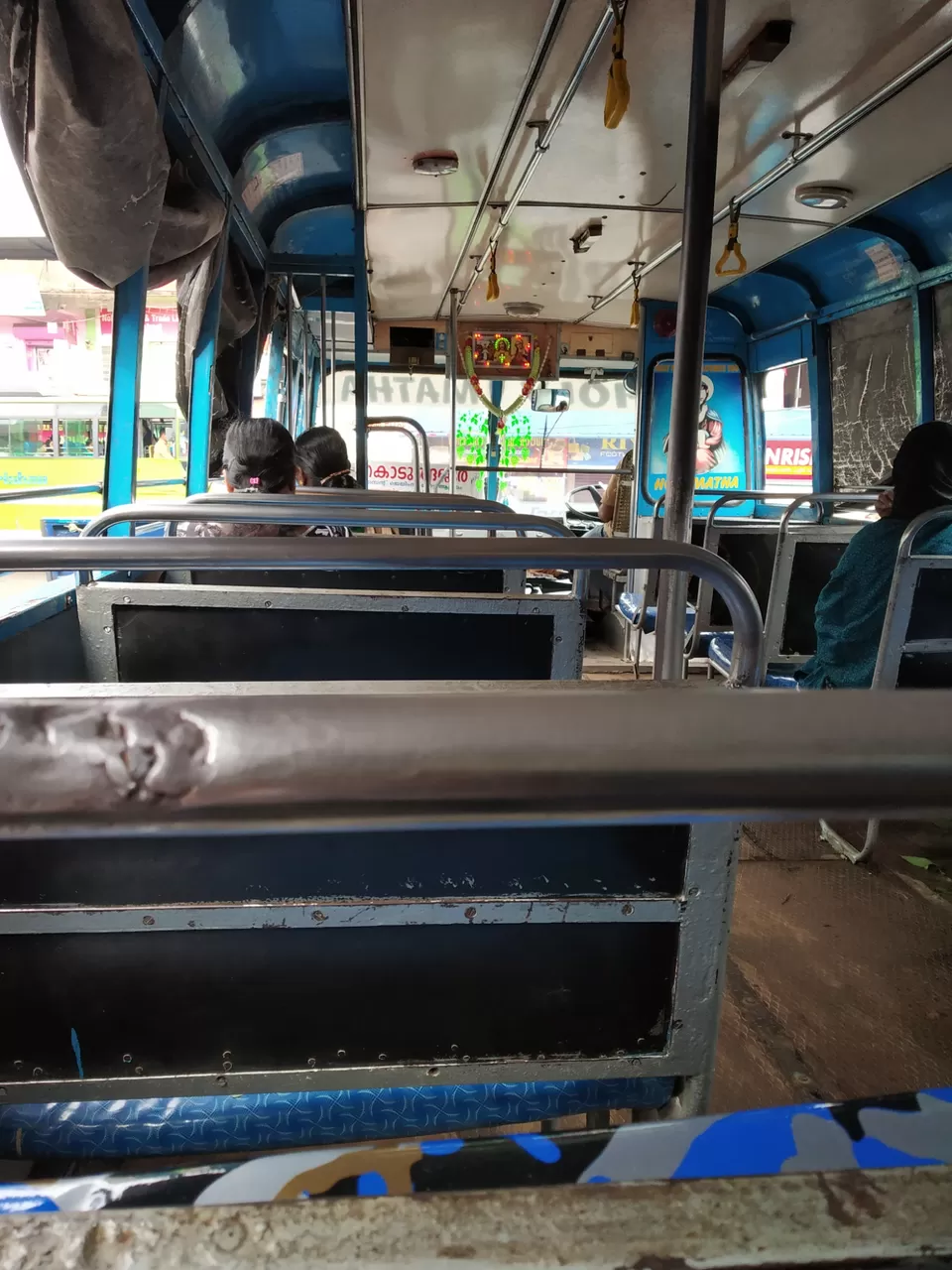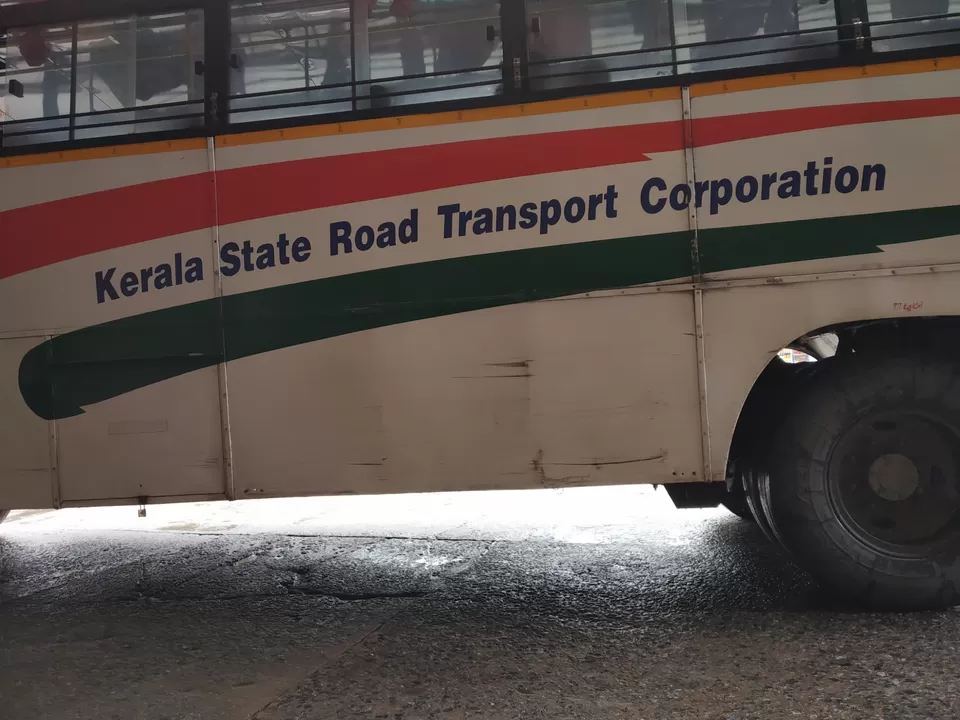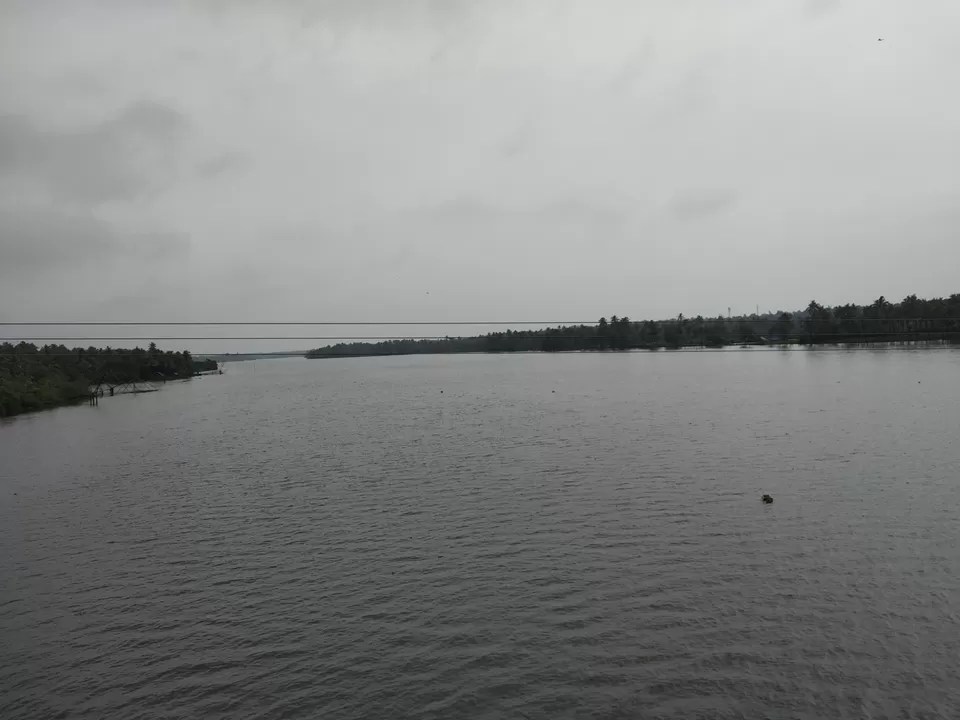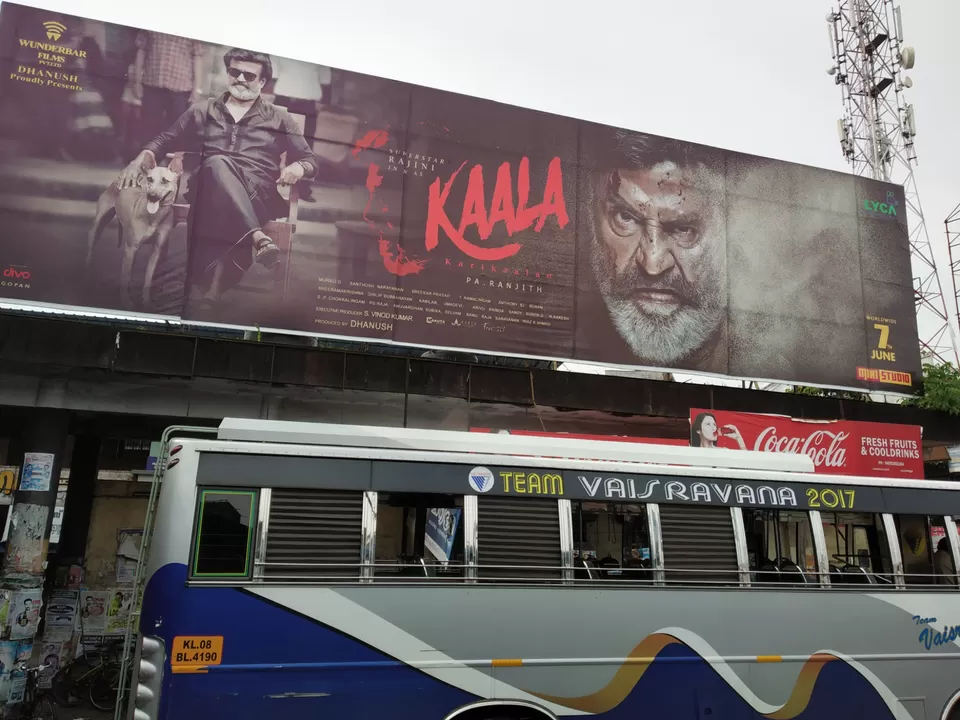 From there I went ticket counter one ticket cost is 30 rupees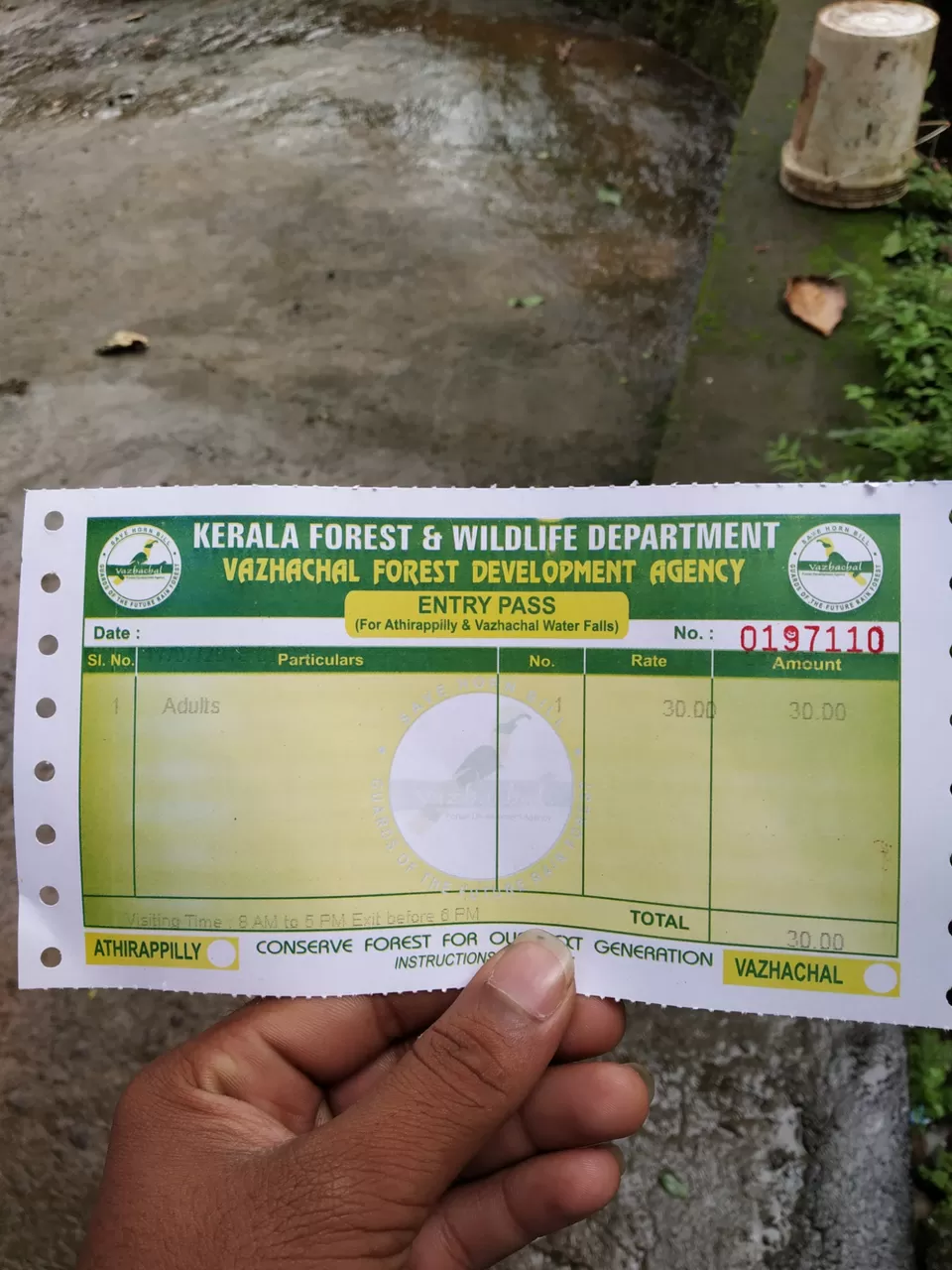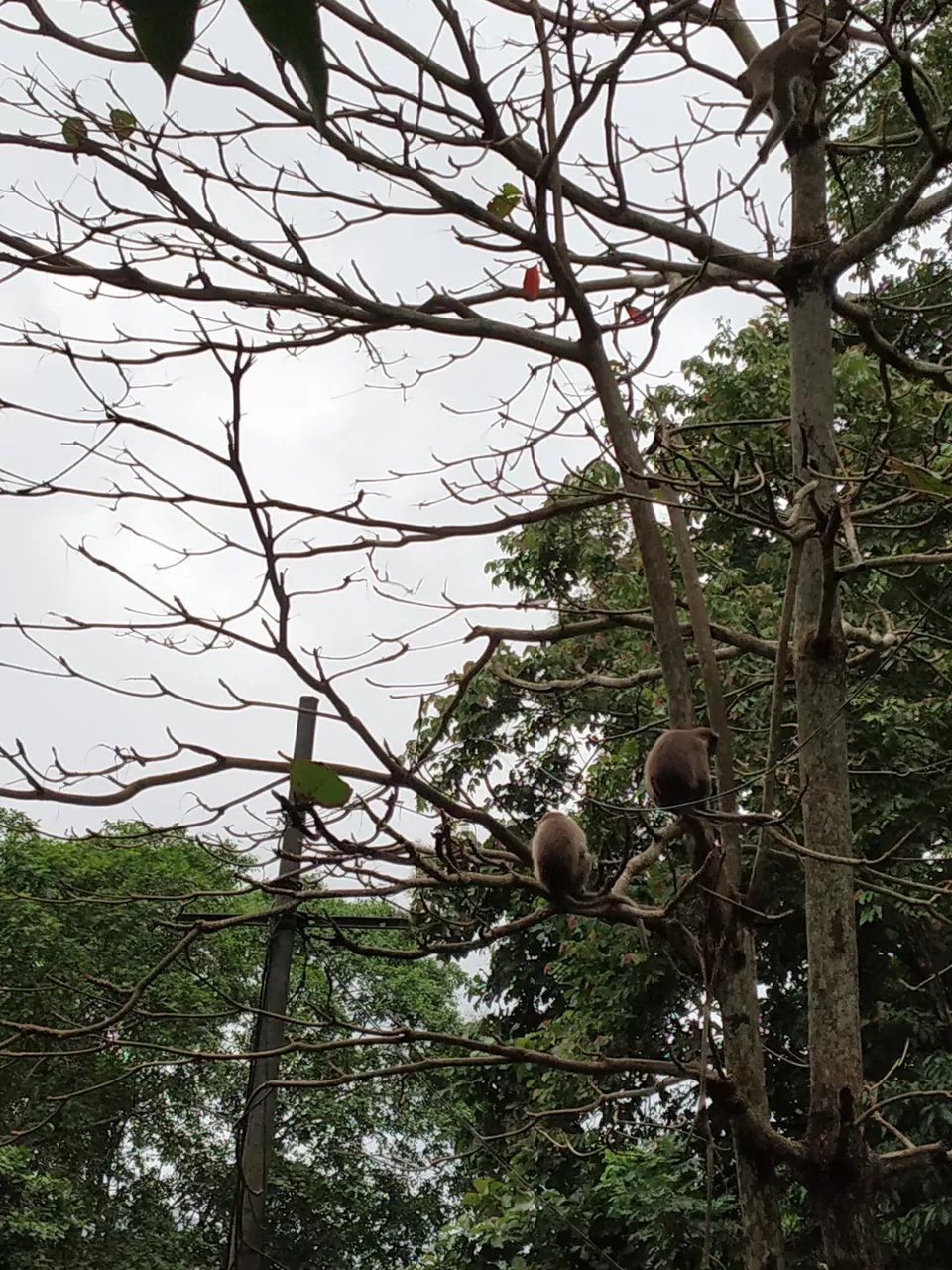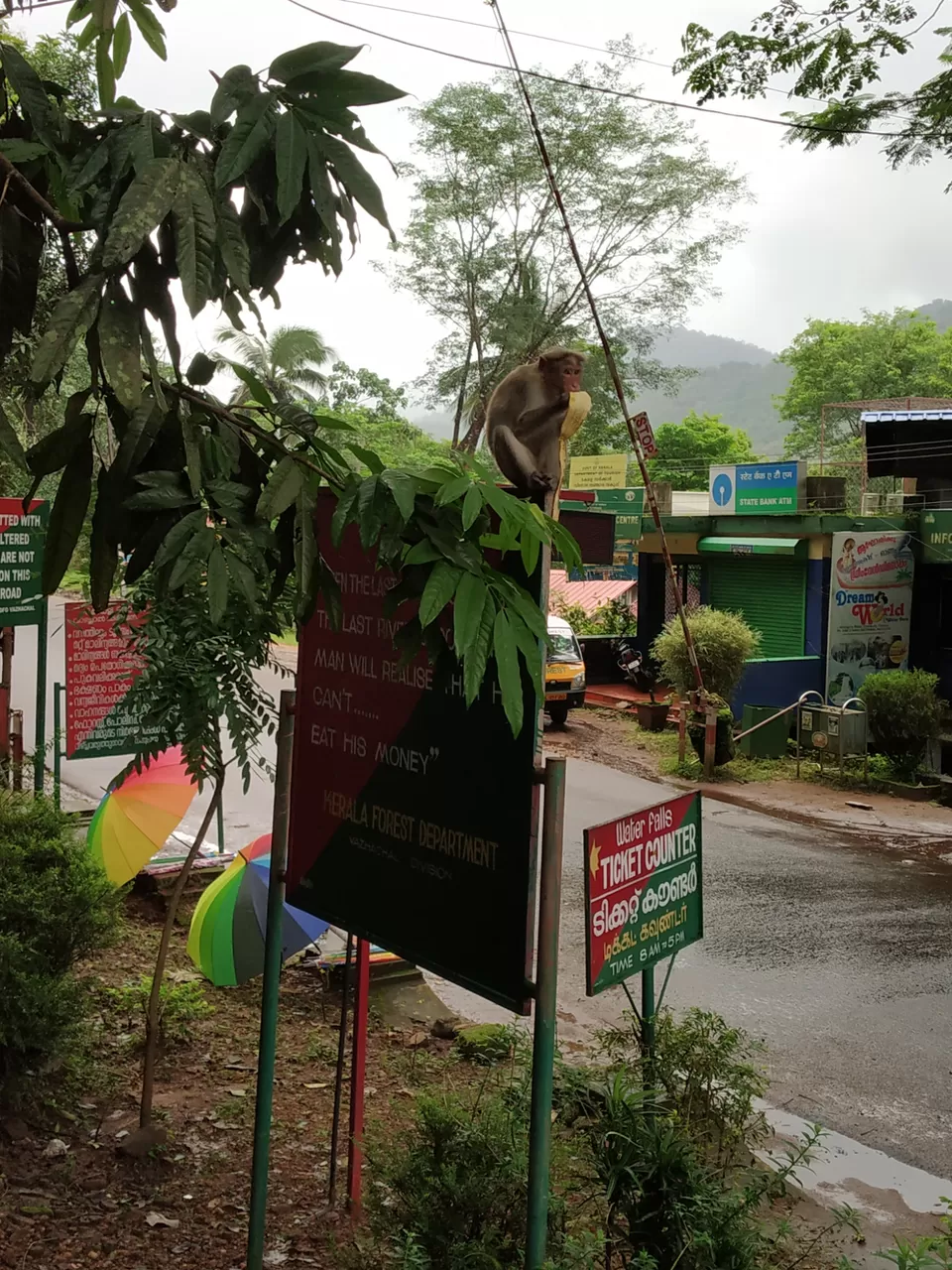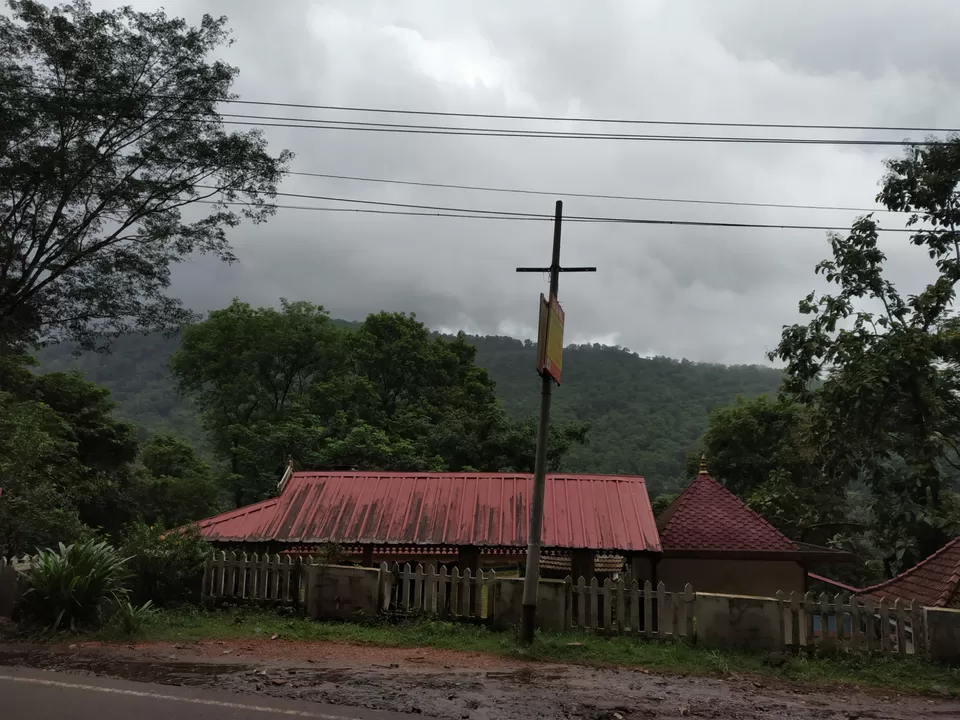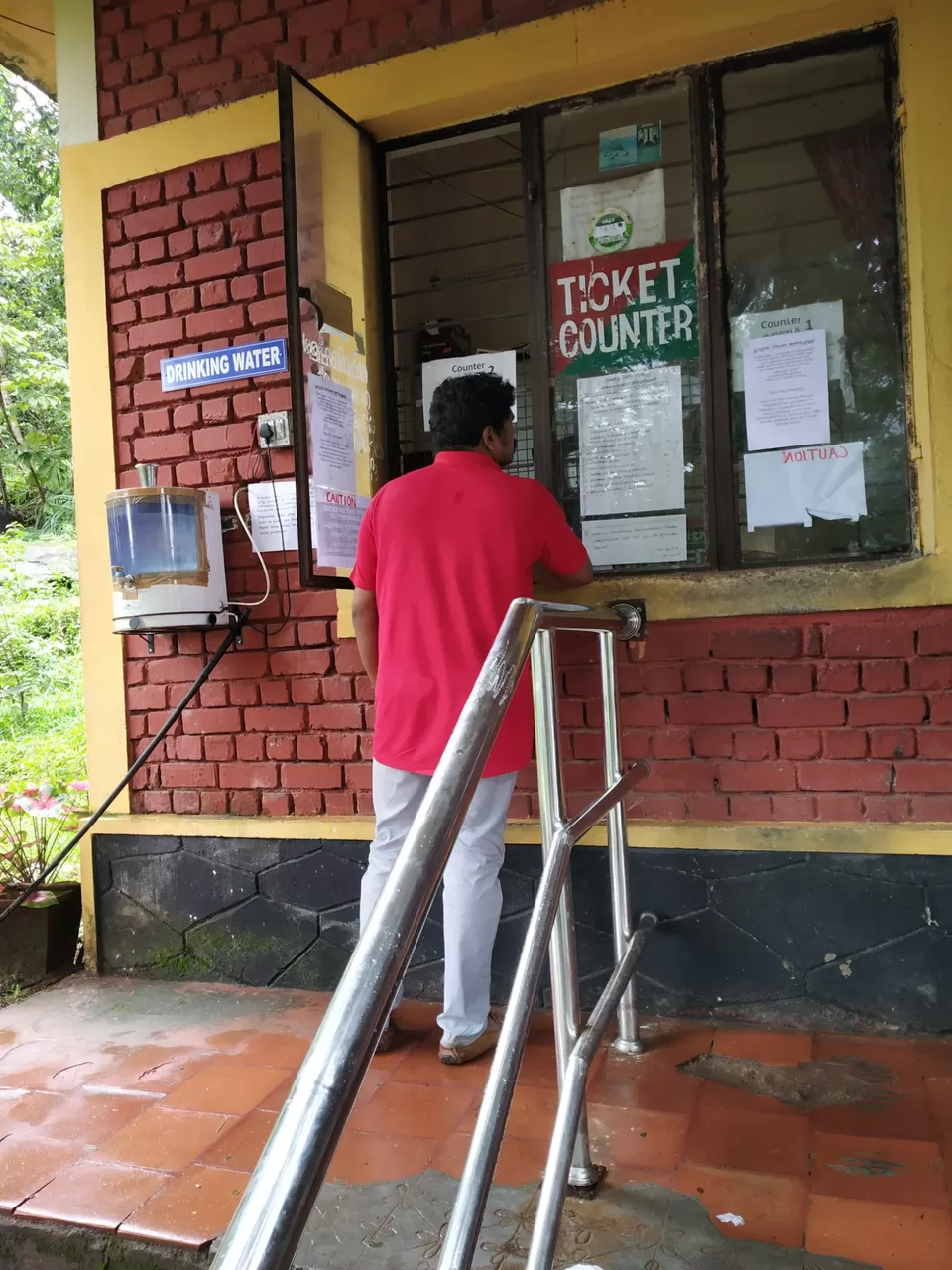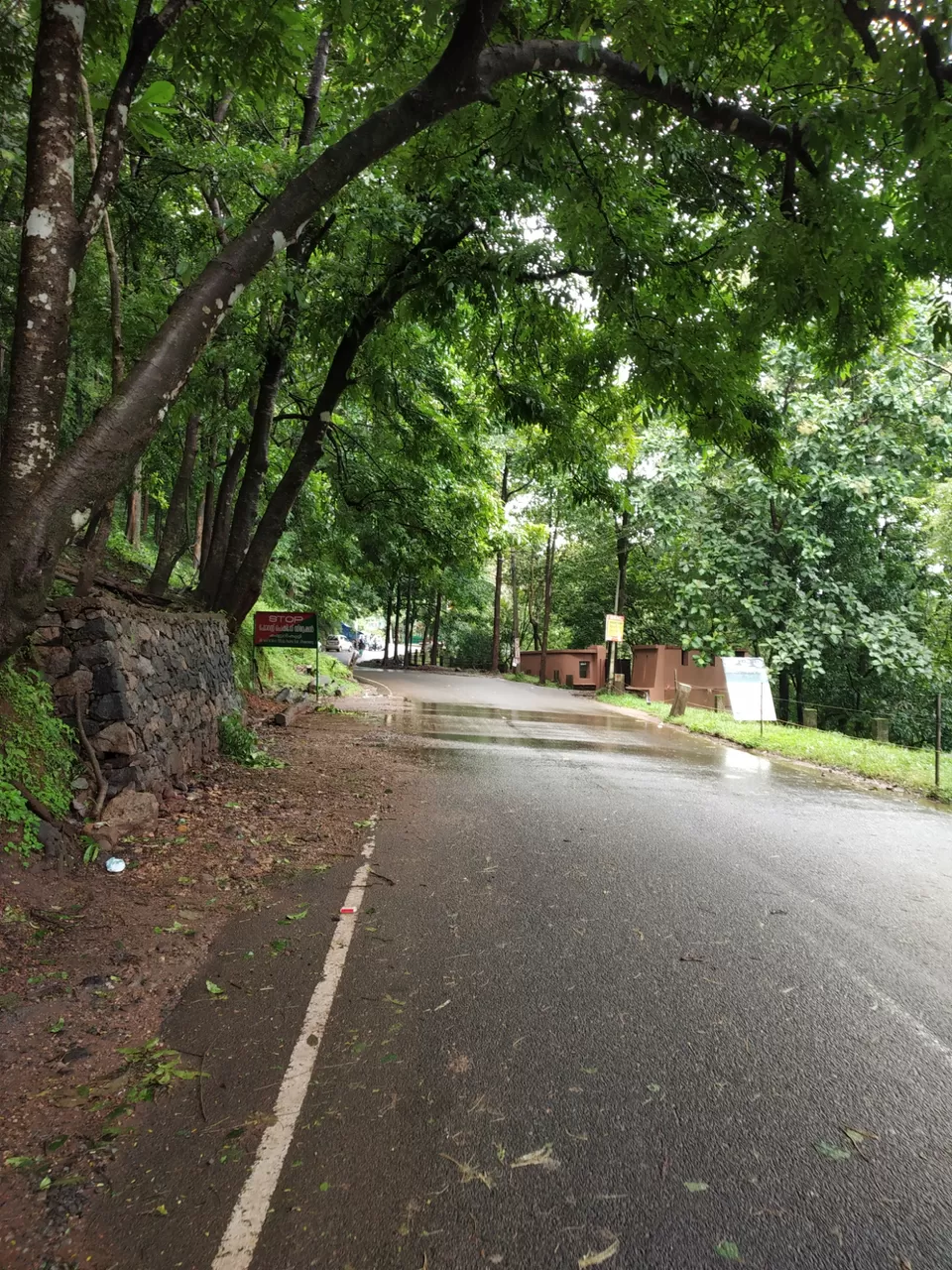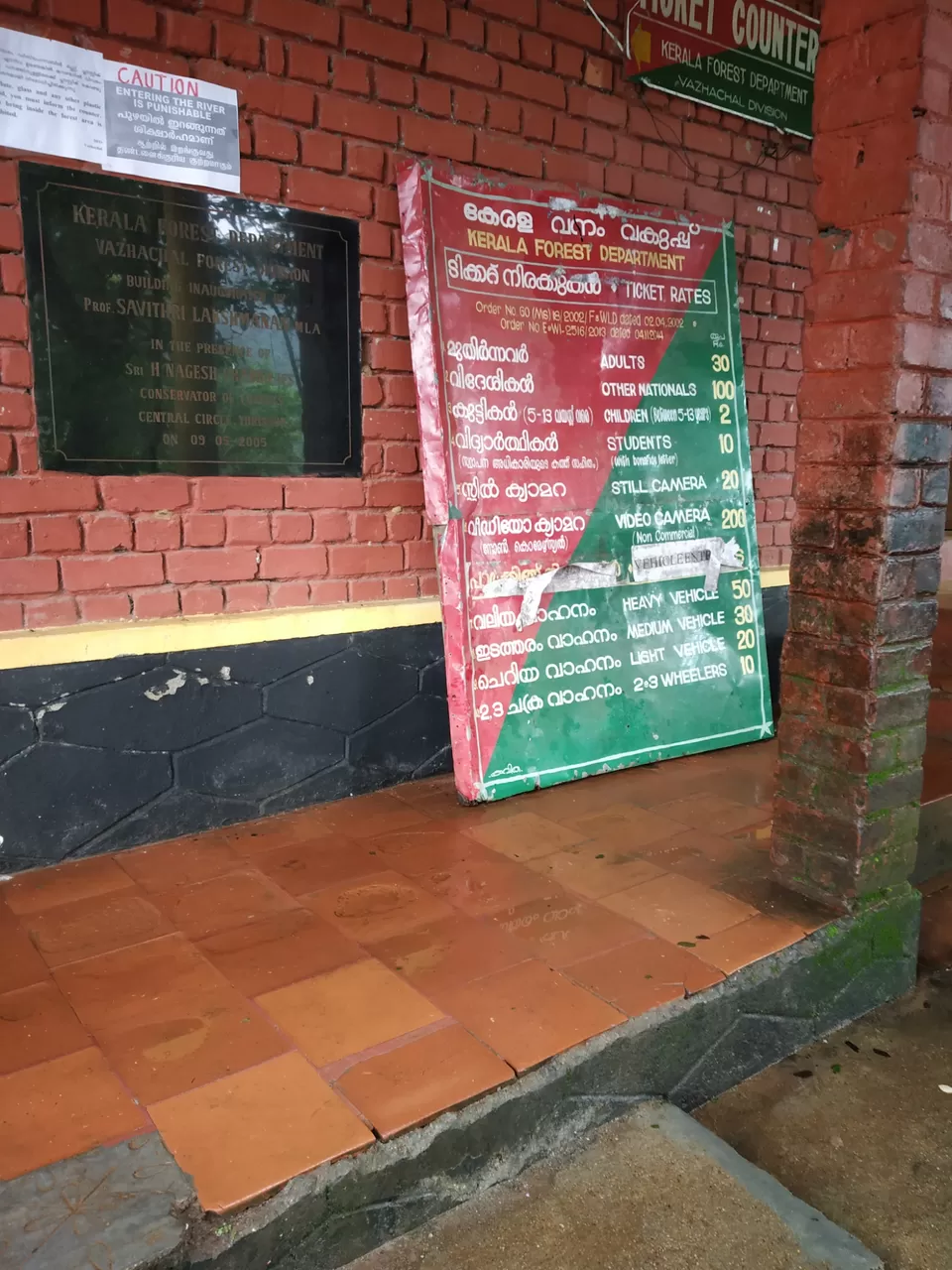 KERALA forest & wildlife department
VAZHACHAL FOREST DEVELOPMENT AGENCY
This department people working there , by walk 200 m I reached the Athirapalli waterfalls view point suddenly rain starts no other way to hide there I went there, I bought an umbrella with cost of 150 rupees .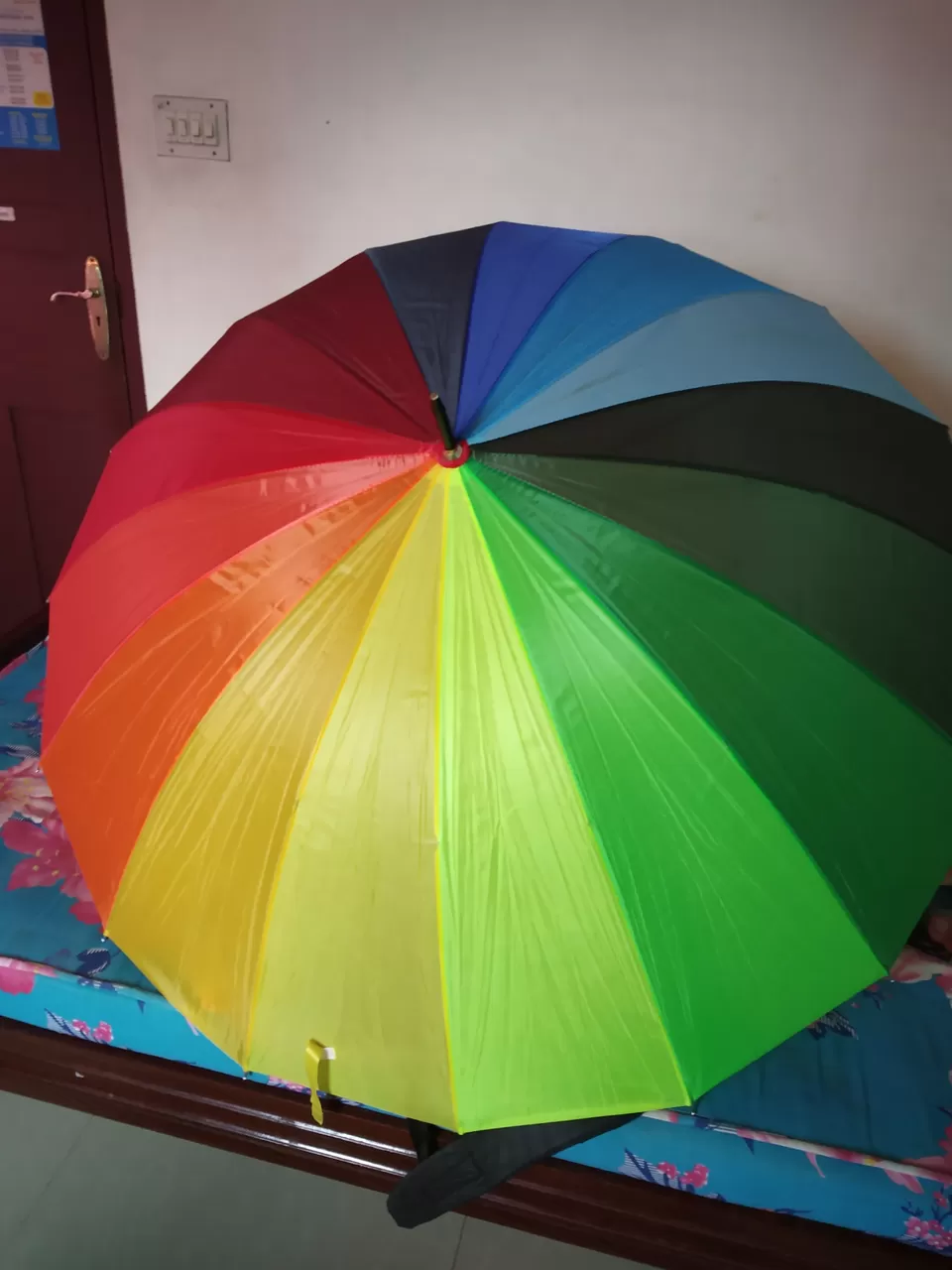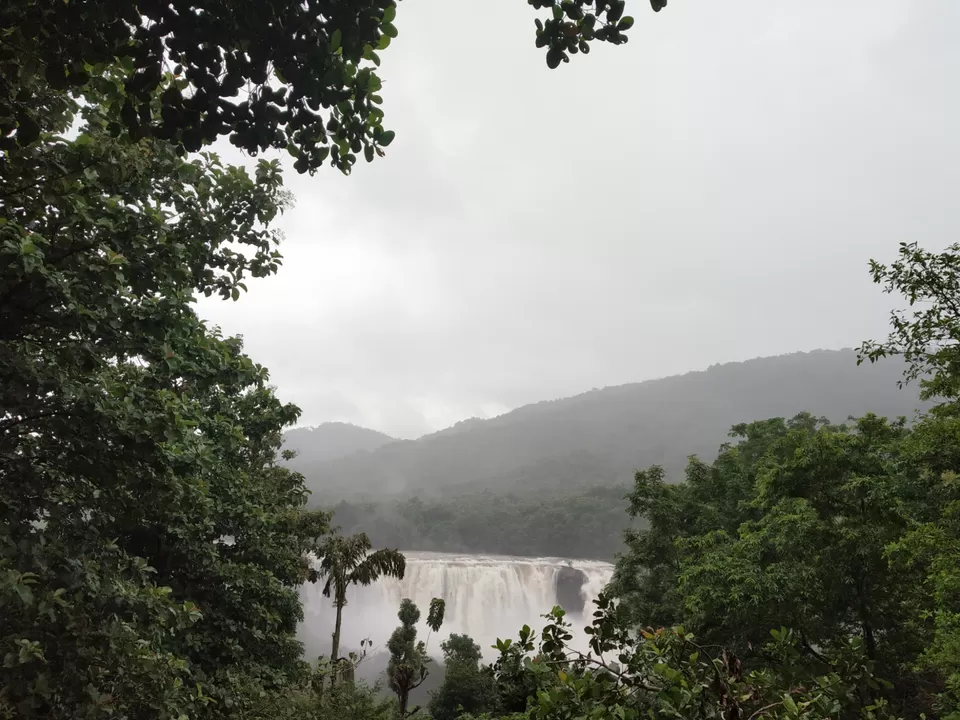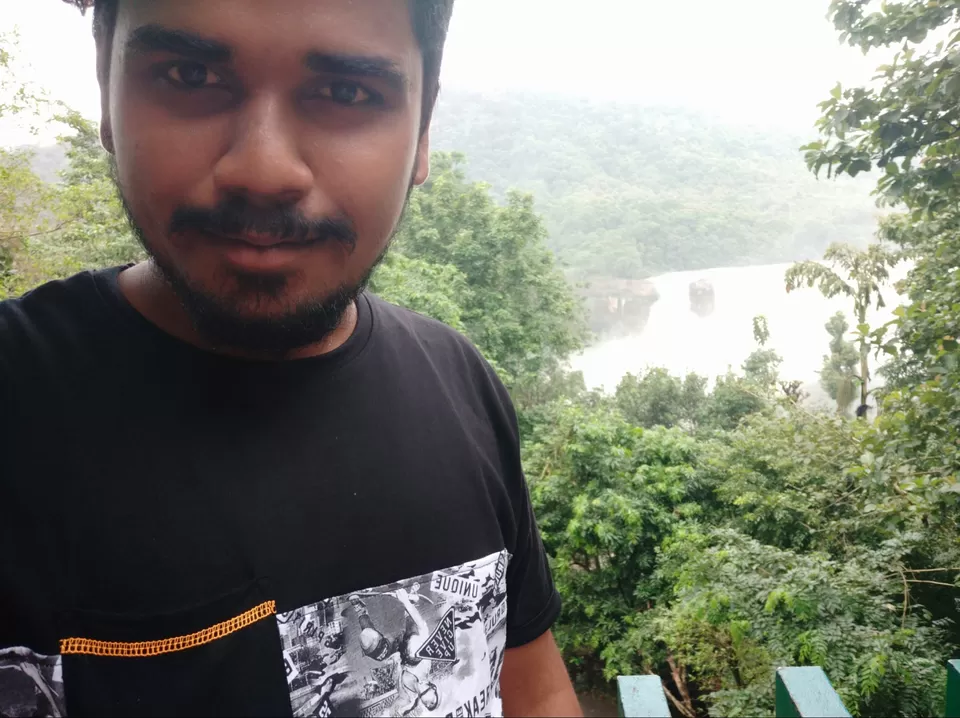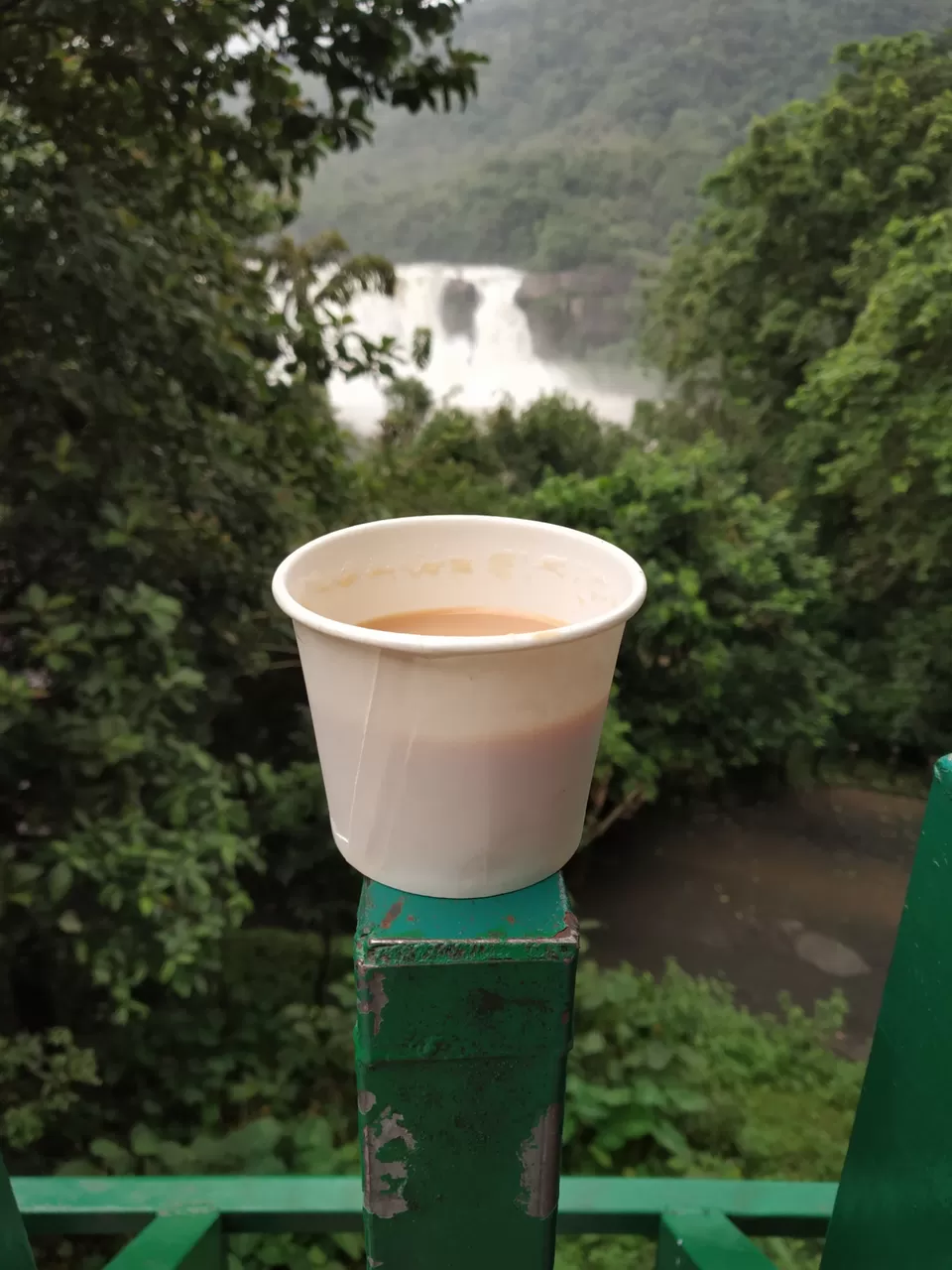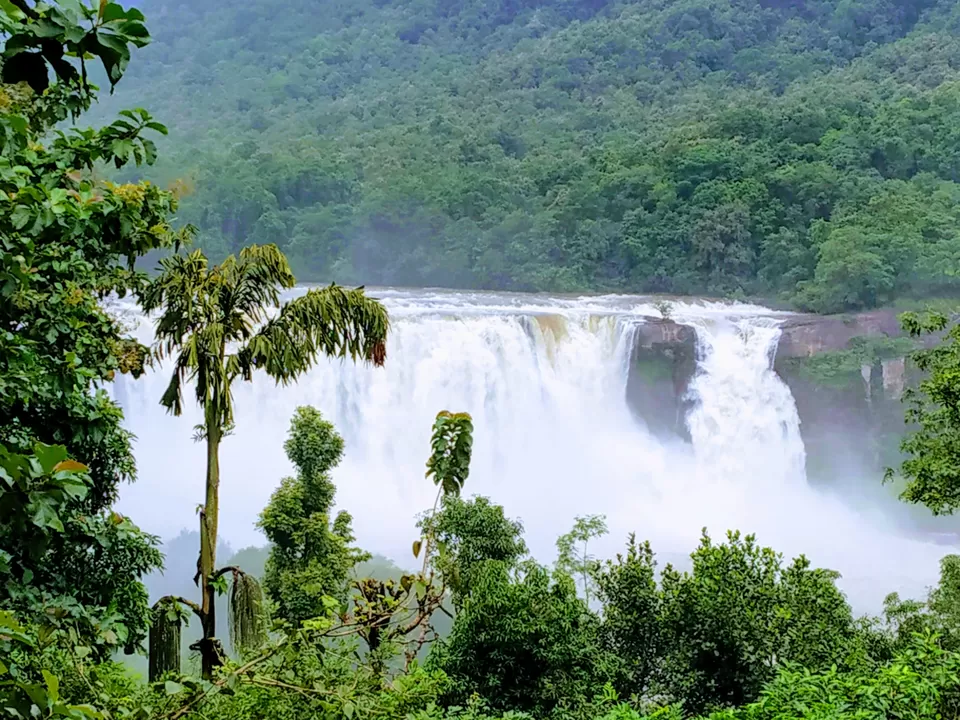 from there by walk of 400 m I reached forest entrance of Athirapalli waterfalls near by there there are several resorts and restaurants and shops before entering there they checked the ticket and allow to visit the way of full of bamboo bridges most of security guards are ladies in forest hatsoff to them.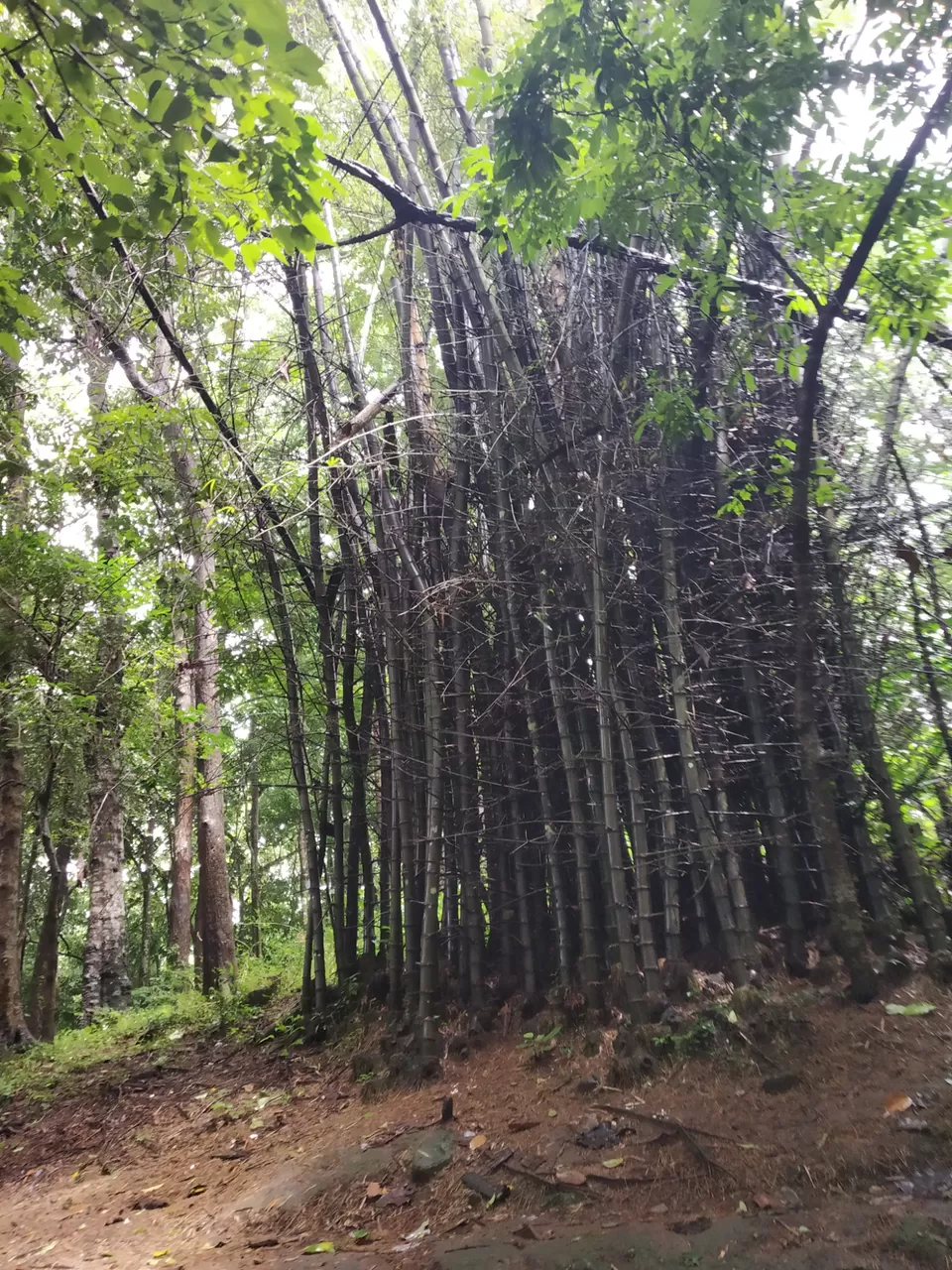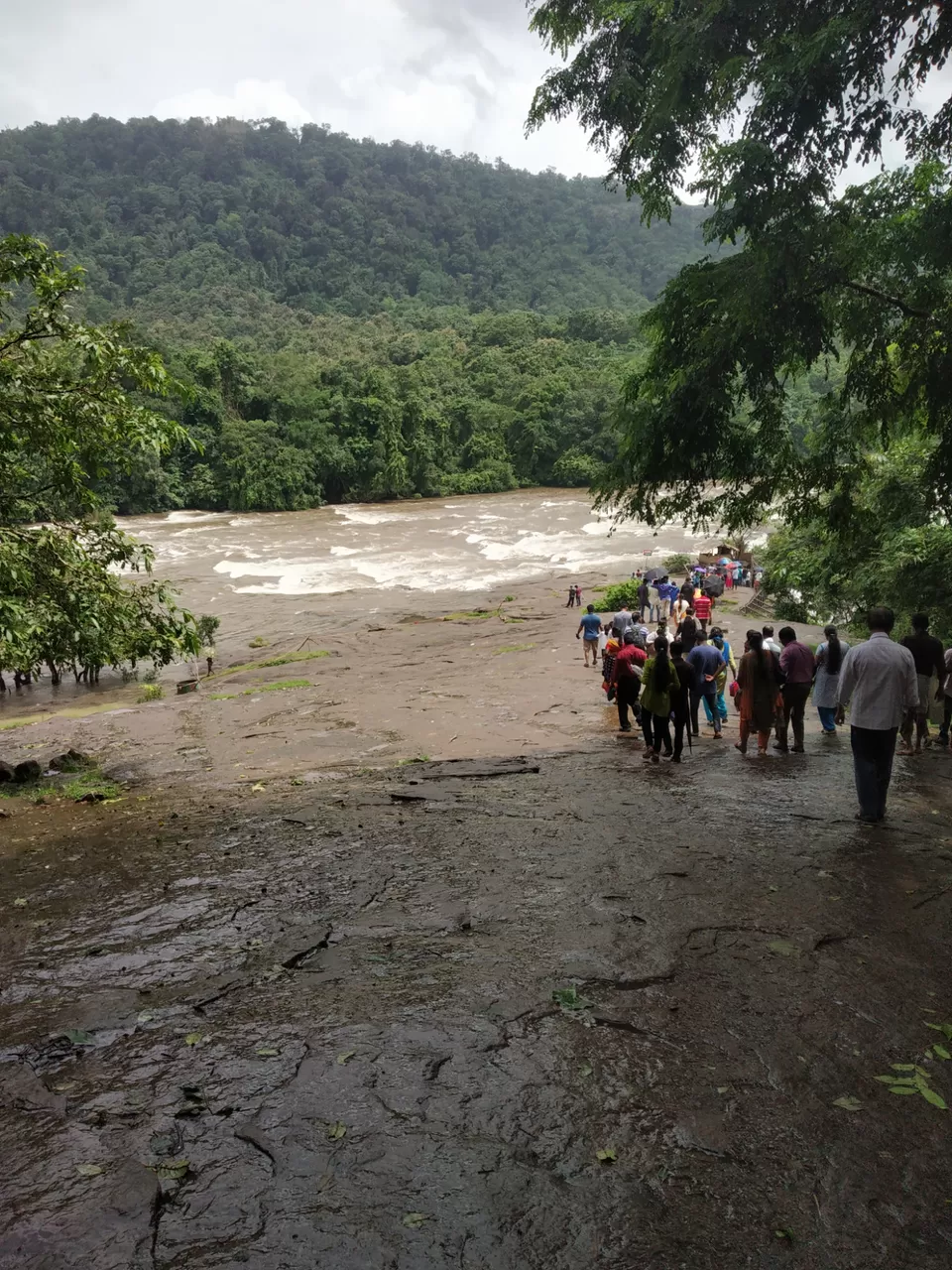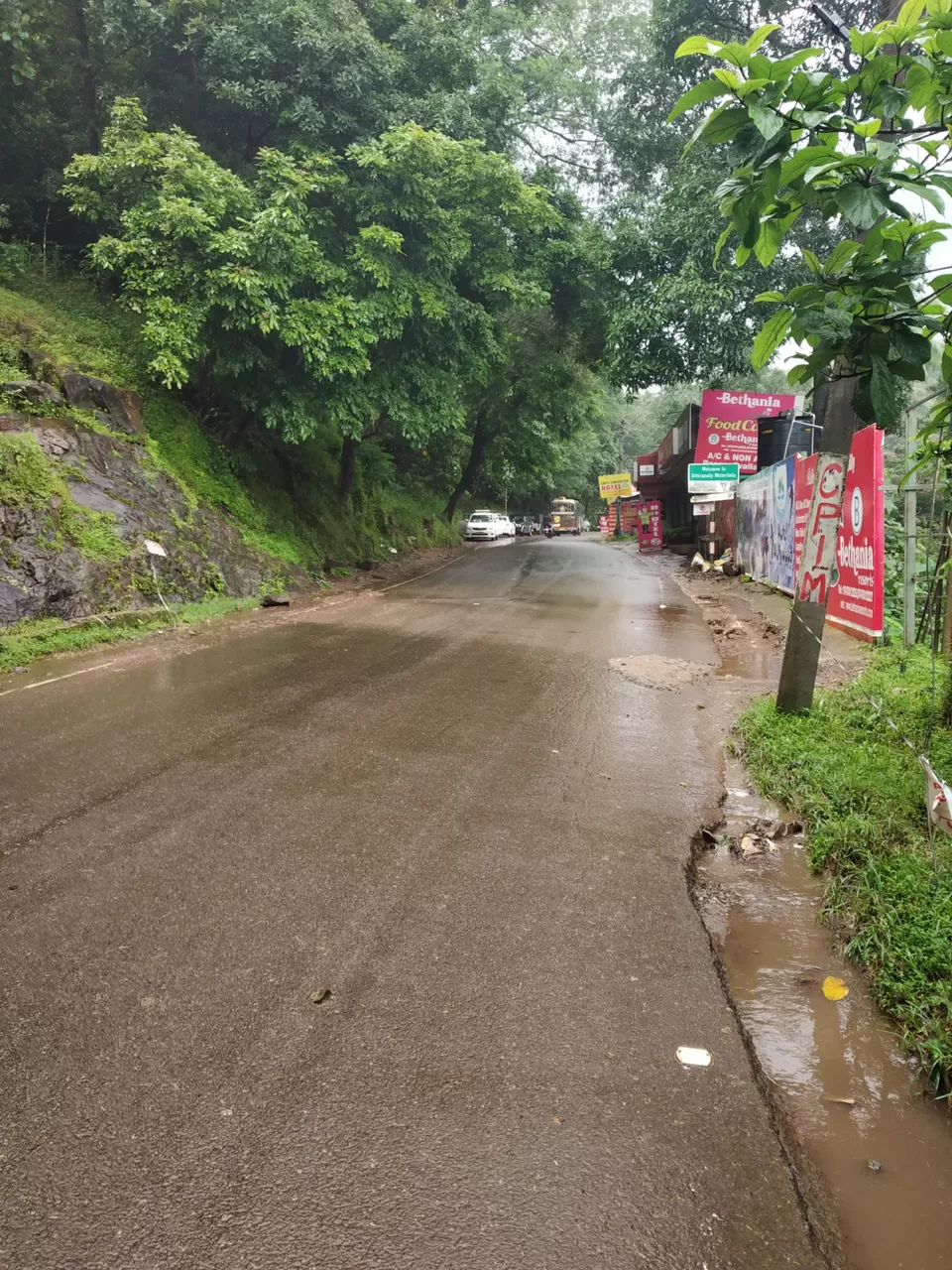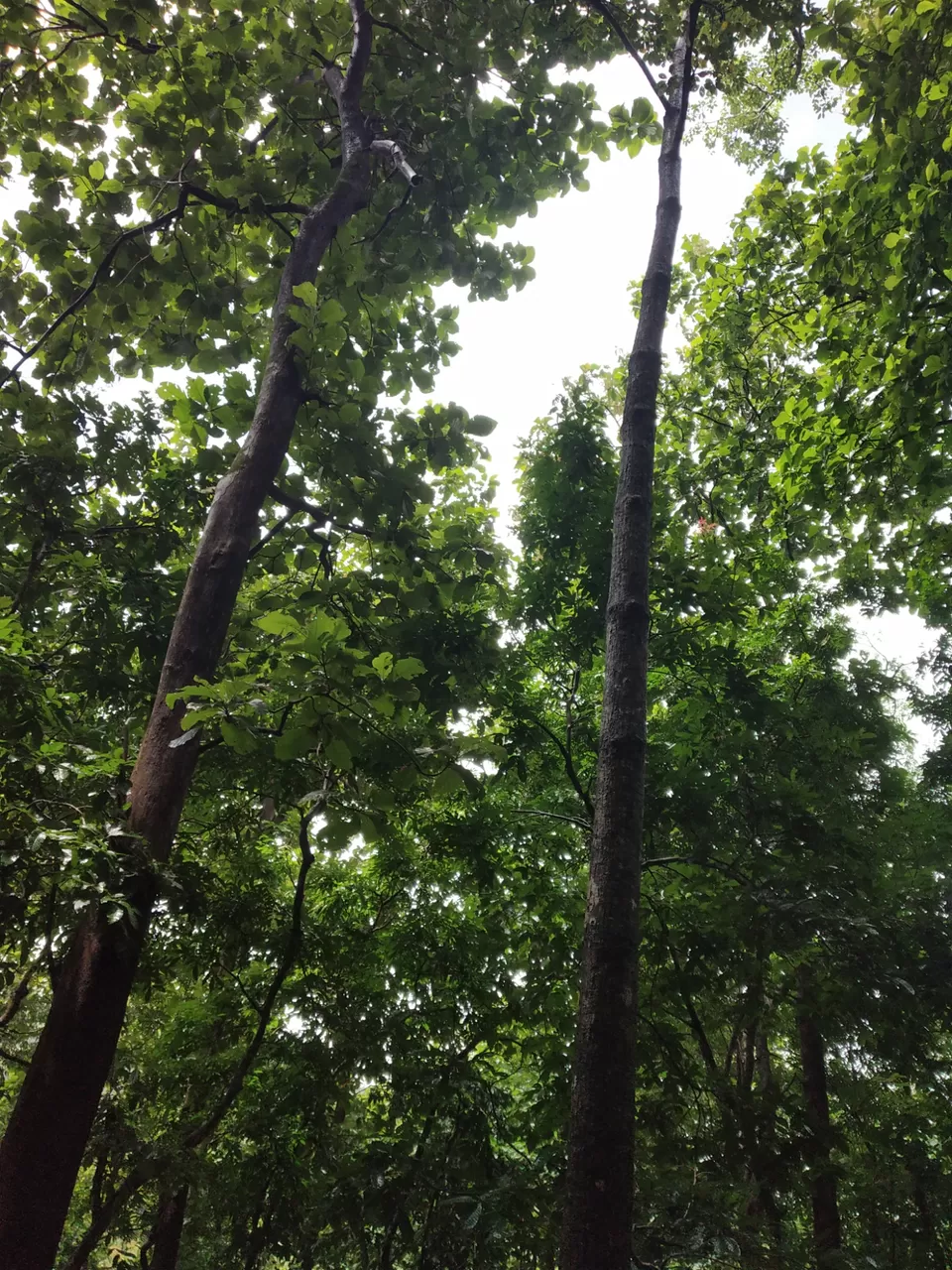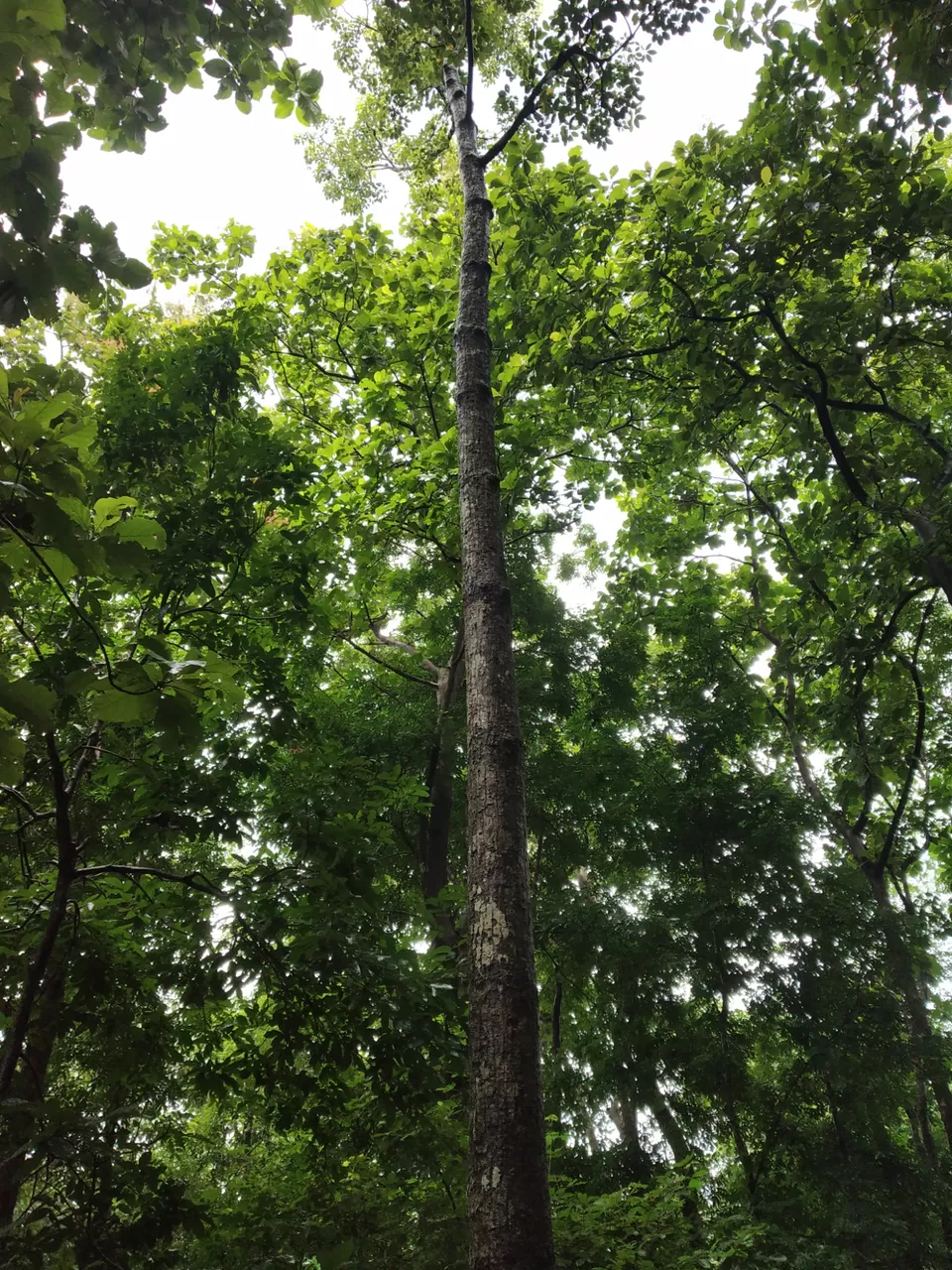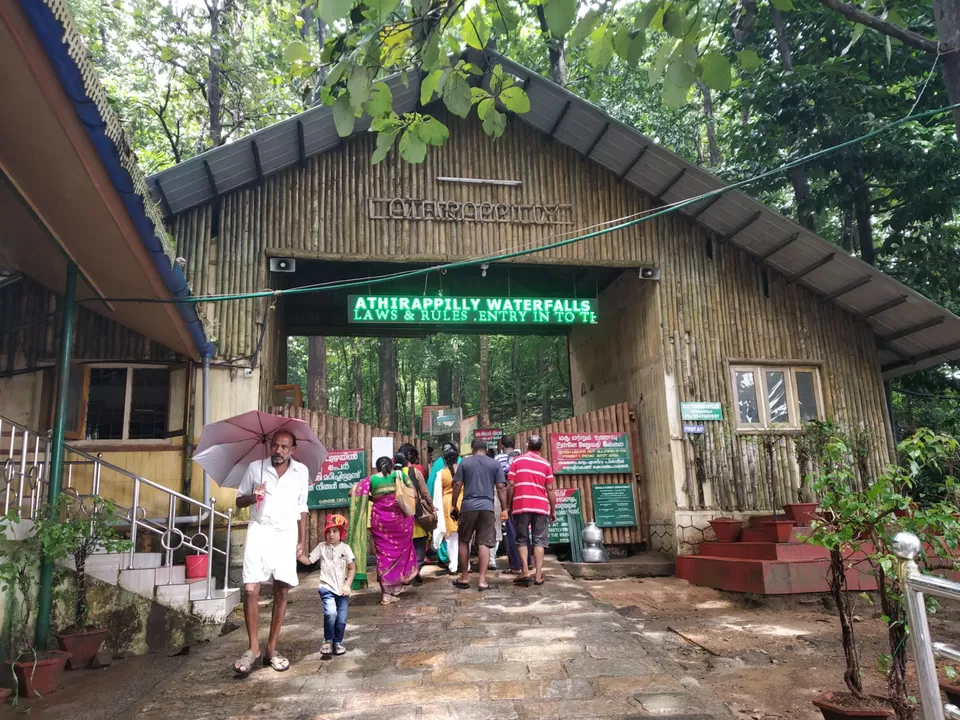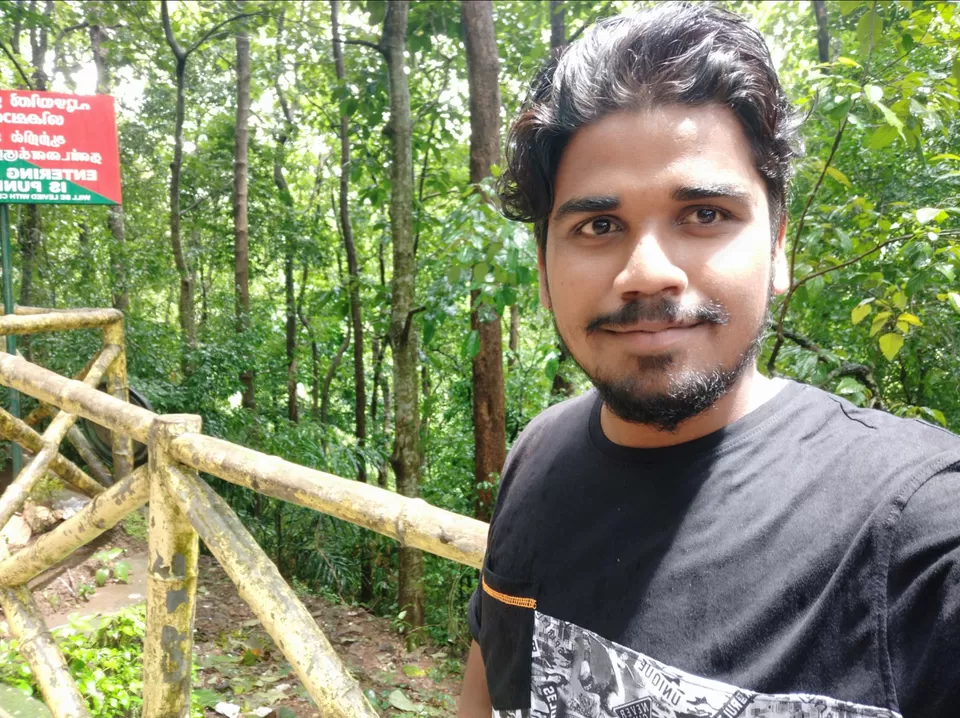 after all the excitement finally I saw Athirapalli waterfalls .
It was not highest one as SSRAJAMOULI shown in BAHUBALI ..
but it was very pleasant location the sound of waterfalling now also I can't even forget it
By reaching near by waterfalls the speed of waterfalling the water is returning into flash and touching the faces of tourists ...
Wn I was at waterfalls suddenly full Strom came for just for five minutes it ruins all the umbrellas but mine was safe one post gurds shelter also ruined located near by water falls after five minutes it's stop ..
The sky looking lyk scary and lovely suddenly rainbows around it ..
But I missed one thing on that tym due to heavy rains they not allowed to go down the to saw the lower view.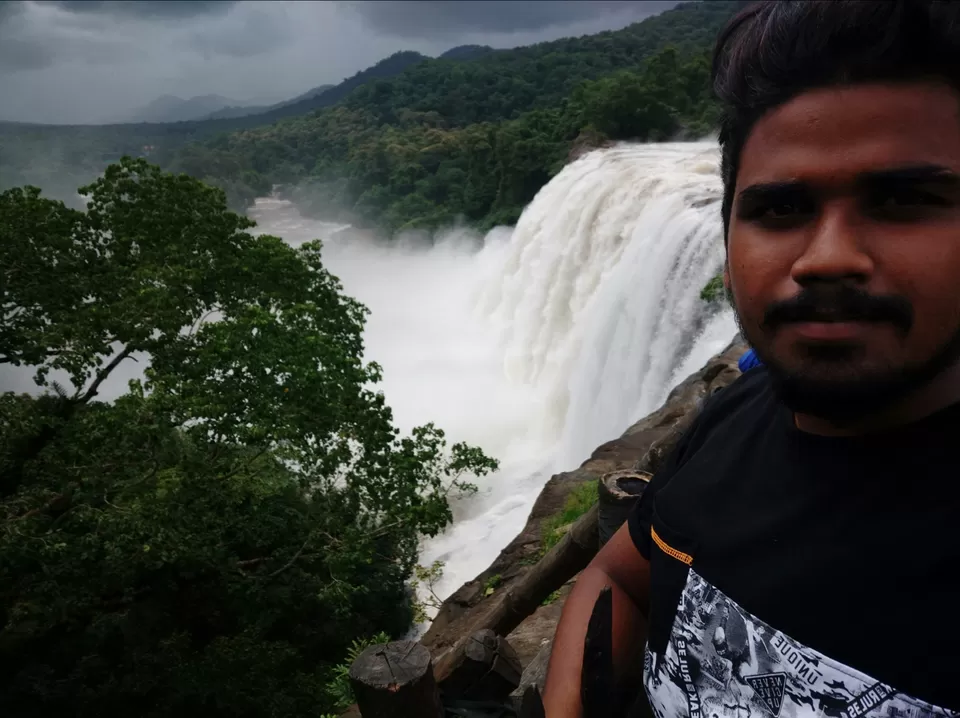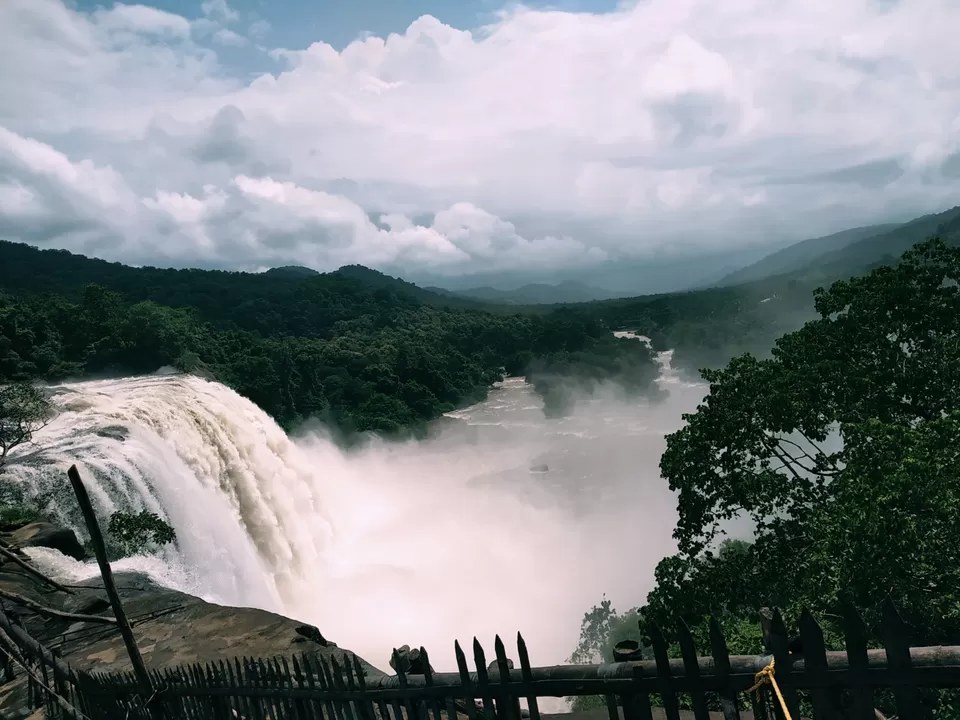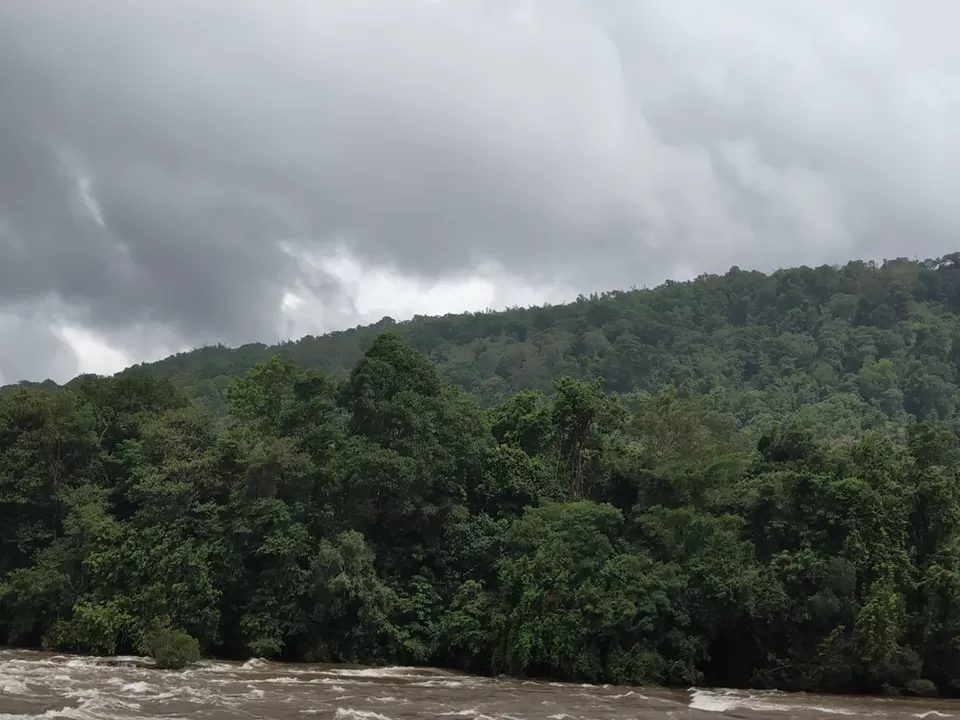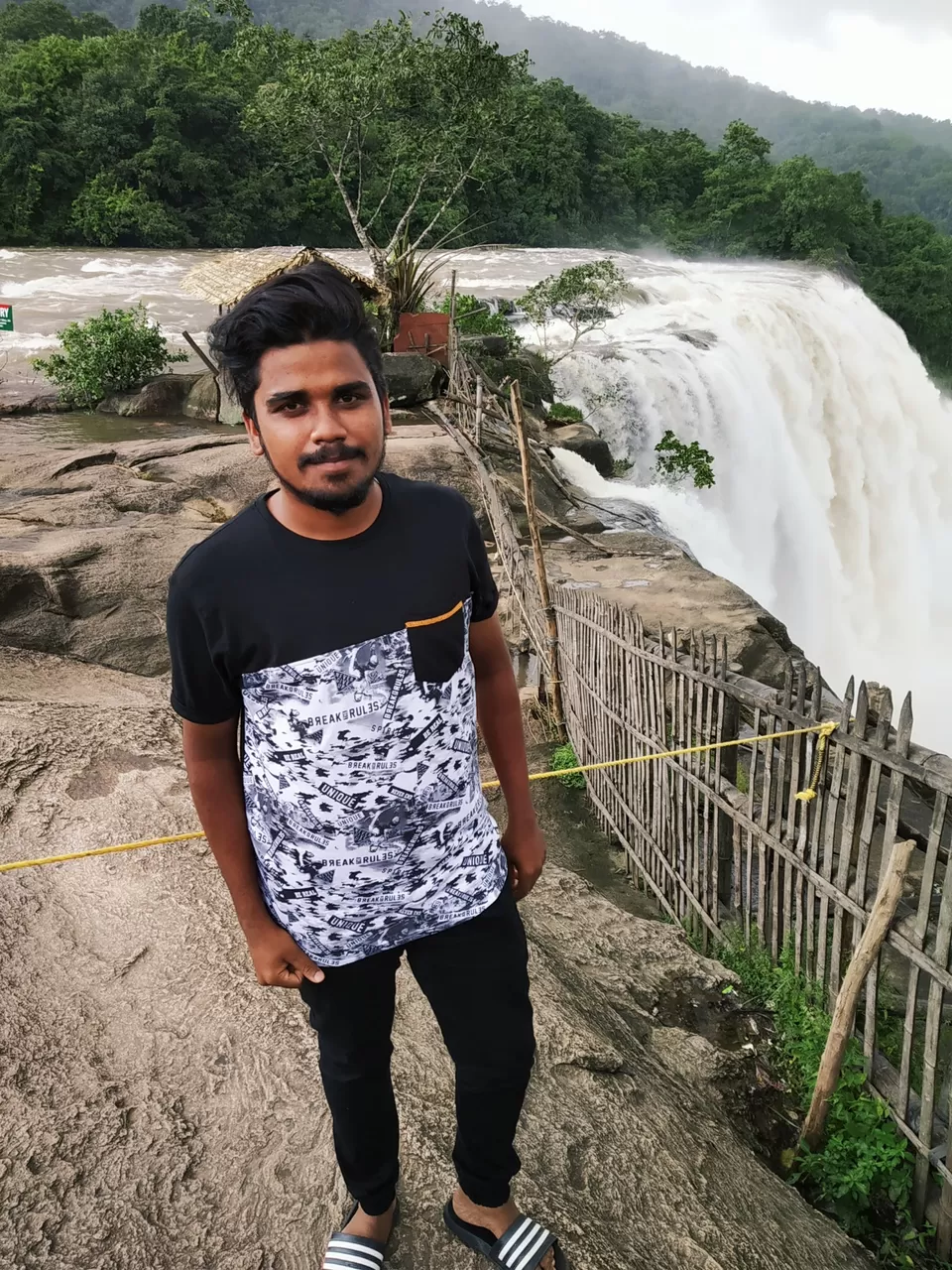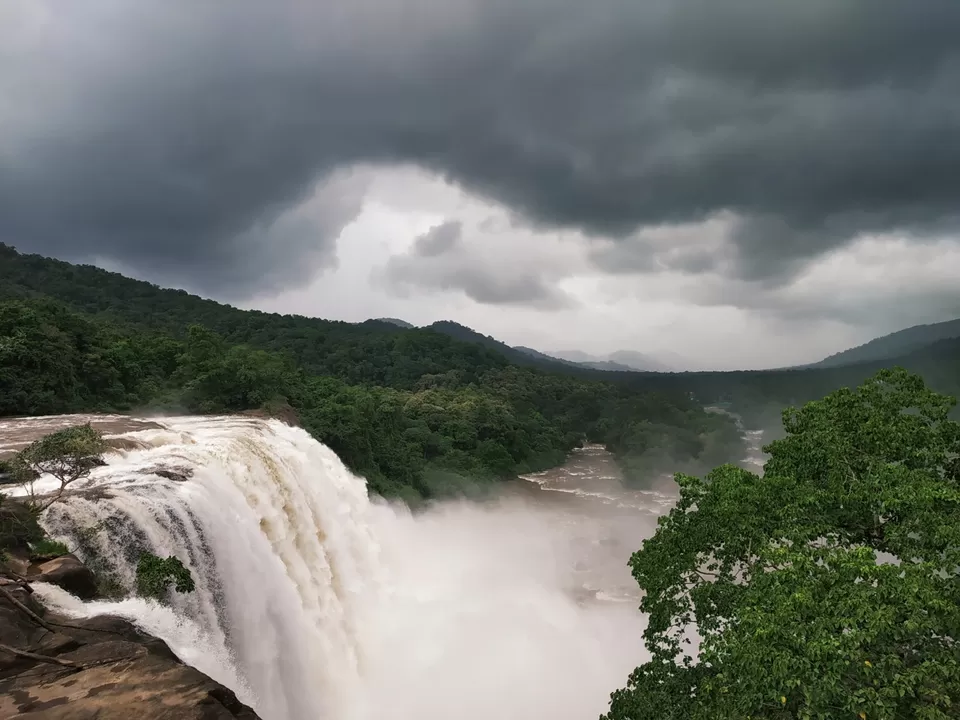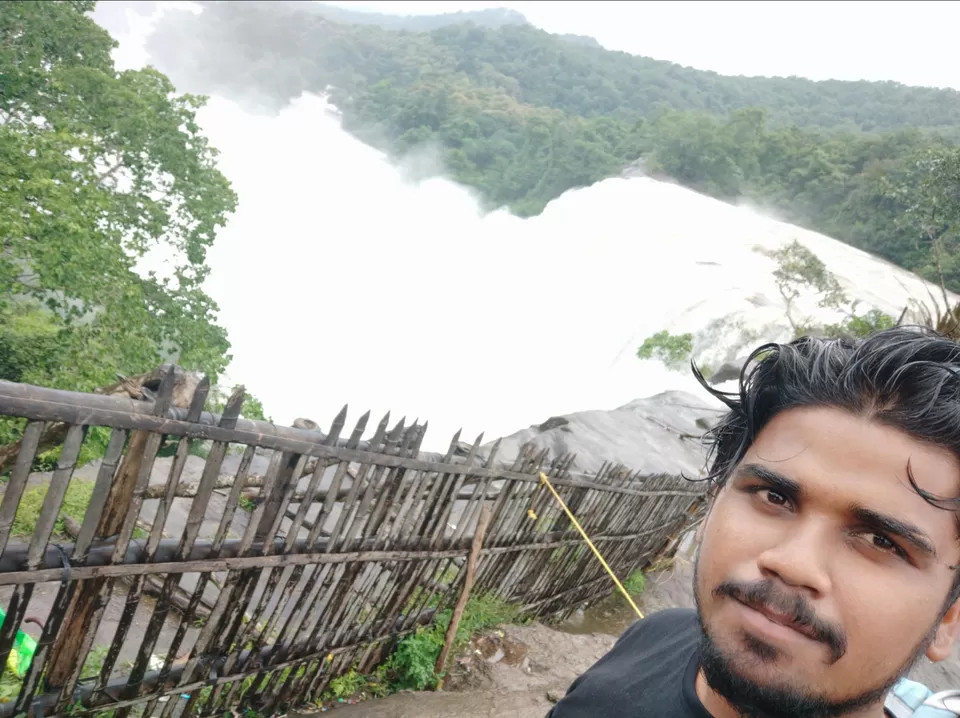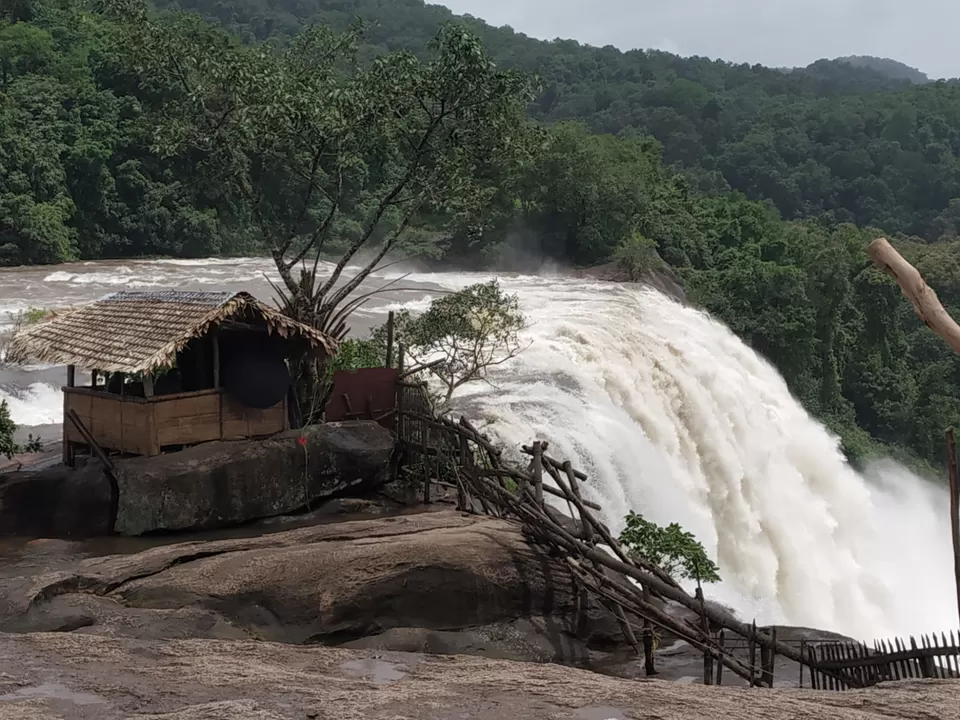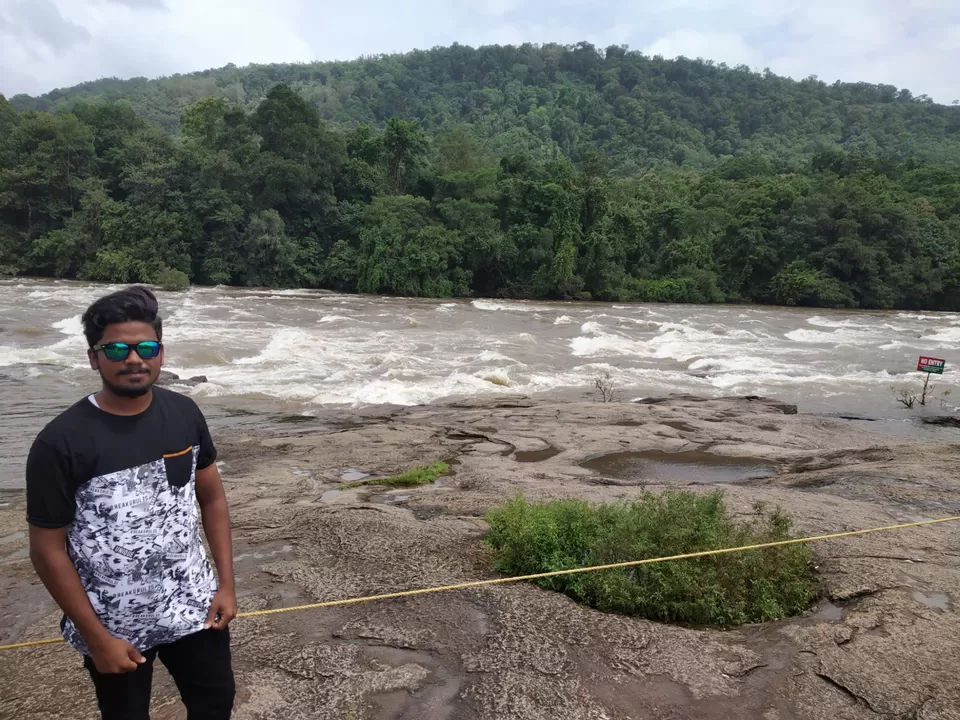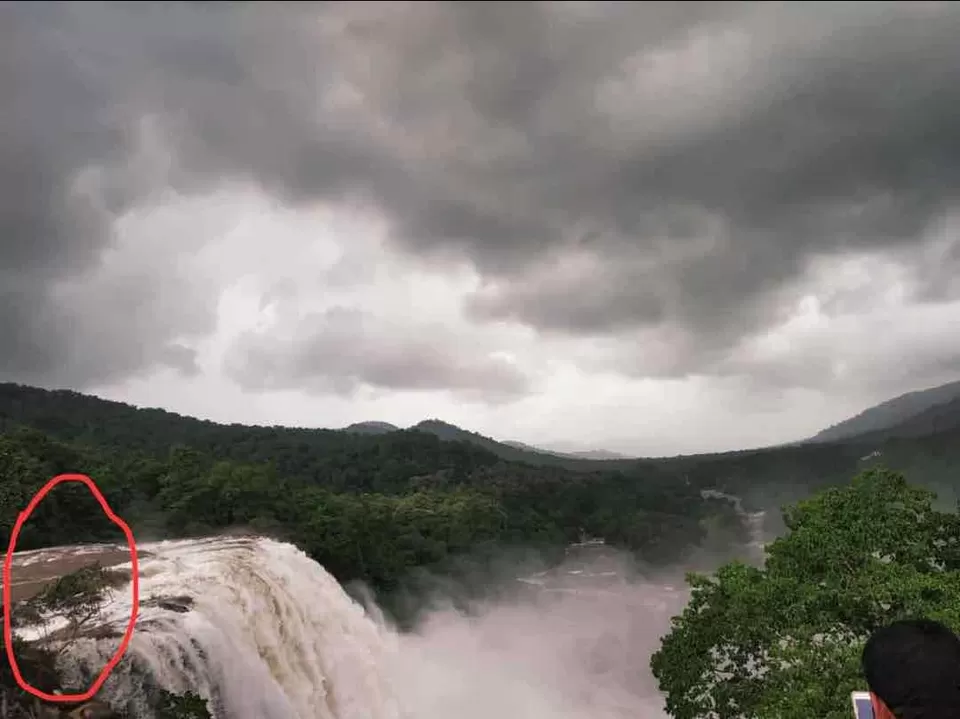 after visiting falls back to there ,I take one chai and egg bajji there with 50 bucks.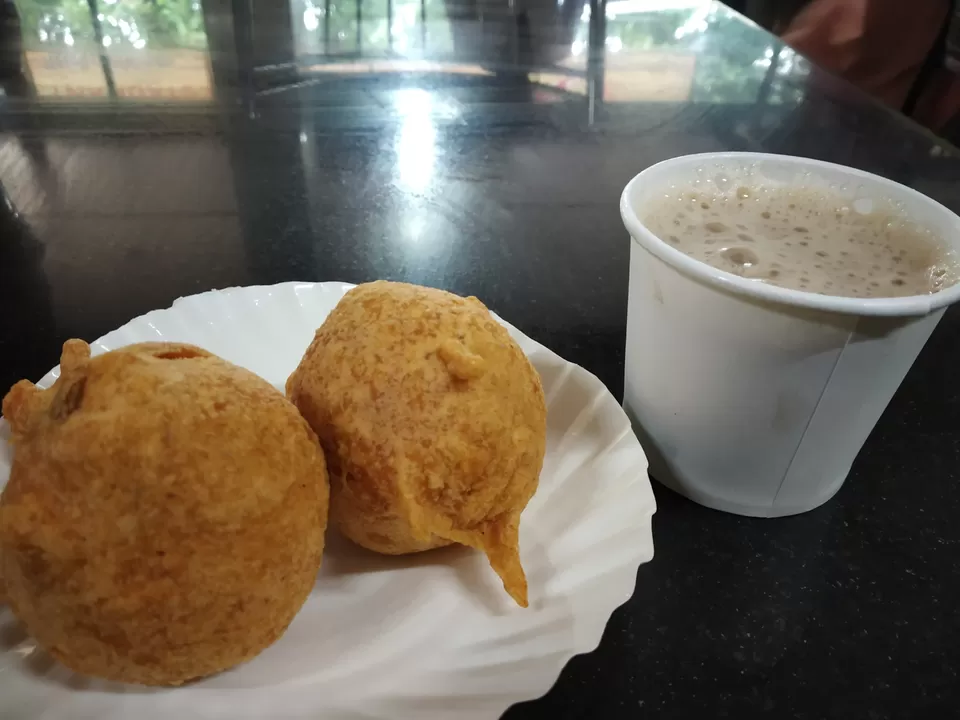 after having that I lyk to have some nonveg at view of falls i went a restaurant and order Malabar chicken biryani(300 BUCKS )and ate successfully by seeing the waterfalls at CINNAMON FOOD COURT .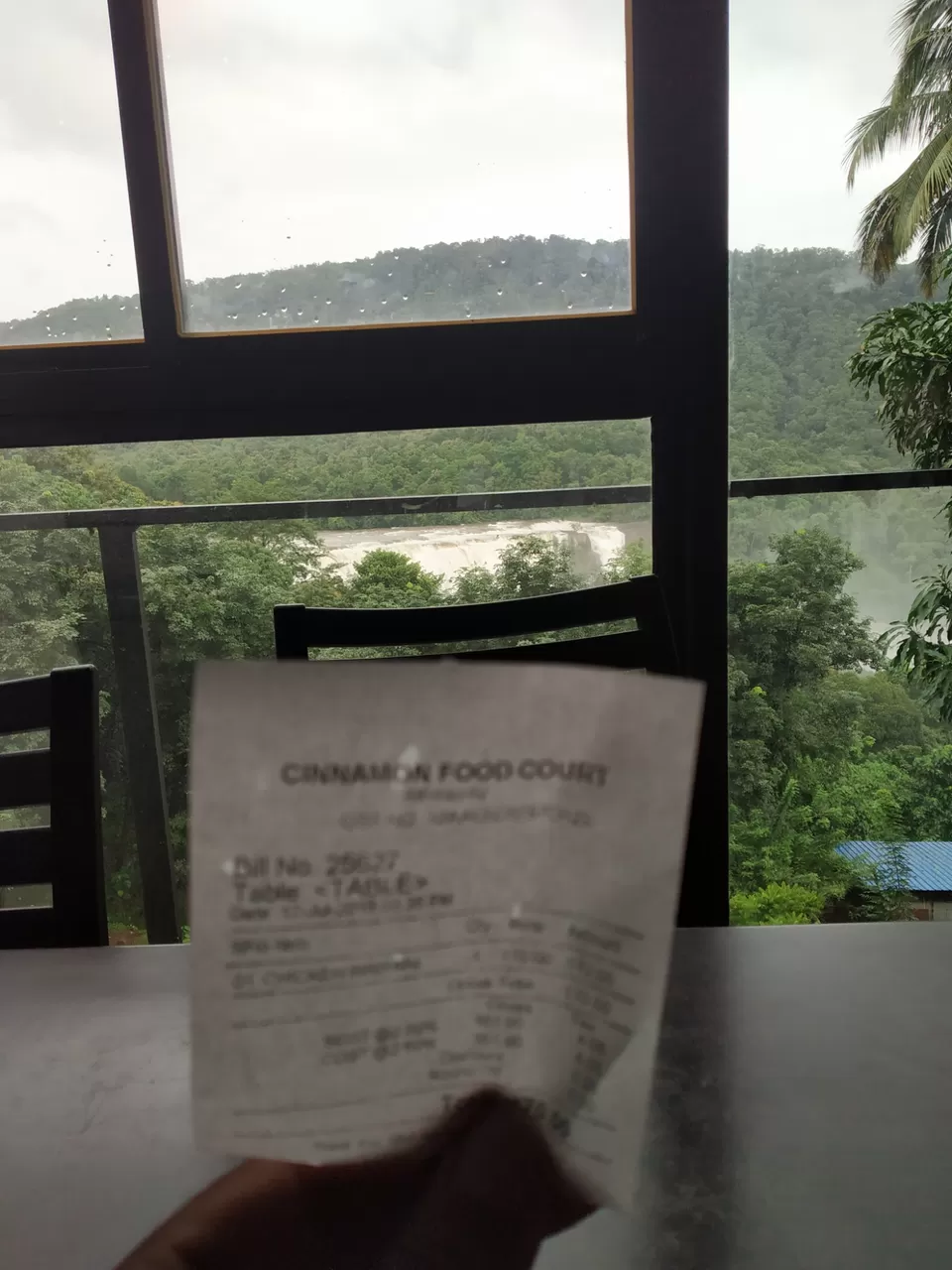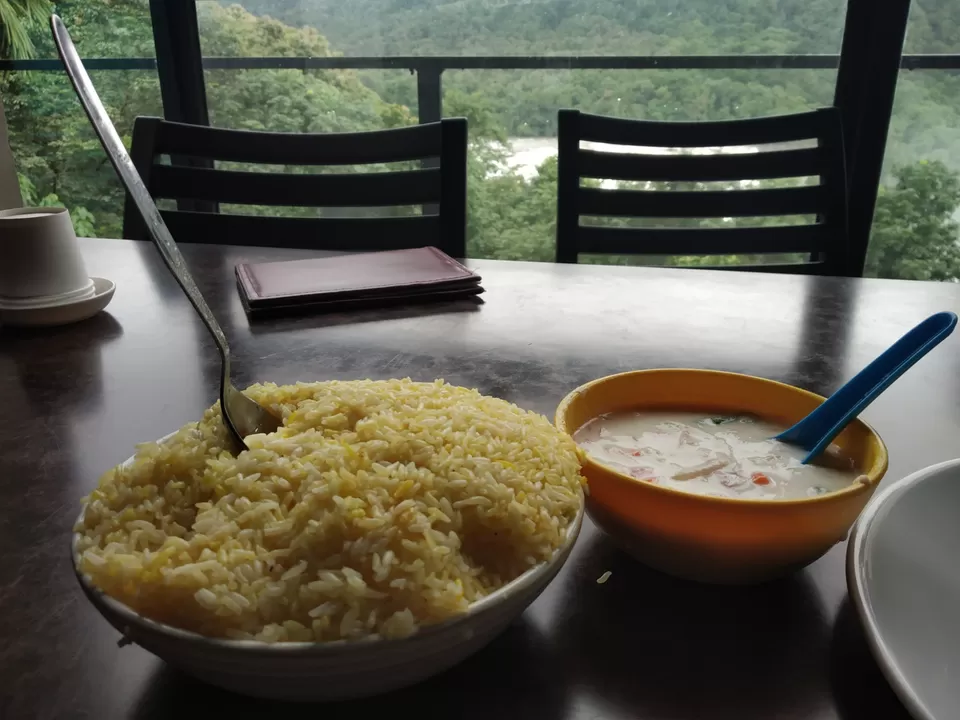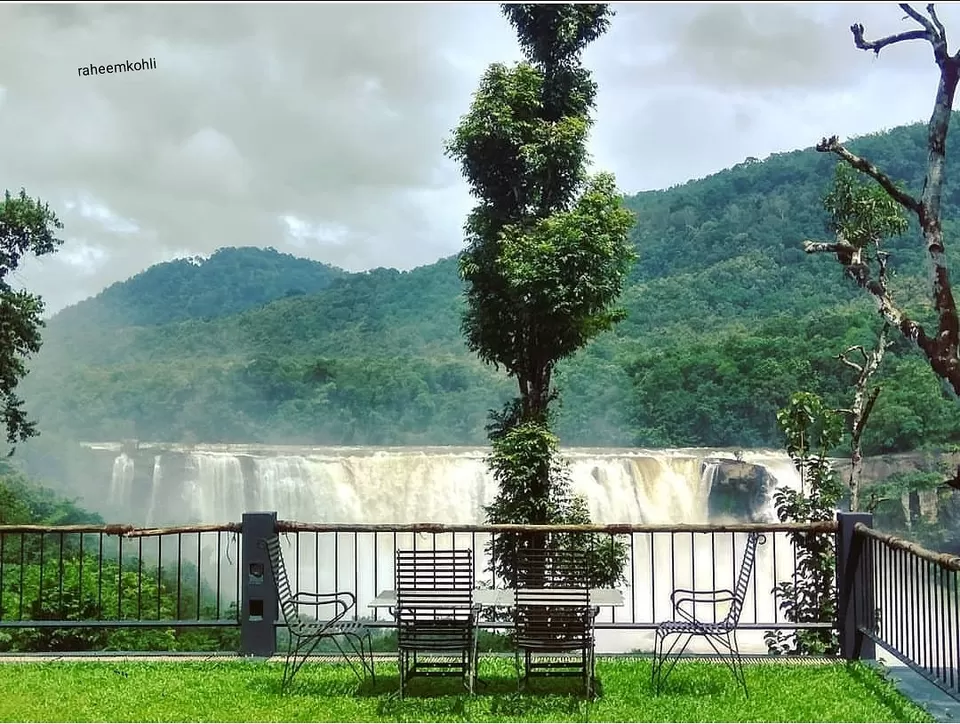 finally travelled back to my room I reached my room by 7 pm, wn I'm cmng back from waterfalls the sound of water is lyk " Ganga Water is coming like behind Bhagirath "
A"Athirapalli waterfalls water fallowing Raheemkohli"
Full tired and woke up at 10 am and had a chai and packed all the things and started roaming
On roads of kodungallur .
One thing I saw that every where "lottery" tickets selling in buses and even at" bus stand one man collecting money for using rest rooms and selling tickets together "
The tickets selling for indirect collecting of taxes and I buy three tickets for memories that's it ...
Roamed all
Finally 4 o clock I return to Kozhikode.
I reached there by 6:15 surrounding and went my hotel room .
I forgot one thing we will find fishes and beef anywhere any time wn we want in Kerala
Without non veg Malayalis day not started
Hahaha.
Day completed successfully .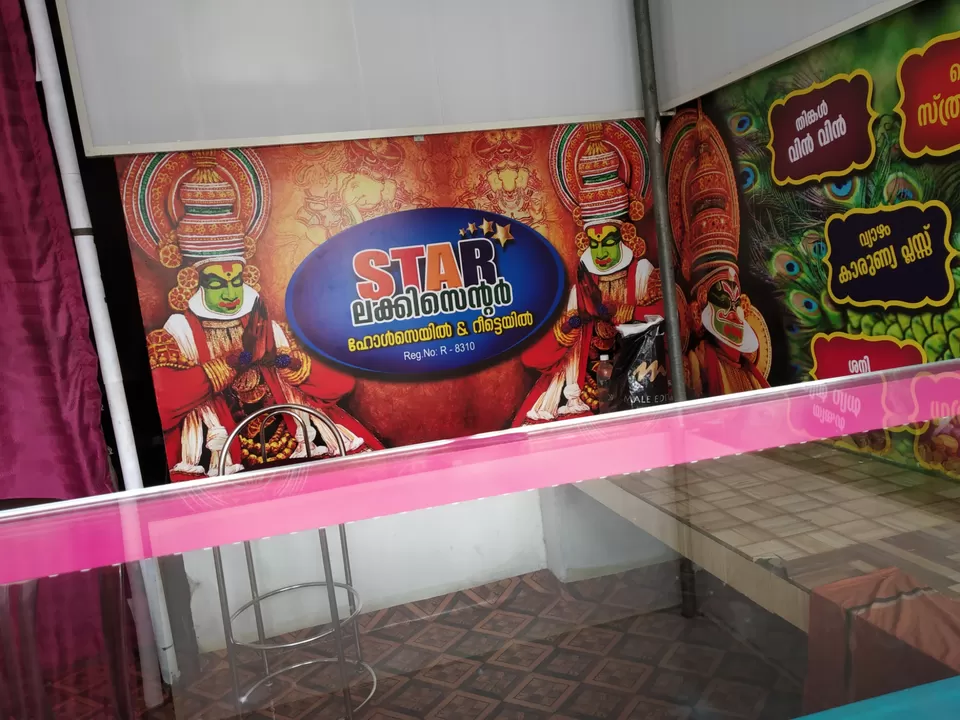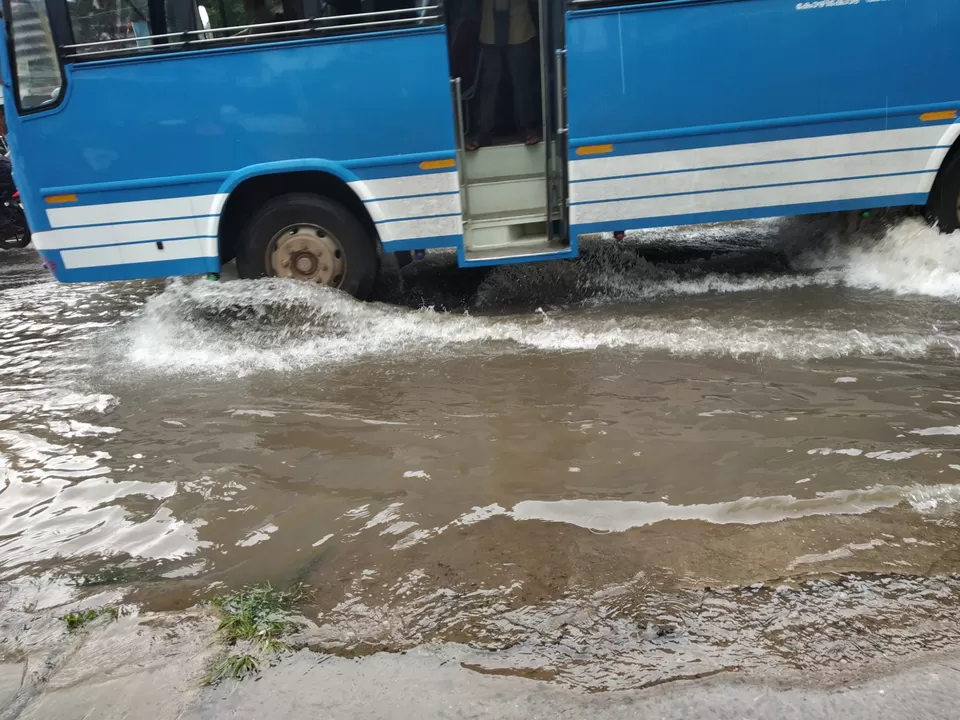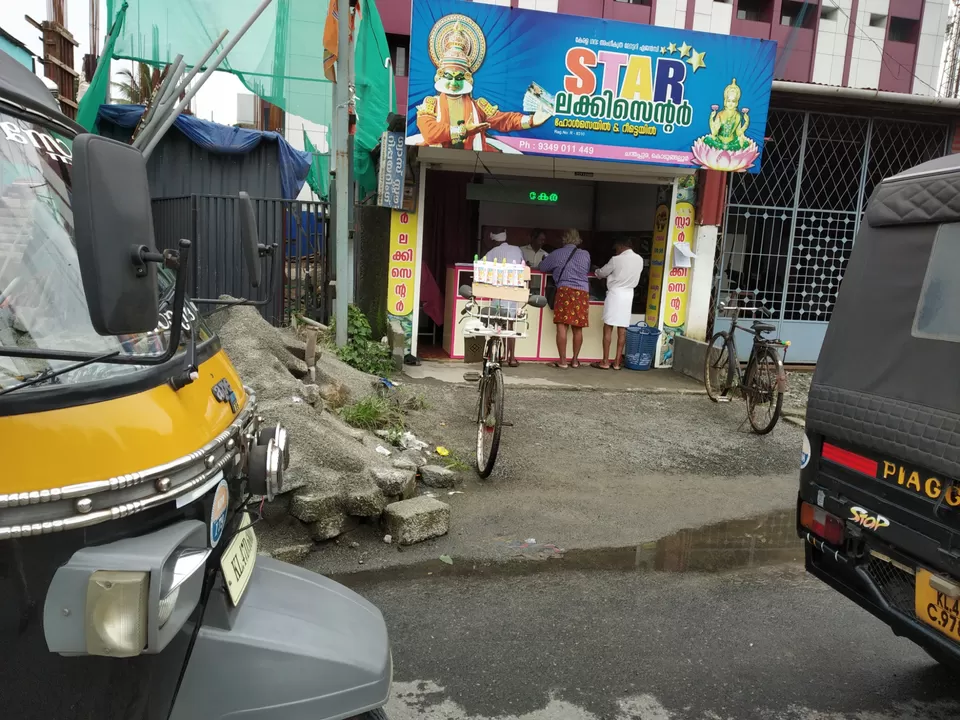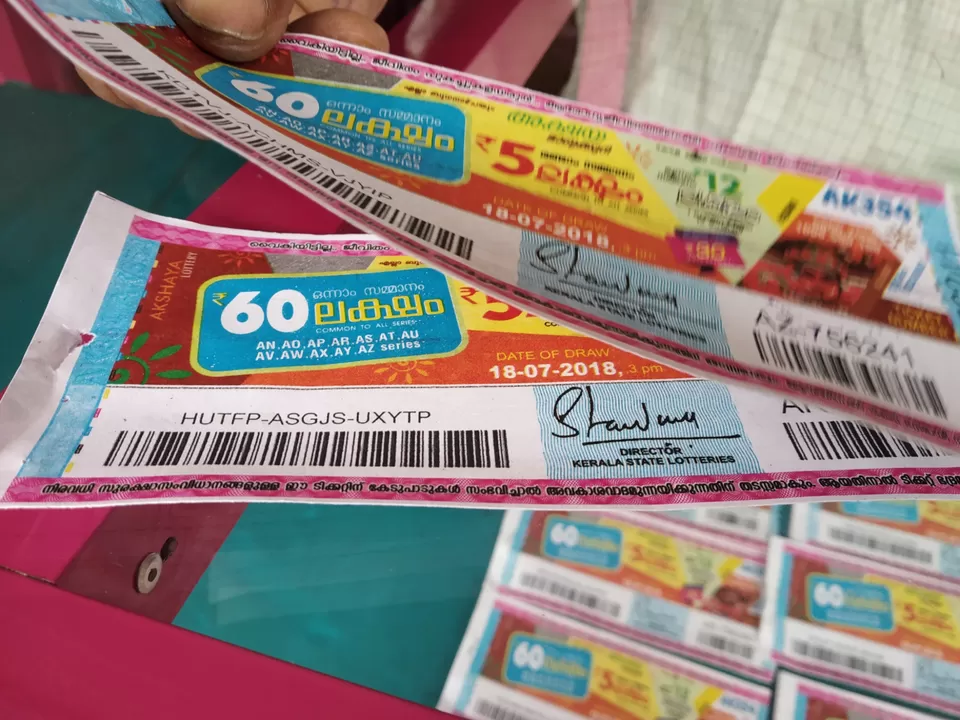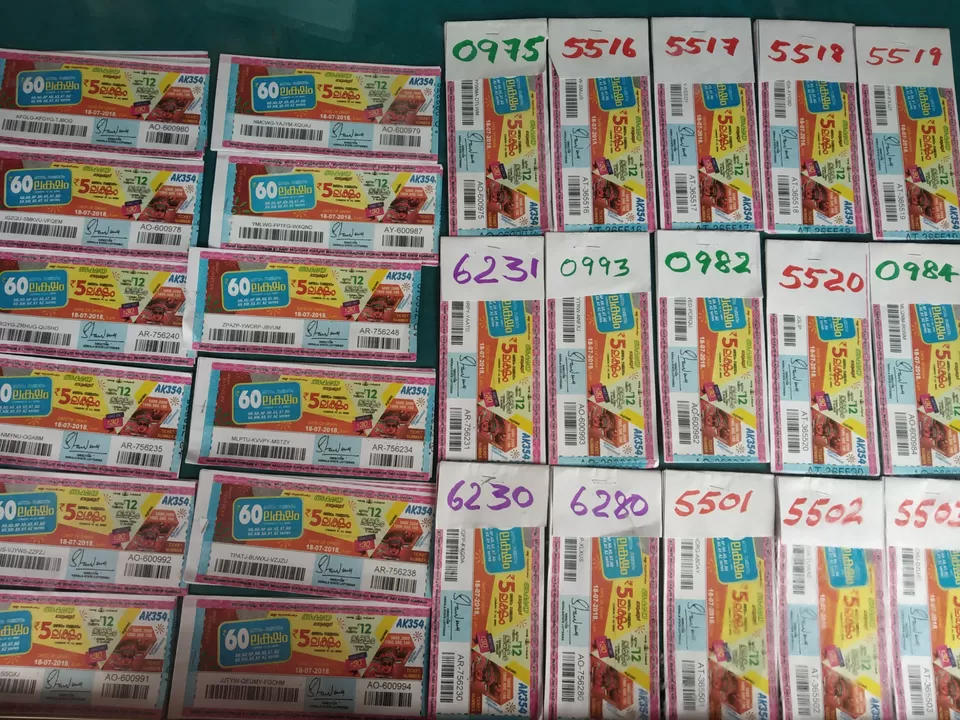 "VASCO-DE -GAMA Reached Calicut 20 - may -1948 "
"Raheem - Kohli visited Calicut ( Kozhikode) 20-July-2018"
"KOZHIKODE City of spices "
Place to recommended to see is Kappad beach and ENGLISH church ..
Menon museum ...
And famous education institutions like
IIM KOZHIKODE
NIT KOZHIKODE
Fav city to me in India ..
My day started morning 9 am from there I reach Kozhikode bus station and took bus to NIT KOZHIKODE to meet my topper friend there ...
I went there by around 11 am I'm waited there 30 minutes finally he came and took into campus it was nice and good .
"Dream to study like that college but now not able now life wasted "
I went visited all the surroundings one funny thing is on that tym new admission guys joining .
By help of my friend we two sit there and taking details from juniors ( ragging 😜😜) just for fun ...
After that we went NIT mess food was good ..
The day spent Very well spent .
Meeting my friend after 4 years .
The food about Kozhikode is Calicut halwa is famous and banana chips also ..
The cost of banana chips is 300 per kg
And halwa rates varies from different flavour .
It is from 150 to 1500 bucks available
One thing is the gulf countries culture is more in Kozhikode
I found namaz prayer halls every even in shopping malls
I went focus mall it is near by bus stand there I found both men and women prayer halls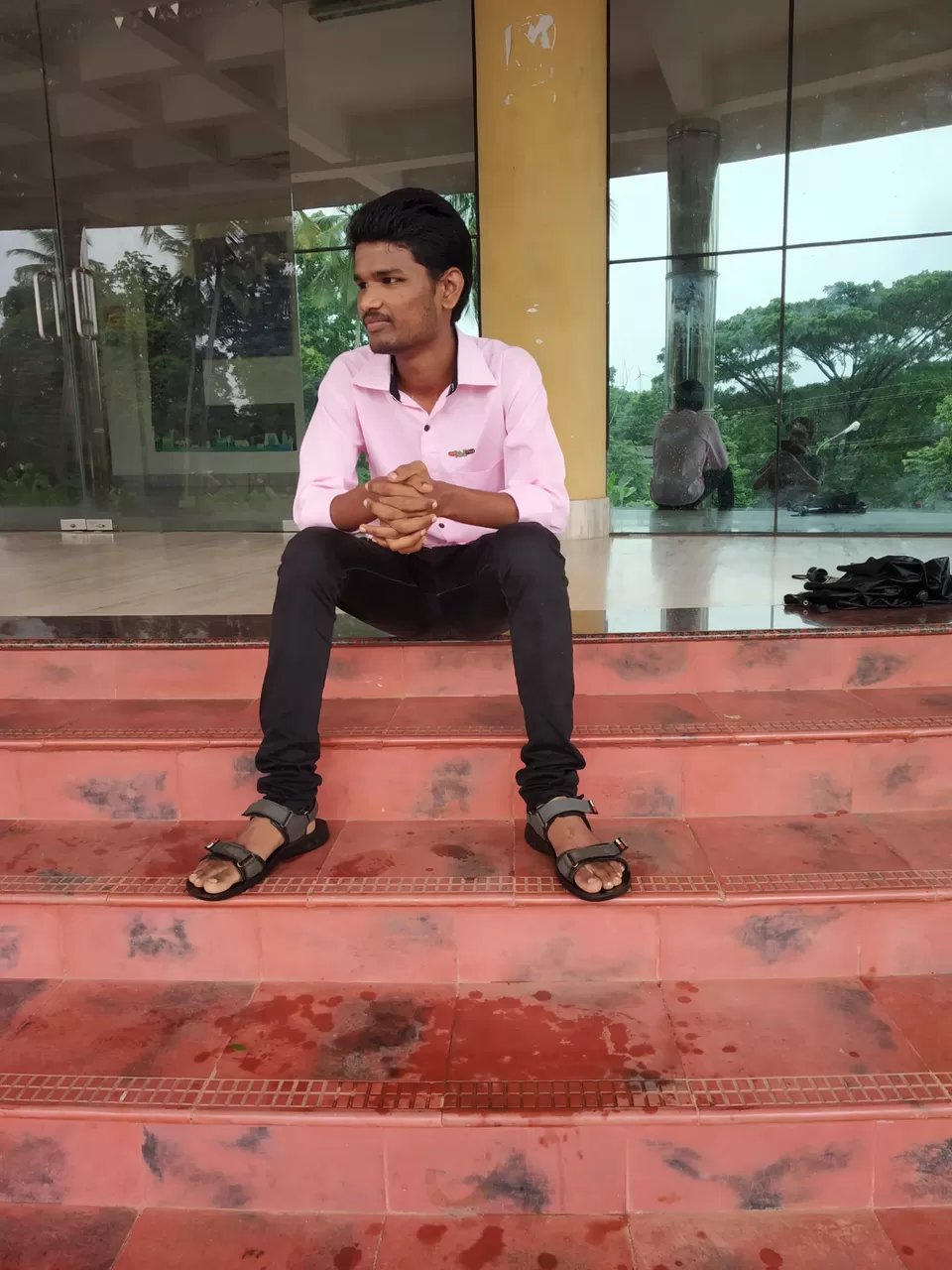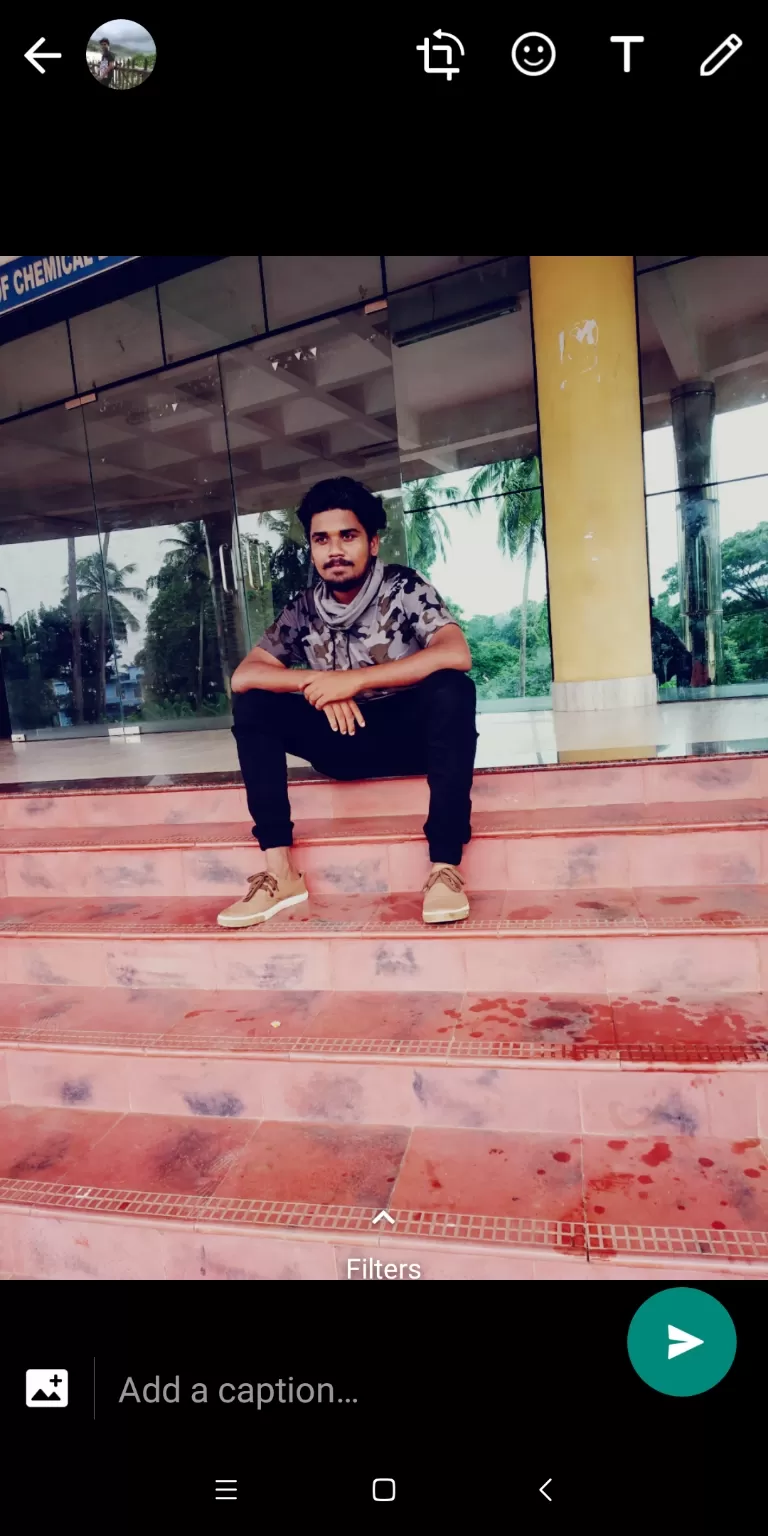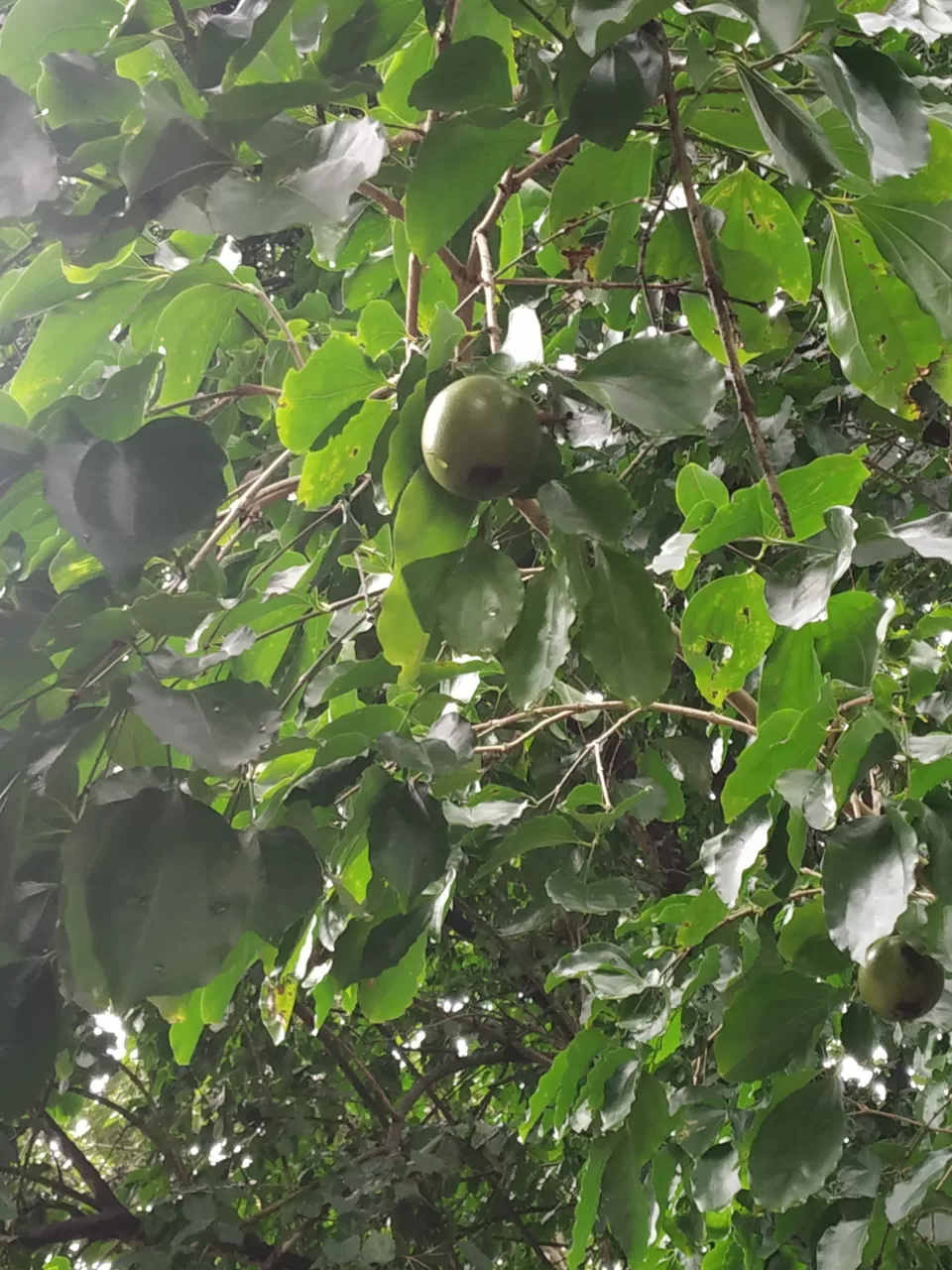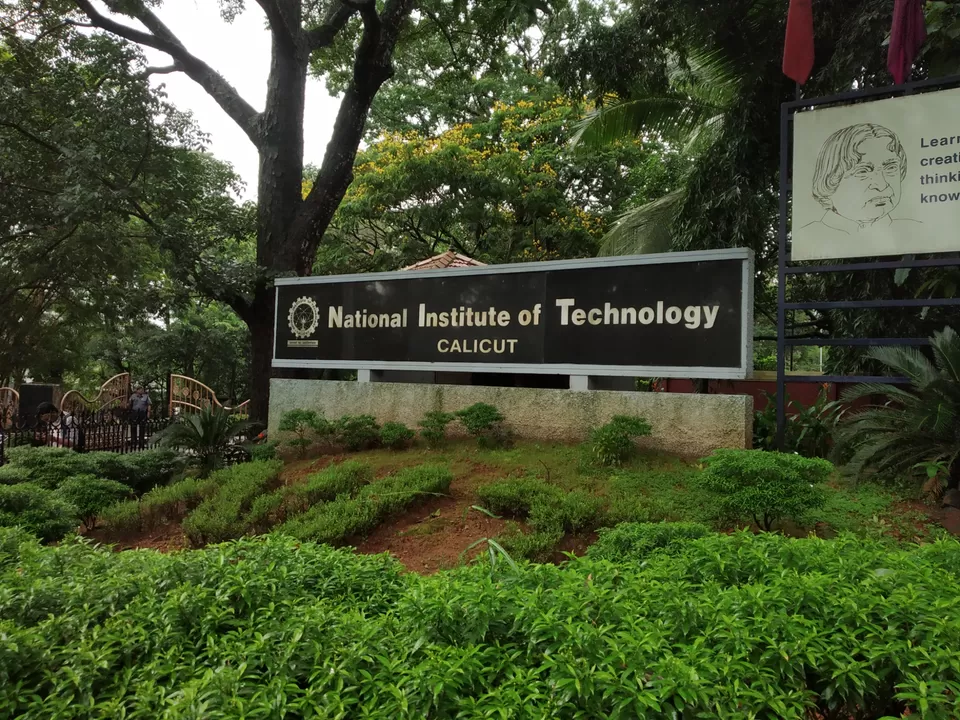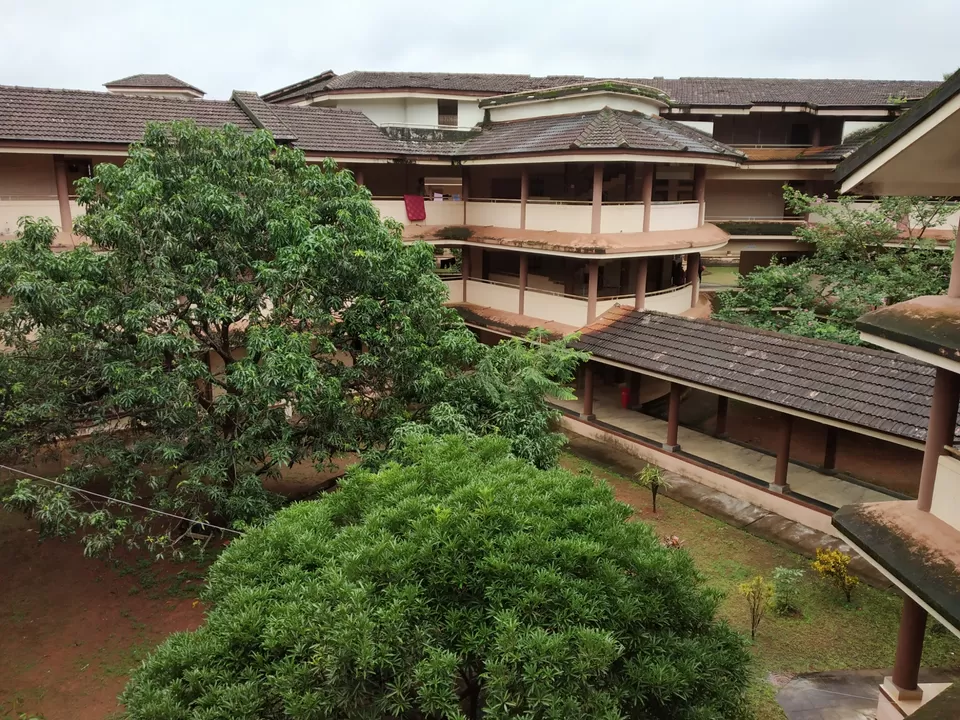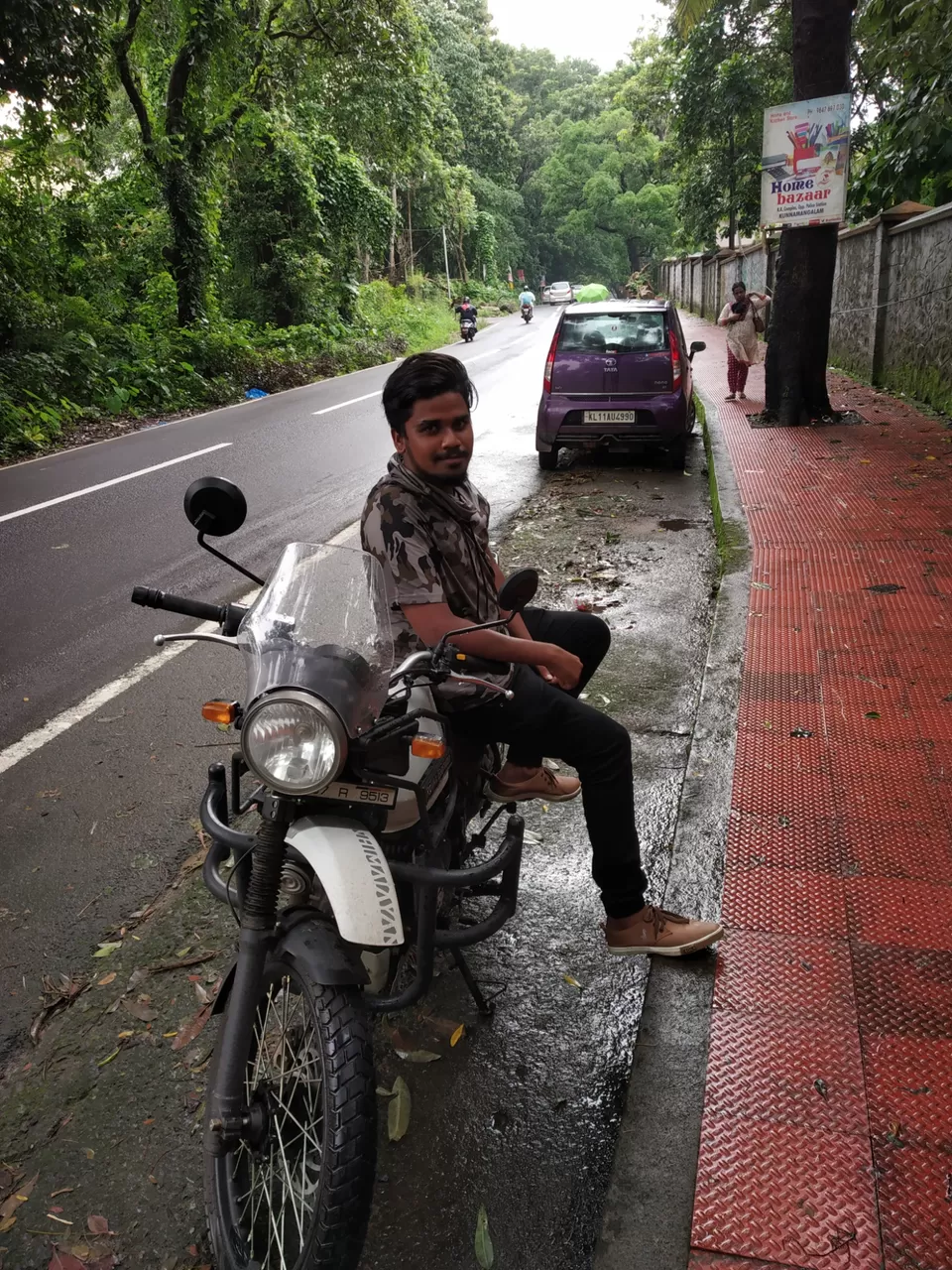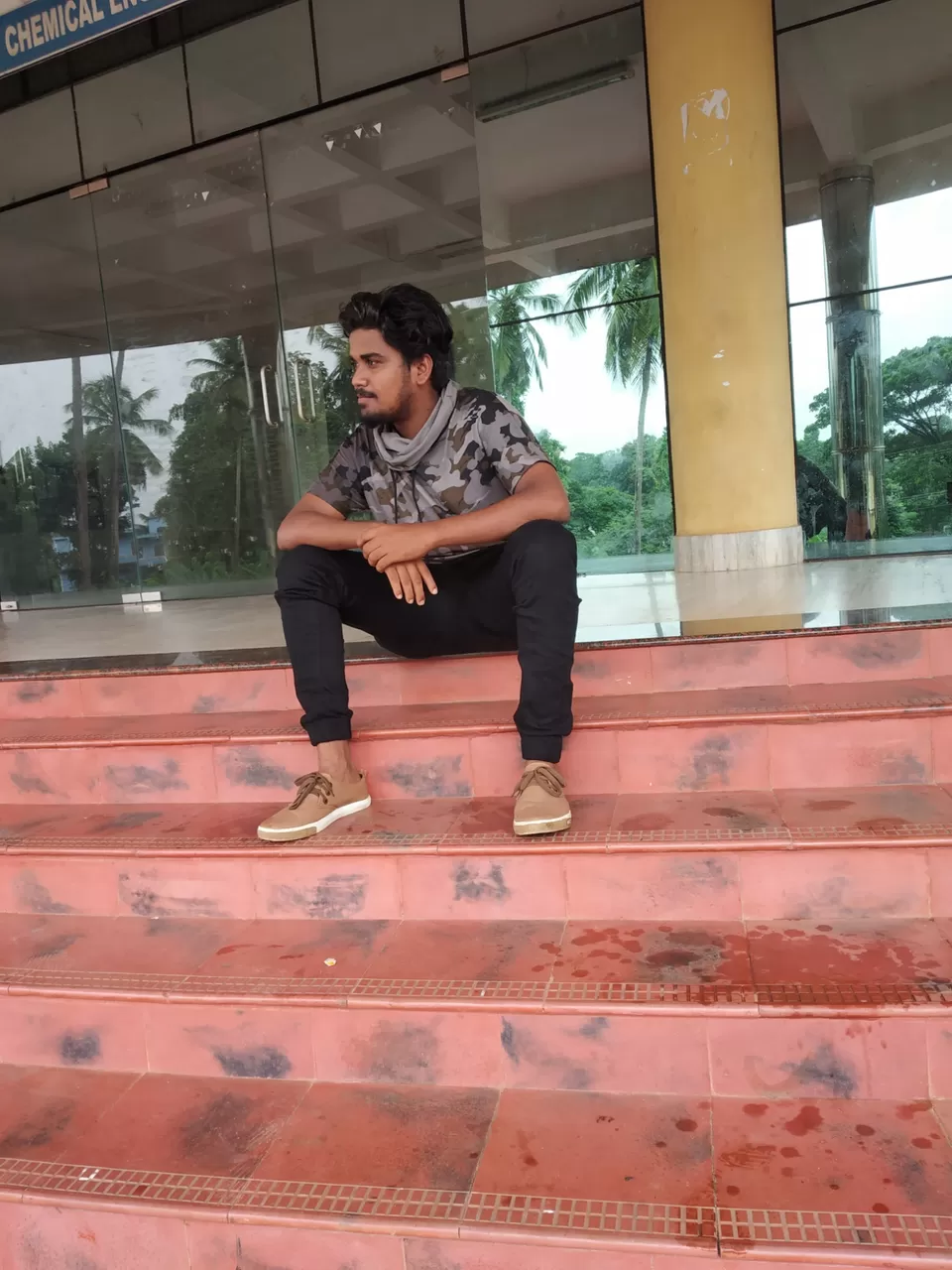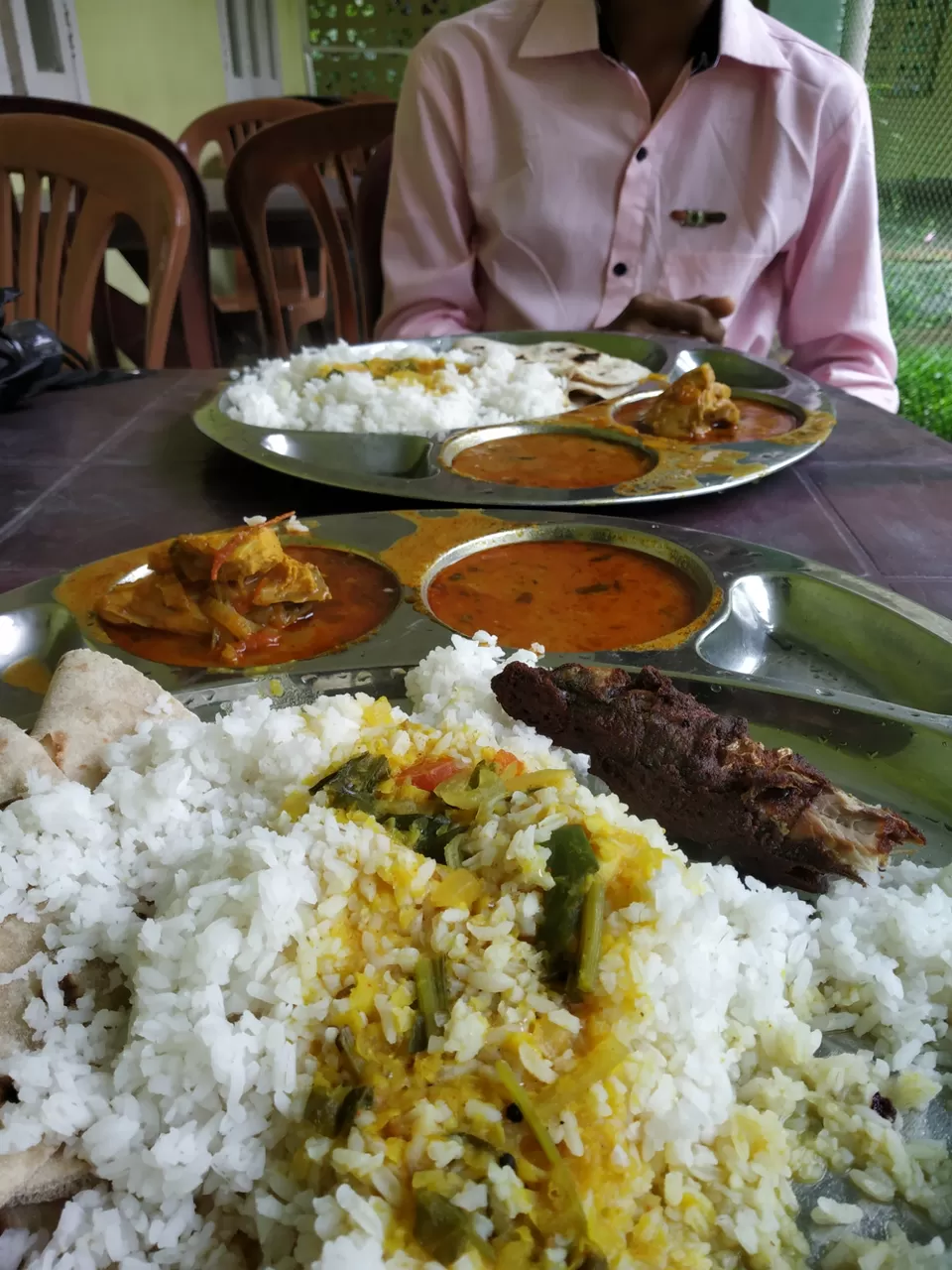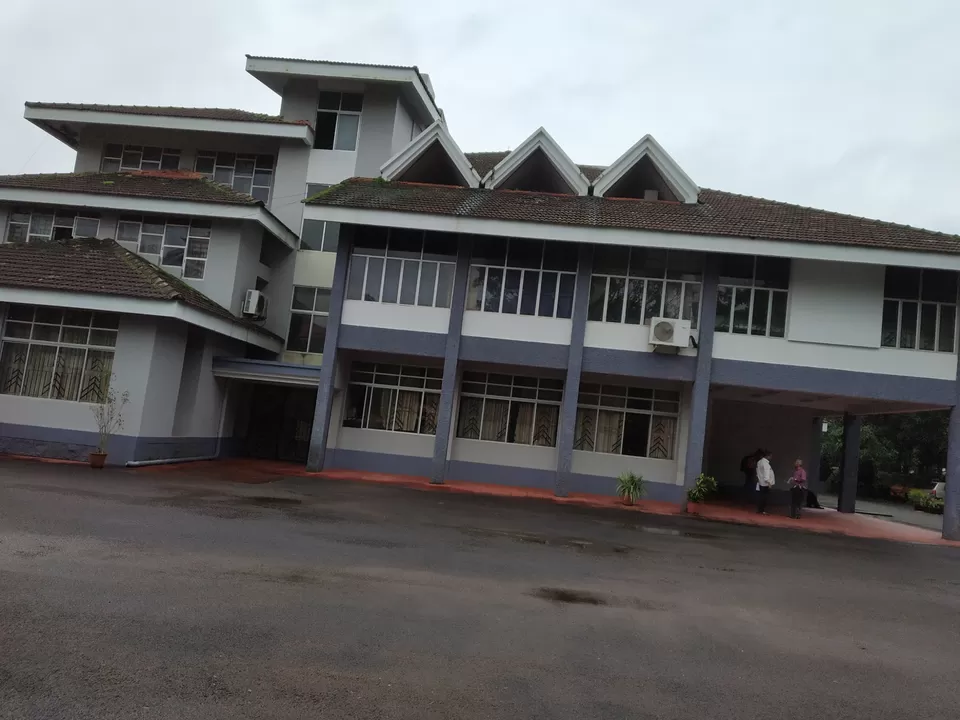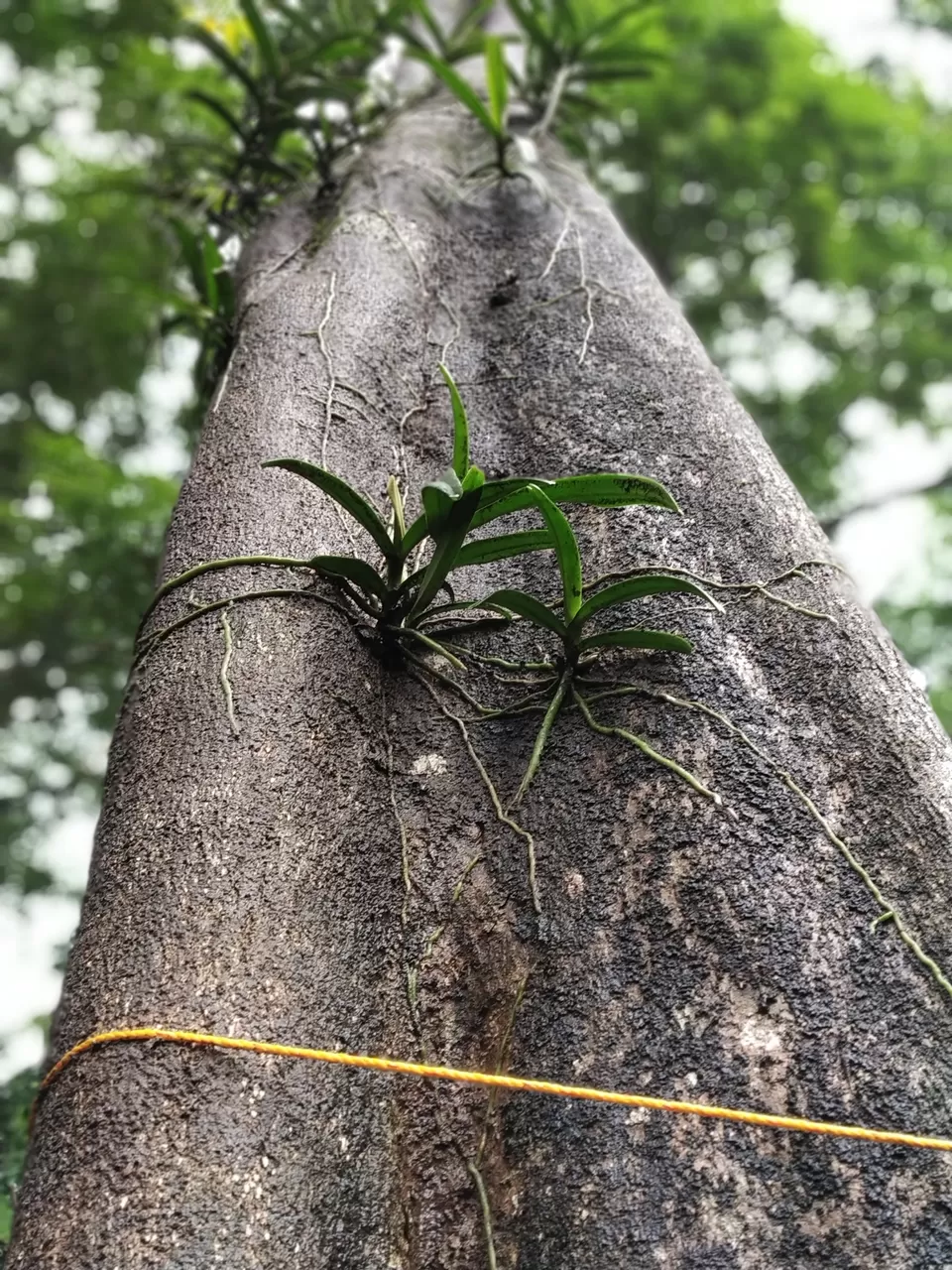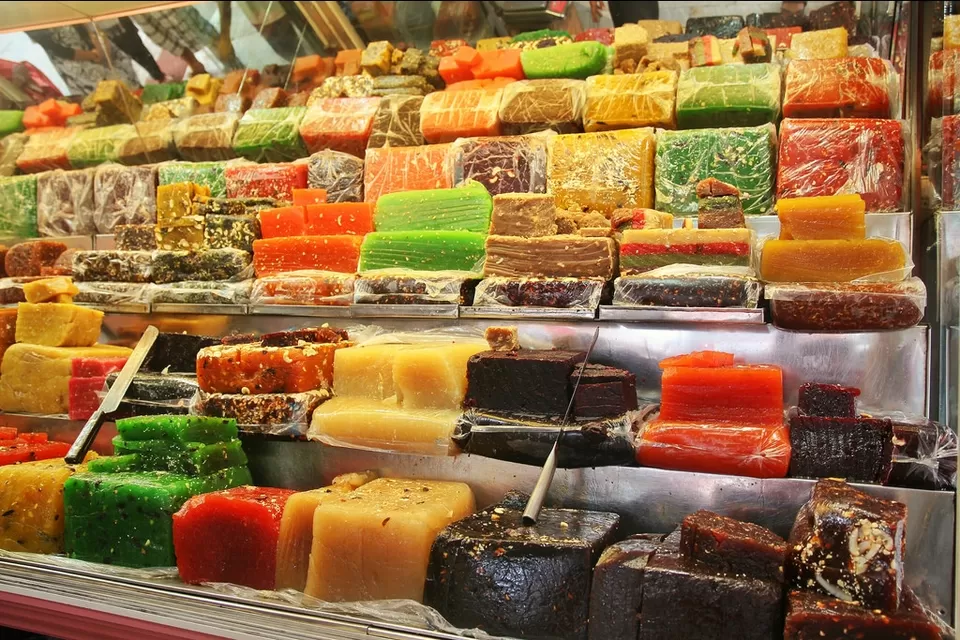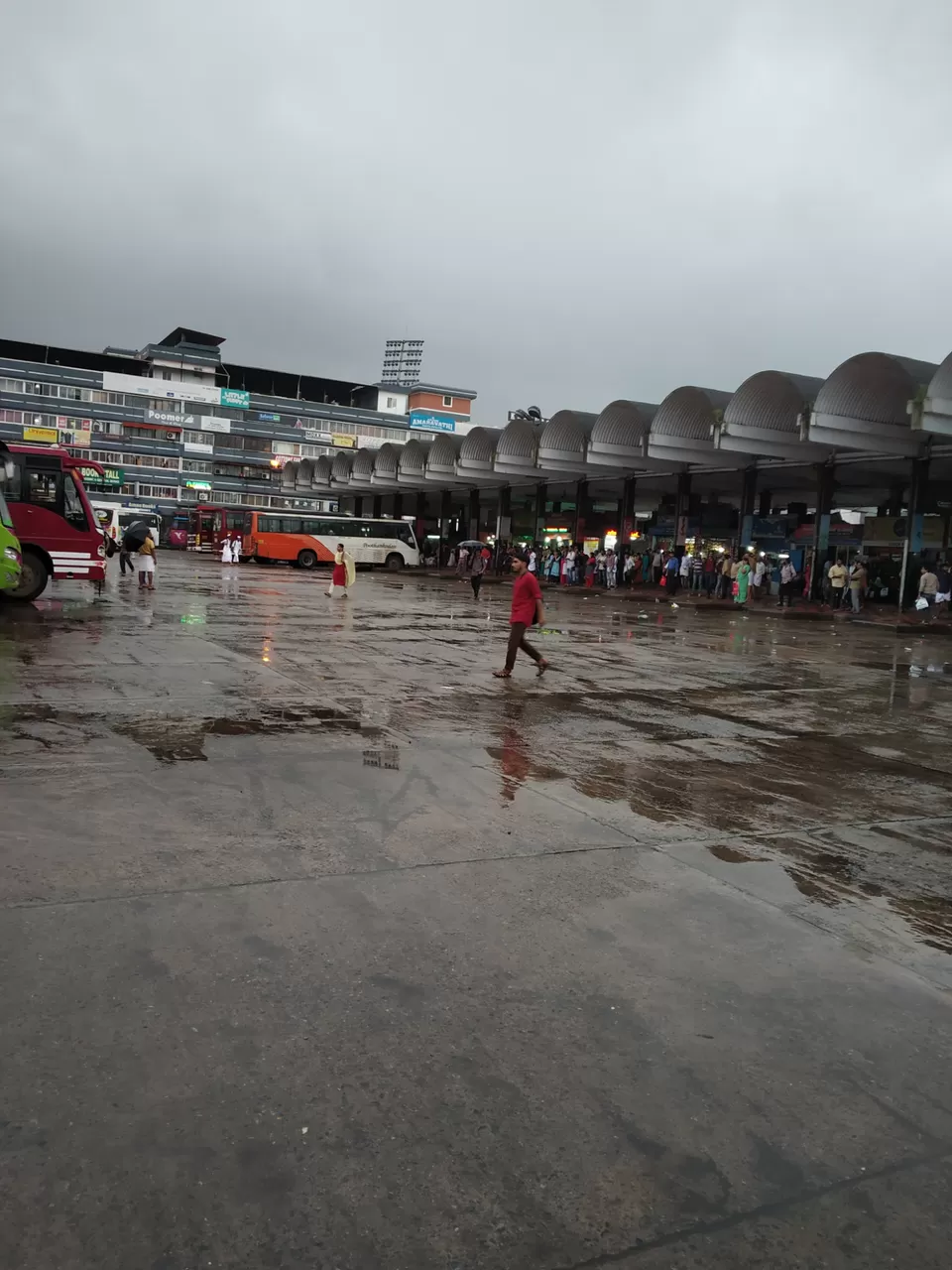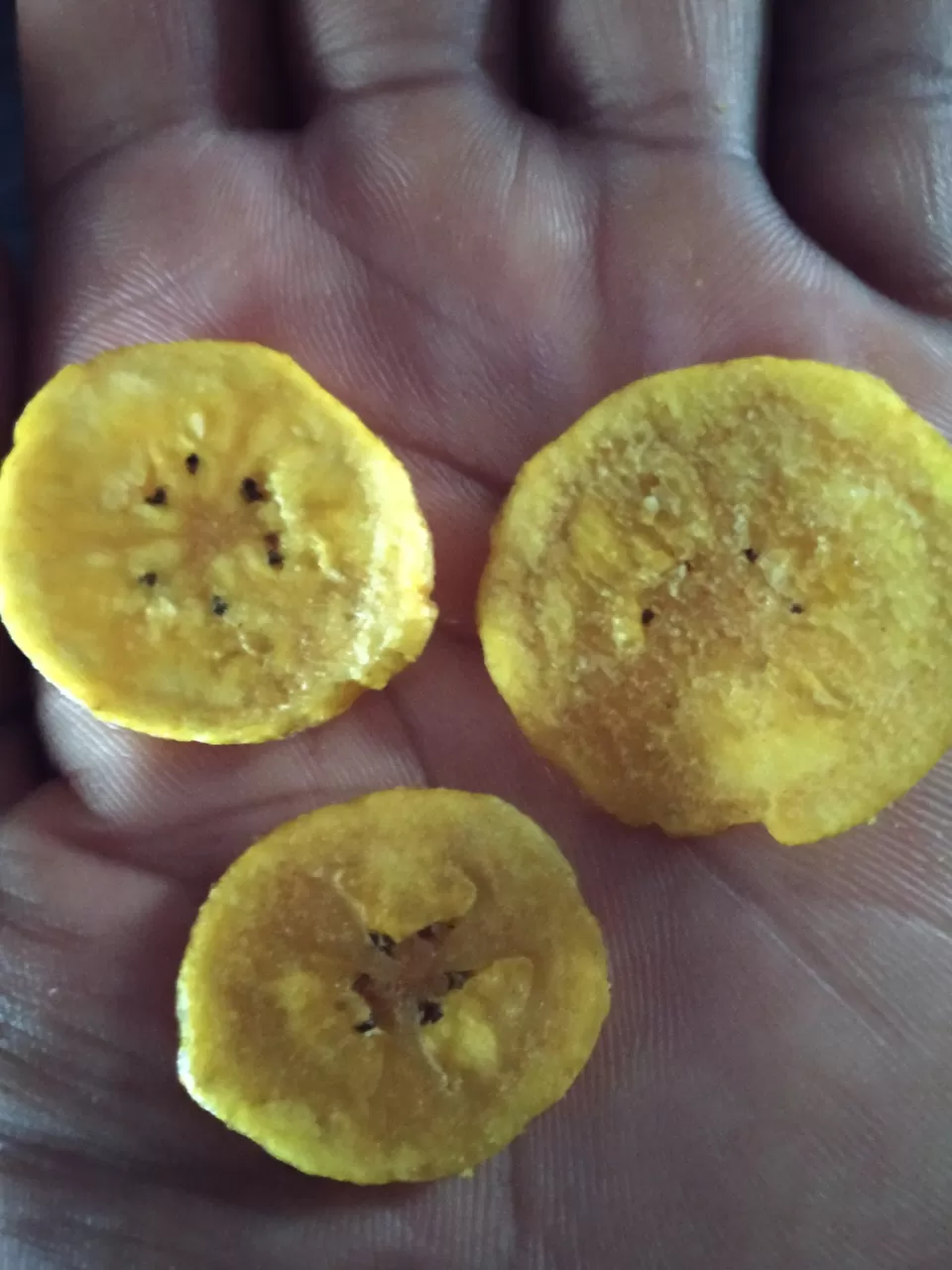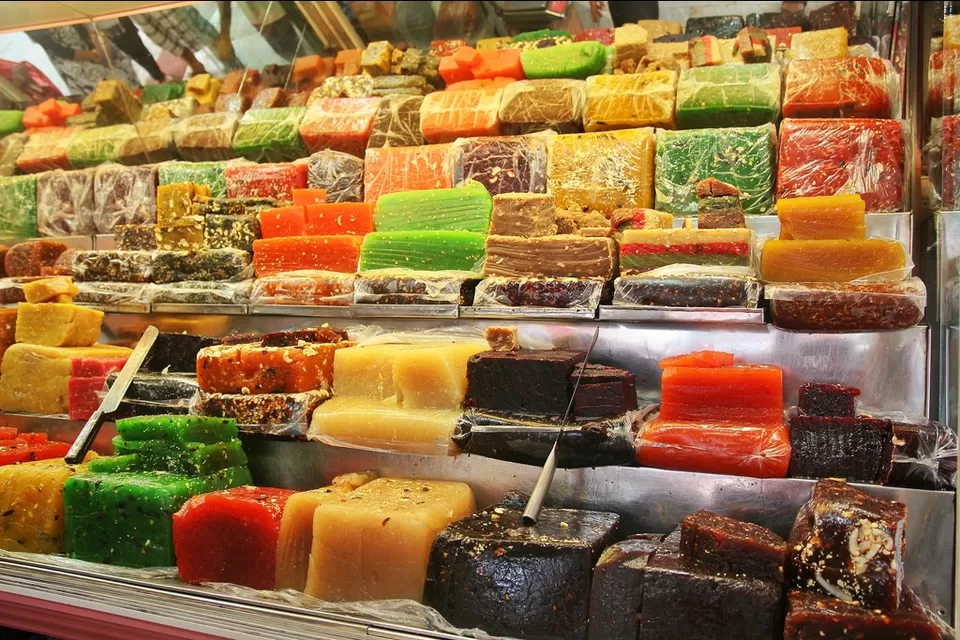 SOME MORE DETAILS ABOUT THRISSUR

Places to visit
1. Vadakumnathan temple
2Indo gothic our lady of dolours Basilica (small-rome)
3cherman juma mosque
4 Sri Guruvayur temple
5 Thrissur circle

About THRISSUR
THRI SSIVA PERUR. The city name came from on the name of lord Shiva ..
Sacred cites and colour ful festivals
It old Cochin capital when kings are ruling
One thing about Kerala and Thrissur ..
Literacy rate 97.5 % even auto drivers able to understand English ...
1. Vadakumnathan temple
Temple of lord Shiva the festival that doing there was awesome I recommend u to visit festival time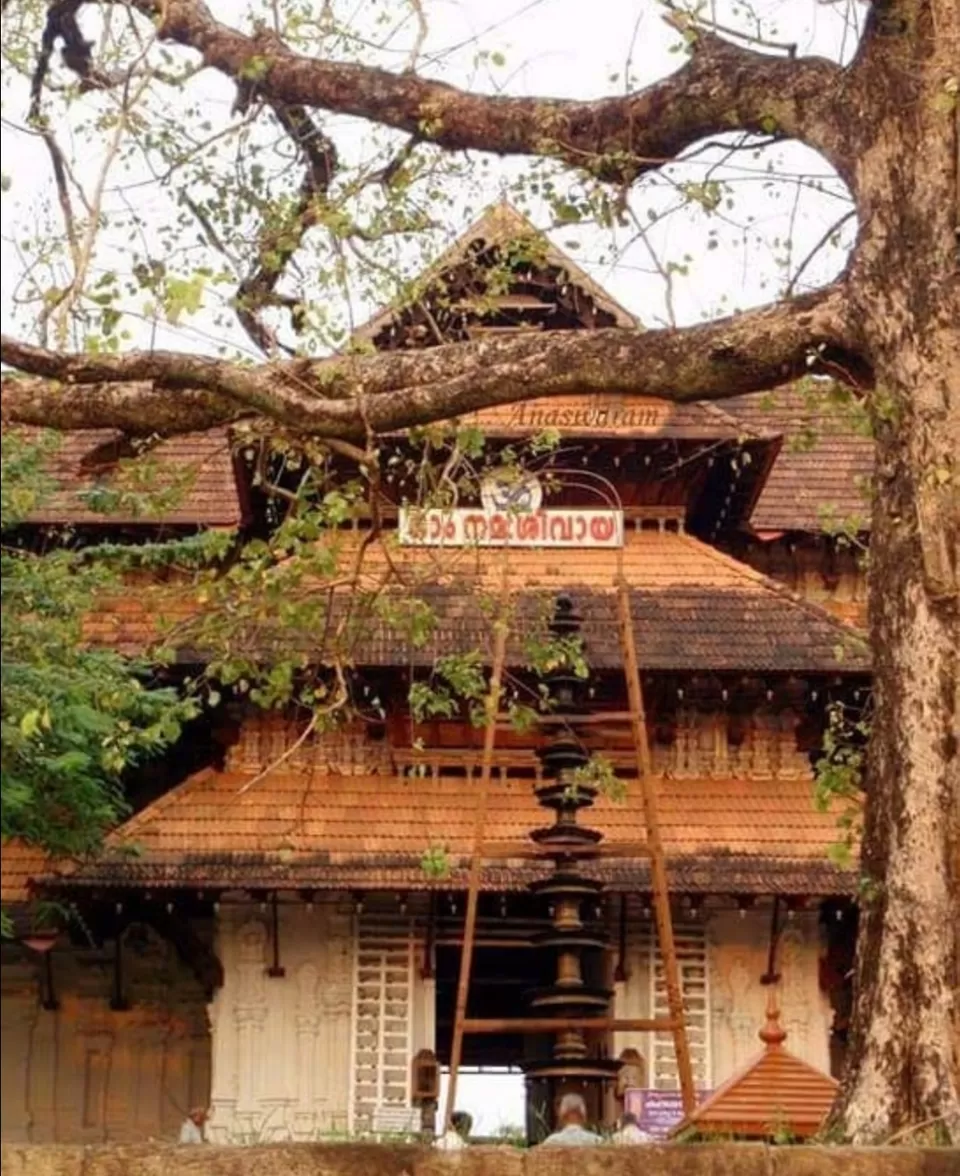 2 lady of dolours Basilica church
Indo - gothic style church by locating this church it is called SMALL ROME ..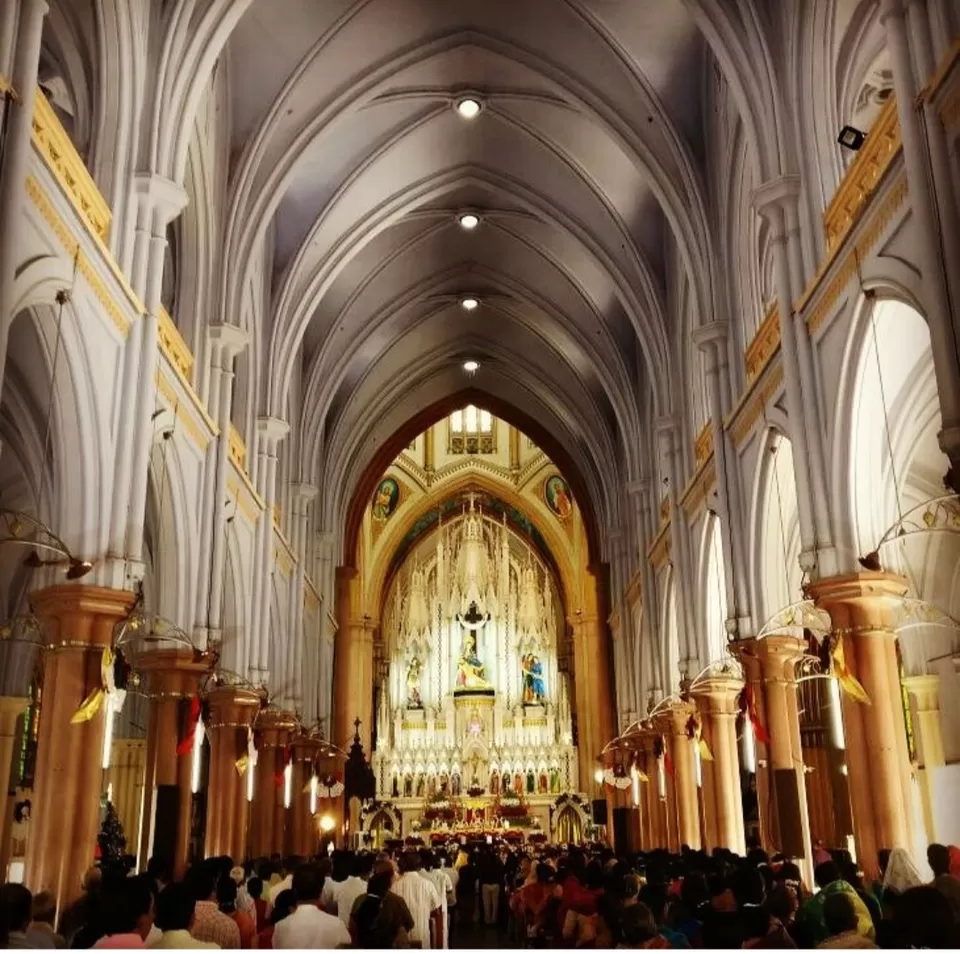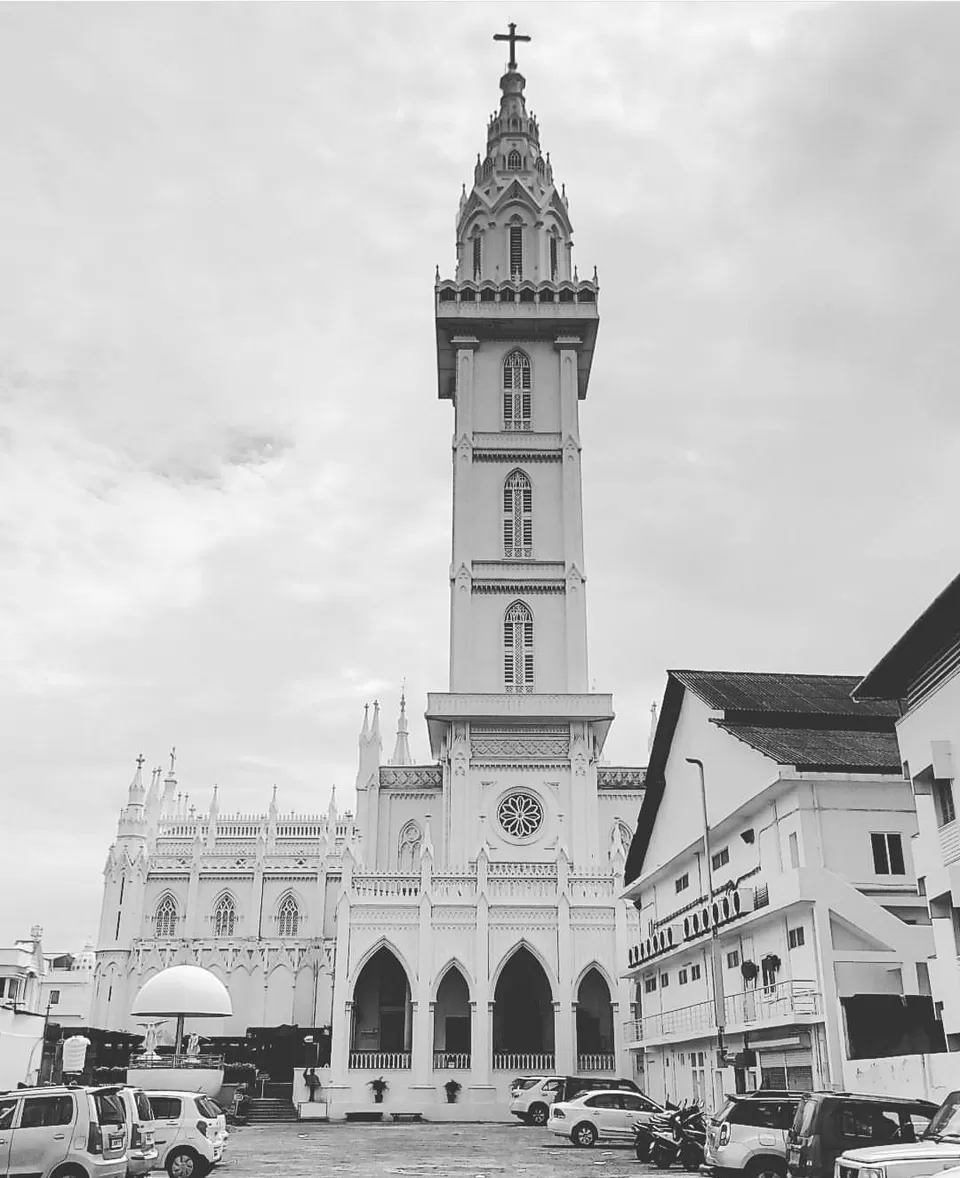 3 cherman juma mosque

First mosque in India 629 AD located in Thrissur district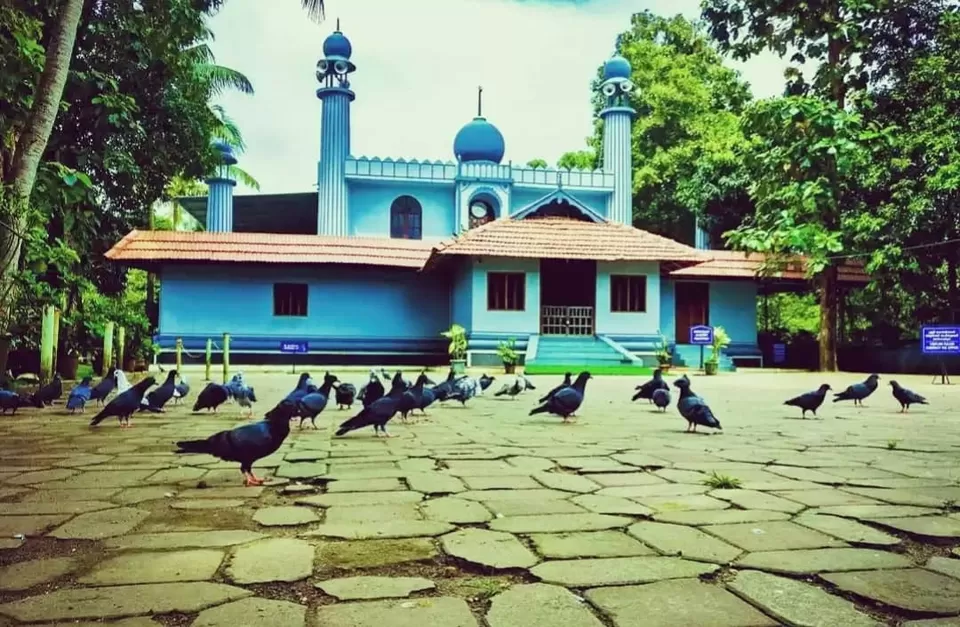 4 Guruvayur temple

"Bhuloka vaikunta of lord Vishnu "
"Holy Adobe of Vishnu on earth"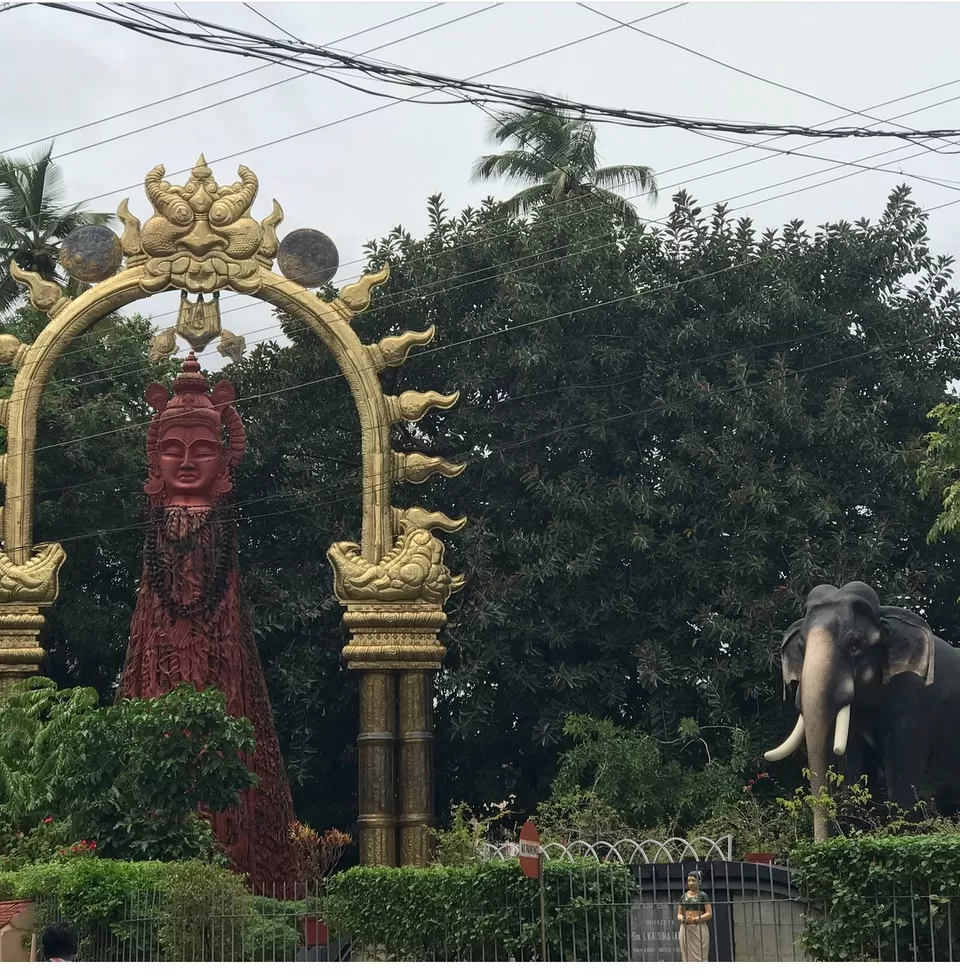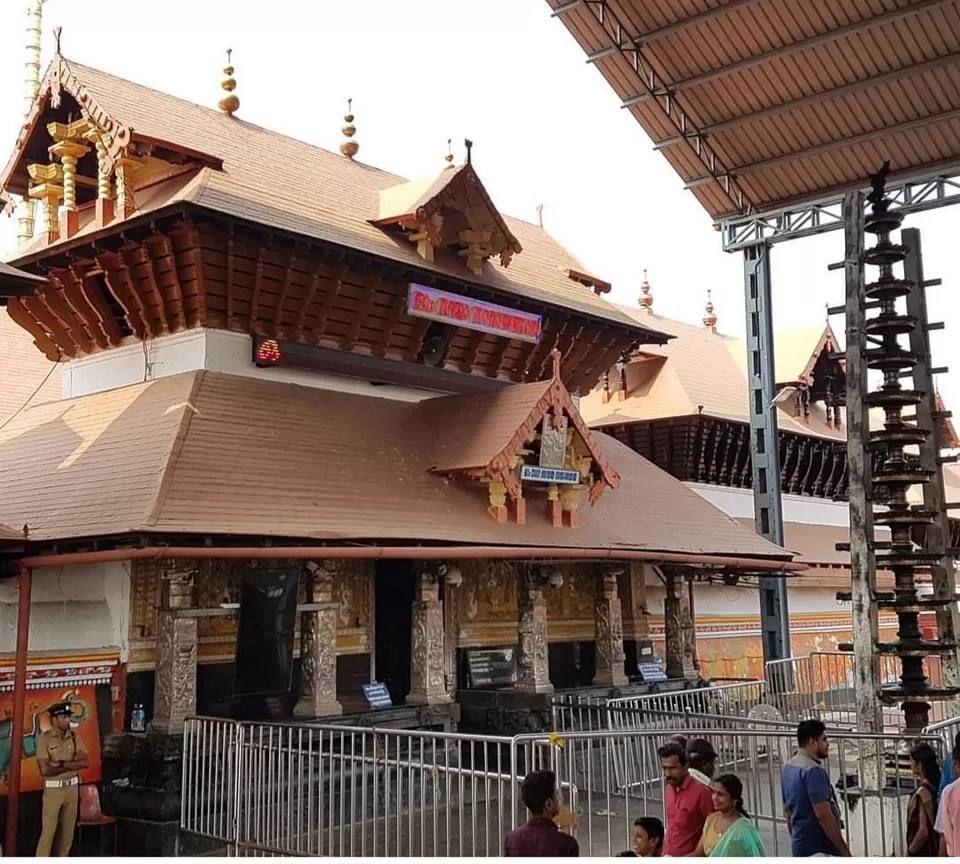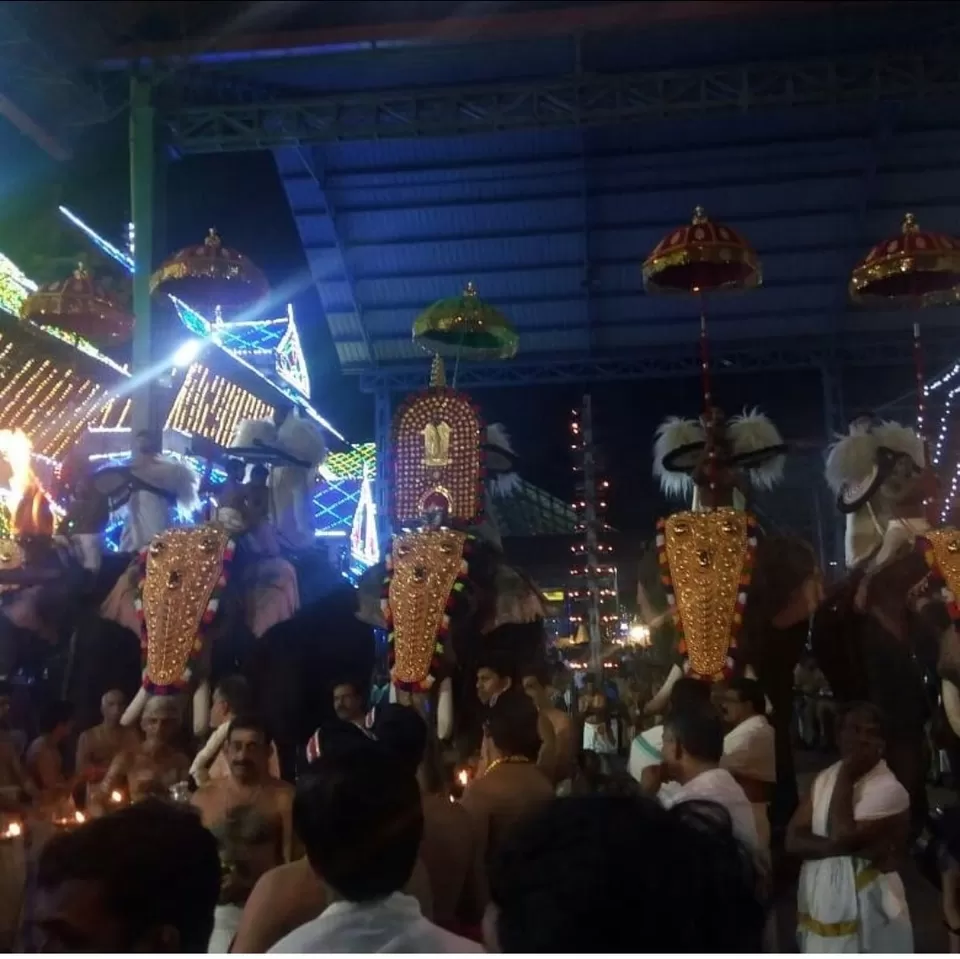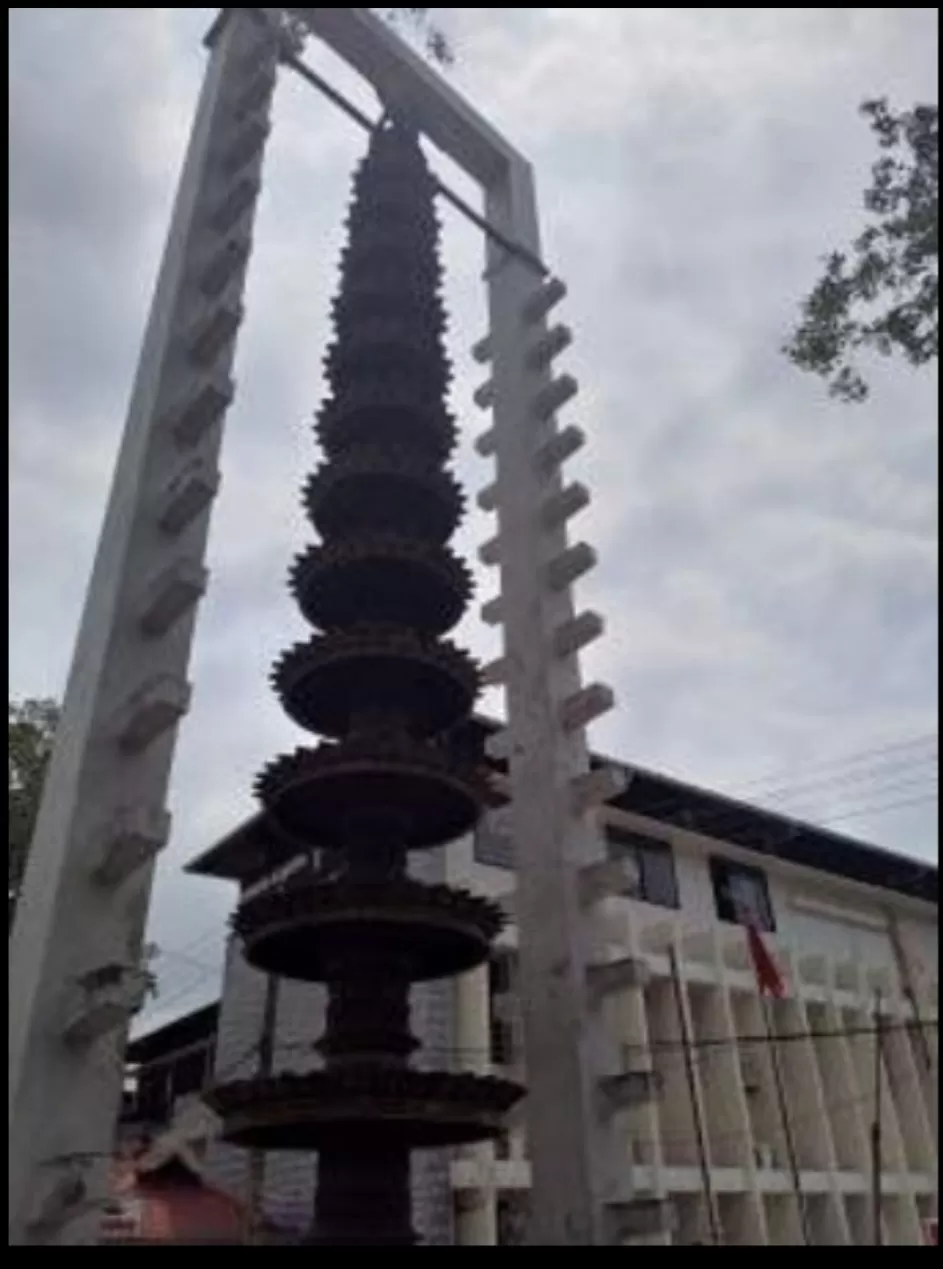 FOOD OF KERALA
Different foods different taste different spice love this foods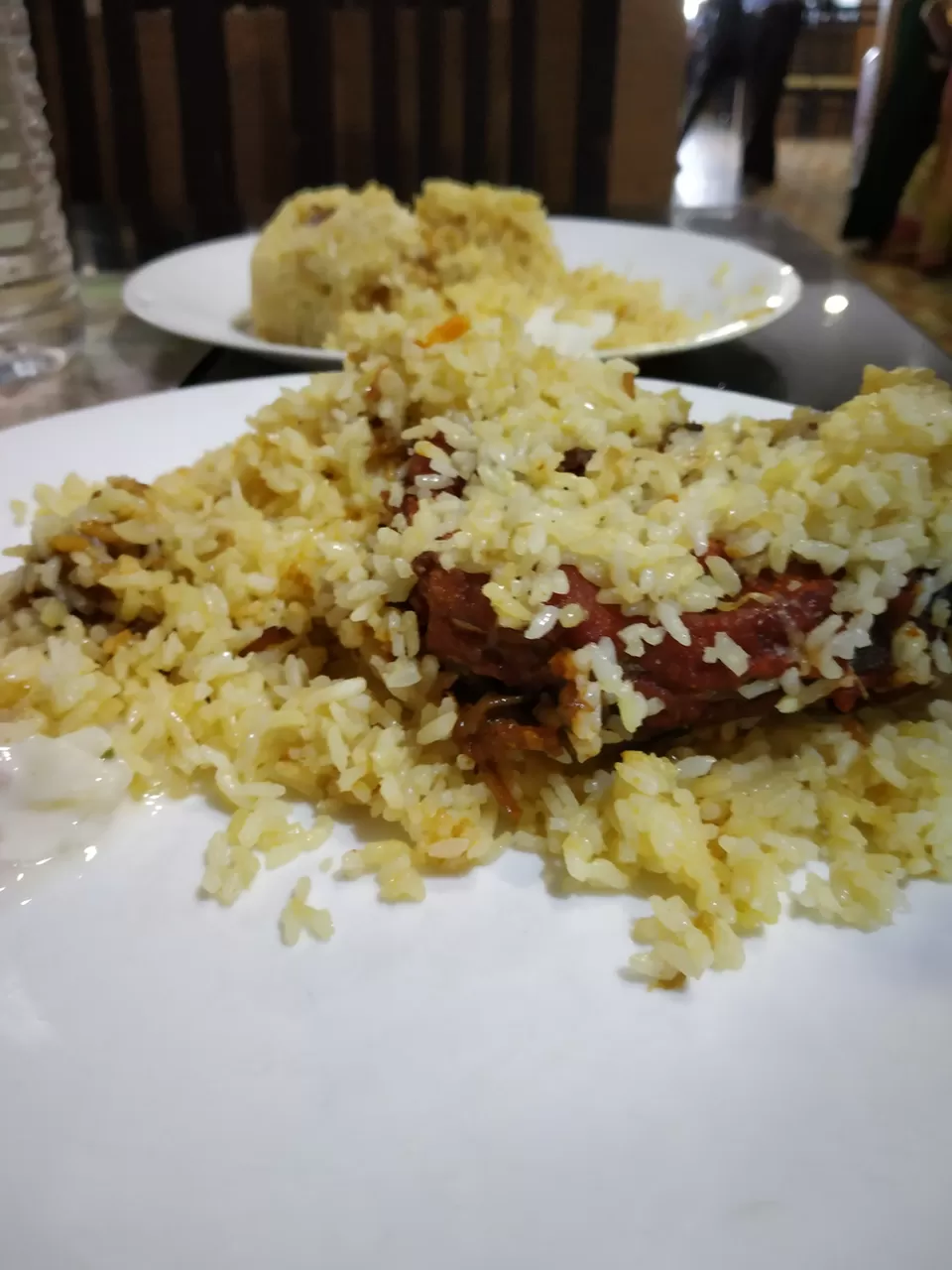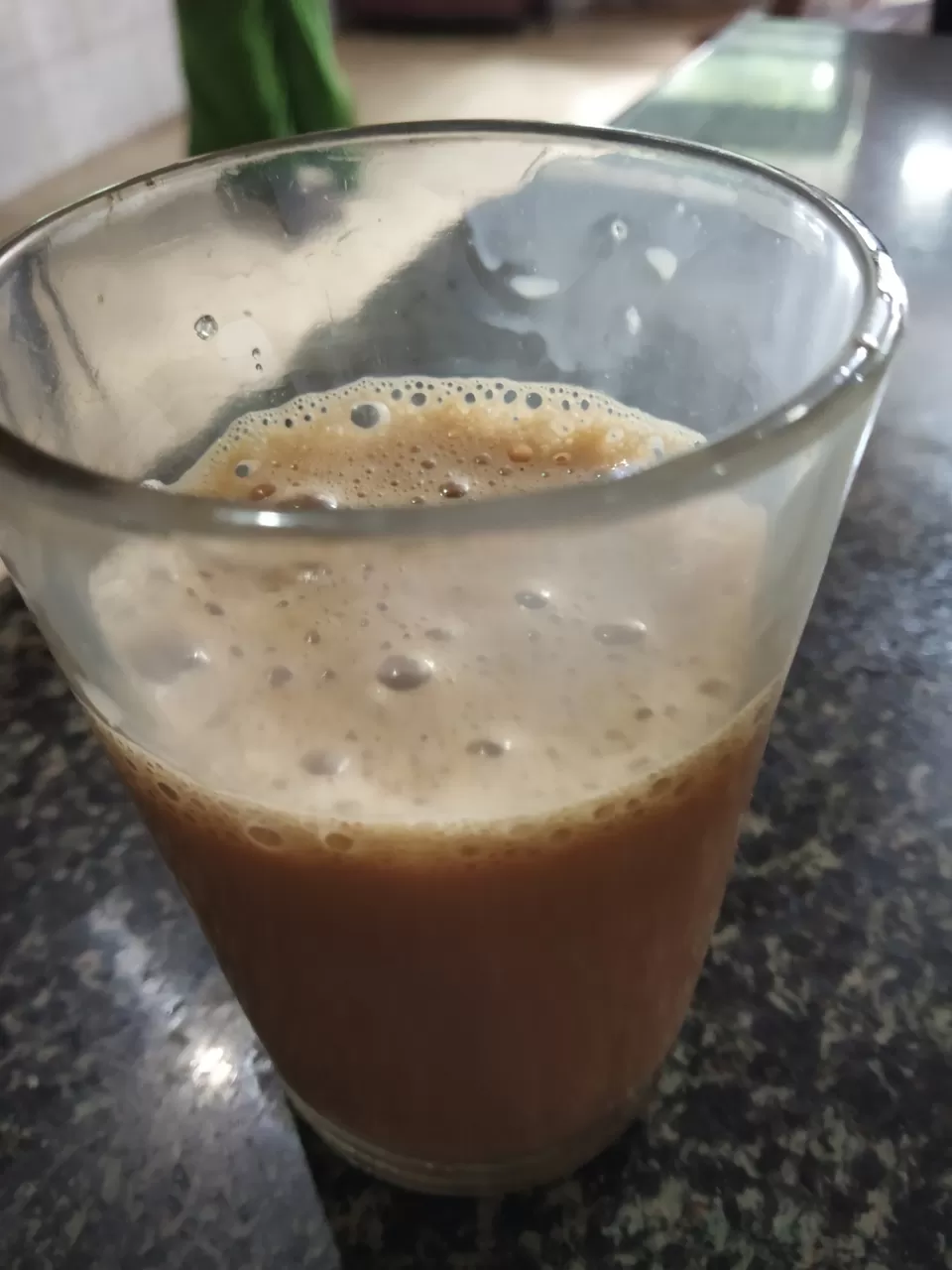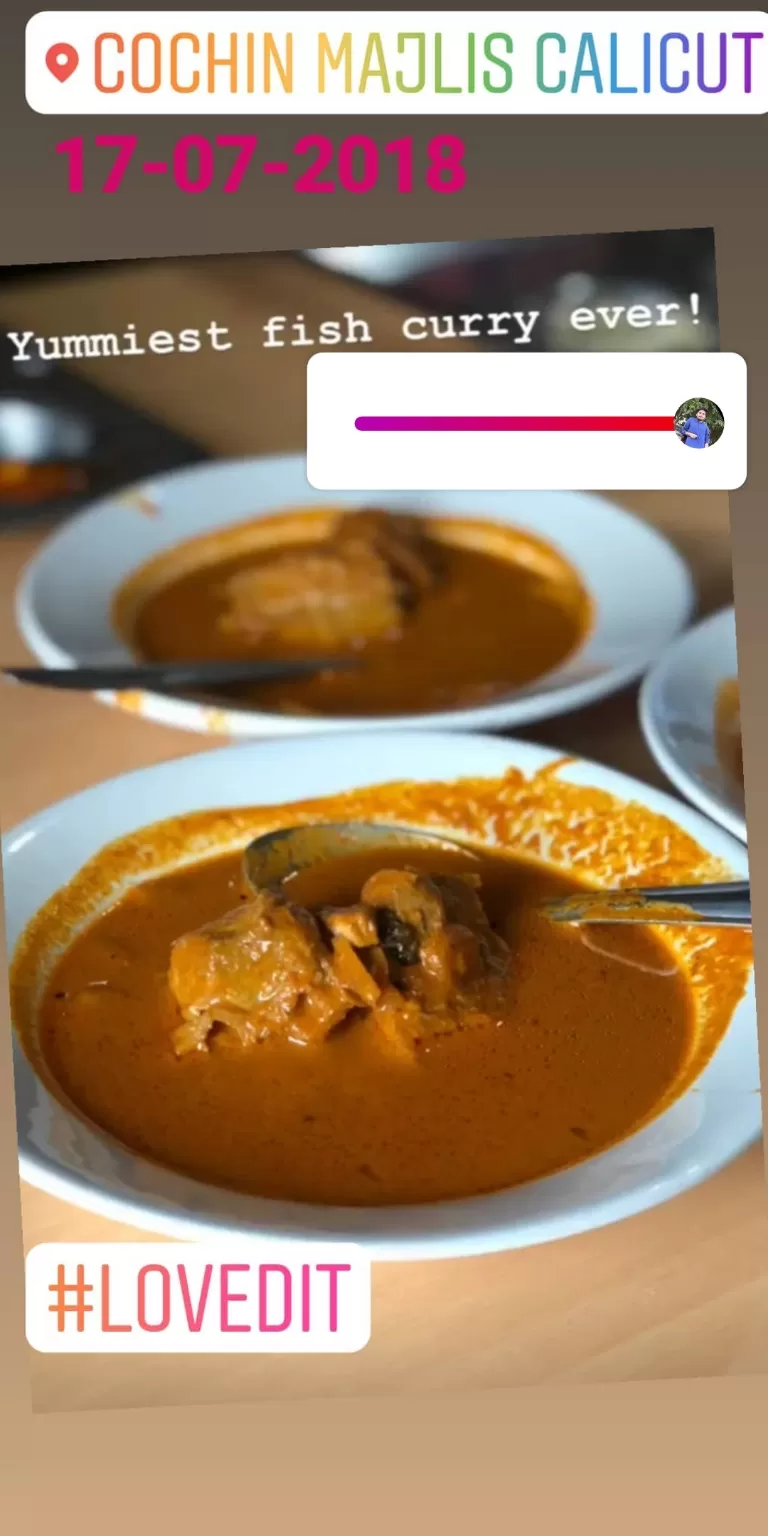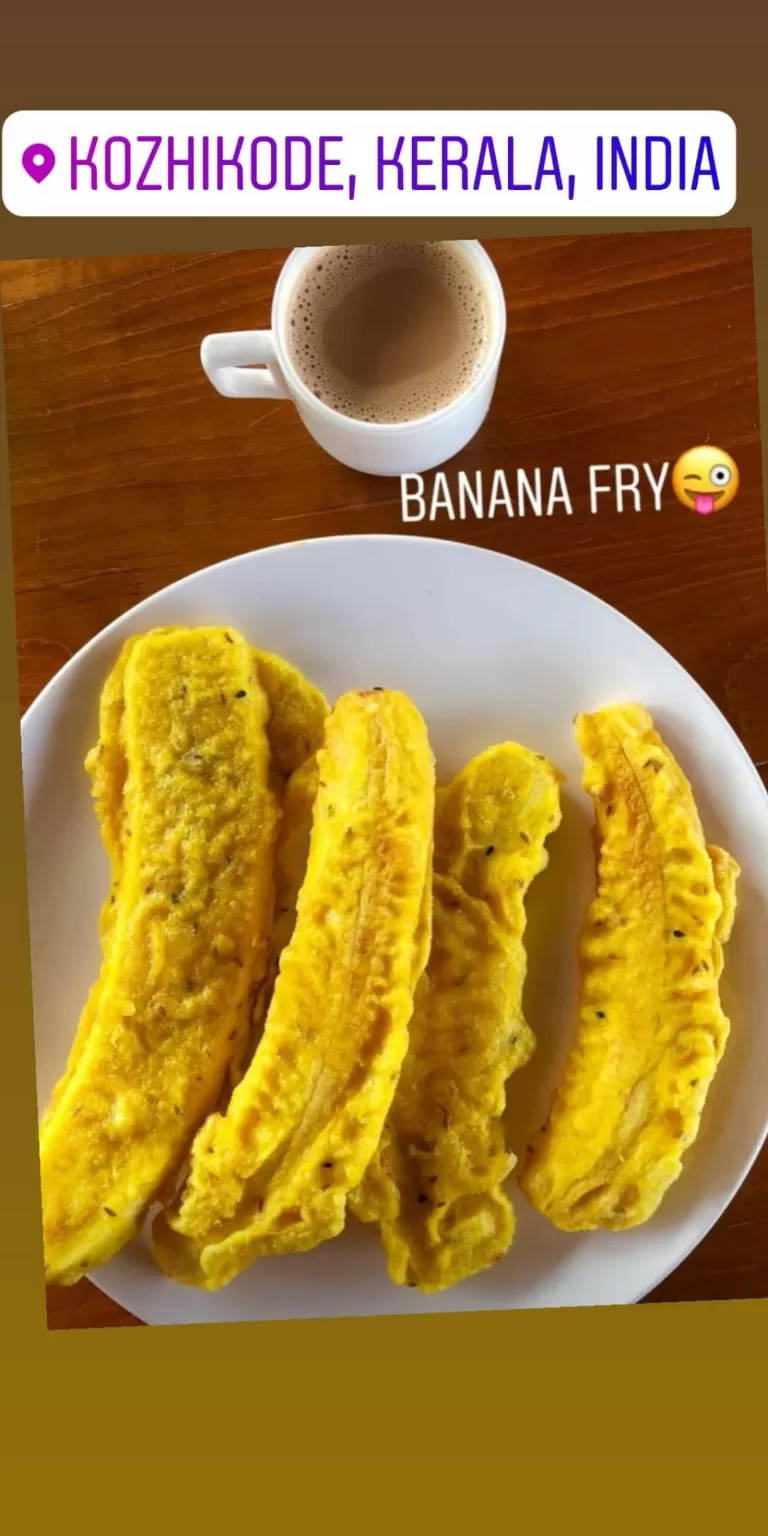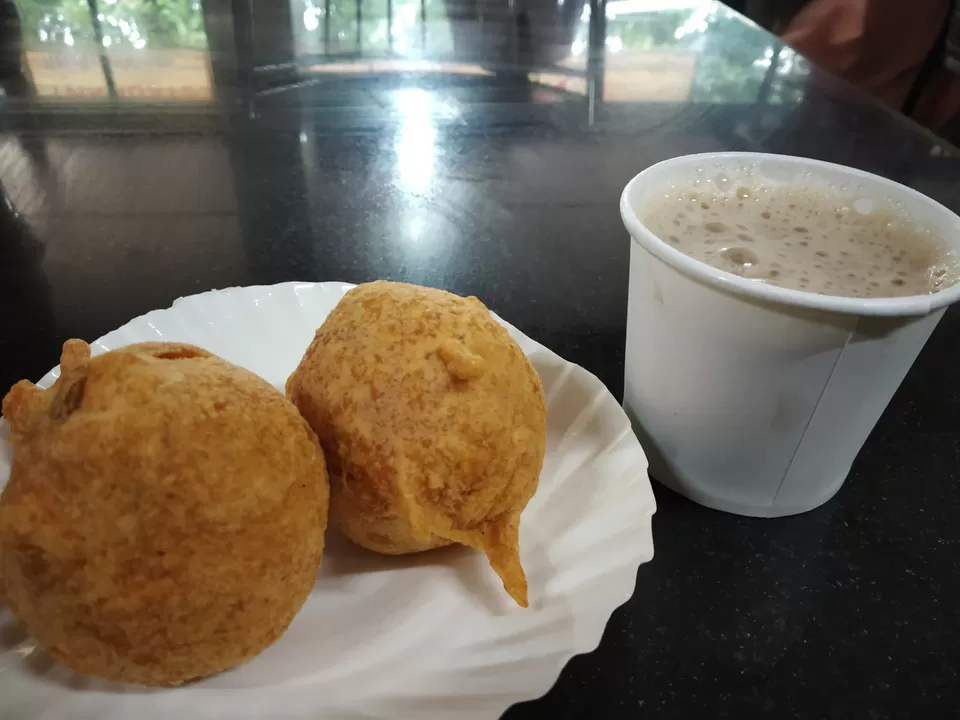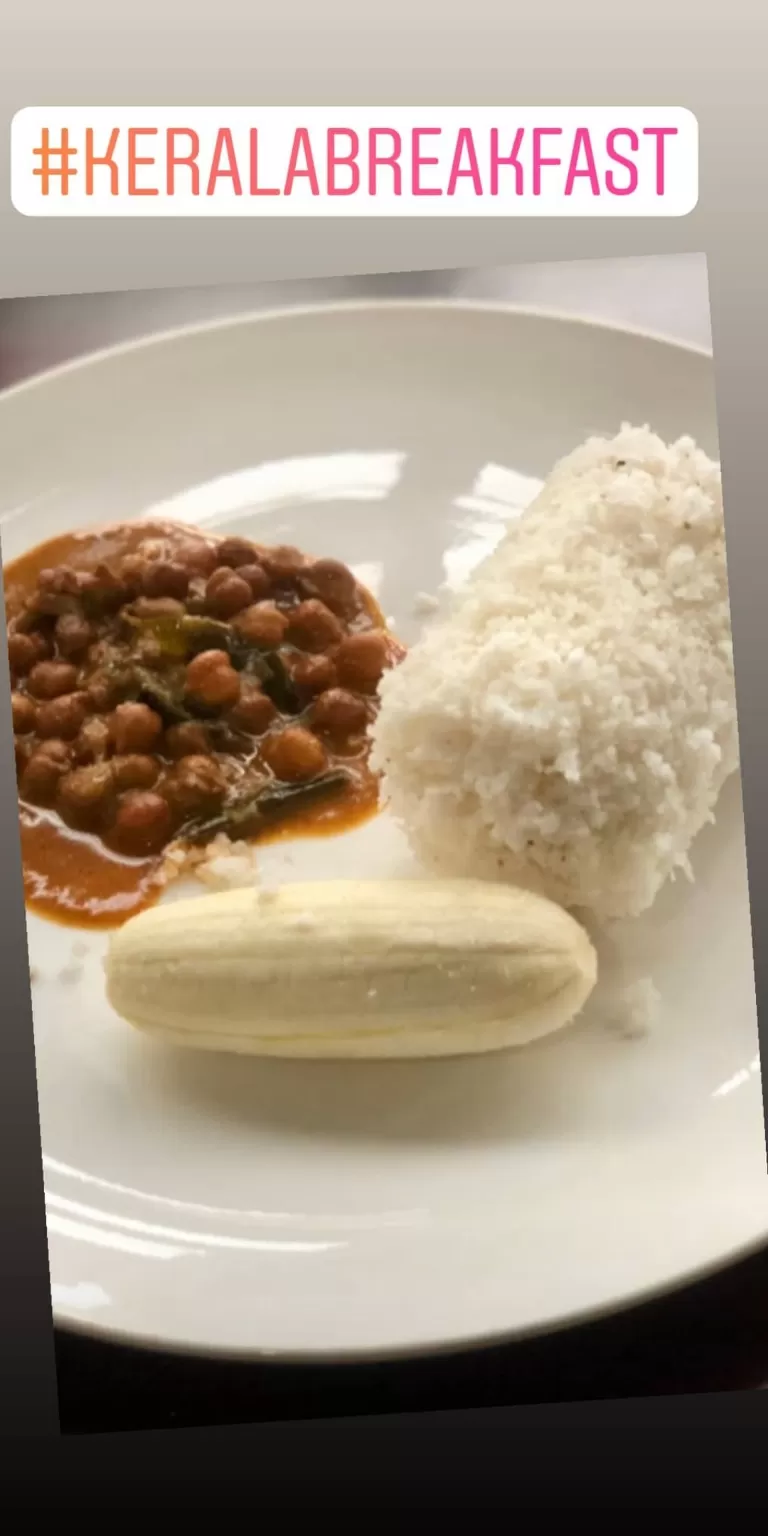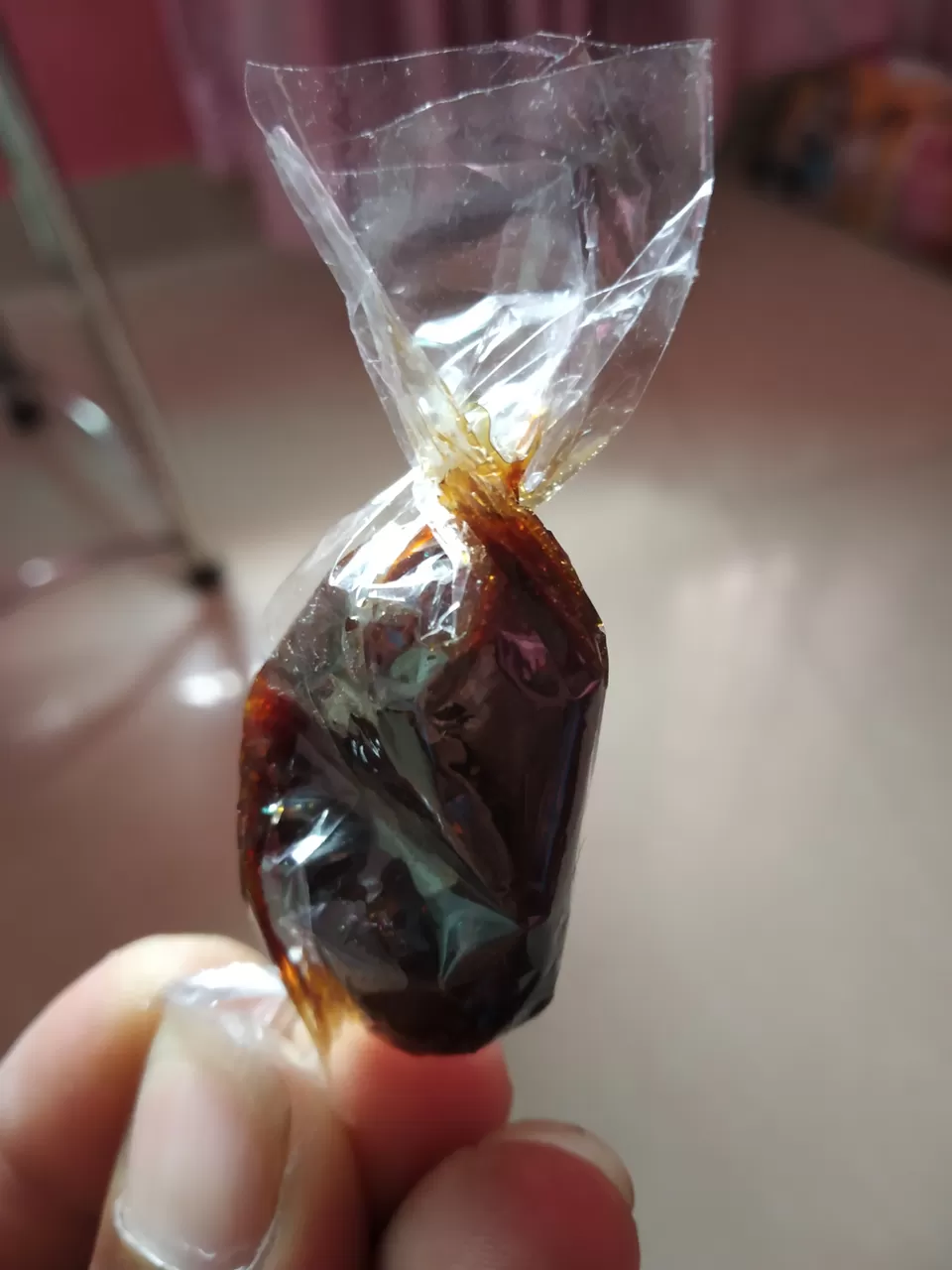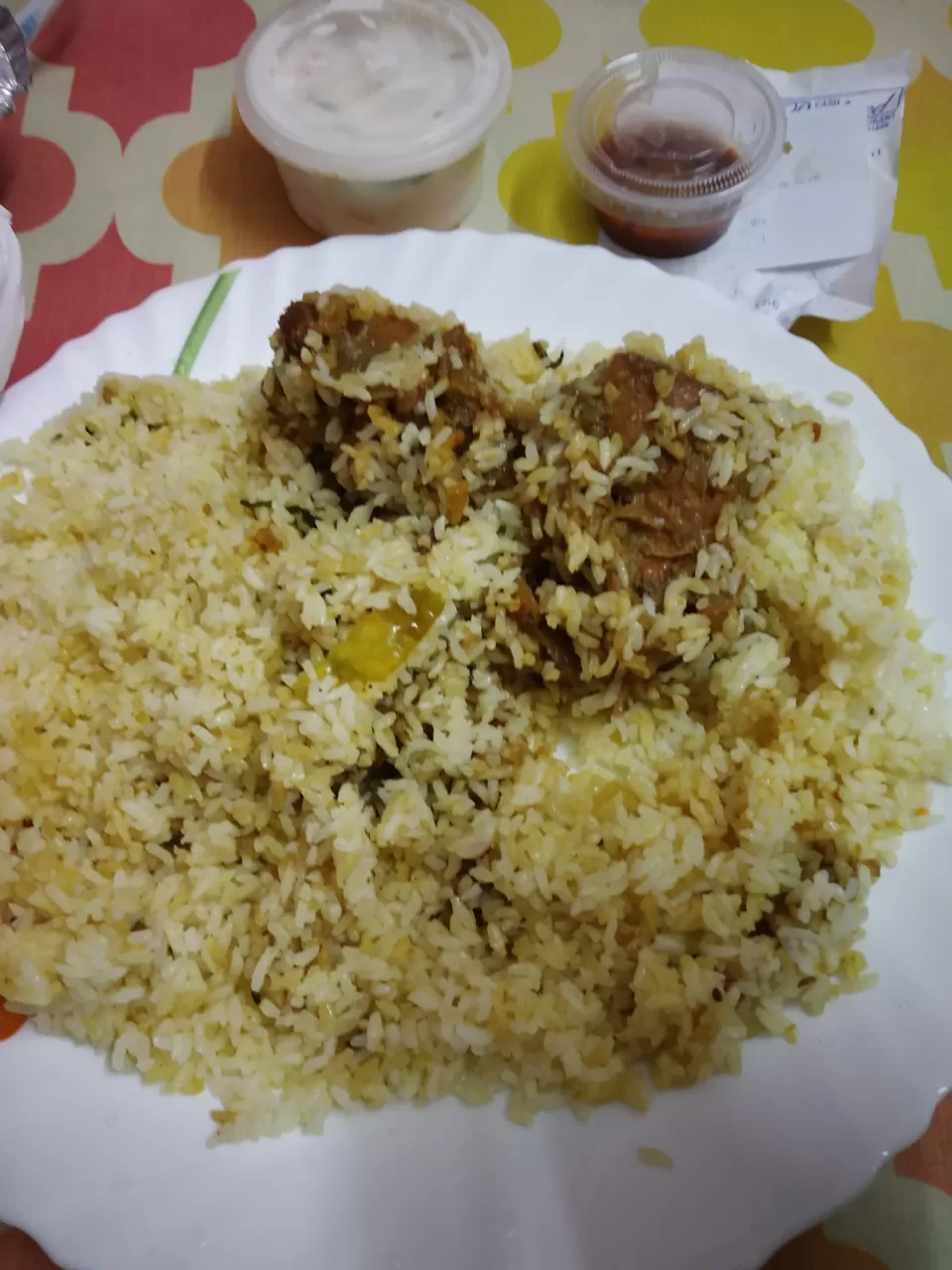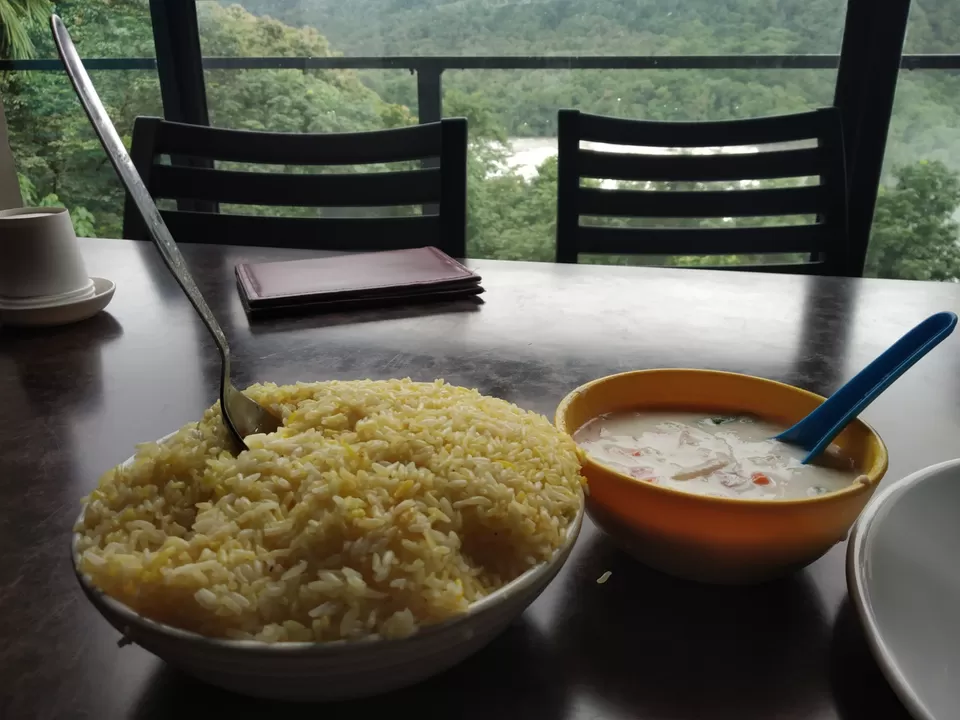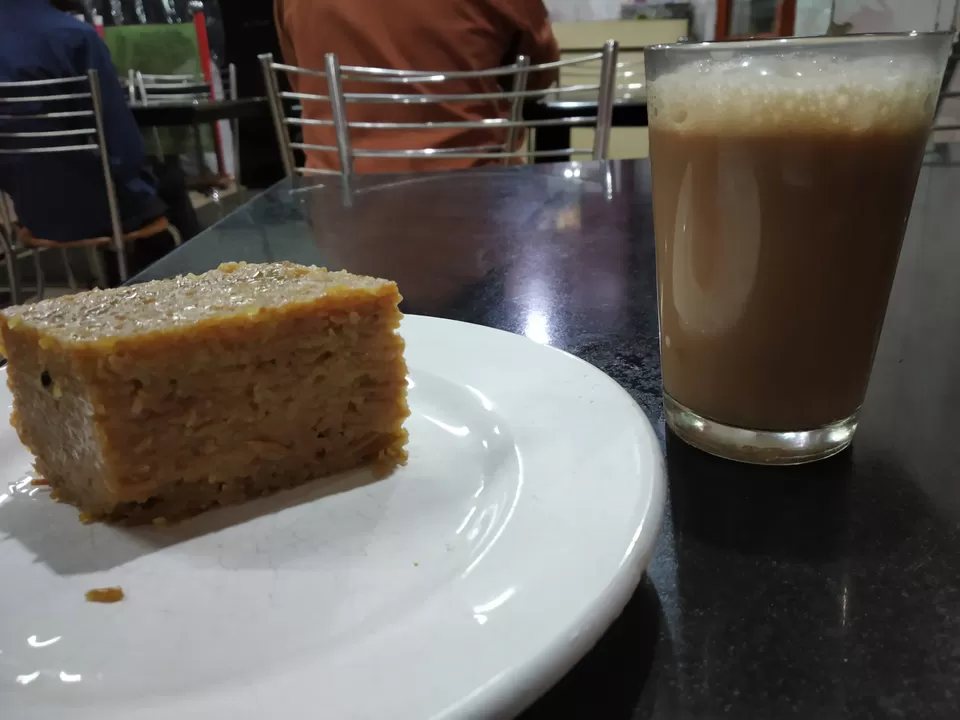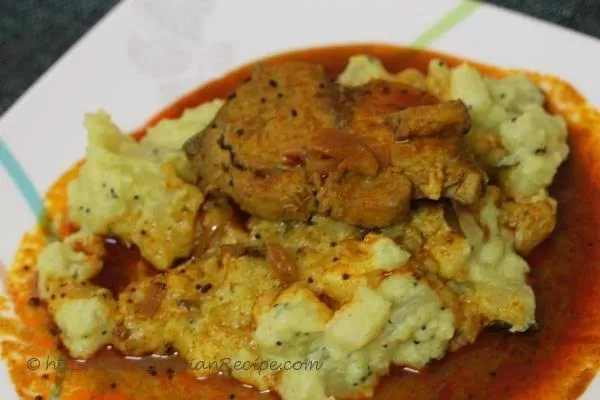 After one month Kerala destroyed in floods
But whole India stands with Kerala so Kerala renovated now
#doforkerala #wearewithkerala
Now Kerala open to visit
#neelakurunjicalling
Like visit again again