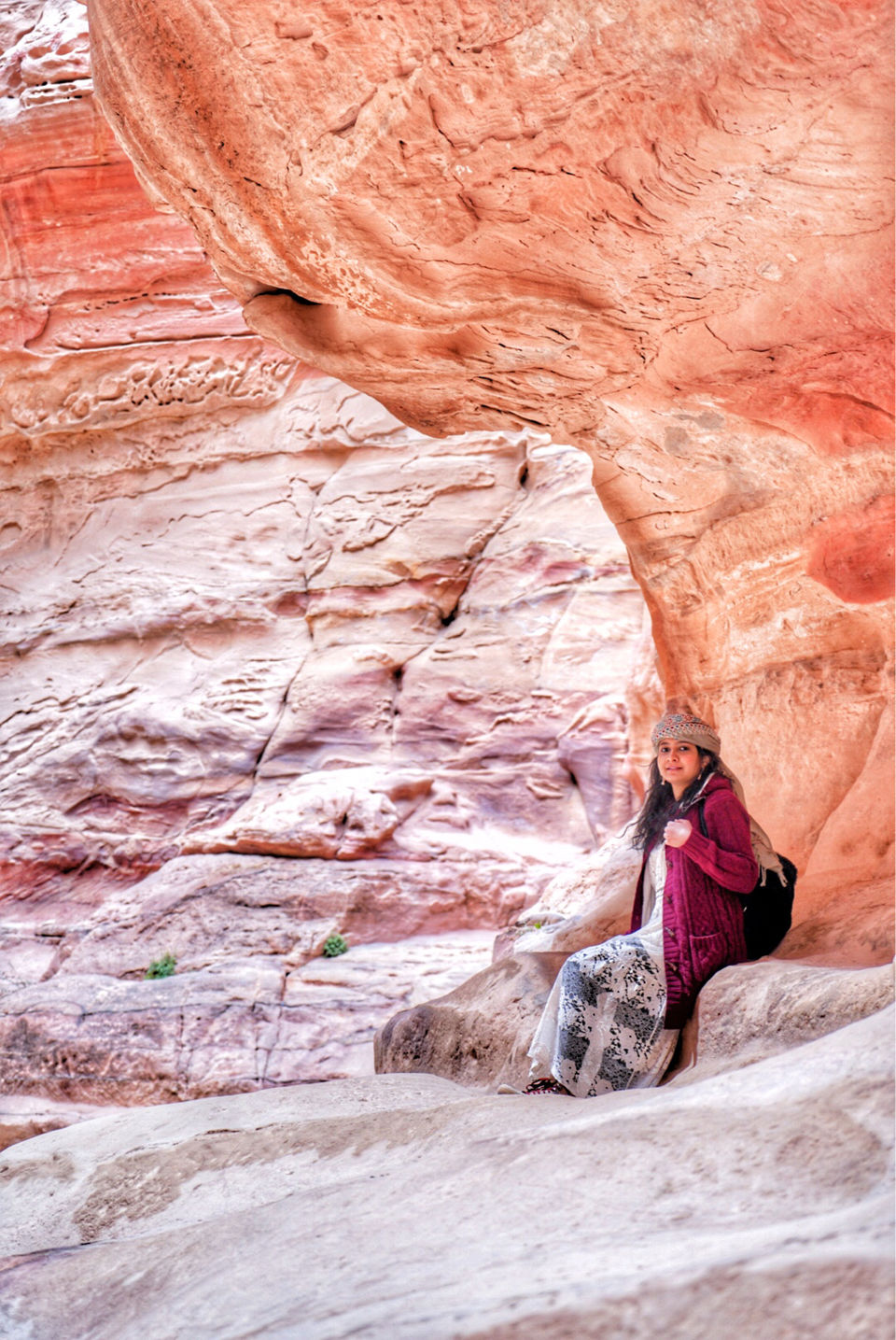 Most of my best friends are useless just like yours, who always drop out after all the plans are done. So this time I decided lets live that. Yeh jawani hai deewani life of kabir and finally gathered some guts to go for my first ever solo trip.
Getting kidnapped would never be my case and even if I got myself ever kidnapped I'm sure they are gonna leave me back to same spot with bleeding ears.
Also I have over protective dad, just like ever Indian papa who would not sleep if I ever told him about going solo, so I lied only my mom knew I was going for my first ever solo trip.
I spend lot of time to make itinerary and read lot of blogs and posts. Before I started this trip I was scared, nervous but still decided to go for it.
I am gonna write 4 Blogs
Blog 1 - Amman
Blog2- wadi rum
Blog3- petra
Blog4- dead sea
Also suggesting people going to Jordon buy Jordan pass its much cheaper and convenient and doesn't lget my price and had to do the same throughout the trip.
I arrived in Amman and booked an Uber which was 17jd and normal cabs were charging 25jd. I was happy about my decision only for few minutes when just before few minutes of arrival they cancelled my ride. I literally had sad face and wanted to punch those drivers. I waited for 2 long hours and found that Uber is not allowed for pick and drop at airport. Somehow I found a taxi and gave my best to get my price. I never tried so hard to pass in my CA entrance as much I did to get my price and had to do same through out the trip.
I reached my Airbnb place and was welcome by Leen and her cat Nooni, who I was sure going to kidnap in my backpack because he was such a sweetheart. I freshened up and soon left to live that solo traveler moment I've been waiting for.
I took a local cab which costed 5jD and he dropped me at Amman citadel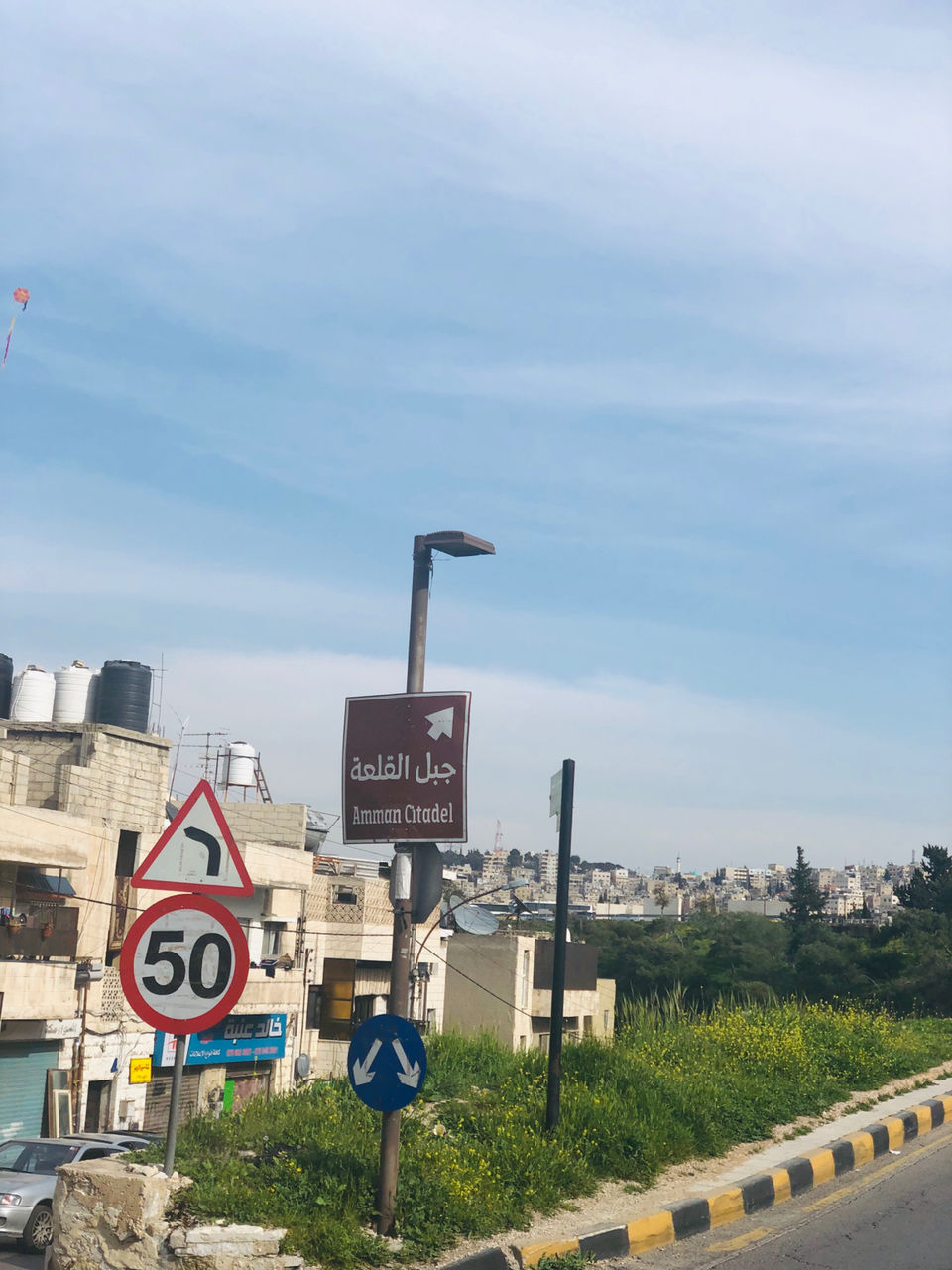 So you enter and show your Jordan pass or buy yourself a ticket and start to explore. Moment your enter on your right is all the Roman ruin, Hercules temple and on your left will be a restaurant and also a way on the other side where you can see a panoramic view of the Roman amphitheate. Have a seat, enjoy the view and breathe in some fresh air.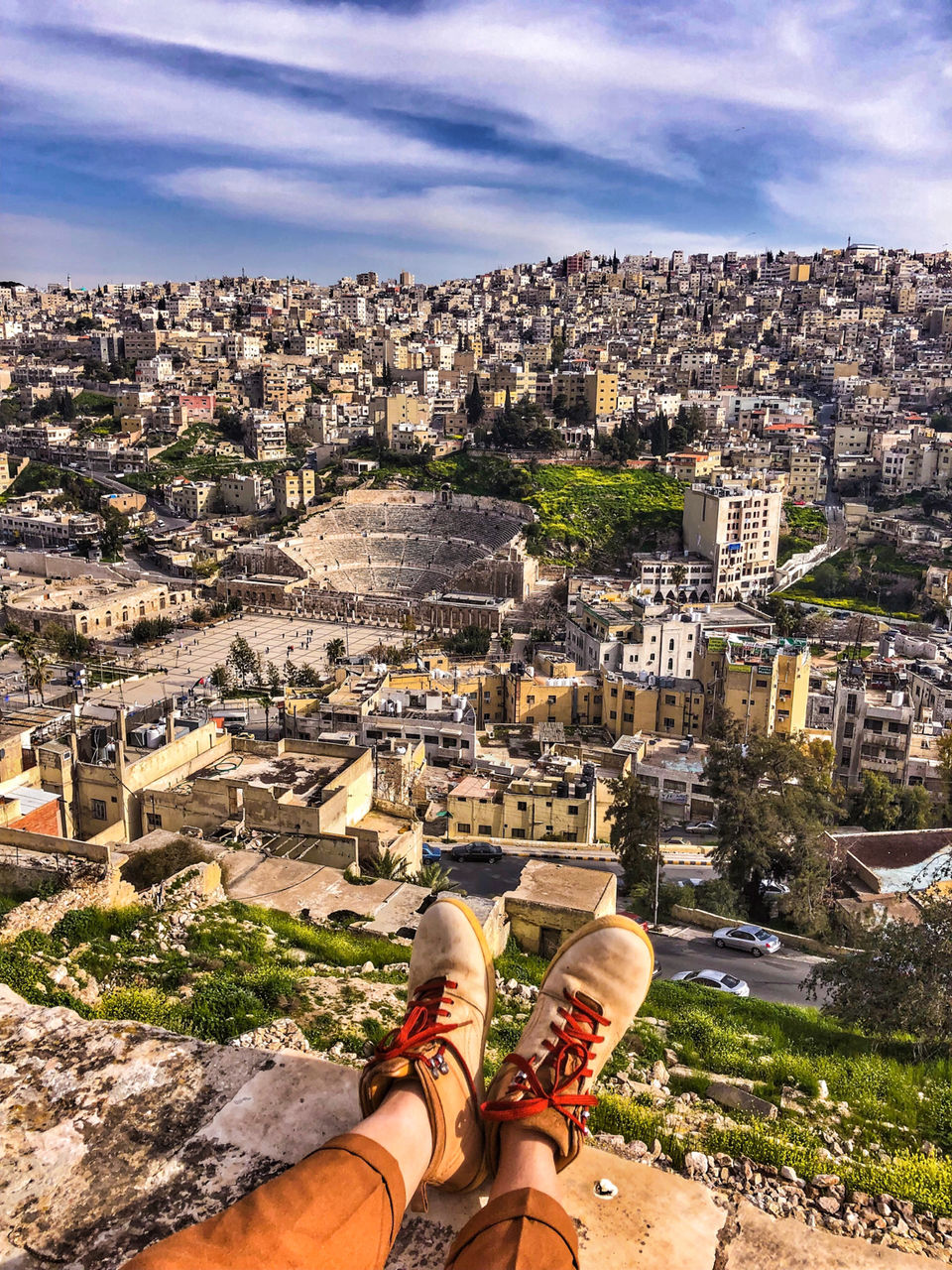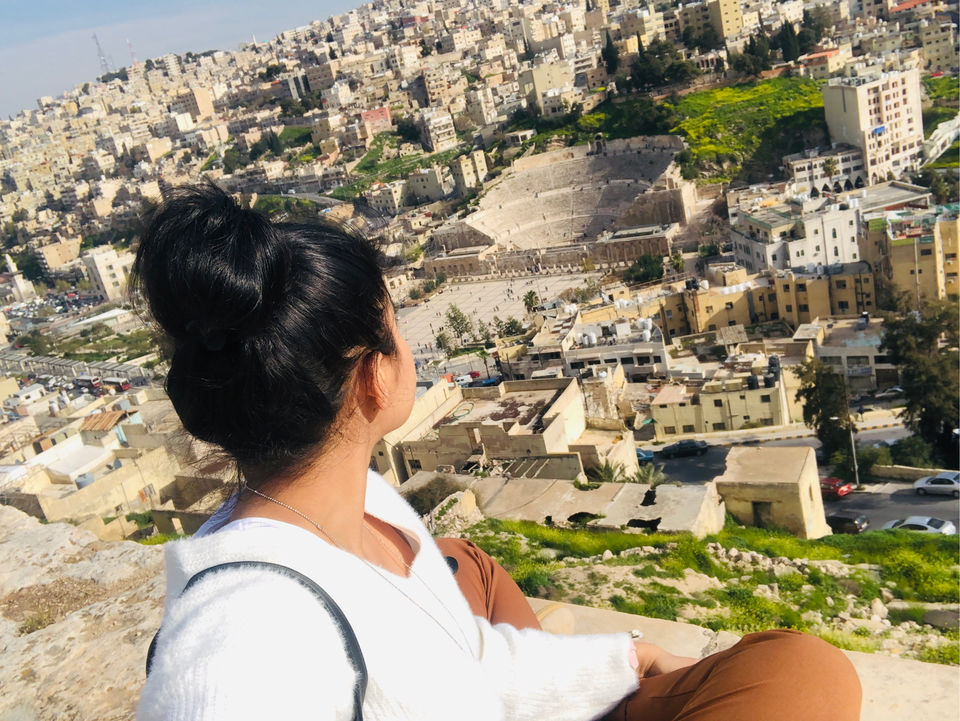 I didn't have much time because it was already late so I decided to head on the other side.
As you start walking towards the hill you will see Temple of Hercules and I bet you will be amazed to see that beauty, tall and magnificent. Built at the time when there was no technology.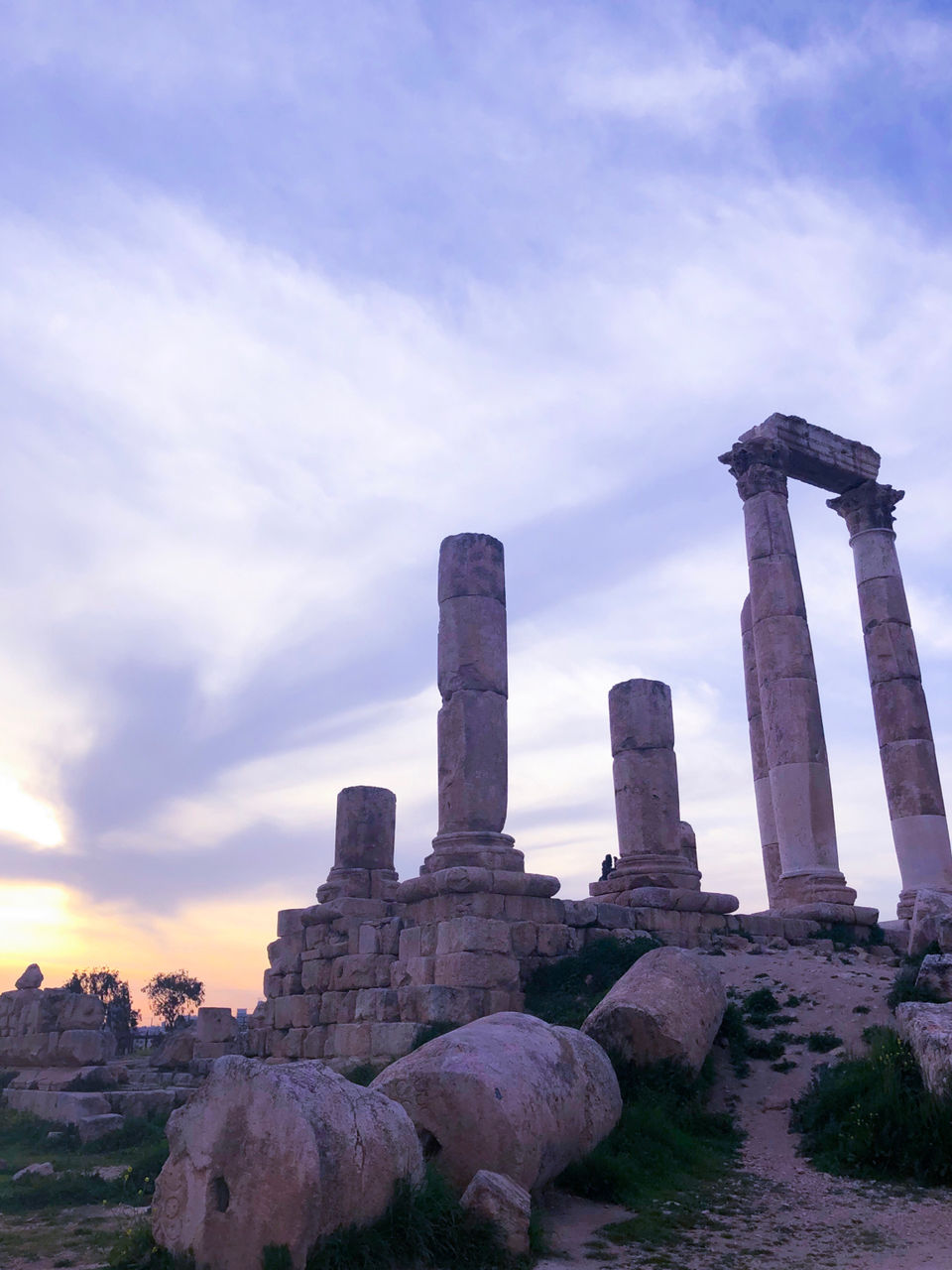 As you keep on walking straight you will reach The Byzantine Church build in 6th century. Though there are only ruins left of this church now.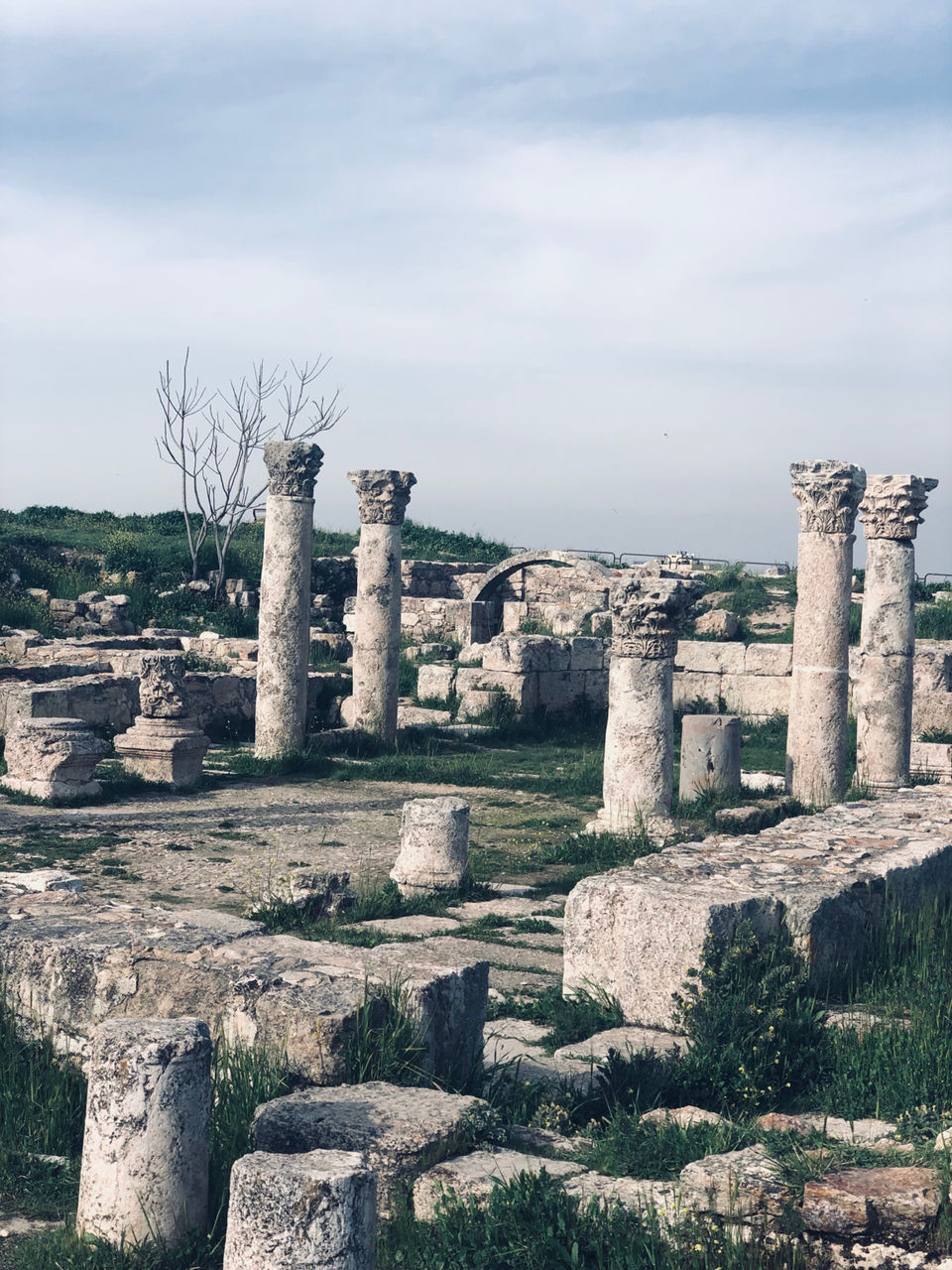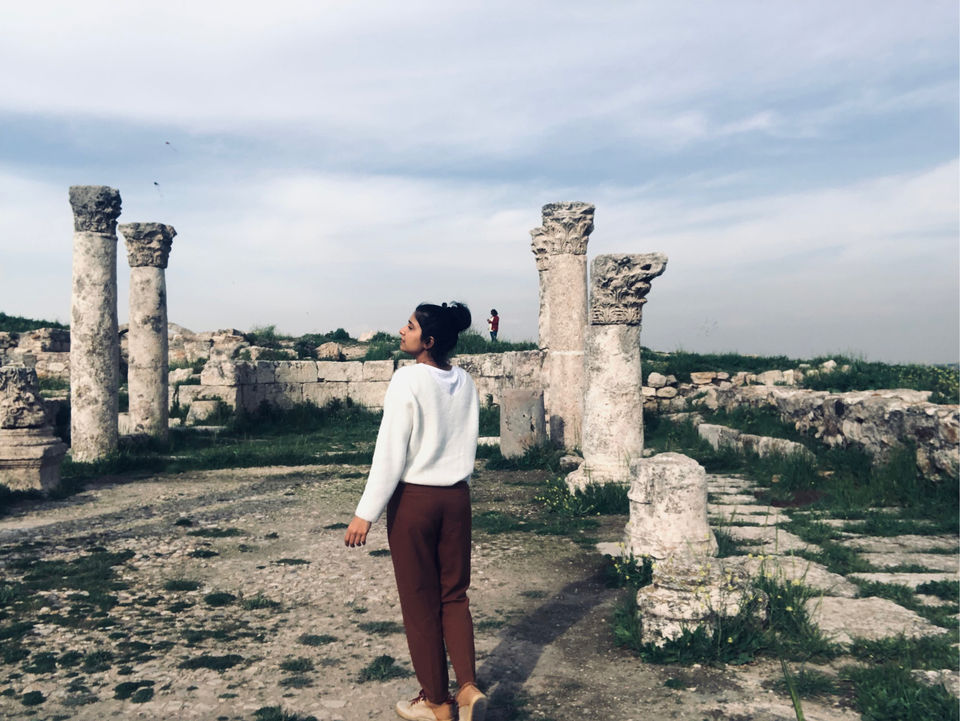 This 6th century church has a basilicaI plan that consists of a central nave and two side aisles. The semi-circular apse in the eastern end of the building is separated from the church by a chancel screen. Corinthian capitals decorated with acanthus leaves were taken from the Temple of Hercules for use in the basilica, and the aisles are paved with flagstones.
The nave has a mosaic floor, a common feature in the Byzantine period; it is now covered over for protection.
You will find lot of kids flying kites or just playing around.
Further, when you keep on walking you will reach Monumental gateway/Entrance hall which was a formal entrance to Umayyad palace!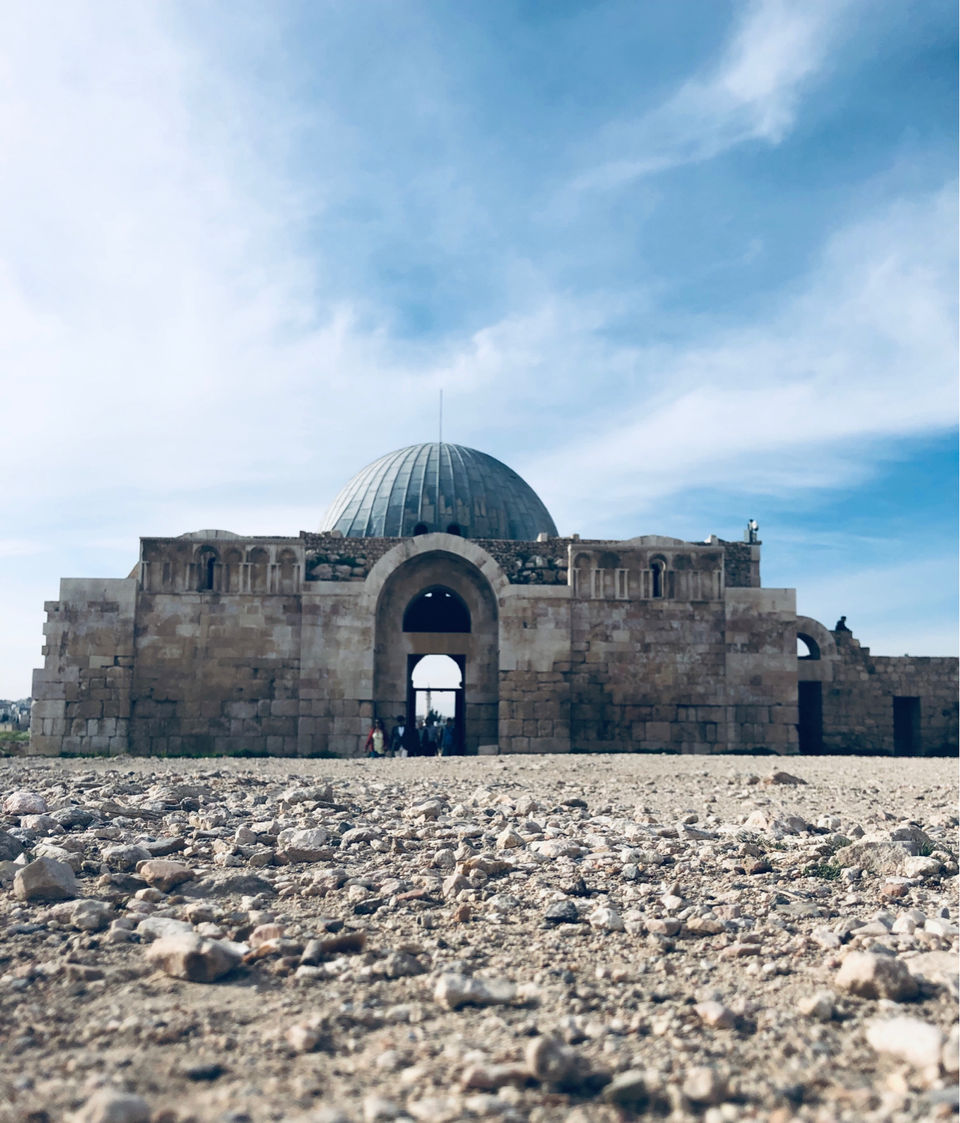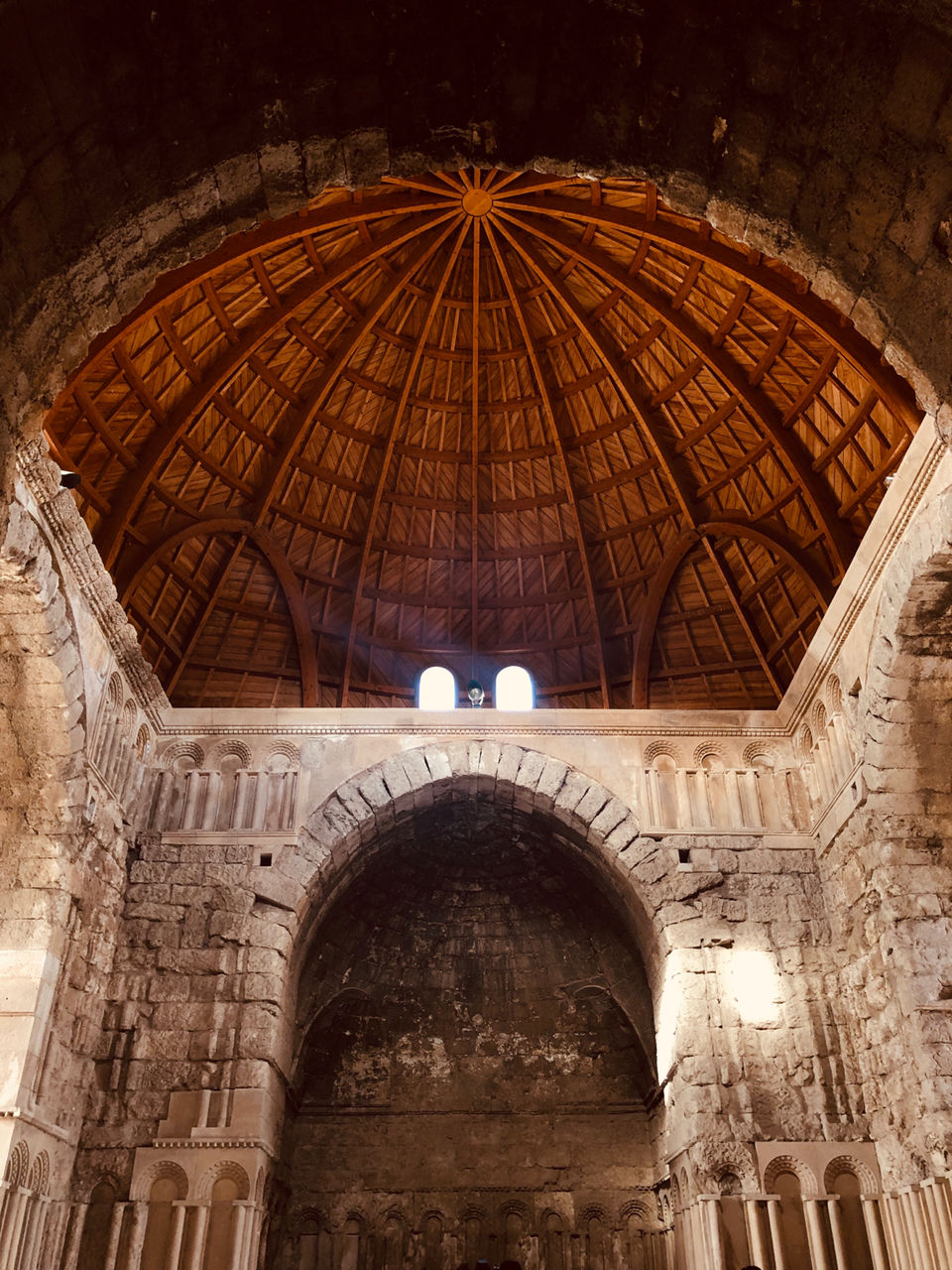 As you walk in you will see a beautiful dome and an open way just the opposite of you.
When I went inside I saw some kids dancing and singing, so I joined them too!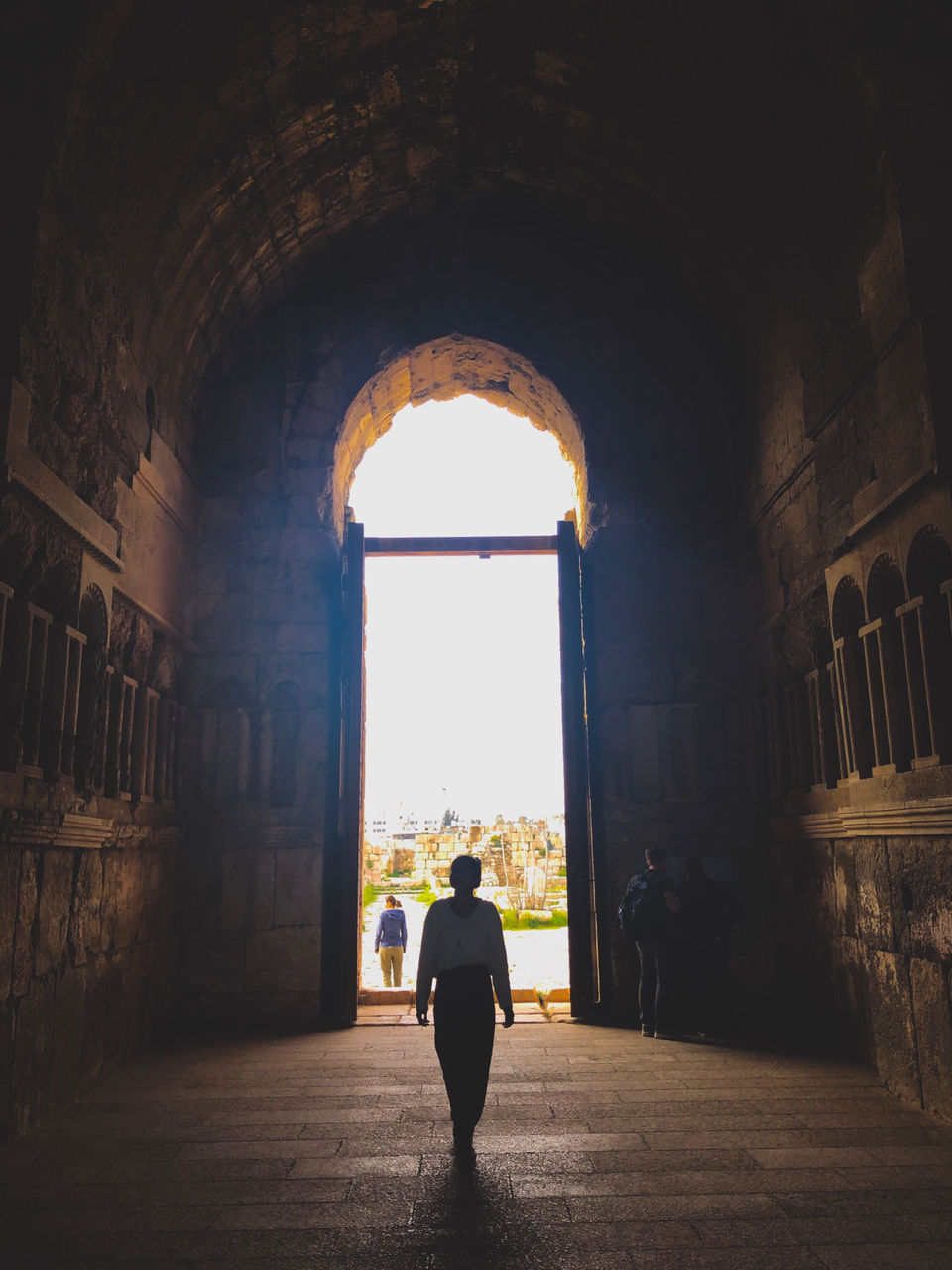 I kept walking and reached the dead-end point which had a view of Amman. There was an old man clicking pictures, so I decided to sit there for few minutes.
I said hello " to him and
he replied, "hello there, are you from India?"
I said yes and asked where he was from.Well to cut the conversation short, he was from Finland, only reason did not visit India was because food is too spicy. The moment he said that I started laughing but I'm sure he loves India as he knew a lot about places and culture. I gave him some none spicy food options and then he said goodbye.
I sat at the edge of the wall but carefully and all I had was happy thoughts, gratitude and finally going for my first ever solo trip. Not for a moment, I felt alone and now I knew what every solo traveler meant enjoying our own company.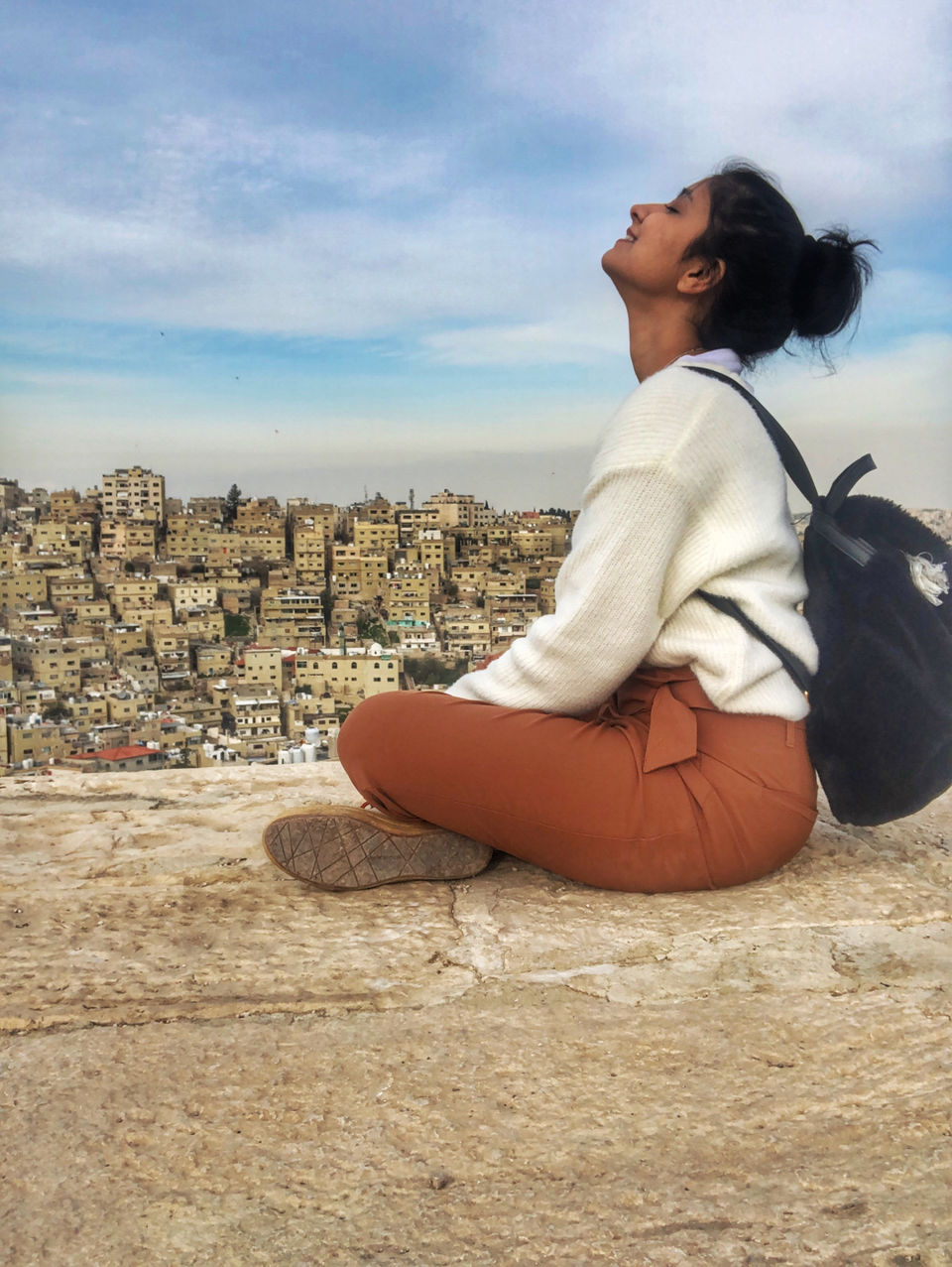 Also, I played with those kids there and did some kite flying and walked towards Jordon Museum.
Try to talk to locals they really appreciate that though not all can speak fluent English you will still have a lovely conversation with them. I walked back to Hercules temple from the other side.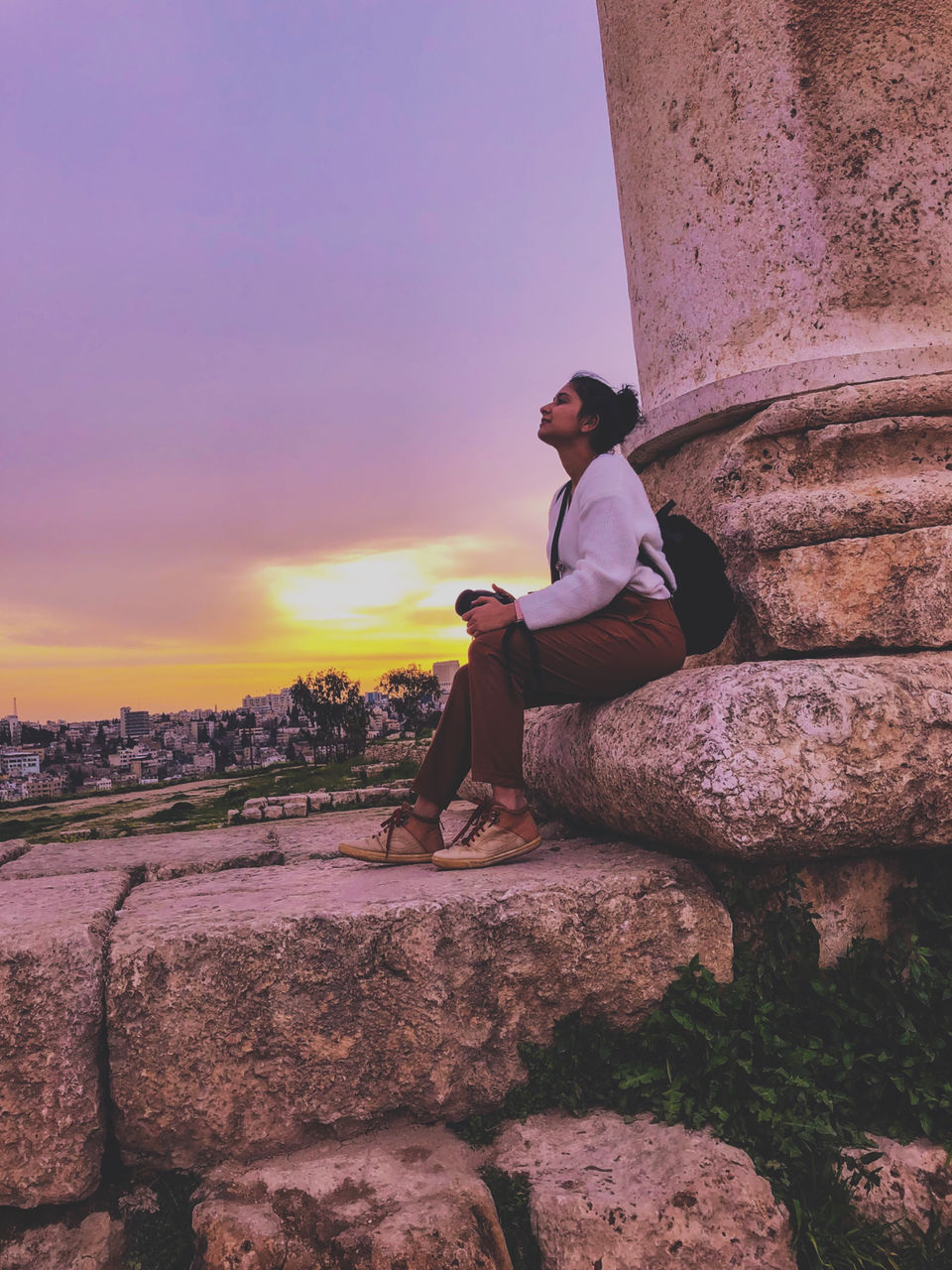 I again met a few kids while walking down, who asked me to click there pictures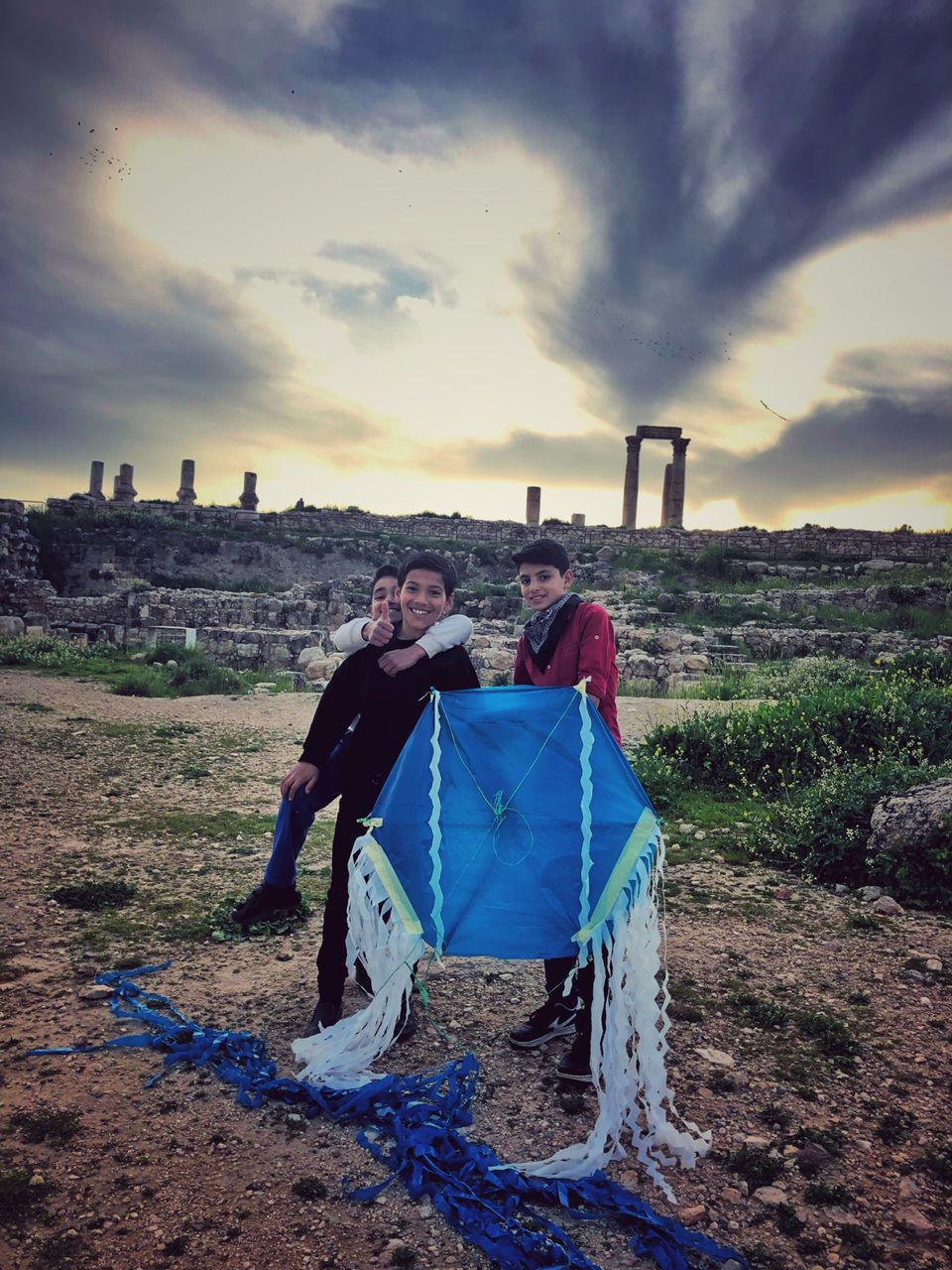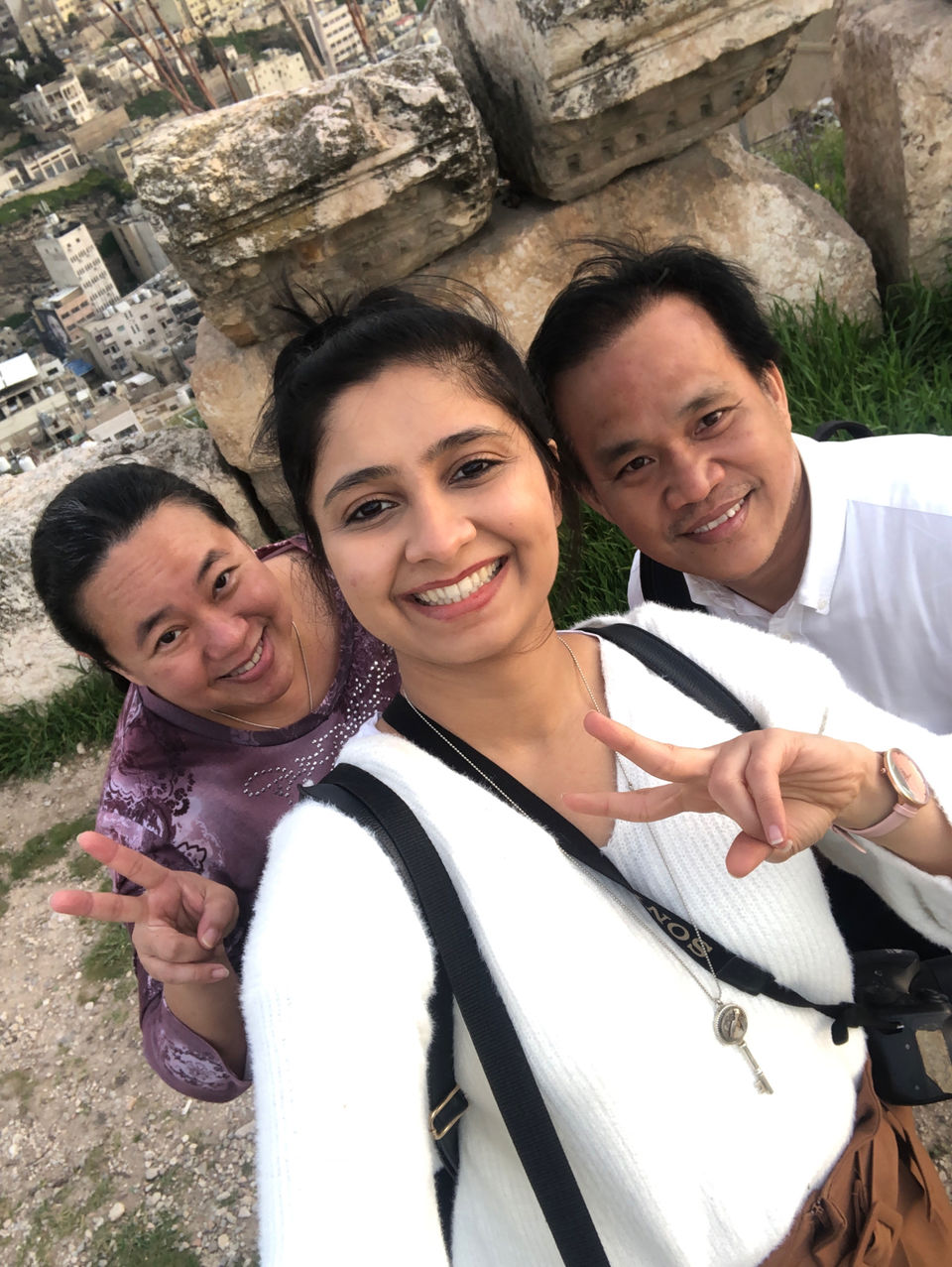 Met a couple who travel the world together and asked me to join them as I was traveling alone but I decided to stay a little longer and somehow manage to convince security guards so they allowed me to stay in till sunset. I had to make lot of sad faces to convince them.
Even after closing time you will find locals, kids playing or hanging around. Some might invite you for tea but be careful for me I didn't feel safe so I didn't join them.
I decided to walk to souq but a taxi driver approached me to take me to King Abdullah Mosque, Al Husseini Mosque and drop me at souq. He first charged me 20Jd which was too expensive for me so I said no. He dropped his prices to 4Jd, that's it Yalla lets go.
His name was Ashraf, he worked in U.S for few years and got married their but got divorced and since then he is living in Jordon and plans to stay single forever.
We reached king Abdullah mosque, I had to pay 2jd as they give their own attire for women and also a Jordanian tea once you come back from the mosque.
This blue-domed landmark can house up to 7000 worshippers, with a further 3000 in the courtyard. There is also a small women's section for 500 worshippers and a much smaller royal enclosure. The cavernous, octagonal prayer hall is capped by a magnificent blue dome 35m in diameter, decorated with Quranic inscriptions.
This is the only mosque in Amman that openly welcomes non-Muslim visitors.
Also just opposite the mosque are two churches Roman church and a Catholic church. I reached at prayer time and could hear a prayer from mosque and bells from churches at the same time. What a perfect timing!
There are lot of souvenir stores, silver, antique shops inside. Also they sell dead sea skin products which are over priced.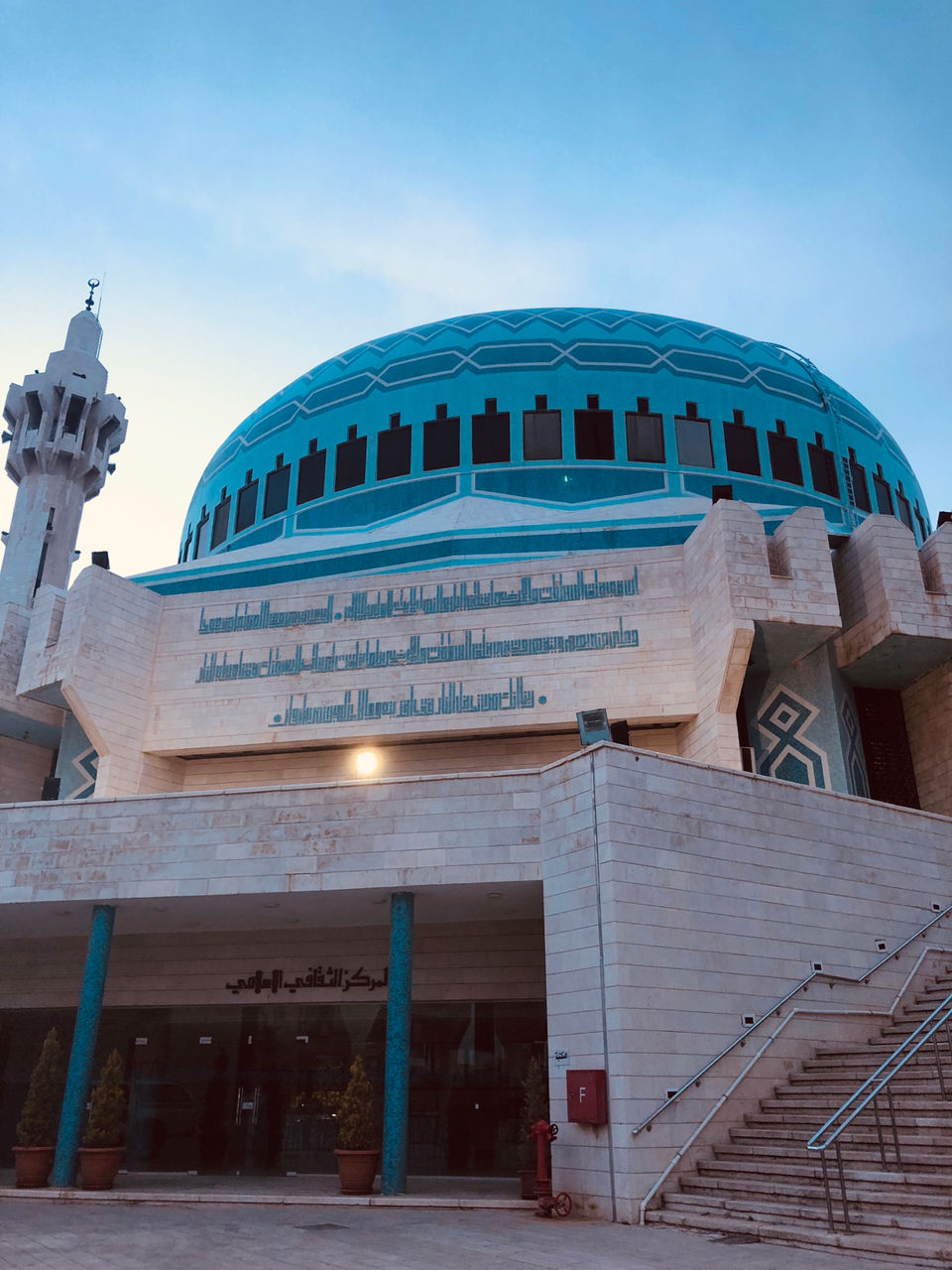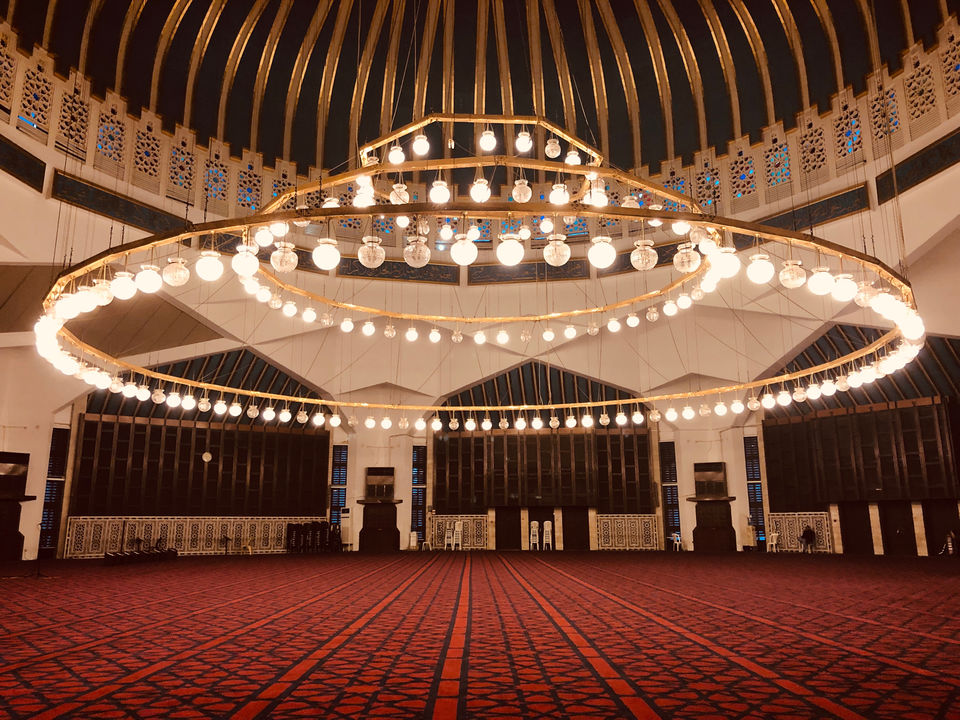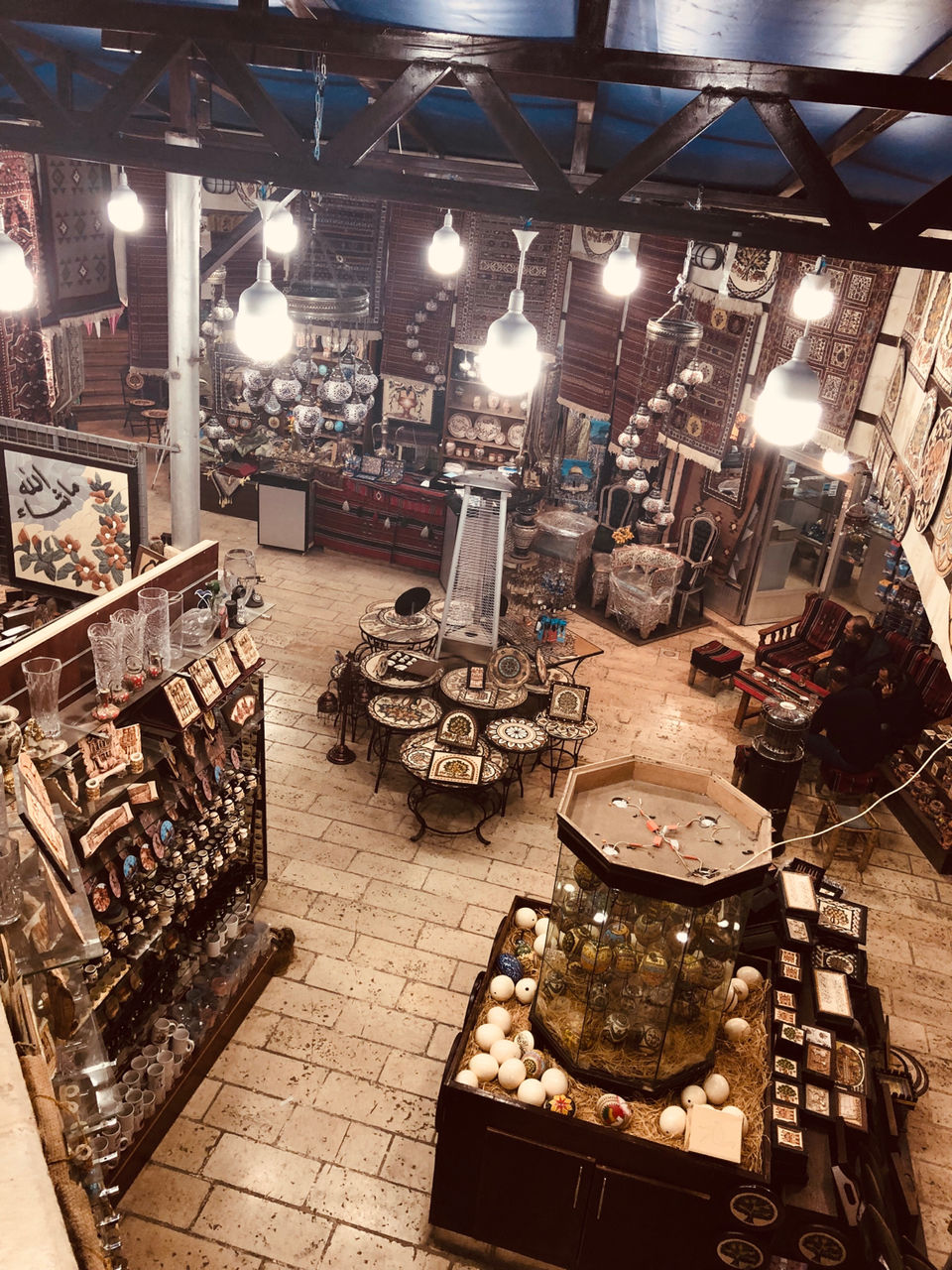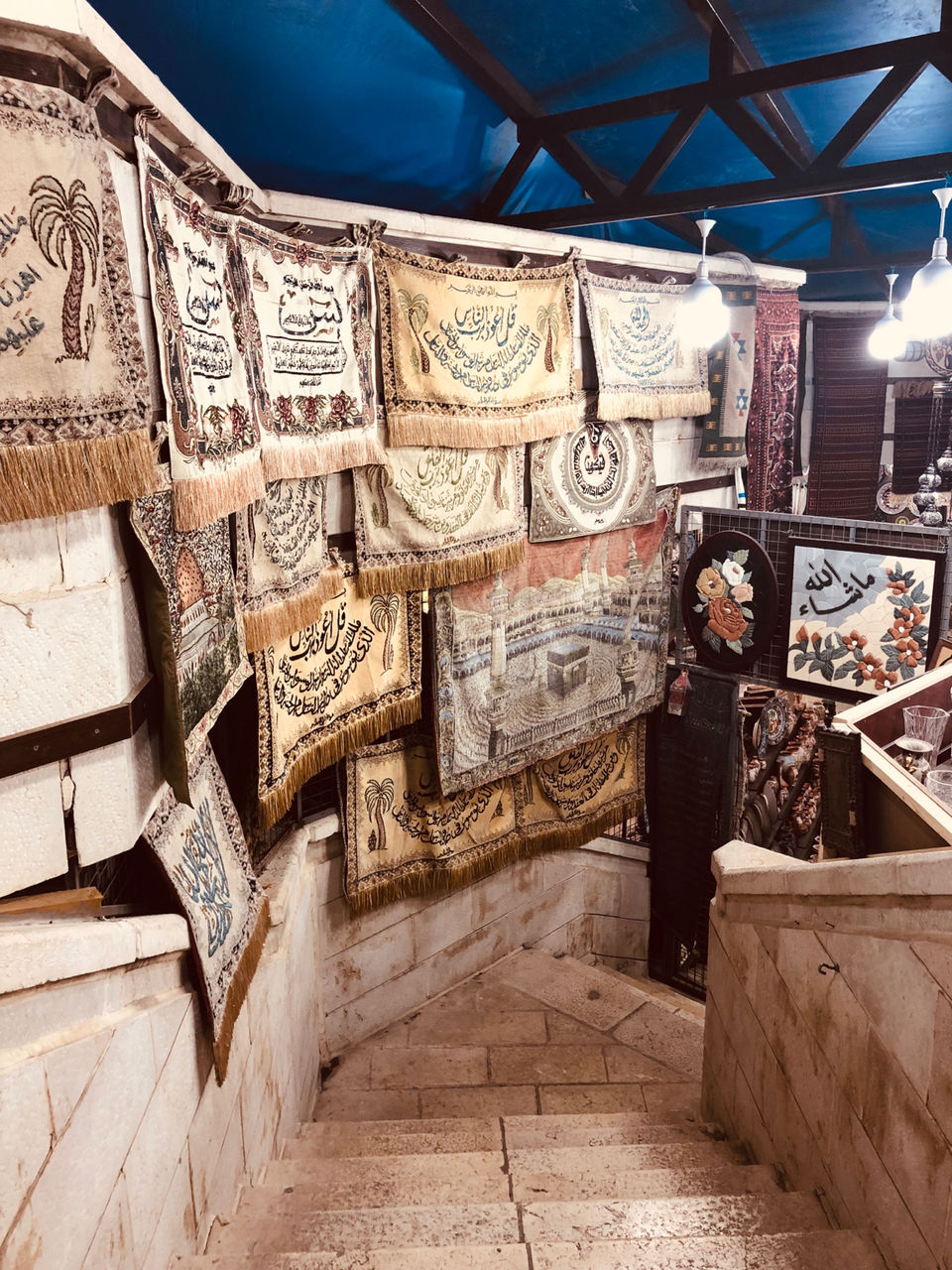 We drove back to old downtown where Al Husseini mosque is situated.
One of the oldest mosques in Amman, rebuilt by King Abdullah I in 1932 on the site of the one built by the second Caliph, Omar Bin Al-Khattab around 640 AD. Tourists may be able to enter if dressed appropriately.
Then
my favorite stop restaurants, falafel and a lot of Turkish coffee.
I returned back to my place and was greeted by sweetheart Nooni with whom I shared my bed.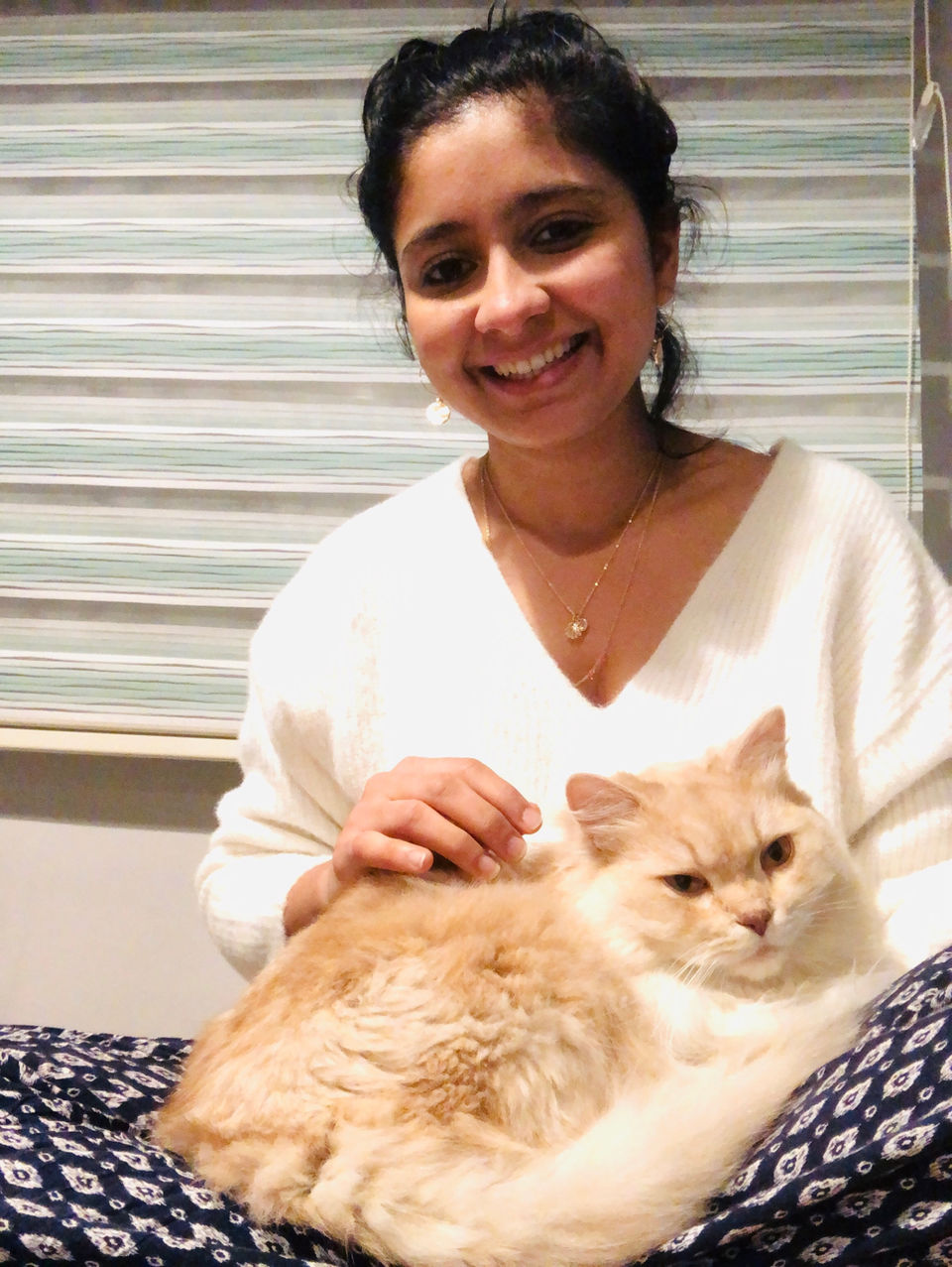 That's how my day 1 was. You will have to be really careful about prices as they overcharge a lot to tourists and are so sweet at talking that you will end up paying more. I felt very safe in Jordon, so nothing to worry.
Day 2 -Jerash ( first free ride)
I woke at 6 am but it was raining heavily so decided to extend my nap and also warm Nooni was still sleeping on my chest.
By noon rains stopped and I decided to take a local cab. I walked towards the main road and got a taxi. A few minutes later I realized he didn't turn on the meter, so I requested him. He refused to turn on the meter and said 25Jd. I was blown away even by Uber it was 12Jd. I refused to pay and insisted to turn on the meter. He said he will take me to Jerash only if I pay 25jd and till then we reached a highway on a hill where I would never find another taxi.
I understood he was taking advantage of the place but he didn't know who I was. I asked him to stop the car, I said "you can get lost" he was in shock and he told me that I would never find a taxi or bus here. I told him I don't care and would prefer walking for 7hrs then pay 25Jd to a greedy guy like him. At that time it wasn't about 25jd but how mean he was and taking advantage of my situation and that really made me angry. Also, I didn't pay him for the distance covered.
I walked for 10mins and a car stopped by me. He was an old guy and asked me "lady, do need some help, you lost?"
I told him that I'm going Jerash and if could do me a favor and drop me at a taxi or bus stop.
According to my parents, never talk to strangers and never, never get into a strangers car. I was breaking all the rules.
So this stranger was from Iran and was going to the airport. A few minutes later he saw the van and asked him to stop. Next moment the guy in the van asked me for id. He could not speak English so the Iranian guy did all the translations for me.
When I opened the door to get in, there was a lady in hijab and a small girl. Almost for 15mins we didn't talk and then lady asked me where I was from. I told her a few things about me and found that she completed university where she learned English but her husband doesn't know to speak English. She has two kids and she is very happy and in love with her husband. She shared some fruits with me on the way.
They dropped me exact at the entrance gate of Jerash. I asked them how much do I need to pay. They refused even though I insisted a lot and instead asked me to take care of myself and visit Jordon again.I waved goodbye and started walking towards the gate.
I scanned my entry pass and entered in through the triumphal arch with three grand openings also know as Hadrian Arch
Adjacent to this is a hippodrome, constructed in the 2nd century for horse and chariot races, with a seating capacity of 15,000.
Inside the ancient city from the south overlooks vast Oval plaza with a seating capacity of more the 3000 spectators which is still in use.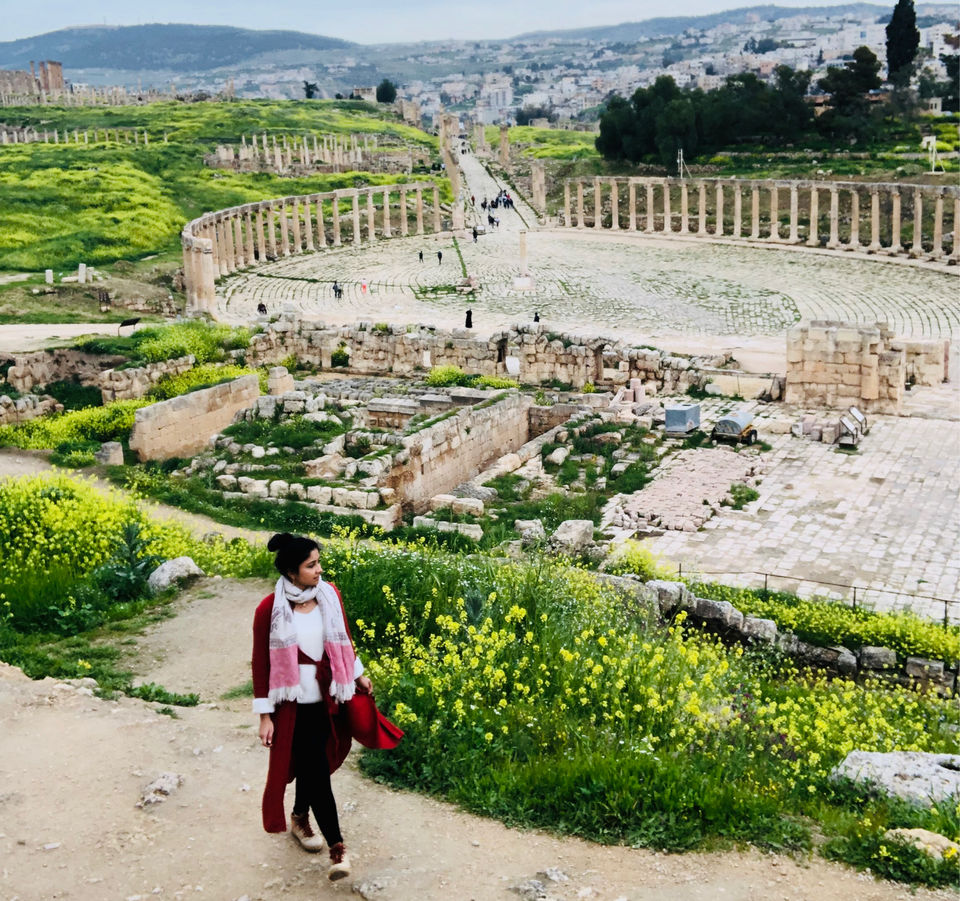 Temple of Artemis
One of the most remarkable ruins left of the ancient city of Jerash. It was built on one of the highest points and dominated the whole city.
South theater
You enter the South Theatre through a wooden door between the arches. Built between AD 81 and 96 and once housing 5000 spectators in its two storeys of seating (only one tier of which remains), the theatre is almost perfect.
It was one of the interesting places for me, where I spend most of my time almost 3hrs. Its unique acoustic feature surprised me and people coming from different countries standing there and singing their country songs and listing to them was fun.
I met this little boy named Shahid which I still doubt is a boy. His father left them and now he sells chewing gums at south theater and tries to learns languages from tourists.
He made this cute drawing for me and showed me around.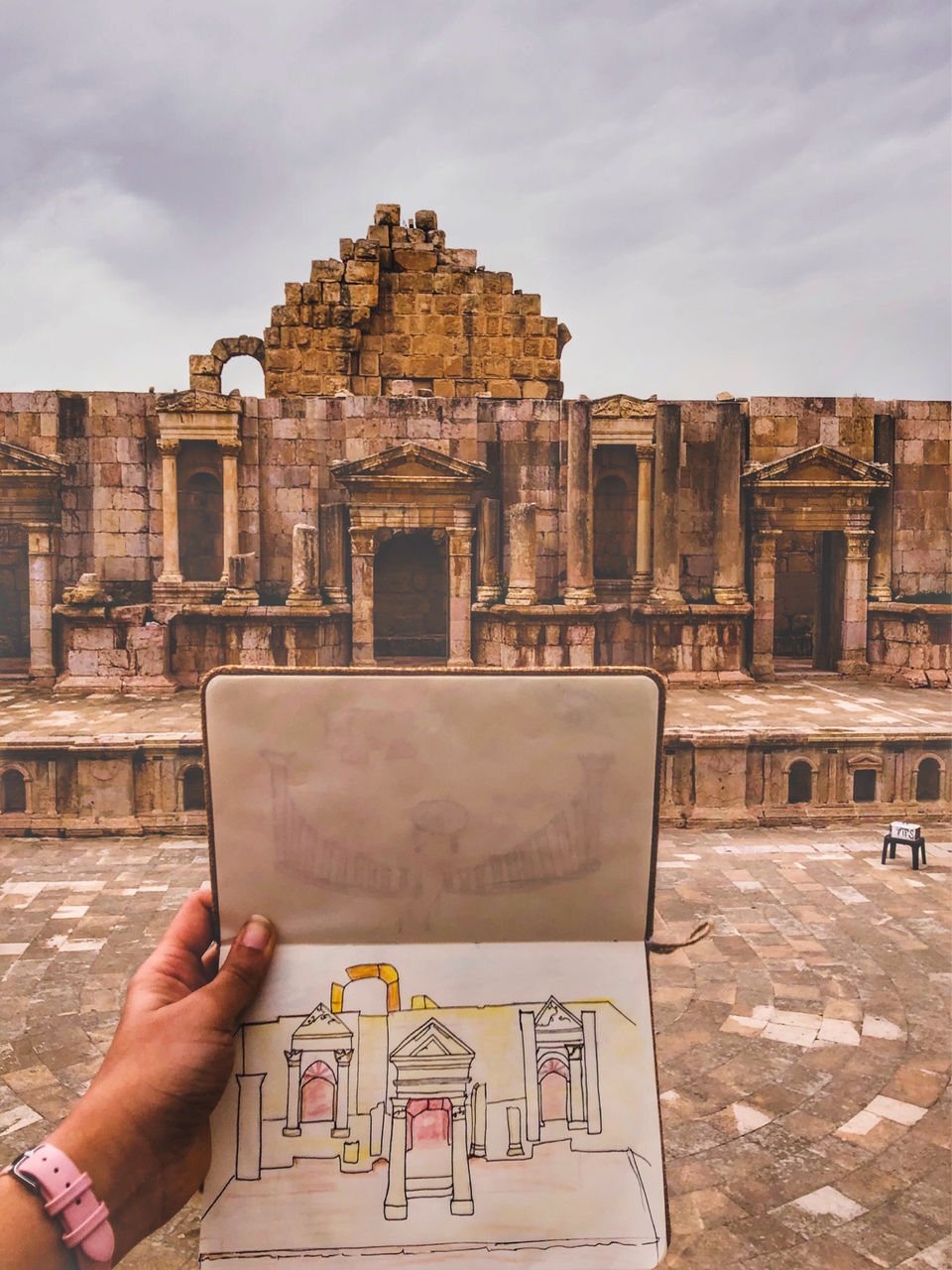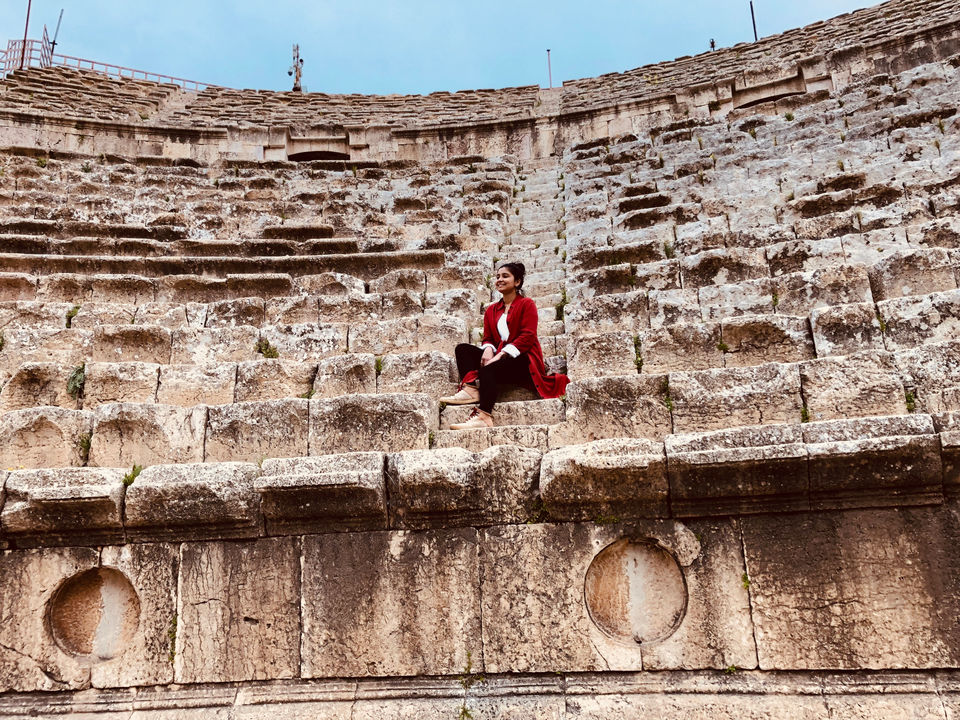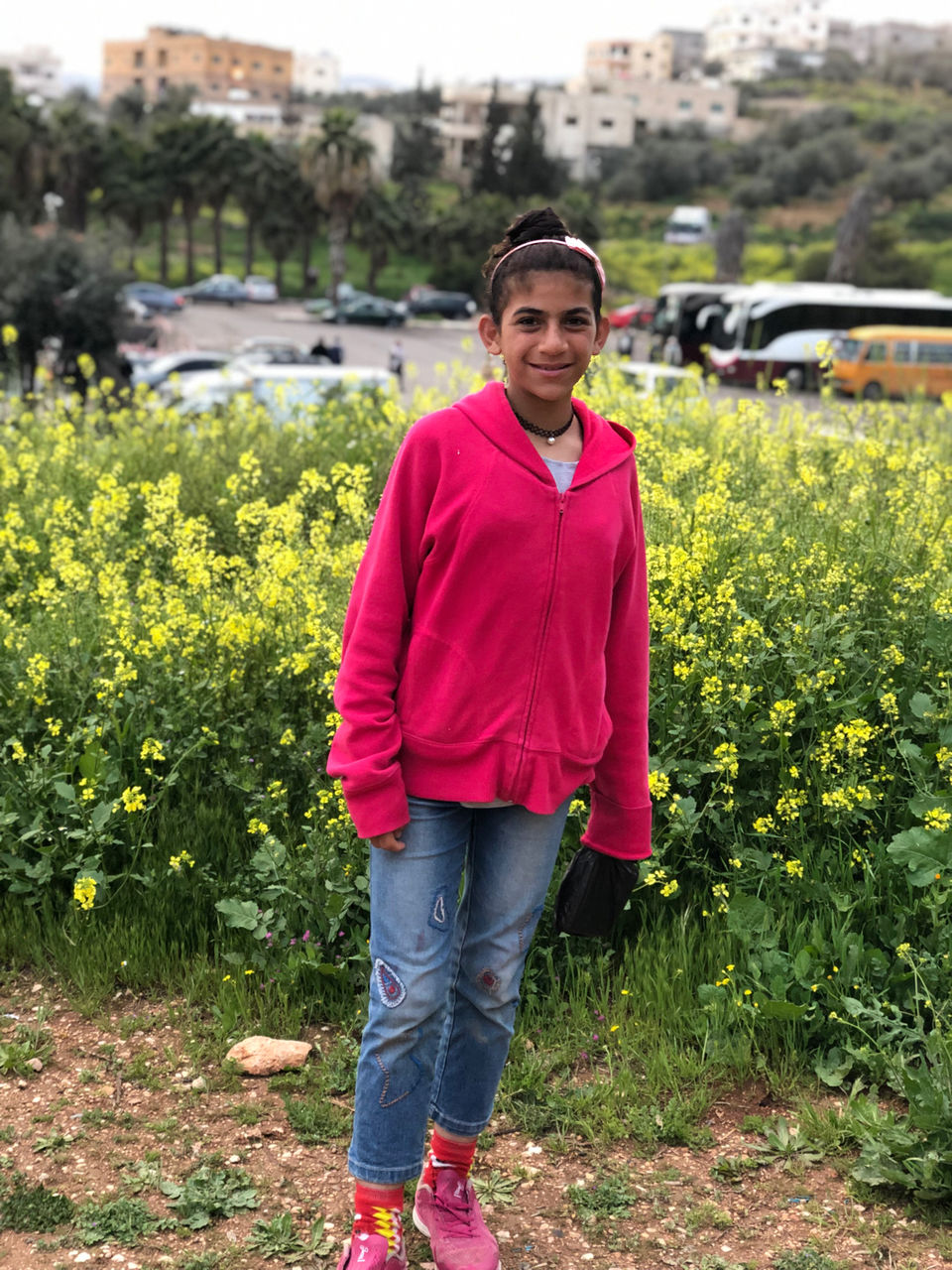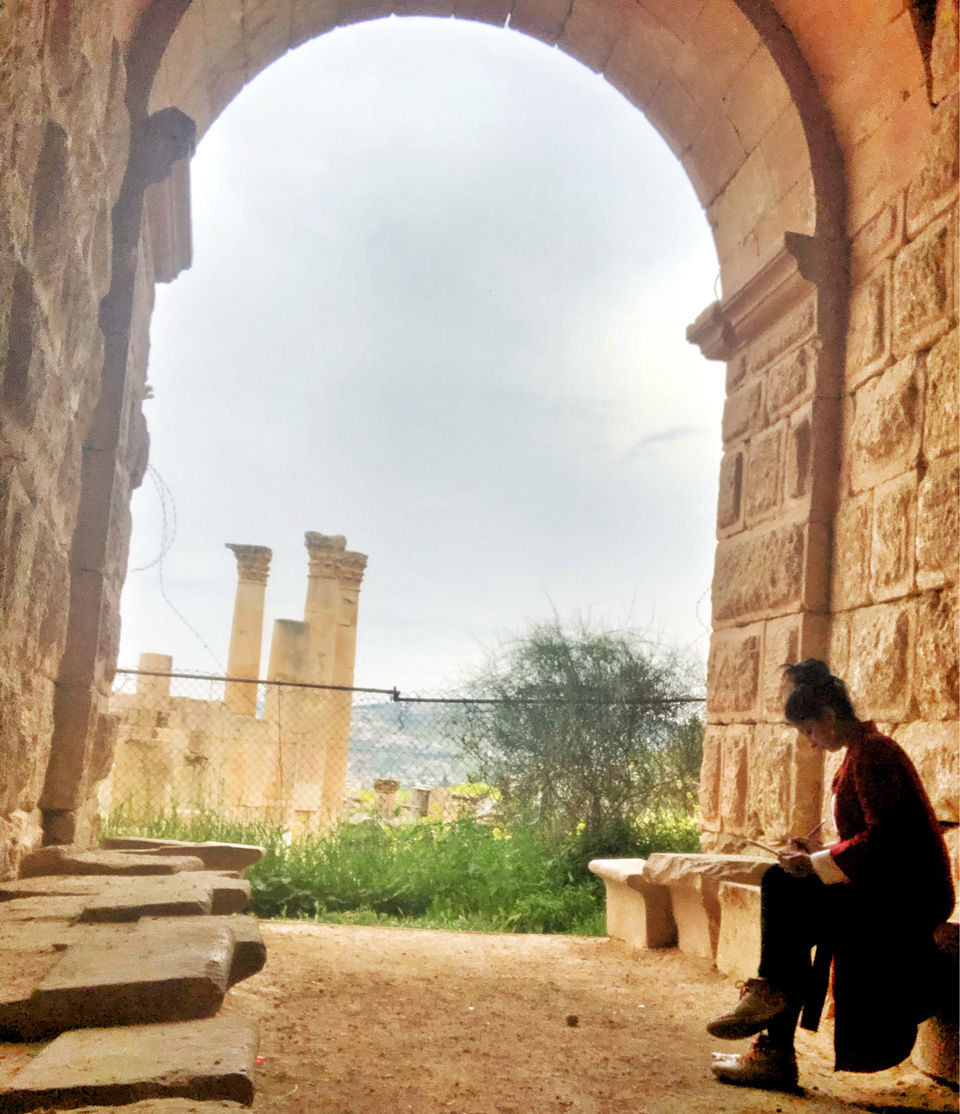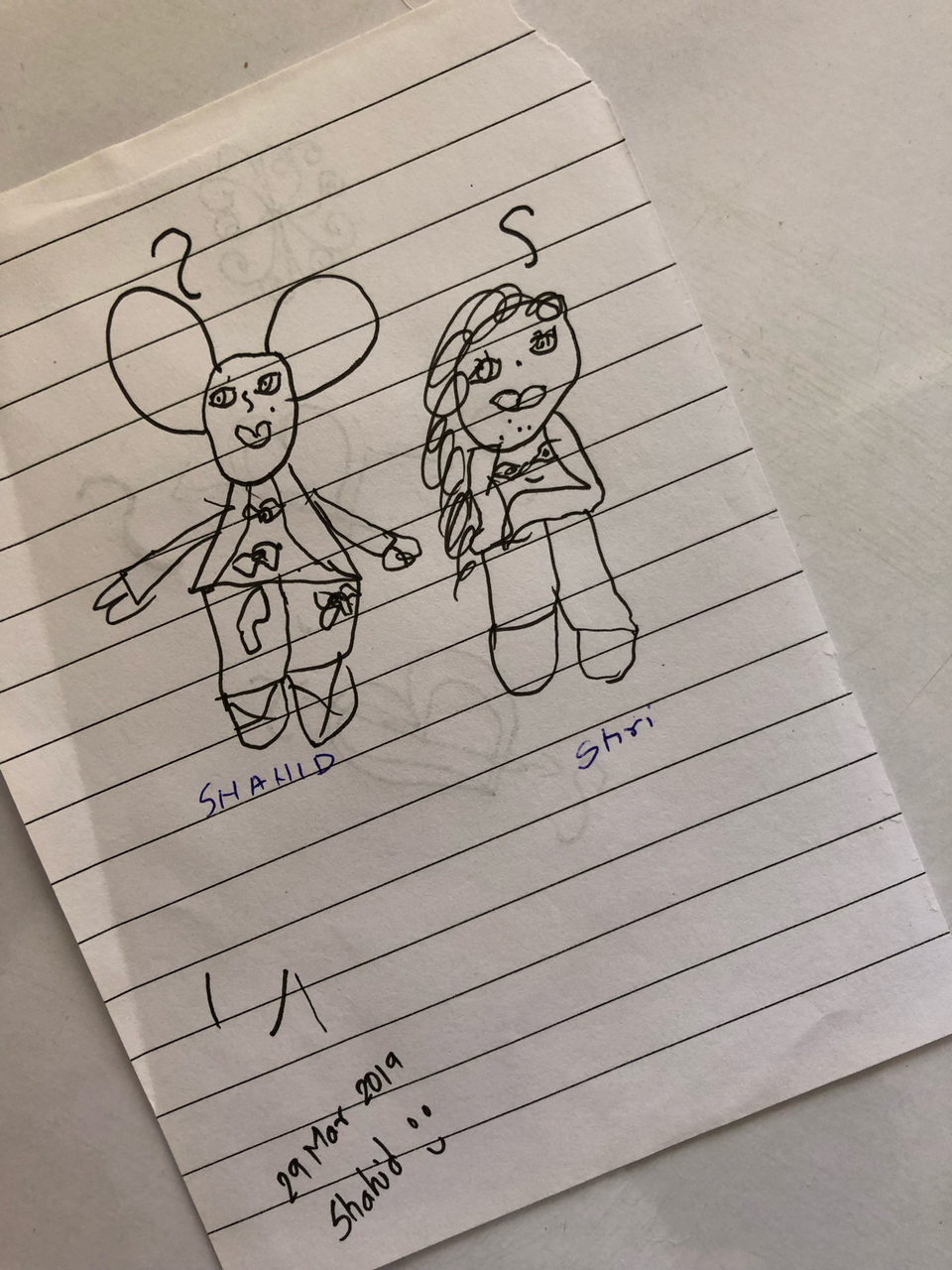 Cardo Maximus
This is one of Jerash's great highlights, and the walk along its entire 800m length from North Gate to the forum is well worth the effort
I decided to talk a long walk at this colonnaded street and enjoy the greens, sunset and weather.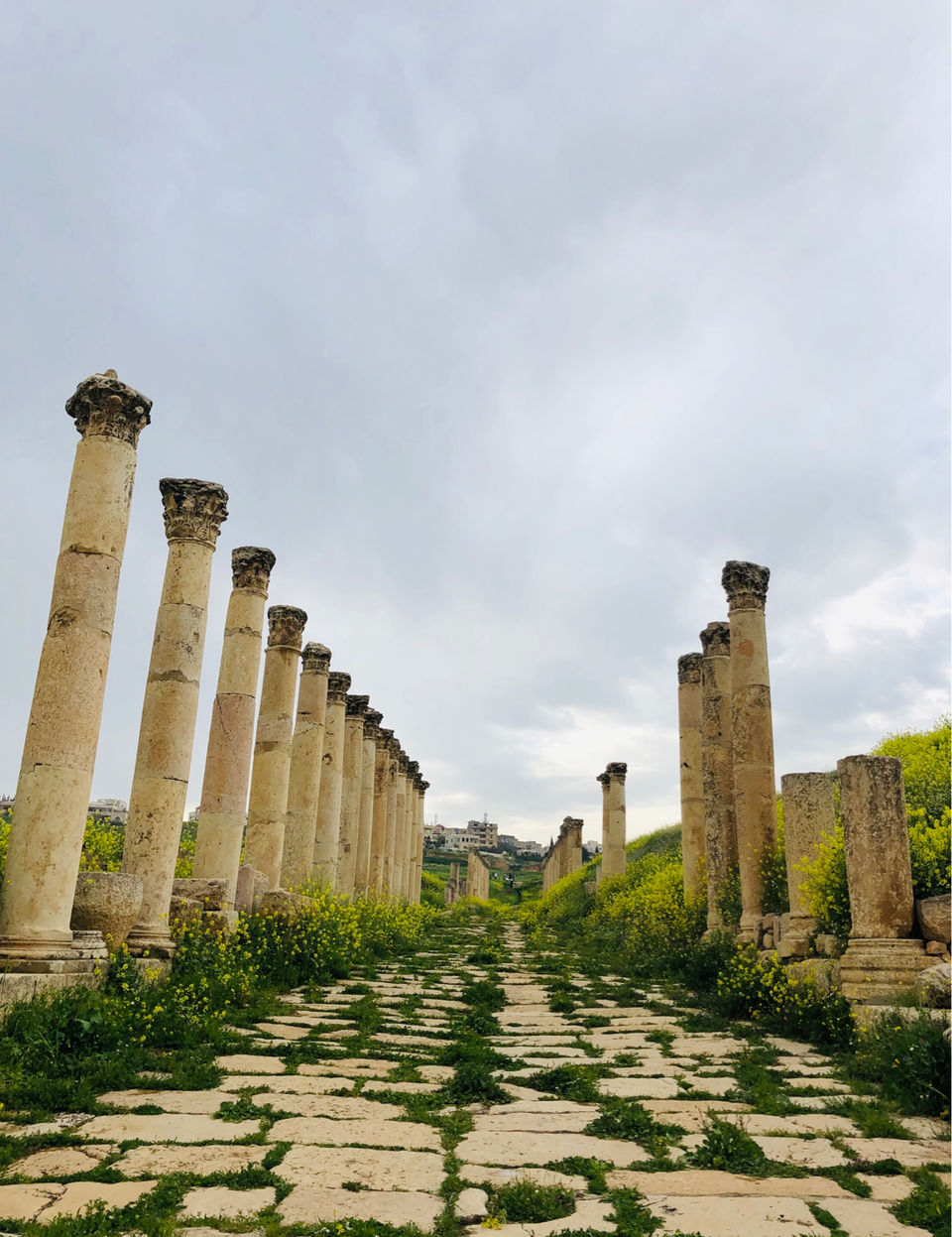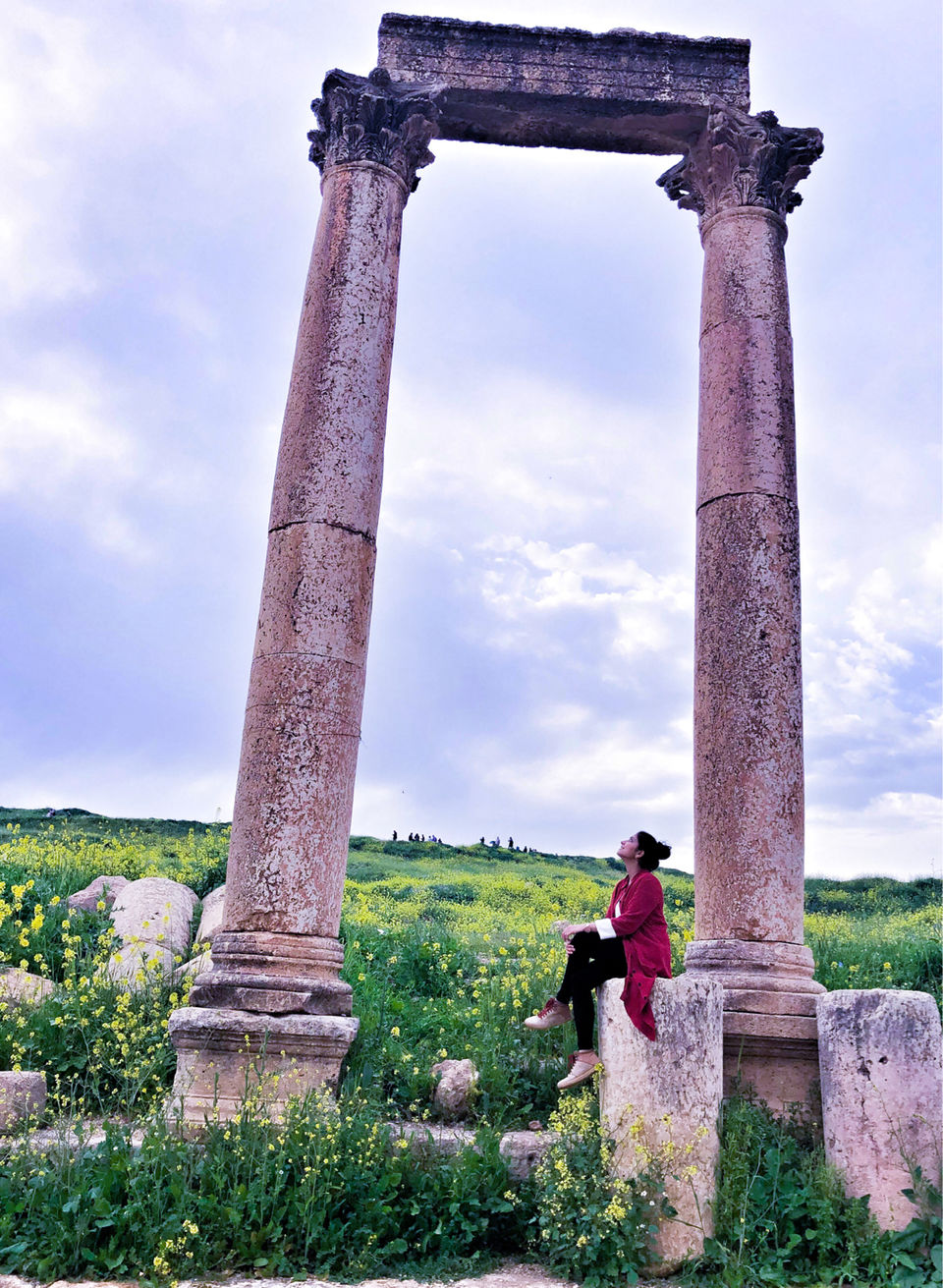 I met shahid again and invited to join me for tea. He didn't have tea but enjoyed packet of Doritos.
It was time to head back home but again taxi drivers were over charging me. I could not find bus. Shahid took me on the other side of the street where we found a sharing cab which dropped me home in 5Jd which was 30kms away.
Day-3
I am such a smart person who forgot to check the dates of my stay while doing my bookings instead of 31st, I added 30th as my check out and didn't bother to see my notifications from Airbnb. So just for single night I stayed at another place as leen's place was already booked. I didn't want to say goodbye so soon to Nooni or wished I could kidnap him and take him along with me.
Also everything happens for good. This new place was so close to downtown and Roman theater that I could actually walk there.
My new host was Huthifa, civil engineer and was kind became had my favorite hazelnut coffee packs! Also his place had view of the Citadel and sunrise.
So I checked out at 6am and moved my stuff but place was so comfy that I decided to take nap. I left around 01:00 pm, rains had also stopped and had my brunch with Turkish coffee. It was my last day in Amman and I wanted to see as much I could.
Roman Amphitheatre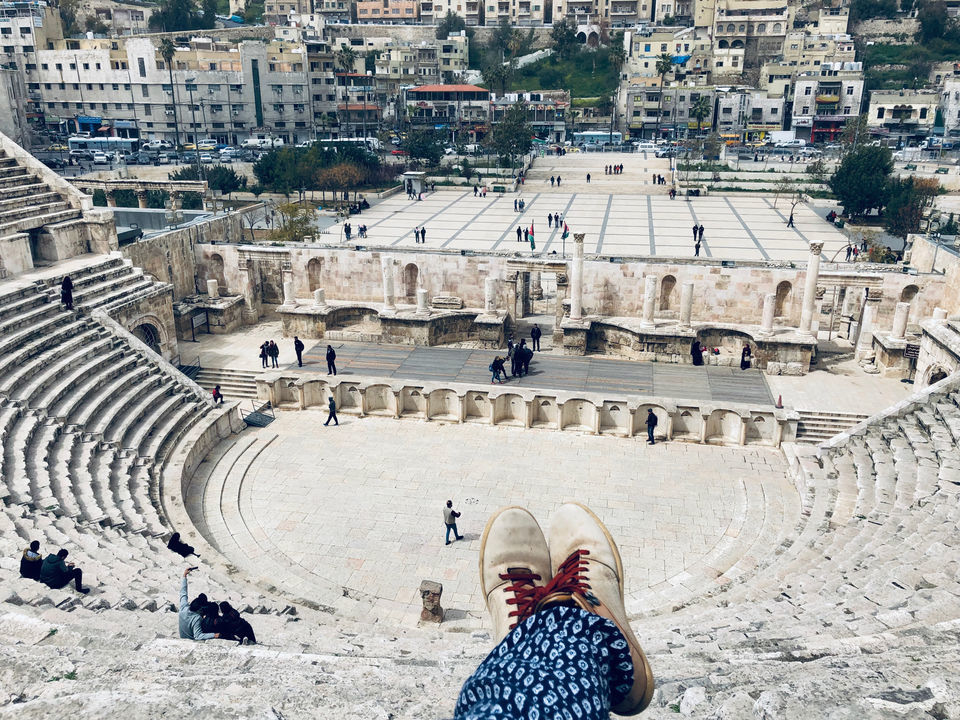 It's the highlight of Amman and famous landmark in the Jordanian capital, it dates back to the Roman period when the city was known as Philadelphia,with a seating capacity of 6000 .
Also check timings when you go there and again included in Jordan pass.
So when I reached there it was too crowded, sunny and also started to rain. So I didn't spend much time and left for Roman Nymphaeum as it was soon going to close.
Roman Nymphaeum
It was believed to be the biggest public fountain which was admired a lot by travelers and scholars during that time.
It was restored by archaeology students from University of Jordon, Petra university and Hashemite University which was funded by U.S
embassy.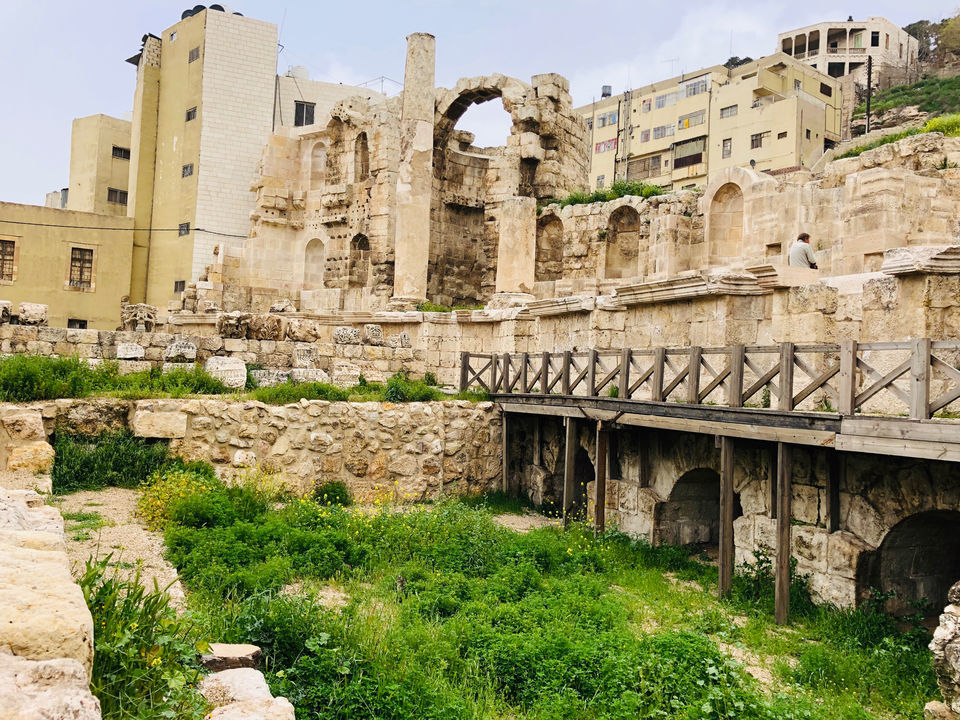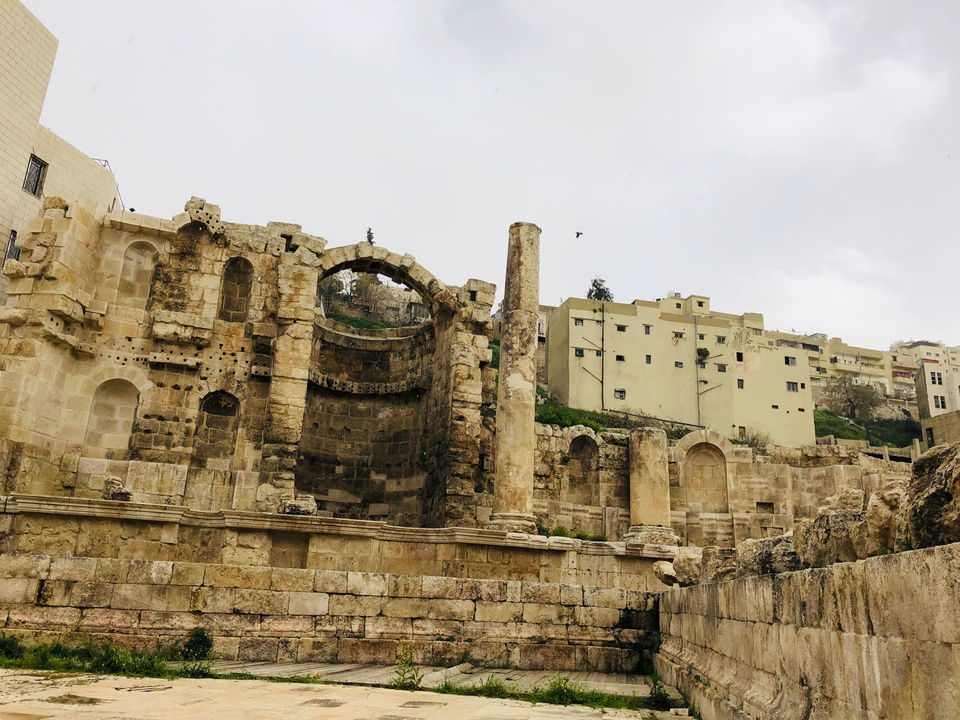 There's a lot of history about these places but unfortunately, it started to rain heavily and I had to run and save myself from getting wet.
Next, I went to Grand Al Husseini mosque, which has different entrance and room to prayer for women so I could not get what exactly it was.
You can enter only if your are wearing decent clothes.
But it was so peaceful at prayer hall and I had a small conversation with a girl which we both didn't understand. She didn't know English, I didn't know Arabic. But we're still talking with gestures.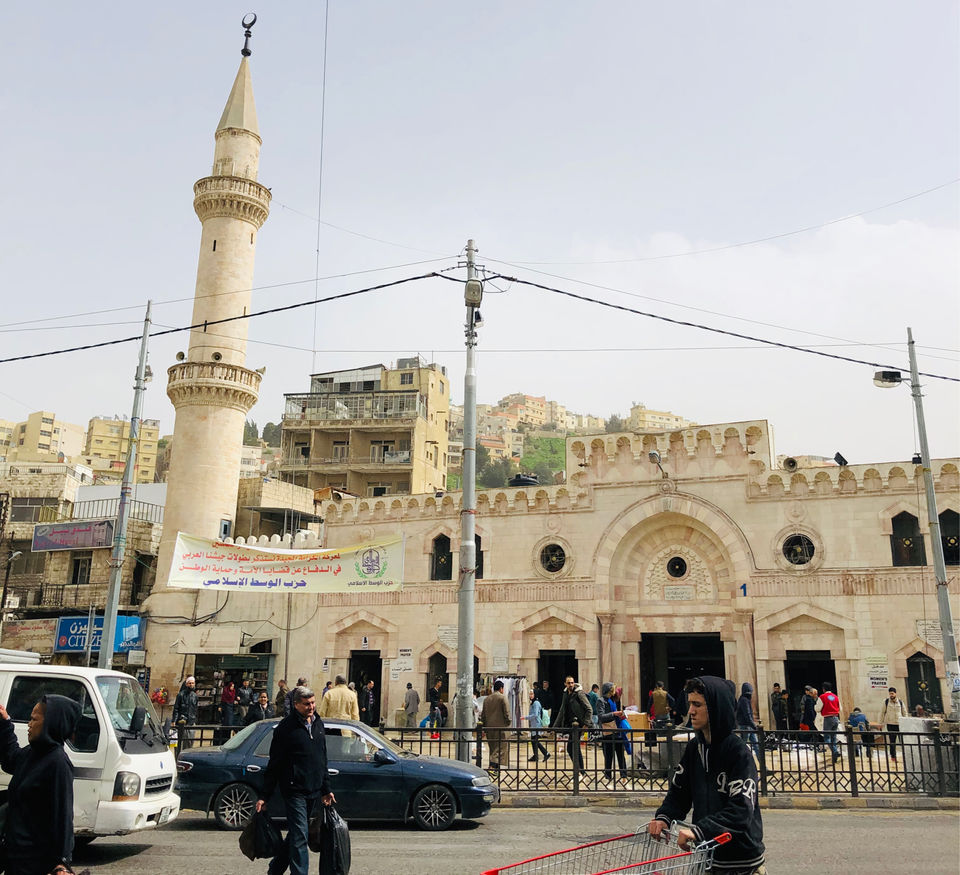 The real trouble was finding a street that had umbrellas and colored stairs which I read on the internet which said Rainbow street, which was a 20mins walk up the hill and I did it twice because I could not find it. I got so tired and found a place called Wild Jordon center also I was hungry again. I went in and saw lot of people with laptops and camera and most of them were working. But then I saw a restaurant and found myself a seat. They had very beautiful view of Amman. Prices are bit high but was worth it.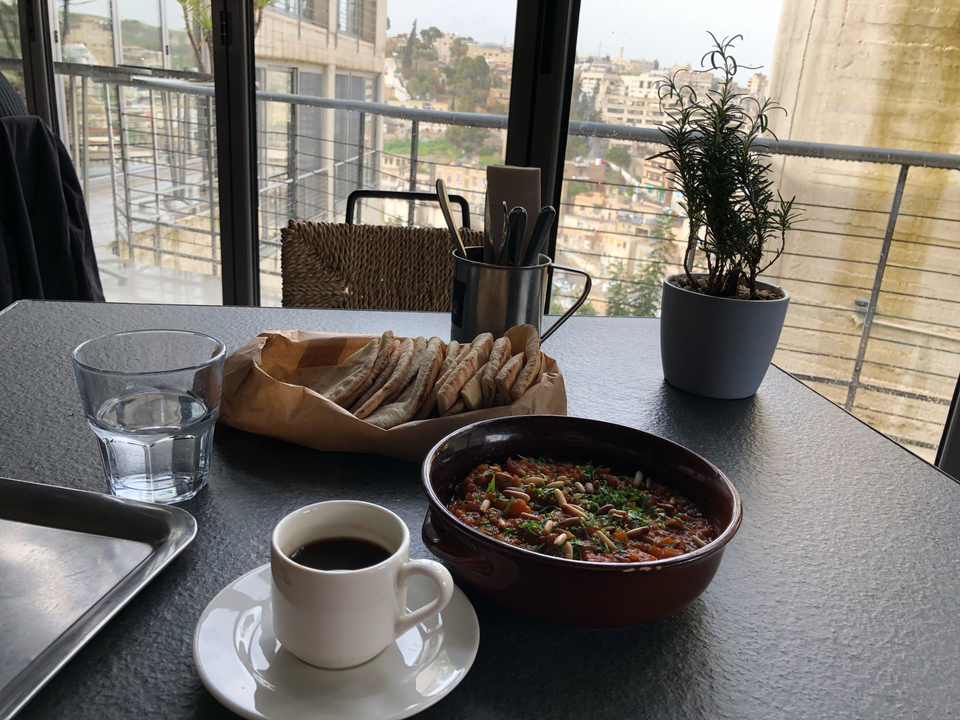 I had to wait there as it started to rain heavily. Again the search for that street started and I literally gave up.
So when this thought of giving up came to me, I saw people gathered and taking pictures. That stairs I've been searching was in downtown and not on Rainbow street. When I checked I had already walked 14kms.
But they removed umbrellas but still had plants and decor which I saw in pictures.
It's close to Zajal restaurant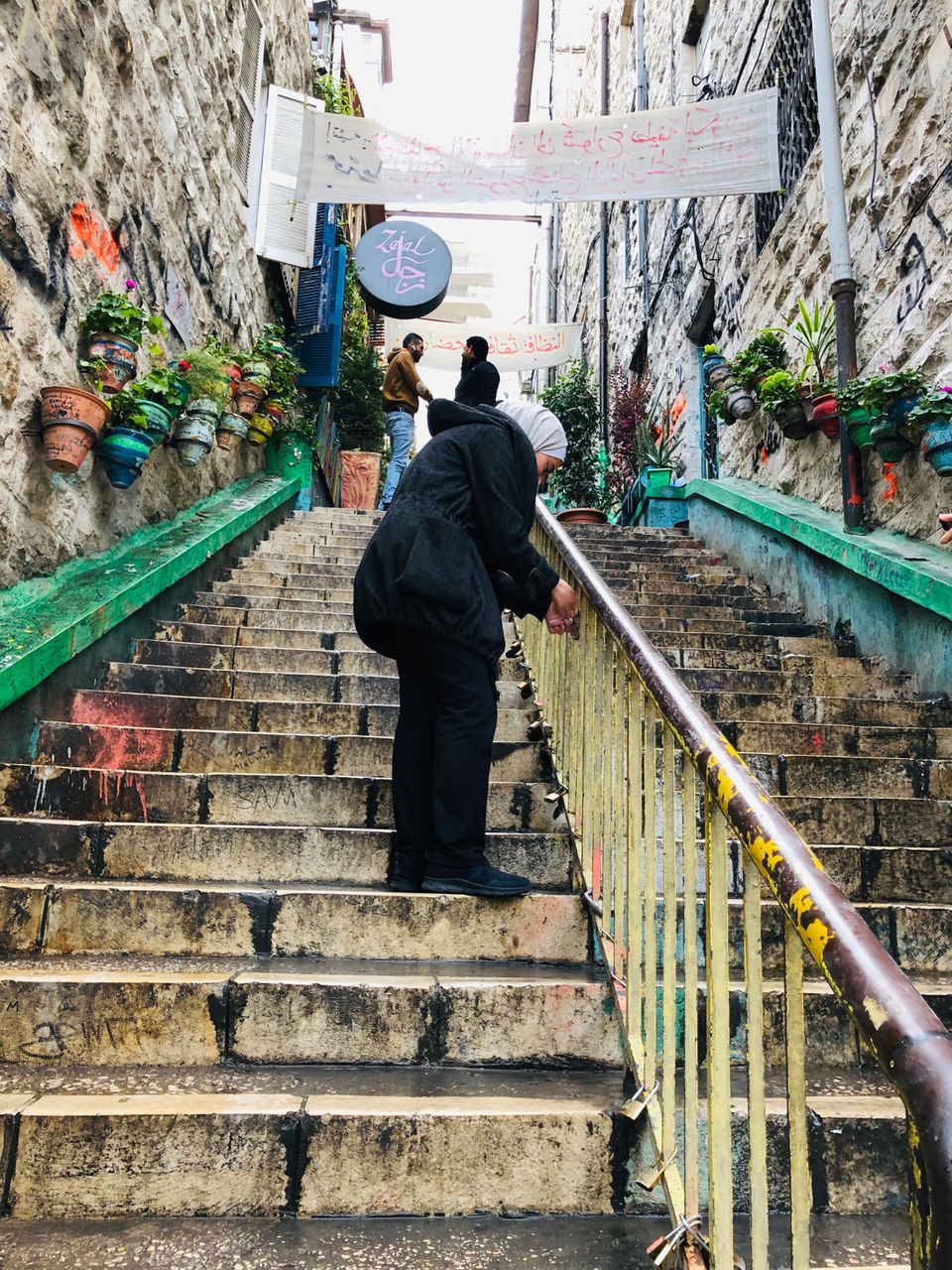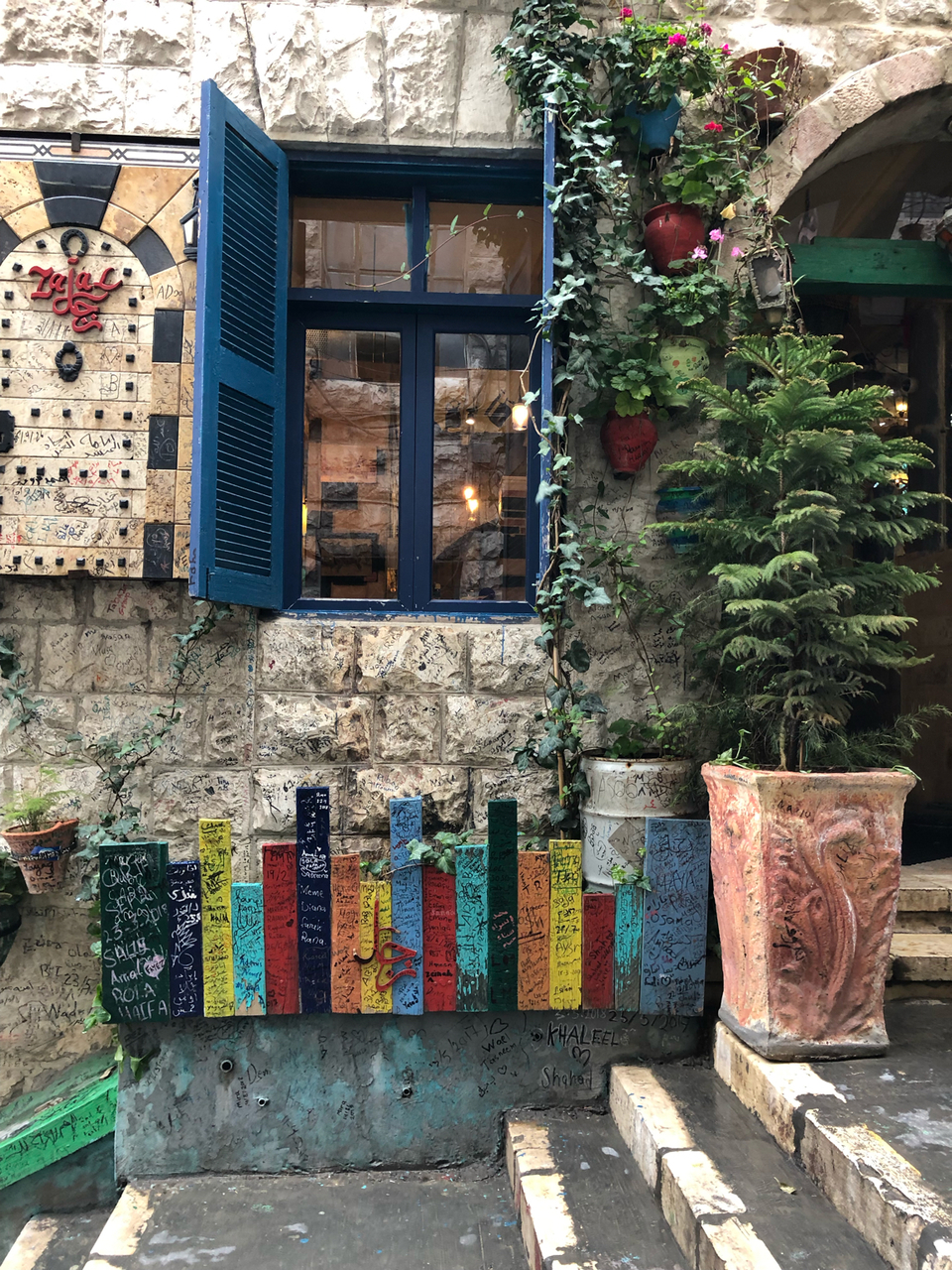 I decided to go in and treat myself one more Turkish coffee. These restaurant is perfect place for Instagram pictures.
Search for Saudi center for this one, they have juice centers here.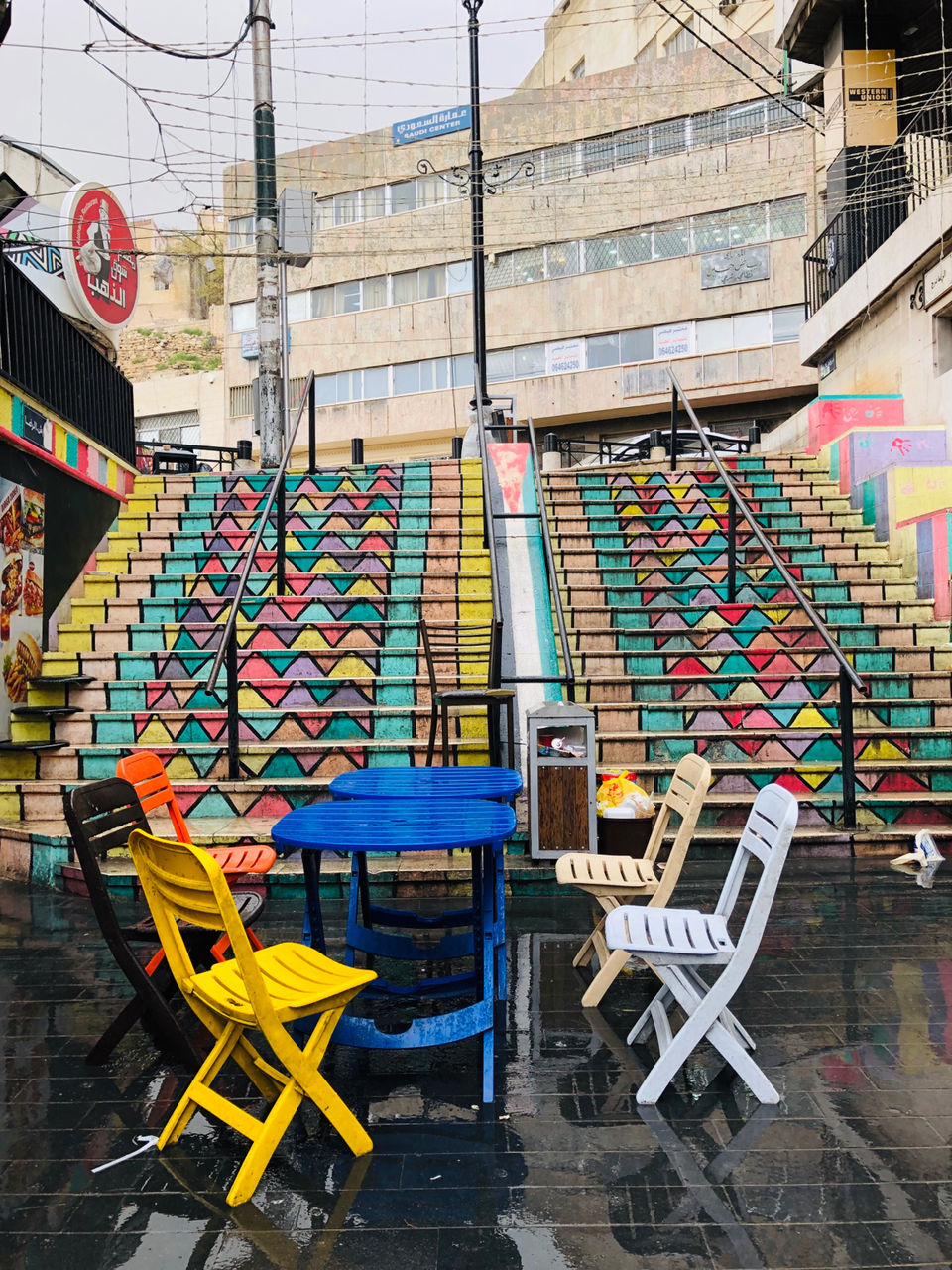 And for this one which is also a restaurant and I could not get the name.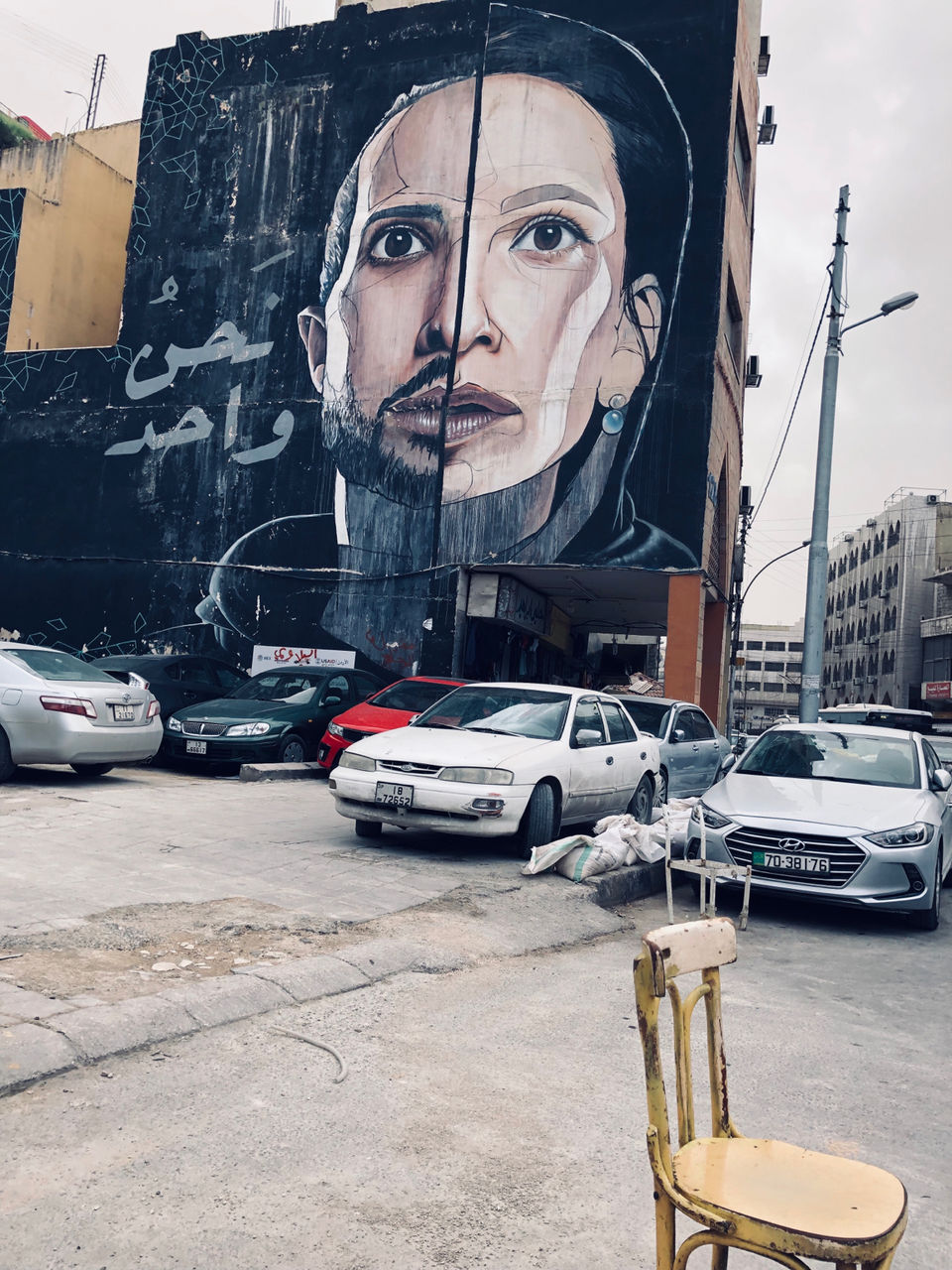 The longest which I saw was next to the store Called The One which I saw from the cab while leaving Amman.
I read about Abu Darwish from a blog, visitors aren't allowed inside but I still wanted to have a look.
It was built in 1961 on top of one of Amman's seven hills, Jebel al-Ashrafiyeh. Its alternating black and white stones draw on traditional Levantine architecture. The mosque is clearly visible from other hills around Amman. It can accommodate more than 7000 worshipers.
It is bit far from downtown but by taxi, you can reach there in 1Jd. I am glad I went there.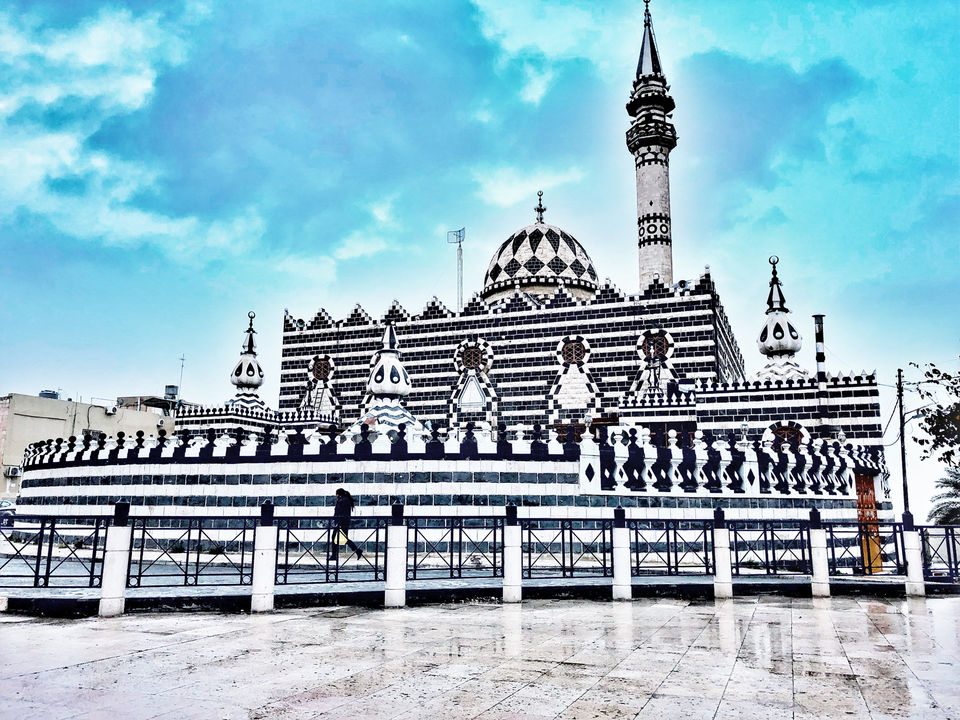 So my 3 day trip in Amman was about to complete and till then I already had a high fever, cold and swollen foot.
I came back to my room and a short conversation with Huthifa who was worried because I was out in rains. He offered me some medicine and I was fine by next morning.