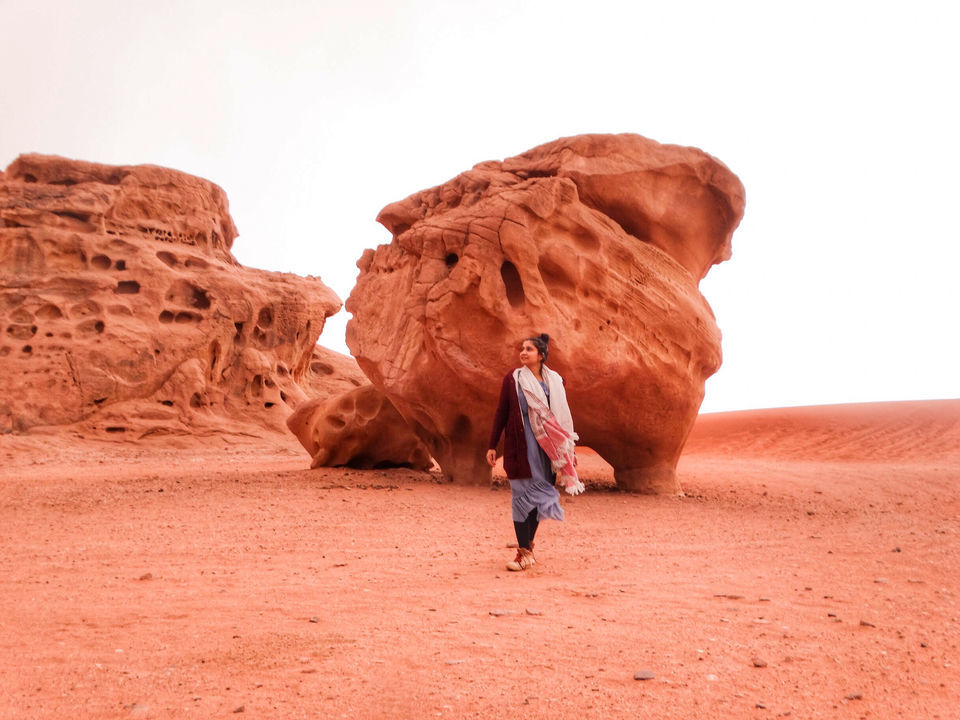 Ever had a thought in the childhood of becoming an astronaut after seeing Sunita Williams or reading about Kalpana Chawla? Well, it's still not late. Get your bags packed and let's head to Wadi Rum also known as Valley of Moon. Oh and you don't need any space suit here!
Lawrence of Arabia, Red Planet, Krrish 3, The Last Days on Mars and many more movies were shot here in Wadi Rum
How to get there!
By Bus
You can take local buses from which cost around 7-8 JD which will drop you at Aqaba or take JET buses which were more convenient. It cost around 11jd.
From Amman you get down at Aqaba and take a local bus, that will drop you at wadi rum village.
Amman ➡️ Aqaba (4Hrs)
Aqaba ➡️ Wadi Rum (Aprox 2hrs)
By Air
You can take a flight from Amman to Aqaba and then take a cab or bus to wadi village.
By taxi
From Aqaba city to wadi rum it costs 25jd. From the airport, Aqaba south beach it costs around 30Jd.
So let's start our journey and know why I decided to get down out of my cab at a highway on my way and got a ride from Bedouin tribe people.
Day 4
I woke up with the sound of rains at 5 am. It was raining all night and my fever was down.
I booked Uber at 6:00 am and it showed 9mins waiting. It took 45mins for him to come and by the time I reached the JET bus stop at Abdali, my bus was gone. Next bus was at 9 am, I had no other option but to wait for 2hrs.( you can check bus schedules online)
The good thing about JET buses is they are very punctual, so sharp 9 am we left from Amman
I slept throughout the journey and woke up at a checkpoint where they asked me and other non-Jordanians to come out and asked few questions and then allowed us to enter.
Way to Aqaba is very beautiful, a lot of mountains, beaches, resorts. You can also enjoy water sports in the Red Sea.
So after getting down at Aqaba, I found out that local buses were not operational on that day and will have to take a cab. But I still wanted to give it a shot. I felt like an only fish left in the sea which every fishermen wanted to have. The moment I got down from the bus all taxi driver surrounded me and were biding their prices. I asked one of the cab driver to take me to local bus station which was a few minutes away for 1jd.
On the way, he tried a lot to convince me and gave me a price of 30Jd to take me wadi rum village, even after saying no he was driving towards village instead of the bus stop.
I said "stop the car, I don't want to go" he could see I was angry, good he decided not to argue with me and he stopped and didn't ask any money. I took my bag and got down, he left.
Again I was on roads where I could see fast cars passing and mountains around me nothing else.
I never thought I would ever stand up for myself if ever someone tried to do wrong thing or had enough guts to walk alone on those roads and was feeling proud of myself. I was discovering myself again.
A Jeep stopped by me, there was a boy around 15years old and person driving must be his dad, on the back seat was an old lady eating falafel.
They asked me if I needed help. I gave them my tour guides number and next moment they asked me to join them and they will drop me to the visitors center.
"Welcome to Jordon" 15yr boy Ali said to me, a common phrase which everyone would say to you.
They dropped me at wadi rum village and my Tour guide whose name was also Ali came to pick me up.
I was pissed off and bit also upset with the taxi driver and decided not to go for any tour and spend time alone walking around in the desert.
Ali was charging 50jd for a tour and I refused. He asked me why I was upset and told him the whole scenario.
So instead of camp, he took me to Jabal Umm Fruth Bridge one of several natural arches in Wadi Rum!
I had a surprised look on my face and was just staring at him. He said take as a hospitality from us and please smile!
To climb up the bridge you have to climb it like a monkey or I guess lizard is perfect example. That's how I made it up!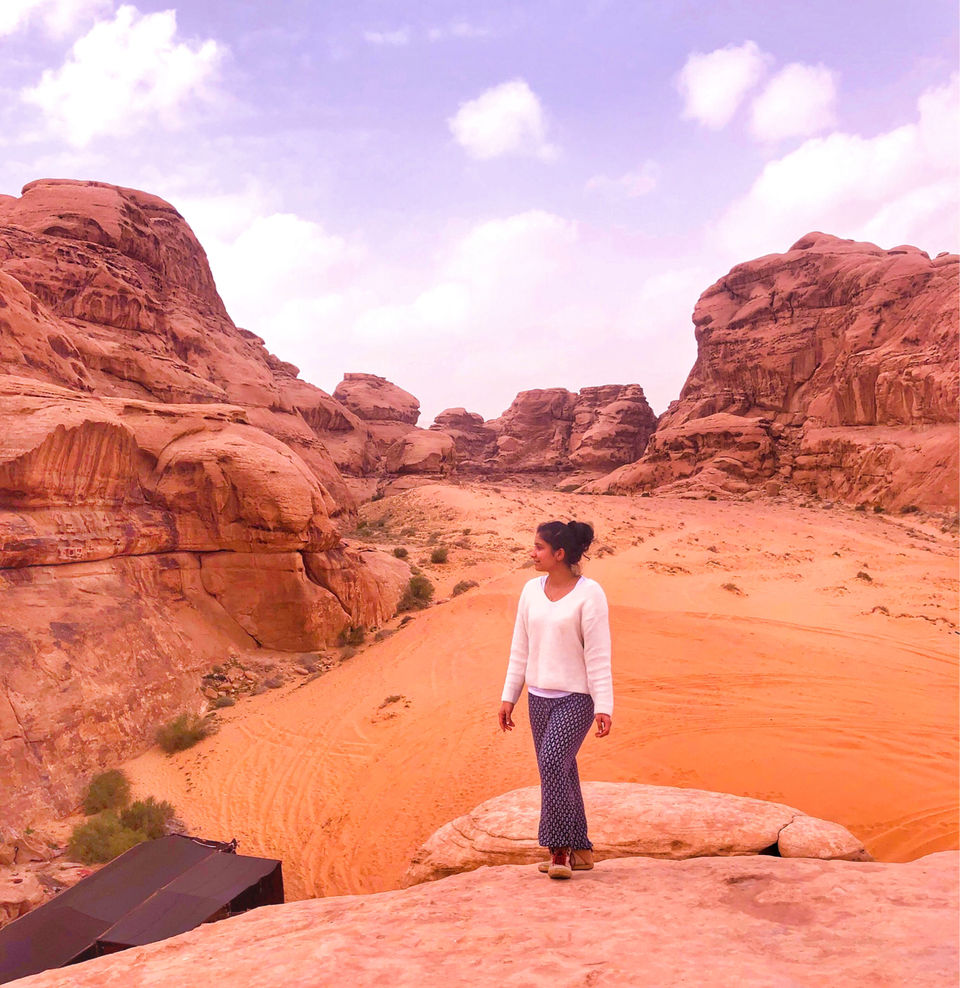 Other places you can visit is
Seven pillars of Wisdom
Nabatean temple
Jabal Ram
Wadi rum desert
Camel safari.
For me, I decided to see different rock formations and have Bedouin tea, also it started to rain here.
Few minutes later it started to snow and I could hardly believe my eyes.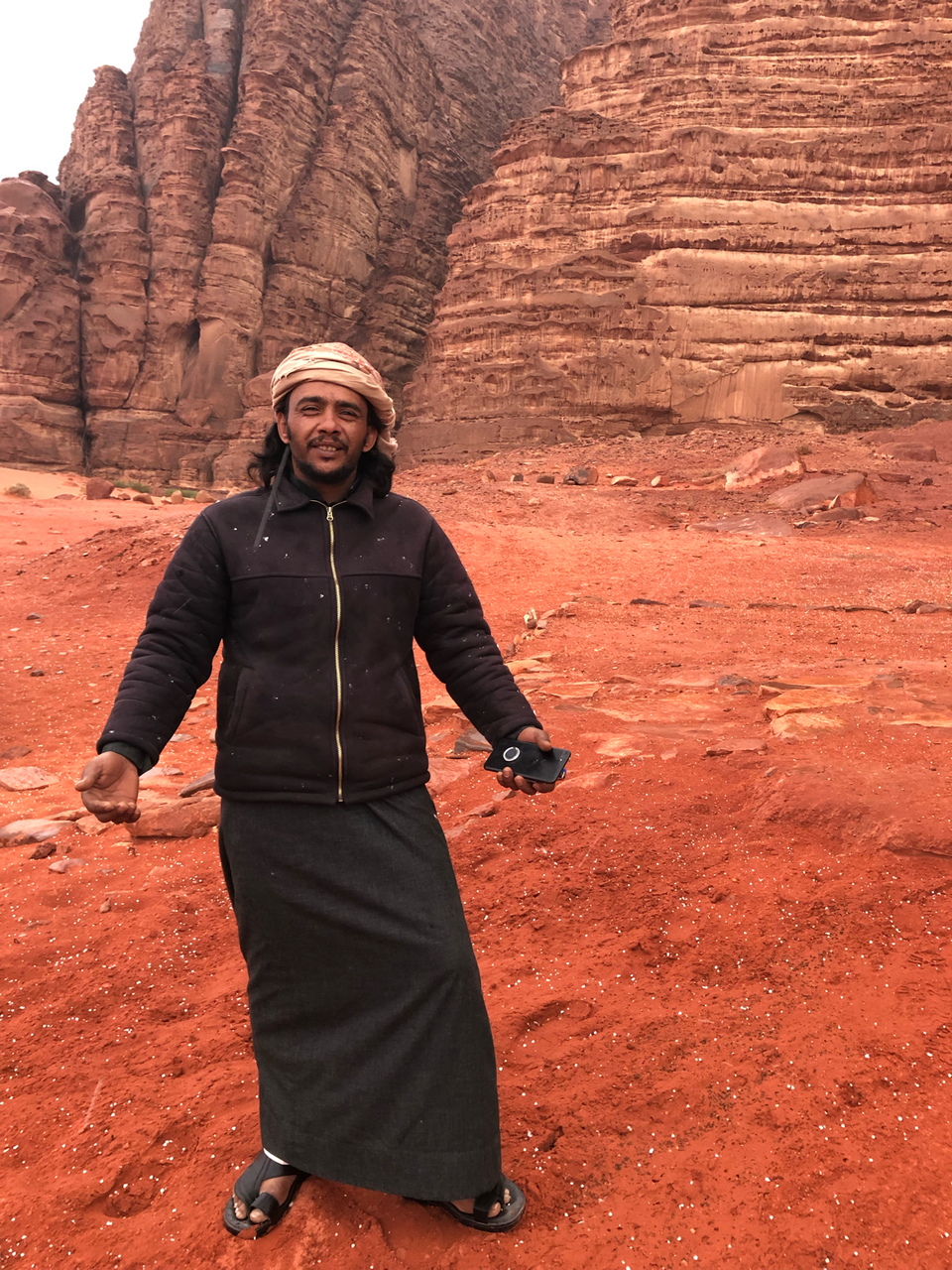 That's Ali who was more happy then me when it was snowing.
Check out my story on instagram when it was snowing
https://www.instagram.com/s/aGlnaGxpZ2h0OjE4MDUxOTEwNDUzMDE1NjY1/?utm_source=ig_story_highlights_share&igshid=swatf6jpwwj7
I decided to climb up a rock and enjoy my time so Ali joined me. He was regretting it later.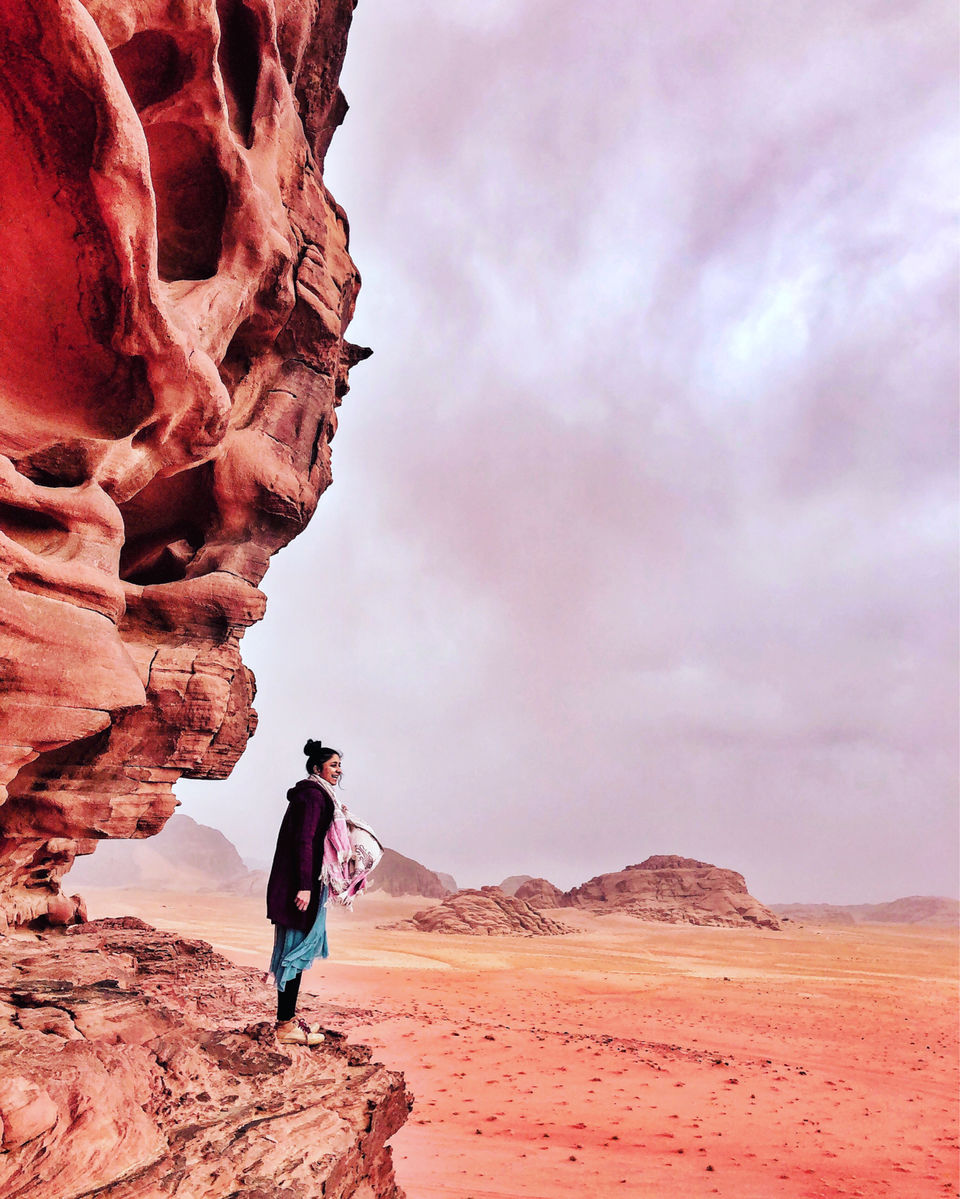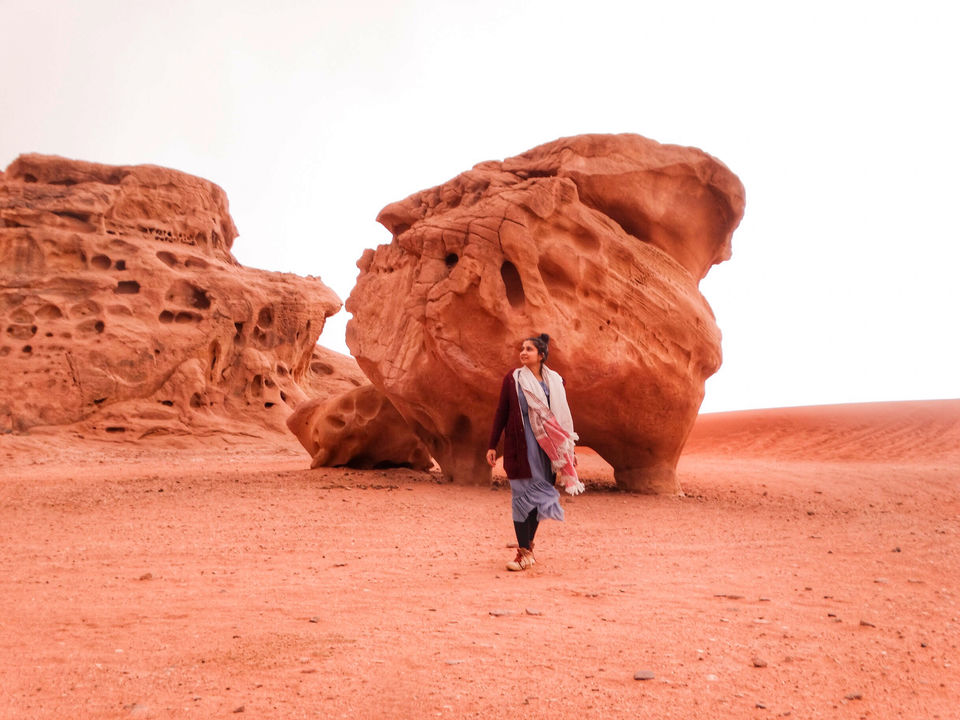 It was too windy and cold so we decided to sit for a while.
https://www.instagram.com/s/aGlnaGxpZ2h0OjE4MDUxOTEwNDUzMDE1NjY1/?utm_source=ig_story_highlights_share&igshid=1hejhkhkgqtgo
In that small conversation I got to know most of them have never been to school but can speak English and lot of languages which they learned it from tourists.
We waited till sunset but it was so cloudy that we could hardly see sun and decided to head back to camp.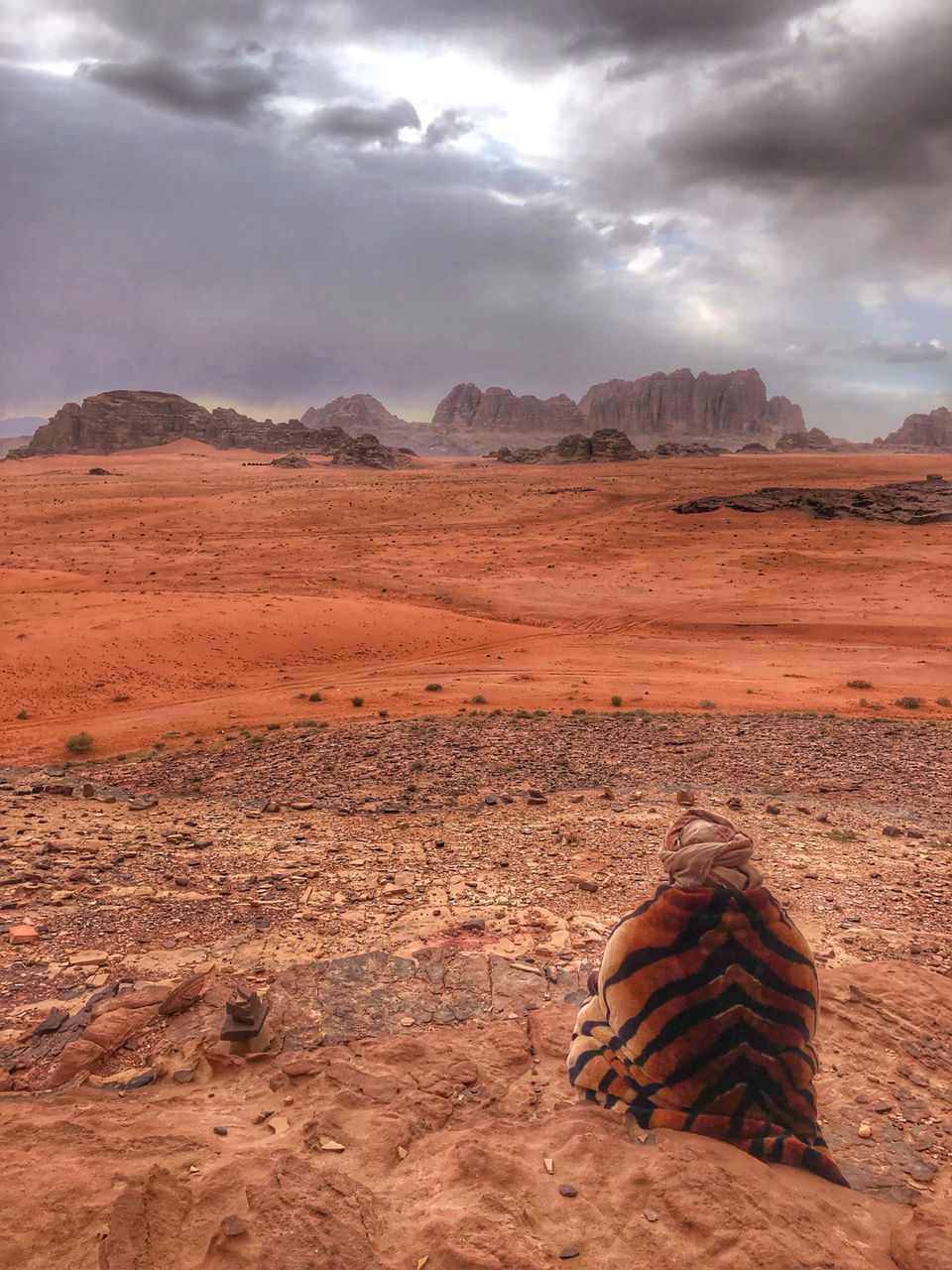 Ali asked me to drive and I told him that I don't know how to drive. Next sentence was "you are an independent women and yet you don't know how to drive, come I teach you."
Well we made it to camp in one piece and still I don't know how to drive!
Next was amazing dinner, star gazing at night and lot of talks with people traveling in group.
Everyone appreciated me for doing solo travel and I told my story with cab drivers overcharging, funny crew stories and things I learned about myself on this trip
Next day morning I woke up and went for a walk alone in desert. It was a very different experience and also I could not take my eyes off as everything was beautiful.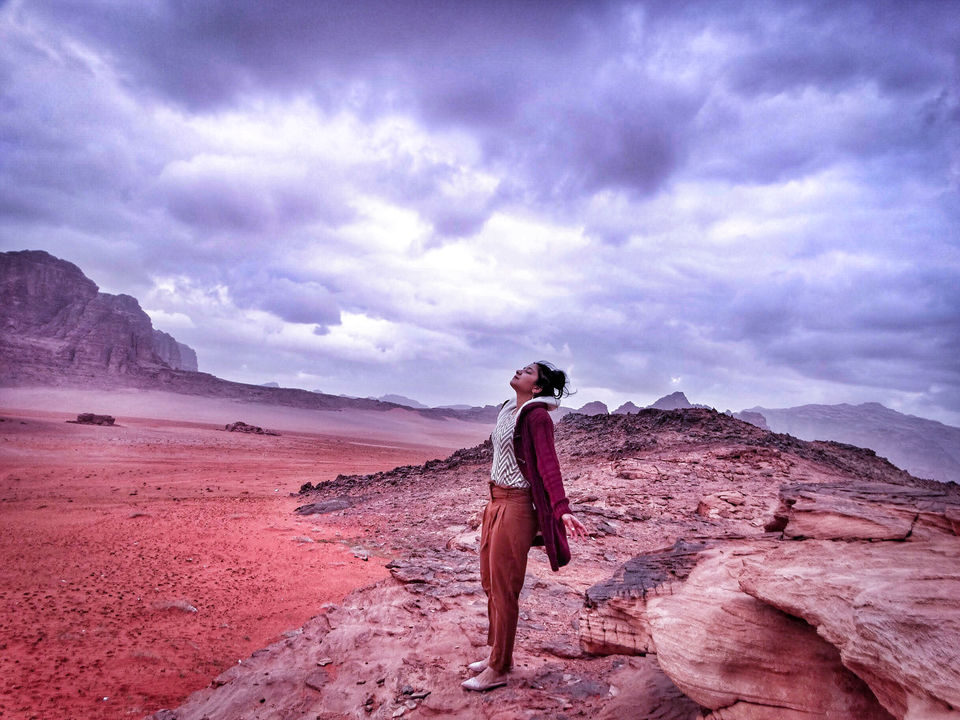 We had breakfast and I managed one more free ride to camp.
https://www.instagram.com/s/aGlnaGxpZ2h0OjE4MDUxOTEwNDUzMDE1NjY1/?utm_source=ig_story_highlights_share&igshid=1f7szxqm77pac
With me was Alex, guy from Amsterdam and we both sat with bags around us as it was free ride so a little compromise in comfort is fine.
Next stop was Petra. Day of my bday night.
Yet more adventure was to come. I and Alex manages to get a local bus.
Our bus driver had some advanced booked passengers which he forgot at village and we had to go back again!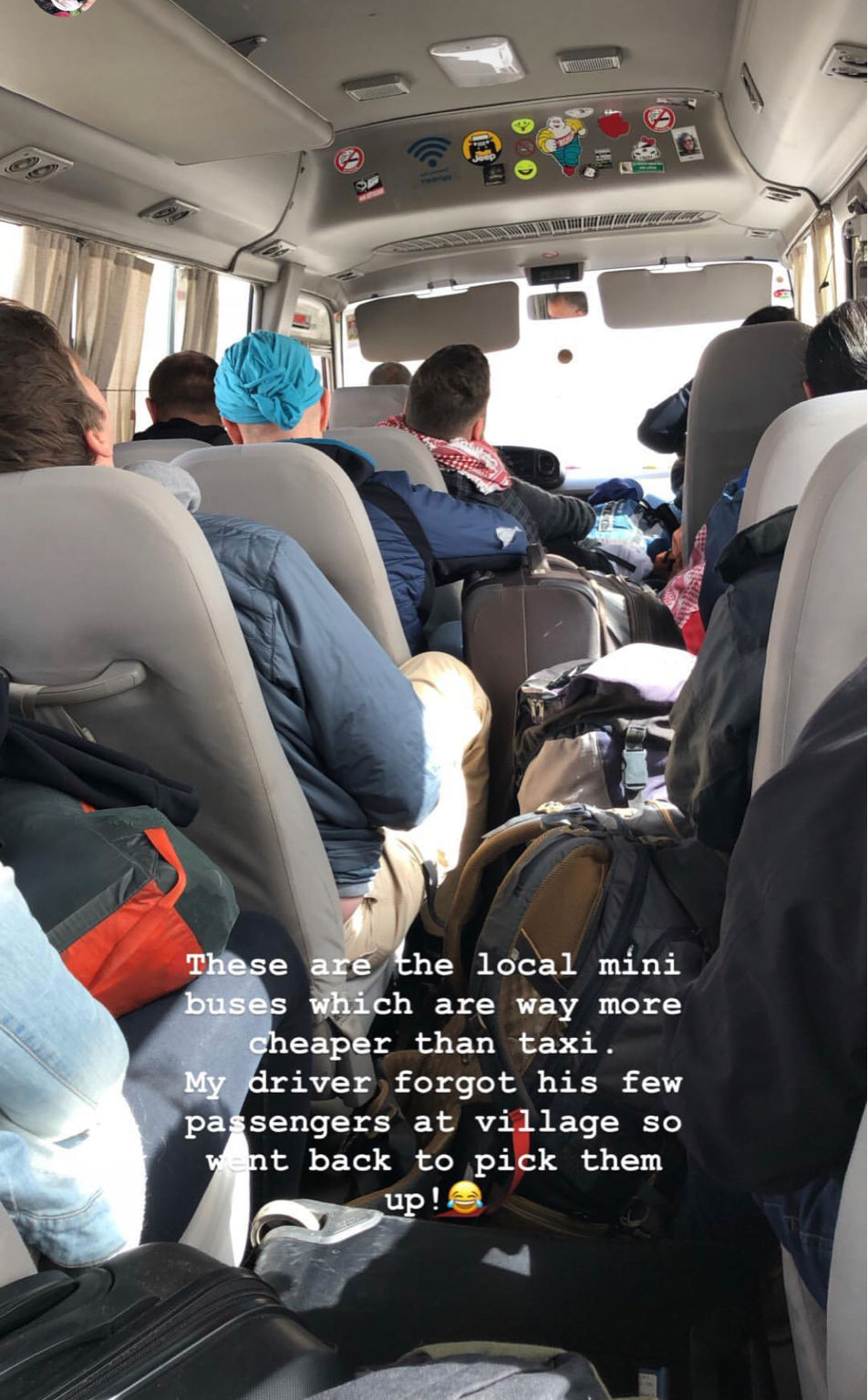 https://www.instagram.com/s/aGlnaGxpZ2h0OjE4MDUxOTEwNDUzMDE1NjY1/?utm_source=ig_story_highlights_share&igshid=r920dyzpyej2
So few hours in the bus and I made it to PETRA, where I had my own plans for my birthday celebrations
Now go to my insta stories and have a look at my Jordon stories in Highlights
https://www.instagram.com/s/aGlnaGxpZ2h0OjE4MDUxOTEwNDUzMDE1NjY1/?utm_source=ig_story_highlights_share&igshid=r920dyzpyej2