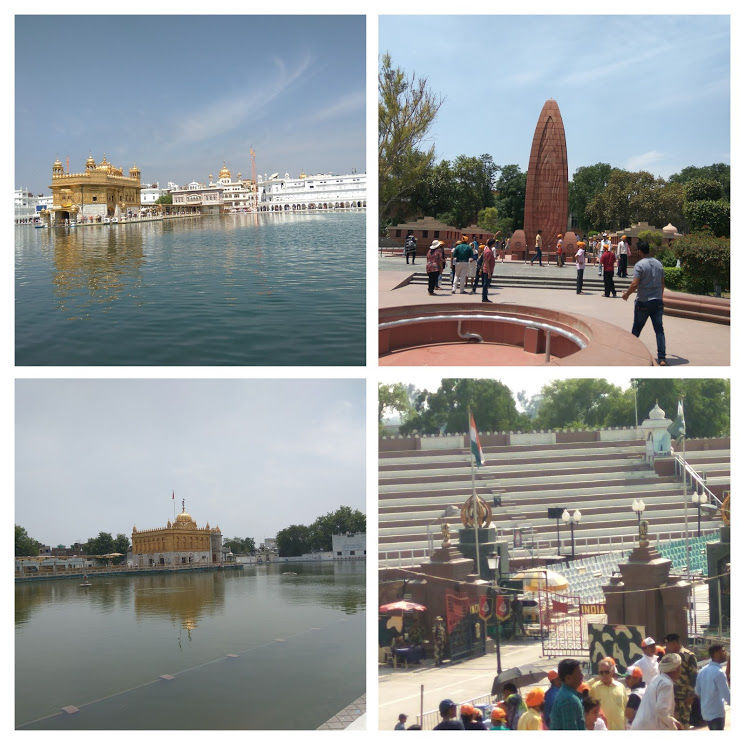 In the summer of 2017 i visited my hometown (Kurukshetra, Haryana) for a family function , and there since i had some time i planned for a day trip to Amritsar, Punjab .
It was always in the back of my mind to visit this Holy place , due to its emphasis on India history ,
the divines of golden temple and of course the tasty food it offers.
We started the day very early in the morning where we caught a train from ambala to amritsar at 2 Am in morning(DDR - Amritsar) express, the train took around 6 hours, more than usual time of 5 hours due to longer delays on stations and we reached Amritsar at 8 AM.
From Railway station there is a free bus service to Golden Temple, here is a tip to travelers hop on to that bus to save some money, and that bus directly takes you to golden temple premises.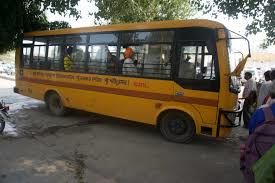 After reaching golden Temple we were looking for a shower, well you will find a lot of middle men to take you to there commission earning hotel, But again there is a tip there are a lot of sarai near Golden Temple which if you book in advance offer free service to you, else like me if you have not booked earlier and if you just want to take shower there is free bathroom service in Guru Ram Das Niwas Sarai where one can take shower and head to golden temple.
There are various luggage keeping centers on the gates of golden temple so do not deposit it far way from golden temple.
One thing which impressed me from beginning was the way things are organized in golden temple, There are lakhs of people who visit golden temple everyday , but there are no security guards pushing you to follow a path or forcing you to move fast, you can take your own time to feel the magnificent Aurora of the place, The divine and holiness of place brings a calmness in to your mind when you enter the temple and look at the temple in the center of lake studded by gold, the grandeur of temple is truly awe-inspiring.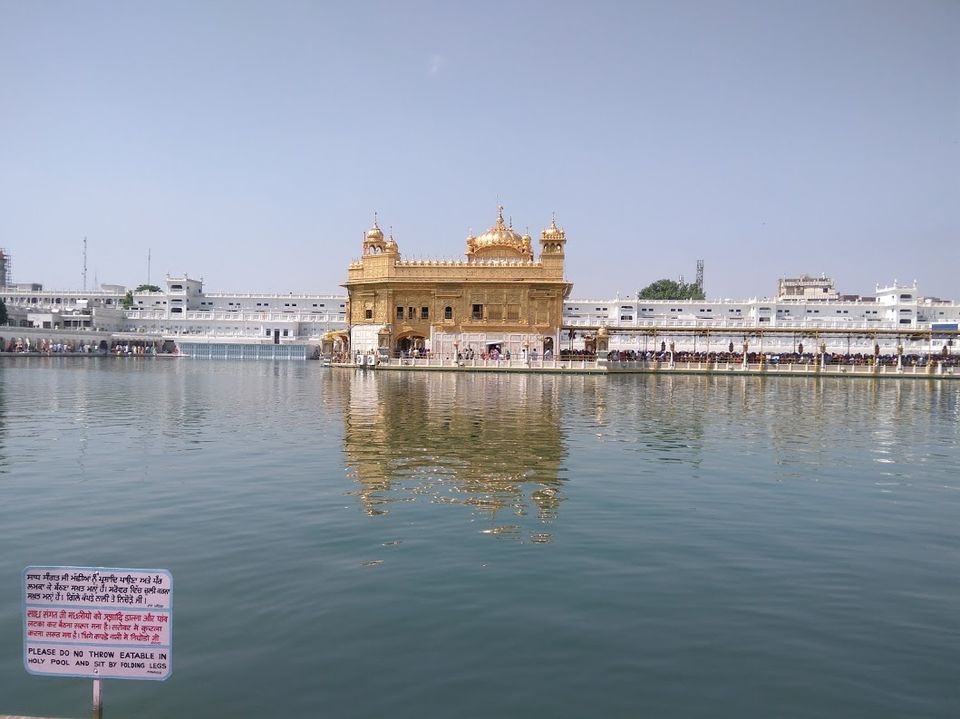 The sacred pool water is very clean even though lakhs of people take a dip in pool everyday, even i have heard stories that a dip in pool cures some of skin diseases not sure how true they are.
Well temple complex is pretty huge and we strolled through it to reach center of lake for darshan, there is a provision where you can take coupon for 100 rs , giving you fast entry but since queue was not very big we dint opt for that.
The chants of guru granth sahib was emanating from loud speakers, and people in the queue were repeating same, giving a meditative feeling to one's soul, and once you enter temple you can see the same calmness on everybody mind.
Temple have three floors you can visit all the three also sit there if you want , no body rushes you to go out , we spent some time there and whole process took around half an hour.
After darshan you will get atta halwa prasadam, and then we headed to langar(community food place).
Langar center is linked to temple premises and i suggest everybody should visit there to see the process using which lakhs of people are served food daily without any cost.
Everybody rendering service there is totally accustomed with process and you will be amazed to see the speed at which everything goes through.
Finally we were out of golden temple by 11.30 AM and we headed to Jallianwala Bagh from there.
On the way to jallianwala bagh, which is connected to golden temple, there are a lot of lassi vendors , you must try one to pamper your taste buds.
Jallianwala Bagh have special significance in crafting the India struggle for independence, and management of this park have made sure that you understand why so, when you visit this park.
With the narrow passage , bullet marks , martyrs well preserved intact along with museum displaying the significance and aftermath of this attack , one can clearly visualize the struggle which India went through to achieve Independence.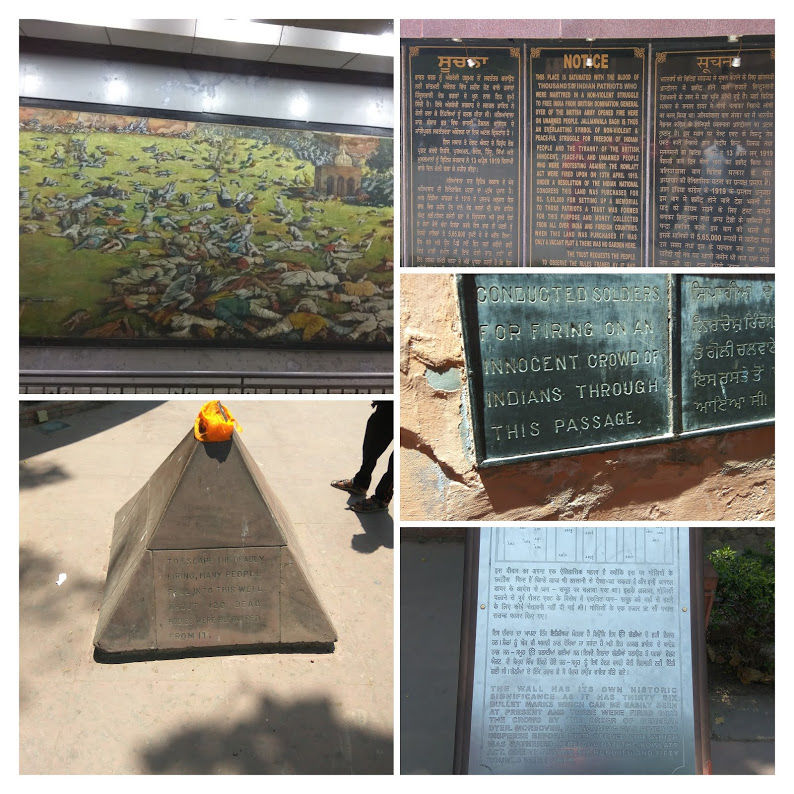 By the time we finished our visit to Jallianwala Bagh it was 12.30 PM, And as you exit Jallianwala Bagh there are tonnes of vendor to take you to wagah Border with various cost and comfort level, Since we wanted to explore Amritsar even more we went for a day taxi which was ready to take us around Amritsar and Wagah Border in Rs 1000 , in an air conditioned private car, Remember you have to bargain there.
Through Taxi then we visited to Drugiana Temple.
Durgiana Temple is actually older than Golden Temple and it is believed that design of Golden Temple was inspired from Durgiana Temple. Since it was summer and around 1 PM in afternoon, not many people were around in temple and we were able to complete darshan in 30 minutes.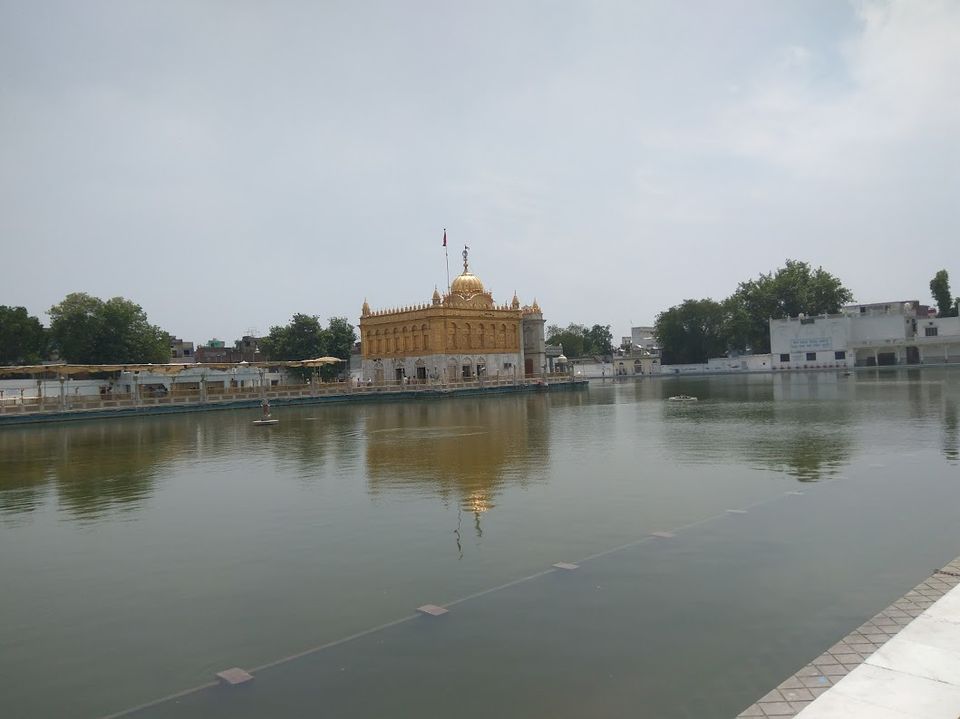 There are few Lassi vendors on the exit of Durigana Temple, and the Lassi they offer are better than vendors outside golden temple, so again if you are Lassi lover like me you must try one.
After Finishing Durgiana Temple visit , we went to Mata Lal Devi Mandir another tourist spot in amritsar.
Mata Lal Devi Mandir contains model of almost all the major temple of India, Its worth a visit and temple is also well maintained and pretty big. By the time we finished our darshan, it was 2.15 PM.
And then we headed to The Most Anticipated Place of Amritsar "The Wagah Border".
Wagah Border, Atari, is around 30 km from amritsar, and it takes around 45 minutes by car to reach there after having some refreshments we reached Wagah Border aroud 3.15 PM, few points to Help you-
1. Do not reach Wagah Border before 3.30 PM , as gates open around same time else you will be standing in queue till that time.
2. Do not reach Wagah Border after 4.30 PM else you will not find a place in stadium to sit.
3. Make sure you remember the place where your vehicle is parked , because at the closure of parade there will be a lot of Rush.
4. Only limited valuable items are allowed inside stadium make sure you make arrangements of other luggage before you join the queue.
Once our vehicle dropped us , we joined the queue for stadium entry, its a walk of around two to three Km from drooping point to stadium and there will be multiple security checks on the way.
The queue for Men And Women are separate which later merges together, It was a physically challenging task to stand in queue for two to three KM and it took around 45 minutes to reach stadium.
The Retreat ceremony from BSF starts at 5.30 PM and closes at 6 PM , we were in stadium at 4.15 PM and stadium was full by 4.45 PM.
The environment of the stadium was something which will make you forget all the hardships you have to take to reach there , with loud speakers playing songs of patriotism , people chanting "Bharat Mata ki Jai", "Vande Matram" and "Hindustan Zindabad", Personnel from BSF pumping you to even shout louder, People from India and Pakistan competing against each other against the loudness of there voices, people dancing on songs, It was nothing less than a friendly war between India and Pakistan.
An adrenaline rush will flow through you when BSF personals representing our country starts the retreat ceremony, the attitude which they pose , there speed , persona , style and offcourse support of innumerable people in stadium behind them , will take you to a different world.
At the end of ceremony only thing which flows in your mind is the chauvinism towards Nation.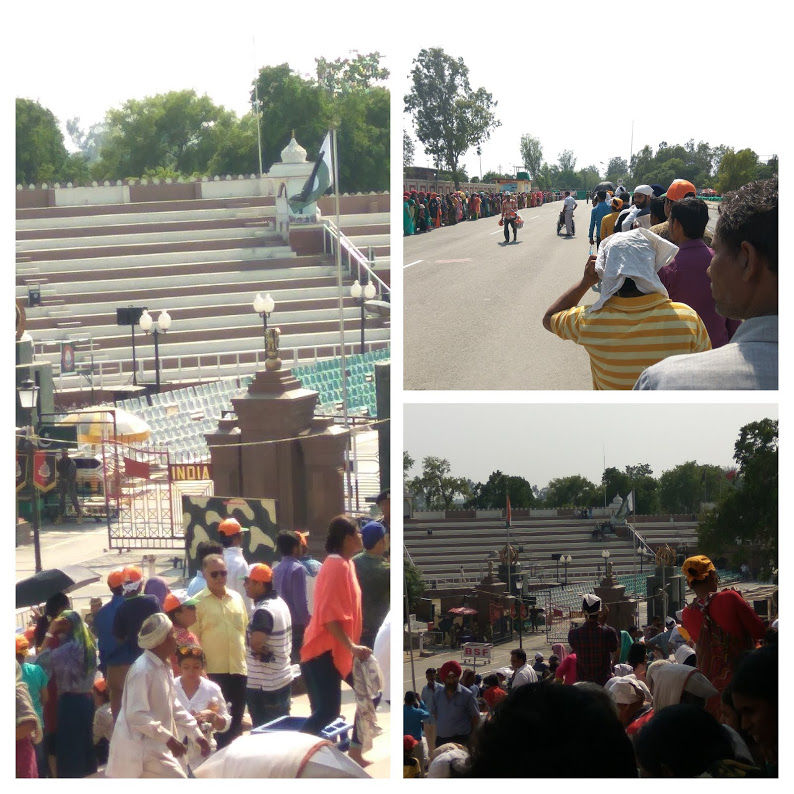 As I mentioned before there was a lot of rush at closure, we managed to get out around 6.45 PM, And then it was time to eat mouth watering Amritsar food.
We had Kesar da dhaba / Bhrawan da Dhaba in our mind , but after inputs from cab driver we ended up going to new extension of Bhrawan da Dhaba called Brothers Dhaba.
We Reached Brothers Dhaba at 7.30 PM and ordered amritsari thali with lassi(again) there , food was really delicious, and all items was finger licking good. We finished our meal by 8.30 PM and headed to railway station for our train( Golden Temple mail) to Ambala scheuled at 9.30 PM .
In summary , it was a day which added a lot of experiences in me, One must visit Amritsar for the holiness , history , patriotism and food it offers, trust me you will not be disappointed.
The Train was right on time and we ended our journey at 2 AM in Ambala.
PS -
In the complete article by we i meant , me and my wife :-)