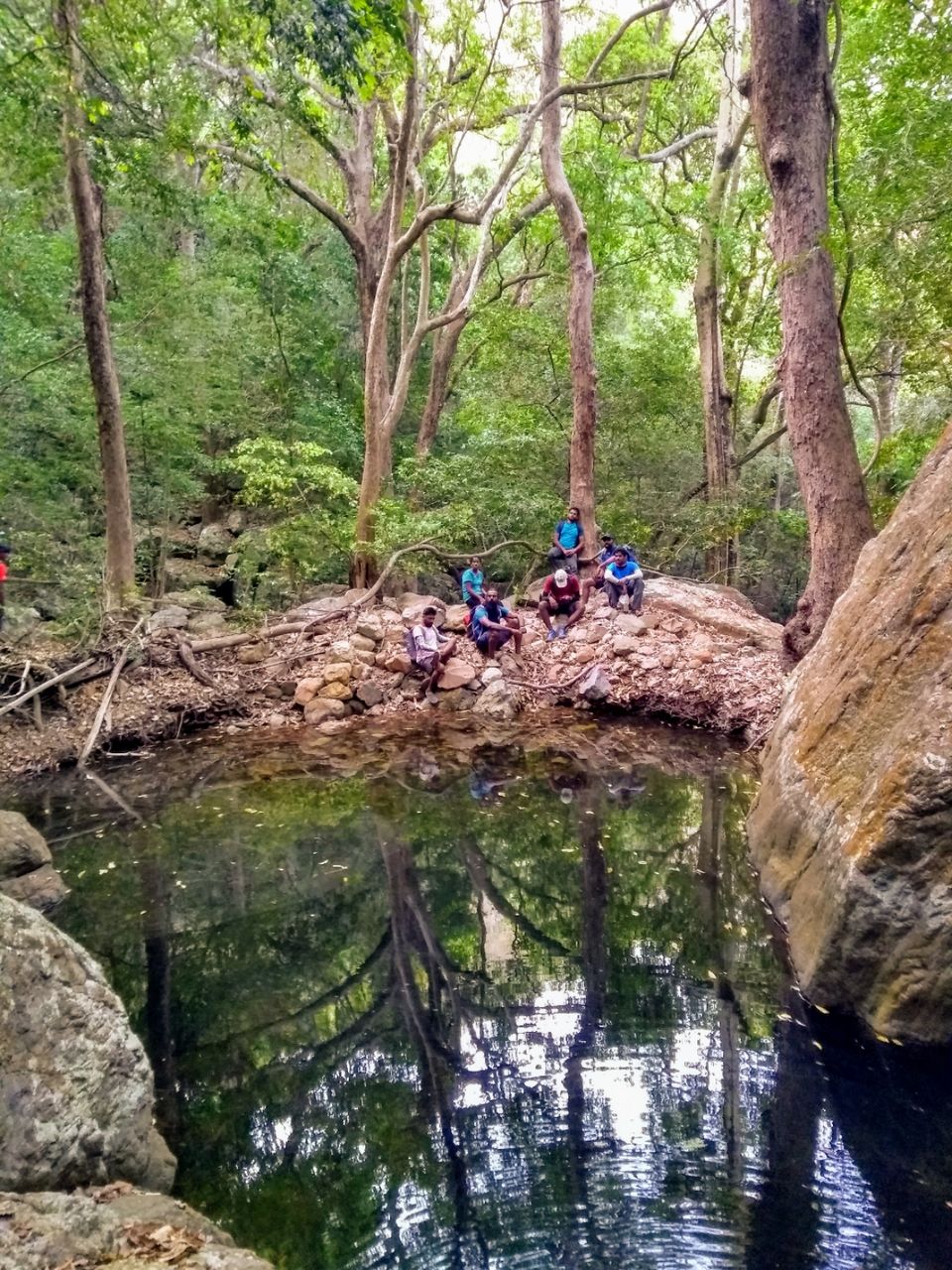 10 like minded souls escaped from Concrete Chaos to reconnect back with Virgin Nature and the Great Outdoors to detox themselves amid crystal clear water streams, fresh oxygenated air, lush green forest and de-stressed tranquility.
We have started out ride from Chennai through self supported two wheelers and gathered at CMBT junction.
It's an early morning ride at 4AM and we had to stop at our first pit stop to have our breakfast and packed lunch.
It is a short and quick 30 min break and we have resumed our ride to Nagala.
We had started our trek at 7.30 a.m. With a short breakfast break at the interstate border, which also would be our last hot meal for a couple of days , we had reached the base of Nagala at around 7.00 a.m. We were distributed food packets that were picked up in a village on the foothills enroute and and parked out bikes. After some basic instructions we had started our trek.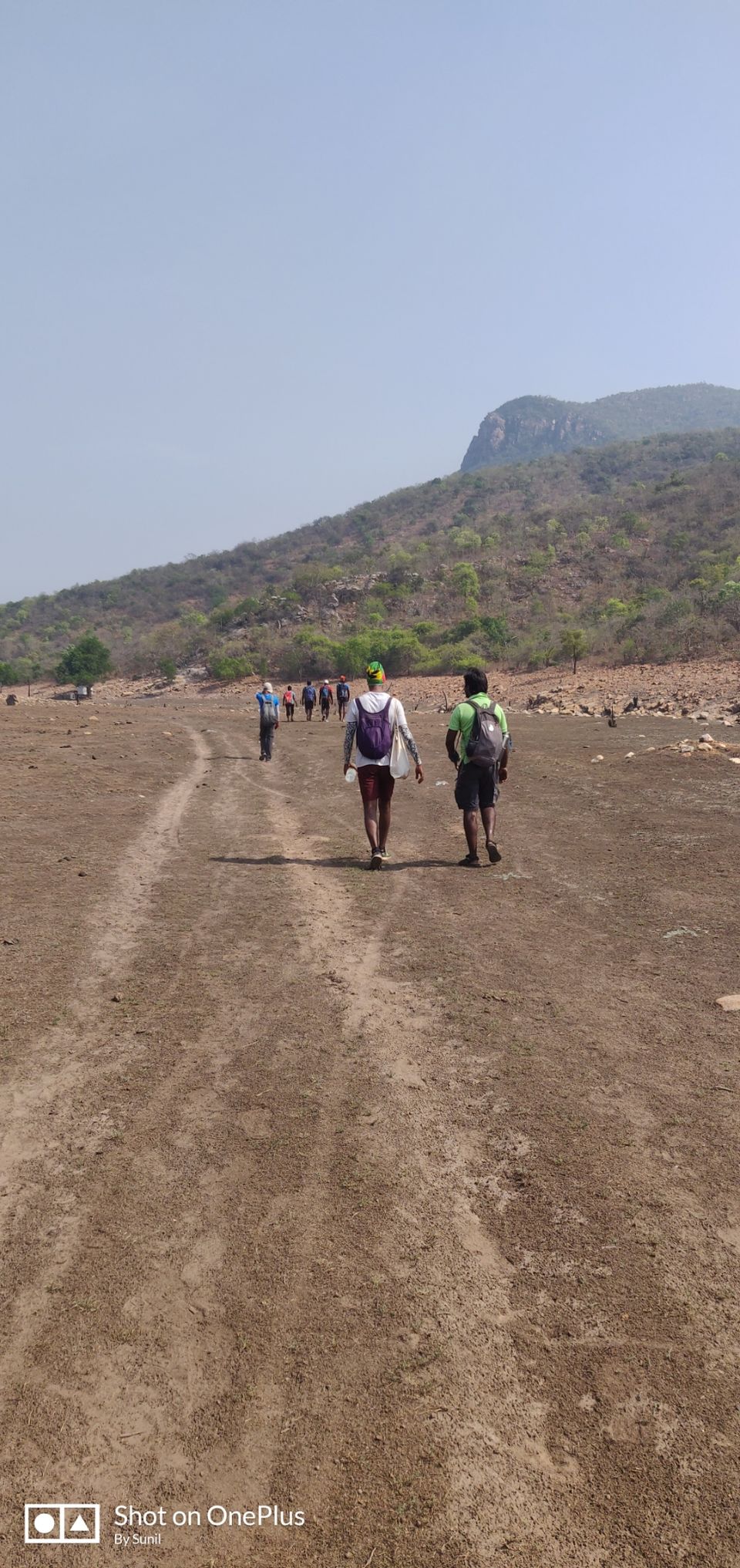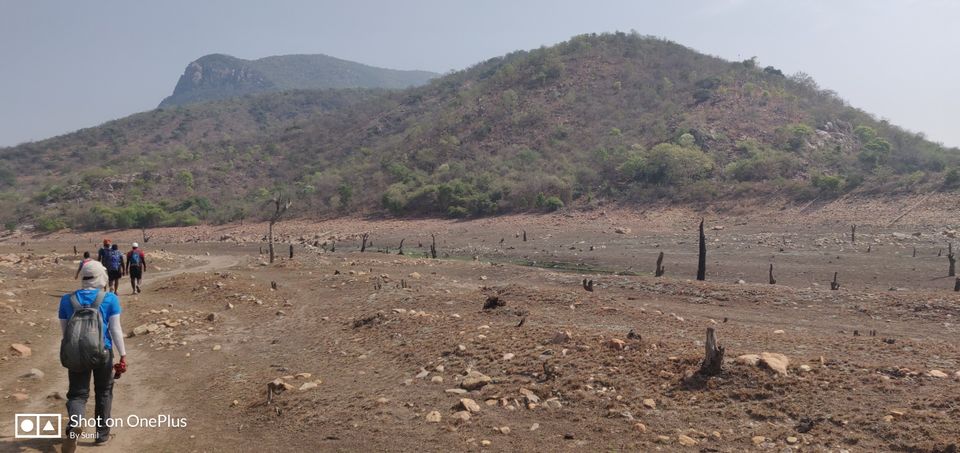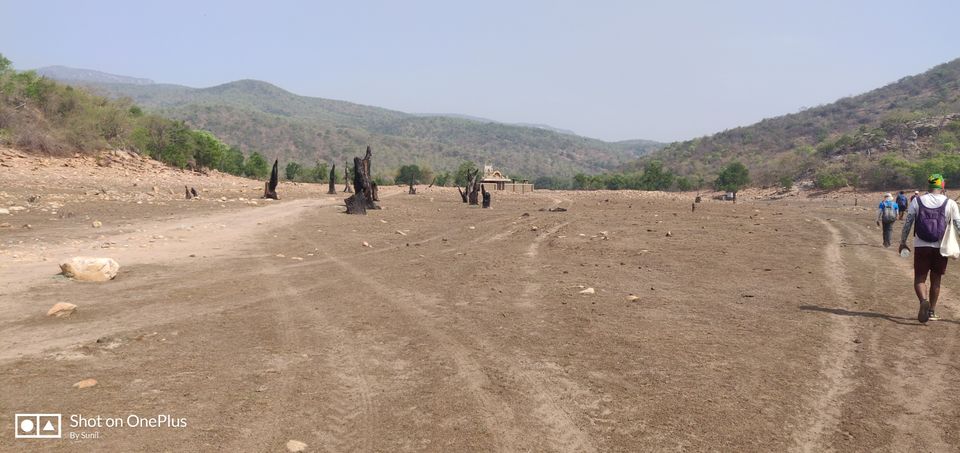 We were at the Eastern Entry of the Nagala mountains. The dam wasn't brimming with water and we had walked in the marshland as there was no water in the summer, we had reached a narrow footpath ; we were on the base of the hills and it would be an uphill trek thenceforth. We had initially walked on dry land over naturally pebbled narrow pathways which had given way to rockier paths as we progressed. And then we had sighted the Stream ; bubbly and beautiful in all its charms !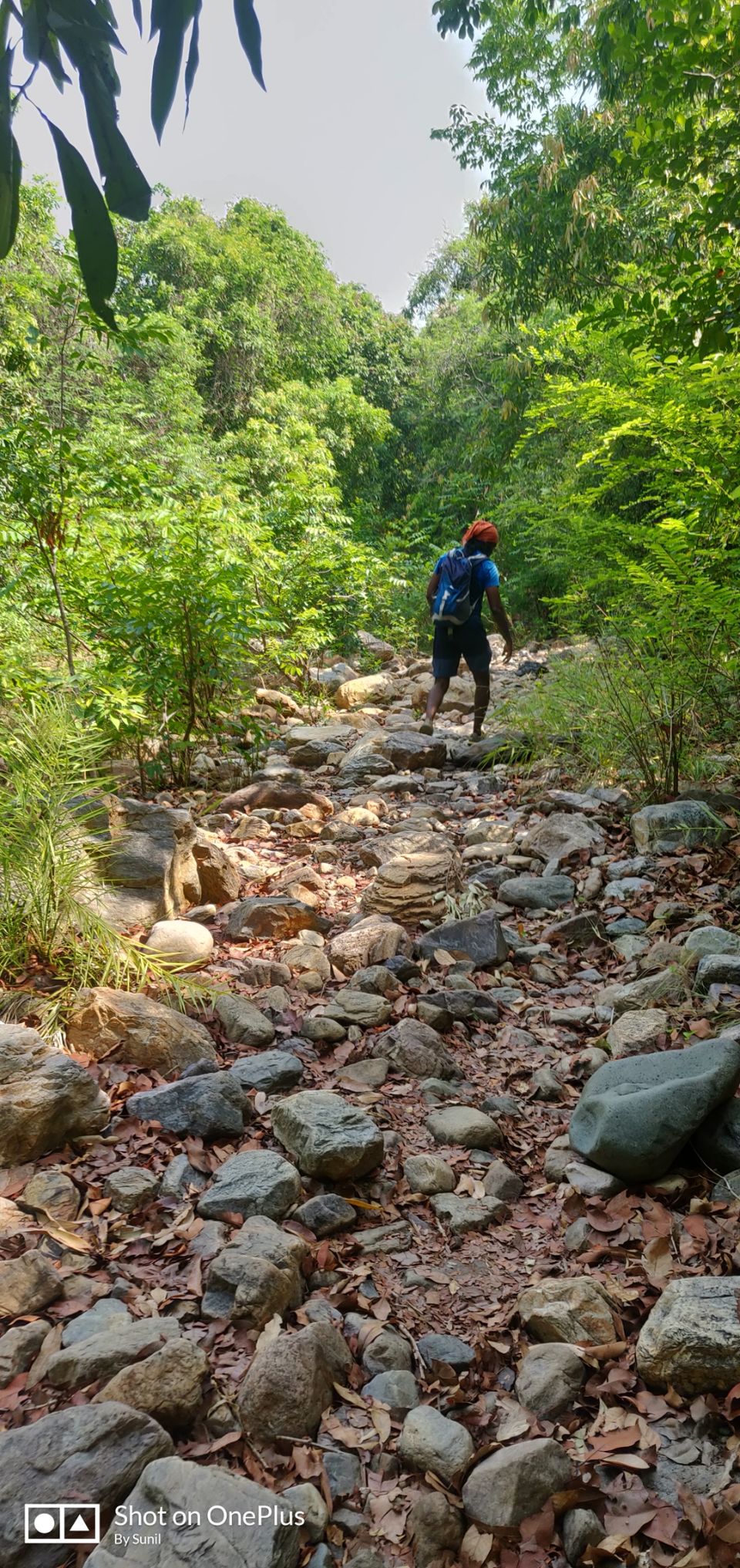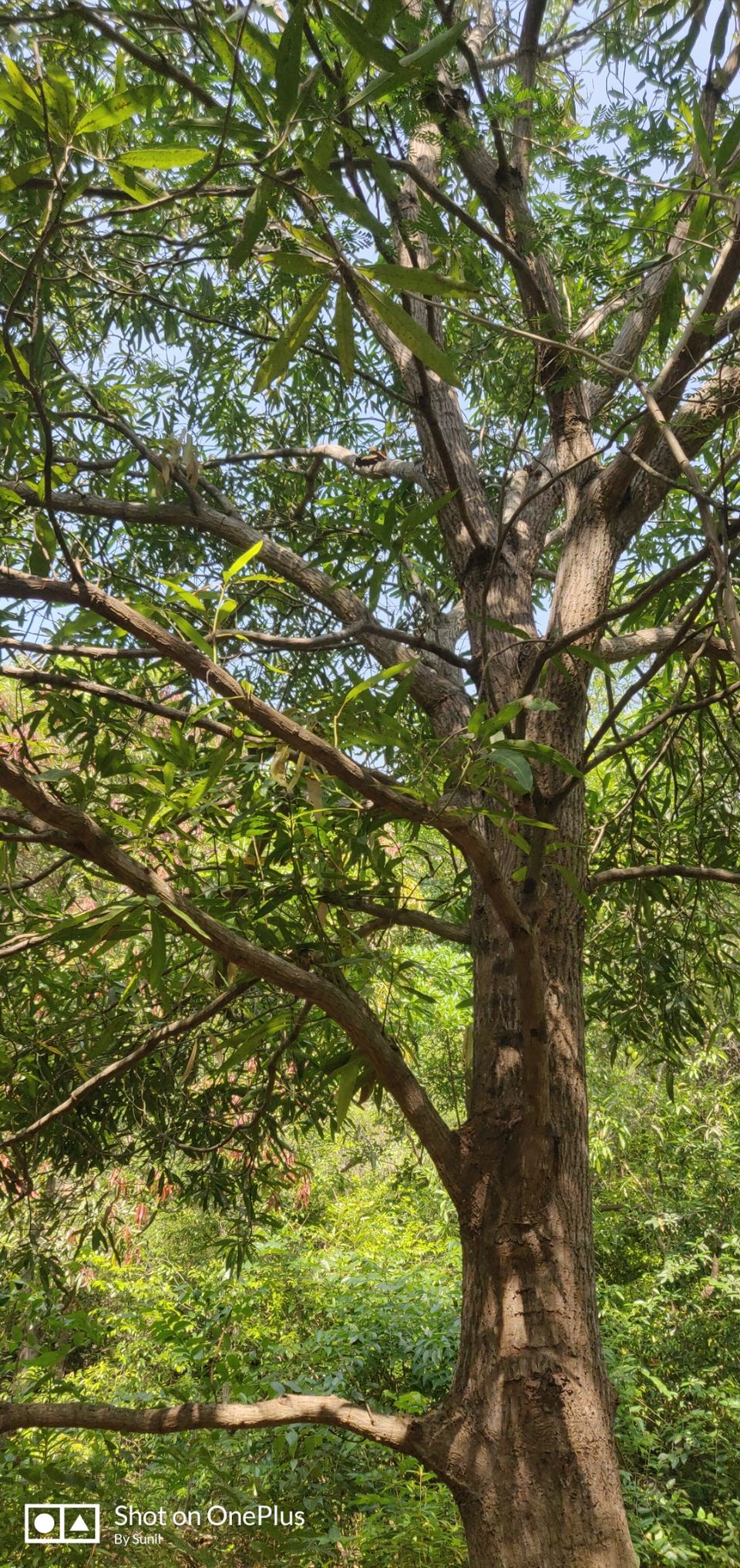 After a couple of hours of trekking we had reached the first pool where we had taken our first break. I had indulged in the cool waters happily. Everyone had enjoyed the welcome break and the refreshing waters. We had resumed our trek and after another hour had come face-to-face with the Dead end pool – the crossing of which was in progress now.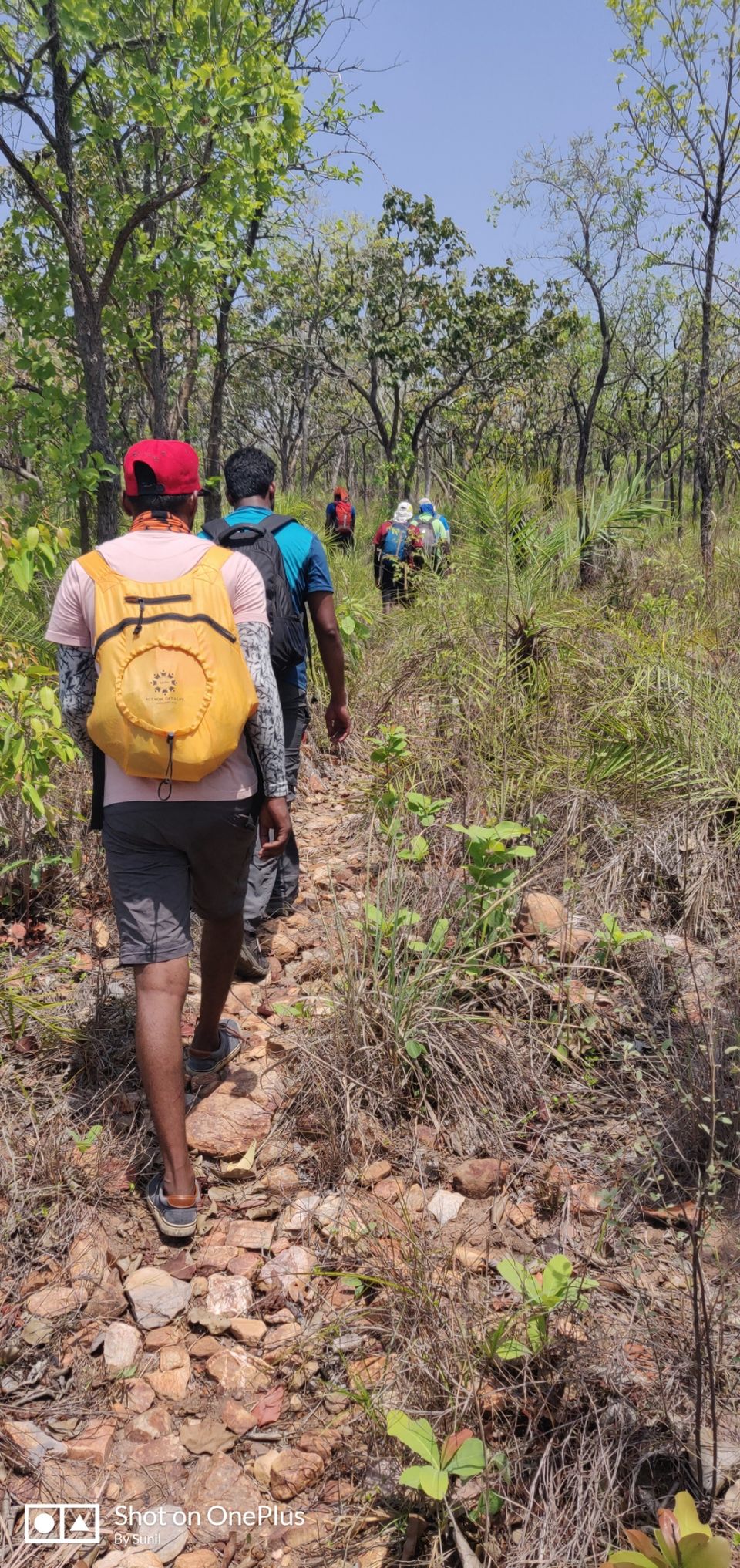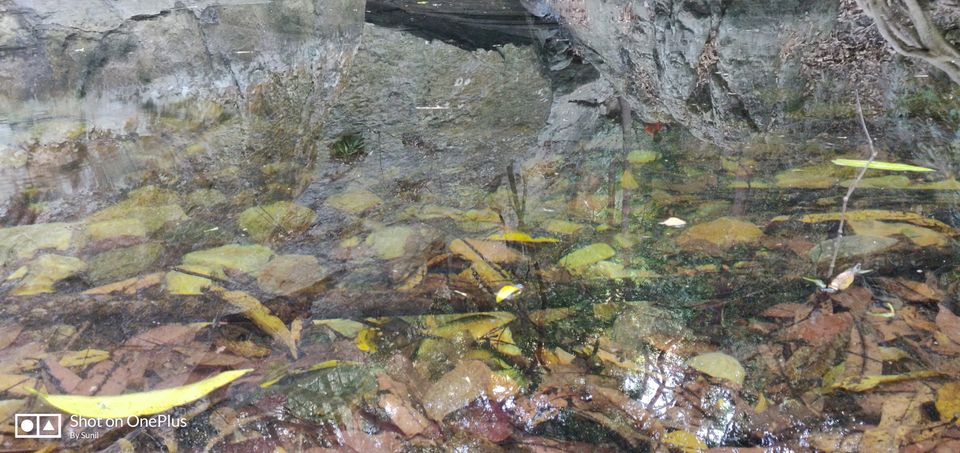 I looked around at the tired yet hopeful faces of my co-trekkers. It was a summer trek and we were a bunch of 8 guys and 2 ladies. A few hours back we had all been total strangers , but now we were helping each other in survival ! I did not know what I was signing up for this trekking adventure. But something inside me kept compelling me towards this adventure. Perhaps it was Nagala calling !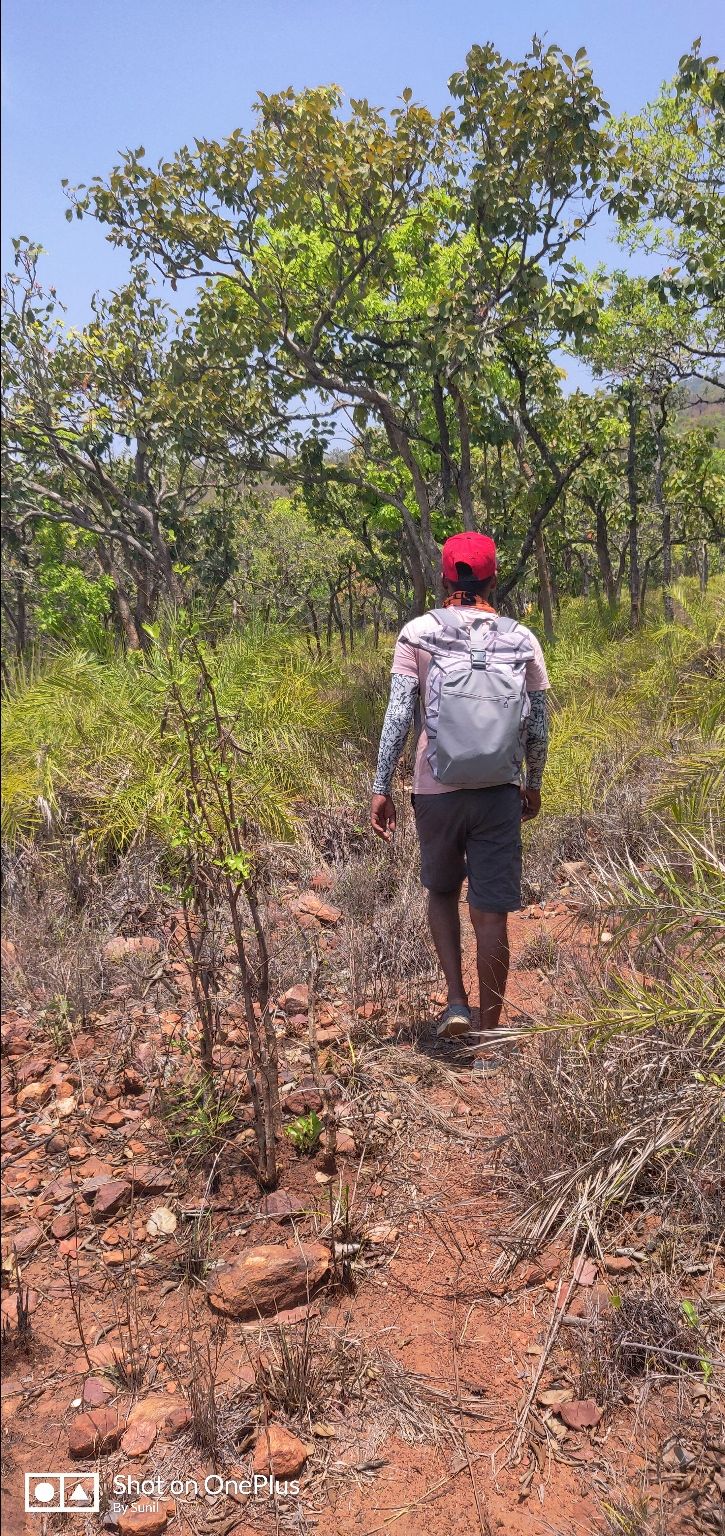 I could hear the instructions being repeated again – slip down this boulder, walk across that rock, climb the third boulder and slide down and walk across the vertical wall into the shallow end of the stream. Looks easy ? Definitely not, especially when you have just gained the knowledge that the pool is around 10 – 15 ft deep near the boulders and adding the height of the boulders it would be a free fall of 30 ft to the bottom of the Dead-end pool ! Whoever thought of this appropriate name – Dead-end pool ; and why would they use the redundant words 'dead' and 'end' in the same name to extinguish even the faint glimmer of hope that a first timer would have of crossing the pool alive !! Phew, what had I got myself into ?!
A few hours back I was lazing in the safe and warm confines of my home, sipping a hot coffee and enjoying the monsoons ! But now I was out in wild in an adventurous trek !
"SLIDE" ! Somebody said this rather urgently, breaking my flashback bubble in its infancy !!
I took a deep breath and started my slide… somebody held my hand and in that few seconds of unaided drop my heart jumped out a thousand times. My foot hit something hard, i looked down to see myself on the next boulder. A couple of steps and I started my upward slide on the next boulder. Mid way through the climb somebody extended a hand and helped. Once atop this boulder it was a slide down again. Then I walked a few steps on a gorge wall and stepped down into the shallow end of the pool. I had crossed the Dead-End pool; and I was alive !!
I walked a few more steps in the stream and stood on solid ground. A tiny water falls trickled by the rocks. The gorge ahead narrowed down once again after having been broadened by the pool. Here it truly looked like the walls could cave in any moment ! It was an amazing sight, worth the risk of crossing the Dead-End pool.
We played in the stream and the waterfalls. It was ice cold but that hardly deterred me from getting soaked. I was brimming with happiness.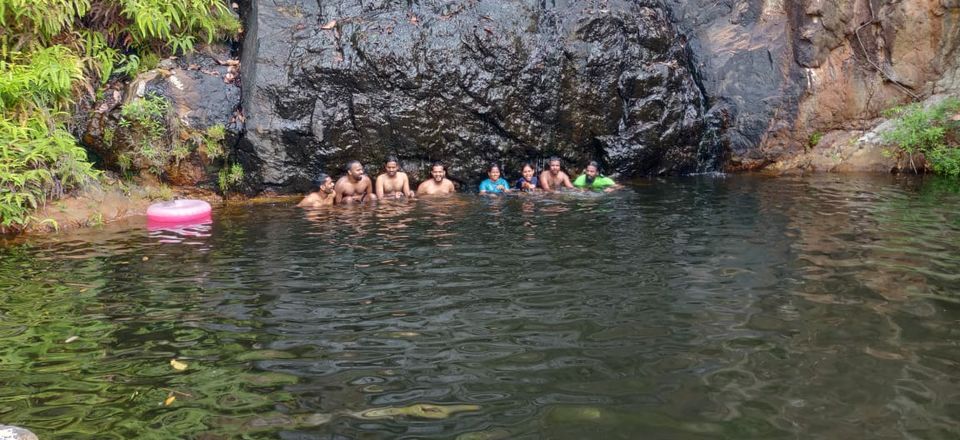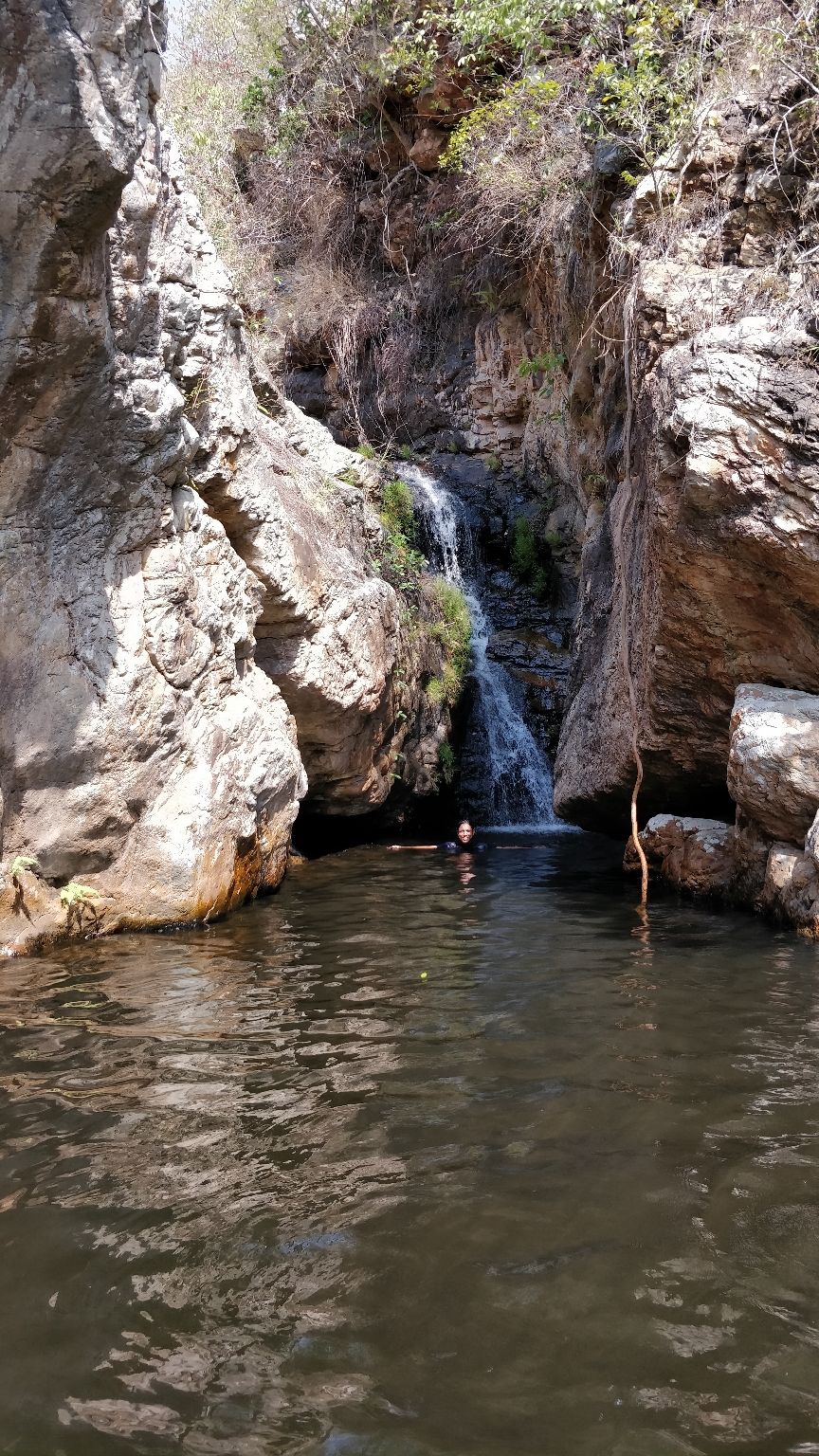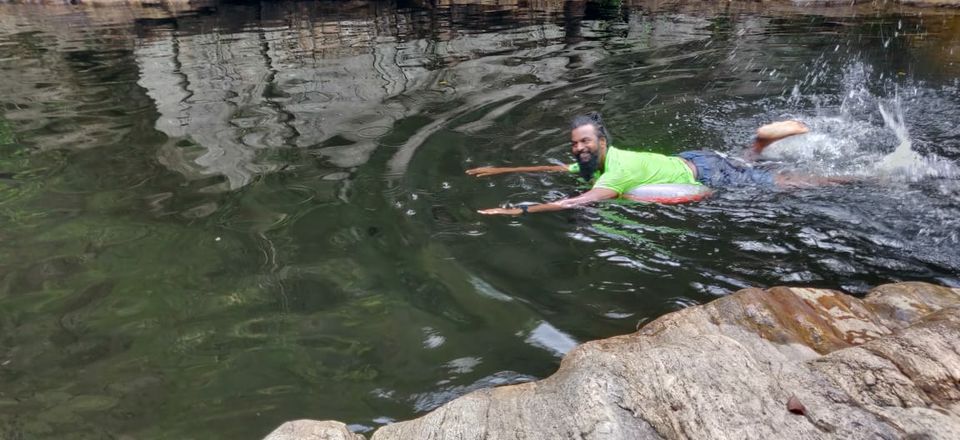 We walked for some more time through the stream and stopped for lunch at a cluster of flat boulders. There was much chattering and singing during the meal and everybody lightened up before embarking on the next leg of the trek.
After a satisfying meal we had a power nap and we were back on our journey. Our backpacks became heavier with the water. The trek prep mail had listed things to be carried and also a to be avoided in the trek kit.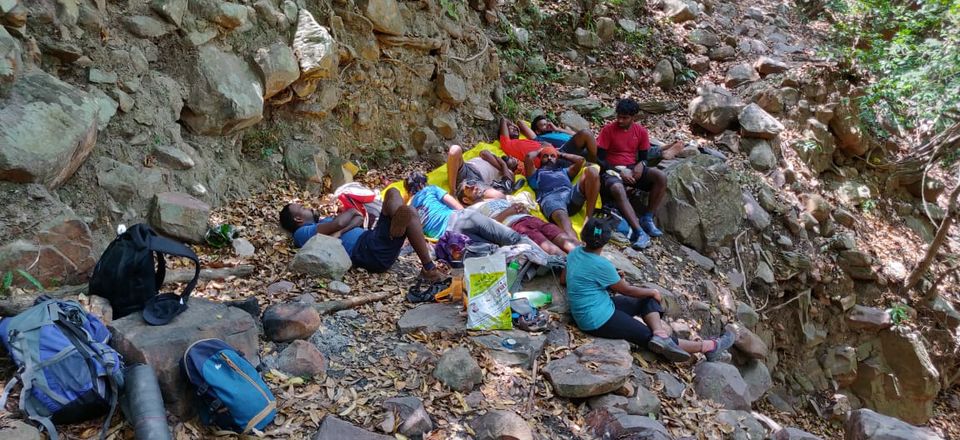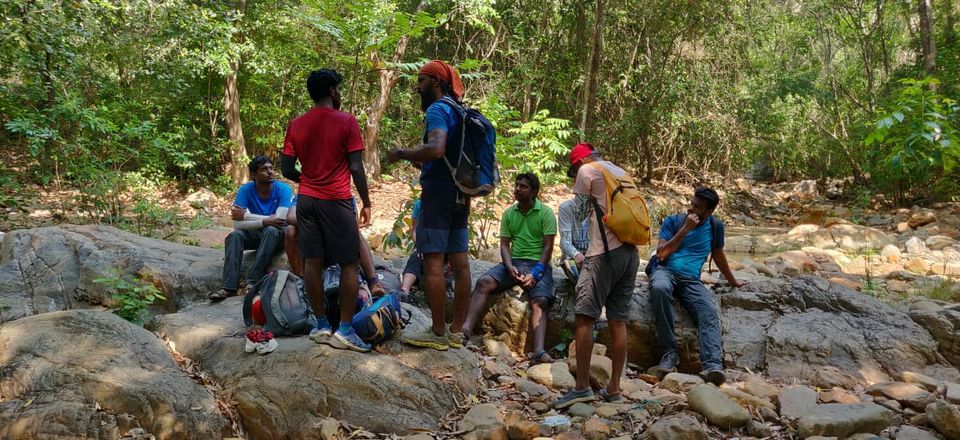 We trudged along for some more time until we could see no further due to darkness. There appeared a small clearing by the stream which was flat too. One of the my buddy who had already gone on a fast recon mission to find a much bigger camp site returned with a negative answer. So we decided to sleep on rock beds😉.
We threw our bags and spread out our sleeping bags. We then collected some firewood and somebody started a fire. The cooking pots which we had carried in addition to our own bags were quickly put to use. The 2 pots were filled with water from the stream and instant soup was cooked in one. Out came the vegetables and rice added to the other cooking pot ! We drank the soup and ate the vegetable biriyani from the one bowl each of us had brought in our trekking kits. It tasted relishing and filling than the best buffet I had ever tasted ! And it's a Good Night!!! for everyone 😴😴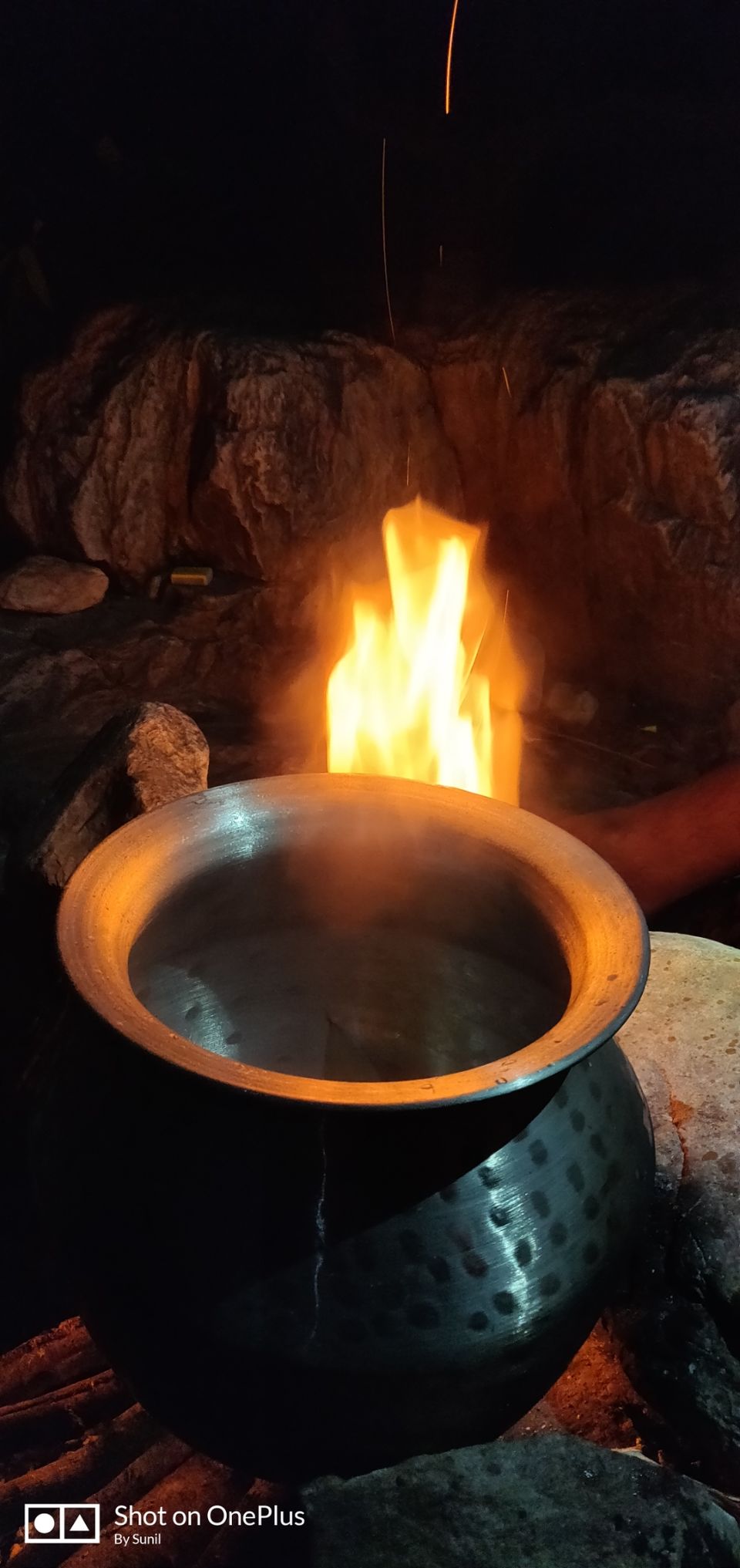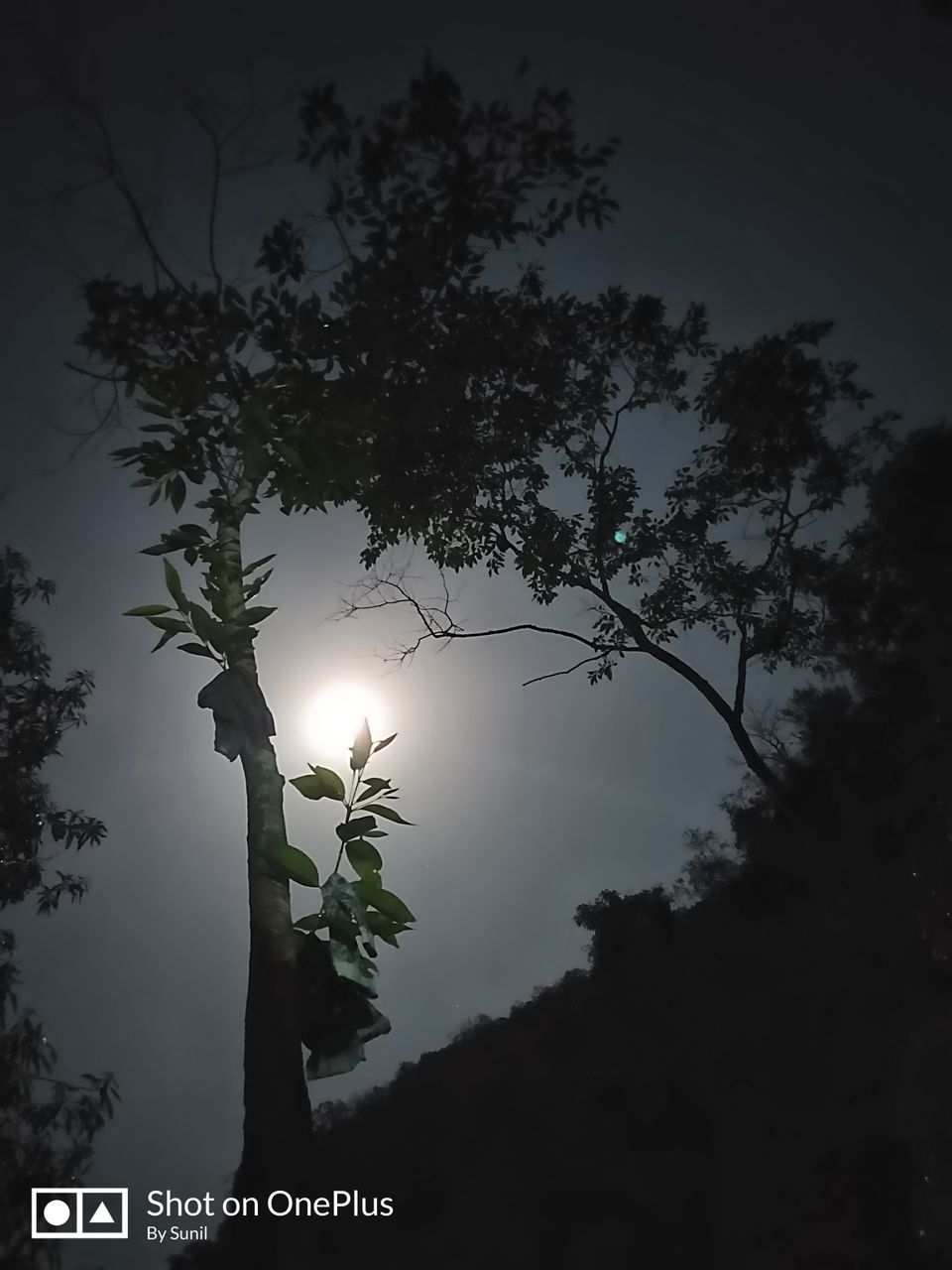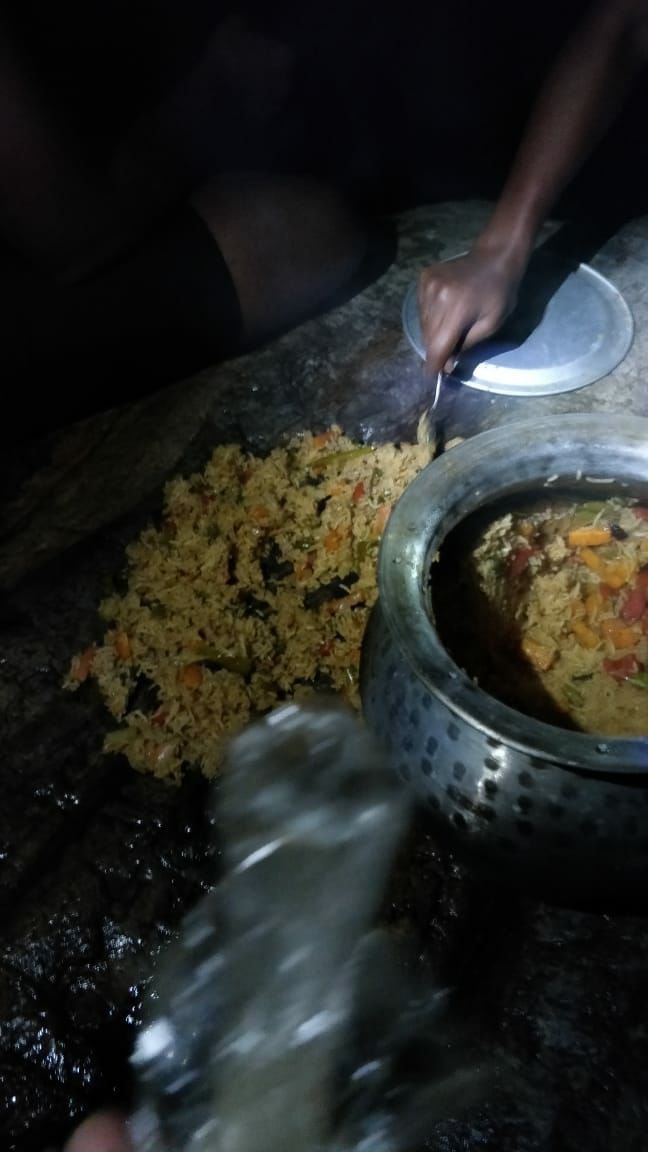 It's Day-2 : We were talking in low voices, more out of reverence for nature's silence around us than for concern for our sleeping friends ; We wanted more people to wake up and join the early morning party !! Some were hungry and out came the snacks – it was 3 a.m ! We chatted and sang . After some time a very low light started dispelling the darkness. Through the clearing on the tree tops we could see the light. Within a few minutes the stream reflected the early morning light. The light was soft and the morning was tender. The flowing stream was singing a soft melody and the setting seemed too ethereal to be real ! One trekker woke up and when we showed her the first rays penetrating the forest, she instinctiveky switched on her torch to find out where the sun's first rays where !! Another trekker announced that she had thought in her sleep that the constant gurgle of the stream was actually an artificial table top water fall !! It was funny and ironical. We cityzens – we urgently need more zenin the city !! We are all prone to such ironies when our lives get hardcoded in the city ! We need to become more zensitive !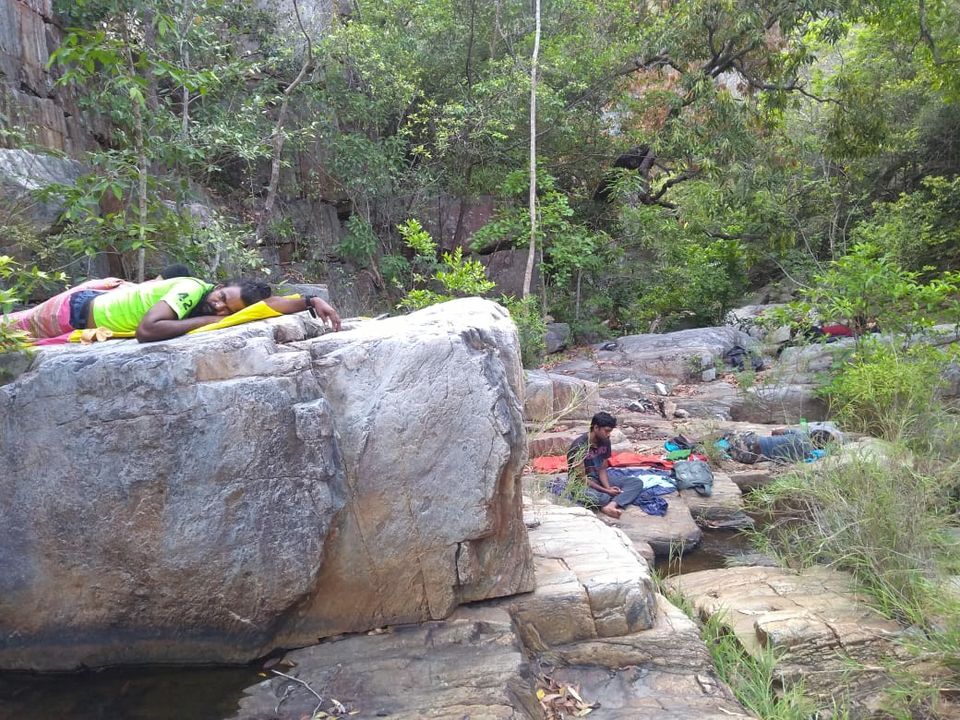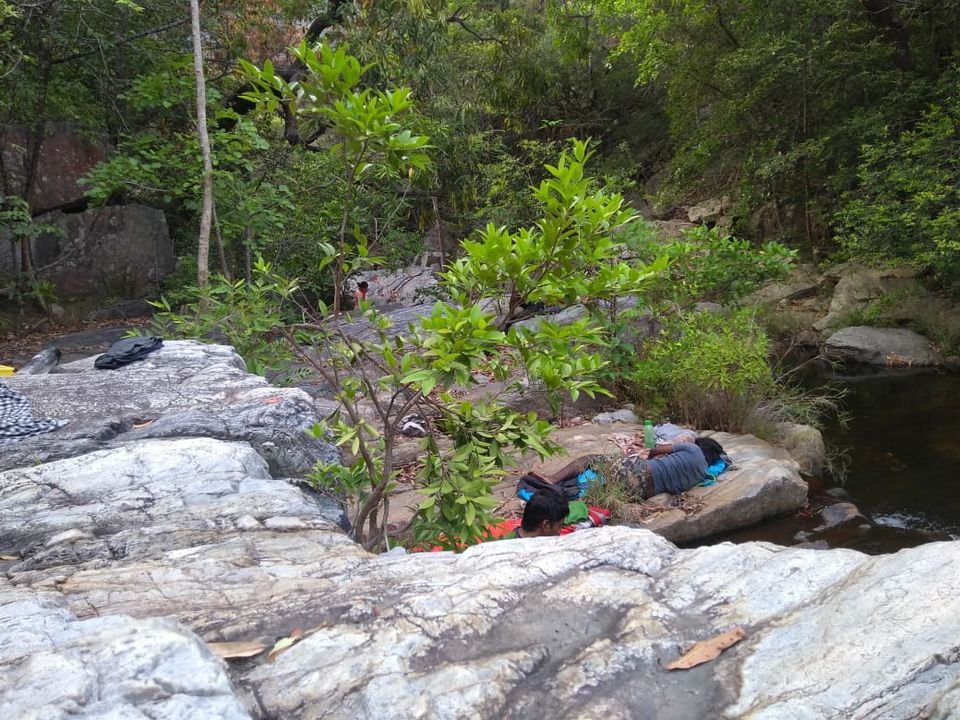 The rest of the camp woke up and everyone felt a hot cup of chai is what would get us going and raise. We have prepared hot herbal chai and enjoyed having the music player by the nature.
We got down to the job of clearing the camp site – folding our mats & tarpaulin, picking up the little trash and stuffing them in carry bags, arranging our own bags.
We started the return trek. We followed the lead navigator. Another navigator brought up the rear of the group. But very soon we would be breaking into groups naturally based on our trek speed and stamina, and in some cases our photographic expeditions !! But the group always conglomerated at the critical junctures which were hazardous, to help each other out.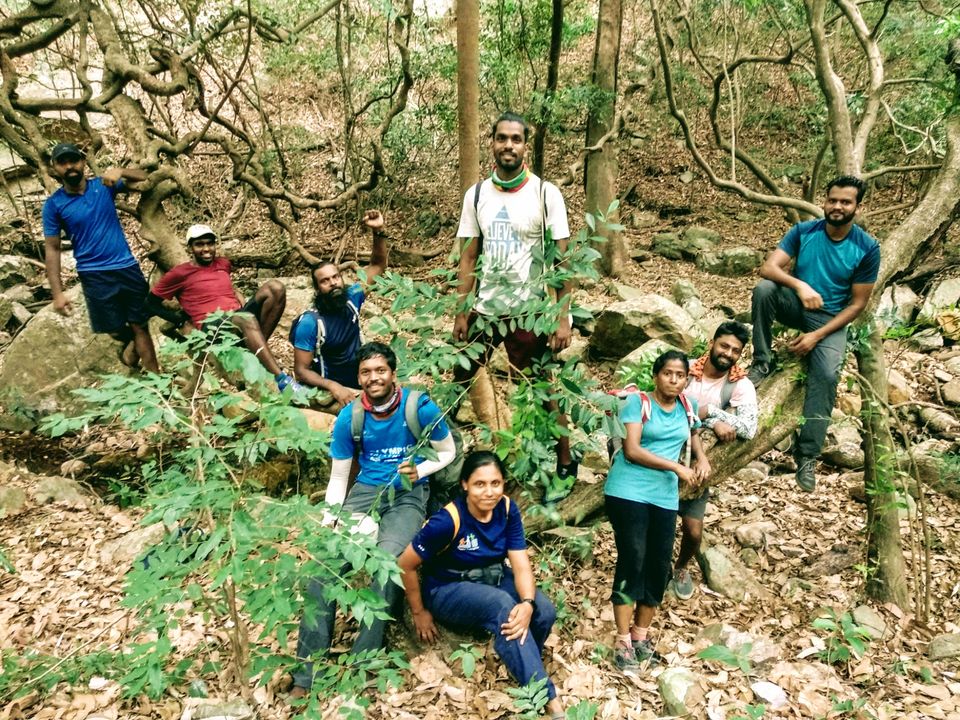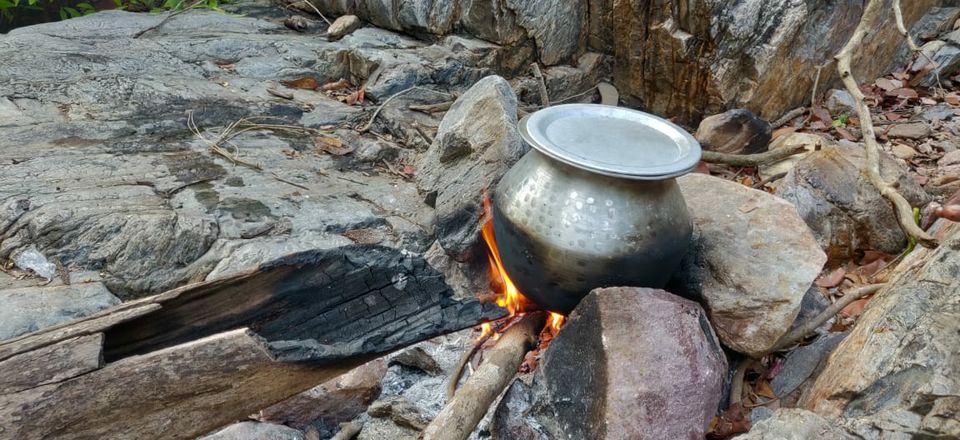 Once the entire troupe had victoriously crossed over the Dead pool, we celebrated by having the first meal of the day at around 12 noon. We have started cooking curd rice and had it as wild lunch on the Rocks!!😉 It was really a different experience in my life 😀. After this relishing meal it was time to resume the trek.
By now, the stream had become my good friend and the slips too did not hurt much; and also perhaps my body had become numb ! I slowed down to click some snaps along the way.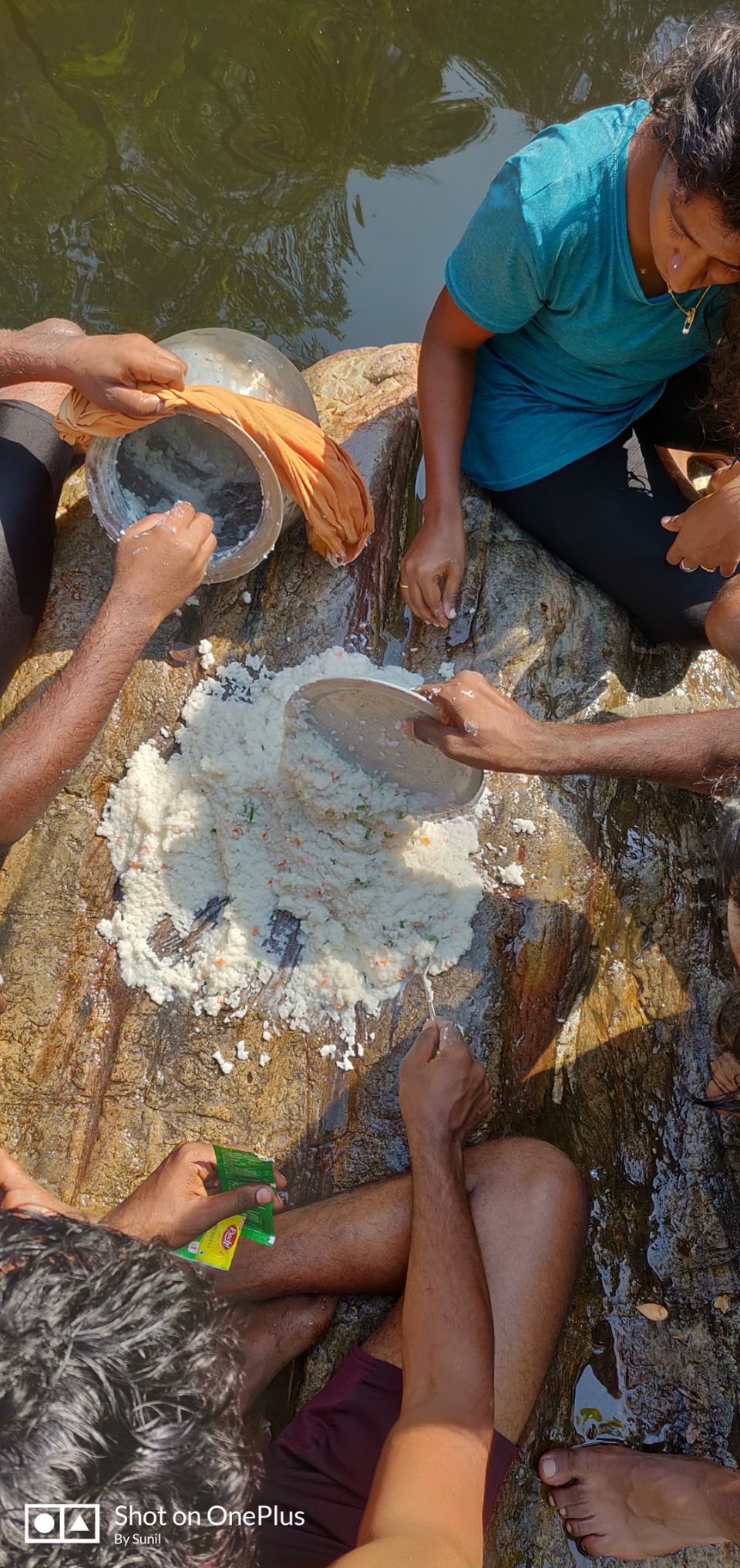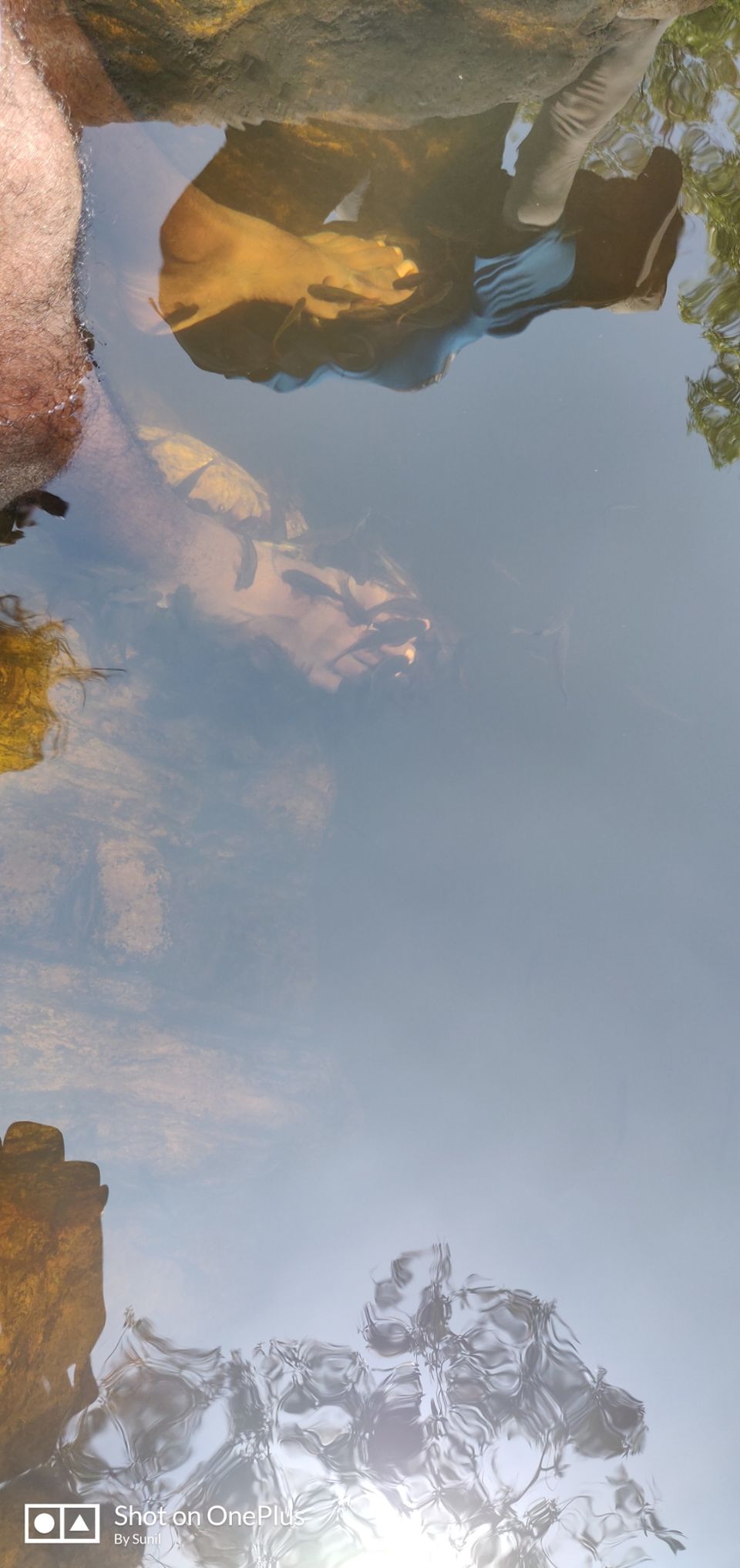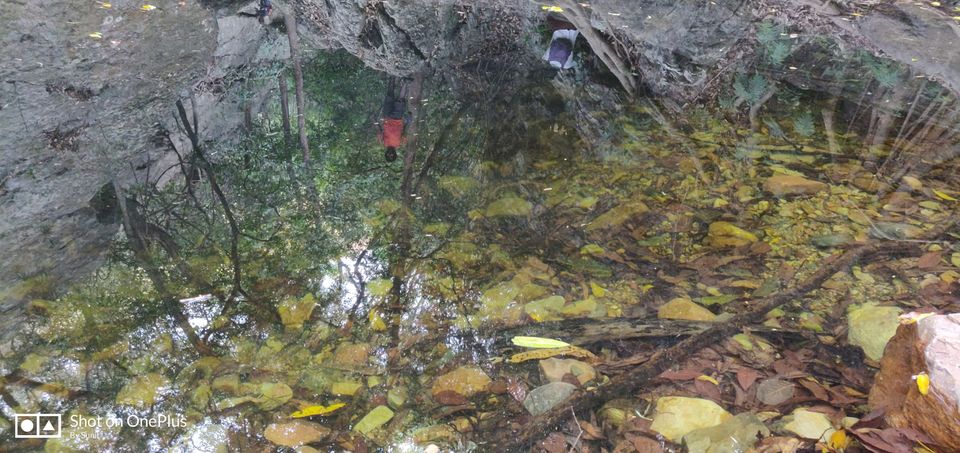 We reached the first pool and decided to take a break. I lay down on the rocks and gazed at the mountain peaks. Nature is amazing. There is a wealth of information and wisdom there that reveals itself only to the seeker. We just need to sit in silence in nature and we can hear the whisperings of love and wisdom that resounds. I looked at the steep and narrow gorge and wondered at the river's patience in making the mountain understand the river's love for the mountain and creating a path for itself to flow through the heart of the mountain. And such a mighty mountain becoming tender enough to be moved by the gentle river. The River flowed happily protected by the strong Mountains. The witnessing of such love tugged at my heart. Love and Faith can indeed move Mountains.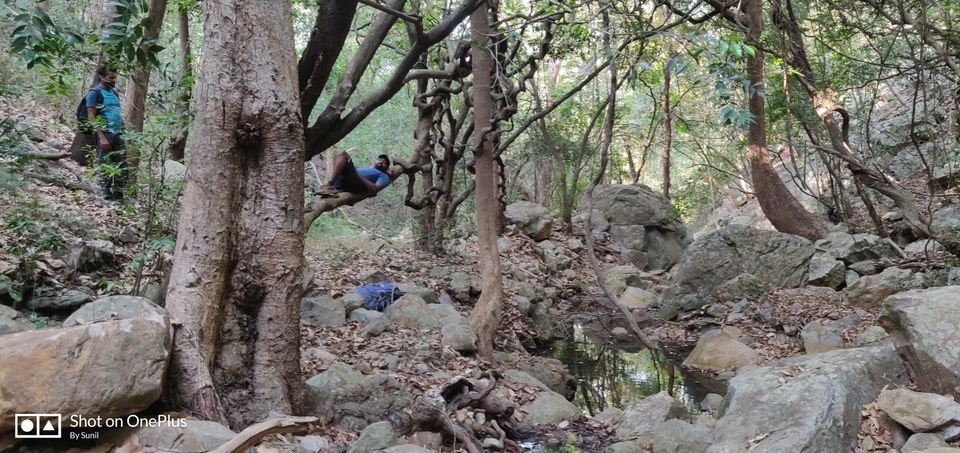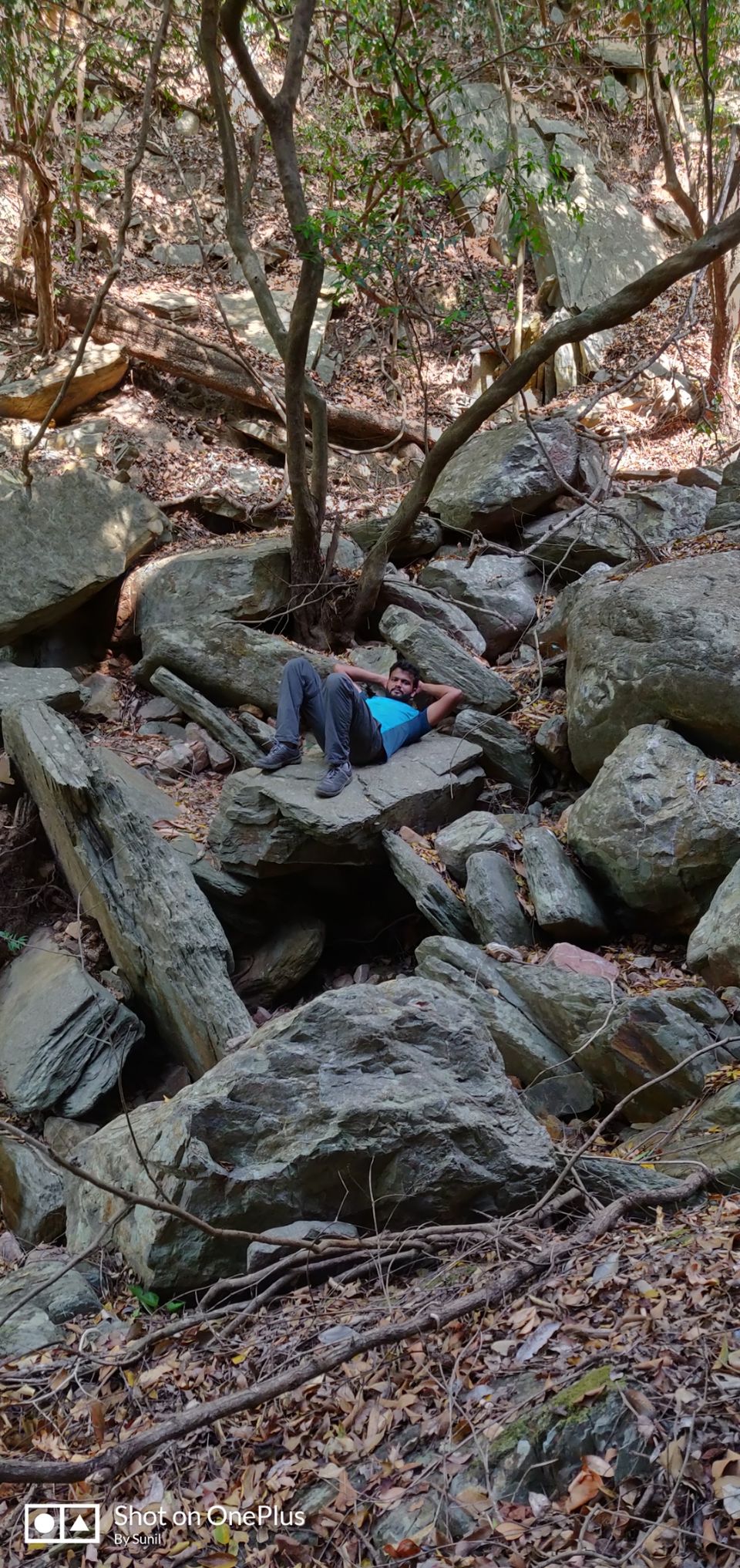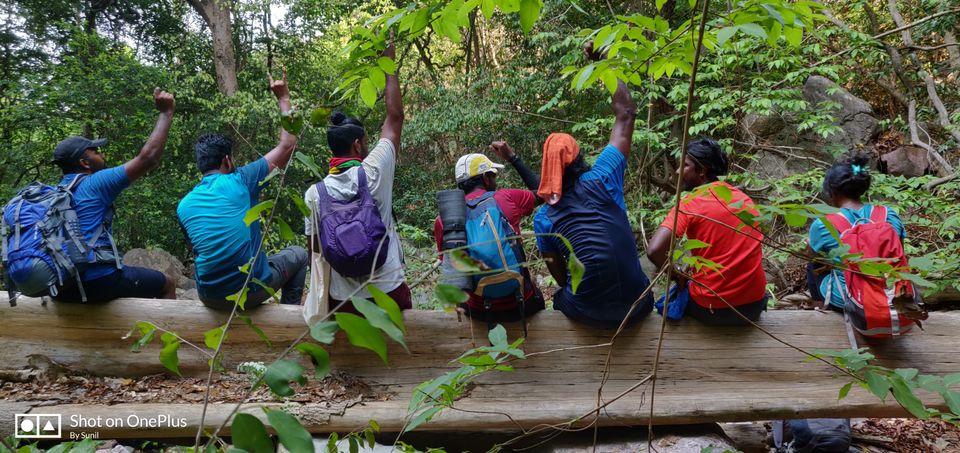 The final lap resembled a comedy movie where groups get lost and keep running into each other and going the wrong way again and again ! This mountain trail can change course in multiple directions and one small wrong turn could lead us into an unknown part of the forest. Few of my buddies were experts and they charted our course well. In the last stretch we also encountered many local villagers who come to the mountains often to pick up firewood or leaves etc. They walked as if they were walking on flat ground under optimal conditions while we struggled like a baby taking its first steps ! The locals were people who were part of nature and they did not need special equipments to visit her !
After much walking we sighted the dam. It was dry with no water. We could spot the temple in the distance. Darkness was falling over the mountains. We crossed the dam at its narrowest part and we decided to break for dinner enroute while some of us planned to go straight to Chennai.
We had reached to our local homestay and we have informed them to prepare a yummy Andhra Style dinner for us while we getting near to base so by the time we reach to base our yummy dinner will be ready kill our hunger.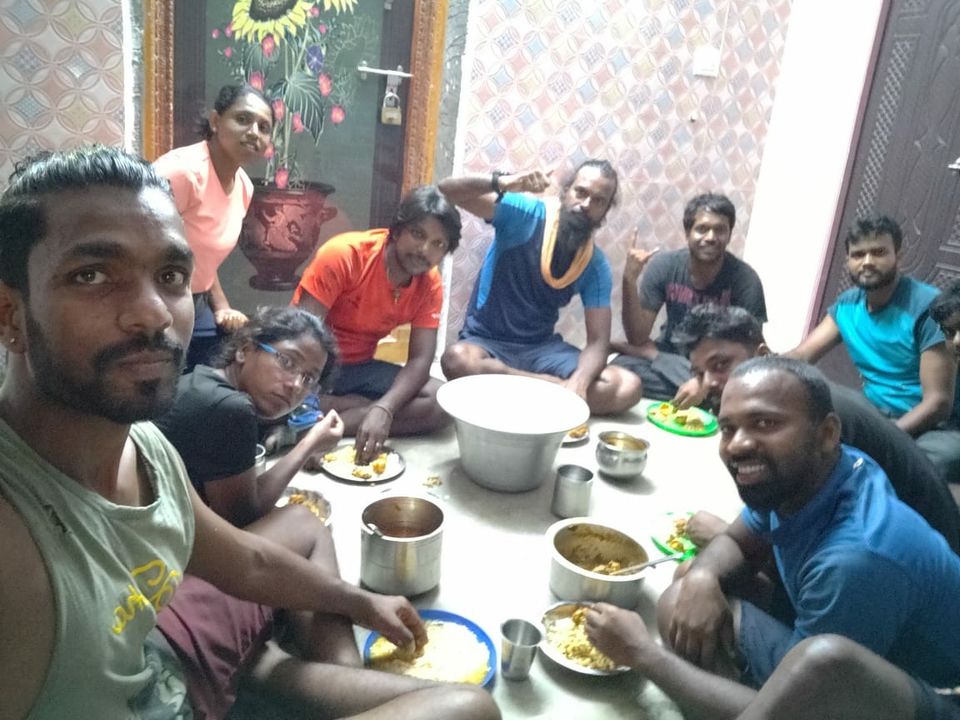 After a heaven dinner, I switched on my mobile and saw some missed calls. I would have to answer them soon and face some tough questions !! Not yet ! I had not yet bid adieu to the mountain, stream, trees and clouds ! I had the feeling that I was bidding goodbye to a close friend. It was also time to say goodbyes to my co-trekkers some of them I have met in this trek and had become good friends by now, having survived two strenuous days together. We all had done a wonderful job and were very helpful to each other.