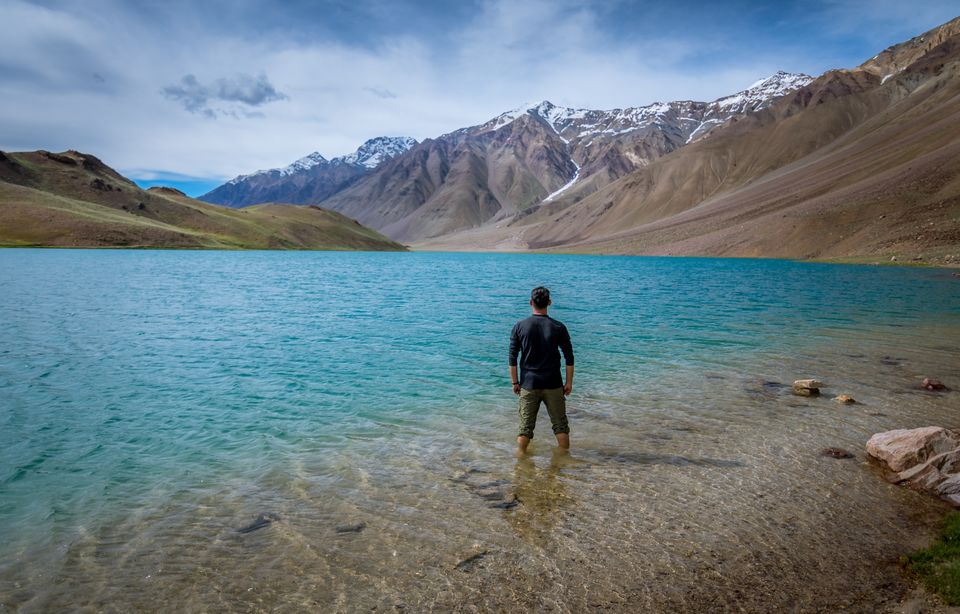 To me, mountains are "home" away from home, and nature rejuvenates me like nothing else. Whenever I feel exhausted from the chaos and hurly-burly of city life, and monotony begins to prevail over my thoughts and actions, I take a couple of days off my relentless work-life and spend some time doing my favourite pastime: trekking in mountains.
On a rainy day in July last year, I was looking through Internet blogs for a mountain getaway when I stumbled upon some serene pictures of Hampta Pass trek. I was awed by the breathtaking beauty of the trek. It was like discovering something previously unknown to me that my heart had been looking for so long. Without much thought, I booked this 5D/4N trek (excluding Delhi-Manali return journey) with a travel agency.
My journey started at 08:00 pm from outside the ISBT Kashmiri Gate in a Volvo bus. Some private tour operators provide good services at significantly lower prices (20-40% less) than HRTC buses. You just need to do a bit of research to figure that out.
Due to rains and endless traffic in the state, my bus crawled for the first few hours. But the journey from midnight was smooth. On a calm and peaceful night, watching raindrops slide down the window panes as your favourite music plays on your headphones is an absolute stress buster!
I reached Manali around 10 in the morning. Fresh mountain air filled me with excitement and energy. Giant mountains cloaked in colorful houses and rumbling Beas river embrace everyone who visits this beautiful hill town. It's not only the change of view and the environment, but the fact that you leave stress and chaotic routine life behind that puts things into perspective and makes you fall in love with mountains.
Our journey started with a cab ride from Manali bridge to Jobra, the basecamp of Hampta Pass trek, and also the place from where you begin this trek on foot. The 16 km journey from Manali to this point is an amazing experience itself. It begins at the foot of a mountain and takes you through a narrow, steep road with lots of hairpin bends to this very place, which is as quaint as soul-touching. Your altitude increases by 3000 feet in just one hour!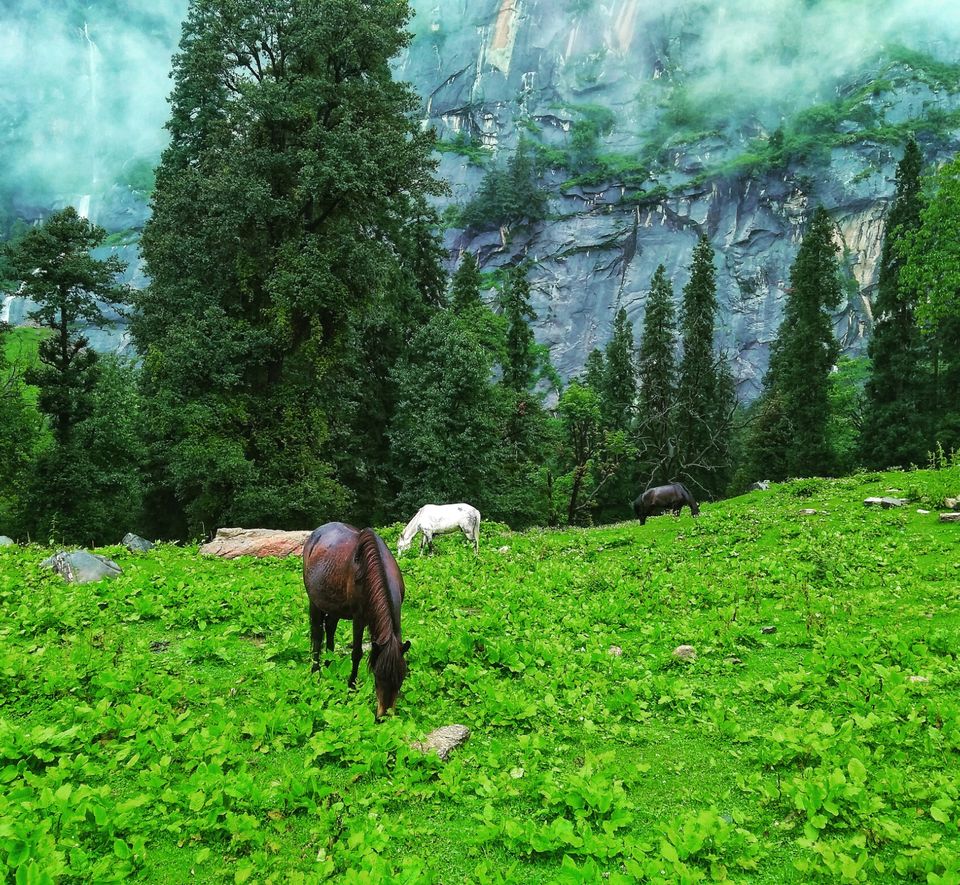 It was around 2 pm and drizzling when we reached Jobra. After stocking up on snacks at a Maggi shop, we waterproofed our backpacks and put on our raincoats. The initial stretch of the trail passed through thick forest, and was quite slippery to walk on.
While trekking in a rainy season can be a bit difficult, it gives you a whole new experience with an added layer of adventure and beauty in natural views. You should do at least one monsoon trek in your lifetime; you will get to experience the sublime beauty of nature in full bloom and most vibrant colors.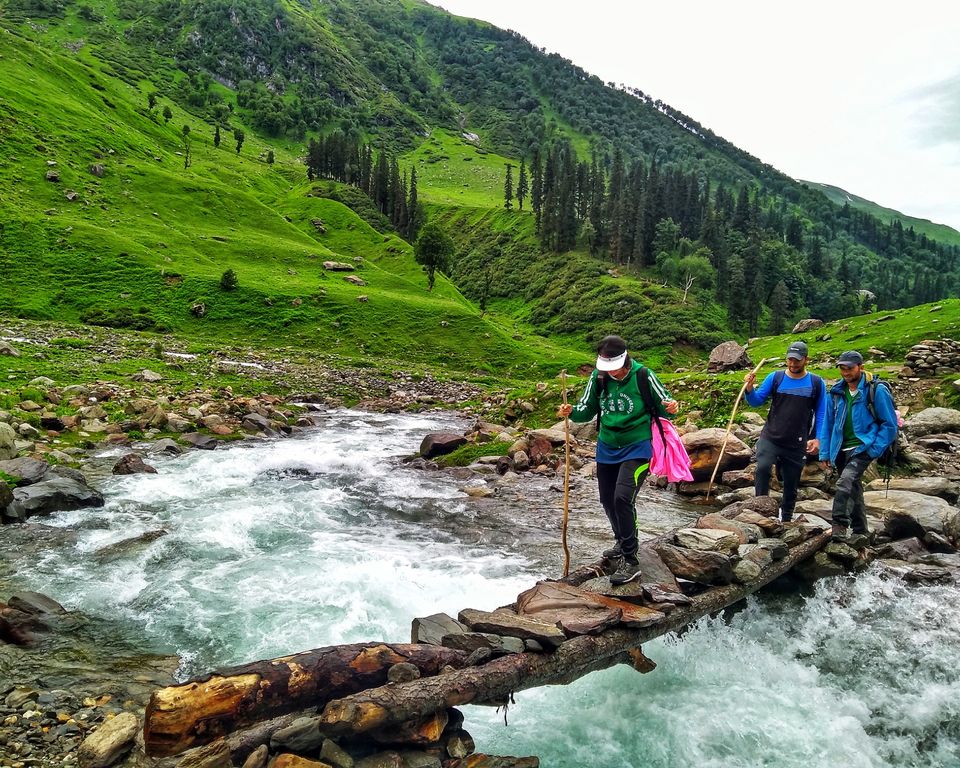 After an arduous trek of half-an-hour, we were greeted by vast, green meadows, and the trail was mostly flat thereafter. Around 5 pm, we reached our first camping site Chika, a place that boasts of a roaring waterfall and panoramic views of the valley.
From Chika to Balu ka Ghera
After a delectable breakfast and with packed lunch boxes, we left our campsite at 9 am. The first few kilometres of this 8 km trail is rocky. Small water streams and patches of wildflowers make the magnificent mountain scenery look more beautiful.
The most overwhelming experience of this day, however, was crossing a river on foot.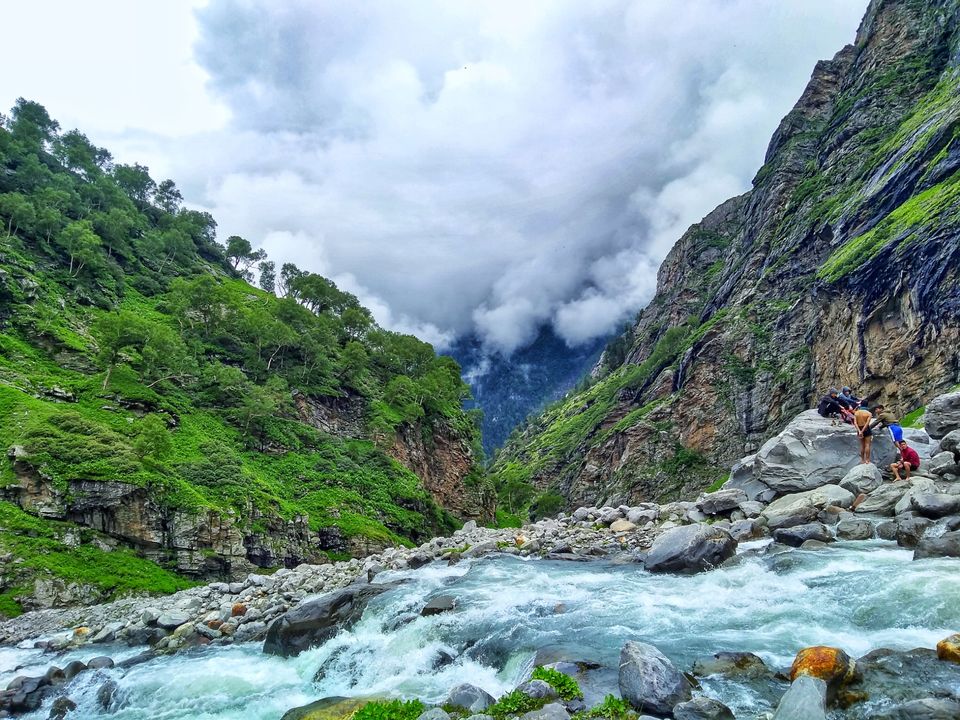 It was around noon. With my pants folded up to knee, shoes tied to the backpack, and bursts of adrenaline rushing through the body, I was all prepared to plunge (only figuratively!) into this adventurous activity. With interlocked arms, we trudged through the river, taking one step at a time. While icy-cold water occasionally rose above my waist, it was difficult to hold onto the rocky riverbed. It took several minutes after crossing the river before I could feel my feet again.
As we hiked further up, the trail became less steep, and grassy meadows disappeared gradually, giving way to vast glaciers spanning the entire vista. Water streams had now gone beneath the ice sheet.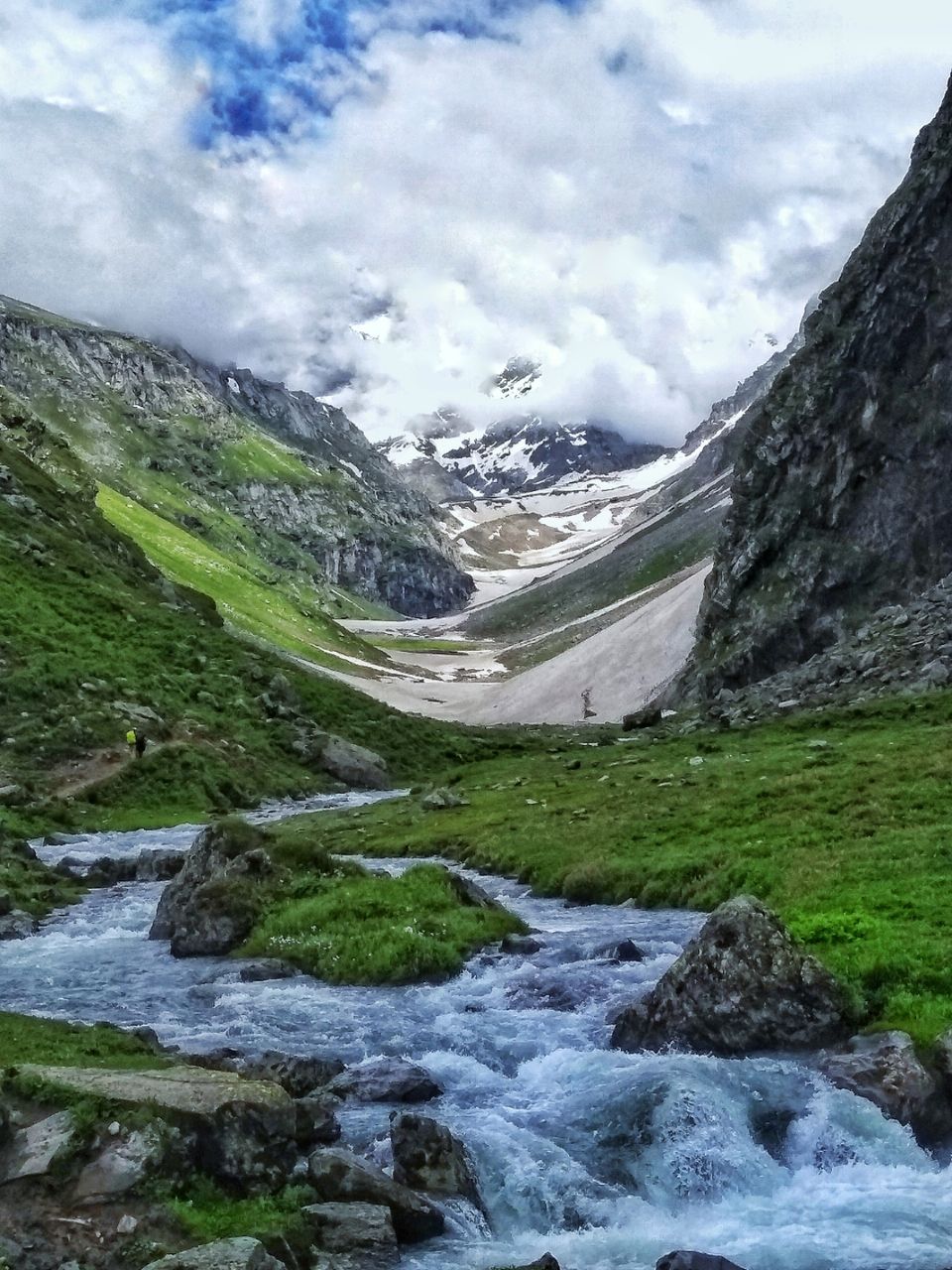 Balu ka Ghera is an awesome camping spot. It can appropriately be called a cold desert! The view is edged sideways with barren, nearly vertical rock cliffs, there's sand below your feet and the sound of roaring river flowing nearby makes for a perfectly soothing and camping experience.
We started early in the morning because this was the summit day and weather at a mountain pass can be very intimidating and unpredictable. With a clear, bright sunny day giving way to cloudy, overcast weather, it can get more dramatic with moderate winds and rain, all within a matter of a few minutes.
As we got closer to the summit, snow became fluffy and the trail got steeper, making it more thrilling and difficult to climb. But the mesmerizingly gorgeous panoramic views and the colossal snow-clad mountain peaks welcoming you to the place make the pain totally worth it!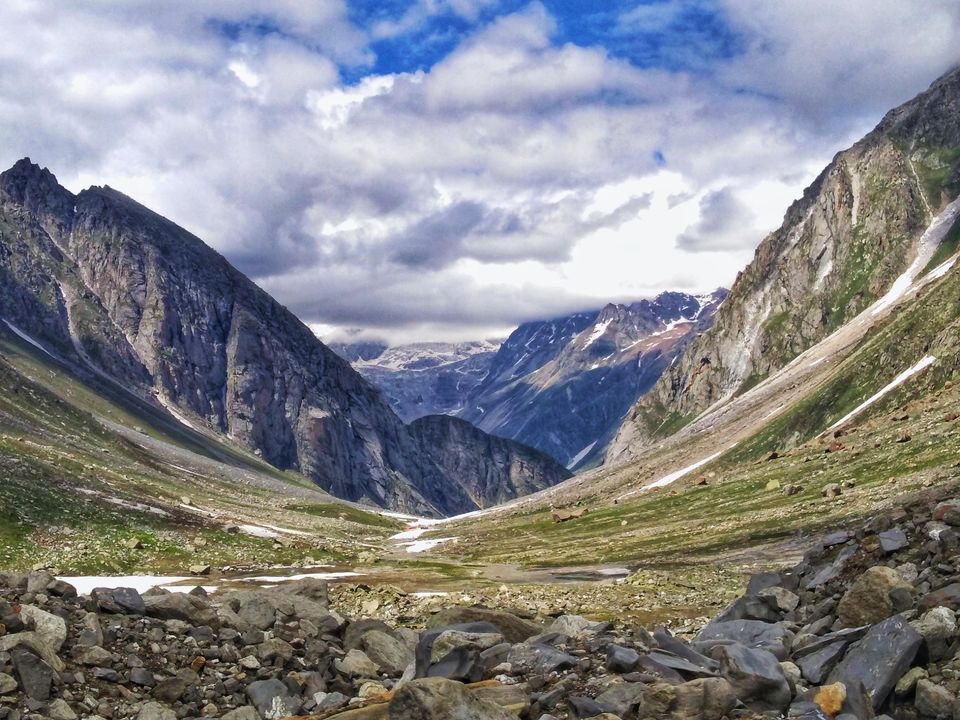 After spending a few moments worth memory of a lifetime at the top now came a differently challenging task: descent from the Hampta Pass into the Spiti valley. For almost a kilometre, it was a steep (nearly vertical!) descent through rocky terrain. The most fun activity of the day was the butt-freezing slide on a hard slope of ice straight for 20 seconds down into the flats of the valley.
After a kilometre of trek further in this wonderland, I found myself grabbing the tent of my choice at our campsite along the riverside. This place is called Shea Goru. It offers stunning views of the night sky and the milky way.
Shea Goru - Chhatru - Chandra taal - Chhatru
Officially the last day of Hampta Pass trek, it involves trekking from Shea Goru to Chhatru which is easily covered in 3-4 hours. From Chhatru, you can either return to Manali via Leh-Manali highway by the evening or take a trip to Chandra taal and spend the night back at Chhatru.
The trek from Shea Goru to Chhatru is quite dramatic and a total delight. We began by crossing a few small glaciers and a water stream which now seemed to be a cakewalk to us. It was followed by grasslands with colorful wildflowers on either side of the trail, then rough terrain with small and big boulders strewn around, and a steep descent crossing which was now only a slice of adventure.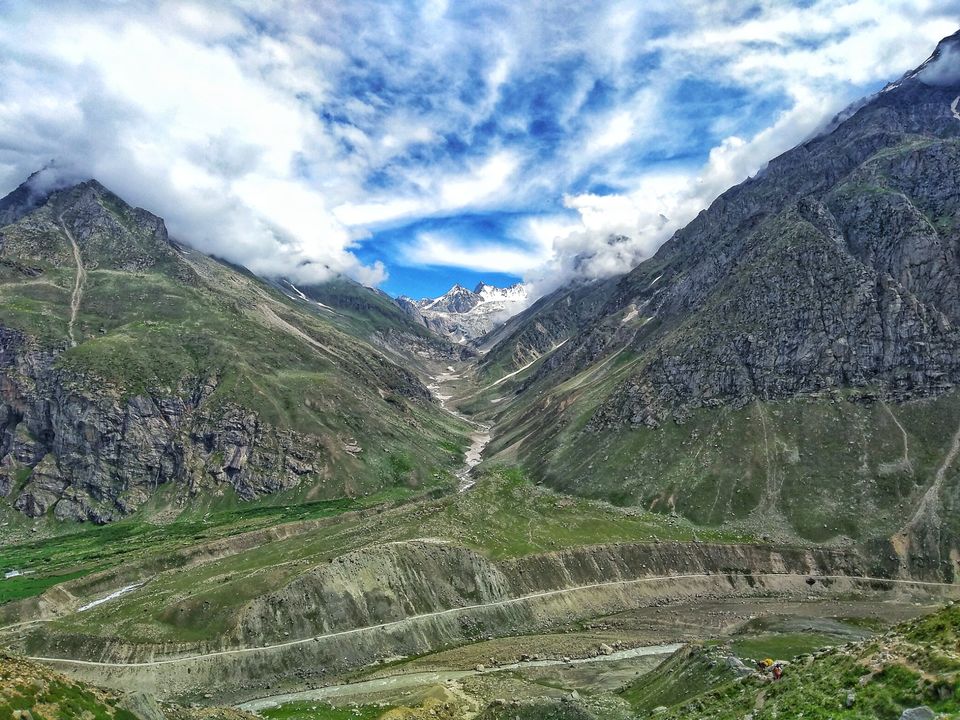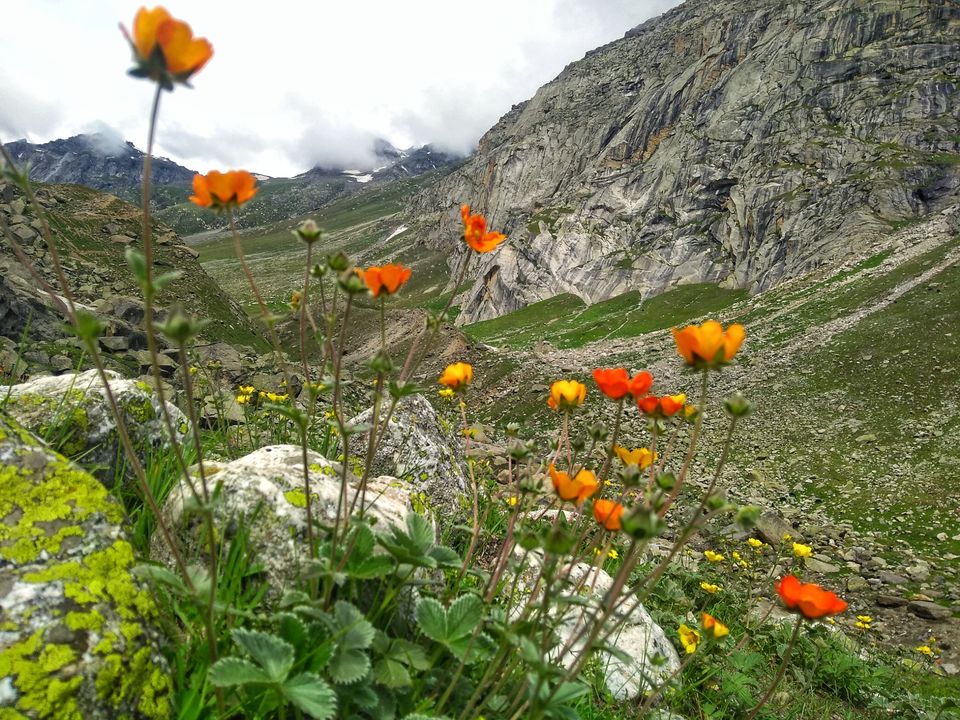 After crossing a small stream through a frail bridge and a kilometre of easy walk, we finally reached our campsite at Chhatru, had our lunch and set out on our 3-hour long cab journey to Chandra taal. This road trip is one hell of an amazing journey itself.
Icing on the cake: The moon lake
A 10-minute downhill walk on a gentle slope leads to the mesmerizing Chandra taal lake. Catching the first glimpse of the glossy turquoise blue water in the glacial lake sitting in the lap of arid mountains feels like nirvana.
The water was cold and clear. Although the lake is considered to be sacred and the entry is prohibited, I couldn't stop myself from leaping a few feet into the pristine water, and sat on a boulder to admire the impressive backdrop which adds to the charm of this lake. An hour's visit to this place of cosmic beauty is just etched on my memory.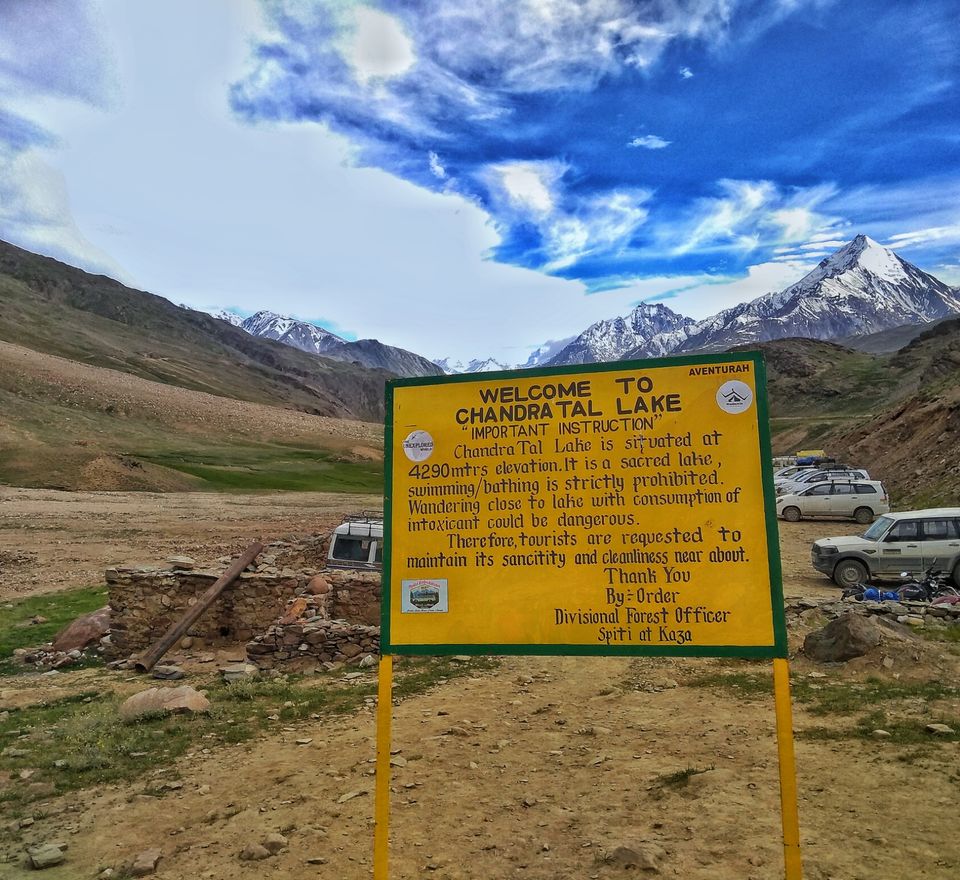 After four days of fun in the fairyland, it was time to be ready to head back home. At 7 in the morning, we left for Manali via Leh-Manali highway, one of the most scenic road trips in Himachal. We also made a brief pit stop at Rohtang pass. But dense clouds had curtained off the entire view and all we could see from the pass was a couple of roadside dhabas and a few tourists displaying an exaggerated feeling of the cold with steaming tea in their hands. By the way, the word "Rohtang" literally means "pile of dead bodies". Interesting, isn't it?
After arriving at Manali in the afternoon, I wandered around for a few hours, and returned home by an evening bus to Delhi with a bundle of wonderful memories and loads of instagrammable pictures.
Quick Info:
Duration: 5D/4N
Best time: June to September
Difficulty level: Easy to moderate
(Cover Photo by Abhinav Pratap Singh)