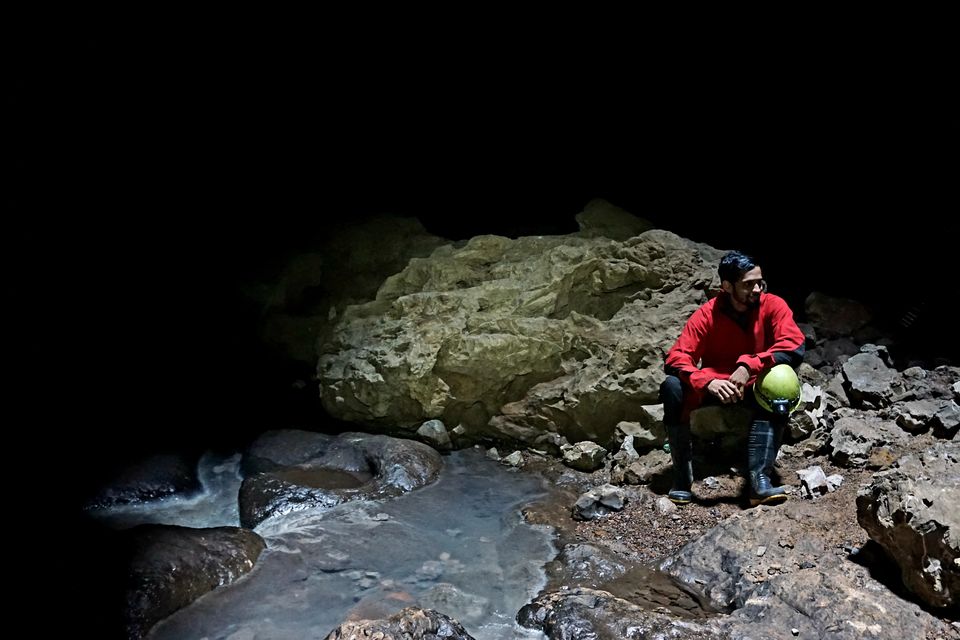 Khasi hills, where the man, the beast, the tree and the stones live in unison as equals – is the belief of the seven tribes who inhabit the hills that run through Meghalaya. The seven chosen tribes who were sent to earth from heaven by the god himself to look after beautiful abode in North East India. Blessed with immense natural bounty, the tribes lived like one with the nature and followed the concept of Animism. Followers of animism believe that every element including man, animal, trees and the stones have life in them and that they are part of a whole. In fact even though many of the locals have converted to other religions like Hinduism, Buddhism and Christianity, animism still remains an integral part of their cultural fabric.
This prelude to Meghalaya and Khasi hills would have hopefully given you a glimpse of what is on offer in this small state which I fondly call as "God's favourite hangout". I visited Meghalaya last week with the team called "One in the orange jacket" who is fast becoming my favorite tour guide. The trip true to its build-up was off beat on all terms. The best part of it all being my first spelunking experience!
It was an impromptu decision to take this trip on a Thursday evening and the very next day I was on a flight to Guwahati. From there, I joined Vyshakh Nair from the Organge Jacket and his group of a dozen like minded crazy travelers. Guwahati to Shillong and further to Cherapunjee can be covered in four hours these days, thanks to the smooth highway. We stopped at the Umiam lake on the way to soak in a breath taking sunset.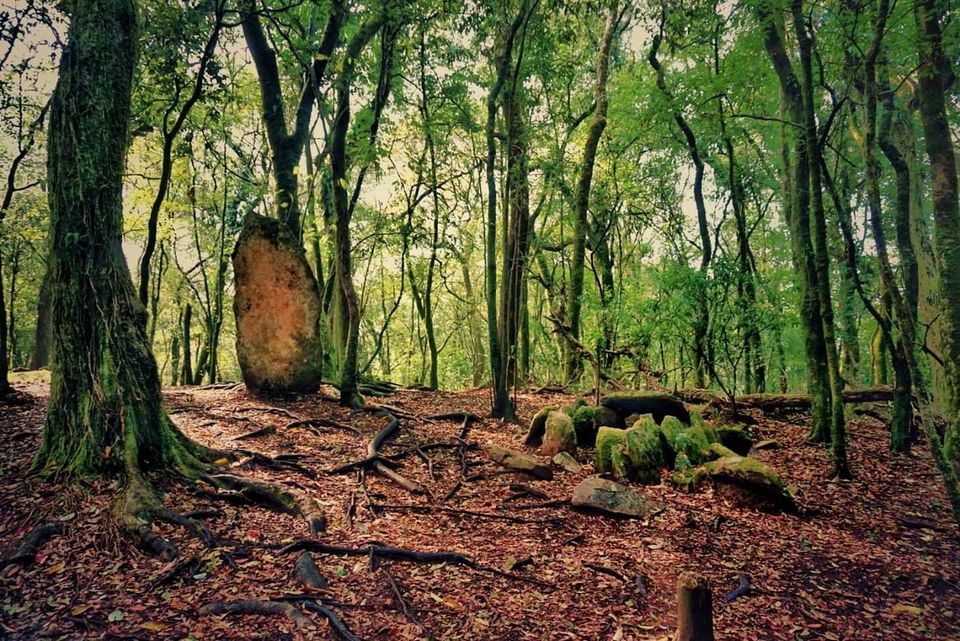 From Shillong one can take the famous David Scott's trail or Sacred forest trail to Cherapunjee which is a picturesque 16Km, 6 hr easy trail.
We were put up in a beautiful small home stay called La Kupar Inn at Cherapunjee which was to be our camp for the next five days. Cherapunjee in its typical fashion welcomed us with heavy rains. In fact nature threw us an icing on the cake with a hail storm that evening! We hit the sack early that night anxious about what is in store for us for the next few days and how we will manage the heavy rains going ahead.
The Double Decker root bridge
To our surprise a warm sun greeted us the next day morning. Post a quick breakfast we headed towards our first destination – the famous Double root bridge at Nongriat . A 4 Km trek from the village called Tyrna. The double root bridge, the natural pools and the rainbow falls are fast becoming a major tourist attraction in Meghalaya. I shall in fact skip the part about my trek as I have already written a detailed note about it during my last visit seven years back which you can read up here: https://www.tripoto.com/trip/where-gods-hangout-5c77940b9d287
To anyone who asks me if the 3500 steps climb back is worth it, I will still answer with an emphatic Yes even now! Pro tips: start early so that you can skip the crowds, some amount of preparation would be nice for people who are not used to long walks as it does take a toll on your body and guides are not required as the trail is pretty clear. In case someone posts a pic of rainbow falls don't be fooled by its beautiful colors - it is all natural with no filter. 50 shades of blue that the water falls throw up make the additional 30 mins trek in the end totally worth it.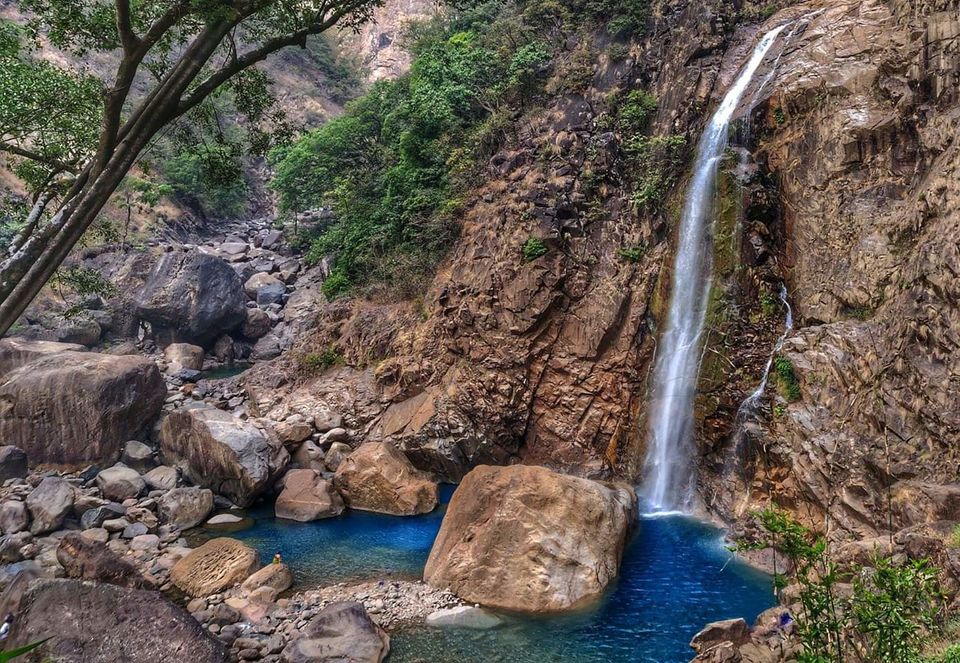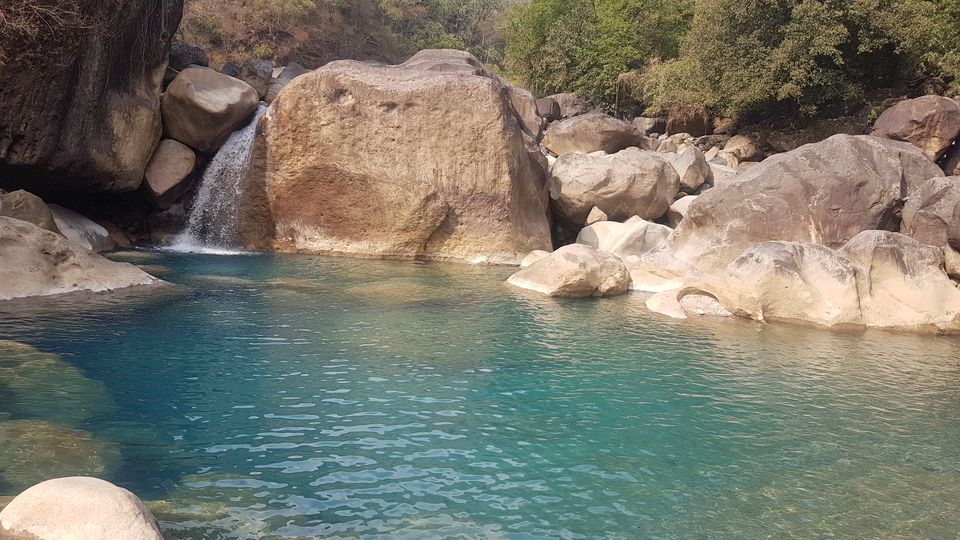 The three sister's falls
One of the little known gems of Meghalaya is the Three sisters falls or Wei Saw Gong - An hour's drive away from Cherapunjee town and a 20 mins steep and narrow trek down from the main road. Though locals have made ladders with bamboos and some steps here and there, it was still an arduous descent.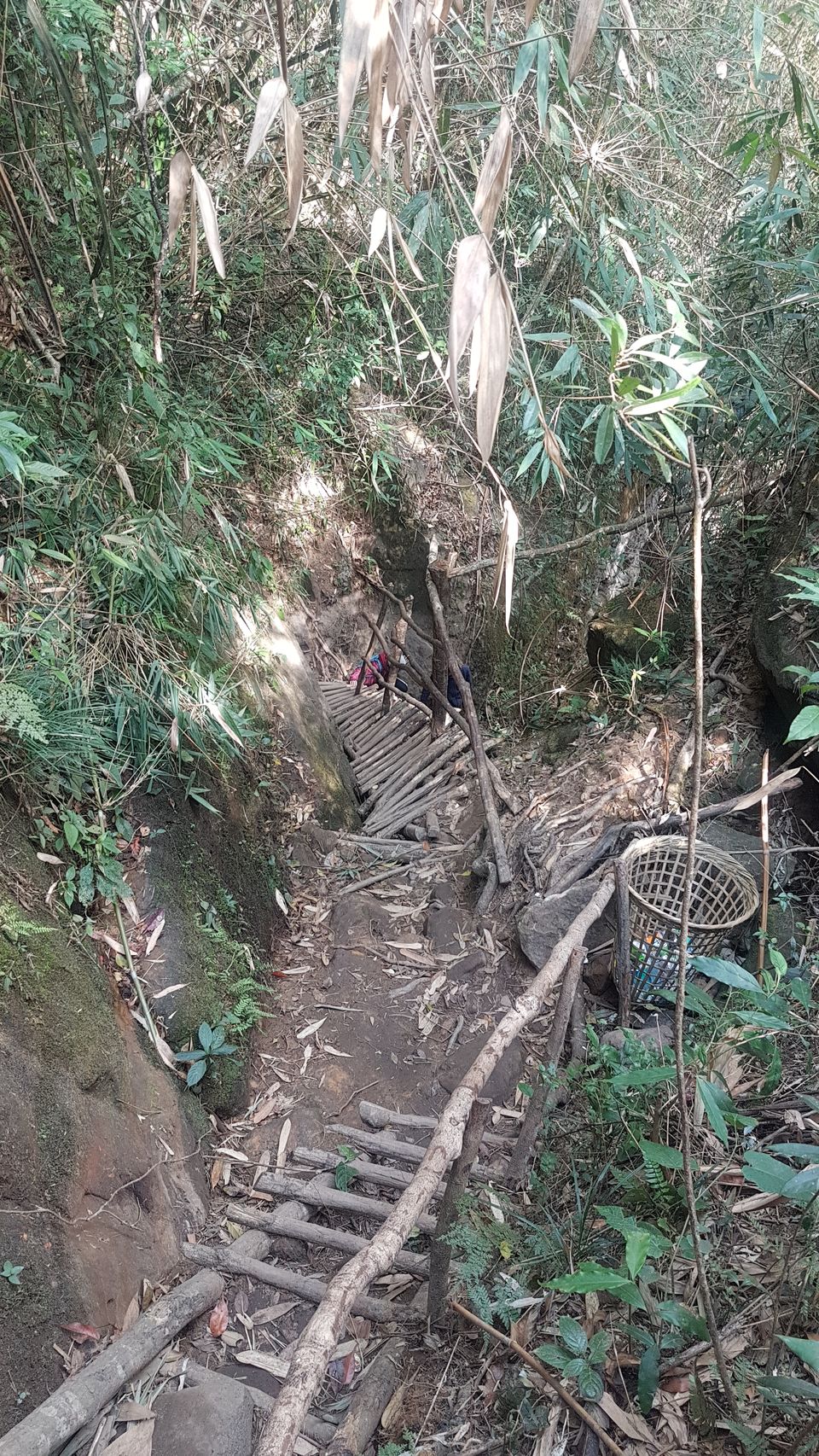 I jumped down from the last ladder and turned around a huge boulder to be greeted by one of the most breath taking views I have seen in recent times. There stood a mammoth water fall so wide that would easily span the wings of a Boeing 747! It had three tiers and was a little over 200 feet tall (Or maybe more). No one would expect such a vast opening to appear out of the blue from nowhere. You feel so tiny and humble standing in front of the falls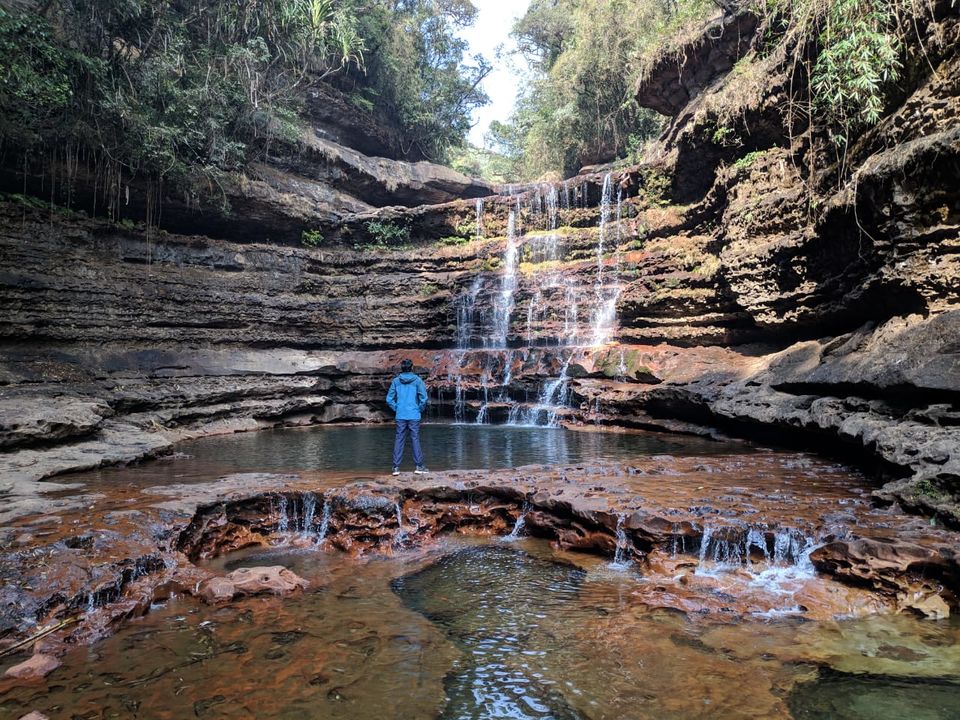 It being summer the water levels were low. The water was flowing down the falls as if a silk stroll was sliding off a young woman. Despite being so wide water has carved through the side walls over the centuries with layer after layer of rocks forming their face now. The pools formed by the falls were deep and far away from where the water was landing now. It made me think how the river would be gushing in all its glory during the rainy season - like the angry bulls of the Pamplona Running of the Bulls festival. I am sure it would be a sight to behold! The light reflecting out of the pools made me nostalgic as the water in the pools looked like the turquoise blue ink of a fountain pen (Hero pen) used in my childhood. After all nature is god's most enchanting canvas.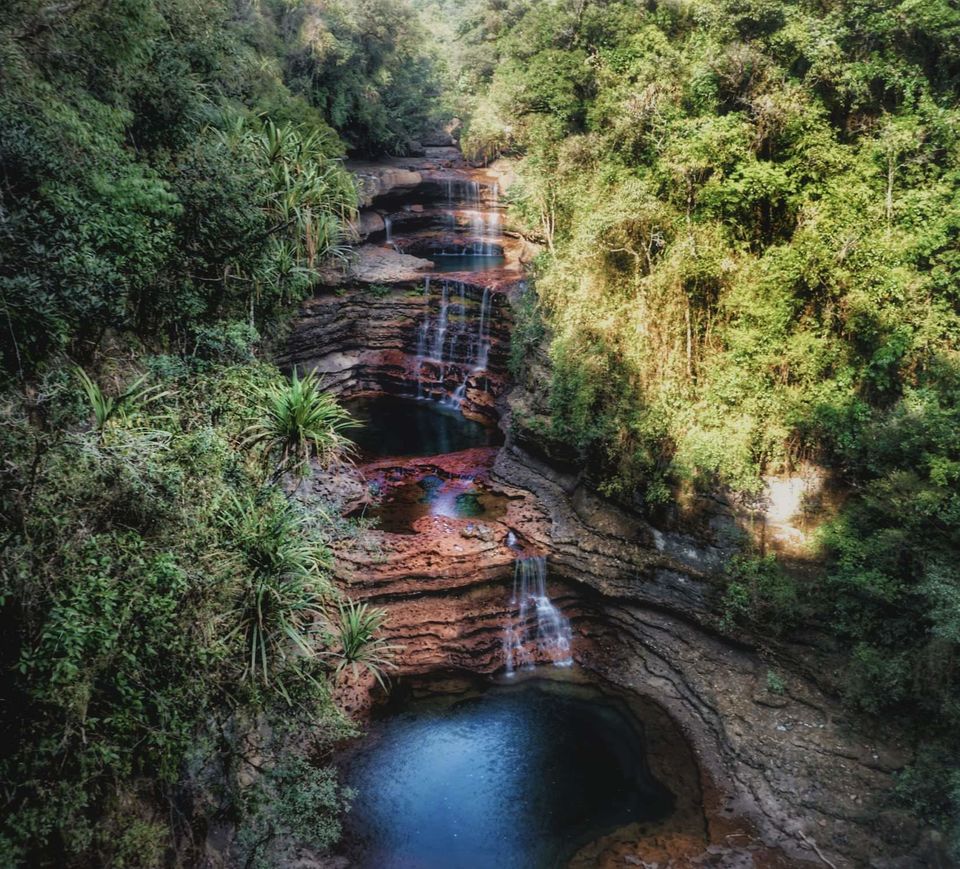 Canyoning
The first thought that came to my mind when I heard about Canyoning was to take a canoe and roam around a lake/river. Luckily for me I couldn't be any more wrong! Canyoning is one of the rare out door experiences where one gets to engage in a mix of various physical activities like jumping off a ledge into a pool, crossing over deep puddles of water – jump in jump out, slide down a natural water slide (Waterfall abseiling), navigate around a floor filled with puddles, swim in a natural swimming pool, jump over rocks and boulder all this while following the natural course of a river!
We did our Canyoning at Umkhakoi dam, Mawlyngbna. Our activity was arranged in the tributary that was flowing into the dam. The team was ready in their dry fits and life jackets and we started jumping into the pool one by one. As some of us took the route of paddling into water from the shores, the braver ones decided to try the ledge jump 15 feet high! Of course I decided to take the ledge as it made getting wet in ice cold water non optional once you leave the ledge. As I plunged into the water I realized how cold it was. Though I was adept in swimming, my hands and legs almost froze making me beg my guide to take me back to shore! For the rest of the gang it was a cake walk. The pool was followed by a few hurdles of deep puddles which required us to get wet again and again within short periods of time. We reached a five feet tall water fall which we all decided to slide down. A long pool greeted us at end of the slide. We waddled down the pool only to be challenged further by rocks and boulders and puddles till we reached another small abseiling point 30 mins down the lane. The team slid down the fall and made our way out of the cold water into the catchment area of the dam. A 30 min canoeing session and a sumptuous lunch later, we were on our way back to the home stay. With our hearts and mind full we went to sleep excited about our Dawki river visit the next day.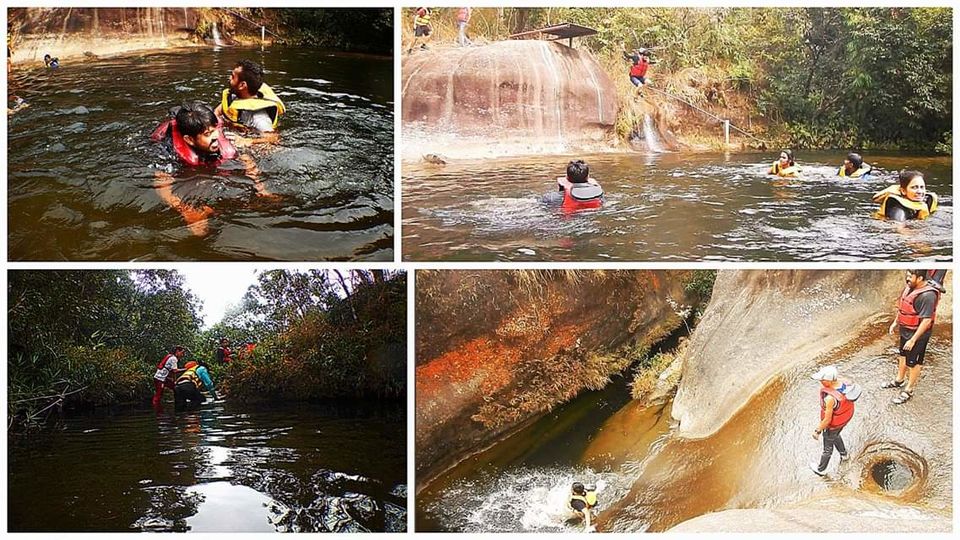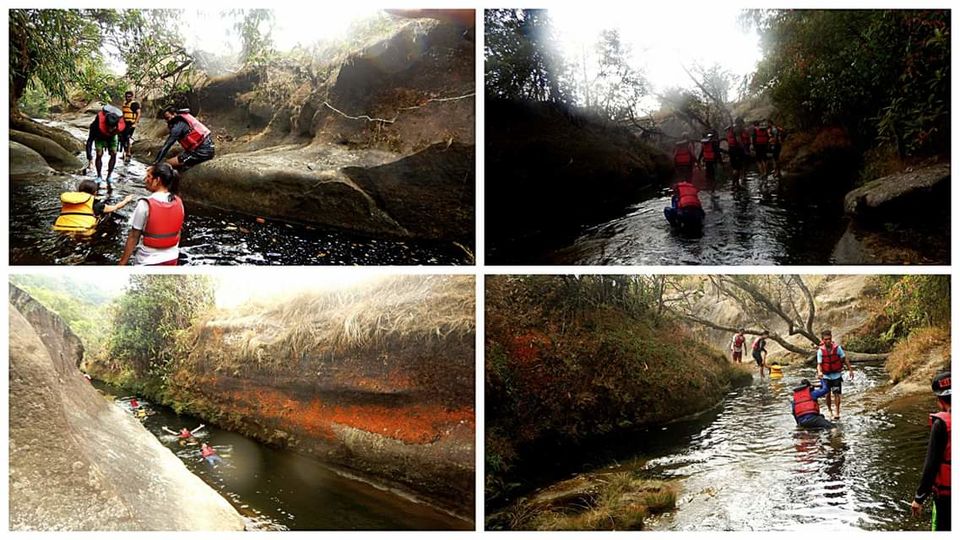 Dawki River – To the lands' end
Meghalaya the land of clouds is blessed with many beautiful waterfalls and rivers. And if you have to pick a crown jewel among them it has to be the Dawki River or Umngot River that snakes it way from India to the Sylhet plains of Bangladesh. On our three hour drive from Cherapunjee to Dawki village we stopped over at Mawlynnong, Asia's cleanest village. One has to cross the beautiful suspension bridge of British era (Made in 1932) to reach the Dawki village. We took the stairs down the main road to reach the river front – an area hardly half a square KM which was thronged by foreigners in scores. By foreigners I mean Bangladeshis! It seems the river front was an India-Bangladesh border and one can easily take a stroll there crossing over to the other side without a passport, of course under the careful watch of Border Security Forces.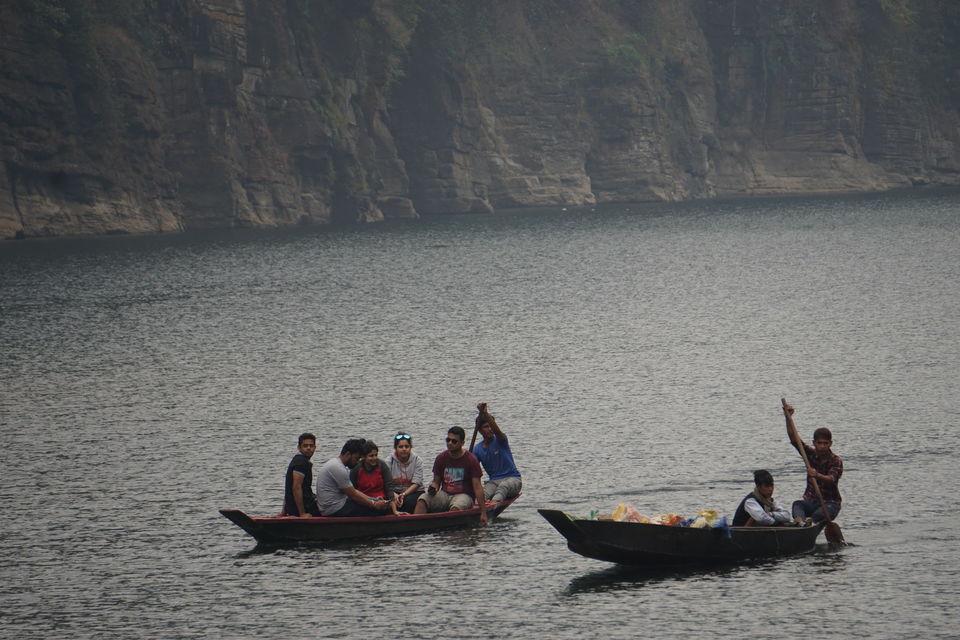 We took a canoe ride from the river front and rowed upstream for 15 minutes to reach a cute little island in the middle of the river. This was to be our camp site for the night where we were entertained with music, guitar and campfire by our host.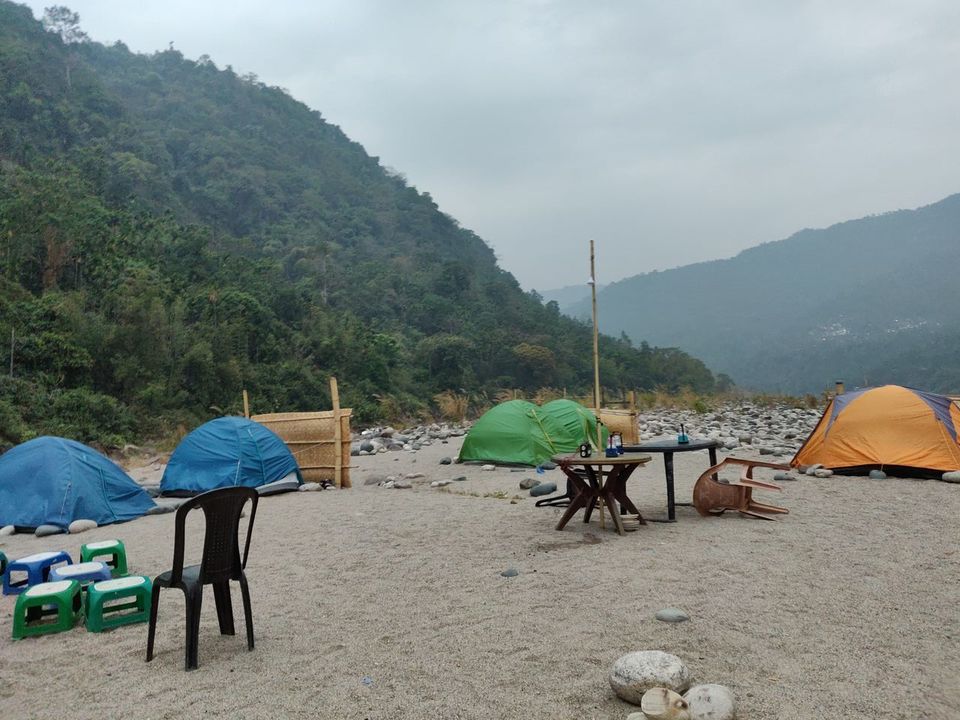 Next day morning we woke up to the beautiful sight of the blue-turquoise green water of the river as it made its way through the rapids. One can easily get lost in the scenic beauty of the crystal clear water. The water is so transparent that on a good sunny day one can see the river bed easily from the shores. Sometimes you are misled to believe that a boat is actually floating on thin air and not on water. After a session of cliff jumping, canoeing and beach volley ball later, we bid god bye to Dawki.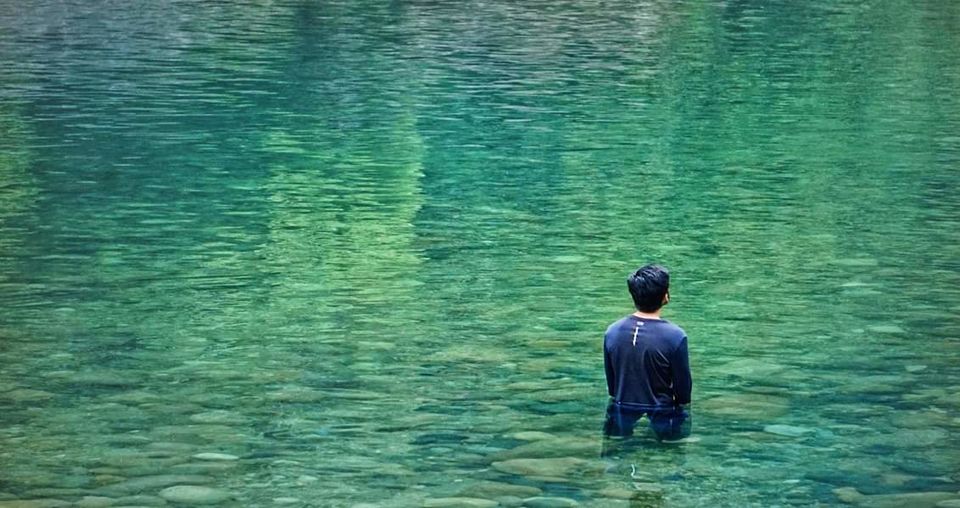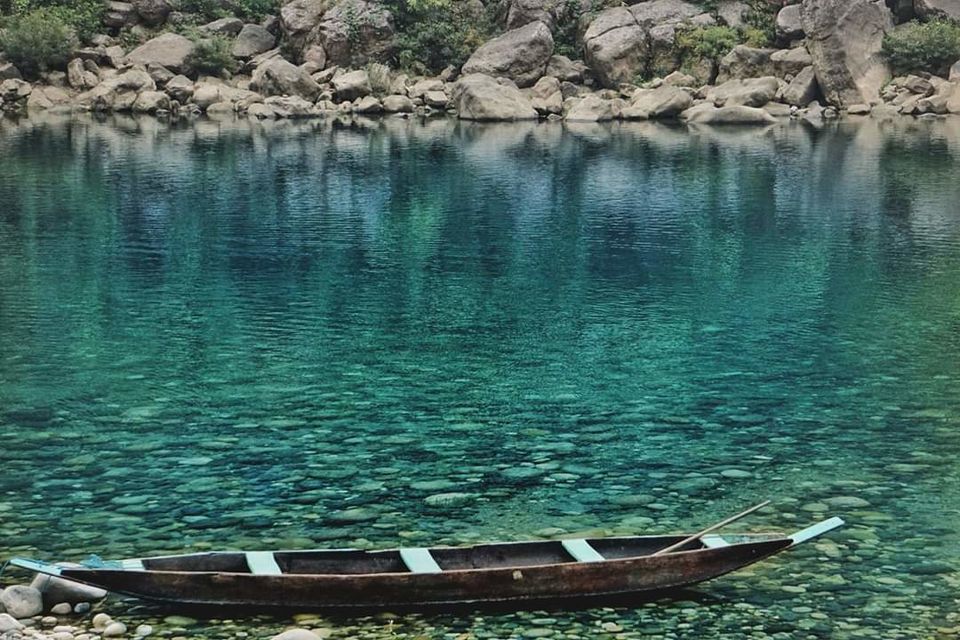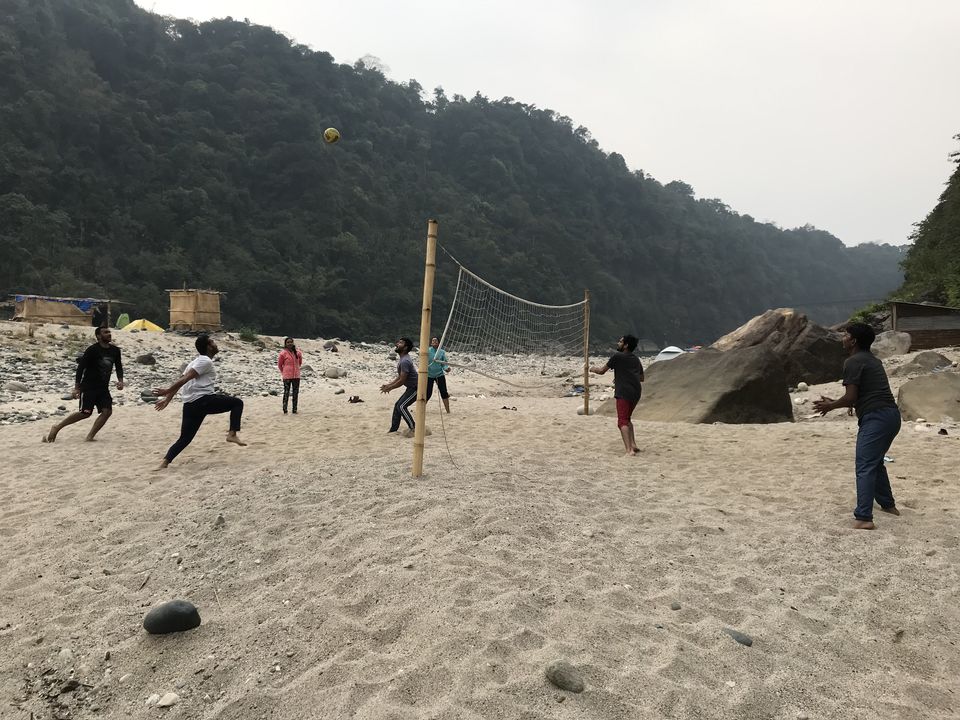 Spelunking in Kashi Hills
If I had to pick one moment that made me fall in love with this trip it would be caving in Krem Mawh Luh - a 4KM walk through the underbelly of Kashi hills. This is one of the two professional caving sites in Meghalaya. Ofcourse you can always go to the smaller caves dotting the Shillong-Cheraapunjee landscape which are open for common public where you can take a stroll. But if you want a taste of pure spelunking experience these are the two caves to go to. Across India, Spelunking is still a nascent activity. In fact getting reliable and safe guides/teams to help you in such trips is still a difficult ask. A shout out to Vyshakh Nair and his team from Meghalaya Adventure association for organizing such a lovely experience.
We reached the starting point around 10 AM. The team was really kicked and enthu about this activity as it is not something that one gets to do every other day. We changed into body suits, gum boots, and hard hats as mandated by our guide and began our 1 KM walk towards the entrance of the cave.
We went across the barren grass lands, climbed a small hill, crossed an abandoned stone mine and walked through a small jungle to reach a steep downhill trek towards the entrance of the cave. It was a little tricky to reach the mouth of the cave. It was hidden very well by huge monolithic stones, large bushes and centuries old tree stubs.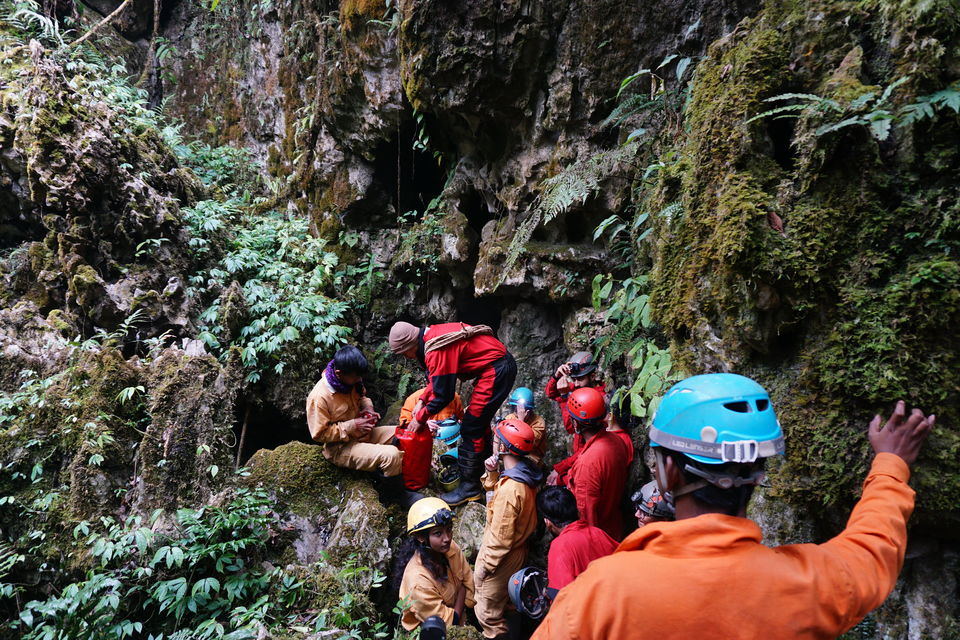 After a quick briefing session, we switched on our headlight and began our slow descent into the cave. The entrance was narrow and we had to squeeze our way in.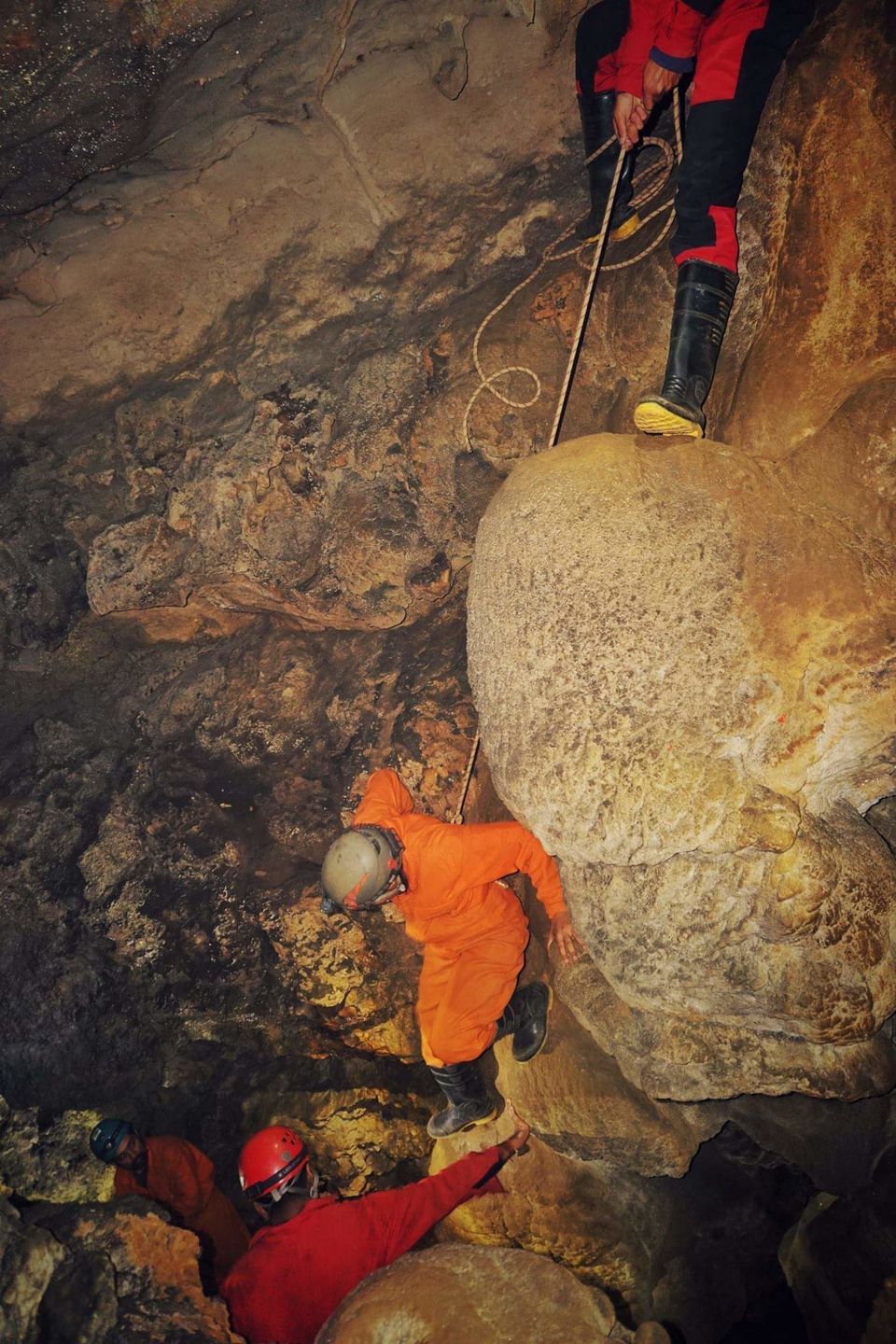 Sunlight began to fade as we ventured in and we were soon inside the underbelly of a 20 feet high, narrow and winding cave. Our headlight reflected off the water that precipitated on the roof top making it look like a zillion stars shimmering in the midnight sky. This was a horizontal cave, meaning easily accessible by walking without much of climb up or down. But certain steep ravines meant that one had to slide down using ropes to reach the bottom. As the group trooped through the narrow passage, hundreds of huge calcite rocks and stalagmites of various forms and sizes greeted us.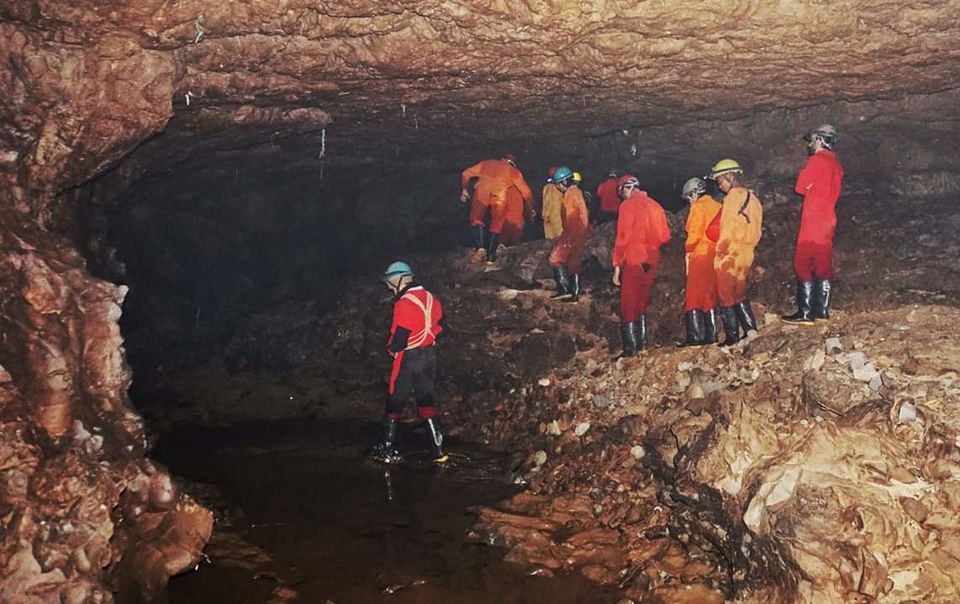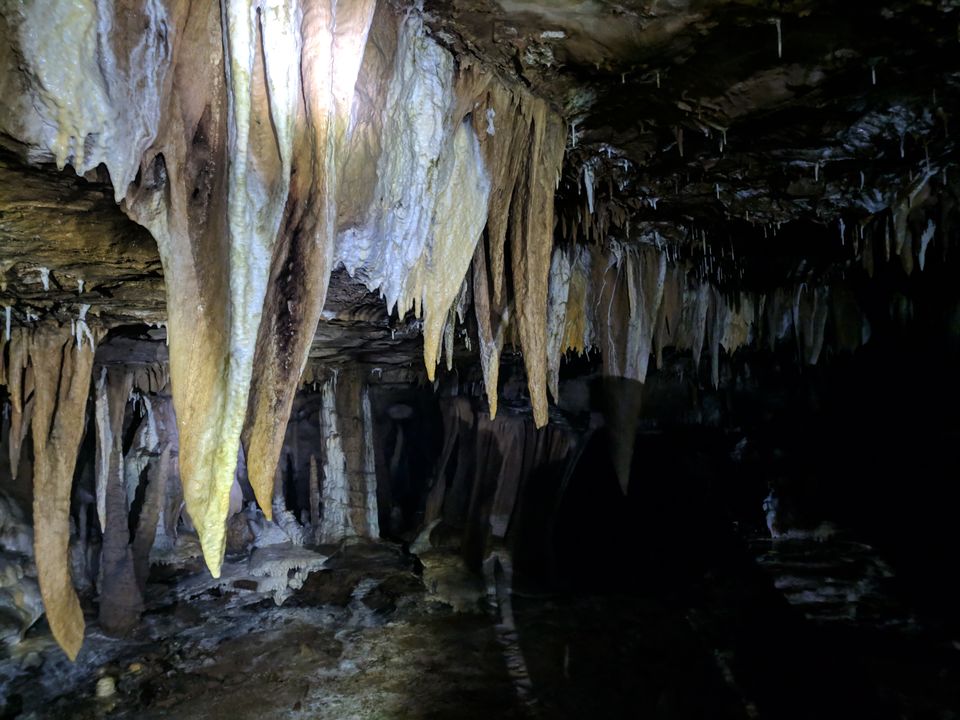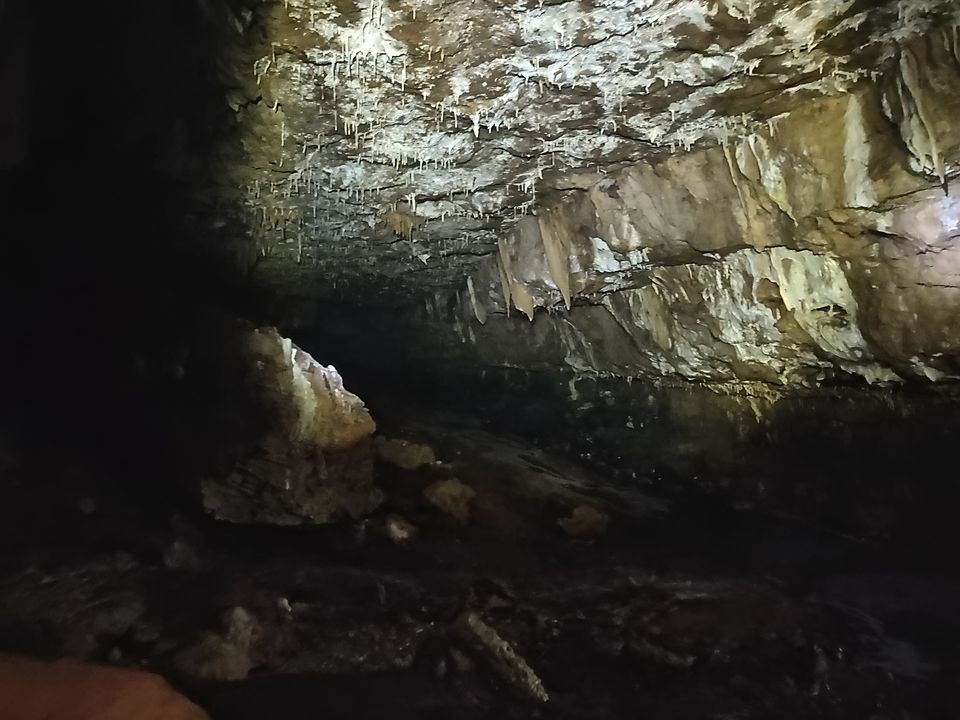 We walked around 20 mins to reach the first of the three pools one had to cross over on the way. We waded through belly deep ice cold water which made me re-evaluate my decision to continue any further (mind you I am a person who runs for a fleece jacket in Mumbai's winter!). One has to walk precariously here as any misstep will take you to the deeper portion of pool which was 20 feet+ deep. Thank fully enough though it didn't last long as a hole appeared out of nowhere on the cave wall and I wasted no time in making my way up through it. Escaping from the ice cold water made me feel as if I was going through a worm hole from one part of solar system to another which was high and dry!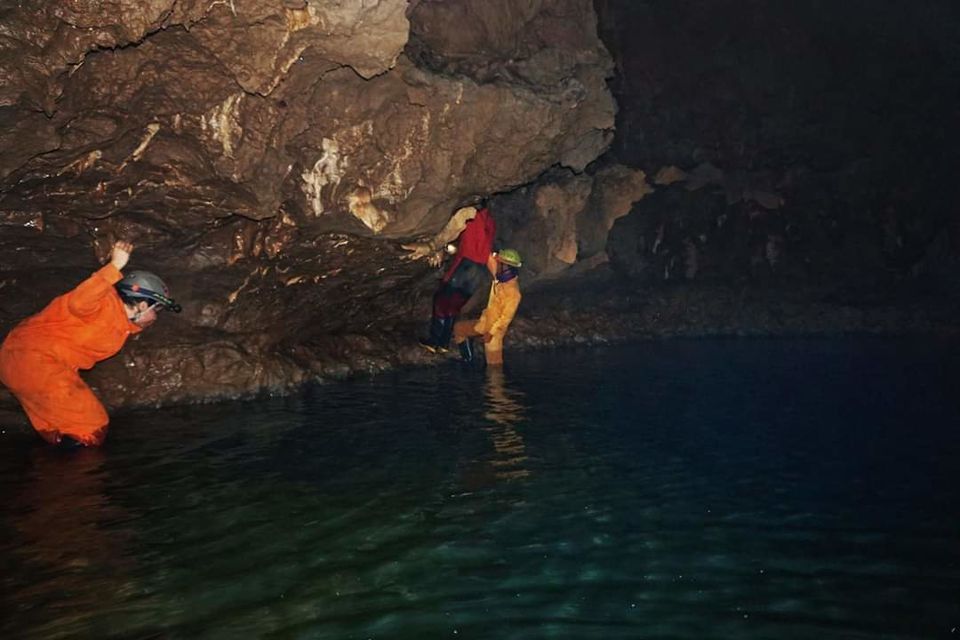 As we moved ahead we were greeted by the strong sound of a waterfall though there was none in sight. The sound kept growing and we were all bewildered by it, not knowing where it was coming from. As we crossed a narrow rock bridge ahead we noticed how water was gushing beneath our feet, cutting through the rocks all this time - Nature always finds its way. Further ahead the colour of the rocks on the floor soon changed from brown to chocolate and then to white. The white flowy rocks are known as Moon Milk among the locals as it looks like thick white milk spilled all over the rocks! We went through narrow passages, a pool, a natural riverine, up and down boulders all the while navigating around small puddles on the floor that could easily be 5-10 feet deep to finally reach a large empty area where we decided to rest for some time.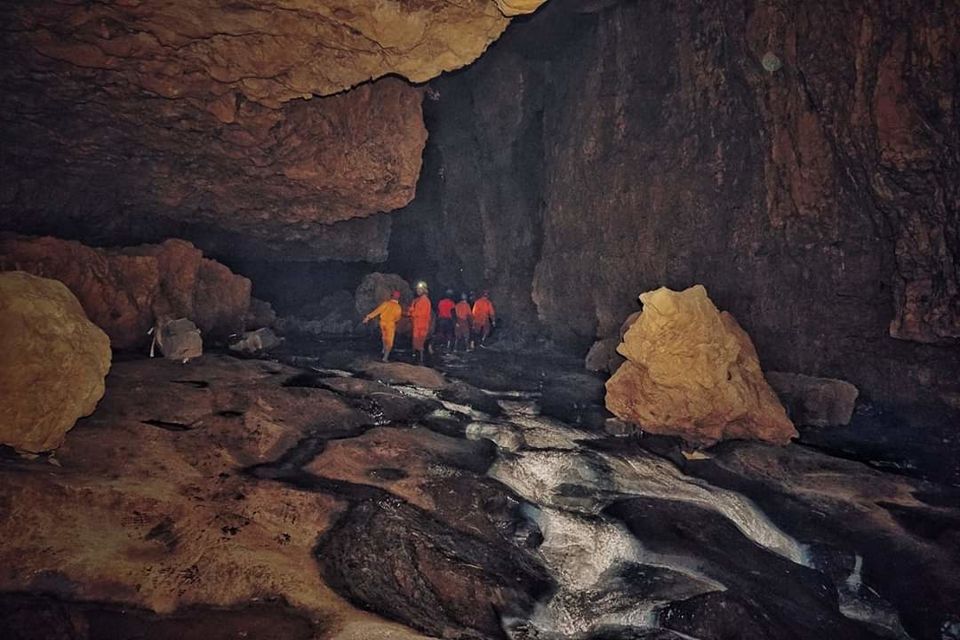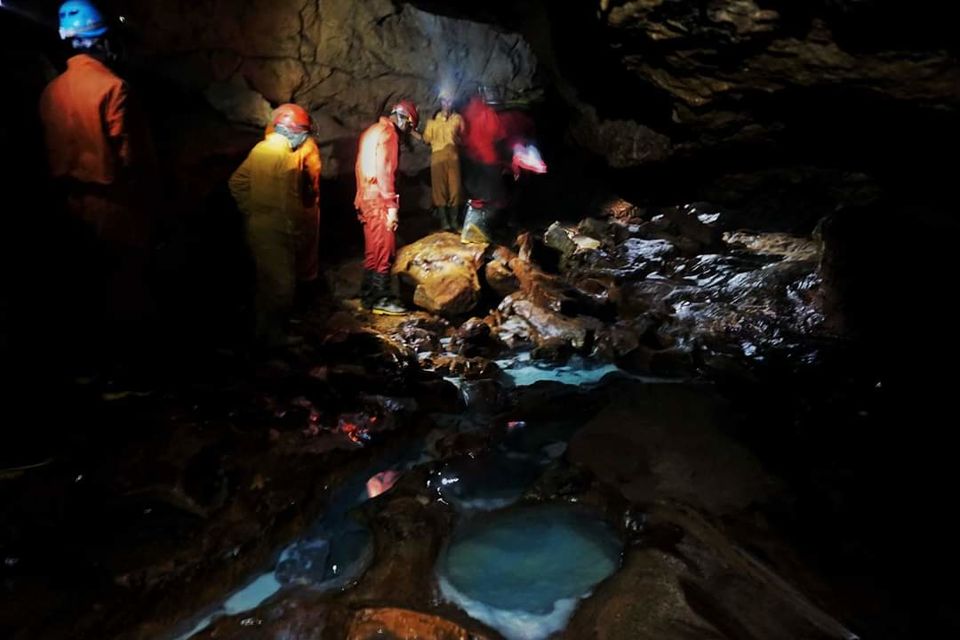 Darkness takes a whole new meaning once you switch off your lights and sit in silence in these caves – Pitch darkness, Spooky night, Dead silence adjectives fall short - only if words could describe this surreal feeling! It doesnt matter if you have your eyes open or closed! We sat there for some time with bated breath, immersed in deep silence broken only by the intermittent sound of water dripping down the rock faces. One could not help but wonder how we take certain things in life for granted: like the gift of eyesight!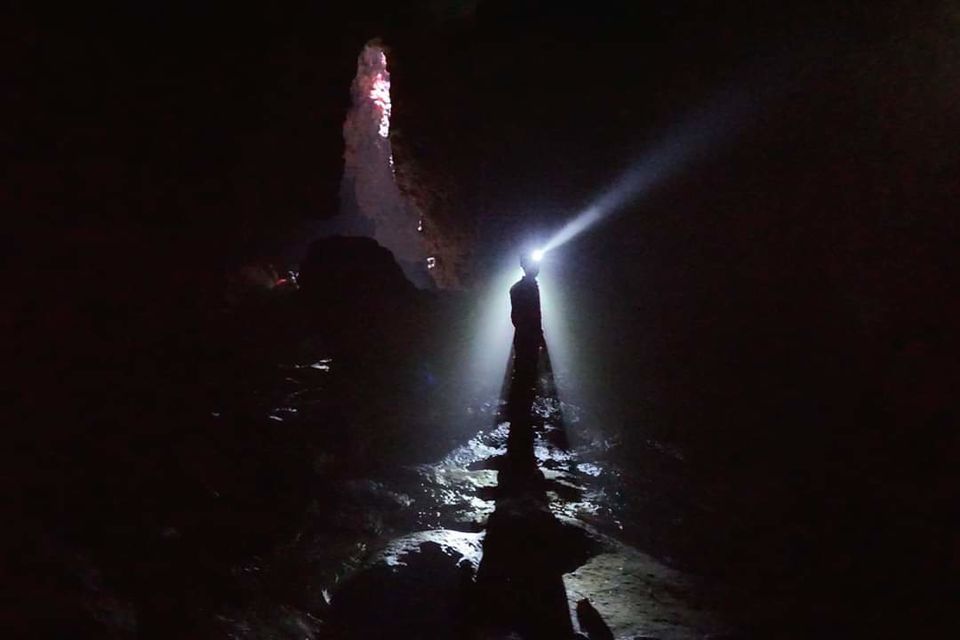 As we made our way back we were in for another surprise – A narrow short passage hardly 3-4 feet tall filed with deep puddles of chilling water. One had to crawl through this narrow passage to move ahead. Your respect for soldiers goes up a notch once you complete this crawl, albeit it being short. One's upper body strength is put to test as one crawls and pulls and rolls his/her way through this passage. Thankfully enough it lasted only for ten mins though it felt like eternity.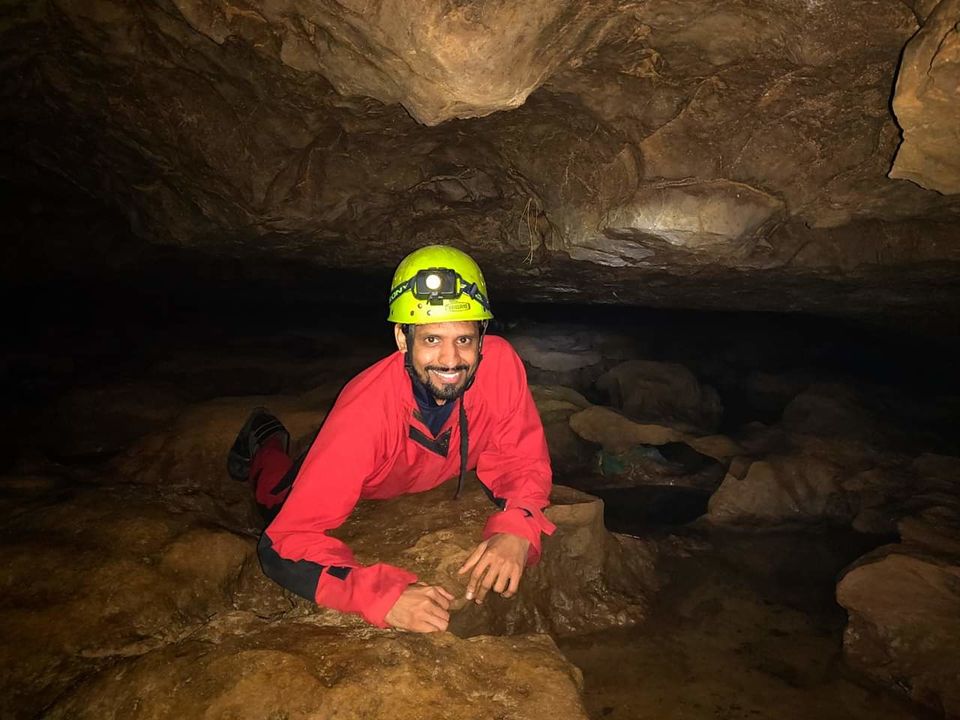 We moved further ahead for an hour till we reached a large chamber. Sun light poured in from a 150 feet tall opening on top. We rested there soaking in the phantasmagorical feeling that the vast chamber of emptiness threw at us.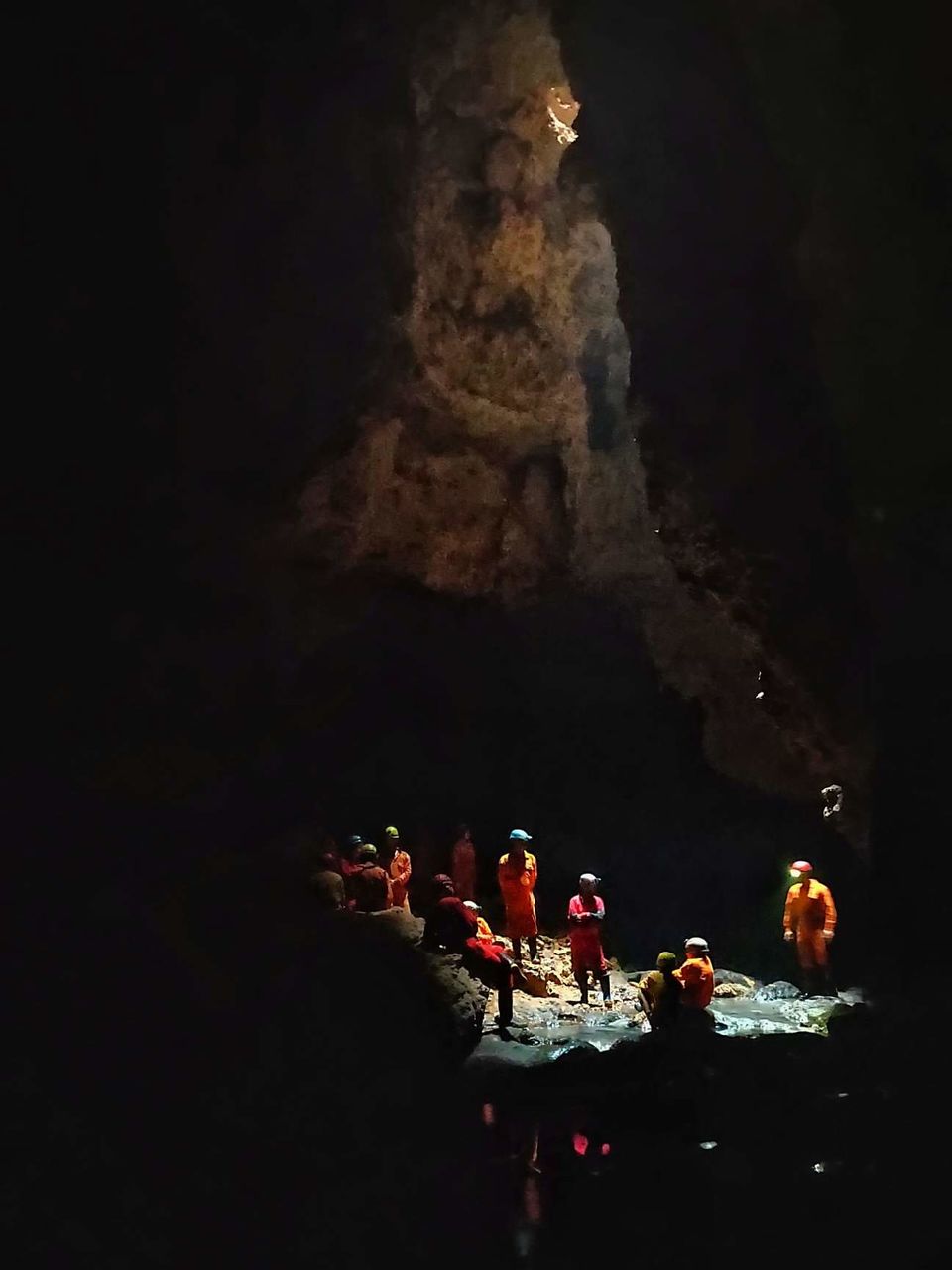 The team was elated thinking the surface was nearby, but we had to trek for another 30 mins before we finally got out.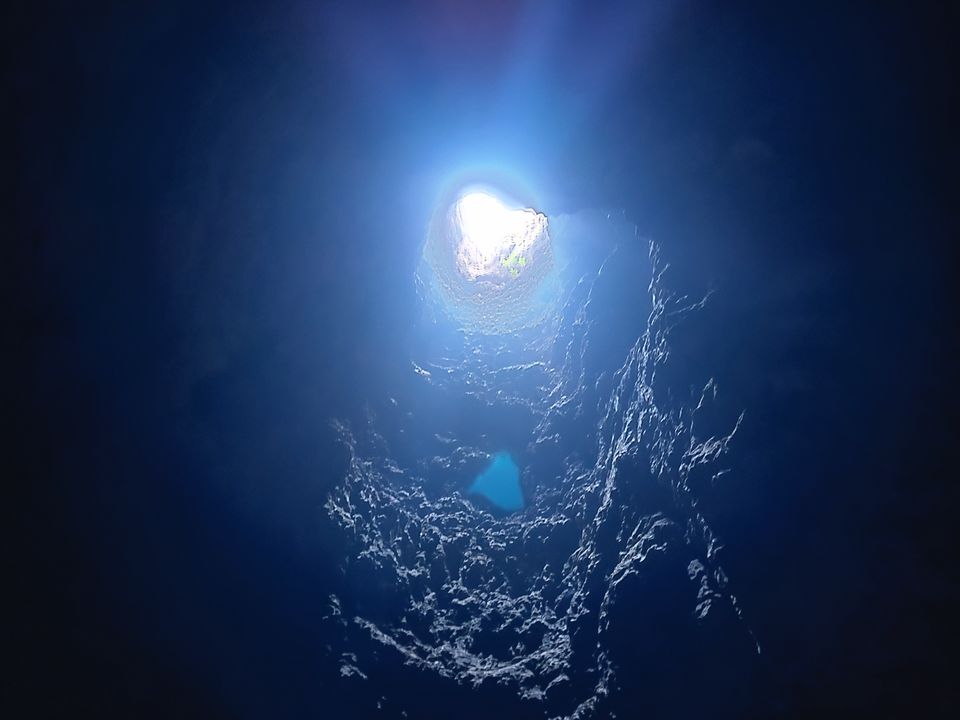 And in true Vyshak style the last pool before we got out was meant to test me. If the pools before were cold this one felt like ice cold, as if someone had crushed a pool of ice and kept it ready for me! I didn't lose any time, took up the challenge and ran through the last 200mts covering the pool in a jiffy – something I wouldn't recommend given how quickly the shallow pools turn into deep ones here!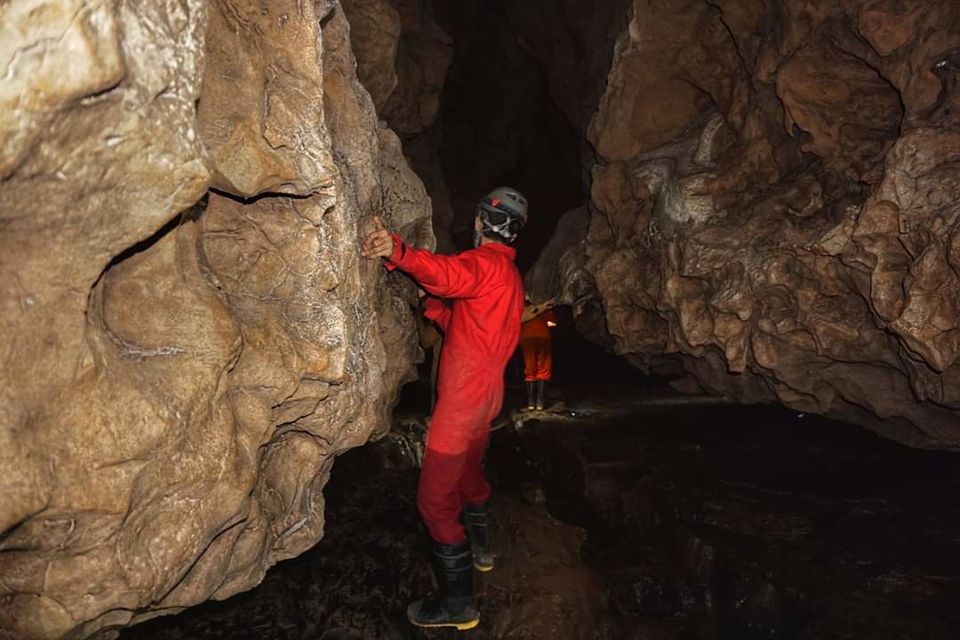 I couldn't be more elated when the sunlight greeted me at the cave exit. Before I knew I threw out my gum boots and I was sun bathing on a boulder nearby! The team trooped in and we all sat around in silence knowing that we had just experienced something really ethereal! We thanked the team and headed back to our homestay and partied that night around a campfire that was organized to celebrate our caving "expedition".
One can't but leave their souls behind after a visit to Meghalaya. The place has a unique aura that entices you to become a part of the whole, even if she/he is not an animist. There is also something mystic about the darkness of the caves that draws you in and inspires you. Darkness truly has a strange allure to it. It has taken nature millions of years to create this art form called Caves and we are the lucky few in our generation who has been able to experience it. I just wish it remains as pristine and mystic as it is for generations to come.
Adios from me till I write to you from a vertical cave next time around with The Orange Jacket!
Frequent Searches Leading To This Page:-
caving in meghalaya cost, meghaya trip cost from delhi, temprature in meghalya, meghalaya road trip itinerary, caves of meghalaya