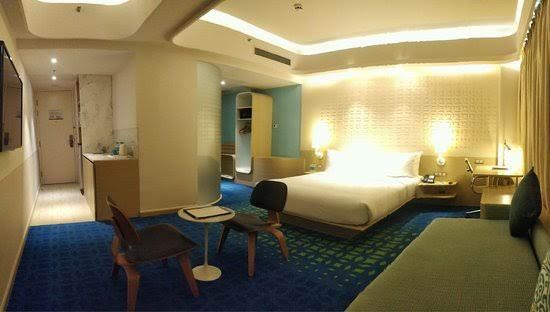 Birthdays are generally happening, isn't it? If your answer is yes, don't worry its not just you. That's how I had been spending all my past birthdays except the one last year.
My work was getting onto me a little too much and so, last year I planned to celebrate by B-day a little differently. I pictured a silent me in isolation among the greens, enjoying a comfortable and luxurious evening. But I din't know where could I find all of it.
A lot of research led me to a perfect idea! A luxurious hotel stay! It could fetch me all I wanted. It's then that I discovered Fairfield by Marriott ( Hyderabad). It fit all my specs and in no time I had my booking confirmation in my mail box.
It was the night previous to the D- Day and I was all set to embrace it. As I reached the Hotel, I was even more convinced with my choice of hotel because of where it was located. It was surrounded by the the exact subtle greens my eyes wanted to see. With the golf course view just opposite the hotel I envisioned my day to be just the way I wanted.
I walked in through the entrance leaving all my worries behind to witness 2 beautifully serene days after long.
FOOD:
The first thing I resorted to was grabbing a plateful of good food for myself . I went to their restaurant, "Palms kitchen" located at the ground floor. I opted for the buffet which costed me around 950 per head which includes a beverage as well.
The Food was absolutely delicious, with great options of Asian and Indian cuisines which are my personal favorites. Everything that was on my plate, tasted like heaven. Although I wished there were more options for deserts.
The interiors of the restaurant is very classy with high raised ceilings and contemporary designed dining space mostly in whites. The restaurant had an atmosphere worth relishing a meal in, just that I hoped it to be a little less crowded.
Aesthetics:
After my tummy was happy, it was time for me to be happy. I got my share of first bliss looking at the aesthetics of this place. Classy interiors, brilliant mood lighting and chandeliers, high raised ceilings..you name and they have it all.
As I entered the corridor en route to my room, it gave me a grand feeling. The floor was covered with blue carpet and I felt like a princess.
I entered the room and I found solace. Below is an image of what I saw.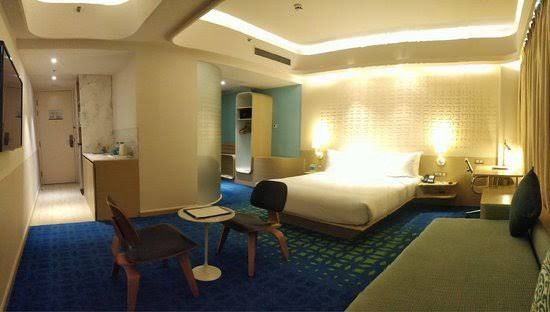 From the bathroom till the balcony, it was pure class in one space. And to complement it all, a view like this from the balcony ( this was in the morning though)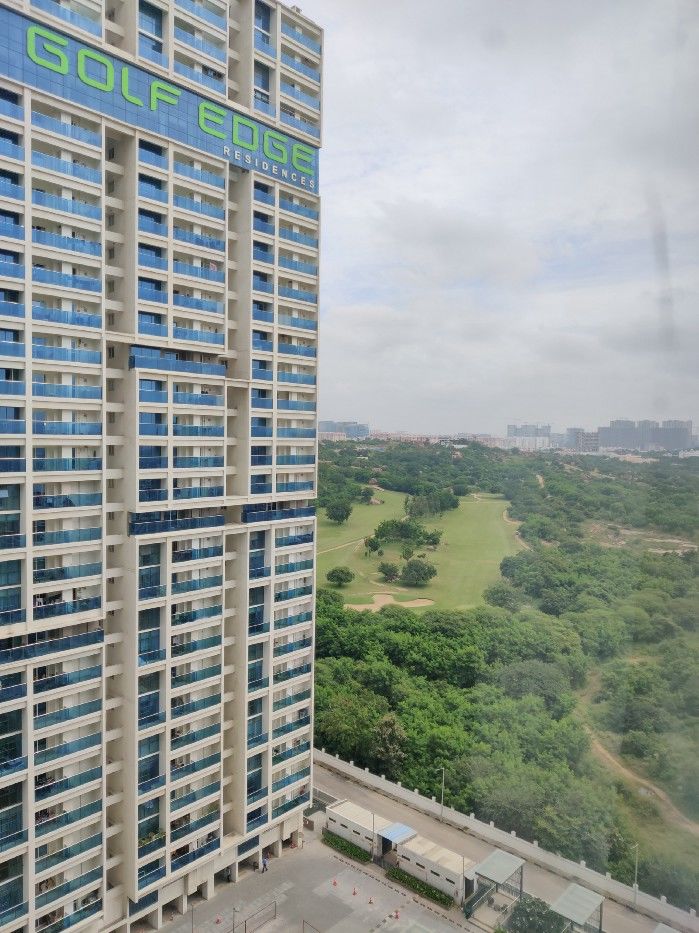 Room service:
Room service is very essential when you staying at a hotel. Especially alone. And just like the other aspects their room service is brilliant too.
I remember at midnight I had a requirement of something very weird, a sheet of foil paper to cover my unfinished food and guess what I had it delivered within 2 minutes, no questions asked.
At times, the room service personnel become to intruding which I find disturbing. But at Fairfield it was done the perfect way I wanted.
Cost:
I stayed at Fairfield for 2 nights and the stay costed at max of 6000. For my purpose of stay It was totally worth it.
For the services offered, the stay experience and the food, I would definitely say it was totally worth it.
Individual ratings:
Food — 4/5
Aesthetics — 4/5
Room service — 5/5
Cost — 3.5 /5
Overall — 4.1/5