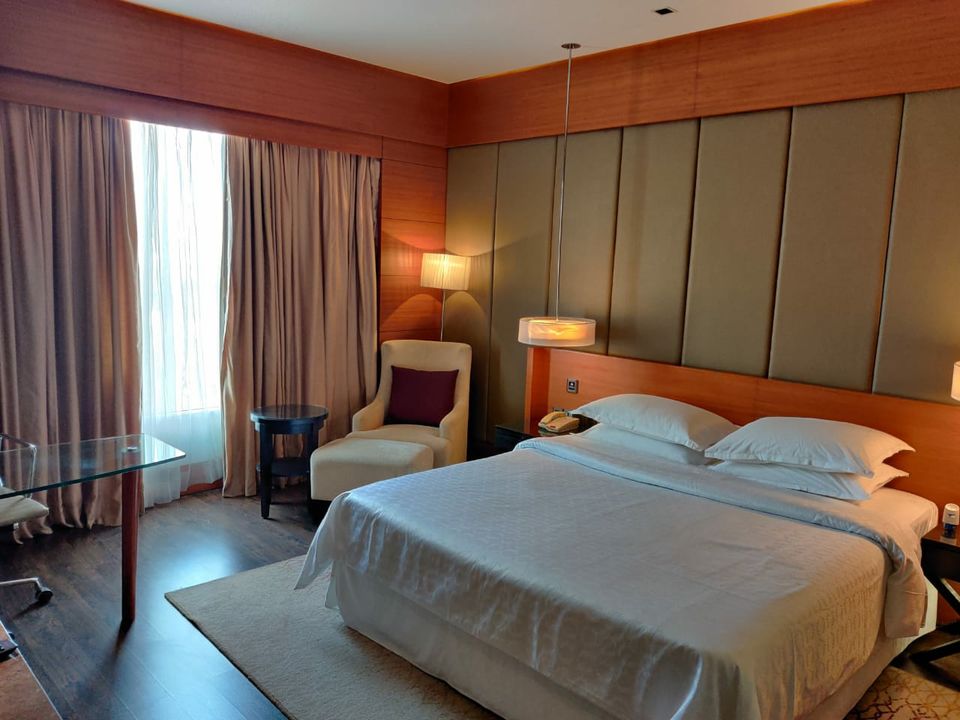 Quarantine kept me entertained more than I expected. I tried almost everything that seemed feasible on YouTube, until there was nothing left to try. Fortunately government relaxed lock down rules just then and I knew I had to employ this relaxation in the best possible way. What could be better than an escape to a luxury stay for some self pampering. I stuck to the plan and picked Sheraton for this quarantine escape. It had to be big after 40 days of lock-down.
Sheraton welcomed me with grandeur and elegance. The teak wood coloured interiors and corridors all the more enhanced the magnificence of the structure. Sheraton houses 2 restaurants in its ground floor, "Link cafe" and "Feast". Both these restaurants serve all the meals and have great ambience.
Check-in:
As I approached the reception for the check-in, I was asked for my medical certificate for security reasons. Soon after that I was taken aback by the receptionist who asked me for a 5000 (cash or credit card only) deposit for hotel expenses (in room dining etc..).Nothing wrong, but definitely an unexpected procedure.
Post check in I walked into my room, eagerly waiting to see whats in store.
Ambience:
The room held a dignity of its own. Covered in wooden textured interiors it created the right mood to relax. It had the most classy study with a compact glass top and convenient table lamp. I just fell in love with the study. I hope I can get the same done at home. I could work all day then :P
The accent chair, just beside the window, adorned the corner of the room. It created the perfect space for a read or a coffee and so, became my favourite spot in the room. I could spend days sitting there looking out of the window, in peace. The view, not exceptionally breathtaking, but soothing enough to spring you up.
Just when I thought this was it, I looked up the washroom. Its contemporary design and classy feel of elegance was inviting. The washroom was accessorized with a steam iron and a foldable iron-table making it so very convenient to use. Out of all my luxury stays, this was the only place which had a bath-tub and yes I am guilty of being a kid and dipping into it.
Room Service:
There was not really any room service here. That sort of took me aback. I stayed there for 2 nights and there wasn't even a single instance when the hotel staff visited me for room cleaning or picking up the trays of food that was ordered previously during that day or previous day. Was unhappy with room service to be honest. Considering the corona scenes, room cleaning I believe should have been mandatory.
Food:
Quarantine menu was restricted. On my arrival at the reception I was given a concise print-out of the available menu along with their costs. That made it very easy and convenient to choose from whenever I had to order.
The food was great! For a limited menu, the options available were exotic. Out of all my ordered dishes, my favourite was "Brownie with toffee sauce". It's one of the best desserts I have ever had in my life. I can vouch for that. I couldn't stop myself from ordering another one and there came another to tickle my taste buds. I relished it till the last bite.
Cost:
I stayed at Sheraton for 2 nights. The food and the stay costed me around 18,000. I did regret it while I was paying but definitely not after I have written this experience down. I cherished every bit of it and would be more than happy to make a visit again.
Individual ratings:
Check-in: 3.5/5
Ambience: 5/5
Room service: 3.5/5
Food: 4.5/5
Cost: 4/5