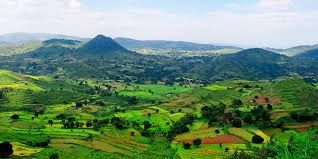 Araku, when it was planned to go to Orissa, Google Dev introduced good to this mountainous region in Andhra Pradesh !! Anyway, I did not even realize that there can be mountains in the stone-like place of Andhra! Because the mountains mean mountain for themselves, those mountains which are filled with splendor and magnificence in themselves !! Under whose benevolent greenery and different types of biodiversity flourishes But when Google has told it, it is necessary to go here and before that it is necessary to introduce everyone with a subtle introduction of this place.
This area, situated in the foothills of Eastern Ghats, is close to the border of Orissa, along with the adjacent state of Orissa, with a hundred and fourteen kilometers from the main city of Vizag (Visakhapatnam). For this reason, here is a mixed impression of the two states. It is also a place of India, here also the aspects of tribal people life can be known. It gives the introduction of tribal culture as well, along with nature, it has been frozen and frozen. The small town has its own waterfalls and gardens. Borra Caves, Padampura Garden and Tribal Museum are the main attractions here. Apart from these, greenery is abundant due to the plantation of coffee in place of place. On not being too much exposed in the tourism map, Banquet Pawan has not yet made his move. The residents here are simple and courteous. This place is well connected by road and rail to Vizag. After the introduction, let's go now on the journey here. In the previous post, you read, how we arrived here by train from Wizh and now we go on a sightseeing tour here.
Travel date -18 January 2017
After seeing various colors of nature, the Chukkchuk carriage finally reached Araku railway station !! It turned out that this station was too small in size !! Well, according to the arrival of only one train, it is not so small, because here many people will be putting a line. Out of the railway station, a taxi person talked for the locals to rotate and walked with him to see nearby.
Due to being a small and less crowded place here, the market is not looking like a flicker, just say it is deserted !! If you do not have breakfast then it is very hungry, but the excitement of moving to a new place is high, then first you take a look at two places, it will be a work of everyday life.
First go to the Botanical Gardens named Padampura (Botanical Gardens) !! This garden was not built on a scale, it was built during the Second World War and for those who fought the war, to grow greens! When it was known to its historical significance, the desire to become humbler increased manifold. The entrance is made of a fun figure; small children can also be afraid to see it !! Now the vegetables do not grow here but many kinds of flowers have been started and some small bridges have been built along with them which are attractive for photography !! There are different types of photos in the picture. In our selfie stick, we started mobile and sometimes I started taking photographs nearby. It is too big, when the garden roams roaming for more than an hour, I do not know. Let's get out of here now because it is hard work for me to bear more hunger, then walk towards the main door. Hey what this !! There is a toy carriage here too, now the Sanvi has taken the stubbornness that it has to sit in, then we sat down by asking the trainer !! Nearly fifteen minutes have sat sitting, but no other passenger has come yet! Somehow lured by the trick and descended from the train and got out early!
Due to being a small place, there is a lack of more and a great restaurant here !! With the grace of Google, I was well-acquainted with this lack of research, so much research did get the right opinion about an Annapurna restaurant. Now we are sitting in the car and looking for it !! Seeing the hotel of an Annapurna a few steps away but seeing the appearance of it, it can not be done so well !! I did not feel like going to see him and we went ahead. Both left and right eyes were engrossed in search and after going ahead, Annapurna got it !! The meaning behind that would have been duplicate !! The inside went away but the bread was not available here, then the work was done with items like lentil rice.
If you do not face tribal people in tribal areas such as Araku, then it can not be considered as an Araku !! If you do not have the opportunity to become complacent, then at least visit the museum here and you can introduce them to different aspects of their life. Most of the things here are made of clay like statues of the soil made of clay, their daily use of things, clothes, jewelry and much more !! I will share them all through pictures. Along with providing a tribe life, there is much more to those interested in photographing in this museum. Somewhere, there is a group of mass-dancing women, so do some other activities. A good crowd is deposited for photographing these women with them !! A small pond is made right in front of the museum, though I do not even want to say the lake by looking at its depth. Boiled water in your tank, boiled too many people in this pond