Odisha, one of the lesser explored states of India, offers the best of nature untouched. From pristine beaches to gorgeous hills, rich cultural heritage, and lush greenery, you can have a chance to experience it all.
Koraput, one of the unsullied lands in the state of Odisha has an amazing blend of best of nature and tribal life, and being one of the non-touristy, less crowded destinations is a complete bliss. Stunning valleys, rolling hills, a tribal festival called 'Parab' in the month of November are all alluring.
How to Reach: Trains are plentiful from Vizag or Bhubaneswar. You can take a cab from Vizag as well. It is a very scenic route.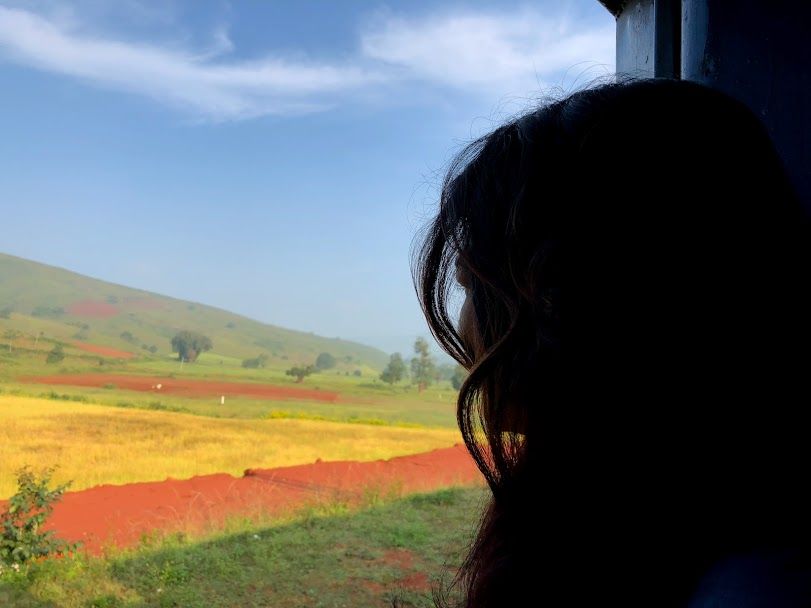 Stay: There aren't a lot of options to stay. In the main town, there is a hotel called Raj Residency which has decent rooms and good service. But in the outskirts, you can try the Chandoori Sai Guest House or Desia Resorts.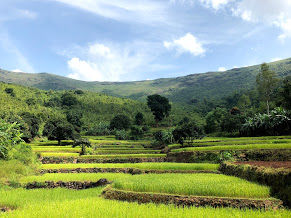 This was a spectacular journey. With meandering roads in a backdrop of lush green step farming and scattered huts. It takes about 2 hrs by cab from Koraput to reach the peak of the mountain.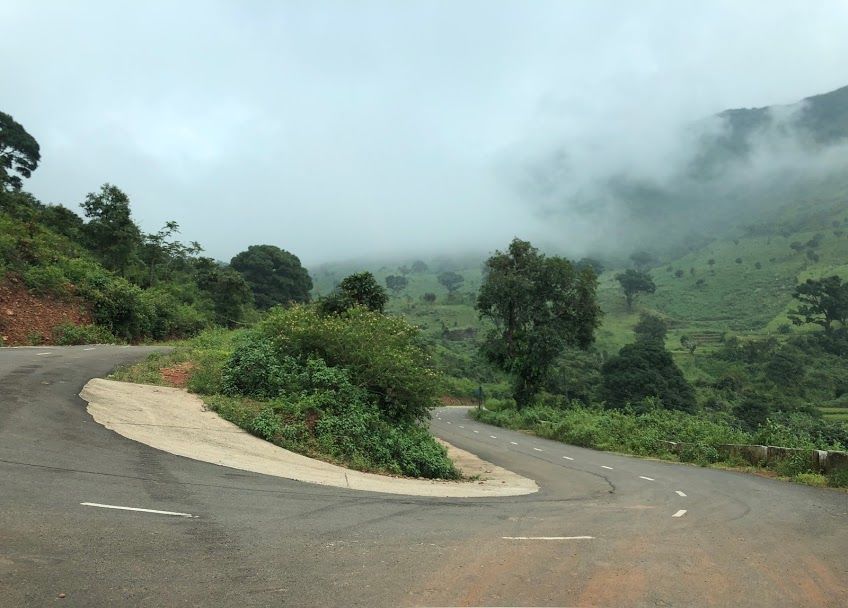 It is the highest mountain peak of the eastern ghats in Odisha and the view is simply mind-blowing. There is an energy at that place that just calms you down and rejuvenates you. There were no tourists around, just a few locals, and with the pleasant breeze blowing I could have sat there all day watching the sun play hide and seek, coloring the valley in different hues and the clouds kissing the mountains one by one.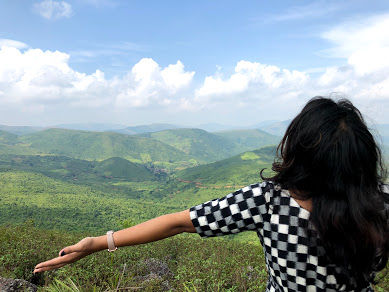 You also have the option to trek to the top of the adjacent mountain by foot as it doesn't have a road and enjoy a superb sunset!
On Sundays, the Paroja, Omanatya and other tribal people set up a flea market in the main town offering you a tiny glimpse of their daily lives. However, globalization is quickly catching up with them too and it breaks my heart to say that very soon they too would lose their true identity.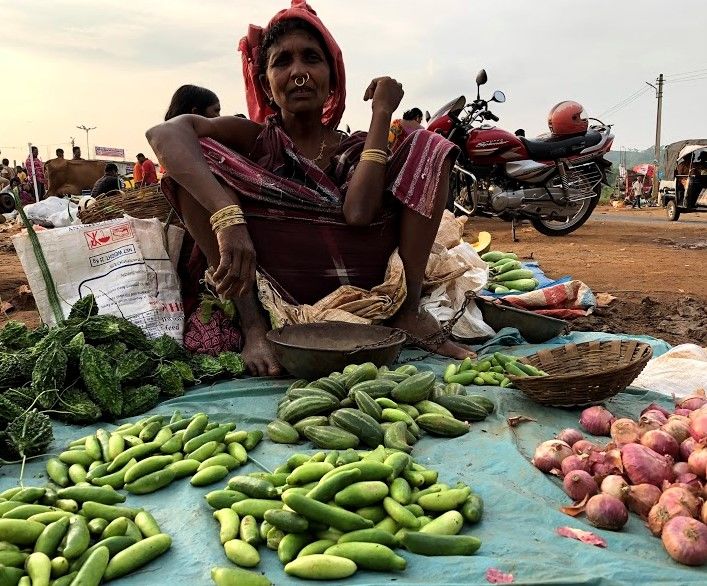 If you're ready for another 2 hours of cab ride then you can watch the Bonda tribes as well at the Onkadelli Market.
In the evening visit the Jagannath Temple.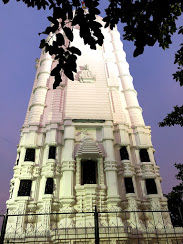 I'm not usually a fan of temples as such because of the religious bias and the harassing, money scavenging priests and somehow they're too noisy. But I was blown away by this temple. Standing tall on the top of a hill, this white and black structure is very unique. It was built in the 12th century and it has over 30 idols of gods and goddesses from all over India, explaining the story of each. Unlike other temples, this temple has no antagonism towards any religion, caste or creed and everyone is welcome.
Early morning, cover a distance of 150kms in about 3 hours time to reach the Chitrakoot Waterfall, also known as the 'Mini Niagara' Falls. However, as I've seen the actual Niagara falls I'm renaming it like that 'Nano Niagara Falls'. But no matter mini or nano, the waterfall was marvelous. The Indus river plays a game of Chinese checkers before plunging down to create this mesmerizing fall with colorful misty rainbows all over.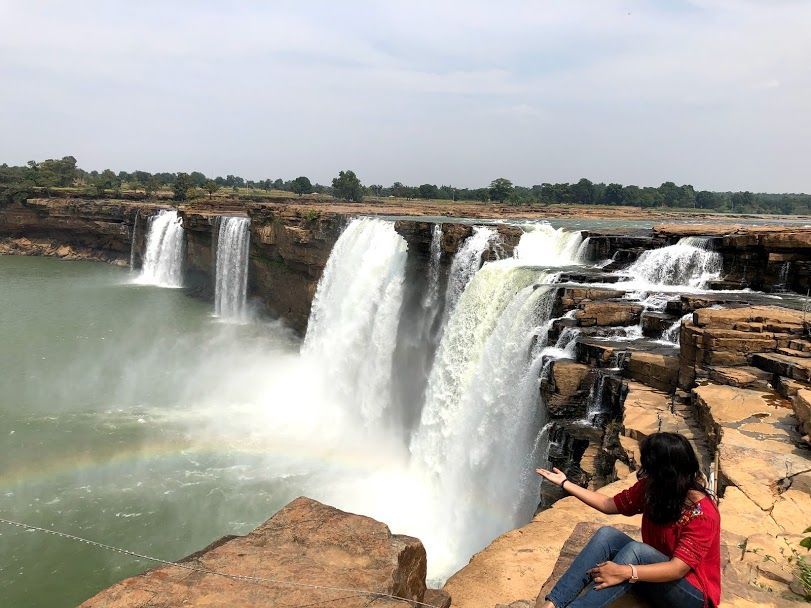 Like most tourist spots in India, this place too has a strategically places Shiva Temple nearby.
On the way back, take a look at how the Kosa silk is made at Jagdalpur. There is a government-owned factory that displays the entire procedure of how the silk is procured from the caterpillar and how the fabrics are weaved and painted. There is an outlet shop from where you can buy the finished silk products.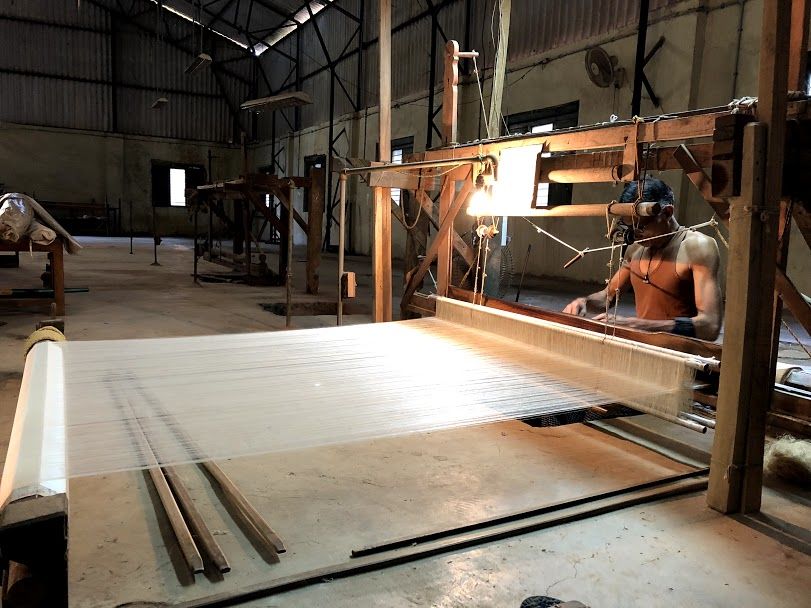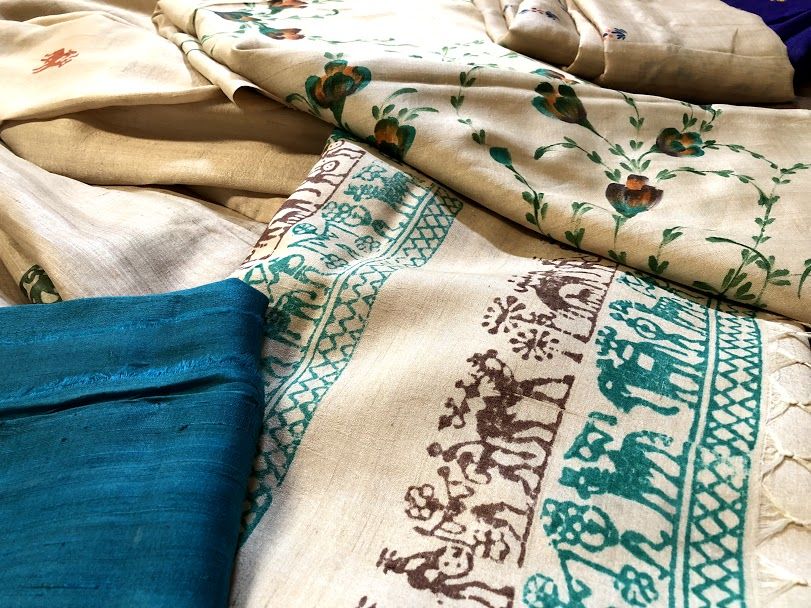 Jagdalpur is also famous for it wood carvings and 'Dhokra' work. Watch the skilled men at work and buy some souvenirs.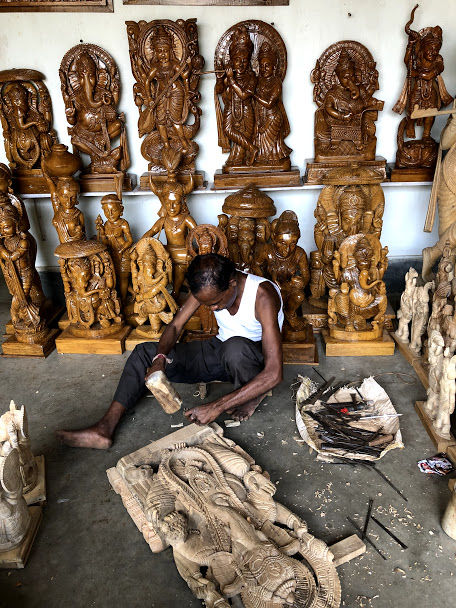 Head back to Koraput and rest your tired bodies.
Start off early next morning to Araku valley. The journey is very picturesque and would be worth the drive. Look out for the coffee plantations en route.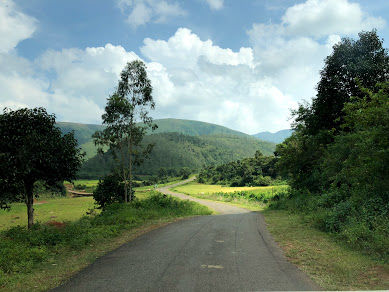 Araku town as such doesn't have all that much to do and is very crowded. Have a look at the coffee museum and enjoy some truly amazing coffee. Buy some filter coffee and absolutely delicious chocolates available in a variety of flavors like orange, chilly, lemon, raspberry etc. from the souvenir shop.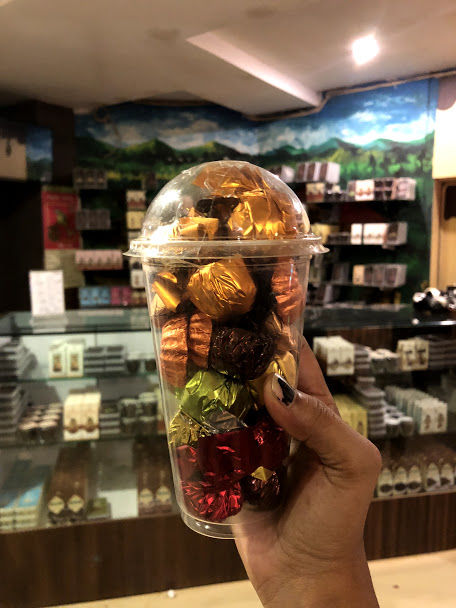 Next, take a stroll around the tribal museum if you have time, else you can give this a skip. But this place has the most lively looking sculptures of tribal people, it's utterly hard to believe that they are unreal.
Your next stop would be the Borra Caves which is about an hour drive from Araku town. On the way soak in the gorgeousness of the golden yellow valleys, coffee plantations, and try some bamboo chicken - the specialty dish of this place.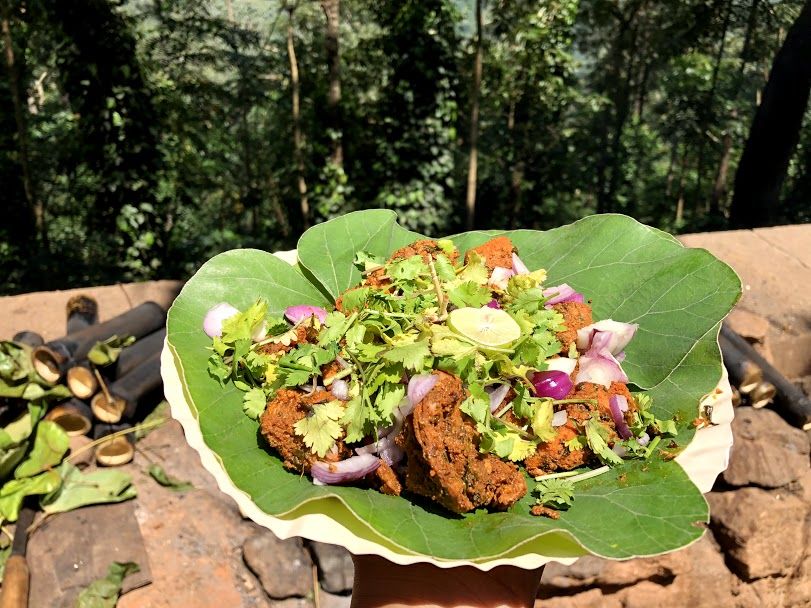 The Borra caves, considered to be one of the deepest and largest caves of India, would be truly amazing if the number of tourists entering the caves could somehow be halved (Yes, I prefer places without the crowd. And yes, I know I am the crowd. But still.) The multicolored lights placed at strategic locations, enhance the beauty of the stalactites and stalagmites that were formed thousands of years ago. All in all, for someone who has never seen a cave this place, is impressive (I asked a few people).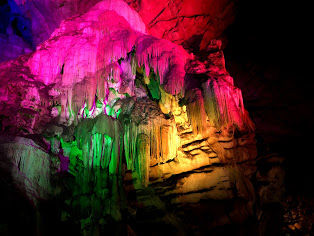 Interestingly, a train line runs over the caves that run from Vizag to Araku to Koraput. There is a glass dome train that runs from Vizag to Araku (and return) which, I wonder, must be a thrilling experience. Next time, I'd definitely try it.
Head down to Vizag after a tiring but enjoyable day. And if you still have energy and time left then visit the INS submarine or just leave it for another day! ;)
Here's my instagram, follow me on my epic journeys round the world.
Frequent Searches Leading To This Page:-
best Odisha Tour Itinerary, orissa 5 day itinerary, 5 days Itinerary to Odisha, Orissa Beaches Tour Itinerary, Orissa Beaches Travel Package,‎ Orissa Beaches Travel Package