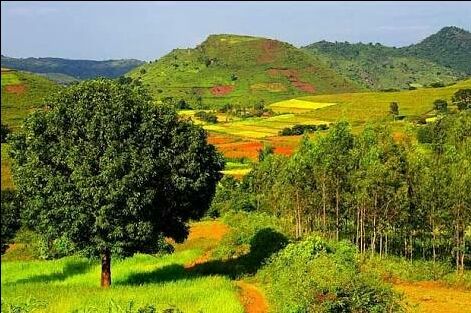 We visited Vizag & Araku during our 4th wedding anniversary. We booked a day trip package with APTDC that started at 6AM from the Vizag station. The package had 1 onward journey via a passenger train where the tour operators had an entire buggy allotted & we got serial number-wise seats. Luckily we got 2 window seats facing each other. Being a passenger train, the train wasn't a very well-maintained one. However, we didn't mind it being content with our window seats. We were served breakfast inside the train. A simple idly & vada. Fresh & tasty & a piping hot coffee cuppa. The train started 15 mins delayed, but as soon as it left the city it entered into an idyllic space of unmatchable natural splendour. This happens to be the only train between Vizag & Araku.
Being part of a conducted tour is always fun. You meet so many people & interactions are interesting. We travelled during the India - England tour & our fellow travellers were some British journalists who had come to cover the series. An interesting acquaintance was a middle aged couple from Orissa who were such young at heart to give couple goals to us. They grew fond of us during the trip & we shared some great conversations.
Coming back to the tour, our guides for the tour were an active group, who briefed us the schedule at the start. They also informed us that the beauty of Araku lies in its journey to the destination. The train route passes through around 30 bridges, 40 tunnels & some 10 waterfalls. The first tunnel passed through amidst a lot of whistling & hooting by a young group of boys. By the 5th tunnel, the noise faded.
The journey is an elixir to your soul. The train crosses trikling streams, green valleys & lush green mountains. It passes through unending tunnels & bridges over deep gorges. A picturesque surrounding. At some point the looping downward road was visible from the train. The green all around soothes your eyes. We reached Araku around 10 & were taken to the Tribal Museum nearby where we saw the yester year's tribal lifestyle, their household & trade items. Stalls selling handicrafts are also available in the museum premises. The museum has a sprawling campus with interesting props for the photo enthusiasts. It was already lunch time. So we were taken to APTDC Haritha resort for lunch. A modest Veg Thali. Araku has a famous dish called bamboo chicken, where chicken is cooked by stuffing it into a bamboo shaft & cooking it on a low flame. The tour operators can arrange it for you at an additional cost of INR 100. We gave it a miss as we prefer having veg when we travel. The lunch at the resort was followed by the Tribal dance Dhimsa by a group of women on the beats of dhol. The rhythmic movement, moving from slow to fast is an enchanting watch. The dancers called women & kids from the group to dance with them. I shook a leg too. Post this performance started the downward journey by road in deluxe buses. We stopped at a couple of view points & Borra Caves. We reached Vizag by 8 in the evening.
Araku Valley is a comparatively unexplored hill station mostly visited by locals as a weekend getaway and is situated some 120 kilometres away from Vishakhapatnam. Located in the gentle hills of Eastern Ghats, Araku Valley is also home to a number of tribes as well. It has rich mineral reserves & some movie shooting points while on its way.
For us Araku was all about the journey amidst unparalled natural beauty. It was a solace in the journey & we were not much worried about what the destination has in store for us !

Cover photo courtesy - Google images