Too Good to be True?
On a first in the country, Hyderabad is all set to get the first of its kind indoor skydiving facility.
The arena, located at Gandipet, is an initiative by GravityZip Sports Private Limited, started by Ramana Meda and Sushil Meda.
Indoor Skydiving will be conducted in a safe, closed, and controlled environment. It will remain unaffected by turbulence and external weather conditions compared to it's outdoor counterpart.
What exactly does the experience involve?
You are in a consistent environment that allows you to ride the air, defying gravity and experimenting with different angles. The fun part of the experience is learning how to control your flight using different body parts and positions.
Of course, your instructor will help you maintain stability throughout, helping you navigate.
What are the do's and dont's?
Do's- Casual clothing, Lace-up shoes, Spectacles (glasses), Long hair in a plait or low bun.
Dont's- Loose or ornate clothing, Open-toed shoes/sandals/slip-on/flipflops, jewellery/watches/other accessories, long hair left loose, loose items in pockets.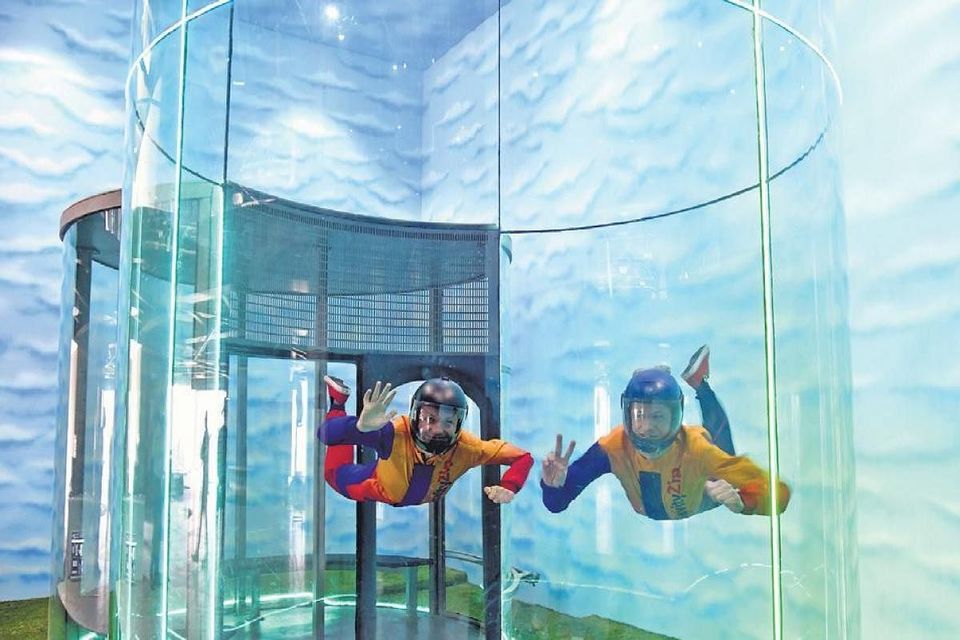 How long will the session last and what to expect?
The entire first-time flyer experience takes about 45 minutes, which includes the briefing, gearing up, flying, and more. You will be in close proximity of the tunnel for about 30 minutes in the pre-flight chamber. Actual flight sessions in the tunnel generally last two minutes, almost three times as long as the free fall when you skydive from an aeroplane!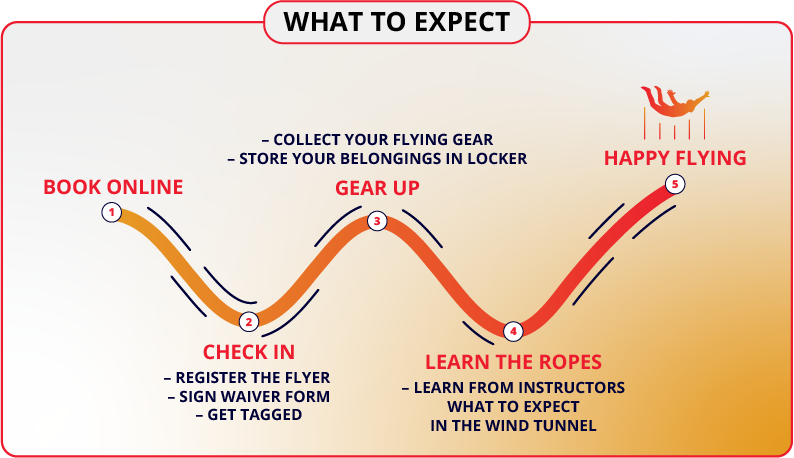 What are the available Packages?
Fly.Hi Start - Package for beginners with little or no experience indoor skydiving. Each flight package consists of 2 flights of 1 minute duration.
PEAK
The Peak Hour Plan refers to all bookings on Saturdays and Sundays, and costs ₹3300 per flight pack of two 1-minute flights.
OFF PEAK
The Off-Peak Hour Plan refers to all bookings on weekdays, and costs ₹2800 per flight pack of two 1-minute flights.
What are the available advance courses ?
If you've mastered the Foundation level and are ready for more, you can join GravityZip's Pro-Flyer Program to become a Pro Flyer. It's the ideal package for learning advanced skills and pre Accelerated Freefall (AFF) and post AFF courses.
The Pro-Flyer Program can be booked in multiples of 30 minutes of tunnel time, which can be split into 15-minute sessions.
Package details
Pro-flyer program is priced at ₹65,000+GST/hour, which includes both tunnel time and instructor's fees.
Who can fly?
Anyone in relatively good health can enjoy indoor skydiving.
The criteria before you book your flight are:
🪂Flyers must be over 6 years of age.
🪂Flyers who weigh above 110 kg may not be able to fly without evaluation by the staff. Additional restrictions might apply.
🪂Women who are pregnant should not fly.
🪂Anyone with a hard cast or prosthetic that cannot be removed is restricted from flying.
🪂If you have a history of neck, back or heart conditions, you will need to check with your doctor before you try this activity, and sign a waiver prior to flying.
🪂You cannot fly under the influence of alcohol or drugs.
🪂Children under 18 years will need a waiver signed by parents/supervising adult.
As per reports, the space has been built on less than half an acre of land, and features a tunnel that stands at 3 m. The wind speed will vary from person to person, and will be maintained at 200 to 400 km. Two turbines will be running on 800-kilowatt power, whereas participants will be required to wear a jumpsuit made of nylon, spandex, and cotton, as well as a helmet and lace-up shoes.
You can now book your adventure in their official website- here!
Think we missed out on something? Let us know in the comments section below. Or write about it here and earn Tripoto Credits!
Follow me on Instagram and explore this world through my eyes!