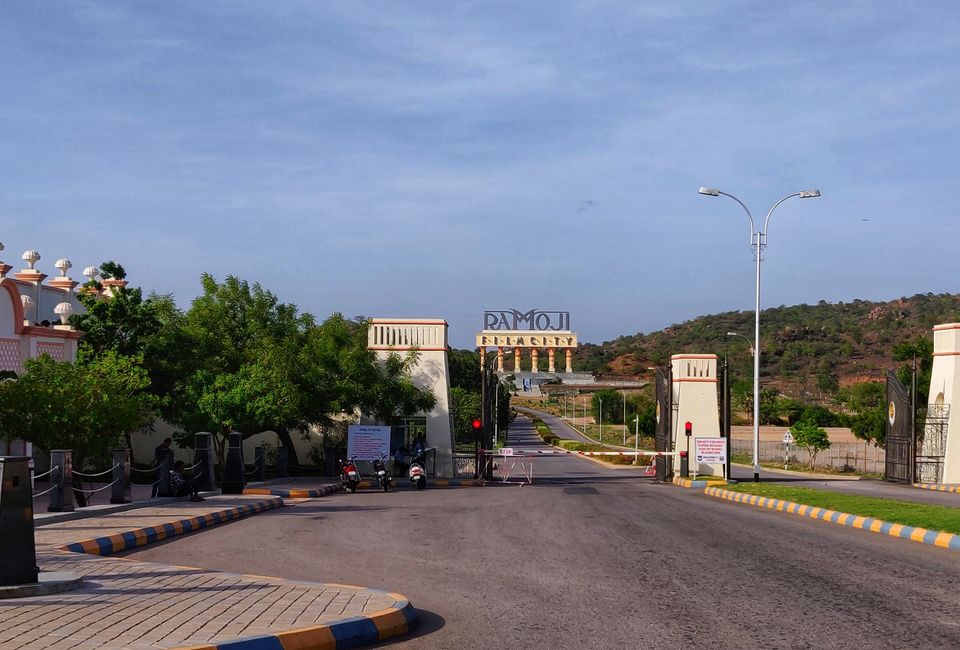 Ramoji film city , Hyderabad has earned a lot of fame with their unique theme and versatility. Driven by their majestic representation of shooting locations ,I decided to have a visit and explore the unseen beauty of it.
It is located in Hyderabad and distance is approximately 30 KMS from the railway station as well as Hyderabad airport. So you can choose any option among the two to get there. Weather is fairly good there if you compare to heat waves prevailing in North India these days , however would suggest you to plan after monsoon to get the maximum of your trip. I am sure you don't want to spoil the excitement of your trip because of unplanned raining or scorching heat of Summers.
Two days schedule is enough to explore the Hyderabad if you are running out of time or struggling hard to get ample of time for the trip.
On the first day, I landed at Hyderabad by the morning flight and headed towards the city . I was looking to take some rest and then explore the city locally. Although it was mid June but coming from extremely hot place like Delhi ,here the weather was pretty much comfortable.
In any case ,if you are confused about where to stay,so my personal suggestion is to check any hotel nearby to Nampally. This place is almost centrally located and very near to Charminar as well as Ramoji film city.
For any foodie person, there are lot of options in Hyderabad and you don't have to burn a hole in your pocket for that. Taste is quite amazing , whether you are vegetarian or non vegetarian and prices are very reasonable. So  without any hesitation , don't miss to explore the Hyderabadi Zayka.
In the evening, I visited Char Minar which holds a very important place in the history of Hyderabad and have religious significance as well. It is surrounded by busy and fairly crowded local market. Don't forget to check local biryani and Irani chai from the shops located here. Needless to say, they are superb in taste.
The best part of Charminar is that you will find the mosque as well as Temple at the same place . The temple is located at the base of the Charminar. The local market is famous for glass Bangles and Pearl.
Prefer to book auto to reach here due narrow and crowded streets.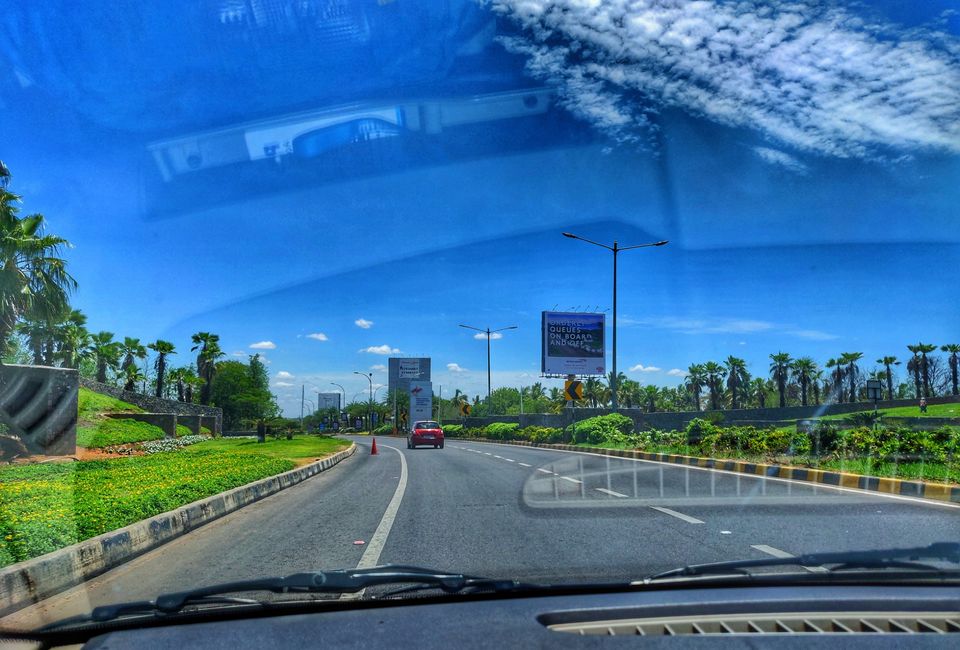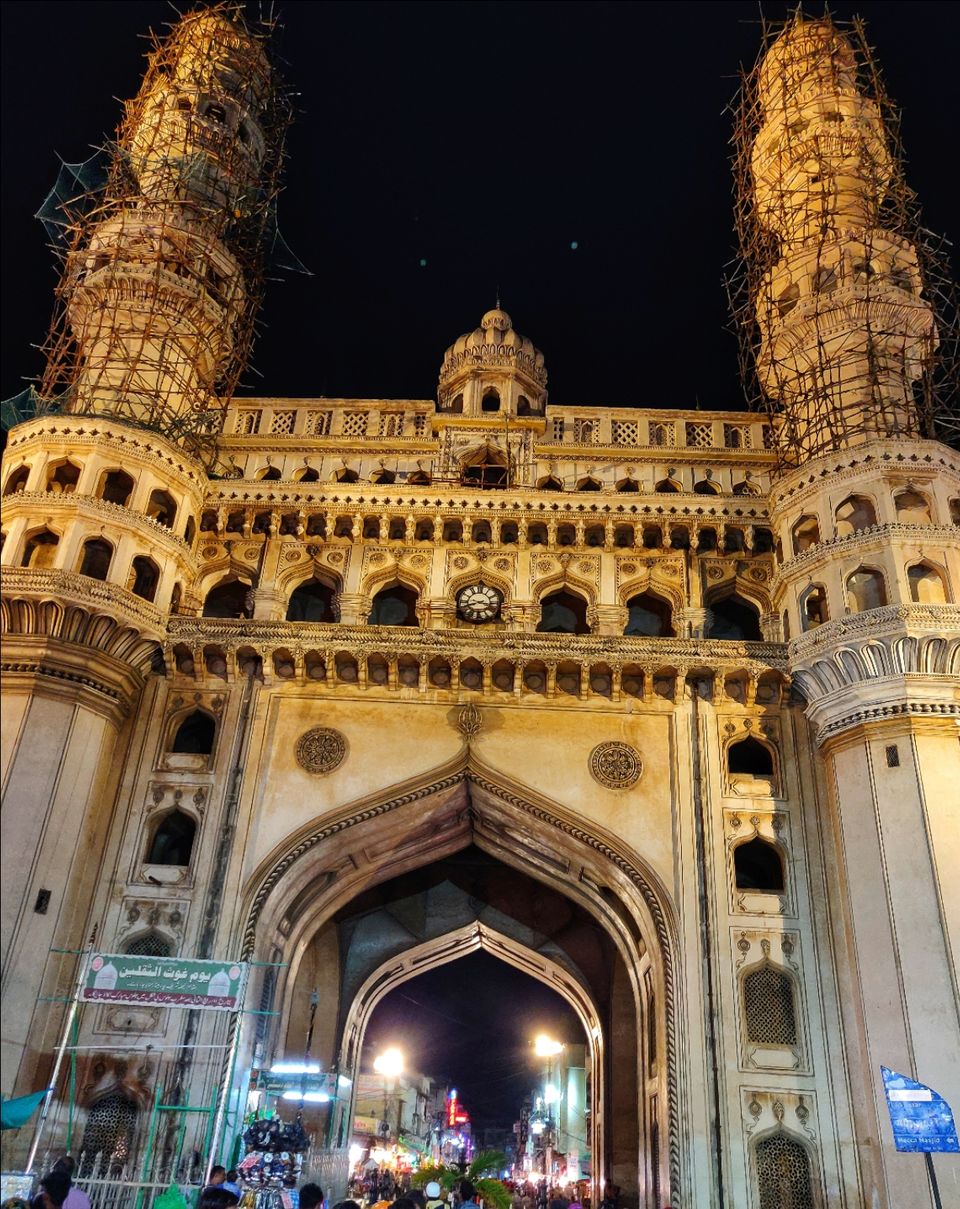 Second day of the trip was solely reserved for Ramoji film city tour so I checked out early in the morning and headed towards film City.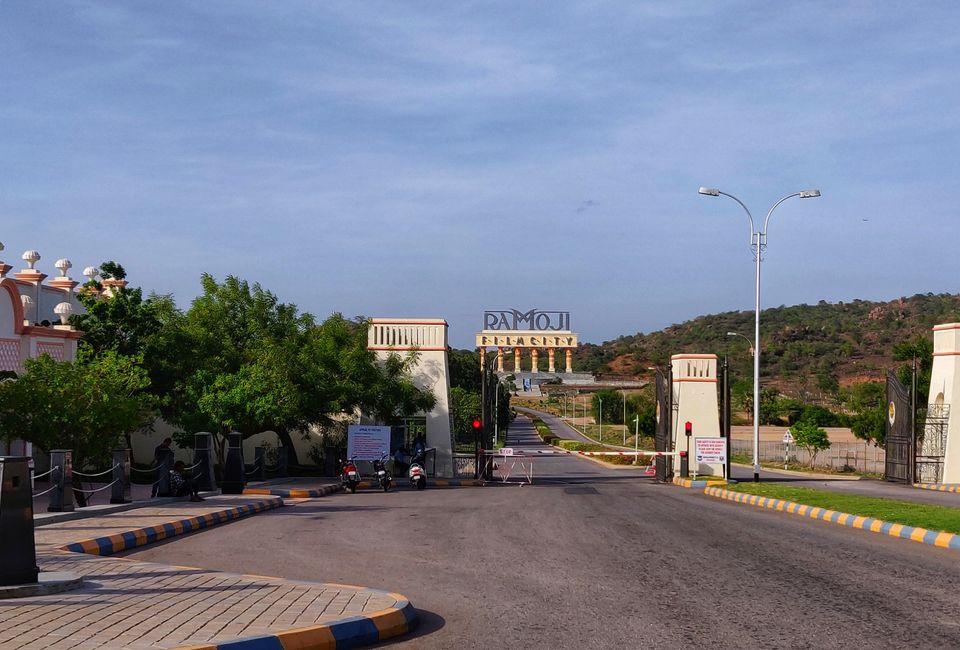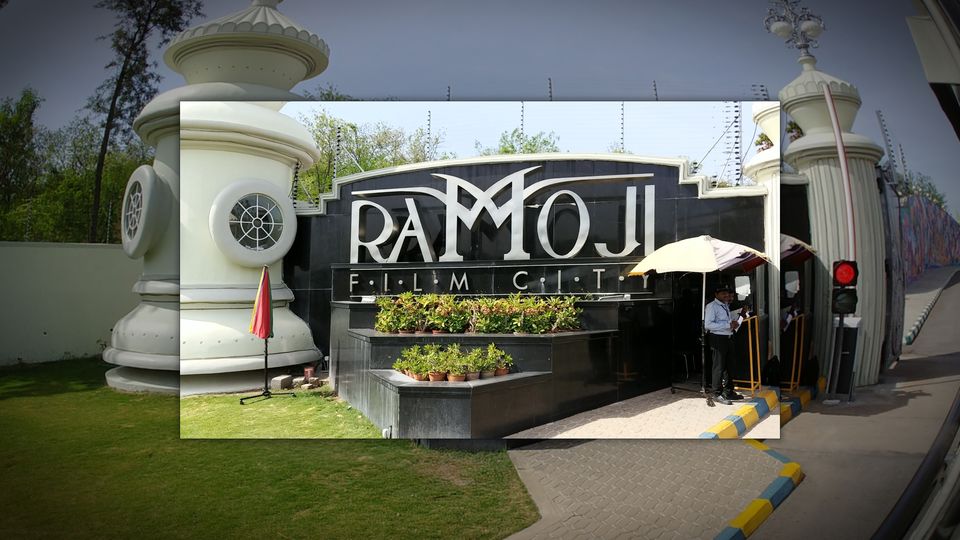 It's almost one hour 20 mins drive from Nampally to film city, located between the hills. They provide ACs and Non ACs buses to the tourists to explore the entire film city and every bus is manned with one tourist guide who will elaborate you every details of the shoot locations and sets on the both side of the road.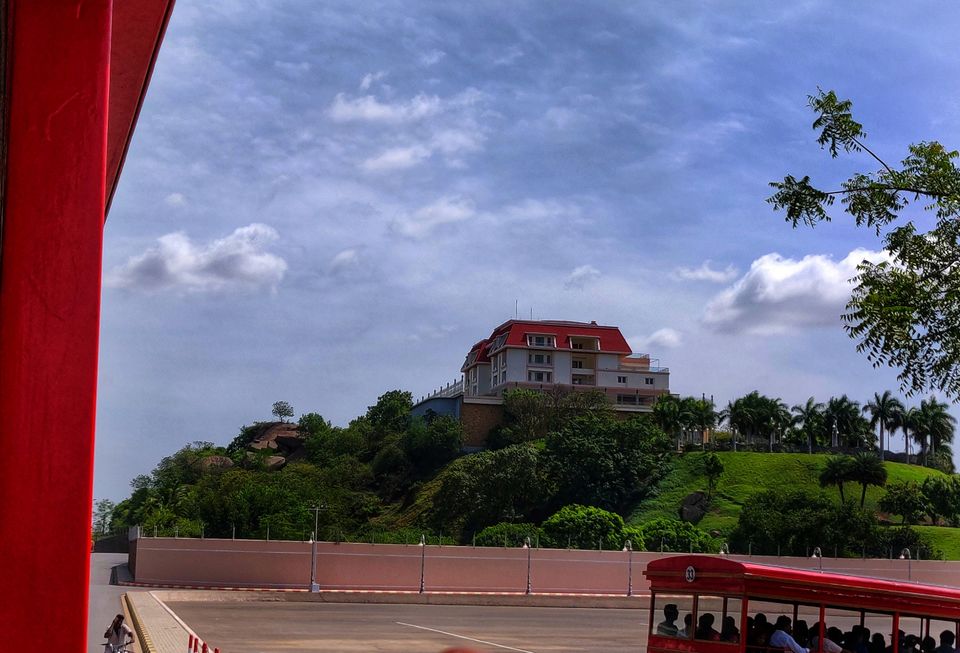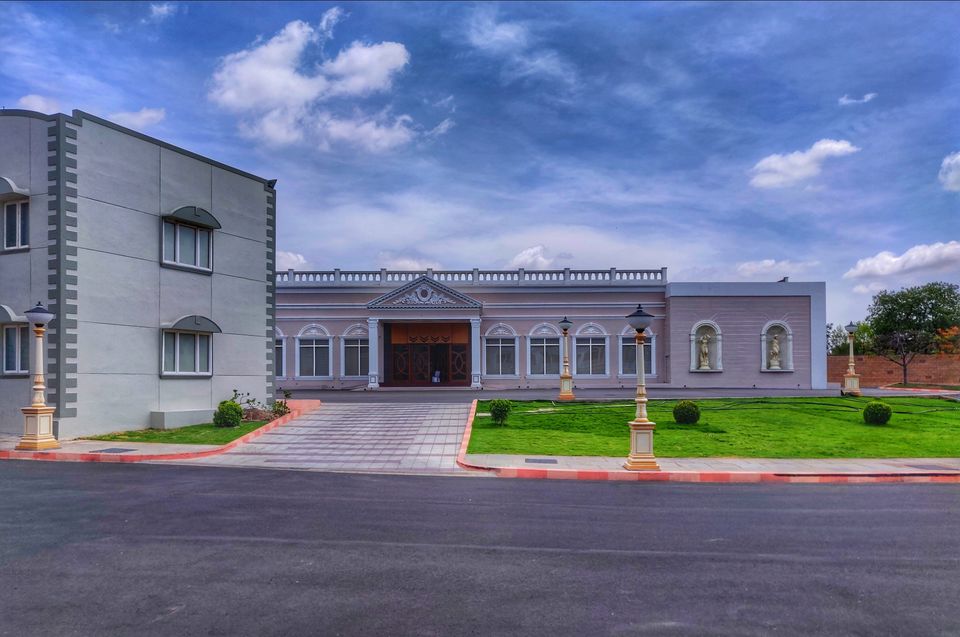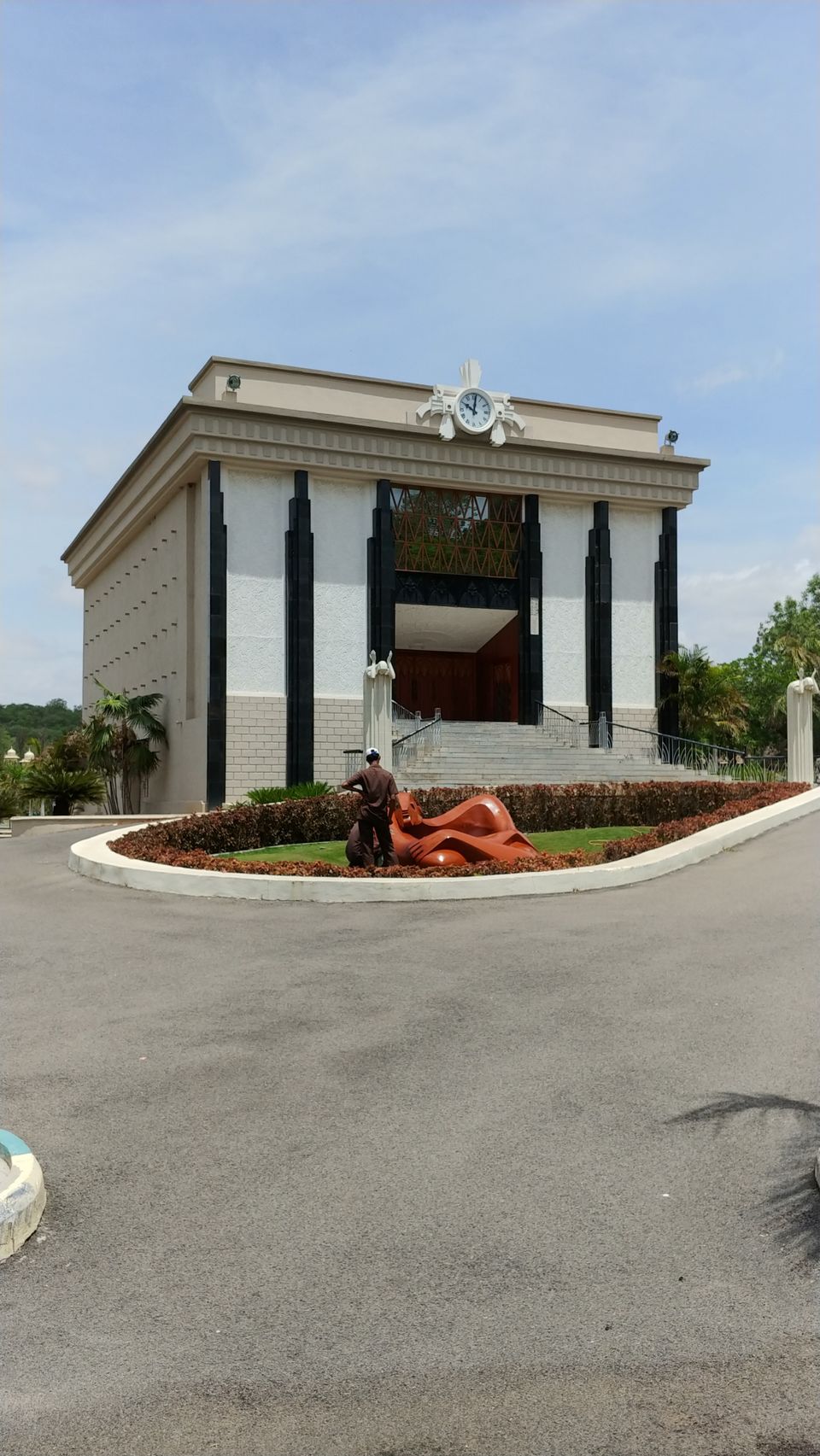 The trip starts with one muhrat shoot with background music of epic saga.. Bahubali. This muhrat shoot is basically a dance performance by the artist with the royal theme in the background,but no doubt amazing one.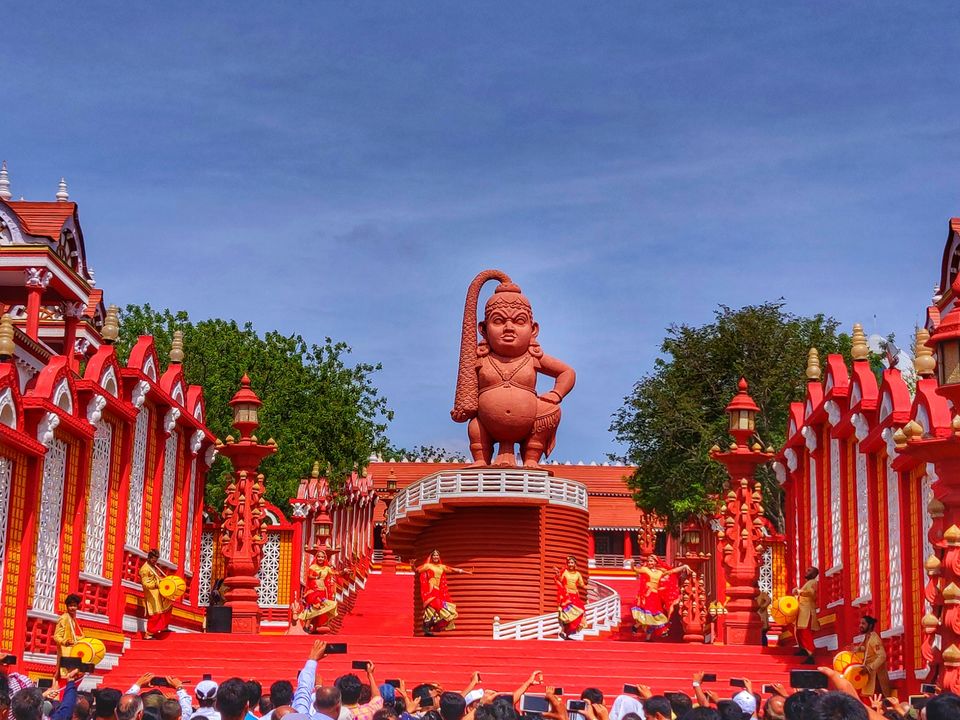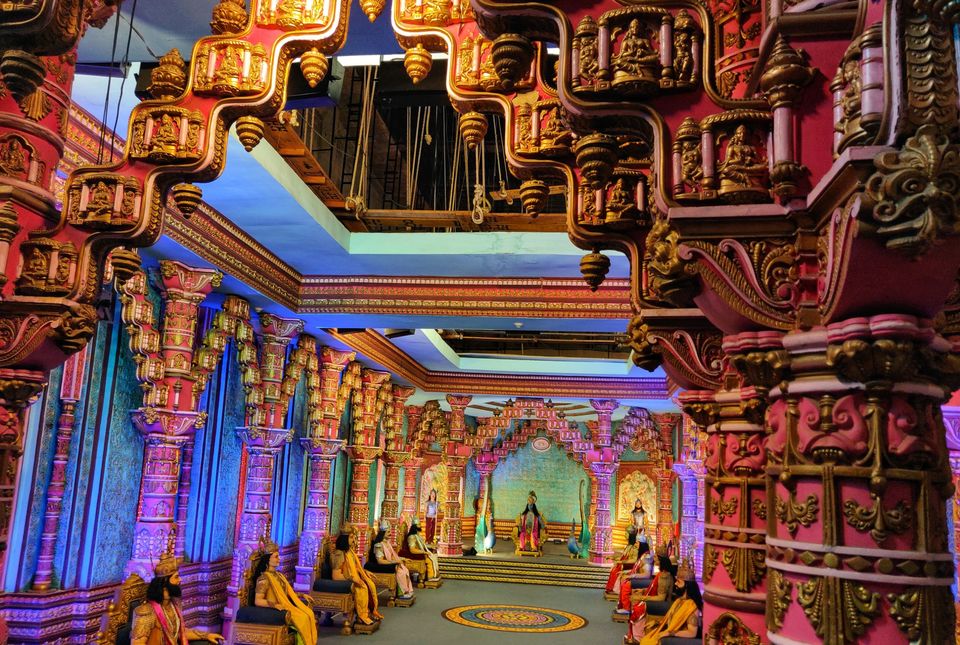 The trip is inclusive of rides,sight seeing, theatre shows and science fiction shows. Meals are exclusive of it however you can book the same in the package as well.
Bahubali set is open for tourists and you can recreate the epic saga in your memories by having a visit of it. The views are fabulous and definitely the credit goes to S Rajmouli & his team for all their hard work and dedication towards the set up .
There is one bird museum also and you can find a lot of species there and that museum is decorated with a artificial waterfall and a high ceiling covered with glasses.
After completing the sets visit, you can enjoy the various shows like science fiction, light camera action,space walk in the theaters inside the film city . Entry is free of cost and charges are inclusive in your film city tickets only.
In the evening, they organize rain dance and have a separate game zone called SAHAS for adventurous games . In fact you will get so many things to explore starting from fabulous locations to amazing sets, rides, adventure games and theater shows that you will always find yourself running out of time.
It's one of the best places for family vacation.
At last, would like to summarize few important informations;
Prebook the tickets for entry to avoid long queues at counter.( Online/ counter is also available at Airport)
Tickets are of two types: basic costing you approximately 1200 bucks that includes entire film city visit on vintage bus (non AC) ,free rides,free entry to theatre.
Second one will cost you approximately 2400bucks where you will be given AC bus for visit and meals are inclusive.
I would personally suggest you to go for vintage buses as it's totally a different experience with them.
Opening time is 0900 hours in the morning so try to reach before that so that you don't miss the Muhrat shoot whose timing is 0945 in the morning.
Few rides are chargeable there so go through your tour catalogue carefully regarding that information . It is available at check in counter from where you get the entry pass on the behalf of online booking code.
In case you have booked the basic tickets ( exclusive of meals) then restaurants are available inside the film city and pricing is very much reasonable so you don't need to take extra load on your wallet for that.
DSLRS are not allowed so please go through the catalogue about the items prohibited inside so that you don't have to face inconvenience at the last minute .
At the counter at entry point ,there is a locker room where you can put your luggage and collect it after completing your tour.
The average costing per person for two days with this itinerary (including tickets for film city) is approximately 2500-3000 bucks only all inclusive . However it excludes your means of transportation to reach Hyderabad.