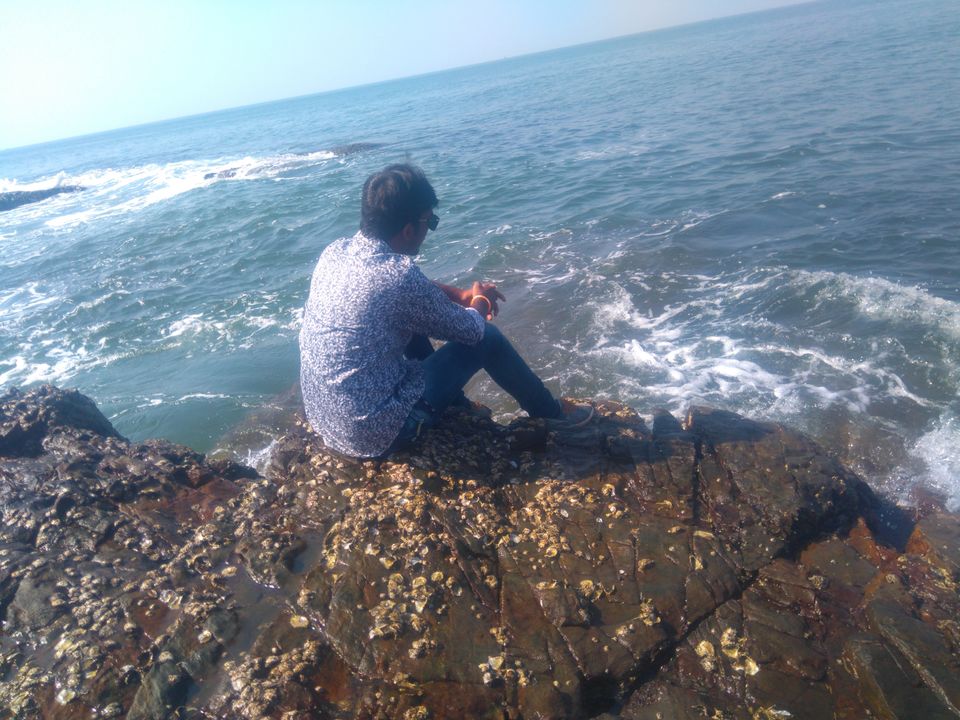 On a very first day we hunted for hotels as we went in a very peak season choosing peak dates from 26th of December to 31st of December. We somehow managed to find descent room for 3 people in calangute beach. After a quick fresh up we went down the streets and after walking out of hotel room we just  got a sneak of Wine shop as we badly needed beer to get energy for a long day. We then went to one hotel nearby for lunch and headed towards baga beach. On our way to baga beach we found one bike rentals, we rented two activa for a day for some 400/- each.
After some photo shoot at baga beach we came back to hotel and freshened up for dinner. We went to dinner for proper sea food were we had crab along with tequila shots and beer of course!! After dinner we went to calangute beach for a walk as our hotel was just 1 km away from beach. We really had a great start on 1st day.
Day 2 was geared up for witnessing beauty of Dudh sagar waterfall. We booked a package for dudh sagar trek which costed around 1500/- which include everything from pick up and drop from your hotel. I liked that particular package as it included everything from your transportation lunch your jeep charges for waterfall. That package includes tour to spice garden presenting wide varieties of spices. There we also had feni which tasted so good.
In short I'll say if u are planning for 5 day trip. You must definitely give visit to dudh sagar waterfall
Day 3 was continuing the rituals to visit old goa. Every single place which you see on packages including some famous churches, museum's, parks and many more...
So we rented bikes and set for old goa. After travelling and exploring many places our body were drenched up in that scorching heat, In that scorching heat we found one escape plan.
We set our GPS for Divar island. The place surrounded by sea everywhere with some locality of people. We really found great peace of mind. After all this in evening we went for cruise ride in old goa.
This day....
This day brought or I must say gave birth to my current favorite interest "Scuba Diving"
I badly wanted to do scuba from long time and finally grabbed that opportunity here
One hell of a experience, the only place where you can do two things at a time listen to your heart beats along with witnessing beauty of water-  corals, wide varieties of fishes And many more things. Just loved this experience.
We were charged around 3000 which included everything including lunch and transportation.
A must do thing if you are in goa.
This day was to explore remaining places of Goa. On this day we explored that beaches where there were only 3 of us. Such places are at a very far distances but when you are on Goa you don't need to think of distance as petrol is very cheap.
It was final day in Goa and yeah last day of 2016 it was 31st of December, Most awaiting day
We enquired for passes of shiva valley at Anjuna beach for rave party that costed us around 3k. On that day bike rentals were touching sky for around 1100 for each. On that morning we went for some shopping and we also had  temperory tatoo on our body as it was 31st night and after partying whole night we reached room around 5 in the morning.
On next day we left Goa with tons of memories