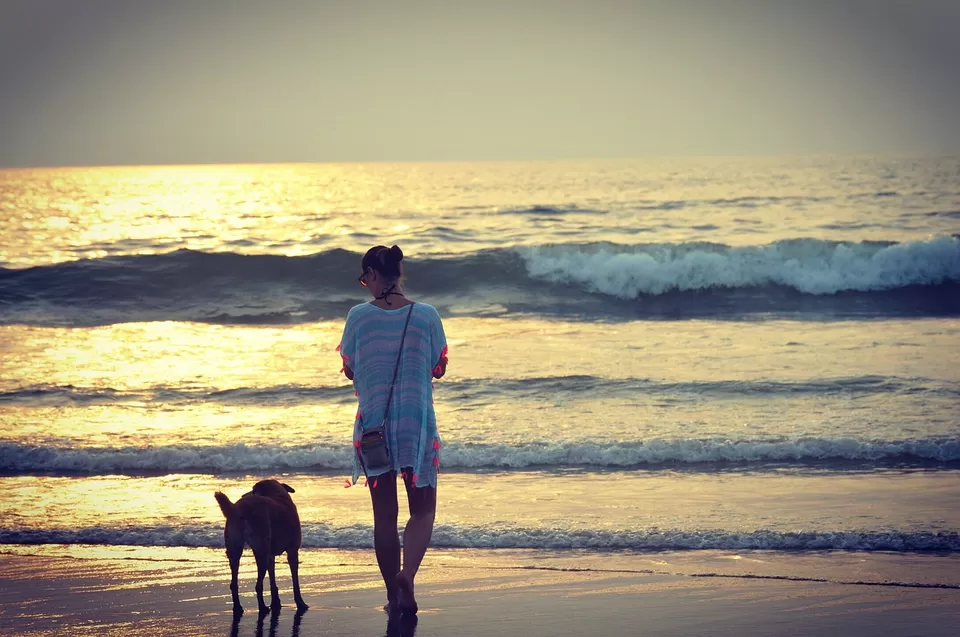 Sunbathing at the Anjuna Of Goa's forty-odd beaches, Anjuna is one among the more popular beaches. About eight kilometers from Mapusa, this beach was once home to the hippies who came by the carload in the mid-sixties.
Of course, the best part about Anjuna is its excellent beach. The coconut palms fringed soft white sand is better than most of North Goa's beaches. It is also safe swimming here with little rip currents. Even safer is the southern end where a rocky headland keeps the sea calm and the undertow to a minimum. A word of warning to tourists - though Goan beaches look tame and beautiful, it is not really safe to swim there.
It is literally an anthropologist's dream come true with people from all over and different races converging here to sell goods brought from their homelands. Initially, the scene at this weekly market was not that exciting with only second-hand books, junk jewelry and clothes to be sold, and groups of stoned tourists hanging around.
Today however the scene is mighty different. Migrant hawkers from all over can be found in organized groups, with each region or culture sticking together. From the Indian lot, most noticeable are the Lambani women from Karnataka selling traditional, colorfully woven tribal clothes, bags and jewelry. The others are Kashmiri hawkers selling silver jewelry, papier-Mache boxes, and Tibetans selling turquoise bracelets, praying wheels, and Himalayan caps and curios.
You will also come across Rajasthani mirror worked, block printed bedspreads, Kerala wood carvings, Guajarati artefacts, etc. There are also western hawkers selling backpacking essentials, musical instruments, and Indonesian hawkers selling Balinese batiks and designer beachwear.
However, you will have to be good at haggling if you want your money's worth. Most of the stuff sold at the flea market will be priced exorbitantly. This isn't a surprise considering unaware western tourists are ready to shell out the cheap Indian currency.
Best time to visit Anjuna Beach, Goa:
The best time to visit Goa is between October and March. The season is pleasant and enjoyable. There are plenty late night parties happening around this time too.
How to reach Anjuna Beach?
Anjuna beach is about 45 kms from Goa airport. It resides in the North part of Goa. From Panaji it is about 20 km by road.
Accommodations in Anjuna Beach:
Accommodation in Anjuna may be a problem if you haven't booked well in advance. And if you arrive in the peak season (peak season is mid-December to mid-January) it will be virtually impossible to find any accommodation at all!
Anjuna has some not-so-well furnished guest houses and hotels, and you will find that owners are generally reluctant to let out accommodation if you aren't planning to stay long term. You will find inexpensive accommodation at Coutinho's Nest, Hilton, Martha's, etc.
Moderate to expensive are the Anjuna beach resort, White Negro, Hill View and others.
Food: Some places to eat in Anjuna Beach
Eating and drinking in Anjuna are pretty good though you won't find beach shacks like the ones in Calangute. The food here specializes in fish like elsewhere in Goa and western food.
German The bakery serves delicious meals, herbal teas and Expresso coffee. It is a little expensive but worth it and is a great place to relax. The budget traveler's choice could be Lafranza, Rose Garden Motel and Sea Breeze.
You can expect good proportions of delicious food at reasonable prices. Some of the best places to dunk a few beers, watch the sun go down and stay up till the wee hours are the Shore Bar and Paraiso de Anjuna (popularly called Paradiso).
Who doesn't know Curlies? They are known for their vide variety on their menu. But personally, I'd vouch for their delicious Chinese food.
Right next to Curlies is this hip place. They serve multicuisine and are wall graffiti's are worth an Instagram click. You will also find a lot of international crowd here. They also have stay options attached.
Cafe looda is a host to live music nights across all seasons. They are most popular for their wednesday nights, thanks to the flea market that attracts thousands of people. It is a great place to chill by, sip your beer and enjoy some old rock ballads.
Perfect for some takeaway snacks, finger food like sandwiches and burgers and pizza. They have cute vintage atmosphere and a fresco seating.
This is perfect for a sophisticated beach shack which turns into a night-time disco serving a varied cuisine options.
While the price rates are a little high here, this place overlooks the ocean and is perfect for a pleasant windy afternoon by the beach.
If you want a decent sundowner with stunning sunset views across the ocean, this is the place you should be at. The place has a cozy vibe, serves flavorful food, but is closed during high monsoons, thanks to the high tides and winds.
You can check out this article to know more about the Best Cafes at Anjuna Beach, Goa.
Shopping in Anjuna Beach
Wednesday Flea Market at Anjuna Beach is a stretch of road with colorful clothes shops, spices, lamps, and other small souvenirs like bongs, stone elephants.
Avoid long weekends, as they cause the beach to get horribly crowded. It is open on Wednesdays only, and offer a variety of things to shop for like, beachwear, Tibetan artifacts, junk jewelry and classic Goan souvenirs.
Nightlife in Anjuna Beach
Anjuna is known for its cool, hipster vibe and the night party and disco scene is pretty lit here. Especially on the weekends, this is the place you want to be. Some of the best discos in the area are:
Curlies has a psychedelic vibe after sundown. If Psy-trance is your kind of music, this is one of the best places in Goa to enjoy a late night party.
Just like Curlies, this is yet another famous place in Anjuna for a long night party. They play a mix of commercial and hip hop.
Other Activities in Anjuna
There are other things to do in Anjuna. You can take yoga classes, have yourself massaged the Ayurvedic way or study homoeopathy. The best place for this is the New Health Centre near the Palacete Rodrigues hotel. The best way to travel is by hiring motorbikes or the motorbike taxi. There are buses as well to take to Panjim and back, and to the nearby beaches of Baga and Calangute.
Goa offers multiple water activities such as bumper ride, banana ride, Jet ski, para sailing and many more.
Sundowns are magical in Goa. You can relax in one of the many many shacks by the beach, and watch the sun go down the horizon, staining the sands, flecking the sea with gold, and couples and kids in silhouette.
Well, of course, the best way to know more about Anjuna is to go there yourself. So here's hoping this list becomes your ultimate Anjuna Wishlist and wishing you a great time in Anjuna!
You may also like to read: ozran beach
Here's a guide to the best beaches in Goa that you must check out. Got any more tips places to add to the list? Add them in the comments below.
Check out my Instagram profile here!
If you liked the article, share the love <3 #Whereizmyboardingpass
Ready to travel for free? Earn credits and redeem them on Tripoto's weekend getaways, hotel stays and vacation packages.