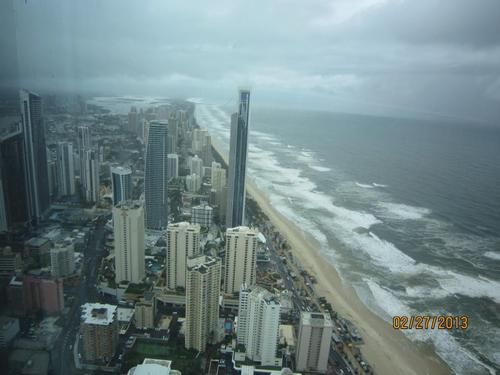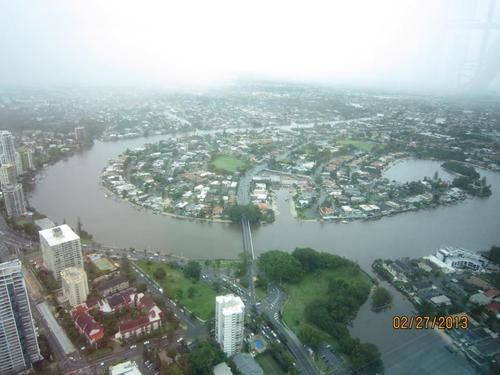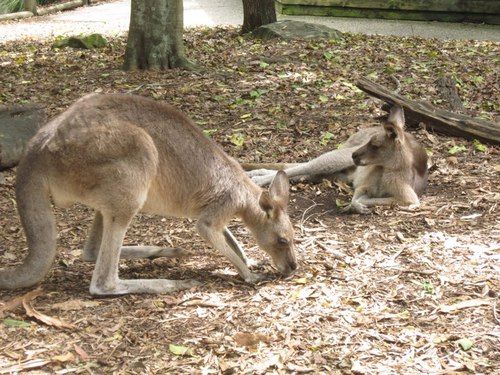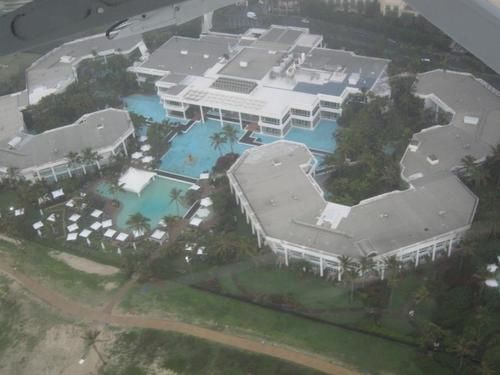 Seven hours away from Singapore, the always sunny city with the sea on one side, and the river and canals within is a must visit for anyone who visits Australia. With approximately 500,000 residents and over 1000,000 tourists every year Gold Coast is the ultimate holiday destination. While it doesn't have the great barrier reef, it boasts 300 days of sunshine a year, a gorgeous coastline to enjoy the sunshine and some of the best surfing waves in the world. Jan-Feb-March which is summer for the rest of Australia is actually the wet season for Gold Coast, and what is otherwise a bustling city becomes quieter and calmer. As luck would have it, we visited during the wet season but managed to get 3 rain-free/minimal rain days. 
TO DOs
You could probably stay at the Gold Coast for 3 months and do something new every day with the amount of tourist activities they have. The hardest part is selecting what all can be done in 3 days. If you want to see the Great Barrier Reef, Cairns is a better bet. If you're looking at a mix of diving, sea sport, theme parks, rainforests Gold Coast is for you. We chose to check out some amusement parks, climb the tallest building, and fly out to visit the Great Barrier Reef. What we missed out because we just didn't have enough time was the natural bridge and waterfall in Gold Coasts hinterland where you get to see glowworms. The pictures looked beautiful and I'd recommend anyone who has the time do it.
Q1 Building
Previously the tallest residential building in the world, the Q1 building, right in the middle of Surfer's Paradise gives you the option to view the city from an observation deck on the 80th floor with floor length glass windows to protect you, or climb a few floors attached to the building by a harness and see the real beauty for yourself. We chose the latter and it was completely worth it. While not as scary as bungee jumping, there is a certain thrill to climb metal stairs outside the building's façade, with just a harness that keeps you attached to the solid structure. Completely safe, you have a guide who takes you up and is with you every step of the way. The high point is when you look from up and see water on all sides, be it the canals in the city or the beach. Unfortunately personal cameras are not allowed up, since everything is likely to be blown right off you with the wind, but your guide does take pictures of you in fun angles (like you're falling off the building or a top angle to see the height you actually are at) and these can be bought by you after. After that of course you can go to the observation deck, but the feeling with the glass windows in front of you is just not the same.
Dreamworld and Whitewater World
With Sea World, Dream World, Movie World, Whitewater World, Wet n Wild, Outback Australia all in the city, you have to visit an amusement park. The problem is choosing which one. After much contemplation, we decided to maximize our day with 2 parks and selected a one day world pass to Dreamworld and Whitewater World which are in the same complex. The makers of Shrek, Madagascar and Kung fu Panda have made their own Disneyland with some super fun (read scary) rides. We tried every ride which had a black diamond by its name and we were spent the day being tossed, thrown and looking at the world upside down. My favourite ride was Buzzsaw which we did first. One turn and we had any sleep knocked right out of us. In the middle of the day, we went over to Whitewater World right next door and decided to try some of the fun water rides there. The most fun one was the Wedgie where you get into a capsule all alone, the floor opens up under you and you all fall straight down. 
If you're in Australia you have to see kangaroos and koalas and what's really exciting is that Dreamworld has an entire wildlife area where you can feed and play with kangaroos, hold a koala and feed  crocodiles. The park is huge, and usually shuts quite early (around 4pm), so to maximize your time, a suggestion is to plan your with the online map, and choose a weekday to visit.
The part that costs the most here- you need to pay for every good picture they take of you. So make sure you choose the ones from the really exciting rides to buy, because they cost 30 AUD each.
The Beaches
Since we were there during the wet season, most beaches were closed for swimming, but we did manage to spend enough time by the beaches. Surfers Paradise is the most lively with lovely high waves, bi-weekly stalls, and the always fun Caville street.  The crowd is young and touristy.
Equally fun was Broad Beach-a more grown up area with bars, restaurants and lovely little cafes you could spend hours in. We spent most of our time at Broad Beach and discovered some excellent places for Japanese meals and sea food.
TO STAY
As a tourist, you should choose between Main Beach (right by Sea World), Surfer's Paradise and Broad Beach. We chose the Sheraton Mirage at Main Beach which is a beautiful property right on the beach making that part of the beach mostly private for Sheraton guests.
Most tourists land up choosing Surfers Paradise. It's a great option- a very lively area day and night, and has easy access to rest of the city with buses and cabs. If the casino is where you spend your time, Broad Beach has the Jupiter hotel which has the largest casino in the area and a great area to spend your time in.
TO KNOW
Weather and travel around are two of the most important things you should be aware of when visiting the Gold Coast. Plan your visit when it hasn't been raining so you can get the most out of the beach city.
When reaching the Gold Coast, you could ask for a shuttle service 20AUD per person for airport transfers. Internal travel can be with regular buses or shuttle services which go to every hotel and are a cheaper option than cabs.
TO SPEND
Australia is expensive. For tourists and locals alike, the cost of everything in Australia has gone up. For a city like Gold Coast, a meal for 2 will be anywhere between 40 and 90 AUD. Travel through the Gold Coast is expensive as well. A cab drive from the airport to the city was 60 AUD. Planning travel in advance is your best bet. There are options of 3 day unlimited travel for 71 AUD per person and allows you to use buses and other forms of public transport.
TO EAT
Food is very tasty, and very good throughout Australia. With a strong Italian and Japanese influence, these 2 cuisines are probably the easiest to find in Gold Coast, but options for other cuisines are abundant. Being a tourist hub, they cater to most tastes, and even vegetarian people find easy food options there.
This trip was originally published on nutterbug.