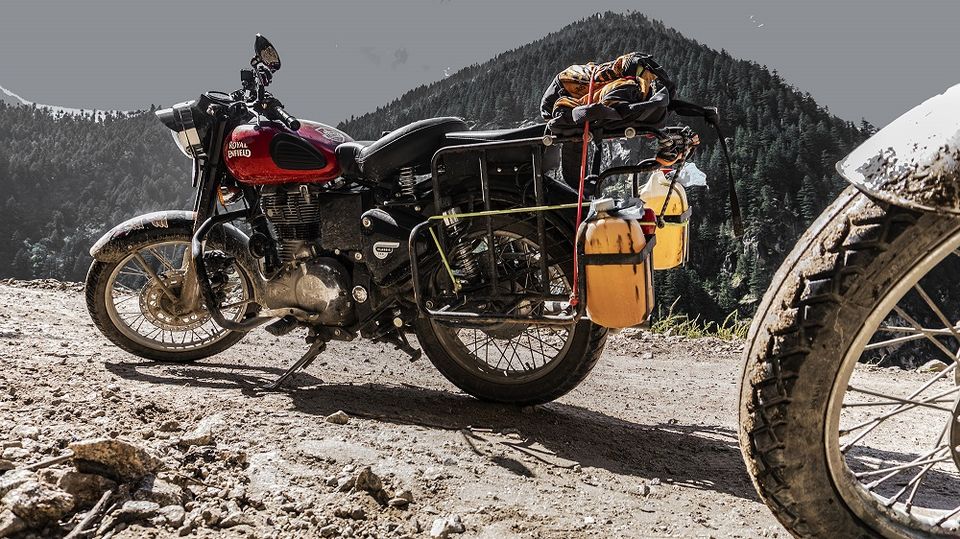 This blog is originally written by Footloose Dev, a full-time traveller from New Delhi. Read the extended and more detailed version of this blog and more road trips across the Himalayas ON HIS BLOG BY CLICKING HERE.
Bhutan has always been a country of debate for travellers. Its natural beauty, culture and an unknown-world charm has been a constant source of attraction. Not many people we know have been to this mysterious land, neither many sources on internet talk about it. When I Bhutan last year and travelled across the country, completing a big loop, and ending up writing a complete travel guide on Bhutan, I was left baffled with the kind of experiences it offered. Despite being well familiar with the kind of hospitality people in Indian Himalayas offer, the hospitality and joy that Bhutanese spoke of, was far refreshing.
I did a 5 day road trip across Bhutan last year, riding nearly 1000 km. The route, which started from the south-west corner of the country (and from the most common entry post of Phuentsholing) took me to more than 5 different states in the country and an uncountable number of valleys. But more importantly, it covered all the highlights that Bhutan had to offer.
From some of the offbeat towns where tourists seldom pass to the state capital to the coldest region of Bhutan, this 5 day road trip covers everything:
5 Day Road Trip Across Bhutan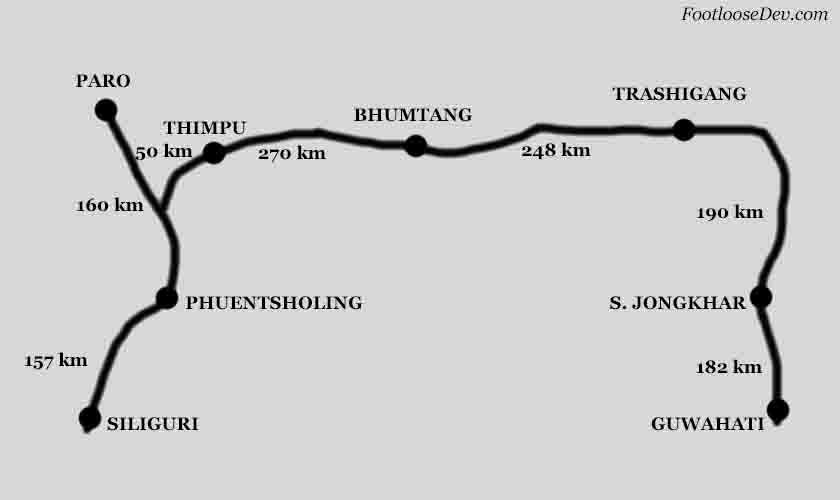 Day 1: Arriving In Phuentsholing
Though Bhutan and India have multiple border crossings, the most convenient and common among all is from the border of Jaigao-Phuentsholing -- where Jaigao is the last Indian town and from Pheutsholing the Bhutanese territory starts. Opened Monday-Friday from 9-5, it is in the immigration office of Phuentsholing where nearly all border accessing applications for tourists arrive. Provide a photo ID and you get the permission in a couple of hours, depending upon how long is the queue.
To get a permit for your motrobike you need to
If you manage to get the permission before 2 pm, it is well worth using the same day and travelling to Paro. Those not hurrying can even consider staying for the first night in Phuentsholing, which has enough to offer to a tourist. But for those short with time, a 4 hour journey to Paro (from Phuentsholing) can be easily made the same day they applied for a tourist permit.
To enter in Phuentsholing, you need not have a tourist permit with you. Even an Indian number plate vehicle can pass through with no problem. But as soon as you exit Phuentsholing, towards Thimpu or Paro, there's an immigration checkpoint that asks for a valid tourist permit.
The journey to Paro to Phuentsholing takes nearly 4 hour if you're driving, or 6 hours if you're taking a public bus. The journey is rather impressive and enjoyable. From the sea level of Phuentsholing you only pretty much go uphill throughout the journey before you end up a much colder town of Paro located at 2100+ meter altitude above the sea level.
The well maintained four way highway, built by Indian Border Road Organisation (BRO), moreover makes Phuentsholing to Paro & Thimpu a very sought after Himalayan Roads for motorbikers in India wanting to ride in Bhutan.
Day 2: Paro To Thimpu
You will have enough time to explore Paro (visit Tiger's Nest perhaps!) and still reach Thimpu in time, because Paro to Thimpu is a short stretch of nearly 50km, and a smooth highway connecting two cities is moreover the best in the country, thus saving you enough time no matter when you leave.
Since Paro has the only international airport in Bhutan, and Thimpu is the capital, the highway moreover stays good in shape throughout the year. It takes one and a half to two hours to travel between the two cities.
Thimpu to Bhumtang is a long way and a brutal ride -- at least that what it was last year, when the road widening work after Punakha was going on last year, and made it worse. There are some specific timings within which you need to cross the stoppages, otherwise you may need to wait on a few checkposts for few hours.
If you keep going and not stopped anywhere, you still need nearly eight hours to cover the 250km stretch of a highway-under construction. Though a few handy night-lodge services right next to the Bus station in Bhumtang offer an easy option of booking a dorm bed for as little as 150 Rupees, making it upto you for a long and rough journey.
As a town, Bhumtang doesn't offer much to see than a 15th century monastery and old-world charm. Located in a massive valley, the town of Bhumtang
Day 4: Bhumtang to Trashigang
Another brutal and a long stretch of a ride, Bhumtang to Trashigang can again take 8 or 9 hours of your daylight. The route is moreover not in shape to be driving once it's dark. But on a good note, there isn't much road construction going on the way. Leave with the first light to avoid any problems.
There are enough budget accommodations in Trashigang.
Day 5: Trashigang to S.Jongkhar
Trashigang to S.Jongkhar takes you back to (a not so great but manageable) highway again, with a few patches of highly landslide prone area. The journey is nearly 190 km and takes around 7 hours to complete.
Day 3: Thimpu to Bhumtang
At S.Jongkhar you exit and enter into Indian territory, and as soon as you do that the roads turn into better state (with no mountain range at all). It's a good idea to be staying in S.Jongkhar in Bhutan if you're planning to spend a night there, rather than on the Indian town of Sashipur (the other side of the border) as it's less chaotic and offers better accommodation option.
Practical Tips
Since there are enough petrol stations on the way, and everyday you will be riding a max of 300 km, there is no need to carry extra jerkins for petrol.
There is literally no repairing shops between any two destinations, so it's a good idea to stay prepared and carry extra equipment.
Most of the roads (except for the popular highways connecting Paro and Thimpu) are bad in shape, so it is advised to go for a ride only if you have a good riding experience.
Frequent searches leading to this page:-
paragliding in Bhutan cost, bungee jumping in Bhutan, Bhutan trip cost from Delhi, best Bhutan honeymoon packages, top Bhutan tour package with price, Bhutan road trip with friends