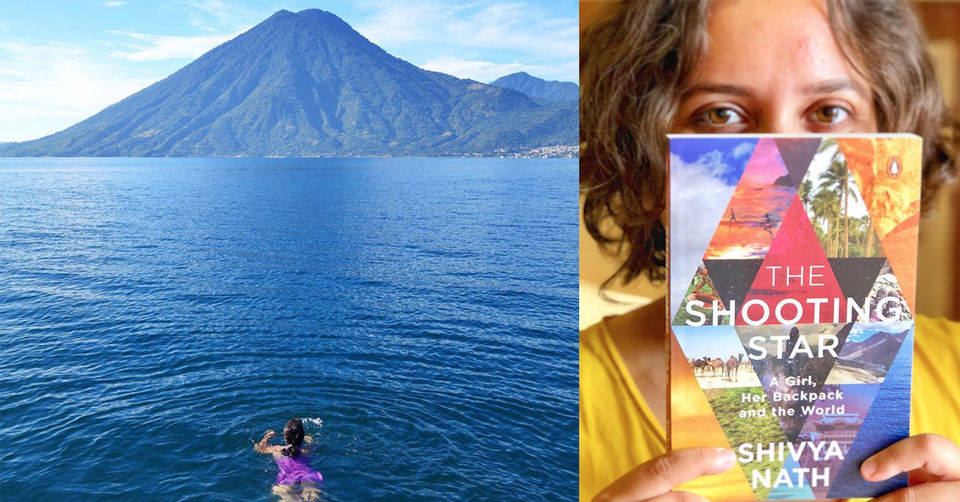 I came across Shivya Nath's blog, The Shooting Star, when I had just started journalism school. A young girl with big dreams, I was instantly drawn into her world of beautiful landscapes, starry nights and voyages I had only ever heard of in books and movies. With her honesty and bravado, she won over my heart, which I later found out was true for a lot of women and travellers across the world.
That is probably why when she launched her book, also titled 'The Shooting Star – A Girl, Her Backpack and The World', it quickly reached the first spot on Amazon's list of bestsellers in the travel section. And as soon as I finished the first chapter I realised why. It offers rare insights into the world of travel with a depth that cannot be achieved by many. Shivya's observations, intertwined with snippets of her own escapades and her understanding of the world, it makes for an exceptional read.
Over the past few weeks I got a chance to interact with Shivya and talk to her about her life, adventures, the new book and everything in between. Here are a few excerpts from the interview:
After 7 years of travelling the world, what is your biggest takeaway?
That we don't ask enough questions.
Being on the road for over 7 years has made me question everything we are conditioned to do, and led me to quit a full-time cubicle-bound job, give up my home and the need for a permanent address, sell most of my possessions (everything I own now fits in 2 bags), turn vegan, challenge archaic traditions like marriage and settling down, and define my own version of a "normal" life.
Do you still have fears or apprehensions after travelling solo for so long?
Even though I've been solo tripping for years, sometimes the idea of being somewhere remote by myself, without a known face or language, can send a shiver down my spine. My mind inexplicably conjures up worst case scenarios, asking what the hell am I doing. The freedom, thrill and self-confidence of solo traveling is often interspersed with moments of anxiety, nervousness and fear.
I try to fight such moments by surrounding myself with inspiring people - even if only virtually, seeking out accommodations that let me stay with locals, and reinforcing the positive side of solo travel by writing about it. Ultimately, the only fear I let myself be driven by is FOMO ;-)
I've shared some practical ways I've learnt to conquer my solo travel fears here.
You started at a time when travel blogging wasn't cool? How has that impacted your journey and success?
When I started travel blogging back in 2011, I never expected to make money out of it. So my content was never driven by brand partnerships, SEO and social media – as many travel blogs today are.
Travel blogging for the passion of travel and writing alone, meant that I only shared stories from the road that were close to my heart and tips that I genuinely believed would help my readers experience a destination differently.
The focus on such content has gradually led me to building a loyal audience who trust me, and that in turn has enabled me to make my living almost entirely through travel blogging. It also means that my writing continues to be driven by authentic encounters on the road, and I refuse to blog about anything that I don't truly believe in.
Since you already have a blog read by thousands, what prompted you to write a book?
There were two major reasons I decided to write my book, 'The Shooting Star' – one, to introspect about my own journey from small-town India to remote corners of the world and from a regular corporate life to that of a nomad. And two, because I want to challenge people, especially in India, to think differently about the way we approach travel and life.
Even though the name is the same, the book is very different from my blog. While the blog contains snippets from my travels and plenty of travel tips, in the book, I talk candidly about my battles, triumphs and (mis)adventures around the world, through a series of untold travel stories.
What has the journey from a blogger to an author been like?
Writing a book has been a pretty lonely journey! I began working on the current version of the book 1.5 years ago, not knowing if it would ever be published or read – and feel extremely grateful for the overwhelming reviews I've received since it was published last month.
While writing the book, I wanted to give up many times. But there was a vision that kept me going. It was a vision I had during an Ayahuasca ceremony – a Shamanic ritual, deep in the Amazon rainforest of Ecuador – during which I saw a fleeting glimpse of the book I would write someday. And every time I wanted to give up, I kept telling myself that I have to keep going because the book has to come into existence some day. Maybe I was just tripping during that vision though!
How do you think your book will impact the world of travel? What is one thing you want people to take away from it?
Many people who've already read the book have written to me saying that it has inspired them to reconsider their travel and life choices - and that's exactly the one thing I want readers to take away from The Shooting Star.
Growing up, especially in India, we have been so conditioned to accept that by the time we're 30, we should have finished an MBA, scored a steady job and "settled down". But there is so much more to life than earning money behind a cubicle and procreating on an overpopulated earth.
I hope that upon reading the book, my encounters in remote corners of the world will compel more people to challenge societal conventions and their own comfort zone – the way they've compelled me over the past 7 years.
How important do you think Instagram is to the travel blogging industry?
Broadly speaking, visual content on Instagram has seriously distorted the notion of long-term travel. Life on the road is not always full of blue skies, flowing dresses and perfect sunsets. With the growth of Instagram, over-tourism and irresponsible travel has grown too, and I think it is upon each of us as "influencers" to protect the most beautiful places on earth.
Personally, I try to use Instagram more as a journal rather than a visual platform - encouraging conversations about experiential, solo and sustainable travel.
Do you have anything to say to aspiring travel bloggers today?
Don't be carried away by the pressure to score free trips or make money through travel blogging. If that's your end goal, there are FAR easier ways to achieve it.
Take on travel blogging only if you're genuinely passionate about being on the road and finding stories that inspire you and others. As an online voice that can influence travel decisions, it is our collective responsibility to be authentic, credible and aware of how our travel choices impact the places we travel to.
What is the way forward for you from here? Where do you see yourself in the next 7 years?
I don't even know where I see myself in the next 7 days ;-) I'm currently busy connecting with my readers in person, through book launches and travel meet-ups.
In the short run, I hope to have 'The Shooting Star' translated into Hindi and some regional languages, so the message of the book can spread further. And travel-wise, I have Iran on my mind.
What message would you like to give to women who look up to you?
The message is both for women and men. Having grown up in a small-town in India, I know the kind of societal, familial and peer pressures each of us have to deal with. Fight for your dreams anyway.
As I learnt from an unexpected friendship in the Dominican Republic (chapter 'Strangers' in The Shooting Star)... Una vida, we have one life!
Head over to Shivya's blog and Instagram handle to follow her future adventures, and find her new book on Amazon. And if you feel inspired by Shivya's journey, share your own travel stories on Tripoto