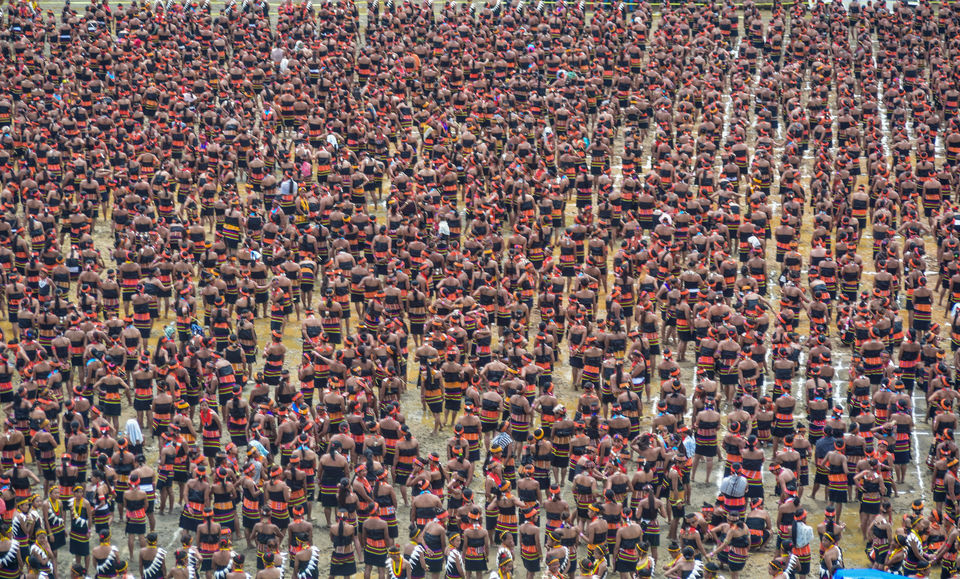 The most surreal part of travelling in India is that no matter how far you go, there will be something unique and interesting that will make you stop and bask in the serenity of that place. When it comes to a place as minimally accessed as Nagaland, the chances of getting surprised becomes higher.

Mon is one of the districts that is also the home to Konyak tribe. Close to Myanmar Border, reaching here is an experience that is capable of giving the best road trips around India a tough challenge.
Konyak community celebrates Aoling Festival in the month of April. This festival signifies the beginning of the harvest season and the events sees various rituals that see community members gathering together to sing and dance to seek blessings from their gods.
This year, the celebration was kind of different. When I was looking for a homestay, the person in contact asked me to extend my visit duration because something historical was going to happen. Upon asking, he told me that you are lucky to be a part of this special occasion.

The road that goes all the way from Dimapur to Mon just an uneven patch of land through which the bus travels. The whole journey takes place in night and the constant bumps simply don't let you sleep. Mon arrives after a 14 hour long journey but the first view is incredibly amazing that will make you lose your tiredness.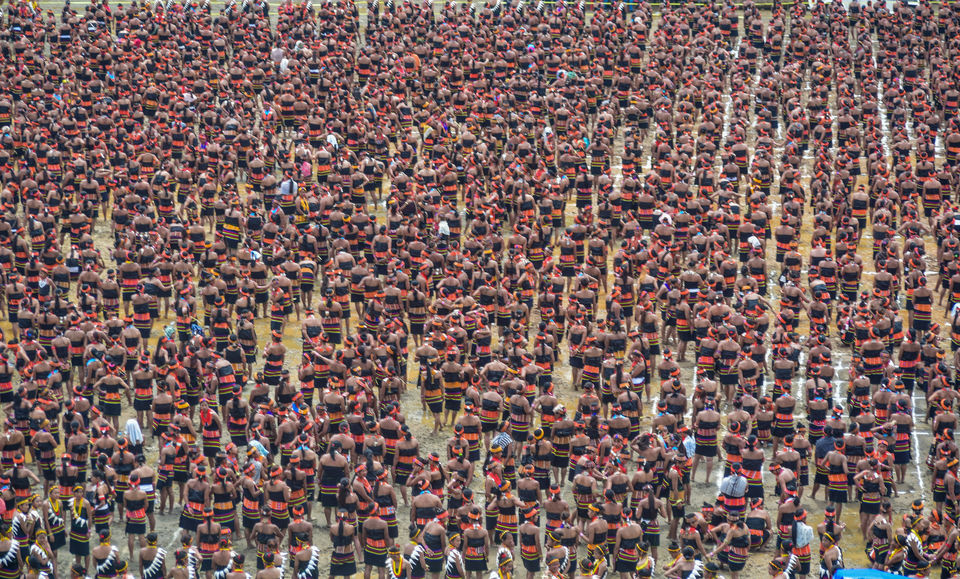 Aoling celebrations went on for three days. The first two days saw various folk rituals that included log drum beating ceremony, dances and songs performed by various Konyak groups. The third day however, what solely kept for the women who were gathered at Mon Locla Ground to attempt an entry in the esteemed Guinness Book of World Record.

5000 Konyak women came together in their colourful traditional attires to perform their traditional dance. The record committee had set a time limit of minimum 5 minutes for which they had to dance. The group size was supposed to be 2500. The ladies surpassed both rules and eventually it was a group of 4707 women from Mon town who made an entry in Guinness Book of World Records.

Most of the societies in North Eastern states are either matriarchal or keep the woman as the sole decision maker at home and in social events. The Konyak community is no different and this attempt was a proof of this progressive mindset.

Mon is a beautiful place and worthy of paying a visit when you are travelling in Nagaland. The views and weather provides a lovely change from the usual tropical climate of the plains.
How to reach Mon – Mon is accessible from Kohima, Dimapur and Dibrugarh. If you have a car of your own then it is advisable to start from Kohima, spend a day in Mokokchung and then go to Mon as your journey will be divided in 6 hour drives. If you are backpacking then you'll find shared jeeps from Kohima that are needed to be booked in advance. Direct buses from Dimapur take 14 hours and you should only take one when you have no other option left. A simpler way is to start from Dibrugarh then go to Sonari by shared bus or jeep. From Sonari, Mon is only 2 hours and the road is comparatively better.

Where to stay in Mon – Mon has a couple of homestays. I stayed at Longshah homestay, you can contact him at 8974390751 to make an advance booking.