The Mon district, sitting on Nagaland's northernmost tip at a lofty 898m, has a beautiful terrain of dizzying peaks and valleys, shimmering streams and azure skies reaching out for the gently undulating forests. Offering a glimpse into India's uncontested 'wild-east', Mon resonates with tribal culture, traditional quirks and an altogether otherworldly aura. Adding to the region's primeval allure, is the community of the bewitching headhunting tribe of the Konyak Nagas, residing right on the edge of the India-Myanmar border. Travel to Mon, to experience the land that belongs most to the clouds, mist, Alder thickets and lets you witness the last vestiges of the curious world, that was once Nagaland.
Why travel to Mon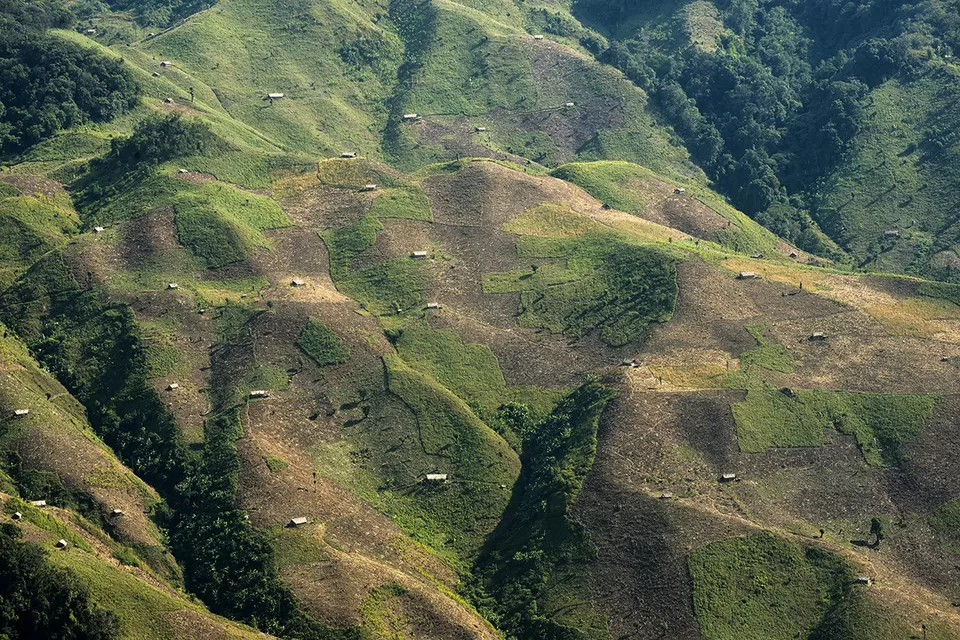 A really brief geography lesson
On a cold December day of 1973, Mon, spanning across almost 1800 square kilometres, was carved out of Nagaland's Tuensang district. Lying at a distance of 357km from the hilly capital of Kohima, Mon is bordered on the north by Assam, and Myanmar (Burma) on the east. The breathtaking landscapes are composed of a bevy of villages, hairpin bends and unfathomable valleys.
A taste of the tribal way of life
Much like delving into an extremely engrossing historical novel, the Konyak tribe and their origin is cloaked in mystery and magic. Amongst the 16 officially recognised tribes of Nagaland, the Konyaks have a massive stronghold across the state, eminent especially in Mon.
Konyak's ancestors believed themselves to be direct descendants of Noah and hence, they are locally referred to by biblical names, such as Mosa and Kaisa Aron. Easily discernible amidst the typical tourist crowds, the tattooed faces, blackened teeth, Tibetan-Myanmarese dialect and the Nagamese (a mixture of Naga and Assamese) language, is bewildering to the uninitiated. The village chief, acting both as an autocrat and a democrat, is referred to as the Wang (Angh), translating to 'the beginning of everything'. The Wang's residence, decked with human and animal skulls and other outlandish paraphernalia, is dramatically perched on the India-Myanmar border, with half of the chief's house being in India and the other half in Myanmar.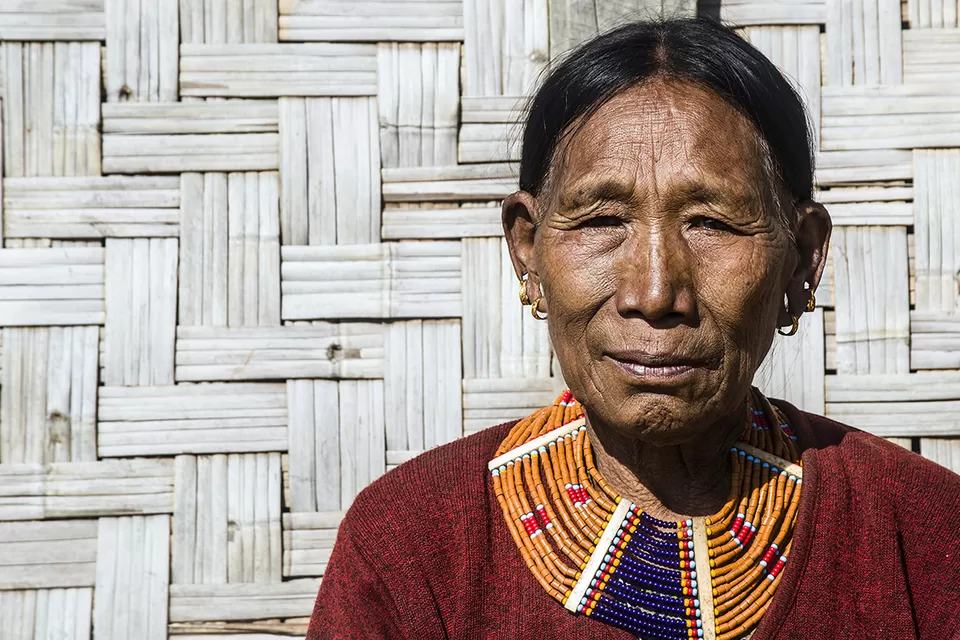 This tribe is also known over the world for its former headhunting prowess. Sporting traditional jewellery, and a customary brass skull necklace that denotes the number of heads taken by them, their houses are adorned with hornbill beaks and elephant tusks. The Konyak warriors reckoned that the fertility of their crops was dependent on the number of heads taken. The eventual arrival of Christian missionaries, put an end to this tradition, with most villagers adapting Christianity.
The curious case of two nationalities, a king with sixty wives and other such odd oddities
One of Mon's largest villages, Longwa is brimming with idiosyncrasies. Dotted with traditional thatched homes, the India-Myanmar border cuts through this village, letting residents possess dual citizenships – one for India, and the other for Myanmar. In an amusing aftermath, some Konyak people cook their meals in Myanmar and end up falling asleep in India.
Another bizarre Konyak matter for your consideration – the chief, who resides in Longwa, has a sum total of 60 wives and rules over 70 villages, extending all the way upto Myanmar (Burma) and Arunachal Pradesh.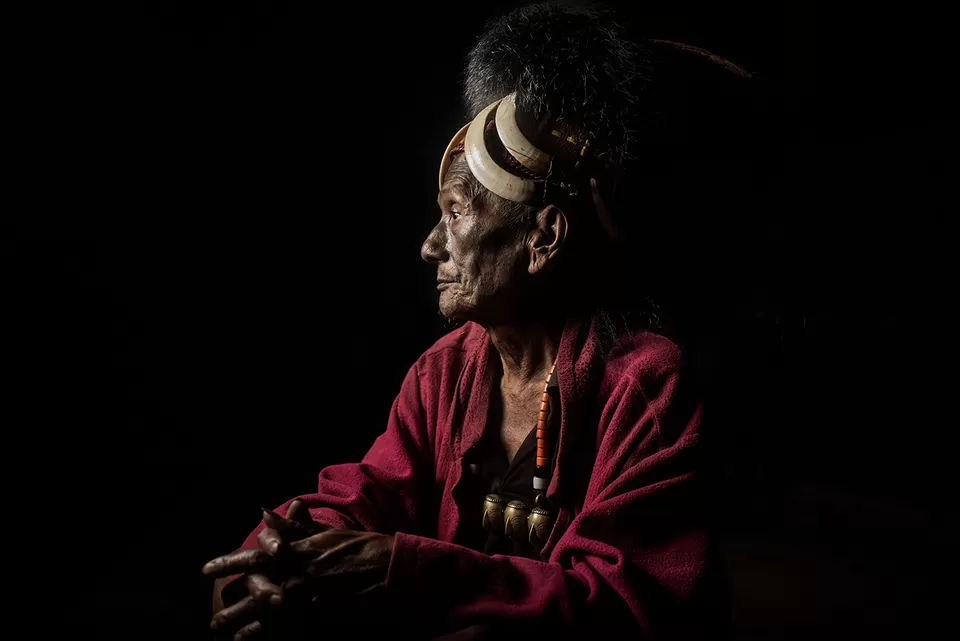 A week of tribal revelry
Aoling Monyu, taking place every year in the first week of April, is ideally when you should visit Mon. Natives take to the streets, which are awash with a myriad of scents, colours and ululating songs. The Aoling celebrations essentially mark the end of the current year, and are held to commemorate the arrival of the new year and spring season. With skies doused in smoke and gunpowder, each day of the exuberant festival has its own significance, and corresponding rituals that exhibit Nagaland's rich cultural heritage, indigenous dances and an array of folksongs. This festival also aims to promote peace, progress and bridge the communication gap between the government and people.
Everything you could possibly do in Mon
Explore Shangnyu, one of the most beautiful villages of the Mon district. Look out for the ginormous wooden monument planted in front of the chief's house, that was supposedly constructed by two brothers in collaboration with a spirit, during the Metallic Ages. Head to Veda, Mon's highest peak to witness magnificent views of India's Brahmaputra and Myanmar's Chindwin. Historically, this was the very spot where the first opium plant was sown by British soldiers. Also plan a trip to Naganimora, 11km away from the district headquarters of Mon. This village on the banks of the Dikhu River, derives its name from the word 'Naga Rani Mora', that translates to 'the burial place of the Naga Queen'.
Cuisine on offer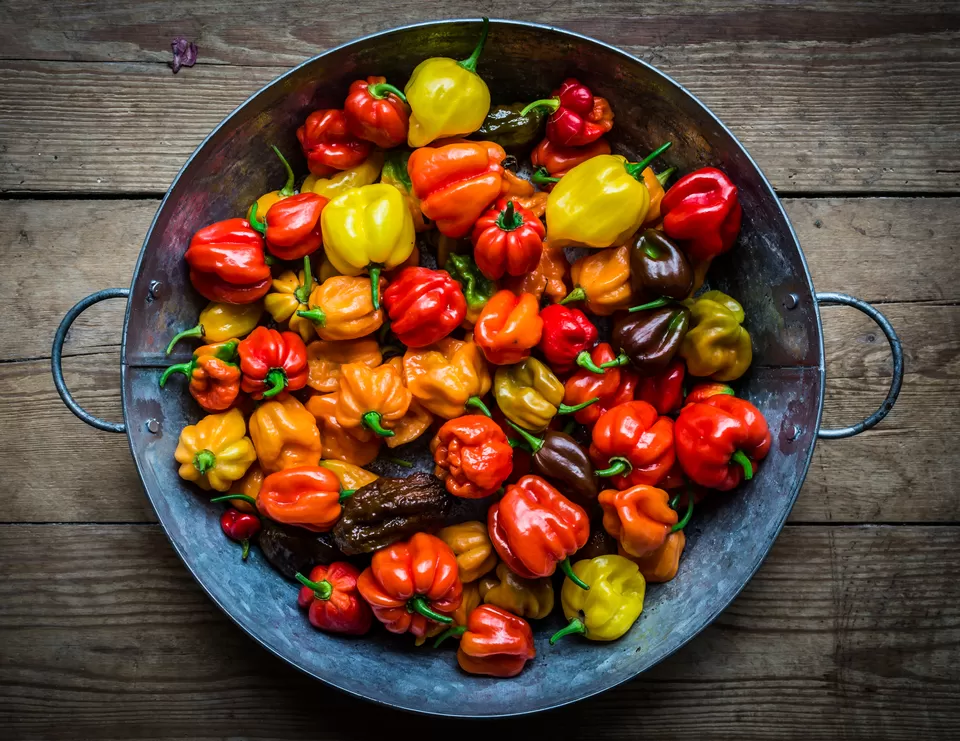 Nagas boast of a unique cuisine that stands apart from anything else you can find in India. With rice being a staple, it's usually paired with flavourful boiled vegetables, an assortment of fiery chutneys, steamed bamboo shoots and fragrant meat-based dishes. The people of Nagaland also love their pork and beef with an unmatched passion. You will be served plates heaped with variants of smoked and sun-dried meat, that is almost always doused in an aromatic mix of garlic, ginger and locally-grown raja chilies.
When to go
Summers, lasting from March to April, greet you with pleasant temperatures, that are perfect for exploring the region. Also, the Aoling festival, occurring in April, makes it the perfect time to visit Mon.
Getting there
The nearest airport is in Jorhat, Assam, that is 161km from Mon. The closest railhead also lies in Assam, in Bhoju. Mon is well-connected with Kohima, Dimapur and Jorhat. Direct buses ply from Kohima and Dimapur for Mon. From both Jorhat and Bhoju, you have to first reach Sonari, and take a local bus till Mon.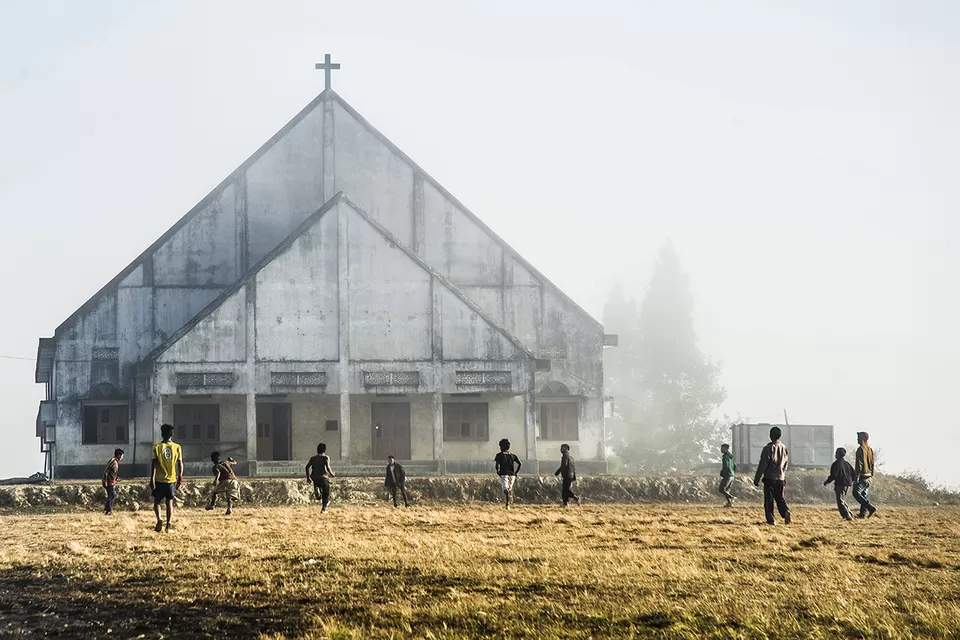 Getting around
The easiest way to explore Mon, and the surrounding areas is to hire a car for the day and drive around. Plenty of state transport buses and auto-rickshaws can also be found throughout the state.
Note: Indians need to obtain an Inner Line Permit to enter Nagaland, which can be acquired from any office of the Deputy Resident Commissioner, based in New Delhi, Kolkata and Dimapur. Also foreigners with an Indian visa (except nationals of China, Pakistan and Bangladesh), don't require any special permit from the Ministry of Home Affairs, for Nagaland
Accommodation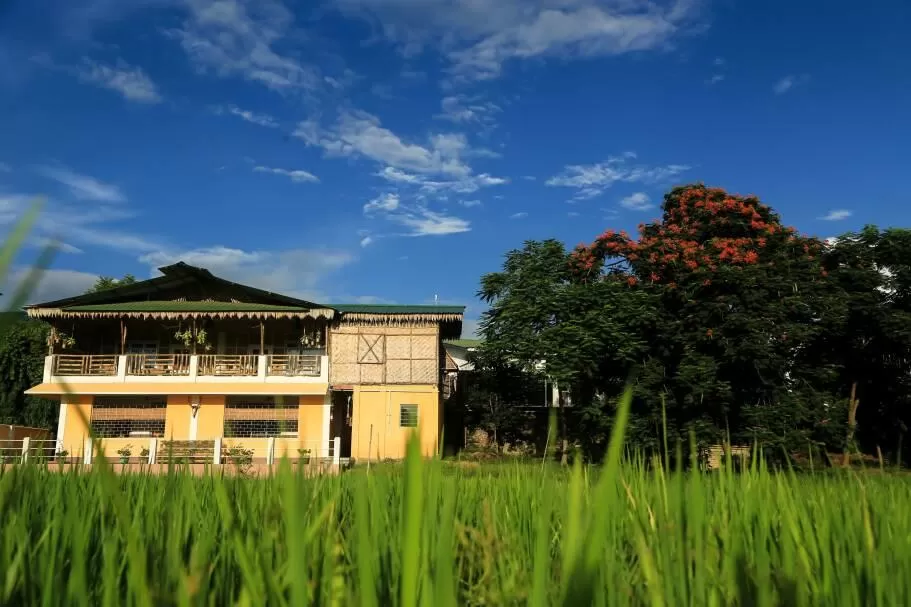 Travelled to the Northeast recently? Share your travel journey on Tripoto and inspire millions to travel!
Also, check out Tripoto's exhaustive itinerary for Northeast India!
Frequent Searches Leading To This Page:-
top mon nagaland packages with price, best nagaland honeymoon packages