Though a teacher by profession, it's always a matter of utmost pleasure for me to manage some time from my routine life and kick start my 7 years old ,49000 kms run, 150cc,13 bhp Unicorn and start journeying nowhere. And this time I thought to push myself bit further to take a bold step towards a small picturesque hill station on the lap of the Himalayas, famous as a trekking spot, but my ever-dream biking place, Sandakphu. After going through several inconveniences and difficulties, when I finally landed there with a twisted wrist and some broken bones of my bike, all I had was an inexplicable lifetime experience. Throughout my journey, all I realized is that- it's absolutely about your mental endurance than physical strength. And once you reach Sandakphu, you will definitely throw all your pain behind and will be bewildered with the beauty of the Everest as well as the Kanchenjunga together.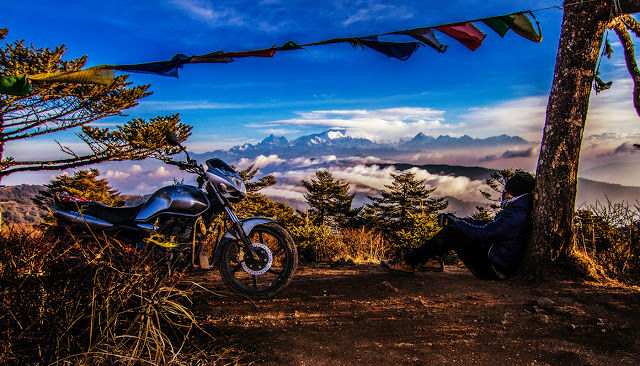 It was Sunday. I woke up in the morning and decided the ride. So I packed my bags, charged my batteries, fueled my bike and kick started it for the journey. Almost around 1 pm I reached Ghoom. As I had no idea about the way to Sandakphu, I had to take help from the local taxi drivers to move towards Manebhanjan, from where I came to know that only four wheel drive Land Rovers are allowed to go there though there is no restriction for two wheeler as well. So with a mocking smile of the local drivers I started moving forward. Soon I realized the reason behind that-the road was unbelievably steep! So steep that I couldn't even shift my gear to the second and move. The road was metaled till Chitrey.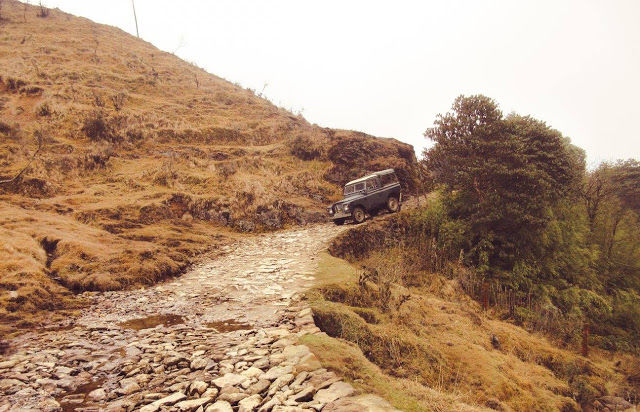 Chitrey is a small bordering village, rather a trekkers shelter, of India and Nepal. It has only two to three trekkers' inn and an SSB camp. There I met Norbu,a local Land Rover driver. Same like the drivers of Manebhanjan, he too chuckled hearing my intention of heading towards Sandakphu and warned me. But later by being convinced, he himself was kind enough to lead me till Sandakphu. From Chitrey I rode to Tumling, another small village in Nepal. And there the roads…..trust me there were no roads! The last kilometre to Tumling was really one of the hardest and awfully bad. A long stretch of almost two hundred meters was just full of loose boulders and was too steep. A break after reaching Tumling, a comparatively better village having few places to stay and few small shops, was a vital requirement then.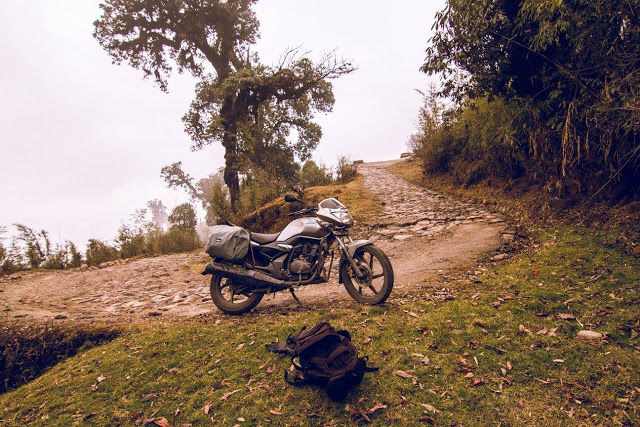 Having a cup of relief, I again started towards Gairibas, which was 7 kilometres away from there. The road to Gairibas was comparatively better as it was made of concrete. At Gairibas I had to do the last formalities with the Sashastra Seema Bal authority and headed towards Kalapokhri. As soon as I started riding, a heavy patch of cloud covered me up and it made it too difficult for me to see even the next few feet. It took almost one and a half hour to ride 6 kms to reach Kalapokhri. Though insisted by Norbu , I decided to give a halt there as it was getting darker.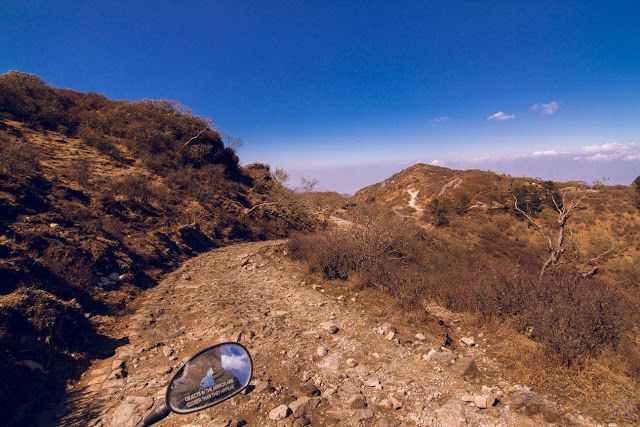 I stayed in a small hut at Kalapokhri . I strolled around the place as long as the chilling wind allowed me. It is another small village with 10 to 15 houses and a Sashastra Seema Bal camp. You can have a clear look of the villages of Nepal when it gets dark as the flickering lights spark. I don't know whether it was the biting cold or the altitude sickness but I couldn't sleep for a single second. Or maybe because of the awaiting deal of the next day, reaching Sandakphu.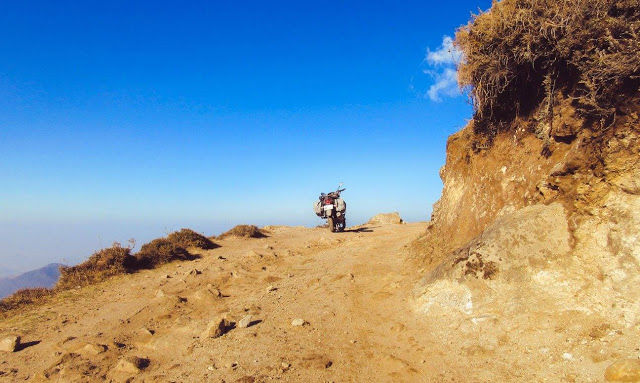 At around 5 in the morning I packed my gears to face the toughest. Having a glassful of yak milk and a bowl of waiwai, I kick started my bike to face the tough. I took the road through Nepal to reach the next destination, Bikeybhanjan. It was all me and the serenity of Nepal.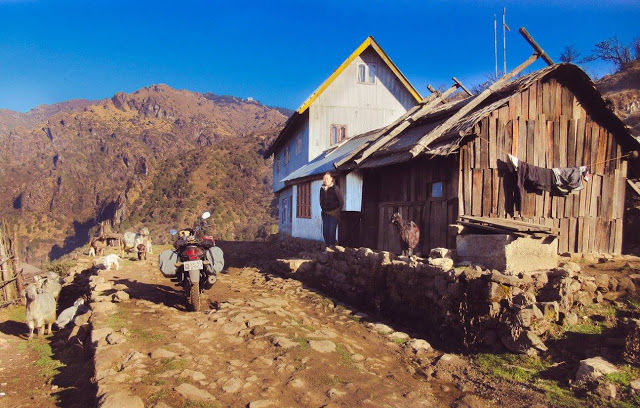 It was indeed, beautiful. Reaching Bikeybhanjan I could see the toughest in front of me. Though a stretch of 4 kms away from Sandakphu, I could see the rooftops of the lodges there. The last 4 kms of bouldering hair pin bends and an elevation of 45 degrees literally shook me up. After crossing almost 4-5 bends I fell off for the first time. I stood up and started and again I fell. But the last fall was terrific for me. It was more than 11000 ft and I couldn't even stand up. I was waiting for a single human presence. But there was none. After almost 45 mins I pushed my bike and stood up. In fact my bike was unable to carry both me and my luggage. So I had to unload my luggage and walk all the way to Sandakphu pushing my bike. And then I had to come back and take my luggage again.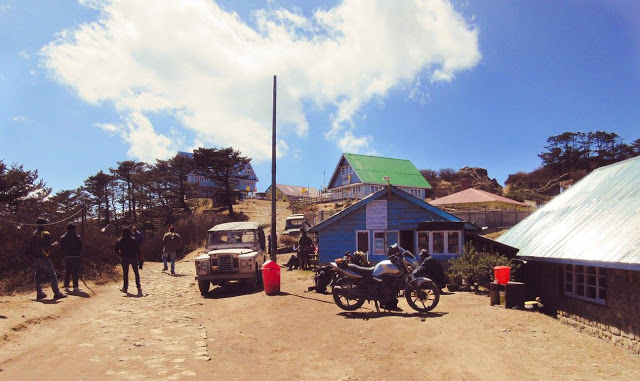 But it worth it. Reaching Sandakphu and witnessing the splendid scenario of the Everest along with the Kanchenjunga was really breathtaking. There is no limit of feeling the immense pleasure and the warmth that you get being so close to Mother Nature. Though reluctant to return, the next day I had to leave the place with lots of experiences and memories and definitely a broken wrist. The returning journey from Sandakphu was yet another story. But by then it became easy for me to overcome everything after all I had experienced till reaching Sandakphu.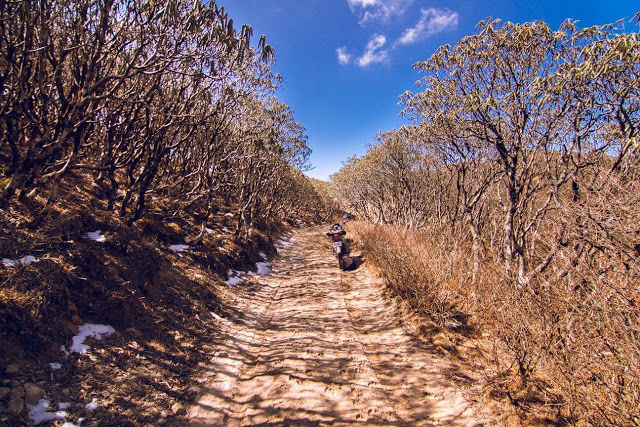 This blog was originally published on 'WRONG ROUTE'