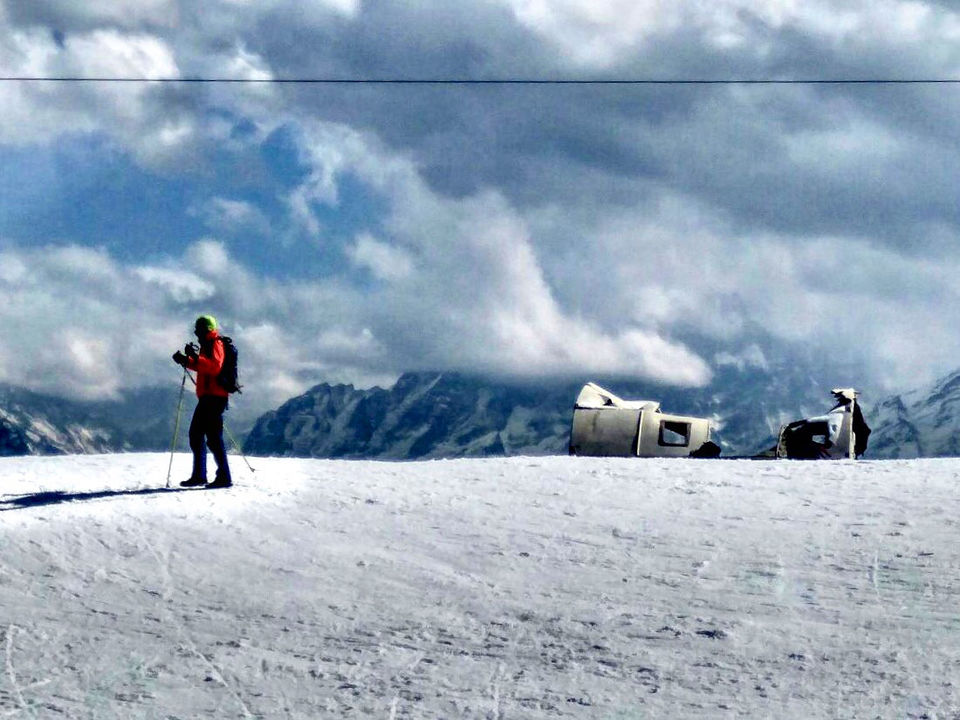 Skiing has been on my bucket list for a while now, and there was nothing like the beginner slopes of Auli to help me strike this activity off my list. Safe to say, this is probably one of the most economical places in the world that one can learn skiing! 
Before heading for my vacation, I did some extensive research. Unfortunately, most of the information was outdated, incorrect or difficult to find. Hence, I decided to write this article to make it easier for anyone who might be interested in going to Auli and/or trying out skiing for the first time.
When to go?
Skiing lessons are available in the months of January, February and March, depending on the amount of snowfall during the season.
How to get there?
You can get to Auli from Delhi by car or by using a combination of car/bus/train/cable car. I used a combination of train, car and cable car to get there.
• Nanda Devi Express from Delhi to Haridwar which left from New Delhi station at midnight and reached Haridwar around 4 am. These tickets get booked out soon so you need to book them in advance (can be booked from the IRCTC website)
• Prepaid taxi from Haridwar to Joshimath (nearest town to Auli). I booked this taxi on the spot from the Prepaid Taxi Counter right opposite the Hariwar Train Station. Note: There are also buses that go directly from Haridwar to Joshimath, but these are regular Uttarakhand Roadways buses, not Volvo ones (read: no recliner seats). The earliest bus leaves at 530 am and the bus stop is next to the Prepaid Taxi Counter.
• Cable car from Joshimath to Auli, which dropped me off directly in the midst of the snow-capped Himalayas. It is important to note that the cable car only operates from 9:15 am till 4:20 pm and only if there sufficient people waiting to get on (the operator said that the car will only move if there are 20-25 people waiting, so that it can be filled to capacity. However, there are certain timings such as 9 am, 10 am and 1:30 pm, when the cable car operates irrespective of the capacity*).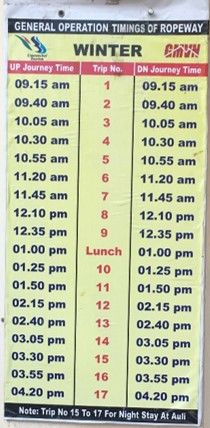 * These timings might change from time to time, so please check with the locals upon your arrival
If you prefer, you can also drive down from Joshimath to Auli (would take about 1.5 to 2 hours, but the roads are closed in Dec/Jan due to snowfall and many drivers refuse to drive down that route even in February due to the sleet on the roads making it dangerous. So if you're travelling by car, please do check with your driver beforehand.
Approx. time taken to reach: 16 hours (can range from 14 to 18 hours depending on your mode of transportation used and the number of breaks taken in the middle)
Where to stay?
There are basically 2 places in Auli that you can stay at – one is guesthouse run by the Garhwal Mandal Vikas Nigam (GMVN) and the second is a private resort called "Clifftop Club". I stayed in a deluxe room at GMVN because it appeared to have similar facilities as the Clifftop Club, at less than half the price. Also, to make things convenient, there is a Chair Lift that drops you right to the steps of GMVN.
Facilities in the deluxe room: large double bed, large windows (no balconies), sofa/seating area (not in all deluxe rooms), TV, heater, hot water facility, room service (at 10% additional service charge).
If you decide to stay at GMVN, you would have to make advance online bookings through their website (gets booked out fast) and you will receive an email confirmation once the booking and payment is complete. GMVN also has other types of rooms and dorms available (As of Feb 2017, dorms start at Rs. 280 per night, and basic rooms start from Rs. 1650 per night. More information is available on the booking portal).
What to do?
In the winter season, there isn't much to do in Auli besides Skiing or Snowboarding. There is a 7 and 14 day program to learn skiing. However, as a first time skier, I didn't want to commit 7 straight days into skiing lessons (what If I didn't like it/ wasn't any good at it!?!). So, I decided to take daily lessons which cost me Rs.600 per day/ person (inclusive of equipment rental)
If you are interested in the 7 or 14 day course: http://www.gmvnl.in/newgmvn/sports/courseprogramme.aspx
If you are interested in daily lessons:
Name: Dinesh Bhatt
Company: Wild Himalayan
Email: dinesh.auli@gmail.com
Mobile: 09411555330, 07895165709
The lessons start in the mornings (any time after 9 am) and go on till about 1-1:30 pm (or earlier, if you are tired before that). By the afternoon, the snow starts becoming a little hard, making it more difficult for beginners. Also, after being in the snow for over 3-4 hours every day, you might not feel like getting out later in the day. Do keep that in mind while planning your trip, to ensure you don't get bored for the rest of the day!
FYI, GMVN also has a bar with reasonably priced alcohol, so you have that option as well.
How to get back?
As mentioned previously, this can be done by car or by using a combination of car/bus/train/cable car. I used a combination of cable car, bus and car for the return trip.
• Cable car from Auli to Joshimath
• Bus from Joshimath to Rishikesh: This was a regular Uttarakhand Roadways bus which leaves from Joshimath daily at 5:30/6 am and reaches Rishikesh by 2 pm
• Private Taxi from Rishikesh to Delhi: Booked through the Garhwal Taxi Services and took about 6 hours
Approx time taken to reach: 15 hours (can range from 14 to 18 hours depending on your mode of transportation used and the number of breaks taken in the middle)
Overnight at Joshimath?
I stayed in Joshimath for 2 nights:
- The day I reached Joshimath from Haridwar (as I missed the last cable car)
- The day I left Auli (to catch the early morning bus from Joshimath the next day)
I stayed at a B&B called the Himalayan Abode, which I would highly recommend to anyone staying overnight in Joshimath! It is run by Ajay Bhatt, an Indian mountaineer and skiing champion, who also has a ski school of his own. The rooms, views & service were excellent. The only catch is that it is approximately 5-6 kms away from the Joshimath main market area (not in main Joshimath town), so you would need to arrange transportation to/from the cable car. Totally worth it though.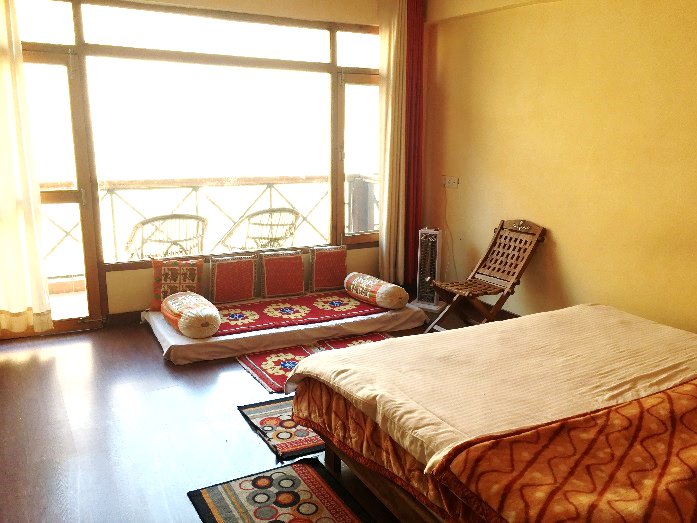 How much did it cost?
Total trip expense: Rs.20, 000 (all inclusive – transportation, food, activities, accommodation). Some of the important expenses are mentioned below (prices are as of February 2017)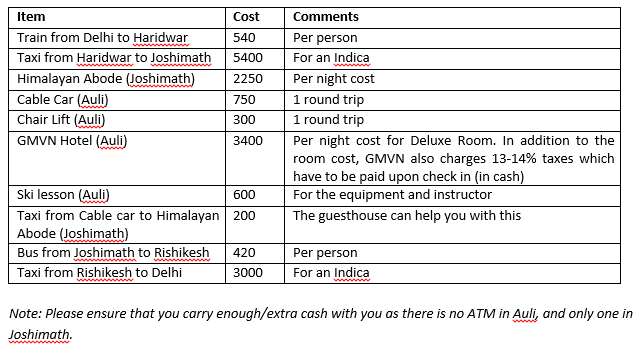 Need travel inspiration for the new year? Click here to go around the world in 2020!