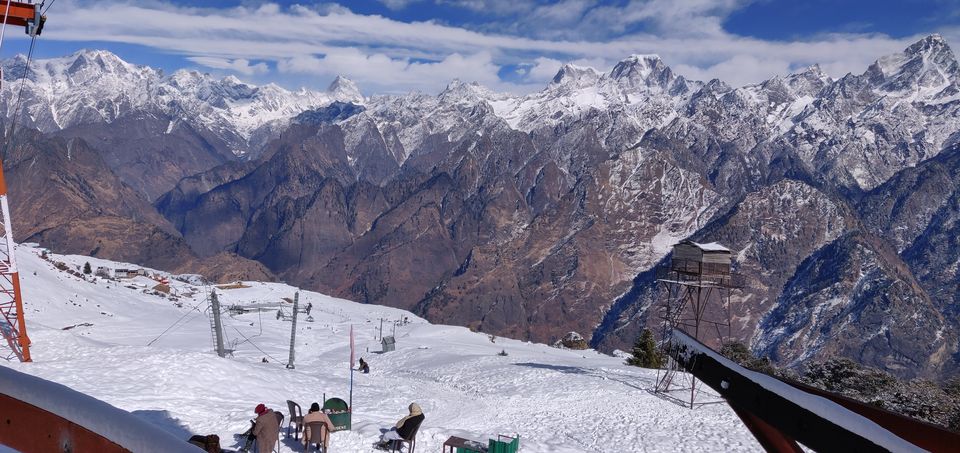 Imagine you're sitting in your Office and you're thinking what if I was on a mountain away from the world where it is snowing and I'm just playing in the snow and staring at the beauty of the nature and living my life with my friends. Feels like a paradise right? Thinking of the same we decided why to simply dream and imagine why not let's go and live that dream. With that thought let me take you through our adventurous journey :)
Ever since I visited Uttarakhand on a Char Dham Yatra way back in 2013, I wanted to visit Auli in winters as the locals say it is a snowy paradise away from hustle bustle of city life. And it took 6 years for that dream to come true.
It was just a phone call to one of my friends in Bareily that paved way for this plan. Initially it was just two of us in the plan but eventually it became 7 of us one being added on the day of trip.
3 of us were to go to Delhi from Hyderabad and 3 would be joining us in Delhi and 1 would be meeting us directly in Rishikesh. Before going ahead, let me give a brief idea about the ways & means to reach Auli.
By Road:
There are 2 routes to reach Auli either via Haridwar/Rishikesh which is Char Dham Yatra Route or via Nainital where it is said connectivity is not that good (though I'm not sure).
Various buses ply on Haridwar-Joshimath route or you can also hire a taxi as we did. We can get buses from ISBT, Kashmere Gate as well.
By Rail:
Nearest Railway Station is Dehradun/Kathgodam/Rishikesh/Haridwar.
By Air:
Nearest Airport is Jolly Grant Airport,Dehradun.
DAY 1:
So, we reached Delhi in the afternoon from Hyderabad and headed to our friends house to freshen up ;). 6 of us started in the evening from Delhi and took a bus to Haridwar and it was cold we took a AC bus and we reached Haridwar after 6 hours i.e., 11 PM. From there we had to catch another bus to reach Rishikesh which is just an hour drive from Haridwar. We reached Rishikesh at 12 AM and our friend was waiting for us at the bus stand with an autowallah whom he befriended while waiting. We had already booked a Oyo for the night and charges was nominal. We had to start early in the morning so we spoke to a travel agent who arranged for an Innova about which I would sharing later.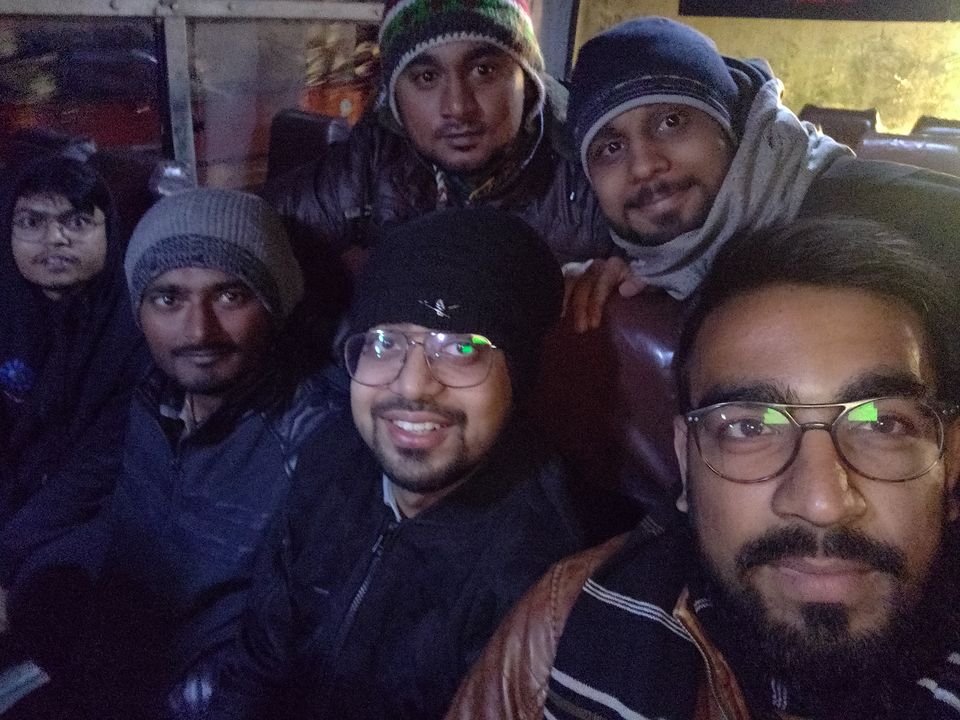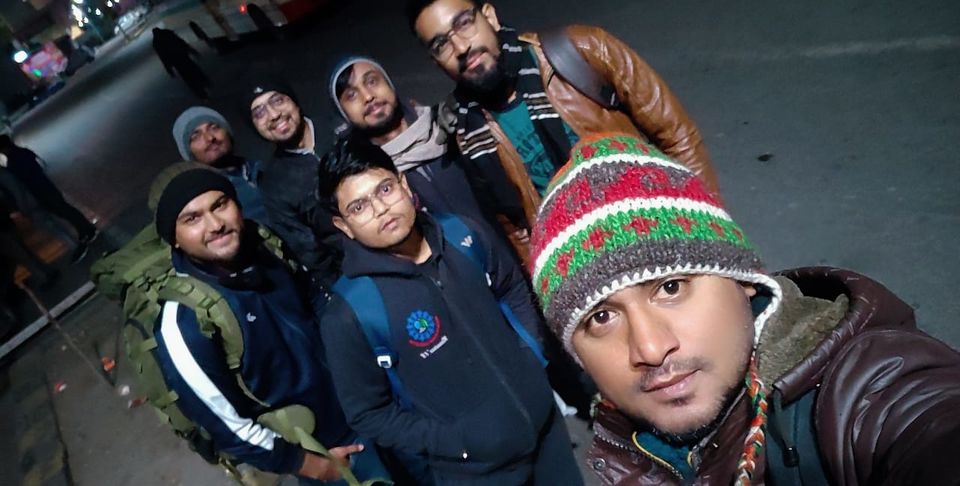 So, we reached our hotel and took out our "Amrit" to relive our hostel memories and before we could knew it was 6 in the morning. We started getting calls from the driver and soon all of us got ready and took the taxi. We hired the taxi for Rs.15, 000/- for 3 days including driver charges which were very economical.
So, the route covers all the 5 prayags where confluence of river or sangam is seen. Road is in its worst condition as construction work is going on we were stopped after almost every 2-3 kilometers and due to this we could not reach Joshimath in the evening and it was quarter past 8 that we reached Joshimath where we booked a resort for our 2 days stay. We were so tired that we just wanted to go and cover ourselves up in the blankets but as soon as we got out of our car we saw snow and all our tiredness just vanished and we started playing in the snow. We were falling, slipping but gave a damn. Resort staff welcomed us with soup and also arranged for a bonfire for the night. We again to warm ourselves up took out our "Amrit" and enjoyed clicking pictures and sitting near the fire. We had homely food with lots of Ghee on the rotis and went to bed.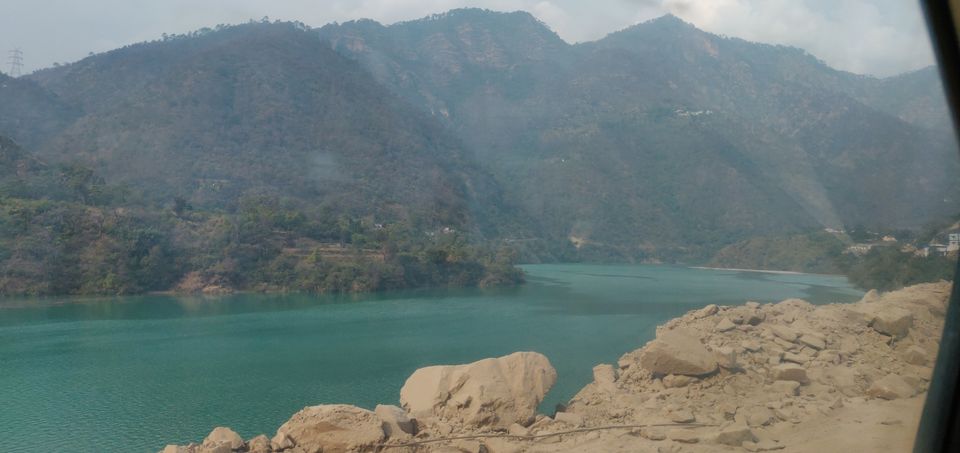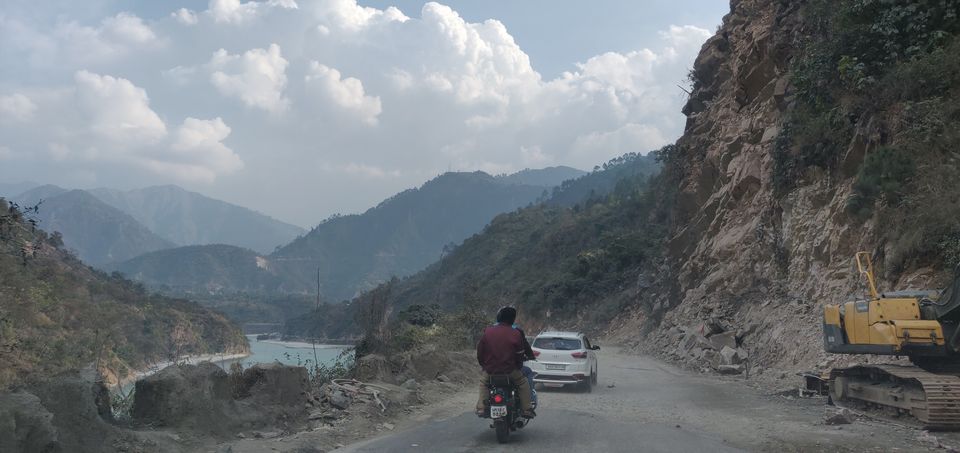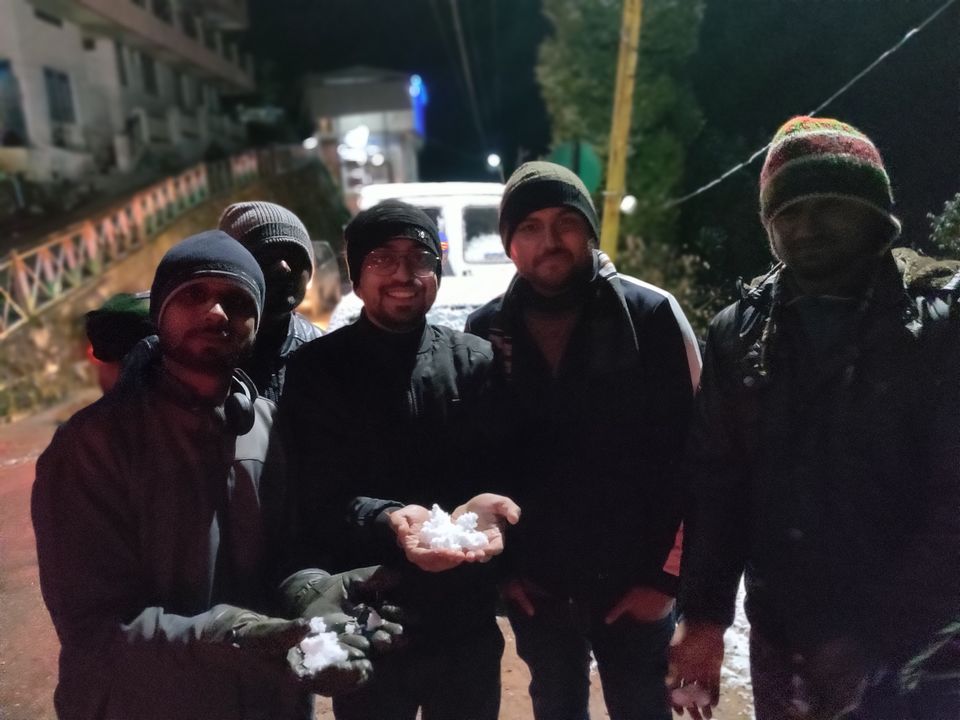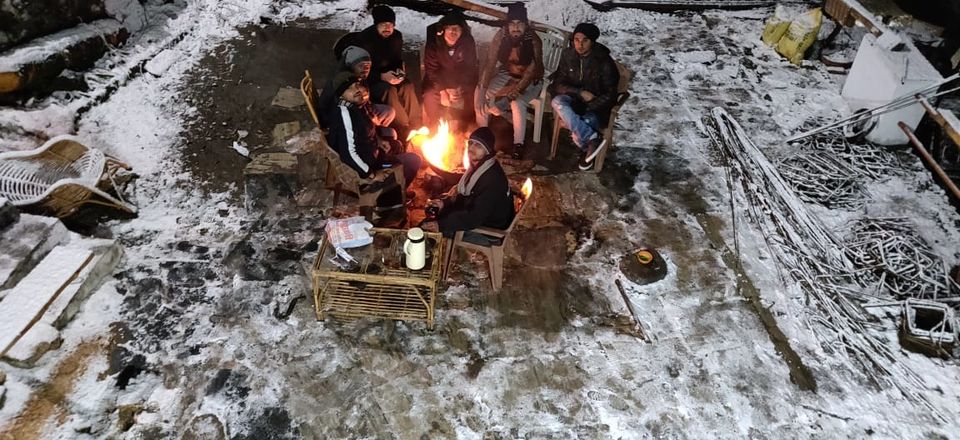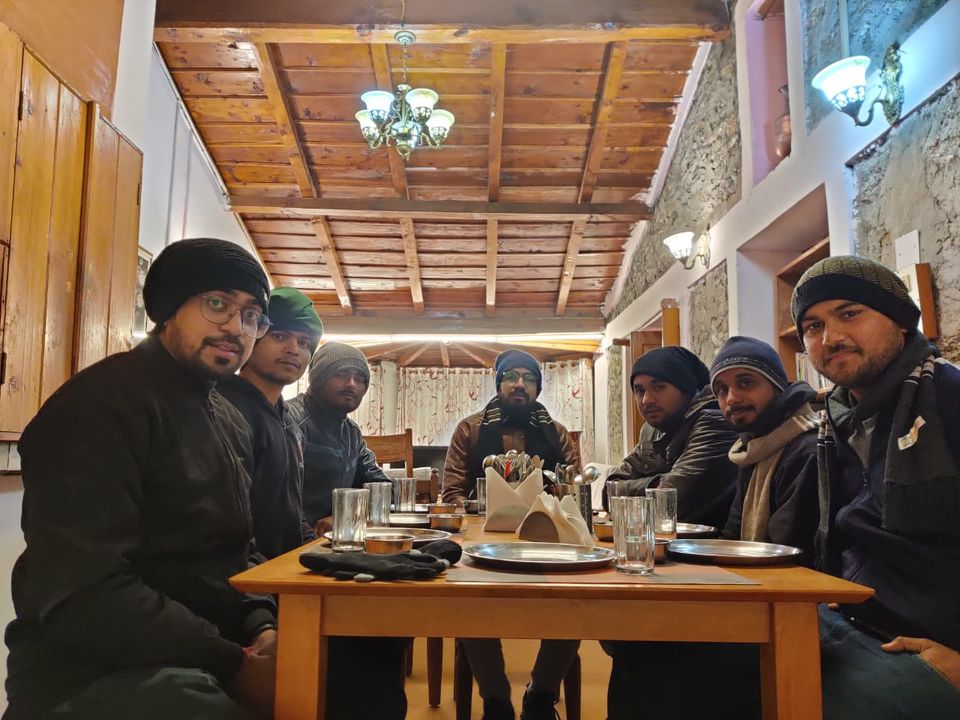 From Joshimath to reach Auli we took ropeway but here's the twist- per day only 300 persons are allowed to take ropeway and time for per person is 2 hours i.e., if you take a rope way at 9.20AM you have to return back in the cable car by 11.20AM. Also, it is not an easy task to get hold of the tickets. We woke up at 4 reached ticket counter where we saw people sleeping there to get their tickets. We stood in the line for approx. 4 hours and finally got our tickets and per person can take only 10 tickets & ticket cost is Rs. 1000 to and fro.
We met a guy at the queue who arranges for tent stay and treks at Auli, basically he was a local guide. We enquired about tents and booked 2 tents as we were 7. We took gum boots jackets and lowers on rent from the shop which was near the ticket counter. Once we were in the Cable car the views from there are so mesmerizing and beautiful that we couldn't take our eyes off from the mountains. From the cable car one can get views of Nanda devi Peak, Badrivishal Range, Mana Parbat,Hathi Parbat etc.,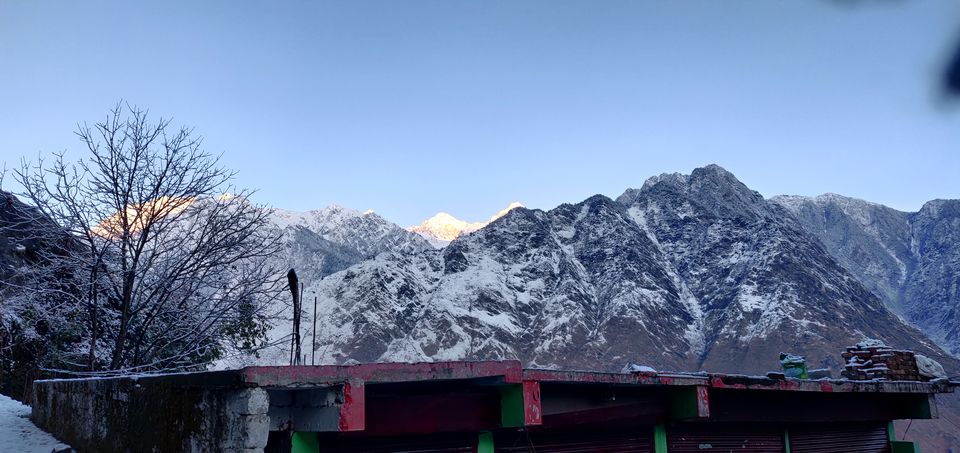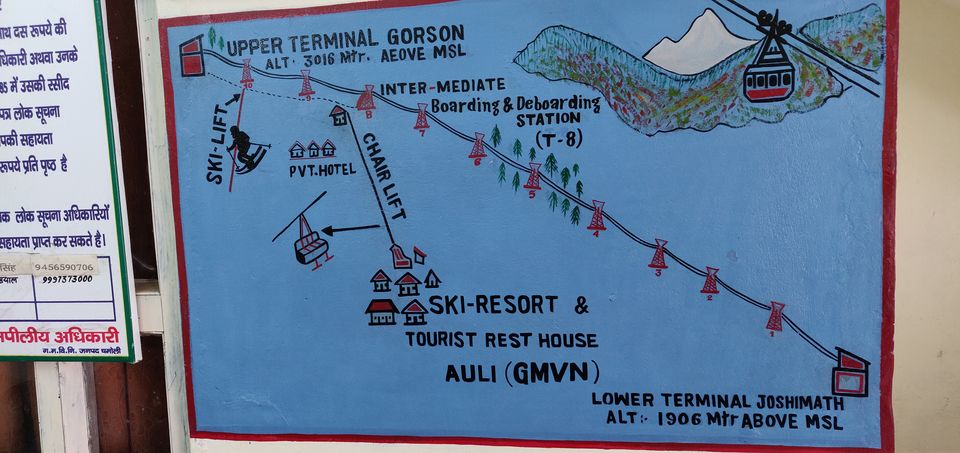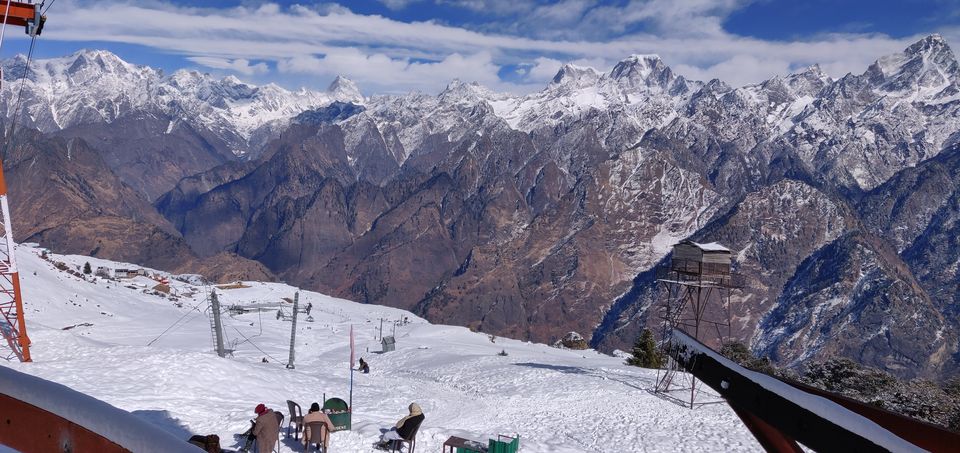 Do you remember when we were kids and our teacher told us to draw something and first thing which came to our minds was a mountain with a house and Sun at the backdrop, this was the same place and right from my childhood I wanted to touch, feel, play in the snow and I couldn't control my happiness. Playing in the snow was the first time even for my friends. Just a tip, please make sure to carry a good pair of sunglasses you'll need it for sure.
We met our guide at the top and started our trek to a temple which was roughly 3-4 kms. We were trekking in the snow for the first time and it was scary and fun at the same time. We also realized how badly we need to get back in shape once we started our trek :D. It was afternoon by the time we reached the temple and from there we were on our own. We had to reach back to our tents which were almost 5-6 kms away. We were rolling & sliding on the snow to reach back to our tents and on the way we were getting feels of Narnia :P .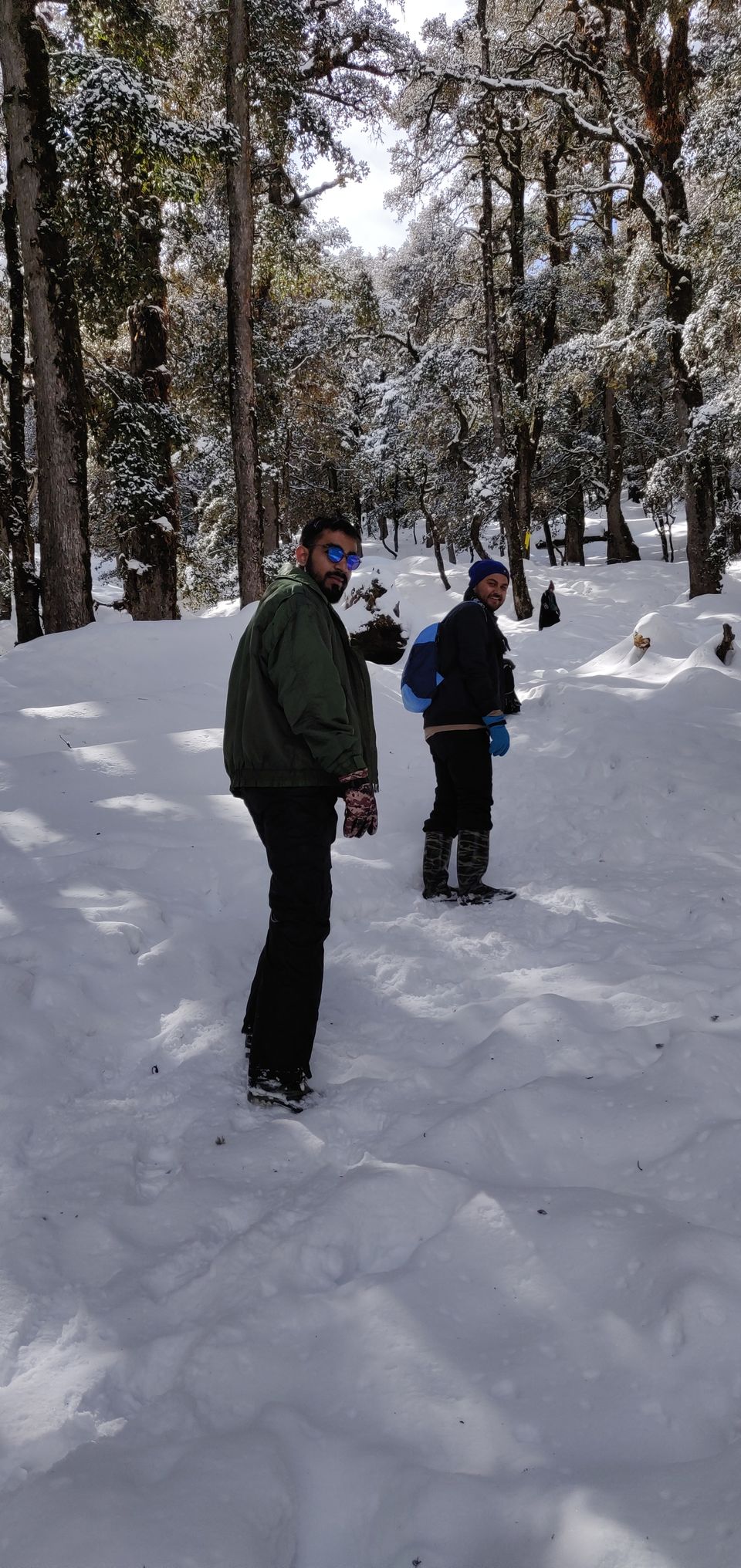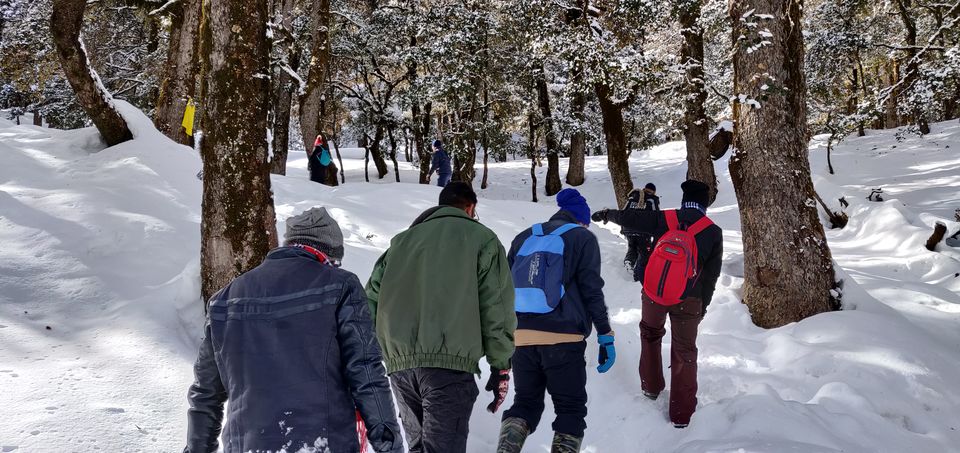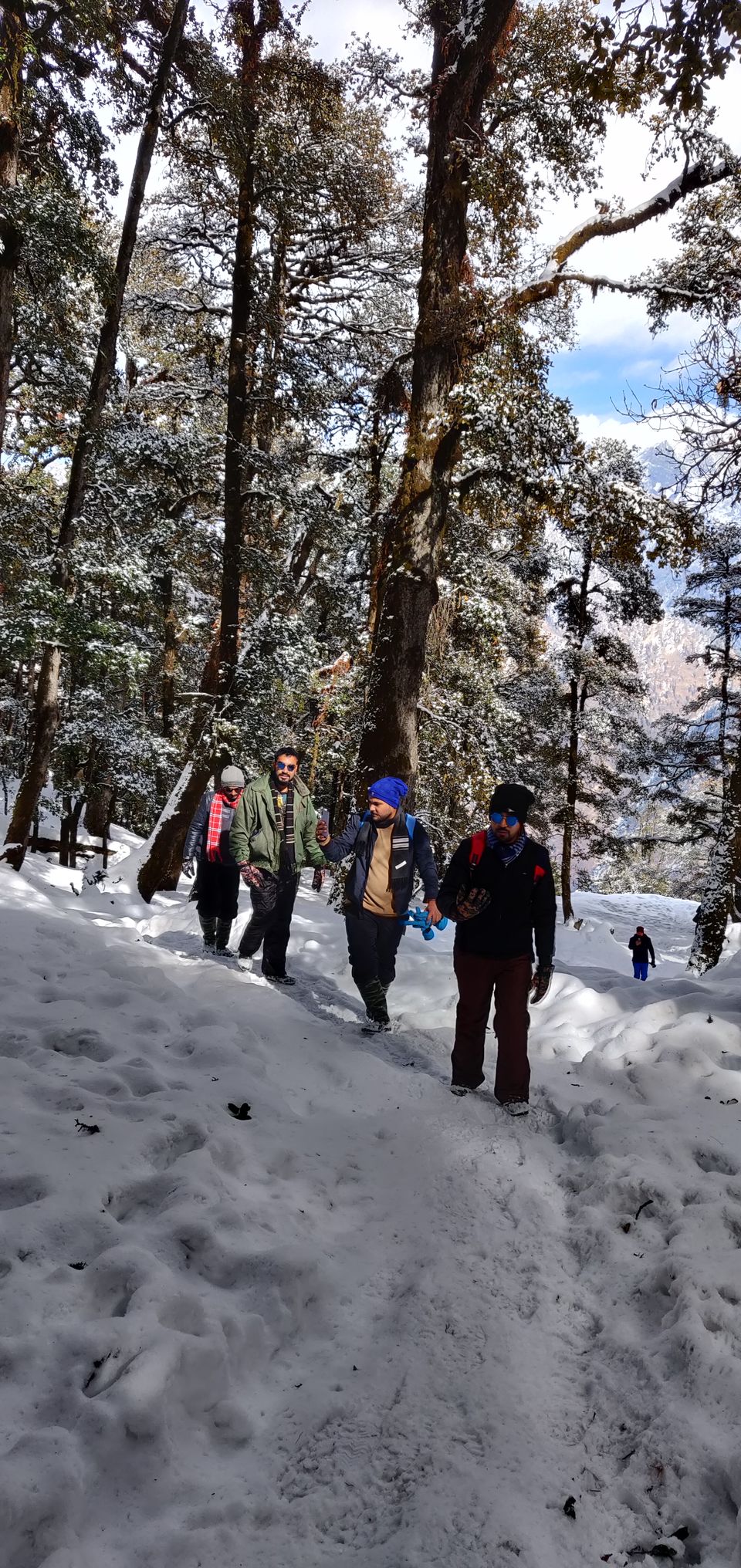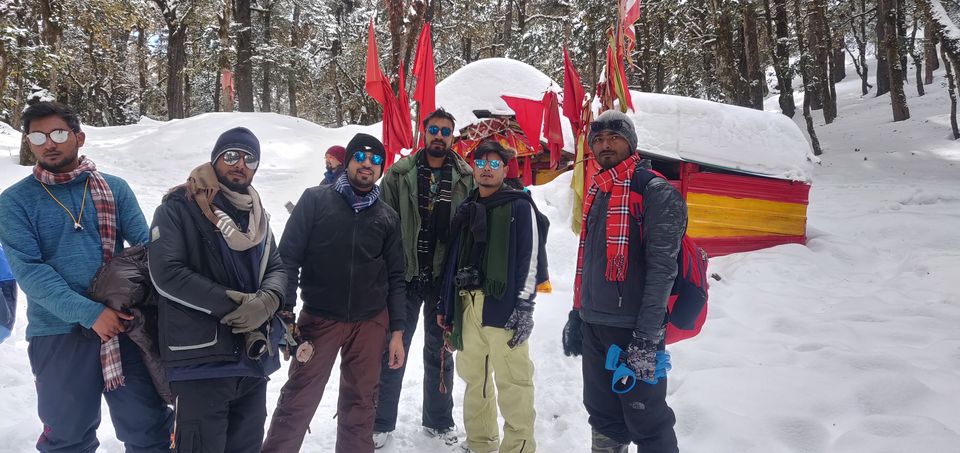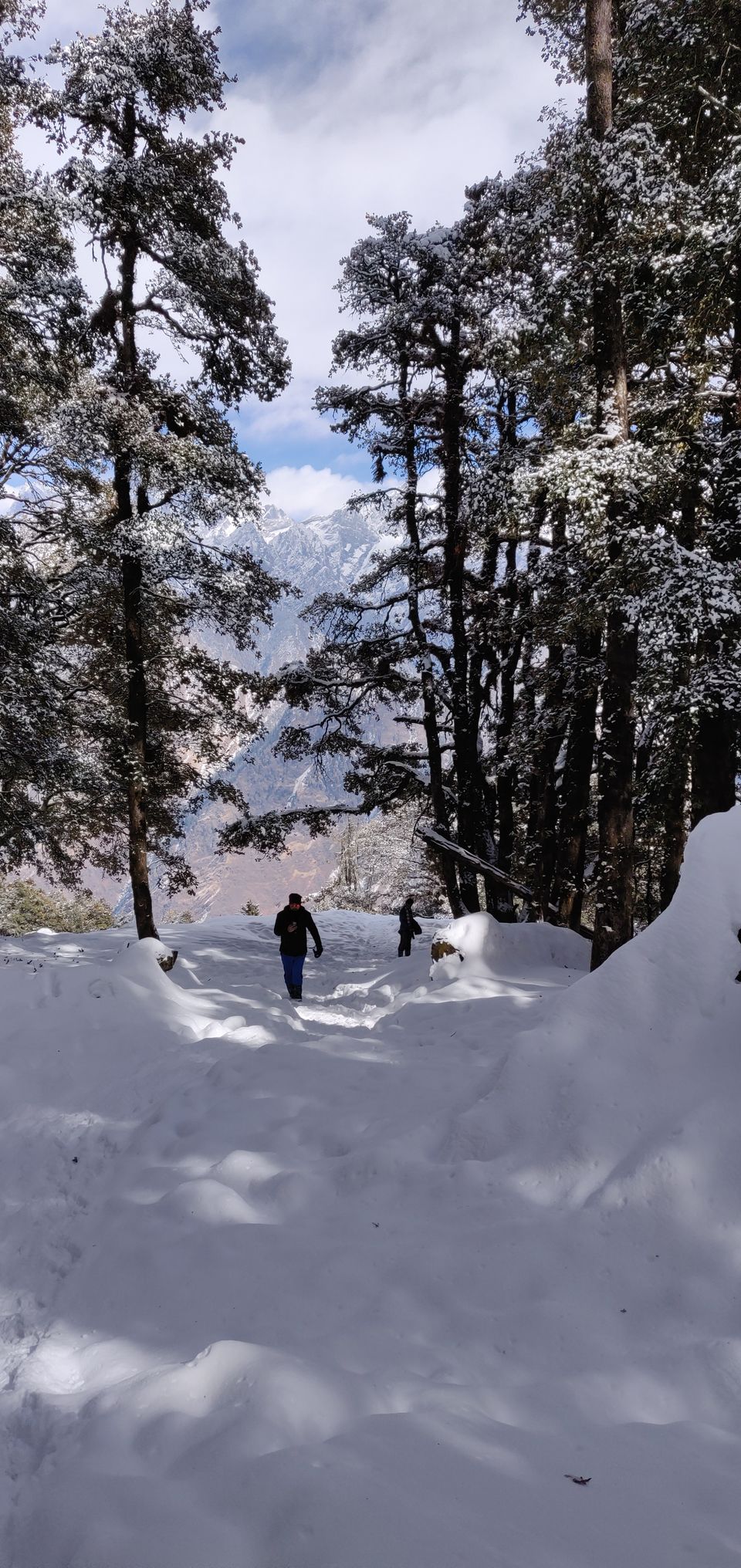 We reached our tents at 3PM and by the time we reached there we were so tired and our feet were numb and our fingers were paining. Our guide gave us Garam Garam Dal Chaval and we were so happy and grateful to him for that. After lunch we went to our tents and slept for 2 hours and by the time we woke up it was 7PM and temperature was dropping and this point it was already -4 degrees. We again sat near the Bonfire played some songs and enjoyed our last day in the snow. It was so good and we were feeling so happy and proud of ourselves that we trekked and stayed in snow for the first time. By the time we went back to our tents it was 1AM and temperature was -7 degrees.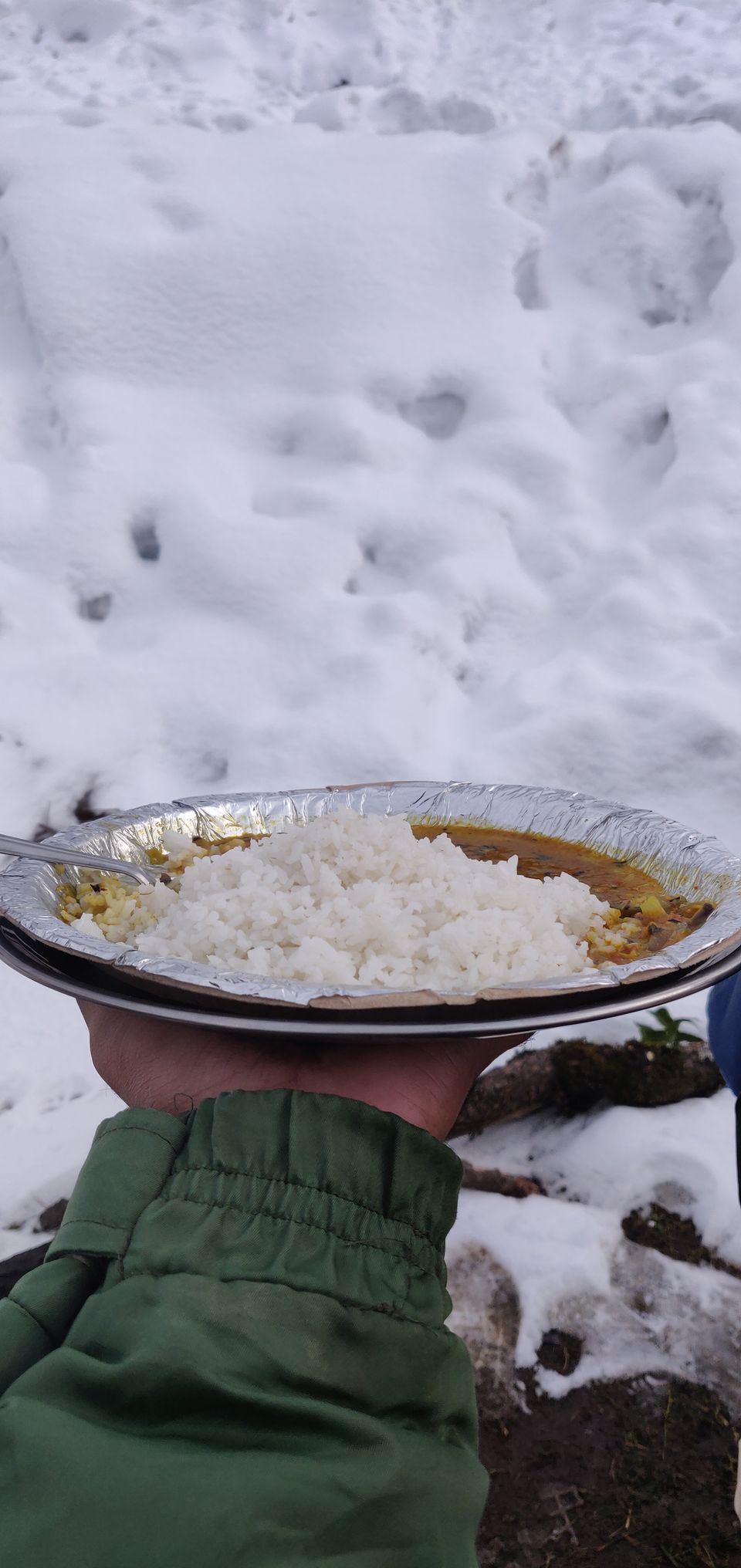 Day 3:
We had to start early as we had to reach Delhi late in the night to catch our flights and to get back to our normal lives which we obviously didn't want to do it. But kya karein, paapi pet. We started at 8AM and due to heavy snowfall vehicles were not coming to that point and Cable car point was far away and we were so tired that we didn't want to go that point. And finally after toiling and walking here and there for 2 hours we got a taxi for Rs. 2000 and it takes half an hour to reach Joshimath.
We came down gave our rented boots and jackets and straight away headed for Narsimha Swamy Temple from where Badrivishal's pooja is done during Winters. We were already running late and had to reach Rishikesh by atleast 9PM so that we can catch our flights which were scheduled for departure at 4.50AM. But to our bad luck our car's battery was not working and hence our wipers and our headlights were not working. It was Ghat section and it was raining and it was pitch dark so were scared to even go at a speed of 20KMPH. We somehow reached Srinagar at 7PM from where Rishikesh was 3 hours drive. Here we wasted our 2 precious hours to repair our car but it was all gone in vain. We finally repaired it and as soon as we crossed Srinagar our car's engine got jammed and it was not starting. We then thought of not going ahead and resting in Srinagar for the night. We missed our flights but we couldn't afford to lose our lives that's what we thought at that moment and took 2 rooms in a hotel for Rs. 600 each. Spent our night in Srinagar and started for Rishikesh the next day.
Day 4:
It is a 3 hours drive from Srinagar to Rishikesh but due to rains and construction it took us approx. 5 hours to reach Rishikesh. And while returning all of us were on company calls and explaining to our bosses that why we couldn't reach office. At that moment I thought that we all our corporate slaves :D
Overall, this was one of the best planned trips of ours and as I write this I can picture all those beautiful memories in front of my eyes and I just wish to go and live the same days again and again.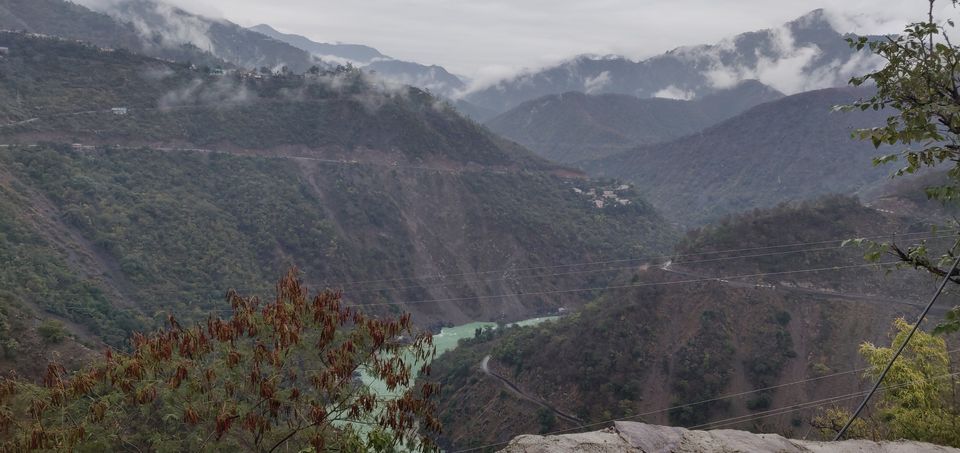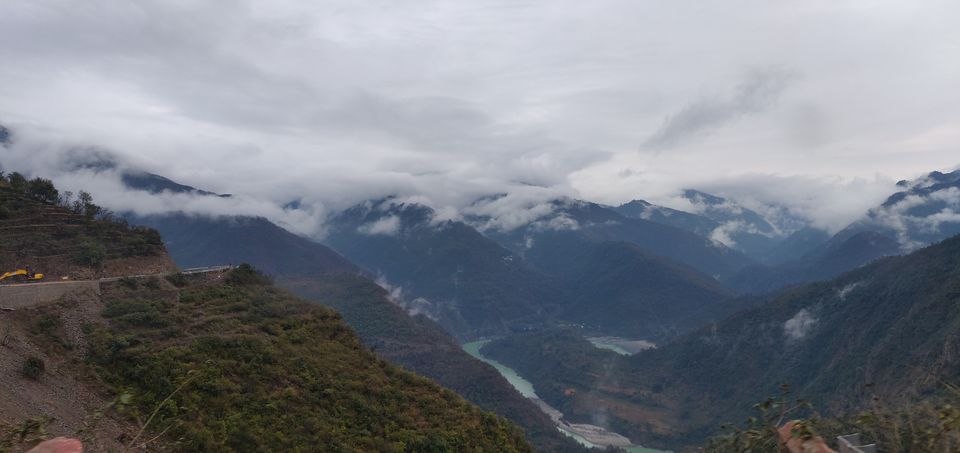 TIPS:
1. Please check your vehicle before hiring as it is very important to check everything or else you'll suffer as we did.
2. Please start as early as possible to enjoy en route.
3. In Joshimath people are not aware about rules & regulations of cable car. 1 ticket is valid for 2 hours only unless you have your stay in Auli and if staying please mention it to the operator. Reach ticket counter as early as possible, say 4AM.
4. In Auli GMVN, Blue Poppy Resort are some places to stay and if you wish to stay there please book in advance.
5. Please keep some spare time in your hand say 6-7 hours because you never know what hurdles you may face.
6. If you wish to learn Skiing Auli has a 7days Workshop.
7. We stayed at Dream Mountain Resort in Joshimath. Good place and comfy rooms with excellent service.
https://www.dreammountainresort.com/joshimath-hotels-dream-mountain/
BEST TIME TO VISIT AULI:
You can visit Auli year round but the best time to visit is from November to March. For snowfall, please plan in December last week to Feb 1st week.