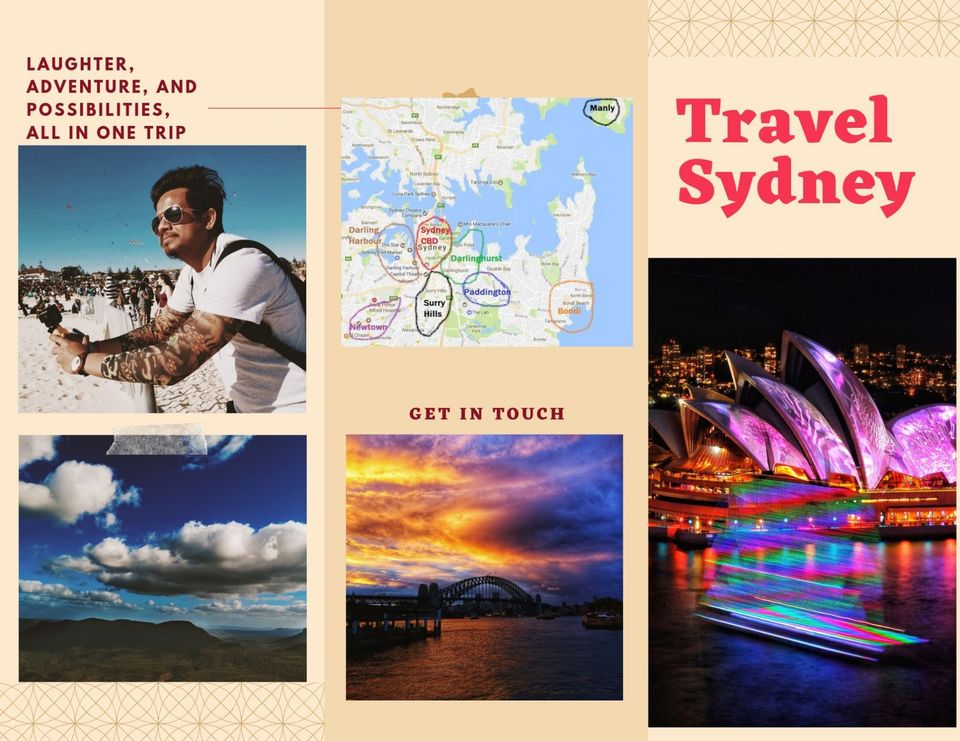 " Be fearless in the pursuit of what sets your soul on fire." – Jennifer Lee.
Almost after two and a half years, I started writing a blog. Lots of things happened in my life in the last few years. Good or bad I don't know. Time will give the answer probably. I will write a separate blog on those days later but "Not today". Enough on preface let's start the blog.
For those who don't know me I am Sayan Raha. I love to travel. I have two instagram pages @neal10th and @psaswetravel.
As you all know or you don't know the fact that Sydney is the job capital of Australia. Though the capital of Australia in Canberra.
Being the job capital of Australia Sydney has a large number of the population compared to other cities in Australia. So many people gathered here from all over the world and working together. As a Street Photographer, one would fall in love with Sydney instantly. But in this blog, I won't talk about street photography. Here in this blog, I would tell you about the places around Sydney which you would like to visit on a short trip.
There are plenty of places that you can visit in Sydney as a traveler. Today I will tell you about some amazing must-visit places in Sydney that you should add in your bucket list!
1. Sydney Opera House, Sydney Harbour Bridge, The Rocks, Observatory Hill Park

Let's start with Sydney's most famous and recognizable landmark; the Sydney Opera House. Together with Sydney Bridge, this whole area (Sydney Harbour) is the first most photographed spot in Australia. With its amazing architecture, the Sydney Opera House is one of the most famous buildings not just in Australia but in the world. For the perfect Instagram shot, I would recommend snapping it from the middle of Harbour bridge, so that you can get the whole Opera House in.
There is so much appeal to this very beach that you'd forget all the other beaches you've visited all your life. Bondi Beach is the heart of Sydney, with brilliant water sports, an enticing shore, and marvelous swimming activities. Not to mention those high-resolution pictures of food that people have posted on Instagram so far. It's just the tip of the massive iceberg that is Bondi Beach. This is Sydney's very own photography and food lover's paradise.
Note: Several buses travel to Palm Beach from Central, Town Hall or Wynyard in the city. Check the NSW transport site for more information.
The Harbour Bridge, or Coathanger as the locals call it, also has to get a mention. You can do a bridge walk if that takes your fancy or just admire it from below. Sydney Harbour Bridge is probably most famous around the world as the location of one of the worlds first New Years Eve fireworks displays each year.
The Rocks is a beautiful, historic part of Sydney just 5 minutes away from Circular Quay and just opposite of Opera house. You can enjoy shopping at The Rocks Markets every weekend. There are some lovely old pubs to be found around the cobbled streets as well as some really upmarket shops and galleries. A real mix of the past and present!
For a park with a million dollar view, it's hard to go past the one on Observatory Hill. A popular spot with locals, workers, and visitors, Observatory Hill Park offer sweeping, panoramic views of Sydney Harbour and the Harbour Bridge for free. It is nestled in the city center.
Note: All these four places are in the same place.Nearest railway station: Circular Quay
2. Manly Ferry, Manly Beach, Watsons Bay, and Hornby Light House
If sailing is one of your heart's desires, hop onto Manly Ferry for some fun under the sun on a cruise. This makes for some really great shoe-files (selfies of your shoes) if you're into that kind of stuff. Those photography enthusiasts propping up their cameras during the harbor cruise of the Manly Ferry aren't just addicted to clicking and sharing for no reason. This tour will give you enough reasons to bring a DSLR of your own, no matter the fact that you're hardly a photographer. Manly is one of the most popular destinations in Sydney's North Shore. It'll take 30 minutes by ferry to get here and you can then explore the manly beach shops and restaurants or just chill out in the ocean pool. For more please refer to my you tube vlog below.
If you're looking for a getaway from hectic beaches in the eastern suburbs, Watsons Bay could be the place for you. Although the beaches aren't totally deserted, they certainly don't attract the sheer amount of people as Bondi and Coogee do. One reason would be down to the size of the beaches in Watsons Bay. They're a minute in comparison to Bondi. Another reason which I found there is Sunset!! From the cliffs of Hornby lighthouse, one can experience one of the most beautiful Sunsets of Sydney.
Note: For both the locations ferry is Available from Circular Quay.
3. Bondi Beach
4. Blue Mountains National Park and WENTWORTH FALLS
Part of the Blue Mountains World Heritage Area, Blue Mountains National Park is one of Australia's most famous wilderness areas. The park lies about 60 kilometers from Sydney and is one of the city's most popular day trips. Named for the blue haze emanating from its many eucalyptus trees, the Blue Mountains is a region of stunning mountain scenery. Rugged rock formations, pristine eucalyptus forests, abundant wildlife, waterfalls, ravines, and more than 140 kilometers of hiking trails and heritage tracks make this a haven for nature lovers. If you love mountains, hiking then this is the place for you.
Also for a day trip, you can find Scenic World in Blue Moutain!
Scenic World offers some of the most popular adventures in the park and is a great way to experience the dramatic topography. Zoom through a cliff side tunnel into ancient rainforest on the Scenic Railway, the steepest railway in the world. Soar across the forest canopy on the glass-floored Sky way, or plunge into the Jamison Valley on the Scenic Cable-way. At your own leisure, you can also stroll along the 2.4-kilometer Scenic Walkway, an elevated boardwalk through the Jurassic rain forest.
5. Barrenjoey head lighthouse walk and Palm beach
This one is one of the favorite places in Sydney.The Barrenjoey Lighthouse walk is a popular hiking trail in Barrenjoey Headland, the northernmost part of Palm Beach. There are two walking tracks that go all the way up to the Barrenjoey Lighthouse on top of the hill from where you can enjoy stunning ocean views. The Barrenjoey Lighthouse stands tall and proud on the highest point of the Barrenjoey Headland, the northernmost tip of the Palm Beach Peninsula, part of Ku-ring-gai Chase National Park. The heritage-listed sandstone lighthouse, at 113 meters above sea-level, was built in 1881 and has been an iconic Sydney attraction for many years. As you walk up the hill towards the lighthouse, the views will get better with each step you take. The top of the hill is also a great location for a picnic with million-dollar views of Palm Beach and surroundings.