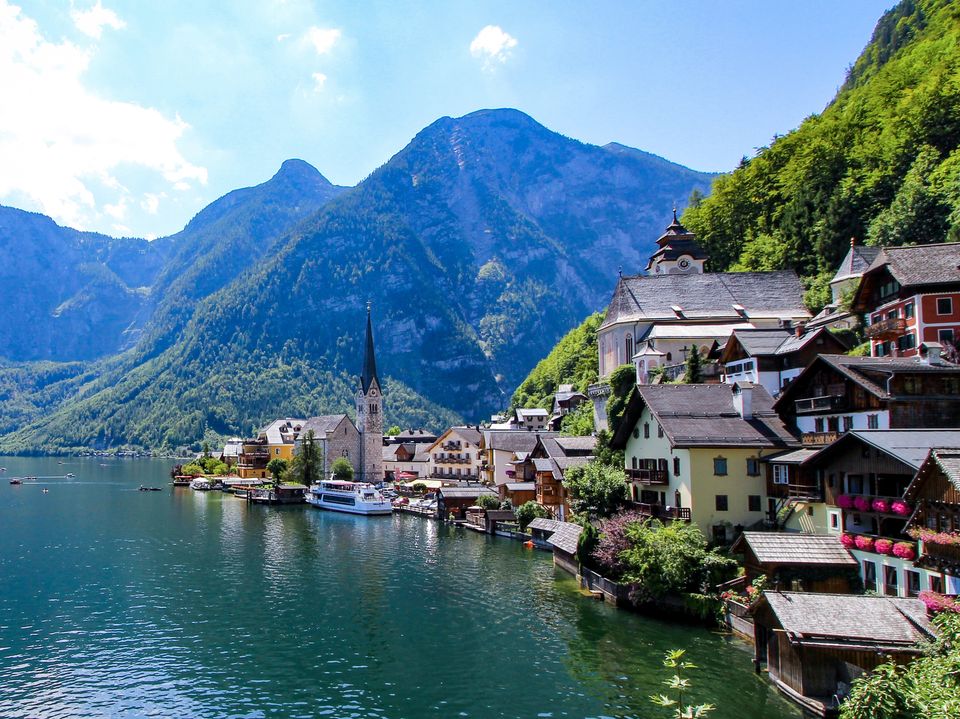 Duration : 8D/9N
Number of People : 2
Trip Type: Economical
Transport Mode: Self Drive
Expenses (excluding Flight from India): € 1300 (₹ 1 Lakh)
Distance driven: 976 Kms
Expenses Break-up for 2 Adults:
Accommodation € 528 (₹ 41, 600)
Car (Rental + Insurance) € 331 (₹ 26,100)
Miscellaneous € 432 (₹ 34, 000)
Total € 1300 (₹ 1, 01,700)
Flights and Visa from India: € 1360 (₹ 1,07,000)
Austria is beautiful, beautiful and beautiful. I have fallen in love with the beauty of Austria. In India, it is not as popular as it should be. Before visiting Austria, I had not realized that Austria as a whole is such an incredibly beautiful piece. It has scenic glaciers, alpine meadows, roads with amazing views, beautiful architecture, museums, lakes, cafés and everything you can expect from a vacation.

Self-Drive or Public Transport?
After booking the flight tickets, next step was to decide between public transport and renting a car. We did a lot of research and finally concluded for renting a car. This is because Austria is a beautiful country, with serene countryside towns. We were sure that we wanted to visit these towns and stay away from hustle and bustle of city life.
To visit these towns, self-drive seemed to be the most convenient option. After watching few videos of Austrian roads, we got excited to drive in Austria. It's a right-hand drive in Austria, which was a challenge because we are used to drive on the left in India. But we were convinced to rent car in Austria :). The accommodation in towns away from city is cheaper and mostly have free parking, whereas parking in Austrian cities is quite expensive. So, it's better to take accommodation away from cities.
Though, if you still decide to not rent car, you can choose accommodations near train stations. Austria has a well-connected public transport. Except High alpine road, all places mentioned in itinerary can be reached by public transport.
Let me briefly walk you through our itinerary and then I will write about our day to day experience
Itinerary:
Day 1: Landed in Vienna, Sightseeing in Vienna
Day 2: Vienna to Vöcklabruck via Wachau valley, Melk and Traunsee
Day 3: Vöcklabruck to Salzburg via Hallstatt
Day 4: Salzburg Old town
Day 5: Day trip to Mondsee
Day 6: Salzburg Old Town to Niedernsill via Grossglockner High Alpine Road
Day 7: Niedernsill to Innsbruck via Zell am see
Day 8: Innsbruck old town
Day 9: Fly back from Innsbruck
Here is the map of the route we took :) Yes we drove about 976kms in 7 days

https://tinyurl.com/y2t6tbcc

Rental Car
We had pre-booked rental car online via www.rentalcars.com. We picked our car from Vienna Airport and dropped it at Innsbruck Airport. The total cost was € 286 (₹ 22,500) for 7 days. We booked insurance (for € 46 / ₹ 3,600) from http://www.rentalcovers.com as it was cheaper on this website. The only difference between the two is, claims (if any) are cashless if you buy it from the car rental company.
From where to buy Sim:
I don't recommended to buy the SIM from the Airport. It is damn expensive at the Airport. We bought a A1 SIM from a mobile store in Vienna for € 25 including registration fee. The SIM was bundled with 10 GB data for 30 days. I felt that the coverage was very good throughout the country.
Detailed Itinerary
Day 1: Sightseeing in Vienna
We picked up the rental car from Vienna Airport and headed to our couch surfing stay in 'Rotenmühlgasse 31'. To avoid the hassle of parking, we chose a stay with free parking.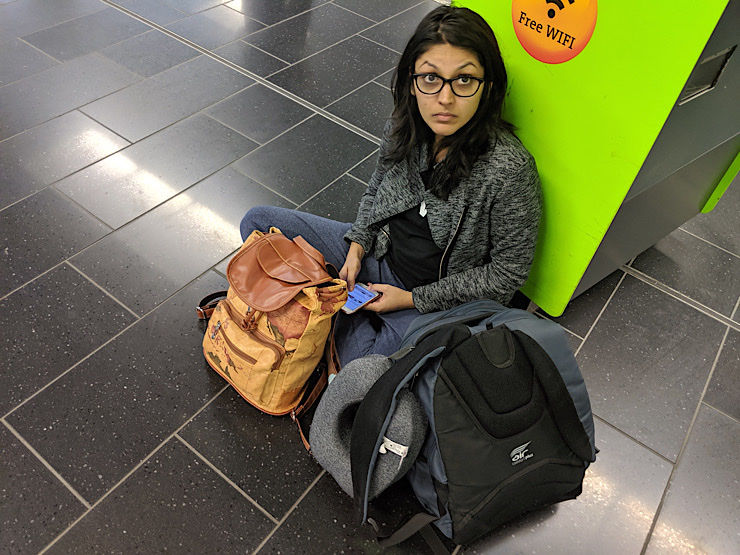 Unfortunately, our baggage was delayed and we were left without baggage for the first day. We were frustrated and tired, so we kept our day really short. We had lunch in a street-side restaurant and visited Schönbrunn Palace in the evening, as it was near to our stay. This place is known for its grandeur and splendor. This palace has huge surrounding gardens and a viewpoint on top. It is slightly far from the city center but is easily accessible via the underground rail network.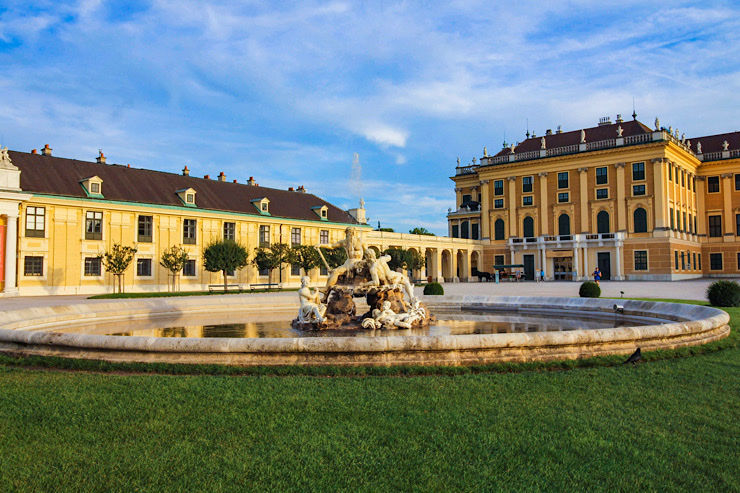 We slept early to gear up for the long drive ahead.
Tip: To embrace the very best of Vienna's history, culture, architecture, lifestyle, and food, you can explore extractions inside the magnificent Ringstrasse Boulevard. Most of the attractions are within walking distance of St. Stephen's Cathedral, in the heart of the city. A guided walking tour can be taken too.
Day 2: Vienna to Vöcklabruck via Wachau valley, Melk and Traunsee
We were really excited for our road journey ahead. We prepared a heavy breakfast and left for Wachau Valley around 9 in the morning. To enjoy the scenic views, we took the highway A22 and then S5, towards the city of Krems. This road has wonderful views along the Danube river. Road from Krems to Melk is the most scenic stretch of the Wachau Valley. We parked our car at Dürnstein Parkplatz P1. This place is famous for cycling. You get to see many people cycling along the road.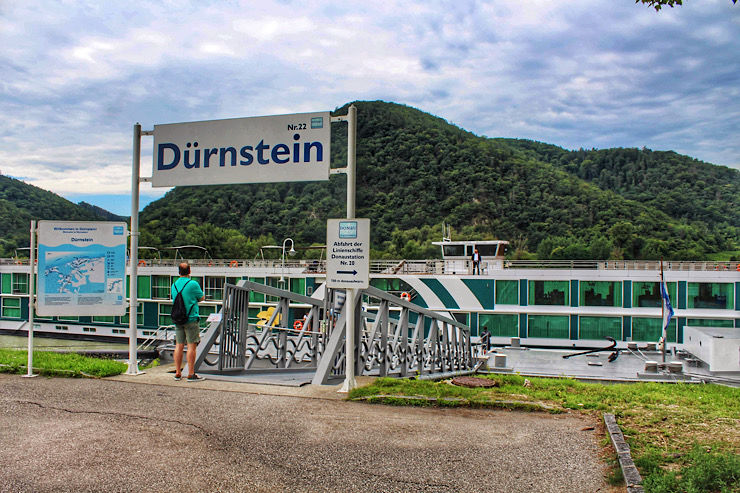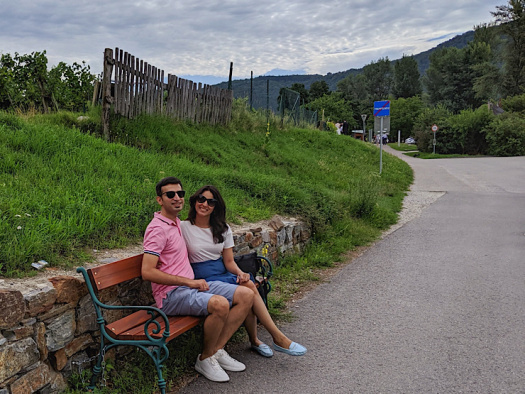 After spending about 1 hour in this valley, we continued our journey towards Melk. In Melk, we parked our car in one of the streets, as the street parking is free on Saturday past 12PM. Melk has one of the most magnificent abbeys of Austria. The abbey sits above the town of Melk and looks out onto the Danube. The balcony of abbey has panoramic views of the Melk. The entry fee of abbey costs € 12.5. I highly recommend a guided tour for just € 2 per adult, to explore and admire the architecture of this building.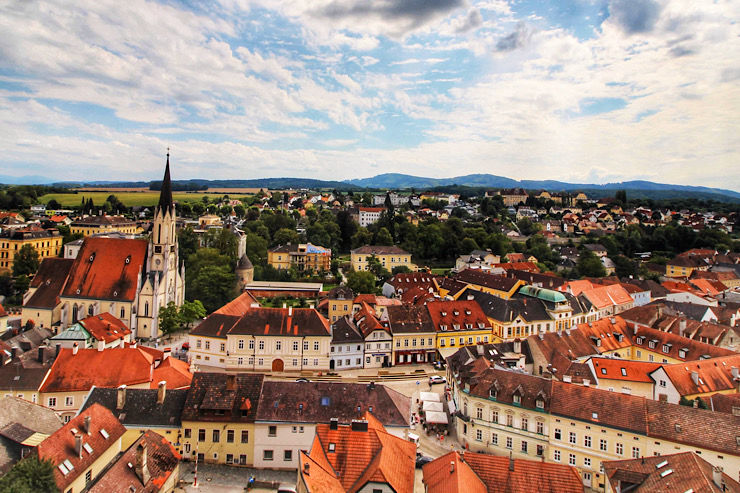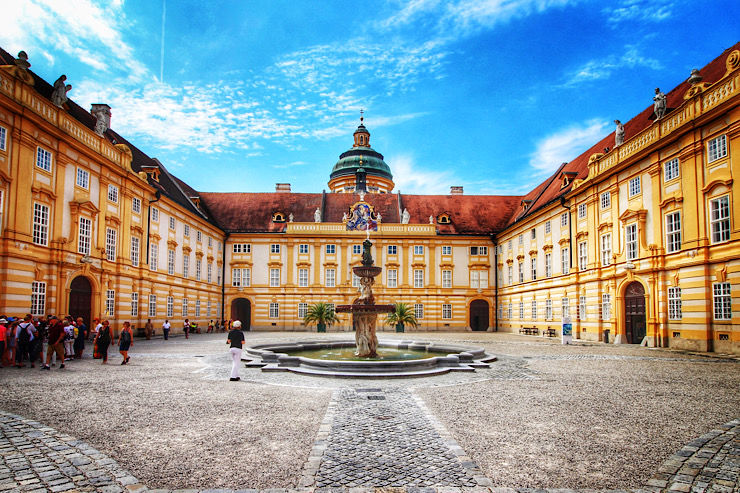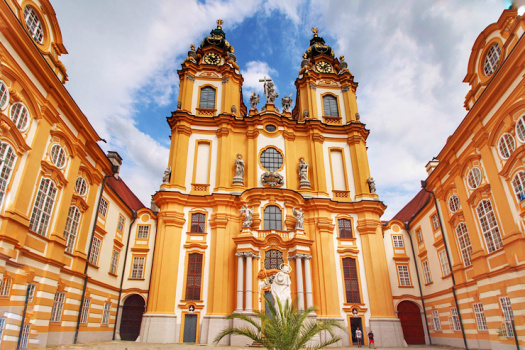 After abbey, we walked down the hill to explore the town of Melk. We had coffee in Corrado Café with a seating right in centre of the street and enjoyed taking some pictures on the street. This street was so colourful and vibrant, that we wished we could spend some more time here. We had ice-cream at Café Braun, right across the Corrado Café and we started walking towards the car.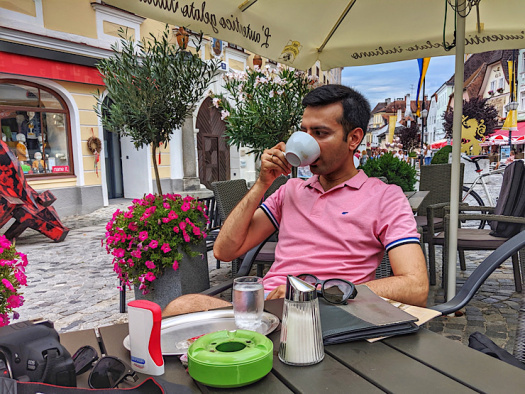 From Melk, we joined E60, heading towards our next destination Lake Traunsee in Gmunden. The drive from Melk to Traunsee is mesmerising. I couldn't stop clicking photos. Every view was better than the previous one.
When we were just a few kms away from Traunsee, the road was downhill with a view of lake, and it felt like the road is merging into the lake, it was a breath-taking view. We parked our car in free parking 'Parkplatz Gmunden' near the 'Schloss Ort' castle. We then walked towards the castle. Traunsee Lake is in a picturesque location amid meadows and mountains, with shades of turquoise. It's a perfect place to relax while strolling along the lake and admiring the amazing views of the mountains around the lake.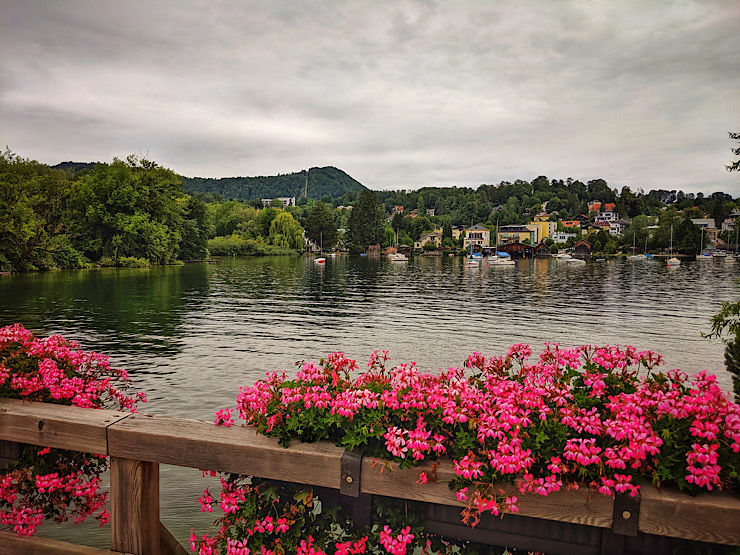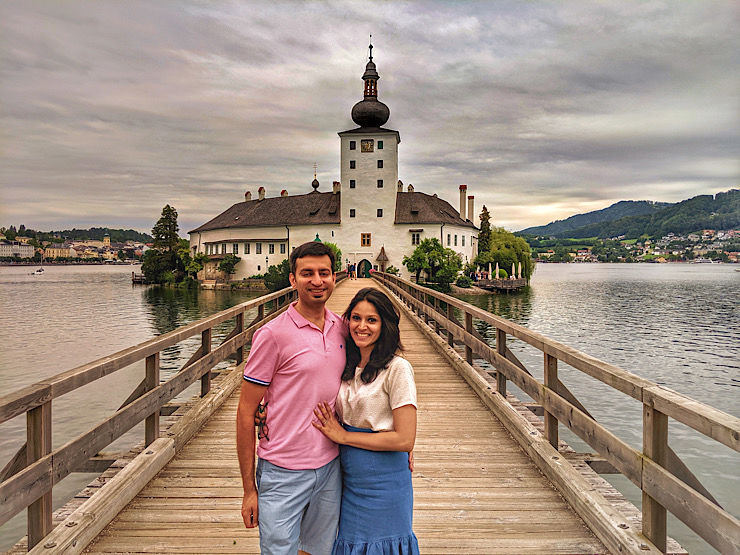 We strolled along the lake for about 30min and then had dinner at Keultur Café Villa Lehmann. The weather, the views and the vibe, it was all so amazing. There was just one vegetarian option in Cafe but it was delicious and we loved it. This place had beautiful houses and we regretted for not choosing to stay in this area.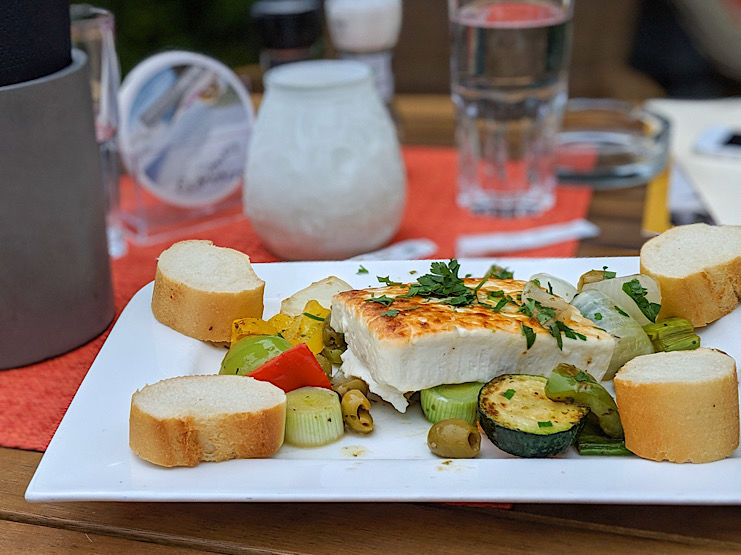 We then drove to Vöcklabruck which was about 20min from Traunsee lake, where we were stayed at an airbnb : https://www.airbnb.co.in/rooms/27271915?source_impression_id=p3_1570364349_HH2W35s5fNwgT7pN.It was a pleasant stay. Ramneet and his family was warm and welcoming. On our arrival we were served with Tea and snacks. It completely felt at home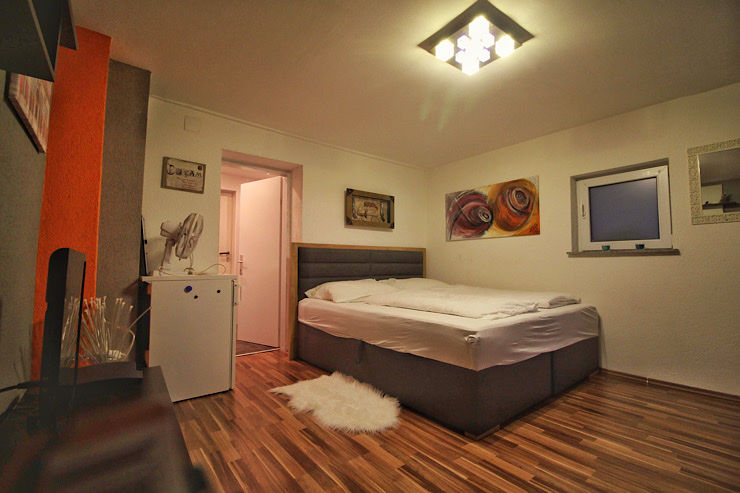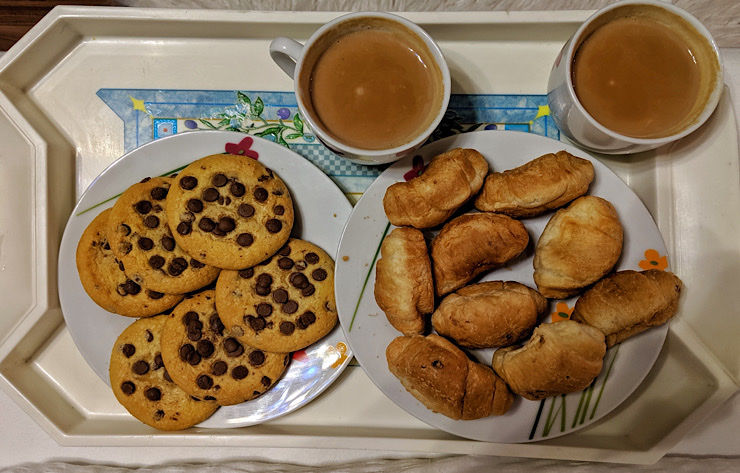 Overall, it was an amazing day.
Day 3: To Salzburg via Hallstatt
After a quick breakfast, we left for a much famous place 'Hallstatt'. Hallstatt is a small town in the district of Gmunden, in upper Austria. It is situated between the southwestern shore of Hallstätter See and the steep slopes of the DachsteinMassif.
It took around an hours' time to reach Hallstatt. Parking here is not free. In-spite of multiple parking lots, find a spot to park your car might be a challenge. It is better to reach Hallstatt early to get parking. There are parking boards showing availability of parking in every lot. When we reached it showed that one of the parking lot has three slots left, which unfortunately got filled by the time we reached. But we didn't lose hope and waited at the entry point for someone to exit. And woo-hoo, in just about five minutes, we got a slot :)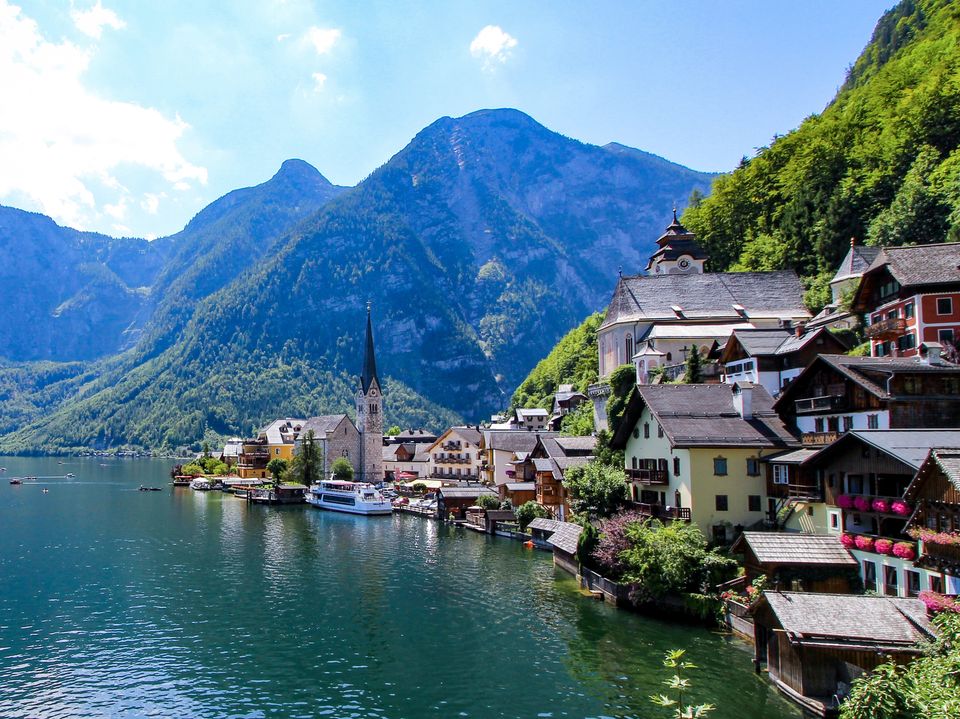 Hallstätter See is a spectacular mountain lake and a hidden gem. When I reached this place, it was so beautiful, I kept clicking photos. It's a postcard place. You need a full day at the least to enjoy the vibe of Hallstatt. Hallstatt is a very famous tourist place and generally very crowded. After parking the car, we headed to the lake. You can also rent an electric or a pedal boat and explore the lake. Along the lake, we could see so many colorful houses, with flowers placed beautifully in balconies. There are many shops on the way for souvenir shopping. We halted at a street side Café Muk´s Schmankerl for lunch and had pizza.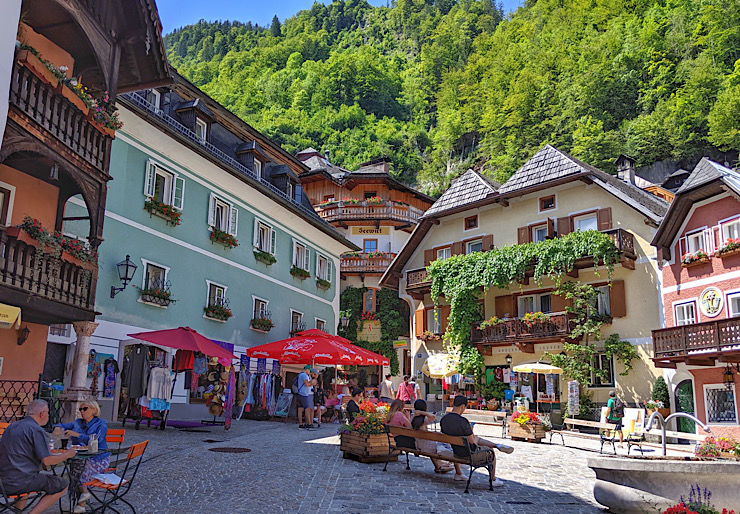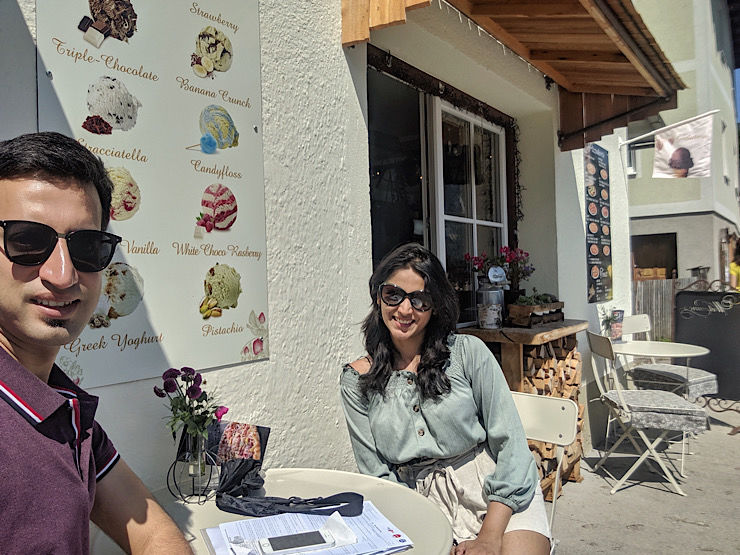 To enjoy the panoramic view of Lake Hallstatt, its lakeside villages, and the surrounding Alps, we took a funicular ride to get to the Skywalk - the mountain top. There are two ways to get to the top of mountain - funicular ride which costs € 9 euros per Adult for either of ascent/descent. The views of the Hallstatt-Dachstein-Salzkammergut region from Skywalk were breathtaking.
If you are hungry, you can also have food at the restaurant there. After clicking countless pictures and enjoying the view for about an hour, we started walking down the hill. It was about a 45min walking down the hill, worth saving € 20 :D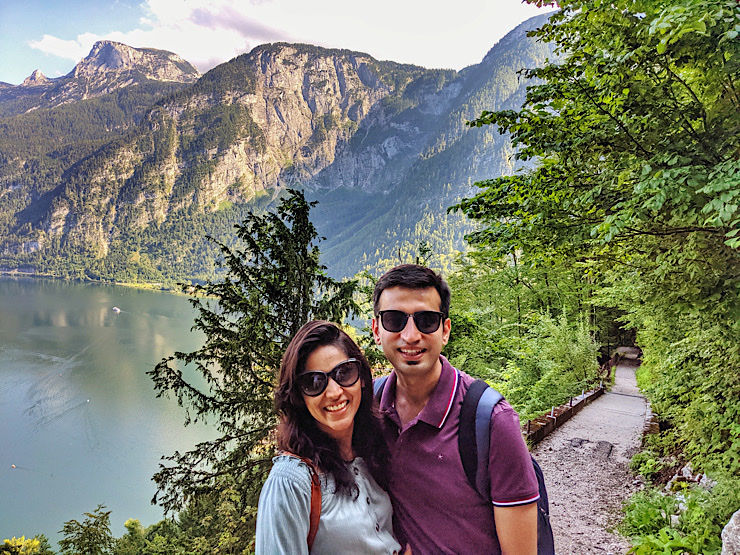 At a nominal ticket price, you can also visit the Salzweltensalt mine, which has a 7000-year old history of salt. It takes about 2 hours to do the salt mine trip. Since we were short of time, we skipped this.
Some tips for Hallstatt:
1. Keep €0,50 coins for the public toilets.
2. Make sure you have enough cash with you, as most of the restaurants and shops here don't accept credit or debit cards.
After an amazing breath-taking day in Hallstatt we headed for our next destination - Salzburg. It took around 2 hours to reach Salzburg. We stayed here in an Airbnb. Staying in Salzburg city was one big mistake we did. We should have stayed in one of the towns near Salzburg city instead. There are multiple favourable reasons to the stay in countryside - one, accommodation is much cheaper than city; second, parking is free; and third, the most important one, you enjoy the serene beauty of countryside and stay away from city life. What is the point of a vacation, if we stay in a city during vacations.

Parking in Salzburg: Parking is quite expensive in Salzburg in day hours. It is free from 7 PM to 9 AM on weekdays and free for 24 hours on weekends. So, during our stay in Salzburg, we started our day by 9am and returned after 7pm to save on parking fees ????
Tip: To enjoy the feel of countryside, you can choose to stay in Mondsee or any of the nearby towns like St Gilgen, Fuschl am See, Bad Goisern instead of doing a day trip from Salzburg to these towns.
Day 4: Salzburg Old Town
We were all set to see Salzburg- The Town of Mozart and Sound of Music. To save on parking , we parked our car in 'Park and Ride (P + R) Messe', which offers free parking in July and August on purchase of city bus ticket at a price of just € 3. It was a great deal! We boarded bus number 18 (Altstadt shuttle) to Historic District which dropped us at Hanuschplatz, besides the Staatsbrücke, the famous love locks bridge.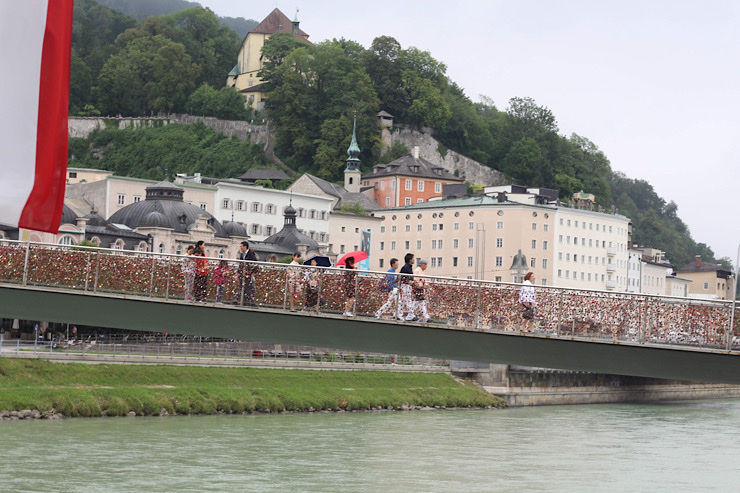 The old town can be covered on foot. Luckily the weather was amazing. It was a bit cloudy, so we carried our rain jackets. We enjoyed our breakfast at 'BackWerk'. This place has many vegetarian and vegan options and quite economical as well. We had sandwich, panini and a cup of Austrian coffee!!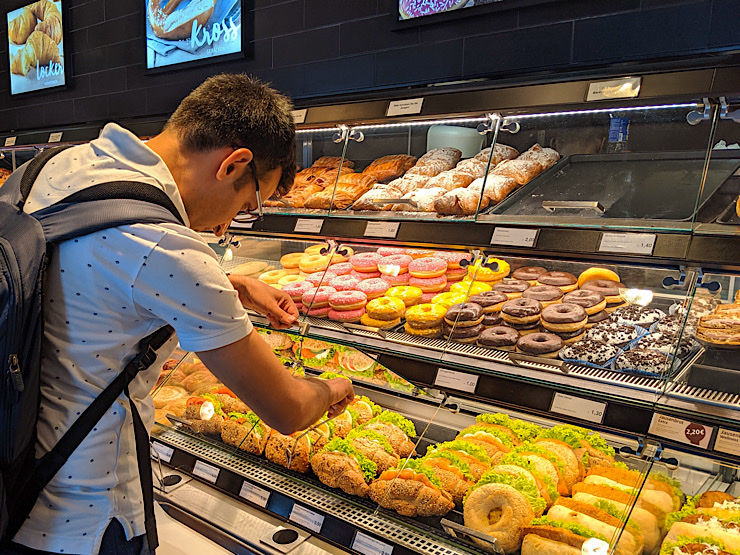 Then we headed to Getreidegasse, one of the best shopping streets and a great place to take a troll. We also did the souvenir shopping here.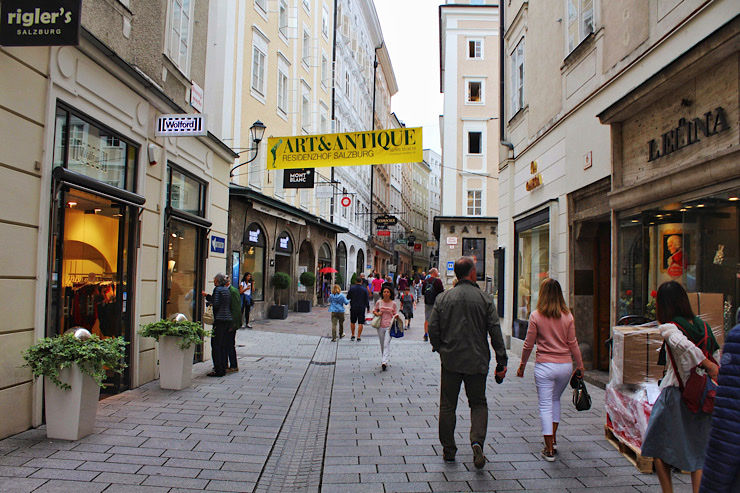 Our next stop was Residenzplatz, which is bordered by the Salzburg Cathedral, Panorama Museum, and the Residenz Gallery, with a large fountain in the center of the square.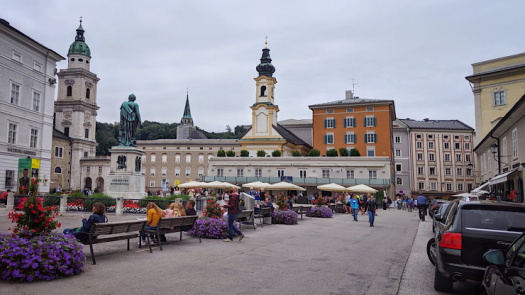 You will find a few spots with street musicians playing classical music making you lost in the atmosphere. You can spend some time visiting Mozart's birth place now converted into a museum, beautifully depicting the composer's life and his relationship with the city.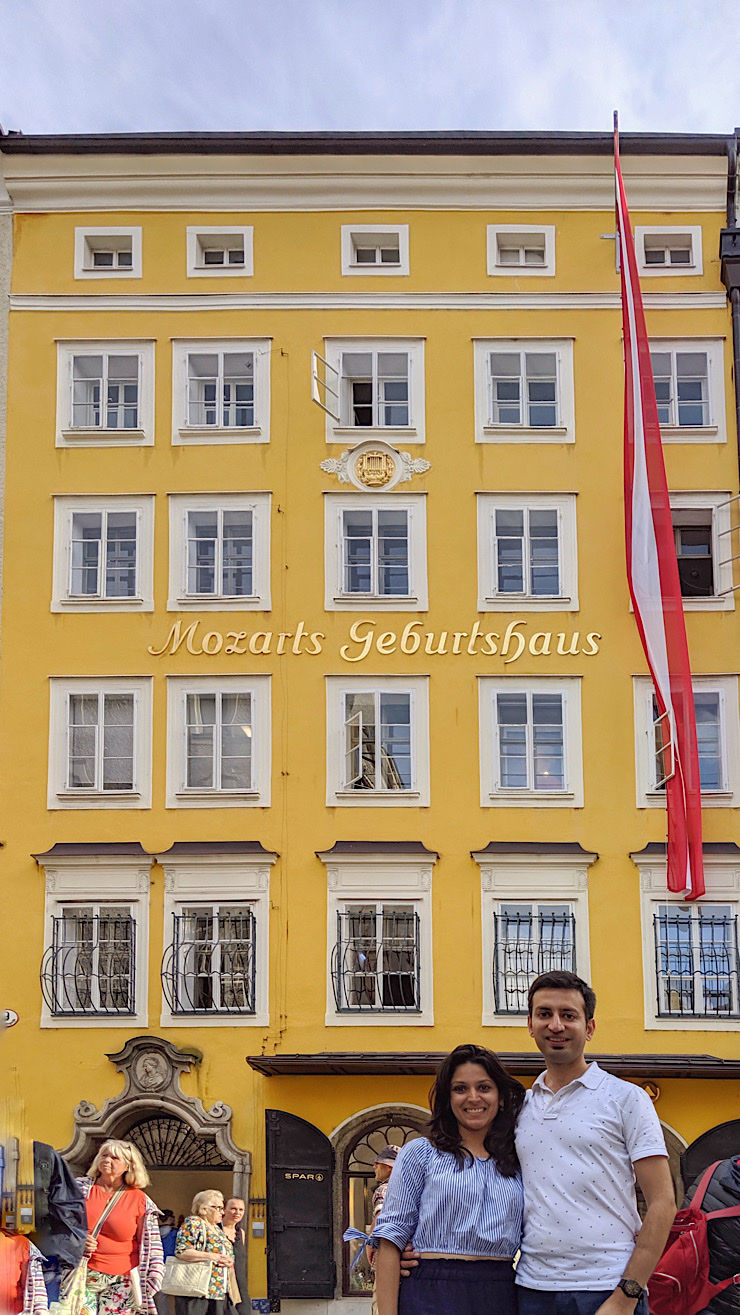 After seeing House of Mozart, it was time to get overwhelmed with the beautiful old town of Salzburg, a UNESCO World Heritage Site. The baroque architecture is beautiful and the vibe of the town is enchanting. We clicked a few pics on our way to Fortress Hohensalzburg, one of Europe's largest castles of 1077. There are two ways to go up- "funicular ride" or by foot. It's a 15-20 minutes' walk, saving a little bit of money and you enjoy views on the way. It's a hill looking over the city and you get bird's eye view of the entire city of Salzburg.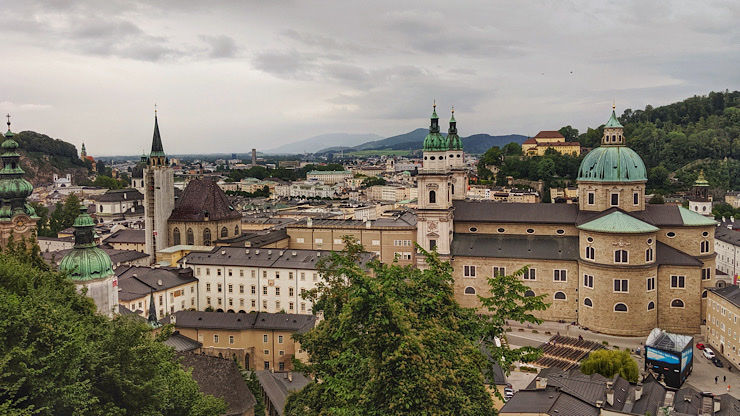 Ticket to the fort is € 10. In case you are not interested in spending money, it's still worth to walk up till the gate of the fort and enjoy views.
For descent, we walked down from the other side of the fort, bringing us into the inner streets. We wanted to have lunch at "Café Green Garden", but unfortunately it was closed. We then had our lunch at "Indigo", which served us with delicious noodle soup, bowls, and salads. By the time we reached the restaurant, it started to rain heavily. A noodle soup was perfect for this cold weather.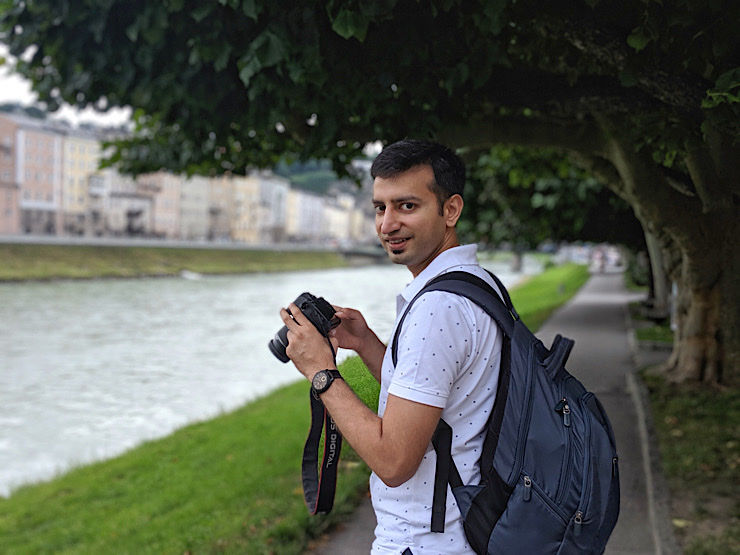 Now, it was time to cross the bridge and climb the Kapuzinerberg Hill via stairs. We crossed the Salz river via "Mozart Steg" bridge. It is a picturesque pedestrian bridge, also featured in the movie 'Sound of music'. A clear weather gave us the opportunity to click amazing pictures. After crossing the bridge, it's an easy hike to get some spectacular views from the Kapuzinerberg Hill. You can see the entire city and the castle in a single frame.
Just before you start for Kapuzinerberg Hill, there is a famous eat out Uncle van, where you can choose to have lunch at.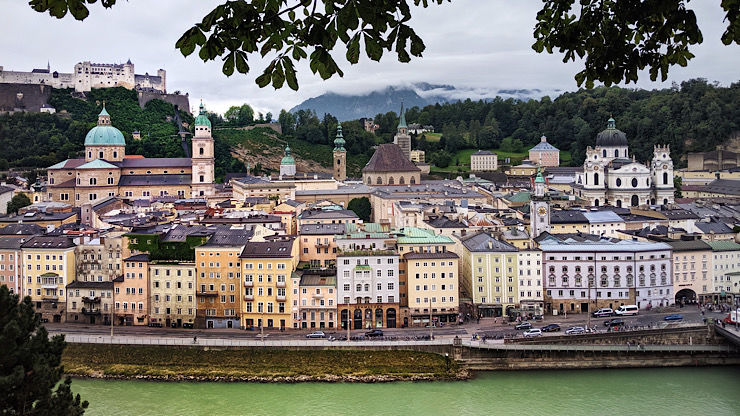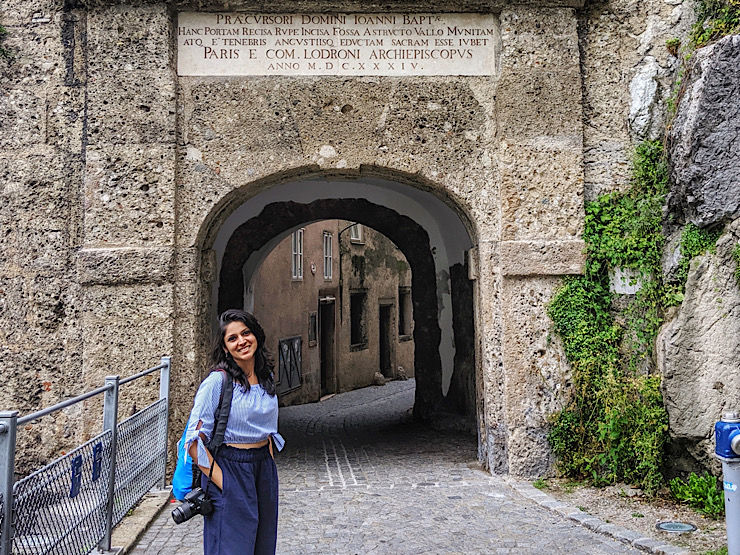 It was 5:40pm, so we headed back to the Hanuschplatz bus stop, the same place where the bus had dropped us in the morning. We picked our car from P+R, and reached home. After a wonderful tiring day, we sipped coffee in our Airbnb and cooked delicious dinner from ready to eat stuff we carried.
Day 5: Visit Mondsee, a colorful town
Today, we wanted to visit some beautiful towns, lakes and mountains. So, we planned to visit Mondsee and Wolfgangsee (Lake Wolfgang) today. Though, we missed visiting Wolfgangsee, as we spent too much time in Mondsee, I highly recommend to visit Wolfgangsee as well. Parking in Mondsee is not an issue as it has multiple parking lots, and most of them are free. We parked our car in Parkplatz Nord. Though I would suggest to park it in Parkplatz Süd which is just next to the lake.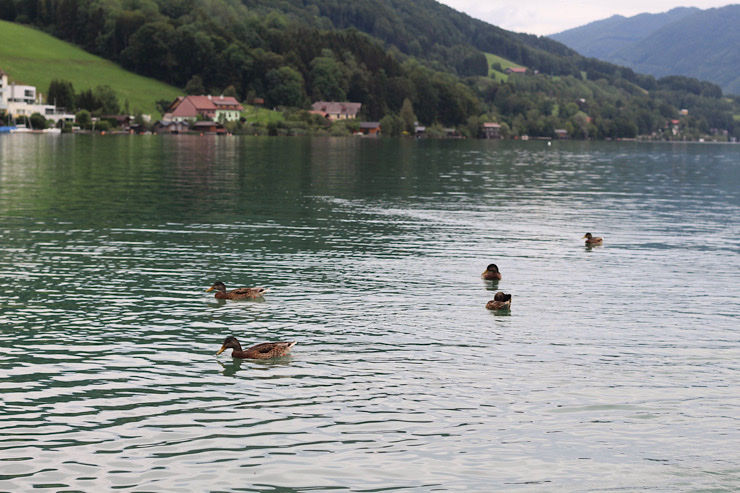 Mondsee is one of the prettiest towns in upper Austria. It is easy to get there by car from Salzburg as well as pretty famous in day-trip tours from Salzburg. Lake Mondsee is a scenic crescent shaped surrounded by the snow-topped peaks of Austrian alps. It is beautiful with its crystal-clear turquoise water. It has got picturesque streets, market square and street-side cafes.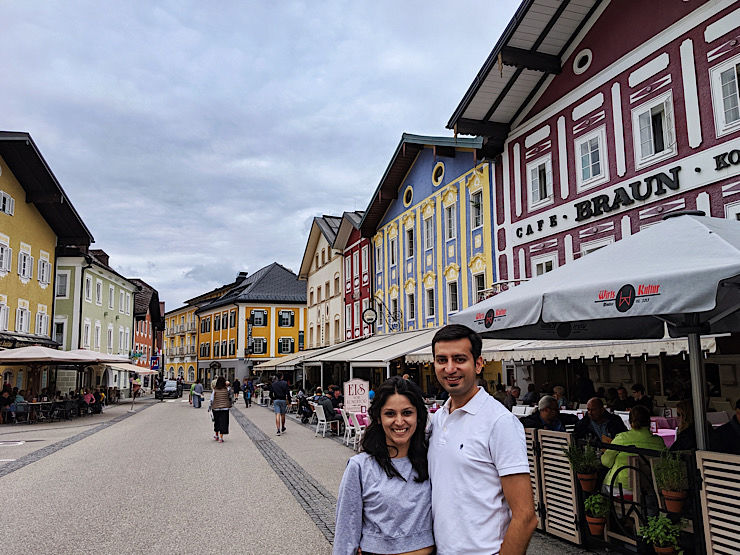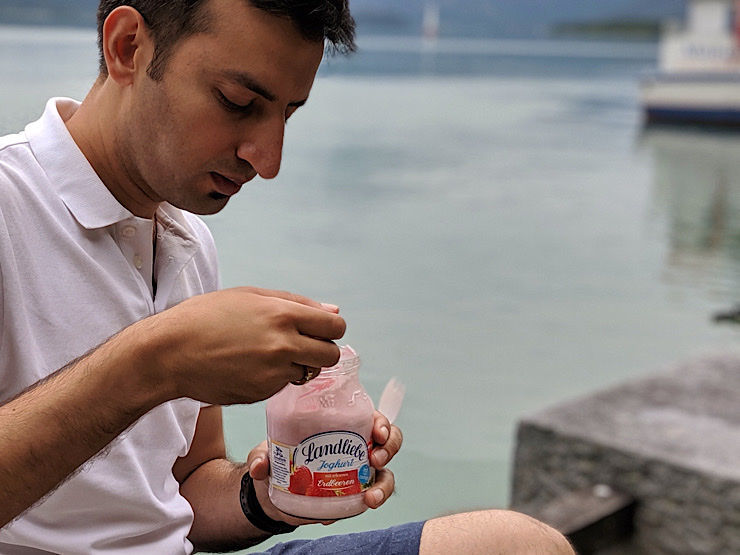 Mondsee is a must visit place if you're a fan of the movie Sound of Music. Basilica St. Michael, is the church featured in the movie where the wedding took place, and also a go-to destination for weddings. No doubt, it is one of the most beautiful churches I have seen.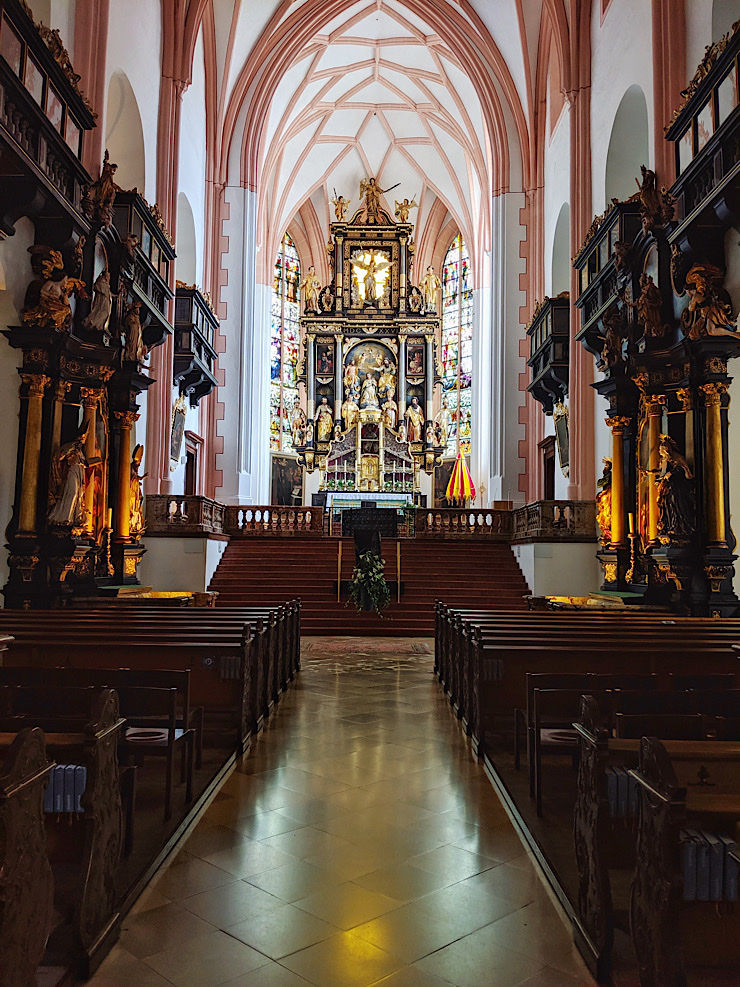 Mondsee is a family place. There is a play area with swings for kids. Almost every family had their pets with them. There is an option to rent bicycle and explore the place. You can also rent a boat and paddle or sail around on your own or take a sigh-seeing cruise to experience the surrounding area. It's a perfect summer place for hiking, biking, sailing etc.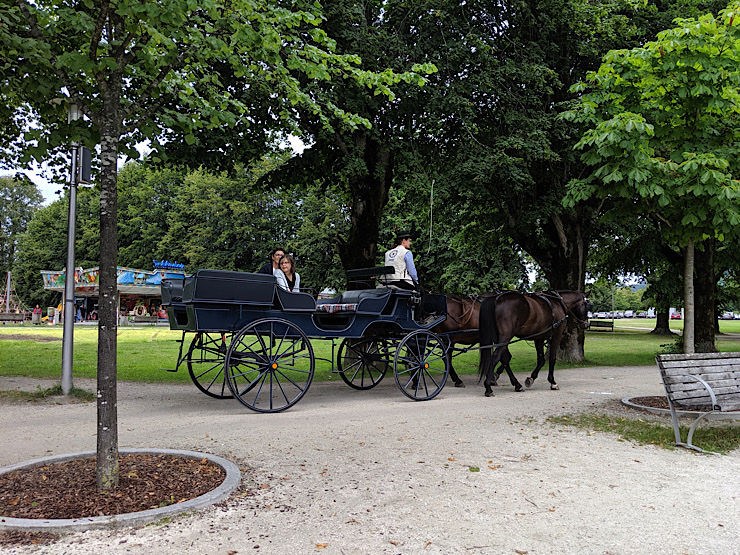 We spent lot of time sitting along the calm lake and enjoying the magnificent view. Mondsee's two block centre with bunch of cafes and restaurants is a vibrant street. We had pizza and pasta at Ristorante Pizzeria Nudelini. The whole vibe of the place is amazing.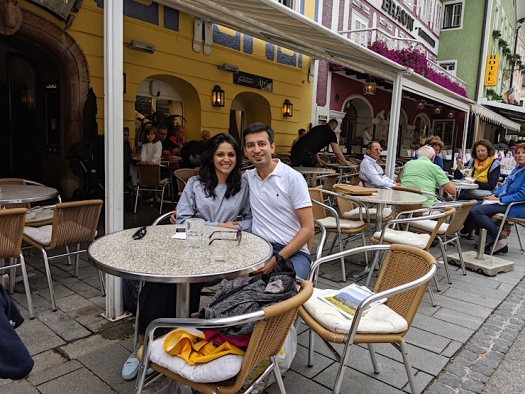 We heard there are random performances at the street, which unfortunately didn't happen during our visit. Lunch followed by ice-cream at Konditorei - Cafe Frauenschu. The famous bakery, Café Braun, is on the same street.
Day 6: Salzburg to Niedernsill via Grossglockner High Alpine Road
If you are on a road trip through Austria you can't miss the Großglockner High Alpine Road. This is one of the most panoramic roads in Europe. This drive offers the best scenic views one can imagine. Where else is it possible to climb so fast and comfortably in just 48 kms and 36 turns, to high alpine regions up to 8400 ft above sea level, where the Pasterze glacier is within arm's reach. In 3 hours' drive you experience a temperature change from 20 Degree to 3 Degree Celsius. So, make sure to carry sufficient warm clothes, to keep yourself warm.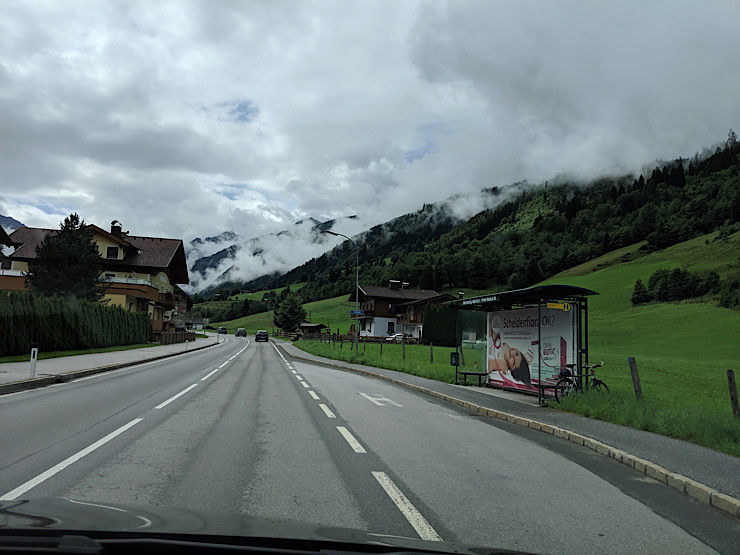 Driving in these misty mountains and stunning views, you'll want to snap a picture every 50 feet. The photos speak for themselves on this one. It is undoubtedly a breath-taking and a thrilling experience. Stopping at every scenic point, I couldn't handle the excitement. You would want to stop, after every 5minutes, but its better you stop at the mentioned sightseeing points only.
There are 12 adventure world sightseeing points, which give the best views of the area.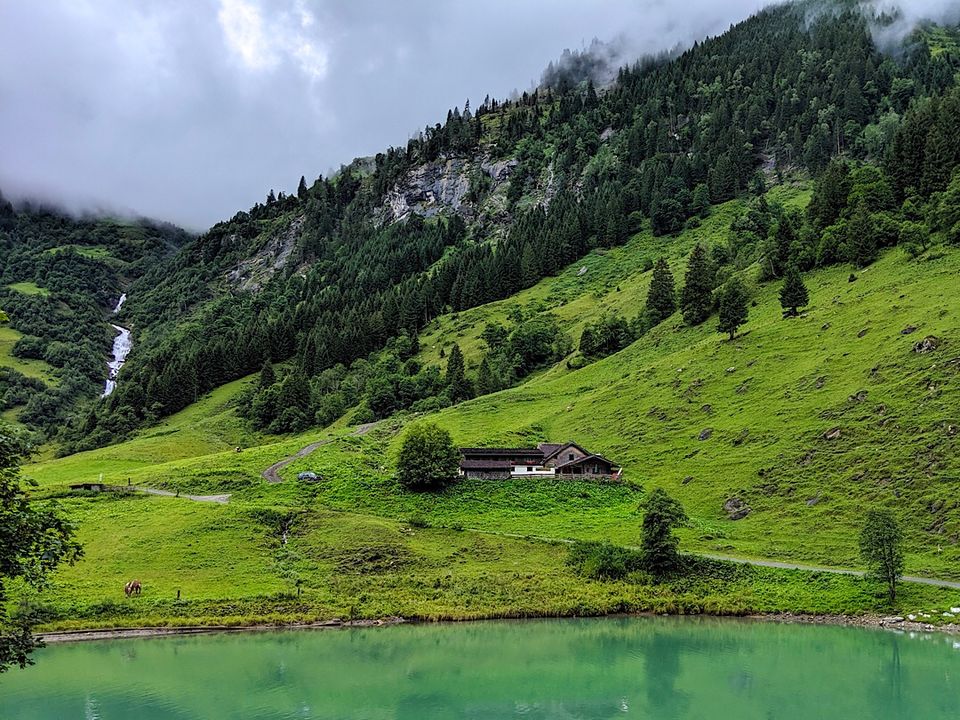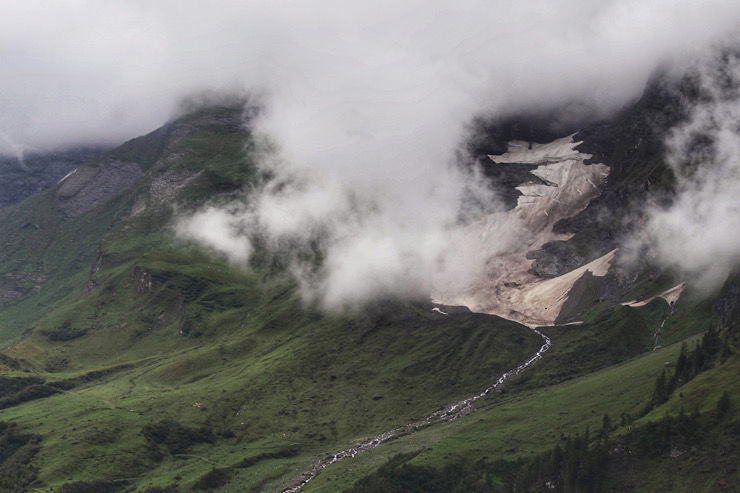 Since it was cloudy, we couldn't see anything from Fuscher Törl, which gives the first view of the Grossglockner. The 7th sightseeing point, Fuscher Lacke at 7421 ft., is picturesque spot at a small lake. This place offers a panoramic view of the roads. We halted at restaurant just after Fuscher Lacke scenic point. Since it was getting really cold, we had hot noodle soup and enjoyed the scenic views from the restaurant.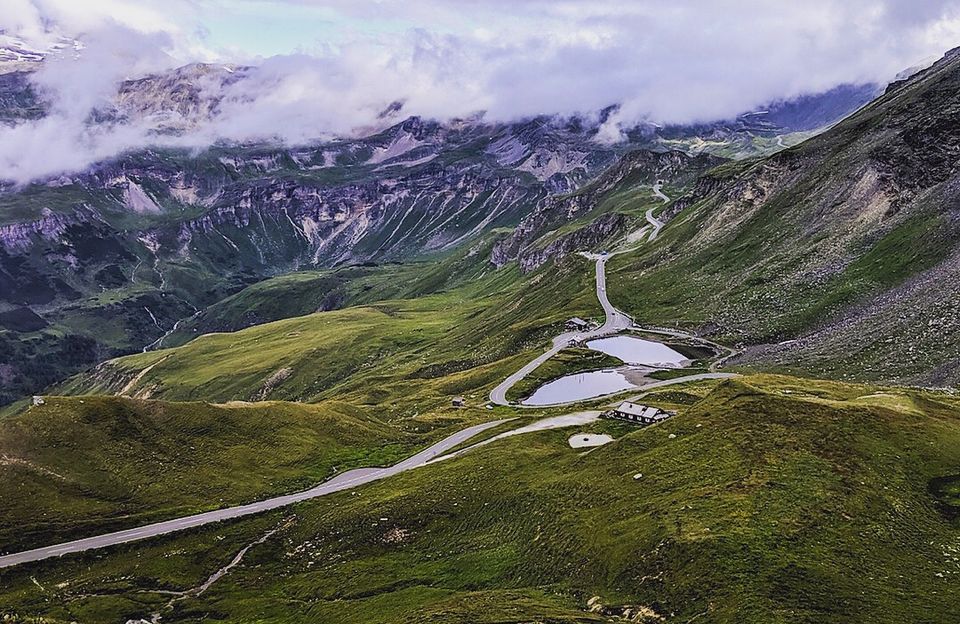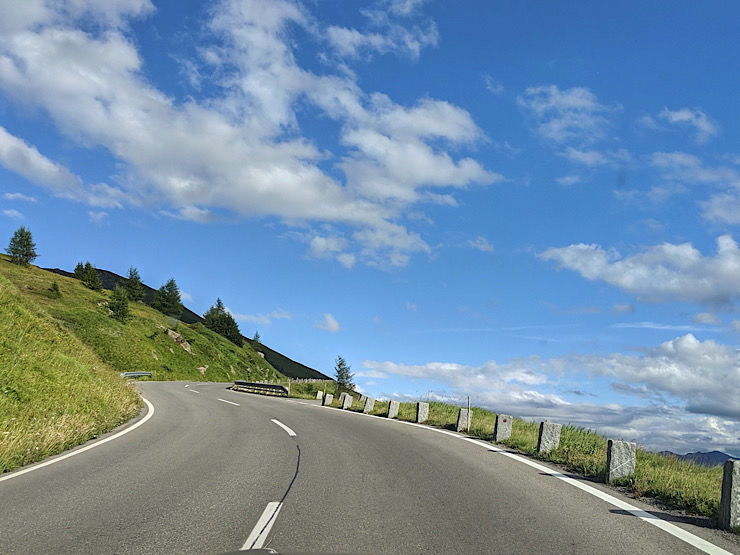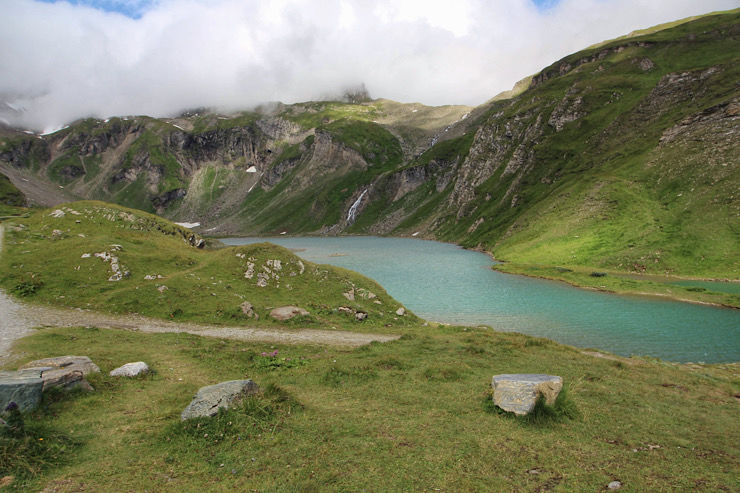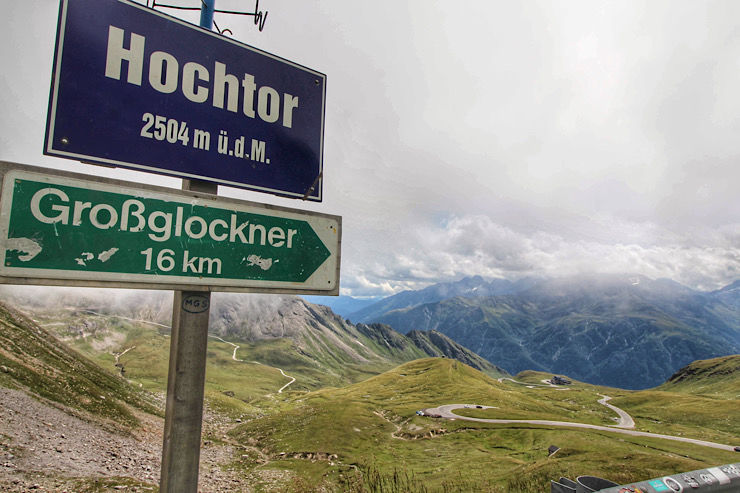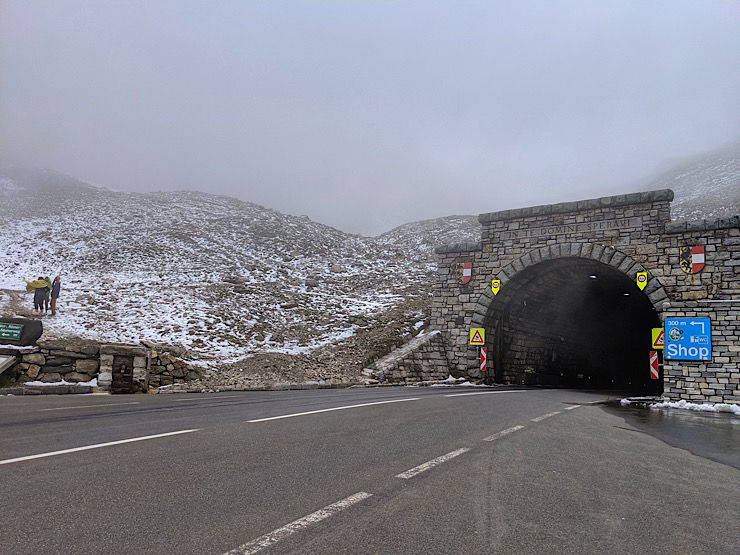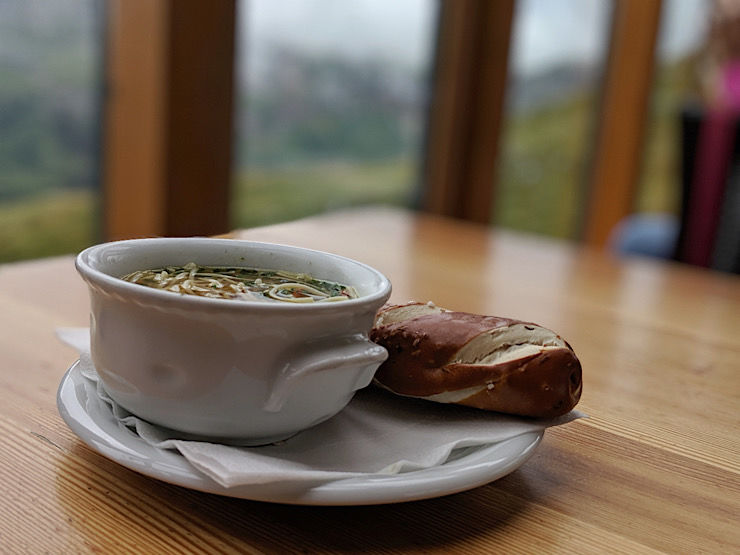 Hochtor, one of our favourite stop (8215 ft.) is the highest point of the Grossglockner High Alpine Road. You can enjoy clicking pictures and play with snow. The final point is a ridge, Kaiser-Franz-Josefs-Höhe (7772 ft.). It is a lookout point with a direct view of the Grossglockner and Pasterze, the longest glacier in the eastern Alps. A free multi-level car parking is also available here. Park your car, and enjoy the scenic views of his majesty, the Grossglockner, Johannisberg and the 8km long Pasterze glacier. The ridge offers you visitors' centre with exhibitions, souvenir shop, Wilhelm Swarovski Beobachtungswarte observation deck. We stayed here for about 1 hour and explored the place.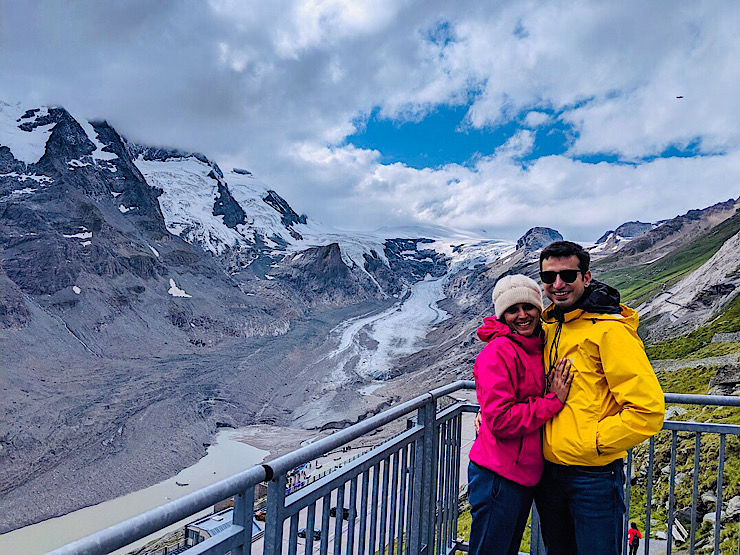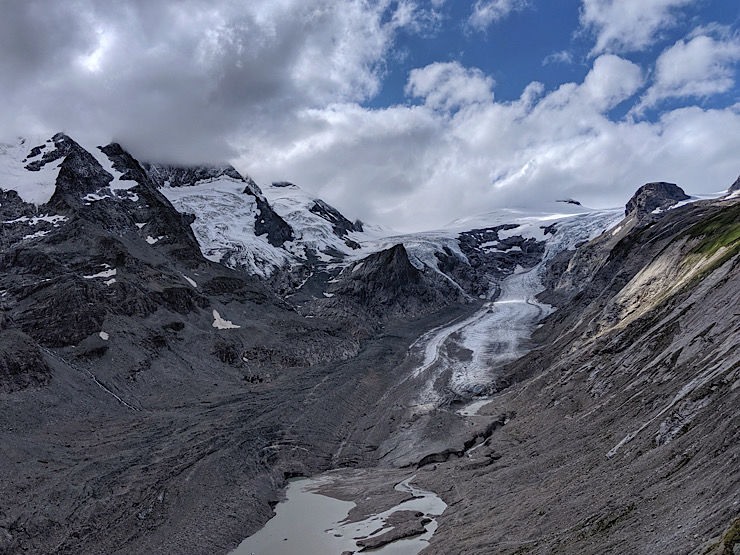 This road has a toll of € 36,50 for one day, but it's totally worth it. Also, most hotels that are located near alpine road, refund this toll charges. In-case you plan to stay here, you can confirm with the hotel.
Tip: buy your ticket before starting your journey at the online ticket shop and receive a 15% discount in all shops of the Grossglockner High Alpine Road!
We then drove to Niedernsill, another beautiful town in Austria. We stayed in Pension Haus Gassner, in the middle of beautiful views. We booked it via airbnb ( https://www.airbnb.co.in/rooms/13876428?source_impression_id=p3_1570366662_7z4kZILtirKU%2BUQO). If you want to stay in country side, enjoy beautiful views, this is the place for you. We wished we had stayed little longer here. The lodge was clean, with nice interiors and serene views from the room. The host is super helpful and friendly. She quitted her corporate job to start her Airbnb/lodge in a beautiful town away from hustle and bustle of city life. I highly recommend staying in this place.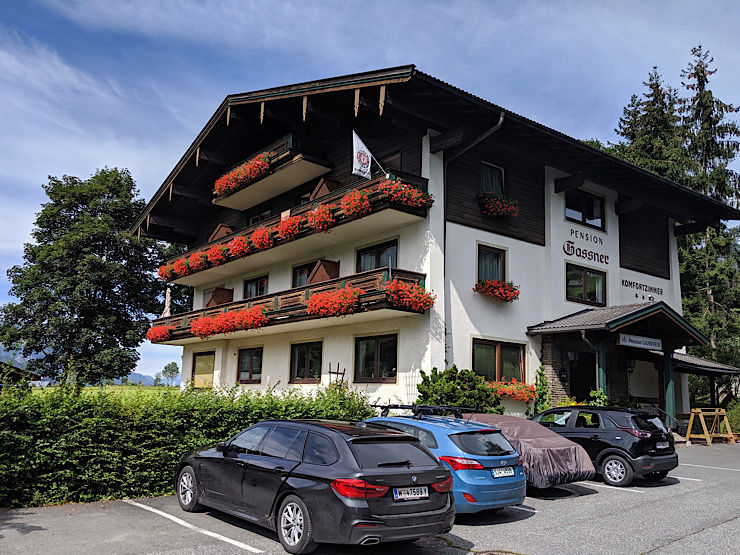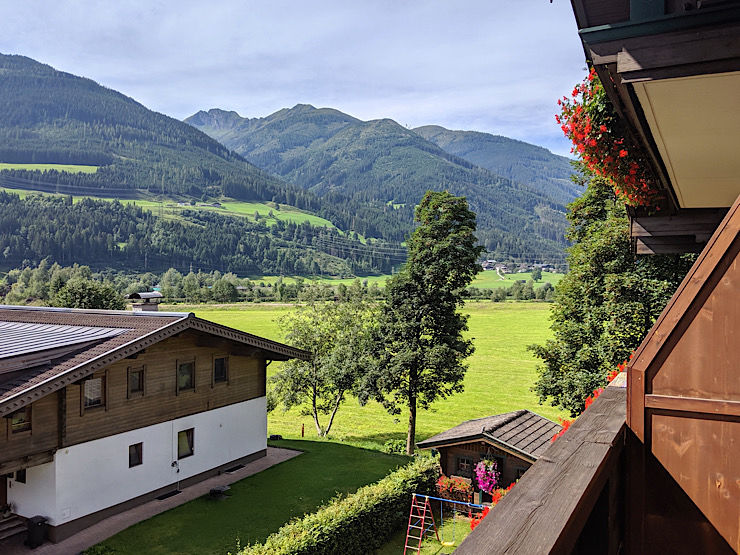 Day 7 Niedernsill and Zell am see
The next day we couldn't wait to wake up and go for a morning walk in the town of Niedernsill. The beauty was breathtaking and the meadows were so soothing. It's a small town, with a lake, and the whole town can be covered in an hour walk. There are options of camping and staying in tents too. We came back and had breakfast which was being served in the restaurant of the lodge. The views from the restaurant are serene and make it a perfect place for breakfast.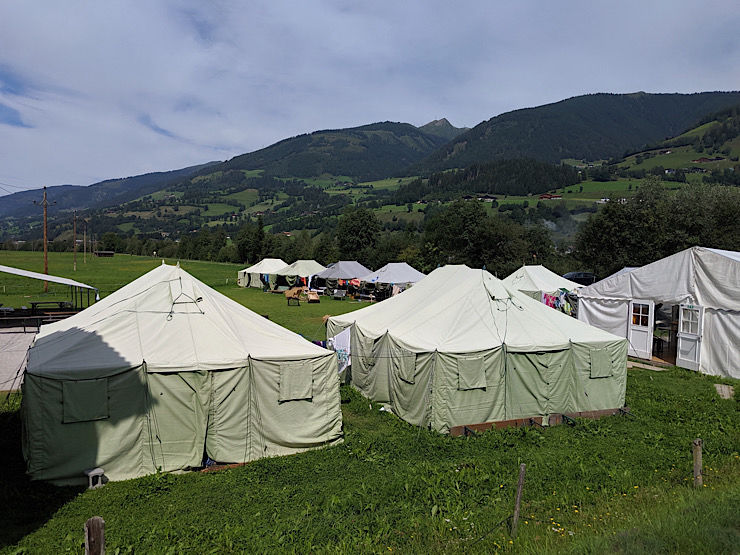 After breakfast, we checked-out and left for Zell am See, another very famous tourist destination of Austria.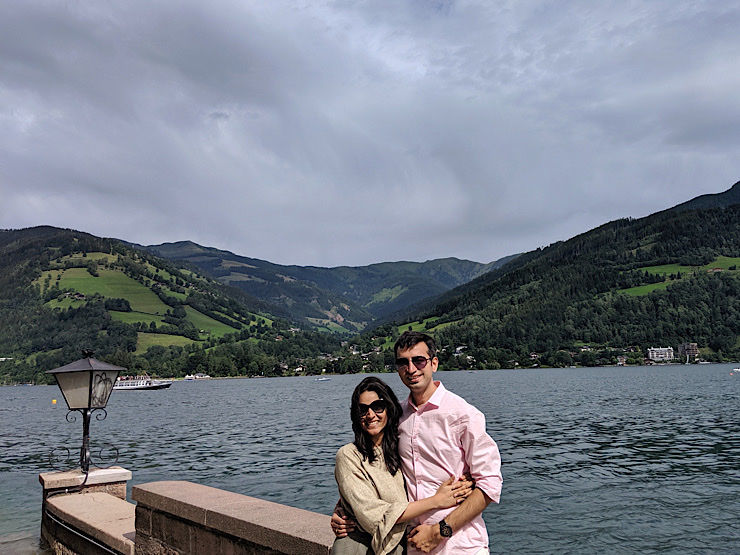 Zell Am See is a small town surrounded with a pretty Alpine Lake, glaciers and snow-covered Alps. In Zell am See, you can walk along the lakeside promenade, cycle around the lake, enjoy coffee at a cafe on the streets. This is a perfect destination for activities as well as to relax. Zell am See is most famous for its winter sports. The mountains around are a magnet for skiers and snowboarders. It is also a much famous tourist place for summers. Best way to enjoy the beauty of the town is by strolling or cycling along the lakeside promenade, which is a 12km circular loop.
After our relaxation time, we had lunch at 'Grüner Baum' restaurant on the street and it was pretty good.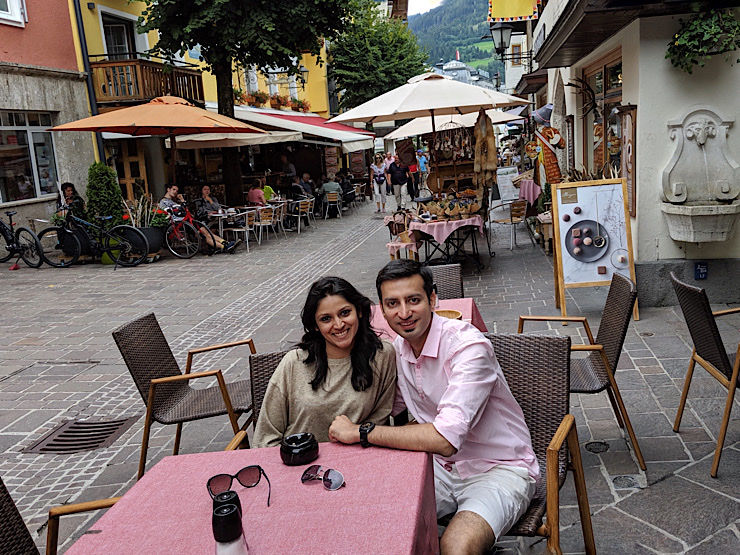 In later afternoon, we left for our final destination Innsbruck. We took the route via Mittersill which offers scenic views. Parking in Innsbruck is again a painful thing. It is expensive and free parking on streets mostly starts from 9pm. We managed to get free night parking on the streets when we reached.
Tip: To enjoy the serenity of the countryside, you can choose to stay in one of these towns Gerlos, Kaiser Mountains, Kufstein, Kaprun, Jochberg.
Day 8: Innsbruck
We decided to return the car today itself, to avoid the hassle of parking and enjoy the feel of travelling in public transport. So, first thing in the morning, we headed to airport and returned the car. From the airport, we took a 24-hour ride pass for two. A tip, if two people are travelling, it is better to buy a 2-adult pass. We boarded bus F and got down at old town.
By this time, we were already in awe of the beauty of Austria. We had a feeling we have seen the best, and nothing could be better than what we have already seen. So, we decided to stroll around the old town and keep a relaxing day .
We started our day with a sumptuous breakfast at Café Munding in the Tirol region. Dating back to 1803, Café Munding is the oldest café of Innsbruck run by the Munding family. The Apple Strudel here was yummy. For a DIY experience, do try its famous hot chocolate which is served in two portions - hot milk in a cup with a giant solid chocolate ball that you simply have to drop in the cup.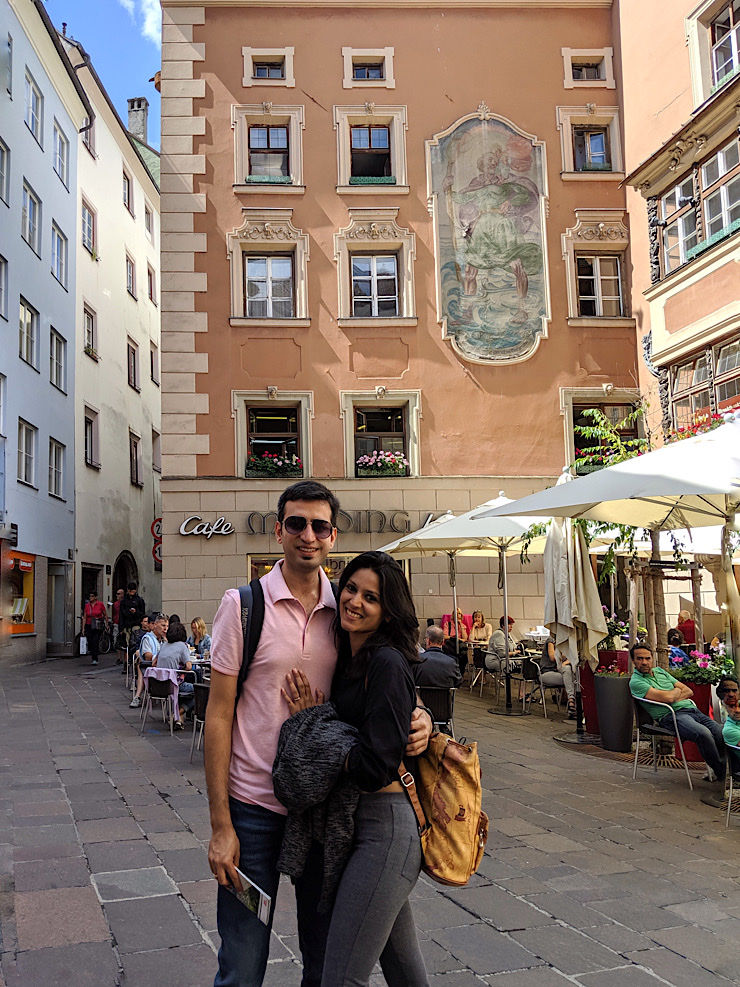 Innsbruck has a charming city center, but it was very crowded probably because it was a long weekend. We visited the golden roof, Museum and strolled in Imperial Gardens. We felt that Imperial Gardens were just okay.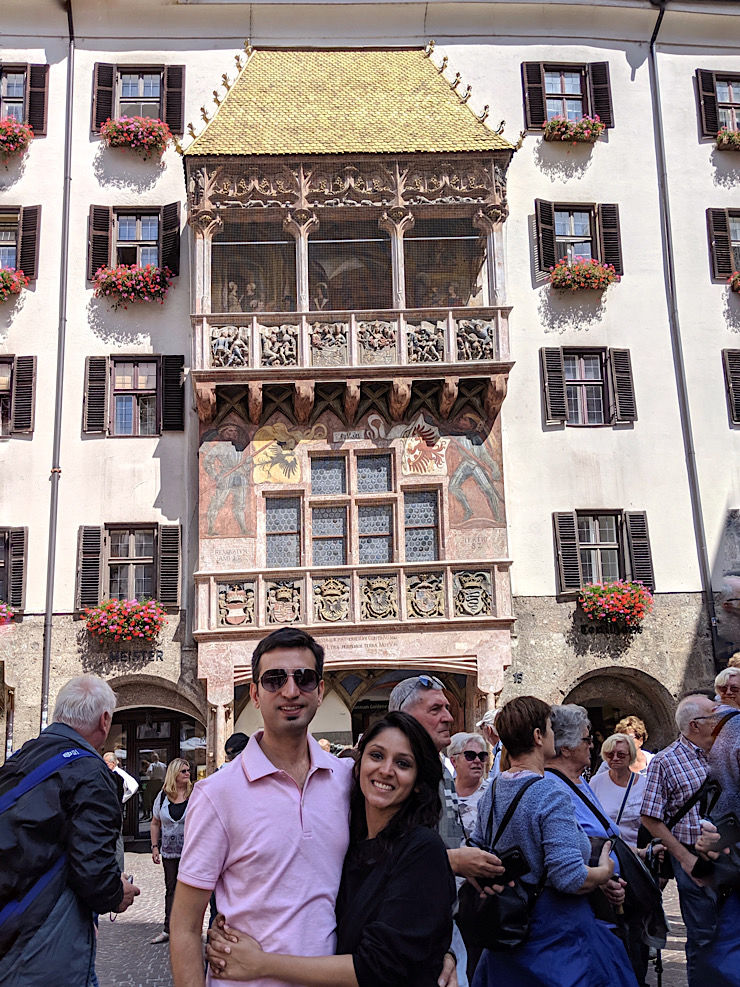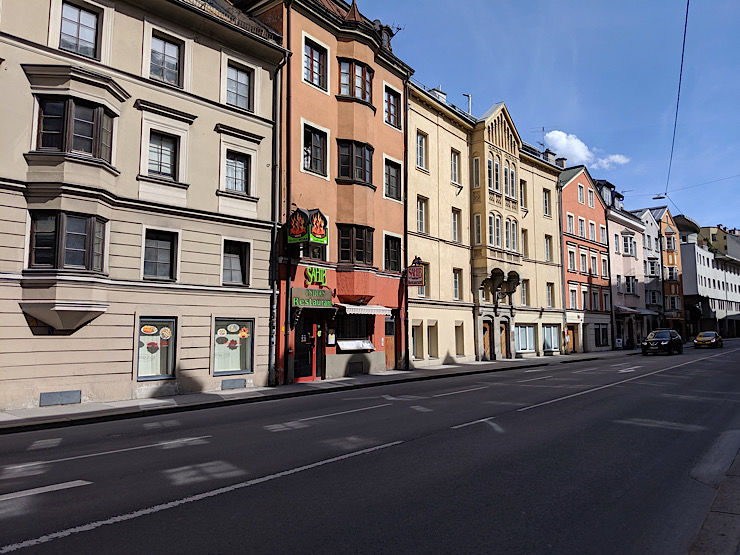 Tip: I highly recommend taking the cable car ride up the Nordkette or take the tram to Igls.
Day 9 : Bye Bye
It was time to say Good Bye. We took bus F to the airport, which was covered under our 24-hour pass.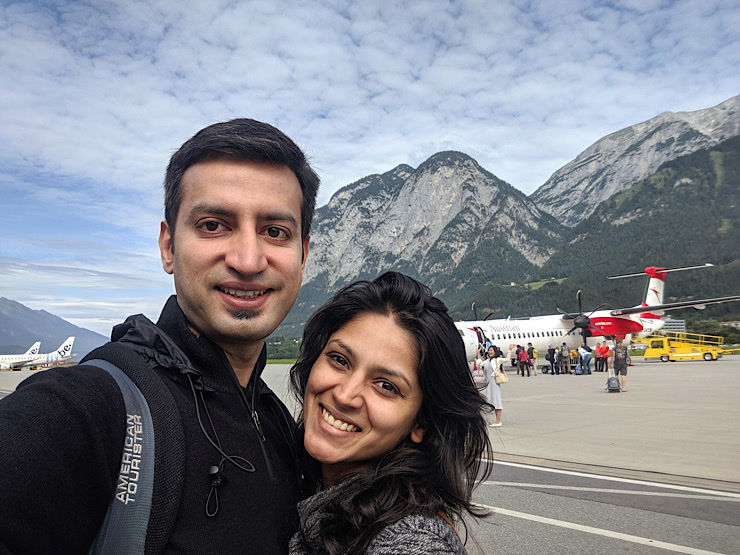 Driving Experience:
To be honest, first day driving was pretty tough for us since our it was our first experience to drive in Europe and do the right-hand drive. But it was all worth. The journey ahead had lot to offer. If you are not from Europe, you need to read through the rules of driving in Austria, and need a good navigator by your side, and a good understanding of all the road-signs. The adrenalin rush and the fear are totally worth it.
We didn't have an International Driving Permit (IDP) which is mandated by most of the rental car providers. Since our license was in English, it was accepted by our travel agency - Bushbinder.
Some interesting points:
1. Austrian highways are NOT FREE. Our rental car company did not charge extra for the toll on the highways (except the High Alpine Road).
2. Road trips on bike are very common in Austria.
3. You will see some of the most luxurious cars in Austria, mostly driven by oldies.
4. Almost every household here has a pet dog. It's a part of their lifestyle.
5. The traffic and driving sense in Austria have won my heart. People STOP when a pedestrian is crossing. People follow lane-driving and maintain the speed limit.
6. I realized the street animals and birds in India are just malnourished. The sparrows, pigeons, cats are big and fluffy in Austria.
7. People here are fitness freaks. They run, jog and stay fit. Families here are passionate about cycling, camping and trekking and that is quite inspiring...
Tips for economical travelling:
1. Carry coins for parking.
2. Many shops and restaurants in tourist places don't accept cards, so make sure you carry enough cash.
3. For economical travelling, we bought fruits and yogurt from grocery store. Landliebe yogurt, was our best find of Austria. We carried a jar of yogurt almost every day, and had it throughout the day as a dessert. It costs like 2 Euros and its damn yummy.
4. It's better to shop from grocery stores like Spar in cities rather than the ones in tourist areas, as they are expensive in tourist areas.
5. If you are Lindt lover, don't miss buying Lindt from Spar. It is much cheaper than in Duty free shops at the airport