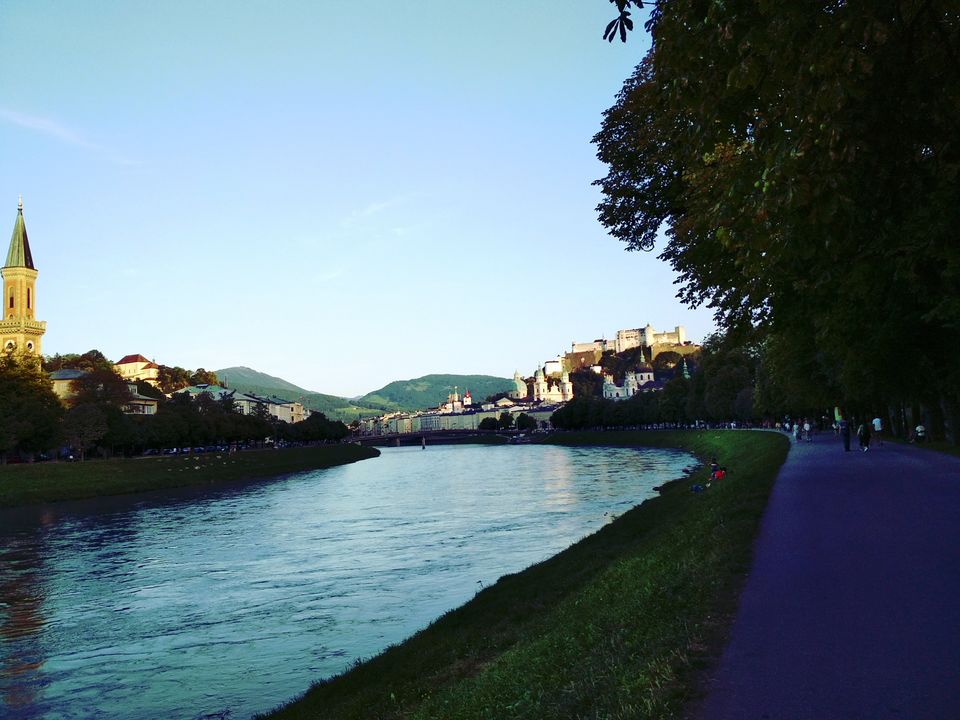 This Travelogue is part of 9-day trip to eastern Europe. This part of the trip was covered after Prague, Vienna and Budapest.
We reached Salzburg at 12 PM from Prague. It was a 6 hours train journey. We had booked our train tickets online 1 month before at http://www.oebb.at/en/ At the metro station itself we bought 24 hours Salzburg card. It is very useful since fares to all kind of modes of transportation within Salzburg plus access to a lot of sightseeing places is either included or discounted along with audio guides with this card.
We had booked our accommodation through Airbnb. Our host resided in Plainbruke, which is at 10 minutes bus ride from main railway station of Salzburg. Google maps will provide information for only regional bus routes and not the local buses. Regional buses provide intercity services. For information on local bus routes, download app Qando Salzburg. Mention your destination. It will auto-detect your current location. Based on this it will provide the whole bus route information. Then you can use Google maps to reach at your departure bus stop.
Day 4:
Post freshening up and lunch we left for Untersberg. It is hill top offering beautiful panoramic views. I will not recommend it incase you have experienced Nordkette Cable Car in Innsbruck or Matterhorn, Mt. Pilatus, Mt Titlis or Jungfrau cable car in Switzerland. They offer far better views plus experience of cable cars than this one. Locals come here for trekking in summers and skiing in winters. Once you are dropped by cable car at the top (which is already at humongous height), one can further trek to highest point. It can take entire day incase you plan to trek. Ticket to cable car is included in Salzburg card. However, to reach Untersberg cable car station, we rode bus 25 from Salzburg hbf, i.e. main bus station of Salzburg.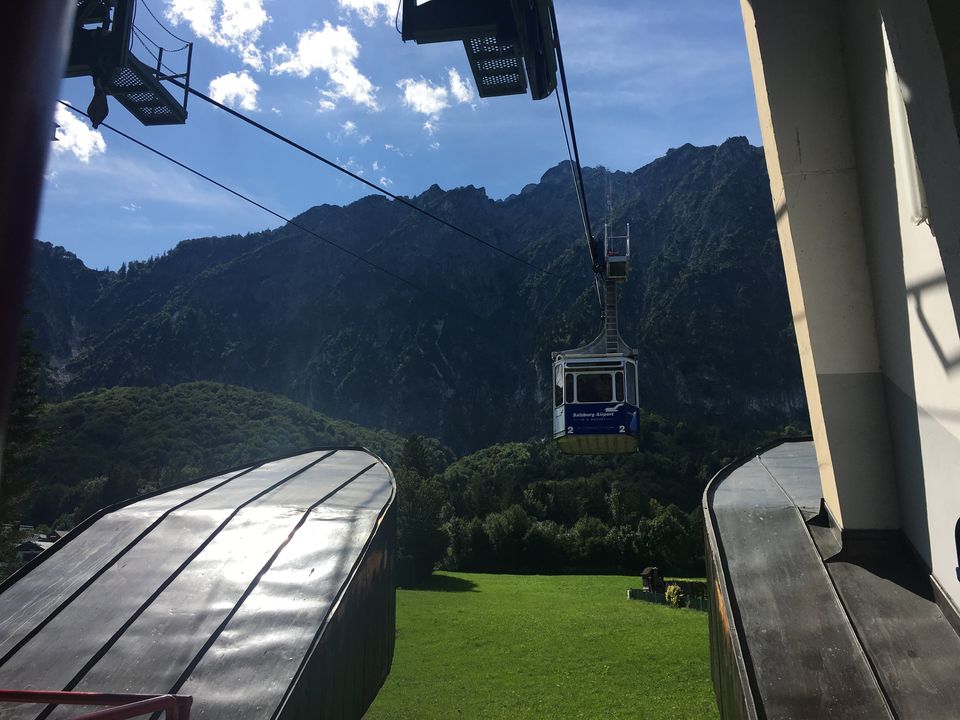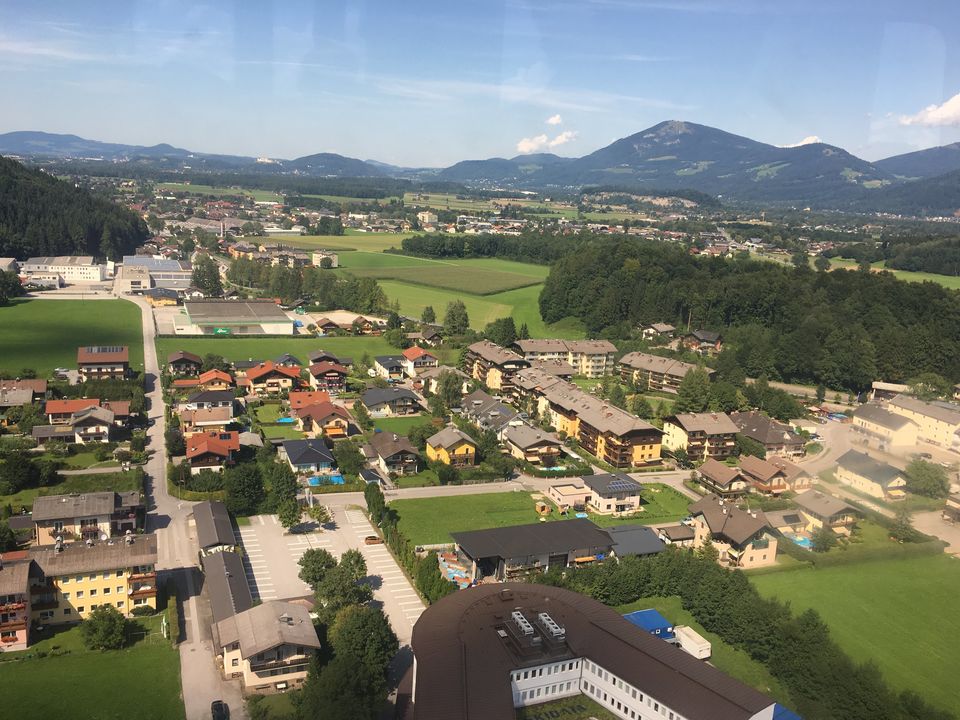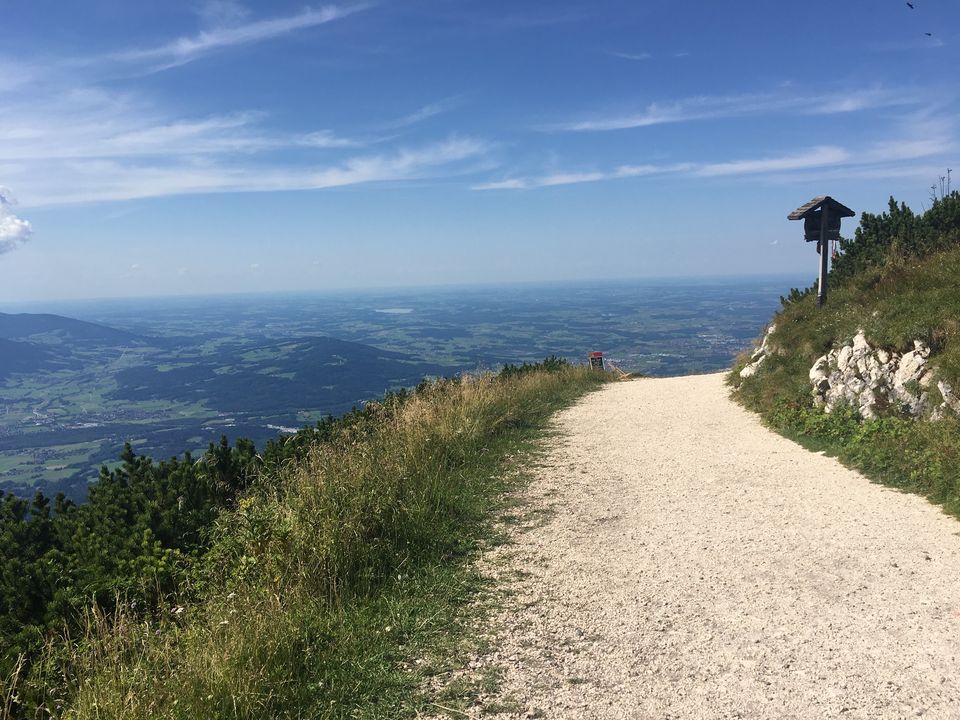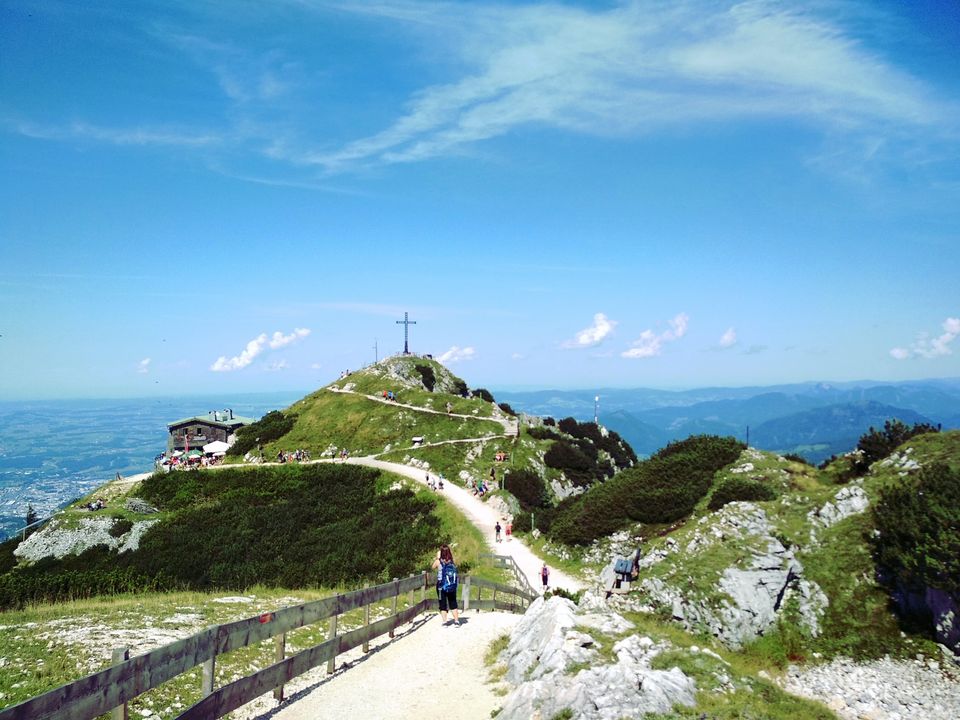 Day 5:
Started our day with Salzburg Fortress (Festung Hohensalzburg). It is located on a mountain top overlooking Salzburg City. To reach here we boarded local bus till Rathaus and walked till Festungbahn. We reached by 9 AM. Fortress can be accessed on foot (a steep trek) or through Funnicular ride. We chose the latter option. Funnicular tickets, entry to Fortress, audio guide are all included with Salzburg card. Fortress is divided into 3 sections, A, B and C. B and C are basically the museums exhibiting an extensive collection of military equipment, clothing, ornaments from over the centuries. The boring part for us! The audio guide is for section A, narrating history of fortress while touring around this section. It also includes the panoramic view of whole Salzburg city and countryside from the tower. That was the most interesting part which cannot be missed at all! You can easily spend 2 hours here! We spent a lot of time roaming around in fortress.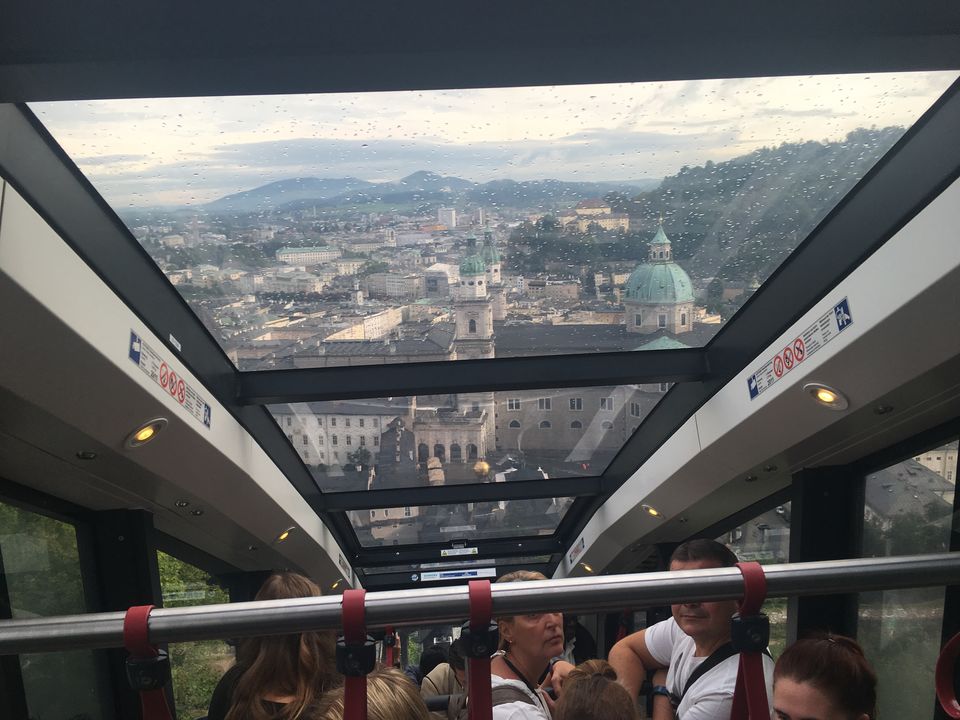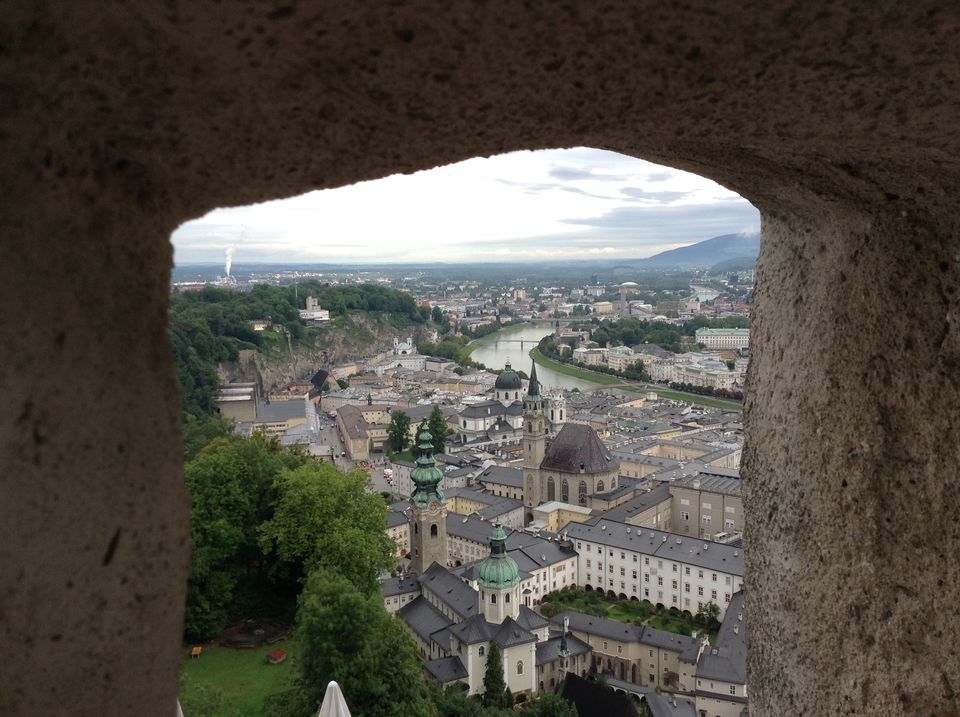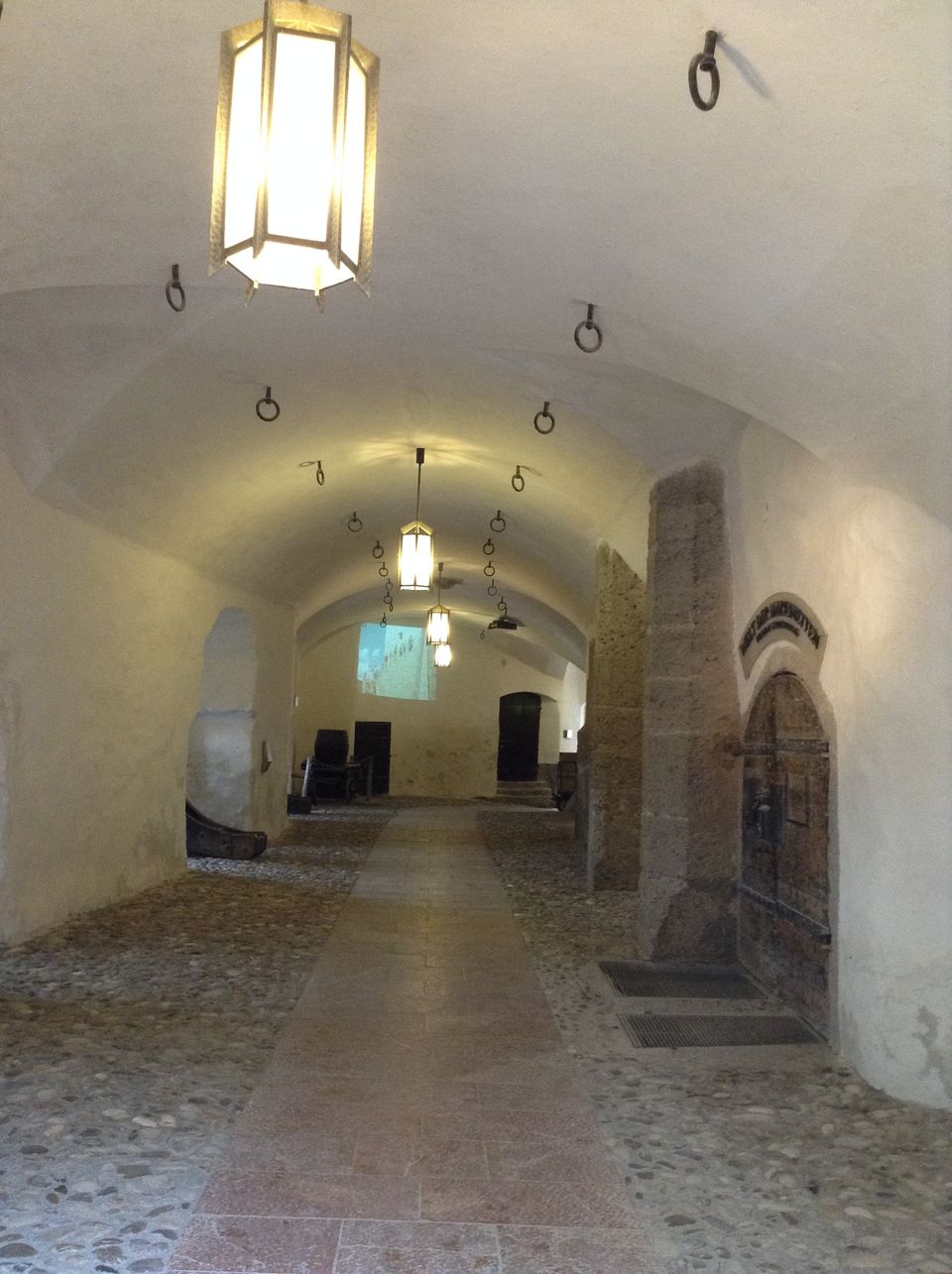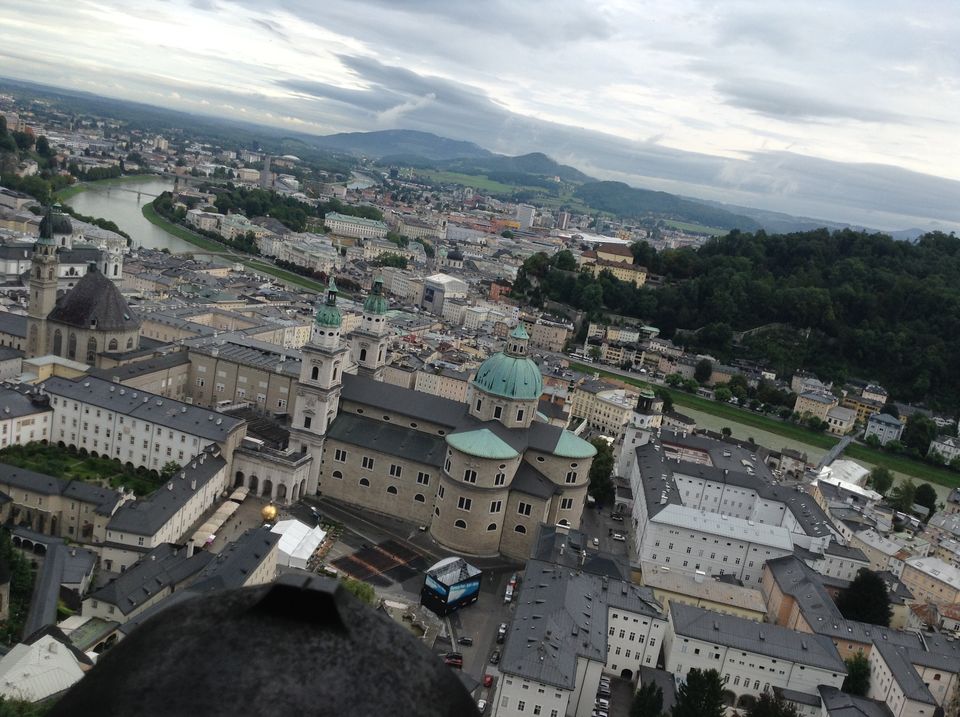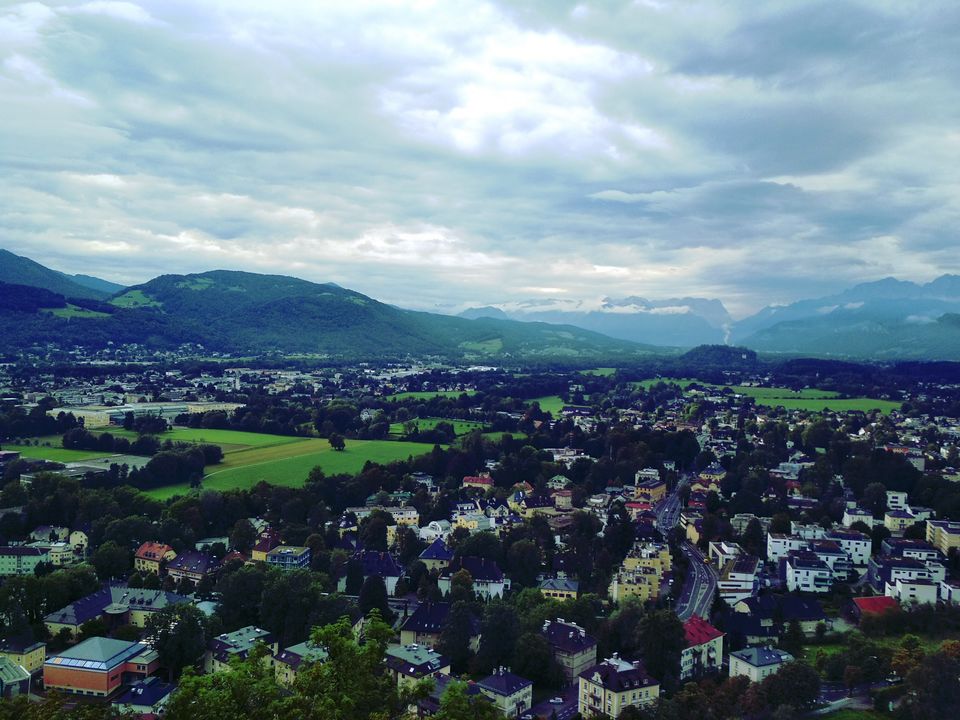 Day 6:
A day trip to Innsbruck was next on our itinerary. We left at 7 AM from Salzburg and it was a 2-hour journey. Tickets were again booked online on OBB app. As soon as you exit from Innsbruck HBF, walk towards Old town crossing Maria-Theresien-Strasse and you will come across tourist information center called 'Innsbruck information'. We bought Innsbruck card for 24 hours from here and inquired about to-dos. Maria-Theresien Strasse is the main shopping avenue of Innsbruck. It is lined with many restaurants, cafes, showrooms like that of Swarovski and pubs like Hard rock café. Part of the street near the old town is a very wide pedestrian-only walkway where you can leisurely stroll, shop or just sit and sip some wine or coffee. It has many old buildings and mighty snow capped mountains in backdrop!
From info point we walked towards Innsbruck Congress, the starting point of Nordkettenbahnen. Tickets included in Innsbruck card. Now, the whole journey to the peak of mountain is basically divided into 3 parts:
1) The 1st part by Funicular ride ends at Hungerburg with 2 halts in between, namely, Löwenhaus and Alpenzoo. Alpenzoo is alpine zoo famous among families with children. We skipped it. After reaching Hungerburg, a short walk across Hermann Buhl Square leads visitors to the cable car station. The location is very picturesque with wooden houses located amongst green meadows of the mountain.
2) The 2nd part of the trip by cable car ends at Seegrube. There is a lovely restaurant here having sitting arrangement both inside and outside. It provides stunning views of valley below and the mountains around. While you are travelling in cable car, you can see many trekkers below, hiking all the way up to the summit.
3) The 3rd part is again a cable car ride ending at Hafelekar. Enjoy the spectacular valley views on one side and totally deserted mountains without any sign of vegetation on another. You can still hike to Karwendel Nature Park and Bergsohne Innsbruck cross from here. But we just chose to spend some time here, relaxing amidst nature! This whole trip will take approx. 2.5-3 hours. Incase, you plan to trek or visit zoo then may be the entire day.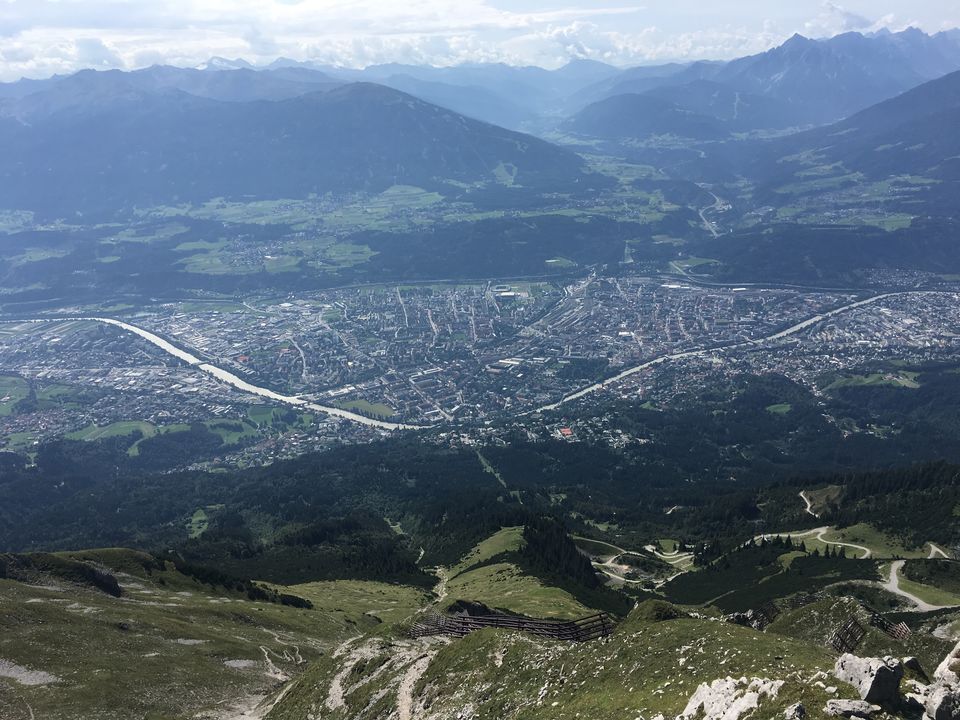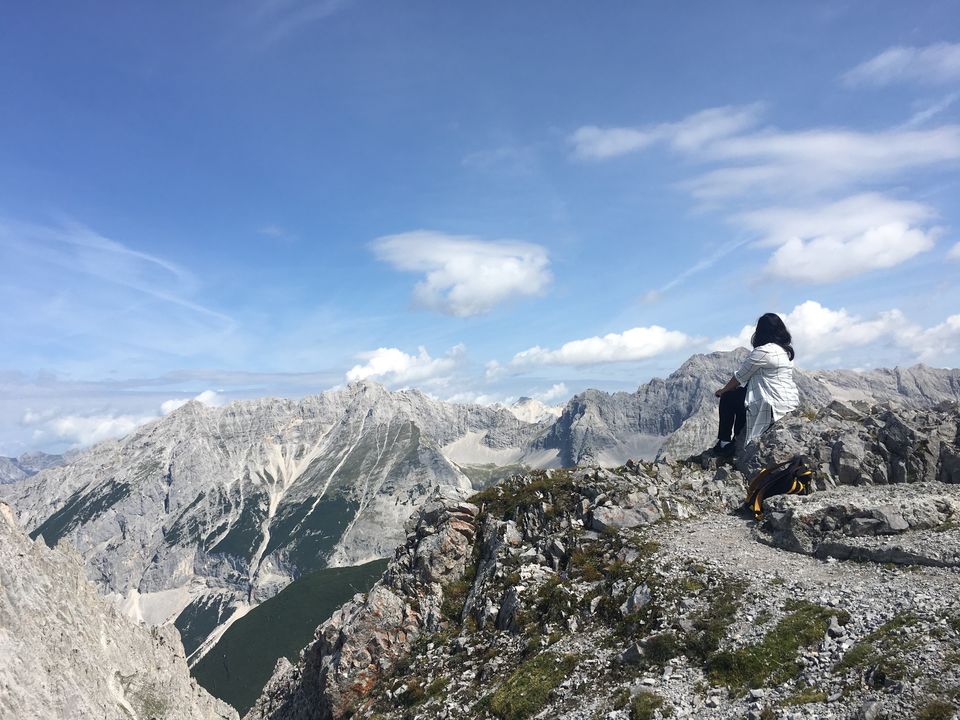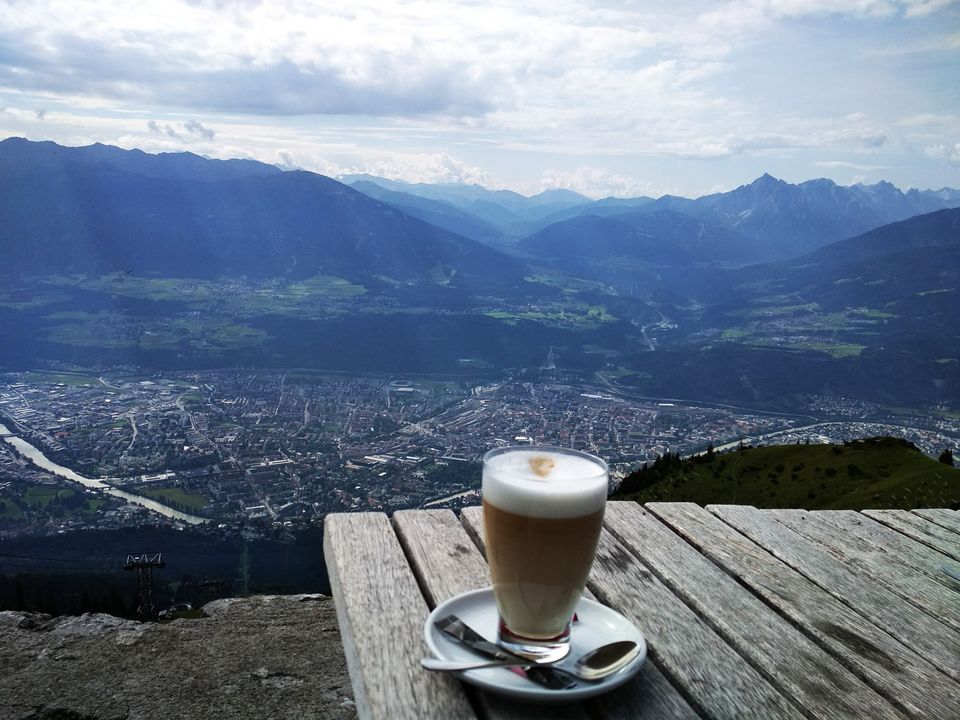 It was time to say goodbye to Salzburg and travel to most significant Austrian city, Vienna. Had booked our train tickets in advance through OBB app.
Recommendations:
1. Dedicate atleast entire 2 days to Salzburg alone to cover major attractions of the city peacefully, enjoy some music concert and soak in the beauty of this small European alpine town. Similarly, 1 full day is required to enjoy Hallstatt, summer luge rides and Ice caves.
2. If possible and suits your budget then stay at Wolfgangsee. It is located mid-way from both Salzburg and Hallsttat. This place is absolutely scenic and worth staying at.
3. Do not forget to stroll around padlock (lovelock) bridge of Salzburg in evening and night. Everything is lit up and you will witness some enthralling views of river, fortress, old town, greenery and mountains in background!
4. Tyrolean Folk performance with the Gundolf Family is must-do in Innsbruck. It happens only on specific days and in evenings. You can book them in advance at Viator. We couldn't do it since we were on a day trip to Innsbruck and had a train to catch in evening.
5. If going to Salzburg and Innsbruck both, then shop for souvenirs at latter since it will be cheaper with more variety
6. Must try delicacies - Schnapps, Schnitzel and strudel
On our way back, while on the same bus route, we halted at Schloss (Castle) Hellbrunn. Access to this castle is included in Salzburg Card along with audio guide. It also included guided tour to Trick Fountains. When you receive your tickets from reception, timings for your guided tour to trick fountain will be mentioned on its back side. Do not miss this tour at any cost. It is the USP of this place. Well, palace is just like any other museum. Go for it only if you are a history buff!!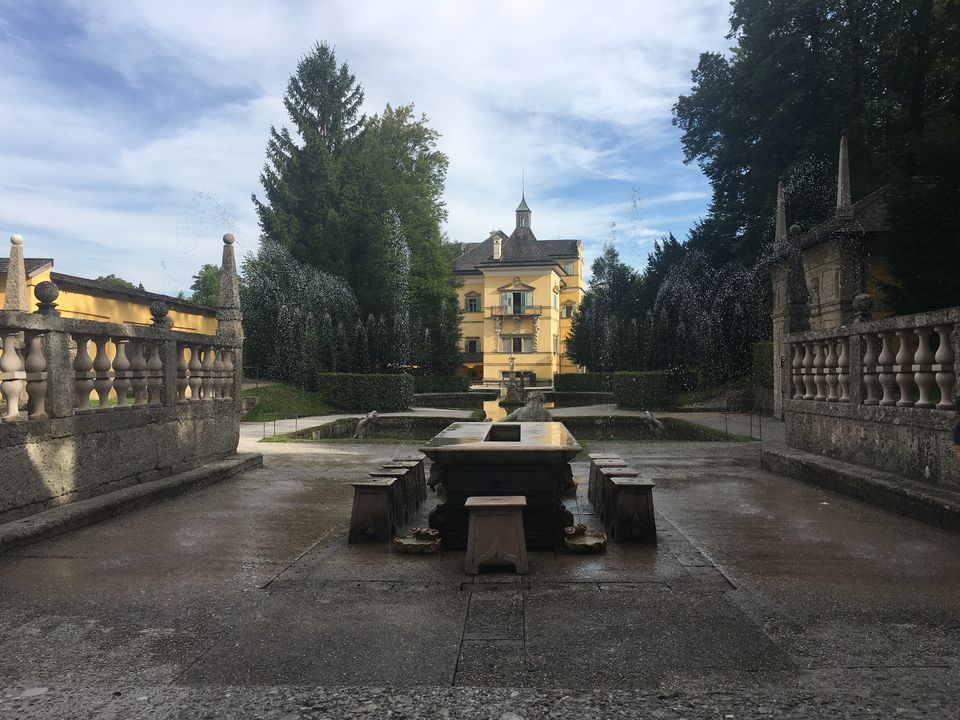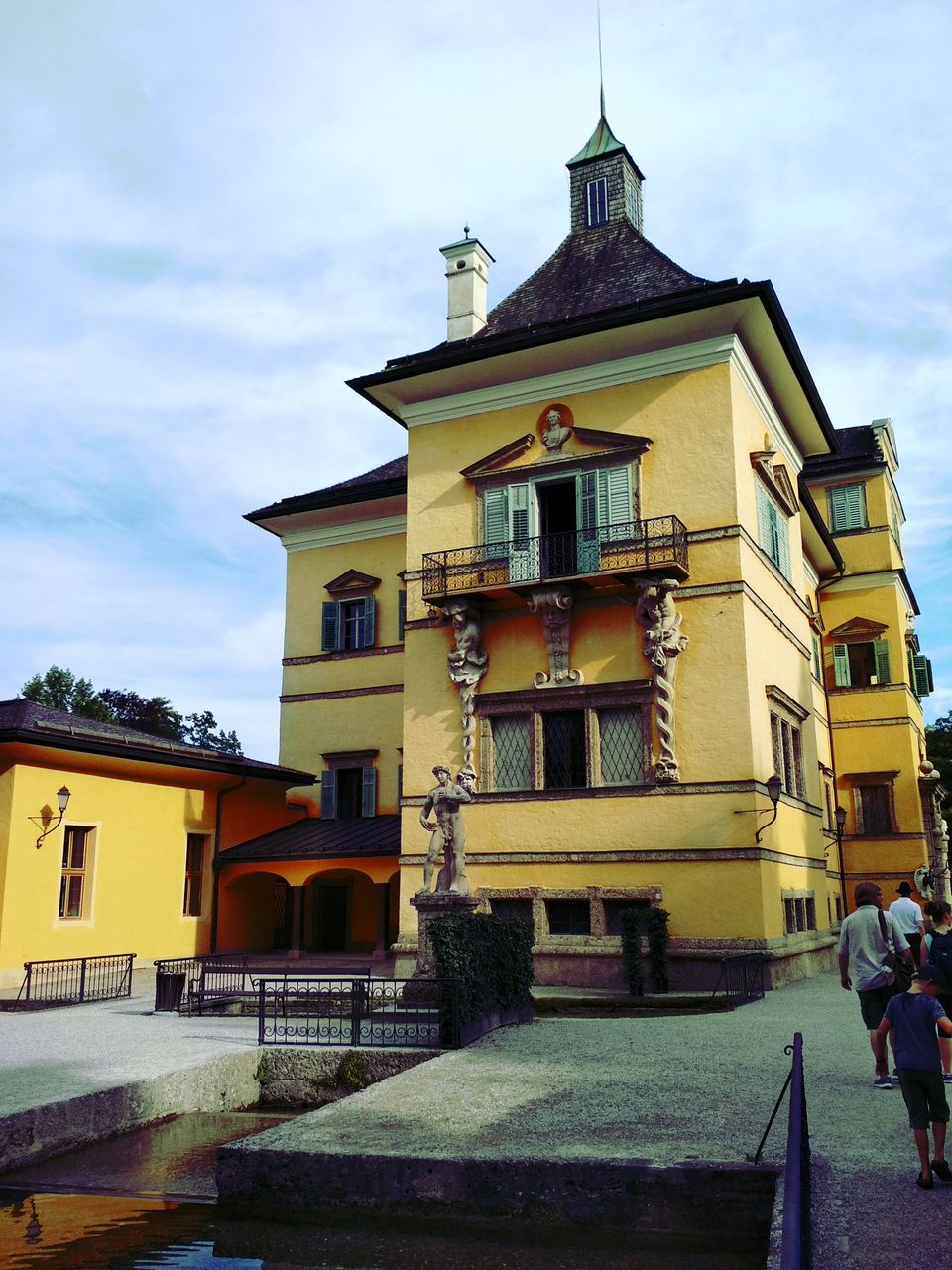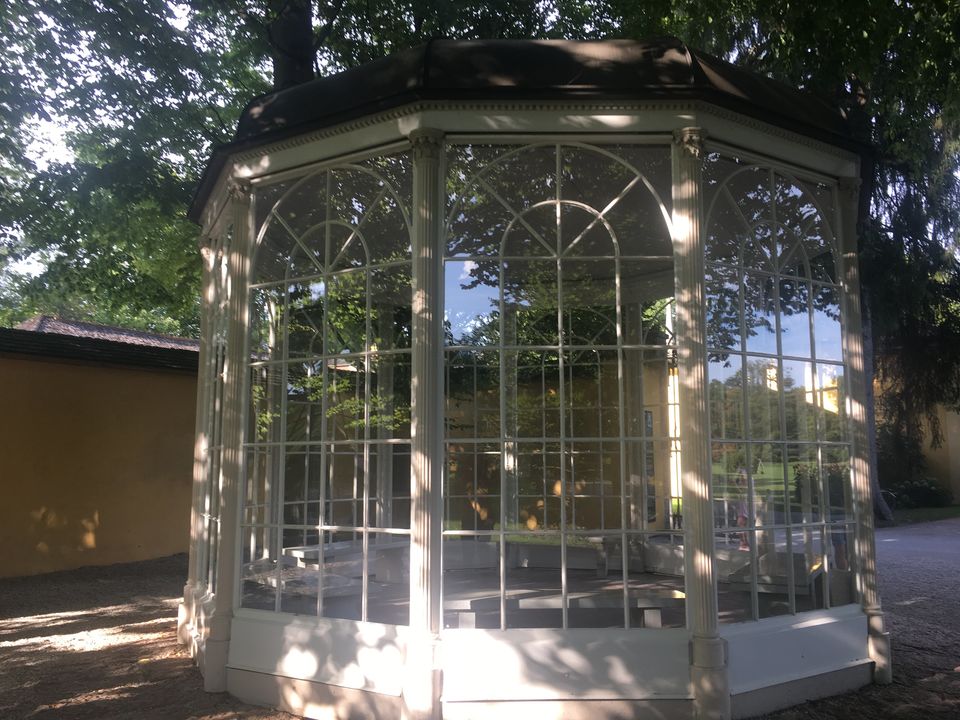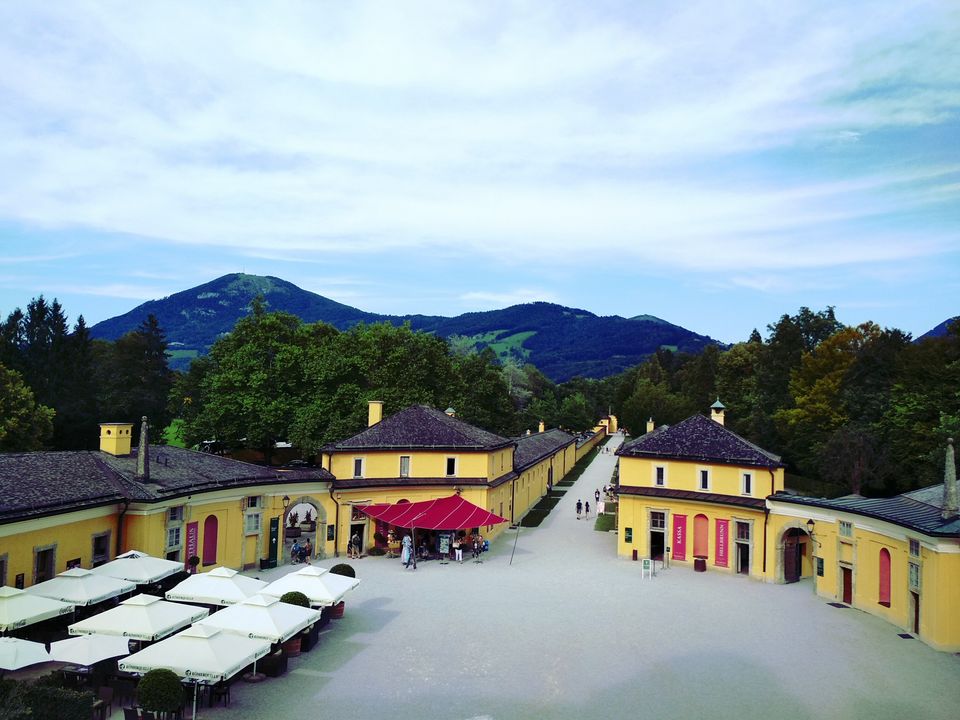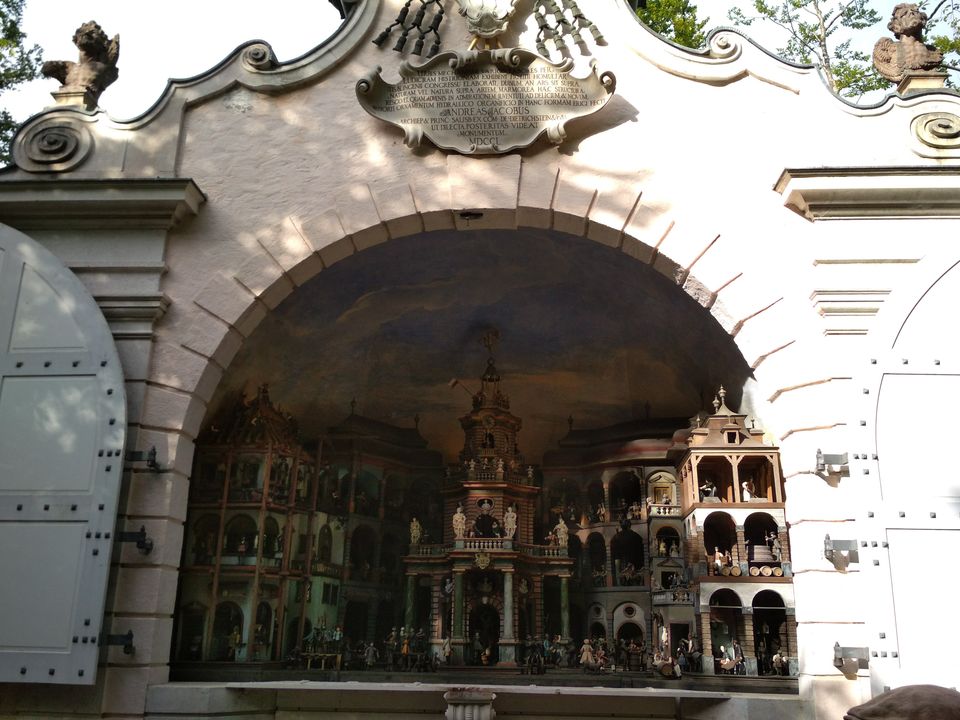 The guide will play various kind of funny fountain tricks with you in the gardens! It displays fascinating types of fountains and toys which have been in place since years. It is quite well maintained. Also, there is gazebo from The Sound of Music which provide a great photo opportunity for this movie fans!!
Our next stop was Mirabell Gardens. Continue the same bus 25 and get down at Mirabelplatz. Mirabell Palace houses some government offices now and is closed for visitors. However, it hosts some music concerts which can be pre-booked at http://www.salzburg-palace-concerts.com/. Well, the gardens are absolutely stunning. So many kinds of colorful flowers. Many scenes of 'Sound of Music' movie have been shot here.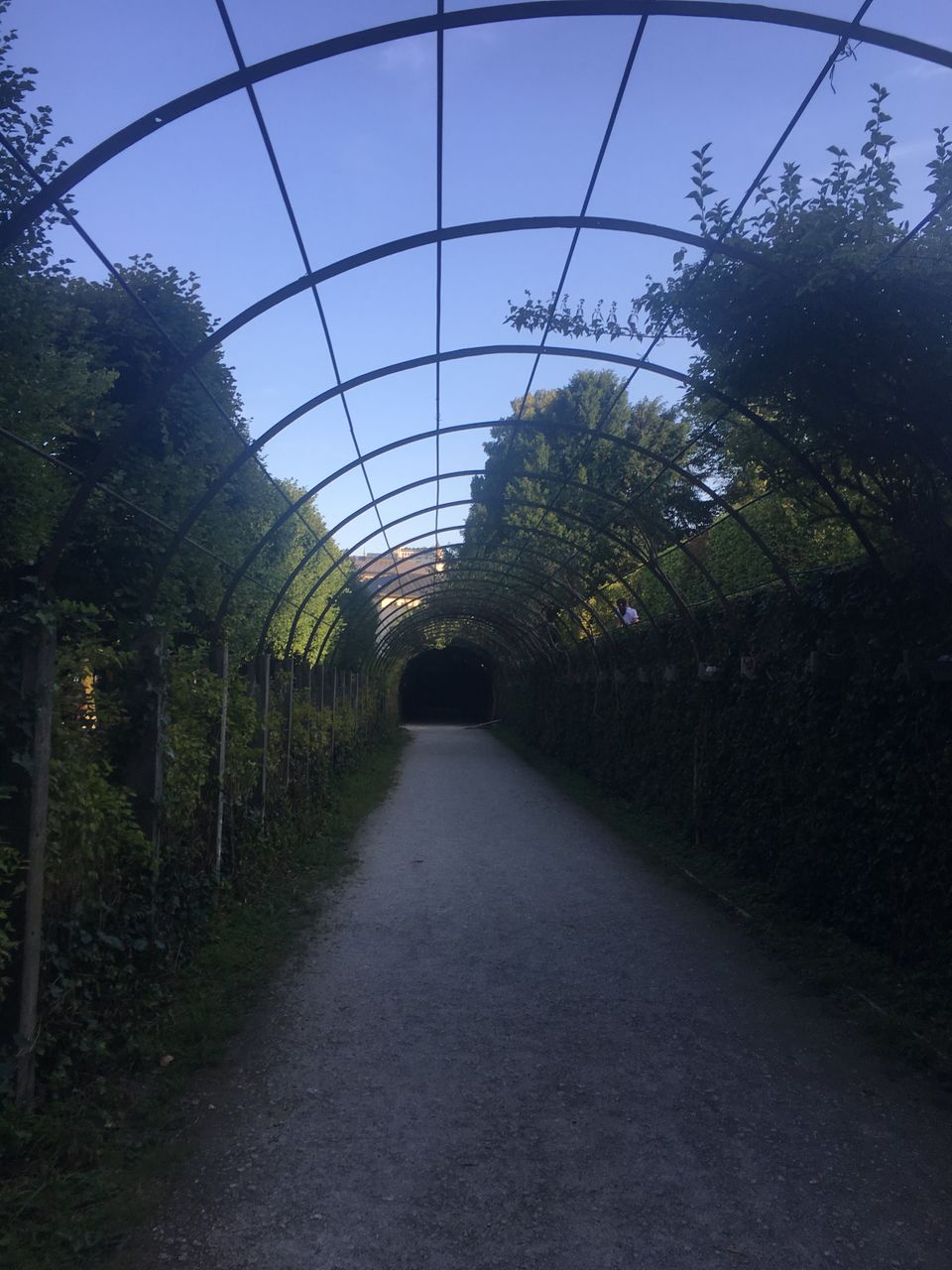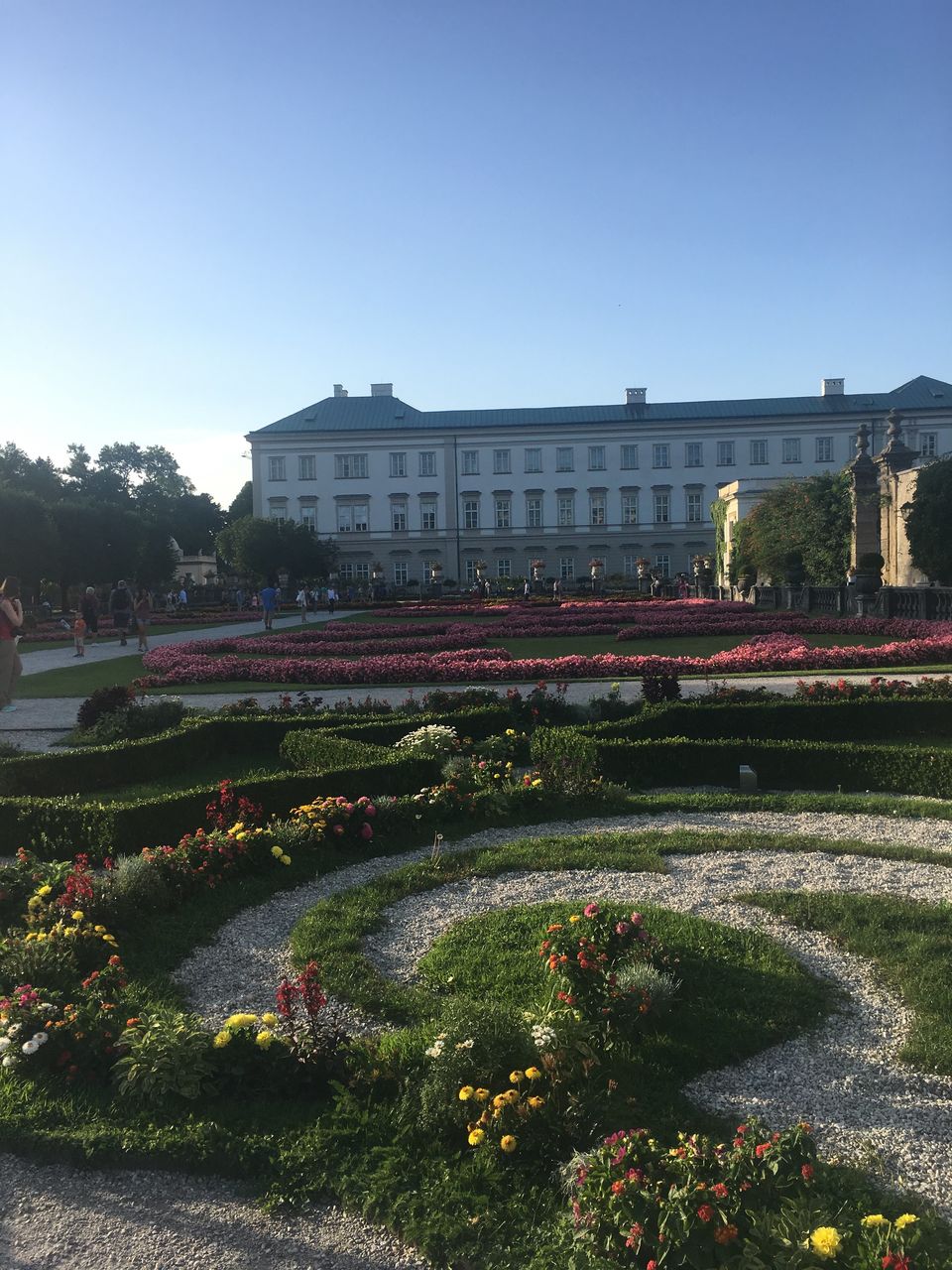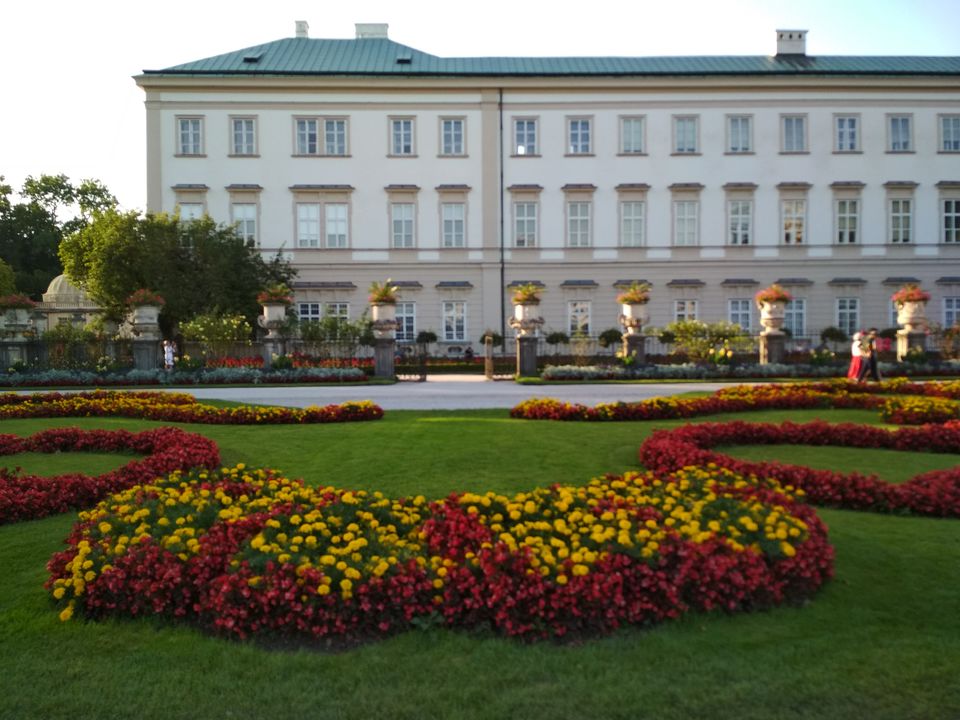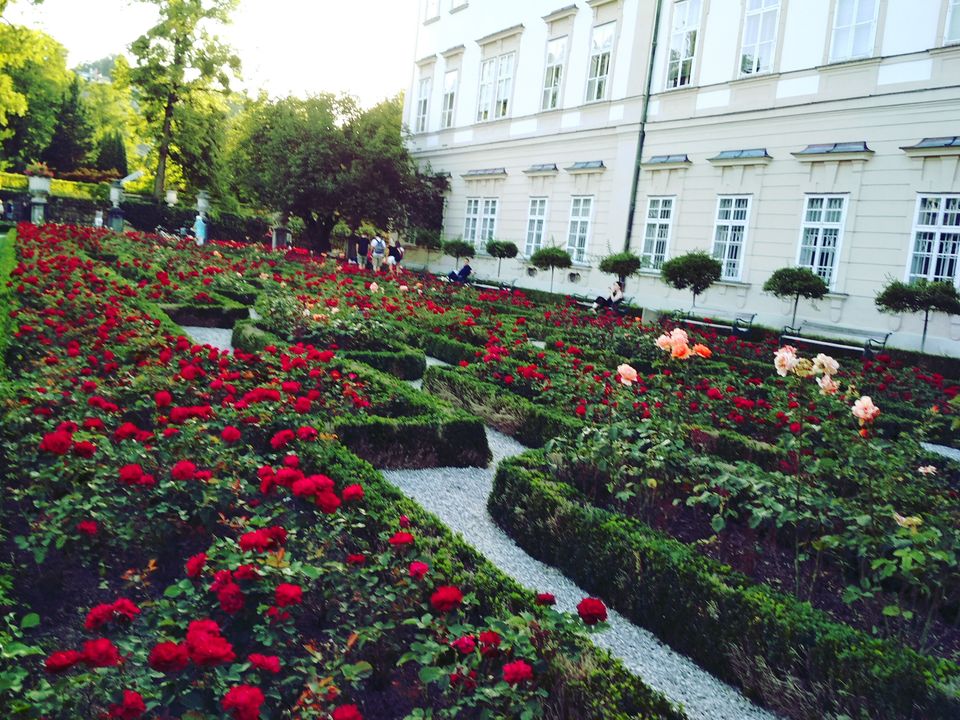 From here we straight away went for Dinner at Spaghetti and Co. located in Getreidgasse. Delicious food at very reasonable prices. Do not forget to try Radler beer here. It is basically local beer mixed with soda and comes in various flavours. Though we tried in lemon. Getreidgasse is the main pedestrian shopping avenue present in Rathaus (Old town Square). It has showrooms of some of the major international brands plus some famous restaurants and food chains. The unique signage hanging over provides medieval touch to this street and worth visiting.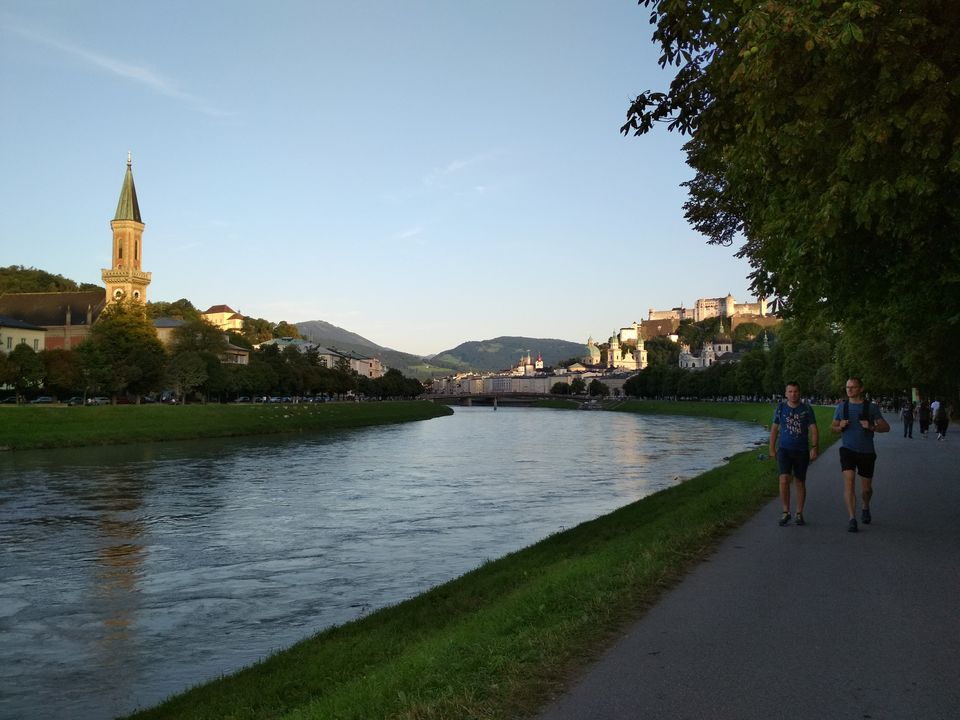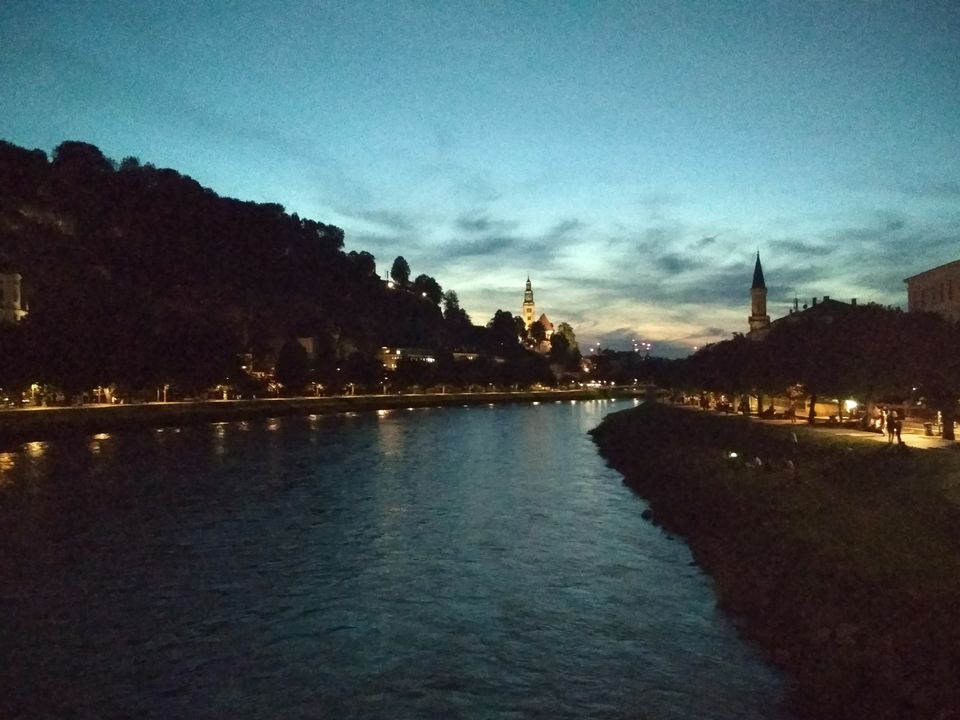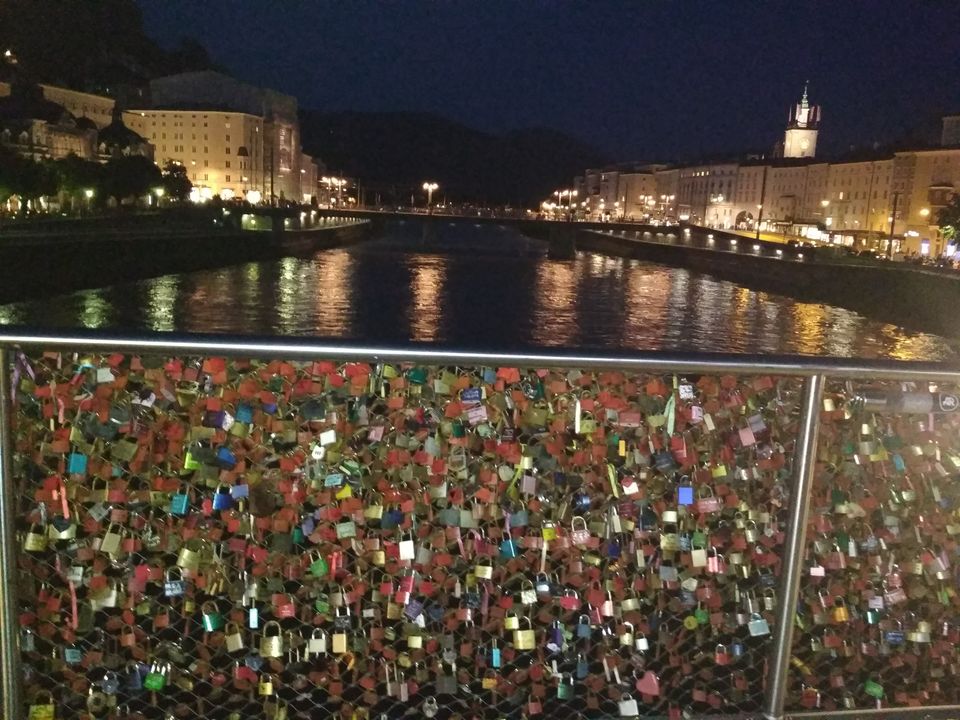 As soon as we got down, we wander around the square which is simply beautiful. There is a flea market where you'll get freshly baked breakfast breads like pretzels, souvenirs like fridge magnets, wooden cuckoo clocks, woolen caps, etc.
Post this we went to Domquartier. It is basically a complex which comprises of museums, art galleries, Salzburg Cathedral (Dom), state rooms and a terrace which offers panoramic views of the beautiful squares around. Access to this complex along with audio guide is included in Salzburg card. From Domquartier you get access to upper floor of cathedral (Dom). You can visit Dom separately from ground floor as well through its main entry gate and visitors have free access to the church from here but I recommend visiting it though Domquartier as you get to witness the stunning architecture of church from above. It is actually a round tour, starting from state rooms which are richly decorated and a must see, then art galleries (becomes boring after a point), followed by terrace with splendid panorama of the squares, continued to upper floor of Salzburg Dom (it's a huge stupendously beautiful cathedral) somewhere near the organ, then you see the Saint Peter Abbey Treasure and collections after collections, curiosities and finish in the same point where you started. It will take 2-3 hours to cover everything. Well, we covered only state rooms, art galleries and Dom in an hour!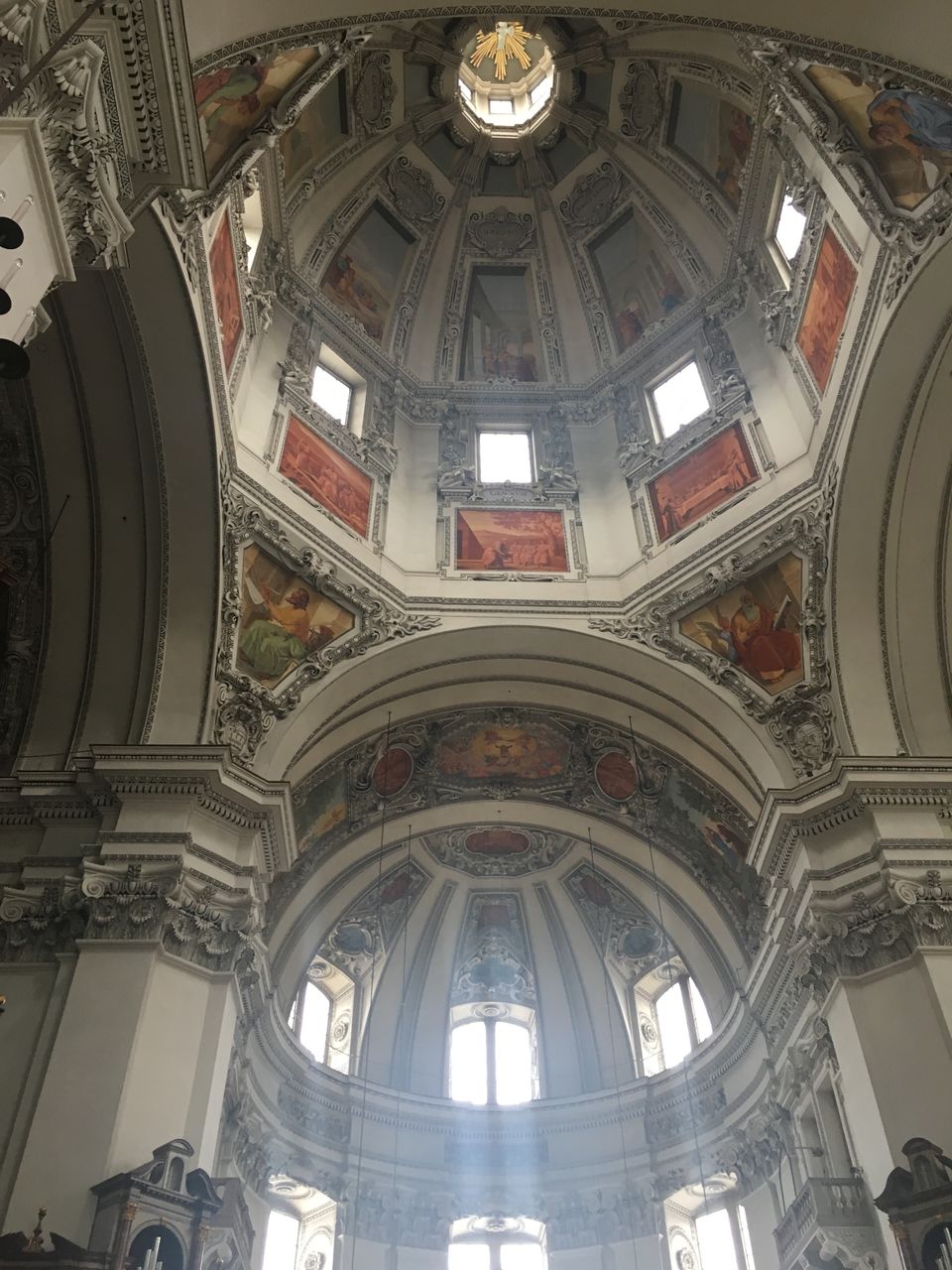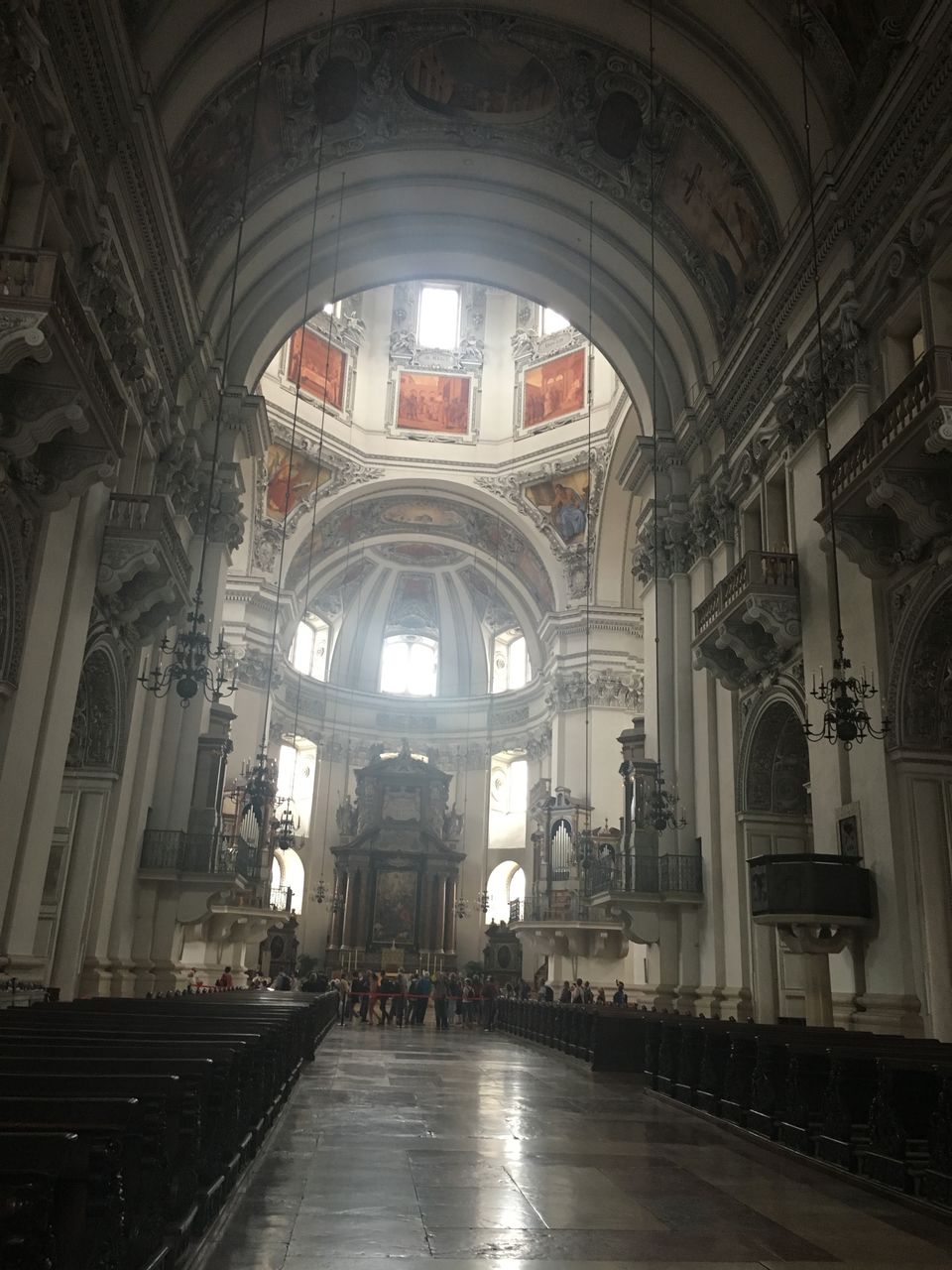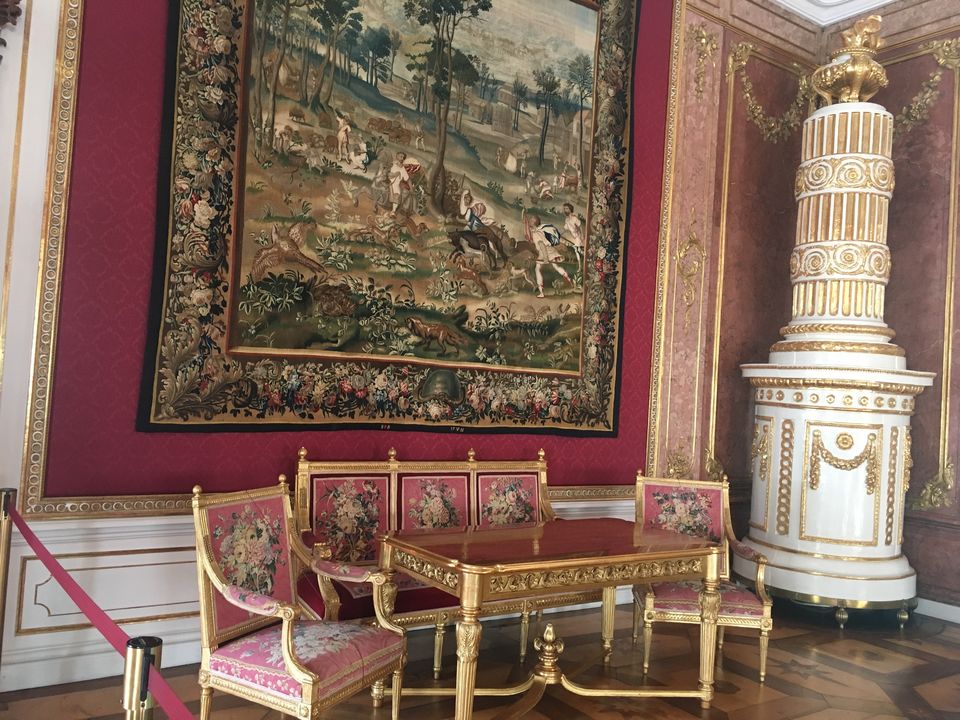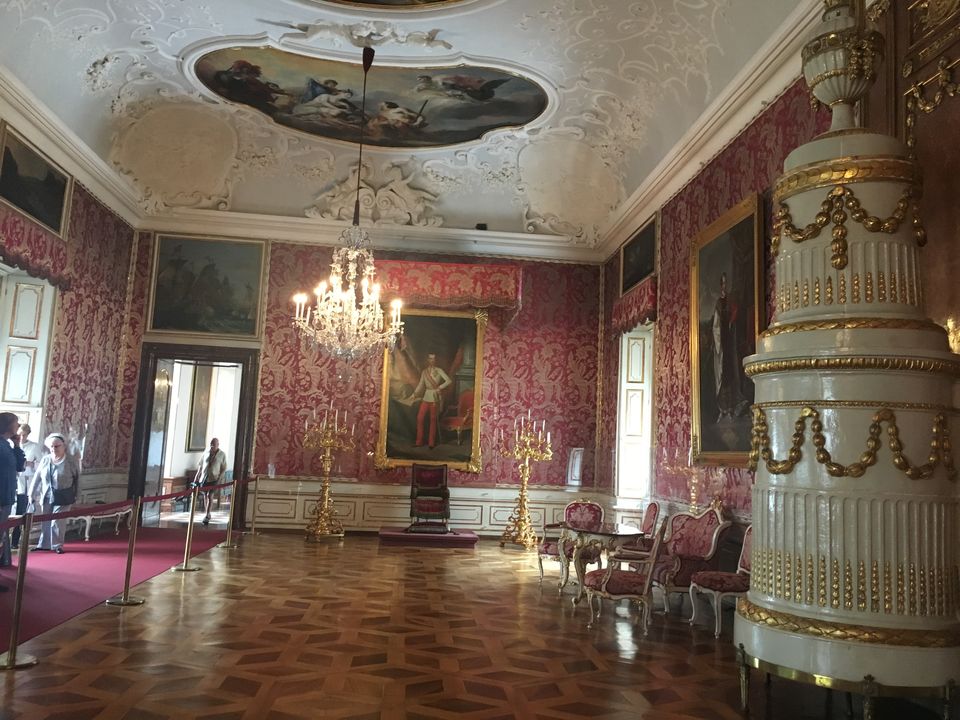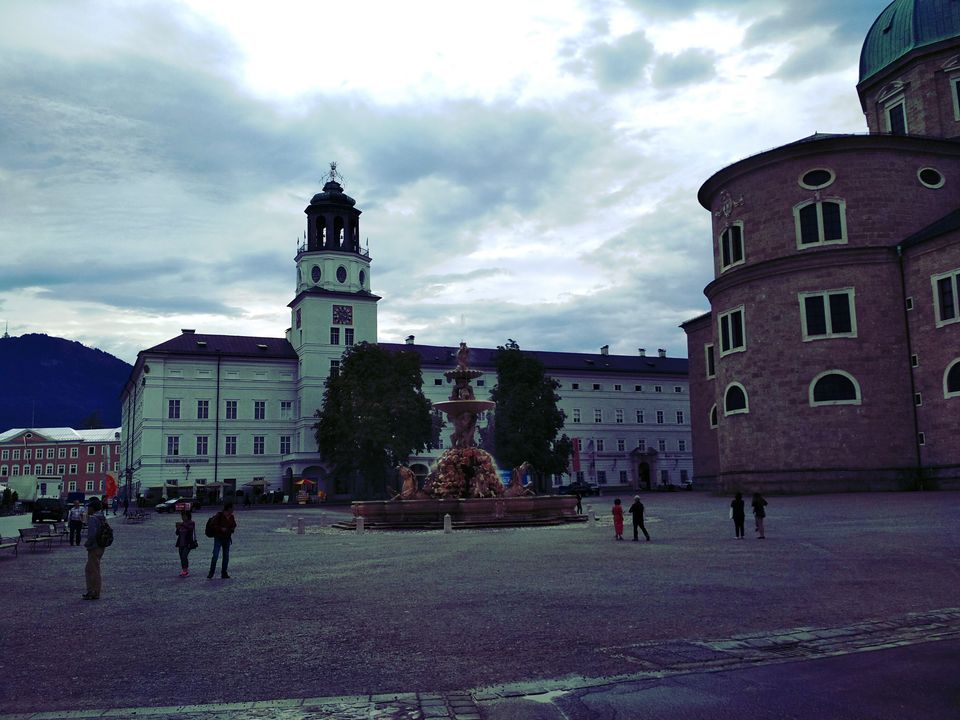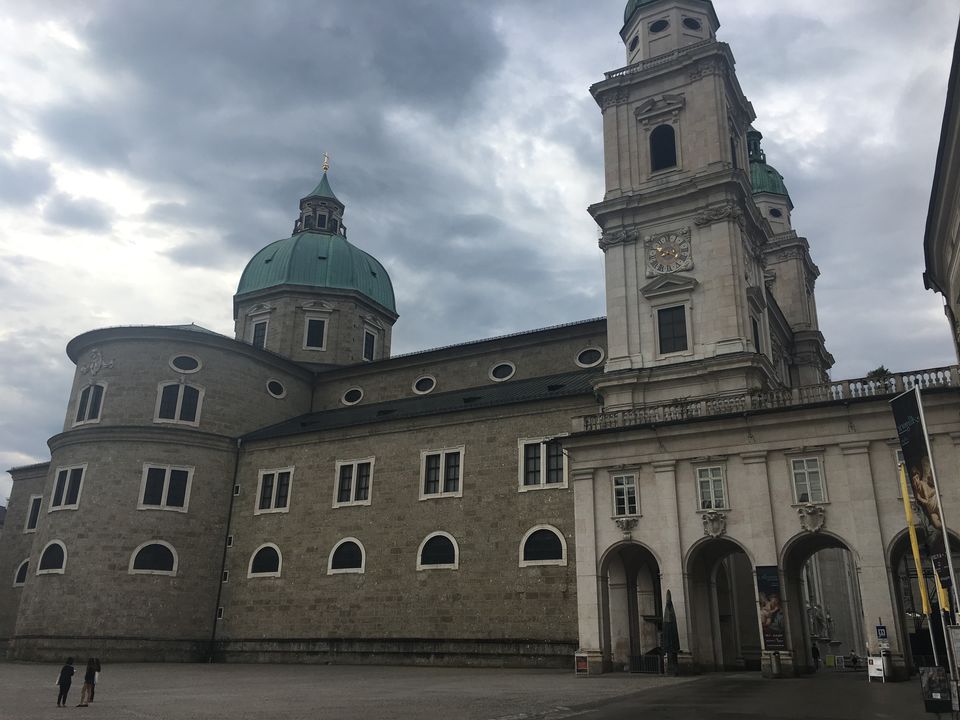 Soon after this we left for Summer luge rides at Strobl. You can find more details about them at http://www.rodelbahnen.at/sommerrodeln/Article/ID/3/Session/1-F5beNum6-0-IP/Strobl.htm. There is another summer luge ride run by same company at Fuschl am See which is closer to Salzburg. But this one is for shorter distance. Both are just off the road. The one in Strobl is near Wolfgangsee lake and is about twice as long, more scenic, with picturesque lake views. That's why we went for latter one on our way to Hallstatt.
To reach here, we took regional bus 150 with destination strobl-bad ischl from Mirabelplatz bus stop. We booked tickets on OBB app just before boarding the bus. Download e-tickets on your mobile to show them to bus driver. You can buy the tickets from bus driver as well. Get down at Gschendt Strobl Landauer. Press the stop button near bus door or tell the bus driver to stop otherwise he might not stop here since it's a small village and may be no one will get down here except for you!
The location where these summer luge rides are located is breathtakingly beautiful. Wolfgangsee Lake with emerald green water, mountains in backdrop, green meadows and cute dwellings by the lake! Luge rides are itself located in woods just opposite the lake. It's a 20 minutes ride, not very expensive and I highly suggest going for this little adventure! It's totally worth it.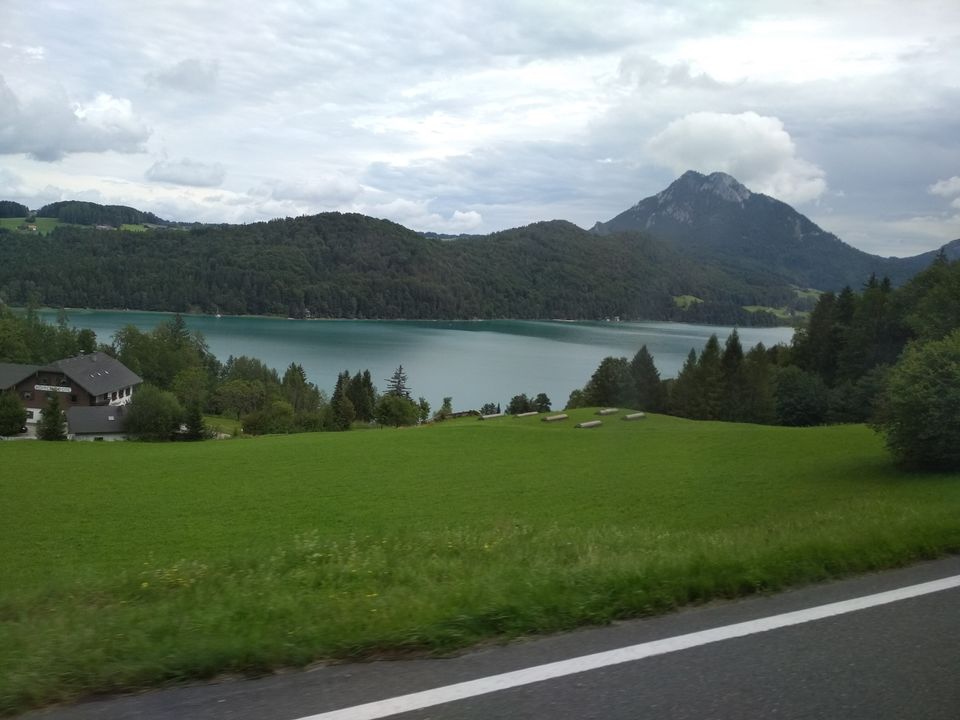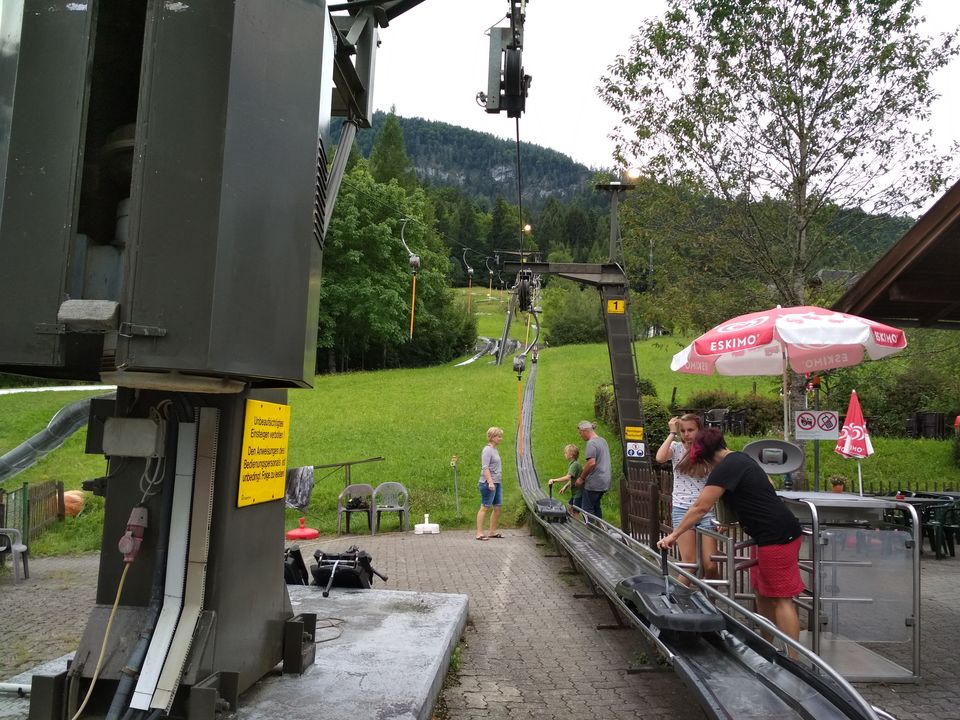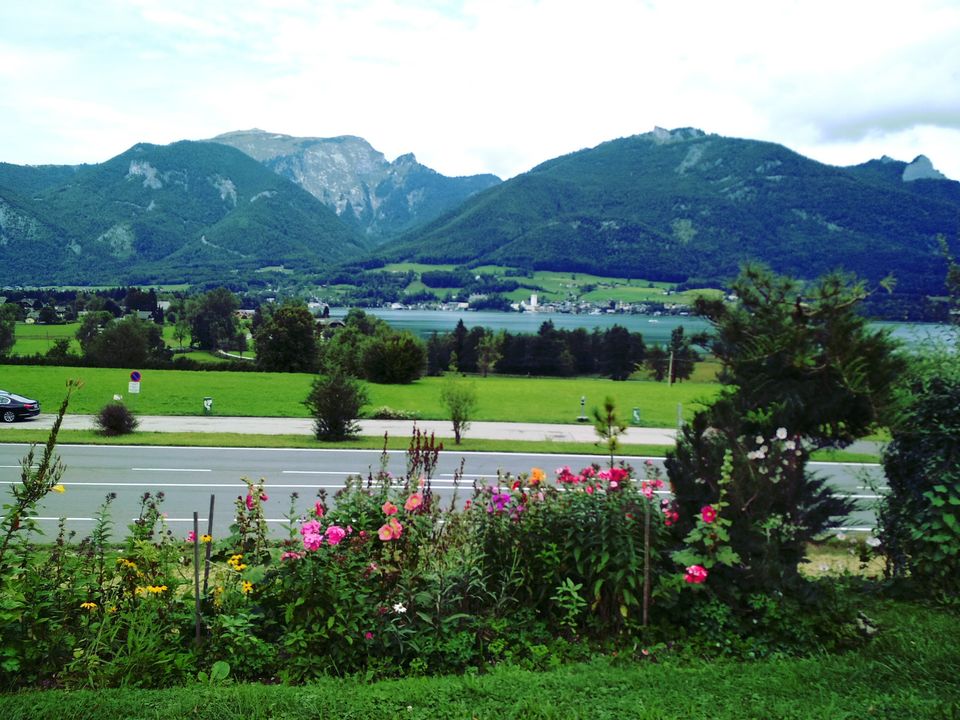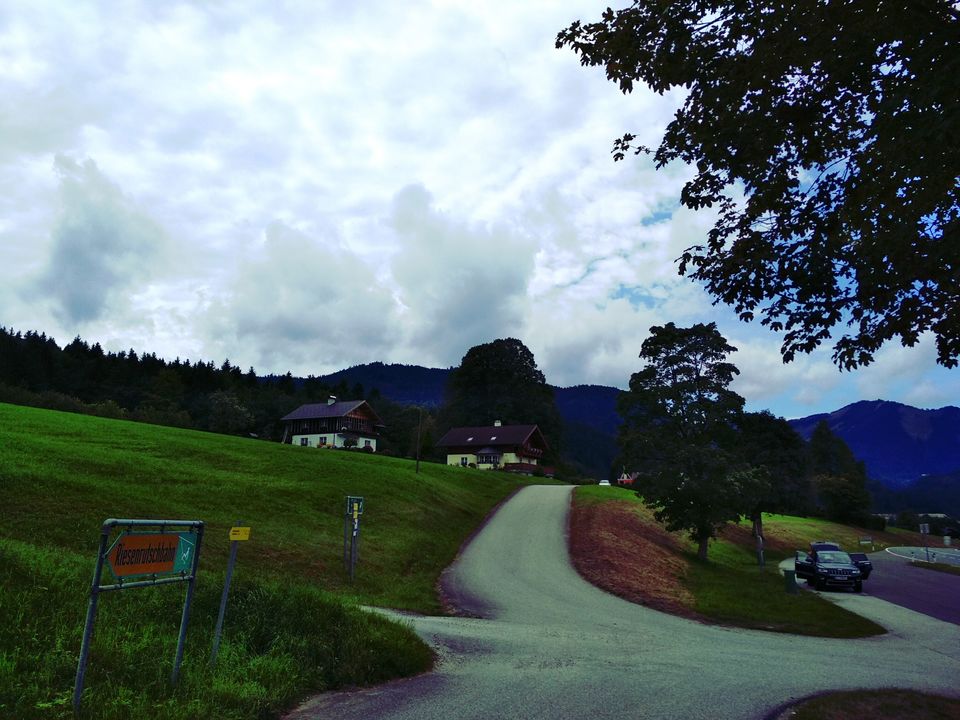 While waiting at the bus stop of Gschendt Strobl Landauer we booked our tickets to Hallstatt on OBB app. This ticket includes bus fare from here till Bad Ischl bahnof and train ticket from Bad Ischl bahnof to Hallstatt Bahnof. On reaching Hallstatt, buy ticket to ferry ride which will take you to this heavenly alpine village!
Hallsttat literally seems like a place out of fairytales. Serene, peaceful environment coupled with breathtakingly mesmerizing views is perfect for relaxation. I mostly spent my time in Hallsttat by strolling up and down the quaint streets. We went on to see the salt mines, also called Salz Welten. It's visitor center is located at 15 mins walk from the point where ferry drops you. The 30-euro fee included the Funnicular ride which offers the most spectacular views while you are ascending the mountain, Skywalk which is UNESCO listed and salt mine guided tour. Important: The last guided tour to salt mines leaves at 4:30 PM and you must reach at the visitor center atleast 30 minutes before otherwise, you can still go up by the funicular ride, enjoy stunning Valley and Lake Hallstatt views from skywalk but not the salt mine tour. And unfortunately, we missed it! Incase you miss the last funicular ride descending to the visitor center then you will have to hike down for an hour via The Salt Brine Trail which I have heard offers an amazing hiking experience! You must dedicate atleast 2 hours for this whole Salt mine activity. You can buy online tickets for salt mine tours at https://www.salzwelten.at/de/fuehrungen/
We skipped Bone Chapel and instead chose to roam around in this beautiful old small village. This chapel has more than 600 decorated skulls located just behind Hallstatt's catholic church inside the cemetery.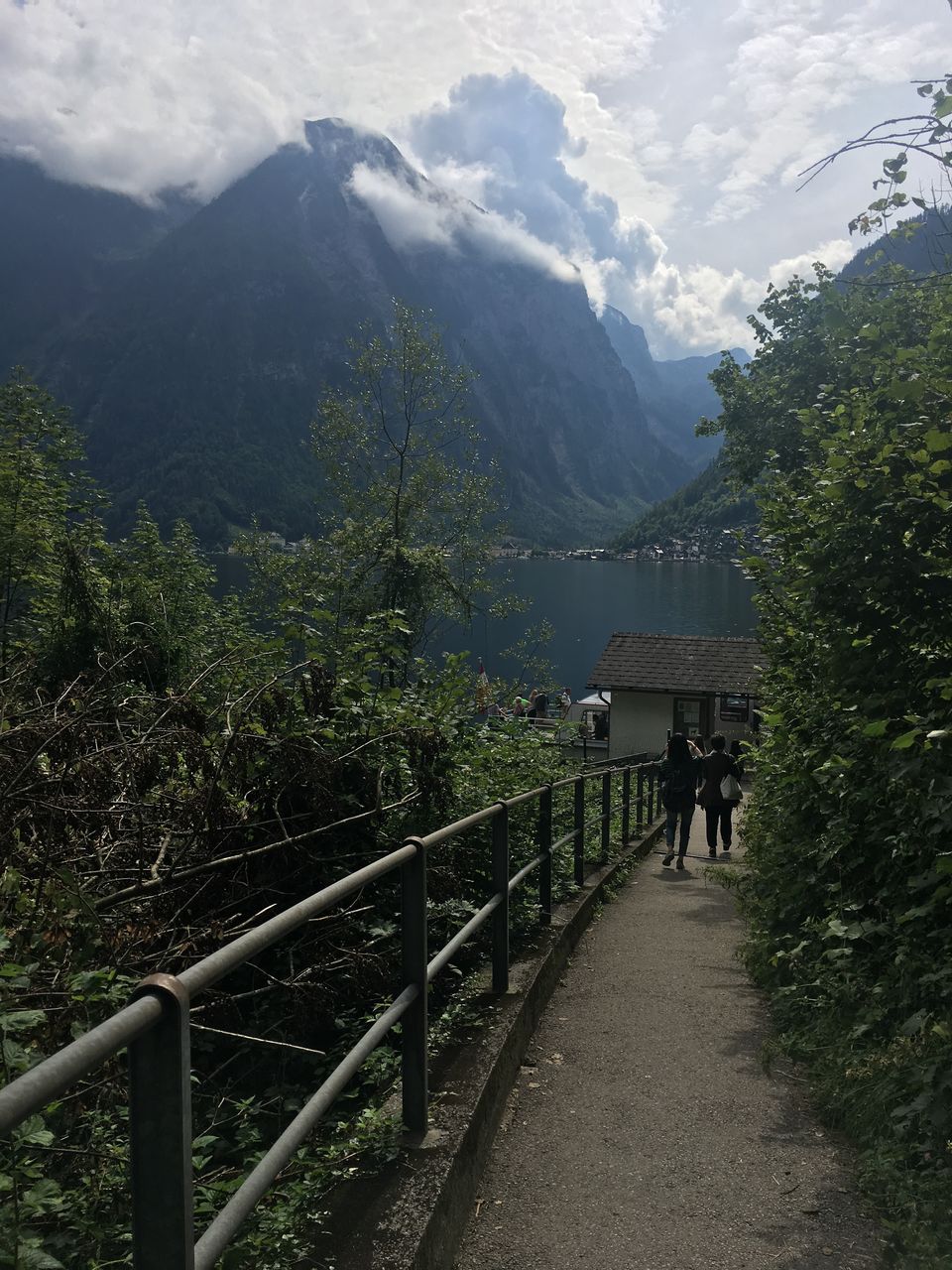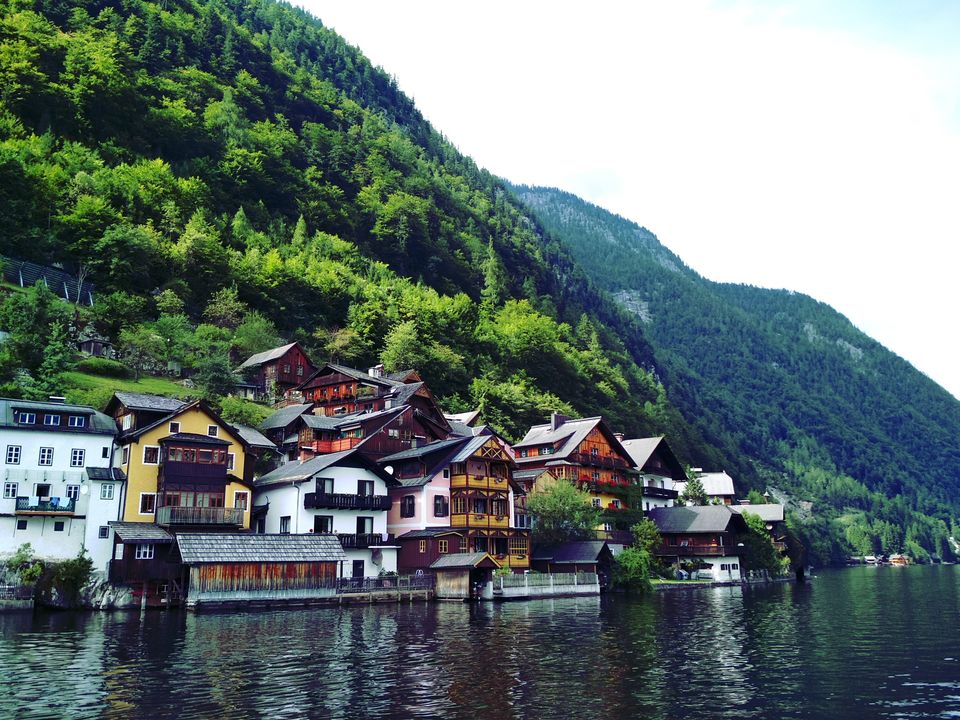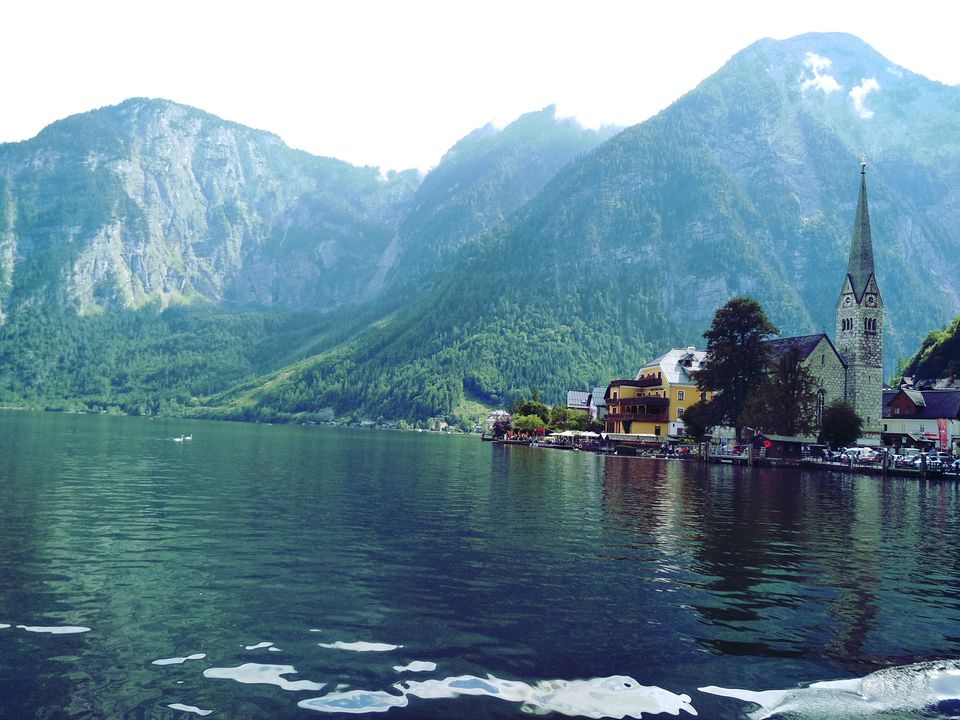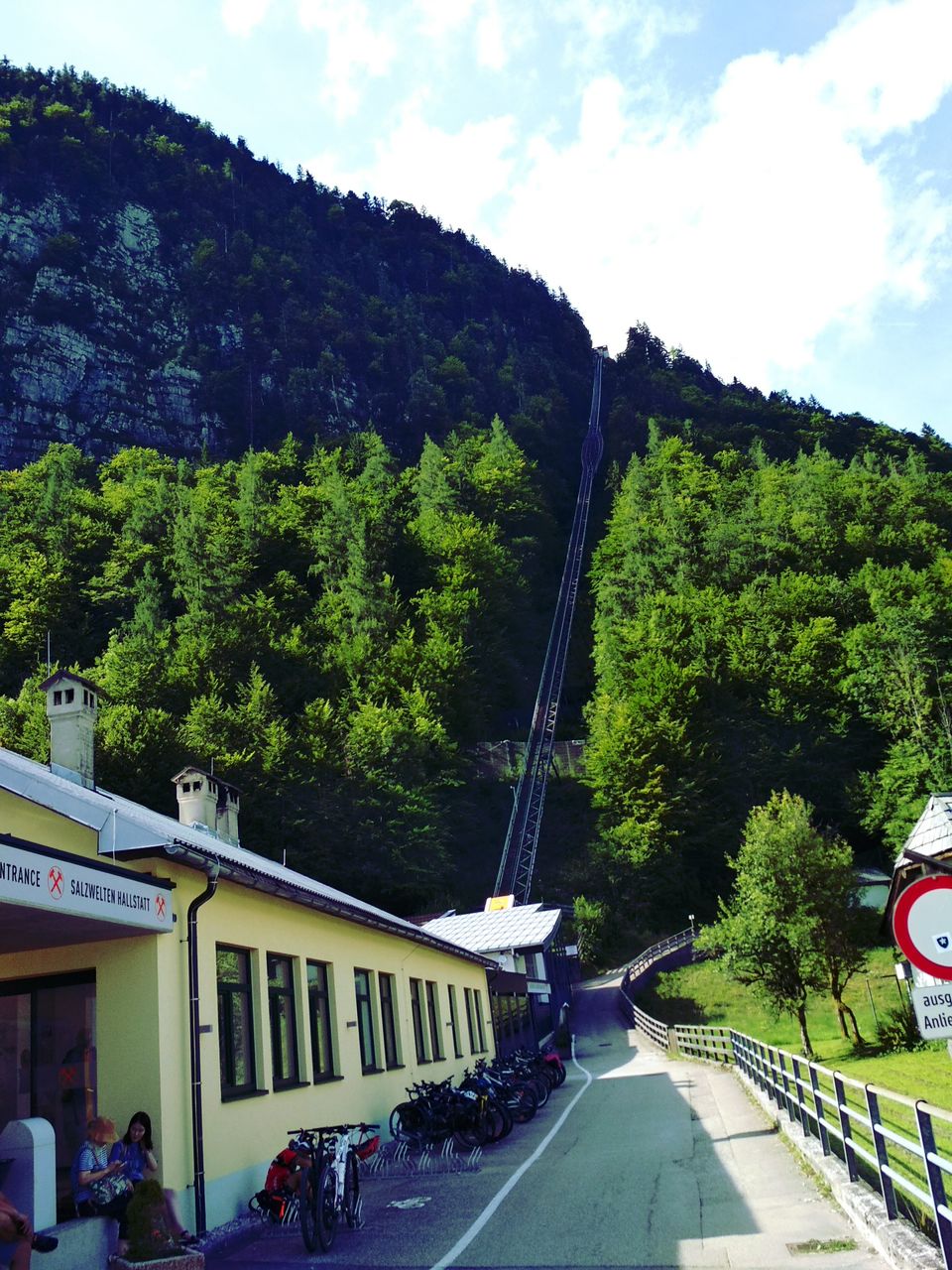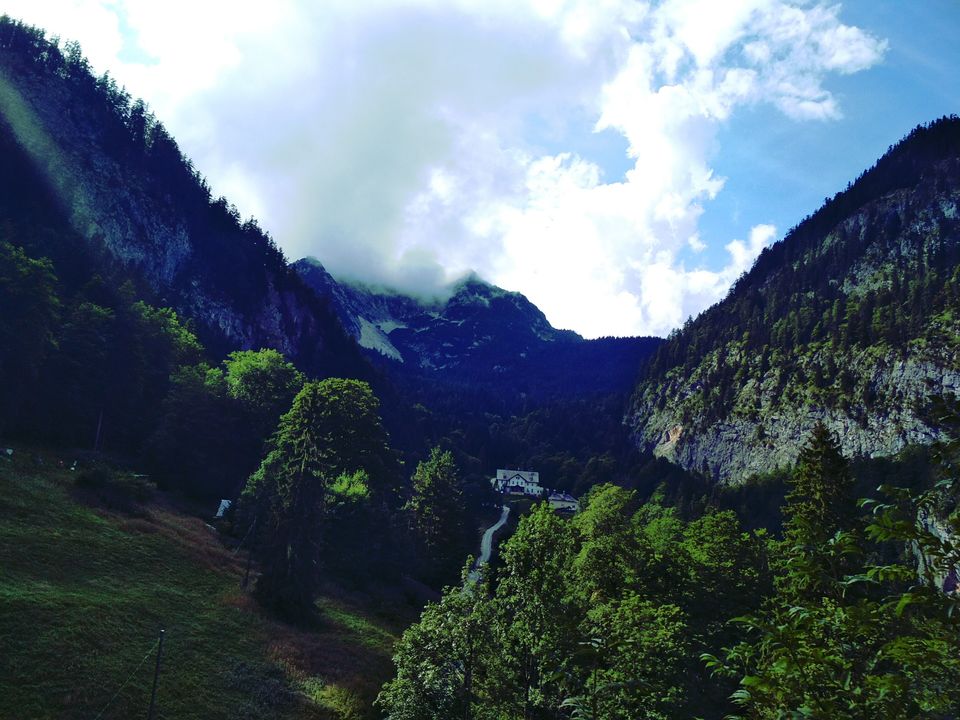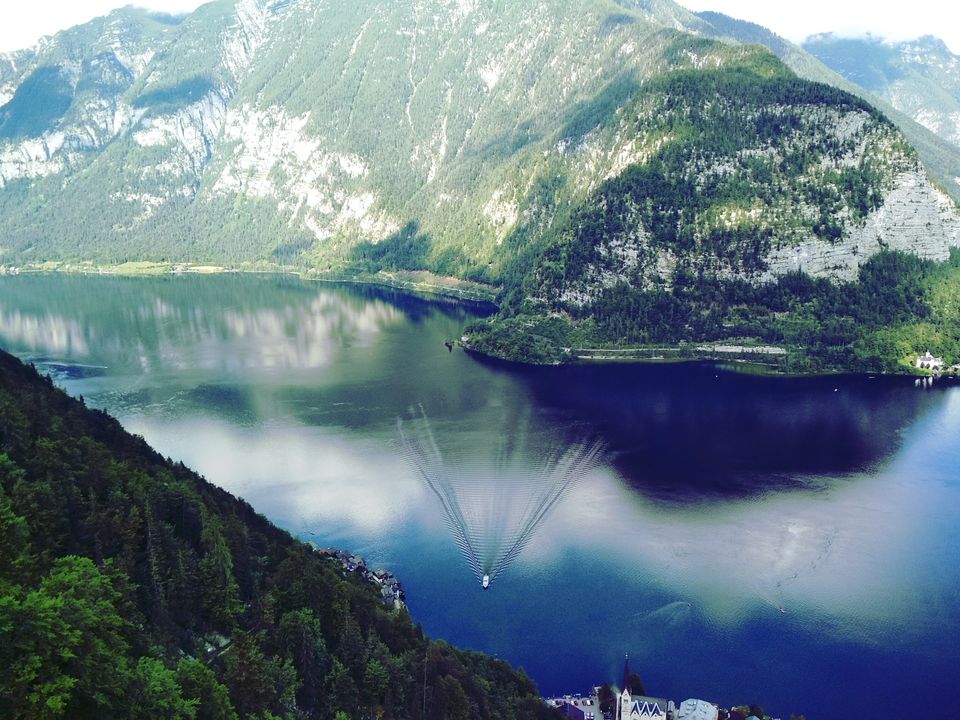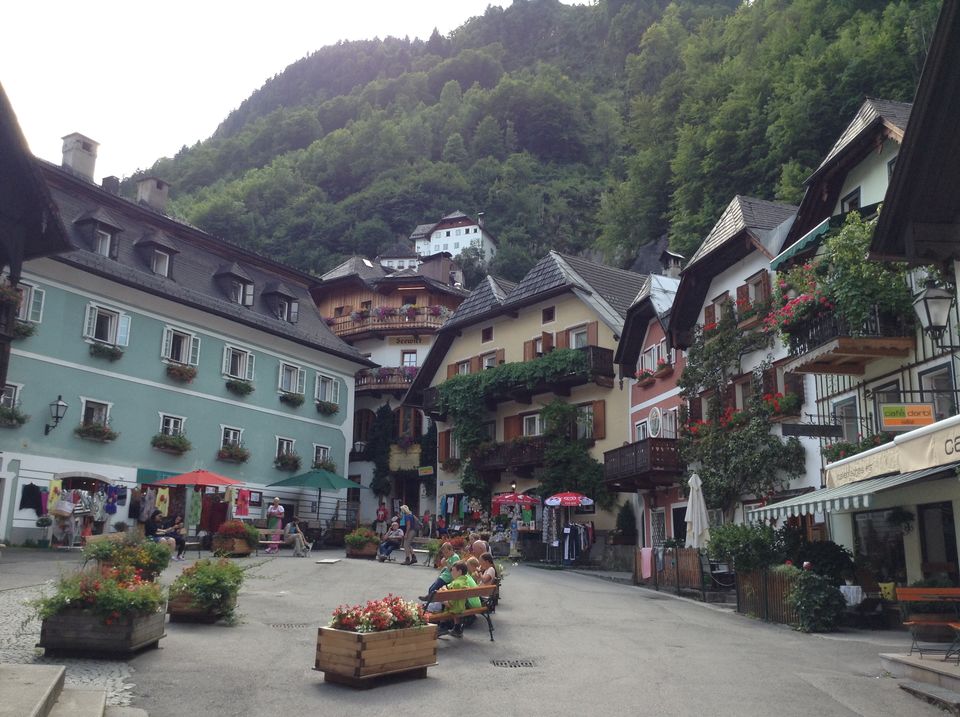 I would highly recommend dedicating 1 full day to Hallsttat and arriving here early morning which we couldn't do because of lack of time. I also recommend visiting Dachstein Ice caves and 5 fingers lookout which are also UNESCO listed sites. Many guided tours from Hallstatt can take you here. You can get more information on these guided tours from Hallstatt's Tourist information center.
Last ferry to Hallstatt Railway station leaves by 6:15 PM and last train to Salzburg by 6:30 PM. We reached Salzburg by 9 PM. Most of the restaurants in Salzburg closes by 9:30 PM. Post dinner we were just wandering around in old town square and stumbled upon Mozart's Birthplace. Well, its just like any other building in vicinity from outside!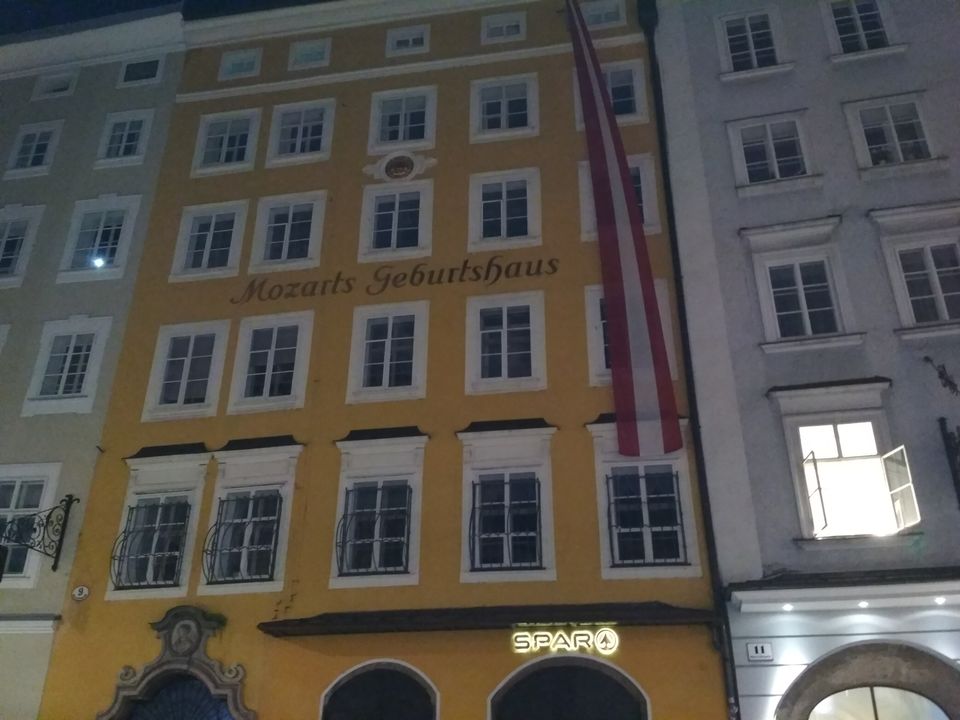 Hofburg/Imperial palace is very near to Innsbruck Congress. We skipped them since we would be covering them in Vienna which are mightier than this one. As we were wandering in Old town, we realized souvenir shopping is much cheaper in Innsbruck in comparison to Salzburg offering more variety at the same time. Funky woolen caps, socks, boots, sweaters, wooden cuckoo clocks and much more is in abundance here! Next, we tried Schnapps at one of the liquor shops which specialized in Schnapps only located in Old town itself. Important: Do not buy or try Schnapps at Souvenir shops! Schnapps is basically Austrian liquor having 40% alcohol. It is offered in various different flavors as well but alcohol content is only 18% in them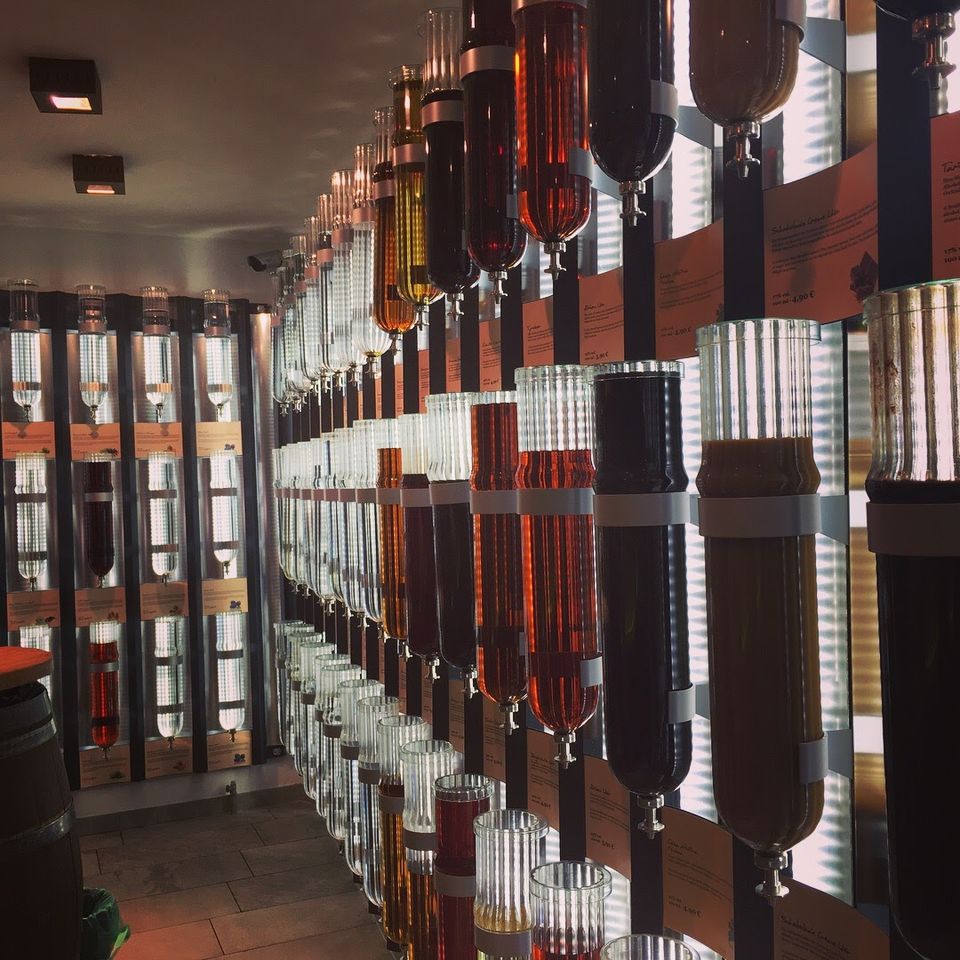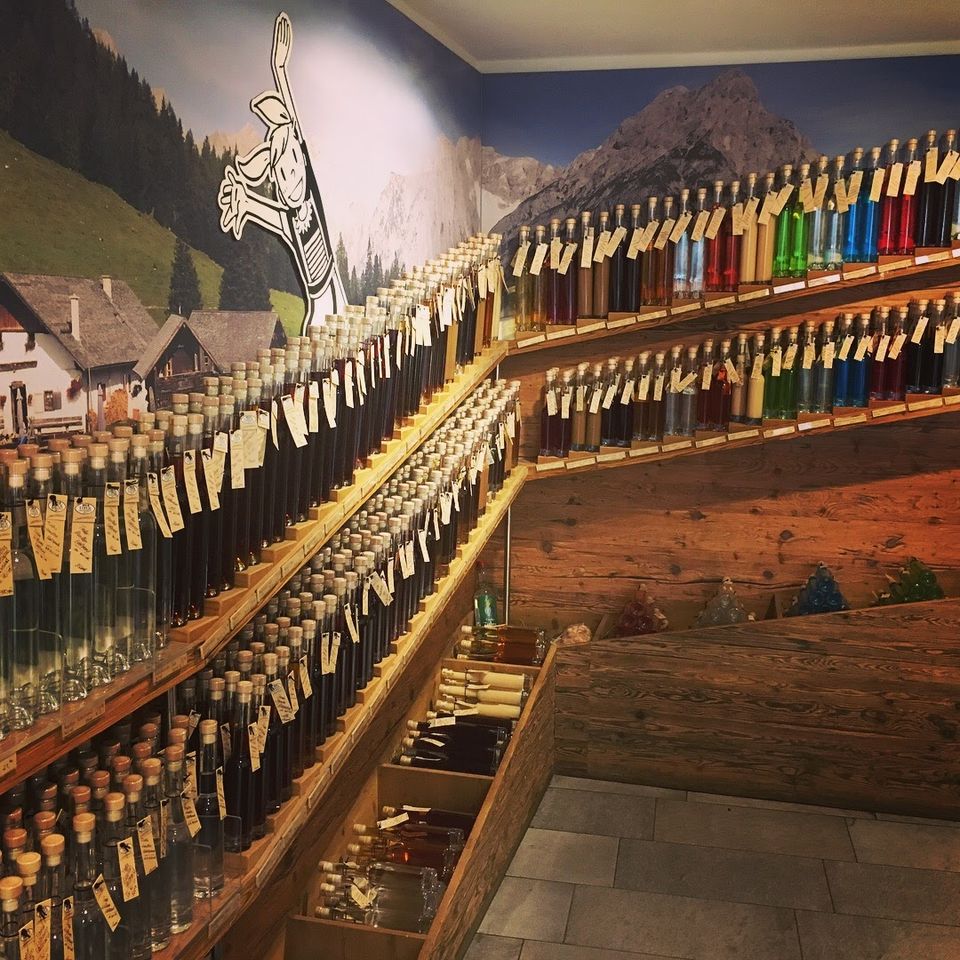 The Golden Roof (Goldenes Dachl) is located in Old town itself. I found it most overrated. It is just a building amongst others with only difference that its balcony is decorated with golden plated copper tiles. It was constructed in honor of marriage of Maximilian I and his wife. It has museum inside which we skipped obviously!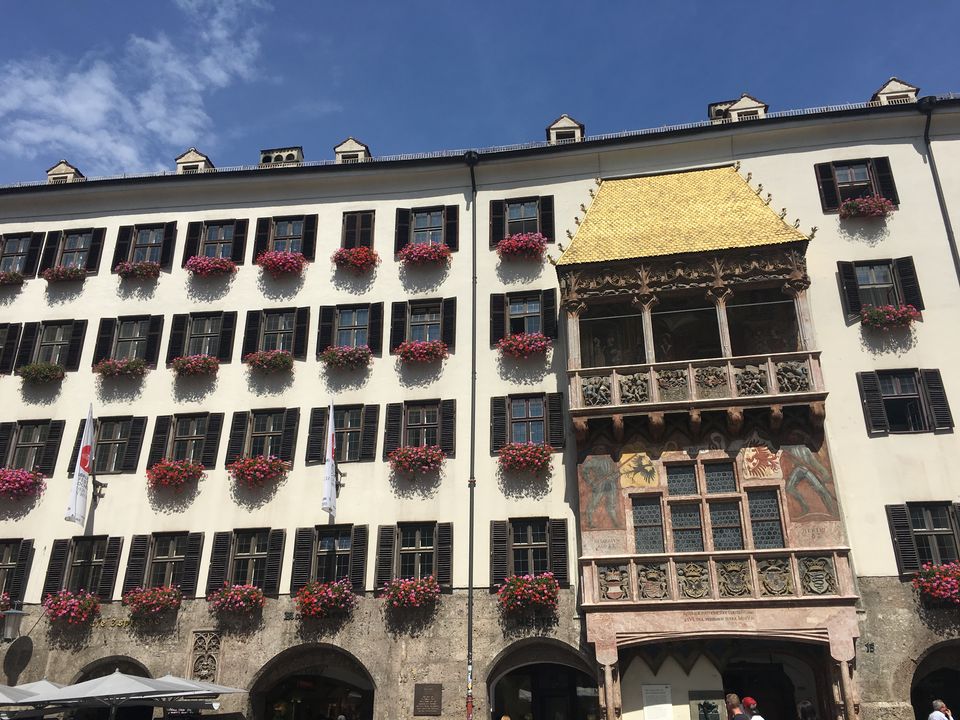 Our next stop was at Hofkrich Church. Though pretty plain on the exterior, this royal church near the Hofburg is an explosion of history, art, sculpture and architecture on the inside. The centerpiece of this royal church is Maximilian I's tomb. It is surrounded with fascinating intricate golden fence. It is a wonderful ornate piece of art. There are many bigger-than-life bronze statues of people important in Maximilian's life on its peripheral. There is a beautiful silver chapel as well upstairs. There is a 3D video show which takes place inside the church in a small room near entrance providing in depth history of Emperor Maximillian and his life. We did not know about it then. I heard about it later. The church shares a tourist entrance with the Tyrolean Folk Museum but tickets have to be bought separately.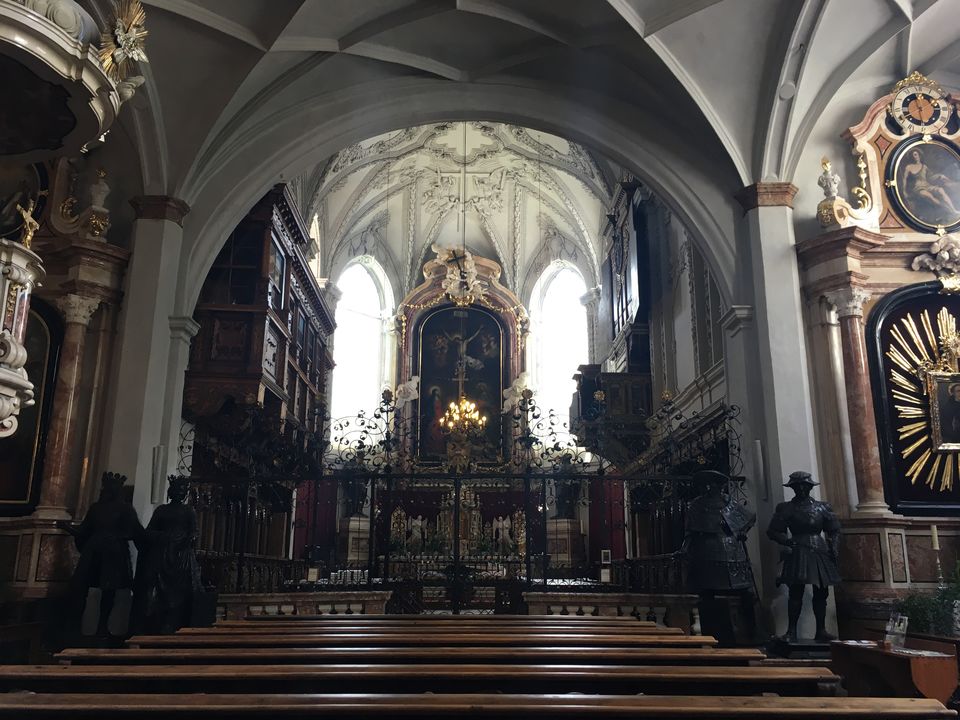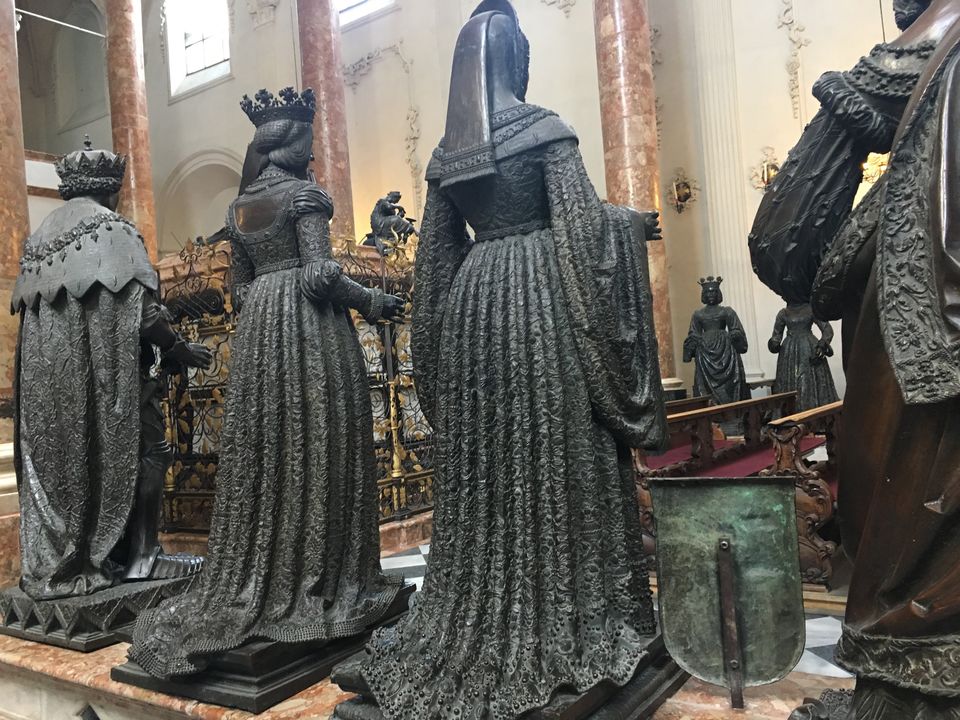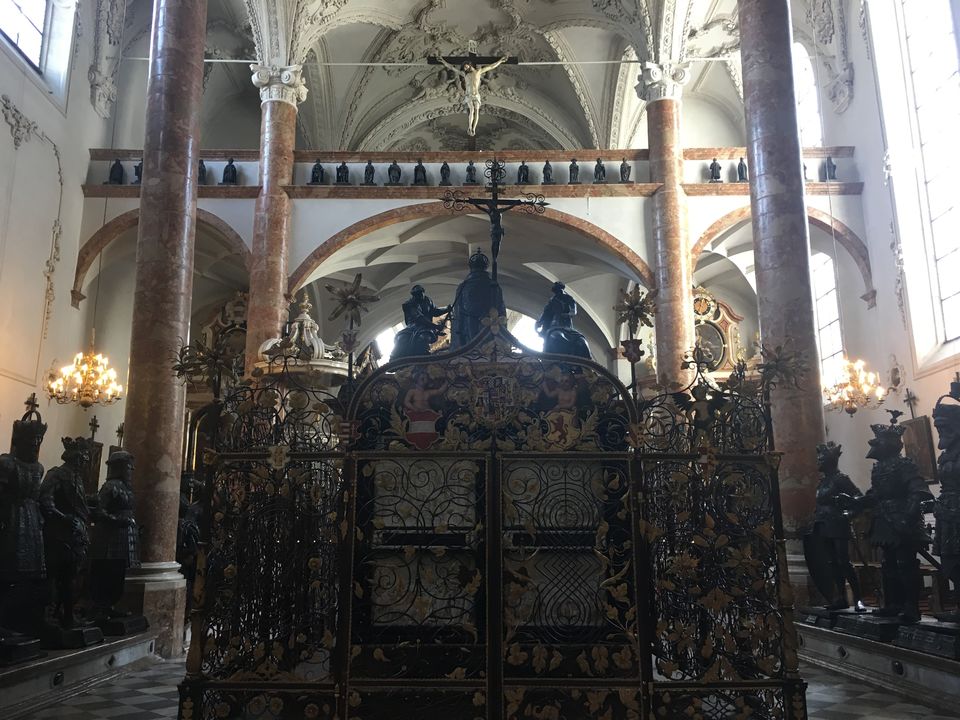 Post this we went for Schloss Ambras (Ambras Castle). We took tram till Ambras stop and from there it is steep hike of almost 20 minutes. On crossing vast castle gardens, you will reach at the info point/reception of castle. I think catching HOHO bus would have been an easier option to reach here. Access to both HOHO bus and castle is free with Innsbruck card. Google maps provide information about regional buses only which run intercity. I found castle and its surrounding quite pretty. It exhibits suits of armor, weapons, paintings, etc.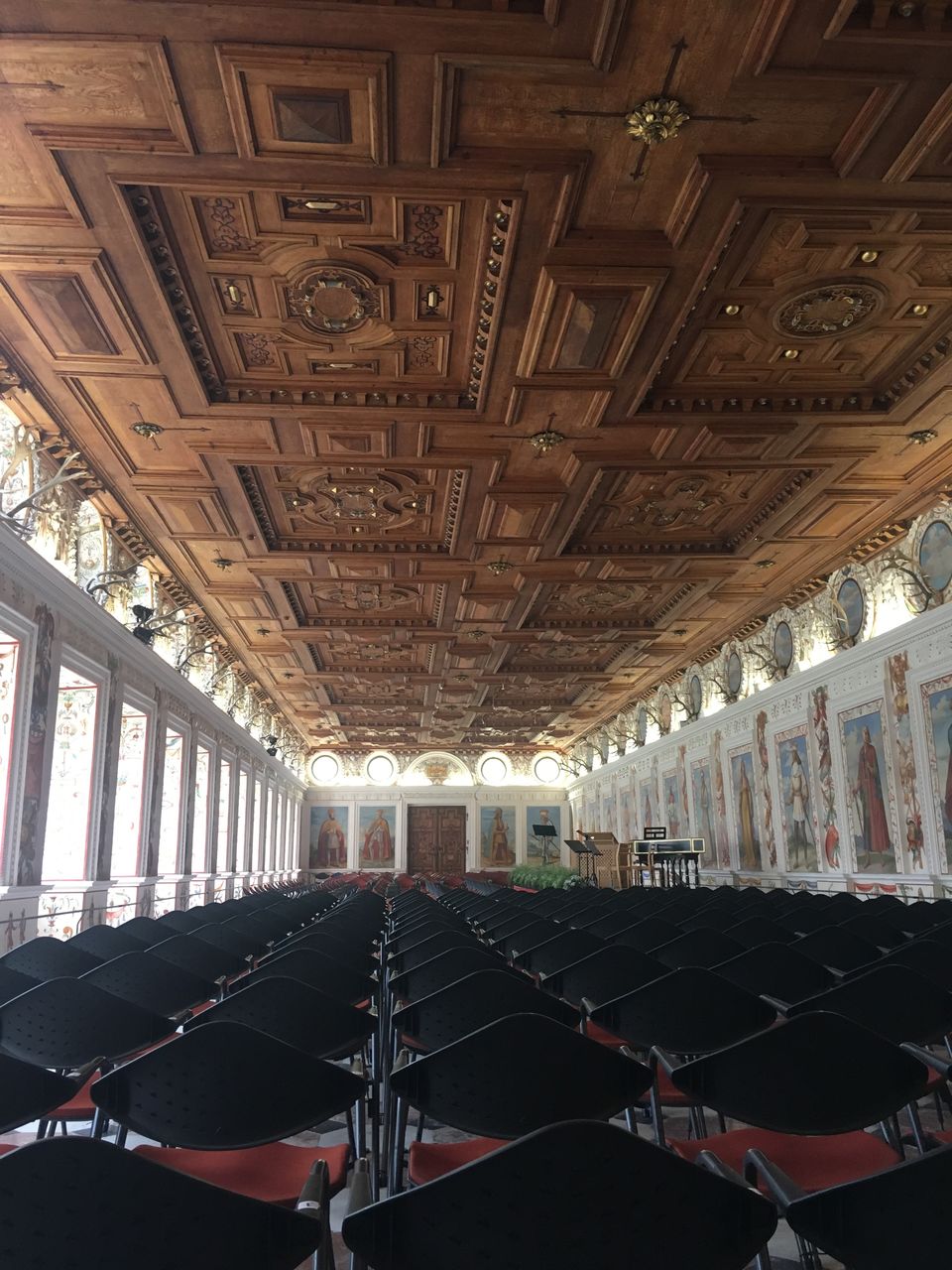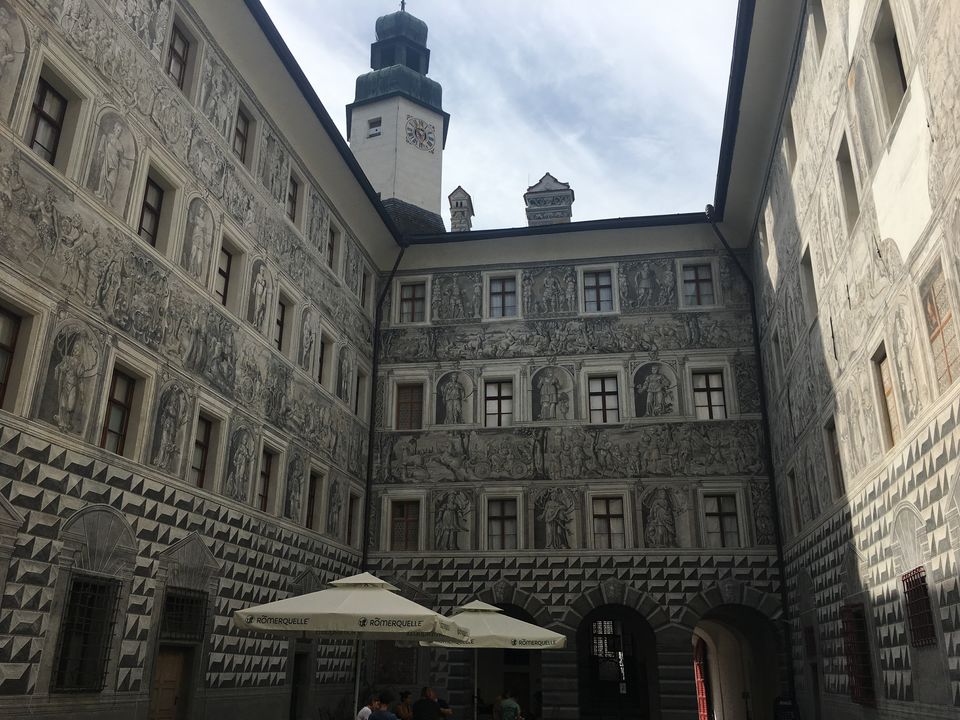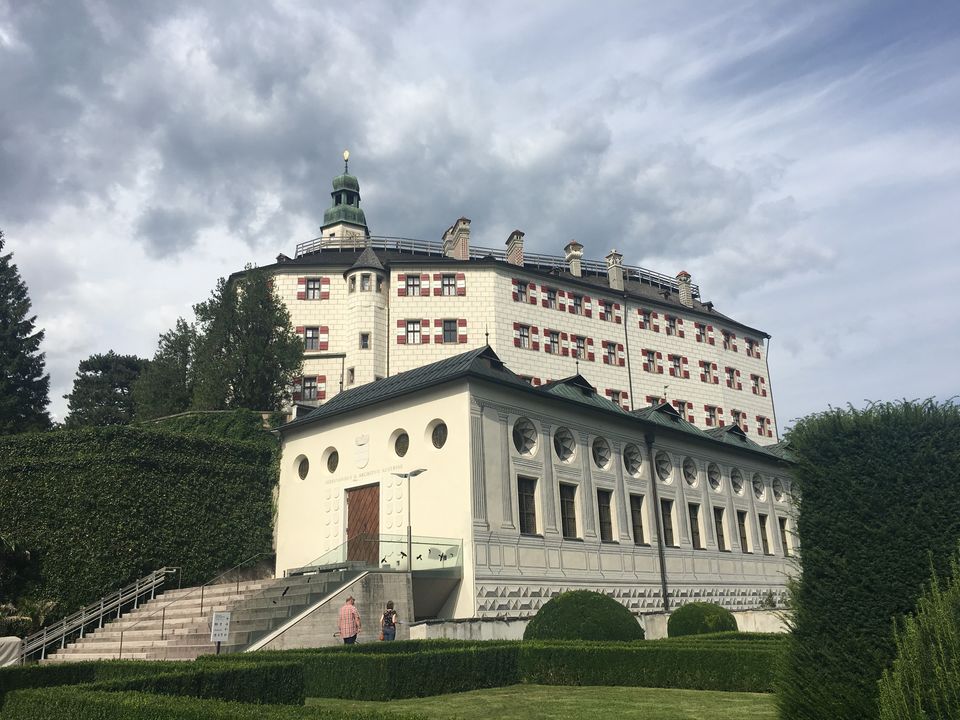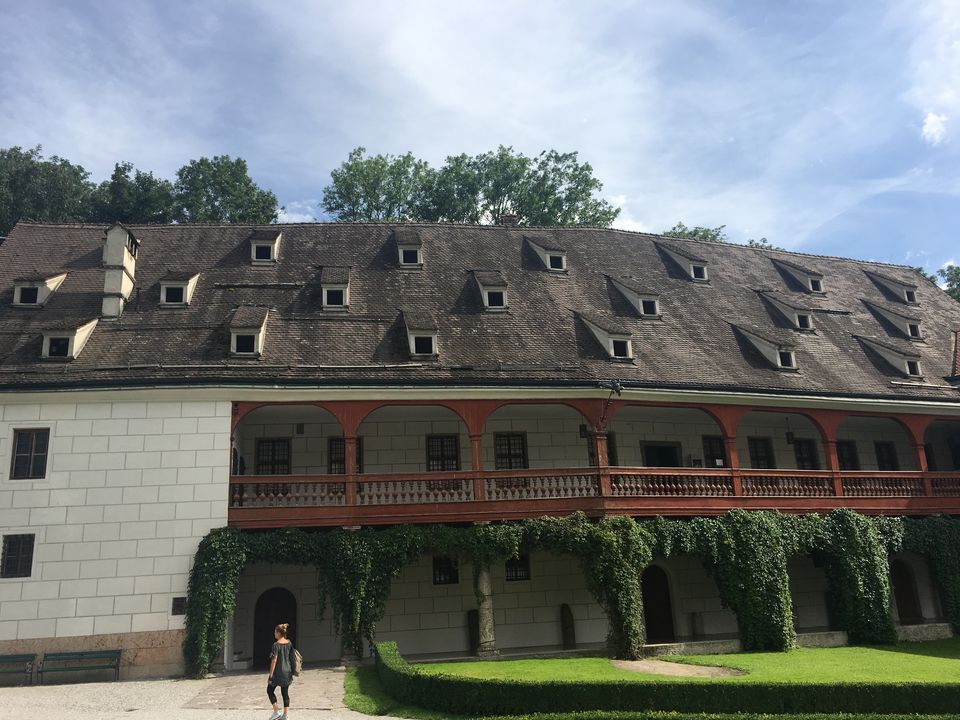 We skipped trip to Swarovski since it takes almost an hour to go there and come back. Plus, the tour is more about Physics that goes behind making of crystals which did not excite us! We instead came back Maria-Theresien-Strasse and spend time in relaxing, strolling and shopping!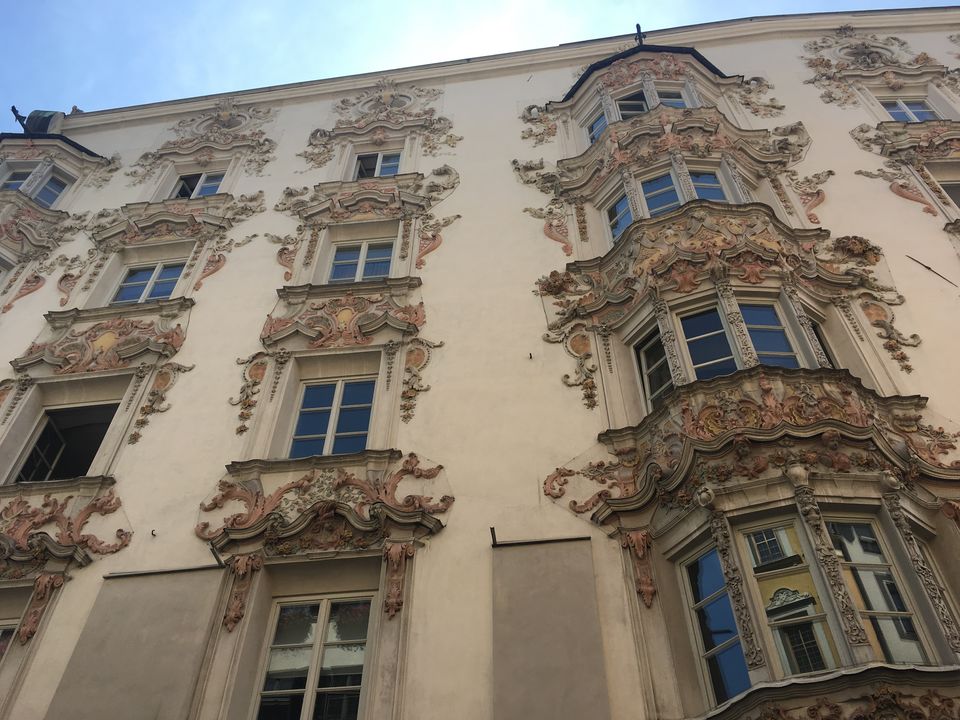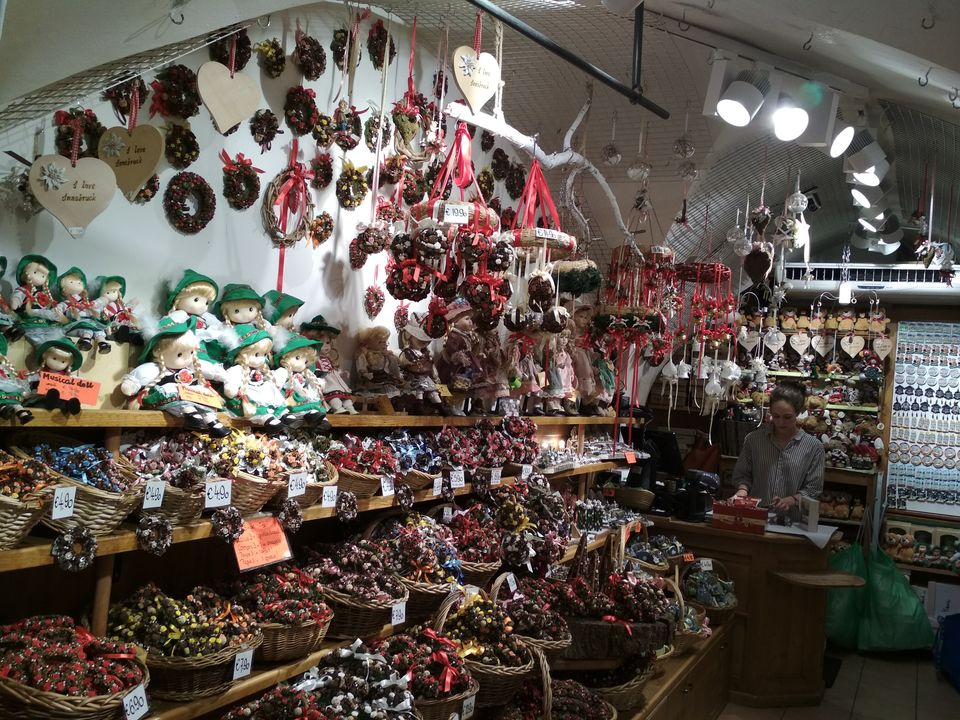 Honestly, I did not like Innsbruck much since I have seen much better alpine towns than this one in Switzerland. Also, we had already seen Salzburg and Hallsttat, and maybe that was also the reason for not liking Innsbruck much. I think we could have easily skipped Innsbruck from our itinerary and instead should have chosen to stay in Salzburg for 1 more day! May be Innsbruck is worth visiting in winters around Christmas!
Day 7: