"You do your research so well before every trip! What happened this time"? This is what I got to hear when I told my dear ones that I am visiting Austria in winter! ☺. Now that I am back from my trip, all I could think of is writing and sharing my experience about my "winter trip".
I experienced Vienna, Salzburg and Hallstatt.
What to do in Austria in winter?
2 Days in Vienna: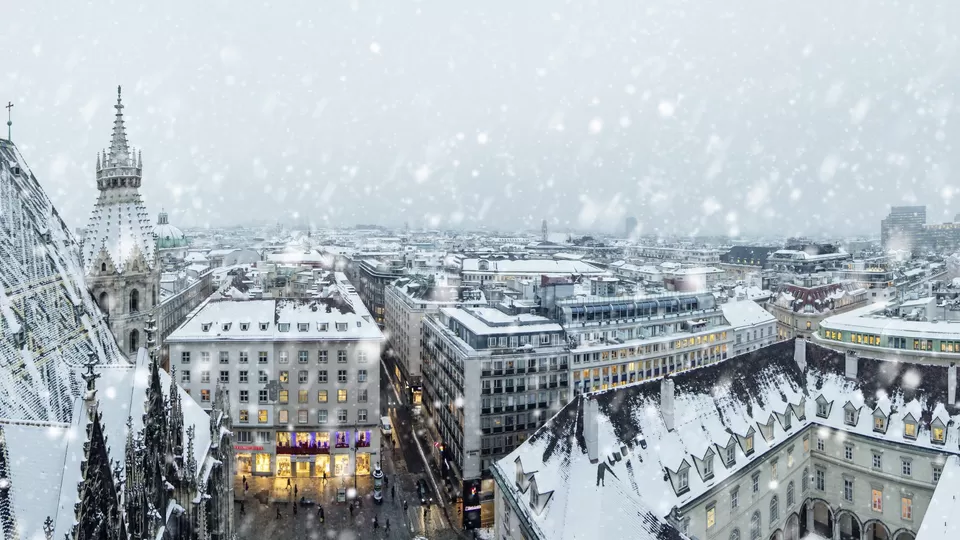 Austria's capital city, Vienna, did not let me down! It is hard to find a city that looks as pretty as Vienna in winter. Walking on the streets of Vienna is like walking into stories of fairy tale. It is a city bestowed with history, baraquoe architecture, music, good cafes and bars.
Deciding where to stay
When I started researching about accommodation, I learnt that (like most of the European countries) Vienna is split into 23 districts (Bezirke), each having its own flavor. To cut it short and put it simply, 1st district is closest to city centre and the succeeding ones will be farther outside the centre. Districts 1 to 9 are inner city of Vienna offering easy access to cultural side of Vienna. I stayed in Vision Apartments Vienna Marc-Aurel. I would give this apartment 10/10 for its location.
Museums, Palaces and much more!
Vienna is known for this! There are many museums and art galleries in Vienna. The best way to get started is to by taking a walk around the Ringstrasse (ring road). While walking on this route, you will see Opera House, City Hall, Parliament, Imperial Palace.
Visiting all of the museums and palaces might be a challenge if you wish to see or do other things as well in limited period of time. Keeping in mind the limited time I had, I visited the following places:
➢ Schönbrunn Palace:
This palace has about 1,441 rooms and about 40 rooms are open to public and the same can be enjoyed with 1 hour audio guide. The entrance fee in winter is about € 14.20 for 22 room tour; and € 17.50 for 40 room tour. However, I must admit that during summers, the palace gardens offer spectacular lush green view which was missing in winter! This large place also houses one of the oldest zoos in Europe. I have been asked by lot of people whether Schönbrunn Zoo is a must see. In my view, if you are travelling with kids and have time in hand, then visiting this zoo is a good decision, however, if you have none in hand, you may want to omit this place.
➢ Belvedere Palaces and Gardens: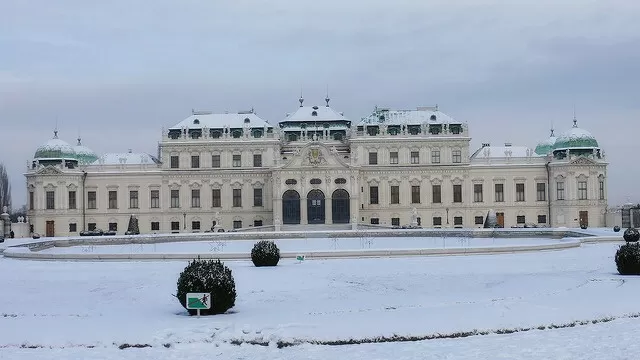 This Palace is a treasure of artwork by famous painters. The Palace is divided into Upper Belvedere and Lower Belvedere. The exteriors of Palace will blow your mind away. However, if you wish to see some art pieces inside the Palace, I would recommend that you buy tickets (costing about € 20 for upper and lower Belvedere) only if you are an art lover. This place houses some of the best artwork by Gustav Klimpt. Art lovers cannot miss the chance to see the unique collection.
➢ St. Stephen's Cathedral: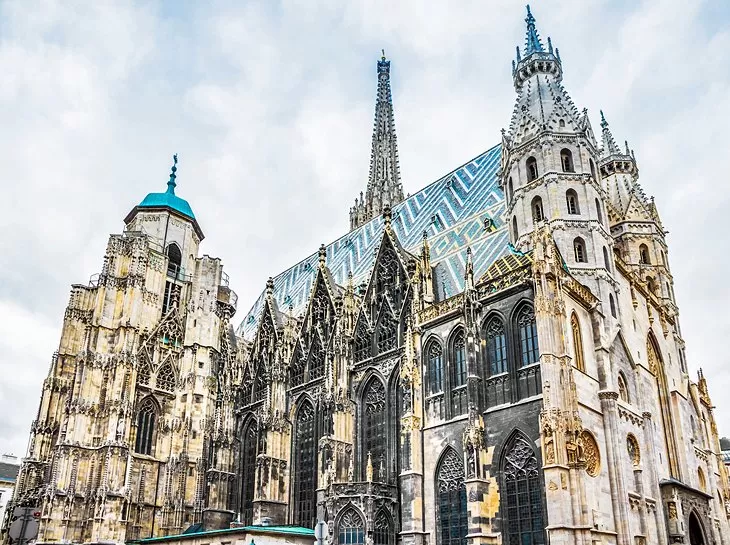 Be sure to make your way to this fine-looking Cathedral, located at Main square. As you approach, you will instantly notice the decorated roof and painted tiles. If you wish to, you can walk up 363 stairs up to the tower, breathlessly, for a breath taking view! :)
➢ Museum Quartier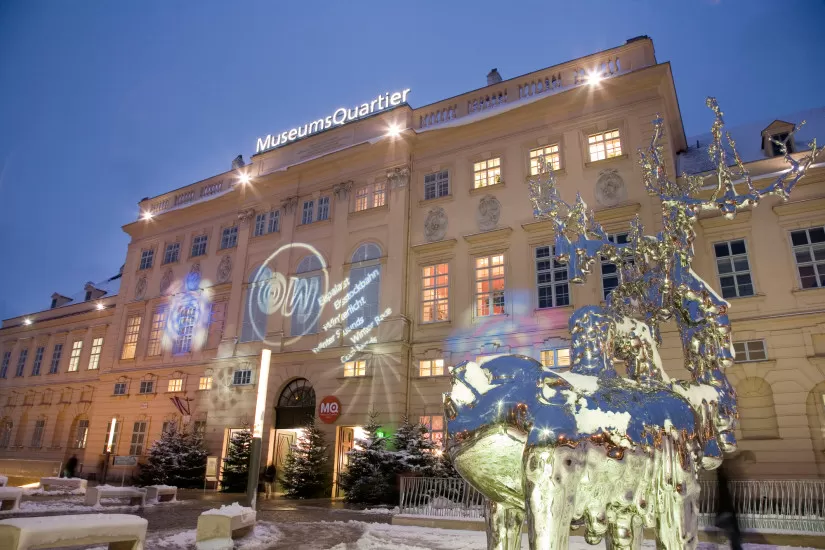 Head towards Museum Quartier which ranks in top ten cultural complexes of the world, by size, offering fine arts, architecture, music, fashion, theatre, street art, hip cafes and likewise. It houses Vienna's 2 most famous museums being Art Historical and Natural Historical Museum.
For lot of people, this is enjoying-life and hanging out place, I too chose to do the same! I stroll around the entire street, which itself, was a delightful experience.
➢ State Opera House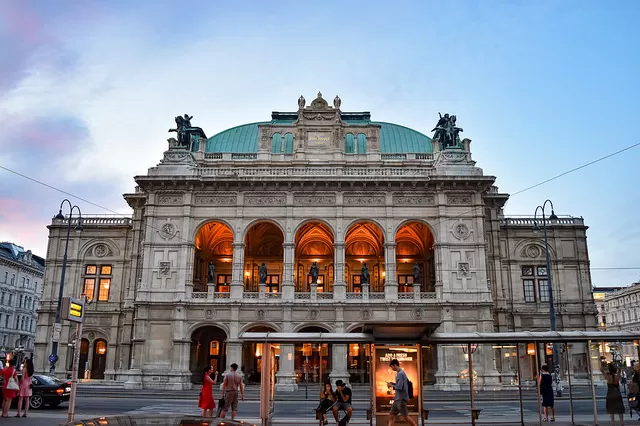 This place needs no introduction. It is definitely worth a visit.
➢ Walking Tour/ Hop-in-Hop Off
Walking around Ringstrasse or opting for hop-in hop-off bus will lead you to some of the wonderful sights.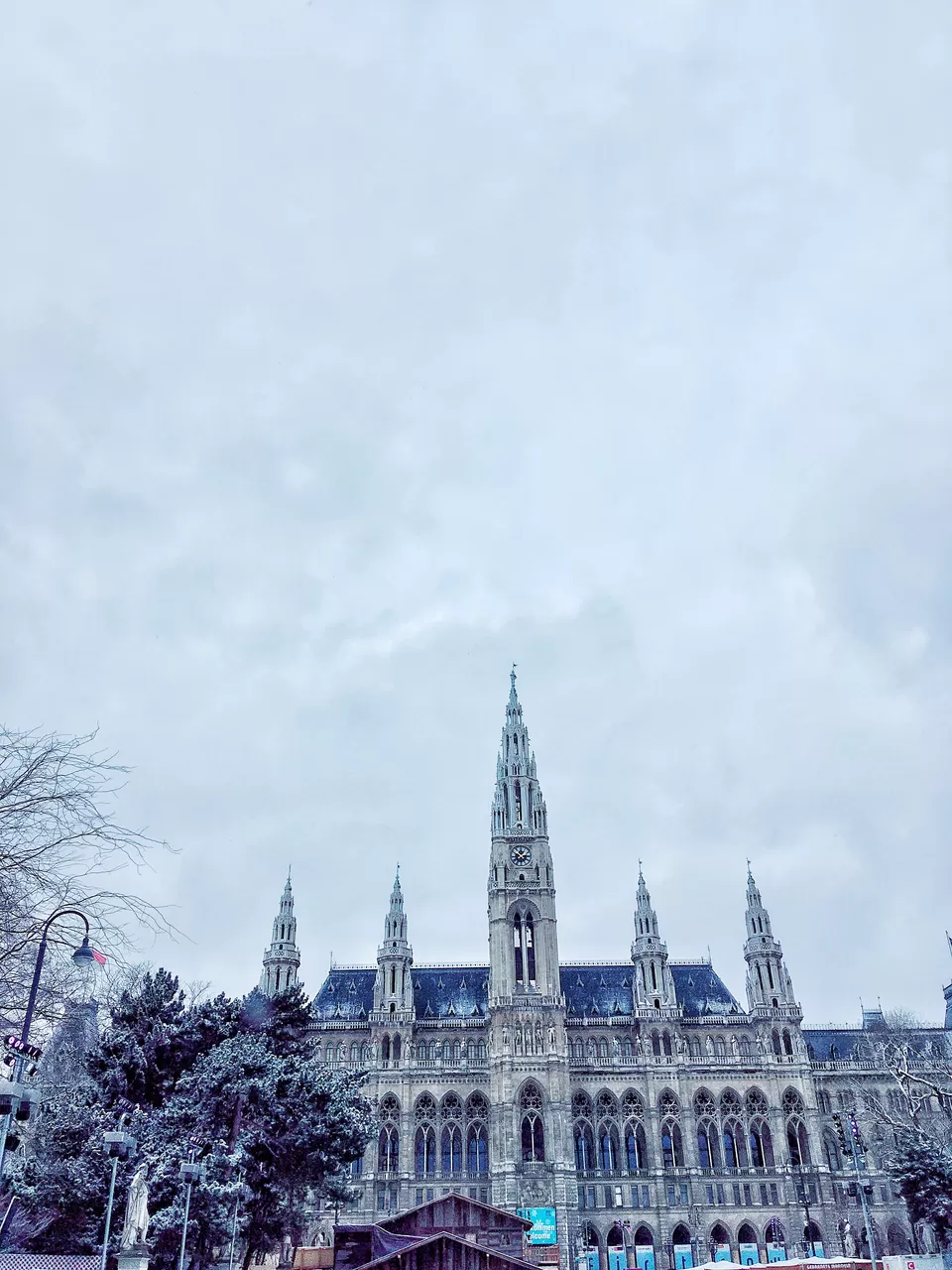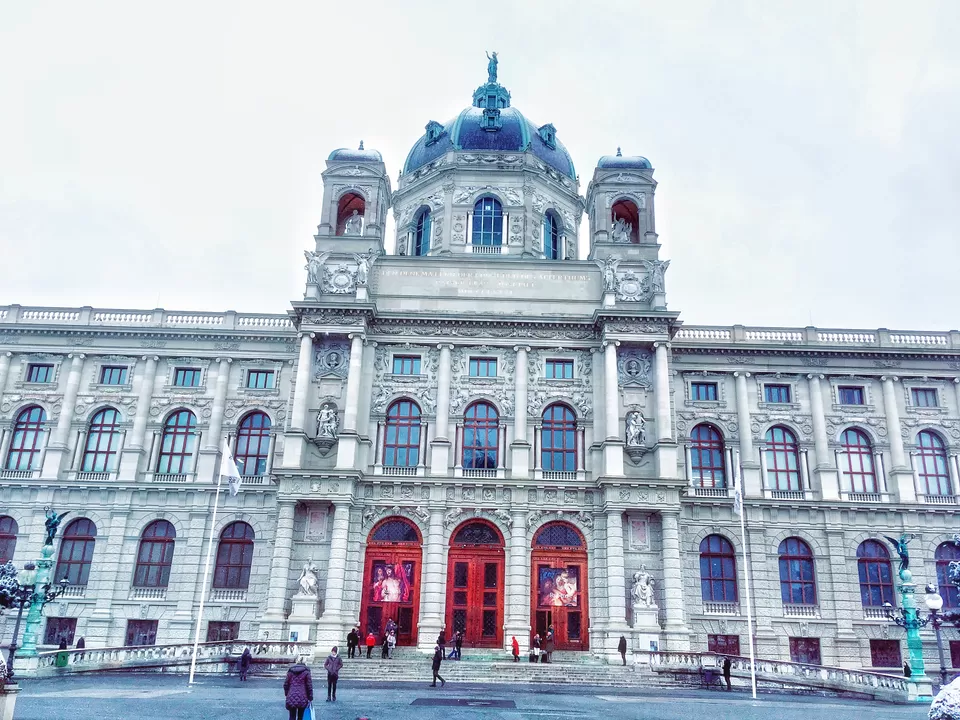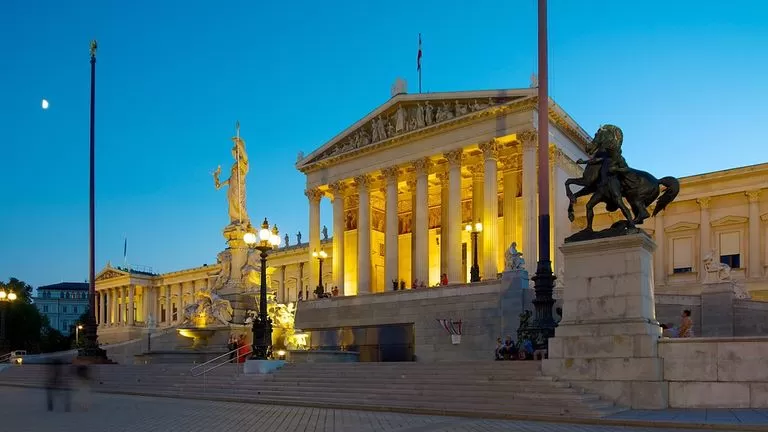 ➢Coffee and Dessert Break: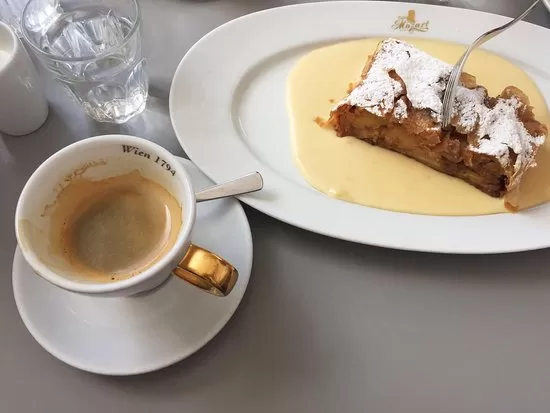 Leaving Vienna without drinking traditional Viennese coffee is a crime! "Viennese coffee house culture" was listed in the UNESCO Intangible Cultural Heritage List. Some of the popular cafes are Café Central, Café Espresso, Café Schwarzenberg, Café Leopold, Cafe Frauenhuber. Trust me, Coffee coupled with a dessert is a match made in heaven!
➢ Ice Skating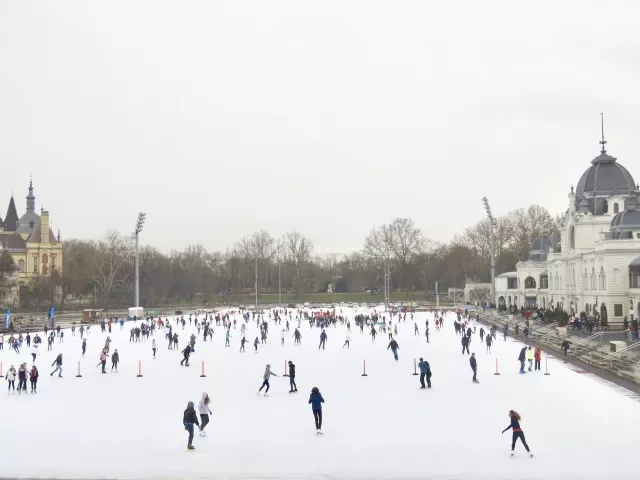 One of the best activities to do in winter is ice-skating. Vienna offers indoor and outdoor skating options. One of the options is to go to Viennese Ice Skating Union, a place located more centrally. If you wish to choose modern indoor skating, then Ice dream is the place for you. Mark my words, open air ice skating, through the park, with twinkle lights in front of castle is a lifetime experience.
In case you have more number of days in Vienna, then you can add Danube River cruise, Austrian National Library, Albertina, Time travel Vienna, to your list.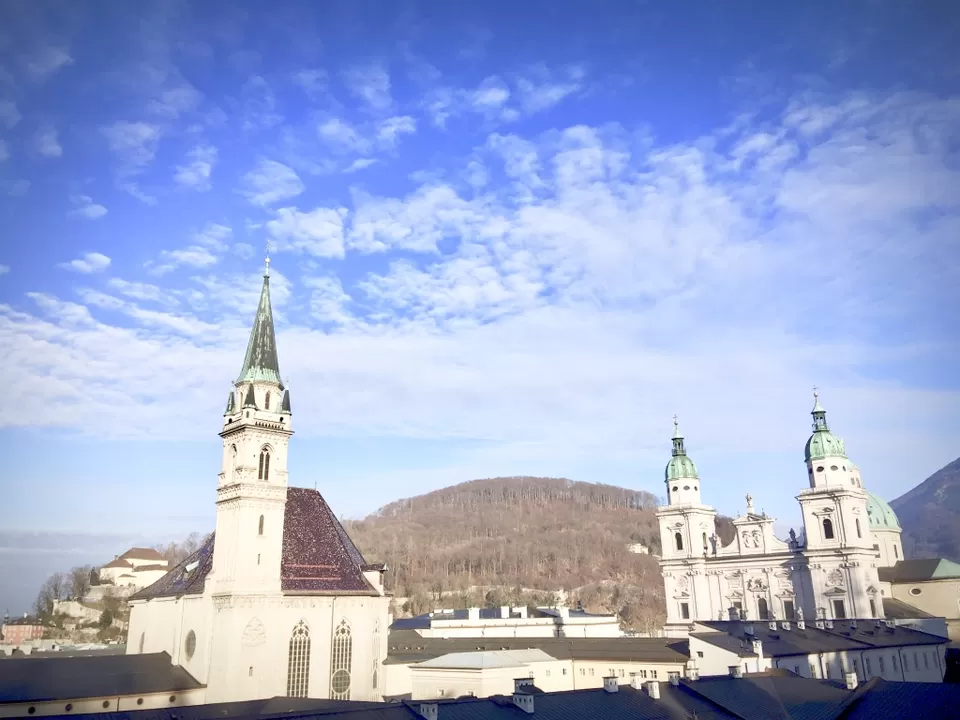 Salzburg is a small city located on the border of Germany, with Eastern Alp views. I bet you will fall in love with this city. Salzburg is a place which will totally enchant you.
Deciding where to stay
If you wish to stay close to City's places of interest, then stay at Old Town or Aldstadt. Here, you will find narrow streets and luxurious palaces, historic buildings at every corner! I stayed in an elegant and stunning apartment called "Villa Salzburg".
Museums, Palaces and much more!
➢ Hohensalzburg Castle/Salzburg Fortress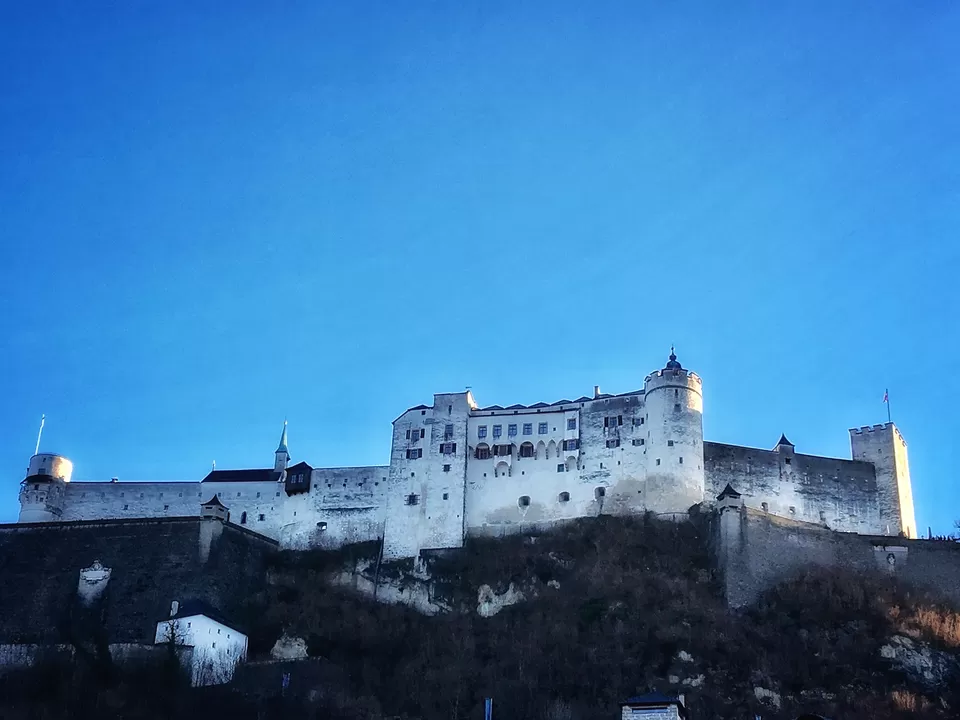 You will get great views from this fortress. If you wish to climb, (well, consider this climb as your "hike"), it will take about 30 to 40 minutes for you to reach. Alternatively, you can take the funicular (tram), from downtown, which runs every 10 minutes! Inside the castle there is a permanent Fortress Museum that can be visited anytime of the year.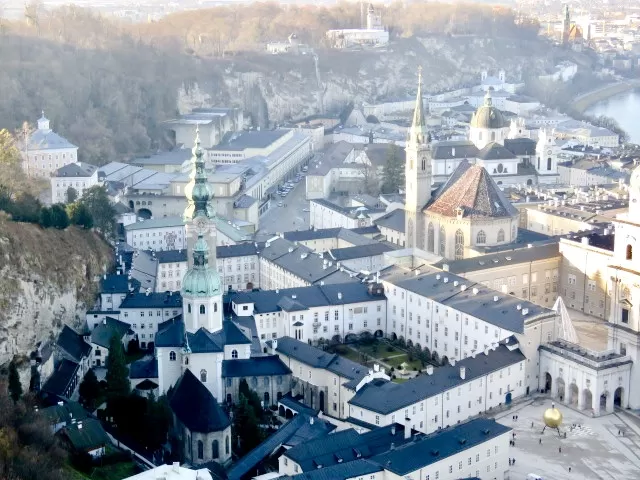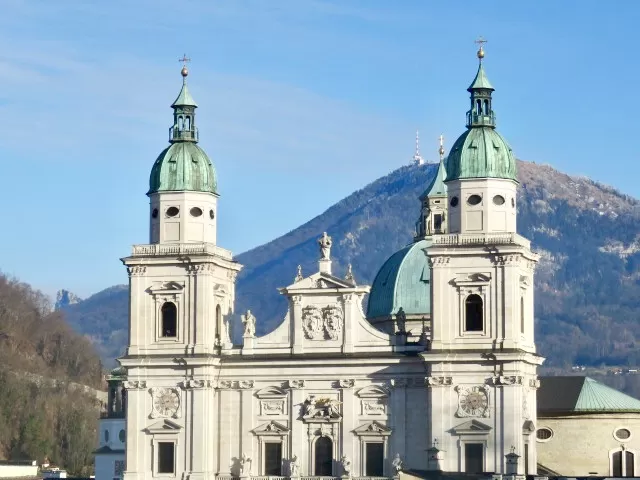 This Cathedral has impressive interiors with huge 233-foot tall dome. Before entering the Cathedral, one cannot miss the beautiful Virgin Mary Statue in Dome Square. Going closer, you will notice large scene with 4 large statues of Saints.
➢ Chapter Square (Kapitelplatz)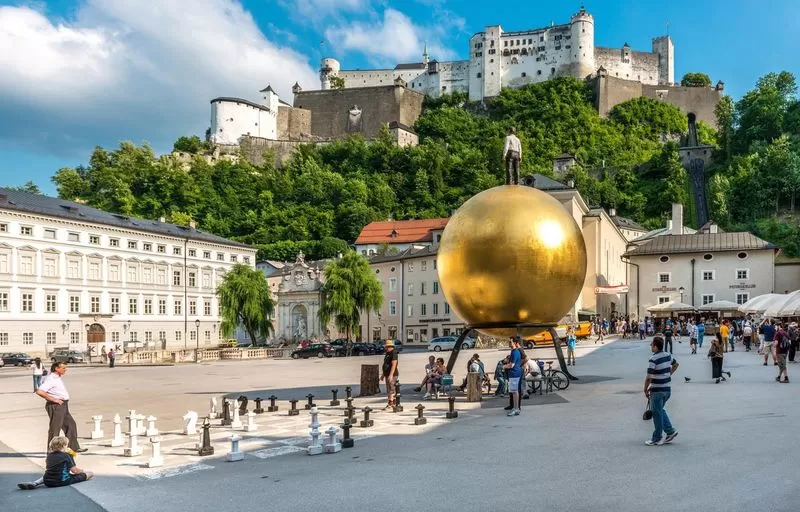 Very close to the Salzburg Cathedral, this square is the centre of city. The first two things to check out are over sized chessboard and a 30-foot-tall yellow orb sculpture with a man on top called Sphaera.
➢ Mozart Birthplace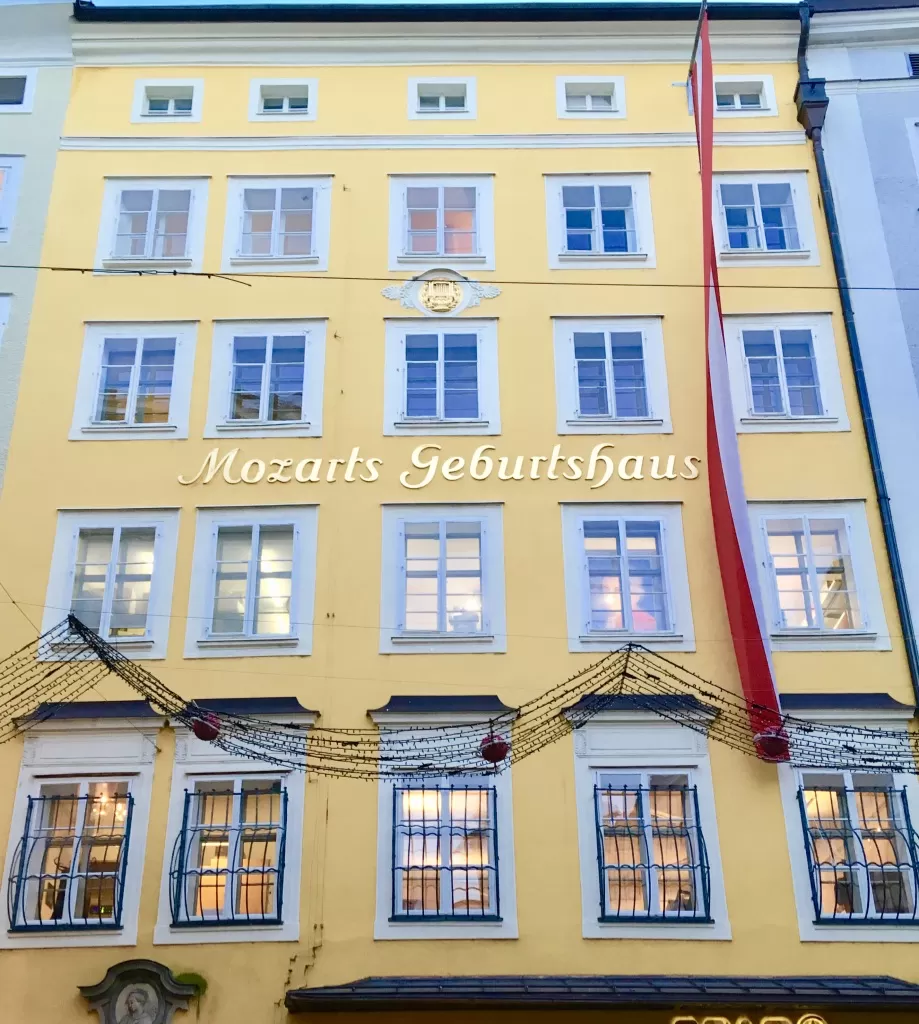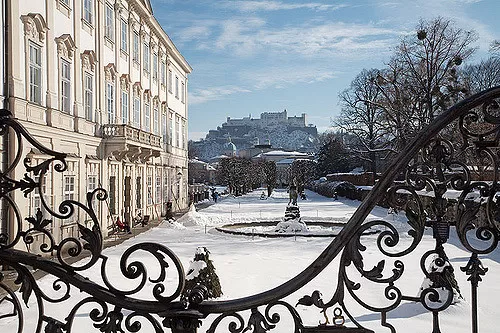 This was a beautiful garden in the centre where the "Sound of Music" was filmed. I decided to take a walk around this place and realized that the garden gives amazing views to Salzburg Cathedral. However, I must confess that I missed lush green beauty of the garden! ☹
➢ Coffee Break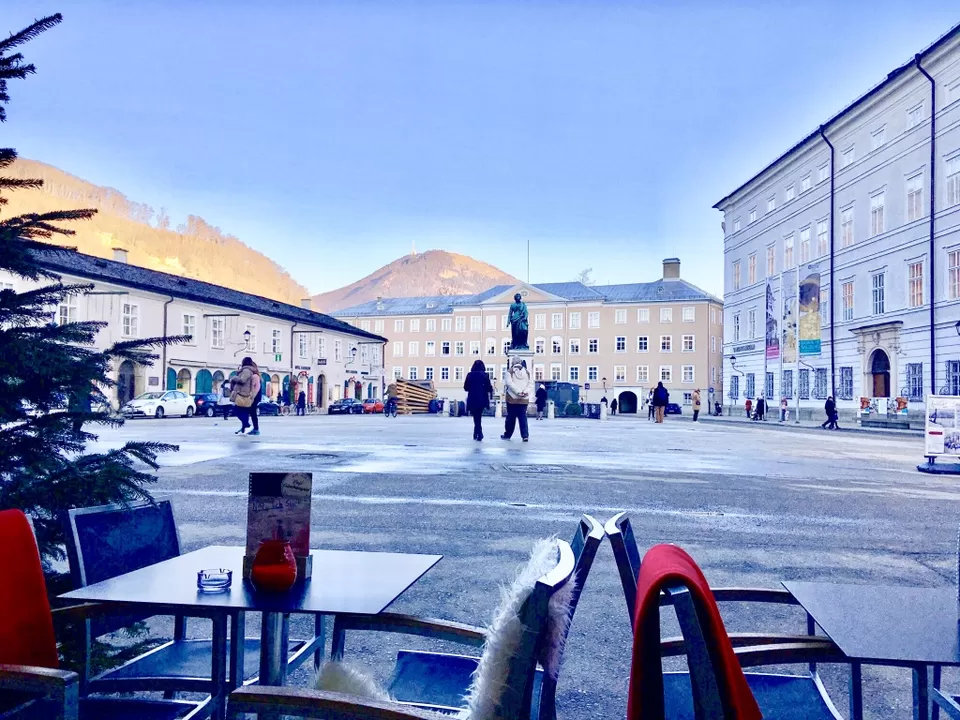 We are back again with Coffee time! ;-). I loved Café Glockenspiel. What a lovely place to sit, relax and have some amazing coffee. It has a decent outside sitting area and it was just fabulous!
➢ Salt Mines in Berchtesgaden
This mine is not in Salzburg but worth a visit! This is just about 33 kms (about less than an hour) from Salzburg. During this tour, you will explore the underground world and life of miners. What is the highlight of the tour? The 36 meters-long miners' slide and ride across "mirror lake". This spot exceeded my expectations!
You may want to to bypass this place in case you suffer from claustrophobia.
A day trip from Salzburg is also possible if you have a day to spare. I took a de-tour and visited this mine while I was on my way to Hallstatt.
➢ Sound of Music Tour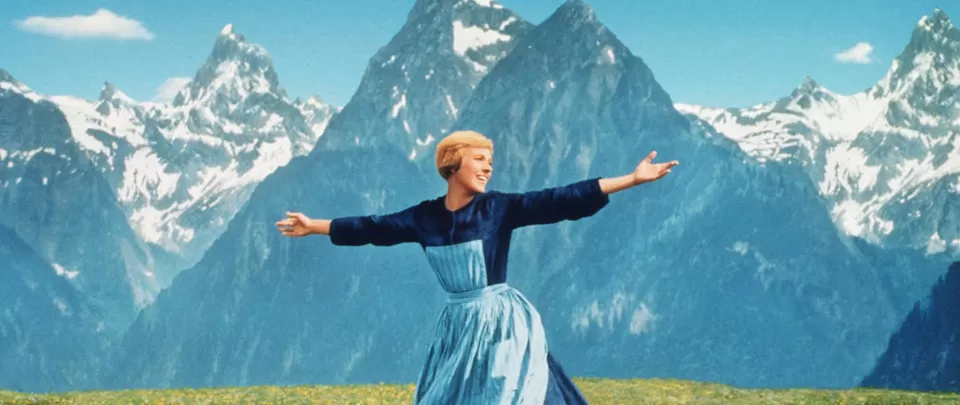 Salzburg is famous for this! Chances are that many people have seen classic musical movie Sound of Music. Most people do 4 hour bus tour which takes visitors to several filming location. There is also "Do it Your Own" option which you can consider.
In case you are in Salzburg for few more days, then you may add Mirabell Palace, Hellbrunn Castle, St peter Abby's, Getreidegasse (shopping street) to your list. Depending upon your itinerary and weather, you can also take excursions from Salzburg to Ice caves in Werfen, The Eagle's Nest, Gaisberg Mountain.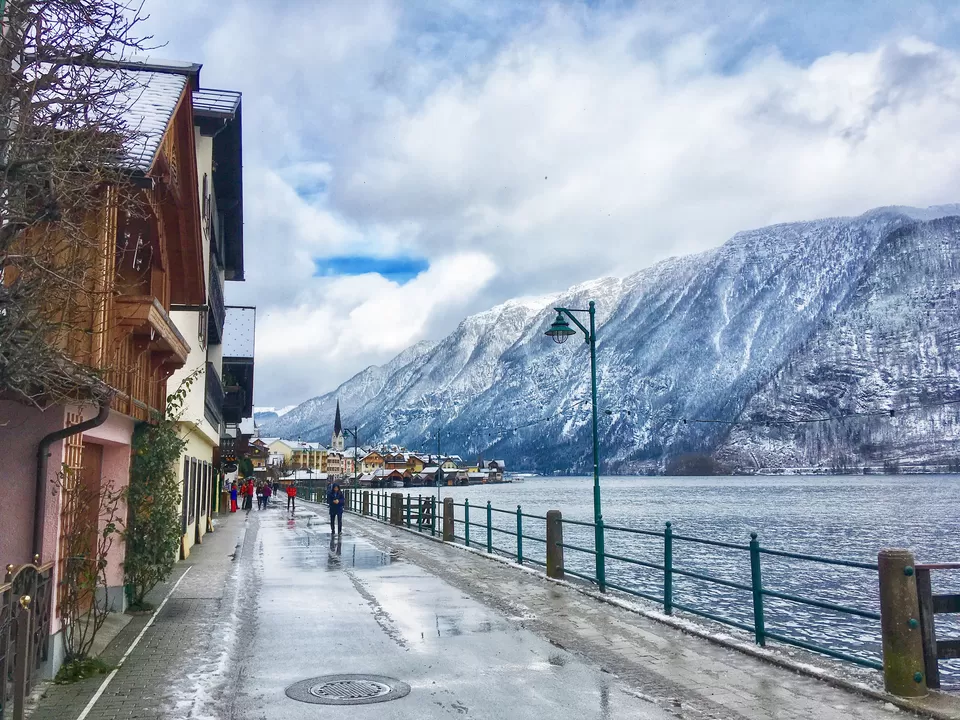 If you are a fan of picture-perfect town, then you are at the right place. I remember reading mixed reviews for visiting this town in "winter". However, pictures all over the Internet made me so sure that I got to visit this fairy tale town, no matter what! So the question is, should it be an overnight stay or a day trip? In my view, if you have time, spend 1 night in Hallstatt and I promise you would not regret. Views of the town and lake at the dusk are unlike anything else.I stayed in Heritage Hotel, Hallstatt.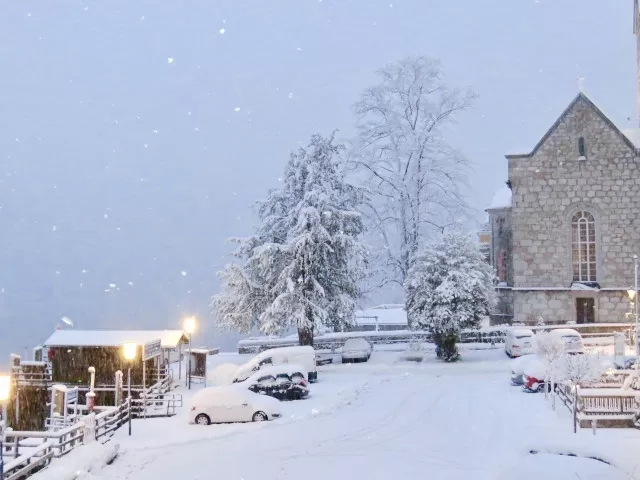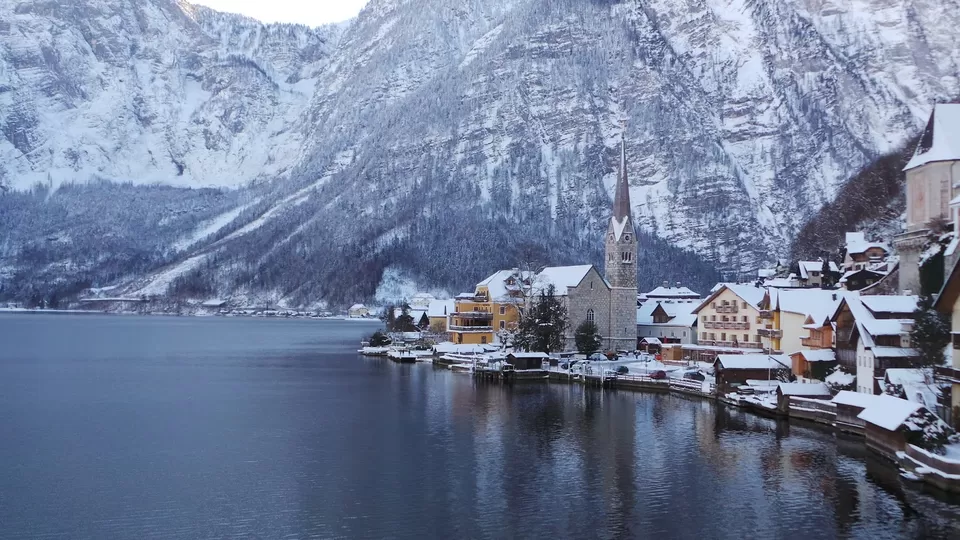 If you wish to enjoy the scenic beauty, this is the place to visit!
➢ What did I do in Hallstat?
Nothing! All I did was walked around this scenic village. Hallstatt has a scenery that needs to be breathed in. Just sit back and relax at any Café/restaurant and spend your day "doing nothing" ☺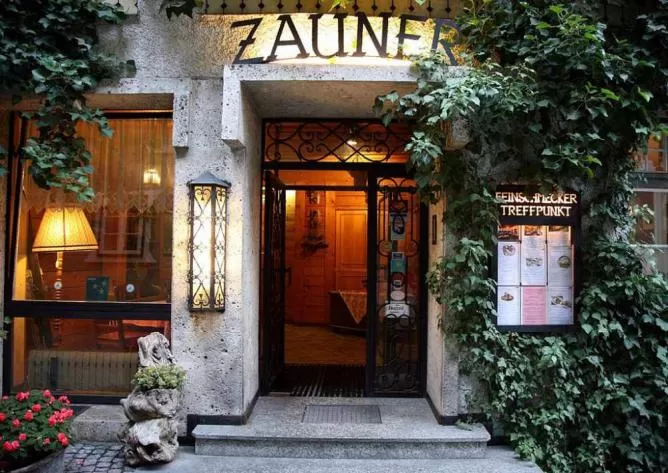 Leaving aside scenery, if you keen to do some activities, unfortunately, you do miss out on few things during winter, like, you won't be able to rent a boat, or visit Ice caves. Nevertheless, you do have access to 12th Century Catholic Church and Altaussee Salt mine which are the main attractions of Hallstatt.
I have to admit this by far, is the best scenic town that I have witnessed!
Mode of Transport in Austria
Train:
Train travel is efficient to zip around Austria which will take you through scenic routes. Trains are operated by the Austrian Federal Railways (OBB). Austria is fairly a small city and hence distance between to cities is not much. There is OBB Railjet, connecting to different cities and there are regular passenger trains branching out to various smaller towns for sightseeing.
Renting a Car
Renting a Car gives you freedom to travel around at your own pace. Driving in winter is not as scary as it sounds. All good companies provide Cars with winter equipped equipments like winter tyres, snow chains etc. Cars rented at airports come with hefty surcharge so consider it renting from local city area.
Final Verdict by KT
1. There are tons of winter activities which you can undertake during winter. You can try skiing, snow shoeing , igloo building, horse carriage ride and likewise.
2. Deals deals and good deals! One can stay close to the city Centre during winter as they aren't very expensive. Basically, you get to stay close to Centre without burning hole in your pocket. It's a win-win situation.
3. All indoor sightseeing activities are open during winter. One can thoroughly enjoy all indoor sightseeing. Austria has some of the most stunning Museums and Palaces.
5. Most important, weather isn't that bad during winter that one cannot step out at all! Wearing right clothing is all you got to do. All you need is a full body thermal set, rainproof jacket, hat, windproof gloves, warm boots, and believe me you are good to go!
4. Mode of Transport? I enjoyed all of it. I travelled in a passenger train and hop-in hop-off bus in Vienna; thereafter, rented a Car to drove (from Vienna) to Salzburg and Hallstatt. I love the idea of driving through European roads and renting a Car was must for me!
As far as (commutation) cost is concerned, after reading lot of blogs, reviews on trip advisor and doing my own calculation, I realised that if you are visiting more than one city, renting a car is a better option as Trains in Europe (inter city connect) aren't very cheap. Ultimately, one incurs more or less same cost! Also car becomes very convenient when you have decent luggage to carry! However, if you are going to be only in Vienna, then yes, opt for train and hop-in-hop off buses as they are excellent!
So is it worth traveling to Austria in Winter? To sum up, if you can handle cold weather, wouldn't mind to skip few outdoor sight seeing, the answer to the question is a echoing YES! Austria winter is pure magic and is definitely a good idea!
#Austria, #Austriainwinters, #Wintervacation #europe, #travel, #winterholidays #vienna, #Hallstatt, #Salzburg, #europeholidays, #trip, #heritagehotel, #snow, #mountains