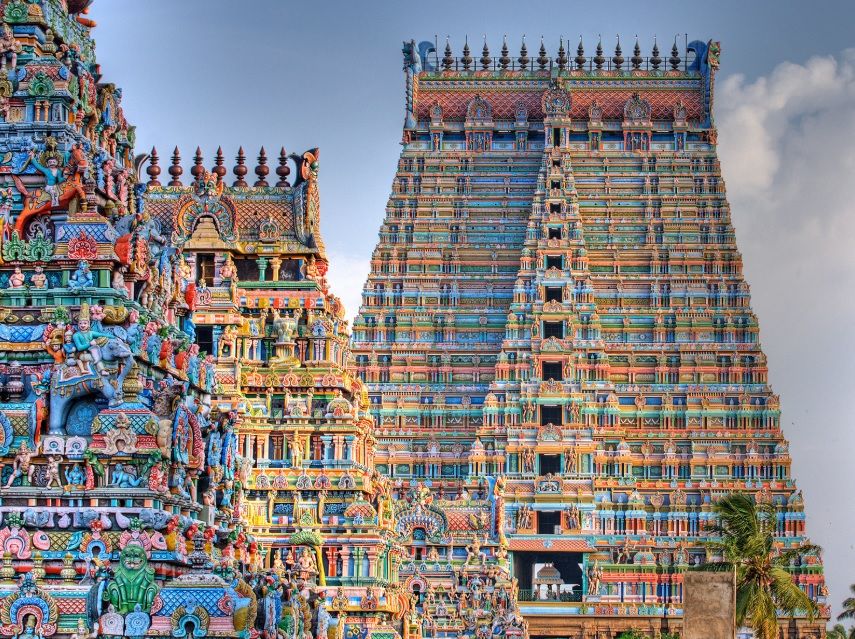 Lord Brahma once performed penance to see Lord Vishnu's original form. After several years of penance, Vishnu appeared in front of Brahma in a Ranga Vimana – a special chariot of the Lord carried by 4 Veda deities on their head and sleeping on the coils of the serpent Ananta Shesha. The Ranga Vimana was worshiped by Lord Brahma who later gave the Vimana to King Ishwaku (Lord Rama's ancestors) on Lord Vishnu's (Ranganatha) desire.
The Vimana was worshipped in Ayodhya by the Ishwaku dynasty and finally by Lord Rama. Lord Rama gave the Vimana to Vibhishana – the brother of Ravana – at the Pattabhishekham, the ceremony where he was crowned as the king of Lanka after Ravana's death. This ceremony was held at Dhanushkodi Tamil Nadu, near Rameshwaram, after Lord Rama returned from Lanka.
On Vibhishana's journey back to Lanka, he passed through the province of Srirangam. The Chola kings and sages requested Vibhishana to perform the Adi Brahmotsavam in Srirangam instead of Lanka. Vibhishana agreed and placed the Vimana in the middle of river Goddess Kaveri (or Cauvery) and worshiped it. After the puja rituals, Vibhishana tried to lift the Vimana but could not. Lord Ranganatha then revealed to Vibhishana that due to an earlier promise to river Kaveri, he desires to remain in Srirangam and laid down in the South direction to constantly bless Vibhishana in Lanka. King Dharma Varma Chola later constructed the massive temple at this location in Srirangam.