From a long time we were planning to go to Arunachalam.After delays and delays finally the time had arrived and everything was setback to travel to the Tamil nadu. We first began to last our trip to go to Arunachalam but extended upto Thanjavur.
We started from Guntur my home town and reached Katpadi junction by train the next morning,from there reached Arunachalam by bus.As there are less trains from Katpadi to Arunachalam, we choose to travel by bus.There are frequent buses from Katpadi to Arunachalam run by TSRTC(Tamil nadu govt.).
Buses are not maintained properly but it's convenient enough to travel for such a short time of around 2hrs.It took around 2hrs to reach Arunachalam.Our stay was at Siva sannidhi a charitable yatri nivas which is run by an NGO organisation by people of Andhra Pradesh.rooms are very neat and well maintained and are convenient for small families to stay.Free food is also served for pilgrims and tourists.Although no fee is charged for stay in yatri nivas donations are accepted for maintenance.Nearby is SWAMY RAMANA MAHARSHI ASHRAMAM who is great of LORD ARUNACHALESWARA.Ashramam is fully filled by foreigners than the locals. Very proud moment to see so many foreigners visiting and experiencing the SANATANA DHARMA way of life.Many of them come here not only as tourists but also to experience and feel the divinity of LORD ARUNACHLESWARA.The next day morning I and my father started Giri pradakshina around the ARUNACHALESWARA HILL, which is considered to be very sacred by hindus. It is the actual place where LORD SHIVA first gave darshan as swayabhu.The distance around the hill is 14km which can be easily accessible by walk or people who are old can hire autos for doing Giri pradakshina.price is 100rs for 1person if accessed by auto. I and my father completed Giri pradakshina by foot but my mother,aunt,uncle hired an auto.On the way of Giri pradakshina around sacred hill there are 8shiva lingas signifing 8sides which are must seen.It took nearly 3hours for completing Giri pradakshina.After completing pradakshina we reached the main temple of LORD ANNAMALAI YAR.The temple is so huge with 4magnificient gopuras on four sides of temple.The temple is an engineering marvel which by sure cannot be built by today's engineers the distance from entrance of the temple to main sanctum is almost 0.5kms,with many small temples,pushakarini,1000pillared mandapam which showcases the great architecture of those times.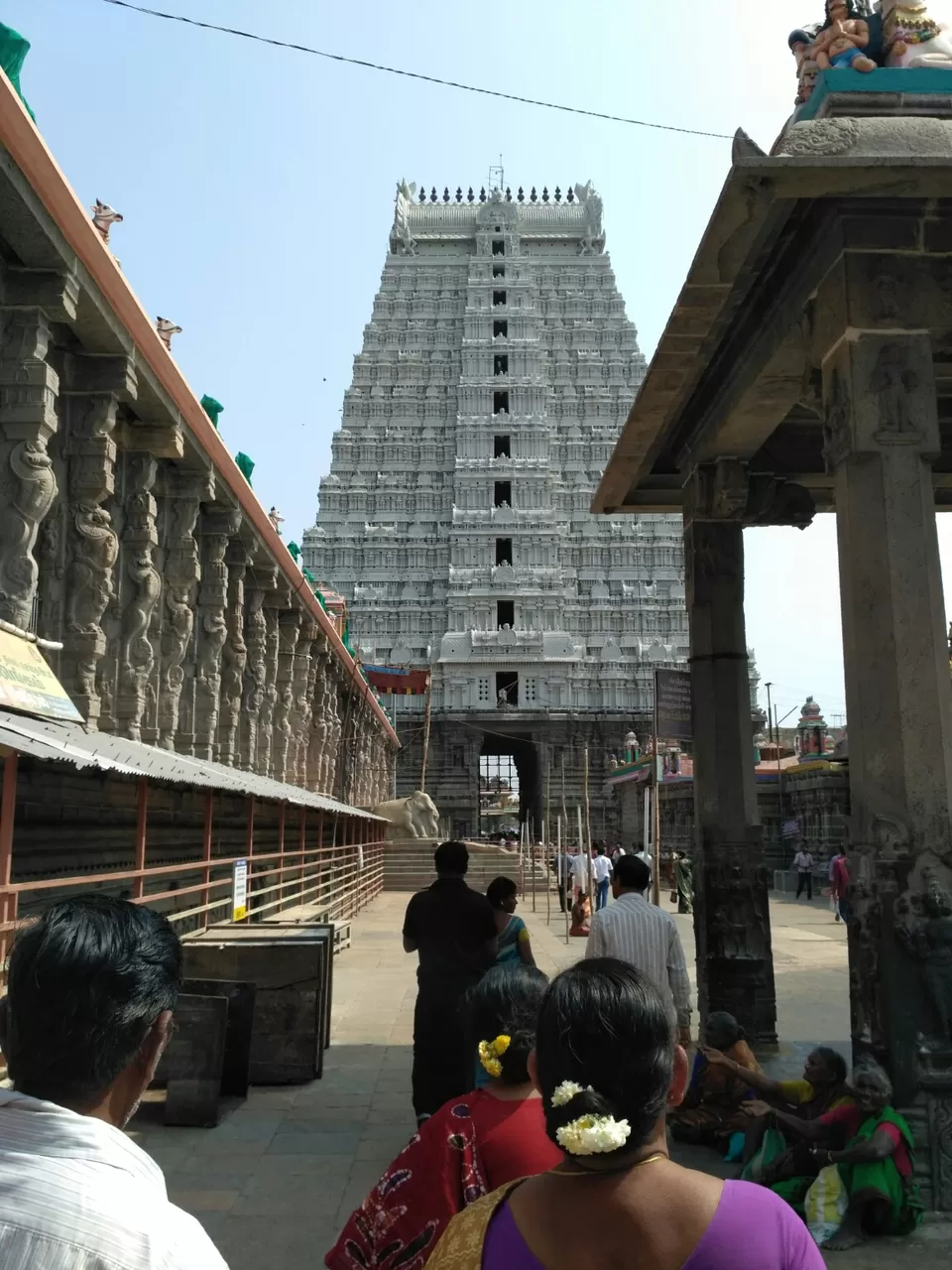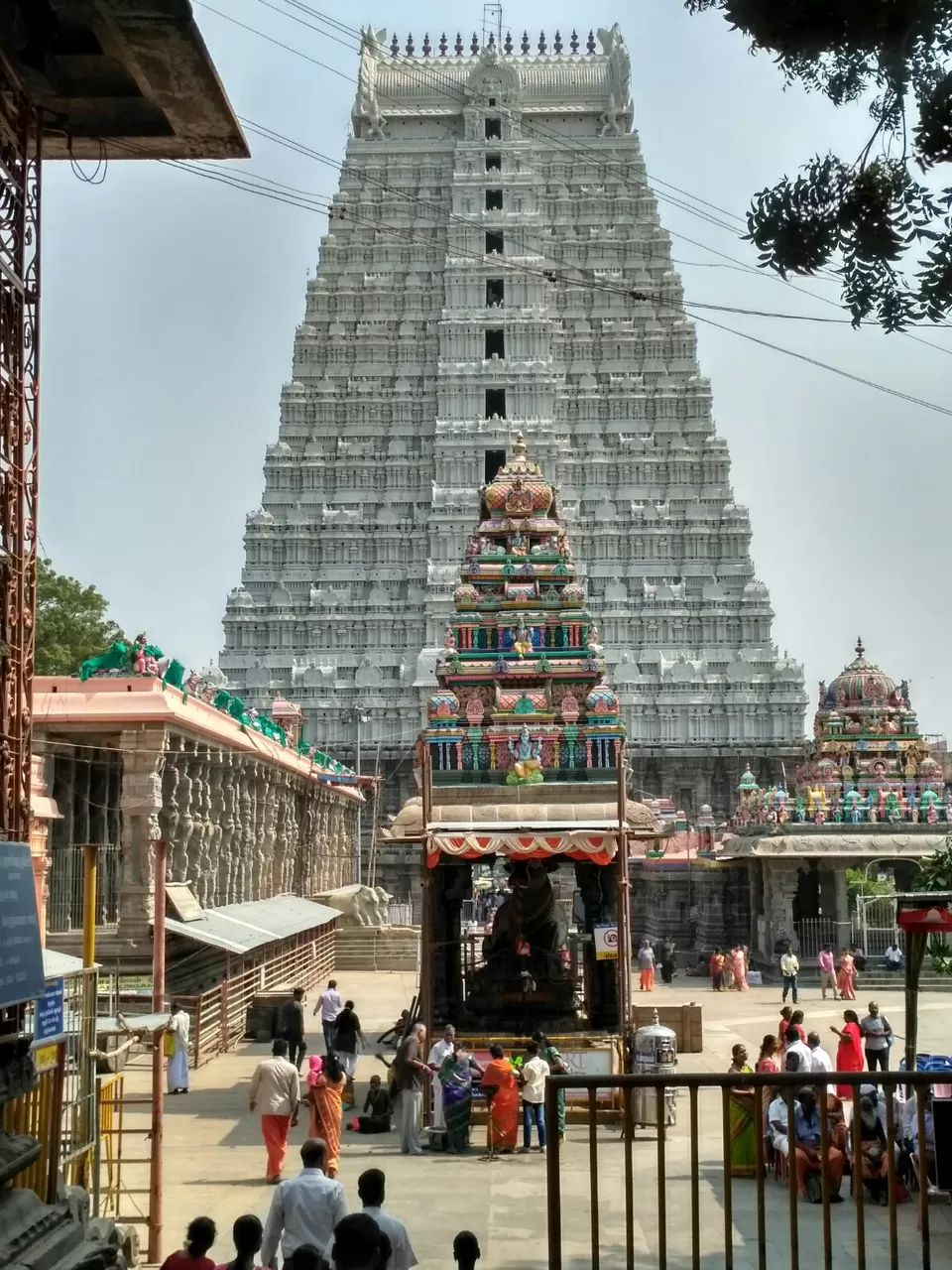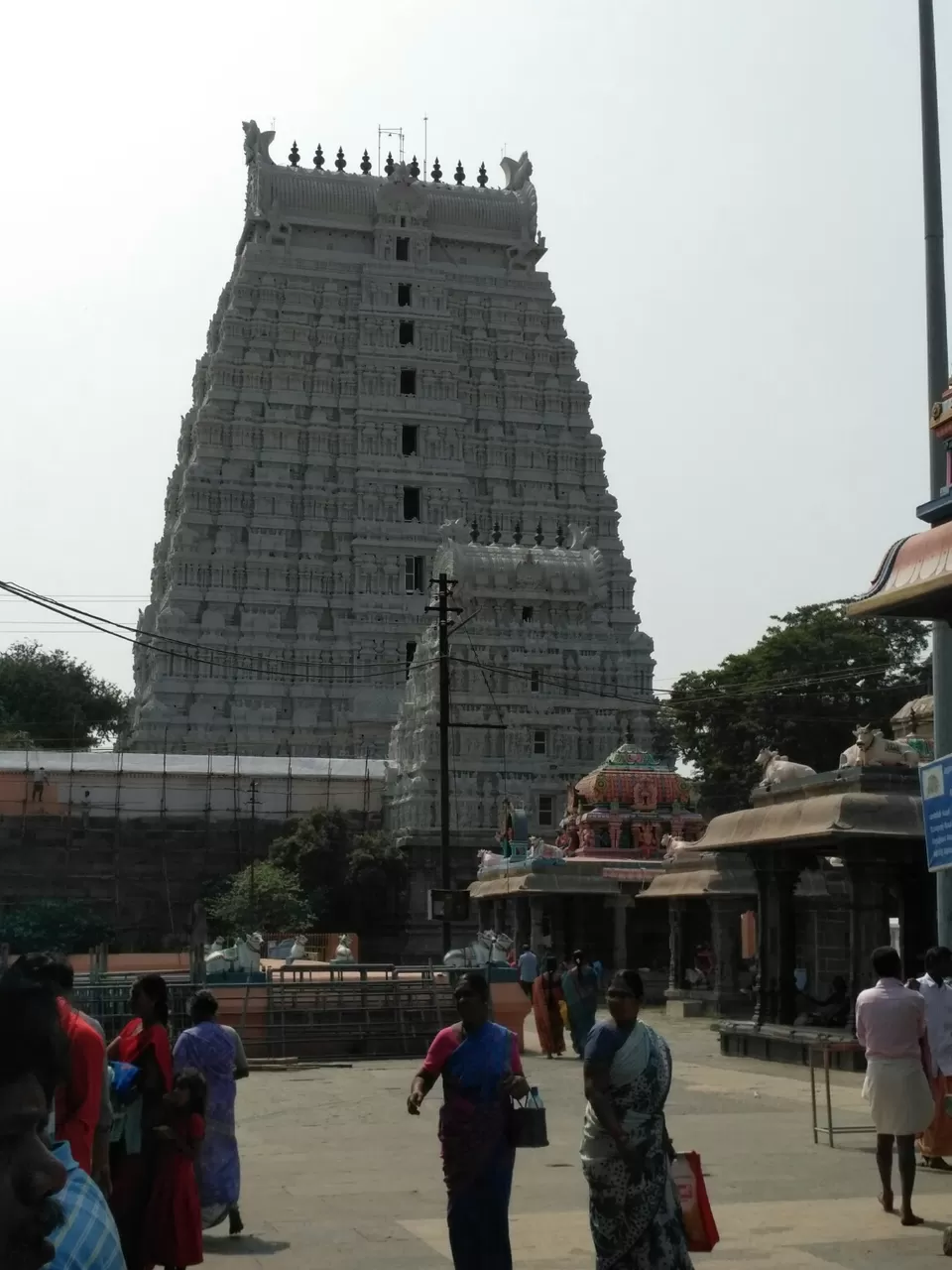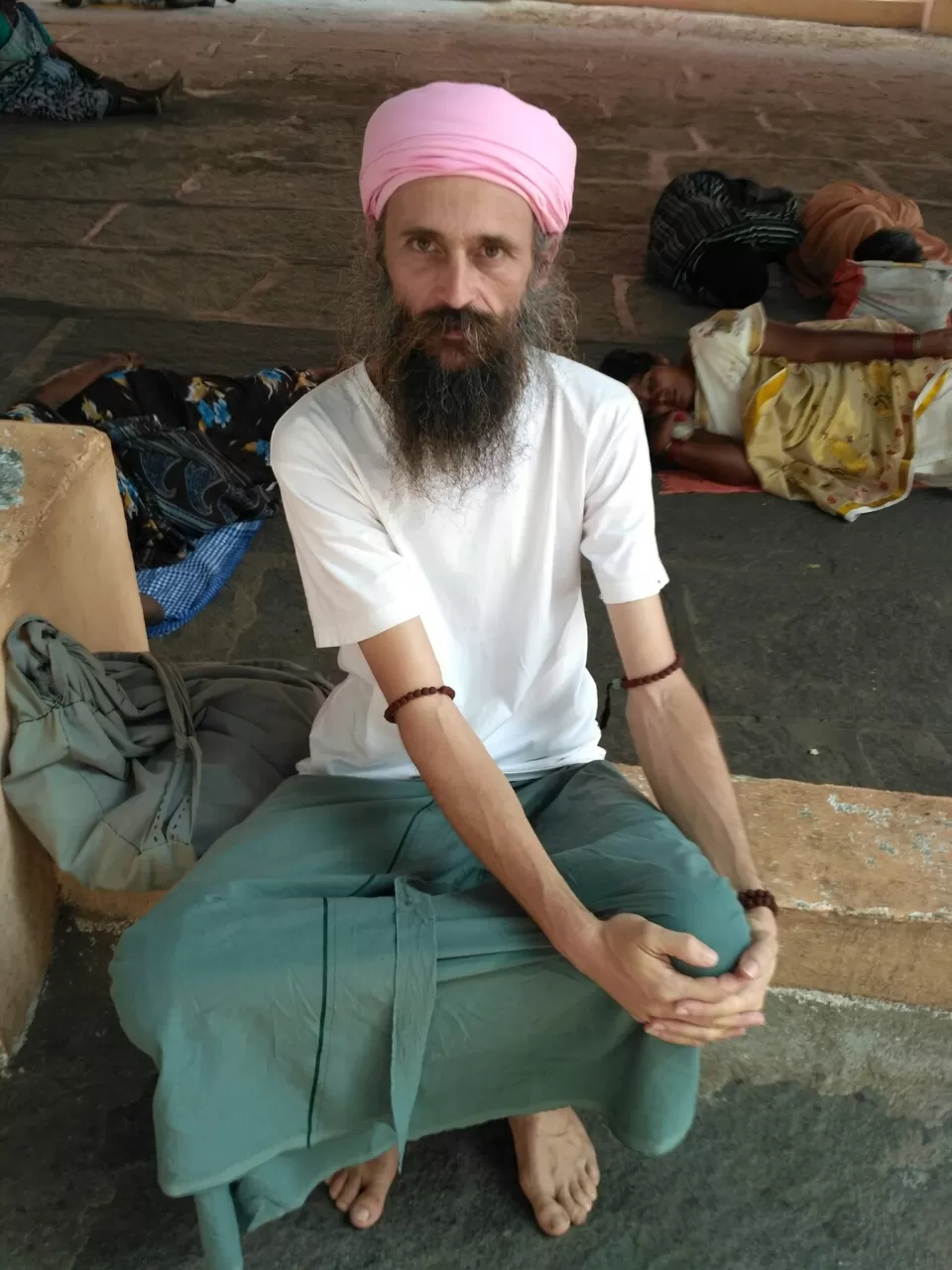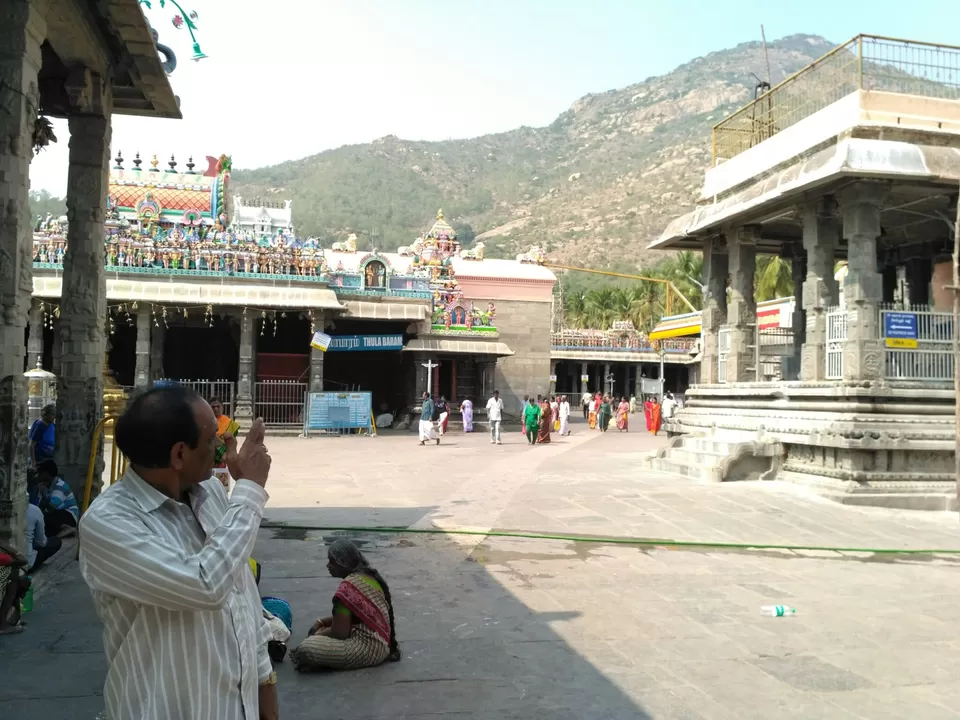 After taking blessings from lord we started back to Siva sannidhi where we stayed,enjoyed the lunch served there and packed our bags for way to SRIRANGAM.
SRIRANGAM is a 3hour journey from Arunachalam.since there are no frequent trains from Arunachalam we again started by bus run by TSRTC.Though the buses are not properly maintained thanks to the well laid highway which made our bus journey quiet happy.Almost travelling for 3hours around at 8pm we reached SRIRANGAM. We pre-booked our rooms at SRIRANGAM at YATRI NIVAS which is 1.6kms from temple.The cottages are very well maintained at such a nominal amount.we booked a 8bed dorm which is very good especially at a price of 800Rs.The dorm has 8beds with attached bathrooms and everything thing made our night stay very happy.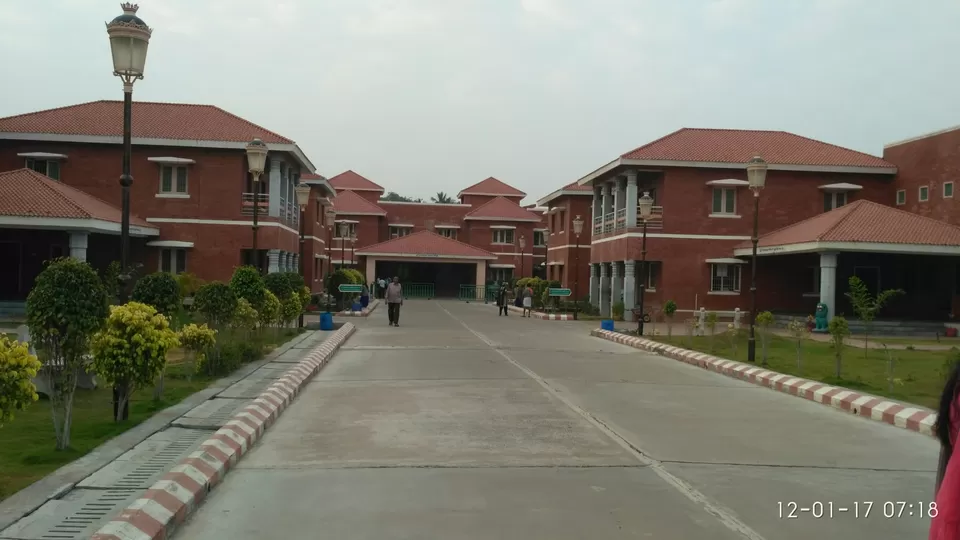 The next day morning we started very early had breakfast and started to SRIRANGANATHASWAMY TEMPLE which is walkable distance of just 1.6kms,autos are also available but should be bargained they charge nearly 300rs for such small distance of not bargained. Since it's early morning around 7am we walked all the way to temple.The temple is a mind-blowing piece of architecture which cannot be described in words,one will be speechless and gets stunned by seeing the size of the temple and the main gopuram which is secound tallest after Angkor wat in cambodia.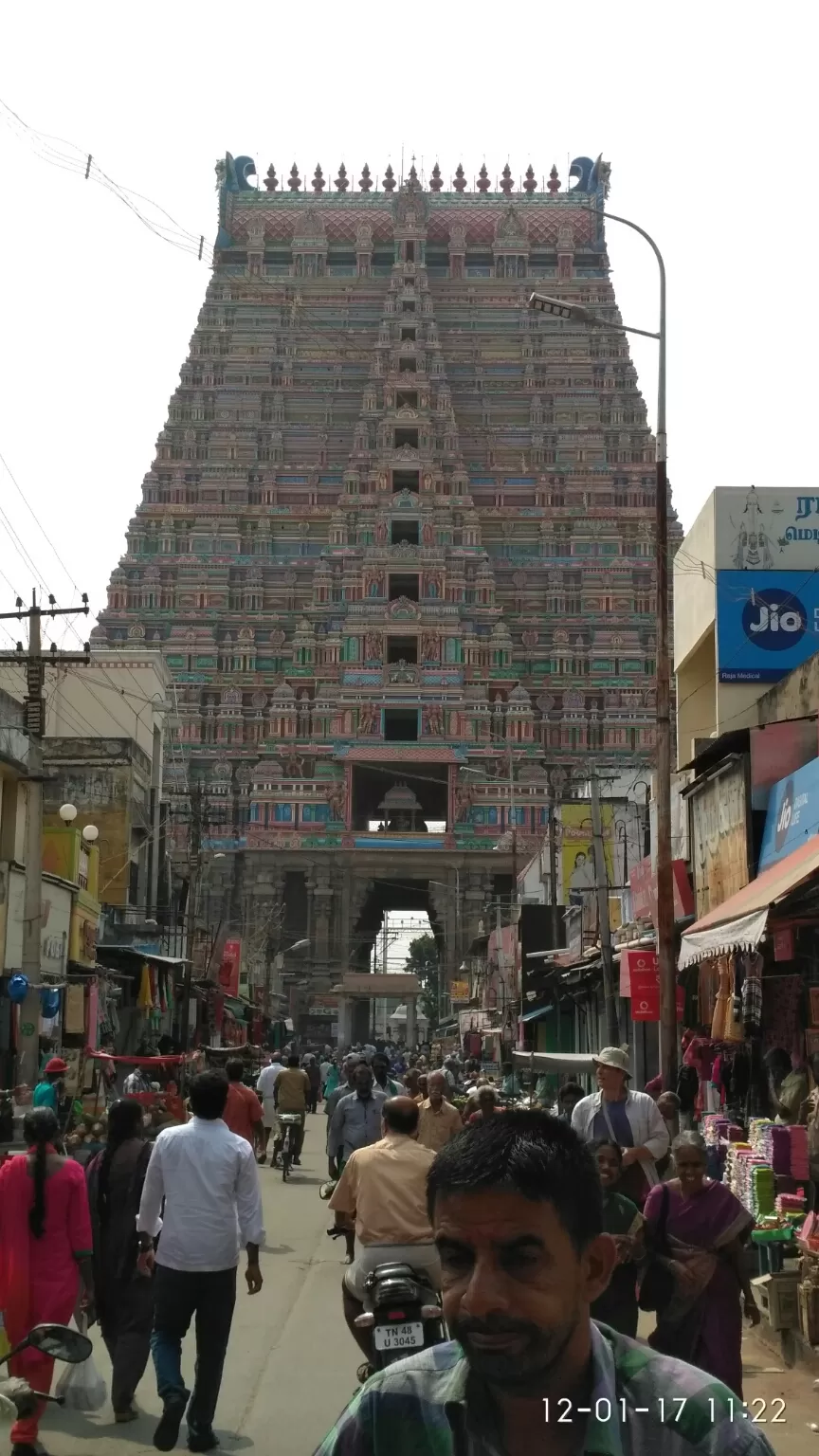 The temple has prakaras each prakaras having temples and manadapams which are carved with marvelous sculptures,which gives a visual treat to everyone.The temple is also the first of 108divya desams which is very sacred to hindus.The temple is also filled with so many pilgrims from across India and also with lot of foreigners.Although foreigners are allowed into all prakaras they were strictly not allowed inside main temple inside inner prakaram.THE entry is strictly only for Hindus.A board can also be seen outside the main temple. After getting inside the main temple had SWAMY RANGANATHA darshan.The Murthy gives darshan by lying on ADISESHA which is spell bound and fills us with divinity. After having darshan we started exploring the whole temple
.Every prakaram had small temples with beautiful sculptures.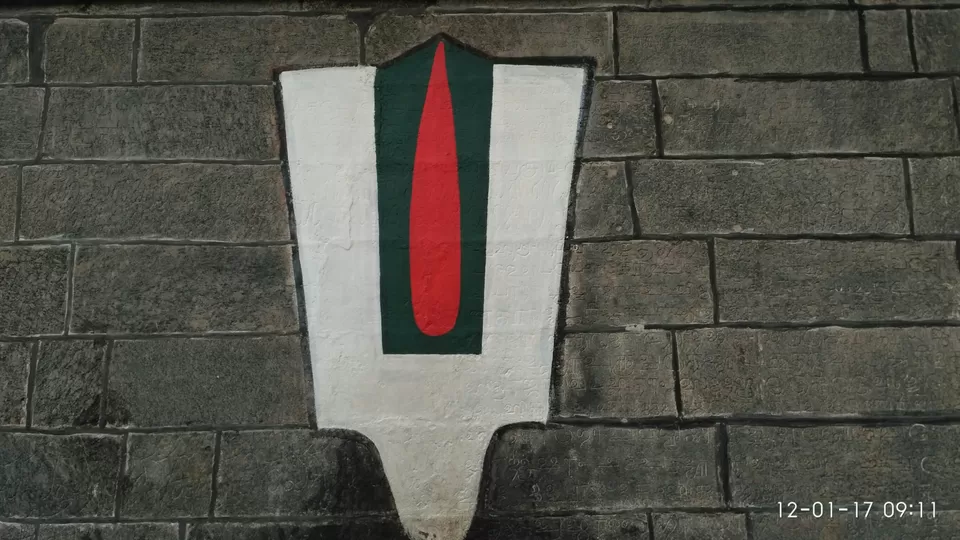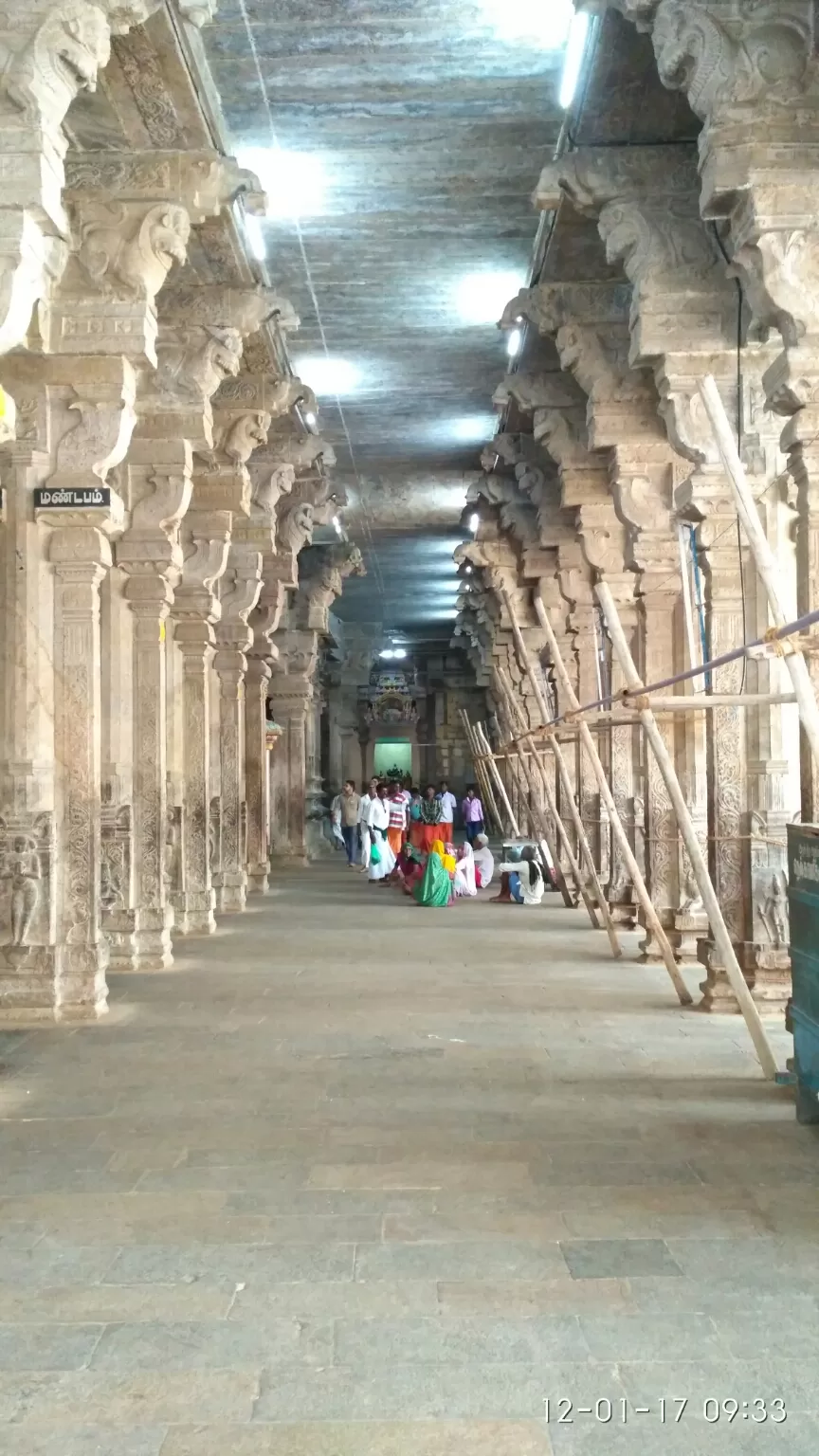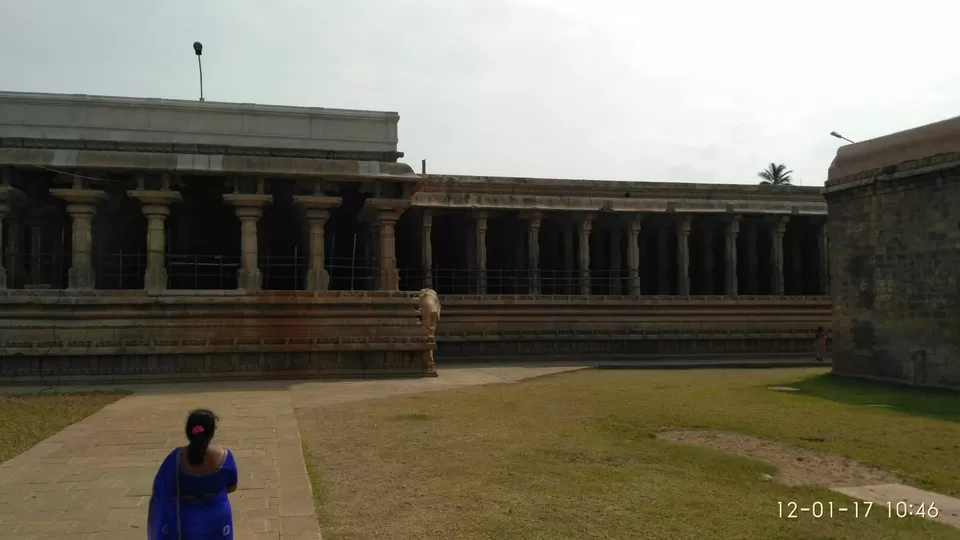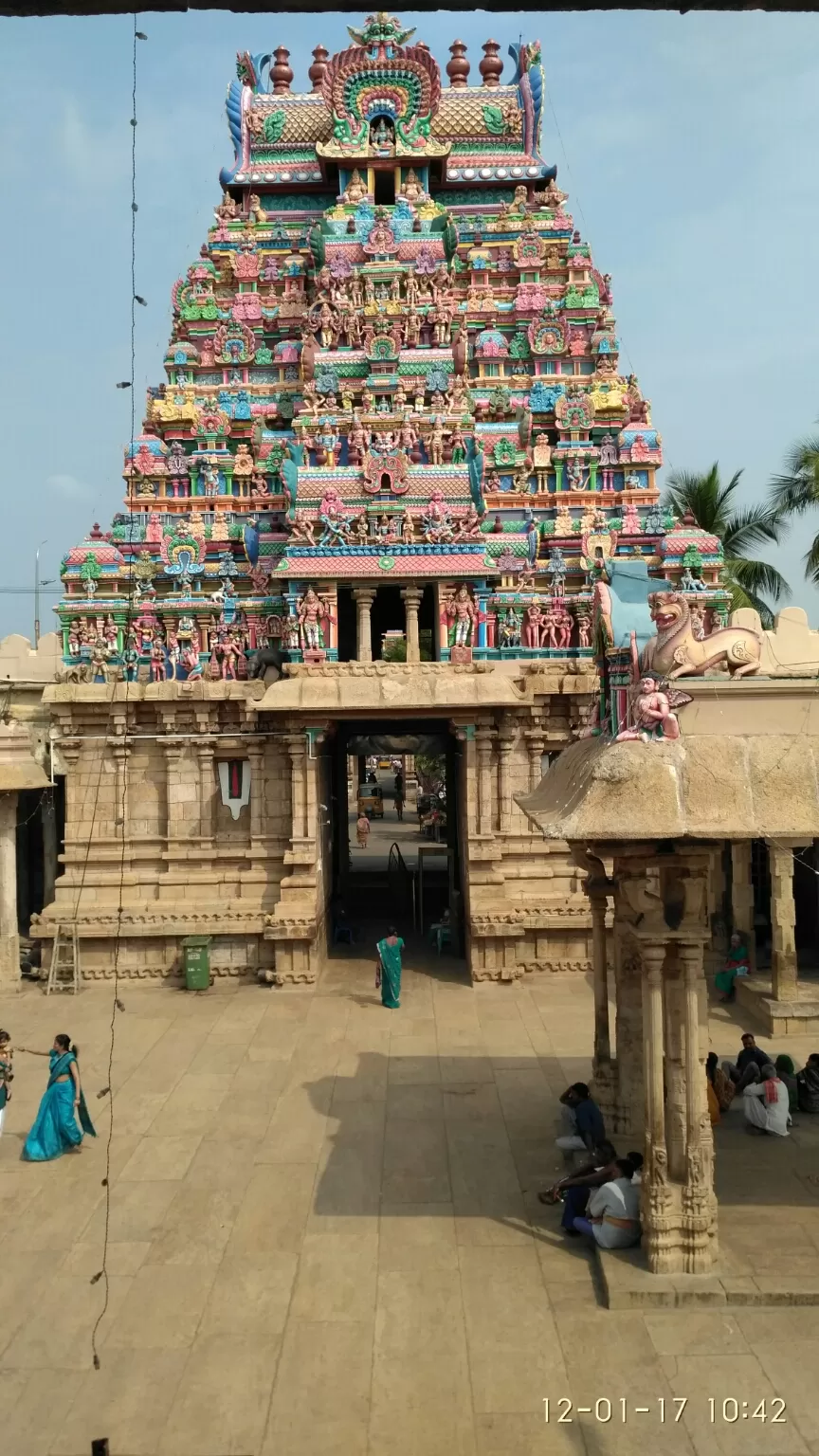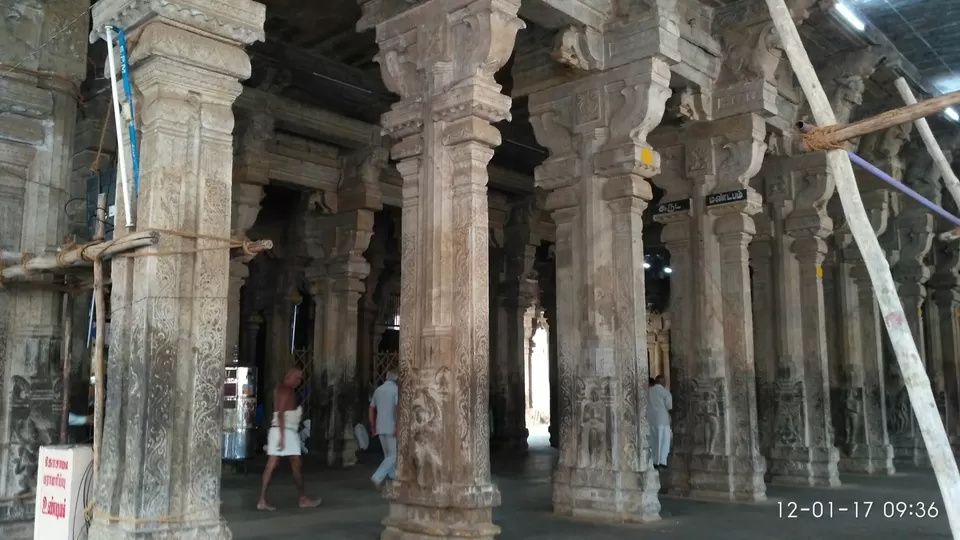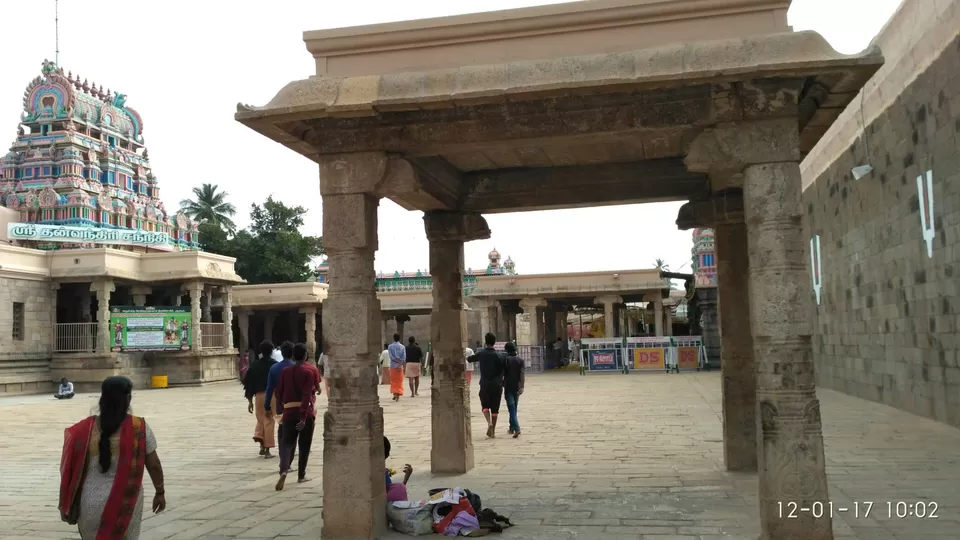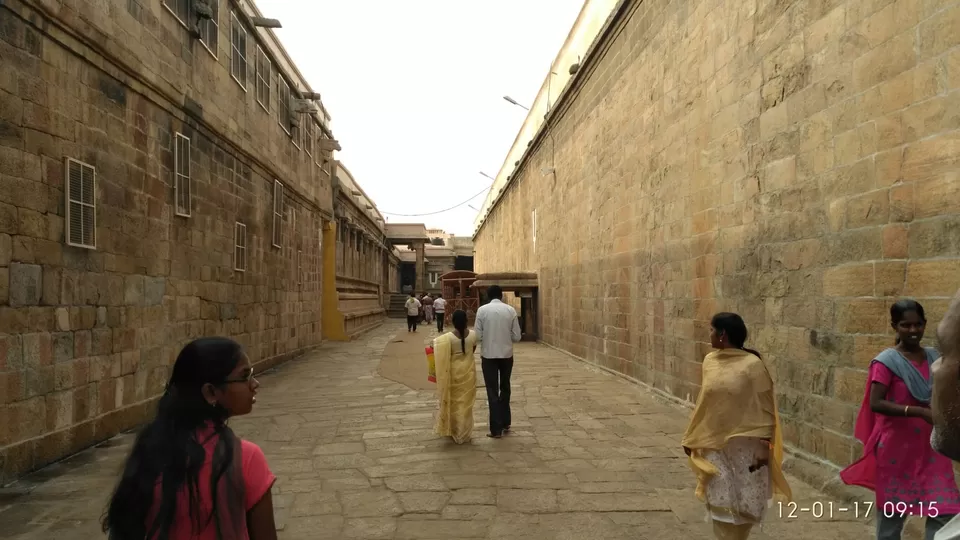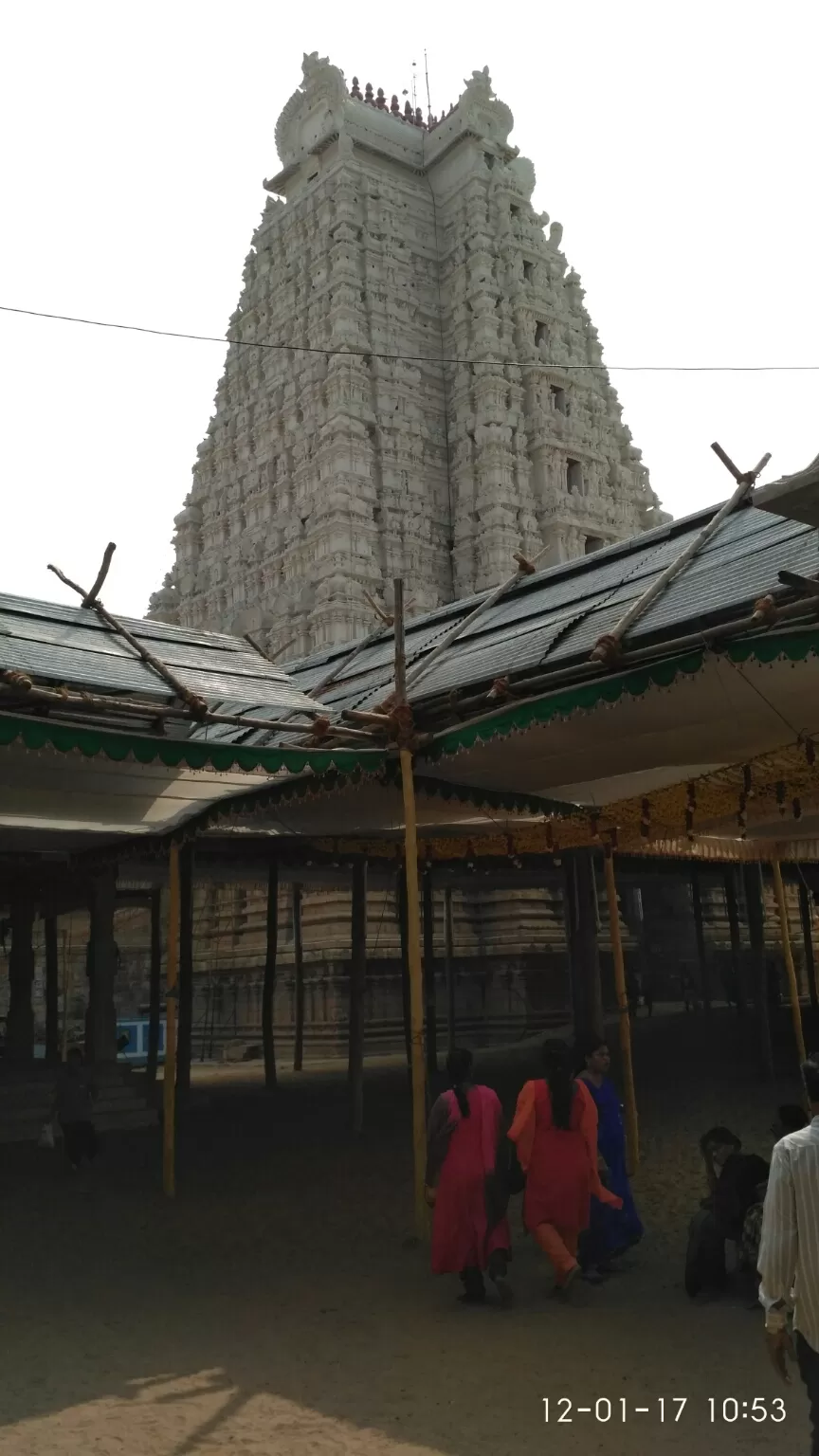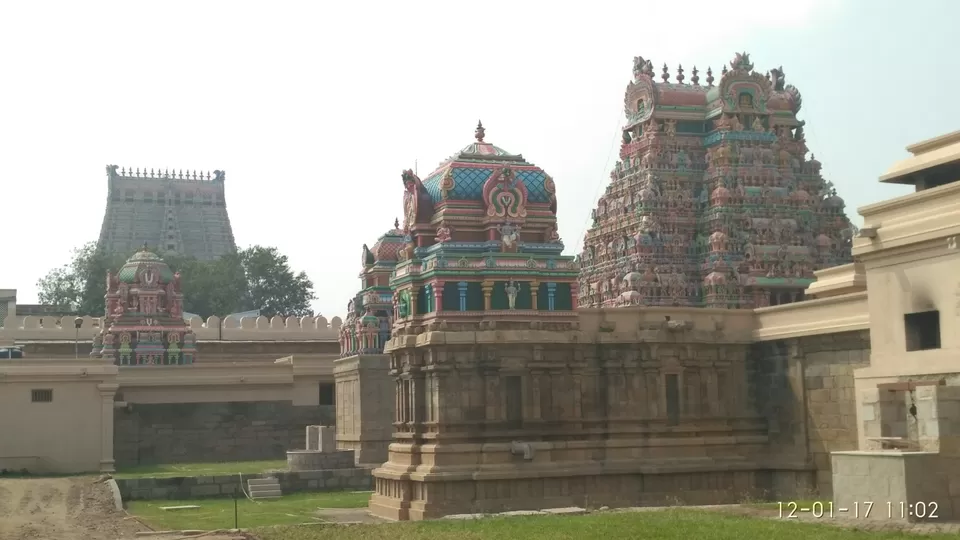 It took us nearly 6hrs to explore the whole temple, by this one can imagine the size of the temple.After that we had our lunch and went to JAMBUKESWARAR TEMPLE dedicated to lord SHIVA.This is another temple from SRIRANGANATHASWAMY TEMPLE which is just 1.5kms away. This temple should be a must visit temple for everyone who come to SRIRANGAM.It is a very huge ancient temple with manadapams and two prakarams with SWAMY JAMBUKESWARAR TEMPLE in the inner and ammavari temple in outer prakaram.The inner temple has splendid architecture on the walls which cannot be described in words.Then took the blessings of lord Shiva and spent some time till evening exploring such a huge temple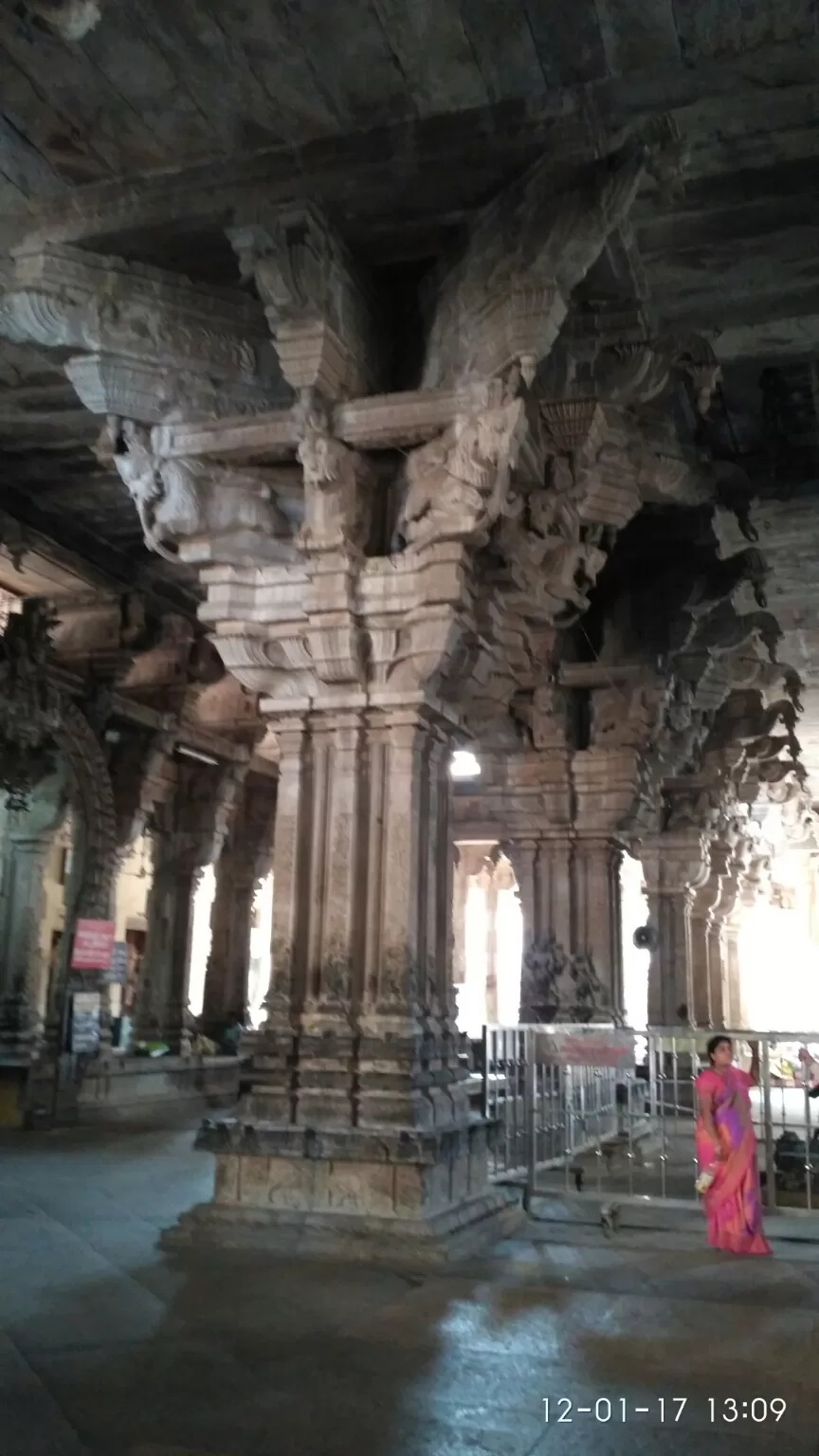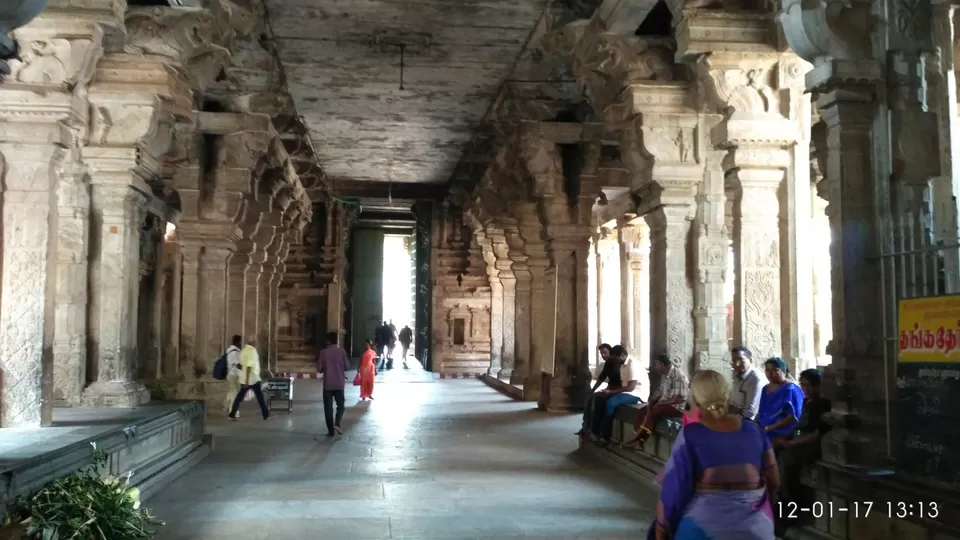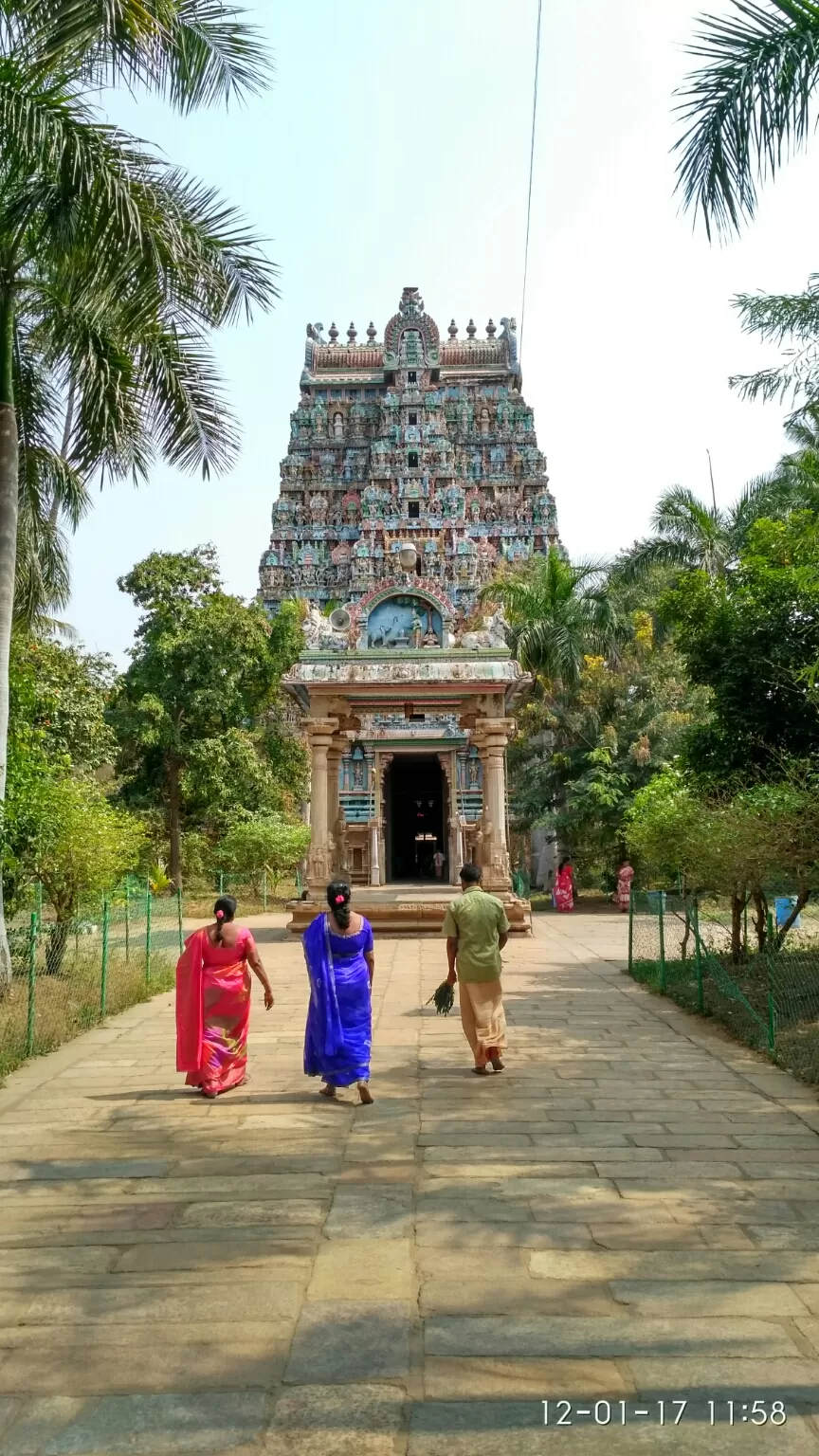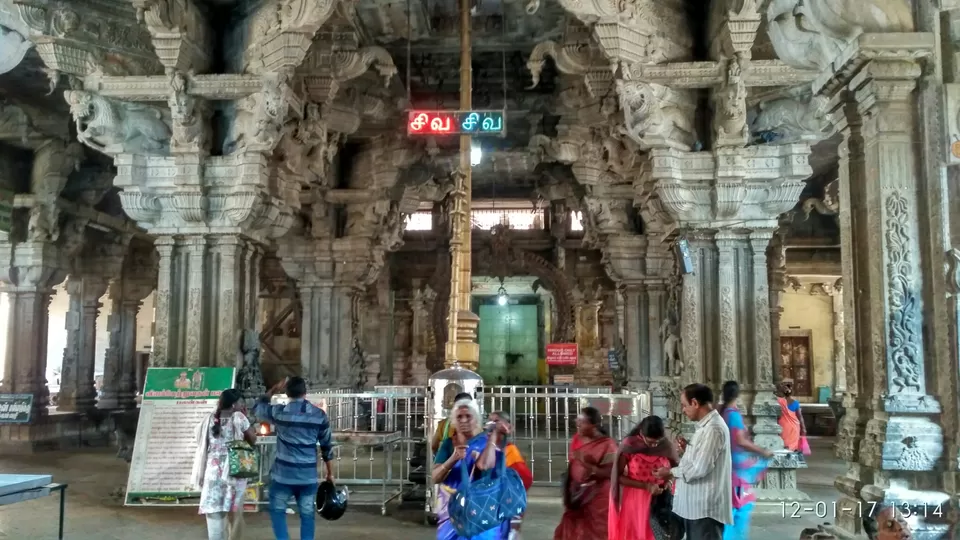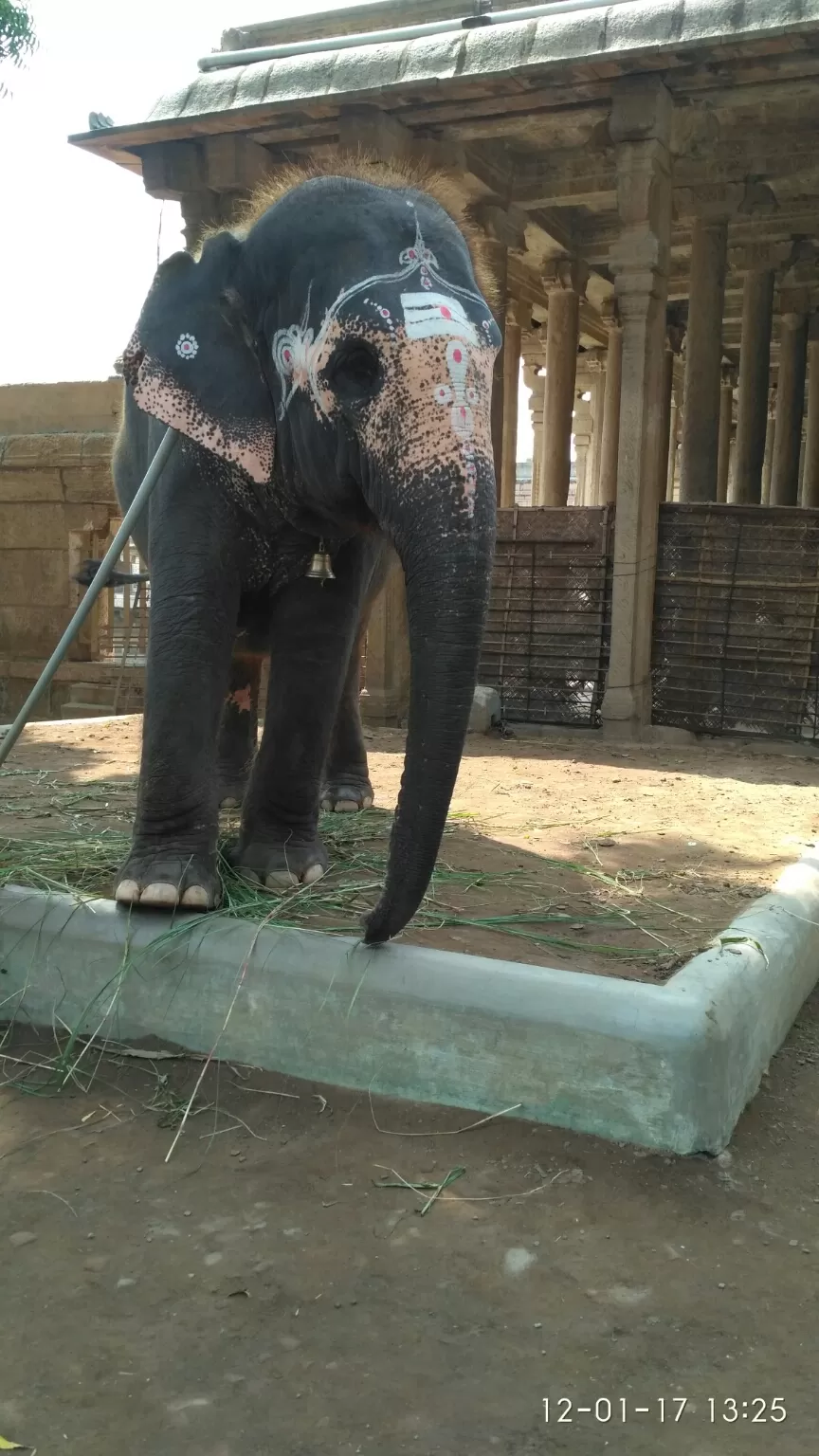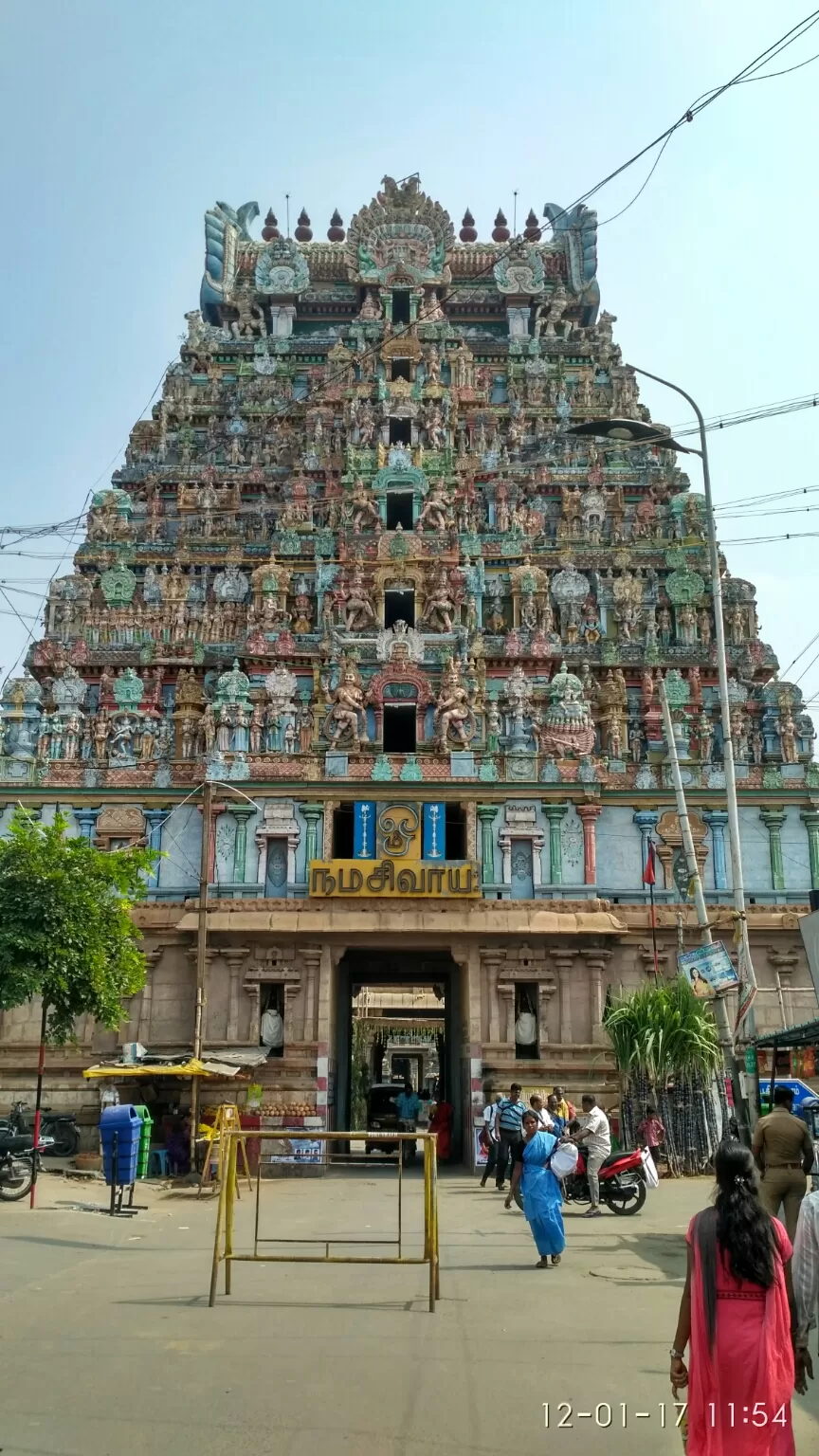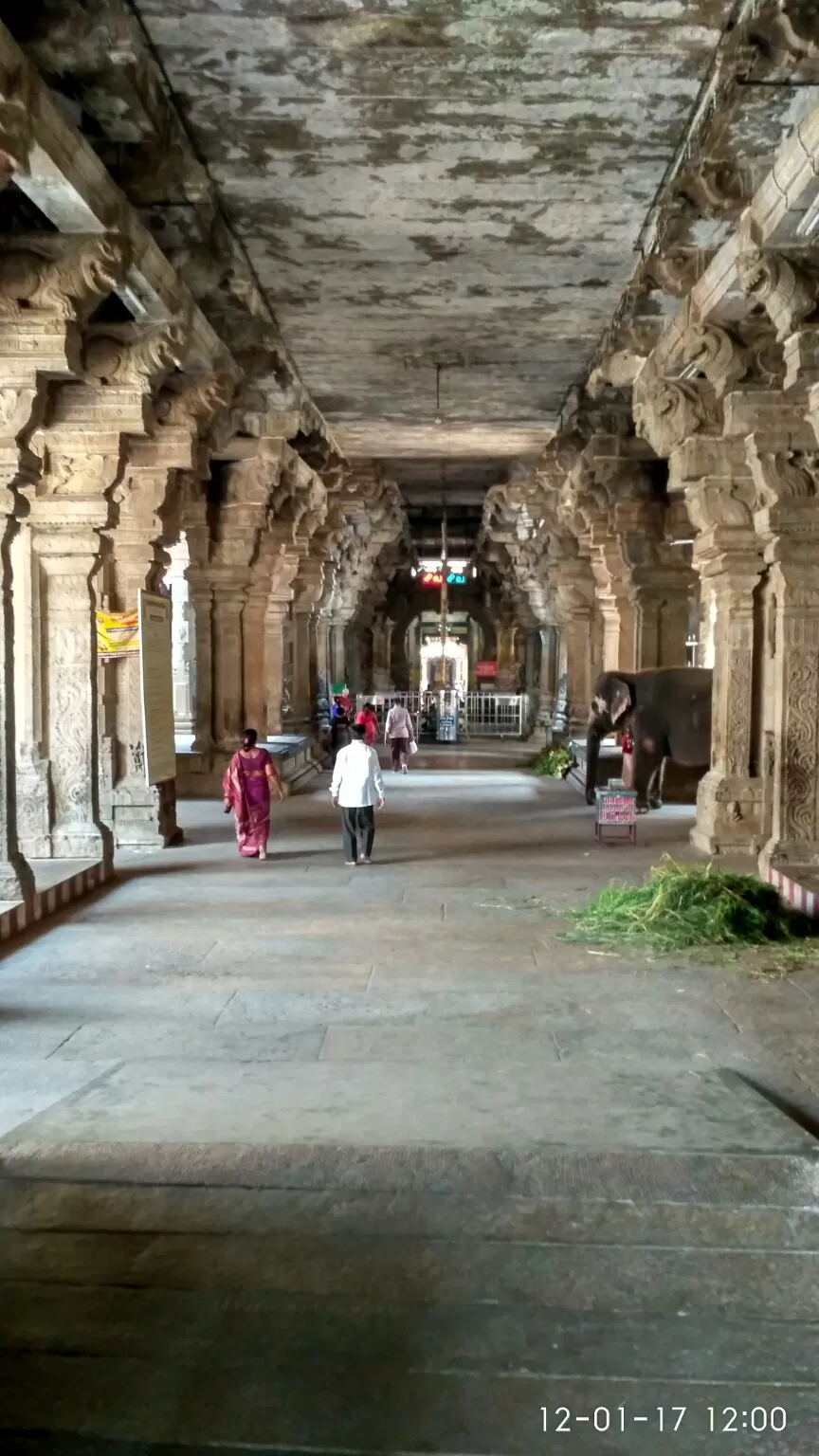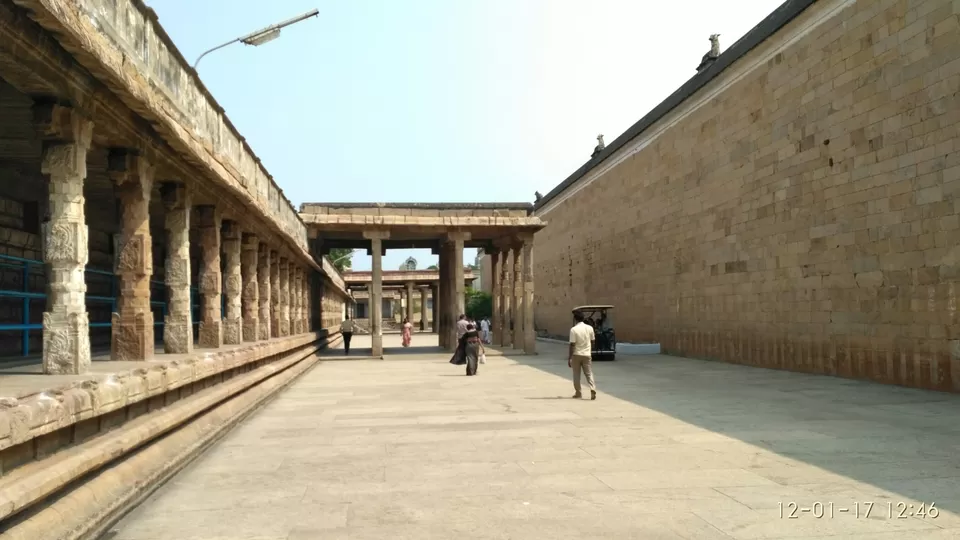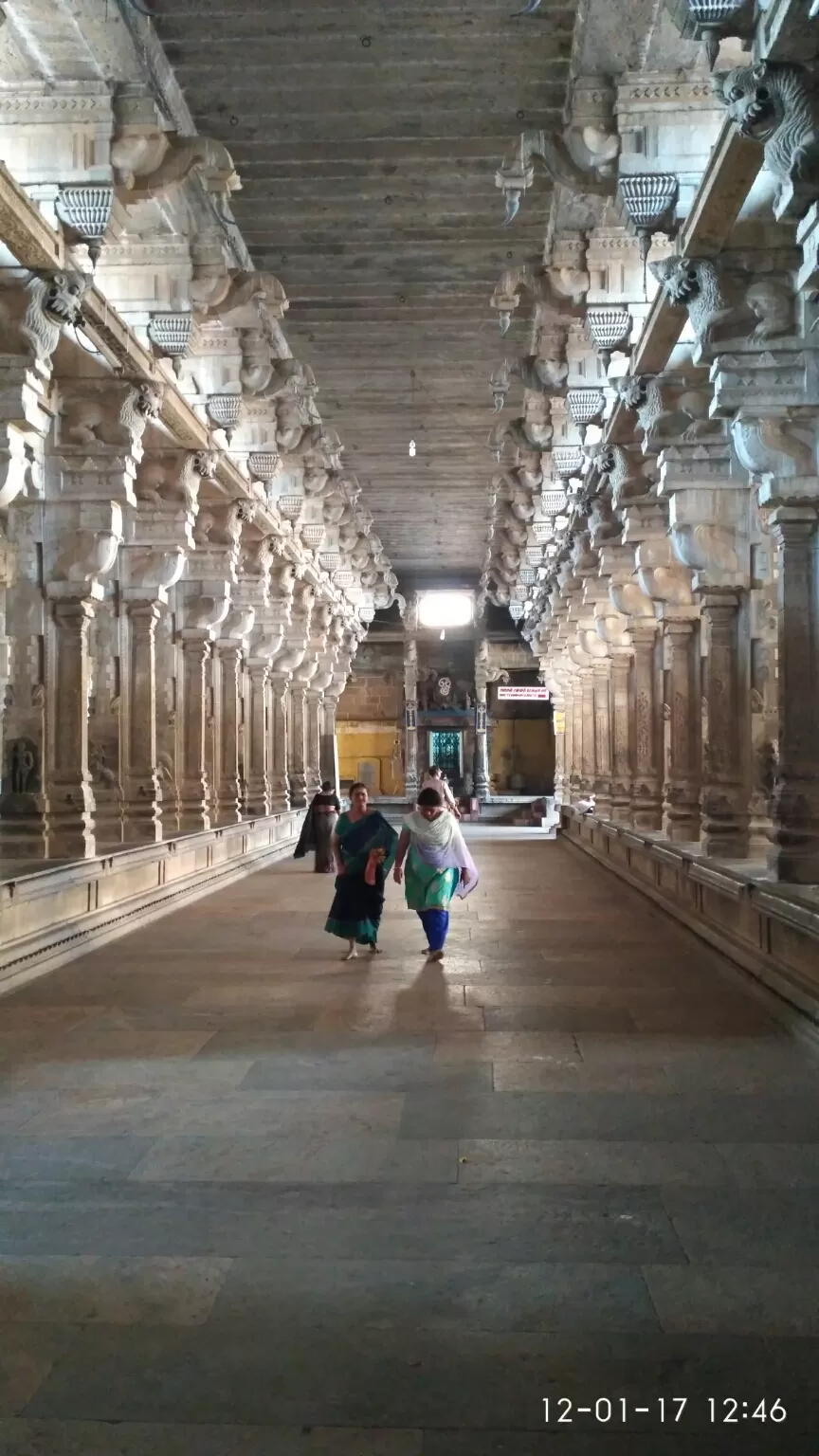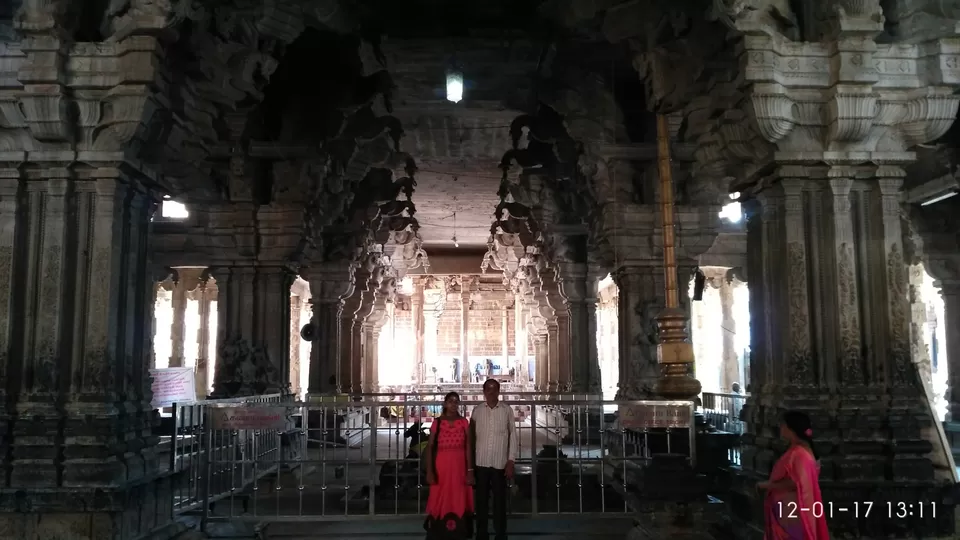 After having memorable moments with my family and receiving blessings from lord Shiva reached yatri nivas stayed a peaceful night there.
The next day morning got backpacked every thing had breakfast and we started early to catch a passenger train from Trichy station which is 8kms from yatri nivas the main station of Trichy city to THANJAVUR.Trains are available every hour from Trichy to Thanjavur.It takes only 45mins in passenger train to Thanjavur.After reaching Thanjavur kept our bags in clockrooms in railway station and got to BRIHADEESWARAR TEMPLE.The temple is an example of GREAT LIVING CHOLA TEMPLES and also a UNESCO WORLD HERITAGE SITE.The temple is a true example of
CHOLA kings there love towards Architecture,there perfection in engineering,their devotion to LORD SHIVA.
The temple vimana gopuram stands huge with splendid mind-blowingb huge sculptures all the way on temples gopuram. The entire temple is built with granite stone.The main dirty inside the temple is lord SHIVA naming lord BRIHADEESWARAR. The temple is open to everyone irrespective of caste,religion, nationality. The temple is filled with tourists through out the day with no gap.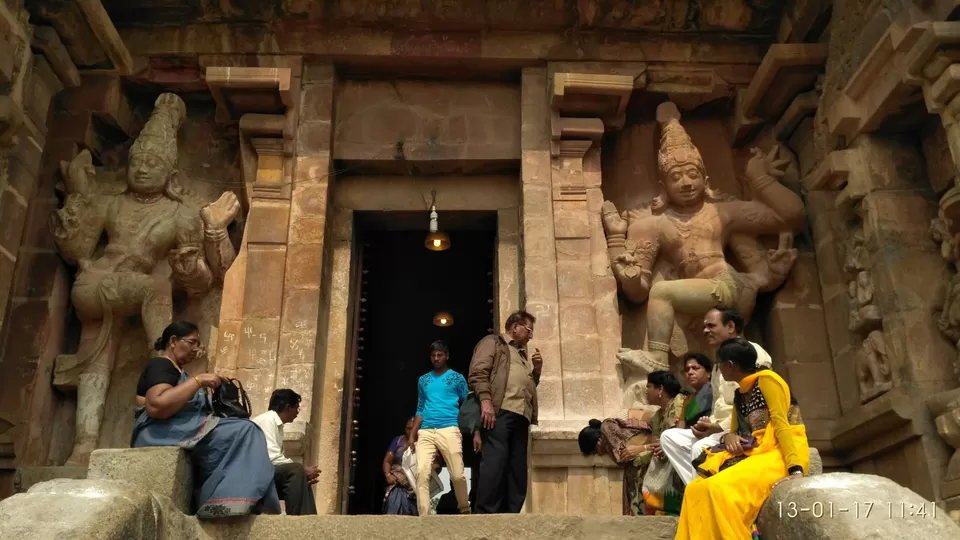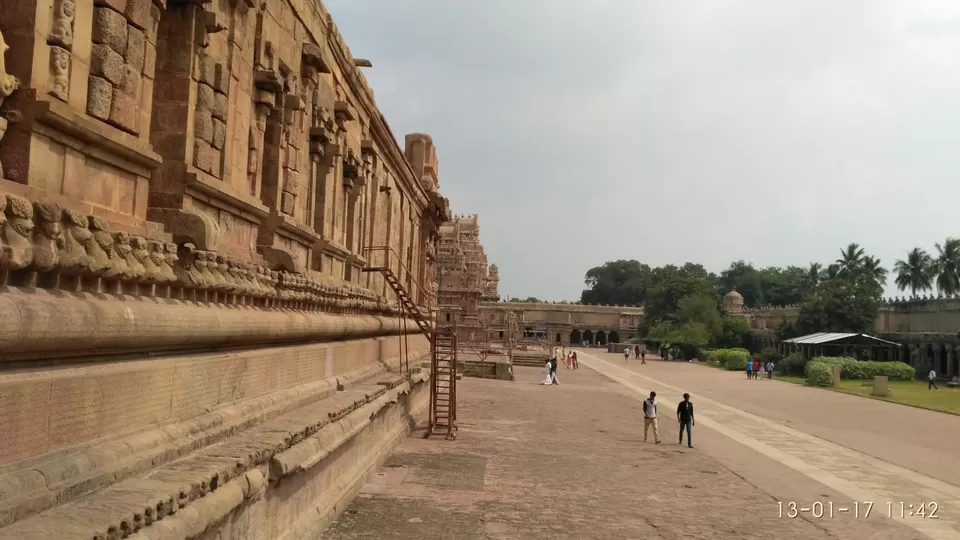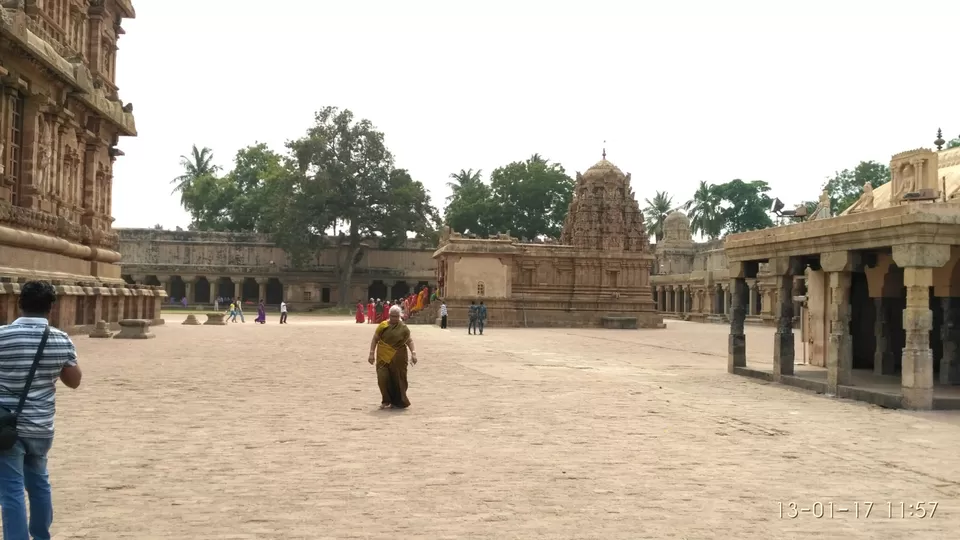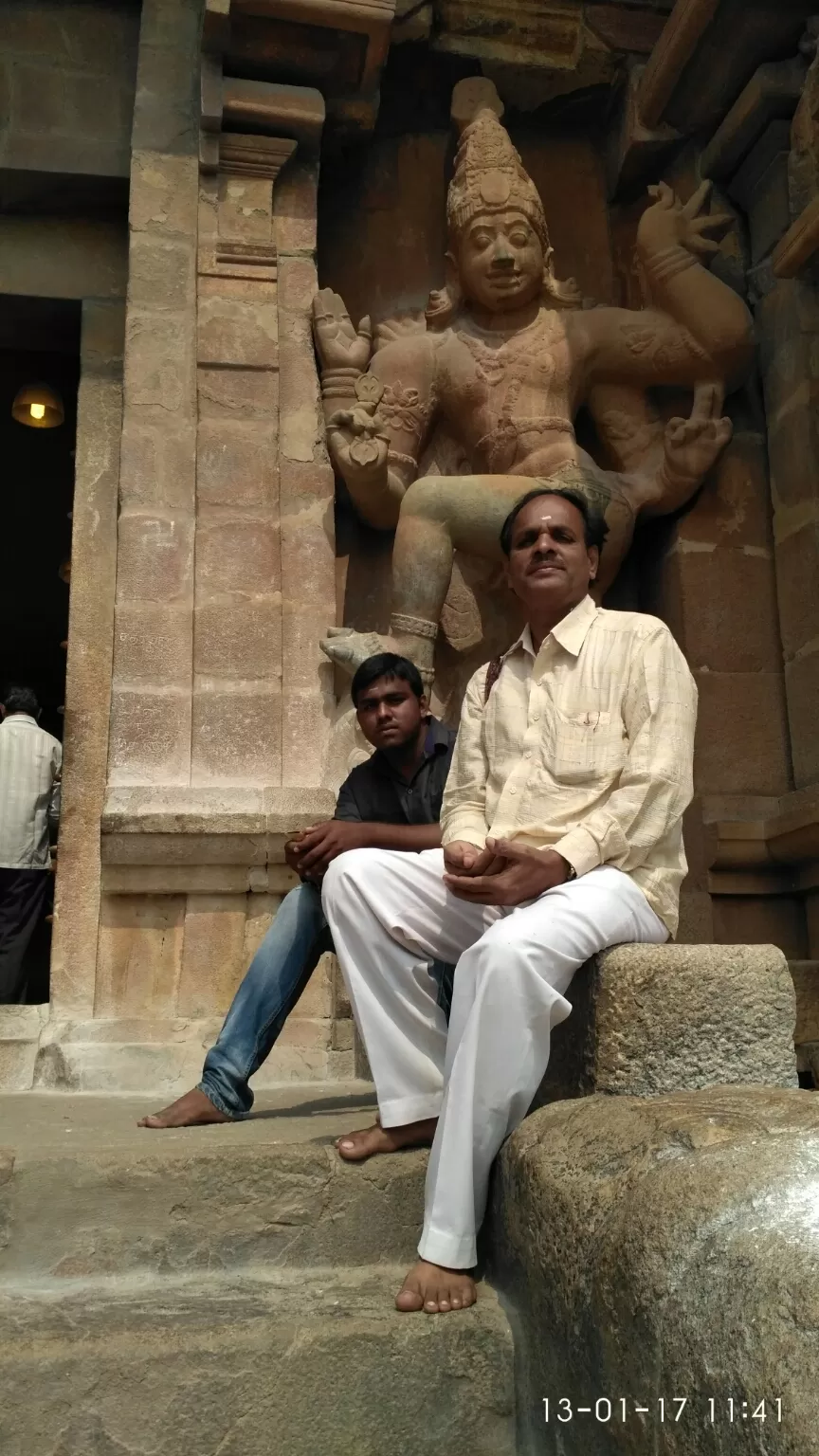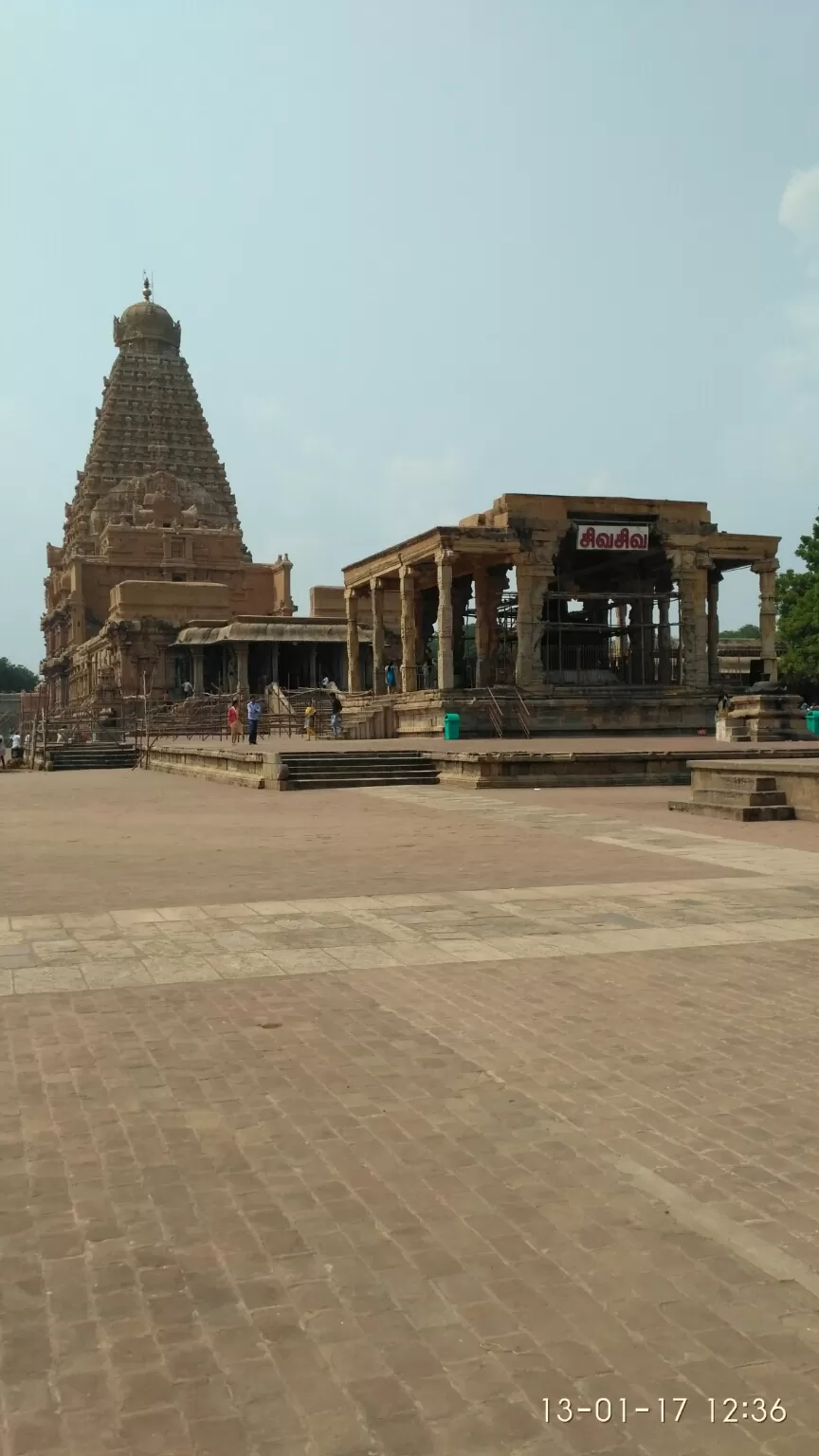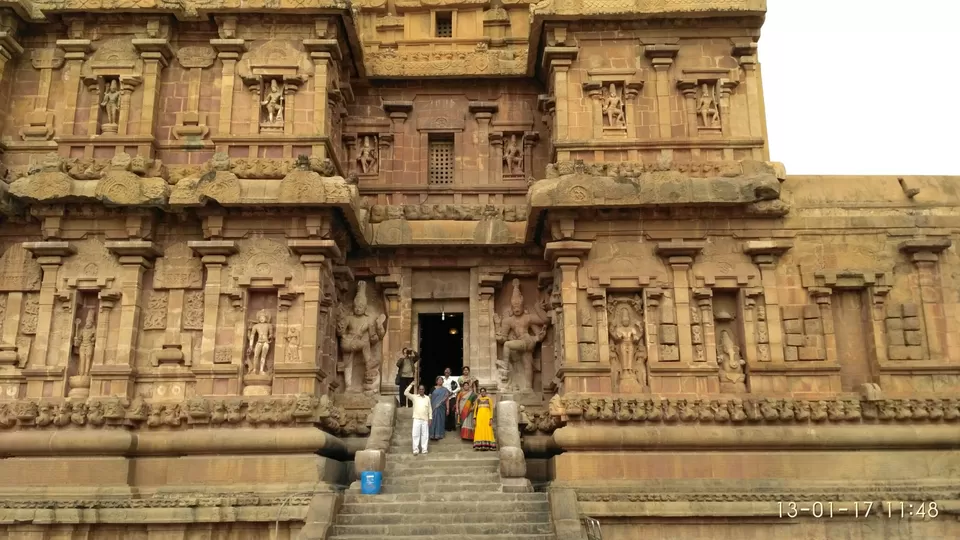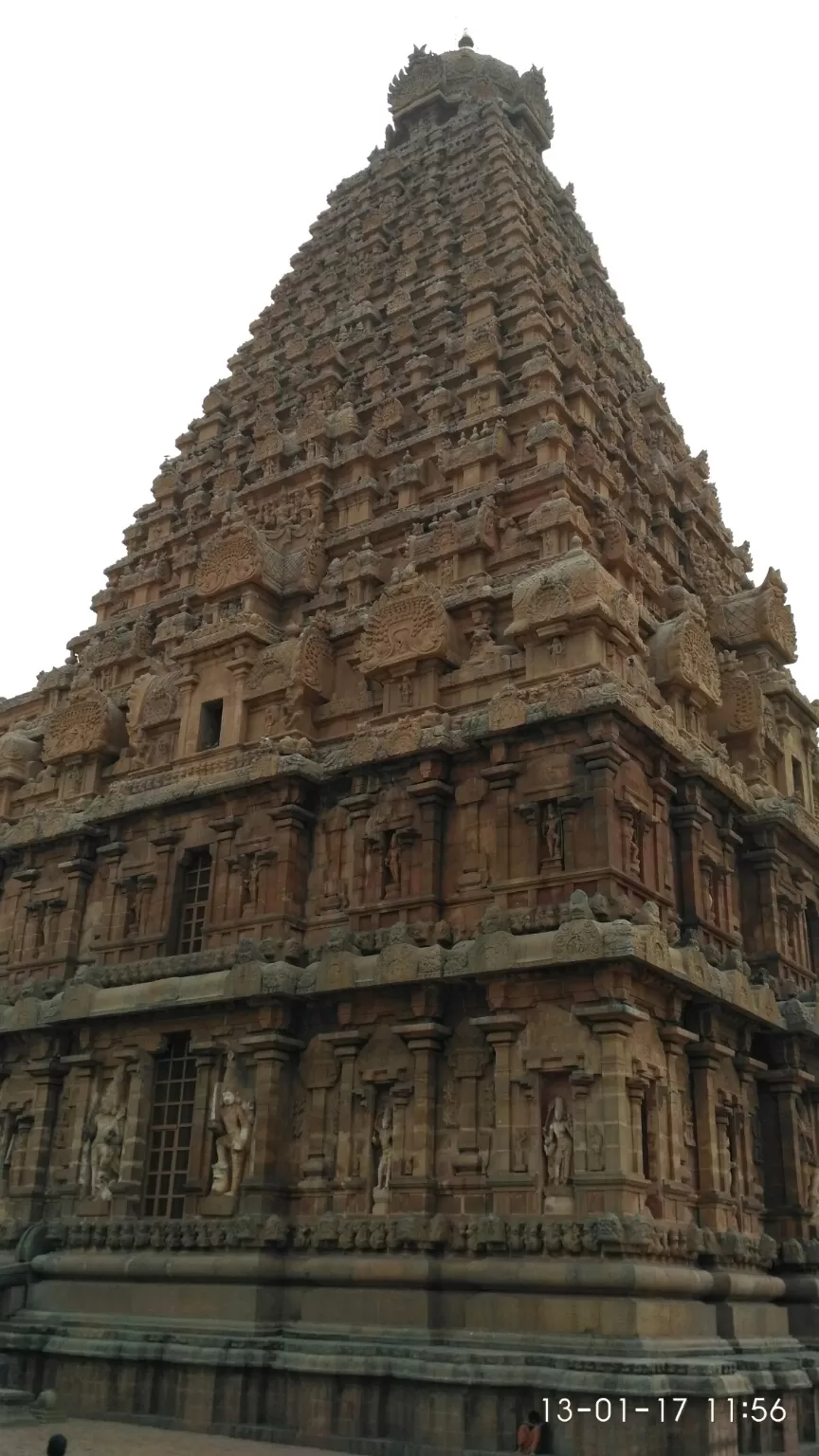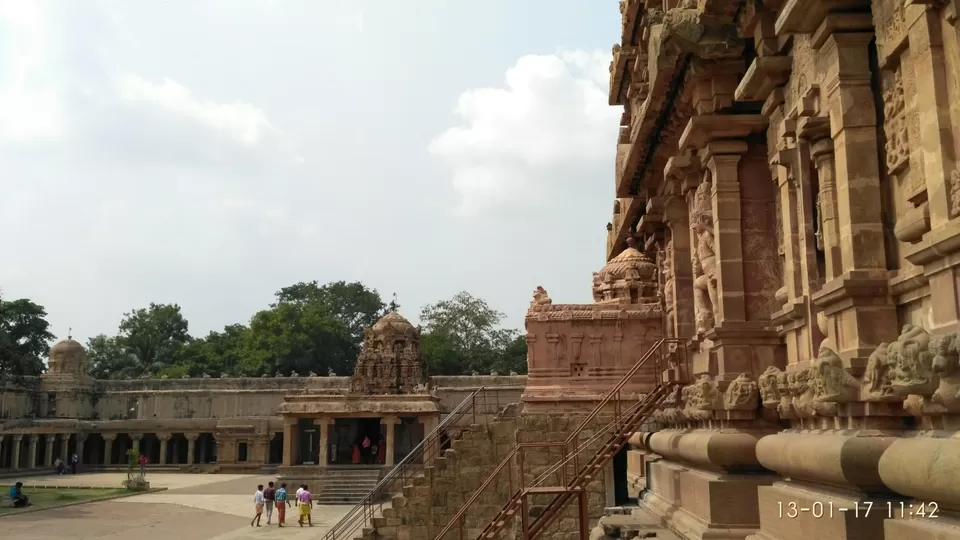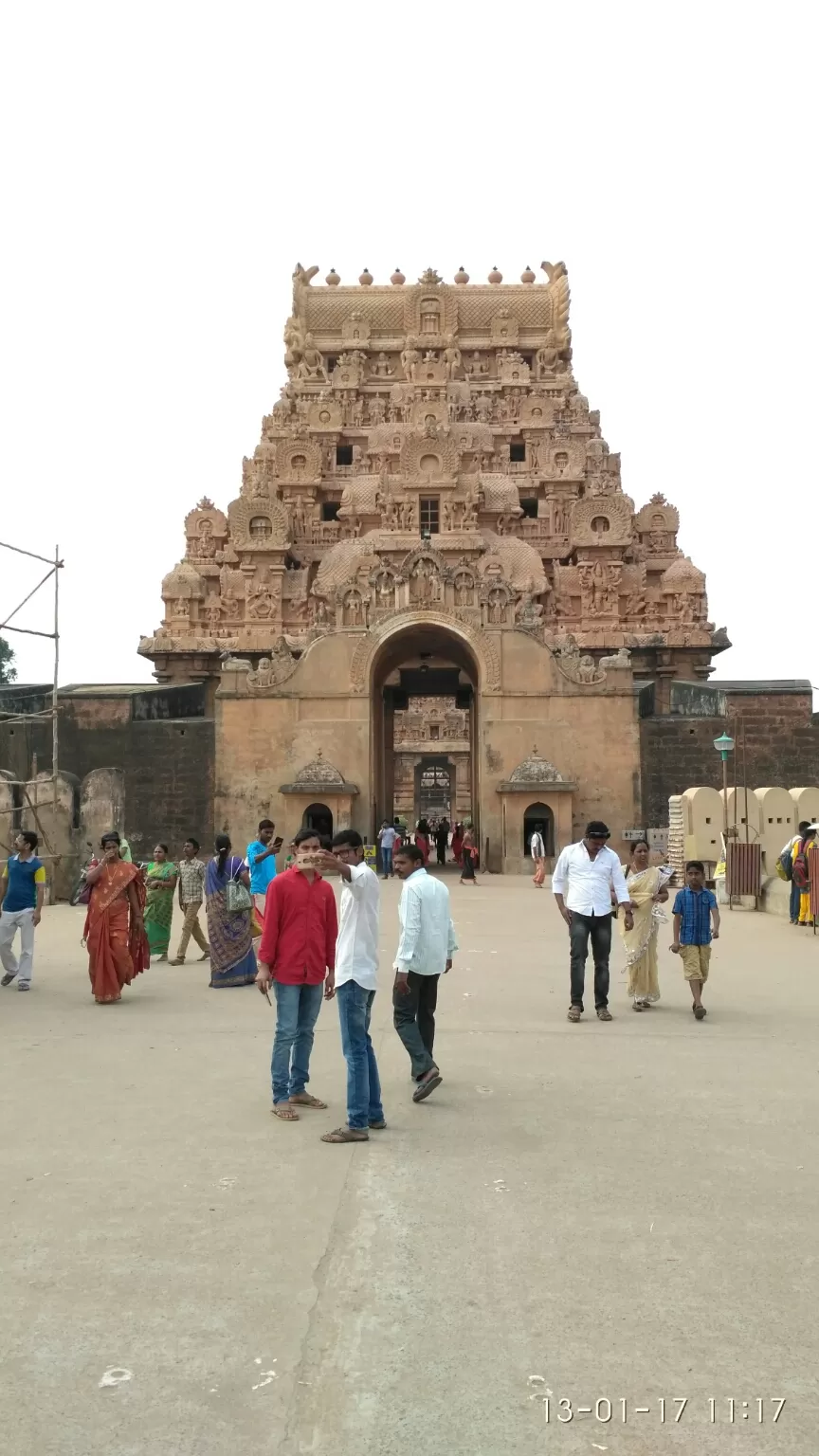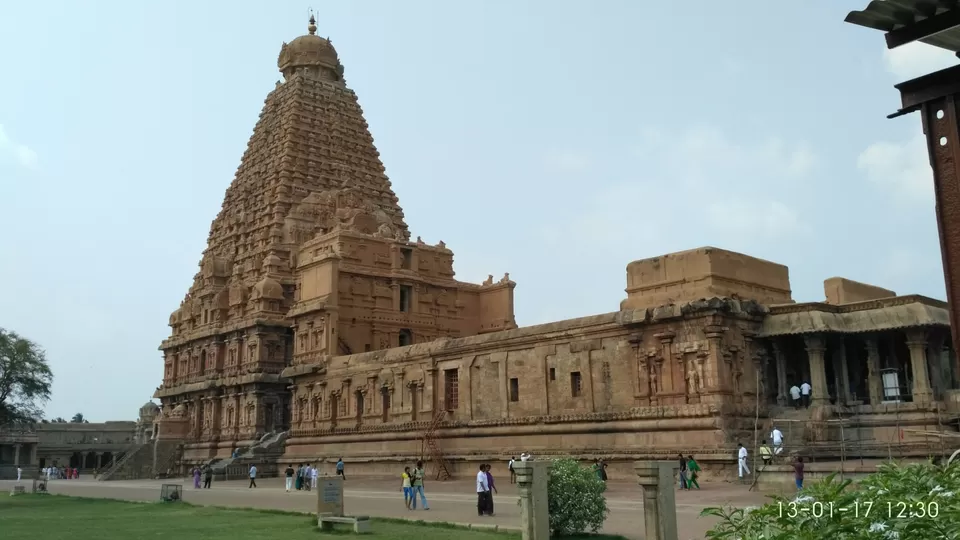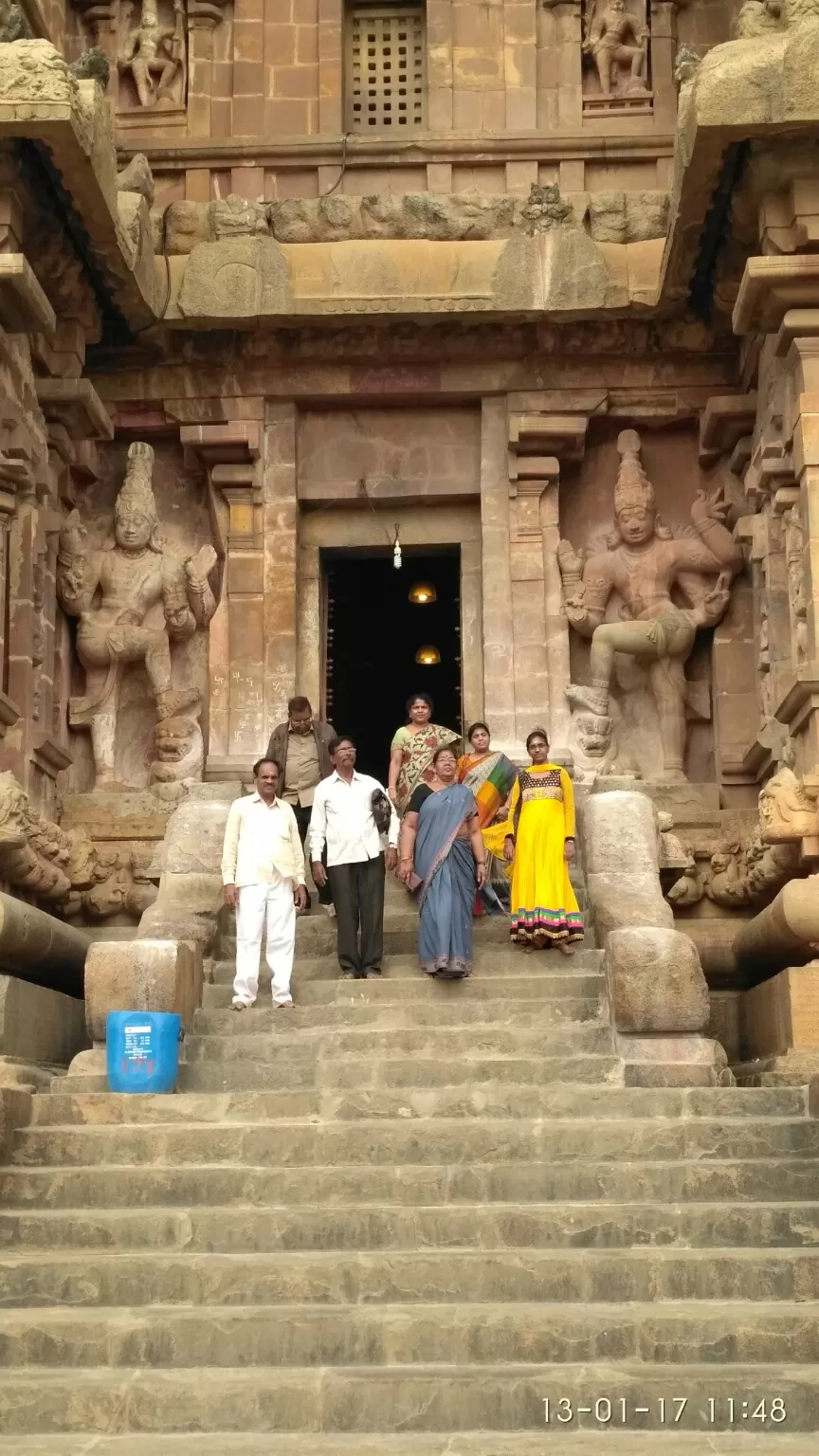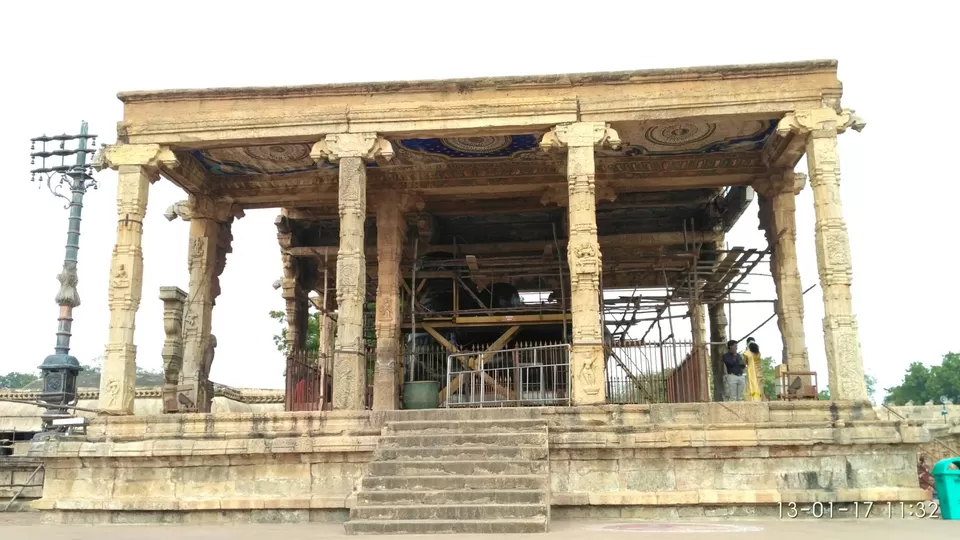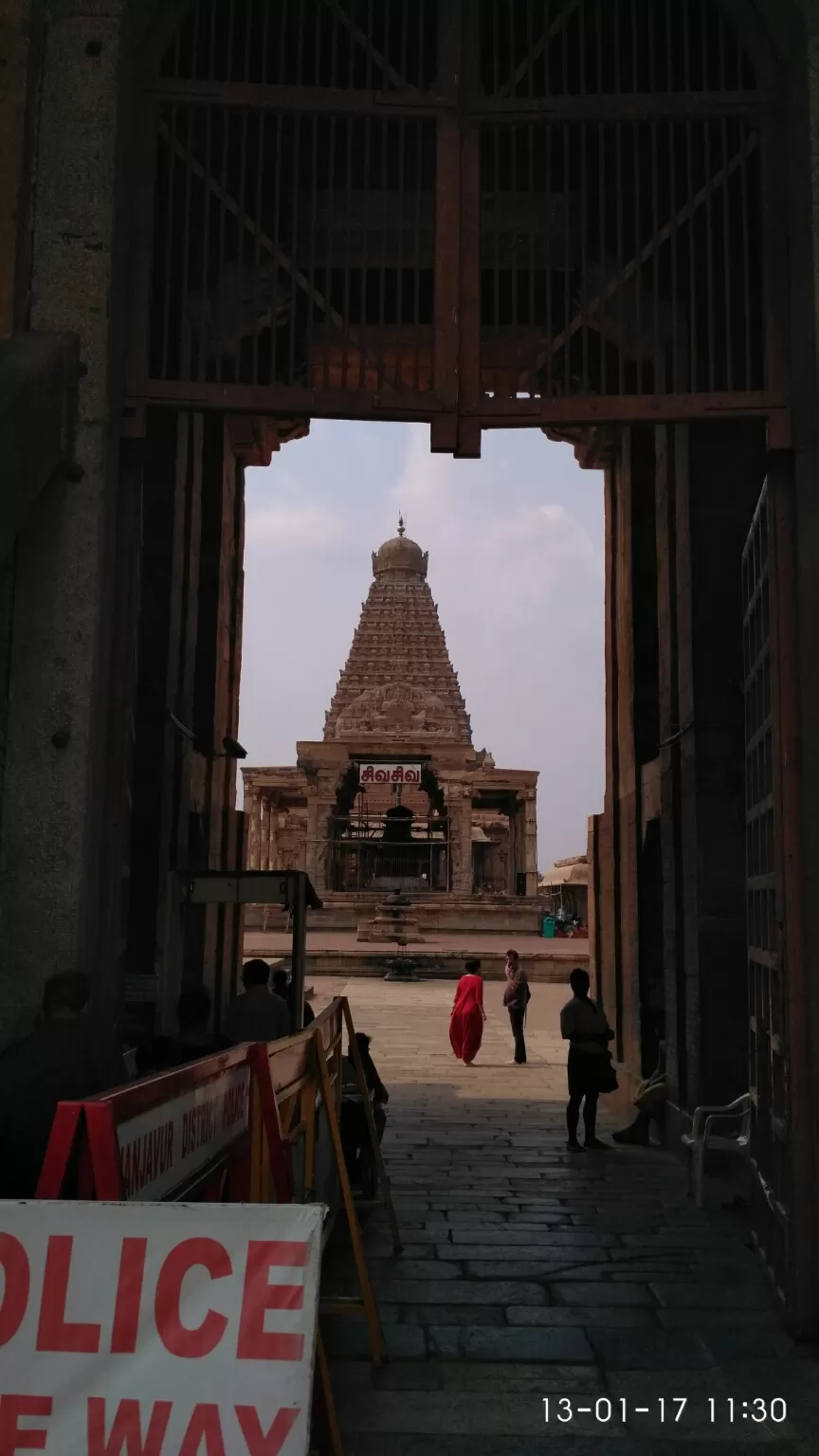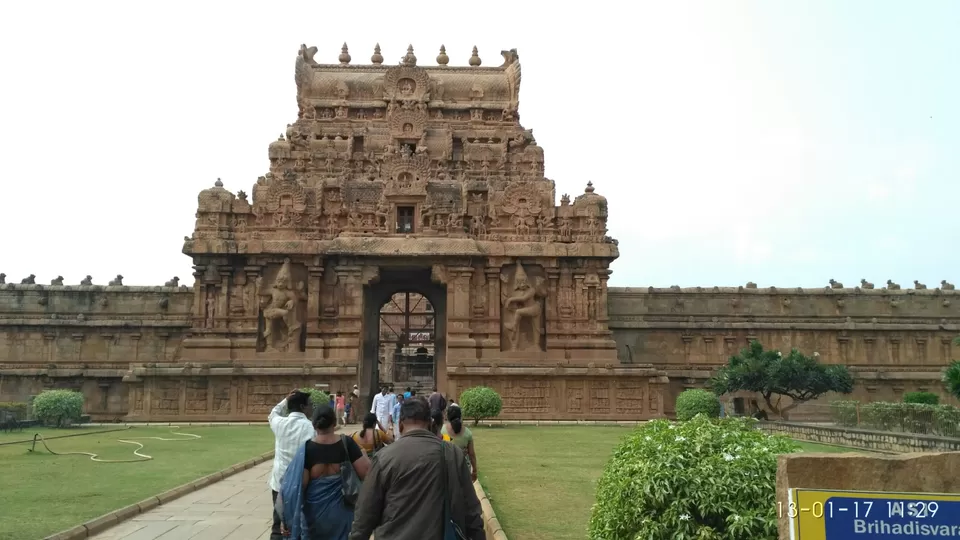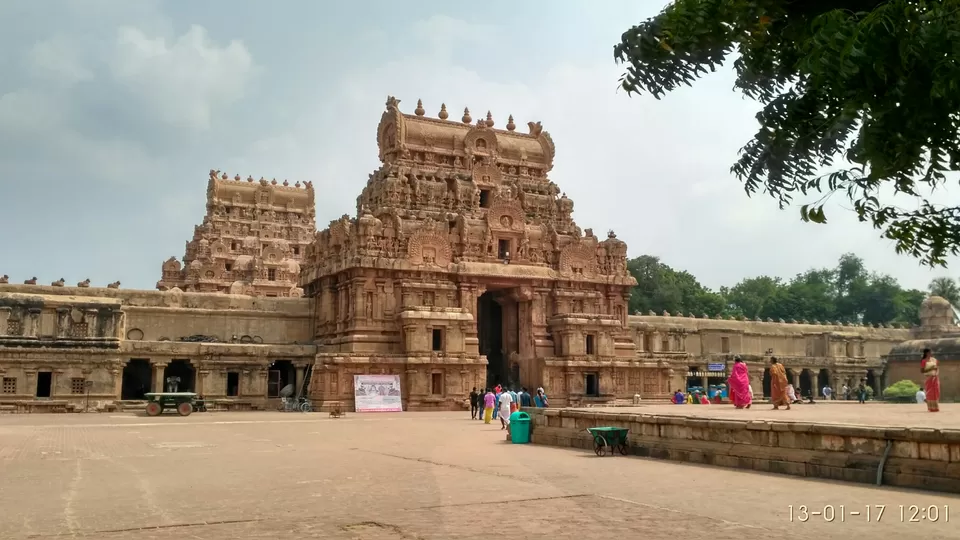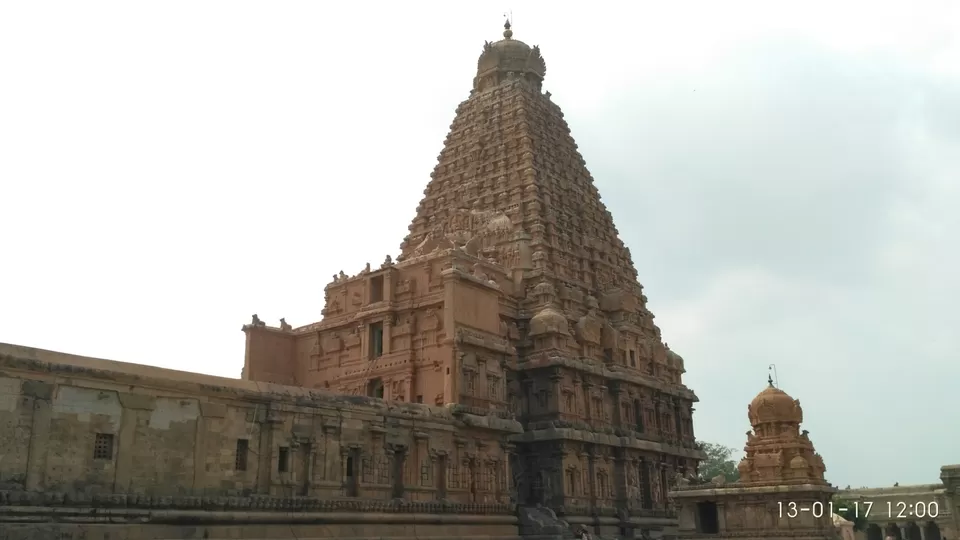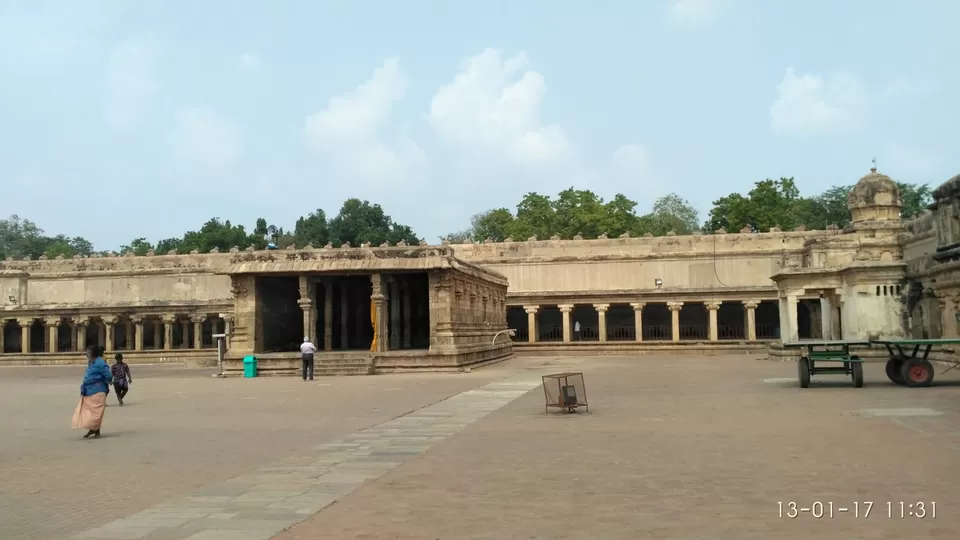 After a quiet lot of time had lunch and then went to Thanjavur palace.The palace is well preserved it looks more like a summer house of zamindars. The palace has durbar hall,Saraswati library filled with some antique artifacts,and some statues made out of lohas.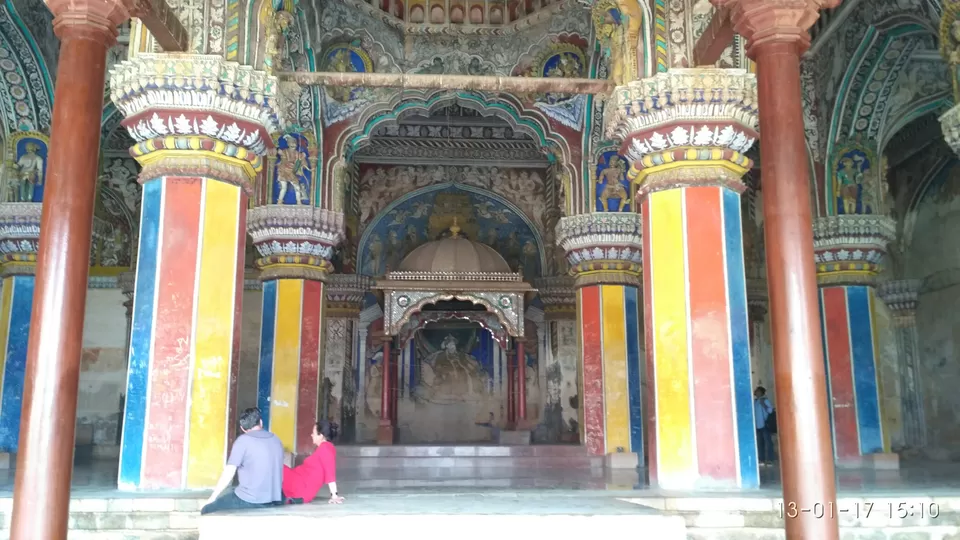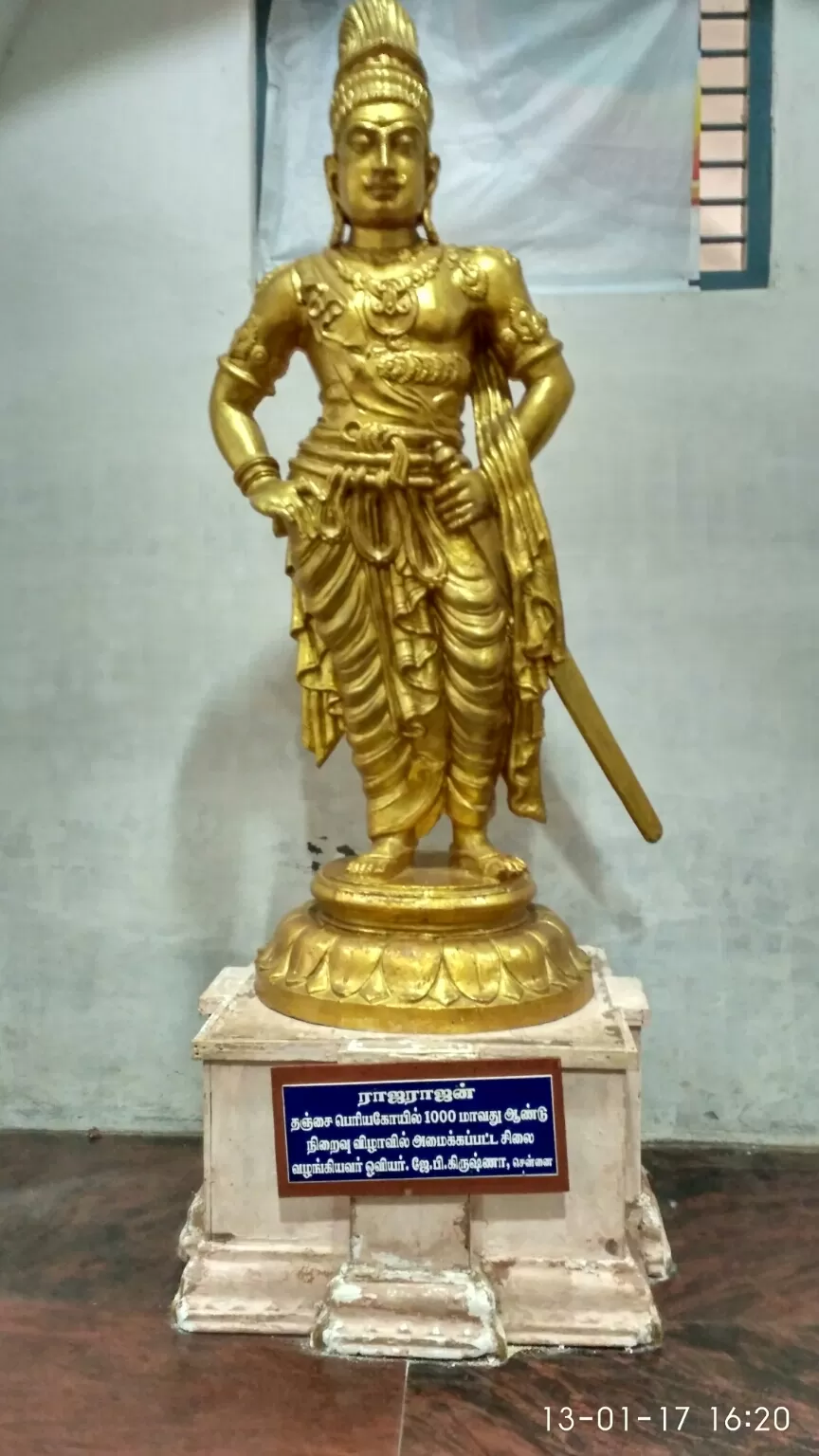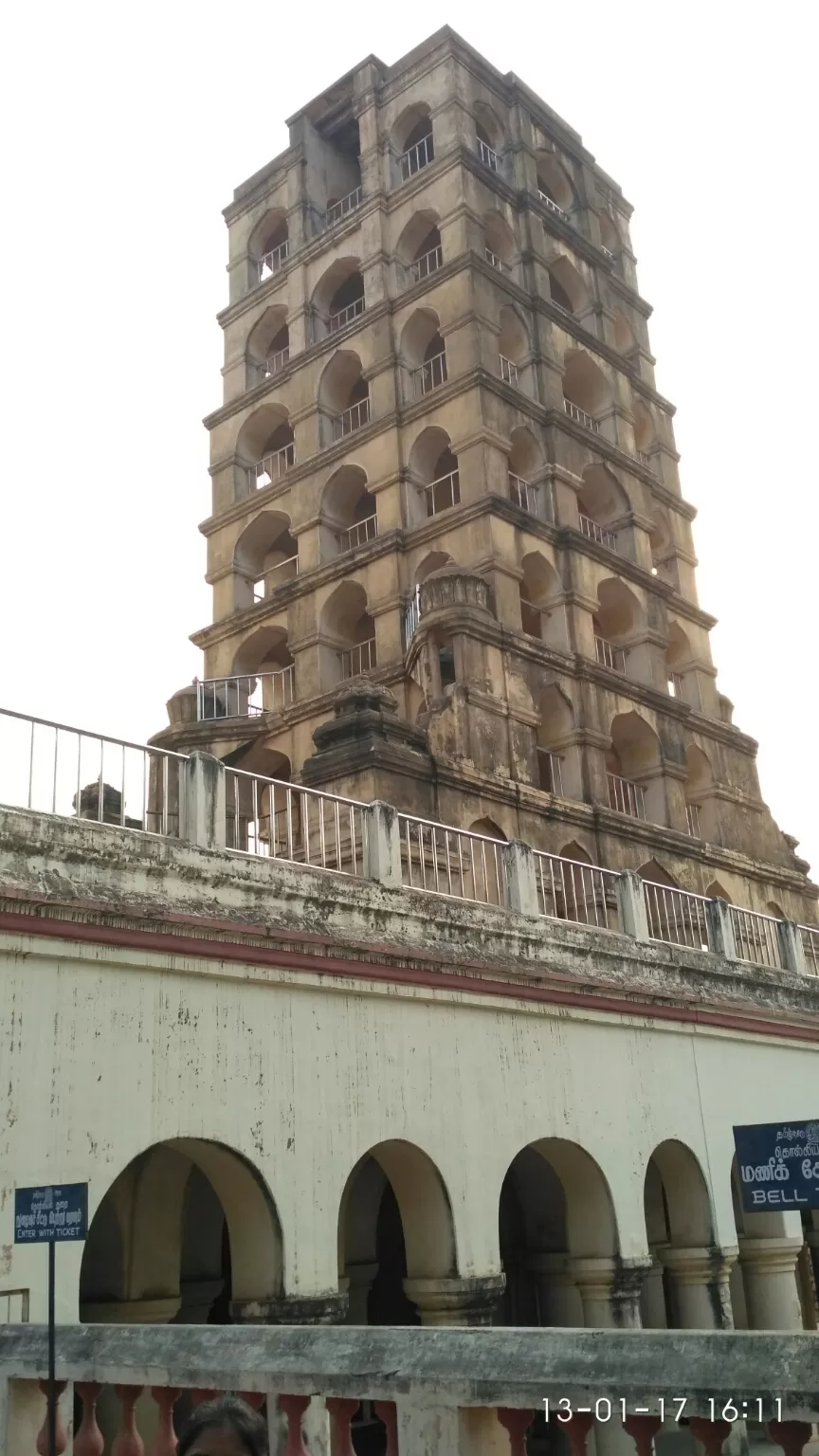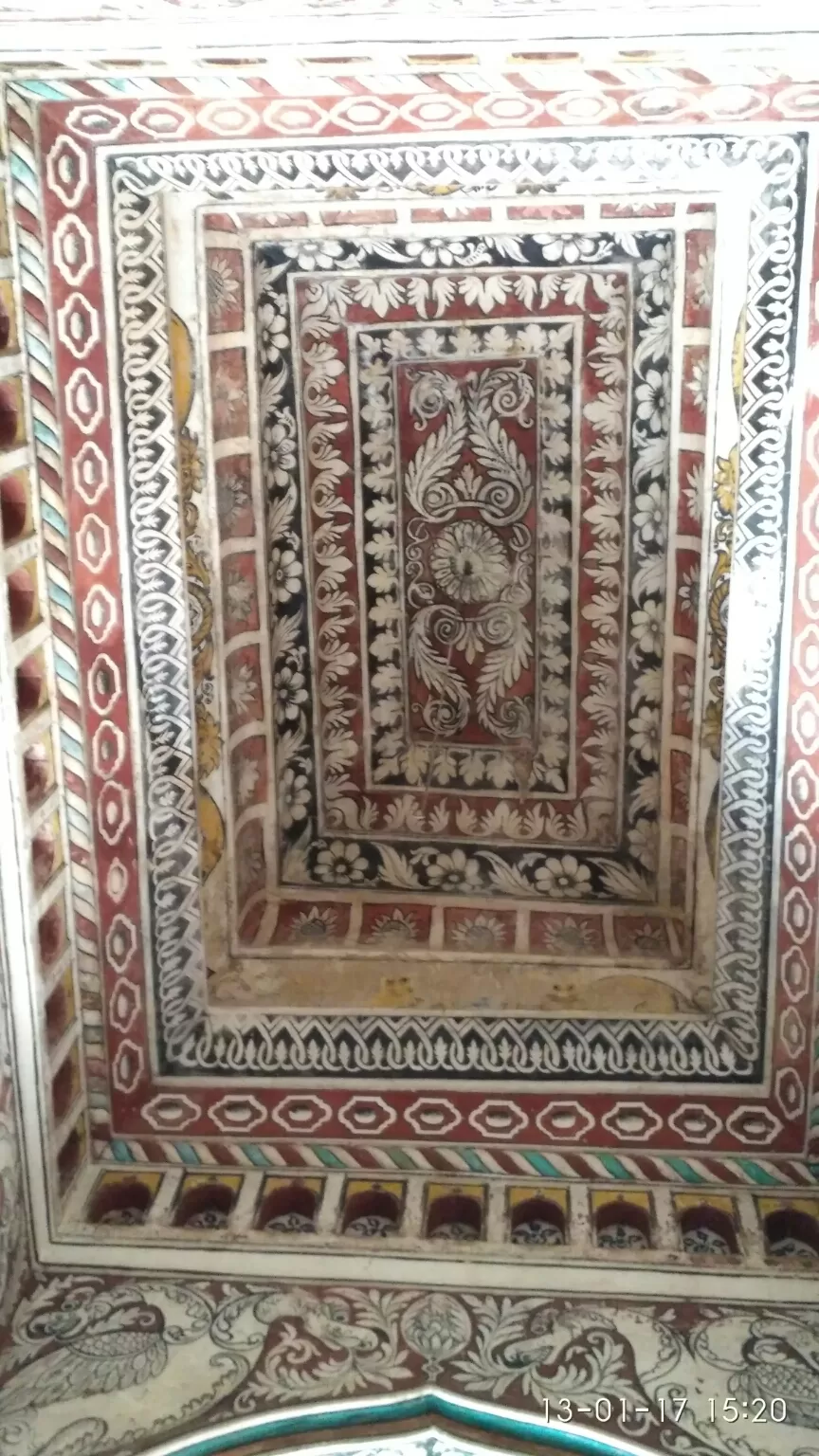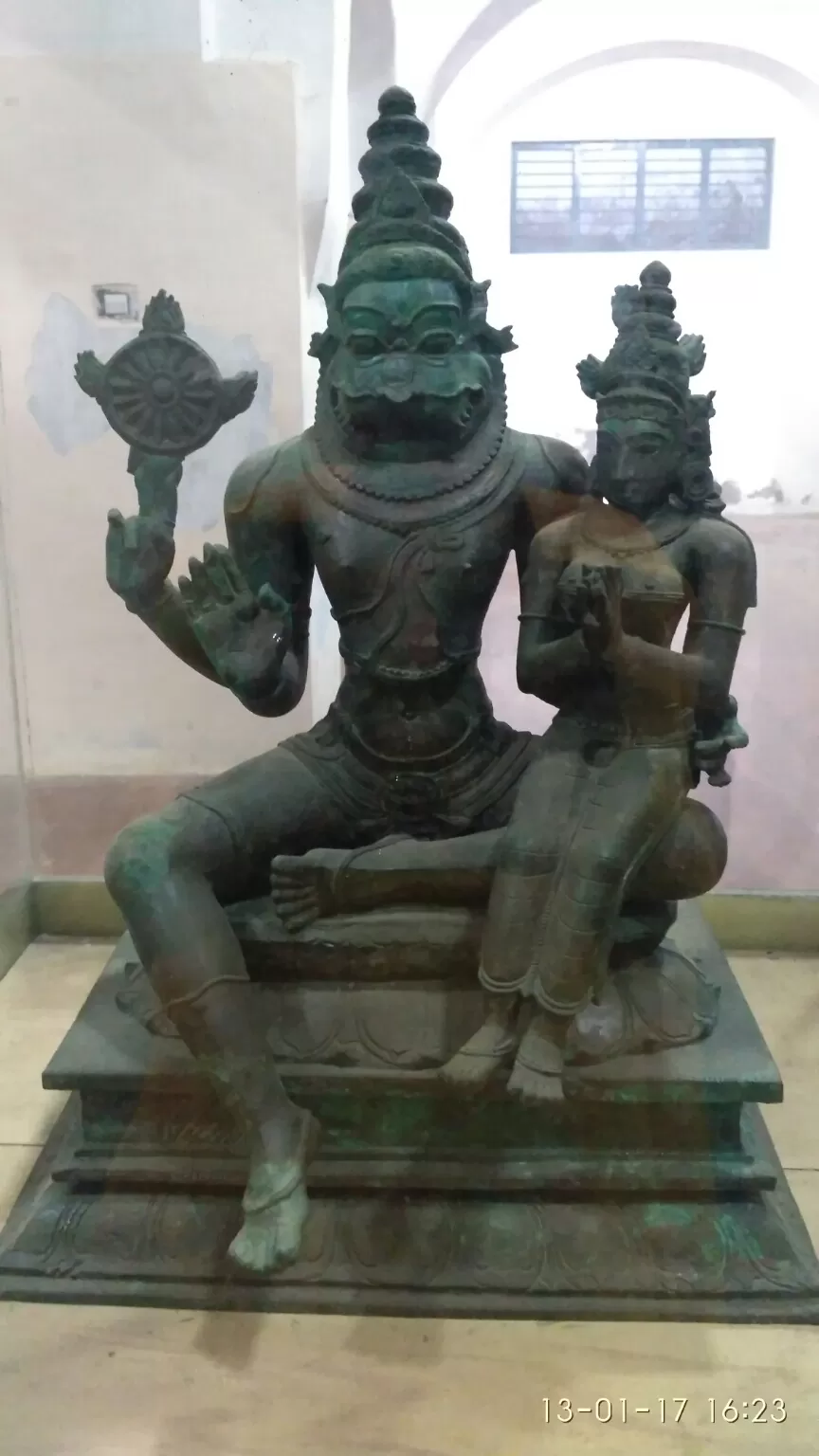 Later in the evening again reached BRIHADEESWARAR temple spent a pleasant evening with devotion towards lord and with some happy moments with my family.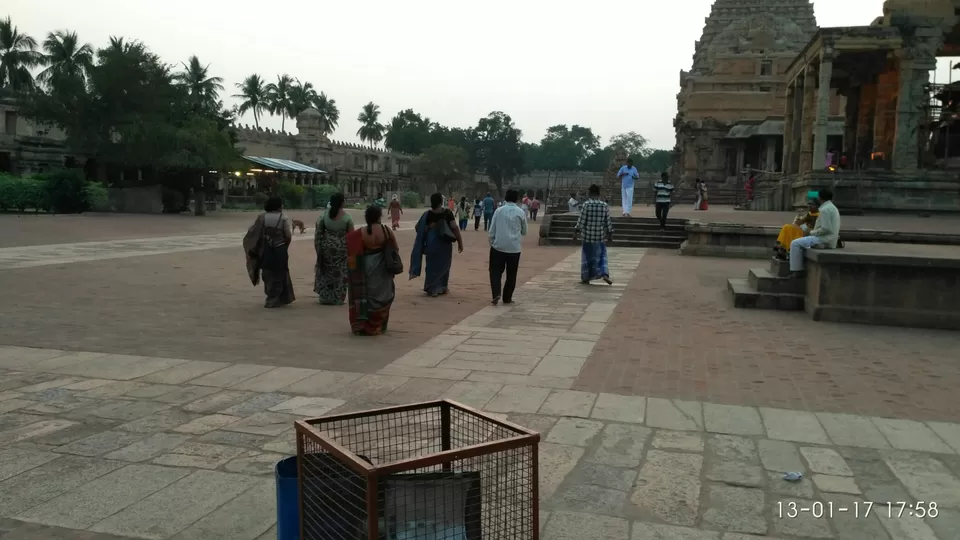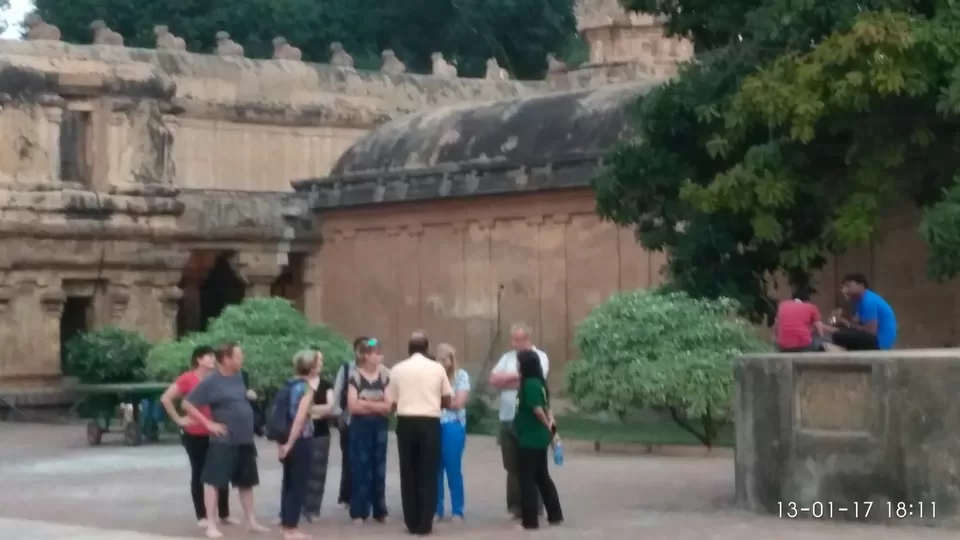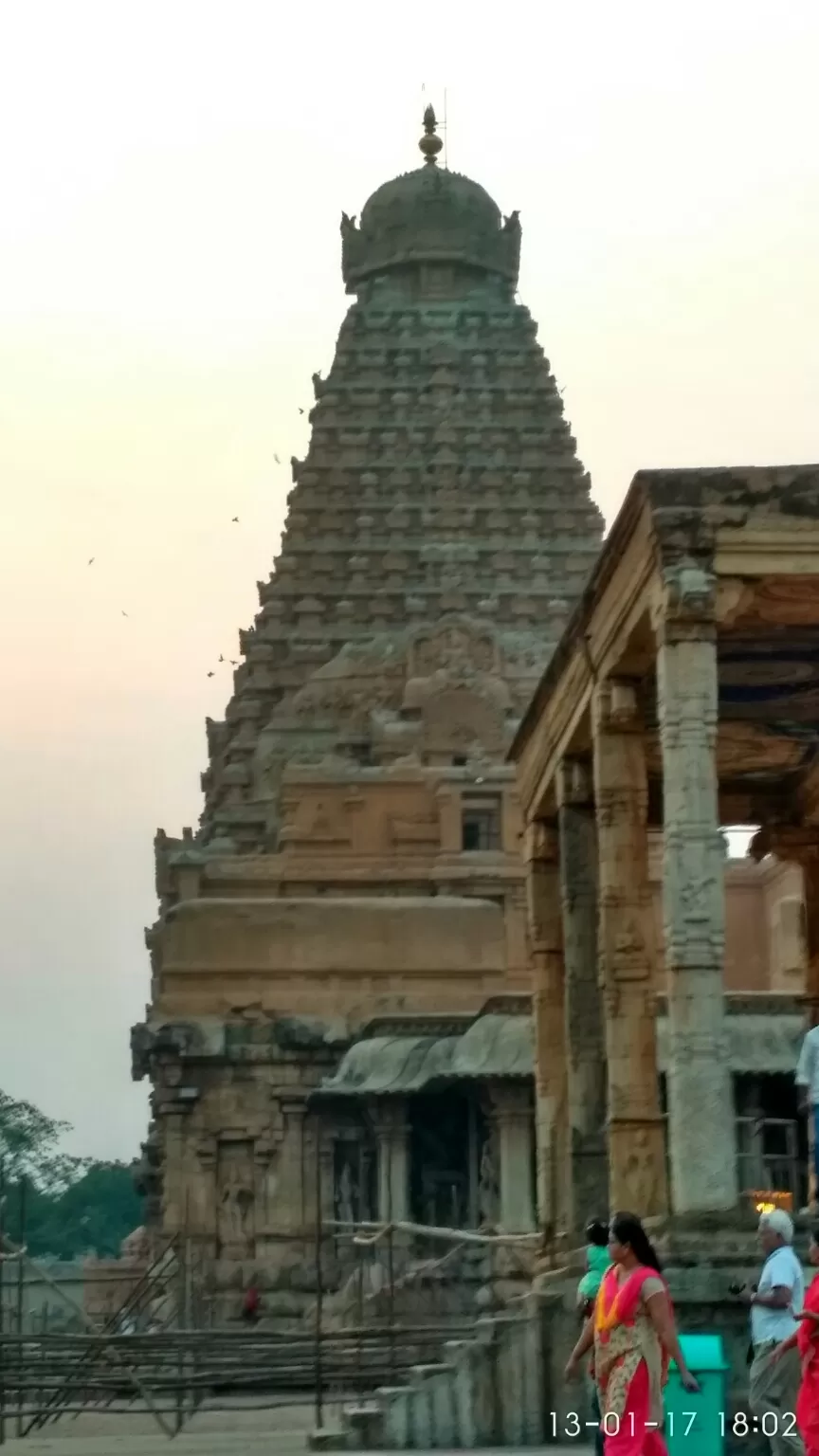 With many memories returned to railway station caught train to Chennai which we prebooked and reached Chennai the next day morning.
Got freshed up had breakfast and then started all the way to Mahabalipuram Puram 60kms from Chennai city which is easily accessible with frequent buses.A 1.5hrs ride the Mahabalipuram is a small city having UNESCO WORLD HERITAGE sites like shore temple. Krishna's butter ball, pancha rathas,etc. Which are a must see in Mahabalipuram.The more awesome one is the shore temple which is small but a quite piece of ancient Architecture.Parts of temple was ruined but sea waves but was now saved by building a huge rock wall along the backside of temple to prevent damaging from sea waves.The location of the temple is spellbound. It is the best tourist spot near to Chennai which is quiet beautiful place to spend with friends and family. The beach along side the shore temple is awesome with clean waters,so much of street food etc.A really amazing beach the one I have seen so far.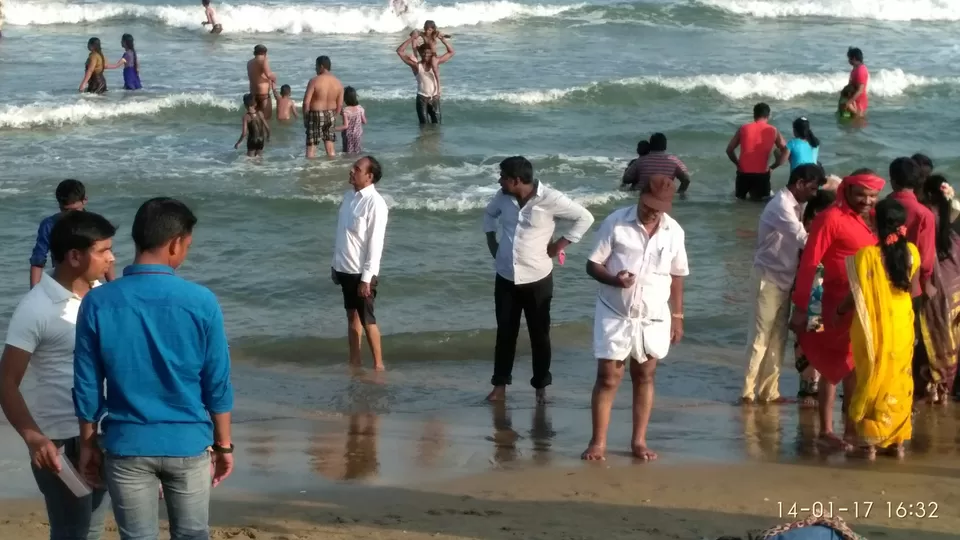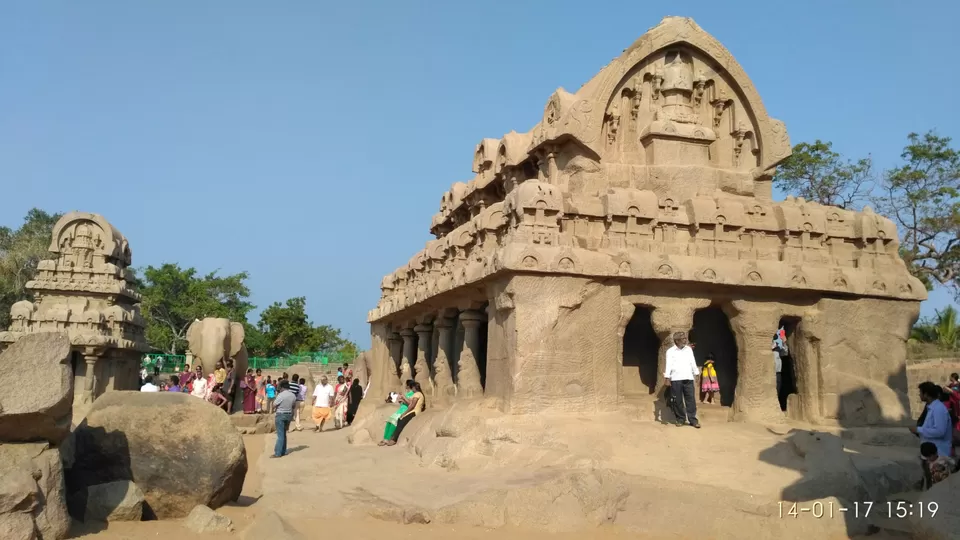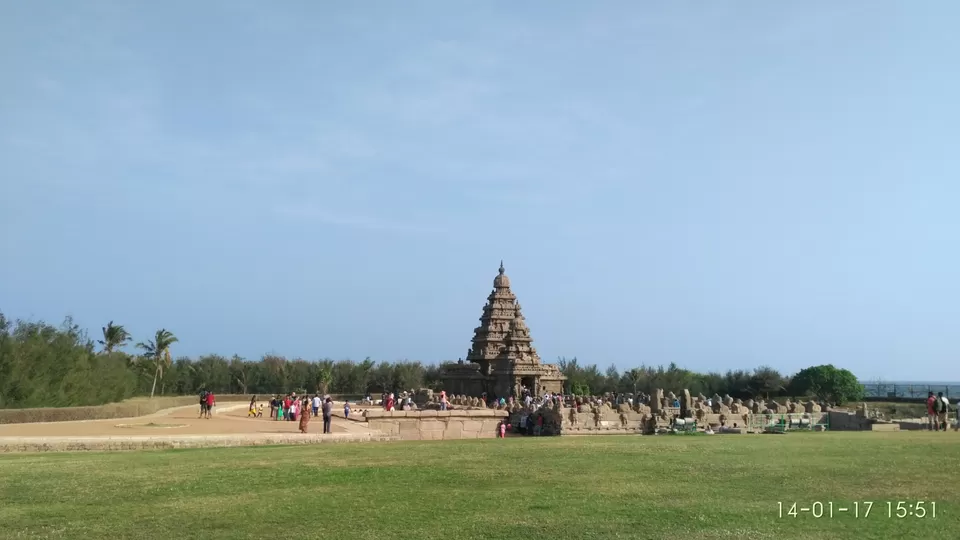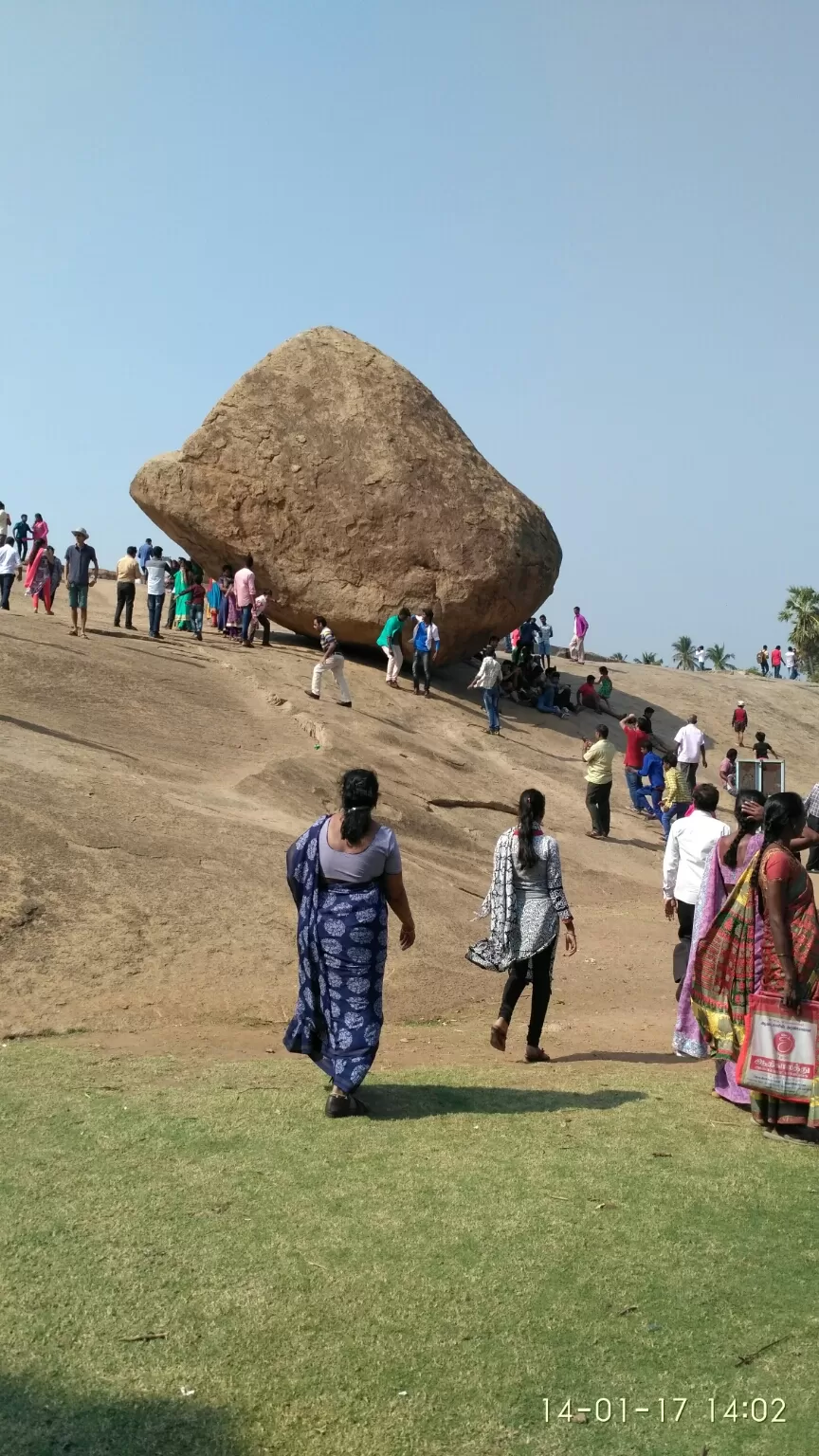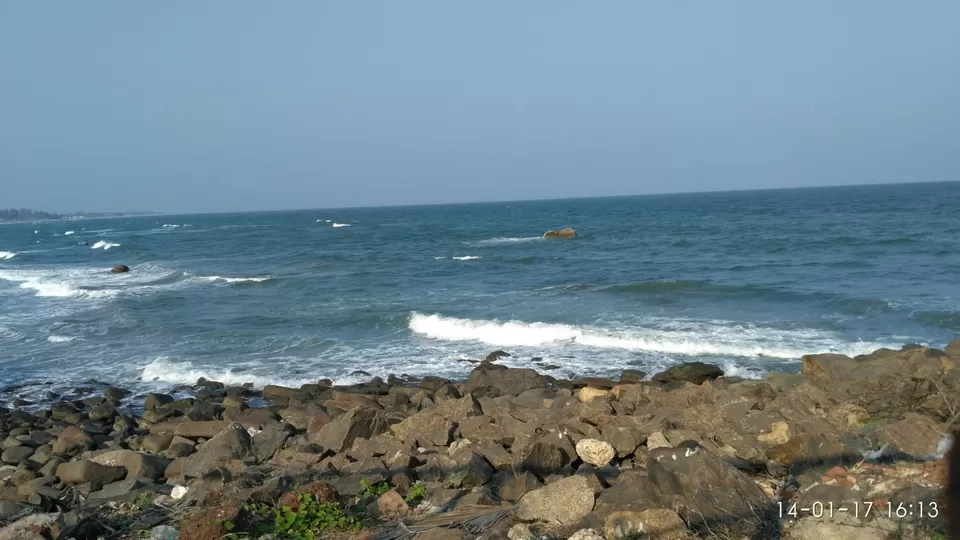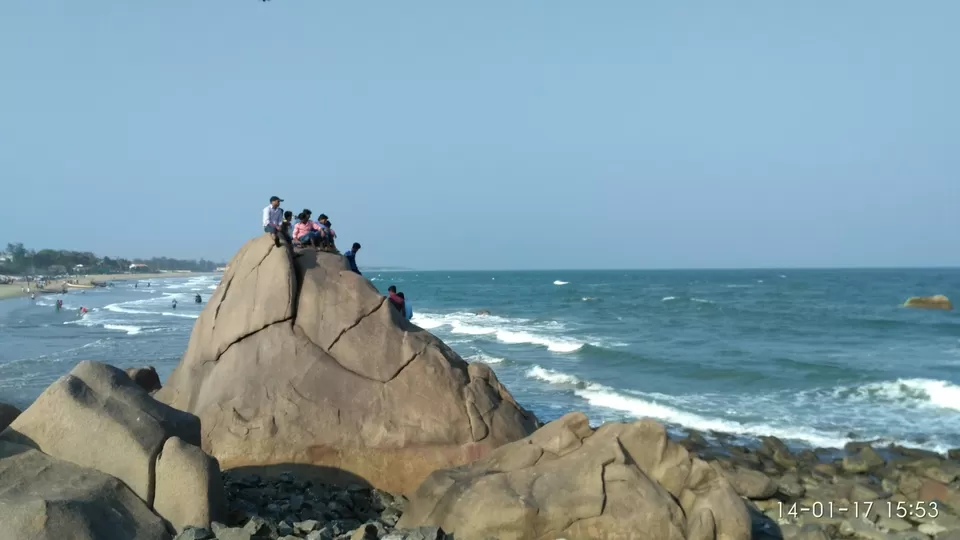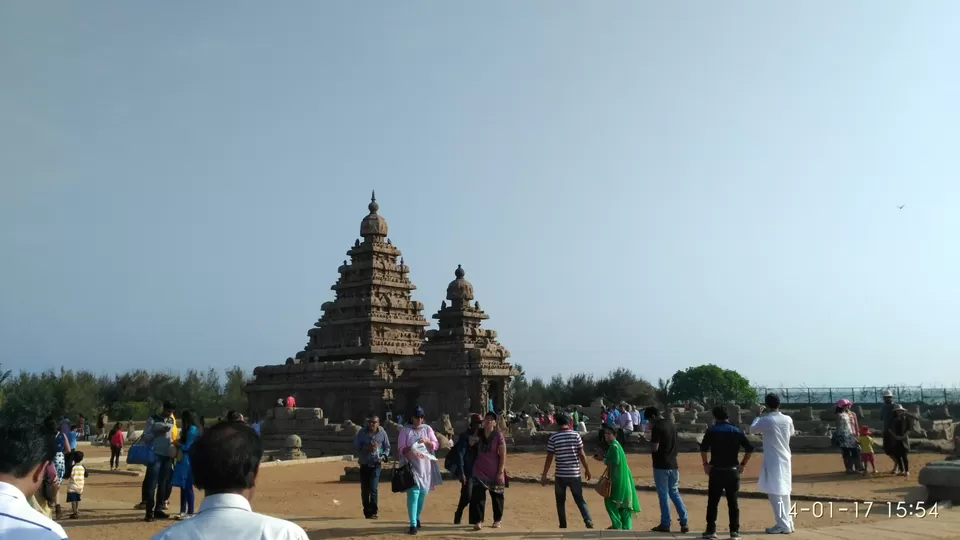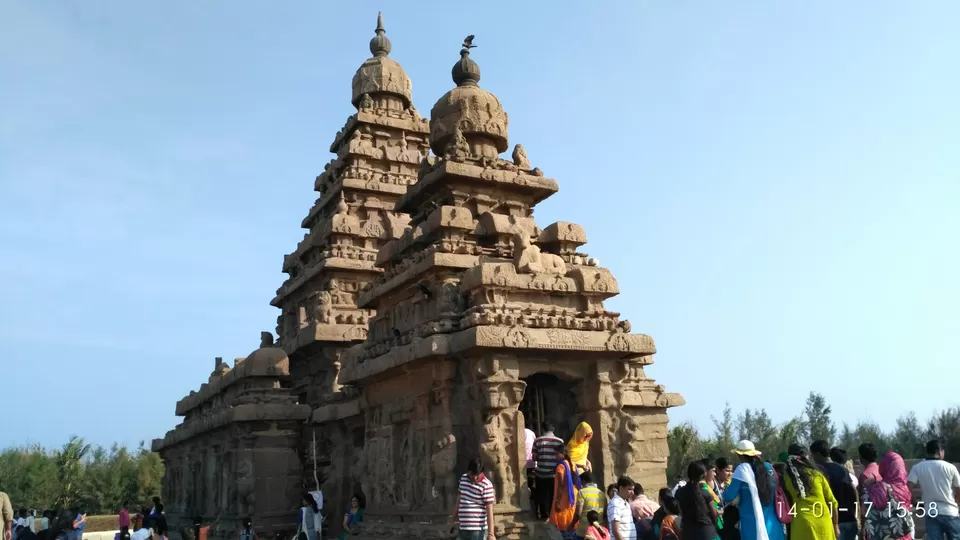 At evening reached chennai, shopping at famous T-Nagar, chennai,dinner back to hotel and took rest.The next day spent some time at Marina beach payed respect to amma Jayalalitha garu, and started to Guntur by train at afternoon with lots of memories from the trip to tamilnadu.