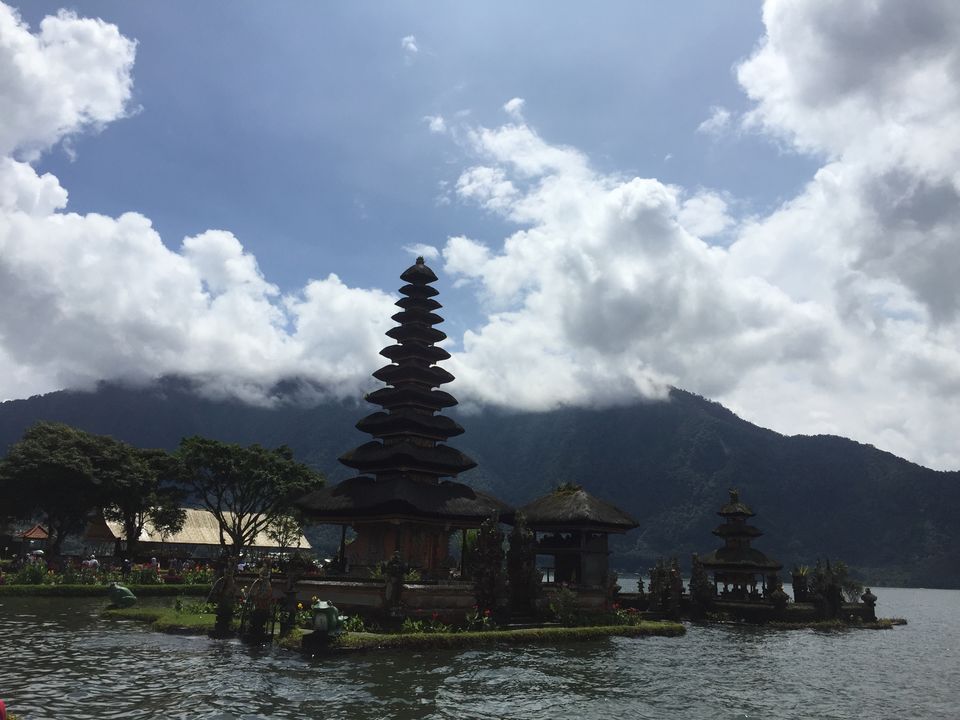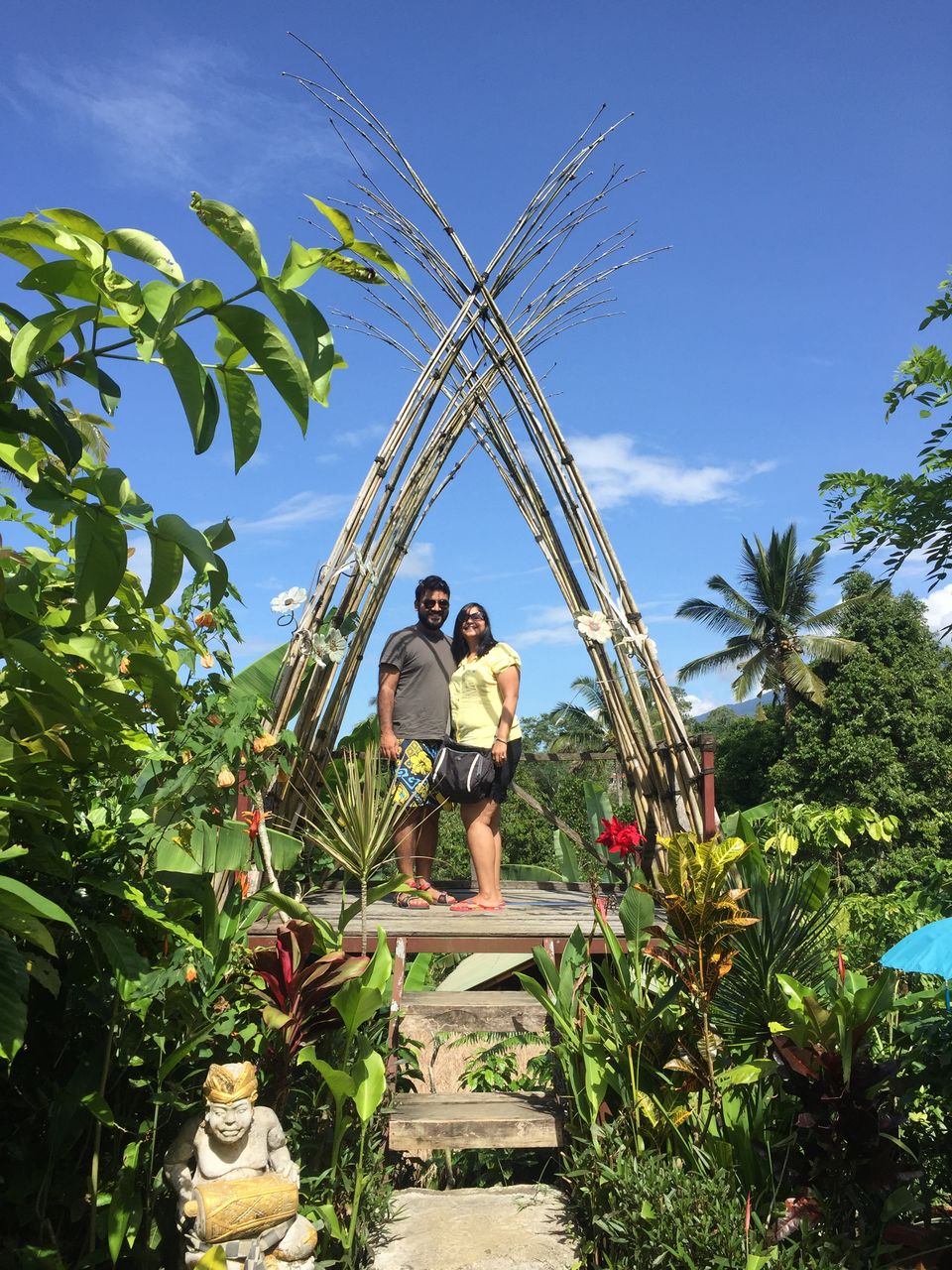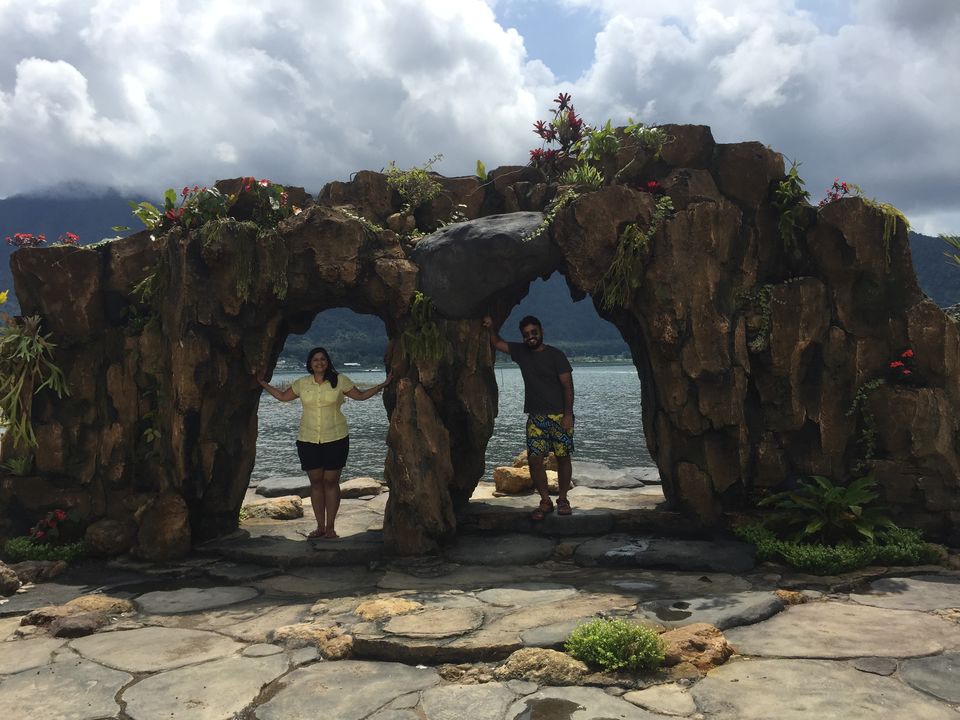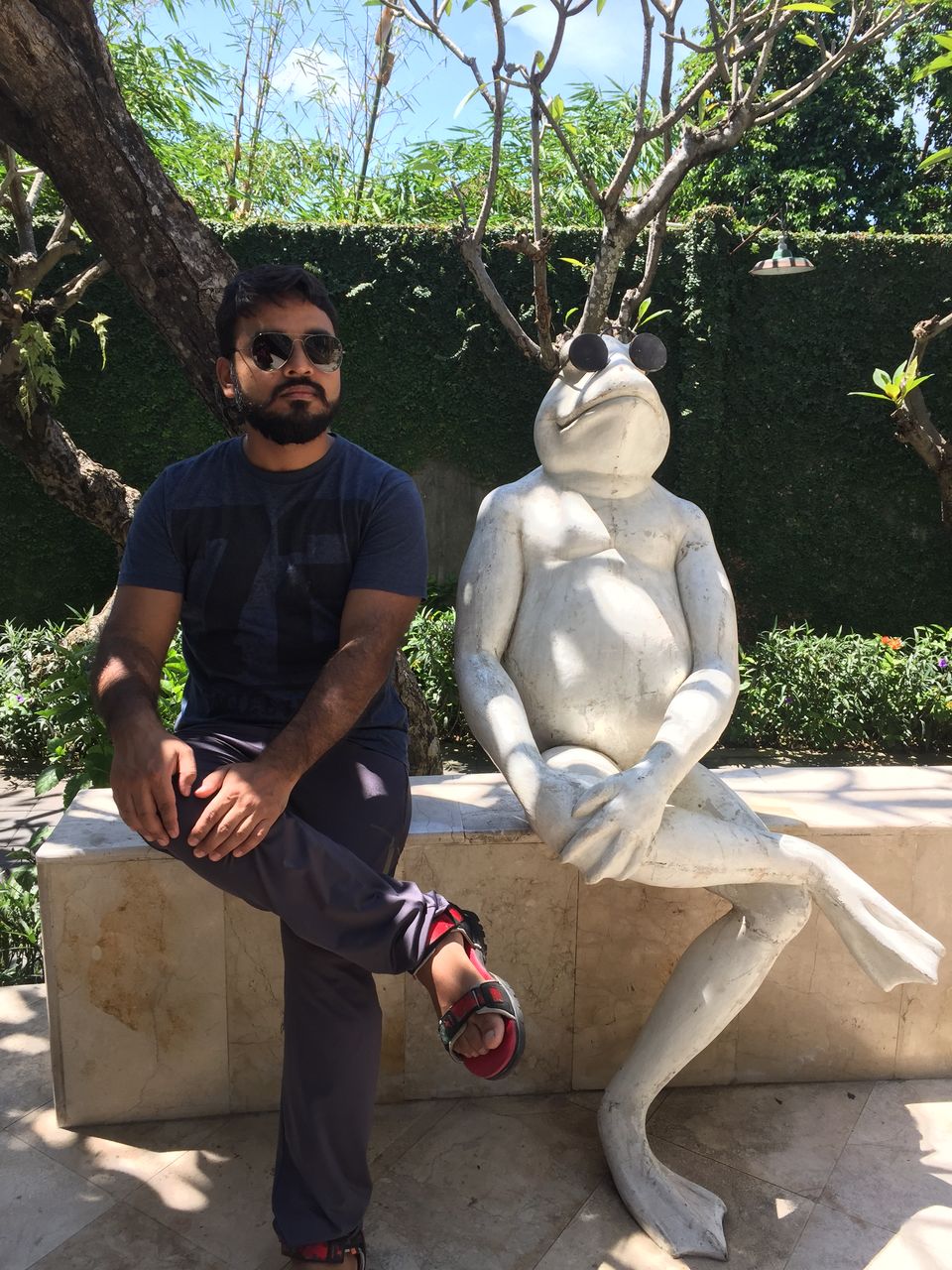 This is a small diary of the recent travel I had with my wife to the serene island of Bali, Indonesia. Here goes!
As our previous year's travel to Malaysia, this one was also designed to be for two weeks. I have always wanted to go to Bali, for the colorful and touristy island that it is, and the fact that it is not a very expensive place to travel.
Before we begin looking at the adventurous journey we had at the island of Bali (and nearby) and what you can takeaway in your journeys in the times to come, let me first go through the money matters. From New Delhi to Denpasar (the capital of Bali), the average flight cost of around Rs 20,000 per person which we realized is the biggest expense involved in going to Bali. Besides that, the usual part of our two week travel is our last two/three days stay in a luxury resort which in this case was booked for Rs 15,000. Thus, 40% of our total travel cost was the tickets and the resort booking. Remaining amount was used for the adventurous, thrilling, sea animals biting, bike driving, snorkeling, surfing trip which we had, all during the time when I was diagnosed with a rather bad back ache because of which we intentionally left some of the Balinese adventures.
A note about currency conversion: This is important. Indonesian Rupiah (IDR) is one of those currencies which are perhaps cheaper than the Indian Rupee (INR). At the time of our travel, 1 INR approximately equaled 200 IDR. We wanted to take around INR 70,000 for our fifteen days of travel which we thought should be enough to fund our stay, transfers, and other adventures. If no, we would use our credit card etc. The challenge was research suggested that using credit or debit cards would incur up to 3% transaction charges on all transactions. Thus, the idea was to take enough cash to fund the entire trip.
Upon inquiry with the Indian currency conversion agents and research on the internet, we realized that converting INR to IDR in India makes little sense as we were not getting a good conversion. Better is to convert INR to US Dollars (USD), and take USD to Bali. This is exactly what we did, and what I would recommend to everyone traveling to Bali. We took 1000USD with us (around 65,000INR). There are literally hundreds of currency conversion shops all across Bali converting USD (and all major international currencies) to IDR. The conversion rate for 1USD varied from 13,300 to 14,000IDR depending on the location within Bali.
So here's the strategy, and a traveler tip. Upon arrival at the Denpasar Airport (DPS) in Bali, convert 20% of the currency at the airport for immediate consumption for first couple of days (in our case USD200) at the airport conversion rate, which is usually the worst of all (1USD = 13,300IDR) and convert remaining amount at regular intervals at authorized currency conversion stores in the Bali mainland. We personally converted our USD at four different places for rates varying between 13,500 and 13,800IDR per USD. More on this later.
For the sake of simplicity, I have mentioned all prices converted in INR with the rate of 1INR = 200IDR.
For now, let's take a look at Bali!
Apr 12 – Flight from New Delhi to Denpasar (DPS), Bali
We booked Malindo Air flights around 4 months in advance. It was a connecting night flight from New Delhi to Kuala Lumpur (KL), followed by KL to DPS. Having had the worst of my flying experiences with Air Asia in our previous year's travel to Malaysia, this time we were cautious about the choice of flights (I would never recommend flying Air Asia to anyone, ever). We wanted to take a good flight, but one which was not very expensive either. Malindo, it turned out, was the perfect combination of both. With the tagline of 'Not just low cost', we were happy with the seating leg space in the flight, in-flight entertainment screens in front of all seats, cushions on request, reasonably good food on all connecting flights, and the fact that we went and came back safely and quite on time. Overall, I was happy with the choice of flight.
Apr 13 – Apr 16: Ubud, Central Bali
Upon arrival at the DPS airport, Bali, as mentioned earlier, first task was to convert USD to IDR at the airport counter, two are available right at the arrival hall. So no worries there, we were loaded with millions of IDR (with 1USD = 13,300IDR and us converting 200USD, you can do the math). Then was the task of booking the cab to for Ubud.
Before going further, it is worthwhile to mention what is Ubud, and why going to Ubud from the airport is perhaps the best choice.
In our journey, we followed the following route.
Airport >> Ubud >> Lovina >> Amed >> Gili Islands >> Kuta >> Seminyak >> Canggu >> Airport
Out of the above places, two are of particular interest. Ubud and Kuta.
Kuta is located in the southern region of Bali, is situated near the airport, is like the Goa of Bali, and attracts the majority of tourists on the Bali Island. In fact, Kuta is the only place where you will find honeymoon couples walking on the streets, hand-in-hand. At the same time, being the touristiest place of Bali, Kuta is very crowded. Indians will find lots of Indians there, Swedes will find lots of Swedes there, English will find lots of English there and so forth. This is why everyone we met on the way who went straight to Kuta from the DPS Airport had the same rather unhappy tale to tell about it being too highly crowded a place.
Ubud on the other hand is the art center of Bali. A walk on the Monkey Forest road is so highly refreshing, with shops, marts and eateries on both sides. The places to stay are many, the things to do are enormous, depending on one's interest, one can find anything from Yoga to Yogurt. And if, like us, one gets lucky, one may also find the Ubud Food Festival with lots of cheap and free food right across the street! It is not that crowded, and is so exhilarating a place to even extend the stay for one more day (which is what we did).
All in all, from the airport, my recommendation, go to Ubud, cover the rest of the Bali, and nearby islands, and come back to Kuta and other parts of South Bali on the last leg of your journey.
So, coming back, at the airport, we looked for the taxi to Ubud. There are multiple places from where one can book the taxi. One is right at the airport, there's Blue Bird, the Meru of Bali. There's one more. The other option is to walk a bit and to take a metered cab from there. Since we were tired after a long flight, we simply took the airport taxi. Before going to Bali we had read a lot about negotiating our way at the shops before buying things. Little did I know the negotiation began at the Airport itself! The Airport taxi guy also negotiated with us regarding the fare to Ubud. After a round of bargain, we got a decent deal, 300,000IDR (1500INR) to Ubud.
Interestingly, on our way to Ubud, our cab driver (named Wayan) showed us a couple of places (at no extra cost):
1. Silver ornament factory + Art Gallery: This is a place where many Balinese workers are making silver ornaments with hand. The gallery is where the ornaments are sold. Although the ornaments are quite expensive, the place is worth spending 30 minutes since its walls, stairs are embellished with beautiful pieces of art.
2. Luwak Coffee: This is one of the major attractions of Bali. Luwak is a small land animal who eats coffee beans from trees in the night, poops them out in the morning, the poop contains coffee beans which are then filtered, roasted and converted to coffee powder. It is the all famous poop coffee of Bali and is quite expensive. There are hundreds of small Luwak coffee plantations across Bali and it definitely makes sense to take a visit to at least one of them. The major attraction of Luwak Coffee plantation is the 13-15 types of tea and coffee versions they make you try for free. They also make you try the Luwak coffee which is paid. The idea of course is to make a sale for at least one of them. Although the coffee or tea for sale is a little pricey, definitely try out the 13 different types of free tea/coffee versions. You won't regret it!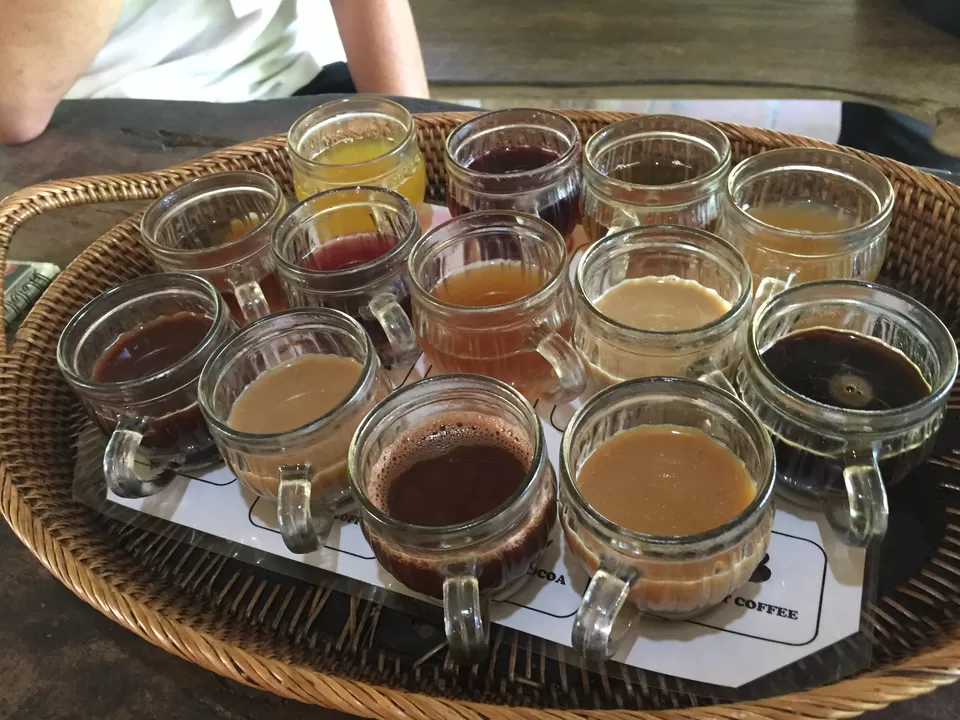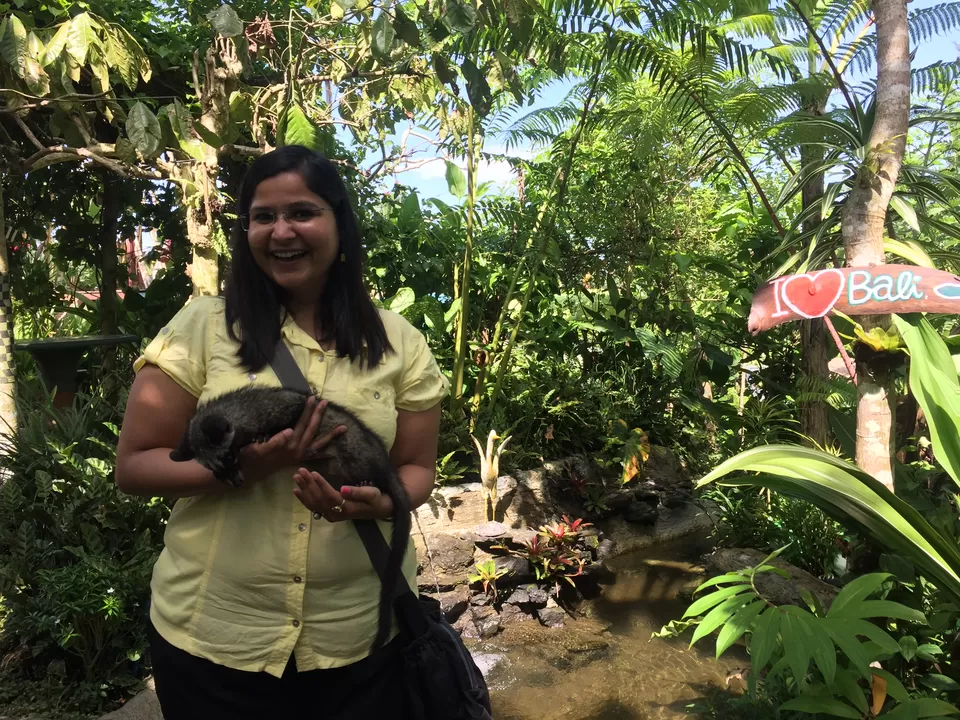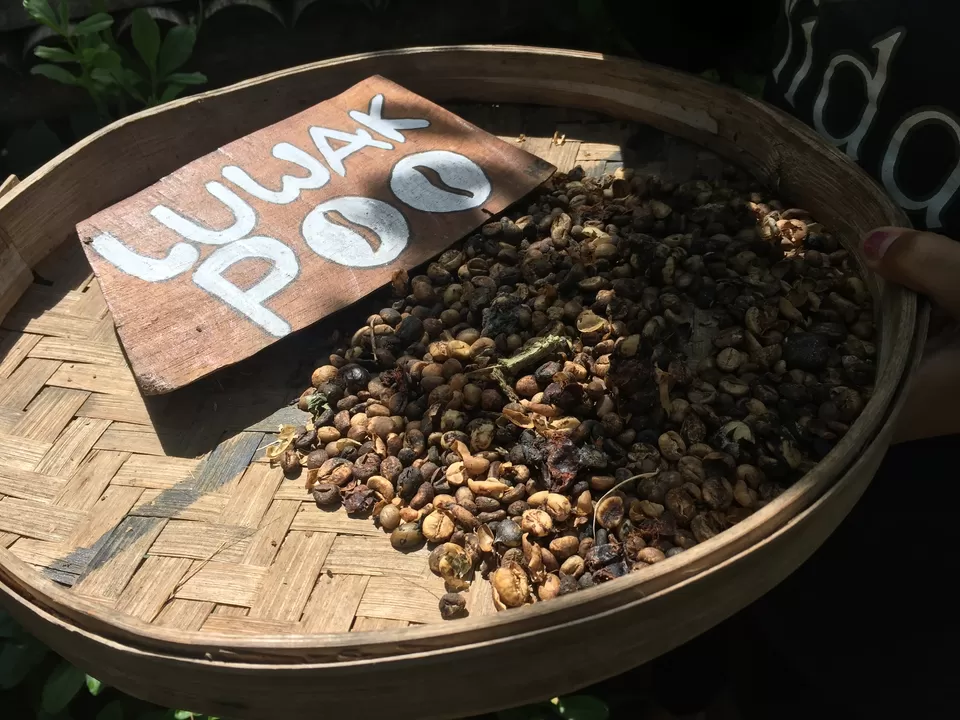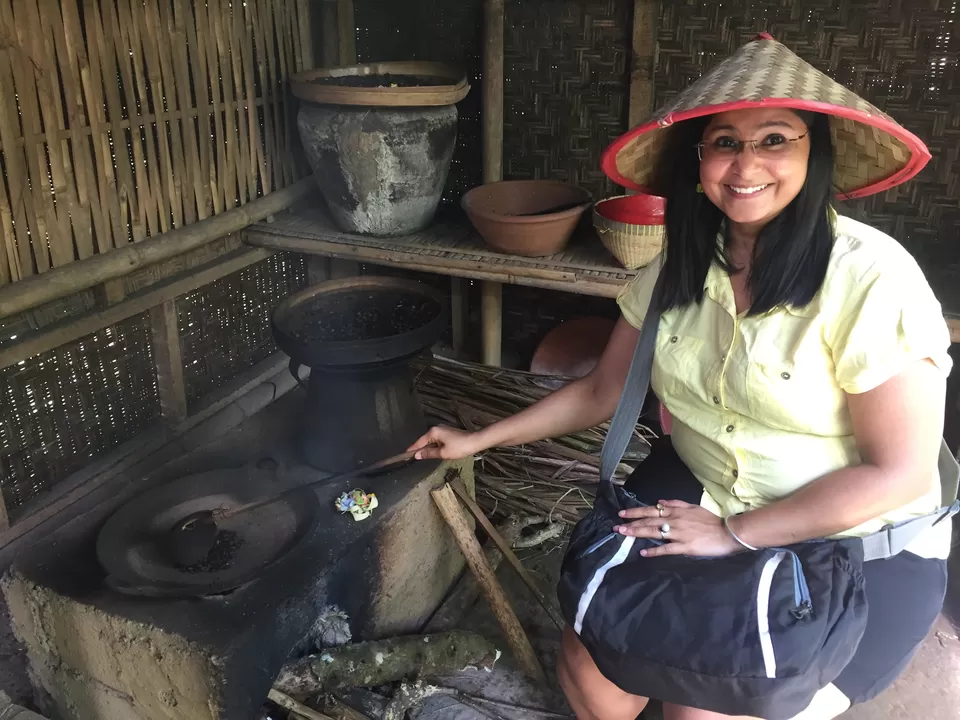 Wayan, the cab driver was quite friendly, and because of his generosity and friendliness, we called him two more times while on the Bali Island to use his service, to find that he was busy both the times with other customers. Anyway, if you need a warm, friendly cab driver during your visit, you can let me know. He'll get business you'll get a good ride.
Stay in Ubud
Liang House and Hostel: For the first three days, we had booked a home stay in Ubud. It is a place called Liang House and Hostel, run by this guy called Liang. His family stays at his house, and he has given a couple of rooms for rent to tourists. There we enjoyed the hospitality of Balinese people, spoke with them about their culture, saw the architecture of the Balinese houses, felt their religion. Surprisingly, right at the centre of his house is the temple where the Gayatri Mantra was playing on a repeat mode. We were amazed with the chanting of the Gayatri Mantra. Later we realized that while Indonesia is primarily a Muslim country, Bali Island has majority of Hindus staying there. The only shortcoming of the place was that there was no Air Conditioning (Air Con) in the room (we didn't know that initially). It is quite hot in Bali in April, and hence it is good to have an AC. However, it is not impossible to survive with a fan as the atmosphere is cold in the night. All in all, if you wish to experience a Balinese household and enjoy their local style of Breakfast, consider staying there. One night stay price: 700INR (without breakfast).
Else that is not your priorities, here's traveler tip #2: While in Ubud, stay on the Monkey Forest Road. That is where all the lights are. That is where all the action is. That is where everything is happening during the daytime, and particularly after dark.
So much did we enjoy the atmosphere that we stayed for one more day in Ubud at this place called Warsa Garden Bungalow on the Monkey Forest Road. One night stay price: 1000INR (with breakfast). It is a beautifully located bungalow with a swimming pool and good Air Con rooms.
Things to do in Ubud
1. Music & Dance Show at the Lotus Pond: This 60 minute traditional dance performance, divided into four parts and performed on the local musical instruments, covering various aspects of Shiva's story, Mahabharta's story, Ramayana's story is definitely worth the watch.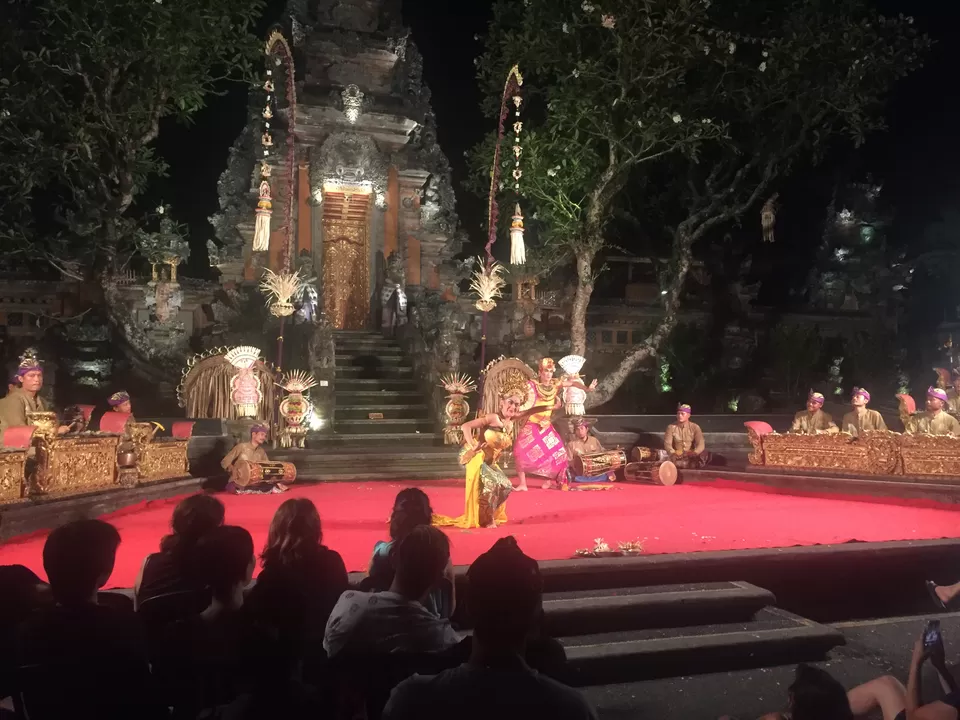 2. Balinese Traditional Massage & Foot Reflexology: Massage is cheap in Bali. Full body massage is less 500INR and foot massage is 250INR. While you're there, why not treat the body with some gentle hands!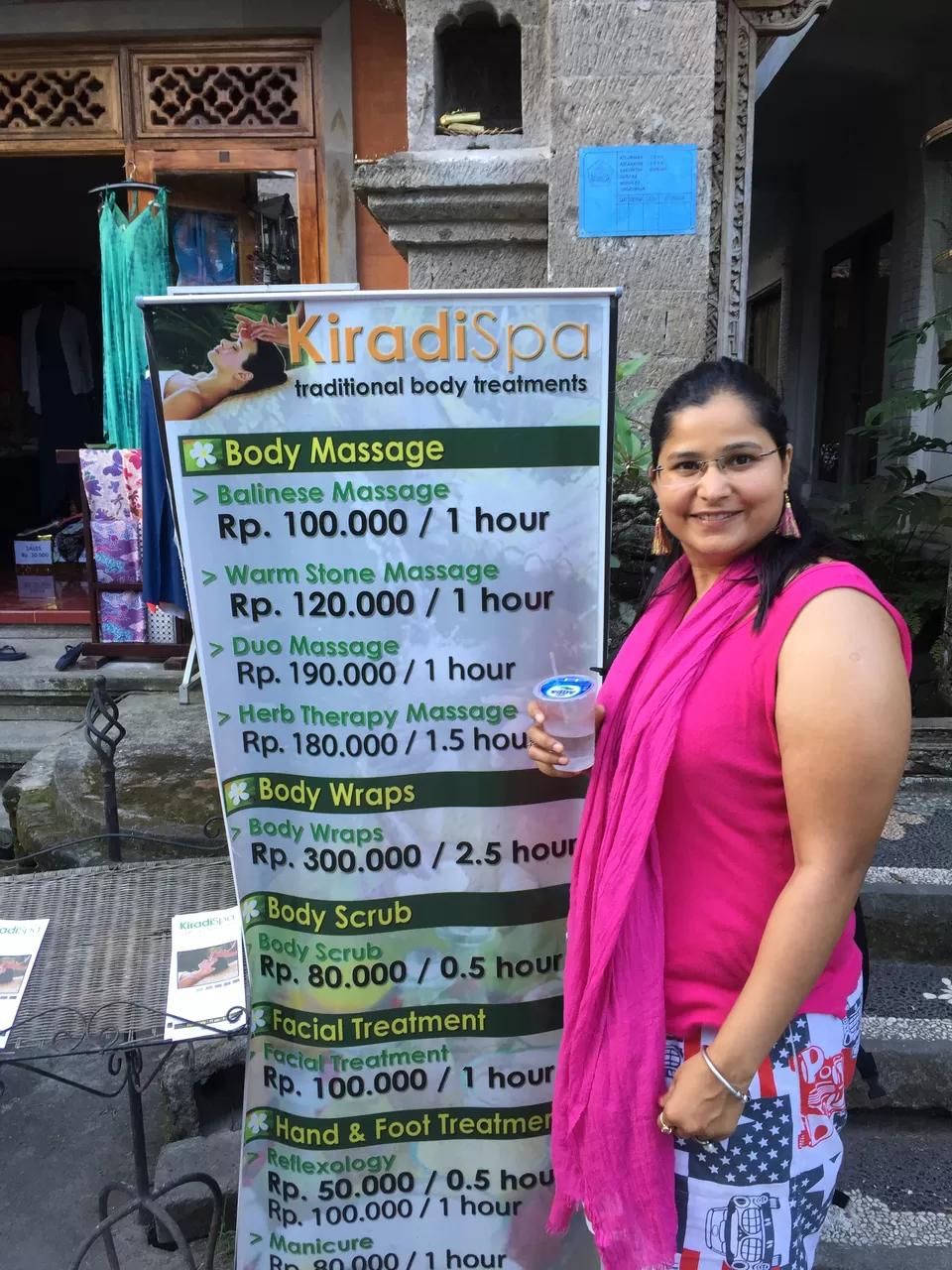 3. Ubud Art Market: Ubud is quite famous for its art and the Art market is the place where most of the art is put for sale. While it is a visual delight to visit the art market which is why I would recommend everyone going to Ubud to definitely visit the market to identify things to buy for décor back home, clothes to buy for the tour ahead, or for any other purpose. The problem with the place is the prices that the people quote for items you want to buy. The prices will be six to ten times the actual price of the item making it really difficult to negotiate the best price. In fact this is an issue in all of Ubud, perhaps because of the constant flux of visitors from richer countries (you will hardly find brown skin people in Ubud). But we found a cheaper solution to this problem, mentioned in the point 5 below.
4. Tegalalang Rice Terrace: The Rice Terrace located in Tegalalang, which is around 30 minutes ride from Ubud, is a great place to enjoy the sunset.
5. Traveler tip #3: Road to the Tegalalang Rice Terrace: To us, a major revelation was the road to the Rice Terrace. The entire road is filled with hundreds of shops on both sides containing beautiful items for home décor. There's rich wooden work available, stuff toys for children, weird lizard and other animal décor for the inclined, key chains, sand art, wooden boards with one liners, painted wooden animals, wooden bowls, chop sticks, wooden music instruments, footwear, and so much more. Actually these are the shops which export and sell items on bulk. They also send these items to other places in Bali which then sell to tourists from all over the globe. This is why the prices they quote are much less and with a little negotiation, you can get items for very good prices. Definitely a must visit road.
6. Goa Gajah Temple: The Goa Gajah temple is a famous tourist spot where almost all tour guide will take you. The key attraction of the temple is a cave where the deities of various gods are kept. Although the temple has nothing much to offer, hence it can be skipped, the market at the entrance of the Goa Gajah temple offers dress materials at cheaper prices, and a good deal can be done with a bargain. A piece of information, wearing a Sarong (or a Lungi) is a must at all major temples of Bali. The temples give them for free right before the entrance gate for the duration of the visit, hence buying one is totally up to you. We bought thinking of longer term use of the Sarong for us.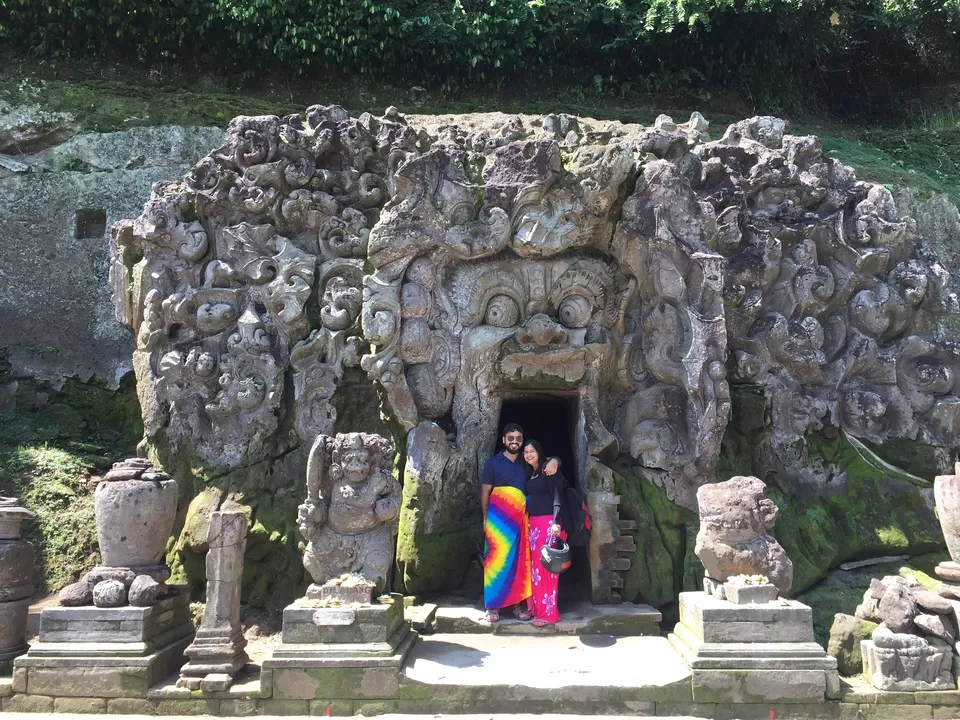 Places we didn't go in Ubud
1. Mount Batur lake and trek: Mt. Batur is an active volcano situated near Ubud. People go for trekking there in the night at around 230am and reach the top to watch the sunrise by morning. There's also a coffee shop near the Batur Lake situated next to Mt. Batur which has a picturesque view of both. Because of my back issue, we didn't go to this place. You can try, although we researched and found that the trek is quite long and steep, is crowded as many people go there in the night, requires trekking shoes, the path can be humid in the night, and the sunrise may be covered with clouds when you reach. Not to de-motivate, please do visit and let us also know what we missed.
Roaming around in Ubud
The best way to travel in Ubud, and in all individual places of Bali is to rent a bike. They have Honda gearless bikes for rent everywhere. Rentals are around 250-300INR for 24 hours, don't pay more, negotiate.
Apr 17: Lovina, North Bali
Our next destination from Ubud was the beach of Lovina which is famous for dolphins. It is 3 hours and 3000INR away from Ubud by personal cab. One can also hire shared cabs or shuttle bus but with a personal cab, we could go to three more places while on our way to Lovina:
1. Ulun Danu Temple: This is an amazing temple complex situated adjacent to a huge lake, which is further situated adjacent to a chain of hills. The scene is amazingly picturesque and calls for clicking tons of pictures. Although you won't find a temple to pay alms as such, the complex is really beautiful. There's an entry fee of 250INR per person for foreigner tourists, which I think is worth for this place.
2. Hot Springs of Banjar: I remember taking bath in the hot springs of Manali. While that is good, it doesn't quite match the size of the hot springs of Banjar. Plus it is much less crowded and you can enjoy the water falling on your face from the waterfalls coming from the hills nearby. Small entry fee for a good place.
3. Luwak coffee: Remember I mentioned about Luwak coffee earlier. Well, we wanted to enjoy more samples of free tea and coffee, hence paid a second visit to another Luwak coffee plantation.
The road to Lovina is surrounded by hills all around and is filled with lots of clouds and mist and is quite beautiful. The path reminded me of Lonavala and other areas of the Western Ghats of India.
Stay in Lovina
We stayed for one night in Lovina at the Nirwana Water Garden. It is located very close to the beach, has a beautiful complex and an amazing swimming pool. The rooms are very well decorated and have a surreal look in itself. One night stay price: 1000INR (without breakfast).
Things to do in Lovina
The only thing we found to do in Lovina was dolphin watching in the morning. That was the reason we went there at the first place, and that's what Lovina is famous for. We booked our tickets to the morning boat to the dolphin watching. Ticket price: 500INR per person, it may be possible that you negotiate and strike a better deal. They will always quote a very high price to begin with. In fact I think it's the right time to bring this, traveler tip $4: Negotiate your way in Bali. The major, in most cases entire source of livelihood for most Balinese people is tourism. And hence they will always quote a high price, from cabs to hotels to ferries to souvenirs to clothes to food. The key is to wear the bargaining hat all the time and to do playful and happy bargaining. Most people agree to a lower price and serve well with a happy but hard bargain. Not much of a problem for the people of India!
Anyway back to Dolphins. Interestingly, all the boats in Lovina and in the rest of the coast of Bali have these spider-like legs which help them in balancing on the water. The next morning at 6am, the guy took us, and a traveler girl from Swiss to the dolphin place. The boat has a capacity of five people only, which is good. Interestingly, there were at least one hundred such boats coming with us to watch the dolphins on that morning. And it wasn't even a weekend. It looked more like we were going on Dolphin hunting than dolphin watching. Still, when we finally spotted the dolphins swaying their way in the open waters, with the sunrise from behind, it was a view worth cherishing. Scores of dolphins run on the waters everyday and the boats chasing them from this place to that.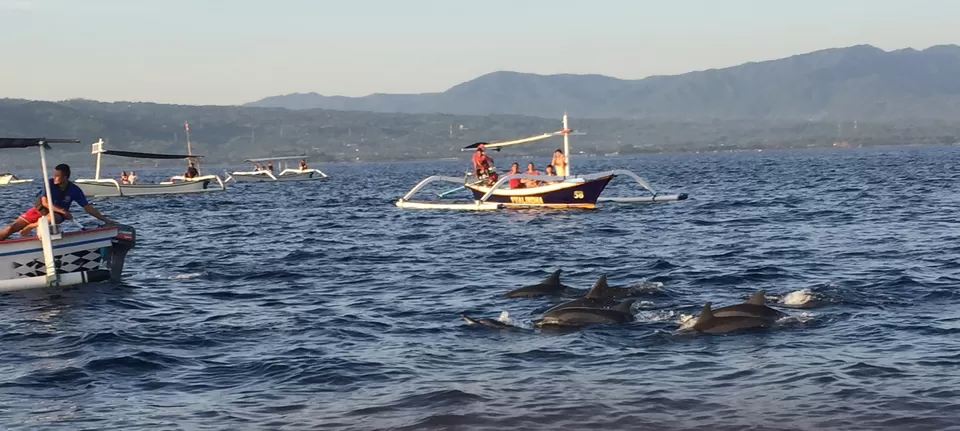 Traveler tip for Lovina: Although we stayed only for one night in Lovina, we walked around the place a bit in the evening and found that there are two roads leading to the beach. The main road, where we stayed is where the party is happening, and hence the eateries are more expensive there. The other road is much cheaper for dinner and breakfast. It is towards the east side of the beach.
All in all, the sunset at the black sand of Lovina was truly a surreal thing to watch.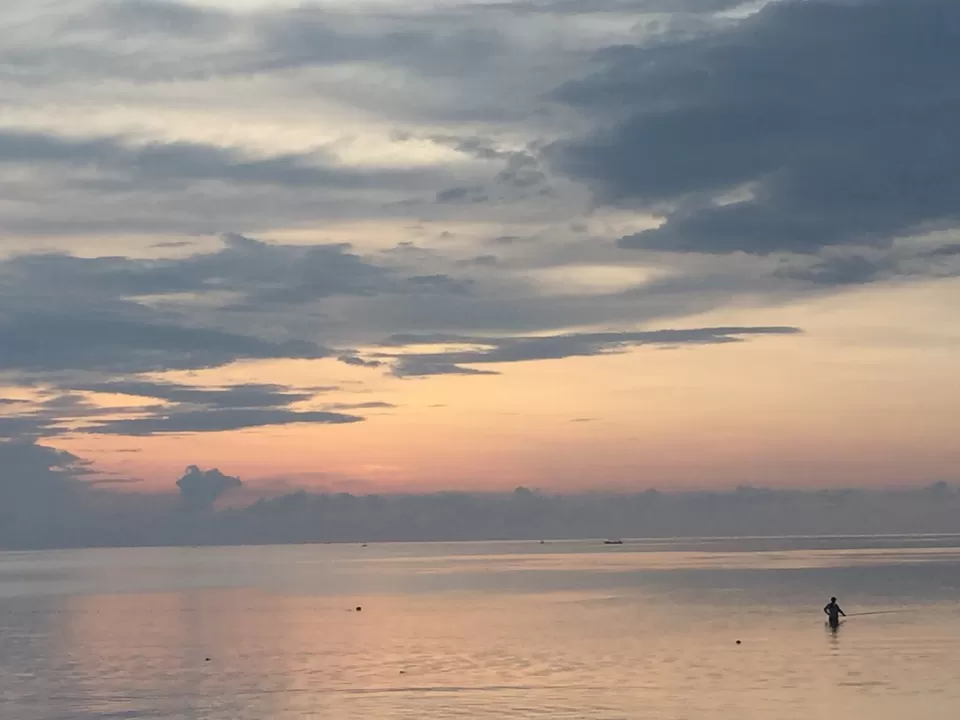 Apr 18: Amed, East Bali
This is important. From Lovina, we were trying to figure out the best way to go to Amed. The idea was to take a ferry from Amed to the Gili Islands on the east of Bali. While surfing on the internet, my amazingly researcher wife got to know of a round trip single ticket which takes you from Lovina, drops at Amed by private cab, takes you by ferry the next morning, drops you to Gili islands, brings you back from the Gili Islands to Bali, drops you back at your hotel or airport.
In fact, upon doing further research, we realized this round trip single ticket was perhaps the best way to travel to the Gili islands. Compared to doing individual bookings, a single ticket takes care of all. Upon doing the math, I realized that it was better to go with the single ticket. Hence we got that. Ticket price: 3500INR per person.
The ticket, as mentioned above, included our private cab transfer from Lovina to Amed, a 2.5 hours drive along the north-eastern coast of Bali. It included our open date ferry (which we could take on any date even after staying for a couple of days in Amed) to Gili Islands. It included our open date return ferry from Gili Islands back to Padang Bai Harbor, Bali. It included our AC shuttle bus/cab transfer from Padang Bai Harbor to our hotel in Bali.
If you have to come back to the Bali island eventually, a single round trip ticket to and from the Gili Islands is my recommendation as well.
So on the 18th of April (the day of our wedding anniversary and the reason for this trip at the first place!), we left from Lovina to Amed, located on the east coast of Bali.
Stay in Amed
We stayed Tamen Tamen Guest House in Amed. It was a beautiful hut shaped room with a king size bed which has bedposts and are attached to a mosquito net by default. The room had a seating space and was located on the other side of the Amed beach. The guest house also had a Rooster (Murga in our local tongue) who used to make his kook-doo-koo sound at full volume in the morning, ensuring we wake up to the sound of the Murga! One night stay price: 1000INR (including breakfast).
Things to do in Amed
Frankly speaking we had come to Amed for two basic reasons, one that the ferry goes from there, and two that there is snorkeling opportunities right at the Amed beach. We hired the snorkels from the Tamen Tamen guy and entered in the water.
Amed beach, unlike other beaches, is not sandy. There isn't any sand, all rocks and dead corals which have become rocks. In fact I wouldn't call it a beach at all. And I suppose it was because of the corals that the fish live so close to the beach. A little swim with the snorkels towards the sea side, and you will come across tons of fish living in the corals nearby. A lot of people were doing scuba diving as well.
It is a good snorkeling place, not the best one though. We particularly didn't enjoy it as much, maybe because we didn't spend much time in Amed. Whatever the case maybe, although there were lots and lots of hotels at the Amed beach road and many travelers too, I didn't particularly enjoy the experience of the place.
Apr 19 – Apr 22: Gili Islands
One of the key highlights of our Bali trip was the Gili Islands. These are three small islands situated next to each other. These are Gili Trawangan (Gili T), Gili Air, Gili Meno. Gili T is the biggest one and all ferries from Bali stop at Gili T. Gili Air is the third on while Meno is the one in the middle. Such is the beauty of the place that while bathing or sitting at the each beach of Gili T, amid the blue waters, you can see Gili Meno right in front of you. A boat ride can take you from one island to another. Further, no gasoline bikes/cars/any other vehicles are allowed at the Gili Islands. The two major modes of transport are the horse cart which they call as cidomo (pronounced as chidomo), and bicycles. Perhaps this is the reason the natural beauty of the islands is still intact, despite the peak influx of travelers from all over the world.
So what's the difference between the three islands?
Well, Gili T is the biggest among the three, the most happening, the place where all parties happen in the evening, Bob Marley lover band plays their favorite Reggae music every evening, people enjoy romantic beachside candle light dinners with their loved ones, hundreds of travelers go for Snorkeling or Scuba at designated spots each day, Bali street food stalls come up each night (although they are more relevant to seafood lovers), basically it's a happening place.
Gili Air, which is the other island where the ferry drops you, is we heard a little calm than Gili T. Gili Meno is the least noisy place.
Since we were there only for three days, we decided to make on base and move around if we felt the need. Happening Gili T was the first choice. We were not disappointed.
Stay at Gili T
A day prior to arrival, we booked our first night at Gili T at this place called Adam Bungalow. The place had amazing ratings, had great breakfast (as per the reviews), and was located on the far north side of the island away from the crowd so we thought it'll be good to stay there. Little did we know that it was a little 'too far' from the harbor where the ferry drops us, and for the penny savers like us, we didn't want to hire a cidomo and give him 500INR just to drop us to our hotel on a tiny island. The result, we kept walking, and walking, and walking. We asked person A, who led us to path A. Person B led us to path B, and so on and so forth. Our local 4G Sim Card disappointed us at the wrong moment. Basically we ended up walking for almost 90 minutes just to reach the place. Only after reaching we realized it was a straight, 15 minutes beach side walk from the main harbor!
Anyway after reaching we found that the place was cozy, the owner of the place was warm, and the food was as delicious as it was mentioned in the reviews. AirCon room rent: 850INR per night (including breakfast). However, go there only if you want to stay away from the main party area of the island.
We stayed for two more nights in Gili T at this place called Coral Choice. This place also had some good ratings, very nice room, was very closer to the harbor, right behind the beach lane. One night stay price: 900INR (including breakfast). We enjoyed the hospitality of Salman, the guy handling the place. With its proximity and hospitality, this is a place I would recommend to someone going to the Gili T island one a budget.
There are hundreds of home stays, hotels with/without swimming pool, cottages etc on Gili T. Beach lane hotels are expensive since they are on the beach lane. The ones little inward are relatively cheaper.
Things to do in Gili T
After staying for one night at the Adam Bungalow, we realized we are not going to go to Gili Air or Gili Meno. It was too much of an inconvenience, to take a ferry to see an island which is pretty much the same after all. Anyway, Gili T is a treasure on its own.
1. Half day snorkeling trip: We booked our snorkeling trip, morning slot which begins at 1030am and goes on till 330pm. The counter price is 500INR per person, but a little negotiation and the guy gave us for 325INR per person. It included snorkeling gear, boat ride to four different locations where there are corals, first hand view of the fish, turtles, and other sea creatures. In between the boat, filled with 30 other individuals, also stops at Gili Air at a sea side restaurant for lunch. Similar snorkeling trips are also conducted from Meno and Air islands. Definitely a must if you come to the Gili Islands. One takes a round of all the three islands, gets to take a look at the beautiful landscape and the surrounding view of the seas, gets to watch fish and turtles, and one also gets to see the nearby Lombok island which one can then go to if they so desire.
2. Regina Pizza: Regina pizza is quite a famous pizza place in Gili T, mainly for the way he prepares the pizza. Wood fired pizza being prepared in the oven is quite a view to watch, besides the pizza which is quite tasty as well. It is a bit on the pricy side though.
3. The Bob Marley Band: There's a band who love Bob Marley so much that all have made their appearance pretty much like him. In fact the lead singer of the band resembles him so much; even he would have gotten confused if he was alive. Nonetheless, the band plays really well, stopping by and dancing to the tunes of the reggae movement.
4. Sunset Beach: The beauty of living on a small island is, the sun will rise from one side, and set on the other. While sunrise is a difficult scene to watch simply because getting up early is a difficult phenomenon, sunset is definitely within our reach. Thus making sunset beach one of the major attractions at the Gili T. So much so that they have put so many swings on the sunset beach that people (including us), go to the swings just to click pictures. It is a memorable picture no doubt.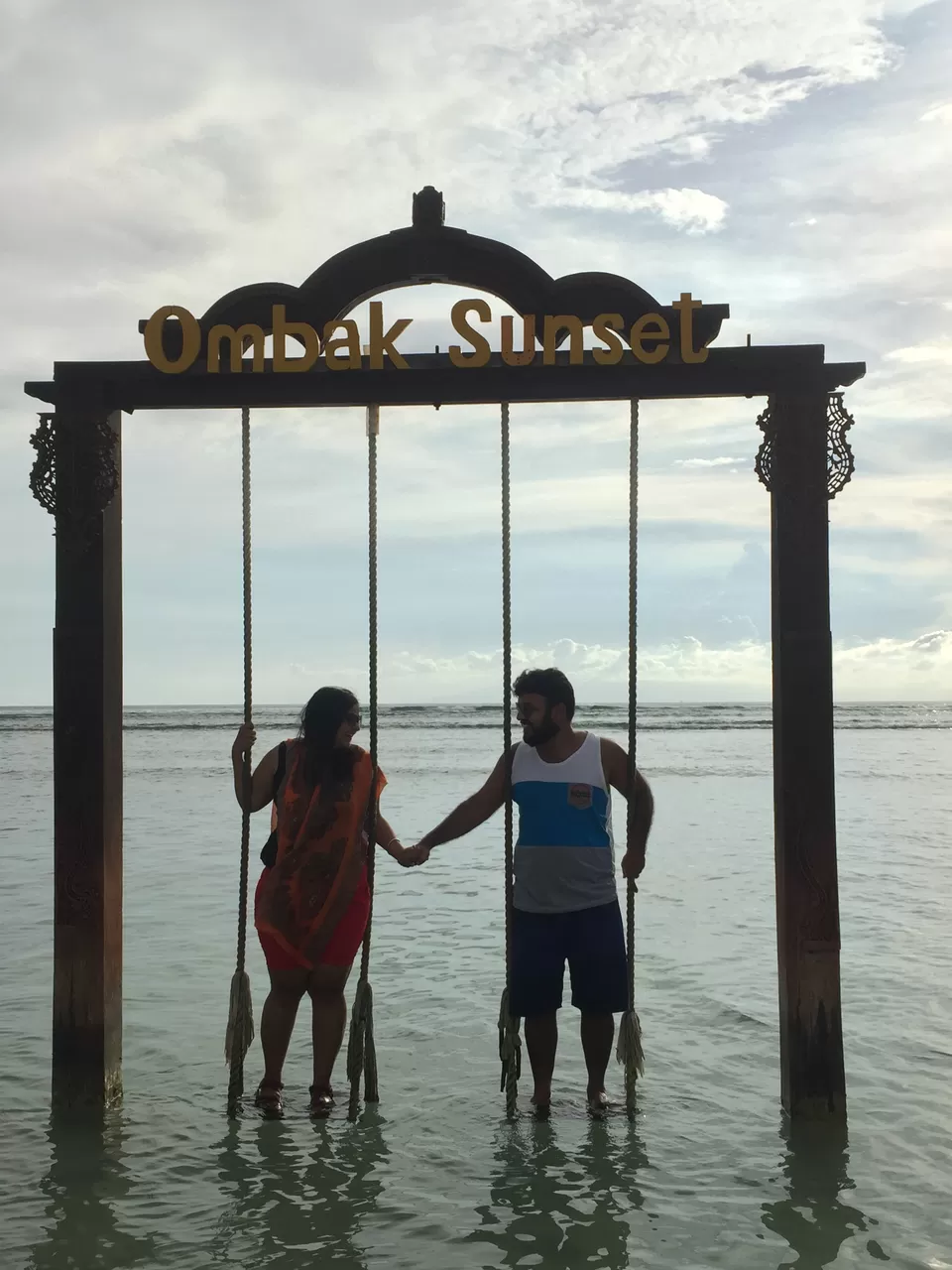 5. Night Food Street: Although a lot of stalls are for food seafood, there are a few who prepare crepes. The way of preparation itself is worth watching, and it tastes delicious too.
6. Trekking adventure: Somewhere in the middle of the Gili island, there's a volcano where people go for a trek as well. Although we didn't climb because of the back issue, the hotel guy had definitely proposed this as one of the things to do. Maybe you can enjoy the view of all the adjoining islands from the top of the hill.
All you need is to hire a bicycle on rent, and enjoy the ride across the Gili T. As for Air and Meno, well, you can go if you get the time, and let us also know the experience.
Either case, if you have the time, going to Gili should definitely be in the list while coming to Bali.
A word of caution, the beaches at Gili are not as smooth as the beaches otherwise. Like Amed, they are also filled with corals and other type of sea creatures who bite if one steps on them, hence take care while entering into the beach. Snorkeling is a good way to move through the seas nearby.
P.S. I was bit on my right foot by a creature called Sea Urchin. Once the creature bites, one gets all sorts of dark spots on the bottom of the foot. The locals know the remedy to remove the poison – constant thumping by a rock to make the foot bleed and let the poison come out. The foot is however not healed instantly, and takes about two weeks for the pain to go completely. So take care while entering the waters of the Gili Islands, respecting what lies underneath.
Journey back to Bali
On the 22nd April, we used our open ticket to make our journey back to Bali. It's a 2.5 hour ferry ride which begins at 12 noon and reaches the Padang Bai Harbor in Bali at around 230pm. The ferry is air conditioned, quite comfortable, and they offer a bottle of water and a candy.
The most striking feature of the ferry is its deck. Right after the ferry began its journey, the attendants called us to the deck. There was music being played on the deck, people were dancing, sitting was already arranged, beer was being served, all this while we were looking at the beautiful view of the islands and the sea and cool breeze was moving around all over the place. It was nothing short of partying on a cruise. While the attendants had their targets of selling beers (while they danced on the beats of popular English songs), and hence were constantly asking for us to buy beer, it was an amazing experience and a great memory to cherish in the times to come.
Traveler tip #5: Take your own food while going in the rather long Ferry, else by the time you reach hotel/airport (around 5pm), you will practically starve. We took freshly cooked Mie Goreng (fried noodles, the typical dish of Indonesia).
Apr 22: Kuta, South Bali
Finally after roaming around at different places of Bali & Gili, we were at the fag end of our journey. We reached Kuta at around 5pm and checked in to our hotel. Totally tired, all we could do that day was just take a walk at the streets nearby and take a cursory glance at the place that Kuta is.
Stay in Kuta
We stayed at Bakung Sari Resort & Spa. It is a hotel with a heritage appeal, has a nice swimming pool and good sumptuous breakfast on offer. One night stay price: 1200INR (including breakfast). I'm sure a place like that will be nothing less than three-four thousand bucks back home.
That day was spent relaxing at the hotel, not much activity.
Apr 23 – Apr 24: Seminyak, South Bali
Because of all the things we heard about Kuta, we decided it was better to stay at Seminyak than to stay in Kuta for long. Hence we booked the next two nights at Seminyak.
Frankly the places are very close to each other, has the same kind of traffic hence not much different from the first glance. And yet Seminyak has a kind of rich look and appeal compared to Kuta.
Stay in Seminyak
We stayed at the Singgah Hotel in Seminyak. This place also had some amazing ratings and reviews online, hence we booked. The hotel, although located on the main Seminyak street, is slightly difficult to find since it is located behind a temple, yet once you find it, it has a serene appeal to it. At first glance we couldn't get why it had such high ratings. After staying there for some time, we realized the reason. The rooms are beautiful, laden with lots of wood work. It has a small cute swimming pool, a small seating area where people were working on laptops, friendly staff, and the advantage of being at the heart of Seminyak. One night price: 1300INR (without breakfast).
At the time of check-in, after taking the entire amount for two nights, surprisingly the hotel staff asked us for an additional deposit of 1000INR to be give back at the time of departure. Angry and surprised at the same time, we resisted and didn't pay them anything.
First thing to do in Seminyak, as in Ubud, is to take a bike on rent. The people will ask for too much in the beginning but will generally come down to 250-300INR for 24 hours.
Things to do in Seminyak
1. Water sports in Nusa Dua (Tanjung Benoa): Nusa Dua, an island located further south of Bali has lots of water sports options. We were keen on sea walking and struck a deal with a local travel agent. He would pick us from the hotel and drop at Nusa Dua, an hour from Seminyak, in a private AC cab. We will do sea walk which lasts for almost 30 minutes under water, enjoy the fish (including the all famous Nemo), feed them, feel the sea walker experience. Then the AC cab will drop us back to our hotel. All this for 3500INR for the two of us. After doing a bit of research on the internet, we found that this was a good deal and finalized. Sea walking is a great experience, and if you haven't done it before, do try it here. There are other water sports as well, para sailing, jet ski etc that we find in Goa and other places.
2. Cabaret Shows in Seminyak: Going to Seminyak and missing this would be a grave mistake. There are three bars on the same street, one of the with the Frankenstein's theme, called Frankenstein's Laboratory. The other, Bali Joe and Mixwell Bar are known for their LGBT friendliness and have a people from the LGBT community performing on stage and serving food and drinks. All three have their own style of shows (we spent an entire evening watching the alternating dance and live music performances at Frankenstein's Laboratory. The other two we just watched from a distance and didn't have the energy to go inside. The dance performances were astounding; the live band was really super talented and professional. The service style, even the way some of the waitresses were dressed was outright scary. Frankenstein's Laboratory is a great place to spend an evening, enjoying beers and pizza at this amazing place. Traveler tip #6: Go to Frankenstein's Laboratory, Mixwell, or Bali Joe, any one if not all.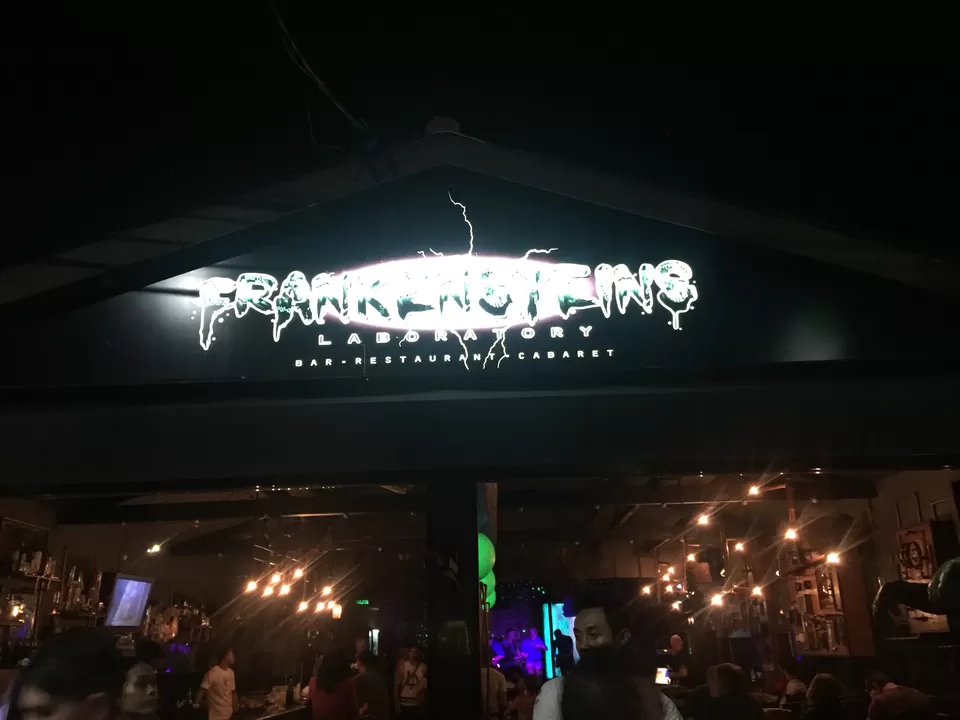 3. Surfing: The beaches of South Bali have waves I have never seen before. The sea looks damn turbulent with high waves making heavy wavy sounds keep coming all day long. At the same time, the height of the waves just about the height of an average human being, is ideal for the surfers to get their surf boards into the sea and spend hours gliding through the waves. It is a good spot for playing around with the waves.
4. Shopping at the Art Market at Melasti Street: The art market at Melasti street is a good spot for shopping. The prices quoted aren't exorbitantly high to begin with, and with a decent round of bargaining, one can get clothes/souvenirs of choice at reasonable prices.
5. Ride along Legian, Kuta: There's basically one lane which goes all the way from Kuta to Legian to Seminyak. Rent a bike and ride along the lane. It is one of the most beautiful lanes, filled with shops, marts, & restaurants on both sides. Great place to hang out after the lights come out.
There's one more market in Seminyak, which is opposite to the Kuta market. That is near the Seminyak beach. Bike exploration will be a good option.
The roads of South Bali are filled with traffic and traffic stoppages happen every now and then, simply because the roads are small and the SUVs are many. Bike is the best way to glide across the roads of South Bali.
Apr 25 – Apr 28: LV8 Resort, Canggu, South Bali
The last leg of our journey was at the LV8 Resort. It is situated in Canggu area (pronounced as Changgu) in Southern part of Bali. Although Canggu is hardly 10 km from Seminyak (about 40 minutes ride), the entire atmosphere at Canggu is so much more serene.
While Seminyak & Kuta are tourist hubs of Bali, Canggu is the hub for travelers from Europe/Australia to 'settle down' and relax. The streets are less crowded, and there are tons of Café's in Canggu offering smoothie bowls and other delicious food items. The beach is apt for surfing, just like the rest of them in South Bali.
But first, let's look at the LV8 resort. We booked the resort beforehand for three nights. One night stay price: 5000INR. There are thousands of resorts in Bali, many in a good budget of 4-5k INR, and it is difficult to choose the best one for your booking. After a bit of research, we decided on LV8.
It is located on the beach, and an amazing infinity pool right at the beach. In fact the pool is the best attraction of the LV8 resort. The other major pro is that all rooms are nice big suites. There are one bedroom and two bedroom suites. Needless to say, we chose the one bed suite. The suite room is, well, nice. Good to spend the day even if one doesn't have to go out of the place.
Having said that, there are a lot of resorts in Bali, and I'm sure there are better options as well at similar prices if you do your research well.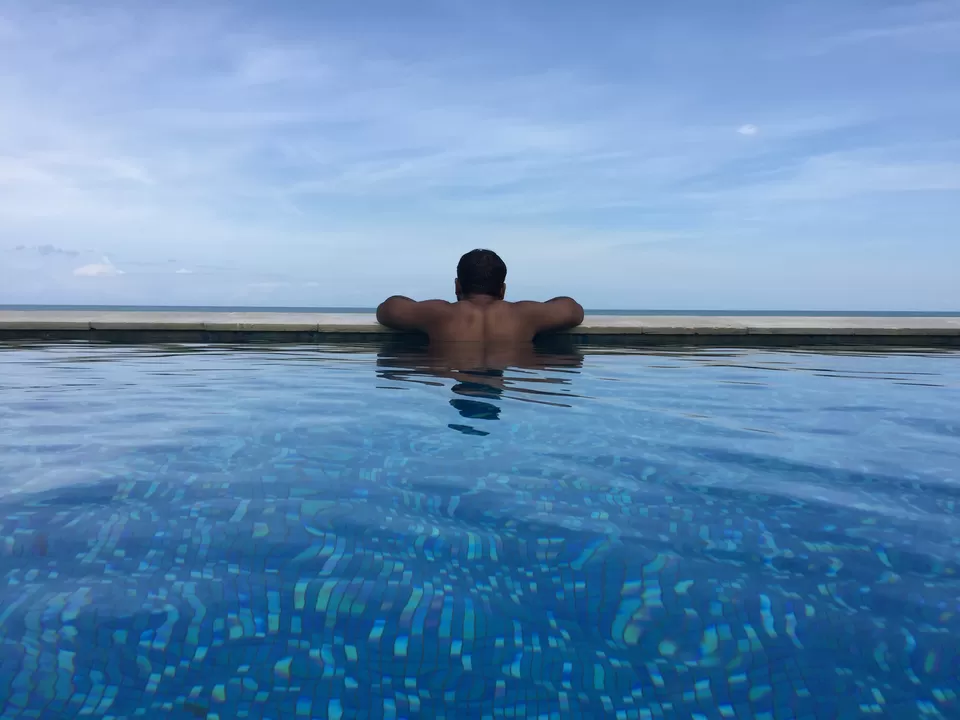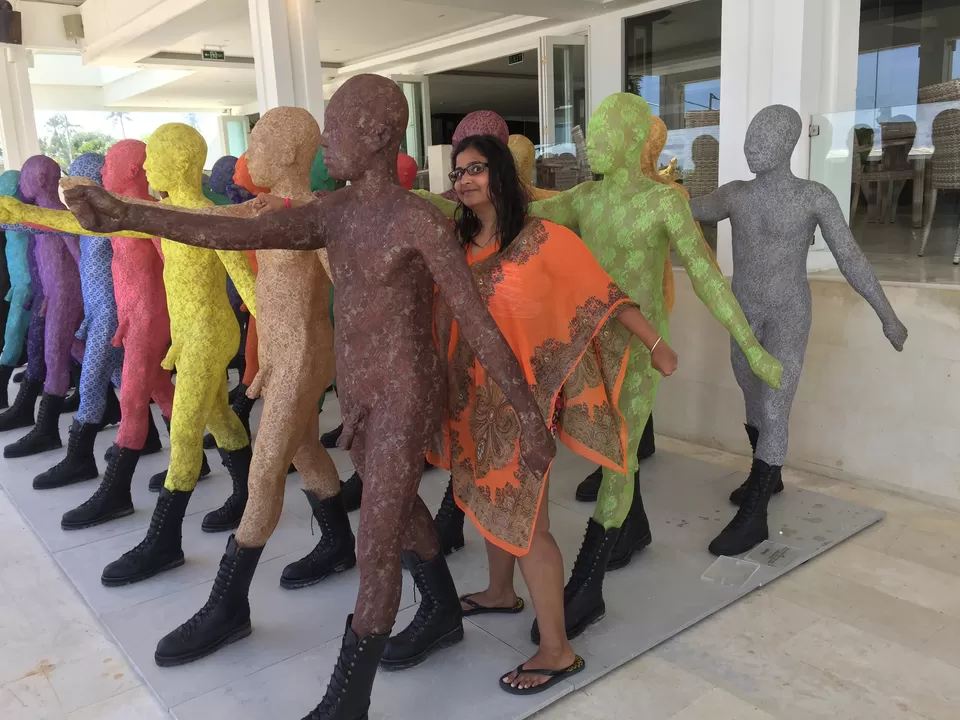 Things to do in Canggu
Having said that, now let's take a look at the things to do in Canggu.
1. Finns Club, Canggu: If there's one place you must visit while staying in Canggu, it is by far the Finns Club. Originally a sports club with membership, they also have a beach side restaurant which, from outside, looks like just another restaurant but from inside is a whole different world. The place has an open swimming pool inside the restaurant and the people are found dancing and drinking right inside the pool. No better place for a pool party! It is a bit pricey, but the ambience, the beach view, the music all makes it totally worth.
2. Beetlenut Café: Another great place to eat at Canggu is the Beetlenut Café. It has great shakes and smoothies, a dessert of the day, and the food is quite cheap. One wouldn't expect the food to be cheap at a place like this, but then, what do you know. Definitely a good place to visit in Canggu.
3. Dojo Coworking Space and Nalu Bowls: A lot of people on the internet have recommended Nalu Bowls for their smoothie bowls. So we went to try out the food at that place. Personally I didn't like it much, besides the fact that it is a bit pricey. Although we got to see the Dojo Co-working space. Little did I expect that work from home, freelance foreigners have rented a seat at this co-working space and do their work chores from this place during the daytime and perhaps chill out at the beach or surf their way in the sea in the evenings. Good life.
4. Mickey's Mad House: Mickey's Mad House is a pizza place run by this immigrant Mickey, who I'm guessing is from Australia (because majority of foreign tourists come from Australia due to proximity). The signboard at the entrance says, the best Italian Pizza in the world. So we entered and ordered one. Although I wouldn't call it best, the pizza was quite good. More than that, the ambience at the first floor of his restaurant is out of the world. There's a TT table, a swing, randomly placed thick wooden logs as tables, all looking at the rice fields on either sides. It's an amazing place to spend time with your loved one.
5. Love Anchor Bazaar: Love Anchor is another art market located in Canggu with different items such as bags, dream catchers, clothes, souvenirs for home décor. The place is a little expensive and hence I wouldn't recommend buying anything from there.
6. Tanah Lot Temple: Half hour from Canggu is the all famous Tanah Lot temple where most of the tourists from across the globe go to. Perhaps this was one of the reasons we didn't visit the obvious tourist spot, the Tanah Lot Temple. Let me know the experience if you go there.
Overall, Canggu is a peaceful place with lesser tourists and more of longer term travelers. There are tons of cafes, almost all of them offering smoothies of one or the other kind. Personally, I liked the serenity of it.
Final Things to Keep in Mind
After checking out from LV8 on 28th, we took our flight and left for home. We reached Delhi at around 10pm on 28th, and home by midnight.
Before we conclude, here are some key things to keep in mind about Bali.
1. Vegetarian Food: For the veggies out there, there are plenty of vegetarian options in Bali. Unlike many south east Asian countries, for Bali vegetarian is not completely unknown. All they need are some instructions and they will prepare the food of your choice. Since my wife is vegetarian, we personally had a lot of local Indonesian Food, viz. Nasi Goreng (fried rice), Mie Goreng (fried noodles), and at times Gado Gado (steamed vegetables). We ate a lot of vegetarian pizza, more pizza than I've had in years. The best part is, unlike our Dominos/Pizza Hut, the pizzas prepared by local restaurants are very light, easily digestible, has good authentic mozzarella cheese, and are quite tasty. Hence we could easily survive on a pizza dinner for a lot of our evenings.
2. Bargaining: As mentioned before, there's a lot of bargaining happening in Bali. From the Airport to the sea port, everywhere there's bargaining. And it's a happy & playful bargaining. If it doesn't suit your budget, just move on, don't start fighting with the vendor.
3. Massage: Massage is cheap in Bali, quite cheap. There are tons of massage parlors and as you walk down the road, most of them will call 'Massage', 'Massage'. No thinking naughty, it's Bali not Thailand. All these are authentic body massage and foot massage at cheap prices.
4. Sim Card: Apparently the stores in Ubud, from where we got our Telkomsel Sim Card were selling only 4G cards without any calling facility. Surprised as we were with the offer, we didn't have much option, and also our hotels had wi-fi everywhere we went, we took the card basically to run maps and to book Grab (Uber has sold itself to Grab in Bali and got out of the island). A particular problem which we faced in our travel was that the guy who gave us the 4G only sim card didn't register the card in our name. He didn't take any documents and simply handed over the card for the fee he charged. Interestingly enough, after a few days we found that the KYC was not done on the card and hence it is not working anymore. We will now have to go to the office of the company which offered us the card and get our KYC using our passport. Upon reaching the office, the man at the counter informed very politely that there is a waiting of 2 hours. Luckily my intelligent wife had downloaded offline Google maps of Bali and Gili Islands on her phone. As a result, we chucked the KYC and went on our own without it. The card could still receive SMS and hence we were able to book cabs through it in wi-fi, besides that it was pretty much useless. Travelers tip #7: Down offline maps before leaving, you never know when you have to use them. Also ensure that you get a calling card with KYC done at the time of purchase to avoid further hassles. Also, don't buy sim card at the airport, needless to say they are up to 5 times more expensive than what the local stores give.
5. Cabs: There's Grab, there's Go-jek (both bike and four-wheeler taxis) which are cheap. Then there's Blue Bird taxi which is quite professional (all cabs are blue in color, and all are good long Sedans). Blue Bird app is available for download, although it's a little costlier than Grab, it's available where Grab isn't. Then there are also local taxi providers who are standing on the streets with a placard in their hand with the word Taxi on it. With them, it's basically bargaining to get to the best price. My personal recommendations, Grab followed by Blue Bird.
6. Shopping: Interestingly, there tons of big and small Marts in Bali. Their names range from Alfamart, Indo Maret, K Mart, Delta Dewata, Coco Mart, and a few others. And there are tons of branches of each, at times 5-10 marts on one single lane. Buying groceries (and beer) cannot be easier! It's not all simple that though. Alfa and Indo marts don't have liquor license and hence don't sell beers, while others do. The prices of same commodities, at times beers, vary across marts. We found that the prices of beer for example, were cheaper in Ubud than at other places in Bali.
7. Beer: Speaking of beer, the grand daddy of all beers in Bali is Bintang. It is like Kingfisher in India with the market share of Maruti. It's crazy, the extent to which Bintang is sold in Bali. The word beer in Bali is synonymous to Bintang.
8. Water: Water is a precious commodity in Bali. Not kidding. No restaurant offers normal or regular water. It's either bottled water or no water at all. Some high end restaurants will offer regular glass of water limited to one glass per pax. Asking for an extra glass will cost you money! Further, water bottles of two sizes, 600ml and 1500ml are available at all marts with varying price tags. Economically speaking, 1500ml water bottles are cheaper than the 600ml ones, a bit hassle to carry though. Your choice. The point being, bottled water is it in all of Bali, including the Gili Islands, both for the tourists and for the locals.
9. Currency: As discussed earlier, there are tons of currency conversion stores in Bali, so if you have USD in hand, no need to worry about currency conversion into IDR. There are tons of reviews on the internet about random stores who claim themselves to be 'authorized' but are in fact not. They dupe customers by slipping out currency notes while counting and what not. At the same time, there are a few which are actually authorized. Dirgahayu Valuta Prima, BMC are two which we know are good. Currency can be converted at good rates at these two places.
10. ATMs: If you run out of cash in Bali, worry not. There are tons of ATMs too which accept all International Debit Cards. We swiped my ICICI Bank ATM card by the end of our trip. The ATM machine will tell you how much commission the local bank is charging. In my case it was approx. 100INR per transaction.
Concluding Remarks
By the end of two weeks, although I was personally tired of all the travel and wanted to get back home, I also knew we had hardly seen anything in Bali in its entirety. We stayed from one to four nights at different places in Bali and realized that there's so much any one place has to offer that even two weeks were not enough. No to count the places we didn't go: Lembongan Island, Penida Island, Lombok Island, western side of Bali. For all we know they are as much full of natural and other beauty as the places we covered.
Nonetheless, the trip was totally worth every penny we spent, and I would highly recommend you to go to Bali once, with spouse, family, kids, or even by yourself. See the culture of the island, the natural beauty, the art, the beaches, the sea animals, the resorts and the cottages. I'm sure you will love the place, as much as we did.
Frequent searches leading to this page:-
Bali tour packages, Bali tour package for couple, Bali honeymoon package, Bali Indonesia package tour with airfare, Bali Indonesia tour package, Bali tour package from India, Bali honeymoon package cost