Bali is more than just the Island of Gods, it's a mood, it's magical, it's a tropical state of mind.
The island is known for its forested volcanic mountains, scenic rice terraces, stunning beaches and a galore of culture and tradition.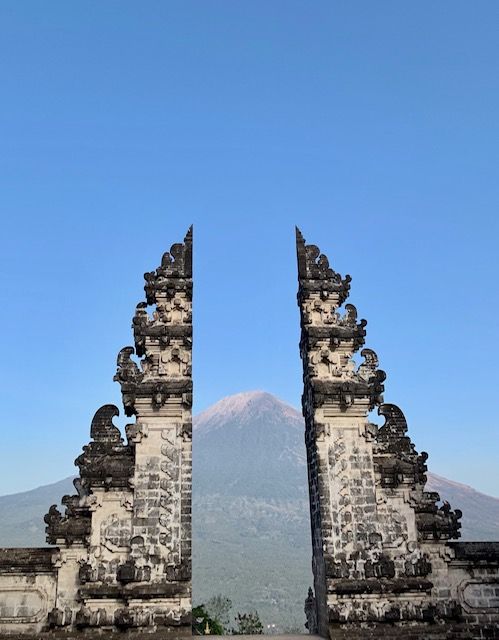 When to visit:
Bali is a year-round destination, however, the best time to visit is in the summer months i.e., from April to October.
I would recommend you visit the island in late September or early October when the weather is pleasant as compared to summer months and there aren't as many tourists.
Where to go:
Bali has something to offer to a broad range of travelers from young backpackers to leisure travelers. So how does one enjoy a true Balinese experience?
The island can be explored via four main regions:
Day 1- Day 3: East Bali: Active Volcanoes and laid-back Coastal Villages.
Bali country side is ideal for nature lovers. While you can enjoy your evenings watching beautiful sunsets over lush green rice plantations, below are places to visit during the day:
Besakih Temple: It is also known as the Mother Temple of Bali. This temple is the largest and most important Temple in Bali. It is located in a small village on the slopes of Mount Agung called Besakih. If you're staying in Sidemen, it's only a 30-minute drive.
For those of you who want to learn about the Hindu religion and culture in Bali, Besakih Temple is a must visit.
Pura Lempuyang: The Instagram famous temple also known as "The Gateway to Heaven" has a breath-taking view of Mount Agung. Since there is not much to see in the temple premise, visitors usually come to get pictures clicked at the gate.
Even though we reached the temple at 7am in the morning we had to wait 3 hours to get picture clicked at the gate!! While the pictures turned out be great, I personally feel it's not worth spending half a day just waiting in a queue.
However, if you do visit the temple don't forget to stop at the Tukad Cepung Waterfall on your way back. It's a hidden gem.
Mount Batur Sunrise Trek: Watching sunrise at 1700m from a dead volcano is a one of a kind experience. On a clear day, Mount Abang and Mount Agung can be seen from the top.The trek starts at 4am every morning followed by a natural hot spring experience. I won't recommend someone with Knee or Leg injury to go for the trek as it's not an easy one.
I would recommend you stay at least two nights in Sidemen as all the above places are much closer to Sidemen than from Central/South Bali.
Day 4 – Day 6: Central Bali: The cultural heart of Bali – Ubud!!!
Need I say more?? I'm sure you've seen pictures of vibrant smoothie bowls and exotic vegan food from Ubud. Apart from food, there are many more reasons to love Ubud:
Tegalalang Rice Terrace: There's no better way to start your day at Ubud than walking through these beautiful rice terraces. The early hours of the morning are the perfect time to go as there are fewer people and the golden light makes the place look magical. Don't forget to ride the swing over rice terraces!!
Ubud Art Market: The market is famous for dreamcatchers, snake-charmer bags, hand-made jewellery, souvenirs and home decoratives. Don't forget to bargain!
Sacred Monkey Forest: As the name suggests, right in the center of Ubud is a Monkey Forest which is natural habitat of Balinese long tail monkeys. The sanctuary has about a thousand monkeys so one needs to be very careful. Make sure not be make any eye contact with the monkeys or pose too close to them for a picture.
Ubud Palace: The palace was residence of the Royal Family of Ubud and is now a famous visiting spot for those who love Balinense architecture and arts. The palace also hosts traditional dance performance and orchestra every evening. The tickets for which are usually available during the afternoon.
Balinese Spa: When in Bali, indulge in a traditional Balinese massage. Ubud is the best choice for a Balinese Spa, there are several options ranging from $50 to $220.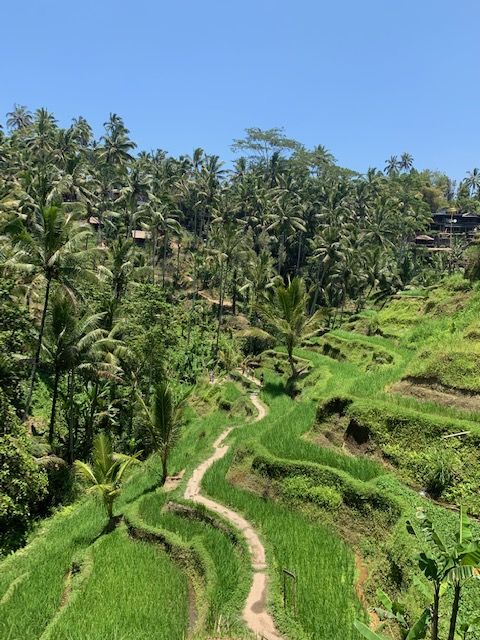 Day 7- Day 11: Southeast Islands: All about Palm Trees and 80 degrees
Turquoise blue waters, white sand, limestones, T-rex bay, towering cliffs, hidden beaches…yes, you guessed it right I'm talking about the Nusa Islands!! (Nusa Penida, Nusa Lembongan, Nusa Ceningan).
There is so much see in the 3 islands and each place will leave you awestruck with its scenic beauty. Since most places are far from each other within the islands, all 3 islands can only be covered if you're staying for at least 5 days at either of the islands. If you're short on time, it's best to do a 3 day Nusa Penida Tour.
Nusa Penida
This is largest of the 3 islands but also the least developed. It's not as commercialised as Nusa Lembongan hence it's not very crowded. The island can be explored in two parts i.e., East and West:
East Penida One Day Tour: The east coast of the island is untouched and the most picturesque. You will visit the following places during the tour:
Thousand Islands(Pulau Seribu) and Rumah Pohon Treehouse: The Instagram famous Treehouse overlooks the Diamond Beach and has a panoramic view.
Atuh Beach and Diamond Beach: Incredible rock formations that stretch over crystal clear turquoise waters. Both the beaches are very close to each other and offer breath-taking views from the top. To reach the Diamond beach, one needs to go down the stairs cut into the cliffside so take your time while descending and be alert. Both Atuh and Diamond beach will leave with in awe with their raw beauty.
Teletubbies Hill: The hills are formed from limestone above which there is thin ground overgrown with green grass which looks exactly like the hills in the Teletubbies show.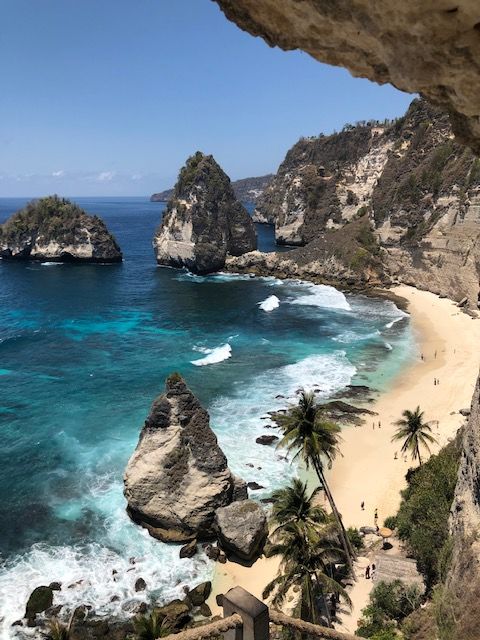 West Penida One Day Tour: The west coast offers some of the most iconic landmarks of Bali. It's better to start early for this tour before it starts getting too crowded. You will visit the following places during the tour:
Kelingking Beach: The dinosaur head shaped land with white sand. The view from top is extraordinary. The hike down is incredibly steep, be very careful and wear shoes with good grip.
Broken Beach (Pasih Uug): In the middle of a cliff is a circular hole that connects directly to the sea. It's thrilling to see blue waves crashing on the shore.
Angel Billabong: It is a naturally formed rock lagoon which looks like an infinity pool. It has crystal clear water and will surely tempt you to jump in for a swim. I was mesmerized by this unique work of nature.
Crystal Bay, Gamat Bay, Manta Bay Tour: Swim with Manta Rays and spot your favorite fishes from the movie Nemo in this snorkeling tour. Be sure to do the tour early morning because that's when you can spot Manta Rays. If you're lucky, you might say hello to sea turtles as well!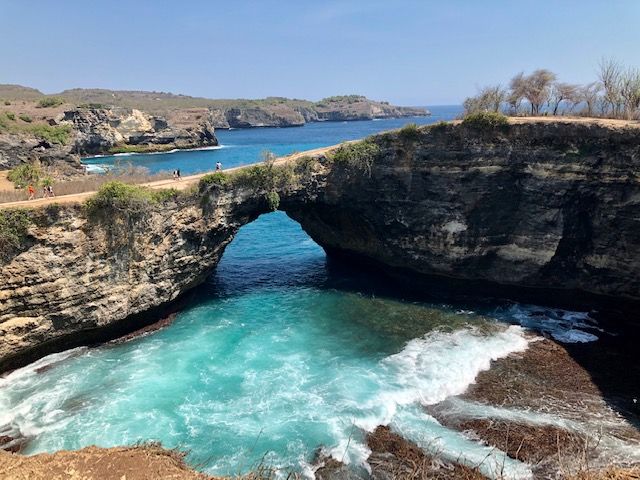 Day 12- Day 14: South Bali: Beaches and Bintangs
Unlike all the places mentioned above, this is the busiest part of the island and the most popular amongst tourists. This part of island is best known for surfing, shopping, dining and nightlife. Here's how you can make the most of your stay:
Tanah Lot Temple: This Hindu temple on top of a rock overlooking the ocean is one of the most spectacular spots to enjoy a sunset. A must visit for sure.
Ulun Danu Bratan Temple: This temple is known for its setting on Lake Bratan in the mountains near Bedugul. Though the temple complex is small, it has become one of the most photographed places in Bali in the recent years. The entire area is full of natural beauty and is very peaceful.
Dreamland Beach: This beach is popular amongst surfers. Spend your day sun bathing on the beach or swimming in the blue waters. Be careful as the waves are rough in this beach.
Banyumala Twin Waterfall: Two waterfalls separated only by the rocks holding them together, and a huge swimming hole at the bottom. This is one of the lesser known waterfalls of Bali. It's slightly farther than other places but if you love waterfalls this one shouldn't be missed.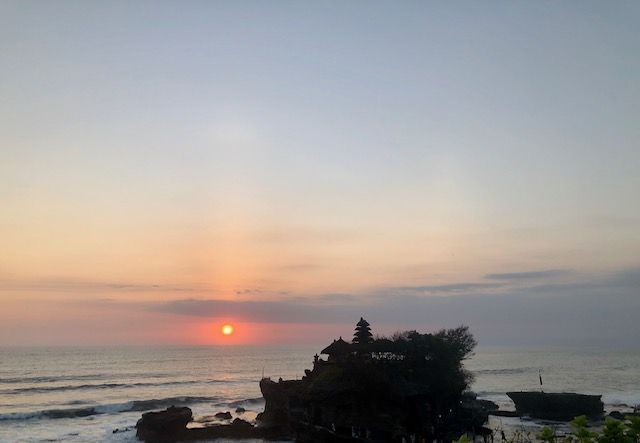 Where to Stay and Eat
There are endless options in Bali when it comes to stay and food.
I would recommend you spend at least 2 nights in Sidemen followed by either staying in Ubud or Canggu for the rest of the days. If you're a large group traveling together, renting a villa is a more economical option. Below the hotels/resorts that I recommend:
Samanvaya Luxury Resort & Spa, Sidemen
Bisma Eight, Ubud
La Roja Bungalows, Nusa Penida
Zin Canggu, Canggu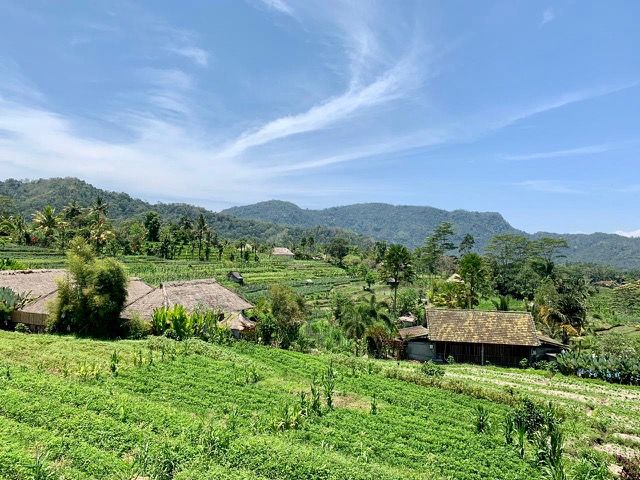 Below are restaurants/clubs that I absolutely loved:
Alchemy Cafe, Ubud
Nusantara by Locavore, Ubud
Penida Colada, Nusa Penida
Finns Beach Club, Canggu
Rock Bar, Jimbaran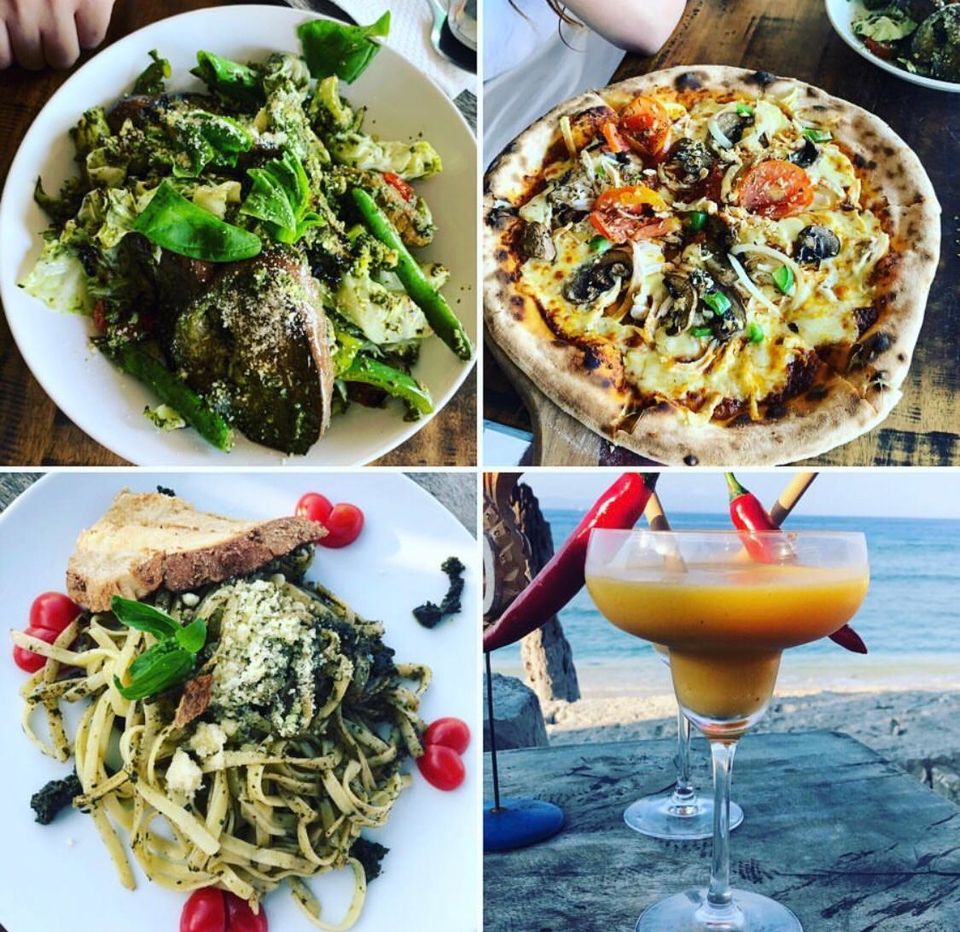 "Sometimes all you need is BALI."