I am SUCH a foodie. Every time I travel to someplace new, I HAVE TO try the local cuisine and sample some of the best things the city has to offer. And I'm all over the place. I don't fuss about food AT ALL; I'm as chill as they come, so you'll find me at a street joint sampling some questionable-looking local food, and you will also find me at a fancy, pink cafe, delicately nibbling on a vegan cookie while waiting for that Instagrammably beautiful smoothie bowl to arrive. Yep, I try everything.
Bali is a foodie's paradise. Whatever your dietary preferences are, you will find something to suit. And it will be delicious. I was quite delighted by the vast array of options available, and quite frankly, pleasantly surprised! If you start your trip wondering what to eat in Bali, you'll spend the rest of it wondering 'well, what else can I eat?' It's amazing.
Soooo yep, you're here because you wanted to know what to eat in Bali, and I got you covered yo! Bookmark this, save it for later, pin it, send it to all your friends. You're gonna want to.
To answer all your queries about planning a trip to Bali, watch this video
Nasi Goreng
'Nasi' means 'rice', and 'goreng' means 'fried'. Fried rice. Rice is a staple in Bali, and you'll find it EVERYWHERE, served with all sorts of meat cooked in different ways. It's sort of stickier than the rice we Indians are accustomed to. Nasi Goreng is typically prepared with chicken or prawn, and served with a friend egg delicately placed on top the rice, which is plated to look like a dome. The dish is packed with flavour. The sweet-spicy rice with meat that is cooked to perfection packs a real punch, and makes this is a MUST-TRY when you're in Bali!
My mouth is watering just thinking of it.
Try: Nasi Goreng a la Made at Made's Warung, Seminyak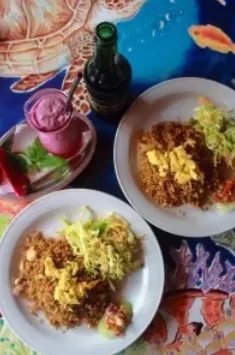 Mie Goreng
'Mie' means 'noodles'. The dish is largely similar to the Nasi Goreng, it just replaces rice with noodles. If you prefer noodles over rice, you won't have to miss out on the flavours of the Nasi Goreng, just pick this instead.
Sate
You don't get sates like this outside Bali *weepy face emoji*. I LOVE those tender chicken pieces that are grilled till they're almost falling off the stick, but what I love EVEN MORE is the peanut sauce that they serve with it. It is DELICIOUS. It is so good that I was spooning it right out of a bowl and straight into my mouth. Nom.
Sate is one of the most popular street foods in Bali. Chicken and seafood to be the more commonly found, but you will find mock meat sate at certain places as well.
Gado Gado
The Balinese vegetarian salad stole my heart. Boiled vegetables served with mock-meat sate, peanut sauce, and fried tofu doesn't exactly sound appetising, but take my word for it, it's quite a treat for the taste buds. I had this a bunch of times when I was there and wanted to stick to a vegetarian diet. I was quite happy.
Kopi
I know the title of the post says 'What to Eat in Bali', and coffee doesn't technically fall in that category, but Indonesian coffee is the SHIZZ. The country is known world-over for its coffee, and when you're here, don't forget to try the Luwak coffee.
Luwak coffee is basically prepared by using beans that have been digested by a luwak (or civet), and then freshly ground. The luwaks are fed raw beans, which they digest and expel. The same beans are dried and roasted before being ground into the most expensive coffee powder in Bali. The idea is a little hard to digest (pun unintended), but go on, give it a try! If you like it, you could take some back home.
Or you could be like me and try the Pink Latte at Kynd Community, which was made using beetroot (it came with sprinkles omg!). I LOVED IT!
Smoothies
It isn't even funny, the number of options you will find for smoothies in Bali! Fruit based ones, yogurt based ones, vegan ones, combinations, green smoothies, you name it. You'll be spoilt for choice. Sticking to your diet has never been easier.
Smoothie bowls
There's nothing healthier, tastier, or prettier than a colourful smoothie served with fresh fruit toppings, and served in an actual coconut shell. You could even your own name spelled out in the bowl using fruits.
Sounds incredible right? Being healthy was NEVER this tasty! Choose a base (I prefer dragonfruit), choose your toppings (all sorts of fresh fruits, coconut shavings, cacao nibs, flax seeds, granola... Nom!), and drown yourself in the all sorts of goodness!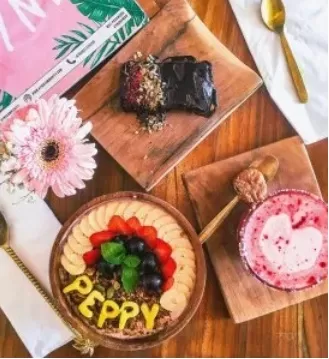 Try: Kynd Community (you can get your name in the bowl here), Seminyak; Cafe Organic, Canggu and Seminyak; The Two Towers, Nusa Lembongan; Nalu Bowls, Seminyak
Buddha Bowls
All sorts of healthy served in a bowl. Vegetables and proteins are served beautifully in a bowl, either tossed around or arranged delicately for you to mix up as you please, and served to you with sate and a dressing. Can't get better.
Try: Kismet Cafe in Ubud Krupuk
Krupuk
PRAWN CHIPS. They're quite delicious, and it is even exported to other countries. It's a cheap, fun snack which you will easily find in local stores, and it's a fun thing to munch on when you're on the go. Some restaurants serve this when you order a beer as well.
Bintang
Speaking of beer, Bintang is the local brand. It's kind of a heavy brew, and I didn't enjoy it so much, but I tried the Bintang Radler, which is a lemon flavoured beer, and I rather liked it! Also, local brand = cheapest brand.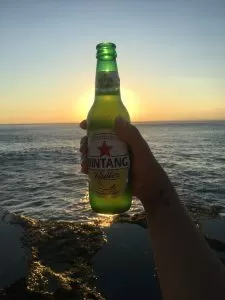 You'll get this everywhere - warungs, local shops, departmental stores..
Raw/Vegan Desserts
You can get you a dessert ANYWHERE, but you won't find a variety of desserts that are raw and vegan anywhere in the world the way you will in Bali.
Try: Raw caramel bar in Kynd Community, Seminyak; ANY dessert at Zuka, Seminyak
Vegan Ice Pops
Special mention for this one, because it's not in a lot of places that you find ice pops that are vegan and taste FANTASTIC! There are fruit ones, and there are dairy ones. I was on this whole no-sugar diet, so I went ahead and picked the fruit-based one because hey, no additional sugar involved! Can you imagine ice pops being that healthy? AND SO DELICIOUS AT THE SAME TIME!
Try: Bali Eco Deli, Nusa Lembongan These guys have a really cool plastic management program. Read more about it.
Fresh Fruit
Just eat all the fruit you find. Dragonfruit, bananas, apples, pineapples, pears, papayas, everything. SO fresh, so sweet, so good. If I hadn't been such a lets-eat-EVERYTHING kinda person, I would have survived on fruit in Bali, simply because it is so good.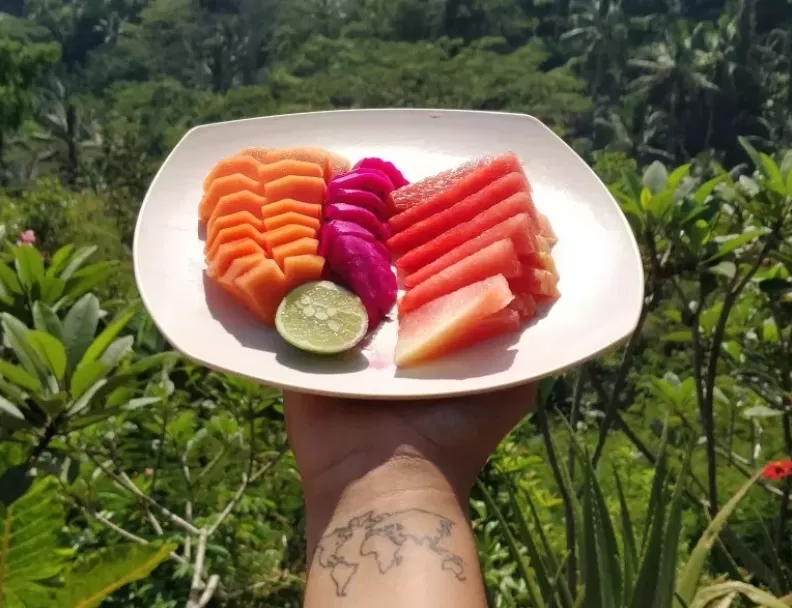 Fresh Coconut
I simply love tender coconut water. The coconuts in Bali are GIANT, and constituted lunch for me on some days. They are sweet, fresh, cool, and are a source of instant rejuvenation on hot days.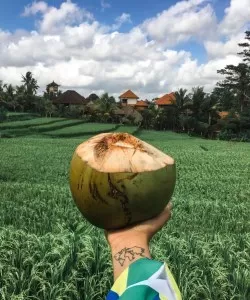 A few tips -
> It won't hurt to keep stomach medication on you. Bali Belly is a real thing.
> It's always a good idea to carry a reusable bottle for water, but don't be surprised if a lot of places deny you refills.
> It's very easy to stick to being vegetarian / vegan in Bali. Recommendation: Zuka, in Kuta, is an all-vegetarian place with SO MANY options that I was left bewildered and unable to choose.
Go on, go crazy. The best part is 90% of the food you eat will be guilt-free - it's good for your body (and soul), AND good for your wallet. The most expensive meal I had was probably at Kynd - a vegan bar, a smoothie bowl, and a pink latte - it came to about $11. And that was me treating myself on my last day.
If you're looking for what to eat in Bali, bookmark this post ???? Send me a picture of that smoothie bowl when you have it! Happy munching!
This blog was originally posted on Peppy Travel Girl.
Frequent searches leading to this page:-
Bali honeymoon package cost from India, Bali honeymoon packages with private pool, 4 days 3 nights Bali honeymoon package, best places to visit in Bali Indonesia for honeymoon