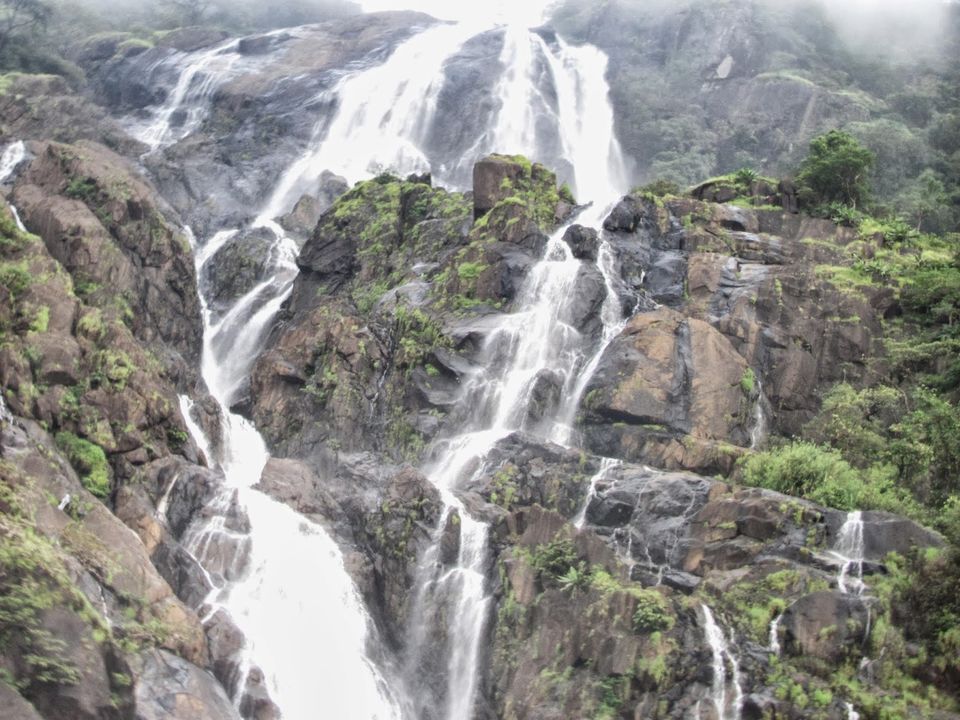 First of all, I will be sorry for coming back to the blog after so many times. During this time there were so many buses that they could not even come to the blog, even if they were too excited, with the words of Goa's travelogue, To share. Let's get a chance to write just a few minutes right away. From this post you have the idea to visit the Dudhsagar Falls, which is famous from the movie of Chennai Express. The main attraction of this waterfall is that the train is crossing it so that it seems to be more pleasing and split into two parts. Once you see people too -
Train crossing Dudhsagar (image by Google)
           So click ahead for more information about this very appealing scene, along with the beginnings of your journey, you can also travel from Bangalore to Goa, then do it quickly.
           Dussehra's holidays were a plan to roam Goa, then the railroad was difficult to meet, on the day the tickets were open, even after sitting in the morning on the same day, 15 -16-17-18 waiting ticket was found, the hotel on the expectation Osbourne also booked. Now waiting - waiting for the last day came and the tickets for us are still available in RAAC. Only the seat was there, two more passengers were six, sitting in some way were grappling with the death, that's when the ticket came to the brother, and he fulfilled the wish of our mind by completing two seats. By doing this We passed through the comforts of night without any difficulty, till morning, after drinking three or four teaspoons, it was only ten inches, and the crowd gathered in the crowd, for the sight of the path, all were for their own cameras. Were standing The transit is situated along the distance from the registrar to a distance of approximately kilometers. Now the most interesting thing is that just as the train is stopped by pulling a chain in the Chennai Express movie, the train was stopped by dragging a chain near Dudhsagar and people were able to descend and watch the eyes of Dudhsagar. This is the flow of water, then it seemed that only the water was stopping at the same time. The water was stopping at the same time. It seemed like a drop of milk in the name of its name, see also a picture which we were able to take, and its As well as in the Bhogolik visas, take the information of Dudhsagar;
            According to the height, this waterfall is at fifth place in India, its height is three hundred and ten meters and width is thirty meters. And with its distance from Panaji it is almost meter.
Dudhsagar
                         It was here that I was thinking that distance should be measured first to Dudhsagar, and Goa would continue to reach it, but due to the co-operation of the children, my mind has been controlled and the other of Goa, As our hotel was located in North Goa, Kalangund, we landed in Madgaon and there was a taxis taken on our already rented ticket, on which we sat on the Goa roads and planned to reach Osborne Hotel. . View a common street view of Goa-