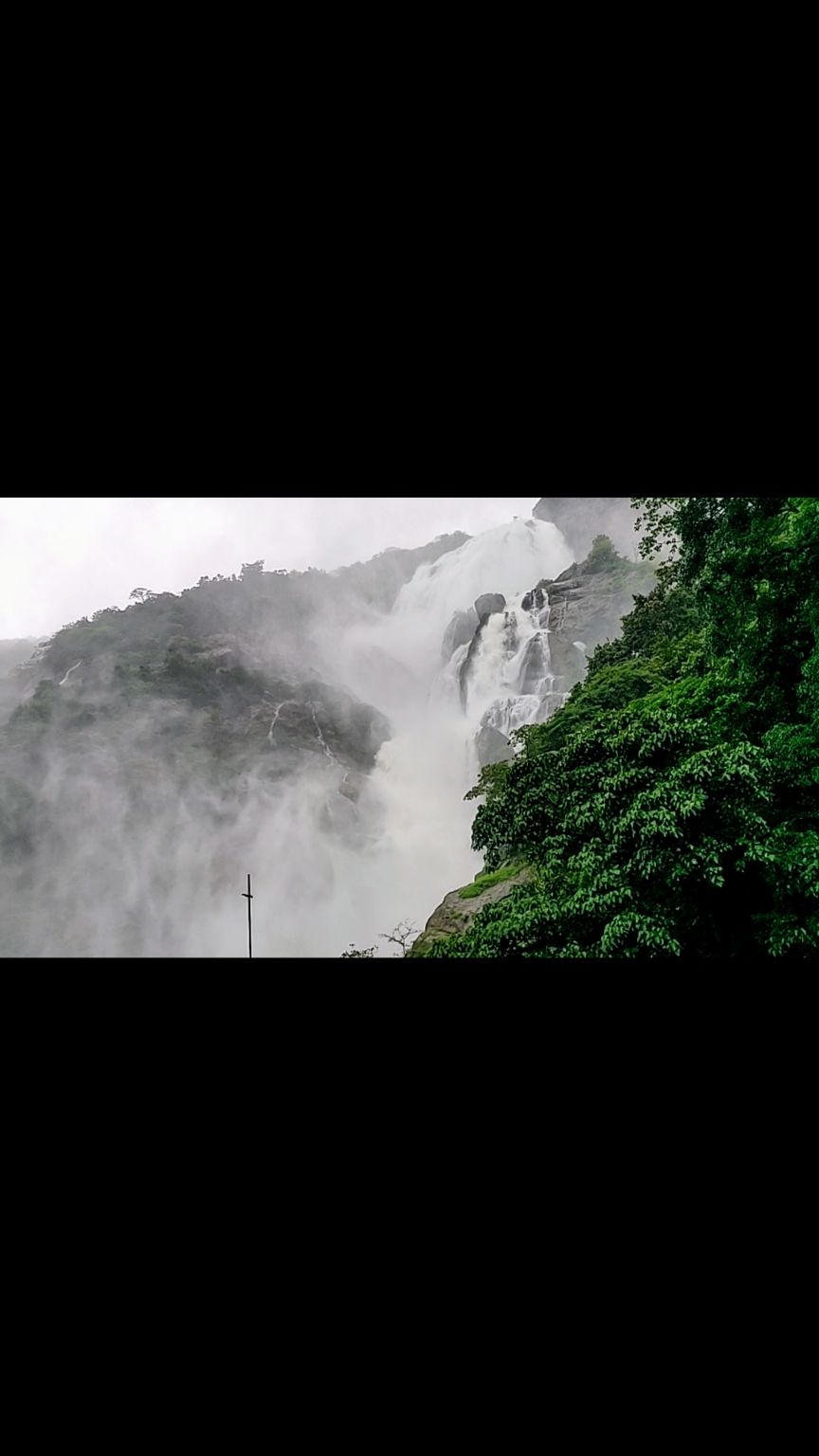 It's been very long since I penned down something I really feel about. So here I am writing about my recent endeavor. Just came back from an amazing trek to Dudhsagar Waterfalls. It was on my wishlist for last 3-4 years since some of my classmates went there and told stories about it.
Journey started with unexpected things. We have assumed that our tickets won't get confirmed as we had a long waiting list in front of us but they got confirmed, we thought we will be a troop of around 20 people but at the last moment, a lot of them got canceled to make us a group of only 3 girls and our trekking organizer. But our will to execute the plan was so powered that we boarded our train for the mesmerizing journey ahead.
I have this habit of reading about the place before actually visiting it. In my free time at the office, I started searching about the same and landed on a scary article. I even dreamed of a leopard attacking us and me being the hero of the story. I spent that whole night thinking about the strategies I will use to save our certified trek leader. I was trying to strike that leopard somehow in its head with my bag or umbrella until I figured out a way to reach back of its head and grab it by its nostrils and screaming for my companions to "Get up...we need to run now..." was actually my friend waking me up.
It was around 5 AM when we alighted at Sonalium station and started walking on the rails. I was still believing in my dream and hoping to sight a leopard along the way. Soon we reached the village, freshened up and had our breakfast at the warm hosts in this tiny village with houses you can count on your fingers.
We started to trek through jungle trails and it made me forget about my heroic story. We got lost into this nature, dense forest with blooming trees, raindrops dancing on the newly born leaves, pushing dried ones to its last breaths, our shoes making 'puch-puch' sound on the prosperously lived ones, we were making our way through the climbers and hoping not to step on a climber looking snake. One and a half hours of trek offered walking through the streams, crossing a river with the hanging wooden bridge and approximately 15 minutes of tiring ascending hike taking you even closer to your destination. Once you pass the tunnels after the jungle you will see the gigantic Dudhsagar falls totally proving its name.
As it was August with the monsoon in full form, water was gushing through the cascades to make it even more scarier and gorgeous at the same time. I bet you can't look at it for more than a minute as the water was splashing so hard at the rocks to make the droplets jump for about 10-15 meters far. You should know, it's the time to take off your waterproof jackets and soak all the beauty in, make your soul understand that this happiness is what you really deserve and not the bloody paycheck you unwillingly work for. We spent an hour or two, making every single penny spent and every step we took worthy. We clicked a lot of pictures and returned on the trails to hog on the scrumptious lunch waiting for us in the local's house.
It was pouring cats and dogs when we reached the home. It was windy outside, we were wet, shivering, settling down in the chairs and a plate full of steaming Rice and Sambar made with farm-fresh veggies came on to our tables. We filled our tummies till the throat and went out to sit on the river bank. Waited for the rains to calm down before heading back towards the Kulem station to catch our train back to our city homes. We were leaving our footprints behind and not the plastic waste, with stories to tell and inspire people to visit such places.
Happy travelling 🤗
P.S. - Prior Forest Department permissions and local tour guide (in our case, our trek leader is certified for treks all over India) is required.
Brief Itinerary -
• Catch Goa express from Pune Station at 4:20PM.
• Reached Sonalium Station at 5AM (our train was a little late, it should reach here at 3:30AM, so we were able to see the waterfall in morning through the train).
• Breakfast arranged in Sonalium Village
• After trek come down to the same place at around 12 PM for lunch
• Start return journey to Kulem Station at 1 PM, after 8 Km of walk reach Kulem station at 3 PM.
• Catch Goa Express back to Pune at 4:30 PM