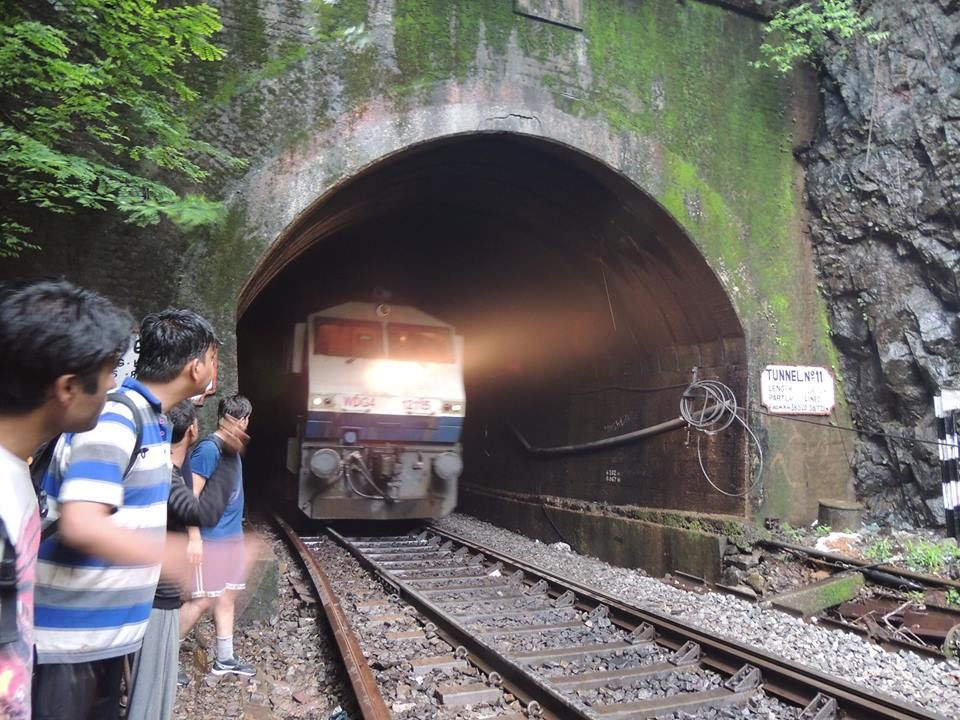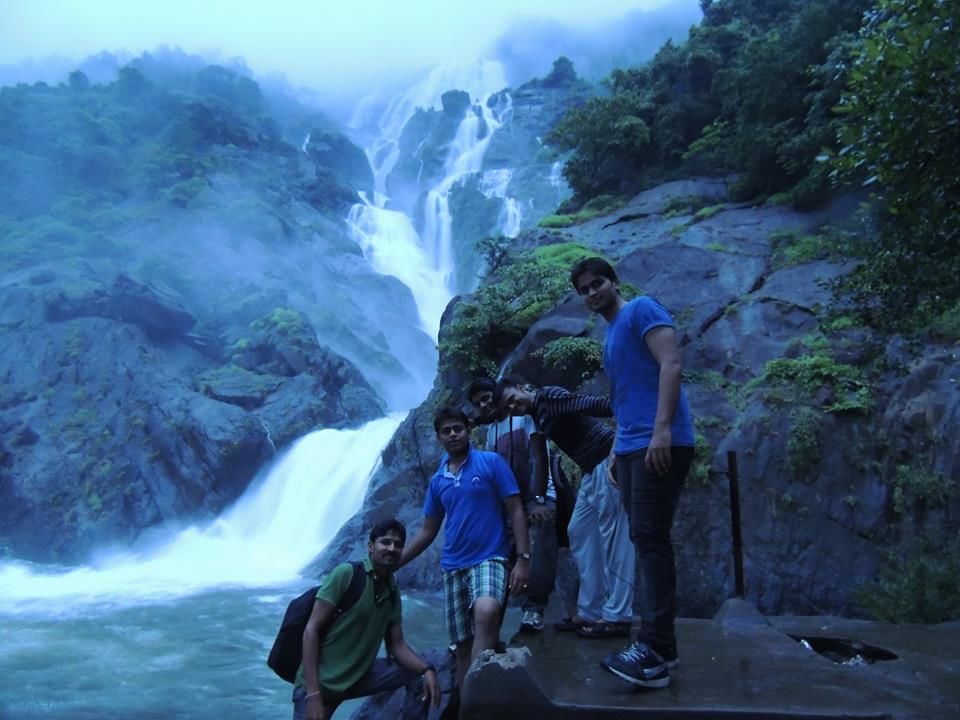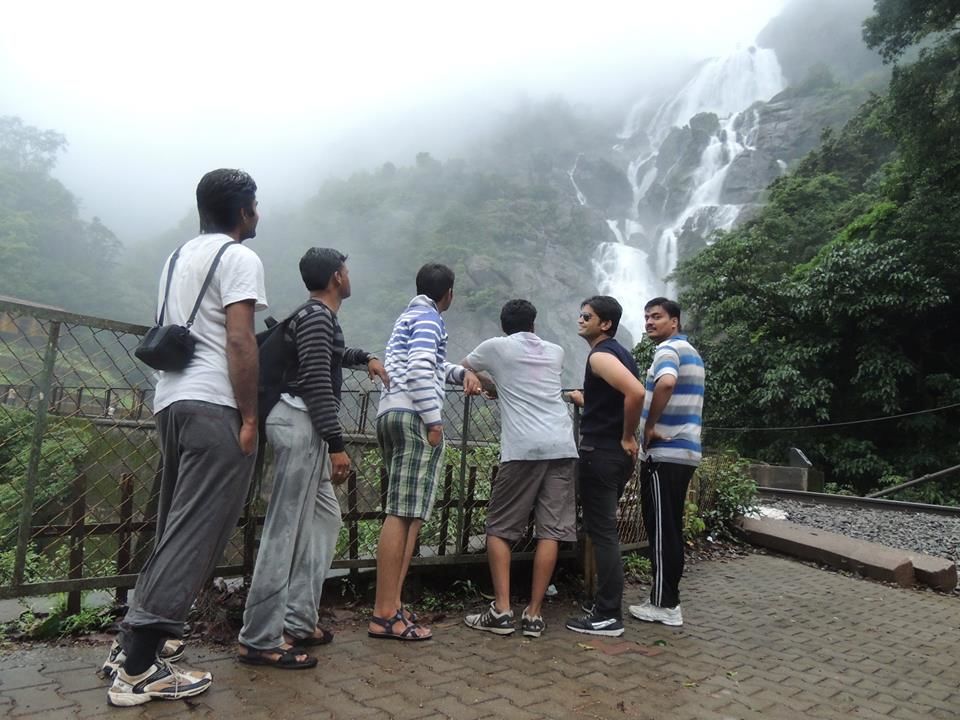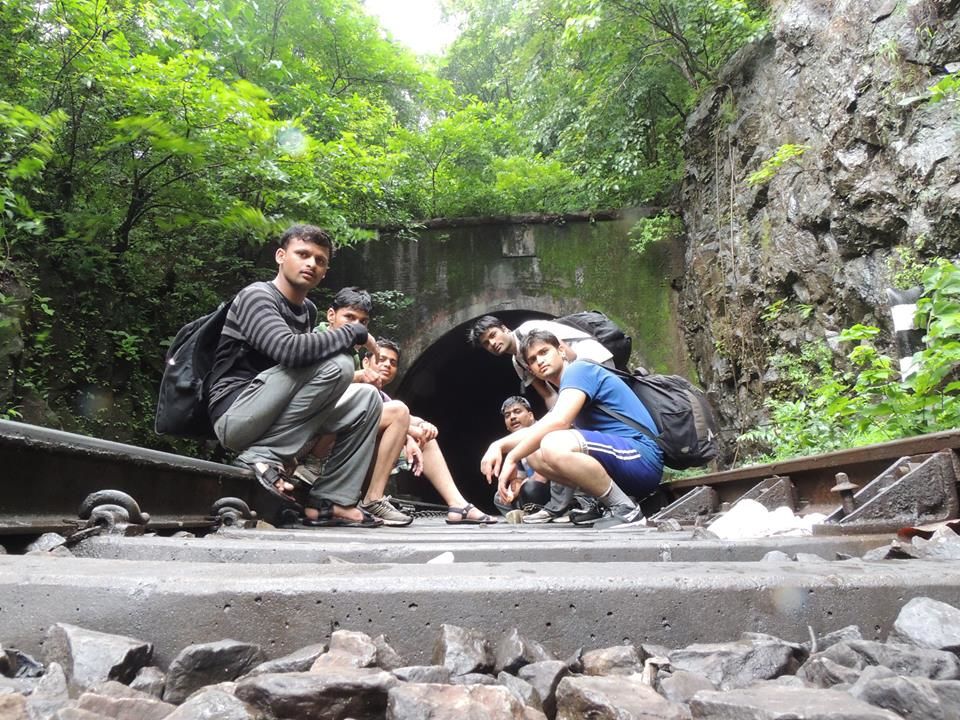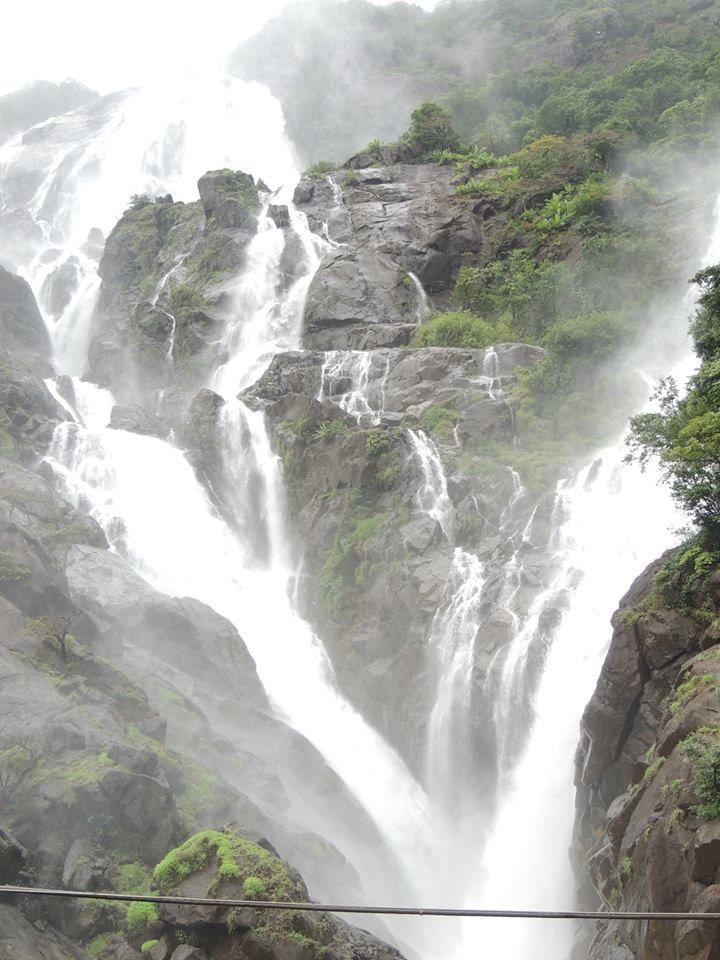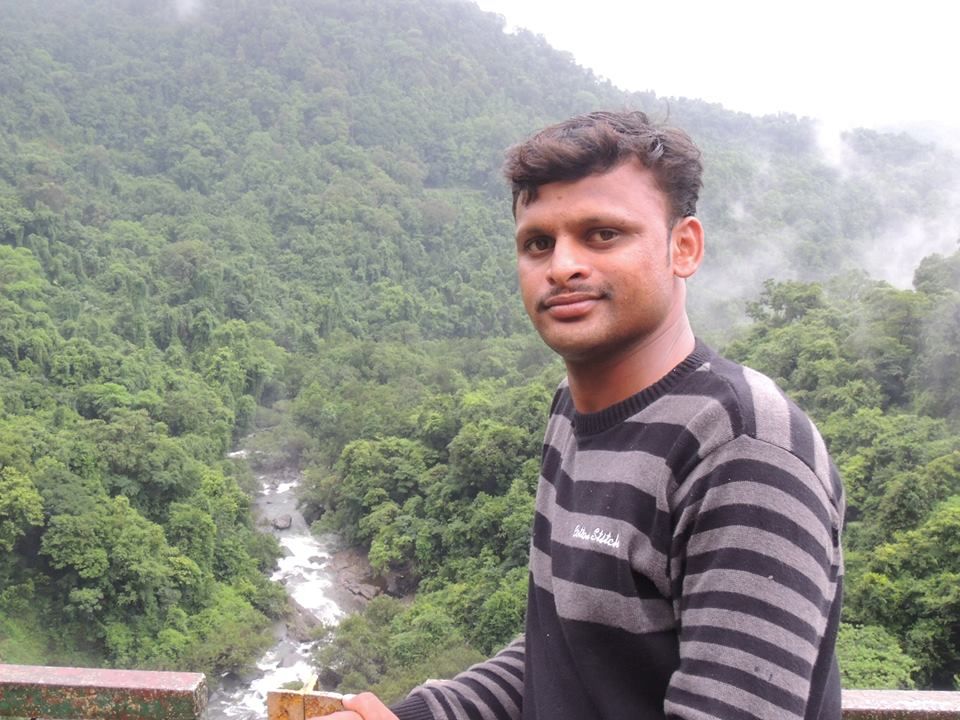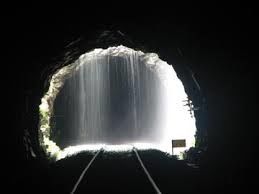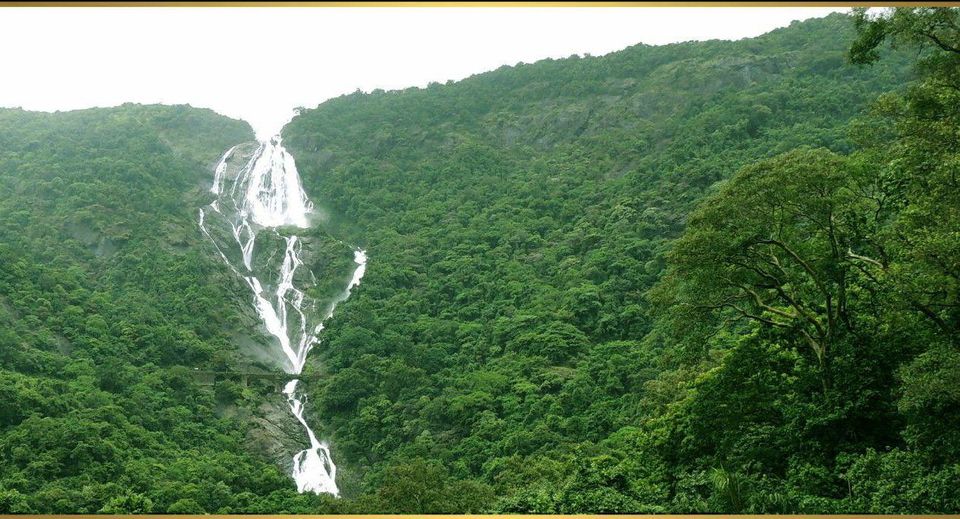 Trip to Dudhsagar Goa
It is said that destiny has its own way of fulfilling our wishes;
at the outset we may not find
pattern in events but after some time we get to know that
there is a plan.
Reason to remember this quote because friends have their
own way of doing and planning
things which we cannot comprehend.same is true for this
exciting trip to Dudhsagar Waterfall.
We planned this trip with help extensive research done
by my friend Mahesh Thombare.
We had no idea of what this trek[not actually trek but walk]
was,but we agreed to this adventure.
So First things first lets get to know about Dudhsagar
Waterfall it is located at
Bhagawan Mahavir Wild Life Sanctuary.
For Bollywood lovers its shown in Blockbuster movie
of Shahrukh Khan "Chennai Express".During the
monsoon
season the falls are transformed into one of the
most powerful
falls in India. Dudhsagar Falls is listed as
India's fifth tallest waterfall and is 227th in the
world at 310 m
situated on the border of Goa and Karnataka.
The water comes down heavily hundreds of
meters (over a thousand feet) in
large volumes during the rainy monsoon season,
forming one of the most
spectacular natural phenomena in Goa.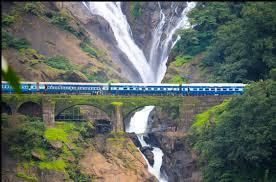 Spectacular View of Dudhsagar
Route we took to this awesome place was from Junction Miraj
by great Indian Railway to small but unofficial station after "Castlerock"
About 7 km before Dudhsagar waterfall.
We reached at Castle rock at about 4 am in the early morning.
We thought that we will be the only wild travelers coming to
this place but on castle rock station there was throng of young
People waiting to start the trek of 7 km to waterfall.but we
opted for shortcut to reach just before Waterfall as Railway
will be taking halt before getting go ahead to cross the bridge right
Below "Dudhsagar Waterfalls".we quickly climbed down on
that inevitable and unofficial Halt.
*Get Down Immediately here because train stops for
one minute only.
We Started our walking journey on railway track surrounded
by Rainy forest all around.
there was water all over the place coming rock on left side as
it was monsoon.We started towards our destination.just after
20-25 minutes we reached small hut-like church on left side of railway
track.We already listening to the sound made by waterfall as
we were getting closer.we camped there at church with doing
morning rituals like brushing and having early breakfast.
Already there is crowd from karnataka was enjoying themselves
with really heavy south Indian music.after some time we started
on the route to Dudhsagar falls which is said to be roughly
2 km from this place.as route was slippery by the continuous rain
it is necessary to be cautious.route was winding and going through
somewhat long dark tunnel created for Indian Railway.
In some of the blogs we read that there are chances of leeches
if you are walking.applying tobacco water or diesel keeps them away,
But we didn't encountered this strange living thing on the way
to our destination.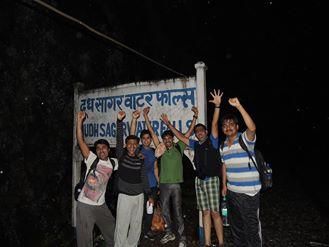 Its time note down must have for trek
* Must have for Trek
Group of Friends!!!
Confirmed ticket two and fro as there is rush in monsoon season.
Best time to visit - June to Sepember.
5-6 tunnels are on the way so Torch is mandatory.
Search on the net for trains.
Good Quality Camera.
Good Trekking shoes.
Toothbrush,Toothpaste,Soap,Shampoo etc.
Raincoat.
Tent if you are planning to Camp overnight.
Mosquito repellent.
First aid if emergency comes.
Some food as there is no way to get it at Waterfall
and around 15kms.
As we got closer we were getting deafened by the
sound of Waterfall but as it was too early it was hard to see.
But as the veil of night started uncover we were
getting to see the Grand Opera of Nature.
Just before waterfall there is small two story rooms
for safe distance view of waterfall.
When We first got unforgettable view of waterfall all
were amazed and excited as hell. As light came up
Waterfall shown its might in full thrust.Coming down
from thousand feet with its
white streams; proving true to its name Dudhsagar
"Ocean of Milk". When i think of it now i think
it as Face of Shiva with black rock as its hair and
water as Wild Ganga river descending from Shivas face.
Like strands of braided hairs of Shiva water was coming
down in different ways on the surface nearby bridge created
by Konkan railway.We were lucky that this year rain was
not as heavy else we
Have returned back from this place only.But after some walk
below the bridge we got to plain surface where waterfall first
fall down heavily.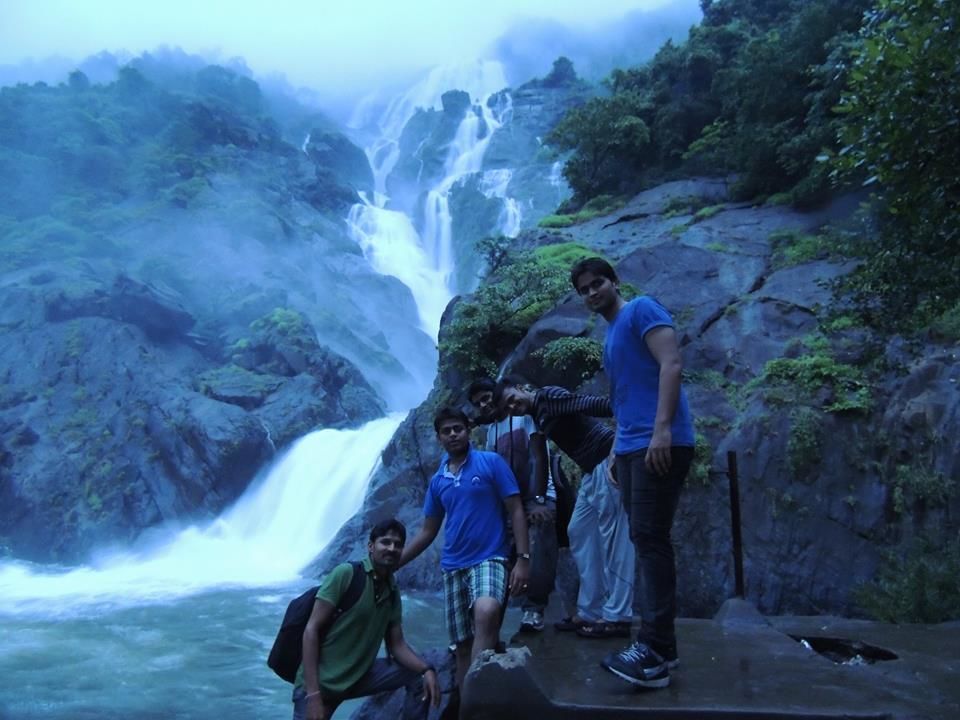 Dudhsagar from Close quarters
*Utmost Caution must be taken while going close to water fall
because flow of water may change rapidly in Rainy Seasons.
This Waterfall was gigantic,invincible and terrific at same time.
Sound of water coming down so deafening that it hard to talk
with each other.
Just as sun started to come it its true glow. Waterfall was getting
beautiful with small patches of Rainbow.Just nearby around quarter
to seven we got the chance to enjoy Chai done
By some Chaiwalla there.As it is Dense forest there were around
50-60 monkey came there to get food bought by travelers.
Do not get fooled by them as they will be as rough as gang of robbers.
Keep food safe so that monkeys don't get the whiff of stuff.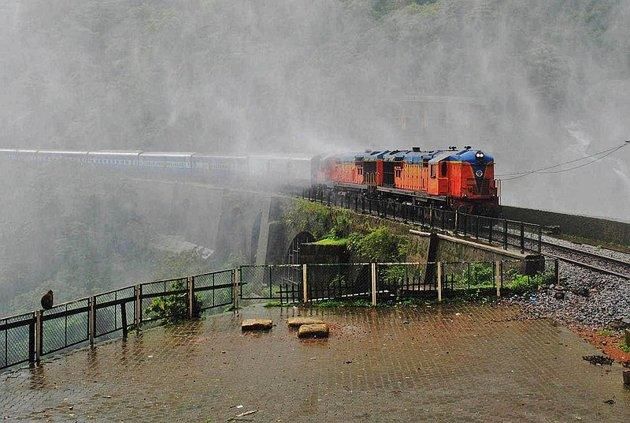 Place for Safe View and Camping at night for FREE!!!
Time will fly away rapidly but still you will not get satisfied by the view.
Again and again one will be compelled to watch this grand view of nature
.Just keep eye on Sound and sight of Train
So that you can come down from railway track safely;but it is advisable
to get away from the railway track to safely enjoy the Waterfall.
Just opposite of the waterfall there are hills covered by greenery
Which like treat to eyes.As We see down below the bridge built
by Konkan Railway there is Valley created by surrounding mountains.
the water comes down through this valley though rocks and forms
Small Waterfalls on the way.Just about 90 ft below there is pool of
water created by this waterfall.We worked out a route in the mind
to reach that pool through this dense forest.But remember to be
cautious here Because if water-level large it might be little
risky to go there.Just after 30
minutes of climbing down we reached there and enjoyed
dip in that pool.Water was ice cold.It was nice to relax in
Jacuzzi formed by rocks.But due to frequent rain the rocks
are slippery and if not cautious one can get hurt and since
there is no medical and travel facility it is better to prevent
it with
Sensible approach to these places.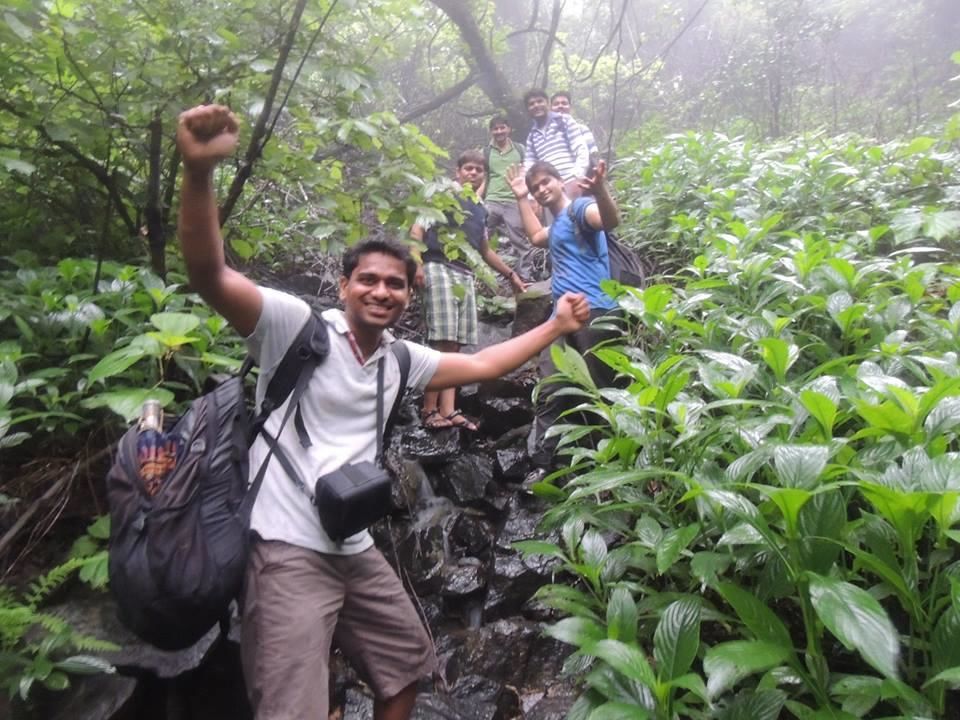 Going Down to Foot of waterfall through Dense Rainy Forest.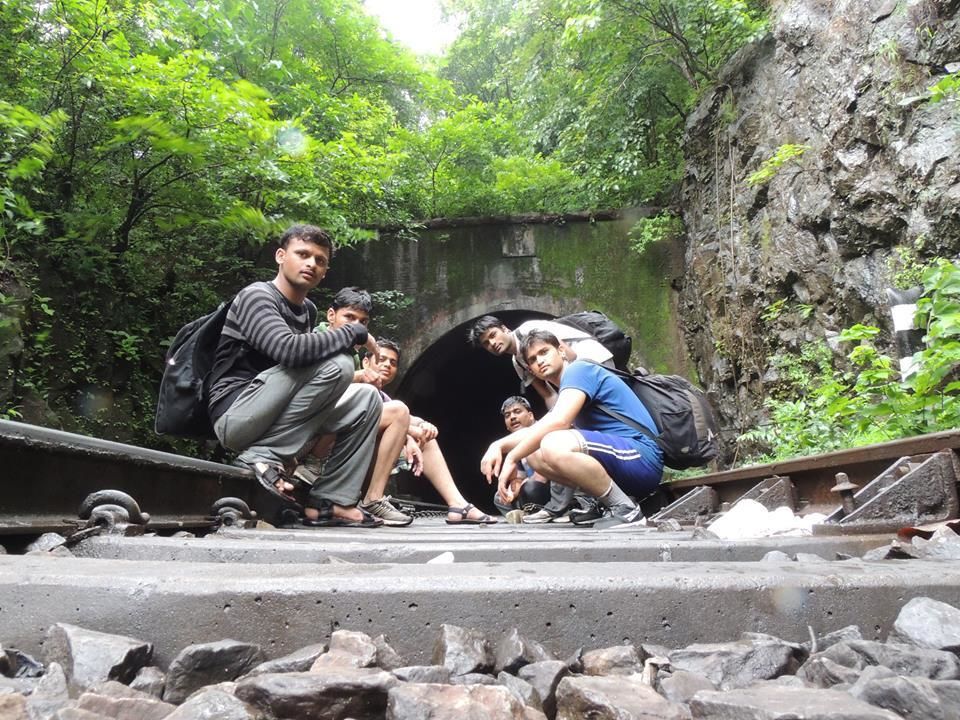 Resting for while during Walk towards Castlerock
Then after going upward we decided to go back towards "Castle rock"
station through Railway Track and tunnels.We got to see several rainy
season plants and flower on this way.
Then we took the train to Goa from there and continued our trip.
But the Journey to this Somewhat secluded and neglected spot is
worth a Go.This place is photographers paradise.Just aim anywhere
and click;and you get the perfect Wallpaper photo for your laptop
or Facebook background.
We didn't get the chance but if you are going with group friends
then you can arrange tents and camp out at night just opposite the
waterfall and enjoy the constant Tandava of Mother nature all night
with sky filled with zillions of stars.
This trip is worth going if you want to explore Goa minus beaches
and hustle of urban life and literally swing in the cradle created by
monsoon hills and Konkan railway track.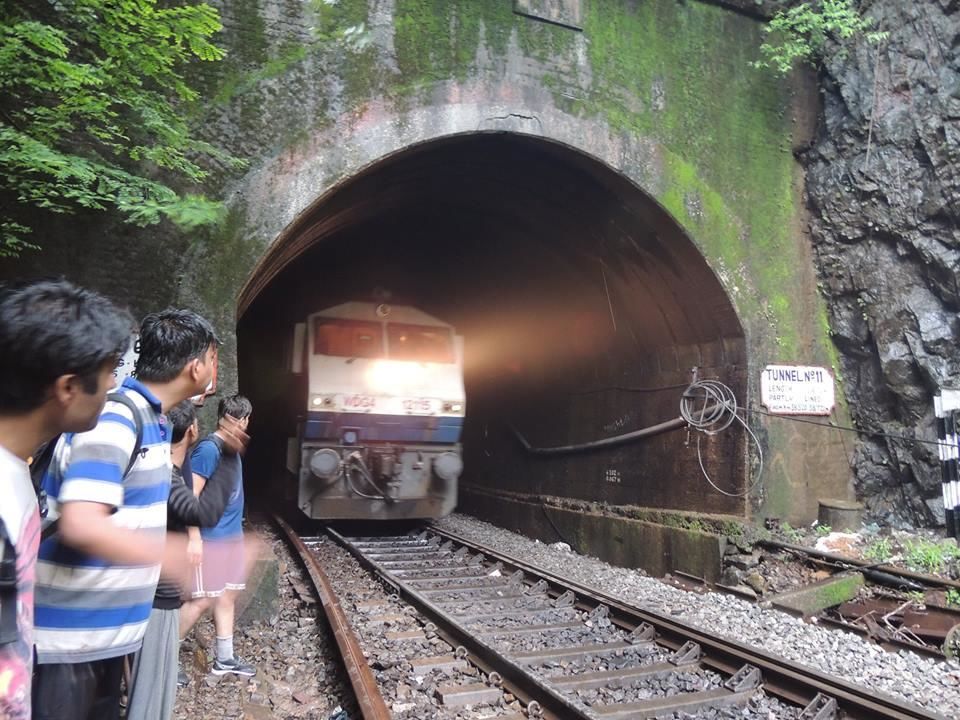 Train Arrived for Back Journey!!!
At last I apologize to Wren-Martin famous experts in English
Grammar for any new invention in Writing English!!!!