The massive Vijaynagar dynasty made Hampi its capital centuries ago, and today the ruins weave a story of an empire that was flourishing in its times. It's a surreal feeling to be surrounded by eons of history. However, it is a place known to be frequented by backpackers because of the many cheap accommodations available. There are resorts and five-star hotels around Hampi but none of them is in Hampi, like the popular, and almost always occupied hostels and guesthouses.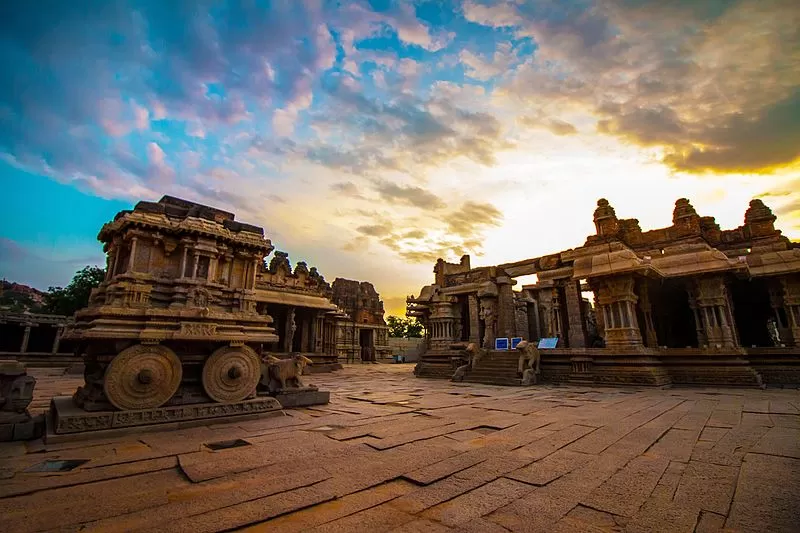 But that has just changed with Evolve Back Hampi, the Kamalapura Palace. This luxury resort has opened up only 4 km away from the ancient ruins and is a true reflection of the grandeur of the kings and queens of the bygone era.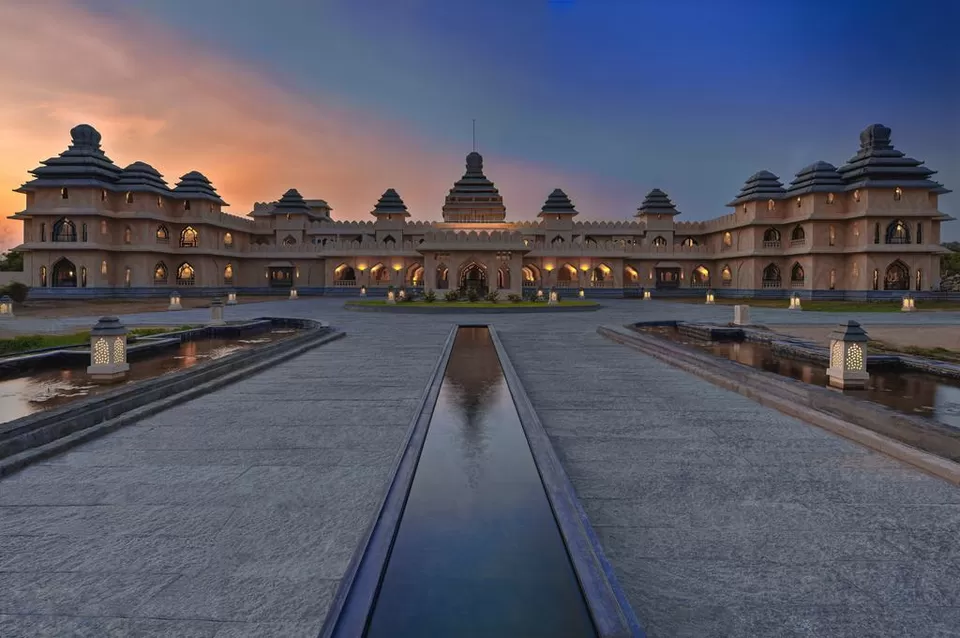 Evolve Back Hampi Ideal For
Anyone who is wishing to explore the ruins of Hampi during the day and relax in luxury at night should book a stay at Evolve Back Hampi.
About Evolve Back Kamalapura Palace, Hampi
Offering a spa centre and hot tub, Evolve Back Kamalapura Palace, Hampi is located just 4 km from the UNESCO World Heritage Site of Hampi. The resort is inspired by the architectural splendour and magnificence of the Vijayanagara Empire. It features all the charms of the bygone era like the fort like entrances, stone-paved boulevards, arched hallways and regal chambers.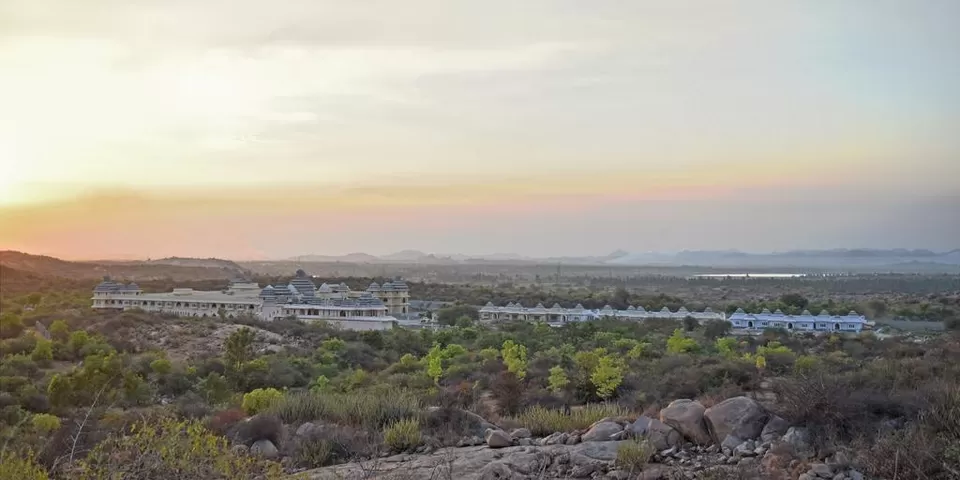 Situated in the centre of a 27-acre property and surrounded by cultivated greenery, the resort is not your usual luxury hotel, it is a fortress. A long stone driveway, reminiscent of the old temples of Hampi, lead you to entrance of the main palace. As you look around you realise that Evolve Back Hampi is as befitting an ode to this historic town as one could imagine. Boundary walls modelled after the stone walls of the old Vijaynagara empire, contemporary recreations of old paintings and even the taps shaped like aqueducts, everything in is customised keeping Hampi in mind.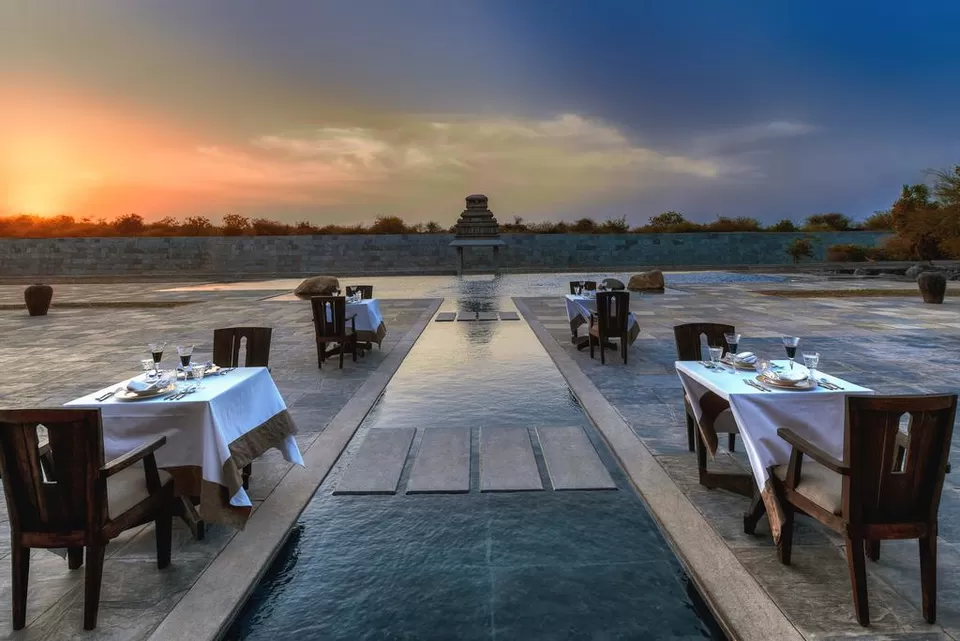 Evolve Back Hampi has four type of luxury suites, all distinct but sharing an understated elegance that permeates the resort's Indo – Islamic style reflecting the secular architecture of Hampi.
Jal Mahal
Jal Mahal is a reflection of Vijayanagara's luxurious past. Inspired by the water palace within the Zenana enclosure of Hampi, this suite is a spacious place with separate dining, living and sleeping rooms with a royal bath surrounded with open courtyards. A private personal pool, a deck overlooking it and a starry night make for a perfect romantic dinner. Perfect for small families.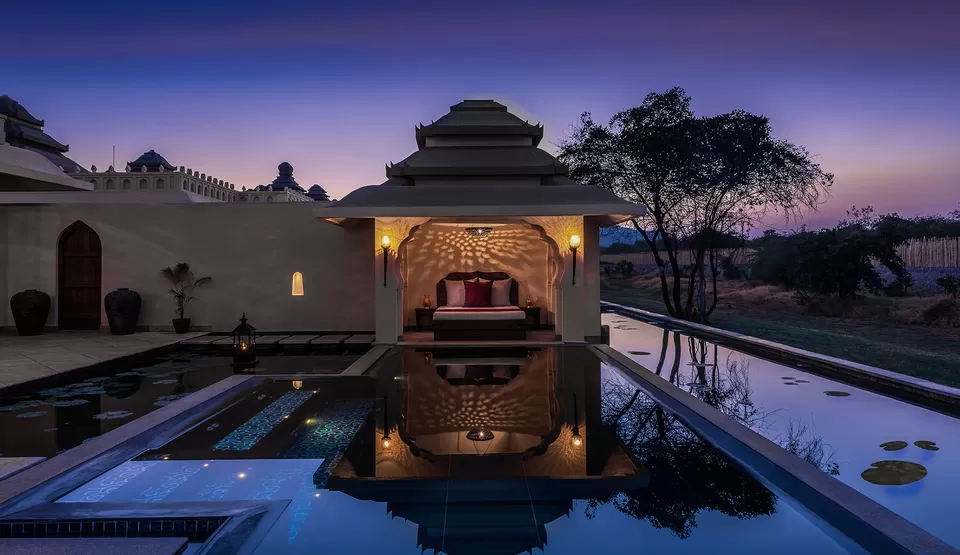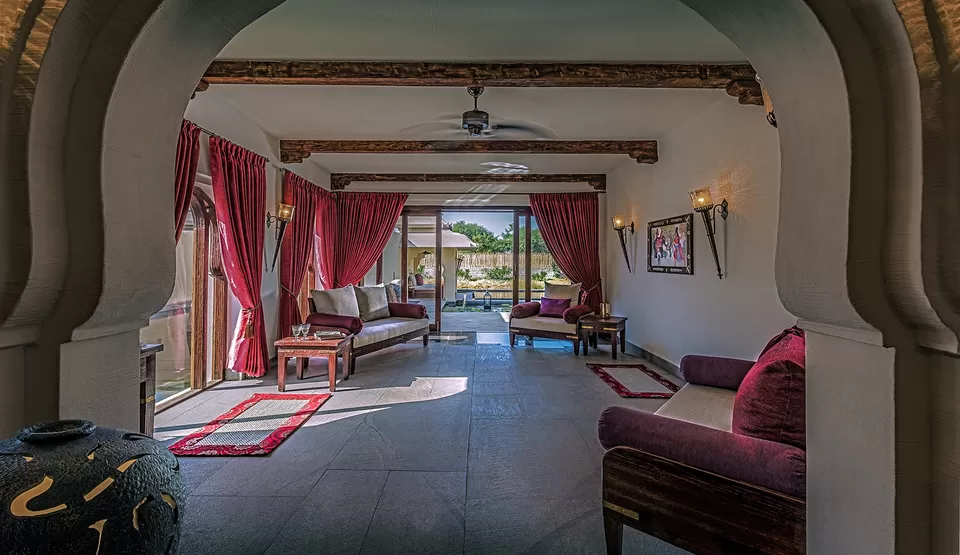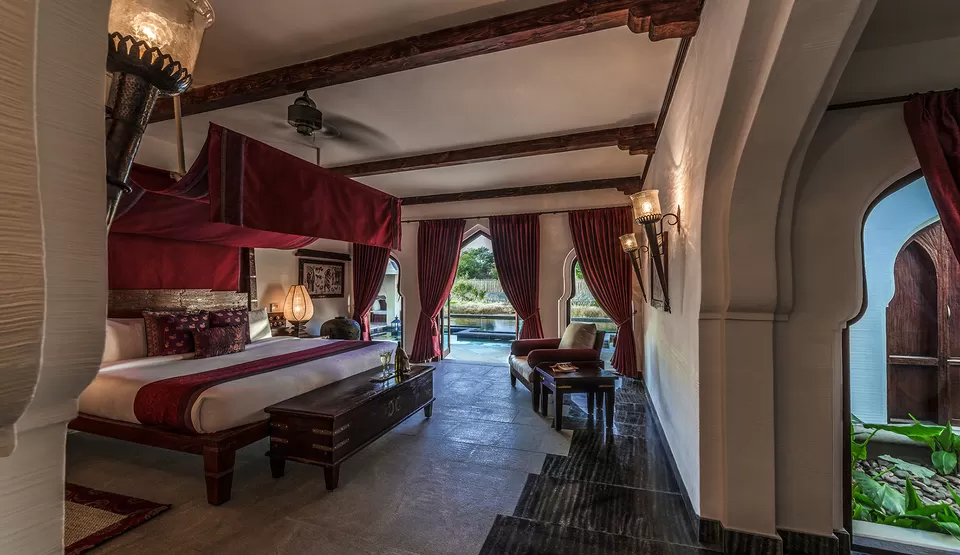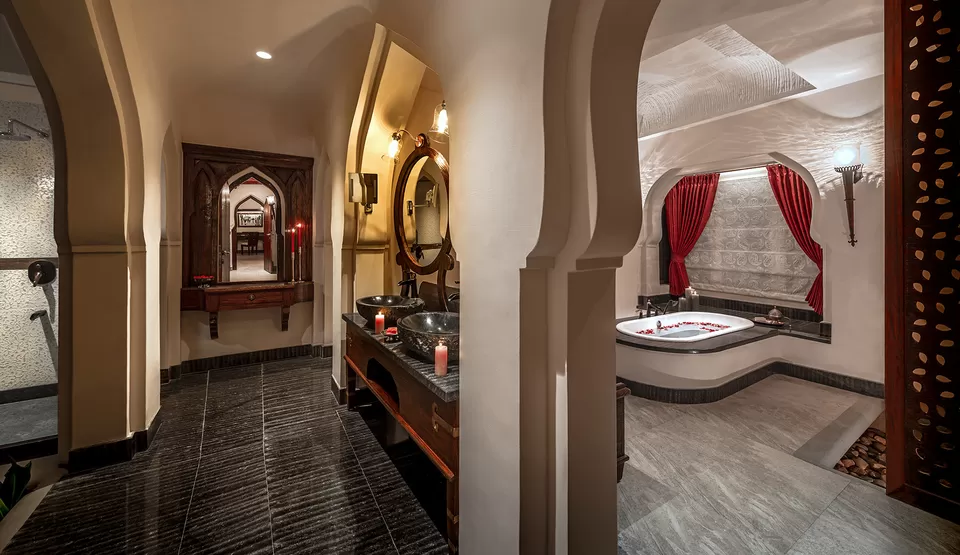 Zenana Palace Suite
Inspired by the Queen's quarters of the main palace of Vijaynagara empire, Zenana is opulence redefined. It has separate living, dining and sleeping areas with a private balcony overlooking the palace grounds. There is also a private jacuzzi in the en-suite bathroom. Perfect for couples.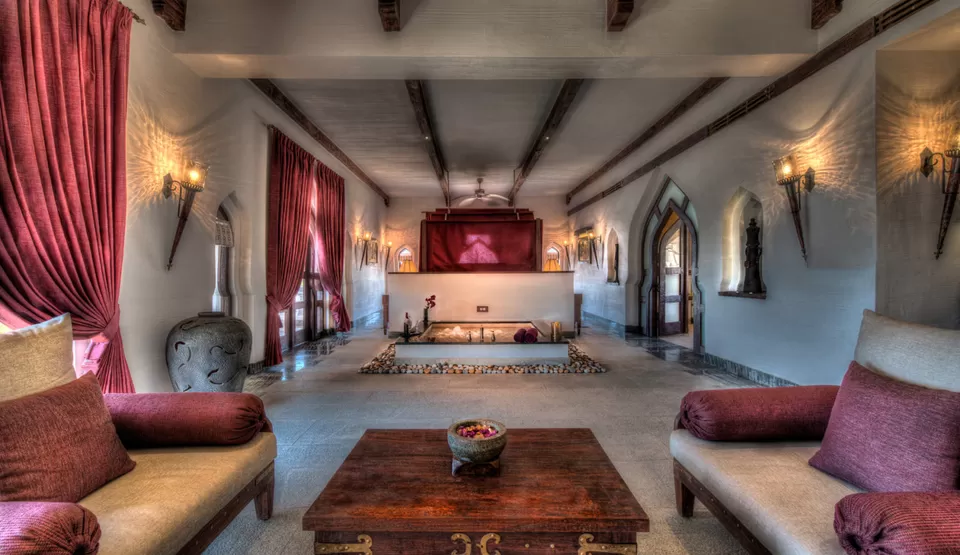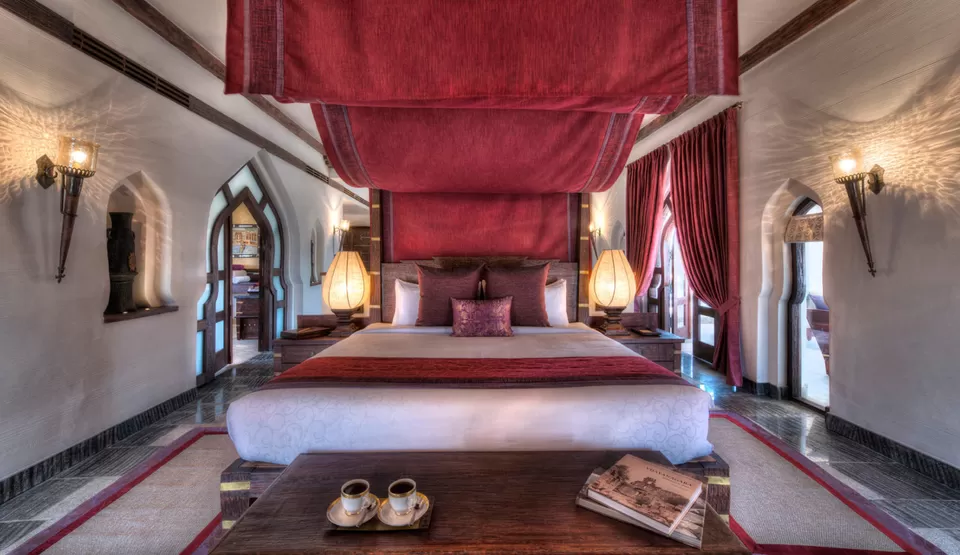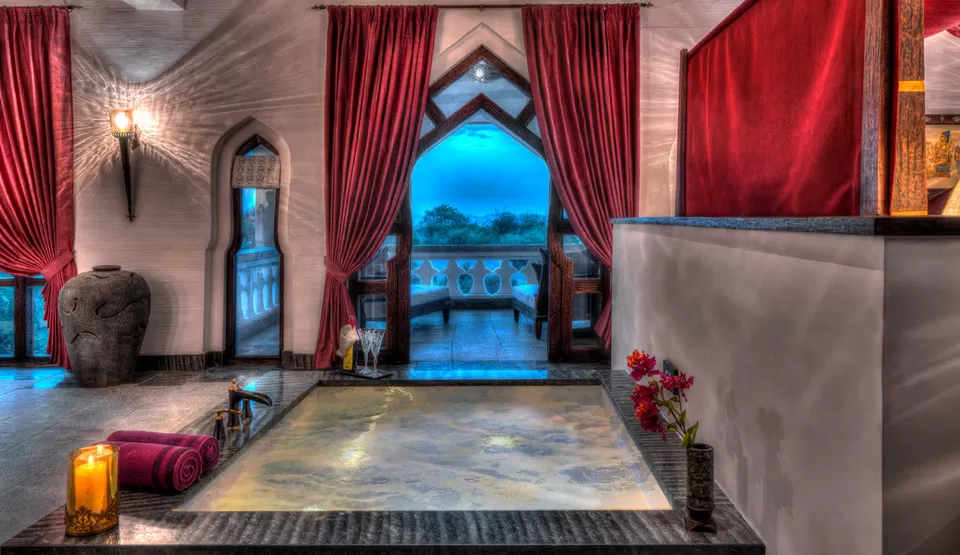 Nilaya Terrace Suite
Nilaya is a spacious suite that offers separate living, dining and sleeping areas. In addition to the large en-suite bathroom, there is also a private, in-room Jacuzzi overlooking a private terrace. Ideal for couples who prefer extra space and privacy!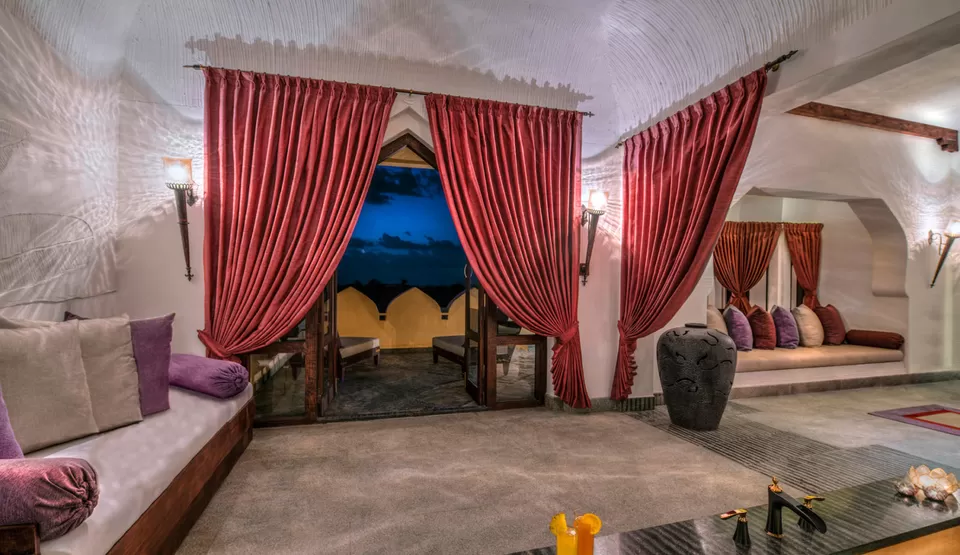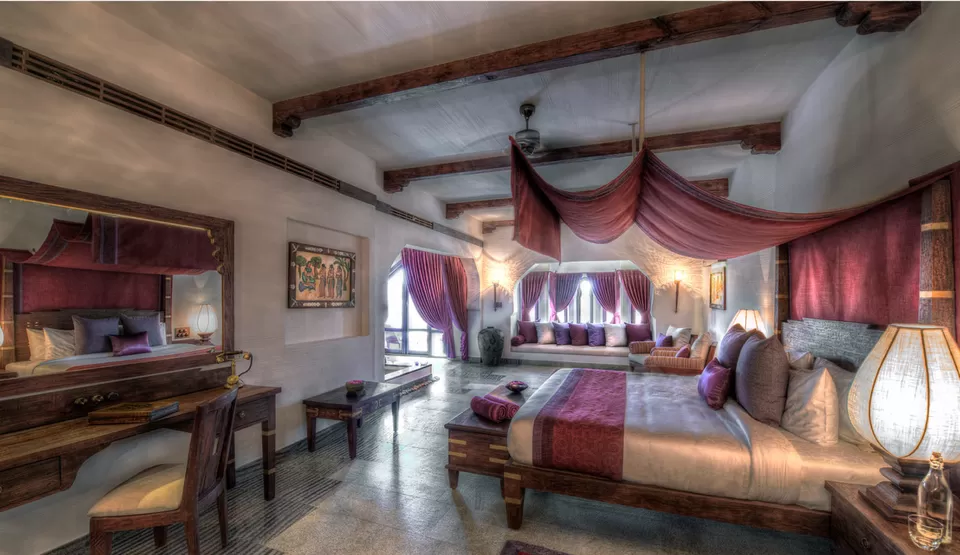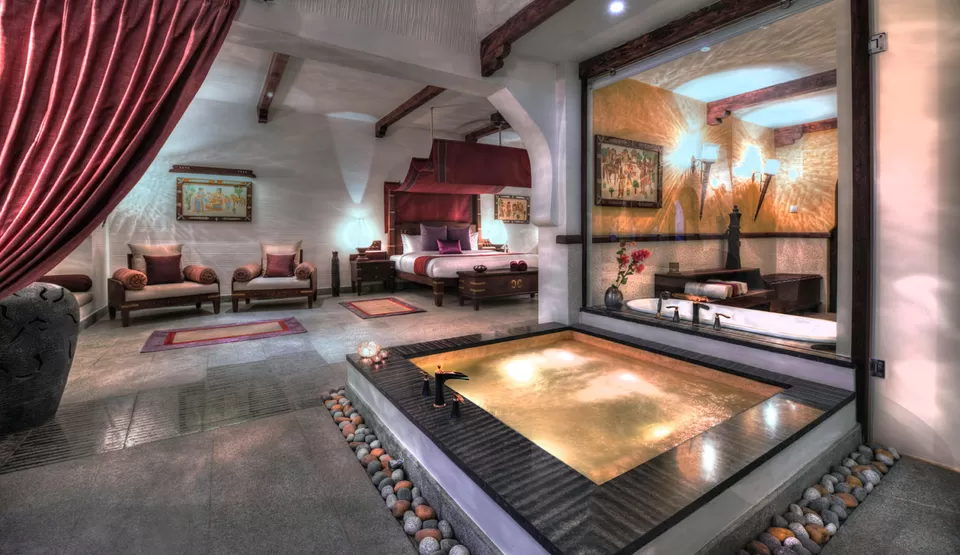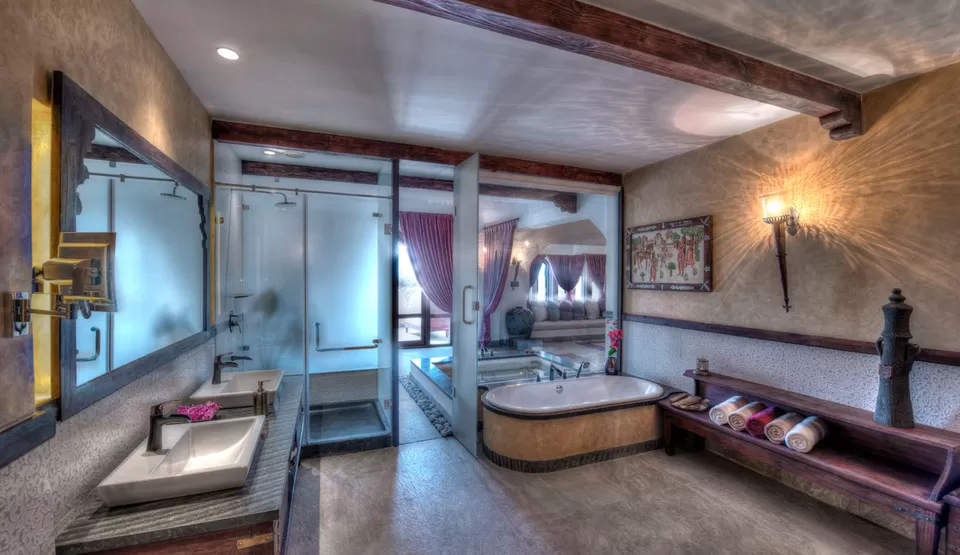 Nivasa Delux Suite
Nivasa, a spacious room with separate living, sleeping and dining quarters is an elegantly designed suite that comes with a private balcony, jacuzzi and a large en-suite bathroom. Perfect for couples looking for privacy and luxury.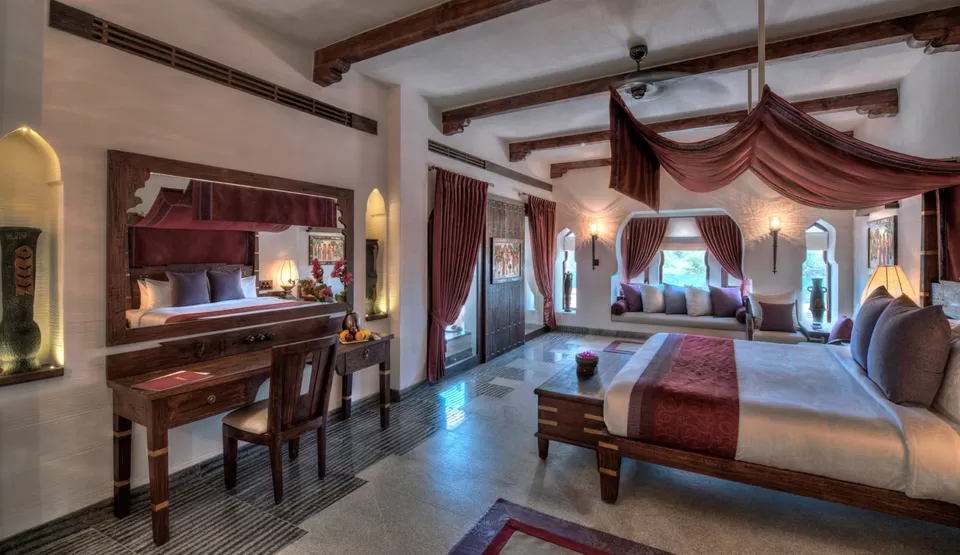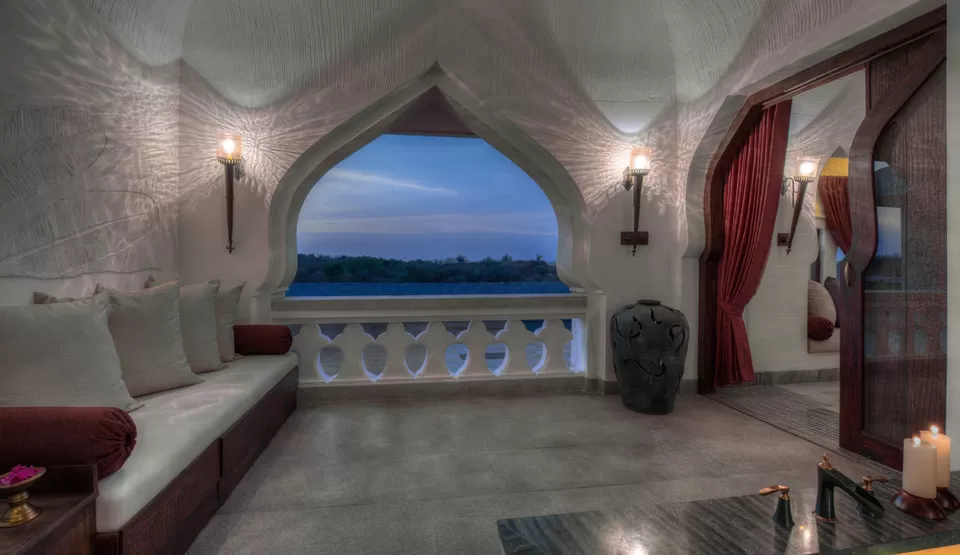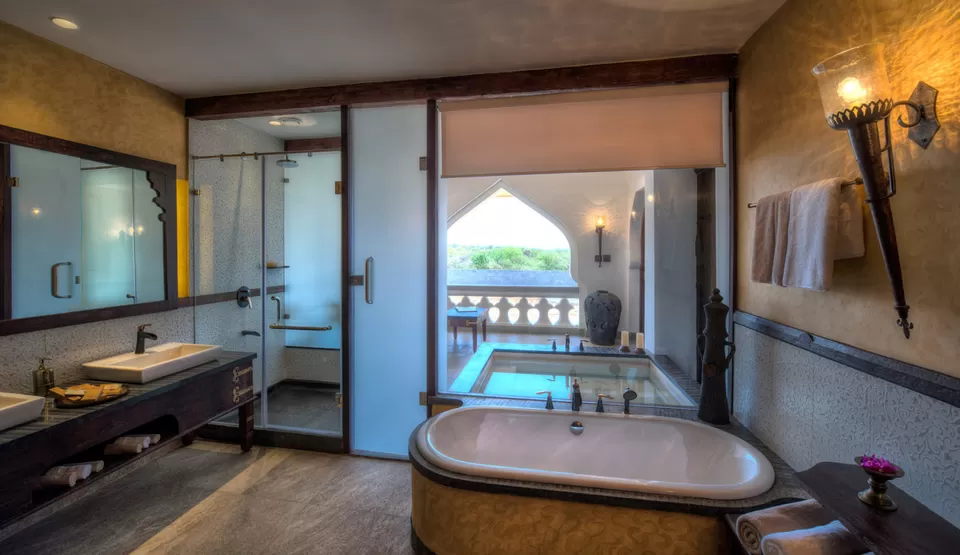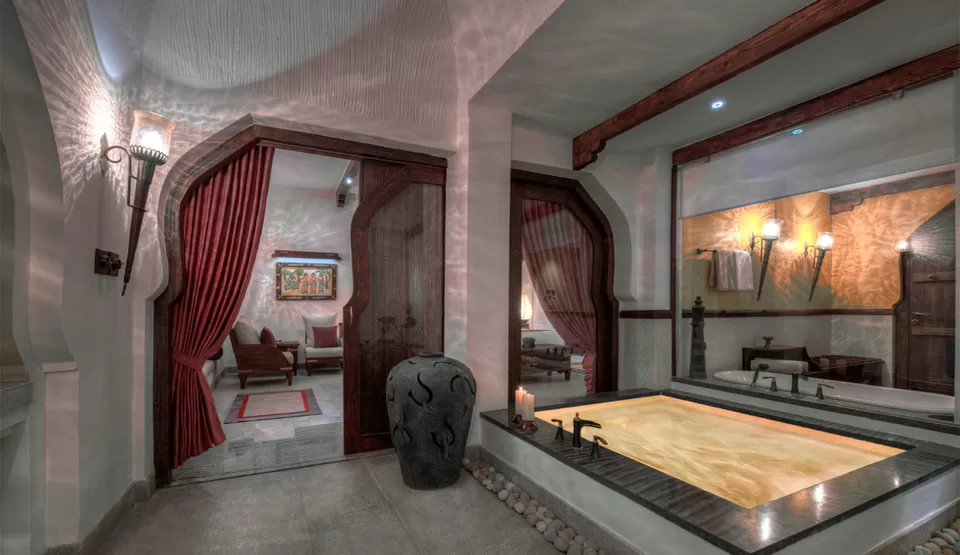 Food
Evolve Back Kamalapura Palace, Hampi has two restaurants and two unique dining experiences. Both the restaurants are dedicated to serving gourmet food, with a fine selection of continental and Indian cuisine. The culinary spread is impressive and is only outdone by the breathtaking setting and architecture of its restaurants.
Tuluva
'Tuluva' is the multi-cuisine restaurant named after the most notable dynasty of Vijaynagara Empire, the third Hindu dynasty. Some of the dishes on the menu are inspired by late 15th and 16th century, from the kitchens of Vijaynagara's most famous emperor, Krishnadevaraya.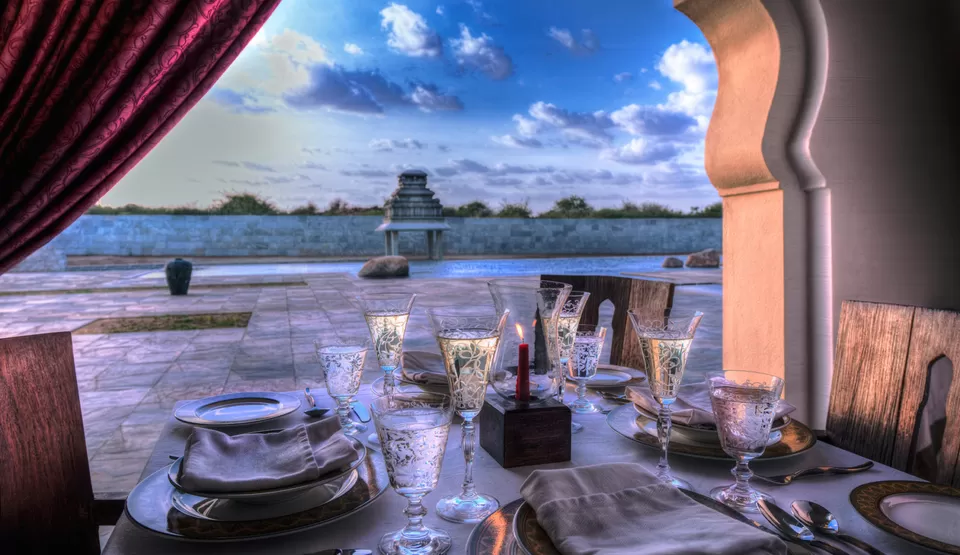 Tuluva overlooks the infinity pool and it is here where you can have two of the most romantic dinner experiences: Anandha and Pushkarni.
Anandha is a dinner experience at the deck next to the infinity pool. It is an ultimate pampering experience where you are served by the staff who are here to cater to your every need and the menu is specially crafted for you, all in an ambience that is picture-perfect!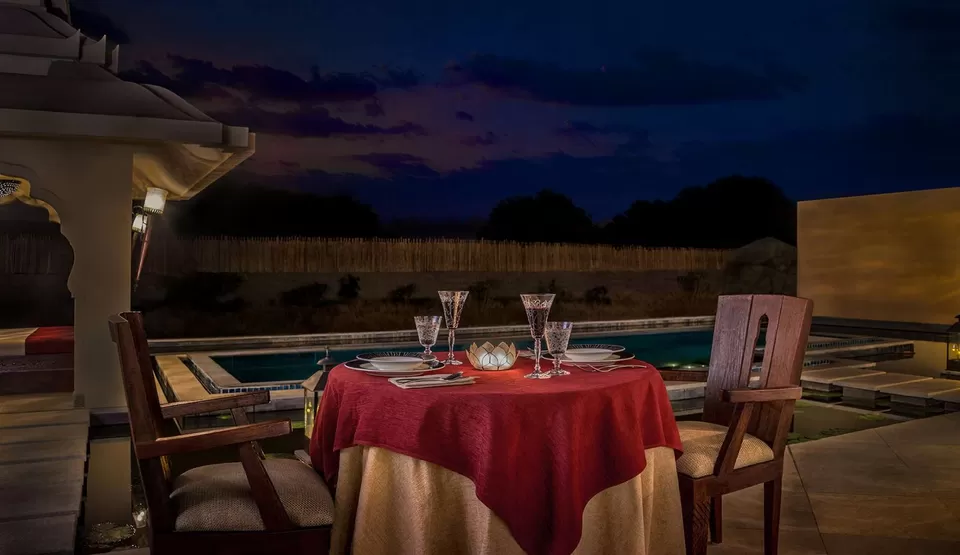 Pushkarni is a royal dinner in a 'mantapa' overlooking the lotus pond and the Infinity Poo. A setting reminiscent of the Rayas of Vijayanagara, here you can enjoy a four-course meal, sip on a glass of wine and indulge in a royal romance.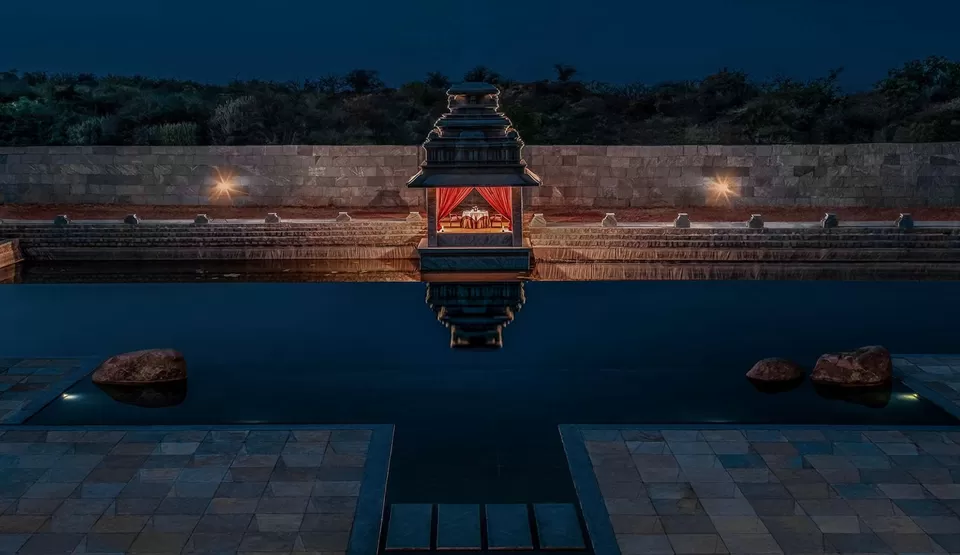 Bahmani
The Bahmani is a specialty restaurant serving a cuisine that is an amalgamation of Hyderabadi, Persian and indegenous influences. Dedicated to the Bahmani Sultanate, principle rival of the Vijaynagara empire, the cuisine is delicious and reflects the art of luxury dining that was patronised by royalty and nobility of the region.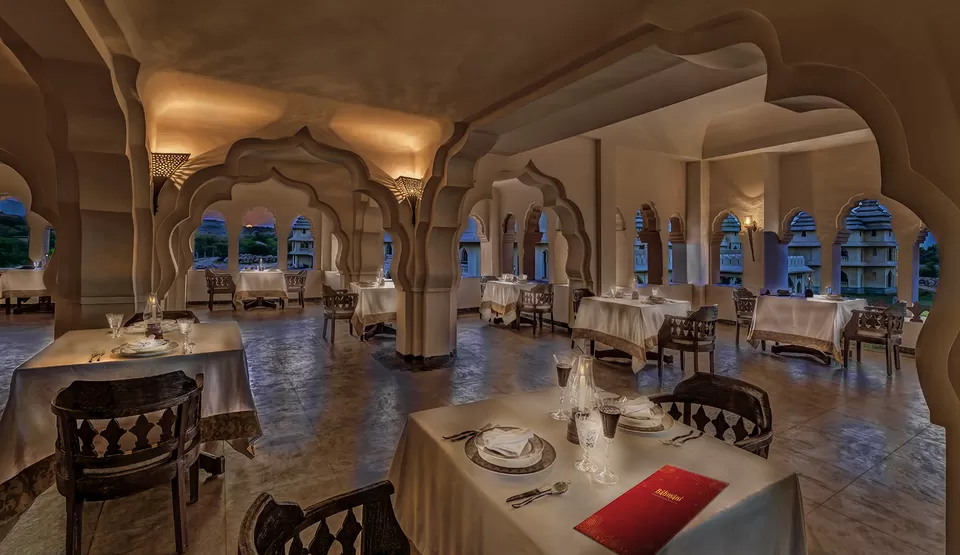 Cost
There are four categories of rooms and the price includes breakfast and dinner. Additionally, all rooms come equipped with a tea/coffee maker, condiments and a mini-bar.
Nivasa Delux Suite: ₹24,679 per night for double occupancy
Nilaya Terrace Suite: ₹25,945 per night for quadruple occupancy
Zenana Palace Suite: ₹29,741 per night for double occupancy
Jal Mahal: ₹35,437 per night for double occupancy
Best time to visit
Cooler months of October to March are the peak season for Hampi. You can also visit during the monsoon season (mid-July to Sep), although you would have to be careful while walking on the boulders since they become quite slippery during these months. It's advised to avoid visiting during the summer months (April - July) as the days are too hot to actually go out and explore anything.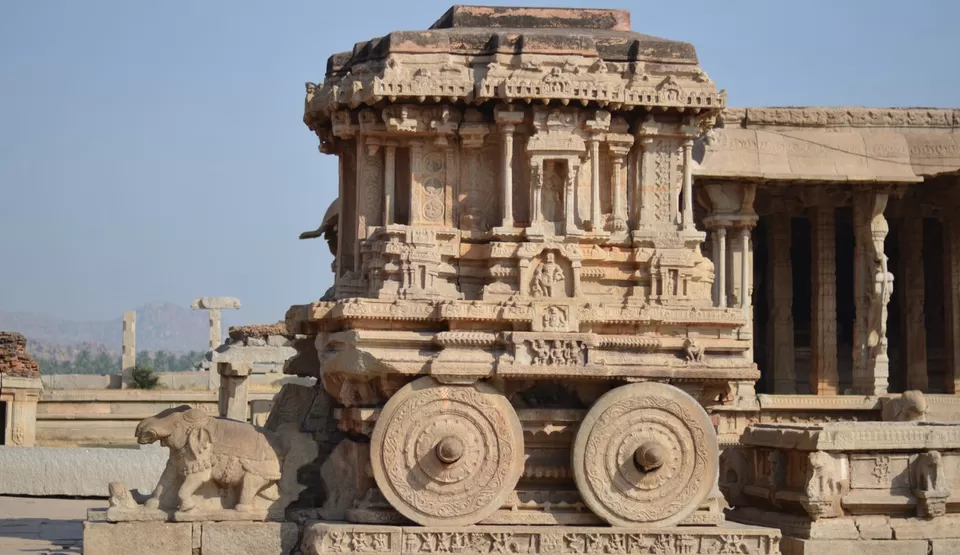 What to do at Evolve Back Hampi
Evolve Back Kamalapura Palace, Hampi has so many things to do inside the hotel that you might, just might give up on the idea of actually exploring the grand ruins of Vijayanagara Empire. A large and welcoming infinity pool, a world-class spa offering traditional Ayurvedic wellness therapies, a reading room and a tranquil lounge, are all designed to transport you to an era of gracious, pampered and relaxed living – the true expression of luxury!
Infinity Pool and Family Pool
A haven of calm, the infinity pool is almost Olympic sized, and was inspired by the temple tanks of the Vijayanagara Empire and overlooks a boulder strewn landscape typical of Hampi. It is only for adults.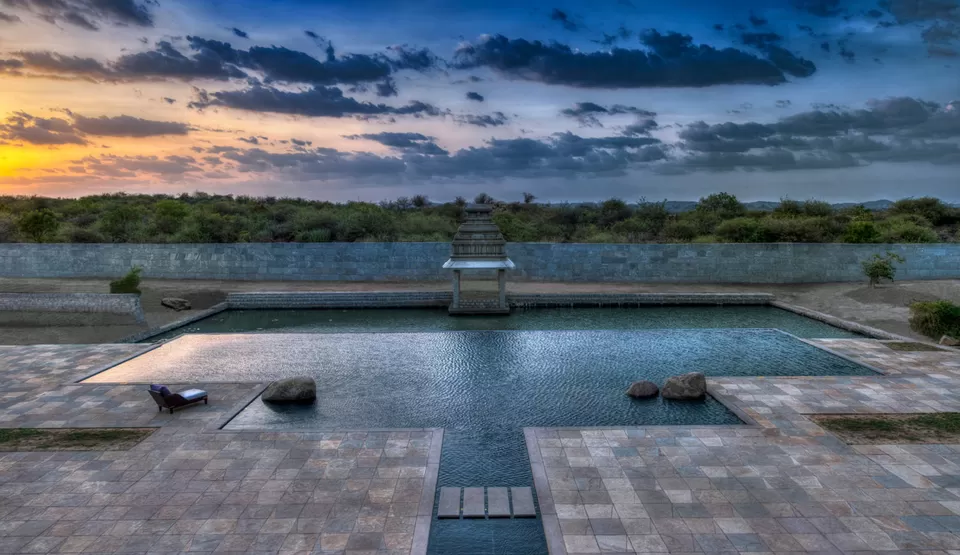 For families with kids, there is the family pool, ideal to laze around in the evenings. It also has special child-safe zones so you can take a lap or two without worrying about your toddler.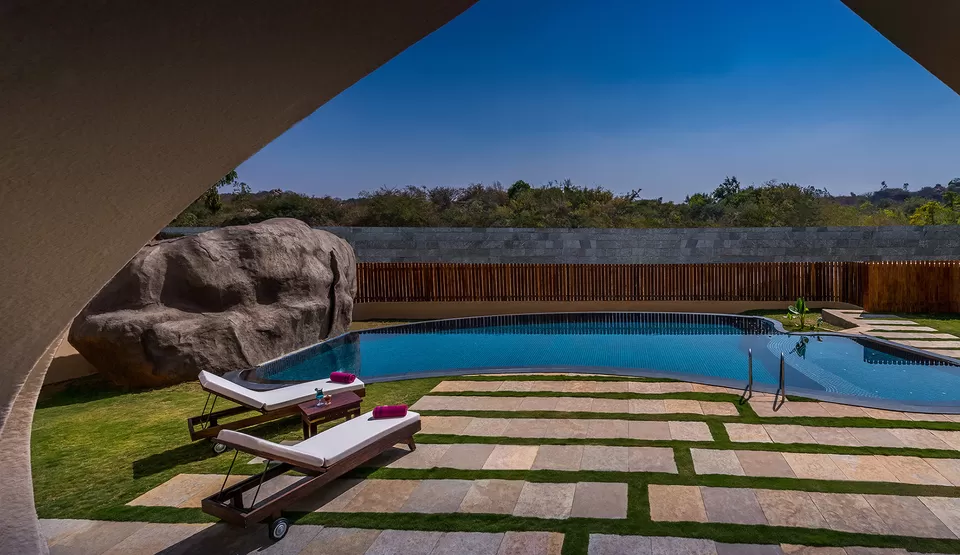 Vaidyasala (Ayurvedic Spa)
Vaidyasala is the spa that follows the same ancient Indian system of wellness as Kings and Queens of the past and strives to refresh and revive your body, mind and spirit. There are trained physicians and masseurs who, according to your needs, prescribe a customised regimen and therapies.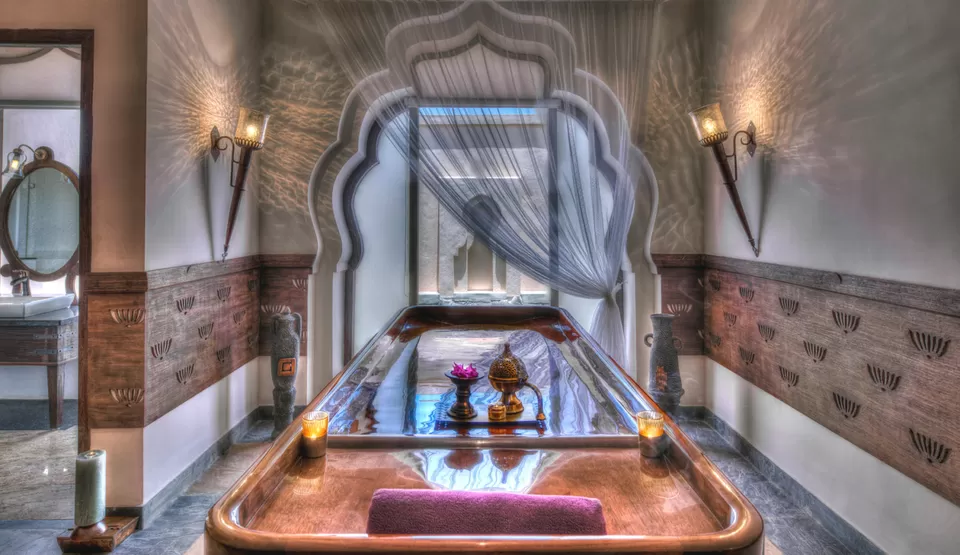 Deep Mahal
Illuminated by the soft light of diyas and echoing with the sounds of silence, the Deep Mahal is the perfect place to allow your senses to get settled and relax with your favourite beverage or a steaming cup of 'Sidapur' coffee – our signature house brand. It is an ideal place to unwind after a day full of exploration! It is also the place where you can request for a storytelling session and an experienced guide will narrate the rise and fall of Vijaynagar Empire, taking you back in time!
Reading Lounge
Not in the mood to listen? Head to the reading room where you can lie back and immerse yourself in an eclectic selection of coffee table books or read about the history of Vijayanagara, Hampi and it's neighbouring empires and states.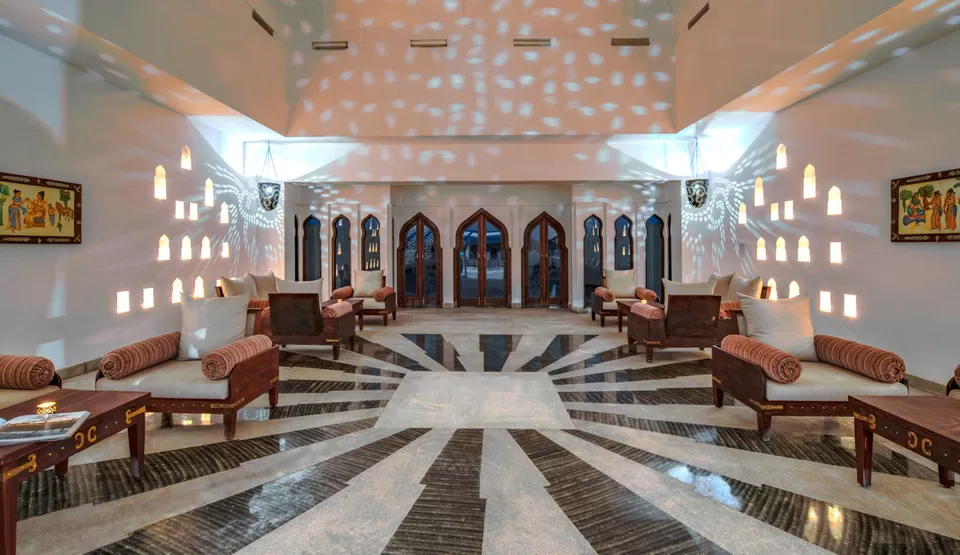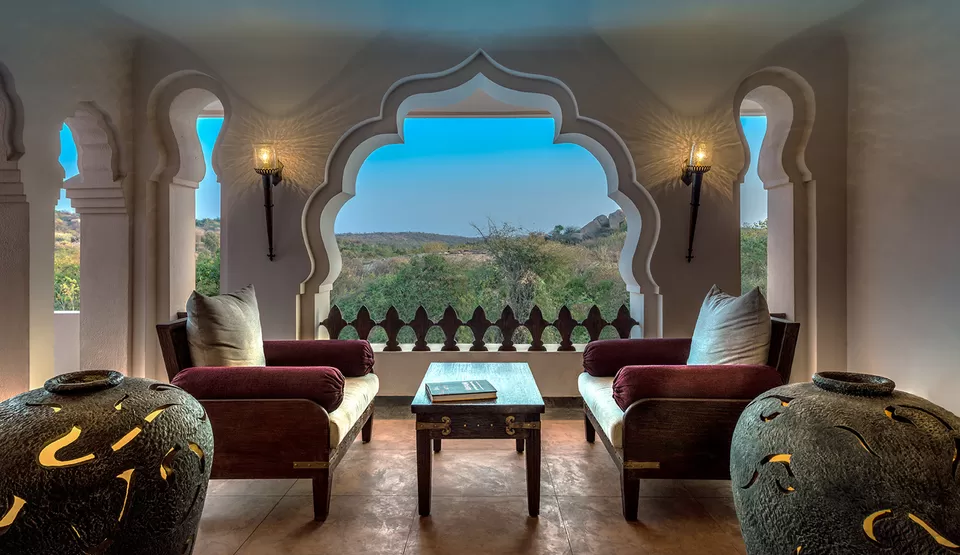 What to do around Evolve Back Kamalapura Palace, Hampi
Obviously, if there is one thing that you must do around the property, it is visit the Vijaynagara Empire, inspiration for the architectural splendour and magnificence of the resort. The resort also takes four trails, thoughtfully fashioned to engage you in various aspects of Vijaynagara's history, mythology, architecture, commerce and political life. You can also choose to venture out on your own. Here is all you need to know about what to do when in Hampi.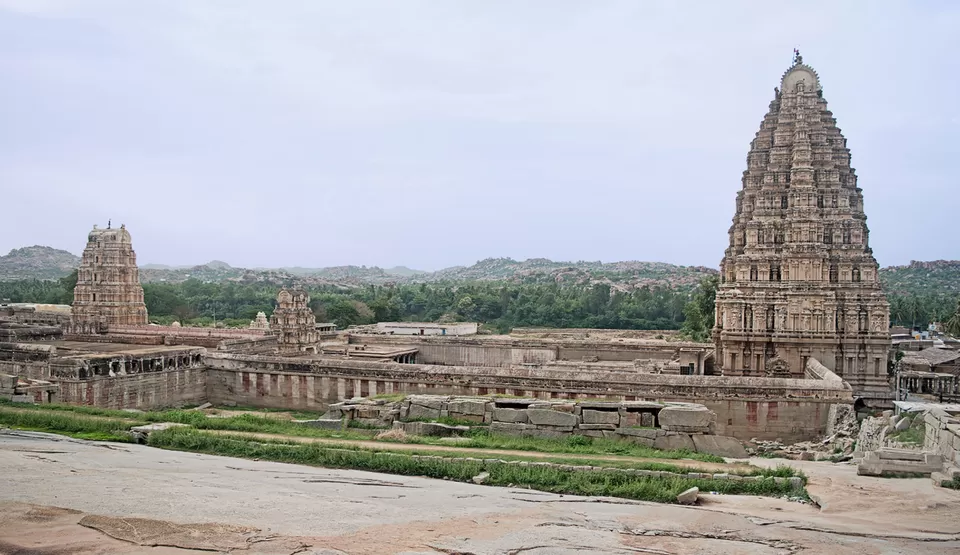 Getting there
Evolve Back Hampi, is in Kamalapura town, 4 km away from Hampi.
By air: Bangalore is the nearest international airport, situated 350km from the resort. The nearest domestic airport is Jindal Vijaynagar Airport in Vidyanagar, only an hour's drive from Hampi. You can ask the resort for a pick up from Vijaynagar Airport.
By rail: Hospete Junction is the nearest railway station to the resort, located at a distance of 16km. There are regular trains from Bangalore and Hyderabad to Hospete. You can ask the resort for a pick up from the railway station.
So if you are looking to spend your days revisiting the glamorous past of Vijayanagar Empire, and your evenings reliving it, Evolve Back Hampi is your best bet! Also, have you been to a resort that has made you fall in love with a destination? Write all about it on Tripoto today!
All images are sourced from Evolve Back Kamalapura Palace, unless mentioned otherwise.
Frequent Searches Leading To This Page:-
evolve back resort hampi price, evolve back luxury resort hampi