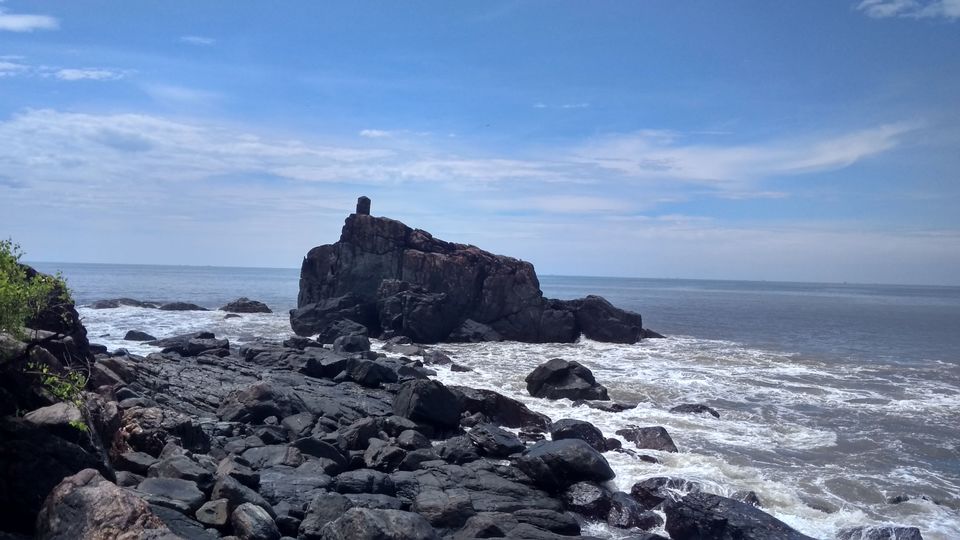 The odds of going on this trip were near to impossible even before a day we were supposed to leave.
Gokarna was putting me off for more than 3-4 times now. Mostly because I started planning for it after April and the summer is quite hot there till june and then followed by rains till October. I took a chance once in august and that turned out to be opposite as to what I had planned for. Things didn't go my way and I had to come back travelling for more than 40 hours in trains and buses. That was one hell of an experience even though I didn't visit anything in any city. 
So back to this trip, things started when one of my cousin saw an event in bookmyshow where Gokarna tent stay was one of the main events for the month of October. We got hooked at the plan and staying in a tent along with water activities were the main reasons for that. But we couldn't get clear information about the weather conditions even after calling up few hotels and asking them about weather. All we got was a neutral response as "Weather is clear as of now but it might rain in the coming days". On top of that response the floods in Kerala were still going on m. So, we were not 100% sure to go on the trip. 
Days passed by but the weather seemed to be the same way as before. We decided to take a chance and risk it by going there directly and see for ourselves how the weather is and decide whether to go for tent stay or explore on our own. We had two days to decide and after a lot of what if questions and is it worth the risk comments we decided to book our bus tickets a day before and set on our journey.
"Travel isn't always pretty. It isn't always comfortable. Sometimes it hurts, it even breaks your heart. But that's okay. The journey changes you; it should change you. It leaves marks on your memory, on your consciousness, on your heart, and on your body. You take something with you. Hopefully, you leave something good behind." – Anthony Bourdain
We all met up at the bus pickup point and had dinner in a hotel nearby. The bus arrived on time and there we were hurriedly picking up our bags and paying the bill and taking the phone and the charger which we had kept for charging at the reception and boarding the bus and adjusting our luggage and ourselves. After a lot of discussion whether to book for tent stay or not we decided to book the tent stay and so did it. Now we knew at what time we should be at the starting point for our tent stay so we decided to spend the remaining time we had to explore the city and soak ourselves in a couple of beaches before giving control of our schedule to the organizer of the tent stay.
After a small tea & sandwich break at an unexpectedly beautiful hotel with nice ambience and good menu, we resumed our journey to a hippie place without any idea of what the weather would be like the next day. After few broken sleeps, we woke up in the morning when the beautiful sun was rising through the clouds which gave the rays of hope that this trip was going to be a fun and exciting one. After a quick tea break we cruzed through small villages and curved roads to finally reach the destination.
We were happy that the bus had come all the way into the center of the town rather than dropping us at the outskirts. The mahabaleshwar temple was at walking distance and also our first beach was just to the opposite of the temple. We walked through streets filled with small shops and temples to the city bus stand where we took a break to freshen up and finish our morning routine. Then we walked all the way to the temple road which was already blooming with people and their smiles. We decided to have breakfast in a small hotel much like a home just beside the road and sitting to the side of the road we digged into plates of idli, chapati, parota followed by a delightful cup of tea and then we went to Gokarna beach.
Personally after reading about gokarna beach I didn't have much expectations about the place regarding cleanliness or crowd or locals. Even though it was near to the temple it was much better than what I had anticipated it to be. It was not the best in terms of cleanliness but it was above par and the crowd was also scattered throughout the beach and there were guards and some locals who were looking out for the safety of others. So it turned out to be a nice beach with people around having fun with waves and gushing water. After having fun in the water and jumping to get away from waves and taking photographs we decided to hop onto an auto to get to our next destination.
We had coconut water when going towards an auto stand where we left and forgot our wet clothes as we were enjoying the much needed fuel after getting tired in the water. We decided to go to Om beach travelling through hills with beautiful scenes all around. How much ever you try to bargain with auto drivers it ain't gonna work here because the prices are fixed and same with everyone. We agreed to a price of 300 rupees to go to Om beach from Gokarna beach. The drive started off going through small lanes crossing a fish market and then to empty roads followed by hills and scenic views. Kudle beach from the top of the hill looks magical surrounded by trees and mountains. We proceeded with our drive talking to the driver who had now become our guide who showed us at a point where we were climbing a hill how the ocean was looking like a slide equal to the height of the road we were on. It was as if water was coming down the slope towards us. It was magnificent to see that and we were mesmerized with our journey so far.
After a short ride we hopped down the auto and took a small trail towards the om beach. As we were walking towards the beach following the steps we could see a fantastic view from the top. After a few snaps and passing by namaste cafe, we walked and walked and walked to the extreme corner of the beach. The beach was extremely less crowded and clean. Maybe this is why people consider gokarna beach the way they interpret it to be. While one of us was in his own Dreamland of playing with waves and other one spending time with syrian girls, me and other one enjoyed our time climbing through rocks and big boulders trying to get to the top of a small hill and also in search of best view and snaps to fill up the landscape of our cameras. The time was running quick now and we had to travel all the way back to tadadi port from where we would start our tent stay adventure. We walked along the beach escaping from waves and engaging in fun discussions and went to namaste cafe to buy snacks for the next days to follow. After walking out of the beach we saw that the auto guide who took us to om beach showed up and we continued the journey to tadadi port along with him. 
After travelling for about 7-8 Kms crossing a village and our guides home, at around 12 in the afternoon we were at the pickup point of our tent stay. After seeing that the boat was not at the entrance we decided to have our lunch at the nearby hotel and went on our way to search one. In a small empty hotel we settled down and ordered for fish Thali which had rice, fish curry and fish fry and chicken thali Which had rice, chicken curry and kebab. We digged into the tasty meal and filled our tummy  before we left to the starting point of our tent stay journey. After getting onto a small water boat which transferred us to house boat we started our journey to the private island after wearing a life Jacket. After travelling for about 15-20 minutes looking at the scenery and mountains all around the water the boat stopped at the middle of the sea. That's when our guide started telling others to take a jump into the water and then swim to the shore. My heart skipped for a minute when I heard him say that and people started going down one after the other. I had company when few didn't want to take a jump as we didn't knew how to swim and we're shit scared of jumping into a swimming pool let alone in the middle of the sea. But the guide was too stubborn to let us go away from that situation. When all my cousins took the jump and were ready to hold me once I take the jump I took the jump at the end.
I was rescued to the shore by my cousins as I was holding onto them like a kid who wouldn't let the father go away from home. As we came close to the shore I got off them and sat at the beach dumbstruck how I was rescued from that long distance. Then people started playing all games like kayaking, snorkeling, beach football, volleyball and some swimming in the sea while others playing with their gang and enjoying the time. We played football for some time and then enjoyed floating on the water and after a while tried kayaking which was a thrilling experience to someone who doesn't know swimming because if the balance was out the kayak boat would be above me and me fighting for the life below it. After spending hours together and feeling hungry we went and took bath and had another fish meal. 
Tents were already setup besides each other and people were busy customizing the inner part. We played volleyball for sometime and then just spent time walking on the beach and sitting on the shore looking at dark clouds and hoping that it won't rain at this time. Even though the dark clouds passed through but the drizzling rain eventually came down when we were having tea and a small burger for our snacks time. As the drizzle turned to rain most of the people went into their tents and spent time chilling inside. We spent time getting drenched in rain drops taking photos and sitting inside the tents. Rain played hide and seek for couple of times before it gave up on our laziness and went on its way forward. 
Time went by as people tried their best to start a bonfire even though the weather was cool and breezy. After trying different ways to start the fire the bonfire started along with dj playing alongside. And the dinner was served which had chicken kebab, biryani, chicken curry and curd for non veg where as veg had pakoda, aloo bonda, veg biryani, curry and curd. It was tasty and unlimited. After dinner some were enjoying the booze and some were playing by the bonfire while the dj was still playing all varieties of songs. We talked and had fun lying in our tents trying to sleep and after couple of Interruptions from crazy laughs and chilling under the starless sky we finally dozed off after midnight.
The dogs were barking and the wind was buzzing when I heard people talking and laughing and woke up. Opening the tent the weather was overcast with clouds and cool breeze with the waves making the soothing sounds which was a great way to start the day. Going near to the beach we could see crabs digging holes and escaping into the unknown while the dogs tracked them down smelling the holes and digging them to death. Few jelly fishes came out of the sea with the waves and went back in after a while when another wave came crashing down towards the shore. People started waking up one after the other while we played writing our names and waiting for a big wave to sweep us away. After our morning activities, it was time for group photo followed by a small trek to the cave nearby and exploring the place nearby. We went through a trail leading through lush green hill for about 15 minutes when we came to the other side from where we had to cross another hill passing through waves which were coming rapidly towards the hill. We got soaked till our tummy as the waves were strong splashing water on us when they collide with the hill.
After passing the hill getting all soaked, there was a cave which we have explored for about 15 minutes. It was dark and the steps were uneven. It is said the king had dug a tunnel for about 40 kilometres to reach to a fort nearby. Now after passing through for about less than half a kilometre the cave is closed. Even though it was a short one, It was a great experience altogether to explore the unknown and to know the history. After few snaps we came out of the cave so that other batch can get in. We spent time climbing the hill and enjoying the view and morning vibe. Then we went back our way to the camp and got fresh. Later we packed our bags and had breakfast and tea.
It was time for sea ride spanning about 5 kilometres from the point where we were. After a boat ride for about half an hour we could see few dolphins lazily swimming around. We were disappointed that they weren't jumping with enthusiasm seeing the boat but playing hide and seek with us. They would show up for a second and disappear from that point. It continued quite a lot of times and after getting closer and closer to them we got a close glimpse at them but still couldn't get to see the jumping ones. We gave them their privacy and left to travel to beaches. We went to paradise beach which looked serene and totally isolated with few people enjoying the time. And then to half moon which was rather a small one but looked intriguing. Finally we paid a visit to Om beach before returning our way back towards the starting point of our tent stay to end the extremely enthusiastic and once in a lifetime experience. I would recommend booking the tent stay for a night and two days when someone is planning a trip to Gokarna.
After thanking the host for the memorable trip we got our bags out and went on our way to continue the journey. We had our lunch at a small hotel which again had fish meal which we have already enjoyed the day we came there. After our lunch we decided to at least trek to paradise beach from tadadi port. We walked through the village crossing through unique homes and their small gates. Our trail started and we had to climb the hill and pass through lush forest. There was no one who was taking the trail and we weren't familiar with the route. We followed the trail and Google maps followed by our intuition to judge which way to go when it seemed like a dead end and complex to pass through the trees.
After few wrong turns and dead ends we passed through a cafe and after enquiring about the route and knowing that we were on the right track we got our energy back and walked all the way climbing steep hill which was just beside the beach and there was no support. We finally reached paradise beach and put down our bags on the near by rocks and in went towards the crashing waves to get soaked and enjoyed getting sweeped out to the shore by the gushing waves. After an hour or so we decided to get fresh and trek to other beach. After walking for sometime and crossing half moon beach we met some strangers who were coming from Om beach and going towards paradise beach. One of them kind of scared us telling that it would take more than 3 hours to reach our destination and it would get dark by then but we thought it wouldn't take that time and going back would take more than an hour and decided to go forward and reach our destination. 
Later two strangers joined us and we went crossing rocks and hills through a narrow road surrounded by trees. We enjoyed the last part of the trek recording videos and vlogging about the trip which turned out to be fun and enjoyable. After crossing a hill and walking for more than 45 minutes we could see om beach and people on the shores enjoying their evening time. We finished the trek and went to have some snacks in a nearby cafe at Om beach. After having masala tea and milkshakes we walked towards the exit of on beach enjoying the sunset and the joyful vibes of the place.
We decided to go to the bus stop and eat one last meal with fish as our main dish. We took an auto and enjoyed the ride getting back to the city passing through kudle beach and the village. We got to the point where our bus would arrive after an hour or so we looked out for a non veg restaurant to have our dinner. We found one finally after passing through lots of vegetarian options and went in and took our cabin. We enjoyed our dinner with fish, prawns and other dishes. After dinner we went to the bus stop where our bus was already waiting for us. We took our seats and had fun for sometime talking about the trip and joking about the funny events. One after the other started sleeping while talking and that marked the end of the trip. We got down in Bangalore at 7 in the morning and said bye to each other and parted our own ways. That's how we finished the most awaited trip of the year 2018.
To end this blog I would like to say - Just go on that trip you always wanted to with your friends and family or you'll regret not doing it one day. Life is all about how our journey to death is. So why not add a memorable trip on that journey map and experience the joy of it.